If you're about to write a CV, you know it needs to be good if you want to land job interviews.
But what makes a good CV?
There are 6 essential elements you need to create a winning CV that will get you the best job offers.

A logical structure
When writing a good CV, you need to make sure it follows a logical structure.
If you don't present the required information in a way that is easy to consume, recruiters will find it difficult to read, and may decide to skip past your CV.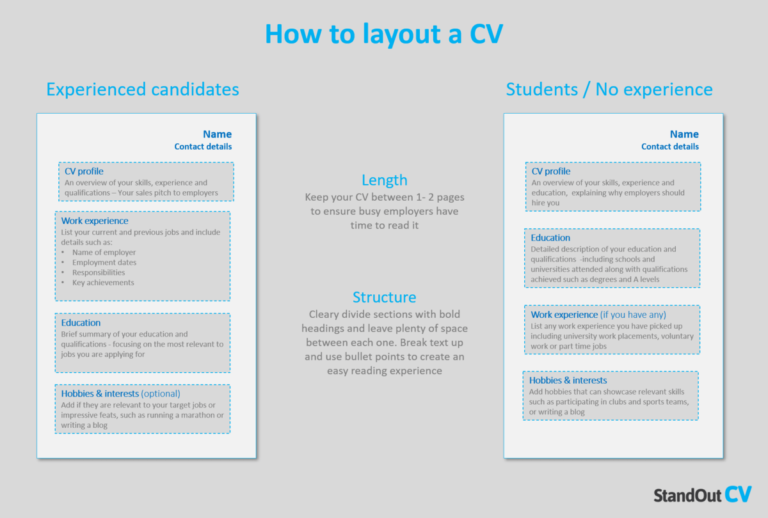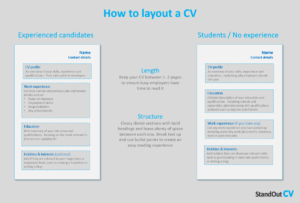 The best CV layout includes the following sections:
Name and Contact Details – include your number, email, and general location
Personal Profile – a brief summary of your experiences, skills, and qualifications
Work Experience – a succinct summary of your job history and roles, past and present.
Education – GCSEs, A-levels, degrees, and any other notable qualifications
Hobbies – an optional section to add if you feel it is suitable for the role
Every good CV will contain these sections because employers need to know about them. In this order, a reader progresses down the page from the most important to least important information.
By following this structure, you'll ensure an employer can quickly gauge you as an employee, helping them realise why you're a good fit for the role.
A professional & easy-to-read format
When it comes to writing a CV, appearance matters.
The format of your CV is the very first impression a potential employer will get and determines how easy it is for them to read. If the style of your CV is difficult to comprehend, the reader probably won't take the time to decipher it.
You should aim to:
Use a muted, or calming colour scheme – – This will make the CV look professional and easy to digest.
Bold your headings – this is one of the best ways that you can clearly divide up distinct sections for easy navigation
Break up your text – big chunks of text are difficult to read. Stick to short, focused paragraphs and plenty of bullet points
Keep the CV under 2 pages – This ensure that busy hiring managers and recruiters will read the CV in full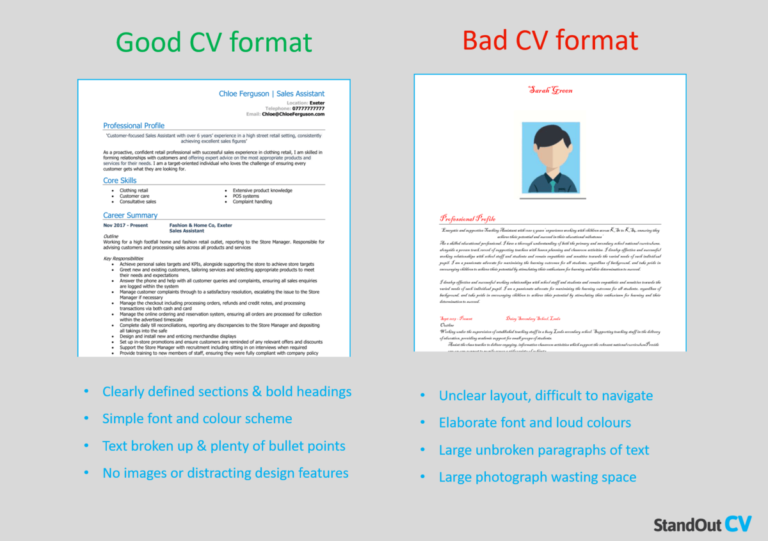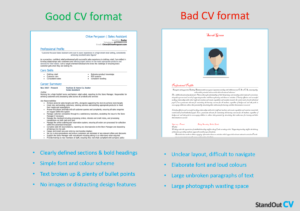 Things to Avoid:
Cramped writing – keep your font to a readable size
Elaborate fonts – select a font that is clear and legible
Images – pictures and photos detract from the CV's content, waste space, and are best left out
If your CV is formatted in a professional manner, an employer will quickly be able to scan through your writing and assess if you're a good fit for the role. As they read more about who you are and your past experiences, they're more likely to offer you an interview.
Take a look at some of our CV examples to give yourself a better idea of what makes a great structure.
Proving your suitability
Personalising your CV to fit the role you're applying for is one of the most important parts of creating a winning CV.
Every job description has a list of requirements that the perfect candidate would have. These could range from experiences or particular skills an employer hopes to see. Carefully reading these lists, and adding your matching skills to the CV is a great way of proving that you're the right candidate for the job.
When reading a job posting, pay attention to the language they're using when describing what the candidate they're looking for. Search for key skills they weave into their key requirements or responsibilities.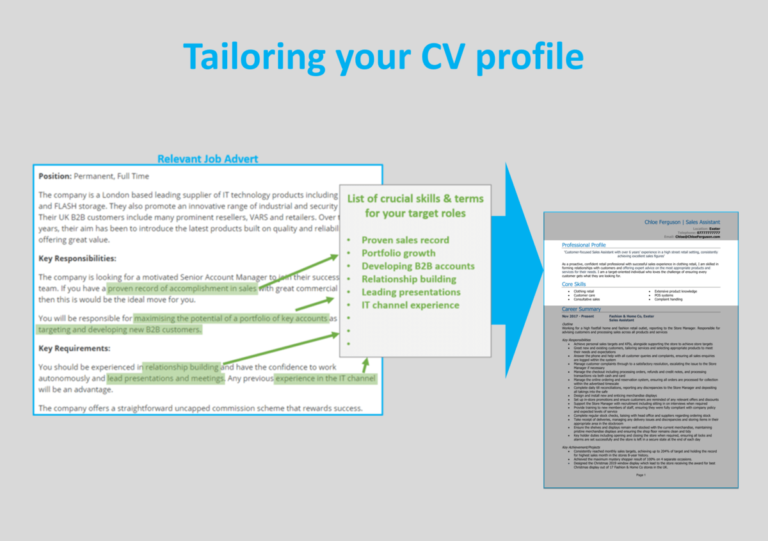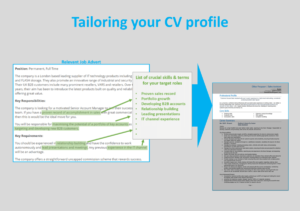 Take a second to jot these down once you find them. Then, when writing your own CV, demonstrate efficiency in the areas they've listed as essential. When an employer reads your CV, they'll find the crucial skills you've incorporated and instantly take a liking to your profile.
Always tailor your CV to match exactly what the job is asking for.
An eye-catching profile
To ensure that you catch the attention of busy recruiters, you need to write a powerful profile at the top of your CV.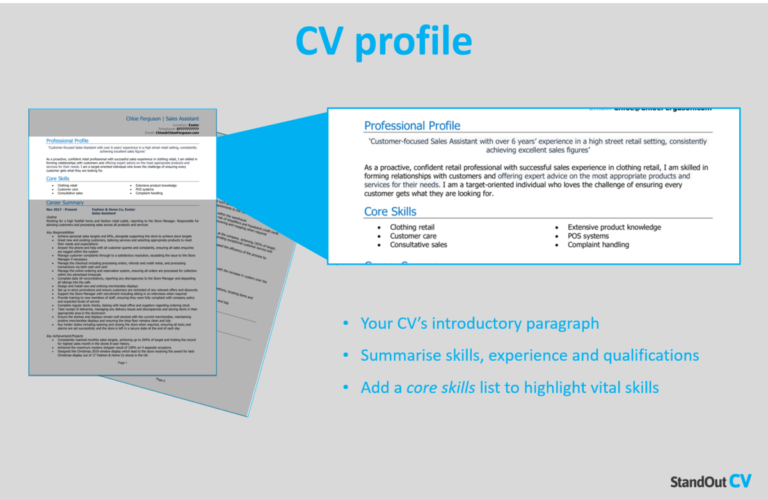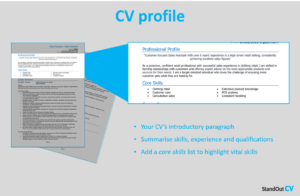 A profile is an introductory paragraph which sums up your talents and suitability, showing recruiters that you are a good fit and encouraging them to read on.
You should include the following details:
Relevant Skills – if you have skills that are directly applicable to the job, include them here.
Relevant industry experience – include past history in the field that you're applying in
Qualifications – skim over your education, touching on the most relevant and highest level you achieved
The 'Why' – make sure you include benefits a company would get from hiring you. Why should they hire you? What benefits can you bring to them?
Above all, make sure to keep this section brief. Try to aim for between 5-8 lines of writing. All you need to do is whet the appetite of the reader and get them to keep reading. Avoid going into extensive detail.
If you want some additional help, we've written a concise guide to writing a CV profile.

A bullet-pointed skills list
A great CV will give as much information as possible in the shortest amount of  reading time. One of the fastest ways of demonstrating your proficiency for a role is to include a bullet pointed list of your core skills.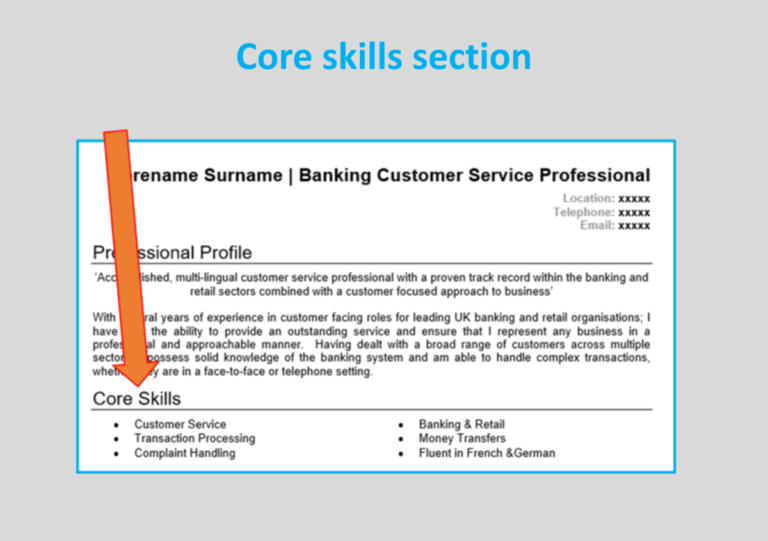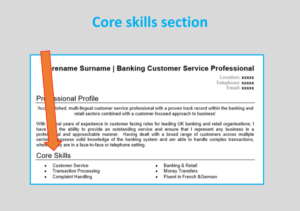 A small chunk of bullet points is easy to consume, helping a reader that's skimming pick up lots of information.
In this section, you should tailor your skills to fit the job description. Once again, take a look at the key responsibilities and requirements and find buzzwords that they're searching for. Include these in your flash list of skills.
Fill in the rest with relevant abilities, like IT competence, achievements, language skills, and industry knowledge. Aim to have an even number of bullet points, normally 6 or 8, formatted into two equally sized columns.
Detailed job descriptions
When wondering what makes a good CV, you can never go wrong with a detailed employment history. An employment record will provide context to your application, as well as giving you an opportunity to demonstrate your skills.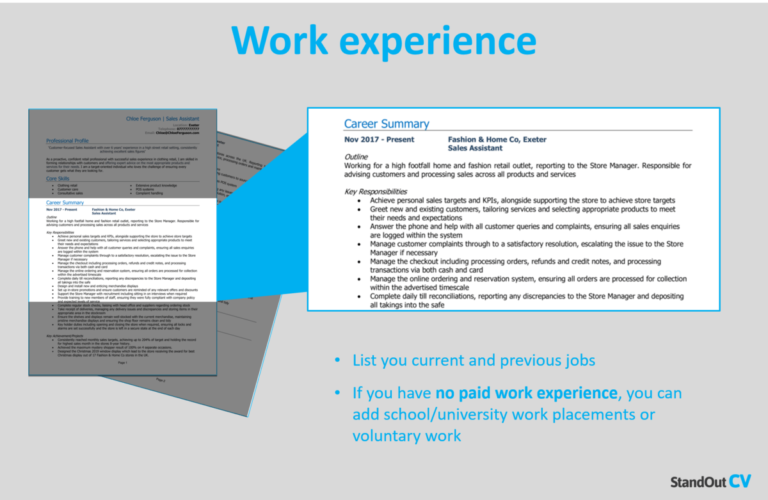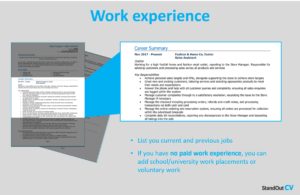 Quick Tip: Remember to work in reverse chronological order, starting with your current or most recent job, and then moving backwards in time.
The key heading elements of a job description are:
The dates of employment from and to
Job title
Name of your employer
Then there are three body elements that are essential to describing your previous work effectively.
Role outline
Key responsibilities in the job
Notable achievements
Role outline
Provide a short summary of where you were placed in the company, who you worked with, and a description of your main role.
Key responsibilities
Next, use a bullet pointed list to demonstrate your proficiency in certain skills. Alongside each action or 'responsibility', you should detail what skills you used, learnt, or provided.
Be sure to reuse some of the key words from job descriptions you are targeting These will catch the employer's attention and help secure you an interview.
Achievements
Finally, you want to document some quantified achievements you made during your time on the job. These generally follow a structure of an action you did, and a fact to demonstrate your success. For example:
Delivered feedback to developers in under 24 hours, increasing the output of this department by 60%
Rewrote an advertising campaign, boosting click-through rate by 150% and total revenue by 90%
Introduced a new HR policy which allowed workplace disputes to be solved 30% faster
Achievements are essential to proving you're successful at what you do and showing employers the true scale of what you can bring to them.
What makes a good CV – Final Thoughts
These six central characteristics are what makes a good CV shine. From landing interviews to securing your next job, these CV tips will help make you stand out from the crowd.