Adding shadowing to your resume can be a great way to get noticed by recruiters.
Especially if you have little or no work experience to write about.
It's a great way to prove that you have exposure within your industry, which employers will love.
But how exactly do you add shadowing to your resume?
This guide (containing 9 resume examples) will show you.

Shadowing resume examples
Check out these examples of shadowing taken from job descriptions on real-life resumes.
Customer service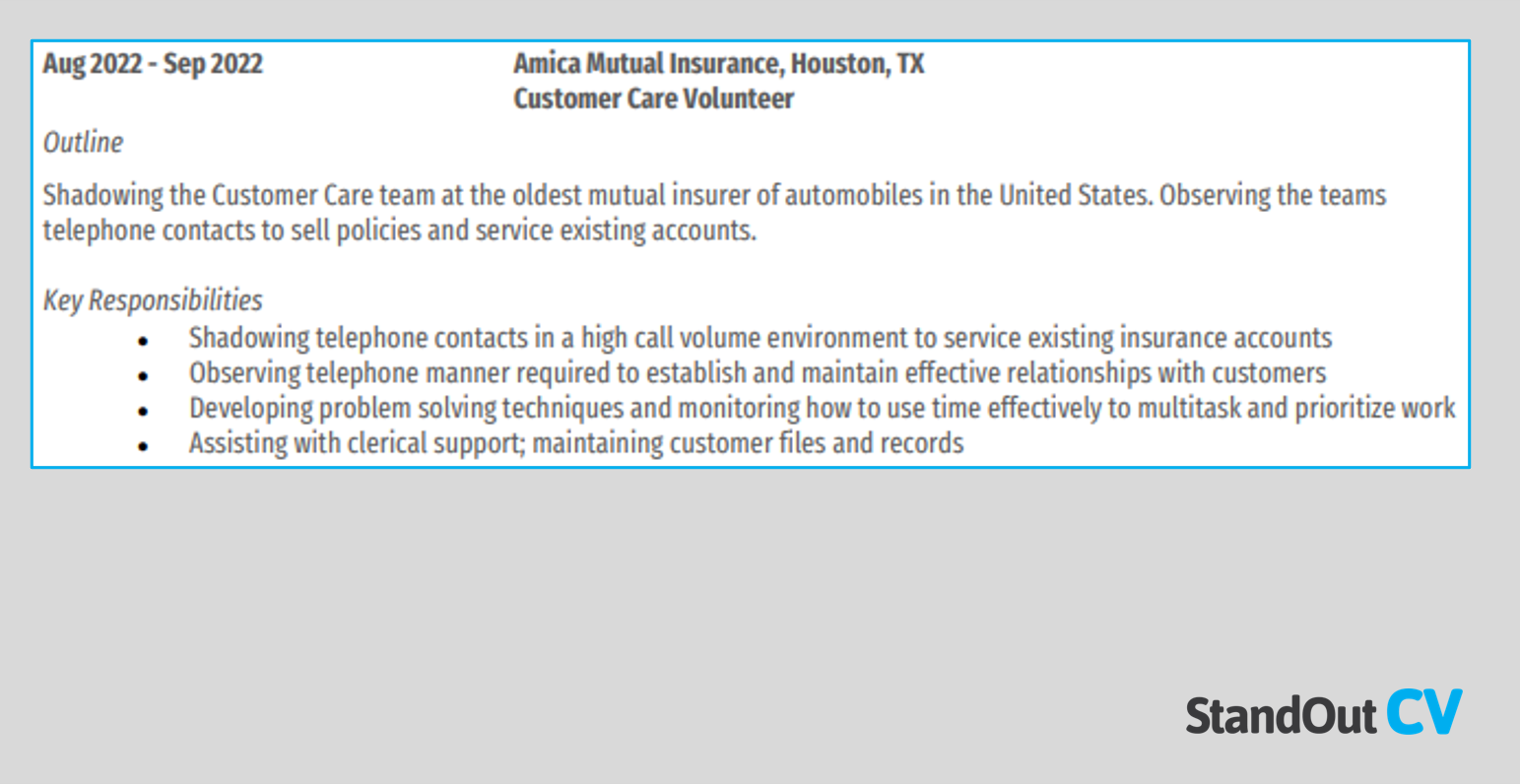 Example bullet points
Shadowing telephone contacts in a high call volume environment to service existing insurance accounts
Observing telephone manner required to establish and maintain effective relationships with customers
Developing problem solving techniques and monitoring how to use time effectively to multitask and prioritize work
Marketing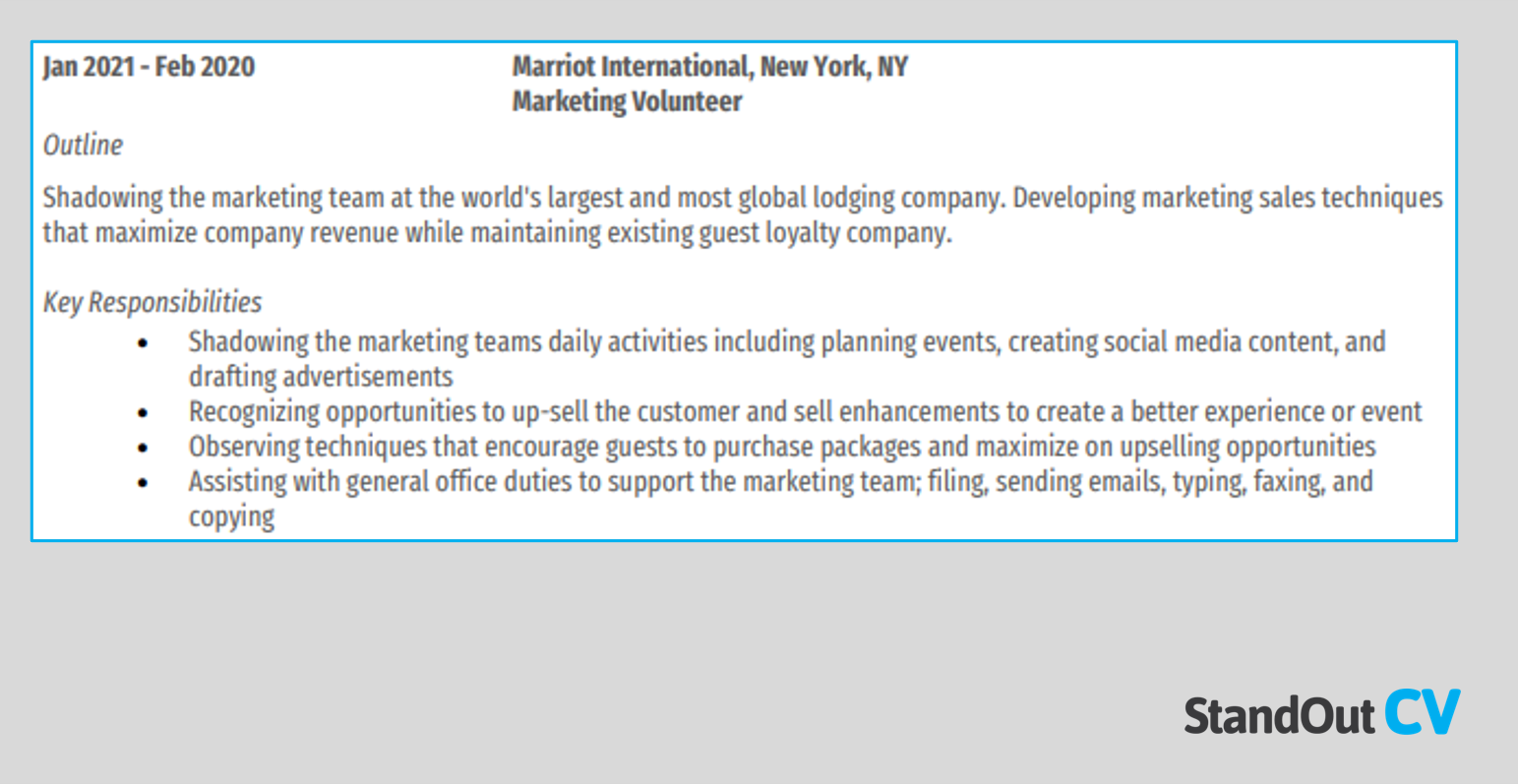 Example bullet points
Shadowing the marketing teams daily activities including planning events, creating social media content, and drafting advertisements
Recognizing opportunities to up-sell the customer and sell enhancements to create a better experience or event
Observing techniques that encourage guests to purchase packages and maximize on upselling opportunities

Education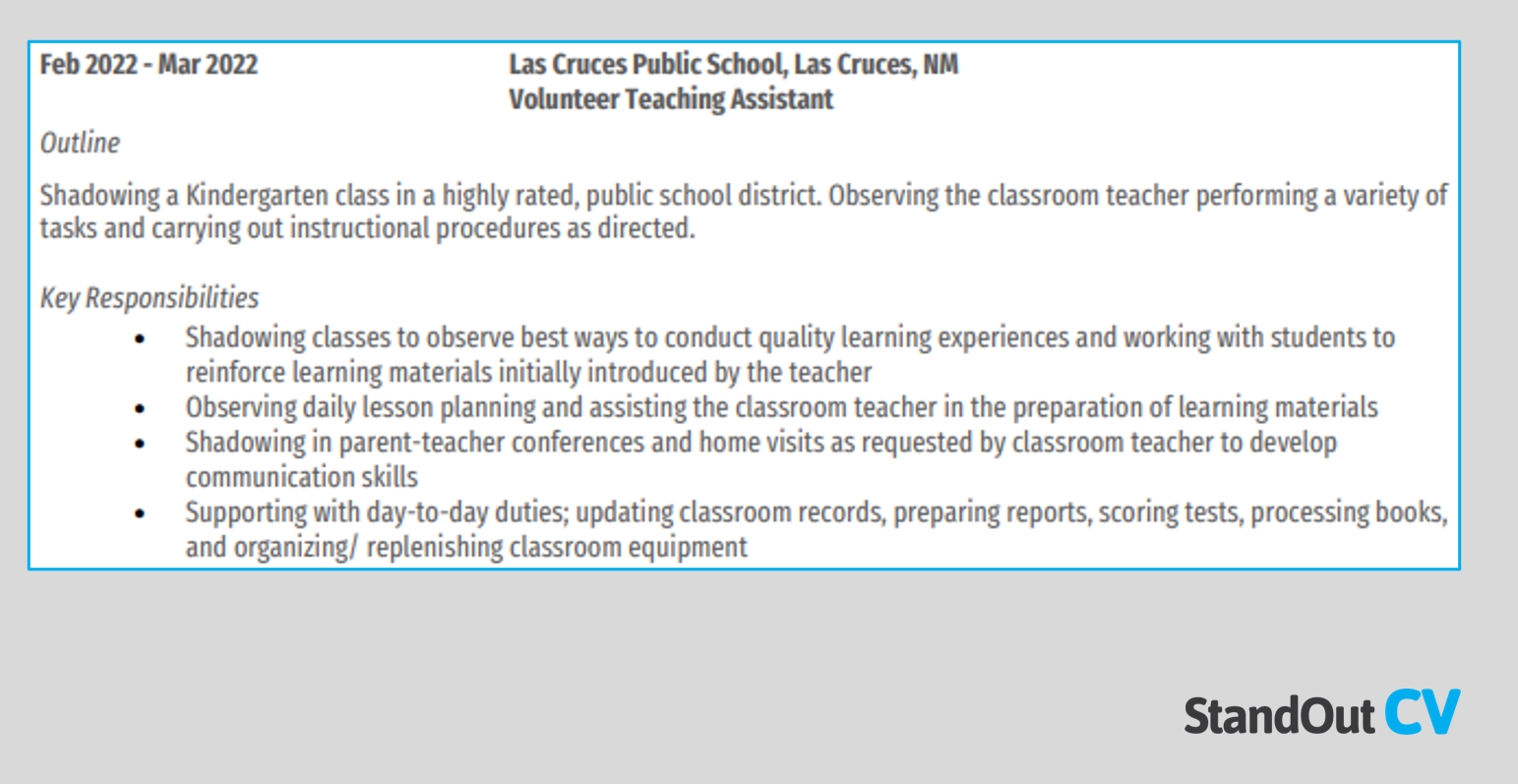 Example bullet points
Shadowing classes to observe best ways to conduct quality learning experiences and working with students to reinforce learning materials initially introduced by the teacher
Observing daily lesson planning and assisting the classroom teacher in the preparation of learning materials
Shadowing in parent-teacher conferences and home visits as requested by classroom teacher to develop communication skills
Project management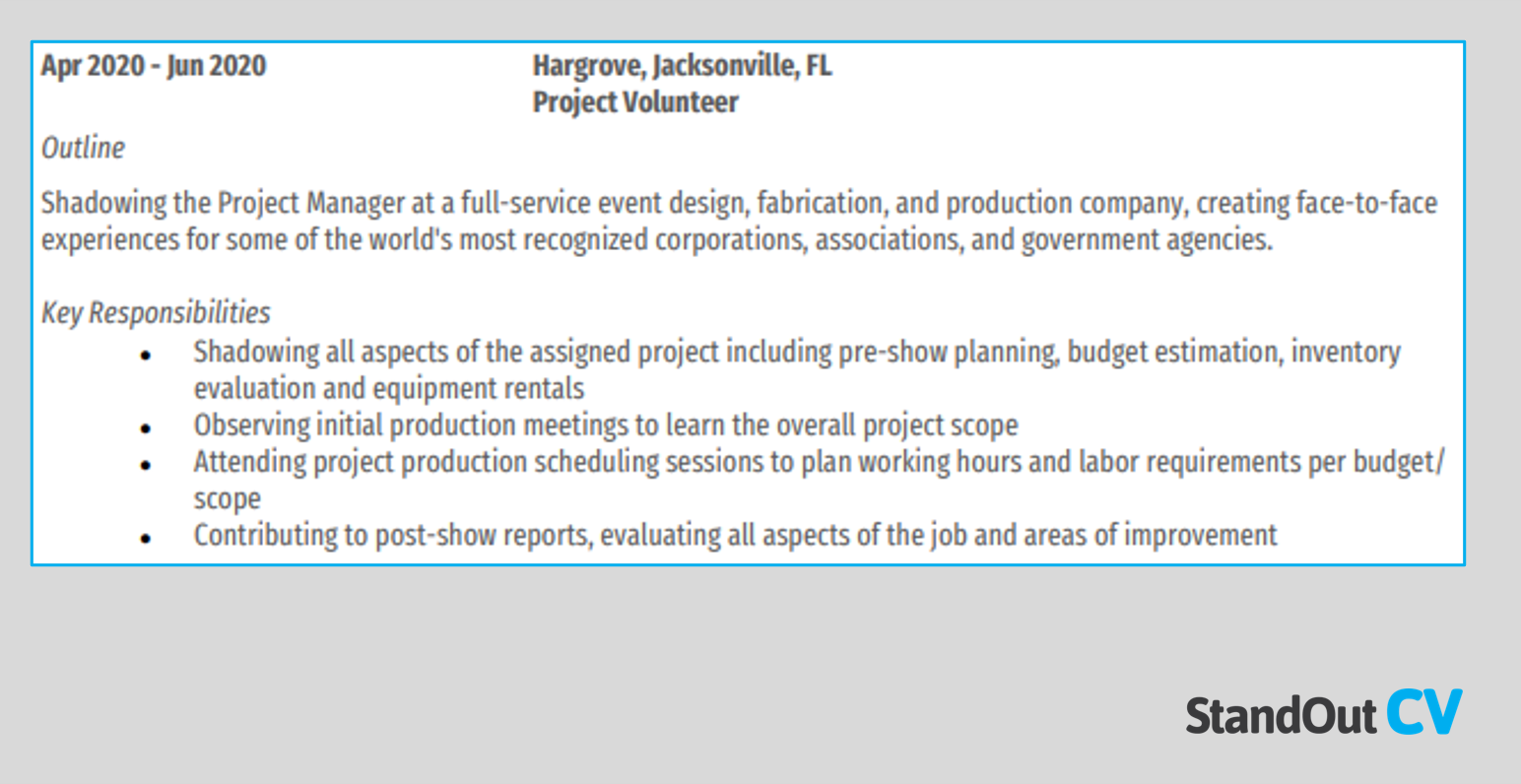 Example bullet points
Shadowing all aspects of the assigned project including pre-show planning, budget estimation, inventory evaluation and equipment rentals
Observing initial production meetings to learn the overall project scope
Attending project production scheduling sessions to plan working hours and labor requirements per budget/scope
IT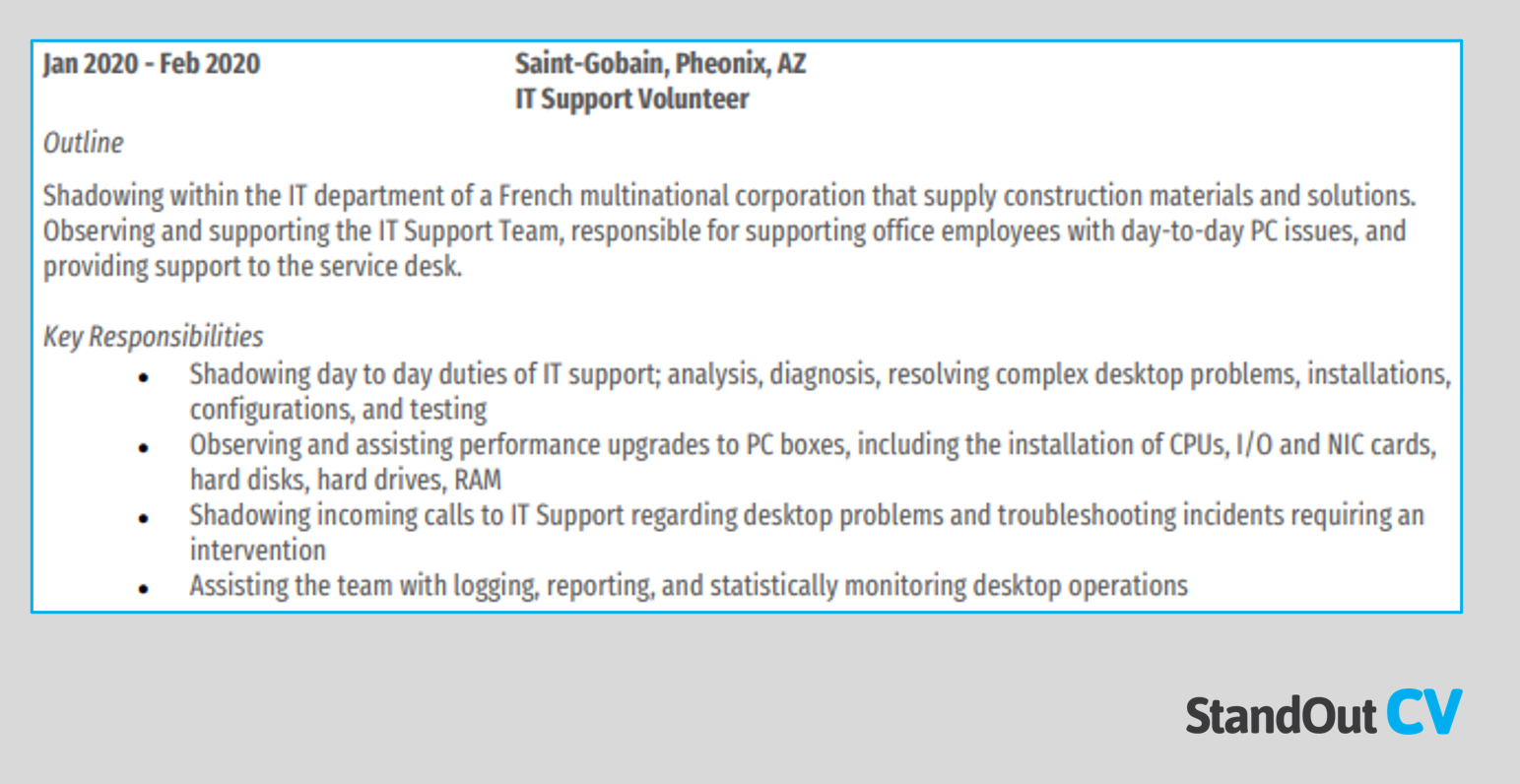 Example bullet points
Shadowing day to day duties of IT support; analysis, diagnosis, resolving complex desktop problems, installations, configurations, and testing
Observing and assisting performance upgrades to PC boxes, including the installation of CPUs, I/O and NIC cards, hard disks, hard drives, RAM
Shadowing incoming calls to IT Support regarding desktop problems and troubleshooting incidents requiring an intervention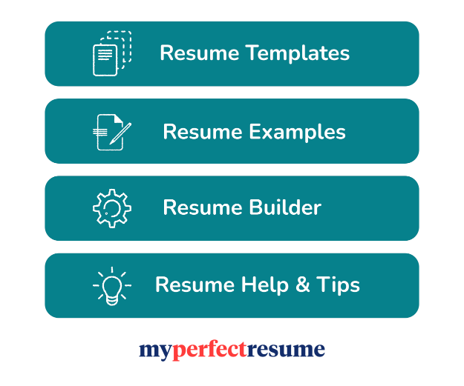 Admin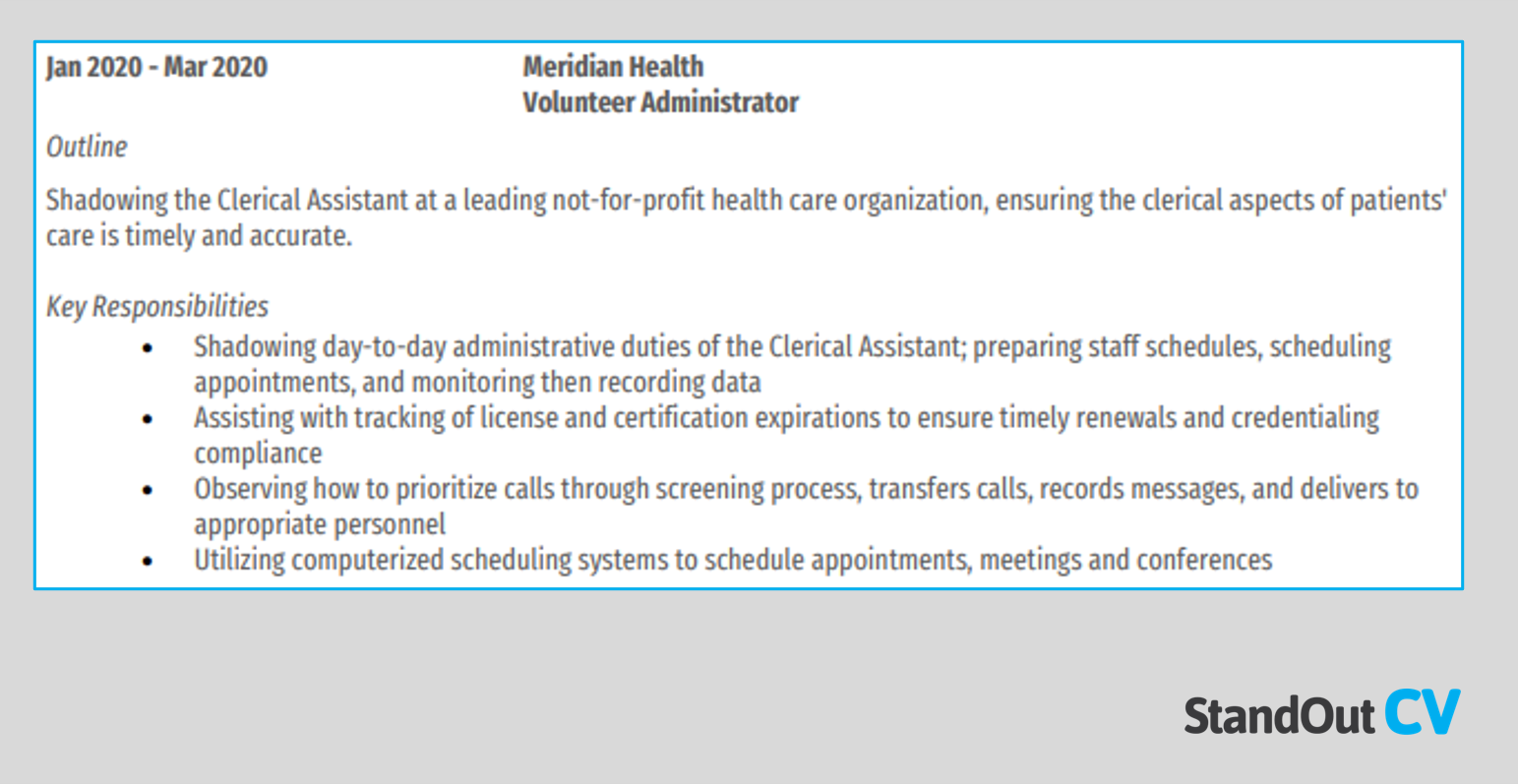 Example bullet points
Shadowing day-to-day administrative duties of the Clerical Assistant; preparing staff schedules, scheduling appointments, and monitoring then recording data
Assisting with tracking of license and certification expirations to ensure timely renewals and credentialing compliance
Observing how to prioritize calls through screening process, transfers calls, records messages, and delivers to appropriate personnel
Finance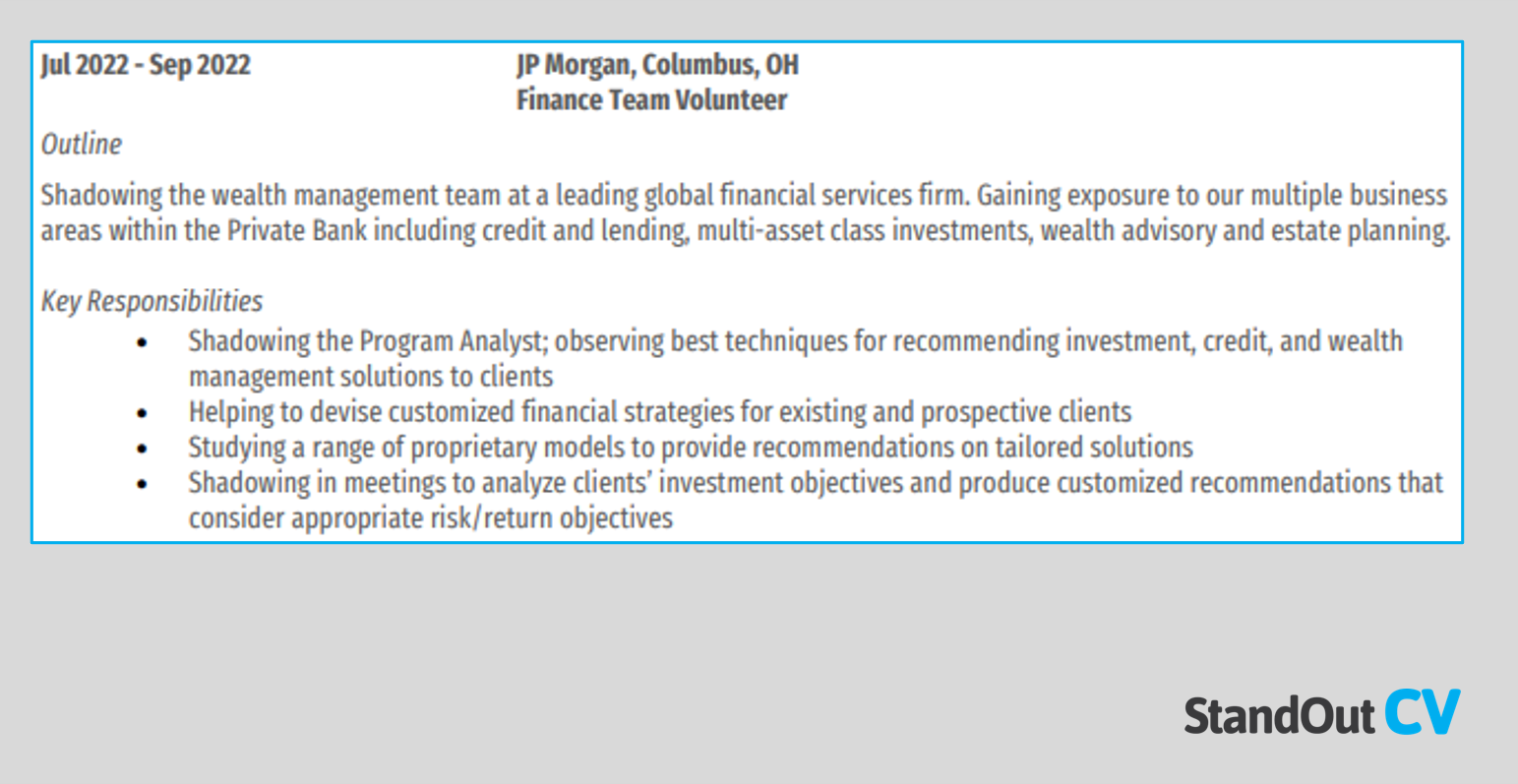 Example bullet points
Shadowing the Program Analyst; observing best techniques for recommending investment, credit, and wealth management solutions to clients
Helping to devise customized financial strategies for existing and prospective clients
Studying a range of proprietary models to provide recommendations on tailored solutions
Legal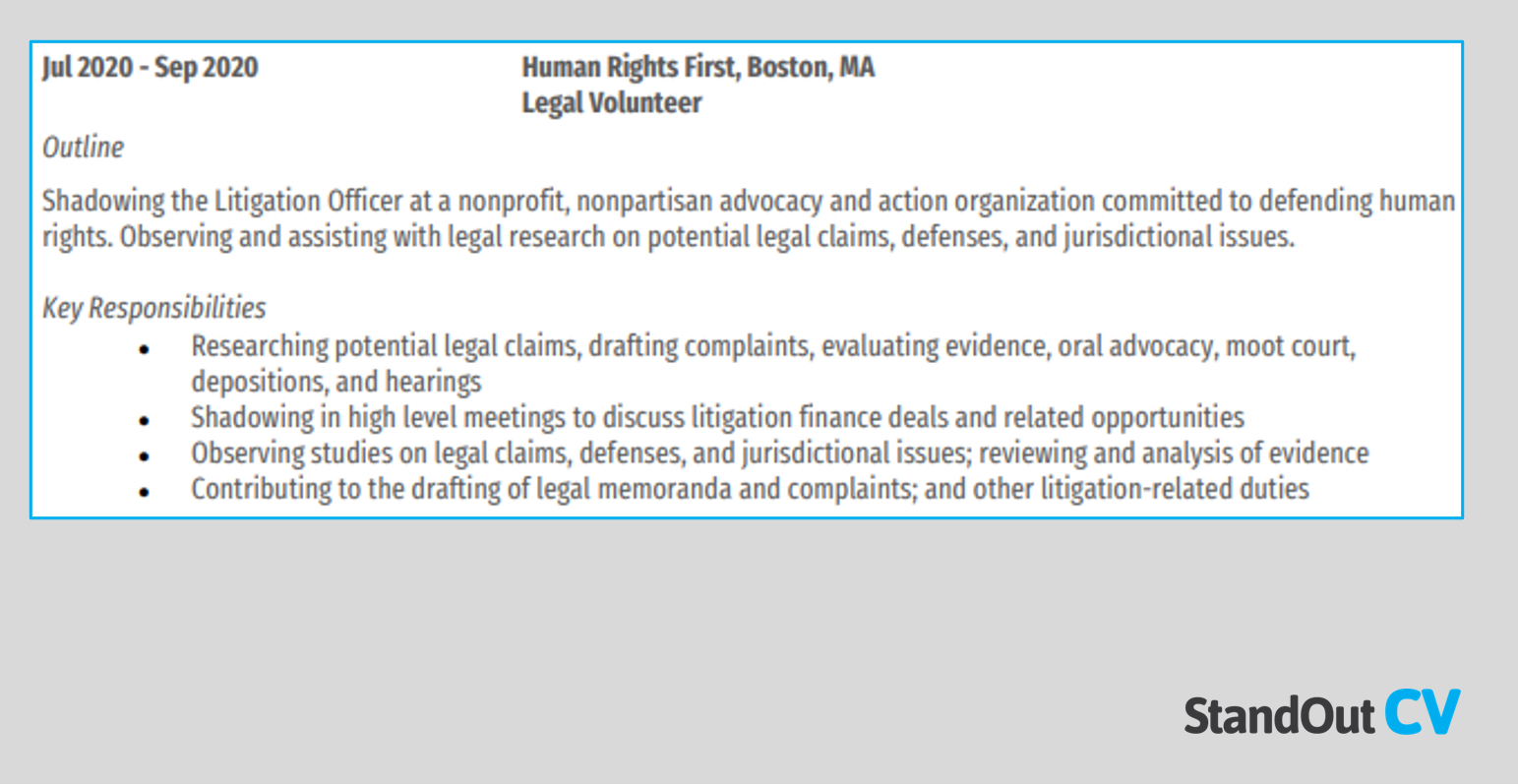 Example bullet points
Researching potential legal claims, drafting complaints, evaluating evidence, oral advocacy, moot court, depositions, and hearings
Shadowing in high level meetings to discuss litigation finance deals and related opportunities
Observing studies on legal claims, defenses, and jurisdictional issues; reviewing and analysis of evidence
Hospitality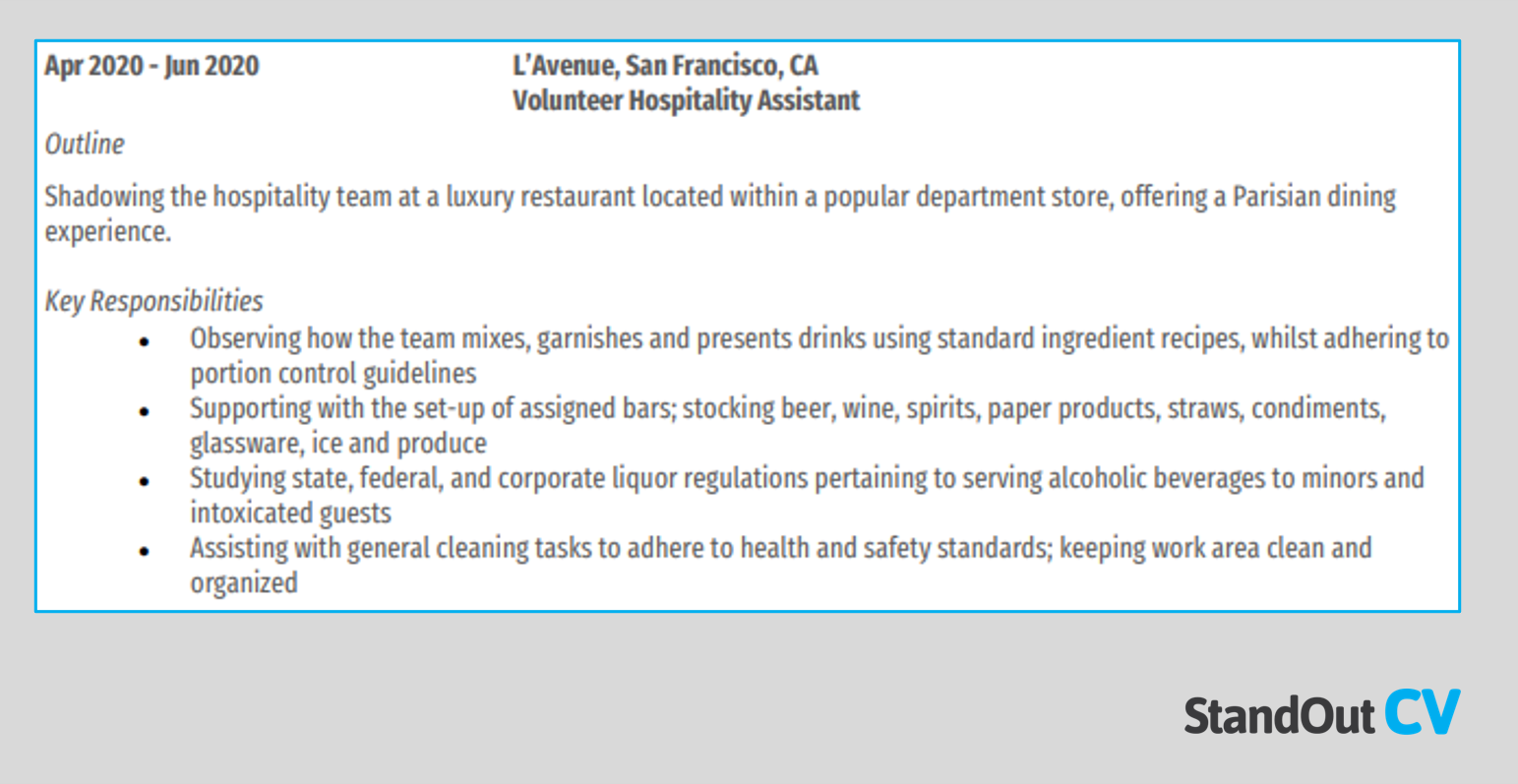 Example bullet points
Observing how the team mixes, garnishes and presents drinks using standard ingredient recipes, whilst adhering to portion control guidelines
Supporting with the set-up of assigned bars; stocking beer, wine, spirits, paper products, straws, condiments, glassware, ice and produce
Studying state, federal, and corporate liquor regulations pertaining to serving alcoholic beverages to minors and intoxicated guests

What is shadowing?
Job shadowing is a form of on-the-job training that involves observing a professional while they carry out their daily responsibilities. It allows the observer to learn more about the role, gain some experience, and get a real understanding of what the job involves.
Shadowing is usually done by entry-level staff, and allows them to learn the job before they start doing hands-on work.
Shadowing experiences vary and can be for just a few days, weeks, or months depending on the arrangement.
Should you include shadowing in your resume?
Shadowing experience can help to boost your resume massively.
It shows potential employers that you are dedicated, willing to learn, and passionate about your industry.
It can also help to increase your skills and knowledge, so you have more to write about on your resume.
This experience can be just as relevant as a part-time role or internship, so yes, there are several reasons why you should include this on your resume.
Shadowing experience that is relevant to the position you're applying for (e.g. shadowing an accountant when applying for accounting jobs) is a great way to learn about the skills and knowledge needed for the job.
So, when it comes to writing your resume you can show recruiters all the relevant things you've learnt from shadowing the job – making you a much better fit for the role.
Where to include shadowing in your resume
In order to get the most from your shadowing experience, you need to know where to include this on your resume, and there are 2 areas it will make the most impact.
Resume summary
If you don't have a lot of experience behind you or your shadowing experience is particularly relevant, then you should include this in your resume summary.
Your resume summary is the introductory paragraph at the top, so it's the first thing recruiters will see.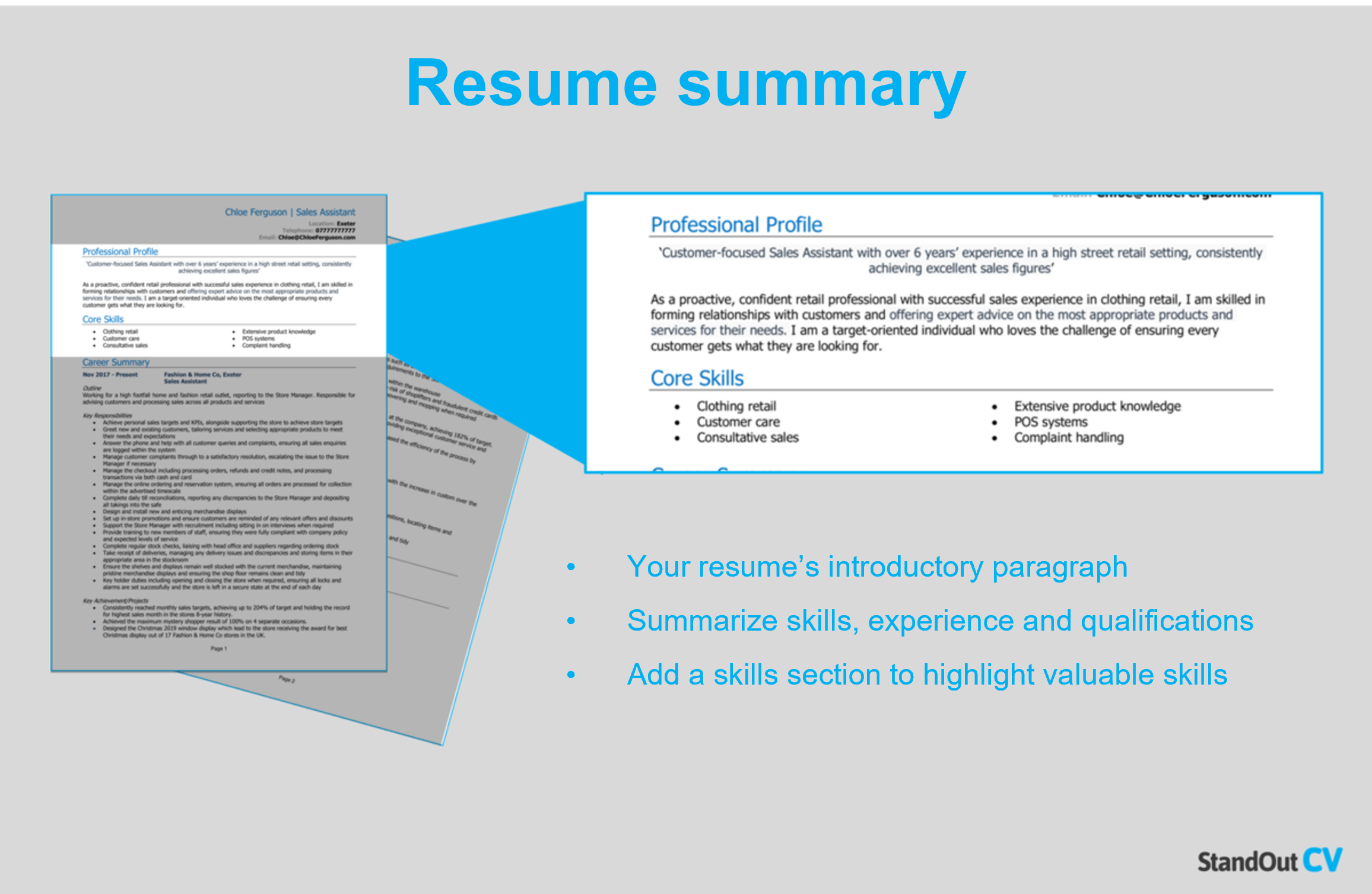 Take this opportunity to highlight any skills you gained or any key achievements from the experience, to hook recruiters attention and get them interested in you.
You could also include the titles of any big players you shadowed, for example, if you shadowed the CEO of a large organization. Aim to keep this to just one or two short highlight sentences, and save the detail for the rest of your resume.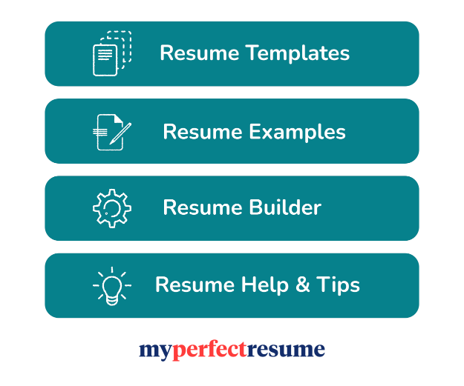 Work experience
The most logical way to showcase your shadowing experience is in your experience section, including the shadowing experience as a job.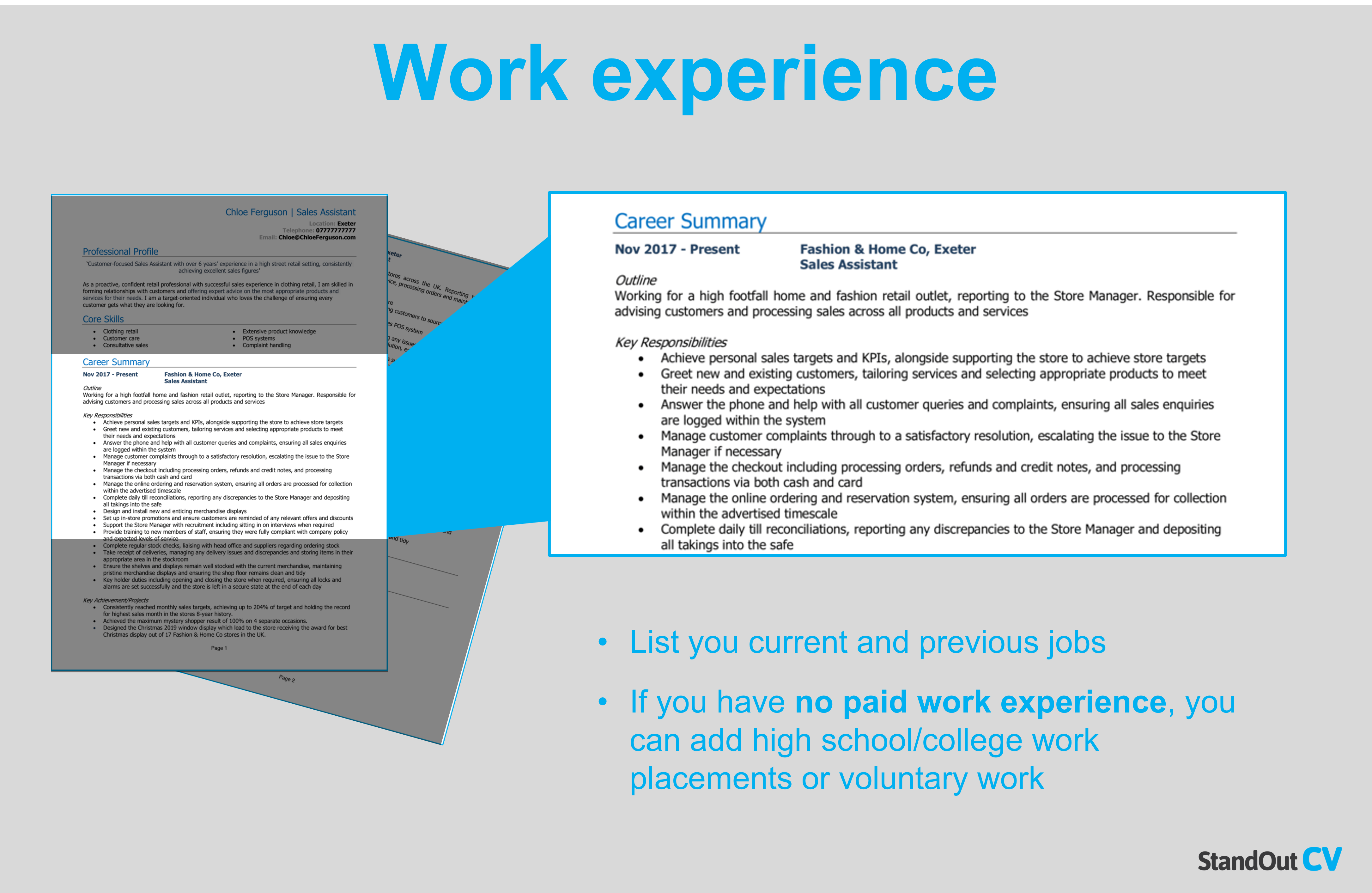 Provide a few bullet points giving details of the tasks you observed, the people you shadowed, and any achievements from the experience.
How to include shadowing in your resume
Now you know where to include your shadowing on your resume, here's how to effectively showcase this experience.
Highlight important skills
Throughout your resume, you need to include the important skills you gained from the shadowing experience.
Start by looking over the job descriptions of the roles you are applying to, so you can highlight the key skills requested by the employer.
Be sure to include both hard and soft skills you gained while watching the professional. For example, if you sat in on a meeting and learned how to take minutes.
Show tools and software used
When outlining your skills and experience, be sure to give the names of any tools or software you learned how to use, especially if these are listed in your target job descriptions.
Say, for example, the employee taught you how to use Google Analytics as you watched them carry out various aspects of the job with the tool.
Add achievements and numbers
To give employers a clear picture of the work you shadowed, include some numbers to gre describe size and scale of the operation. For example, "Shadowing a team of 4" or "Managing an area of 5 regions"
If you shared any ideas that were implemented, give details of the impact this had on the business and quantify this where possible. For example, "Suggested an change to the booking system which helped reduce booking errors by 5%"
Be careful not to exaggerate
It can be tempting to embellish the truth to make your experience seem more impressive or to tick off some of the skills listed in the job description. But just remember, you should always be honest and never exaggerate what you did.
Otherwise, you might find yourself struggling if you are asked about your experience at interview stage, or caught out during referencing. This would look highly unprofessional and damage your chances of landing the role.