The first challenge in writing an interview-winning resume is crafting a powerful summary that will catch the eye of busy recruiters.
It can be difficult to cram all of your experience and knowledge into a short paragraph after all.
To help you out, we've provided 10 real-life resume summary examples from our users (from all industries and experience-levels) that have been used to bag tons of job interviews.
Check them out and start creating your own wining resume today!

Retail resume summary example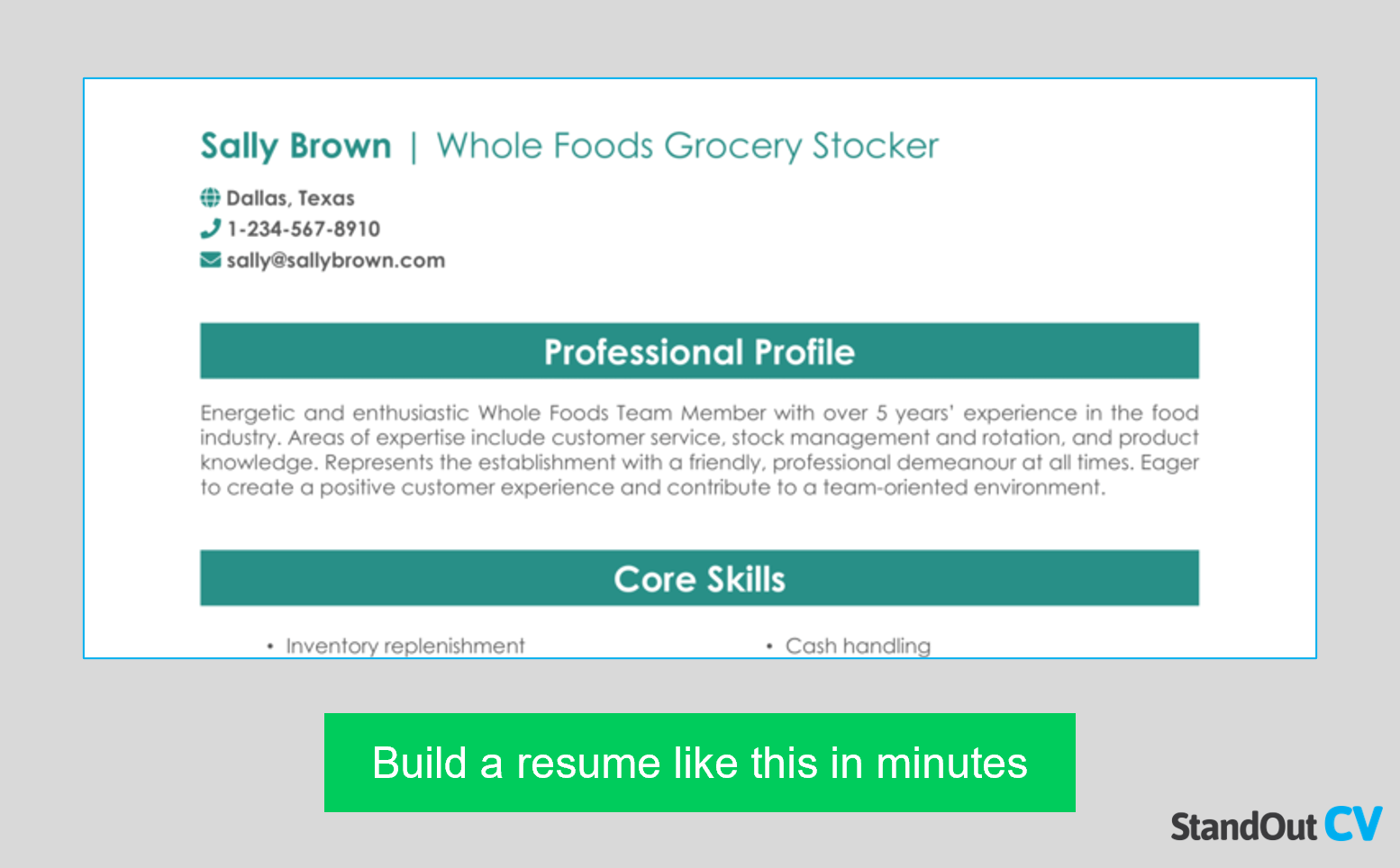 Tips for writing a good retail resume summary
Keep it short and sweet at just three or four sentences that highlight your top retail skills and experience – this will be just enough to catch the eye of busy hiring managers.
Retail roles can be competitive, so use facts and figures to showcase your value, such as sales figures or customer satisfaction metrics.
Use retail-specific action verbs throughout your resume summary to give more detail about your retail abilities, for example, promoted, sold, organized, assisted
Sell yourself! If you work in retail, you need to be able to sell goods to consumers, so think of your resume summary as a sales pitch. It's a way to sell yourself to employers, and the language you use should be persuasive and engaging
Highlight the types of products you've sold or the brands you've worked with in the past, to give retail employers a rounded picture of your career
Administrator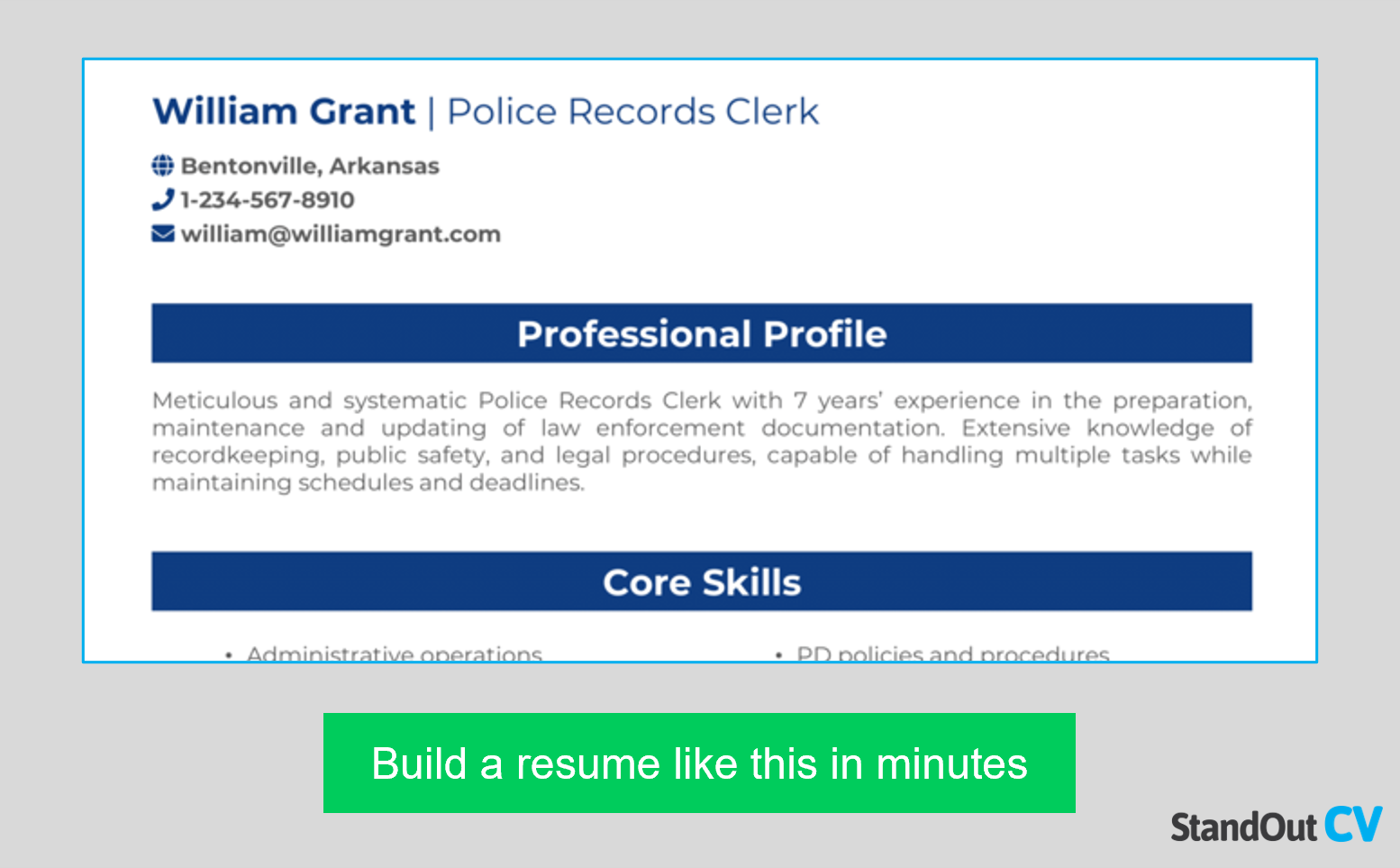 Tips for writing a good administrator resume summary
If you have any admin-specific qualifications, be sure to highlight these in your summary, for example, if you are a Certified Administrative Professional (CAP)
Remember, this is your elevator pitch; your chance to introduce yourself, so write persuasively and don't be afraid to sell yourself
Use facts and figures to show how your admin abilities stack up against the competition. For example how many years of experience do you have? Or how many colleagues have you supported in past roles?
Be specific about any admin-related software you can use, listing any relevant tools you are proficient in, such as Microsoft Office, Google Workspace, or Dropbox – employers love to see candidates who can hit the ground running.
Quick tip: Choose from hundreds of pre-written summaries across all industries, and add one to your resume with one click in our partner's Resume Builder. All written by our recruitment experts and easily tailored to suit your unique skillset.
Customer Service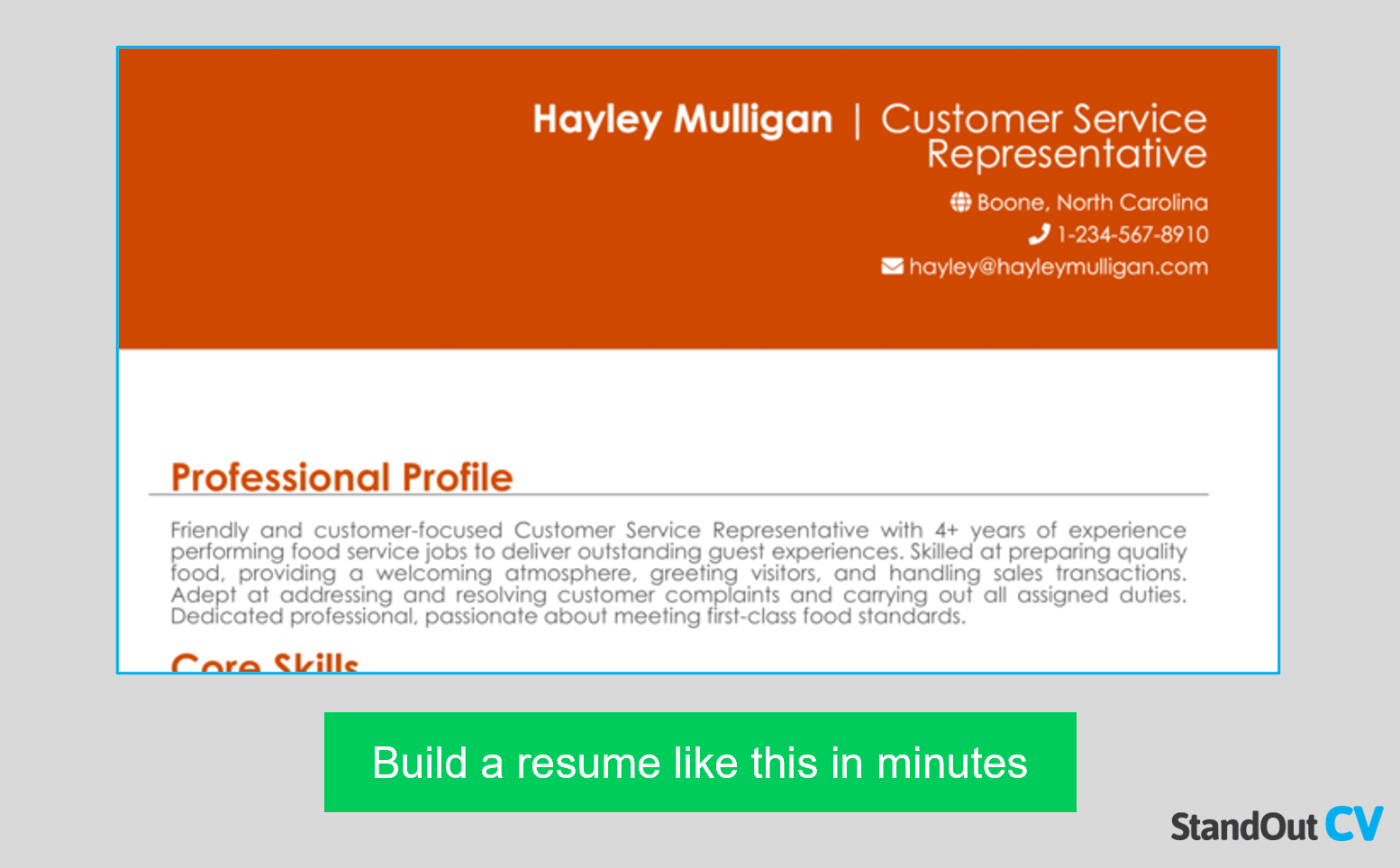 Tips for writing a good customer service resume summary
Be sure to highlight your most relevant experience, including the types of companies you have worked for and the customer service work you have carried out.
Give high-level examples of what you can offer to potential employers, such as keeping customers happy, making sales, or reducing refunds and complaints – all of these things are important to businesses.
Customer service qualifications can boost your application, for example, if you have help desk certifications, client service specialist certification (CCSS), or similar
Use customer service-related skills to make your resume summary stand out, e.g. advised, sold, resolved and increased.
Name drop any popular customer service platforms you are proficient in, such as POS systems, Zendesk or Help Scout, especially if these are outlined in the job description
Education
Tips for writing a good education resume summary
Every teaching environment is different, so it's important that you tailor your summary to the specific kindergarten, high school, or college you're applying to, by highlighting the skills and experience they are looking for.
Use teaching-specific action verbs to help showcase your skills and demonstrate what you've accomplished in past roles, e.g. planned, supported, encouraged
You only have a few seconds to impress the recruiter, so keep your education summary brief (3-5 sentences maximum) Do this by keeping the information high-level and saving the detail for your work experience section.
Qualifications are crucial for teaching, so be sure to highlight your most relevant qualifications, be that your college degree or a state-sanctioned teacher education program.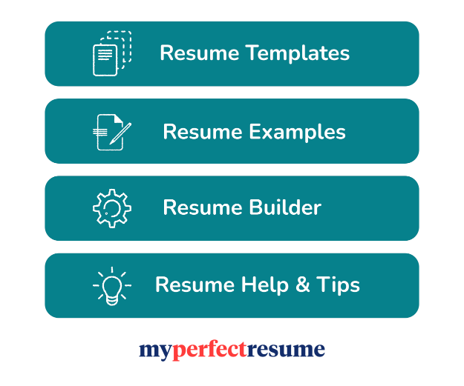 Accounting and Finance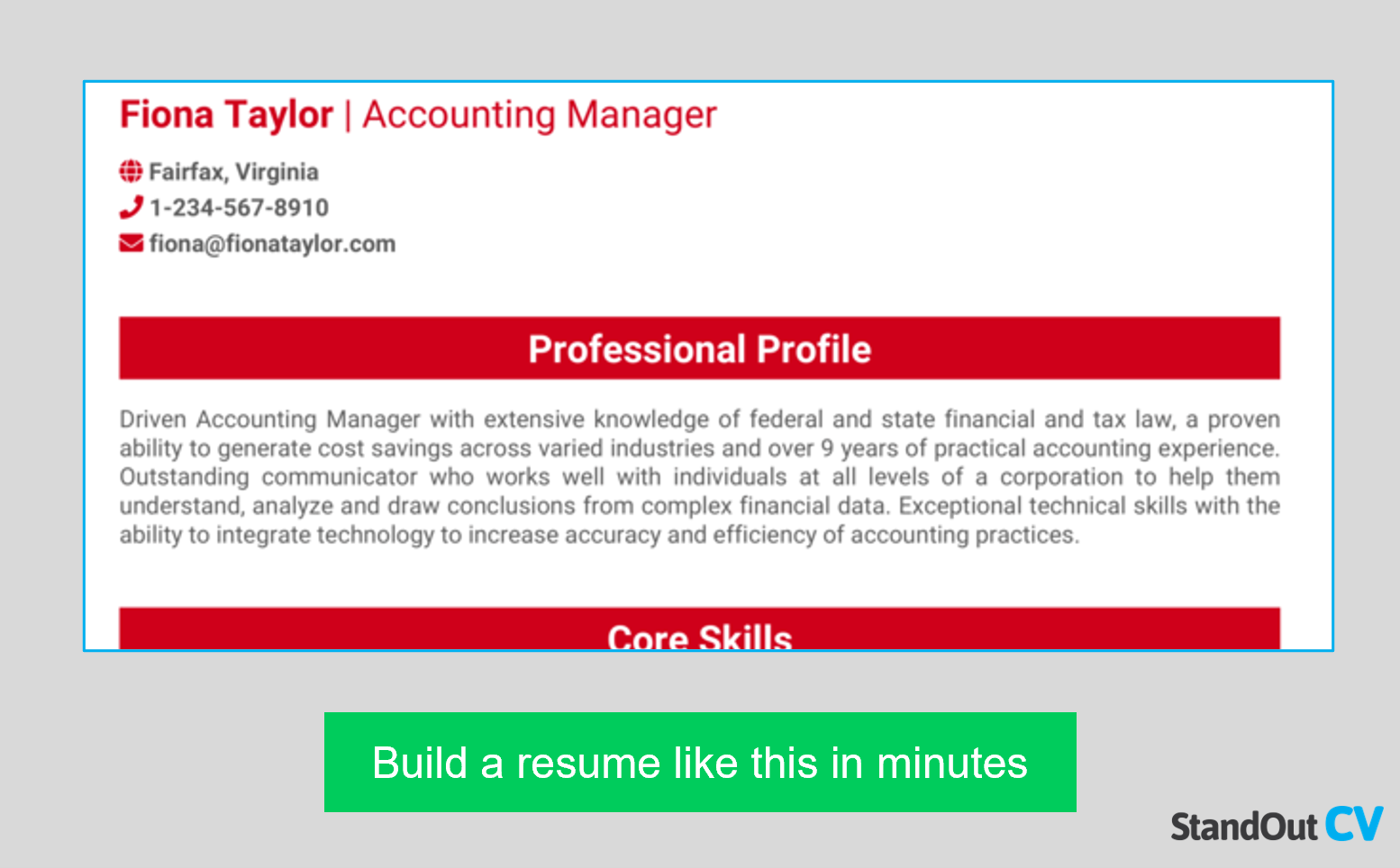 Tips for writing a good accounting and finance resume summary
Accounting and finance roles require a meticulous skillset, so carefully echo the specific skills listed in the job descriptions you are applying for, for example budgeting, taxation, or forecasting.
Your job is a numbers game, so be sure to quantify top achievements like how much money you have saved companies, or how many clients you are capable of managing.
Be specific about the accounting software you are proficient in, particularly if the employer has listed it in the job description; some popular examples that employers like to see are Xero, QuickBooks, and Sage
But be careful to avoid using jargon and acronyms that might have been exclusive to your past/current firm, as these may be confusing and possibly have no meaning to an outsider – do your research and only include widely-used terms.
Healthcare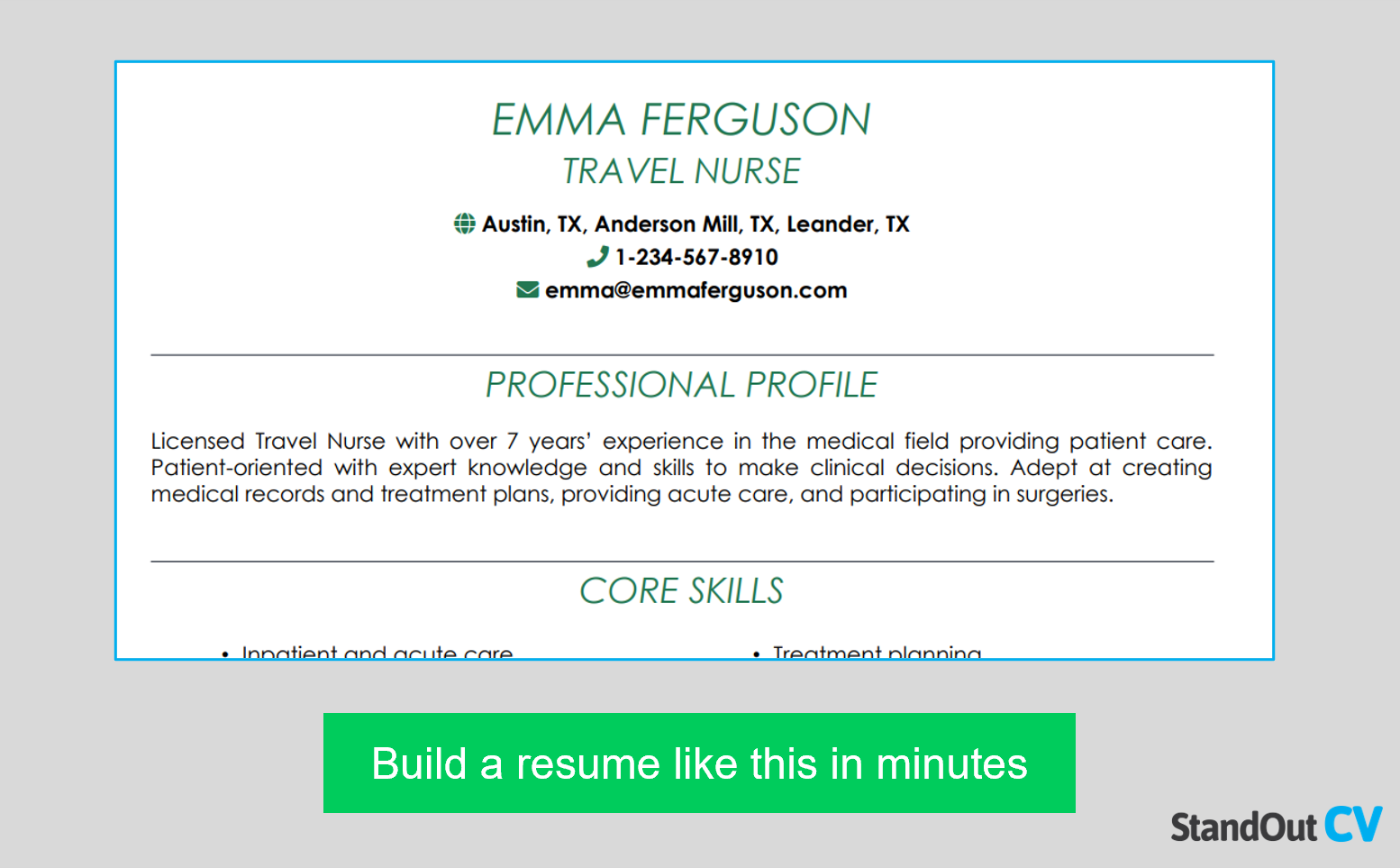 Tips for writing a good healthcare resume summary
The healthcare industry is a highly regulated sector, so include the essential certifications that are required for your role – if hiring managers don't see the right away, they might skip past your resume.
Showcase your key achievements with numbers to seal the deal, for example, how many patients you helped daily or how you helped cut medical costs or wastage in previous jobs.
Give details of your current medical position, clinical experiences, residencies, or fellowships that you believe are the most relevant and impressive to the role
Many employers in large healthcare organizations rely on ATSs, so be sure to optimize your summary with keywords from the job description, for example, administering, medication, care plans, diagnosing – to ensure your resume gets through to a human.
Qualifications are understandably important in healthcare, so highlight your most relevant qualification, be that a college degree, doctorate, or a specific qualification like a Certified Medical Assisting certification.
Construction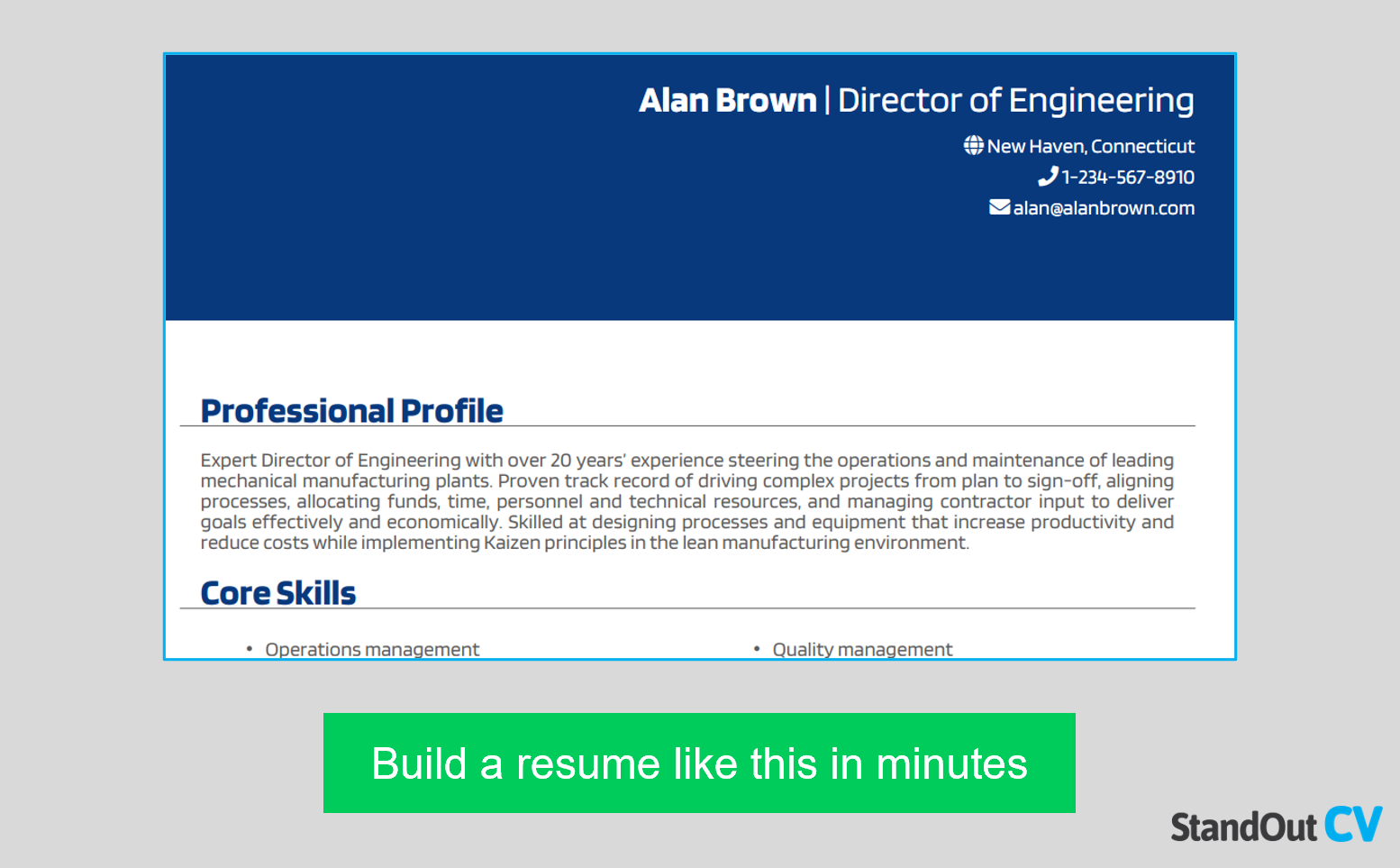 Tips for writing a good construction resume summary
Keep your summary short and sweet at just a few sentences that highlight your top construction skills and experience in the industry – lengthy summaries might not be read in full by busy recruiters.
Ask yourself which achievements are the best to showcase your construction skills and highlight these in your summary, for example, giving details of impressive construction projects you've worked on, or well-known employers you have worked for.
Competition can be stiff in the construction industry, so stand out by quickly highlighting the essential skills for the job, skills like project management and trade-specific skills
Translate your achievements into numbers to show your value; for example, include figures such as the number of workers you oversee, typical project budgets, or simply years of experience you have.
You want your summary to be powerful, so use construction-related action verbs such as scheduled, constructed, and completed, to grab attention.
IT (Information Technology)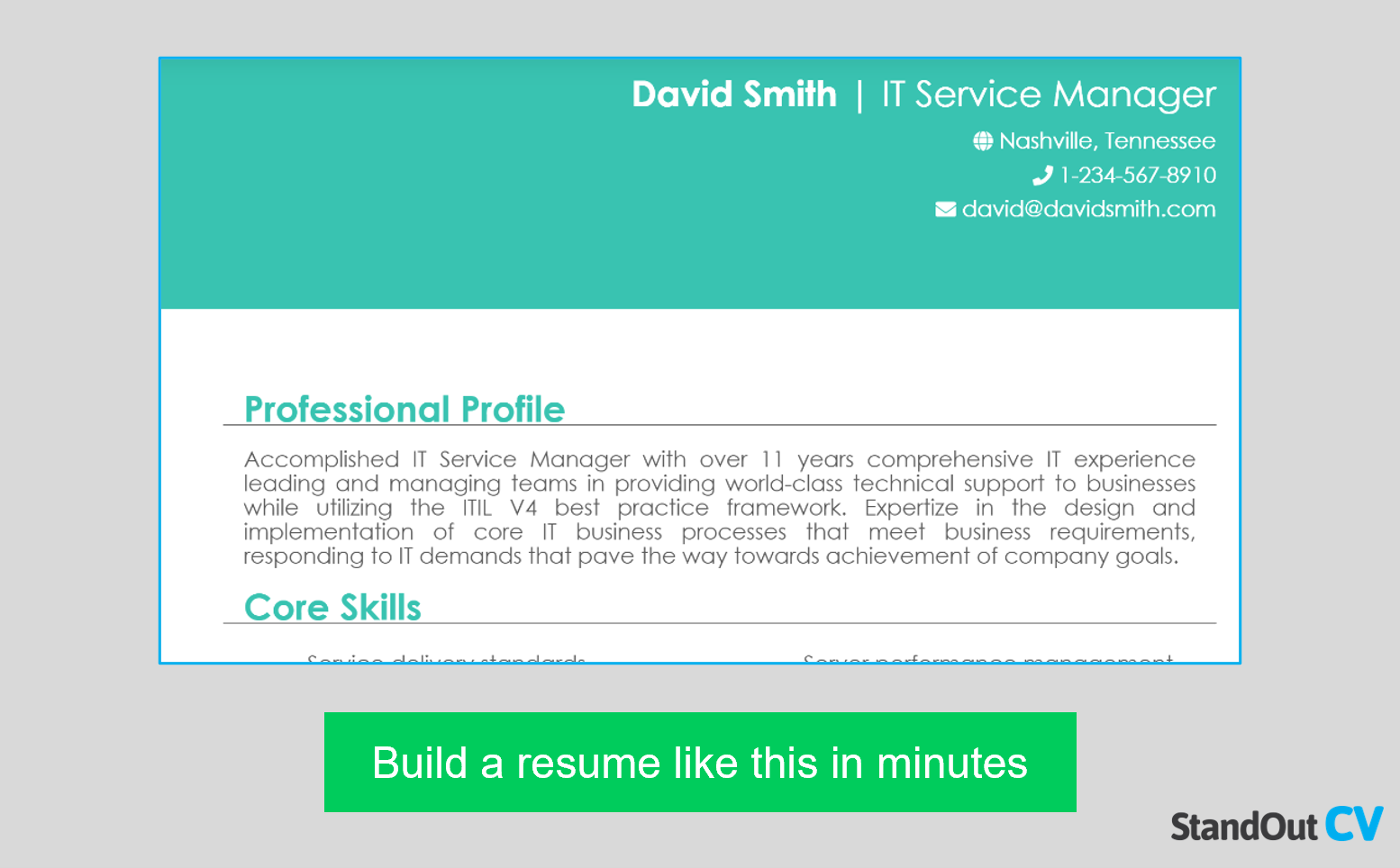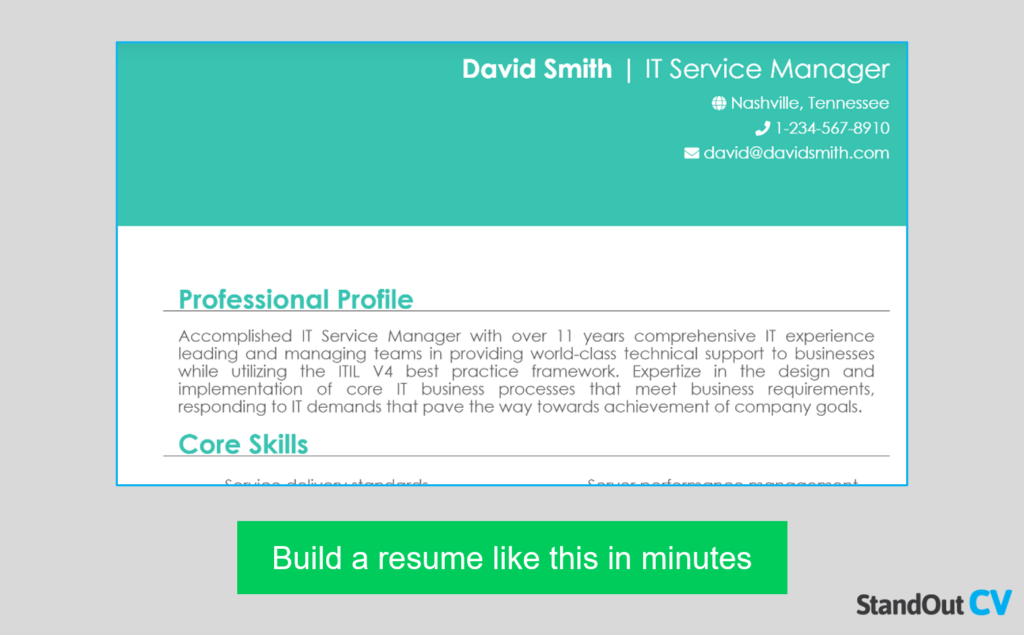 Tips for writing a good IT resume summary
Be specific about your experience by highlighting the types of hardware, software, and systems you are proficient in – this will help recruiters pinpoint the right roles for you.
Review the job description and highlight the keywords that will quickly grab the recruiter's attention – then ensure that you include these keywords in your summary.
IT roles require a strong set of tech and non-tech skills, so be sure to include a mixture of both; for example, you might be a whizz at developing JavaScript applications, but also have strong communication and project management skills.
Show the employer how you can benefit them, by quantifying your achievements. For example, giving detail on the typical size and budget of the projects you work on, or how you've helped companies increase revenue.
Tech roles can also be competitive, so highlight any qualifications you have that could help you stand out, such as being a Certified Ethical Hacker (CEH) or AWS Certified Cloud Practitioner.

Junior or Student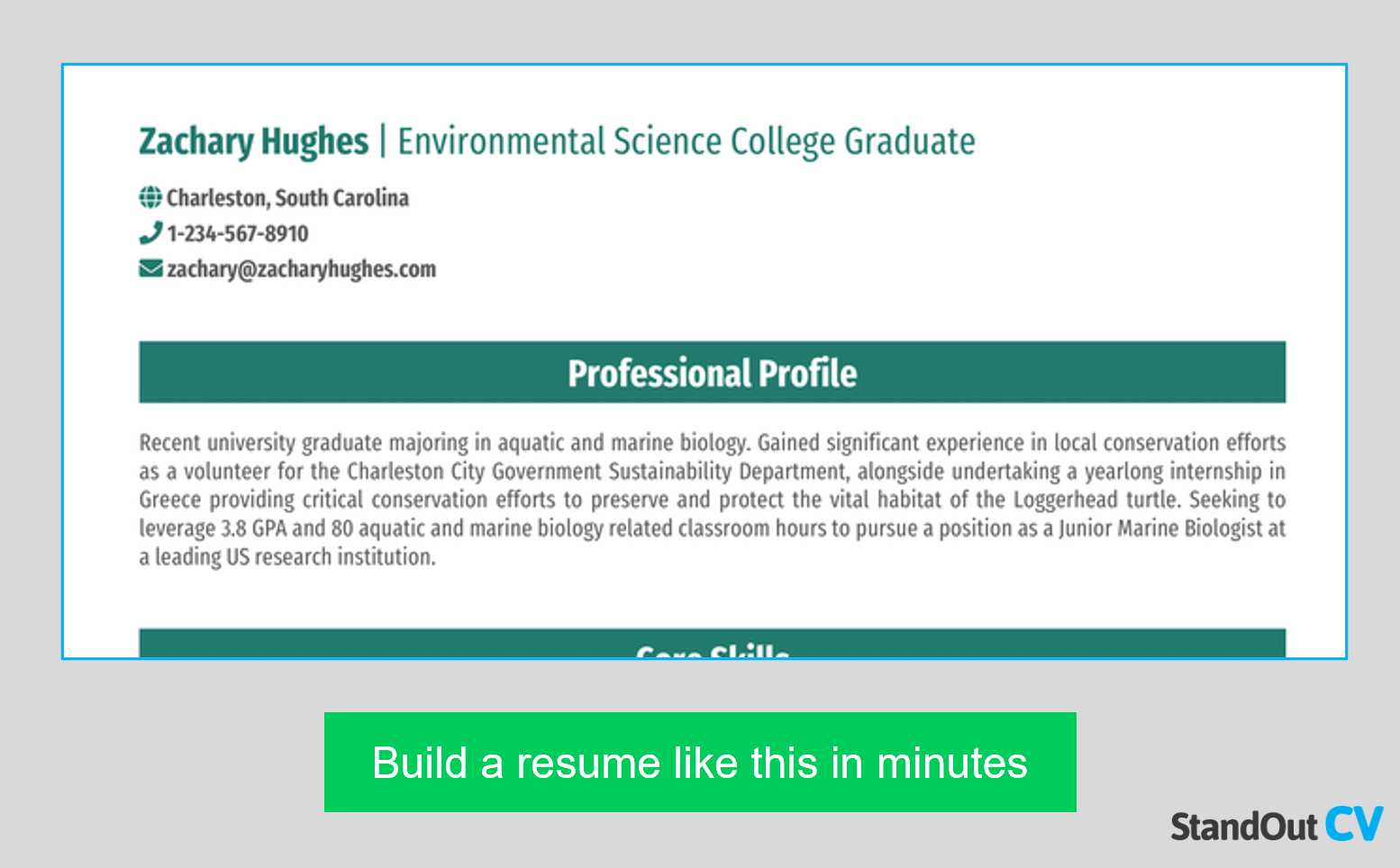 Tips for writing a good junior/student resume summary
When applying for junior/student positions, you might not have as much experience to shout about, so highlight your achievements from school, college, volunteering, job-shadowing personal-projects, or anything else.
Showcase any transferable skills that you have gained that could be valuable in the workplace. Skills like communication, software knowledge, flexibility, and organization. Always check the job description to see which skills are important to the employer.
Be sure to include any accomplishments that are impressive or relevant; these could be double majors, awards, student honors, or standout grades that show you are ambitious and hard-working
You should keep this section short and succinct, and in order to help the recruiter recognize you're a good fit for the role quickly – they often see hundreds of resume per day, so you need to get their attention within seconds.
Project Manager resume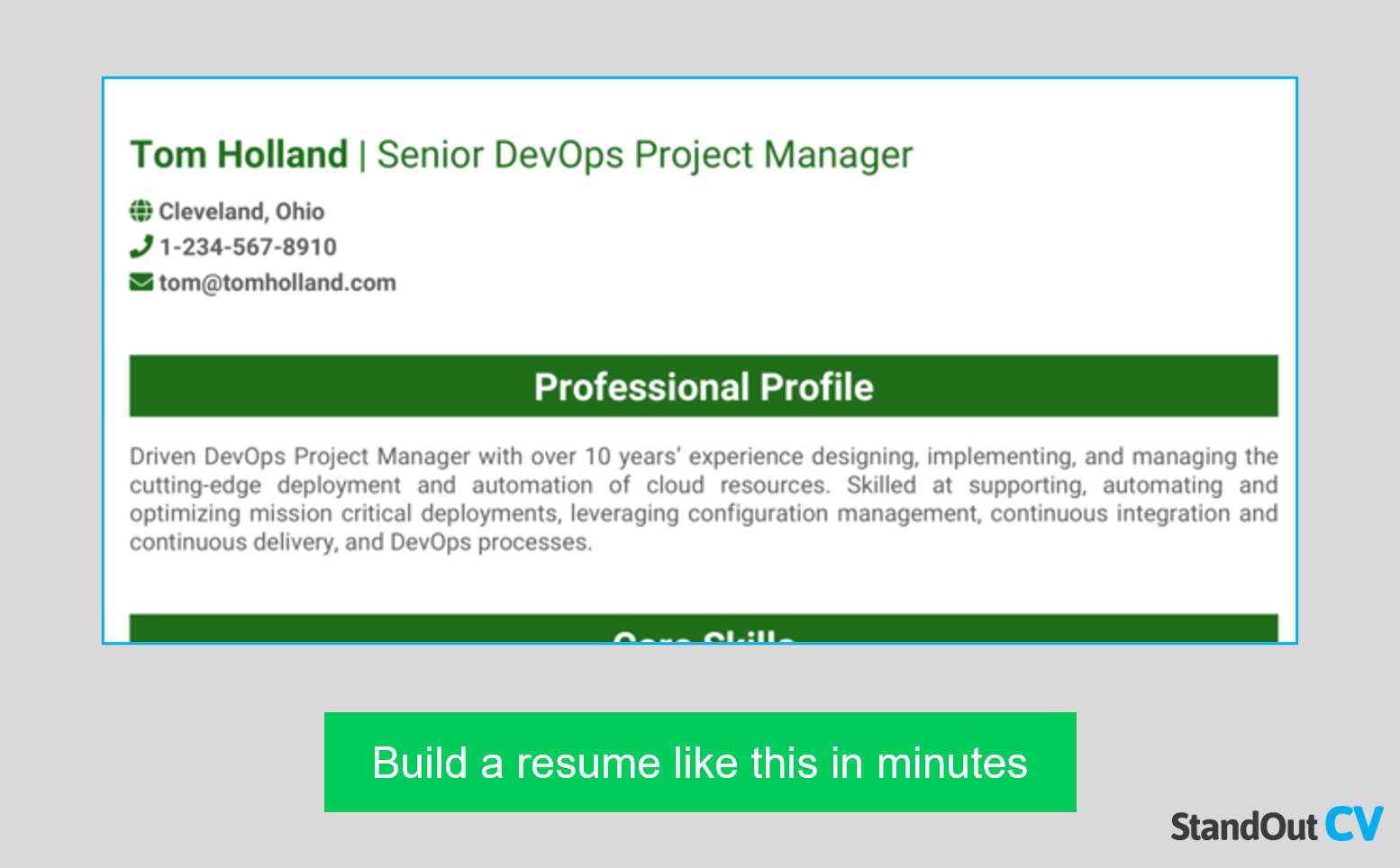 Tips for writing a good project manager resume summary
Show recruiters what kind of project manager you are by summarizing the type of projects you have led (IT, Finance, Change etc.) the industries, you have worked in, and the benefits your projects deliver, e.g. saving costs, increasing productivity etc.
Give quantified examples of past achievements, being specific about the size of the projects you've worked on, duration, financial value, and deliverables.
Share key figures, such as years of experience you have as a project manager, number of projects you've worked on, budgets, and team-size managed
Avoid overused cliche phrases and buzzwords from the industry, such as go-getter, best of breed, synergy, and dynamic
How to write a resume summary
Your resume summary is your elevator pitch and your introduction to a hiring manager or potential employer.
It is a professional summary that describes your key experience, skills, qualifications, and achievements.
But with just a few seconds to grab the reader's attention, it needs to be engaging.
Here's how to nail it.
Tailor to your target jobs
It's vital that you tailor your resume towards the jobs you are applying for, starting with your resume summary. You need to make sure the experience, skills, and qualifications you include are highly relevant to the position you're applying to.
Tailoring your summary in this way makes it much quicker and easier for the recruiter to see you've got what it takes and makes them much more likely to notice you.
In order to tailor your resume effectively, you need to do your research and identify the most relevant keywords from the job descriptions you are targeting;  then you can then include these in your summary to ensure you look suitable.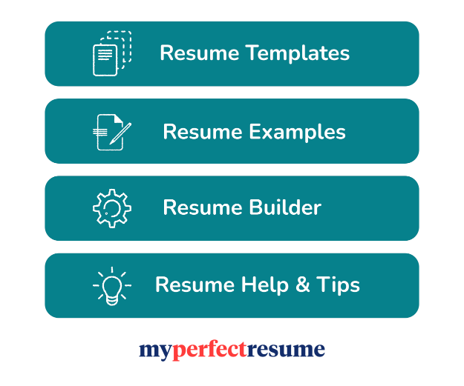 Keep it brief
You've heard the old adage, less is more, and this is also true of your resume summary.
Recruiters and hiring managers are often pushed for time, so will spend just a few seconds on an initial scan of your resume, before deciding whether they should invest any more time in it. So, your resume summary needs to make an impact quickly.
You want your introduction to be short and pithy, keeping it to just three or four key sentences long – on short paragraph format.
This can feel tough, but you need to select your key skills, experience, qualifications, and achievements carefully to ensure you only include the most impressive and relevant information.
Describe the impact you make
You need to show hiring managers and potential employers what you can do for them and the impact you can have on their business. Ultimately, this is all that matters to them.
The best way to do this is to give some high level examples of impact you have made in previous roles . For example, maybe you are great at bringing new customers on board and increasing sales, or perhaps you are a whizz at improving IT systems that save your colleagues time and money.
Quick tip: Choose from hundreds of pre-written summaries across all industries, and add one to your resume with one click in our partner's Resume Builder. All written by our recruitment experts and easily tailored to suit your unique skillset.
Avoid clichés
Finally, you need to be careful not to stuff your resume summary with overused buzzwords, cliches, or jargon. Not only is this boring, but cliché phrases don't tell readers anything factual about you.
Instead of saying you are a "hard-working team player who thinks outside the box", give tangible examples of your skills, experience and knowledge.