Are you looking for a remote position as a customer service representative?
Then you need to create a persuasive resume that showcases key skills like communication, positivity, and problem-solving.
Find out how to highlight your skills and experience using our handy writing guide and remote customer service resume example below.
Contents
| | |
| --- | --- |
| How to write a Remote Customer Service resume | |

Remote Customer Service Resume Example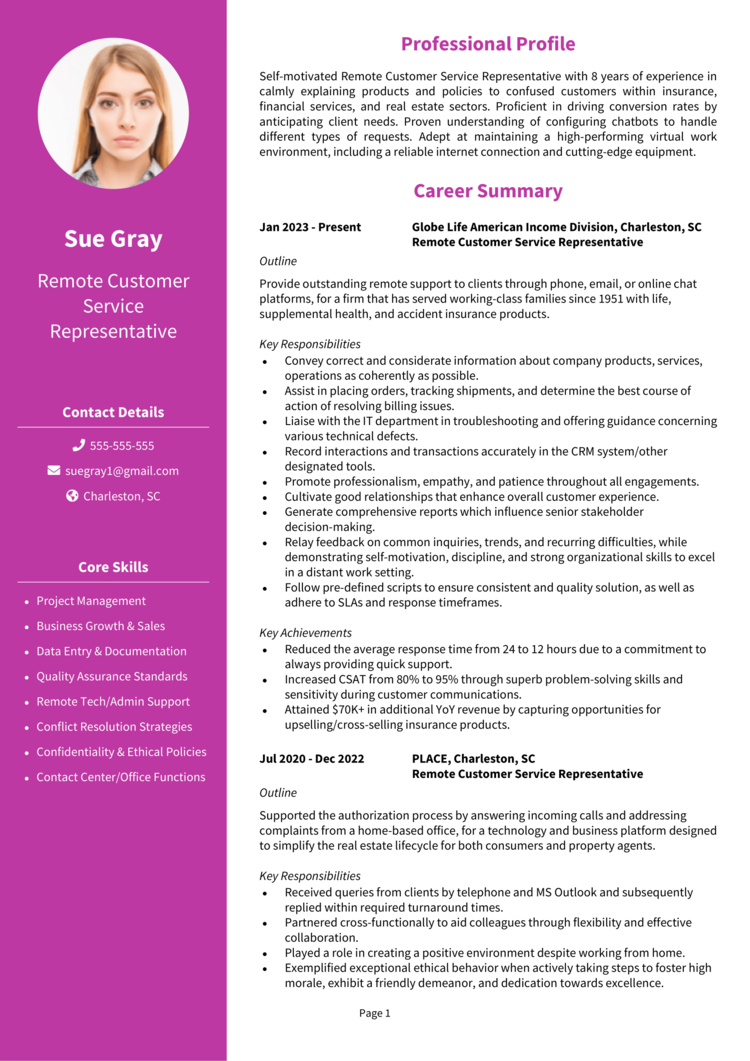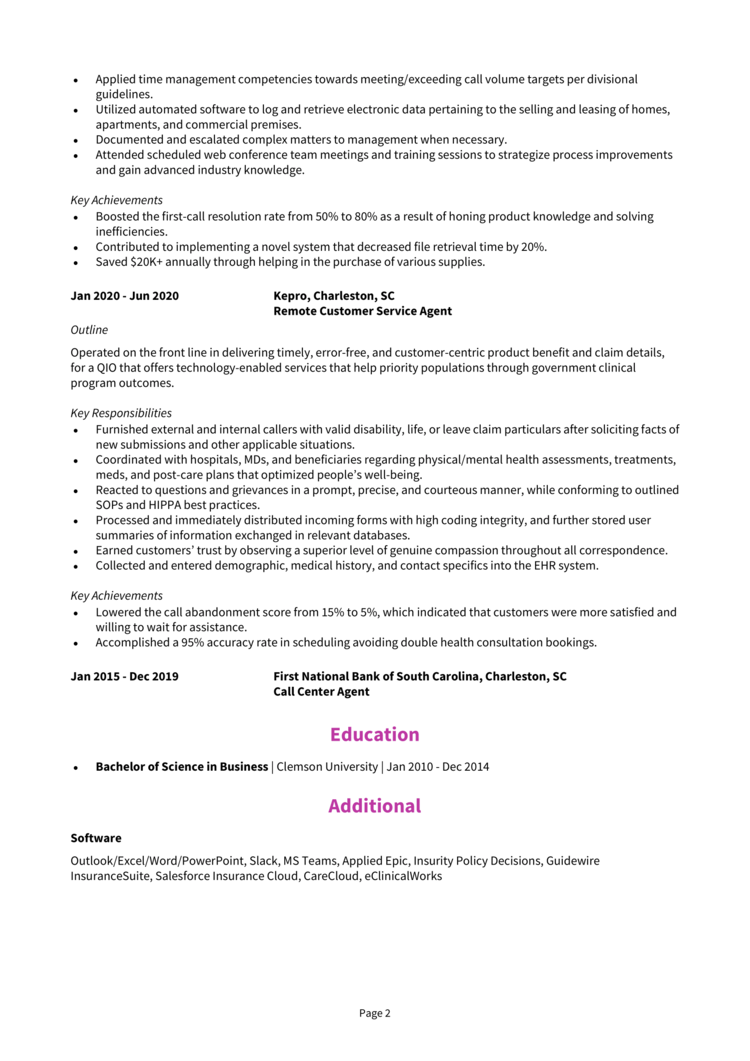 From the Remote Customer Service resume example above, you can see the kind of information your resume will need to include, and the layout you will need to create for an easy-reading experience.
The rest of this guide will show you how to apply this format to your own unique situation, and create a resume that will attract the best employers in your industry.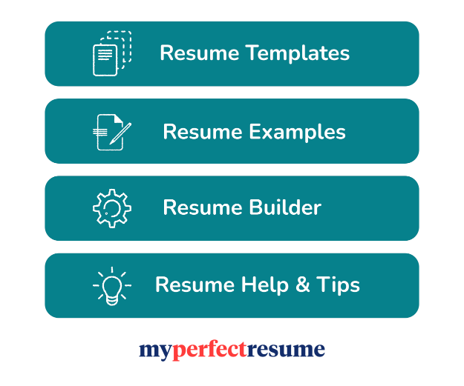 Remote Customer Service resume layout and format
If you want to get noticed in the job market, you have to pay attention to the format and layout of your resume.
Essentially your resume needs to look highly polished, and provide hiring managers with an easy reading experience.
Use these resume formatting tips to get a head start on this.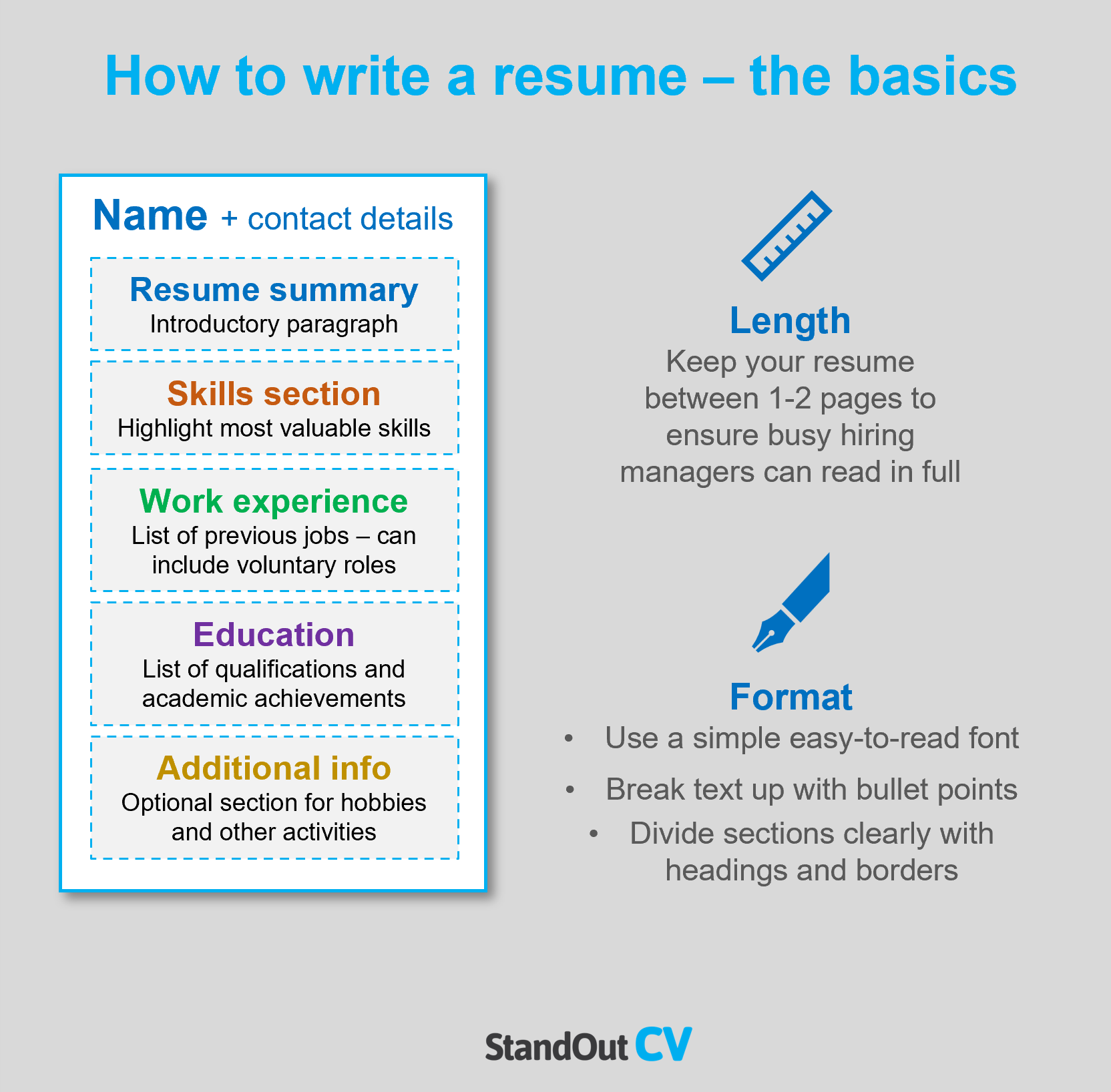 Formatting your resume
Length: Recruiters often see hundreds of resumes per day – so keep yours under 2 pages in length, if you want to ensure it gets read in full.
Font & readability: Readability is the name of the game when it comes to your resume. Ensure yours is a dream to read by using a simple clear font, and breaking the text up with plenty of bullet points and short paragraphs.
Layout & Structure: Hiring managers should be able to skim through your resume easily and pinpoint the information they want quickly. To help them do this, organize the page into clear sections with bold headings and dividing borders. The design should be clutter-free and professional-looking, with a calm color scheme.
Photos: Although it's not mandatory to include a photo on your resume in the United States, it may be a good idea to do so in certain regions and industries where it is preferred.
Quick tip: Achieving a professional look for your resume can be difficult and time-consuming. If you want to create an attractive resume quickly, try our partner's Resume Builder and use one of their eye-catching resume templates.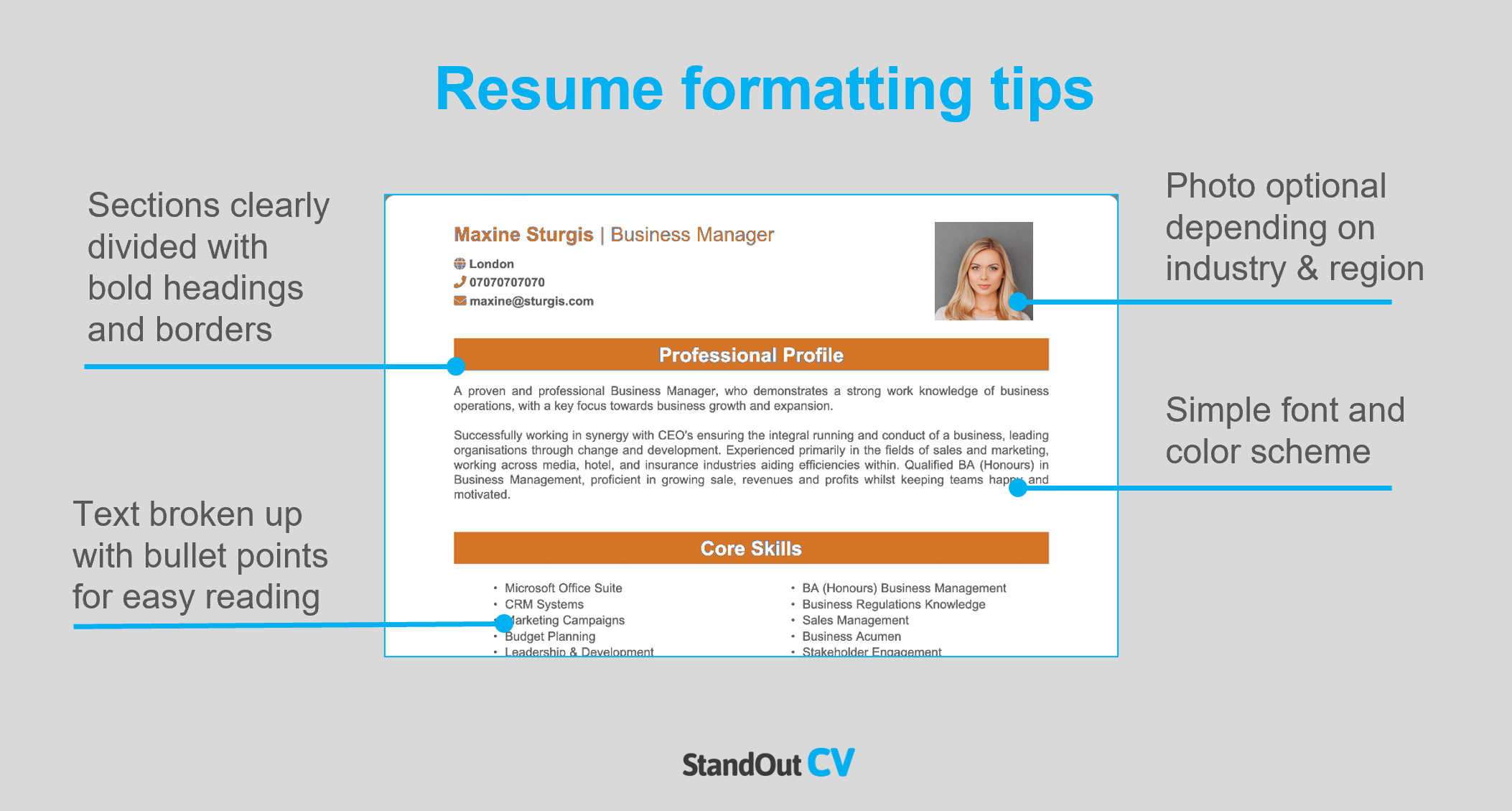 Resume layout
Add the following sections when you write your resume.
Name and contact details – Add to the very top of your resume to introduce yourself and make it super-easy for recruiters to get in touch.
Resume summary – Reel hiring managers in with an "elevator pitch" style paragraph which sums up your suitability for the job.
Skills section – A short and sharp list of your most important skills, that can be quickly skim-read.
Work experience – List your previous jobs (from newest to oldest) detailing the skills learnt and applied in each.
Education – List your qualifications and professional training.
Additional info – If it helps your application, you can add an extra section for things like hobbies and interests.
Here's what to include in each part of your resume.
Contact Details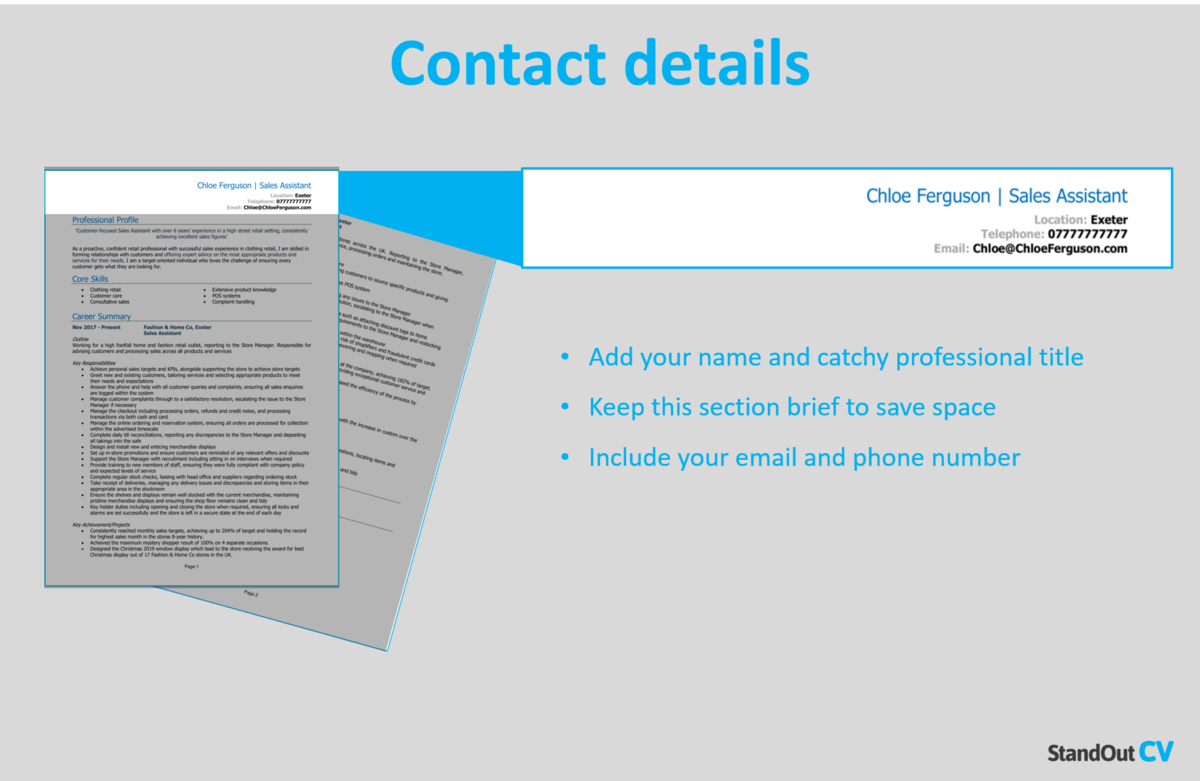 Add your name and contact details to the header of your resume, so that anybody reading can easily see how to contact you.
Name and profession title
Cell phone number – or any number you are easily reachable on
Location – Add your local area such as Washington or San Diego – not your full address as that will take up too much space.
Email address – Use a professional looking address.
You can add a link to your LinkedIn profile if you have one – you do not need to include personal details like date of birth or religion.
Remote Customer Service Resume Summary
Now it's time to get into the real content of your resume, starting with the summary.
Your resume summary is a short paragraph at the top of the document, and its jobs is to catch the eye of hiring managers by summarizing all your skills and knowledge that are most important to the roles you are applying for.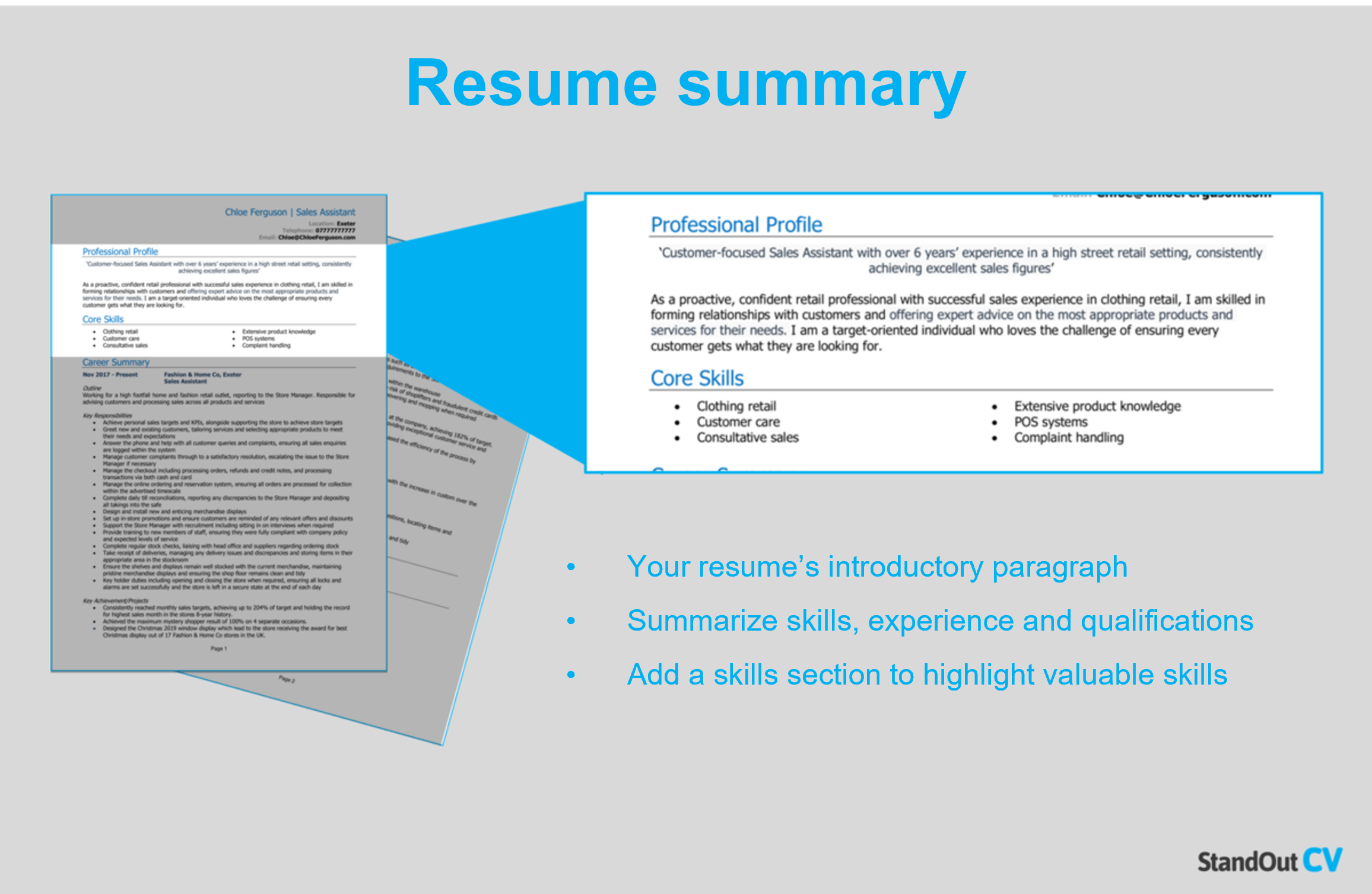 How to create a resume summary that will excite recruiters:
Keep it short: To effectively capture a recruiter's attention, it's crucial to keep your resume summary brief and to the point, limiting it to 4-7 lines as this provides enough detail without overwhelming them at this early stage.
Tailor to target jobs: To mirror your target jobs, scrutinize the job description and include as many relevant skills as possible in your resume.
Avoid using cliches: You may be a "team player who always give 110%" but generic phrases don't tell employers much about you in reality – stick to factual information.
Remote Customer Service resume summary example
Self-motivated Remote Customer Service Representative with 8 years of experience in calmly explaining products and policies to confused customers within insurance, financial services, and real estate sectors. Proficient in driving conversion rates by anticipating client needs. Proven understanding of configuring chatbots to handle different types of requests. Adept at maintaining a high-performing virtual work environment, including a reliable internet connection and cutting-edge equipment.
What to include in your Remote Customer Service resume summary?
Summary of your experience: Summarize the type of work you have done in the past and the benefits you have delivered for the organizations you worked at.
Relevant skills: Incorporate your highly relevant skills for Remote Customer Service jobs to exhibit your suitability as soon as your resume is opened.
Qualifications: If your job requires any qualifications such as a professional course or a college degree, mention it briefly in your summary.
Quick tip: Choose from hundreds of pre-written summaries across all industries, and add one to your resume with one-click in our partner's Resume Builder. All written by recruitment experts and easily tailored to suit your unique skillset and style.
Core skills section
Sitting just underneath your resume summary, your core skills section gives recruiters 4-10 of your most in-demand skills in just a glance.
As Remote Customer Service jobs may get hundreds of applications, this is a great way to stand out and quickly grab hiring managers' attention.
It should be made up of 2-3 columns of bullet points and highlight attributes that are hyper-relevant to the jobs you are aiming for.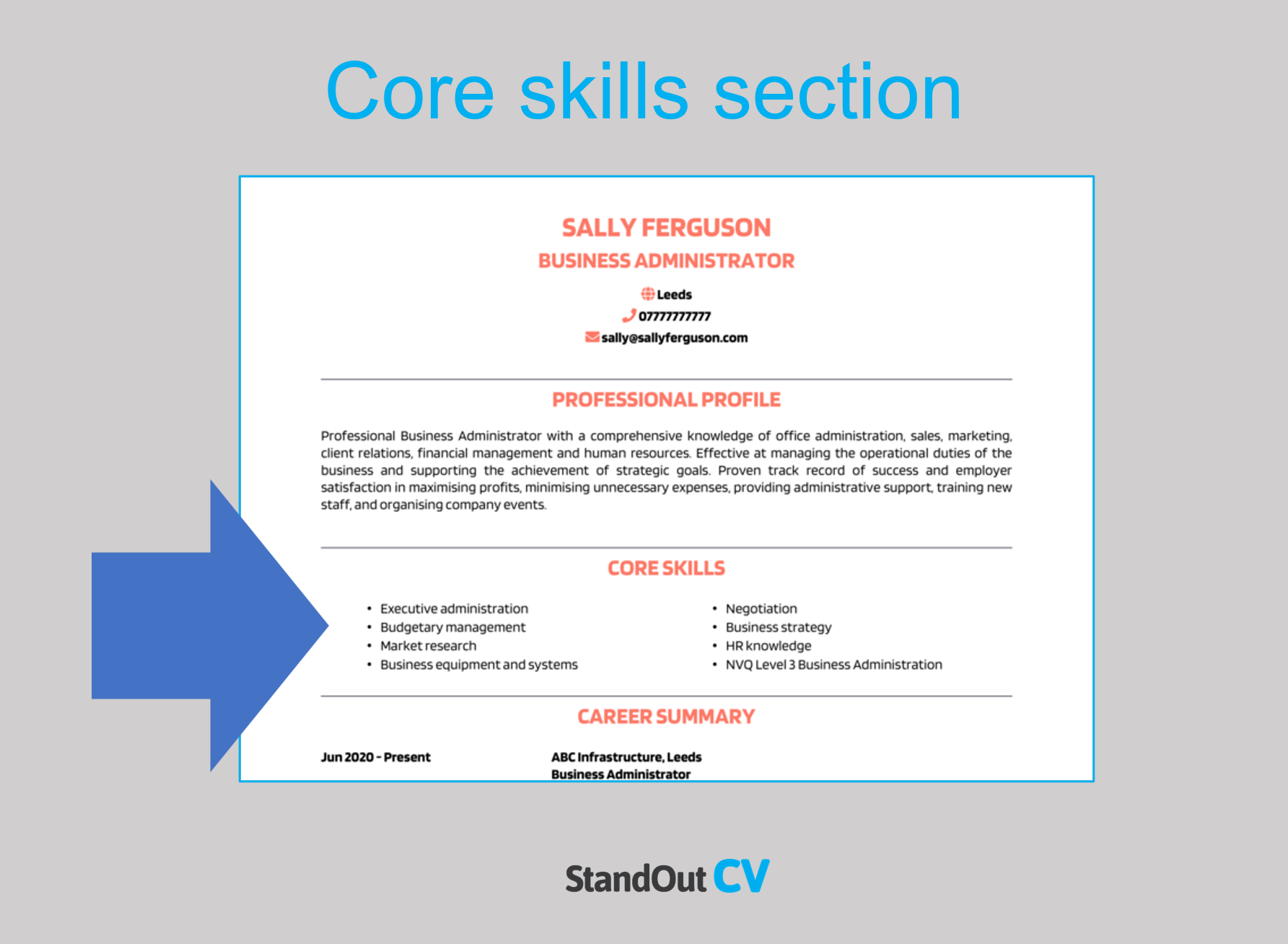 Best skills for your Remote Customer Service resume
Multi-channel Communication – Communicating effectively and professionally with customers through various channels, including phone, email, chat, or video.
Active Listening – Actively listening to customer needs, concerns, and feedback, and providing appropriate responses and solutions.
Customer Service – Providing exceptional customer service, addressing customer inquiries, and resolving issues promptly and effectively.
Problem Resolution – Analyzing customer problems, identifying root causes, and offering creative solutions while maintaining a positive customer experience.
Empathy and Patience – Demonstrating empathy towards customers, understanding their frustrations, and maintaining a calm and patient demeanor throughout interactions.
Multitasking and Prioritization – Managing multiple customer inquiries simultaneously, handling various tasks, and prioritizing effectively to ensure timely resolution.
Technical Proficiency – Navigating computer systems, software applications, and customer service tools to efficiently assist customers and document interactions.
Conflict Resolution – Effectively resolving conflicts and handling difficult customer situations in a professional and courteous manner.
Quick tip: Our partner's Resume Builder contains thousands of in-demand skills for every profession that can be added to your resume in seconds – saving you time and greatly improving your chances of landing job interviews and getting hired.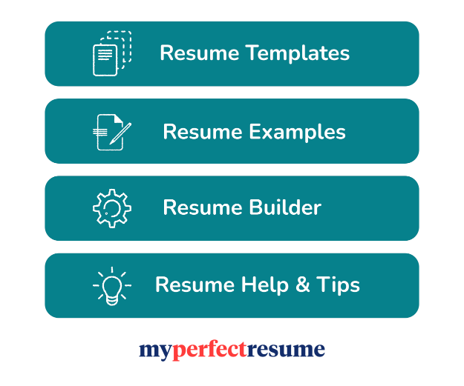 Work experience
Once you've hooked the hiring manager with your summary, you can really blow them away with you work experience.
List your previous jobs from newest to oldest to show the impact you made at each organization.
If you have years of experience, you can leave out some of the older jobs, and if you have little/no experience, you can bulk this section up with voluntary work and college placements.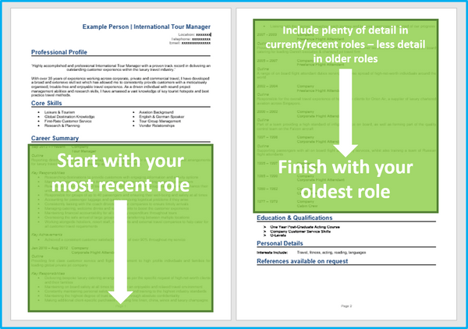 Structuring your jobs
Your job description probably includes tons of information, so it's vital to organize it well when writing about it on your resume.
Structure your jobs as like the example below to make skim-reading easy for recruiters and hiring managers.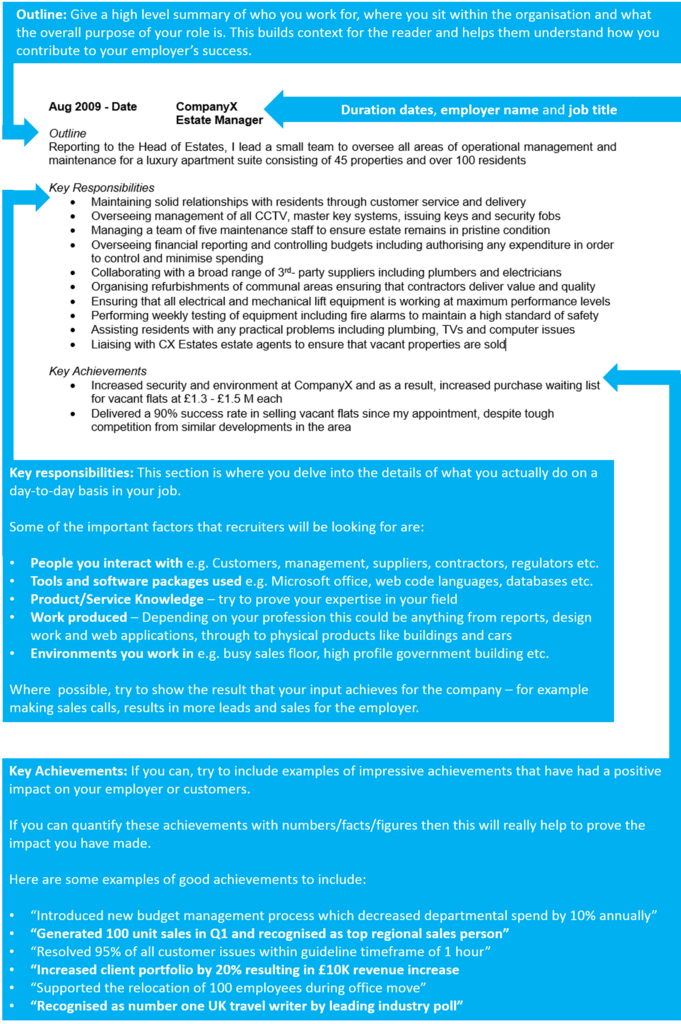 Job outline
To provide context to your jobs, begin each job with a concise summary of the organization, your role within it, and the main objectives of your position.
Key responsibilities
Then delve into the detail of your job by listing out easy-to-read bullet points which show how you apply your skills in the workplace.
Tailor these bullet points to focus on the skills and knowledge that are required in the jobs you are applying for.
Key achievements
Finish each role by highlighting some impressive achievements you made whilst in the role.
Anything that benefited the employer can be included from making financial savings, to winning new customers.
Quantify your achievements with facts and figures if you can, e.g. "reduced call wait time by 10%"
Example job for Remote Customer Service resume
Outline
Provide outstanding remote support to clients through phone, email, or online chat platforms, for a firm that has served working-class families since 1951 with life, supplemental health, and accident insurance products.
Key Responsibilities
Convey correct and considerate information about company products, services, operations as coherently as possible.
Assist in placing orders, tracking shipments, and determine the best course of action of resolving billing issues.
Liaise with the IT department in troubleshooting and offering guidance concerning various technical defects.
Record interactions and transactions accurately in the CRM system/other designated tools.
Quick tip: Create impressive job descriptions easily in our partner's Resume Builder by adding pre-written job phrases for every industry and career stage.

Education section
Towards the bottom of your resume, add your education section.
Here you should list your professional qualifications and academic record, such as high school diplomas or college degrees.
If you have lots of work experience, you can keep this section brief (because recruiters will be more interested in your career. If you have little/no experience then you should bulk this section up with plenty of detail.
Additional information
If you have anything else to add which is relevant to the jobs you are applying for, the additional info section is the place to add it.
Perhaps you have a hobby which involves relevant skills, or maybe you have some awards or publications worth mentioning.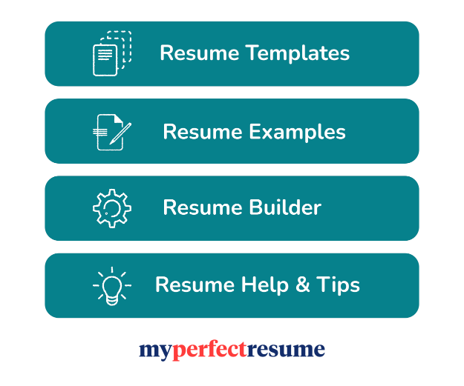 Writing your own winning Remote Customer Service resume
Writing a Remote Customer Service resume can be challenging but following the steps above will ensure that you land plenty of interviews.
Good luck with your job search!