Being a principal is not just about guiding your students but also about supporting the teachers on their journey too.
If you're ready to step into these big shoes and make an impact, you need a resume that reflects this.
So let us do the teaching for once as we take you through our step-by-step guide to writing an impressive application, complete with a principal resume example. You can check it out below.
Guide contents
| | |
| --- | --- |
| How to write a Principal resume | |

Principal Resume Example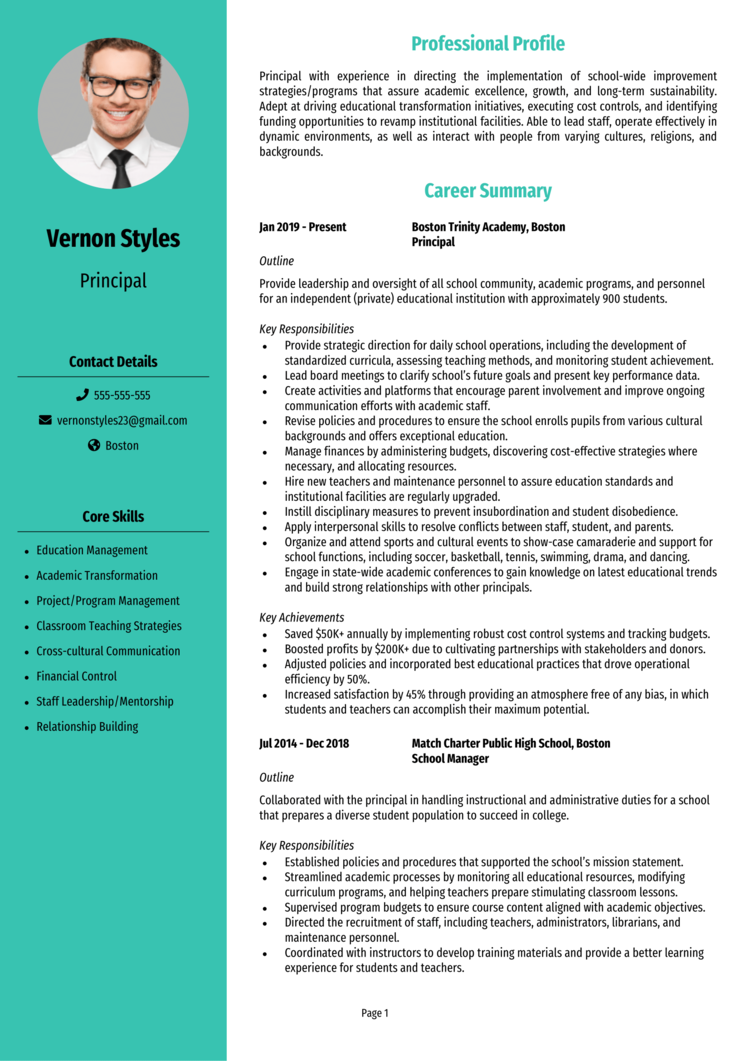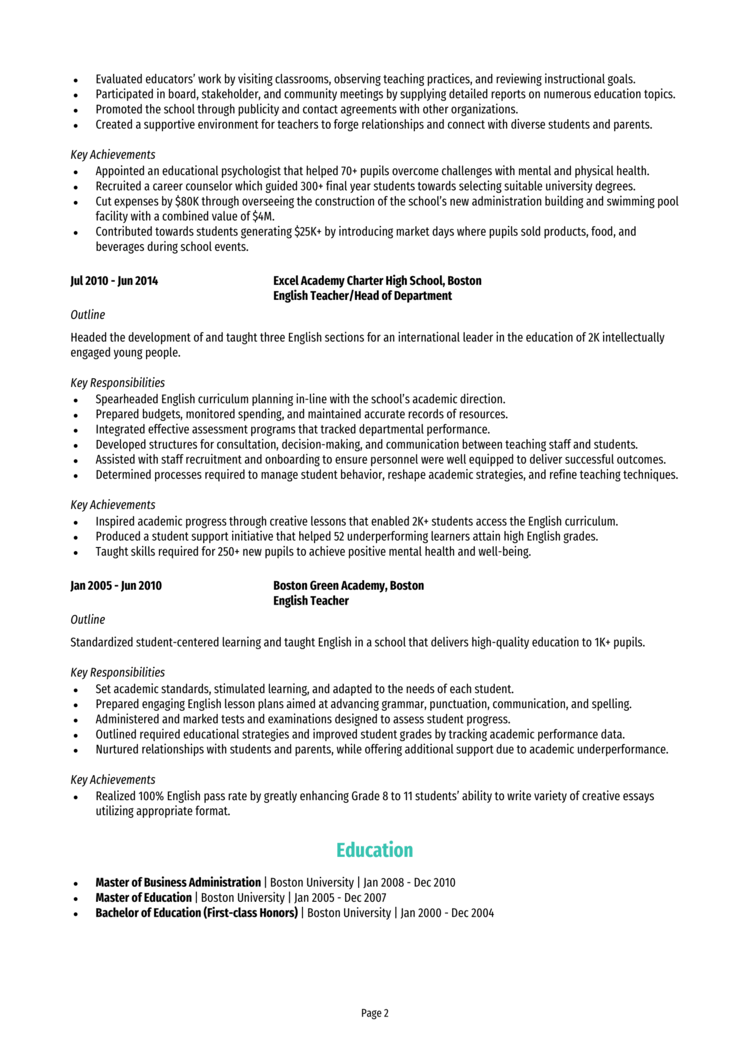 From the Principal resume example above, you can see the kind of information your resume will need to include, and the layout you will need to create for an easy-reading experience.
The rest of this guide will show you how to apply this format to your own unique situation, and create a resume that will attract the best employers in your industry.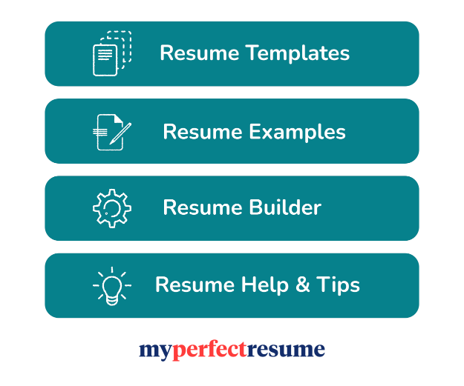 Principal resume layout and formatting
If you want to get noticed in the job market, you have to pay attention to the format and layout of your resume.
Essentially your resume needs to look highly polished, and provide hiring managers with an easy reading experience.
Use these resume formatting tips to get a head start on this.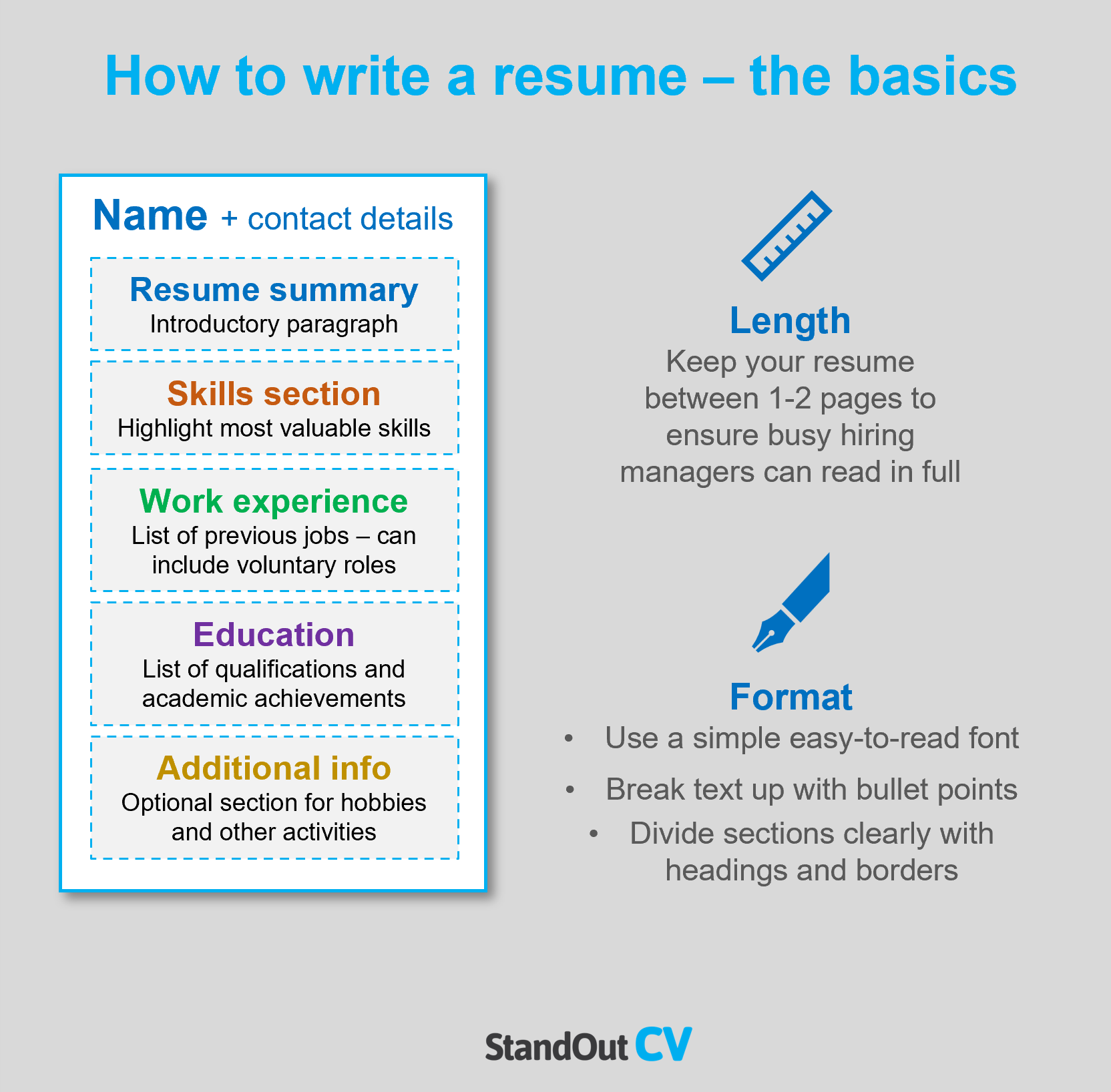 How to format your resume
Length: Keep your resume to 2 pages or under. You've probably heard that recruiters and hiring managers don't have lots of time to read every resume, so keep yours brief if you want to ensure that they read all of the important info in yours.
Font & text: Nobody likes to read huge unbroken paragraphs of text – and recruiters are no different. Break your resume text up with bullet points and use a clear simple font.
Design & layout: Go with a resume design that looks good, but also allows for easy reading and navigation for employers. Ensure the page is clearly split up into sections by adding large font headings and dividing borders. Keep the color scheme simple and don't overcrowd the page.
Photos: It's not mandatory to add a photo to your resume in the USA but it if you're applying to organizations within the creative fields, it can be beneficial.
Quick tip: Achieving a professional look for your resume can be difficult and time-consuming. If you want to create an attractive resume quickly, try our partner's Resume Builder and use one of their eye-catching resume templates.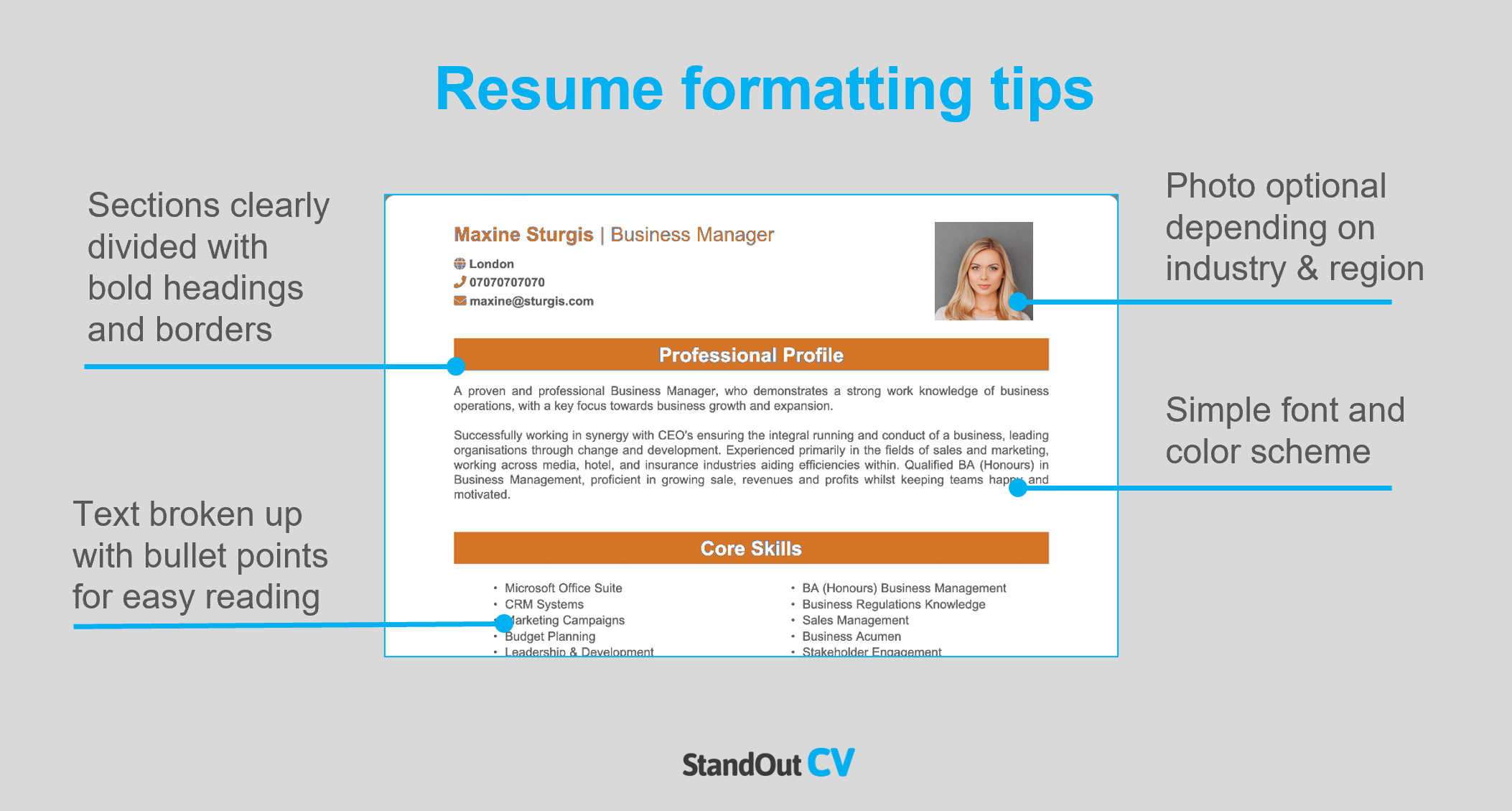 Resume layout
Here's an overview of the sections you should add when writing your resume.
Name and contact details – Stick these details at the top, so they are easy to find.
Resume summary – A punchy paragraph summarizing your skills and knowledge, enticing recruiters to read more of your resume.
Skills section – Short list of your most valuable skills, enabling recruiters to quickly spot your suitability.
Work experience – Showcase your previous employment, starting with your most recent roe and working backwards – voluntary work and college placements can be included if you have no paid experience.
Education – A summary of your most relevant qualifications and academic achievements
Additional info – An optional section for that other attributes that may boost your application, such as hobbies or clubs
Here's what you should include in each section of your resume.
Resume Contact Details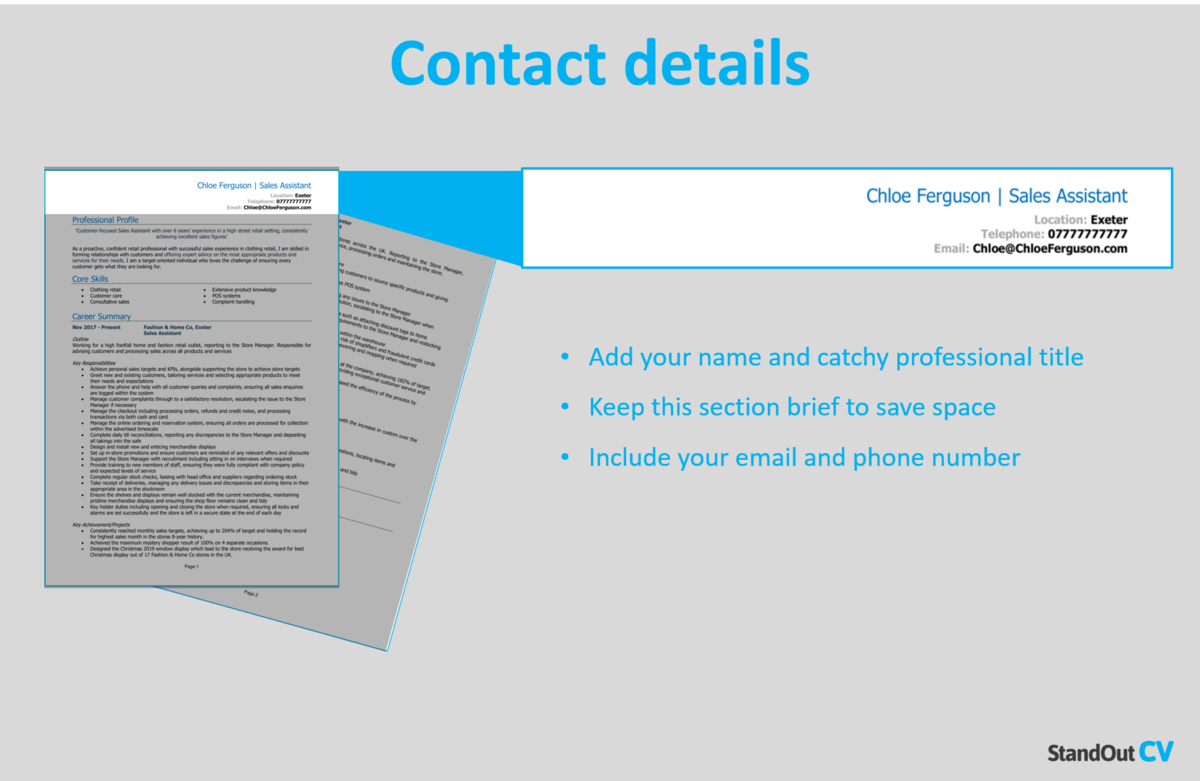 Add your name and contact details to the very top of your resume, making it easy for recruiters to get in touch
Name and profession title
Cell phone number – or another number you can answer quickly
Location – Add your local area such as San Diego or New York – not your full address as that will take up too much space.
Email address – Use your name or close variation – no nicknames from high school.
You can add a link to your LinkedIn profile if you have one – you do not need to include personal details like date of birth or marital status.
Principal Resume Summary
Start your resume with a bang by adding a powerful summary to the top, summarizing your most valuable skills and experience.
This short paragraph is your chance to show recruiters why you are a perfect fit for the job and encourage them to read more of your resume.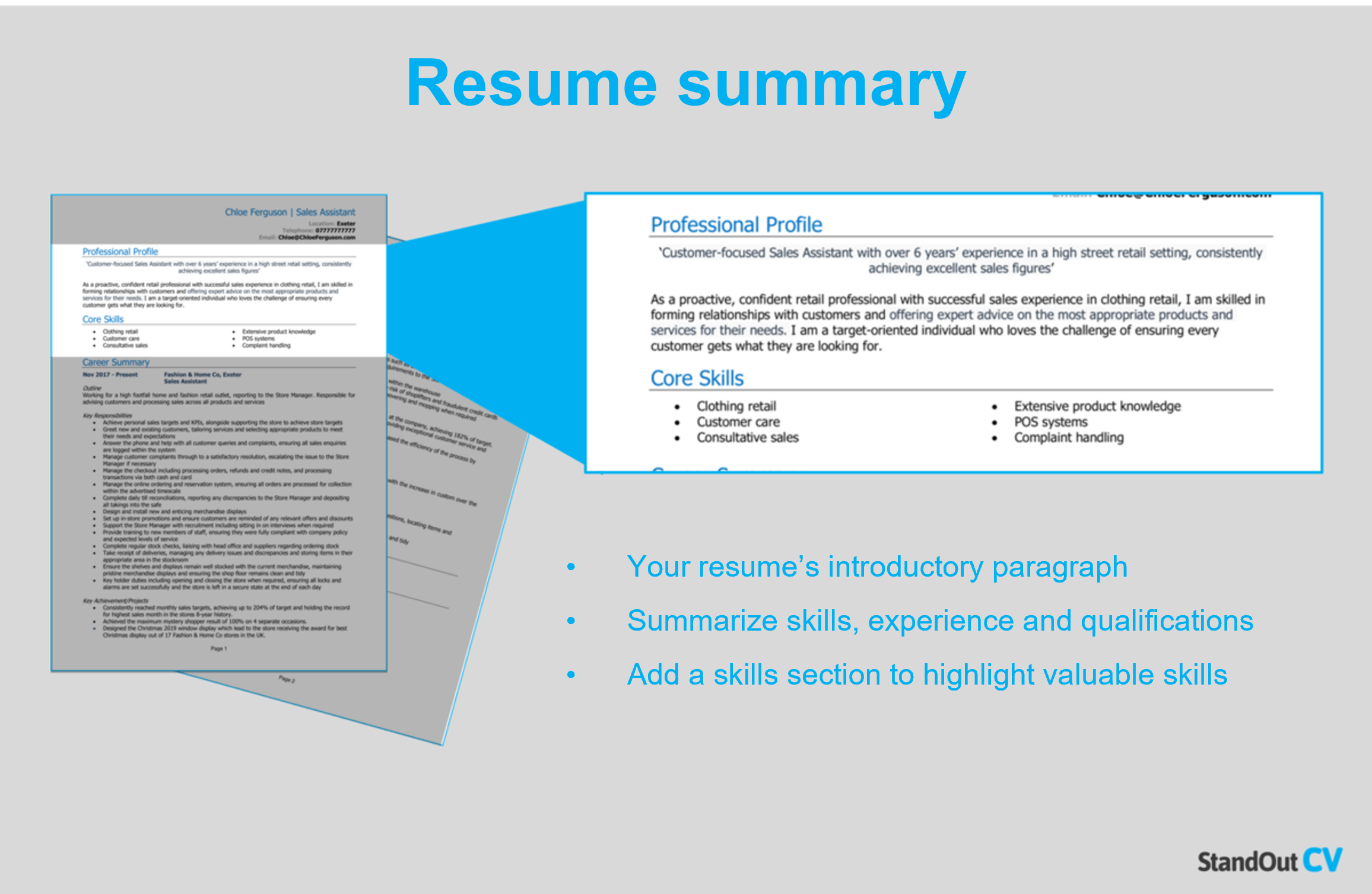 3 tips for creating a resume summary that will get noticed:
Keep it concise: Your summary is intended to be a high-level introduction to hook readers' attention, so keep it brief (4-7 lines) – save the details for later in your resume.
Tailor to target jobs: Tailor your resume to your target jobs by studying the job description and adding as many matching skills as you can.
Don't use cliches: Recruiters always see cringey cliches like "hardworking guru who works well in a team or individually" – they don't mean much to anyone, so focus your summary on tangible skills and experience.
Example resume summary for Principal
Principal with experience in directing the implementation of school-wide improvement strategies/programs that assure academic excellence, growth, and long-term sustainability. Adept at driving educational transformation initiatives, executing cost controls, and identifying funding opportunities to revamp institutional facilities. Able to lead staff, operate effectively in dynamic environments, as well as interact with people from varying cultures, religions, and backgrounds.
What info to include in your Principal resume summary?
Summary of experience: Provide an overview of the type of work you have done in the past and the impact you have made at previous employers.
Relevant skills: Scatter your most in-demand Principal skills through your summary to ensure they are noticed quickly by hiring managers.
Vital qualifications: Mention any Principal qualifications that are important to your profession in the summary briefly, to show you are qualified to carry out the role.
Quick tip: Choose from hundreds of pre-written summaries across all industries, and add one to your resume with one-click in our partner's Resume Builder. All written by recruitment experts and easily tailored to suit your unique skillset and style.
Core skills section
In addition to your resume summary, your core skills section provides an easily digestible snapshot of your skills – perfect for grabbing the attention of busy hiring managers.
As Principal jobs might receive a huge pile of applications, this is a great way to stand out and show off your suitability for the role.
It should be made up of 2-3 columns of bullet points and be made up of skills that are highly relevant to the jobs you are targeting.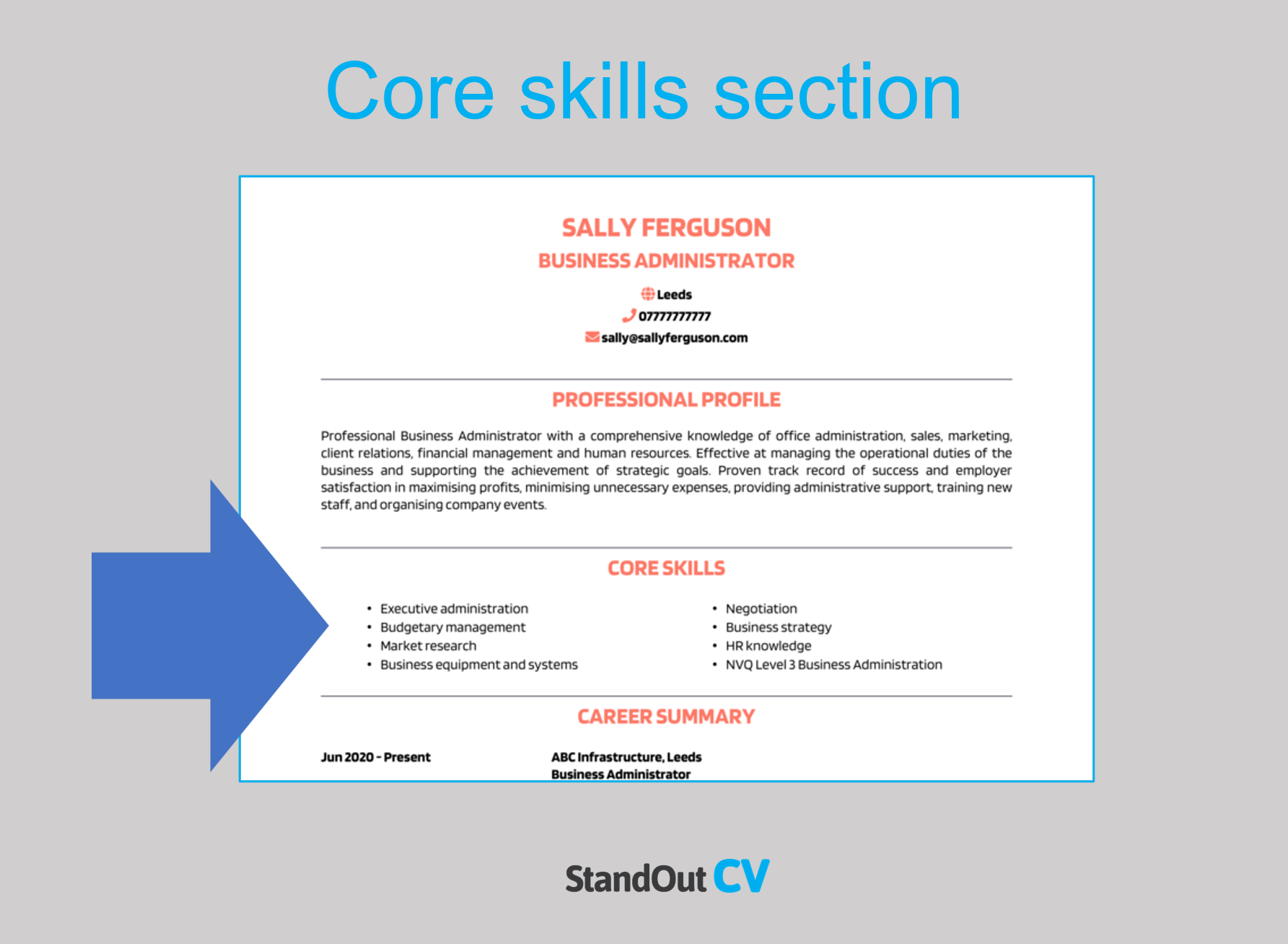 Top skills for your Principal resume
Education Management – combining educational staff and material resources to supervise, plan, strategize, and implement structures to execute a successful education system.
Academic Transformation – realigning the institution's structures, culture, and business model to create a student experience that results in dramatic and equitable increases in outcomes and educational value.
Project/Program Management – establishing and maintaining relationships with students and their families, collaborating with the teaching team, planning and implementing curriculum, and evaluating program quality.
Classroom Teaching Strategies – ensuring appropriate teaching strategies are used throughout the school to provide a successful transfer of knowledge.
Financial Control – preparing the school budget, a record of projected revenue and expenditure, and accounting for the school's revenue and how it is spent.
Quick tip: Our partner's Resume Builder contains thousands of in-demand skills for every profession that can be added to your resume in seconds – saving you time and greatly improving your chances of landing job interviews and getting hired.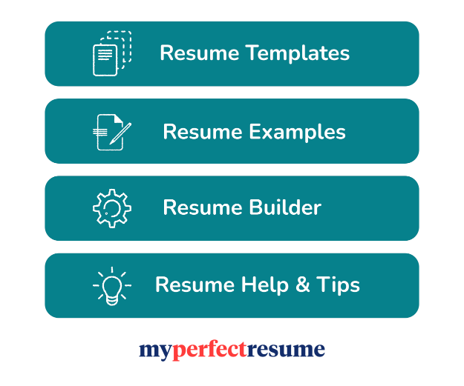 Resume work experience section
So, you've got the recruiter interested with your catchy summary… Great work.
Now it's time to show them the impact you make in the workplace by listing out your previous jobs and what you achieved in each one.
If you have tons of experience, you can condense this part down to the last few years – if you are junior, then you should include as much possible (even volunteering and school work placements)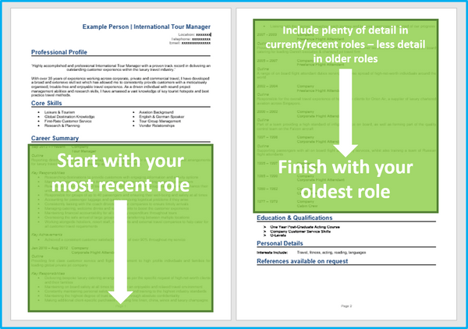 Structuring your job descriptions
It's easy to overwhelm readers when writing about a job you have been doing for years or even months.
Break the information up like this to keep it simple for recruiters to understand.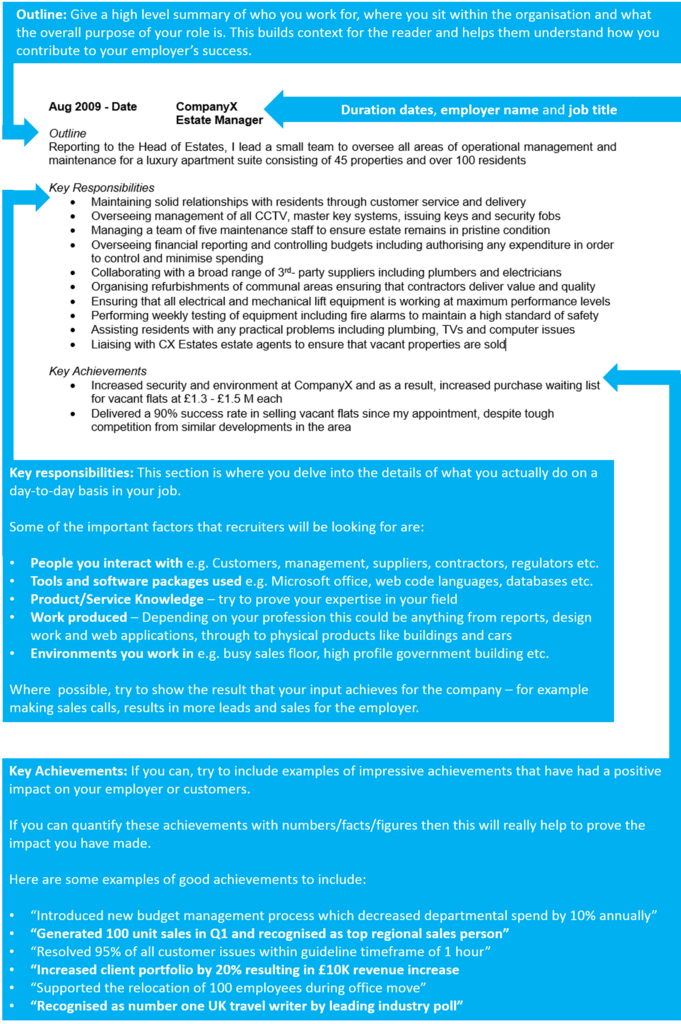 Job outline
Start with a 1-2 sentence outline of the role, summarizing what the goal of your position was, who you reported to (or managed) and the type of organization you worked for.
Key responsibilities
Then delve into the detail of your job by listing out easy-to-read bullet points which show how you apply your skills in the workplace.
Tailor these bullet points to focus on the skills and knowledge that are required in the jobs you are applying for.
Key achievements
Finish each role by highlighting some impressive achievements you made whilst in the role.
Anything that benefited the employer can be included from making financial savings, to winning new customers.
Quantify your achievements with facts and figures if you can, e.g. "reduced call wait time by 10%"
Example job for Principal resume
Outline
Provide leadership and oversight of all school community, academic programs, and personnel for an independent (private) educational institution with approximately 900 students.
Key Responsibilities
Provide strategic direction for daily school operations, including the development of standardized curricula, assessing teaching methods, and monitoring student achievement.
Lead board meetings to clarify school's future goals and present key performance data.
Create activities and platforms that encourage parent involvement and improve ongoing communication efforts with academic staff.
Revise policies and procedures to ensure the school enrolls pupils from various cultural backgrounds and offers exceptional education.
Quick tip: Create impressive job descriptions easily in our partner's Resume Builder by adding pre-written job phrases for every industry and career stage.

Education section
Towards the bottom of your resume, add your education section.
Here you should list your professional qualifications and academic record, such as high school diplomas or college degrees.
If you have lots of work experience, you can keep this section brief (because recruiters will be more interested in your career. If you have little/no experience then you should bulk this section up with plenty of detail.
Additional information
At the end of your resume, you can add any extra information that might be relevant to the jobs you are applying for.
This could be hobbies, interests, publications, clubs or memberships.
This section is optional and doesn't need to be added if you have nothing more relevant to add.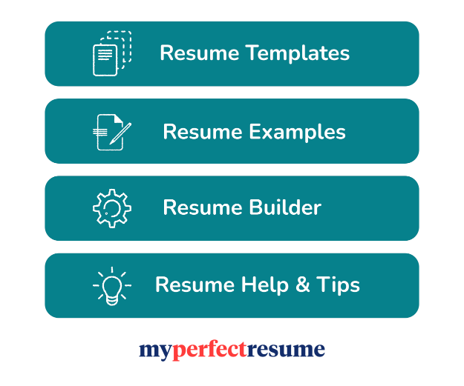 Writing your Principal resume
Following the steps in this guide will help you to create a winning Principal resume and bag lots of interviews.
If you want some more help through the process, try our partner's Resume Builder for expert guidance and tons of pre-written resume content.
Good luck with your job search!