You understand that selling luxury items takes more than just your typical sales techniques. It requires a deeper knowledge of the products, as well as passion and charisma.
Now you need to apply that same skill set to selling yourself on your resume. Think of yourself as a high-end item, and any company would be lucky to have you.
And if you need some extra guidance, make the most of our top tips and luxury sales associate resume example below.
Contents
| | |
| --- | --- |
| How to write a Luxury Sales Associate resume | |

Luxury Sales Associate Resume Example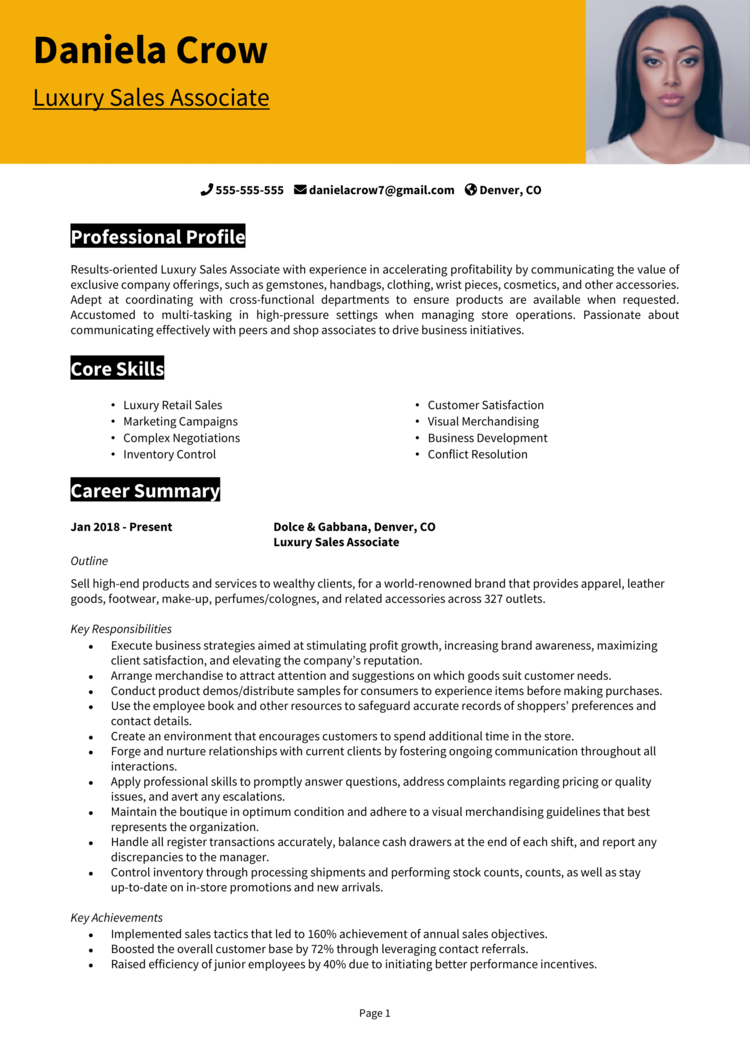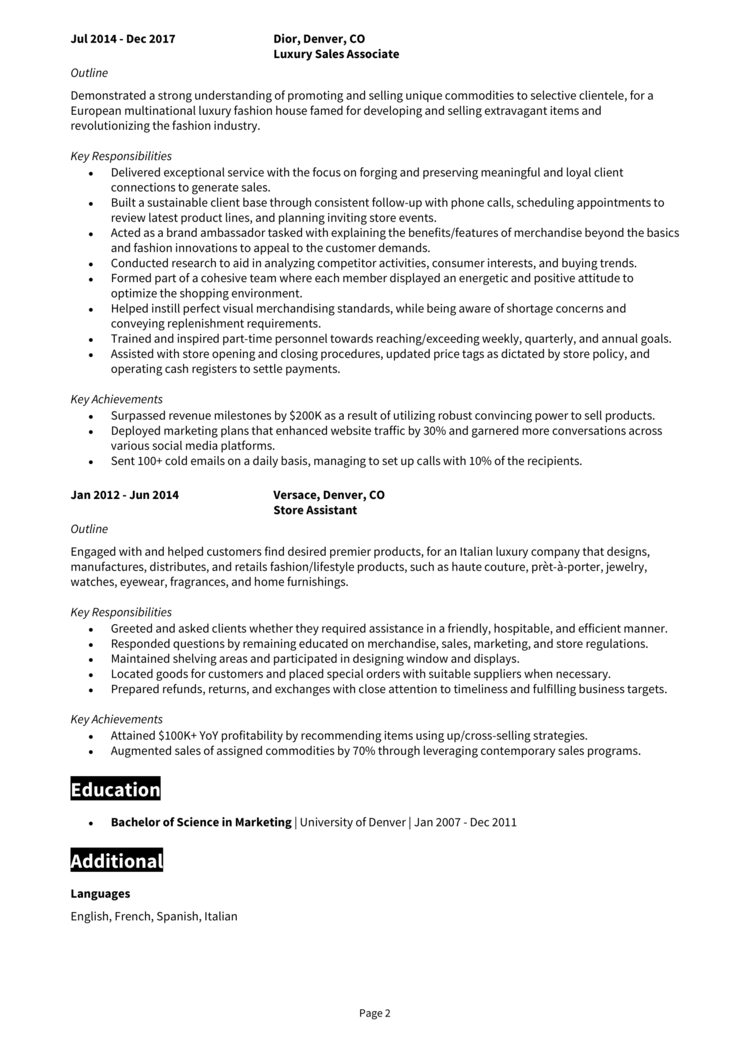 This example Luxury Sales Associate resume provides you with a general idea of how your resume should look, and what information recruiters expect to see.
The rest of this guide will explain how to layout your resume and create each section effectively.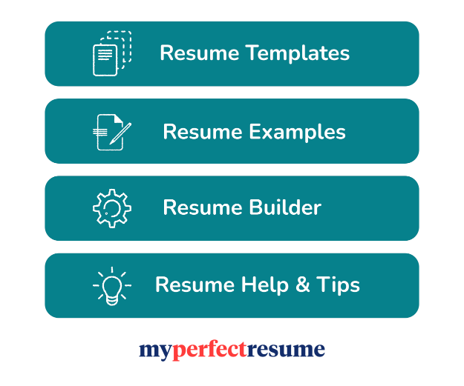 Luxury Sales Associate resume layout and formatting
When it comes to holding the attention of recruiting managers, the format and layout of your resume play a key role.
Your resume needs to strike a perfect balance between looking awesome, and being easy for recruiters to read (which is not always easy to achieve)
Use the following formatting tips to get started.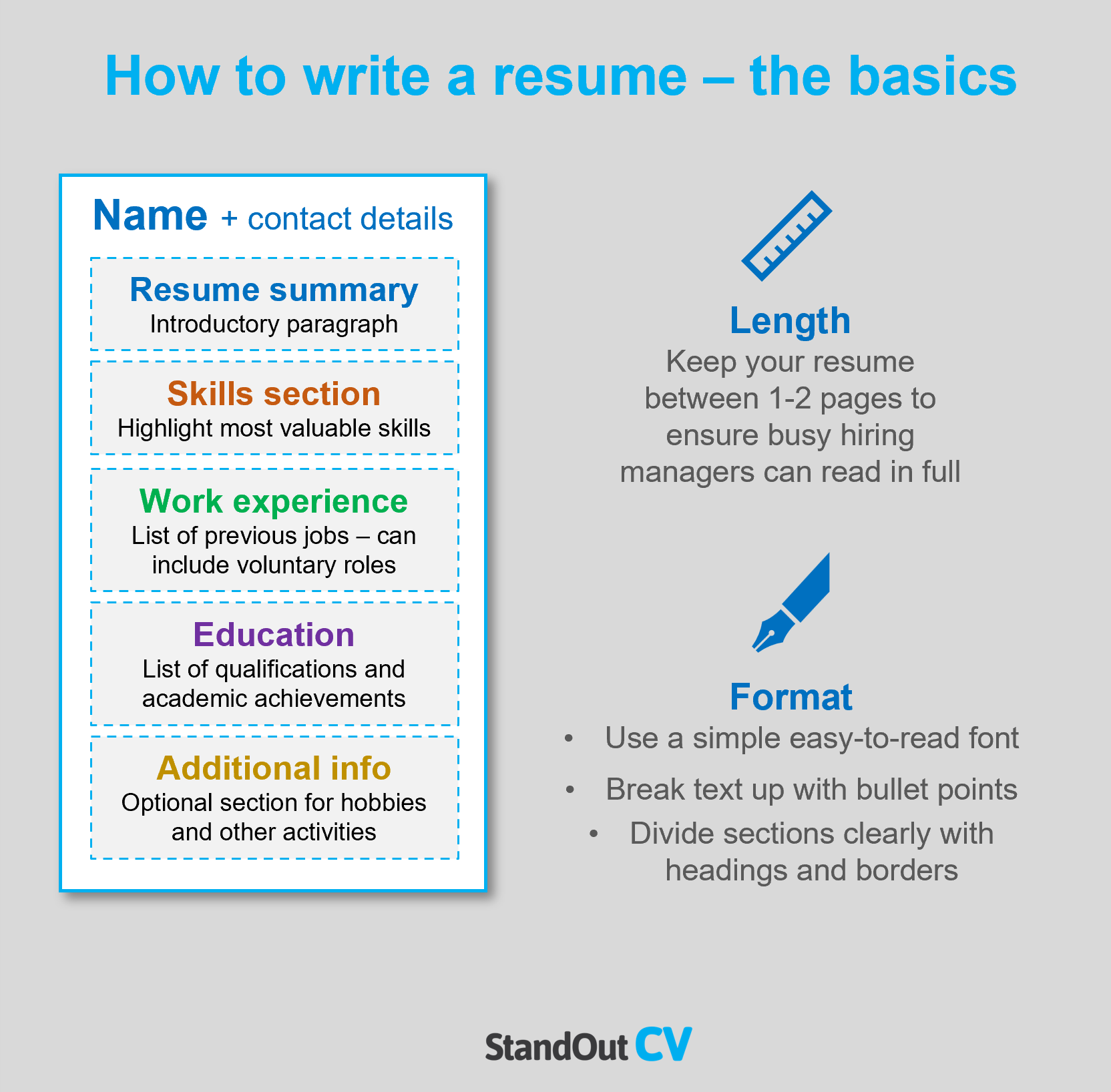 Formatting your resume
Length: Keep your resume to 2 pages or under. You've probably heard that recruiters and hiring managers don't have lots of time to read every resume, so keep yours brief if you want to ensure that they read all of the important info in yours.
Font & readability: Complex fonts are a readers' worst nightmare and will leave recruiters struggling to understand your message. Use a clear simple lean font in a color that stands out against the page, and break your text up with bullet points to make the content easily digestible.
Layout & Structure: A well-designed resume is not just visually pleasing, but it must also be functional. To achieve a functional design, use bold headings and borders to separate the content into clear sections.
Photos: While adding a photo to your resume is not mandatory in the USA, it can be beneficial if you are applying to organizations in creative industries.
Quick tip: Achieving a professional look for your resume can be difficult and time-consuming. If you want to create an attractive resume quickly, try our partner's Resume Builder and use one of their eye-catching resume templates.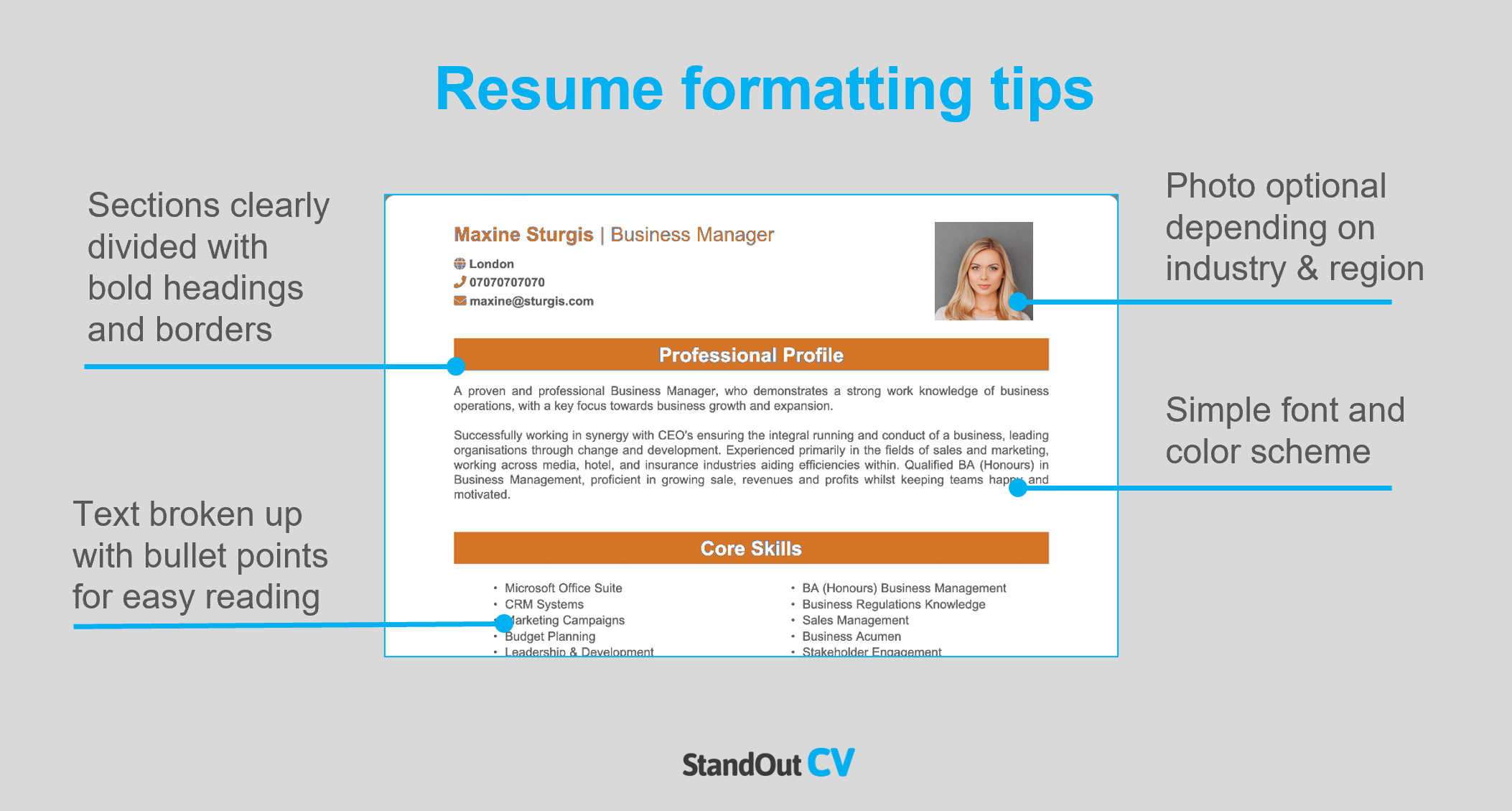 Resume layout
Divide the page into these sections when you write your own resume.
Name and contact details – Simply state who you are, and how to get in touch with you.
Resume summary – An introductory paragraph at the very top of your resume which summarizes your skills, experience and suitability for your target jobs.
Core skills section – A bullet-pointed list of your skills that relate most to your target jobs.
Work experience – A list of your current and previous jobs, including all of your responsibilities and achievements.
Education – A section that showcases all of your education and academic achievements.
Additional info (optional) – Here you can add an extra section for things like hobbies and interests, or anything else that might be relevant to your target jobs.
Here's what to include in each part of your resume.
Contact Details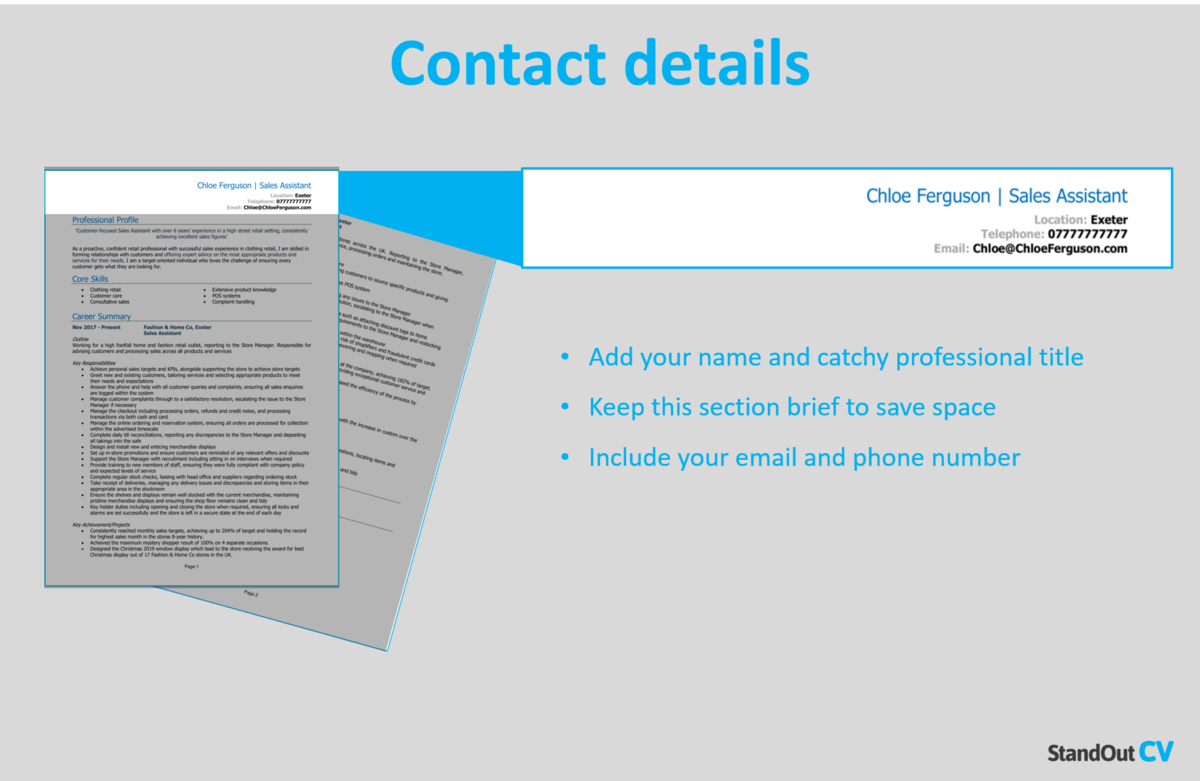 Keep your contact details short to save resume space and include the following.
Name and profession title
Cell phone number
Location – Add your local area such as Silicon Valley or New York, unless you are looking for work in a different location
Email address – Keep it professional and don't use an old address that you thought was cool in high school, but now looks a bit embarrassing.
You can add a link to your LinkedIn profile if you have one – you do not need to include personal details like date of birth or marital status.
Luxury Sales Associate Resume Summary
Your resume summary is like an elevator pitch. It's your chance to sell yourself to employers within a short space of time.
Achieve this by summarizing your skills and expertise, whilst highlighting your abilities that closely match the jobs you are aiming for.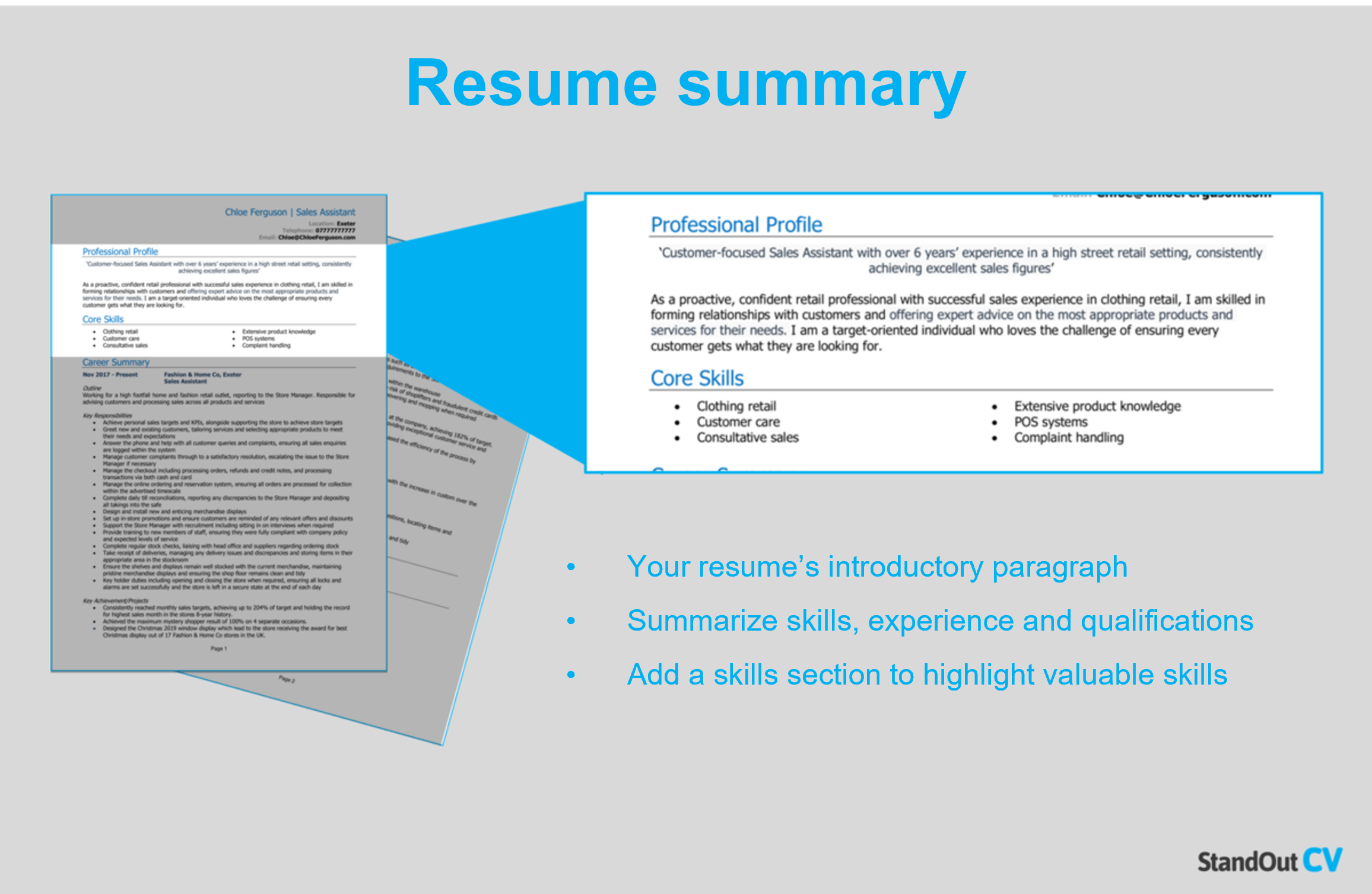 How to create a resume summary that will excite recruiters:
Keep it short: Your summary is intended to be a high-level introduction to hook readers' attention, so keep it brief (4-7 lines) – save the details for later in your resume.
Tailor to target jobs: To better align your resume with your target jobs, it's important to scrutinize the job description and identify as many relevant skills as possible to include in your resume.
Avoid using cliches: Although you may believe that you're a "team player who always gives 110%," these kinds of cliches don't communicate much about your skills and qualifications to potential employers. It's more effective to stick to factual information in your resume.
Luxury Sales Associate resume summary example
Results-oriented Luxury Sales Associate with experience in accelerating profitability by communicating the value of exclusive company offerings, such as gemstones, handbags, clothing, wrist pieces, cosmetics, and other accessories. Adept at coordinating with cross-functional departments to ensure products are available when requested. Accustomed to multi-tasking in high-pressure settings when managing store operations. Passionate about communicating effectively with peers and shop associates to drive business initiatives.
What to include in your Luxury Sales Associate resume summary?
Summary of your experience: Provide a summary of the kind of work you have previously done, along with the benefits you have delivered to the organizations you worked with.
Relevant skills: To quickly showcase your suitability for Luxury Sales Associate jobs, ensure that your summary emphasizes your most relevant skills to the jobs you are applying for.
Qualifications: Mention any Luxury Sales Associate qualifications that are important to your profession in the summary briefly, to show you are qualified to carry out the role.
Quick tip: Choose from hundreds of pre-written summaries across all industries, and add one to your resume with one-click in our partner's Resume Builder. All written by recruitment experts and easily tailored to suit your unique skillset and style.
Core skills section
Sitting just underneath your resume summary, your core skills section gives recruiters 4-10 of your most in-demand skills in just a glance.
As Luxury Sales Associate jobs may get hundreds of applications, this is a great way to stand out and quickly grab hiring managers' attention.
It should be made up of 2-3 columns of bullet points and highlight attributes that are hyper-relevant to the jobs you are aiming for.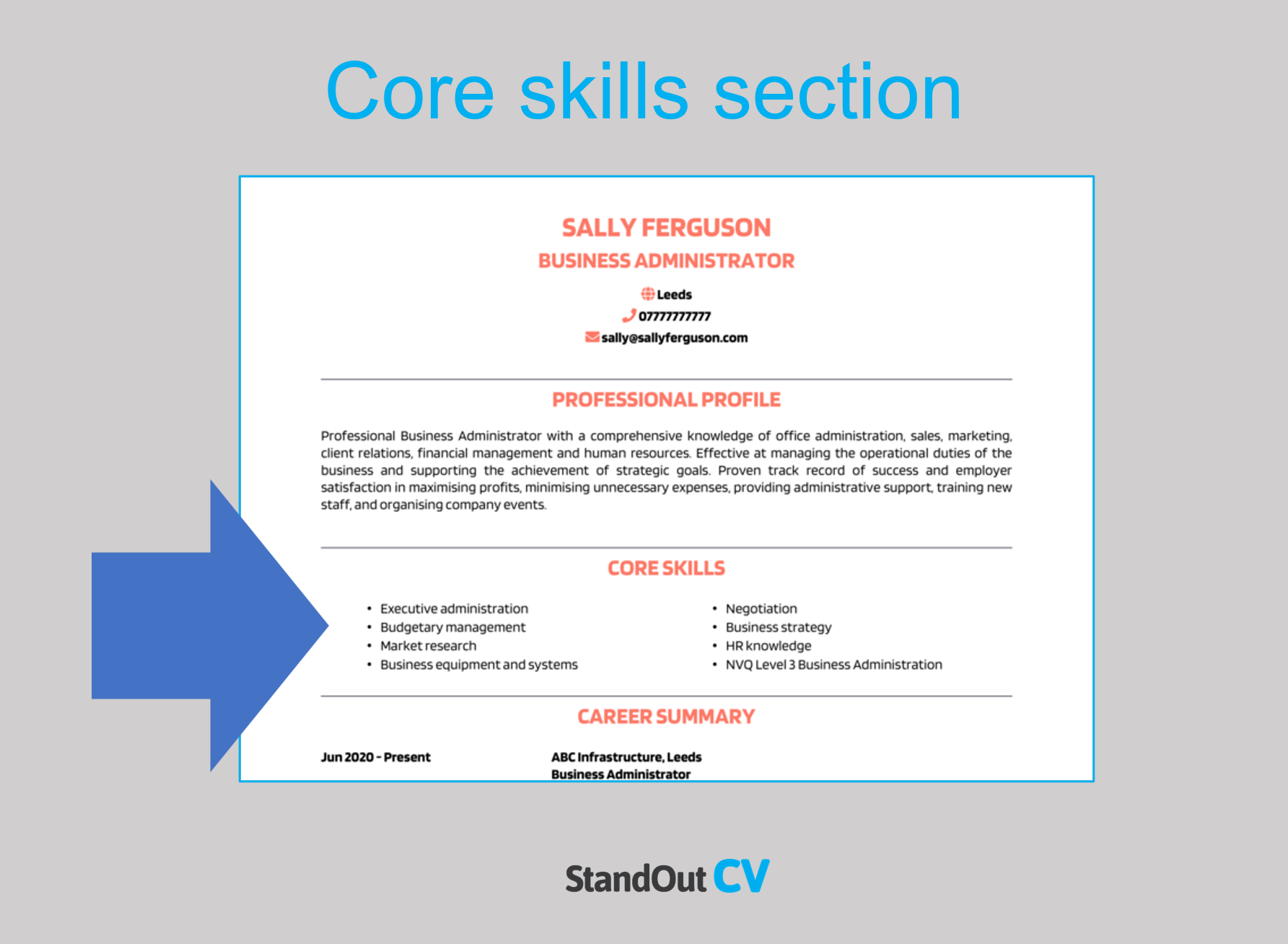 Best skills for your Luxury Sales Associate resume
Sales expertise – Using sales techniques and strategies, including building rapport, identifying customer needs, and closing sales, to promote high-end luxury products.
Product knowledge – Maintaining detailed knowledge of luxury products, including materials, construction, and design, to provide accurate and detailed product information to customers.
Customer service – Providing exceptional customer service, including attentive and personalized service, to promote customer loyalty and repeat business.
Brand representation – Utilizing knowledge of luxury brand values and image, to represent the brand accurately and consistently to customers and to promote brand loyalty.
Retail operations – Managing all aspects of retail operations, including inventory management, visual merchandising, and sales reporting, to ensure efficient and effective operations.
Sales forecasting – Utilizing knowledge of sales forecasting techniques, to predict future sales and to set goals and targets for the store or department.
Marketing and promotions – Utilizing knowledge of marketing and promotional techniques, including advertising and events, to promote products and increase sales.
Business acumen – Utilizing knowledge of business principles, including financial analysis and budgeting, to ensure the store or department is profitable and financially stable.
Quick tip: Our partner's Resume Builder contains thousands of in-demand skills for every profession that can be added to your resume in seconds – saving you time and greatly improving your chances of landing job interviews and getting hired.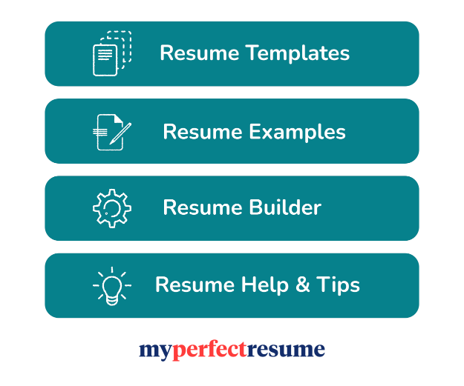 Work experience
So, you've got the recruiter interested with your catchy summary… Great work.
Now it's time to show them the impact you make in the workplace by listing out your previous jobs and what you achieved in each one.
If you have tons of experience, you can condense this part down to the last few years – if you are junior, then you should include as much possible (even volunteering and school work placements)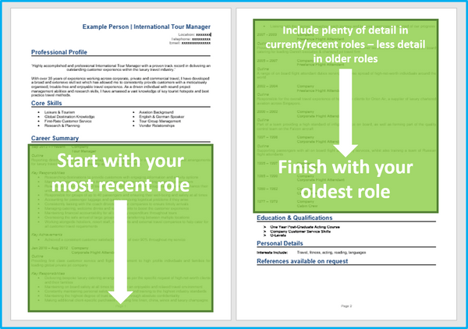 Structuring your jobs
Resume job descriptions contain lots of information, so its crucial to structure them well.
Use the structure below to ensure hiring managers can consume the information easily.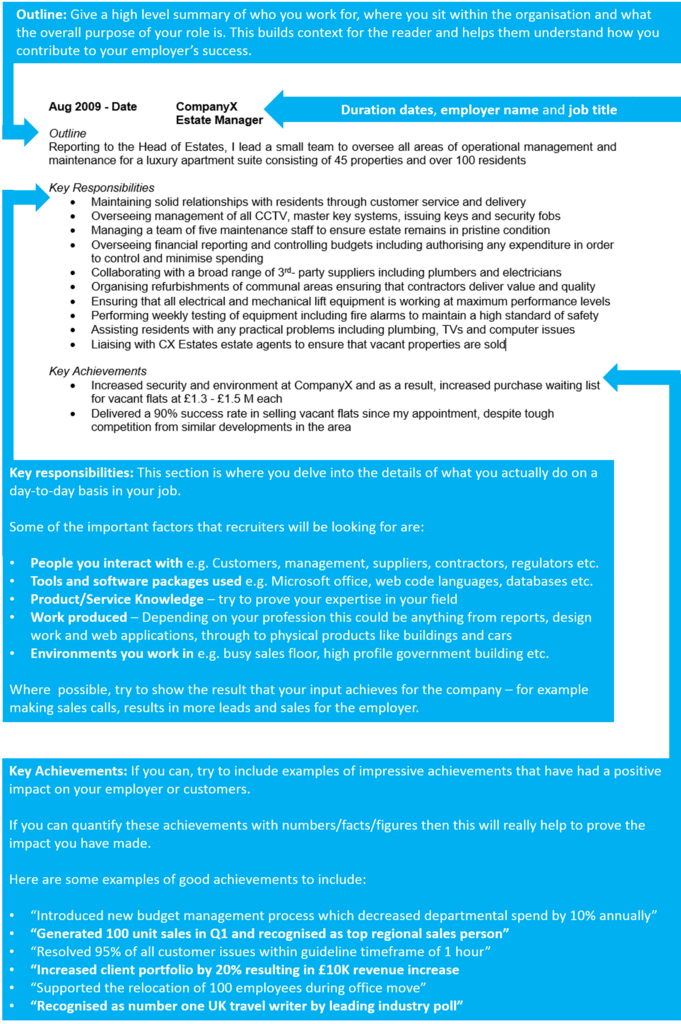 Job outline
Starting each job with a brief summary of the organization, your position within it, and the primary goal of your role can help recruiters quickly understand the context of your work.
Key responsibilities
The bulk of the role description should be comprised of bullet points that explain all of your duties in the job.
Keep the sentences short and simple to make them easy for recruiters to digest.
Key achievements
Round off each job by adding some impressive achievements you made in the role.
Anything you've done that has made a big impact on your employer will make a good impression, think; generating revenue, saving costs, or improving a product.
Quantify your achievements with number where possible e.g. "reduced call wait time by 10%"
Example job for Luxury Sales Associate resume
Outline
Sell high-end products and services to wealthy clients, for a world-renowned brand that provides apparel, leather goods, footwear, make-up, perfumes/colognes, and related accessories across 327 outlets.
Key Responsibilities
Execute business strategies aimed at stimulating profit growth, increasing brand awareness, maximizing client satisfaction, and elevating the company's reputation.
Arrange merchandise to attract attention and suggestions on which goods suit customer needs.
Conduct product demos/distribute samples for consumers to experience items before making purchases.
Use the employee book and other resources to safeguard accurate records of shoppers' preferences and contact details.
Quick tip: Create impressive job descriptions easily in our partner's Resume Builder by adding pre-written job phrases for every industry and career stage.

Education section
Towards the bottom of your resume, add your education section.
Here you should list your professional qualifications and academic record, such as high school diplomas or college degrees.
If you have lots of work experience, you can keep this section brief (because recruiters will be more interested in your career. If you have little/no experience then you should bulk this section up with plenty of detail.
Additional information
At the end of your resume, you can add any extra information that might be relevant to the jobs you are applying for.
This could be hobbies, interests, publications, clubs or memberships.
This section is optional and doesn't need to be added if you have nothing more relevant to add.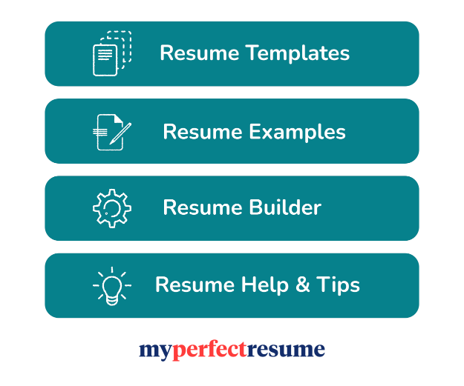 Writing your own winning Luxury Sales Associate resume
Writing a Luxury Sales Associate resume can be challenging but following the steps above will ensure that you land plenty of interviews.
Good luck with your job search!