Any good fragrance sales associate knows that shopping isn't just about pretty displays and fancy bottles; customer service also plays an important role in securing the sale.
So, if you're hoping to land your next exciting sales role, look no further.
Using our guide and fragrance sales associate resume example below, you can create an application that will secure you an interview in no time.
Contents
| | |
| --- | --- |
| How to write a Fragrance Sales Associate resume | |

Fragrance Sales Associate Resume Example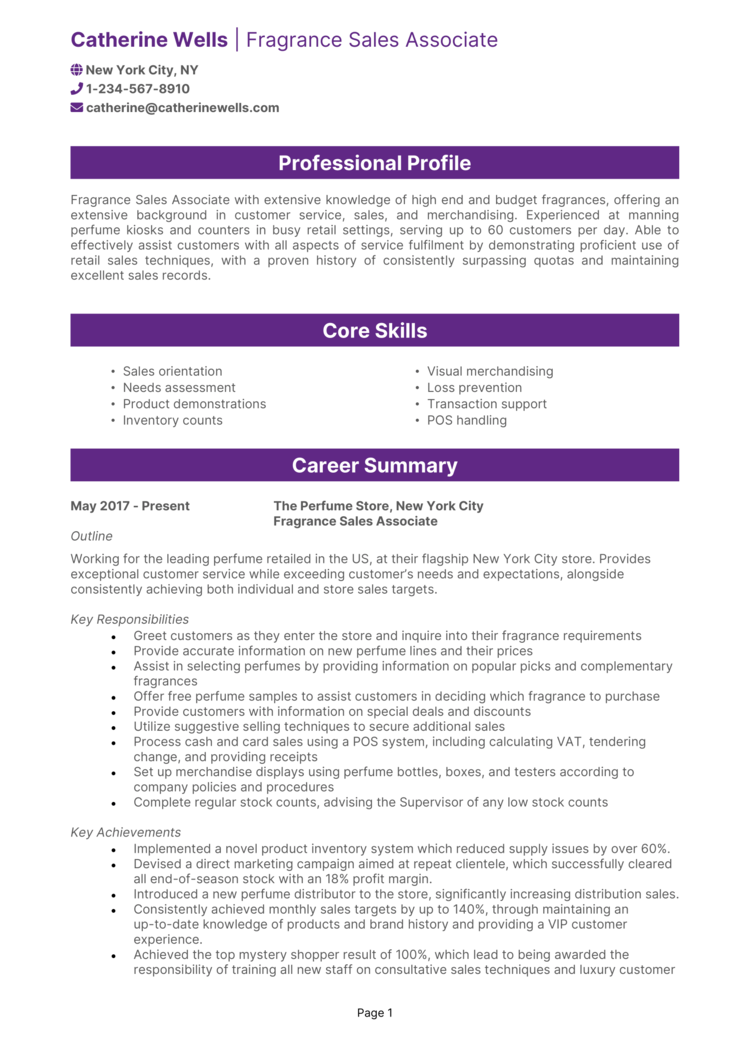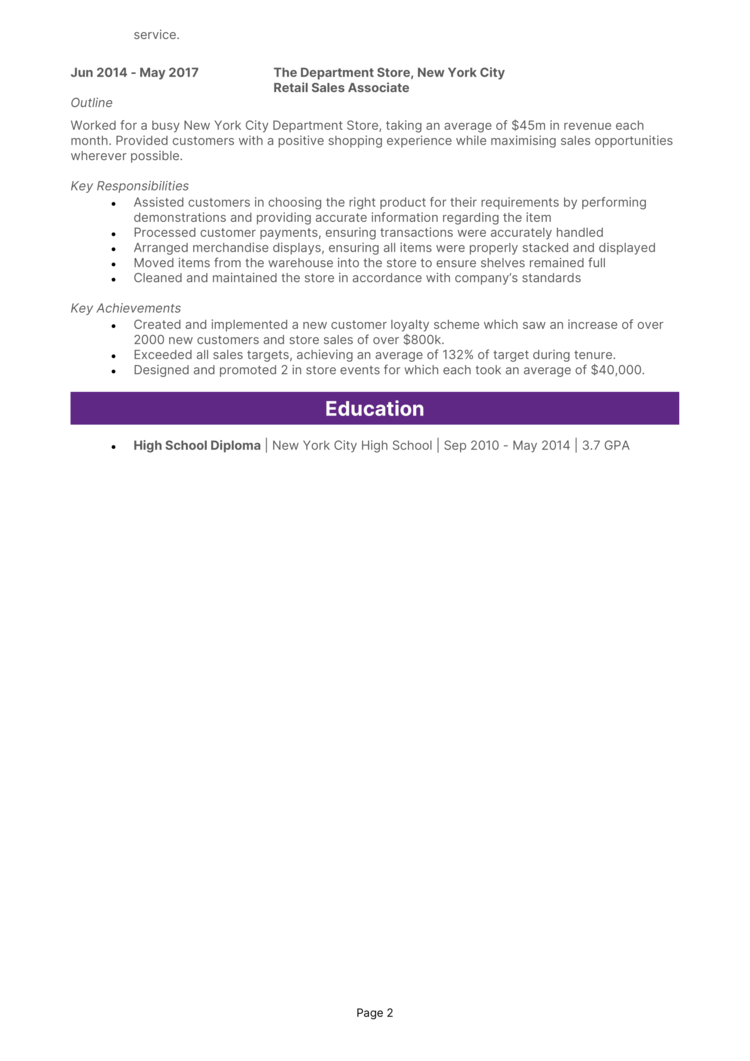 This example Fragrance Sales Associate resume gives you a general idea of how to structure your own resume, along with the type of content you need to include.
Sticking with this resume format will help you to get noticed by employers and ensure that they can quickly see the benefit of hiring you.
Now, lets take a look at how to write your own winning resume.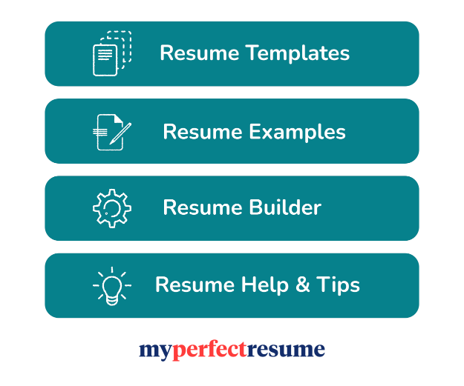 Fragrance Sales Associate resume layout and format
The format and layout of your resume can make or break its success.
Sure, it's great to pack your resume with lots of impressive skills and knowledge, but if the page is not structured clearly, hiring managers will struggle to find the important stuff!
Above all, your resume should be easy-to-read and professional looking.
Follow these formatting tips to get noticed.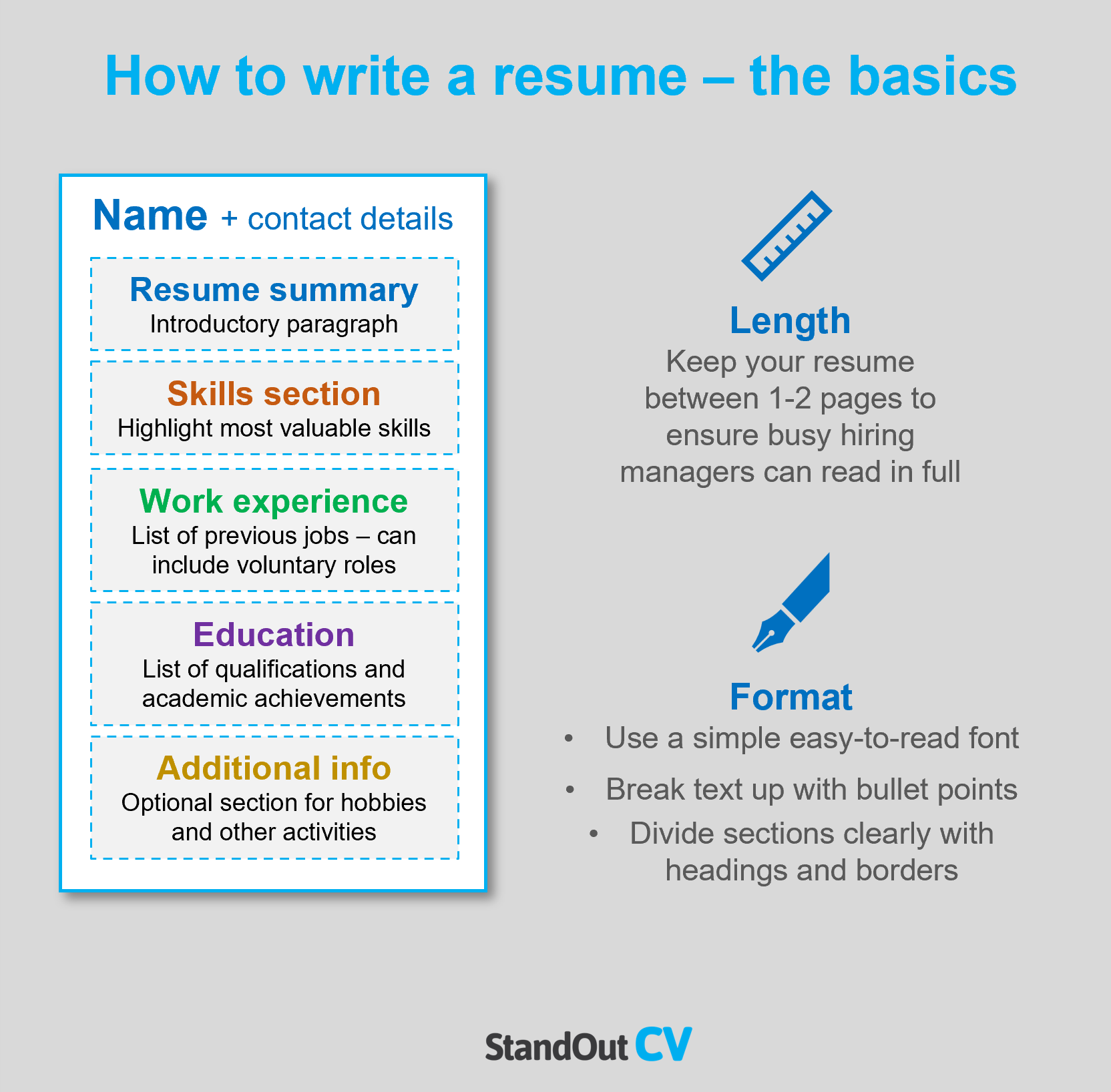 Resume formatting tips
Length: Keep your resume to 2 pages or under. You've probably heard that recruiters and hiring managers don't have lots of time to read every resume, so keep yours brief if you want to ensure that they read all of the important info in yours. A one page resume is fine if you don't have much experience to write about.
Font and text: Complex fonts are a readers' worst nightmare and will leave recruiters struggling to understand your message. Use a clear simple lean font in a color that stands out against the page, and break your text up with bullet points to make the content easily digestible.
Design & structure: Hiring managers should be able to skim through your resume easily and pinpoint the information they want quickly. To help them do this, organize the page into clear sections with bold headings and dividing borders. The design should be clutter-free and professional-looking, with a calm color scheme.
Photos and images: In the USA adding a photo to your resume is optional – you don't have to do it, but it can be a nice way to get your personality across.
Quick tip: Formatting a resume to look professional can be difficult and time-consuming. If you want to create an attractive resume quickly, try our partner's Resume Builder and use one of their eye-catching resume templates.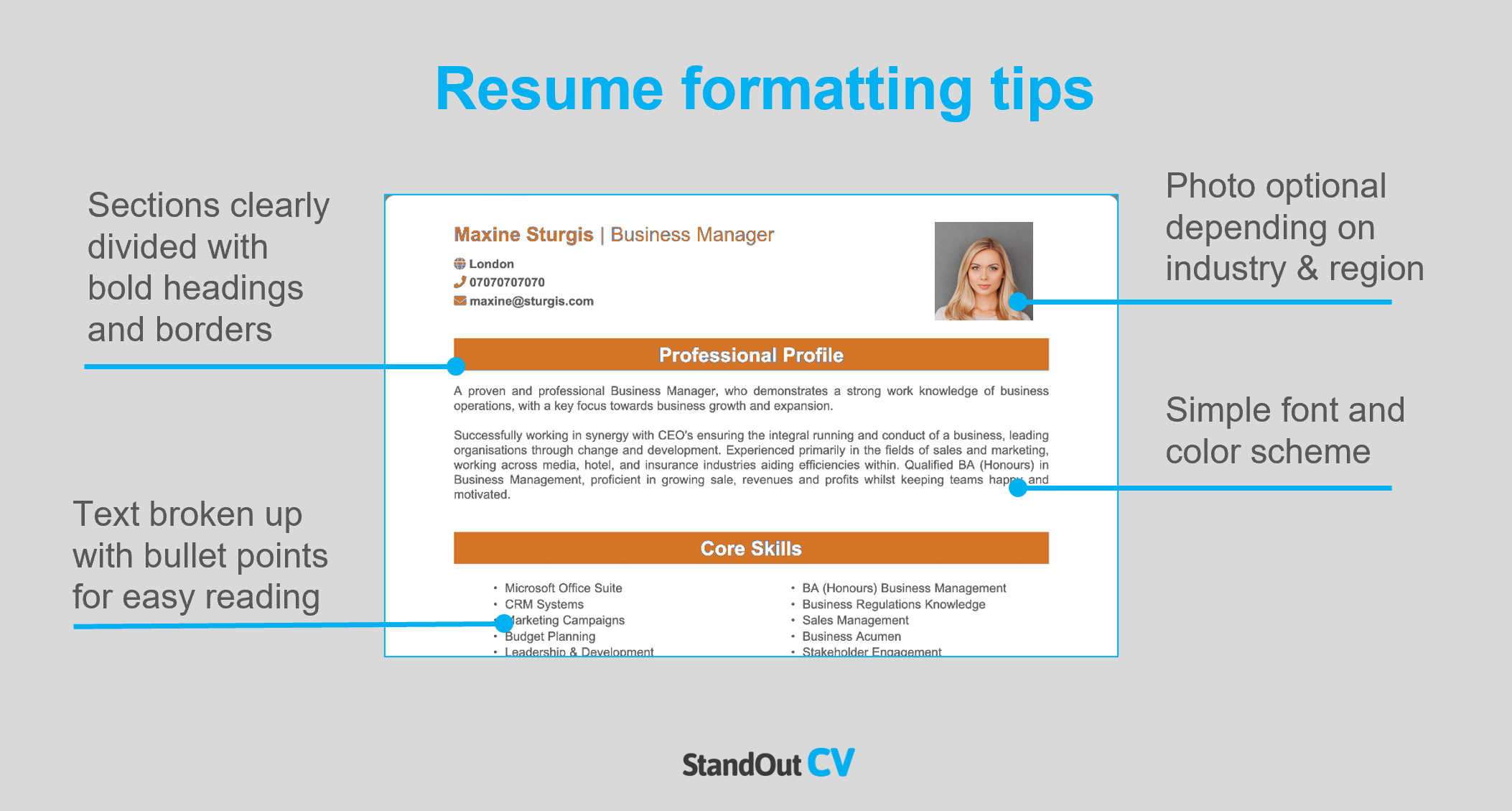 Resume layout
Add the following sections when you write your resume.
Name and contact details – Add to the very top of your resume to introduce yourself and make it super-easy for recruiters to get in touch.
Resume summary – Reel hiring managers in with an "elevator pitch" style paragraph which sums up your suitability for the job.
Skills section – A short and sharp list of your most important skills, that can be quickly skim-read.
Work experience – List your previous jobs (from newest to oldest) detailing the skills learnt and applied in each.
Education – List your qualifications and professional training.
Additional info – If it helps your application, you can add an extra section for things like hobbies and interests.
Now here's exactly what you should include in each of these sections in your resume.
Resume Contact Details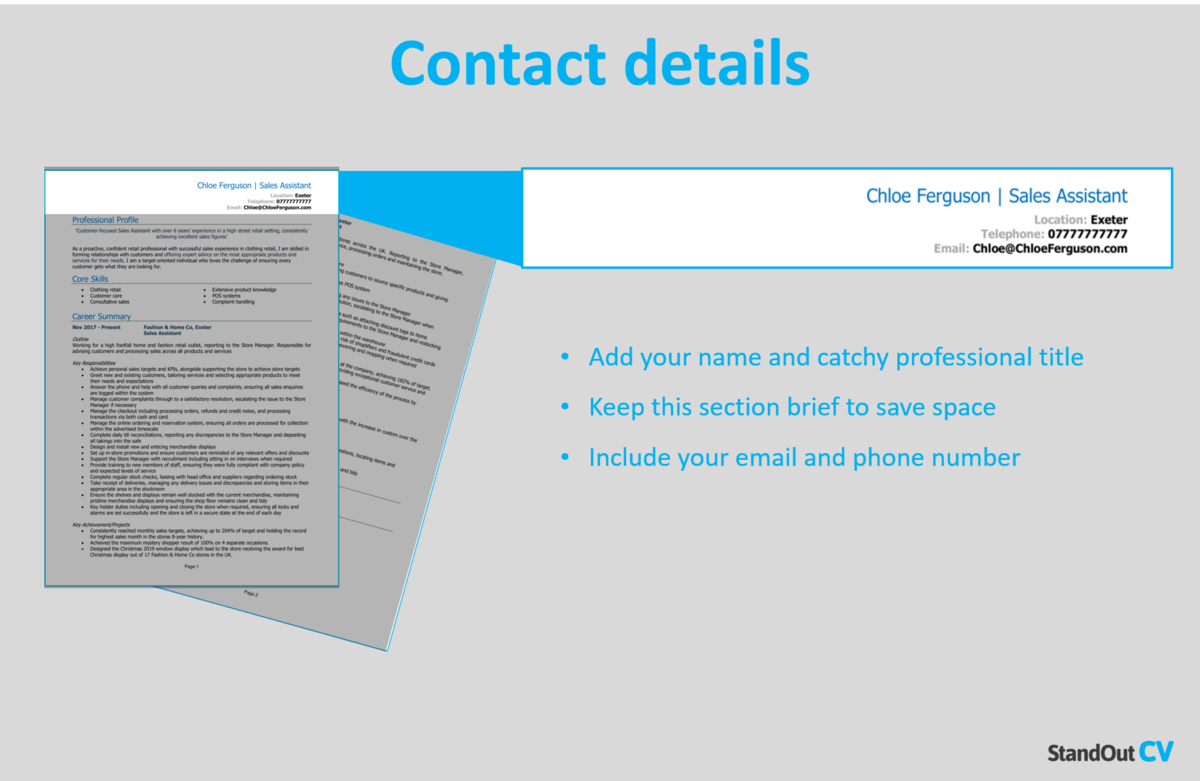 Add your name and contact details to the very top of your resume, making it easy for recruiters to get in touch
Name and profession title
Cell phone number – or another number you can answer quickly
Location – Add your local area such as San Diego or New York – not your full address as that will take up too much space.
Email address – Use your name or close variation – no nicknames from high school.
You can add a link to your LinkedIn profile if you have one – you do not need to include personal details like date of birth or marital status.
Fragrance Sales Associate Resume Summary
Start your resume with a bang by adding a powerful summary to the top, summarizing your most valuable skills and experience.
This short paragraph is your chance to sell yourself to recruiters by explaining why you are a perfect fit for the job and encouraging them to read more of your resume.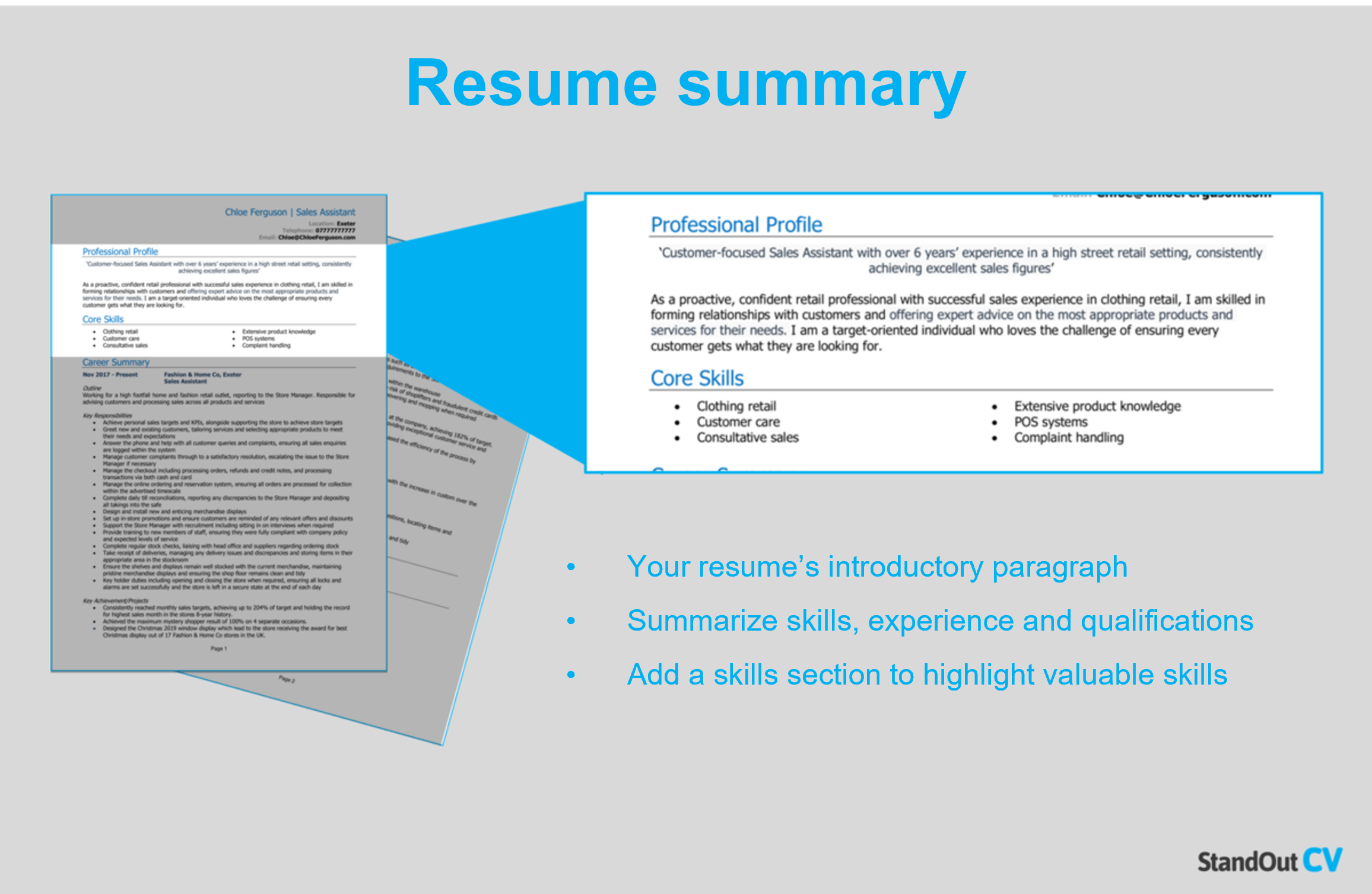 Tips for creating an strong resume summary:
Keep it brief: You only have a few seconds to grab a recruiters' attention and make them commit to your resume, so keep your summary between 4 – 7 lines.
Tailor it: Recruiters will be scanning for the skills and knowledge they mentioned in the job description, so add as many as you can to your summary.
Avoid cliches: You may be a "team player who always give 110%" but generic phrases don't tell employers much about you in reality – stick to factual information.
Example resume summary for Fragrance Sales Associate
Fragrance Sales Associate with extensive knowledge of high end and budget fragrances, offering an extensive background in customer service, sales, and merchandising. Experienced at manning perfume kiosks and counters in busy retail settings, serving up to 60 customers per day. Able to effectively assist customers with all aspects of service fulfilment by demonstrating proficient use of retail sales techniques, with a proven history of consistently surpassing quotas and maintaining excellent sales records.
What to include in your Fragrance Sales Associate Resume summary?
Summary of professional experience: Provide an overview of the type of work you have done in the past and the impact you have made at previous employers.
Relevant skills: Scatter your most in-demand Fragrance Sales Associate skills through your summary to ensure they are noticed quickly by hiring managers.
Essential qualifications: Mention any Fragrance Sales Associate qualifications that are important to your profession in the summary briefly, to show you are qualified to carry out the role.
Quick tip: Choose from hundreds of pre-written summaries across all industries, and add one to your resume with one click in our partner's Resume Builder. All written by our recruitment experts and easily tailored to suit your unique skillset.
Core skills section
Next, you should create a bullet pointed list of your core skills, formatted into 2-3 columns.
Here, you should focus on including the most important skills or knowledge listed in the job advertisement.
This will instantly prove that you're an ideal candidate, even if a recruiter only has time to briefly scan your resume.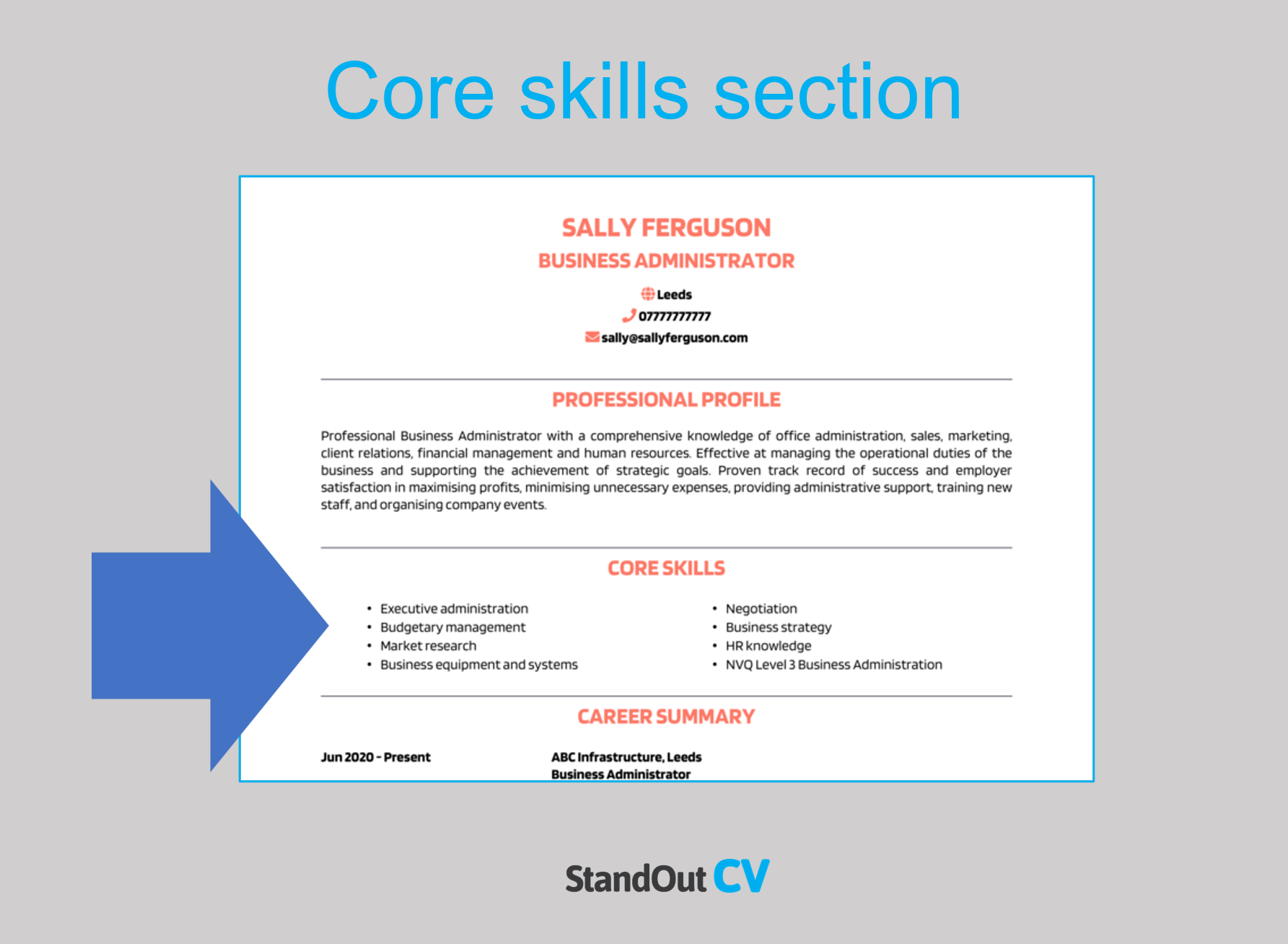 Best skills for your Fragrance Sales Associate resume
Visual merchandising – Using floor plans, color, lighting, displays, technology, and other elements to attract customer attention, generating more sales by making the store stand out and attracting shoppers.
Loss prevention – Following store policies and procedures to minimize the loss of stock through theft, damage etc.
Product demonstrations – Putting the product into the hands of the customer such as offering samples of new products or new versions of existing products.
Inventory counts – Completing regular counts of all stock so the store has accurate information around how many items are on the sales floor, stockroom, and warehouse.
POS handling – Use of computerized hardware to process make sales, accept payments, and check out customers.
Quick tip: Our partner's Resume Builder contains thousands of in-demand skills for every profession that can be added to your resume in seconds – saving you time and greatly improving your chances of landing job interviews.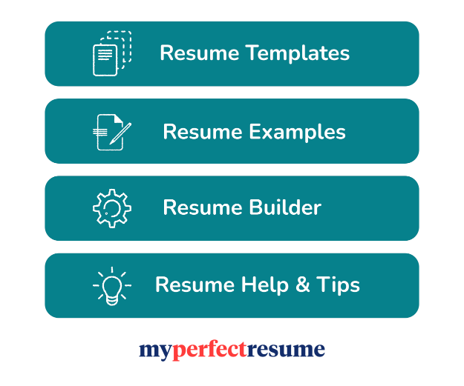 Work experience section
Once you've hooked the hiring manager with your summary, you can really blow them away with you work experience.
List your previous jobs from newest to oldest to show the impact you made at each organization.
If you have years of experience, you can leave out some of the older jobs, and if you have little/no experience, you can bulk this section up with voluntary work and college placements.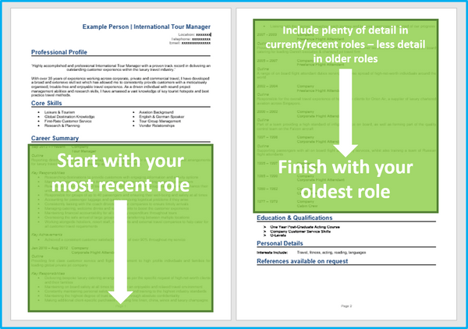 Structuring your job descriptions
It's easy to overwhelm readers when writing about a job you have been doing for years or even months.
Break the information up like this to keep it simple for recruiters to understand.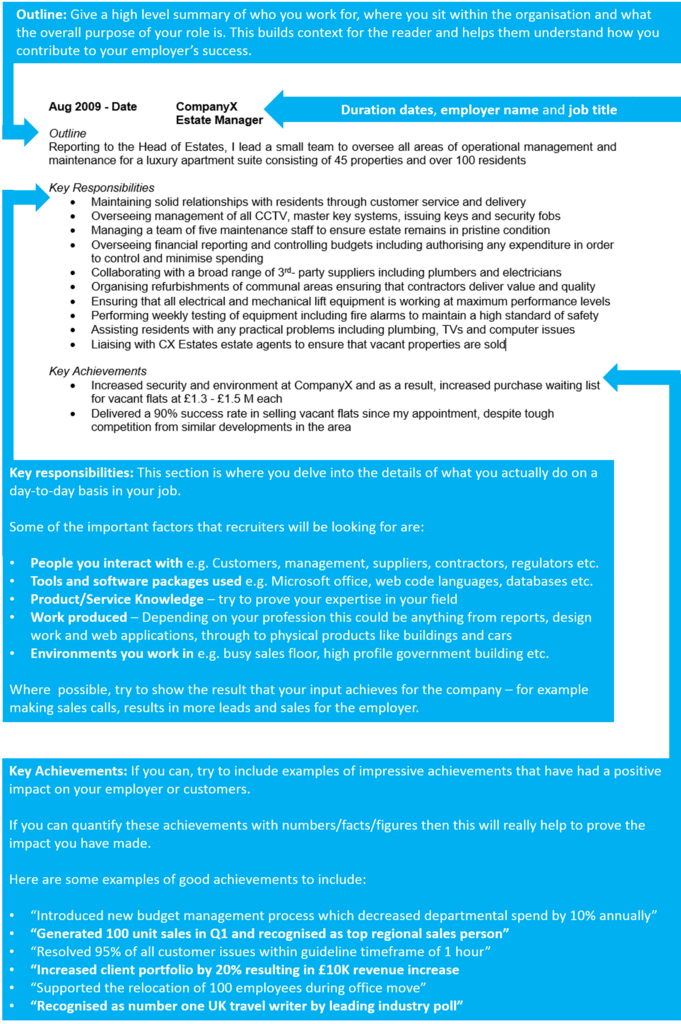 Job outline
Begin each job with a short summary of who the organization is, where you sit within it, and what the main goal of your position is.
Key responsibilities
Next, write up a punchy list of your daily duties and responsibilities, using short bullet points.
Describe how you apply your skills and contribute to the running of the employer's business – highlighting skills which are applicable to your target jobs.
Key achievements
Show employers the value you can bring to them by adding a few achievements to your jobs.
Whether you've saved the company money or improved an internal process, let recruiters know
Add some numbers to give readers a real scale of the impact, e.g. "reduced call wait time by 10%"
Example job for Fragrance Sales Associate resume
Outline
Working for the leading perfume retailed in the US, at their flagship New York City store. Provides exceptional customer service while exceeding customer's needs and expectations, alongside consistently achieving both individual and store sales targets.
Key Responsibilities
Greet customers as they enter the store and inquire into their fragrance requirements
Provide accurate information on new perfume lines and their prices
Assist in selecting perfumes by providing information on popular picks and complementary fragrances
Offer free perfume samples to assist customers in deciding which fragrance to purchase
Quick tip: Create impressive job descriptions easily in our partner's Resume Builder by adding pre-written job phrases for every industry and career stage.

Education resume section
Near the end of your resume add your education section
Experienced candidates should keep it brief and focus on professional qualifications – and junior candidates can include high school diplomas, college degrees etc.
Additional info for your resume
Any other info that didn't fall into any of the previous sections can be added here.
If you have hobbies that are related to your profession or any awards or publications – add them here.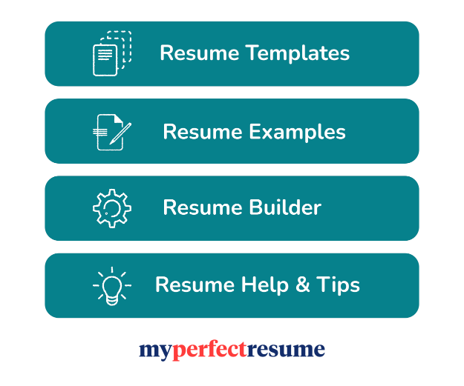 Writing your Fragrance Sales Associate resume
Following the steps in this guide will help you to create a winning Fragrance Sales Associate and bag lots of interviews.
If you want some more help through the process, try our partner's Resume Builder for expert guidance and tons of pre-written resume content.
Good luck with your job search!