Are you hoping to work onboard a yacht this year as a valued member of the crew?
If you want to deliver a great holiday experience to the owner and/or guests of the yacht, this can be a very rewarding role. As long as you love the sea, of course!
Find out how to write a professional CV that's going to get you aboard, using our detailed guide below, complete with a yacht crew member CV example to help you.
Contents
| | |
| --- | --- |
| How to write a Yacht Crew CV | |

Yacht Crew CV example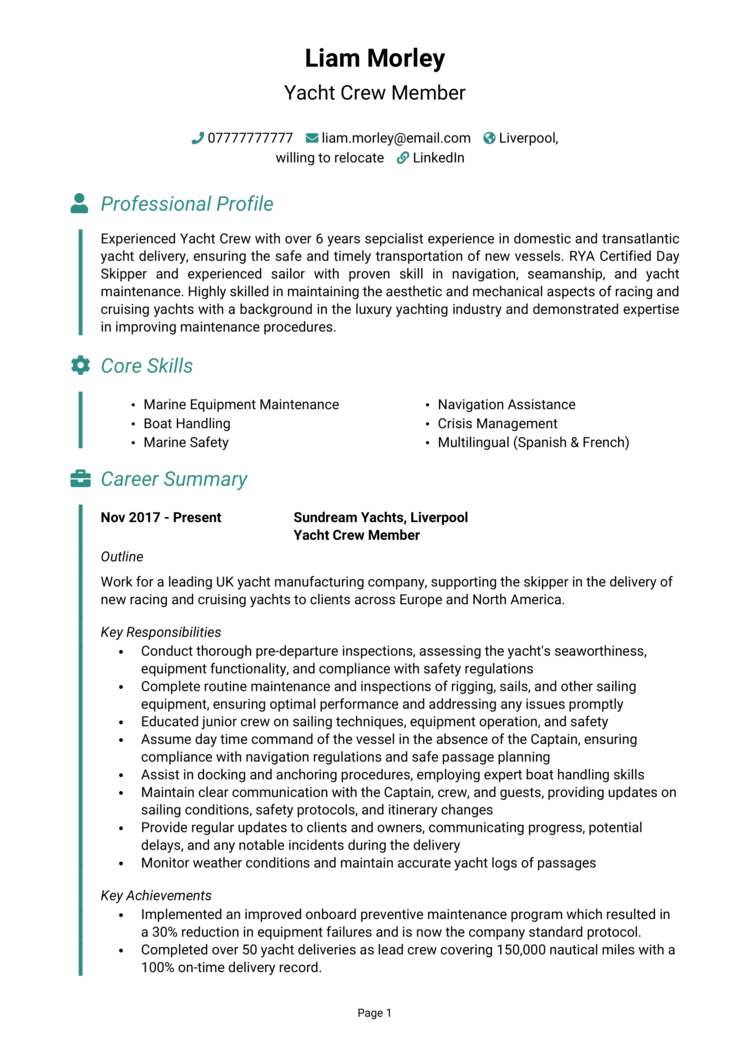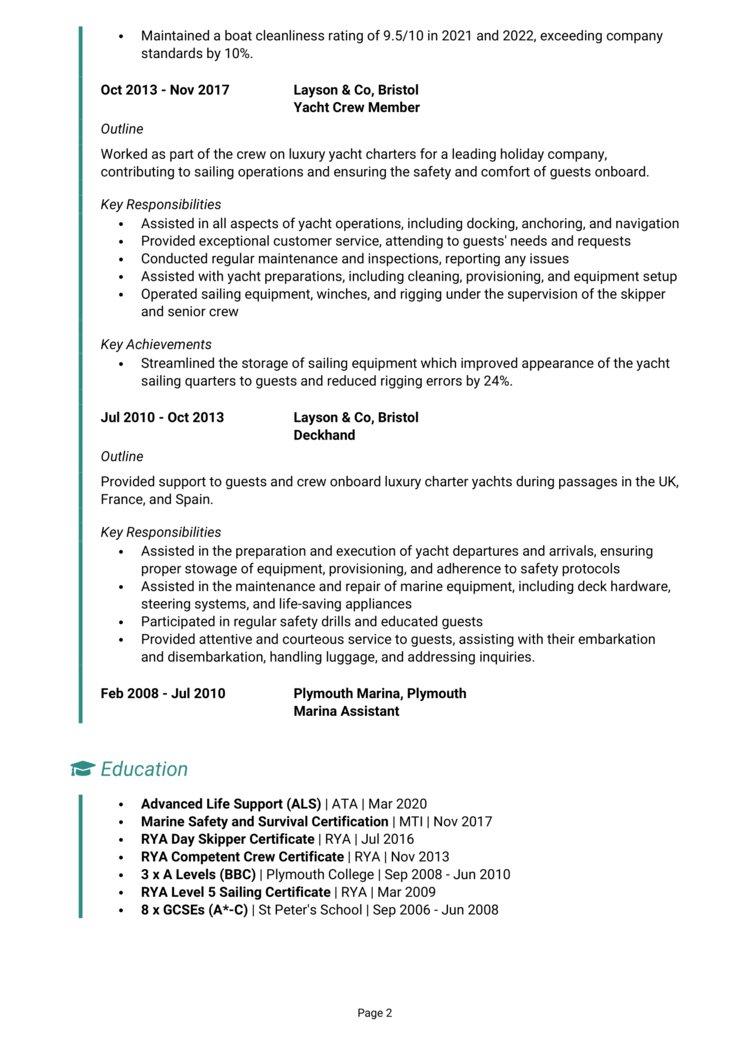 Before you start writing your CV, take a look at the example Yacht Crew Member CV above to give yourself a good idea of the style and format that works best in today's job market.
Also, take note of the type of content that is included to impress recruiters, and how the most relevant information is made prominent, to ensure it gets noticed.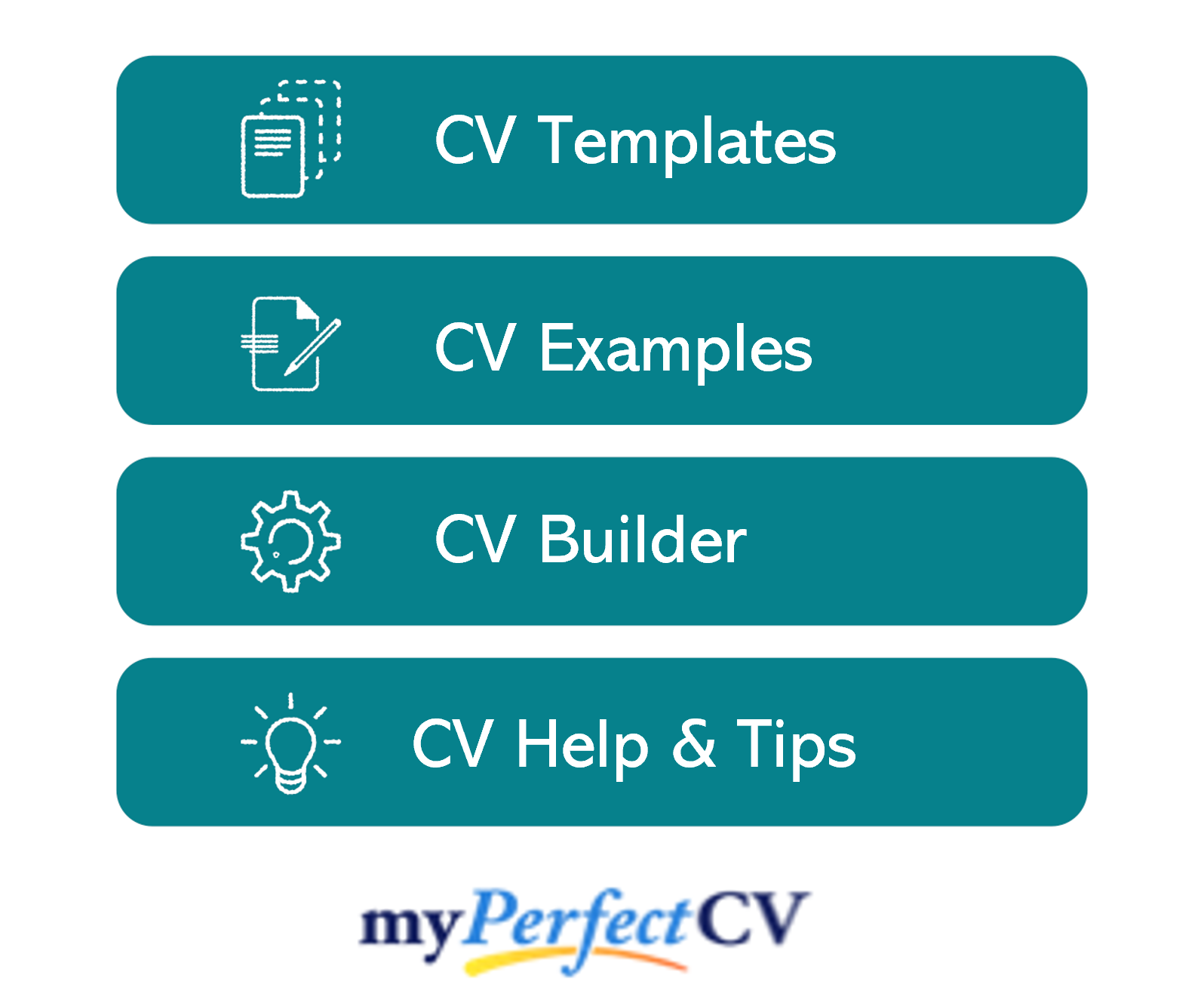 Yacht Crew CV format and structure
First impressions count, so a sloppy, disorganised CV may cause your CV to be overlooked..
Instead, perfect the format and structure of your CV by working to a clear logical structure and applying some simple formatting tricks to ease readability.
Don't underestimate the importance of this step; if your CV lacks readability, your written content won't even be seen.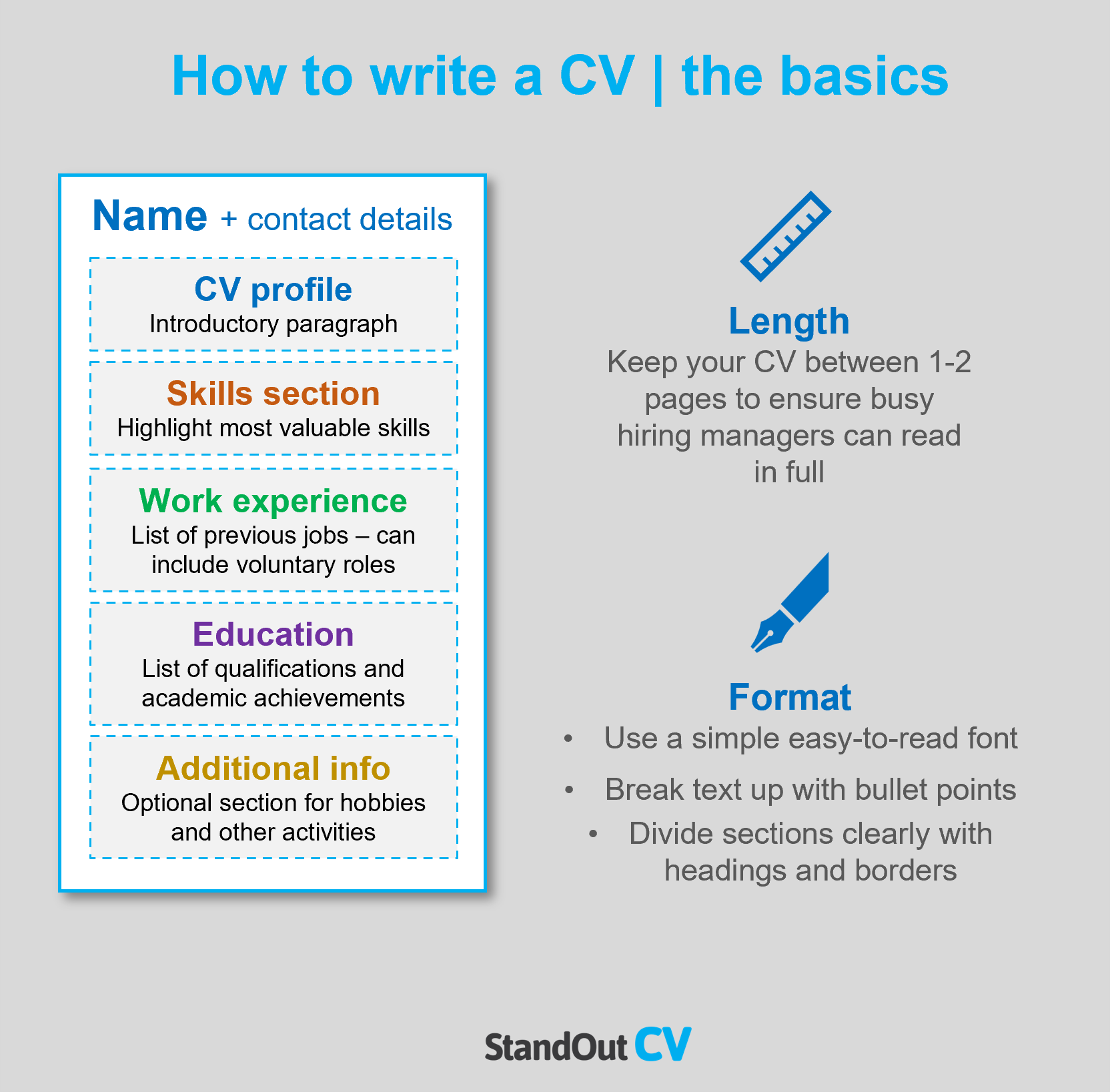 Tips for formatting your Yacht Crew CV
Length: It's essential to keep your CV concise, regardless of whether you have one year or thirty years of experience. Recruiters are frequently managing multiple roles and responsibilities and do not have the luxury of reading lengthy CVs. Therefore, limit your CV to two sides of A4. If you have little industry experience, one page is sufficient.
Readability: To help busy recruiters scan through your CV, make sure your section headings stand out – bold or coloured text works well. Additionally, try to use bullet points wherever you can, as they're far easier to skim through than huge paragraphs. Lastly, don't be afraid of white space on your CV – a little breathing space is great for readability.
Design & format: While it's important that your CV design looks good, it also needs to be functional (which means easy for recruiters to read) Keep the design simple to achieve a good balance between looking good and reading well.
Photos: You can add a profile photo to your CV, if you want to add some personality to it, but they are not a requirement the UK, so you don't have to.
Quick tip: Creating a professional CV style can be difficult and time-consuming when using Microsoft Word or Google Docs. To create a winning CV quickly, try our partner's CV Builder and use one of their eye-catching professional CV templates.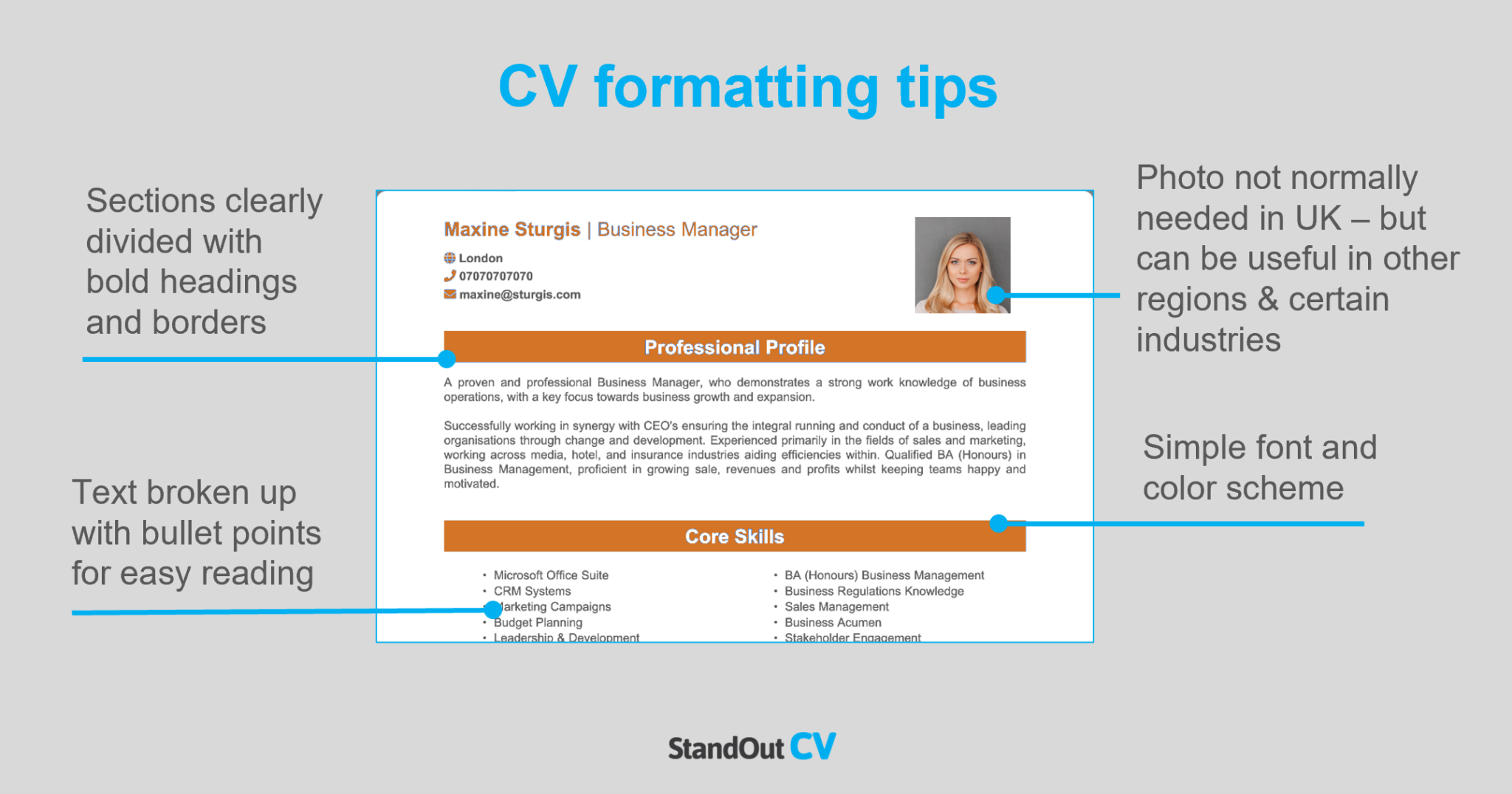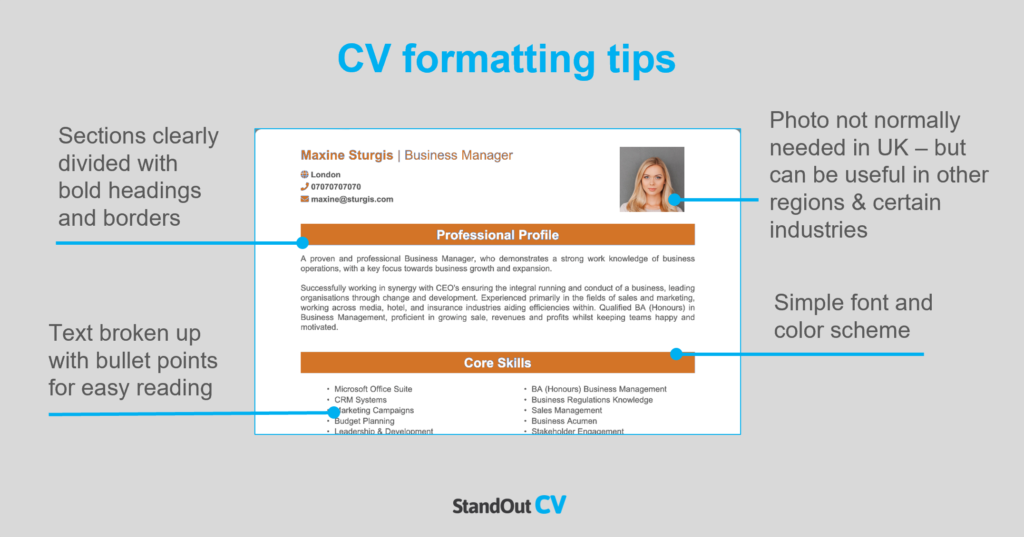 CV structure
For easy reading, write your CV to the following CV structure:
Contact details – Make it easy for recruiters to get in touch with you by listing your contact details at the top of your CV.
Profile – A short and snappy summary of your experience and skills, showcasing what makes you a good fit for the position.
Work experience / career history – Note down all your work history, with your current position first, then working backwards.
Education – A short list of your academic background and professional/vocational qualifications.
Interest and hobbies – This is an optional section, which you can use to highlight any relevant hobbies or interests.
Now you understand the basic layout of a CV, here's what you should include in each section of yours.
Contact Details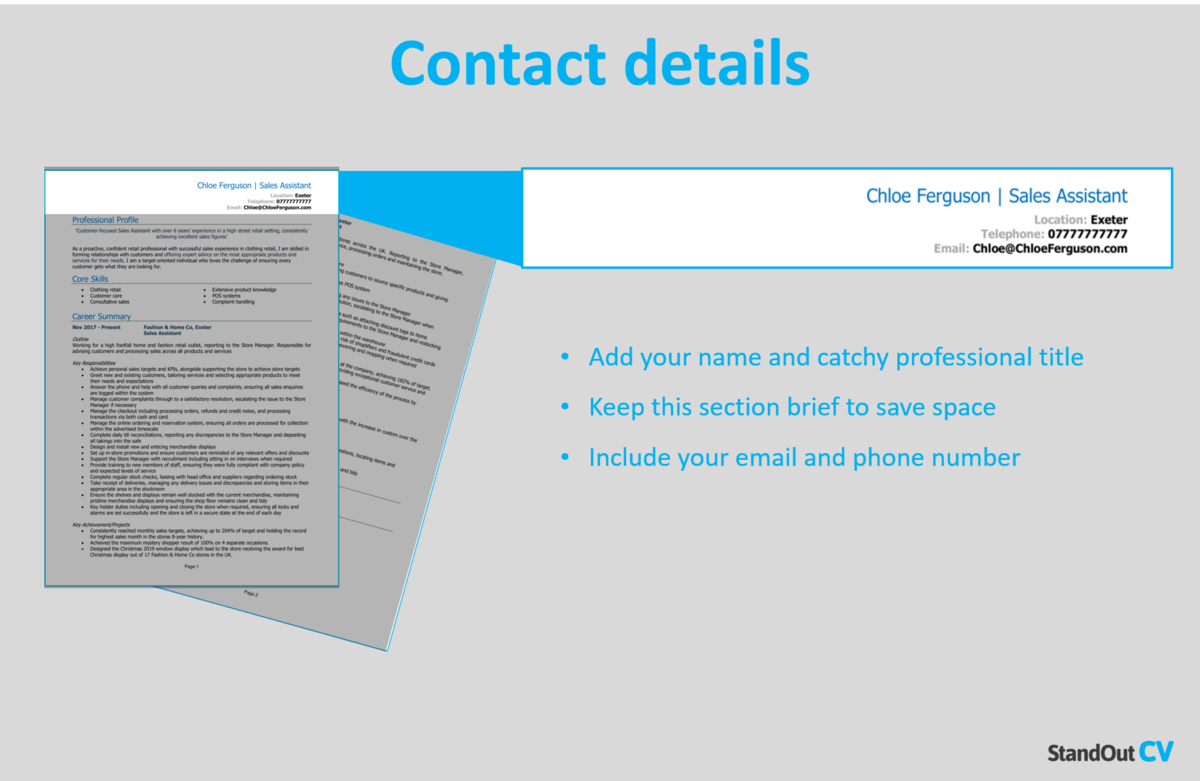 Tuck your contact details into the corner of your CV, so that they don't take up too much space.
Stick to the basic details, such as:
Mobile number
Email address – It should sound professional, such as your full name.
Location -Just write your rough location, rather than your full address.
LinkedIn profile or portfolio URL – If you include these, ensure they're sleek, professional and up-to-date.
Yacht Crew CV Profile
Make a strong first impression with recruiters by starting your CV with an impactful profile (or personal statement for junior applicants).
This short introduction paragraph should summarise your skills, experience, and knowledge, highlighting your suitability for the job.
It should be compelling enough to encourage recruiters to read through the rest of your CV.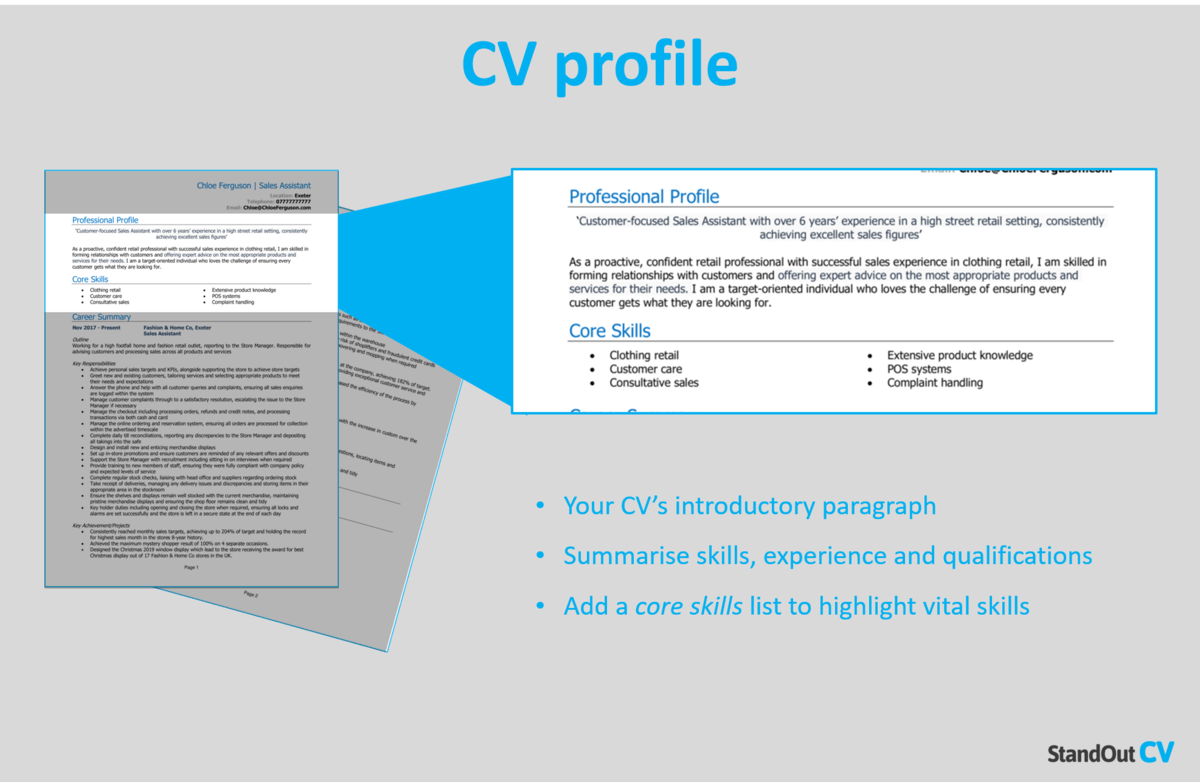 How to write a good CV profile:
Make it short and sharp: Recruiters are busy, so to ensure your profile is actually read, it's best to keep it short and snappy. 3-5 punchy lines makes for the perfect profile.
Tailor it: No matter how much time you put into your CV profile, it won't impress if it's irrelevant to the role you're applying for. Before you start writing, make a list of the skills, knowledge and experience your target employer is looking for. Then, make sure to mention them in your CV profile and throughout the rest of your application.
Don't add an objective: Leave your career objectives or goals out of your profile. You only have limited space to work with, so they're best suited to your cover letter.
Avoid generic phrases: Clichés like "blue-sky thinker with a go-getter attitude" might sound impressive to you, but they don't actually tell the recruiter much about you. Concentrate on highlighting hard facts and skills, as recruiters are more likely to take these on board.
Example CV profile for Yacht Crew
Experienced Yacht Crew Member with over 6 years specialist experience in domestic and transatlantic yacht delivery, ensuring the safe and timely transportation of new vessels. RYA Certified Day Skipper and experienced sailor with proven skill in navigation, seamanship, and yacht maintenance. Highly skilled in maintaining the aesthetic and mechanical aspects of racing and cruising yachts with a background in the luxury yachting industry and demonstrated expertise in improving maintenance procedures.
What to include in your Yacht Crew CV profile?
Experience overview: To give employers an idea of your capabilities, show them your track record by giving an overview of the types of companies you have worked for in the past and the roles you have carried out for previous employers – but keep it high level and save the details for your experience section.
Targeted skills: Employers need to know what skills you can bring to their organisation, and ideally they want to see skills that match their job vacancy. So, research your target roles thoroughly and add the most important Yacht Crew skills to your profile.
Important qualifications: If you have any qualifications which are highly relevant to Yacht Crew jobs, then highlight them in your profile so that employers do not miss them.
Quick tip: If you are finding it difficult to write an attention-grabbing CV profile, choose from hundreds of pre-written profiles across all industries, and add one to your CV with one click in our partner's CV Builder. All profiles are written by recruitment experts and easily tailored to suit your unique skillset.
Core skills section
Create a core skills section underneath your profile to spotlight your most in-demand skills and grab the attention of readers.
This section should feature 2-3 columns of bullet points that emphasise your applicable skills for your target jobs. Before constructing this section, review the job description and compile a list of any specific skills, specialisms, or knowledge required.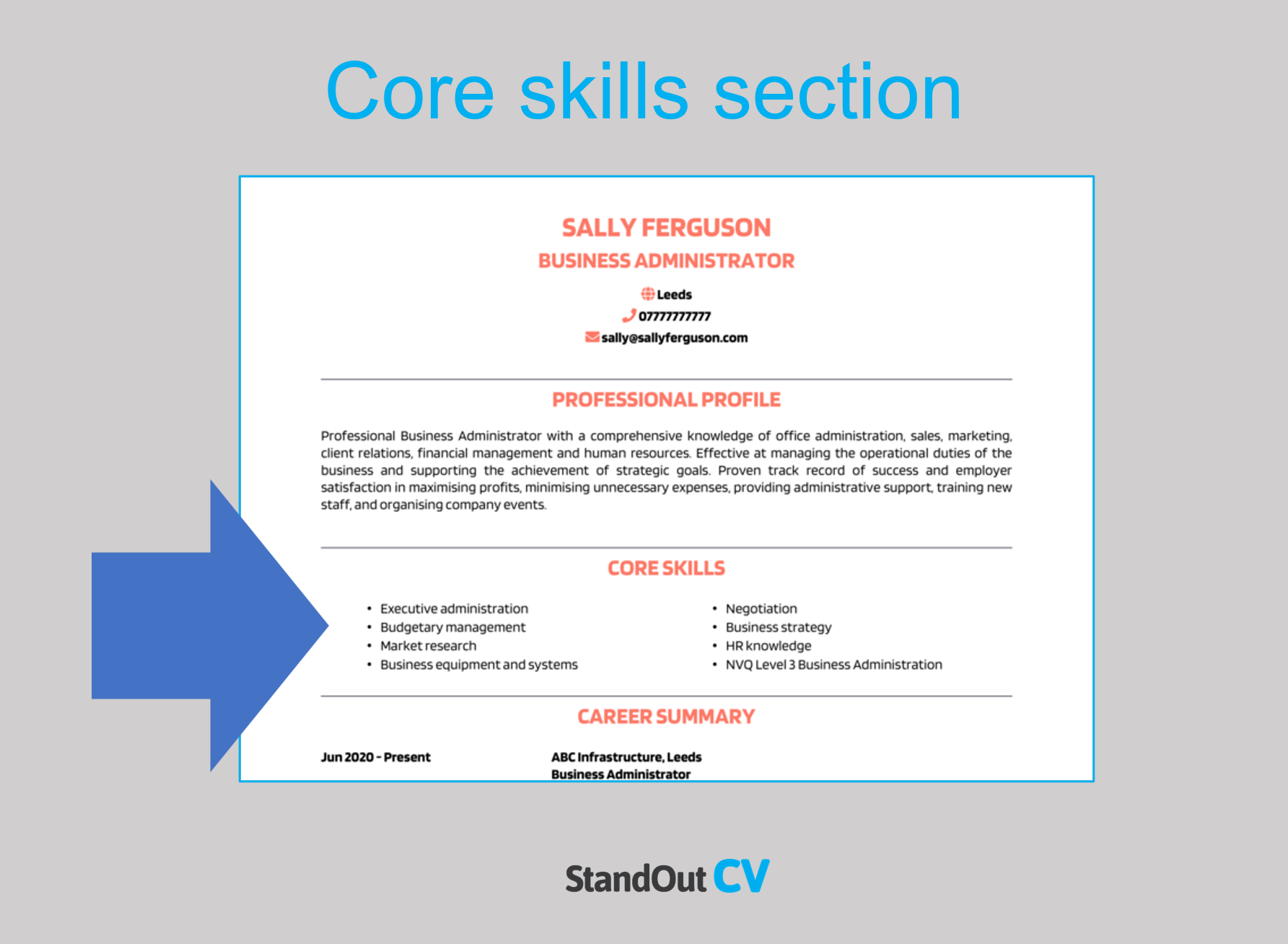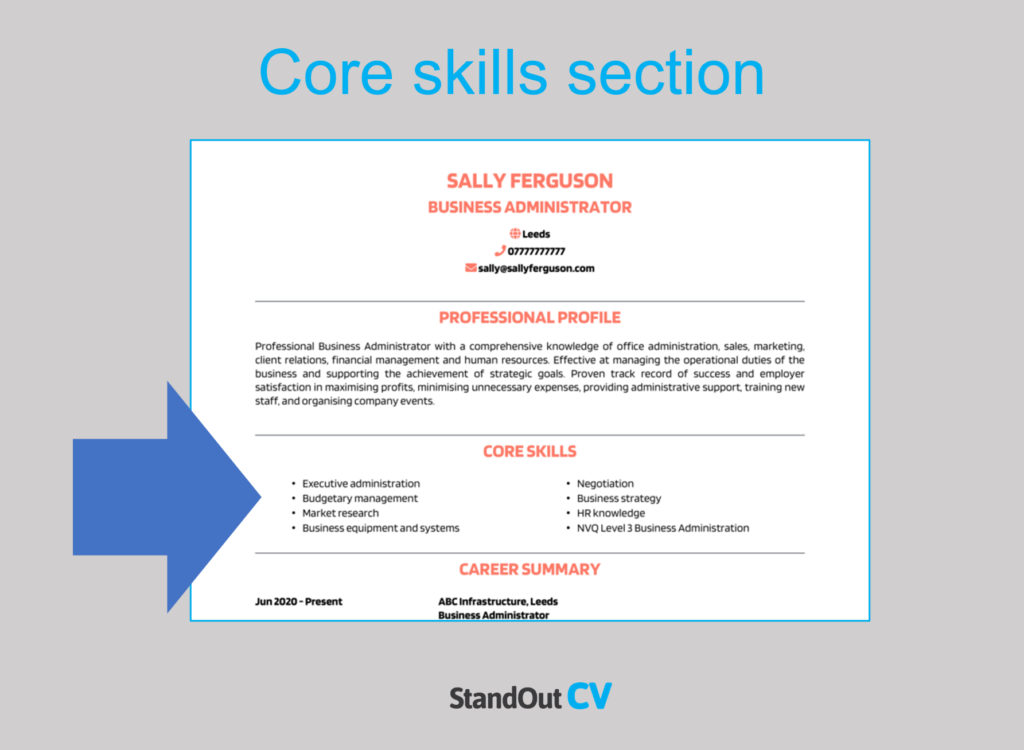 Important skills for your Yacht Crew CV
Seamanship – Utilising knowledge of navigation, boat handling, and general seamanship skills to safely operate and manoeuvre the yacht.
Safety and Emergency Response – Utilising knowledge of safety procedures and emergency protocols, including first aid, fire safety, and life-saving techniques, to ensure the well-being of passengers and crew in various situations.
Knot Tying and Rope Handling – Tying different types of knots and efficiently handling ropes to secure the yacht, handle lines, and assist with docking.
Maintenance and Repair – Completing basic maintenance and repair tasks such as cleaning, painting, varnishing, and minor repairs to ensure the yacht's upkeep and smooth operation.
Customer Service – Providing exceptional customer service to yacht guests, anticipating their needs, and ensuring a pleasant and comfortable experience on board.
Hospitality and Etiquette – Utilising knowledge of proper etiquette, table setting, and service standards to assist with meal service, manage guest cabins, and create a welcoming environment.
Water Sports and Activities – Supporting with water sports activities such as snorkelling, diving, kayaking, and jet skiing, including knowledge of safety protocols and equipment usage.
Teamwork and Collaboration – Collaborating effectively with other crew members, including deckhands, engineers, chefs, and stewardesses, to ensure smooth operations and exceptional guest experience.
Weather and Navigation – Utilising knowledge of weather patterns, tides, and navigational charts to assist the captain in route planning, weather monitoring, and maintaining a safe course.
Language Proficiency – Maintaining fluency in English and additional languages as necessary, to effectively communicate with diverse guests and provide multilingual assistance.
Quick tip: Our partner's CV Builder has thousands of in-demand skills for all industries and professions, that can be added to your CV in seconds – This will save you time and ensure you get noticed by recruiters.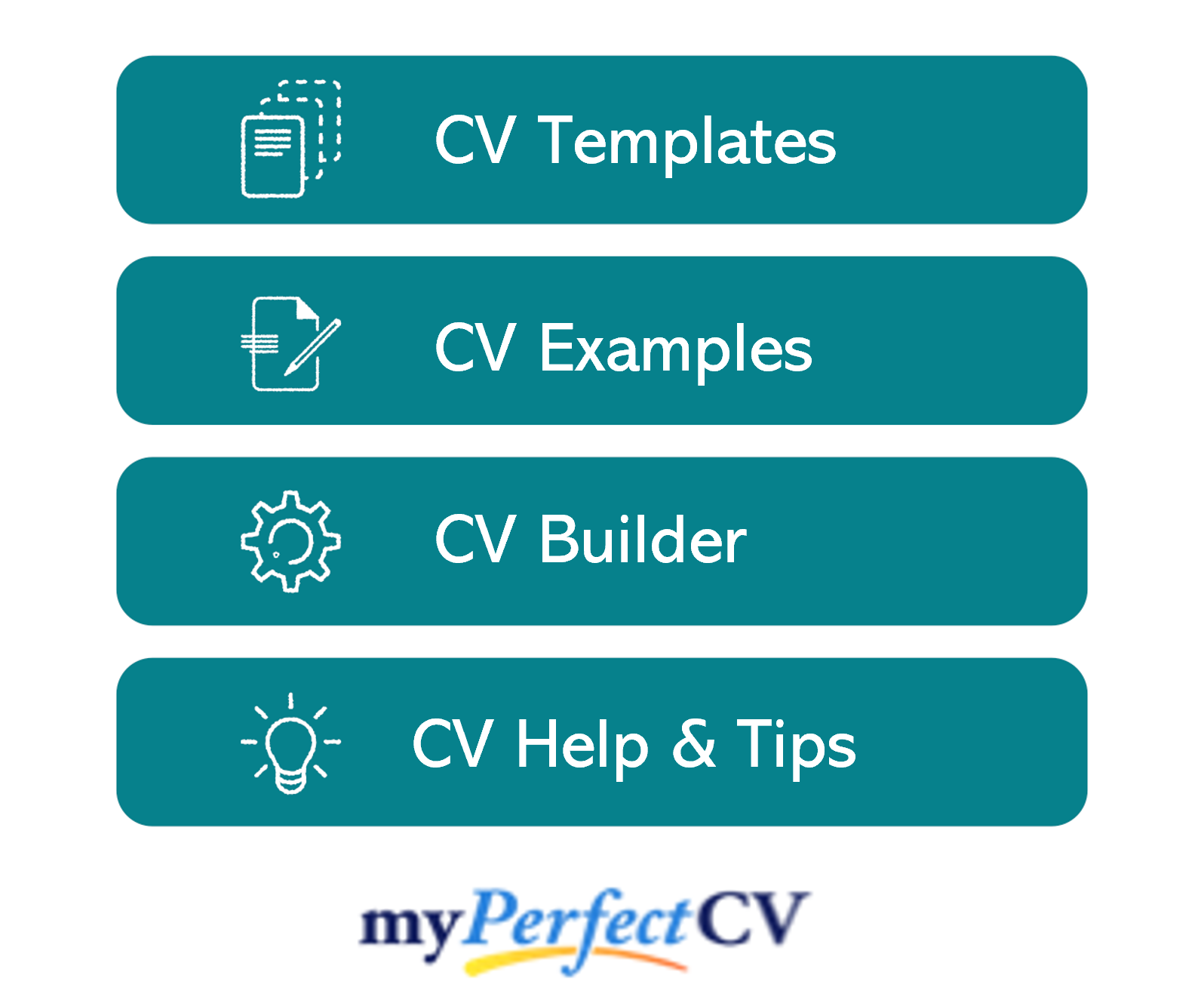 Work experience
By now, you'll have hooked the reader's attention and need to show them how you apply your skills and knowledge in the workplace, to benefit your employers.
So, starting with your most recent role and working backwards to your older roles, create a thorough summary of your career history to date.
If you've held several roles and are struggling for space, cut down the descriptions for your oldest jobs.
Structuring each job
Lengthy, unbroken chunks of text is a recruiters worst nightmare, but your work experience section can easily end up looking like that if you are not careful.
To avoid this, use my tried-and-tested 3-step structure, as illustrated below:
Outline
Begin with a summary of your role, detailing what the purpose of your job was, who you reported to and what size of team you were part of (or led).
Key responsibilities
Using easy-to-read bullet points, note down your day-to-day responsibilities in the role.
Make sure to showcase how you used your hard sector skills and knowledge.
Key achievements
Lastly, add impact by highlight 1-3 key achievements that you made within the role.
Struggling to think of an achievement? If it had a positive impact on your company, it counts.
For example, you might increased company profits, improved processes, or something simpler, such as going above and beyond to solve a customer's problem.
Sample job description for Yacht Crew CV
Outline
Work for a leading UK yacht manufacturing company, supporting the skipper in the delivery of new racing and cruising yachts to clients across Europe and North America.
Key Responsibilities
Conduct thorough pre-departure inspections, assessing the yacht's seaworthiness, equipment functionality, and compliance with safety regulations
Complete routine maintenance and inspections of rigging, sails, and other sailing equipment, ensuring optimal performance and addressing any issues promptly
Educated junior crew on sailing techniques, equipment operation, and safety
Assume daytime command of the vessel in the absence of the Captain, ensuring compliance with navigation regulations and safe passage planning
Quick tip: Create impressive job descriptions easily in our partner's CV Builder by adding pre-written job phrases for every industry and career stage.

Education section
Next up, you should list your education and qualifications.
This can include your formal qualifications (a degree, A-Levels and GCSEs), as well as sector-specific Yacht Crew qualifications and/or training.
While school leavers and recent grads should include a lot of detail here to make up for the lack of work experience, experienced candidates may benefit from a shorter education section, as your work experience section will be more important to recruiters.
Hobbies and interests
Although this is an optional section, it can be useful if your hobbies and interests will add further depth to your CV.
Interests which are related to the sector you are applying to, or which show transferable skills like leadership or teamwork, can worth listing.
On the other hand, generic hobbies like "going out with friends" won't add any value to your application, so are best left off your CV.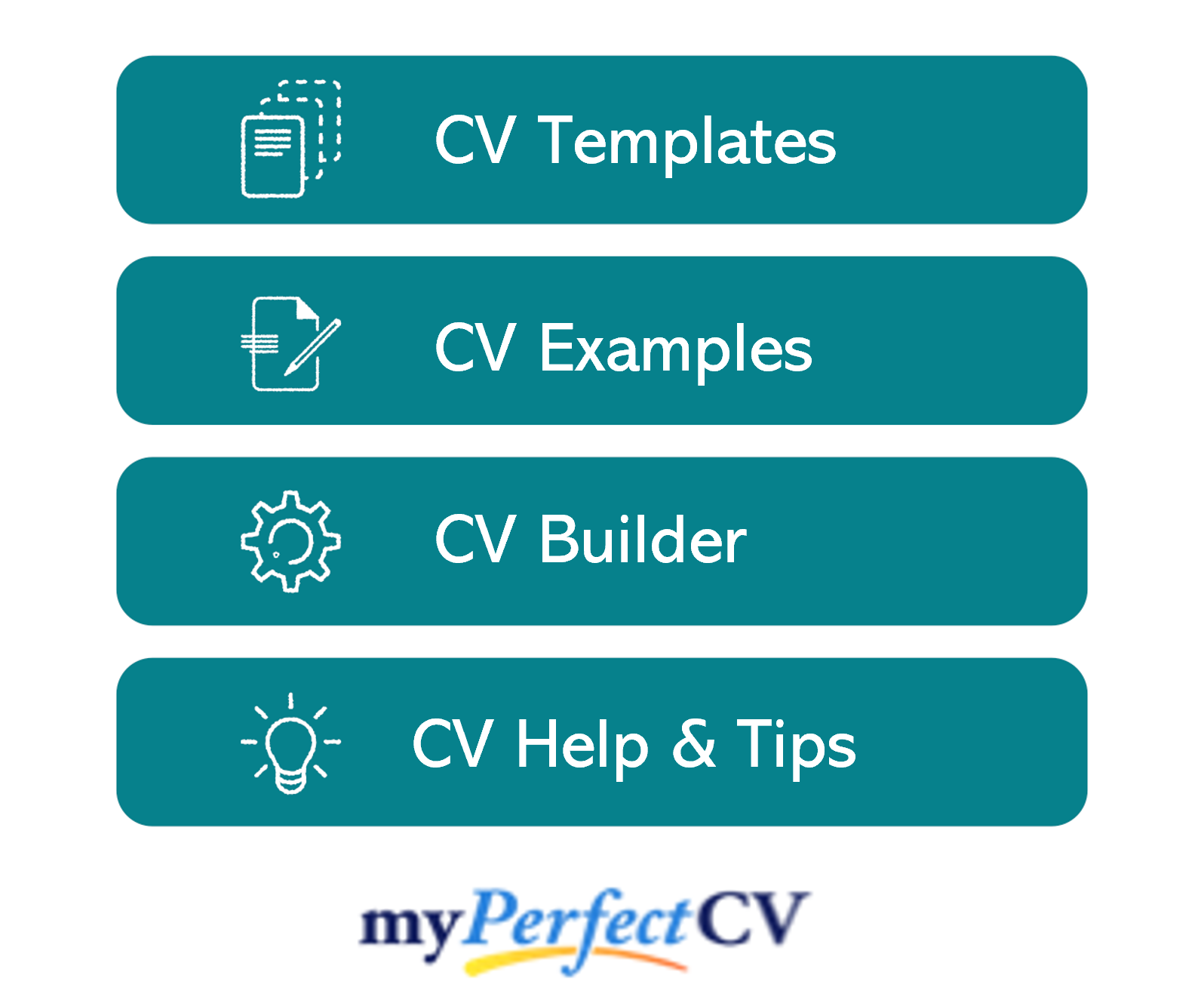 An interview-winning CV for a Yacht Crew Member role, needs to be both visually pleasing and packed with targeted content.
Whilst it needs to detail your experience, accomplishments and relevant skills, it also needs to be as clear and easy to read as possible.
Remember to research the role and review the job ad before applying, so you're able to match yourself up to the requirements.
If you follow these guidelines and keep motivated in your job search, you should land an interview in no time.
Best of luck with your next application!