Do you always have your head in the Cloud (no, not those clouds)?
If you're an expert in the design, maintenance and management of cloud-based systems and services, your CV needs to reflect this.
Find out how to effectively showcase your relevant skills and experience using our guide below. We've also included a Cloud engineer CV example to support you further.
Contents
| | |
| --- | --- |
| How to write a Cloud Engineer CV | |

Cloud Engineer CV example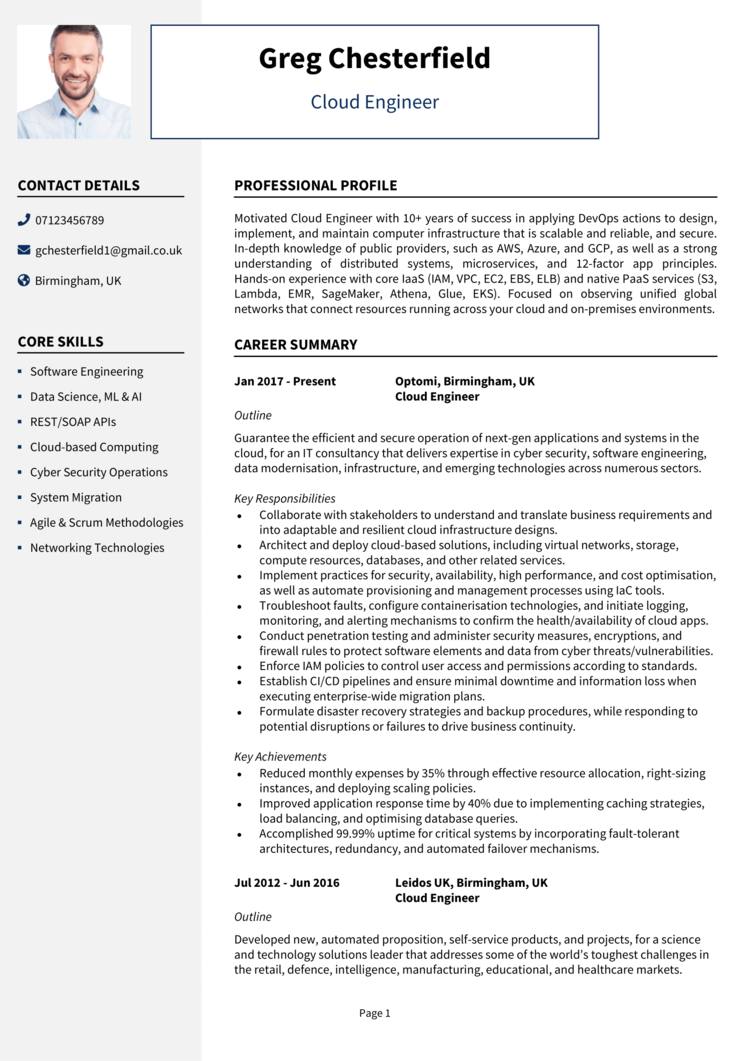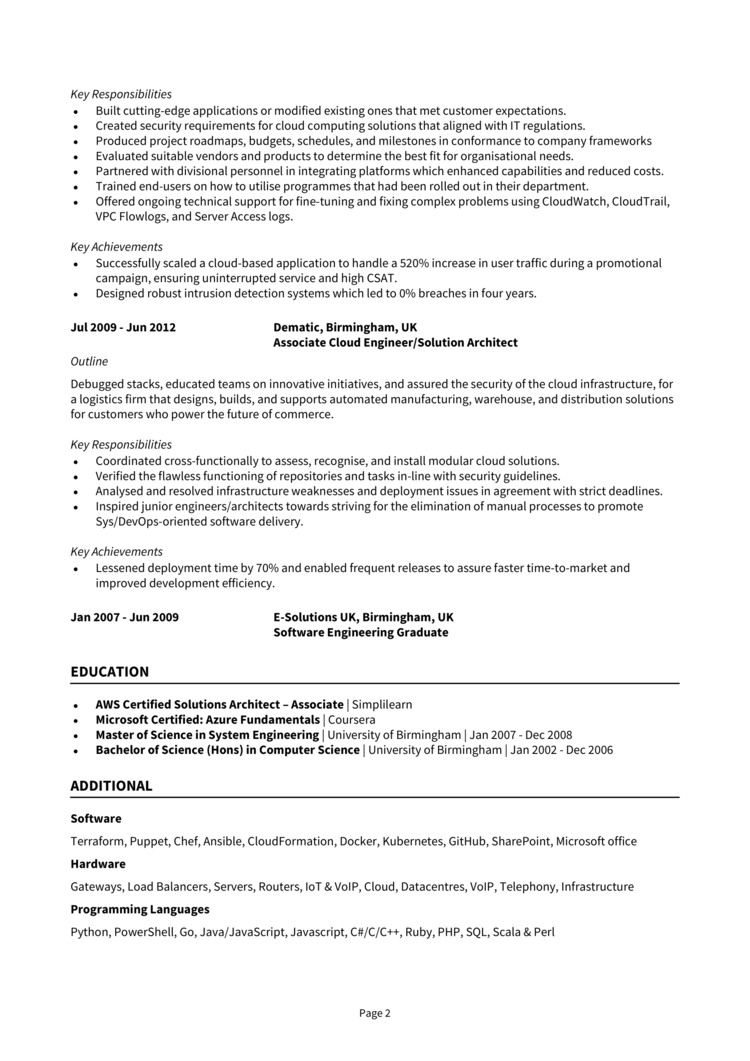 Before you start writing your CV, take a look at the example Cloud Engineer CV above to give yourself a good idea of the style and format that works best in today's job market.
Also, take note of the type of content that is included to impress recruiters, and how the most relevant information is made prominent, to ensure it gets noticed.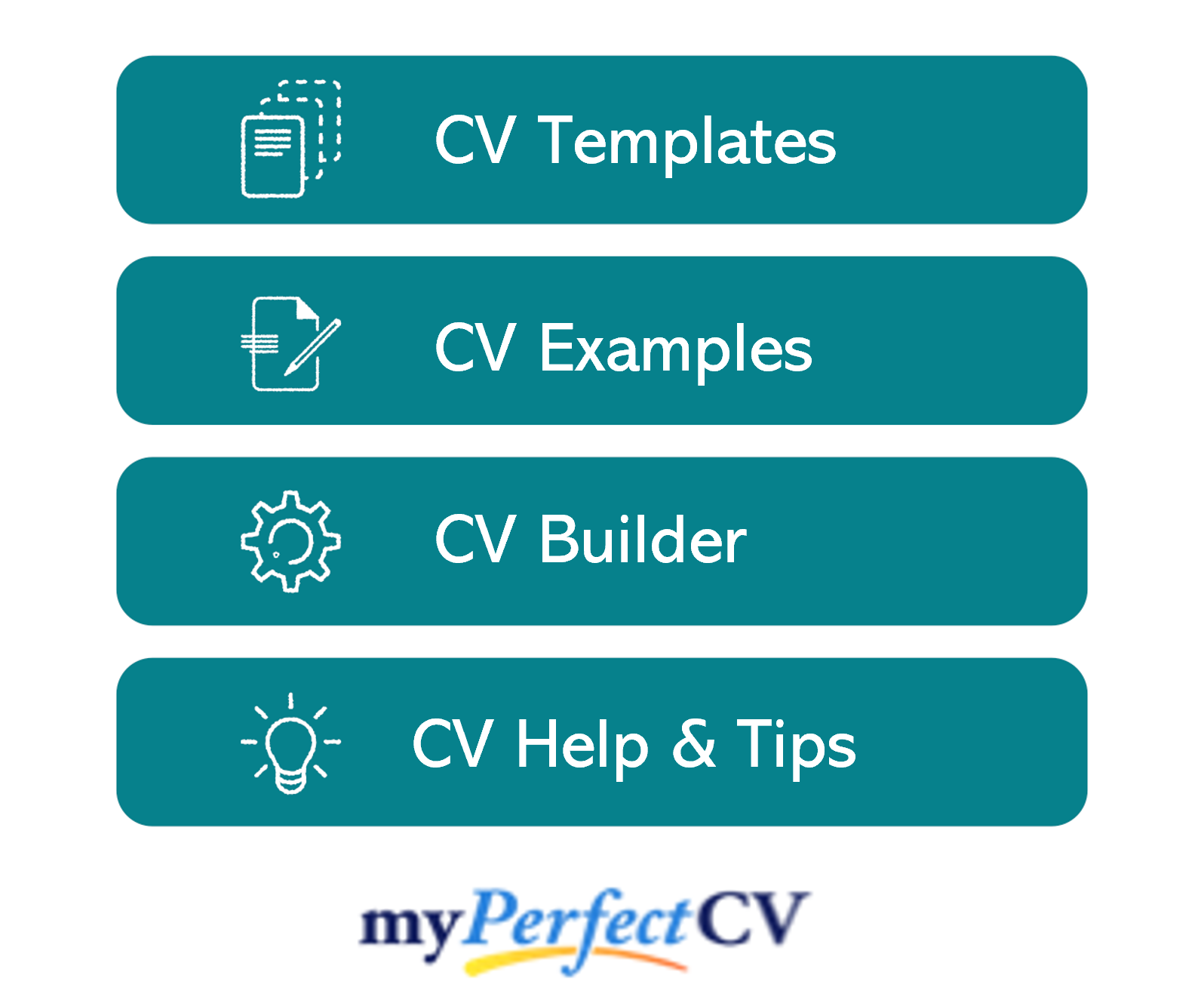 Cloud Engineer CV format and structure
The format and structure of your CV is important because it will determine how easy it is for recruiters and employers to read your CV.
If they can find the information they need quickly, they'll be happy; but if they struggle, your application could be overlooked.
A simple and logical structure will always create a better reading experience than a complex structure, and with a few simple formatting tricks, you'll be good to go.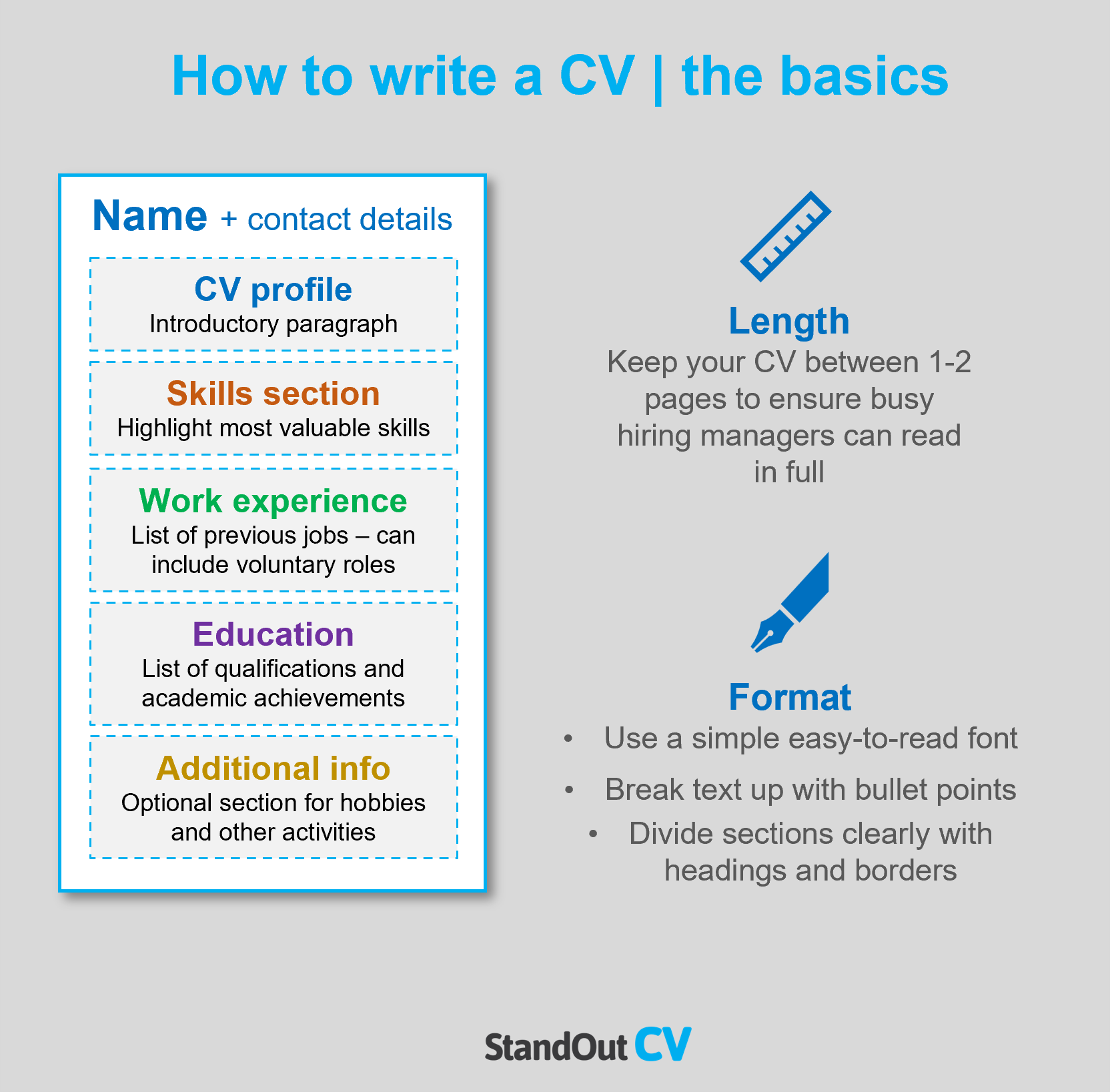 Tips for formatting your Cloud Engineer CV
Length: If you want to hold the reader's attention and ensure your CV isn't yawn-worthy, it's best to stick to two sides of A4 or less. This is more than enough room to highlight why you're a good match for the role – anything more can quickly become tedious!
Readability: To help busy recruiters scan through your CV, make sure your section headings stand out – bold or coloured text works well. Additionally, try to use bullet points wherever you can, as they're far easier to skim through than huge paragraphs. Lastly, don't be afraid of white space on your CV – a little breathing space is great for readability.
Design & format: Your CV needs to look professional, sleek and easy to read. A subtle colour palette, clear font and simple design are generally best for this, as fancy designs are often harder to navigate.
Photos: Headshot photos aren't requiered in a CV by most employers, but some creative and artistic industries like to see them. If you decide to inclide one, make sure you look smart and professional in the picture.
Quick tip: Creating a professional CV style can be difficult and time-consuming when using Microsoft Word or Google Docs. To create a winning CV quickly, try our partner's CV Builder and use one of their eye-catching professional CV templates.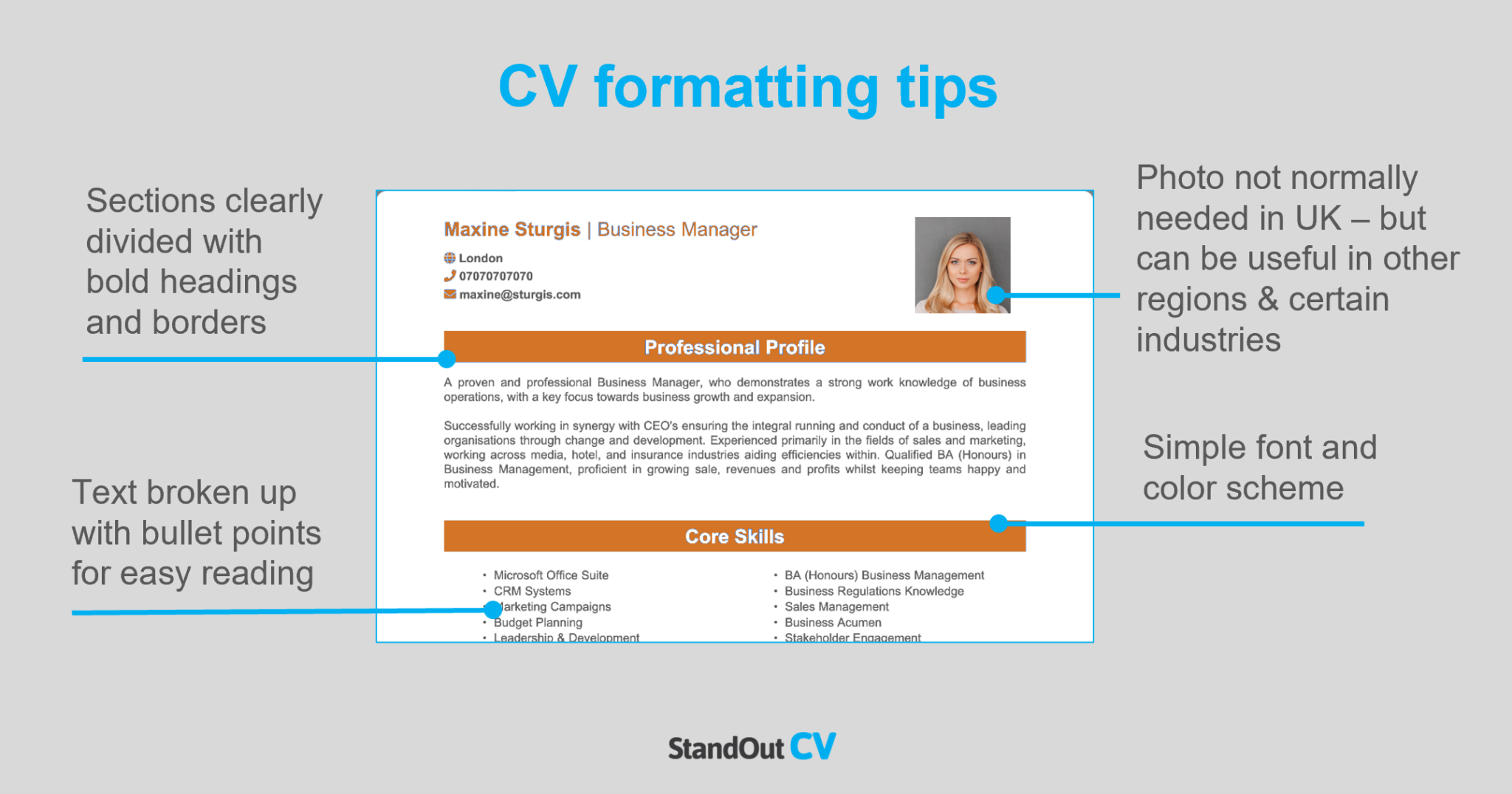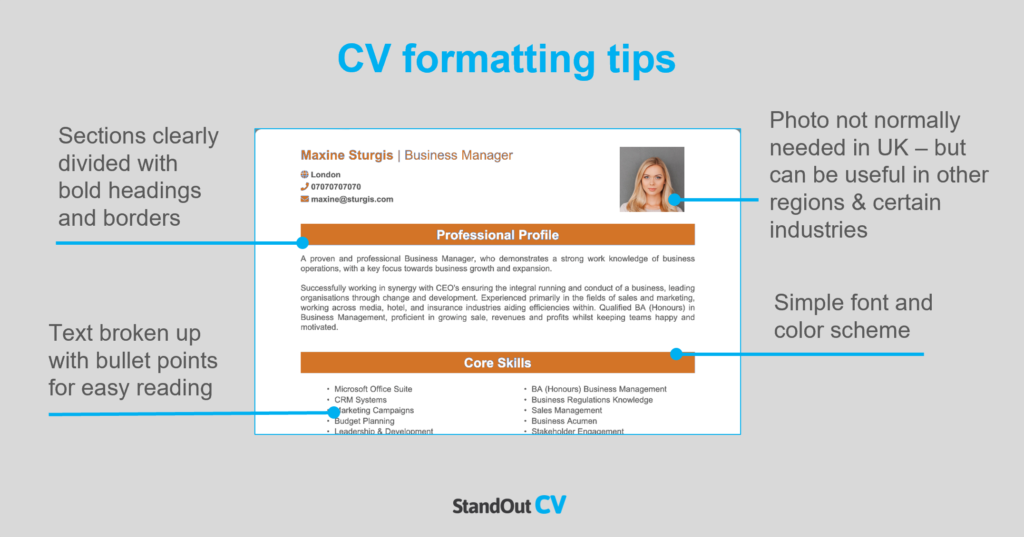 CV structure
To make it easy for busy recruiters and hiring managers to digest your CV, divide the content into several key sections when writing it:
Contact details: Always list your contact details at the very top to avoid them being missed.
Profile: Start with an introductory paragraph that catches recruiters' attention and summarises your offerings.
Work experience/career history: List your relevant work experience in reverse chronological order, starting with your current position.
Education: Provide a concise summary of your education and qualifications.
Interests and hobbies: You can include an optional section to showcase any hobbies that demonstrate transferable skills.
Now you understand the basic layout of a CV, here's what you should include in each section of yours.
Contact Details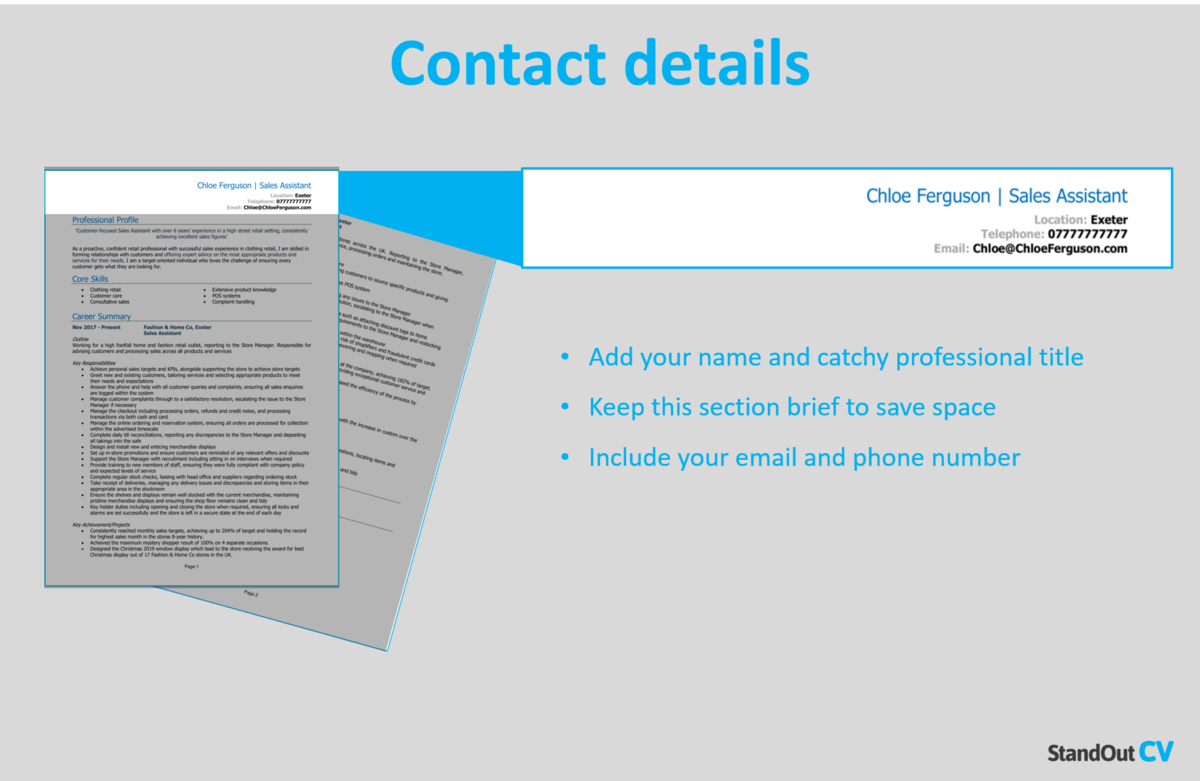 Kick-start your CV with your contact details, so recruiters can get in touch easily.
Here's what you should include:
Mobile number
Email address – Make sure it's professional, with no silly nicknames.
Location – Your town or city is sufficient, rather than a full address.
LinkedIn profile or portfolio URL – Ensure they've been updated and are looking slick and professional.
Quick tip: Avoid listing your date of birth, marital status or other irrelevant details – they're unnecessary at this stage.
Cloud Engineer CV Profile
Recruiters and hiring managers are busy, so it's essential to catch their attention from the get-go.
A strong introductory profile (or personal statement, for junior candidates) at the top of the CV is the first thing they'll read, so it's a great chance to make an impression.
It should be a short but punchy summary of your key skills, relevant experience and accomplishments.
Ultimately, it should explain why you're a great fit for the role you're applying for and inspire recruiters to read the rest of your CV.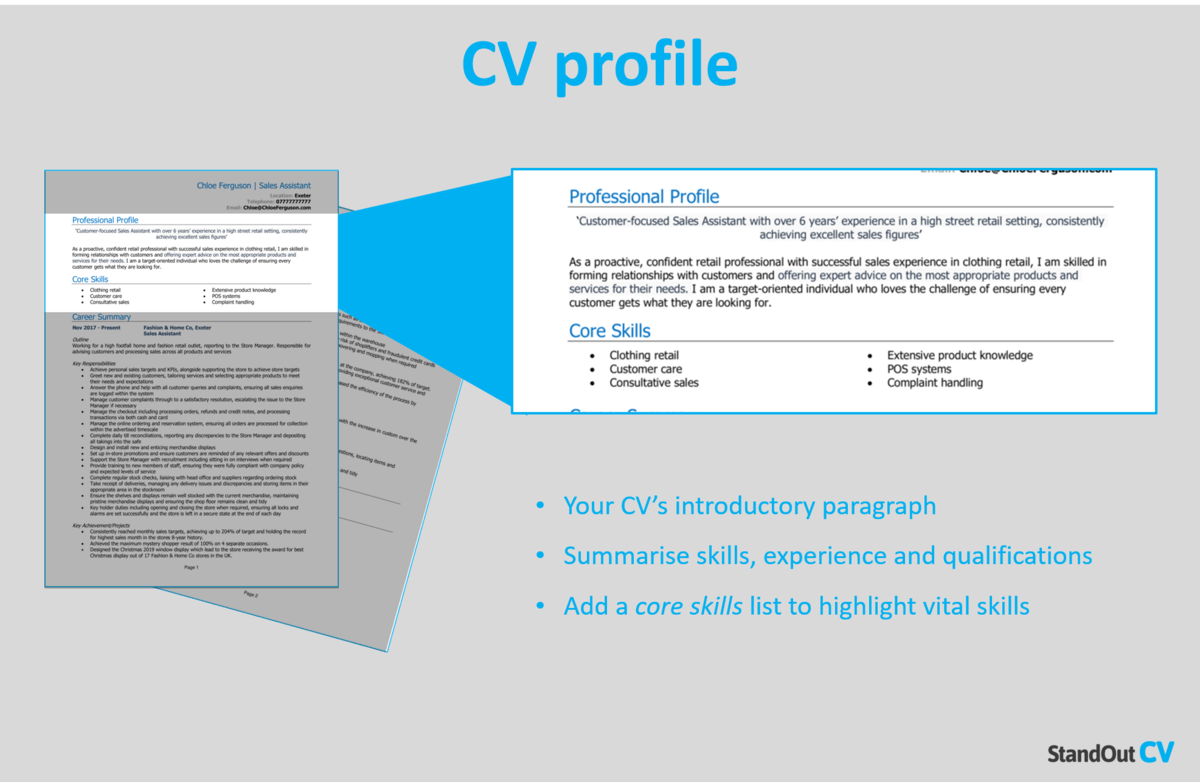 How to write a good CV profile:
Make it short and sharp: Recruiters are busy, so to ensure your profile is actually read, it's best to keep it short and snappy. 3-5 punchy lines makes for the perfect profile.
Tailor it: The biggest CV mistake? A generic, mass-produced document which is sent out to tens of employers. If you want to land an interview, you need to tailor your CV profile (and your application as a whole) to the specific roles you're applying for. So, before you start writing, remember to read over those job descriptions and make a list of the skills, knowledge and experience the employers are looking for.
Don't add an objective: Career goals and objectives are best suited to your cover letter, so don't waste space with them in your CV profile.
Avoid generic phrases: If there's one thing that'll annoy a recruiter, it's a clichè-packed CV. Focus on showcasing your hard skills, experience and the results you've gained in previous roles, which will impress recruiters far more.
Example CV profile for Cloud Engineer
Motivated Cloud Engineer with 10+ years of success in applying DevOps actions to design, implement, and maintain computer infrastructure that is scalable and reliable, and secure. In-depth knowledge of public providers, such as AWS, Azure, and GCP, as well as a strong understanding of distributed systems, microservices, and 12-factor app principles. Hands-on experience with core IaaS (IAM, VPC, EC2, EBS, ELB) and native PaaS services (S3, Lambda, EMR, SageMaker, Athena, Glue, EKS). Focused on observing unified global networks that connect resources running across your cloud and on-premises environments.
What to include in your Cloud Engineer CV profile?
Experience overview: Demonstrate your suitability for your target jobs by giving a high level summary of your previous work work experience, including the industries you have worked in, types of employer, and the type of roles you have previous experience of.
Targeted skills: Employers need to know what skills you can bring to their organisation, and ideally they want to see skills that match their job vacancy. So, research your target roles thoroughly and add the most important Cloud Engineer skills to your profile.
Important qualifications: Be sure to outline your relevant Cloud Engineer qualifications, so that anyone reading the CV can instantly see you are qualified for the jobs you are applying to.
Quick tip: If you are finding it difficult to write an attention-grabbing CV profile, choose from hundreds of pre-written profiles across all industries, and add one to your CV with one click in our partner's CV Builder. All profiles are written by recruitment experts and easily tailored to suit your unique skillset.
Core skills section
To ensure that your most relevant skills catch the eye of readers, create a core skills section below your profile.
This section should be presented in 2-3 columns of bullet points highlighting your applicable skills. Before crafting this section, carefully examine the job description and create a list of any required skills, specialisms, or knowledge.
Use this list to include the necessary information in your section and present yourself as the ideal match for the position.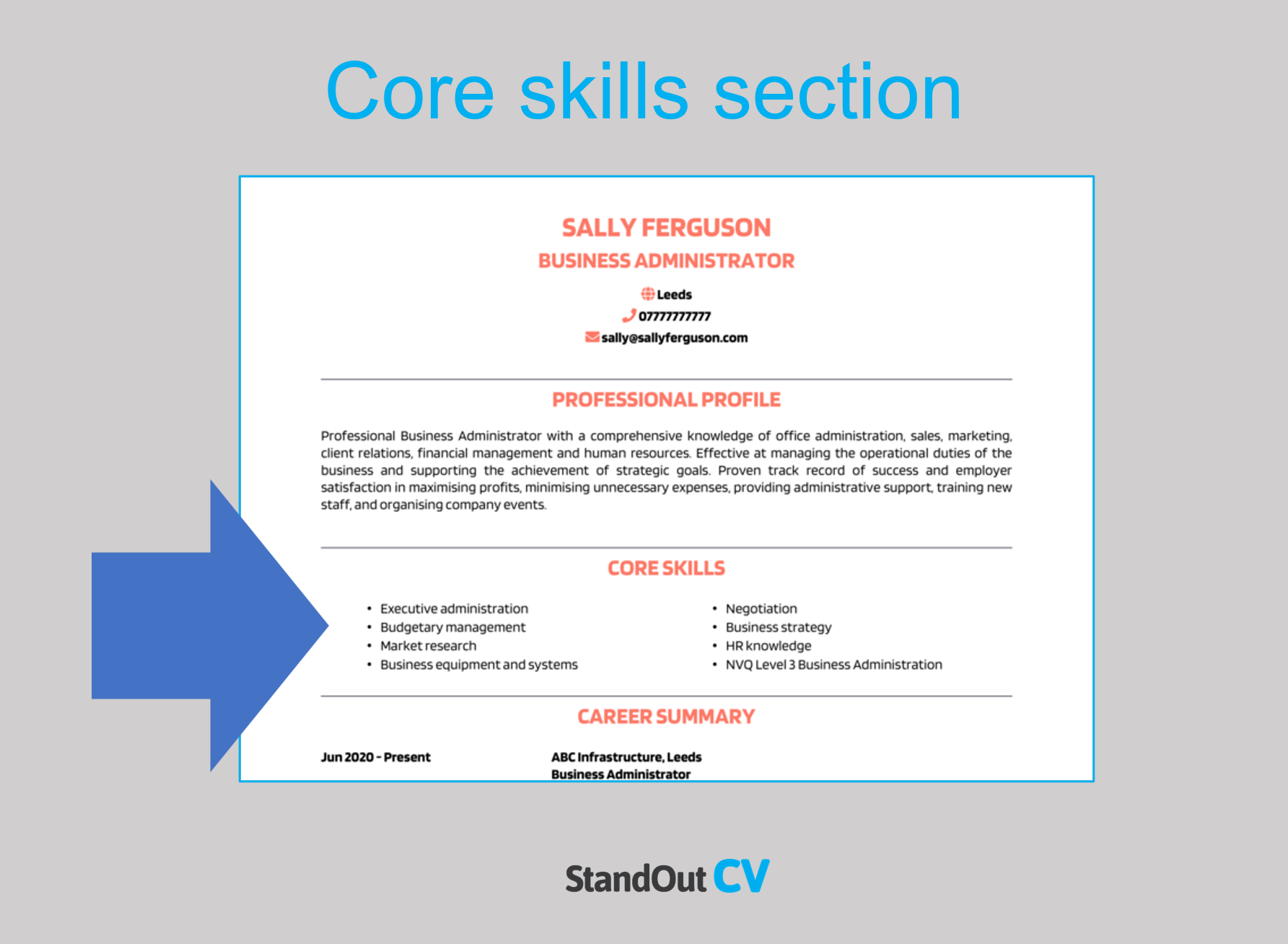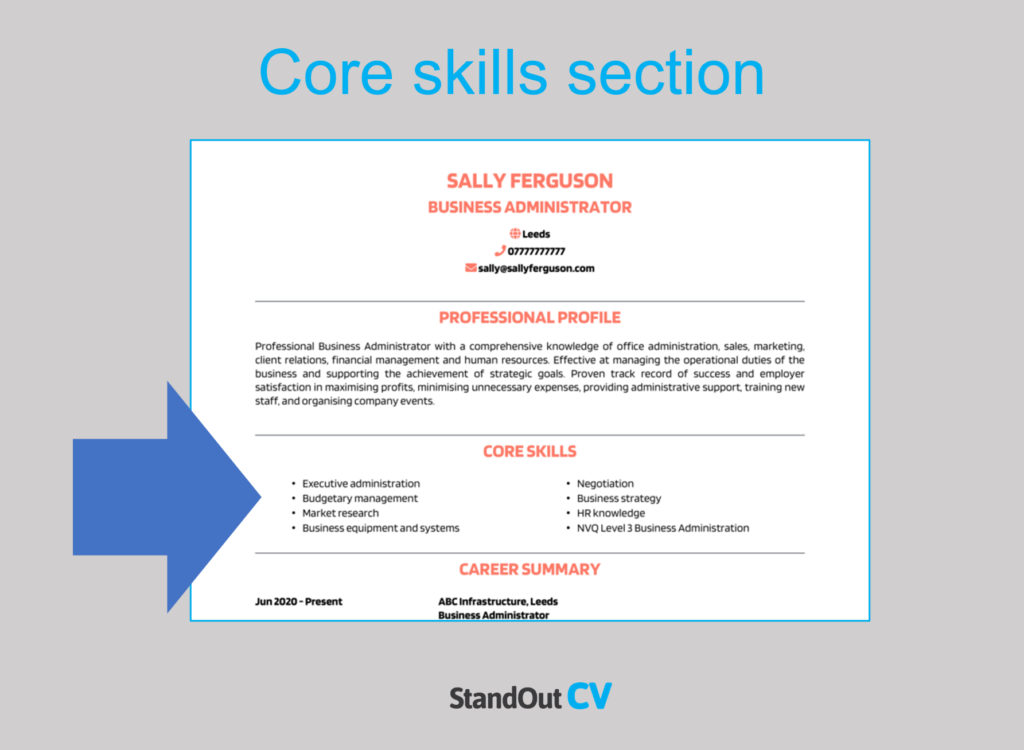 Important skills for your Cloud Engineer CV
Cloud Infrastructure Management – Managing and maintaining cloud infrastructure, including virtual machines, storage, networking, and security components.
Cloud Platforms – Utilising knowledge of popular cloud platforms such as AWS, Azure, or Google Cloud, including their services, features, and best practices.
Automation and Scripting – Utilising automation tools and scripting languages (e.g., Python, PowerShell) to automate cloud infrastructure provisioning, deployment, and management tasks.
Infrastructure as Code (IaC) – Utilising IaC tools like Terraform or CloudFormation to define and provision cloud resources using code, enabling consistent and scalable deployments.
Containerisation – Utilising knowledge of containerisation technologies like Docker and container orchestration platforms like Kubernetes for deploying and managing containerised applications in the cloud.
Security and Compliance – Utilising knowledge of cloud security principles, identity and access management, encryption, data protection, and compliance frameworks (e.g., GDPR, HIPAA) to ensure secure and compliant cloud environments.
Networking and Connectivity – Utilising knowledge of cloud networking concepts, including virtual networks, subnets, load balancers, DNS, VPN, and direct connectivity options to establish secure and reliable network connections.
Performance Monitoring and Optimisation – Monitoring cloud resources, identifying performance bottlenecks, and implementing optimisations to improve system performance and cost efficiency.
Disaster Recovery and Business Continuity – Designing and implementing disaster recovery and business continuity plans for cloud-based applications, ensuring data availability and minimising downtime.
Cross-functional Collaboration – Effectively collaborating with cross-functional teams, stakeholders, and clients, facilitating successful cloud implementation projects.
Quick tip: Our partner's CV Builder has thousands of in-demand skills for all industries and professions, that can be added to your CV in seconds – This will save you time and ensure you get noticed by recruiters.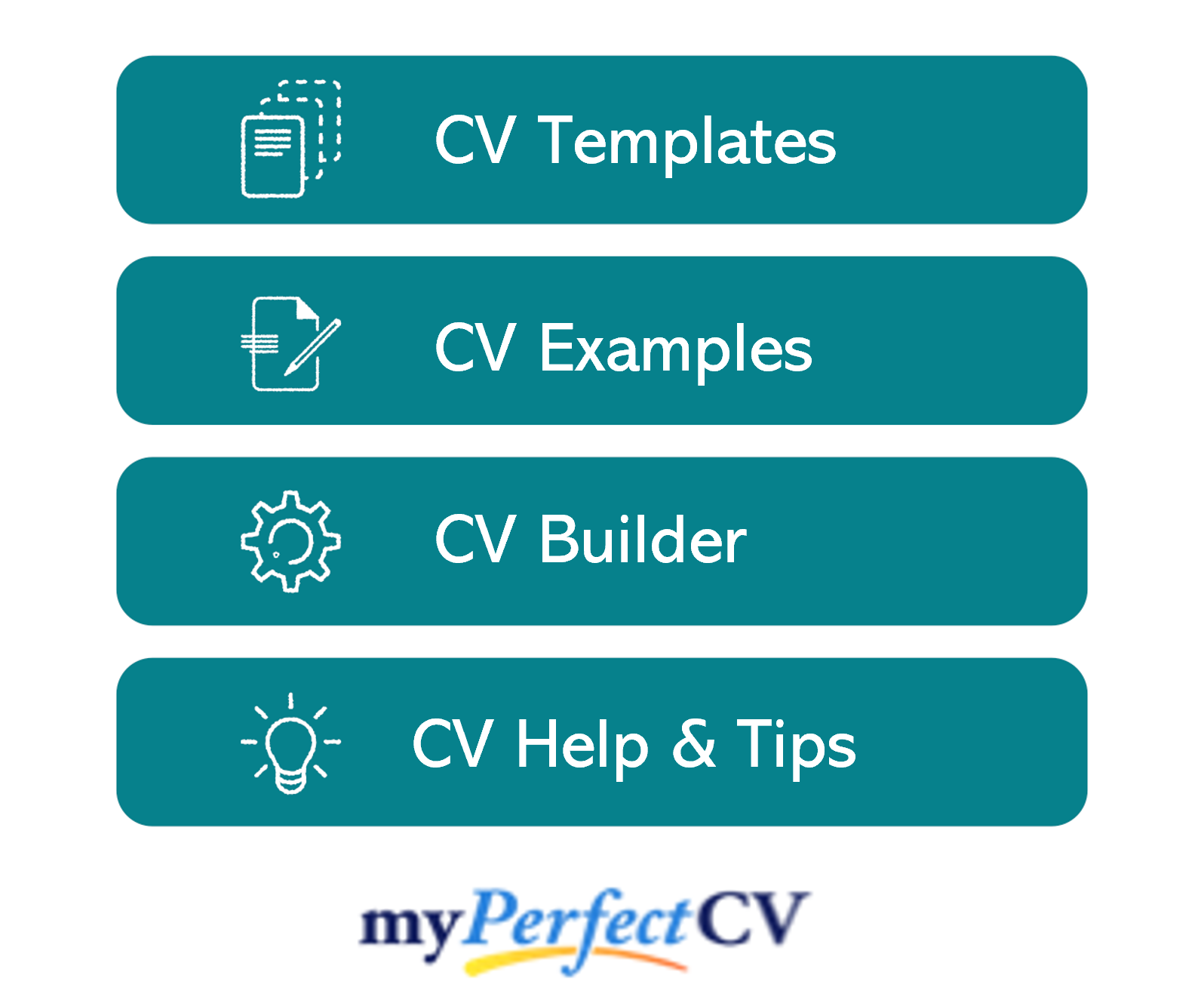 Work experience
By now, you'll have hooked the reader's attention and need to show them how you apply your skills and knowledge in the workplace, to benefit your employers.
So, starting with your most recent role and working backwards to your older roles, create a thorough summary of your career history to date.
If you've held several roles and are struggling for space, cut down the descriptions for your oldest jobs.
Structuring each job
Your work experience section will be long, so it's important to structure it in a way which helps recruiters to quickly and easily find the information they need.
Use the 3-step structure, shown in the below example, below to achieve this.
Outline
Start with a solid introduction to your role as a whole, in order to build some context.
Explain the nature of the organisation you worked for, the size of the team you were part of, who you reported to and what the overarching purpose of your job was.
Key responsibilities
Next up, you should write a short list of your day-to-day duties within the job.
Recruiters are most interested in your sector-specific skills and knowledge, so highlight these wherever possible.
Key achievements
Round up each role by listing 1-3 key achievements, accomplishments or results.
Wherever possible, quantify them using hard facts and figures, as this really helps to prove your value.
Sample job description for Cloud Engineer CV
Outline
Guarantee the efficient and secure operation of next-gen applications and systems in the cloud, for an IT consultancy that delivers expertise in cyber security, software engineering, data modernisation, infrastructure, and emerging technologies across numerous sectors.
Key Responsibilities
Collaborate with stakeholders to understand and translate business requirements and into adaptable and resilient cloud infrastructure designs.
Architect and deploy cloud-based solutions, including virtual networks, storage, compute resources, databases, and other related services.
Implement practices for security, availability, high performance, and cost optimisation, as well as automate provisioning and management processes using IaC tools.
Troubleshoot faults, configure containerisation technologies, and initiate logging, monitoring, and alerting mechanisms to confirm the health/availability of cloud apps.
Quick tip: Create impressive job descriptions easily in our partner's CV Builder by adding pre-written job phrases for every industry and career stage.

Education section
At the bottom of your CV is your full education section. You can list your formal academic qualifications, such as:
As well as any specific Cloud Engineer qualifications that are essential to the jobs you are applying for. Note down the name of the qualification, the organisation at which you studied, and the date of completion.
Hobbies and interests
This section is entirely optional, so you'll have to use your own judgement to figure out if it's worth including.
If your hobbies and interests could make you appear more suitable for your dream job, then they are definitely worth adding.
Interests which are related to the industry, or hobbies like sports teams or volunteering, which display valuable transferable skills might be worth including.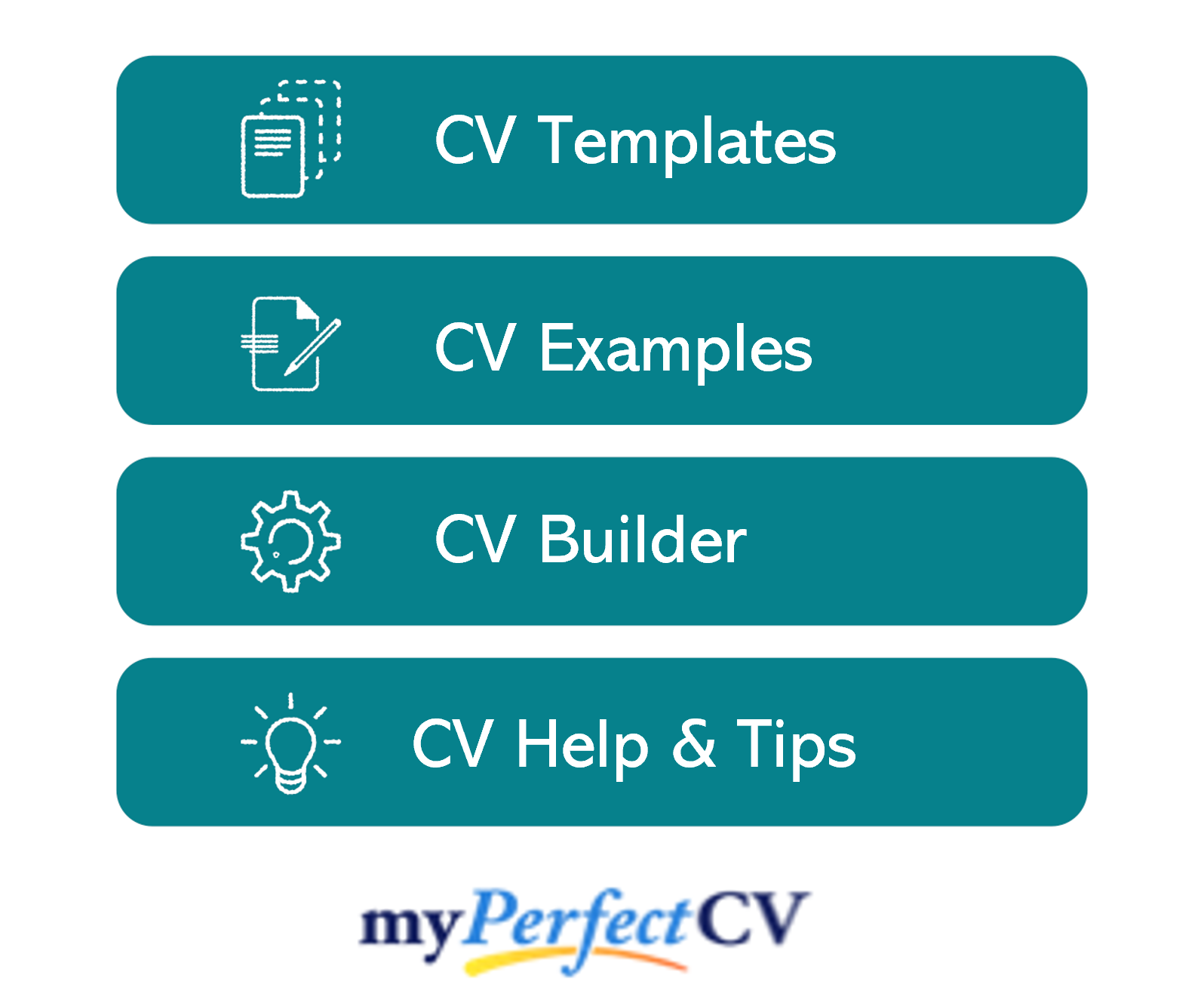 A strong, compelling CV is essential to get noticed and land interviews with the best employers.
To ensure your CV stands out from the competition, make sure to tailor it to your target role and pack it with sector-specific skills and results.
Remember to triple-check for spelling and grammar errors before hitting send.
Good luck with the job search!