You've spent years studying, clocking up the miles and working hard, and now you're ready for the role of an astronaut.
In order to launch your career, you need a CV that succinctly highlights your impressive background and experience.
We can help you write a CV that's out of this world with our detailed guide and astronaut CV example below.
Contents
| | |
| --- | --- |
| How to write a Astronaut CV | |

Astronaut CV example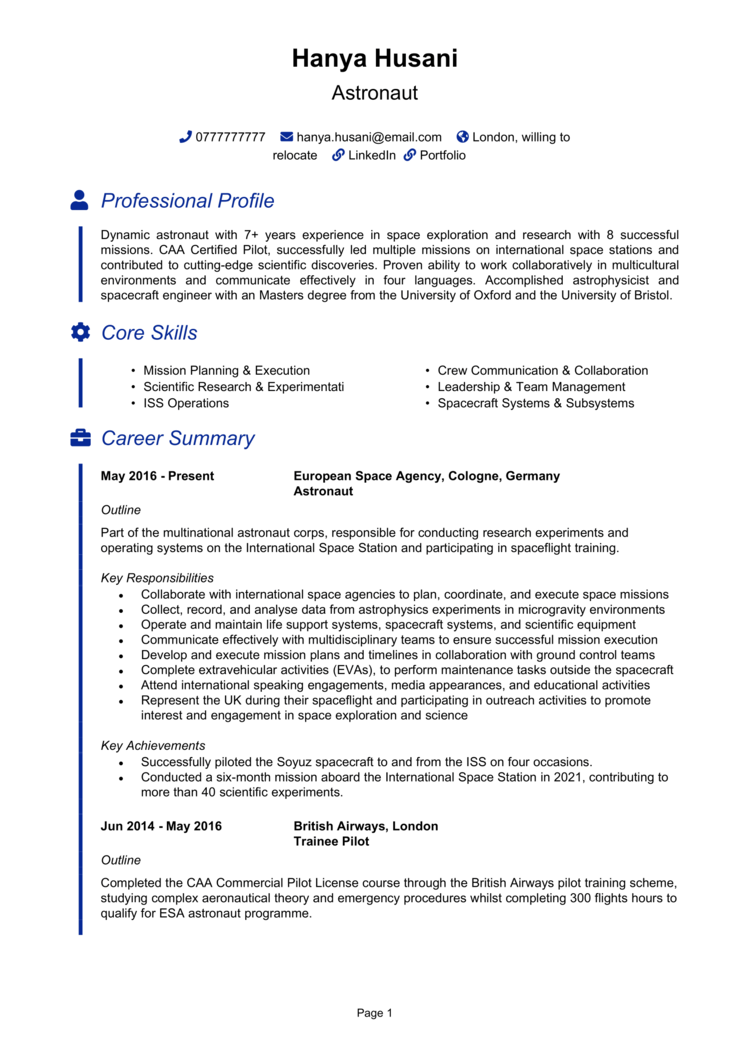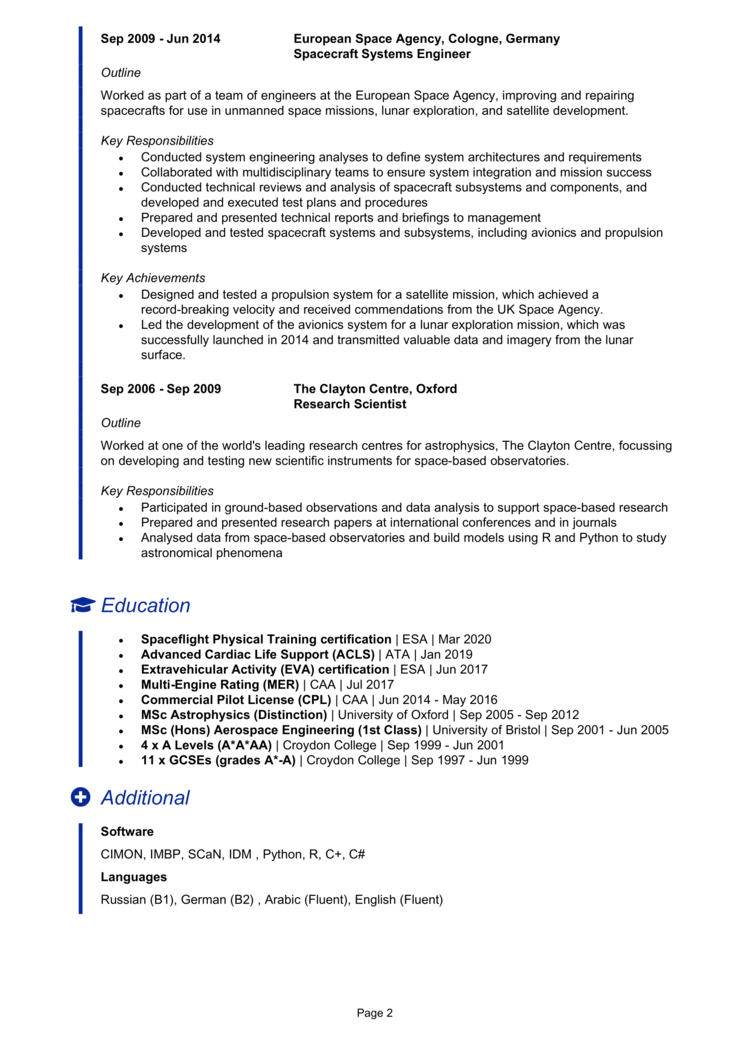 This is a good example of a Astronaut CV which is professionally formatted, and structured in a way that allows recruiters to easily find and understand the candidate's key selling points.
Take some time to look at this CV and refer to it throughout the writing of your own CV for best results.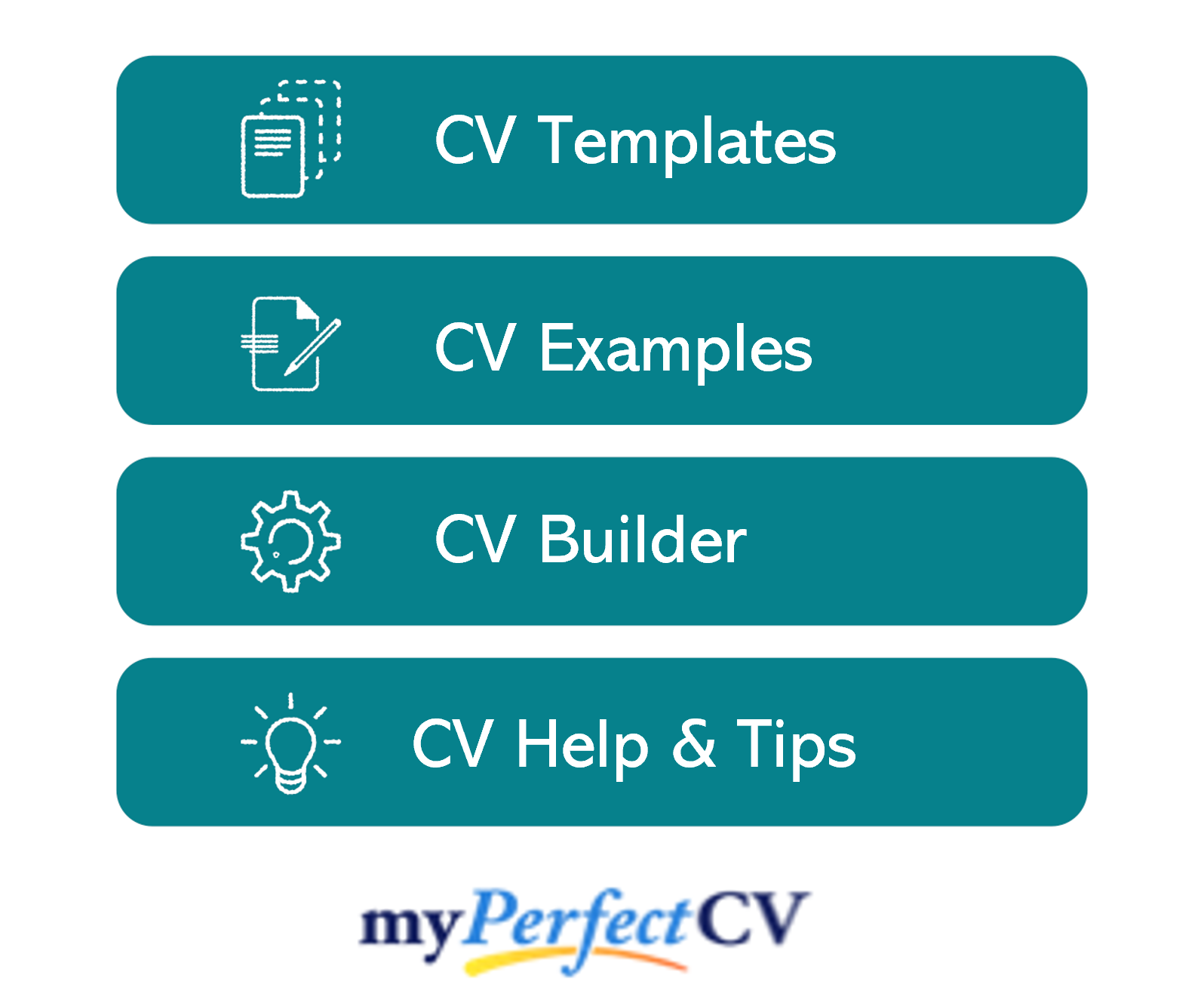 Astronaut CV format and structure
In a highly competitive job market, recruiters and employers are often inundated with applications. If they can't find what they're looking for in your CV quickly, they may skip past your application and move on to the next one in their inbox
So, it's crucial to structure and format your CV in a way that enables them to find your essential details with ease, even if they're pressed for time.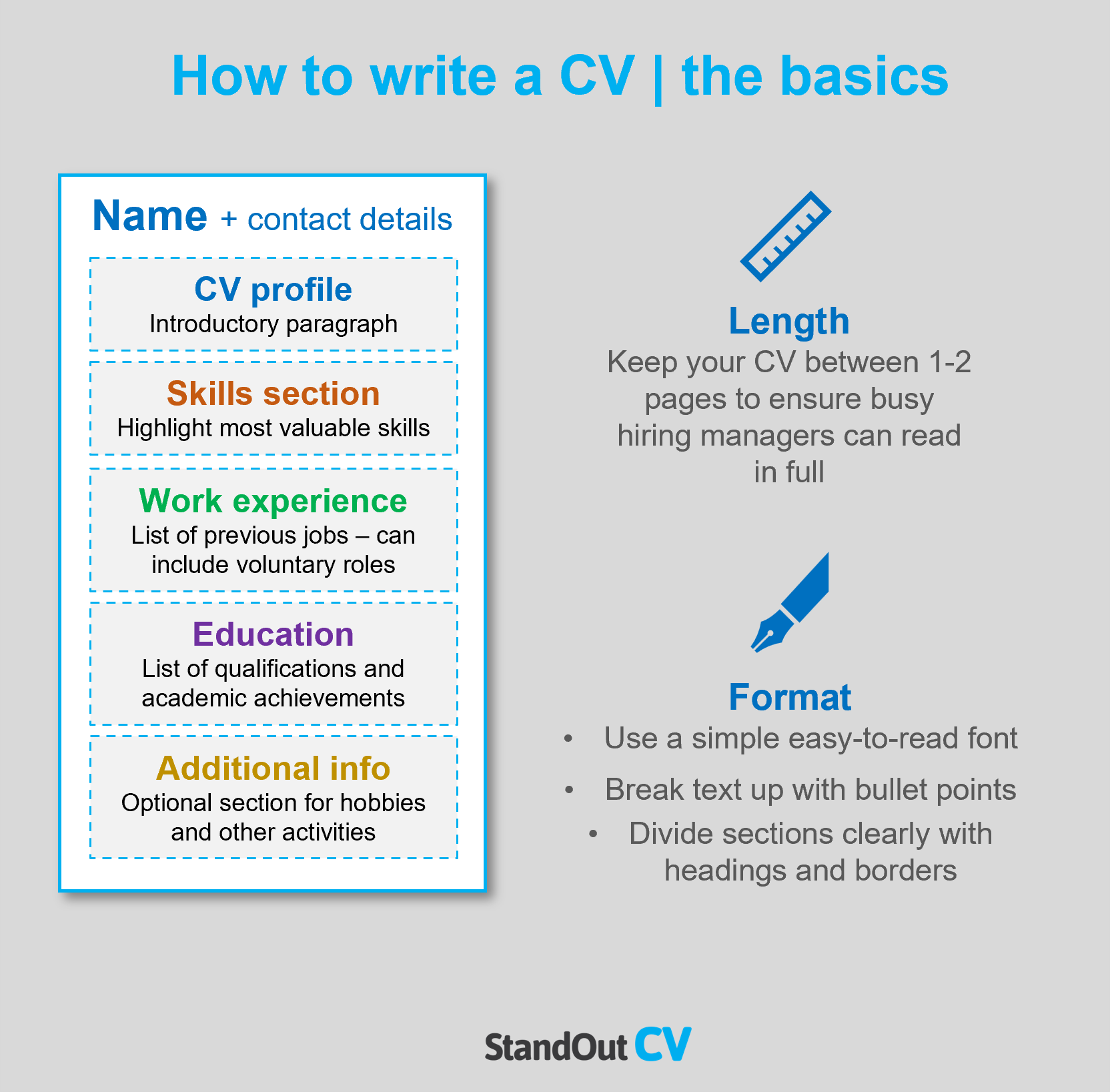 Tips for formatting your Astronaut CV
Length: If you want to hold the reader's attention and ensure your CV isn't yawn-worthy, it's best to stick to two sides of A4 or less. This is more than enough room to highlight why you're a good match for the role – anything more can quickly become tedious!
Readability: By formatting your section headings with bold or a different colour font and using bullet points to break up large blocks of text, you can help busy recruiters quickly scan through your CV. This makes it easier for them to find important details without wasting time.
Design & format: Your CV needs to look professional, sleek and easy to read. A subtle colour palette, clear font and simple design are generally best for this, as fancy designs are often harder to navigate.
Photos: Recruiters can't factor in appearance, gender or race into the recruitment process, so a profile photo is not usually needed. However, creative employers do like to see them, so you can choose to include one if you think it will add value to your CV .
Quick tip: Creating a professional CV style can be difficult and time-consuming when using Microsoft Word or Google Docs. To create a winning CV quickly, try our partner's CV Builder and use one of their eye-catching professional CV templates.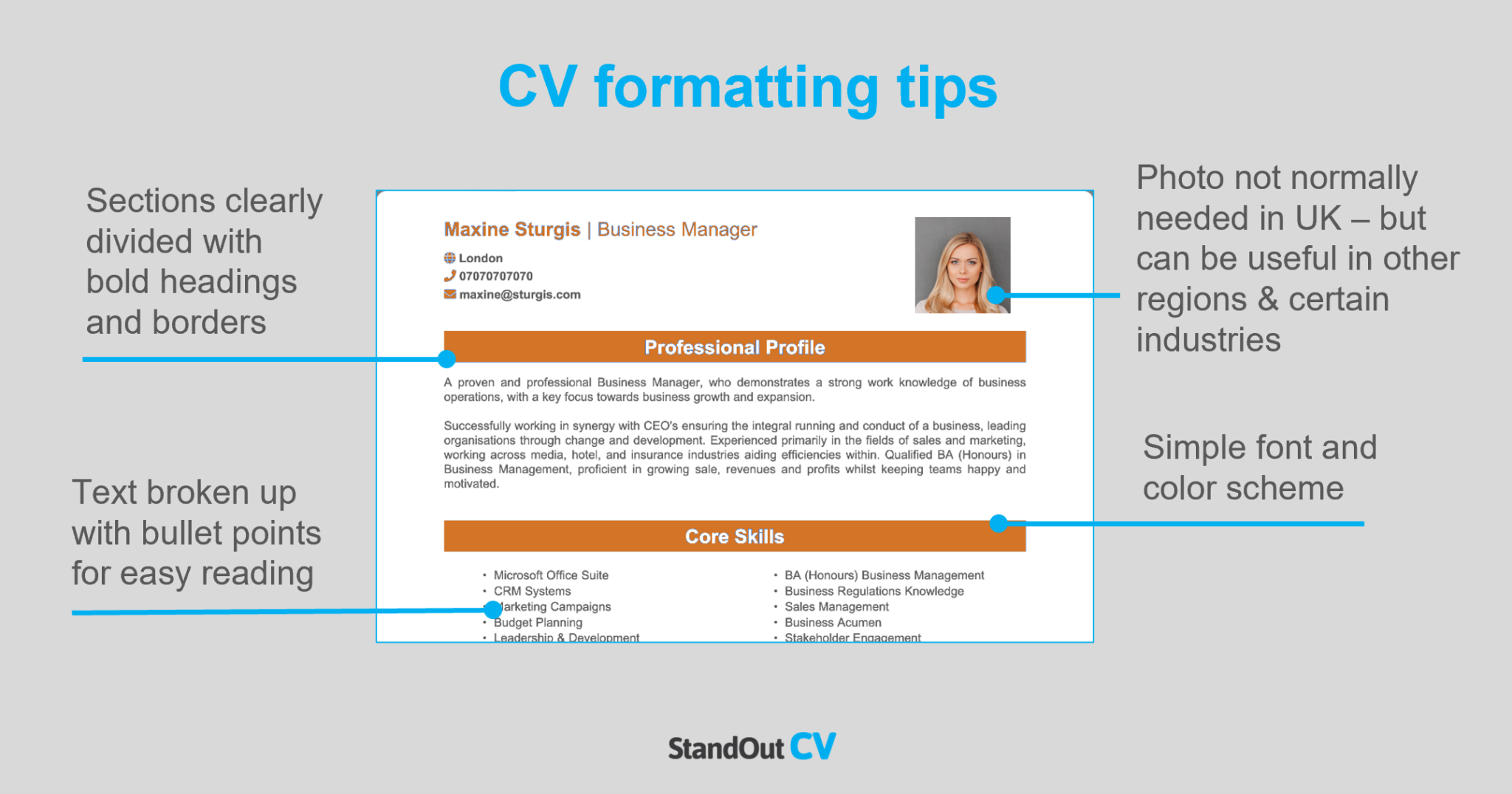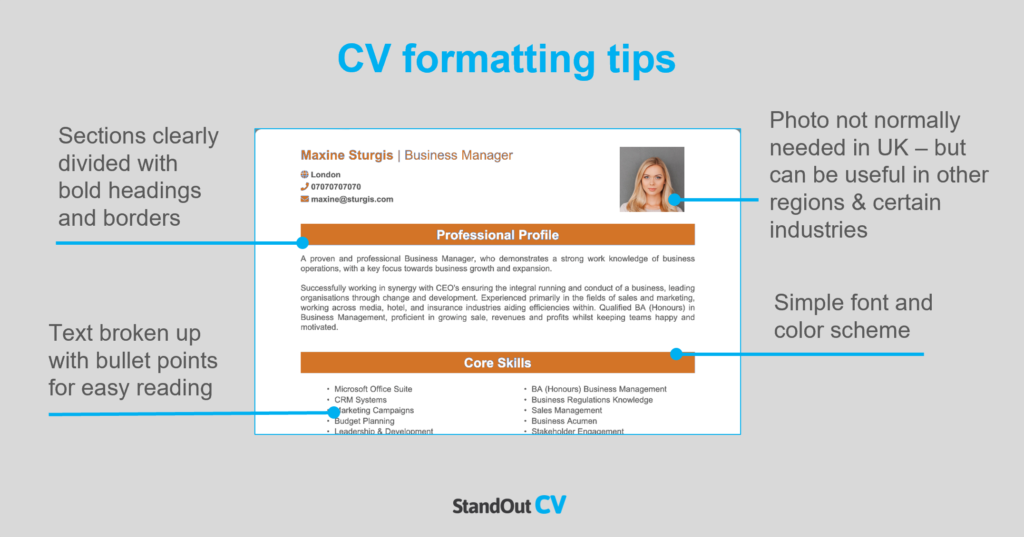 CV structure
Divide your CV into the following major sections when writing it:
Name and contact details – Head your CV with your name and contact details, to let the reader know who you are and how to contact you.
CV profile – A brief paragraph which summarises your skills and experience and highlights why you're a good match for the role.
Core skills list – A snappy, bullet-pointed list of your most relevant skills.
Work experience – A structured list of your work experience in reverse chronological order.
Education – A summary of any relevant qualifications or professional training you've completed.
Hobbies and interests – An optional section, which should only be used if your hobbies are relevant to the jobs you're applying to.
Now you understand the basic layout of a CV, here's what you should include in each section of yours.
Contact Details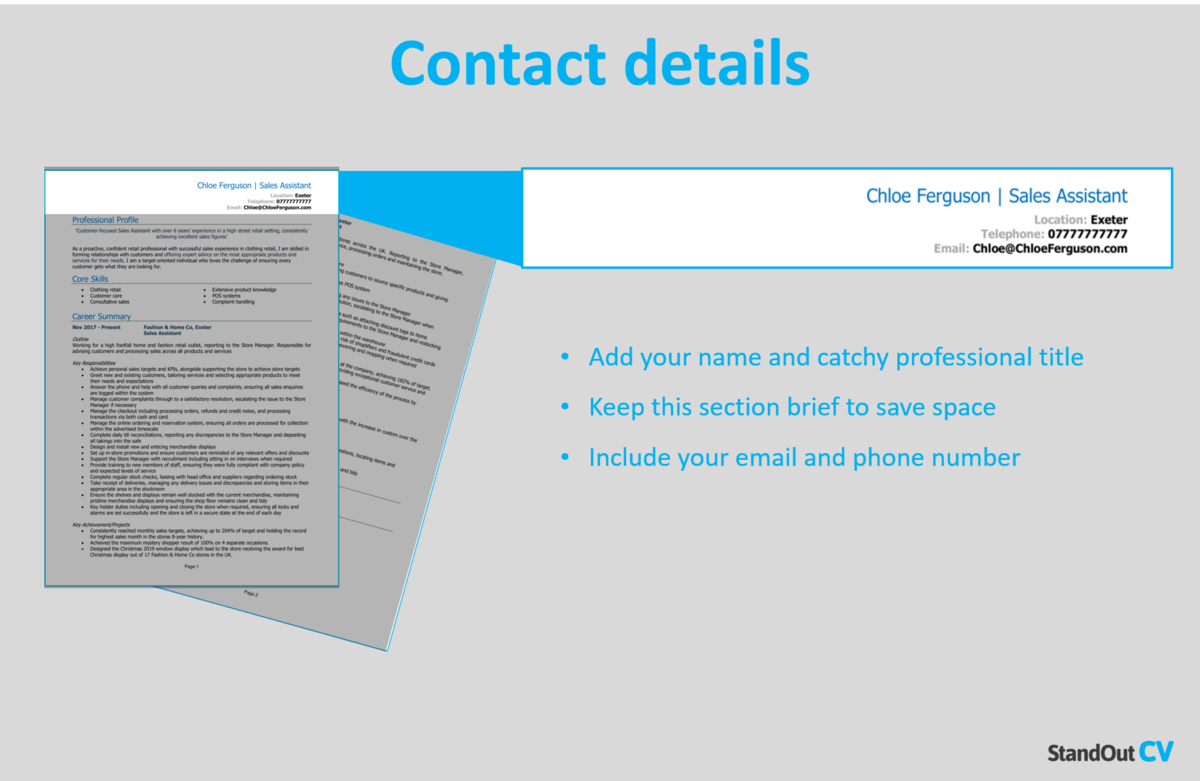 Write your contact details in the top corner of your CV, so that they're easy to find but don't take up too much space.
You only need to list your basic details, such as:
Mobile number
Email address
Location – Don't list your full address. Your town or city, such as 'Norwich' or 'Coventry' is perfect.
LinkedIn profile or portfolio URL – Remember to update these before listing them on an application.
Astronaut CV Profile
To immediately capture the attention of recruiters, begin your CV with a powerful profile (or personal statement for junior applicants).
This is a brief introductory paragraph that summarises your skills, experience, and knowledge.
It should position you as the ideal candidate for the job and encourage recruiters to read on.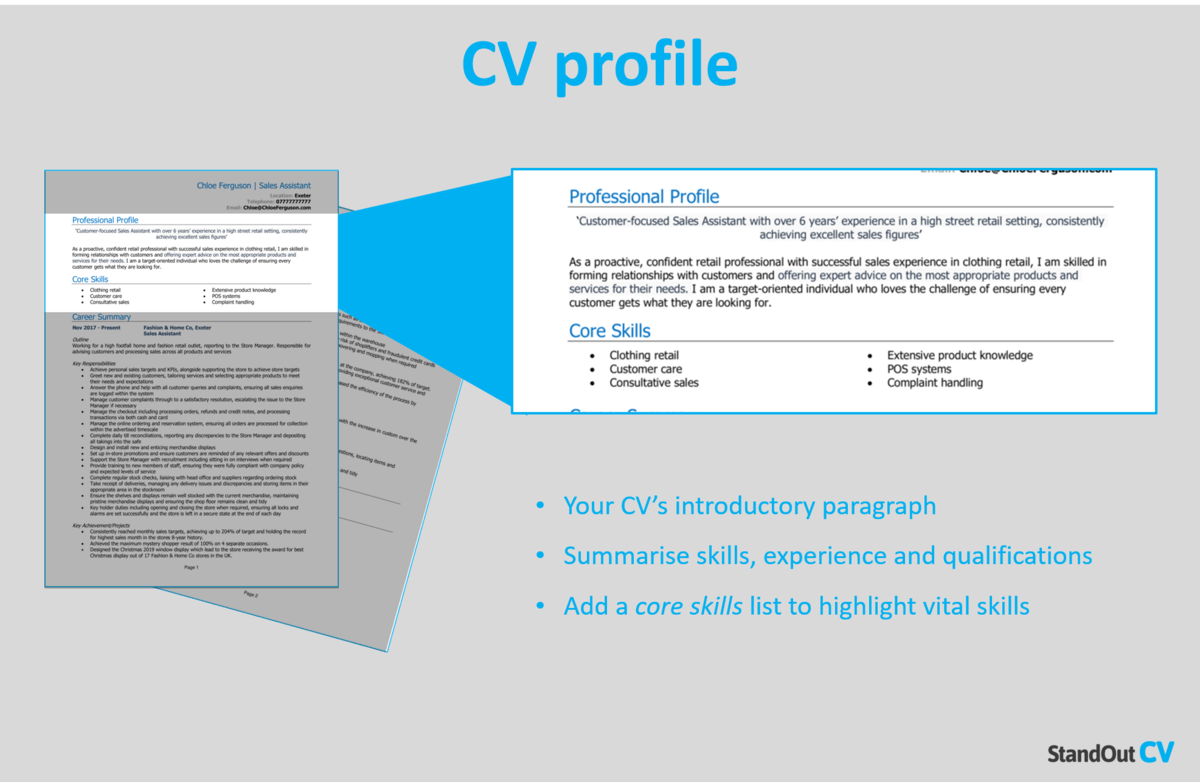 How to write a good CV profile:
Make it short and sharp: Aim for a short, snappy paragraph of 3-5 lines. This is just enough room to showcase why you'd make the perfect hire, without going into excessive detail and overwhelming busy recruiters.
Tailor it: Before writing your CV, make sure to do some research. Figure out exactly what your desired employers are looking for and make sure that you are making those requirements prominent in your CV profile, and throughout.
Don't add an objective: Avoid discussing your career goals in your CV profile – if you think they're necessary, briefly mention them in your cover letter instead.
Avoid generic phrases: If your CV is riddled with clichès like "Dynamic thought-leader", hit that delete button. Phrases like these are like a broken record to recruiters, who read them countless times per day. Hard facts, skills, knowledge and results are sure to yield far better results.
Example CV profile for Astronaut
Dynamic astronaut with 7+ years' experience in space exploration and research with 8 successful missions. CAA Certified Pilot successfully led multiple missions on international space stations and contributed to cutting-edge scientific discoveries. Proven ability to work collaboratively in multicultural environments and communicate effectively in four languages. Accomplished astrophysicist and spacecraft engineer with a master's degree from the University of Oxford and the University of Bristol.
What to include in your Astronaut CV profile?
Experience overview: Start with a brief summary of your relevant experience so far. How many years experience do you have? What type of companies have you worked for? What industries/sectors have you worked in? What are your specialisms?
Targeted skills: Employers need to know what skills you can bring to their organisation, and ideally they want to see skills that match their job vacancy. So, research your target roles thoroughly and add the most important Astronaut skills to your profile.
Important qualifications: If the jobs you are applying to require candidates to have certain qualifications, then you must add them in your profile to ensure they are seen by hiring managers.
Quick tip: If you are finding it difficult to write an attention-grabbing CV profile, choose from hundreds of pre-written profiles across all industries, and add one to your CV with one click in our partner's CV Builder. All profiles are written by recruitment experts and easily tailored to suit your unique skillset.
Core skills section
To ensure that your most relevant skills catch the eye of readers, create a core skills section below your profile.
This section should be presented in 2-3 columns of bullet points highlighting your applicable skills. Before crafting this section, carefully examine the job description and create a list of any required skills, specialisms, or knowledge.
Use this list to include the necessary information in your section and present yourself as the ideal match for the position.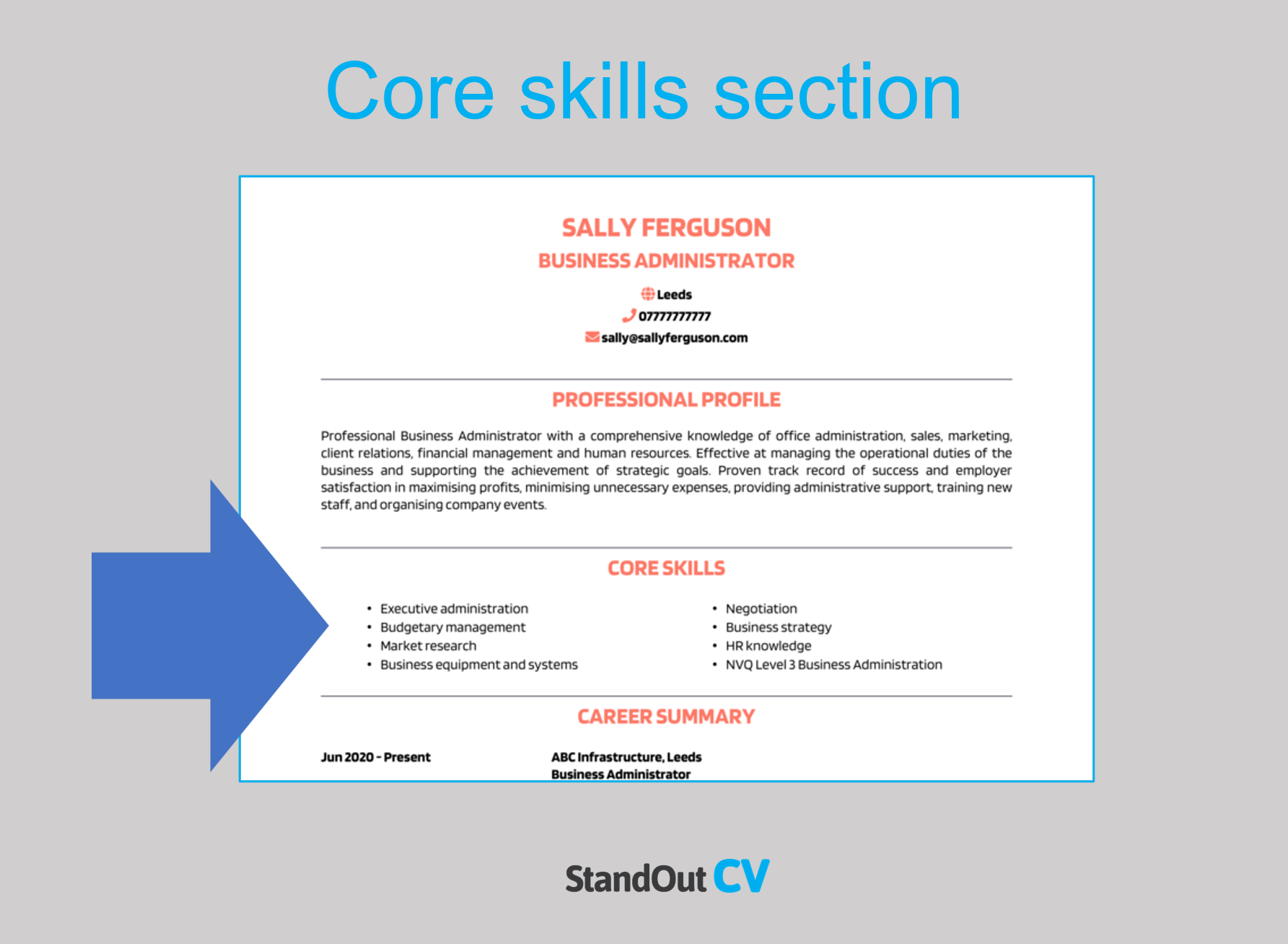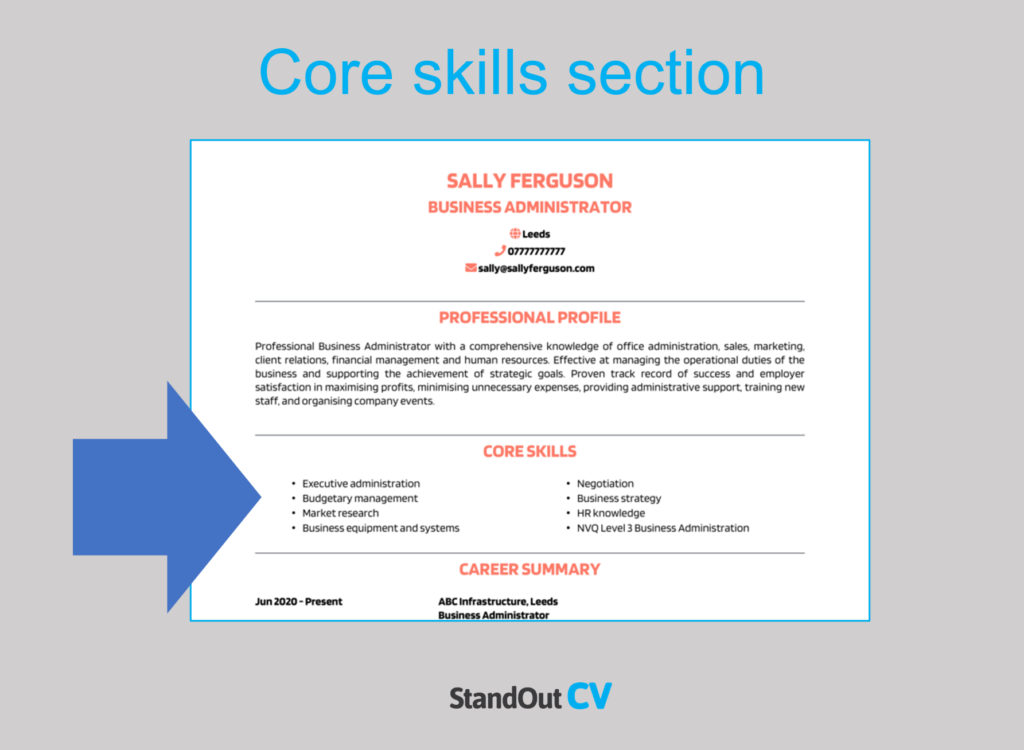 Important skills for your Astronaut CV
Spacecraft Operation – Operating and navigating spacecraft systems and instruments, including understanding spacecraft controls, communication systems, and life support systems.
Extravehicular Activity (EVA) – Performing spacewalks and operating outside the spacecraft while wearing a spacesuit, including handling tools, conducting experiments, and repairing equipment.
Scientific Research – Conducting scientific experiments and research in microgravity environments, analysing data, and drawing meaningful conclusions.
Physical Fitness and Endurance – Maintaining a high level of physical fitness and endurance to withstand the physical demands of space travel and to perform tasks in microgravity conditions.
Problem Resolution and Critical Thinking – Addressing unexpected challenges and making quick and accurate decisions during space missions.
Emergency Preparedness – Remaining calm under pressure and responding effectively to emergency situations, following protocols and procedures to ensure crew safety.
Technical and Mechanical Proficiency – Maintaining and repairing spacecraft systems and equipment during missions.
Psychological Resilience – Maintaining resilience and mental preparedness to cope with the physical and psychological challenges of long-duration space missions, including isolation, confinement, and stress.
Cross-Cultural Competence – Working effectively in a diverse, international team, respecting different perspectives, languages, and customs.
Quick tip: Our partner's CV Builder has thousands of in-demand skills for all industries and professions, that can be added to your CV in seconds – This will save you time and ensure you get noticed by recruiters.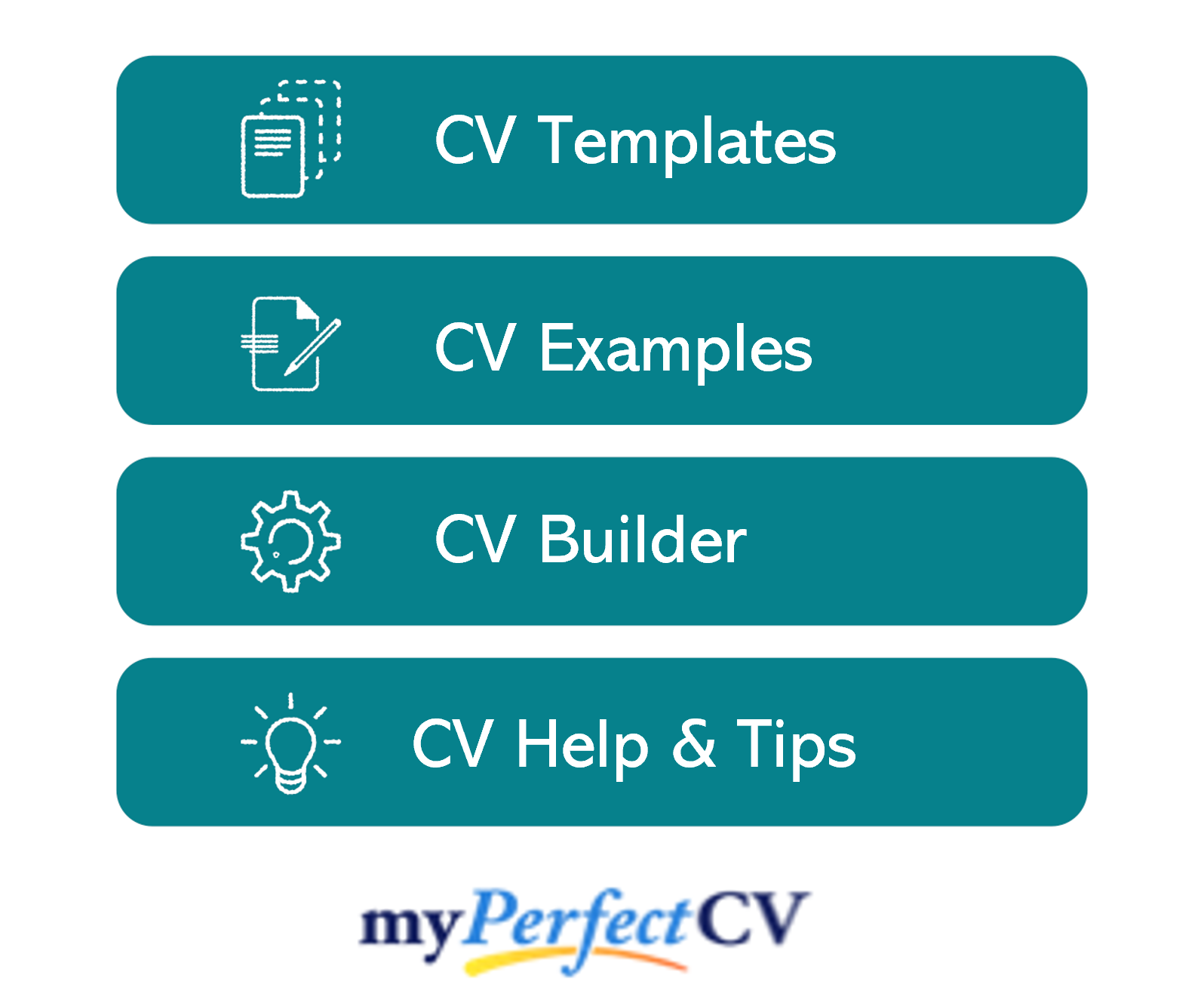 Work experience
Recruiters will be itching to know more about your relevant experience by now.
Kick-start this section with your most recent (or current) position, and work your way backwards through your history.
You can include voluntary and freelance work, too – as long as you're honest about the nature of the work.
Structuring each job
Your work experience section will be long, so it's important to structure it in a way which helps recruiters to quickly and easily find the information they need.
Use the 3-step structure, shown in the below example, below to achieve this.
Outline
Begin with a summary of your role, detailing what the purpose of your job was, who you reported to and what size of team you were part of (or led).
Key responsibilities
Next, write up a punchy list of your daily duties and responsibilities, using bullet points.
Wherever you can, point out how you put your hard skills and knowledge to use – especially skills which are applicable to your target role.
Key achievements
Round up each role by listing 1-3 key achievements, accomplishments or results.
Wherever possible, quantify them using hard facts and figures, as this really helps to prove your value.
Sample job description for Astronaut CV
Outline
Part of the multinational astronaut corps, responsible for conducting research experiments and operating systems on the International Space Station and participating in spaceflight training.
Key Responsibilities
Collaborate with international space agencies to plan, coordinate, and execute space missions
Collect, record, and analyse data from astrophysics experiments in microgravity environments
Operate and maintain life support systems, spacecraft systems, and scientific equipment
Communicate effectively with multidisciplinary teams to ensure successful mission execution
Quick tip: Create impressive job descriptions easily in our partner's CV Builder by adding pre-written job phrases for every industry and career stage.

Education section
Next up, you should list your education and qualifications.
This can include your formal qualifications (a degree, A-Levels and GCSEs), as well as sector-specific Astronaut qualifications and/or training.
While school leavers and recent grads should include a lot of detail here to make up for the lack of work experience, experienced candidates may benefit from a shorter education section, as your work experience section will be more important to recruiters.
Hobbies and interests
Although this is an optional section, it can be useful if your hobbies and interests will add further depth to your CV.
Interests which are related to the sector you are applying to, or which show transferable skills like leadership or teamwork, can worth listing.
On the other hand, generic hobbies like "going out with friends" won't add any value to your application, so are best left off your CV.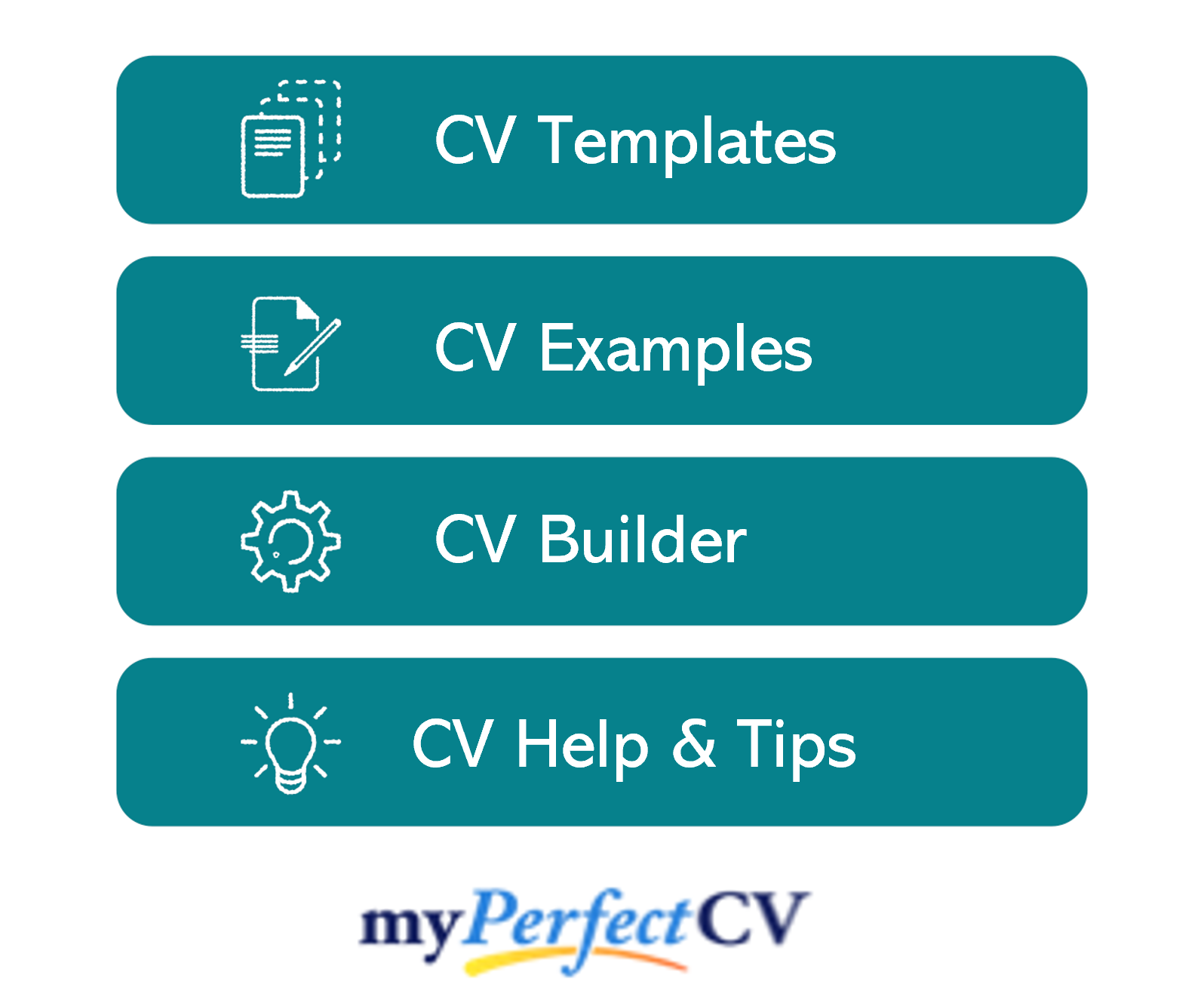 Once you've written your Astronaut CV, you should proofread it several times to ensure that there are no typos or grammatical errors.
With a tailored punchy profile that showcases your relevant experience and skills, paired with well-structured role descriptions, you'll be able to impress employers and land interviews.
Good luck with your next job application!