Having a bad manager was found to be the second-most common reason an employee quit their job during 'The Great Resignation'. People often feel micromanaged, or they don't believe their boss is rightfully in the position of power they have. Whatever the reason, a lot of employees are frustrated by their superiors.
We wanted to find out where this problem is at its worst in the UK, and where bosses are the most supportive and praised. To do so, we analysed over 31,600 Glassdoor employee reviews from some of the largest public and private employers in the country, across the 30 biggest UK cities, to see who complains and praises their bosses and work environment the most, and what specifically is discussed.
See the full analysis below on where the worst bosses in the United Kingdom are located.
Key findings:
Reading has the highest number of positive comments about employers, with 140.4 reviews per 1,000 containing feedback praising bosses and work environments.
Sheffield and London were ranked the second and third cities when it came to employees praising their bosses, with 139.7 and 137 positive comments per 1,000 reviews posted respectively.
Reading had the highest number of mentions about friendly colleagues and management, while Belfast has the most mentions of good pay/salary.
Glasgow has the most complaints made about employers online (262 per 1,000 reviews) out of any other major UK city.
Liverpool had the second-highest amount of complaints (223 per 1,000) made about employers online, with Sheffield placing third (221 per 1,000).
On average, employees in the UK rate the business they work for 3.5 out of 5 stars. Just under one in five (19.7%) would rate their employer 1 or 2 stars.
More than 1 in 6 (16.1%) employee reviews in the UK complain about their work environment or management.
Those in Belfast complained the most about micromanagement and burnout, while Stoke-on-Trent employees had the most to say about 'rude bosses'.
Posting about employers negatively can lead to bad references or even losing out on future jobs.
UK cities with the best bosses
Reading leads the way in the UK having the most positive comments praising bosses and working environments at 140.4 comments per 1,000 employee reviews, closely followed by Sheffield (139.7 per 1,000 reviews), and London rounds off the top three with 137 comments per 1,000 reviews.
The top ten can be seen in the map below: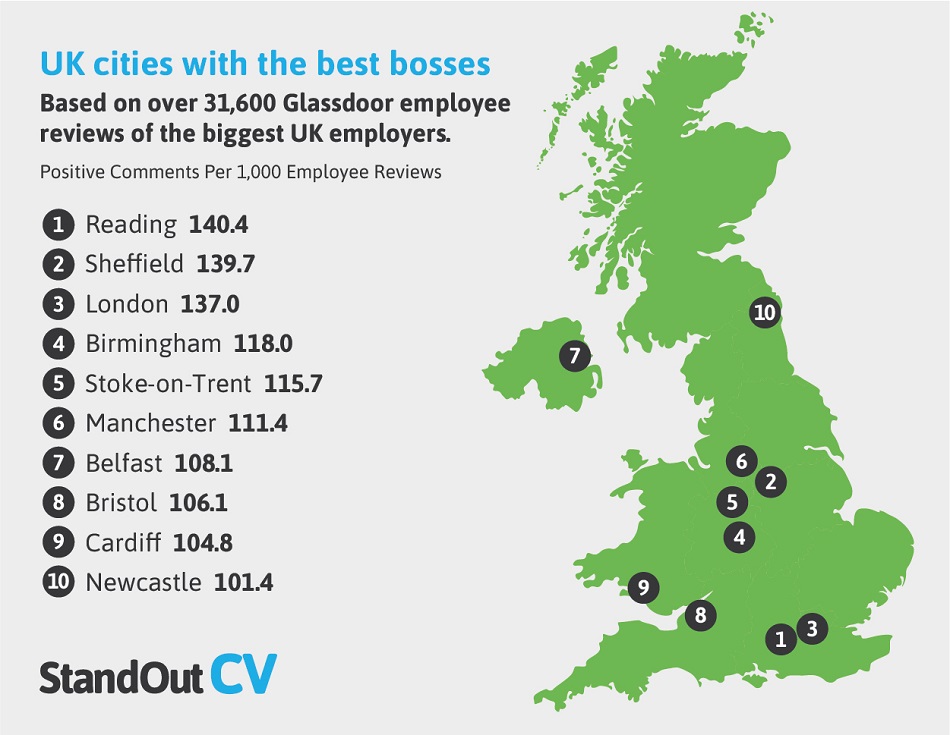 Positive words and phrases used to describe UK bosses
The table below reveals the cities that had the most mentions of certain keywords and phrases analysed. For example, Belfast, with 184 mentions per 1,000 reviews had the highest number of mentions of good pay, as well as the most mentions of staff having a 'positive attitude'.
Reading, the capital of happy workers in the UK, had the most mentions of friendly colleagues and management (76 per 1,000 reviews) as well as how helpful staff are, and how generous people are to work with.
| City | Most Mentions of ____ in Reviews | Mentions of Word/Phrase Per 1,000 Reviews |
| --- | --- | --- |
| Belfast | Well-paid / Good salary | 184 |
| Reading | Friendly colleagues/management | 76 |
| Newcastle | Supportive colleagues/management | 44 |
| Reading | Helpful colleagues/management | 25 |
| Sheffield | Kind colleagues/management | 16 |
| Belfast | Positive attitude | 12 |
| Stoke-on-Trent | Caring colleagues/management | 9 |
| Reading | Generous colleagues/management | 5 |
The figures are lower for some words and phrases as most reviews left by people contain no words, for example, an employee who was happy and left a 4-star rating review with no comments.
UK cities with the worst bosses
On average, employees in Newcastle, Sunderland, and Stoke-on-Trent rated their employers the lowest out of the UK's 30 biggest cities analysed at 3.2 out of 5 stars. The average employer review in the UK is 3.5 out of 5 stars, so generally, people leave more positive than negative reviews.
But star ratings only scratch the surface. We wanted to know the true details – why did an employee not get along with their boss? What was wrong with their work environment specifically?
Cities that complain about employers the most
Taking the data and looking at the number of overall reviews per city that contained complaints about management or the work environment, we can see that Glasgow has the most complained about employers in the UK, with 262 out of 1,000 reviews making such statements.
After the Scottish city is Liverpool (223 per 1,000) and Sheffield (221 per 1,000) in third where employees have left reviews containing negative comments and phrases.
| Rank | City | Complaints Per 1,000 Employee Reviews |
| --- | --- | --- |
| 1 | Glasgow | 262 |
| 2 | Liverpool | 223 |
| 3 | Sheffield | 221 |
| 4 | Stoke-on-Trent | 213 |
| 5 | London | 178 |
| 6 | Cardiff | 177 |
| 7 | Birmingham | 161 |
| 8 | Bristol | 151 |
| 9 | Leicester | 148 |
| 10 | Manchester | 131 |
Words and phrases used to describe UK employers
Looking at the data we can see the most common complaints left by employers to pinpoint which cities leave certain types of feedback.
Glaswegians aren't happy about their working conditions, that much is clear, but what do they complain about the most? They were in fact the city to mention how 'stressful' their work is the most out of any other, with it appearing in 1 in 3 negative Glasgow employer reviews. Glasgow also had the most mentions of 'nepotism' in workplace reviews (17 per 1,000 negative reviews).
Derby locals had the highest portion of negative reviews mentioning long hours (769 per 1,000) while Edinburgh employees referenced bad management the most (702 per 1,000 negative reviews).
When it came to negative comments about the work environment, Sheffield employees complained the most about being underpaid (527 per 1,000 negative reviews), Belfast locals said they were burnt out the most (30 per 1,000 negative reviews), while Sunderland reviews mentioned how 'exhausting' work was (77 per 1,000 negative reviews).
Across the UK, here are the cities that describe their employers negatively the most and specifically what they have to say about their bosses and workplace. Percentages relate to the number of times this phrase appears in each city's own negative reviews.
City
Highest Percentage of Complaints About:
Complaints Per 1,000 Negative Reviews
Derby
Long hours
769
Edinburgh
Bad management
702
Sheffield
Underpaid/Low salary
527
Glasgow
Stress/Stressful environment
Nepotism
Monotonous work
330
17
37
Stoke-on-Trent
Rude bosses
174
Aberdeen
Bullying bosses
Manipulative management
123
15
Sunderland
Exhausting work
77
Newcastle
Unrealistic targets
63
Leicester
Abusive management
61
Belfast
Micromanagement
Burnout
6%
3%
What about London?
Naturally, London had the highest quantity of complaints, due to the vastly higher population (therefore workforce), but proportional to the number of reviews in the city it didn't rank the highest for any specific complaint.
If you look at London's figures in isolation, however, it did have the 4th highest percentage of mentions of being 'underpaid', despite the city having a vastly higher average salary than the rest of the UK. London was also found to have the 3rd highest percentage of employees mentioning 'burnout' in their reviews, behind Aberdeen and Belfast.
Should you post online about bad work experiences?
Posting anonymously on sites like Glassdoor can be useful for employers to take on feedback and improve employee satisfaction, but it's worth considering how much you share in these reviews.
If you work for a small company it could be very obvious who wrote what and this could lead to them providing you with a bad employer reference. Therefore, consider the timing of when you post a review or if you want to post one at all.
As for complaining elsewhere online without anonymity, we recommend against it.
Complaining about work on social media
Posting negatively online about your work on public forums can directly impact your employment chances. An average of 58% of hiring managers use social media to vet potential employees.
Our team at StandOut CV has advised many people over the years to perform a social media cleanse before applying to jobs as it can stop you from landing the role. Here are some of the things we advise doing:
Tips for cleaning social media when applying for jobs
Use the advanced search feature in Twitter to search for any mentions of things you don't want employers to see.
Review all photos and videos posted for any drugs, alcohol, swearing, or other things that could show you in a negative light.
Set all your social media accounts to private where you have to approve new followers and connections.
It's a good idea to Google yourself and see what comes up. If there is anything you're not happy with, you can either delete it yourself or request it to be removed with the website.
Methodology
30 cities across England, Scotland, Wales, and Northern Ireland were chosen for analysis by population size. 31,651 employee reviews were analysed from Glassdoor from 9 of the largest employers in the country according to business employee counts taken from various rankings and Statista. including fast food outlets, supermarkets, telecomms, banking, oil and gas, the NHS, and city councils. Reviews were collected and analysed May 4th 2023.
Reviews were analysed by the number of times a set list of 24 common workplace complaints appeared in them. Misspellings were accounted for, as were phrases with alternative meanings. If "not micromanaged" appeared as a positive of working at a business, this would not have counted toward someone complaining about "micromanagement" in the negative percentage. Terms were also collated where relevant, such as "underpaid" and "low salary".
The full list of keywords analysed included comments for and against bosses, management, and the workplace.
Positive terms were variations of: friendly, kind, generous, helpful, supportive, caring, compassionate, intelligent, reasonable, positive, attentive, humble, appreciative, passionate, focused, well-paid.
Negative terms were variations of: toxic, overworked, underpaid, rude, bad, micromanaging, burnout, entitled, violent, abusive, liar, bully, manipulative, exhausting, hypocrite, childish, nepotism, unhelpful, stress, unrealistic, inflexible, poor management, long hours, monotonous.

This work is licensed under a Creative Commons Attribution 4.0 International License.