If you want to hire great staff, you need to write an effective job description.
So, we've got you covered with our 6 professional job description templates below.
There's a range of styles and layouts to suit every profession, and they are free to download in editable Word format.
And below the templates, we've also included 12 tips to help you write a winning job description and attract the best candidates out there.
Modern job description template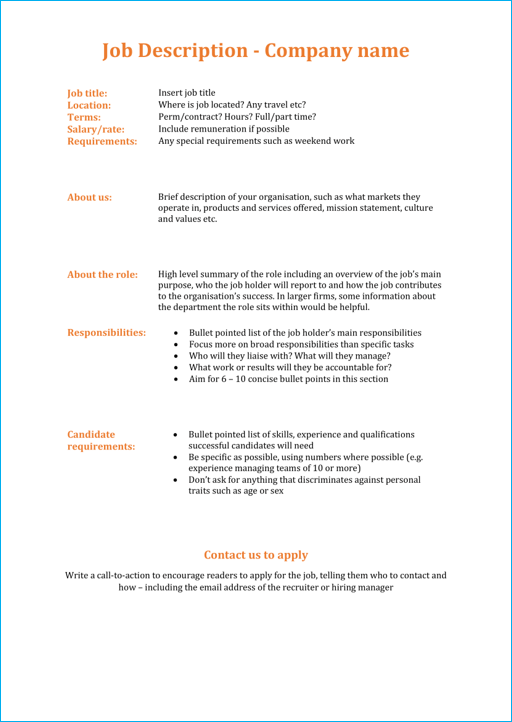 Split page design for easy reading
Classic font with bold colours
Plenty of space for additional sections
Basic job description template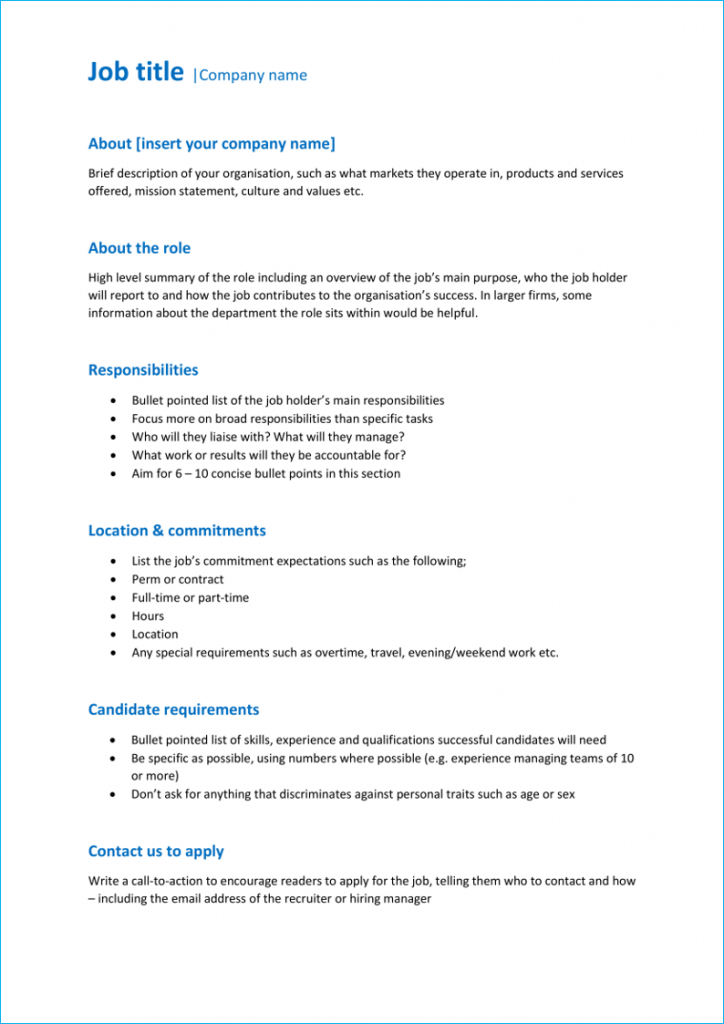 Simple and neutral design
Suitable for any company or job
Easy to add or remove sections
Tech firm job description template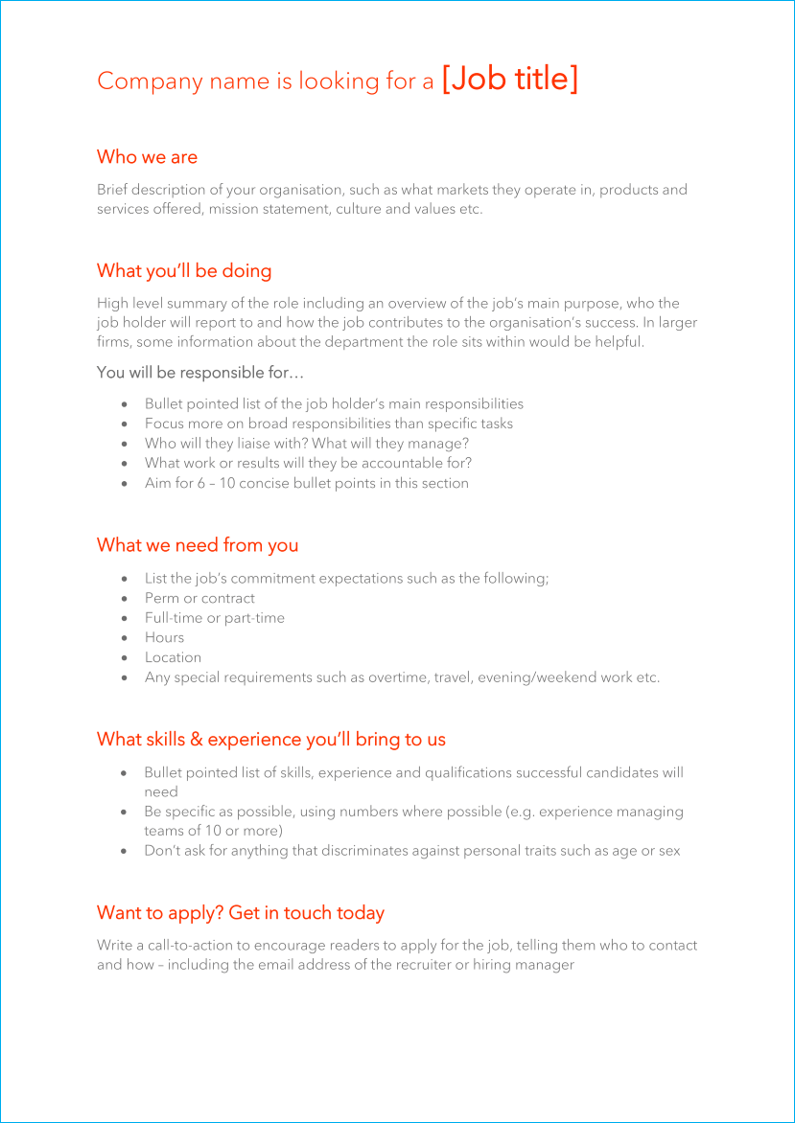 Modern design and colour scheme
Casual straight forward language and tone
Great for tech firms and startups
Corporate job description template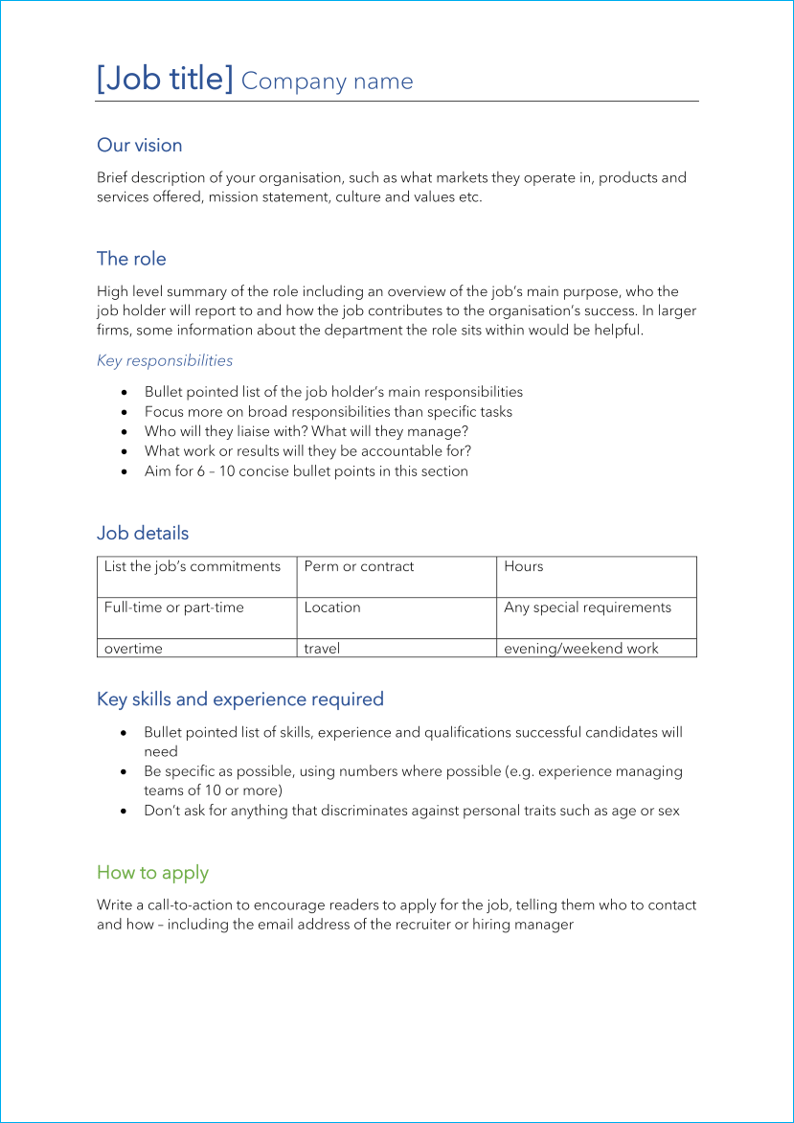 Slick corporate style for traditional firms
Best for professional organisations
Understated colour scheme
Intern job description template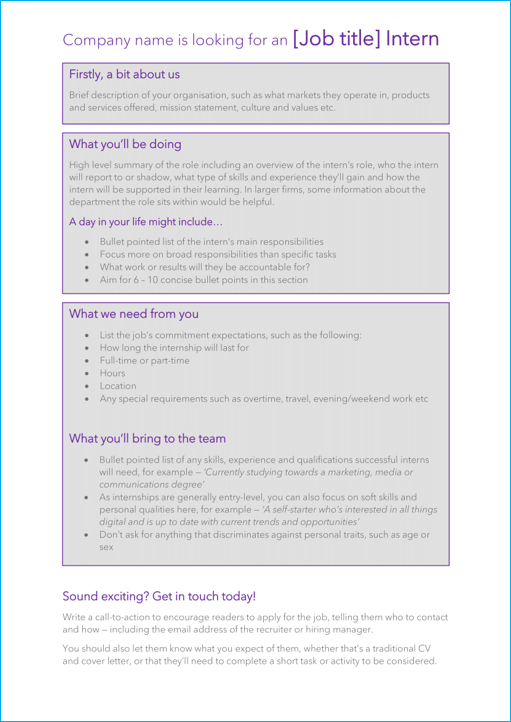 Designed for junior hires
Divided into adjustable blocks
Bold and defined colour scheme and layout
Professional job description template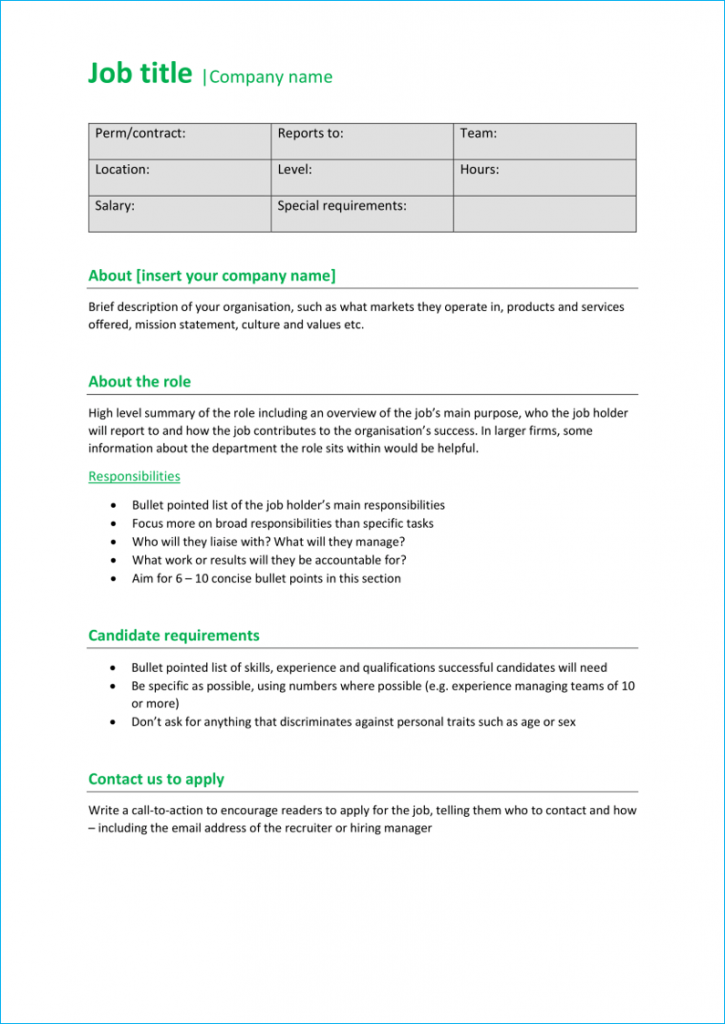 Vibrant but professional design
Top table easily edited for important company info
Great for professional services companies
12 tips for writing a winning job description
Using one of our templates will obviously give you a huge head start in creating the perfect job description for your hiring needs.
But to help you out even more, we've also included 12 tips to increase your chances of attracting the most suitable candidates and ensure job roles are properly defined throughout the employee's time with you.
Check them out before you start writing…
1) Stick to a logical format and structure
Without a clear structure, your job description could end up difficult-to-read, disjointed and lacking professionalism.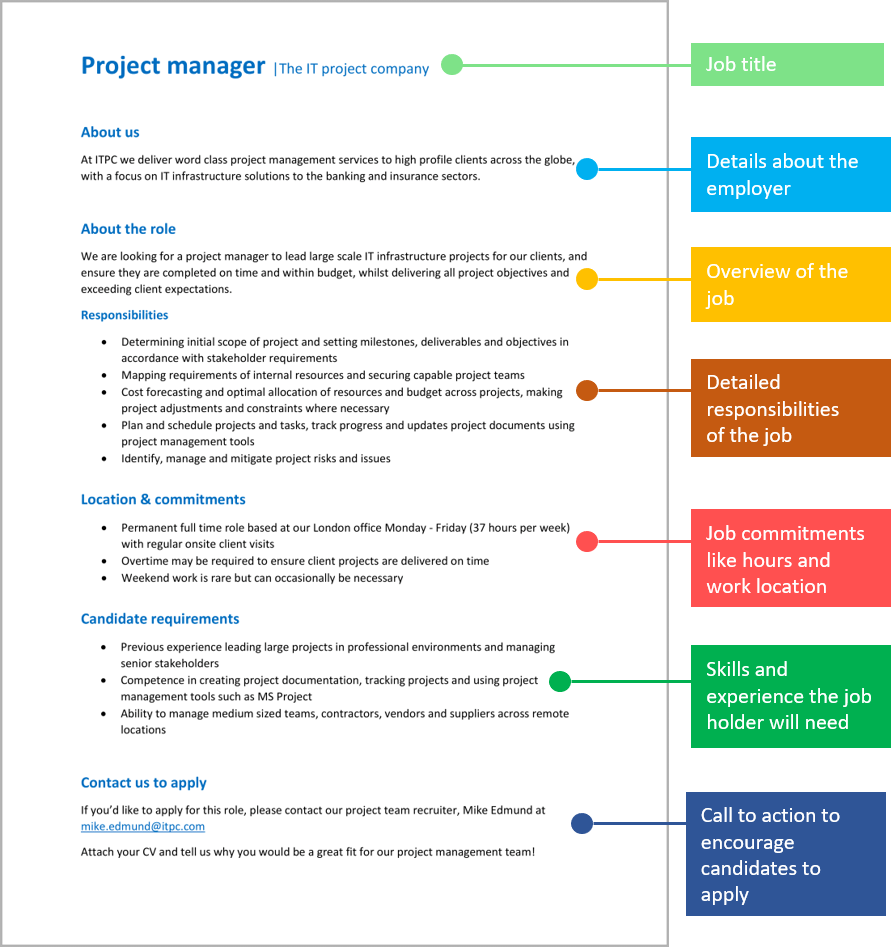 To ensure that your content is easy for potential candidates to skim through and that all the essential information is included, work to the following job description structure:
Job title: Top the listing with a large, stand out job title.
Company details: A short overview of your organisation (or the organisation you're hiring for), such as the products or services you offer, your sector, who your customers are and what your company culture is like.
Job summary: A brief summary of the job as a whole, such as the purpose of the position, how it fits into the bigger picture of the organisation's operations and who the job holder will report to.
Job responsibilities: Around 6–10 bullet points detailing the job's main duties and responsibilities.
Expectations and commitments: A succinct overview of the required commitments — such as working hours (part or full time?), contract (temp or perm?), the location and any other expectations (travel, overtime, evening/weekend working hours).
Candidate requirements: An outline of the key requirements needed for the role, such as hard and soft skills, previous experience and any necessary qualifications.
Call-to-action: A brief but punchy sentence that encourages suitable candidates to apply, along with a contact name and email address they can send their application to.
Check out our job description examples for inspiration.
2) Use a highly-searched job title
'Marketing Ninja' or 'Rockstar Marketer' might sound cool at first, but they're actually a bad move for your recruitment strategy and organisation as a whole.
Not only could these quirky labels make serious candidates doubt your company's credibility, but they're highly likely to decrease the amount of search traffic your ad receives, resulting in less applications. So, make sure the title is professional, clear and accurately reflects the nature of the role.
Job search engines work on keywords, meaning they'll deliver the most accurate and relevant results for the specific words the user types into the search box. For this reason, it's essential to carry out some research and pinpoint the keywords your target candidates are searching for.
To do this, you could either liaise with your digital marketing department or utilise a keyword research tool, such as SEMRush. The free account option should be enough to give you some insight.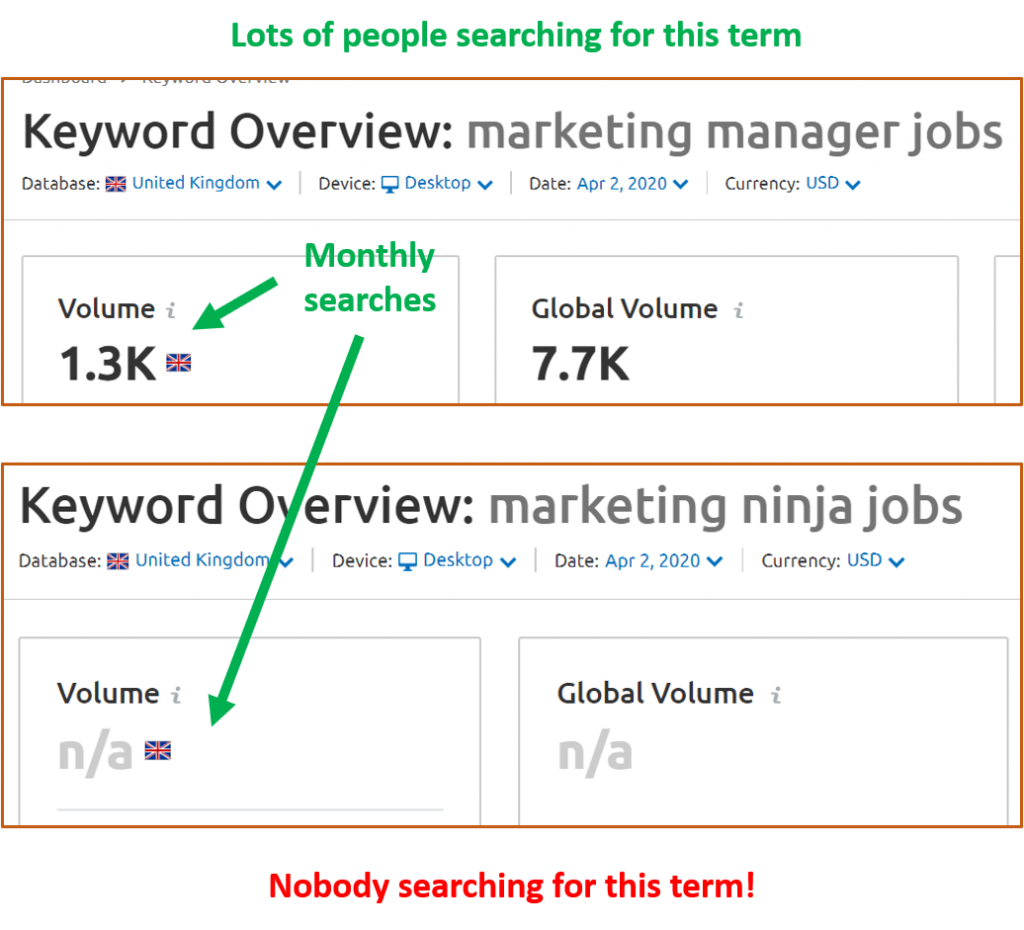 Common sense comes into play here, too. If you're looking for an entry-level marketer with a degree, you'll receive far more relevant traffic by naming the role 'Marketing Assistant', Graduate Marketing Assistant' or 'Graduate Marketing Executive' over 'Superstar Marketing Ninja'.
3) Tell readers what's great about working for you
When you're advertising for a role, you're normally competing against numerous other companies, many of which will be hiring for a similar role and trying to attract the same candidates as you.
To make sure they don't steal your limelight, it's important to sell your company and ensure that potential applicants know exactly what makes working for you so desirable. Your 'About Us' or 'Company Details' section is the best place to make your mark and capture the potential candidate's attention.
So, as well as letting them know what your company does, what your mission is and who your target market is, give them a brief insight into your company culture and history. What does life at your company look like? Have you won any recognisable awards? What interesting projects are you working on? Do you have any stand out clients? What are your goals and values?
Try your best to make your organisation look appealing and exciting to potential applicants. Now more than ever, candidates are looking for an organisation which fits with their goals, lifestyle and values, rather than just any old job.
4) Write in plain English
Including lots of  jargon and corporate speak may seem like a good way to showcase intellectual prowess, but overdoing it can actually put your company at a disadvantage.
If people can't fully understand what you're trying to say, you run the risk of confusing and discouraging suitable candidates from applying, and sending them running into the arms of your competitors.
Additionally, it could make your company come across as overly corporate, old-fashioned or traditional, which might put some candidates off — especially those at entry-level.
So, of course you will need to include some industry specific terms, but be sure to keep the language simple and understandable for a wide range of people.
Quick tip: If you're unsure if your language is appropriate, ask a broad range of team members to read through the job description and ask for feedback.
5) Write as if you're speaking to the candidate
Some job descriptions come off as impersonal and boring. While it's important to keep things professional, remember you're talking to real human beings — not a computer or corporate-robot!
In order to attract the best candidates, try to visualise your ideal candidate. Here are a few questions to get you started:
What's in it for them? — what's your employer value proposition?
Why would they want to work for your company specifically?
What are their career goals? — are they looking for progression opportunities?
What might they be looking for in a job?
Which tasks and responsibilities will they find most interesting?
What skills and experience do they need to succeed?
With that in mind, write as if you're talking directly to them throughout the job description, trying to match their wants and needs in a role whilst still providing an accurate reflection of the job.
This also means using the 2nd person — for example 'you' and 'yours' — rather than the 3rd person, which risks coming across as cold and unfriendly.
6) Sell the opportunity in the overview

The job market is flooded, meaning it's highly likely that your ideal candidate will have a huge variety of other suitable vacancies to apply for. But you need to ensure your company's role appeals to them the most.
The 'job summary' or 'role overview' section is likely to be read first — and if potential applicants don't like what they read, they may well move onto the next advert. So how can you ensure it's appealing and sparks the attention of the reader?
Keep the section brief to cater to short attention spans, by focusing on the important high-level details only. What's the overall objective of the role? Who will they report to? How will the role fit within the team? What are the 2-3 main functions of the role?
Focus on what your perfect candidate would find most interesting about the role as a whole, as well as what impact the job has. What value will the role bring to the wider team and company? What does success in the role look like?
Try to get this information across in as few words as possible — 2–5 lines is ideal.
7) Don't overload the responsibilities
Avoid falling in the trap of relaying every single aspect of the role — no matter how small — into the responsibilities section. It's best to keep things succinct and snappy at this stage, in order to keep potential candidates engaged. 6–10 concise bullet points is the sweet spot!
Try to provide a general picture of the 'day to day' in the role, including things like:
General job responsibilities
Essential tasks and projects
Work they'll produce
Results they'll be accountable for
Who they'll communicate with
When writing this section, think carefully about the language and writing style you use. Using active verbs like 'managing', 'leading', 'creating' and 'developing' can help to create a punchy and engaging tone, while keeping each bullet point short and to-the-point will allow potential candidates to skim read with ease.
8) Be clear about essential requirements
Towards the end of your job description, you'll need to outline any key requirements that successful candidates will need to possess.
To ensure you receive the best quality and most relevant applications possible, you need to make this section clear and thorough — without overdoing it and risking putting suitable candidates off.
The best way to go about this is to include an 'essential' list of the core, skills, experience, traits and competencies you're seeking, followed by an additional list that details any 'desirable' traits that would be preferable, but are not necessary to be able to fill the position.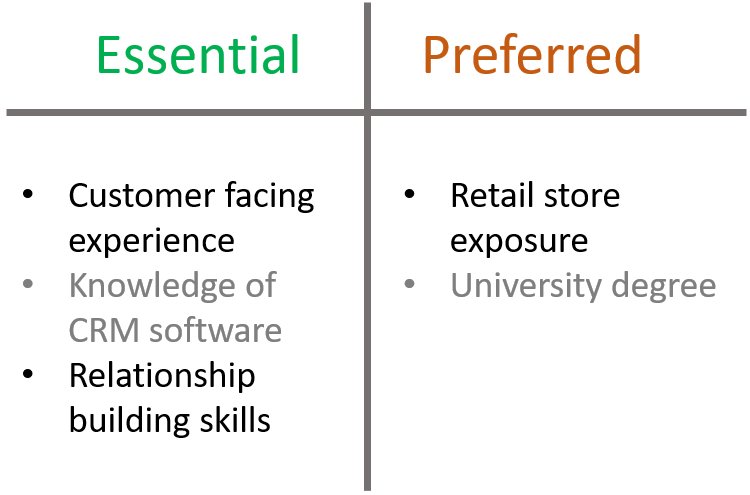 Your requirements could include:
Hard skills, such as software, languages and industry specific skills
Soft skills, such as time management, communication and attention to detail
Previous experience within the industry or profession
Qualifications, whether they're academic and vocational
9) Speak to current employees
As a recruiter or hiring manager, writing job descriptions can be challenging — after all, you're not necessarily a direct member of the team you're hiring for.
But one of the easiest ways to combat this is to speak to current employees within the team the new hire will be working within. As well as making your job of writing the description far easier, it'll also allow you to create a more accurate listing and attract the most suitable candidates.
So, head over to the team and pick their brains. Here are some key questions to get your brainstorming session started:
What skills and knowledge are vital to meet the demands of this role?
How will the job holder support the other members of the team?
What pressures or demands on the team has caused this job to open?
Does anything fall outside the typical requirements of a role of this type?
10) Keep it short and skimmable
While job description length will inevitably vary depending on the industry and level of seniority of the job, it's generally best to keep things succinct, concise and easily scannable.
Overly lengthy job descriptions could scare off suitable candidates and are unlikely to be read in full. If the reader can't scan through the listing and immediately gauge what the job is and what the requirements are, you risk losing their attention.
Generally, a length of around one side of A4 or less is ideal. You should also avoid long, unbroken paragraphs of text by including regular line breaks and incorporating bullet points where applicable. Make your headings stand out as much as possible, too — bold and/or underlined text works perfectly.
If you want to include colour, make sure it aligns with your company colour scheme or brand guidelines. To help your listing stand out, you might choose to include your company logo at the top. Don't go overboard, though — as with most things, simple is usually better!
11) Don't discriminate
It's essential to keep UK employment law in mind whilst writing a job description. Roles should only ever be awarded based on merit of the applicant's skills, knowledge and experience — and you must ensure your job description reflects this.
So, whilst writing your job description, make sure you don't discriminate on the grounds of personal characteristics, such as:
Gender
Race
Sexual orientation
Religion
Disability
Pregnancy and maternity
Marital status
Bear in mind that job description writers sometimes slip these characteristics in unintentionally, so make sure to double-check your terminology. For example, 'handyman' and 'waitress' can indicate a gender preference, while 'recent graduate' could be considered ageist.
12) Include a strong call to action

Ultimately, a job description is an advert — and any effective advert includes a strong call to action.
A call to action encourages a user to take action. In this case, your aim is to encourage candidates to submit an application in the right format, and to the right person. Here's how to do exactly that:
Write a brief sentence encouraging candidates to apply, adding some flair and personality if possible — for example, 'Want to join a passionate and growing team, with unlimited opportunity for profession and unrivalled training opportunities?'.
Let the reader know how to apply, including the name of the hiring manager or recruiter, an email address to direct the application to and what type of application you expect — for example, 'Send your up to date CV and short cover letter to [name] at [email address], explaining why you'd make the best fit for our team'.
If you have an application deadline, make sure to include this too — for example 'Applications close on the 2nd May, so don't wait and apply today!'.
For further help creating awesome job descriptions, check out our extensive library of example job descriptions, covering a wide range of jobs and industries.