Hiring the best staff starts with writing an awesome job description.
Poorly written job descriptions will leave great candidates confused, unimpressed and running into the arms of your competitors.
Whereas an awesome job description will have them firing their CV off to you immediately.
But writing a job description can be tricky – you have a few short lines to prove why your company and vacancy are the best.
So, we've provided 17 examples of awesome job descriptions across a range of industries, along with some helpful notes to show you how to create your own candidate-attracting-machine of a job description.
JD examples
| | | |
| --- | --- | --- |
| Business & admin | Finance | Customer service |
| Education | Hospitality | |

Administrative assistant job description
Administrative assistant |Smiths Building Services
About Smiths Building Services 
With over 20 years experience in the industry, Smiths Building Services works closely with local suppliers, architects and labourers to offer high-quality building services to all customers.
About the role
As a result of our rapid growth, we're looking for an administrative assistant to join our existing HR and Finance team to lighten the workload and support them in dealing with daily administration tasks.
Responsibilities
Taking phone calls and responding to emails from customers and suppliers
Maintaining and updating digital and paper filing systems
Taking stock of office supplies and reordering where necessary
Scheduling meetings and booking appointments for senior members of staff
Attending meetings and taking detailed notes to be typed up and distributed to the relevant staff
Greeting and assisting any visitors that come to the offices
Booking taxis, deliveries, trains, hotels and any other travel arrangements that are required
Updating and circulating company policies and procedures
Collating, producing and submitting monthly expense reports
Location & commitments
Full-time, permanent
Monday – Friday 9:00am – 17:30pm
Rochester
Occasional overtime may be required
Candidate requirements
Previous experience in a similar administration position is desirable but not essential
Excellent communication and interpersonal skills required
Strong GCSEs or equivalent preferred
Must have a strong grasp of Microsoft Office and Outlook
Contact us to apply
Are you looking for an exciting role on a friendly team? If you're interested in this vacancy please send your CV to nathanthompson@smiths.co.uk.

Why is this an awesome job description?
A clear high level overview of the jobs tells candidates the purpose of the role, and demonstrates that the business is growing quickly.
Short sharp bullet points describe the vital responsibilities of the job, without going into too much detail – to avoid the risk overwhelming readers
Candidates requirements make use of well-known tools and qualifications to resonate with as many candidates as possible.
Project manager job description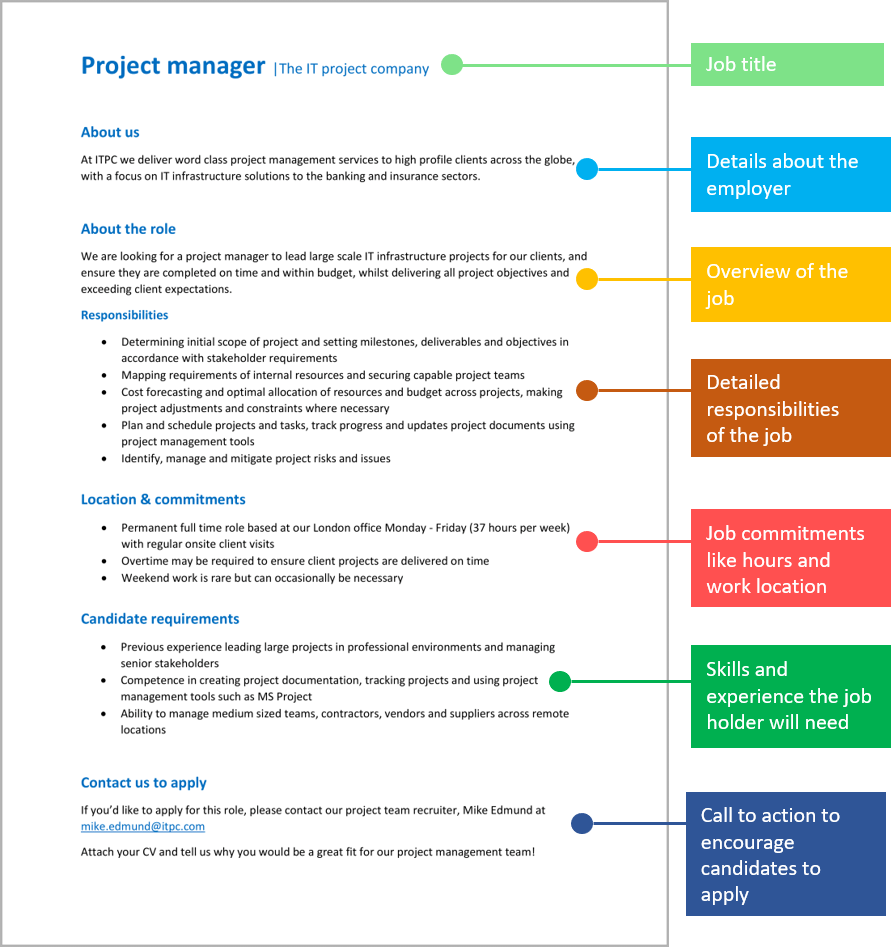 Data analyst job description
Data analyst | Health Solutions UK
About Health Solutions UK
We are proud to be one of the UK's biggest wholesalers of pharmaceutical, medical and healthcare products in the UK; putting patients at the heart of everything we do and helping people across the country live happier and healthier lives.
About the role
We are looking for an experienced data analyst to join our team. Reporting to the head of data, you will be responsible for collecting and processing complex data, producing insightful reports and presentations to drive business change, as well as implementing strict data quality processes across the board.
Responsibilities
Collecting, interpreting and analysing customer, marketing and financial data
Identifying trends, patterns and consistencies to help shape our future direction
Creating detailed management reports and presentations to tracks KPIs and delivery
Breaking down complicated datasets into easy-to-digest dashboards for the wider business
Carrying out research sessions to find data that supports the needs of the business
Spotting anomalies and erroneous entries within data sets
Adhering to data policy and regulations and ensuring all campaigns are compliant
Location & commitments
Full-time, permanent role based at our modern head office in central Birmingham
35 hours per week; 9am to 5pm with one hour for lunch
Overtime may be required occasionally during busy periods
Candidate requirements
Essential:
1+ years experience of analysing and evaluating complex data sets (university placements are accepted)
Working knowledge of at least one of the following languages: SQL, Python, C++, Java, R
Advanced Excel knowledge (this will be tested at interview stage)
A clear, logical analytical and methodical approach to problem-solving
Desirable:
Minimum 2:1 in a relevant degree subject i.e. Maths, Economics, Business, Computer Science, Engineering etc.
Knowledge of visualisation development methods and tools, such as Cognos, SSRS and Power BI
Contact us to apply
If you've got an appetite for learning and would like to develop your skills as part of a forward-thinking and results-driven team, please contact our recruiter, Molly Jones at molly.jones@health-solutions.co.uk
Attach your CV and a short cover letter, telling us why you would be a great fit for our data team!

Why is this an awesome job description?
The role outline paints a clear picture of the team size, along with how the person will fit into the team.
Responsibilities are tied in with business goals to give readers an idea of the impact they will have in this role.
Candidate requirements are split into essential and desirable to widen the talent pool available, whilst encouraging those with better suitability to apply.
Digital marketer job description
Digital Marketing |Pout Cosmetics
About Pout Cosmetics
We are a beauty and cosmetics company who produce ethical, animal-cruelty-free products which we ship to customers across the globe. Our product range includes our award-winning, long-wear lipsticks and quick-dry nail polish.
About the role
We are looking for an experienced digital marketer who can plan and manage all of our digital marketing channels and campaigns. You will report to the Marketing Director and contribute to the organisation's marketing strategy to increase customer sales and engagement.
Responsibilities
Developing and executing the organisation's annual digital marketing plan, including PPC, SEO, Social Media, Affiliates and Display/Re-targeting
Devising innovative digital marketing campaigns, that feed into the organisation's overarching marketing strategy
Creating engaging digital content that increases customer engagement and enhances the organisation's online brand
Implementing strategies to drive traffic to the organisation's website, including SEO and PPC
Creating and implementing a social media policy and framework for the organisation
Moderating all social media platforms including Twitter, Instagram and Facebook
Managing the digital marketing budget, including allocating budgets across different channels and platforms
Producing regular digital dashboards for the Head of Marketing, reporting progress against set KPIs
Working closely with colleagues in sales and IT to ensure all activity is integrated
Location & commitments
Permanent, full time position
Fun, flexible work environment in Manchester
Office-based with occasional travel required and option to work from home
Candidate requirements
Essential:
Proven experience managing a digital marketing function for an organisation
Strong track record implementing successful digital marketing campaigns
Experience using content management systems
Knowledge of website analytics tools, for example Google Analytics
Experience in setting up and optimising Google Adwords campaigns
Bachelor's degree in marketing or business
Desirable:
Experience using Adobe Creative Suite
Working knowledge of HTML, CSS, and JavaScript
Contact us to apply
If you'd like to combine your love of beauty, ethical products and digital marketing, please contact our HR Manager, Marie, at marie.bateson@pout.co.uk

Why is this an awesome job description?
A strong call to action encourages candidates to apply for the role and highlights exactly who to contact.
The company description gives candidates an insight into company culture and shows its a great place to work.
Language is descriptive yet conversational throughout the job description, which builds a good rapport with the reader and provides a pleasant reading experience.
Sales executive job description
Sales executive | Strive Fitness
About Strive Fitness
With five locations around the Midlands, Strive Fitness is focussed on making people happier and healthier. We cater for people of all ages, and will be able to find the gym membership that's right for you. Whether you're looking to lose weight or simply be more active, our team at Strive Fitness can help.
About the role
We are looking for an engaging sales executive to help grow memberships across our gyms. You will report to the sales manager and take responsibility for locating prospective clients and bringing them into the Strive Fitness family.
Responsibilities
Generating new sales opportunities by approaching walk-ins, cold calling and networking
Contacting prospective customers who have sent enquiries, and converting them to members
Conducting gym tours for prospective members and suggesting suitable membership options
Preparing new membership documentation, explaining terms to customers and arranging payment methods
Establishing relationships with local businesses with the aim of promoting our corporate gym memberships
Delivering consistent levels of new member sign ups to the gym
Organising open day events where members of the public can tour the gym facilities
Preparing regular reports for the sales manager summarising progress against KPIs
Representing Strive Fitness at a range of community and fitness events
Working closely with the marketing and events teams to leverage existing opportunities
Location & commitments
Permanent, full time position based in Strive office
Flexible working hours based around client meetings
Travel required across our five sites
Candidate requirements
Proven experience in a customer facing role – preferably sales aligned
Friendly and outgoing personality
Self-starter who can work with little supervision
Goal-oriented with the ability to track and achieve KPIs
Interest in the health and fitness industry
Driver's licence and access to own transport beneficial
Contact us to apply
If you have a passion for the fitness industry and want to help more people achieve their personal wellness goals, send your CV and cover letter to Jane Martin at jane@strive-fitness.co.uk

Accountant job description
Accountant | JW Chartered Accountancy
About JW Chartered Accountancy
We're a nationally recognised practice with an unrivalled reputation for providing outstanding client accountancy services across a range of sectors, including real estate, education and corporate consultancy.
About the role
We are seeking a fully qualified chartered accountant to manage accounting, VAT and tax affairs for a range of sole traders, partnerships and limited companies. Reporting directly to the Director of Finance, the successful candidate will deliver full client services whilst supporting the wider development of the practice.
Responsibilities
Preparing accurate statutory accounts, tax computations and returns and VAT returns for a range of clients.
Contributing to the planning and completion of audit assignments alongside the audit manager.
Producing quarterly, monthly and annual management accounts for assigned clients.
Pinpointing and reconciling discrepancies through accounts analysis.
Handling day-to-day enquiries and questions from clients via email and phone.
Developing strong client relationships and traveling to client premises when required.
Maintaining an exceptional level of knowledge around international & local financial and legal requirements and enforcing strict adherence to the requirements.
Supporting senior management in various financial projects as they arise.
Location & commitments
Permanent, full-time role based in our city-centre Birmingham office.
35 hours per week with flexitime between 8am and 6pm.
Occasional out-of-hours work may be necessary during the tax period.
Candidate requirements
Essential
Fully AAT, ICAEW or ICAS qualified.
5+ years experience obtained in a general accountancy practice.
Experience of writing reports that explain complex technical issues in a way that less experienced accountants and clients can understand.
Sound working knowledge of Xero, Sage One, VT and BTC.
Experience of managing junior staff members and trainees.
Advanced Excel skills – this will be tested at interview stage.
Exceptional written and verbal communication skills.
Desirable
2:1 or higher degree in Maths, Accounting, Finance or Economics.
Contact us to apply
Get in touch with us today! You can apply by sending your CV and a cover letter to our hiring manager Jack Smith at j.s@jwaccounts.com.
Bookkeeper job description
Bookkeeper | LJ Construction
About LJ Construction
We are a construction company specialising in the building and renovation of commercial buildings, offering a plethora of experience within the construction industry spanning over 30 years.
About the role
We require an experienced, full-time bookkeeper to look after our day-to-day accounts and payroll, keep track of the companies expenses and assist our accountant with a range of ad-hoc financial and administrative duties.
Responsibilities
Keeping records of all receipts, invoices and tax payments
Maintaining financial activity data using Xero accounting software
Overseeing accounts payable and accounts receivable
Managing and processing payroll for our employees using Sage
Processing all sales and expenses into QuickBooks online
Carrying out regular bank reconciliations to ensure our books are accurate
Preparing and submitting completed VAT returns
Preparing monthly and yearly management accounts
Dealing with a range of financial paperwork and filing
Location & commitments
Full-time role – 40 hours per week with half an hour for lunch daily
Based in our head office just outside of Leeds
Monday – Friday 8 am – 4 pm core hours with flexitime if required
Occasional overtime may be required to support our accountant during busy periods
Candidate requirements
Essential:
1 year+ of experience in a bookkeeping or accounts assistant role
3 A-Levels, including Maths, Economics or Accounting at Grade C or above
Competent user of Quickbooks, Xero, Sage and Microsoft Excel
Excellent time management skills and able to work to strict deadlines
Self-motivated and happy to work independently under own initiative
Desirable:
Professional bookkeeping qualifications (such as AAT or ICB) or willing to study towards them alongside employment
Contact us to apply
Would you like to join our growing team and gain ongoing support for your career development? Send a full CV and a short cover letter to hr@ljconstrunction.com and let us know why you'd make a good fit for the role.

Financial analyst job description
Financial analyst |The Fresh Juice Company
About The Fresh Juice Company
We are pioneers in the fresh juice and smoothie industry, with shopfronts across the country selling healthy, refreshing drinks. Our award-winning drinks are also available in supermarkets so you're never too far from a Fresh Juice boost!
About the role
We are looking for a financial analyst who can create and maintain financial models that help our business to make informed decisions. You will work closely with our senior management team and provide timely information such as financial reporting, analysis and forecasting.
Responsibilities
Collecting, organising and analysing financial data from a range of internal and external sources
Creating different financial models including Discounted Cash Flow (DCF), Option Pricing and Three Statement model
Preparing monthly financial reports to support senior management in making decisions in line with the organisation's business strategy
Identifying and analysing market trends and providing updates to senior managers
Overseeing quarterly forecasting and annual budgeting for the business
Working closely with department heads and developing regular performance reports to help identify areas for improvement
Undertaking ad hoc analysis projects, as briefed by senior management
Working with external auditors in response to audit queries
Developing tools to support departments with decision making
Location & commitments
Permanent, full-time role working 37.5 hours per week
Some travel required
Located in our central London offices
Candidate requirements
Essential:
Solid analytical and modelling skills
Strong commercial acumen and business awareness
Comfortable dealing with and influencing senior business stakeholders
Ability to analyse and present data to produce meaningful information
Bachelor's degree in Finance/Accounting
Advanced MS Excel and PowerPoint skills
Desirable:
ACA/CIMA/ACCA (or equivalent) qualified
Contact us to apply
If you think you are a good match for this role, please send your CV and cover letter to our HR Manager Rachel Bentley at rachel@fresh-juice.co.uk

Customer service job description
Customer Service Rep | Magnolia Furnishings
About Magnolia Furnishings
Magnolia Furnishings sell luxury furnishings across the UK through our online and bricks-and-mortar stores.
About the role
We need a call-centre based customer service representative to handle customer enquiries and complaints, in a way that is reflective of our luxury brand. Reporting to the customer service supervisor and manager, working in our dynamic customer service team.
Responsibilities
Communicate with customers, answer queries and resolve problems
Build strong relationships with customers and promote our brand
Handle and resolve customer complaints with understanding and diplomacy
Provide product and service recommendations based on customer needs
Process telephone orders and complete customer transactions
Understand and convey technical product information to customers
Advise on company information and processes, as well as deals and promotions
Utilise the internal customer management software to track all order processes
Location & commitments
Shift work: Monday – Thursday, and Saturday 7.00 am – 2.00 pm
Permanent contract subject to 12 week probation
Winchester office based
Overtime may be expected
Additional shifts may be needed, overtime paid at standard rate
Candidate requirements
Essential
Exceptional verbal communication skills
Excellent people skills and the ability to build relationships with customers
Strong problem solving abilities and the desire to create positive customer experiences
Preferred
12 months' experience in a phone-based customer service role
GCSE Maths and English Grade C
NVQ in customer service level 2 or above
Contact us to apply
Our call centre is energetic and successful. If you've got what it takes to be part of an industry-leading team then send your CV to the HR department at hr@magnolia.com

Sales assistant job description
Shopzy is looking for a Sales assistant 
Who we are
At Shopzy, we are a fun caring brand, looking to deliver the very best in ethical fashion to our millennial customers of all backgrounds and lifestyle choices
What you'll be doing
We need a talented and friendly sales assistant to help our in-store customers find the best products for their needs and ensure an amazing customer experience, whilst boosting sales and repeat business for the store – reporting to the shop manager.
You will be responsible for…
Ensuring customers receive an outstanding customer experience, by meeting-and-greeting and answering product questions attentively on shop floor
Maintain optimal stock levels by assisting in stock checks and ordering stock from head office
Assessing customer needs and recommending suitable products
Promoting product offers and shop loyalty card to generate repeat business from customers
Keeping shop safe and attractive to customers by with regular checks, tidying and assisting with visual merchandising
Processing customer transactions at the counter, dealing with refunds and handling complaints
Opening and closing of shop including balancing of cash registers
What we need from you
Part time role offering flexible hours (minimum 10 hours per week)
Based in our lively Manchester shop – occasional cover in nearby shops may be required
Weekend and evening work is highly likely
What skills & experience you'll bring to us
Excellent face-to-face communication skills and a willingness to go the extra mile to make our customers smile
A good grasp of basic mathematics and English language
A high level of patience and the ability to work in a busy and sometimes pressurised environment
Ideally you will have experience working in a customer facing role within a retail environment, but this is not essential
Basic GCSEs are helpful but not mandatory
Want to apply? Get in touch today
If you think you've got what it takes to join our passionate and fun-loving team, drop us an email at recruitment@shopzy.com, attach your CV and tell us why you'd love to work here.

Waitress job description
Waitress/Waiter | The Old Oak Pub
About The Old Oak Pub
We are a privately owned, busy pub & restaurant situated based in Norwich, with a reputation for high quality, fresh, locally produced food and drink.
About the role
We are currently looking for an enthusiastic and hard-working waitress/waiter to join our tight-knit team. Reporting to the team leader, you will prepare tables, greet customers, serve food and drinks and ensure every single customer has an excellent dining experience.
Responsibilities
Taking reservations, alterations and cancellations via phone and email
Preparing tables and setting up plates, cutlery, silverware and glasses
Greeting and escorting customers to their tables
Handing out menus and providing detailed information on menu items
Informing customers of our daily and seasonal specials
Taking accurate orders via a tablet, using our in-house app
Serving food and drinks orders accurately and confidently
Thoroughly cleaning and re-setting tables upon customer's departure
Delivering bills and processing cash and card payments
Providing an exceptional level of customer service to guests at all times
Location & commitments
A range of full and part-time roles available, hours to be discussed
Ideally lives within close distance of our city-centre Norwich pub
Must be available to work anytime between the hours 11 am and 2 am, Monday to Sunday
Candidate requirements
Essential:
Excellent time management and organisational skills
Outstanding communication, social and interpersonal skills
Flexible attitude and willing to take on extra tasks as necessary
Desirable:
Previous experience in a customer facing role
Knowledge of wine, spirits and other beverages
Contact us to apply
If you'd like to build upon your customer service and hospitality skills, apply today! Send your CV and cover letter to our assistant manager, John Smith at j.smith@theoldoak.co.uk.

Teacher job description
Teacher | Summer Park School
About Summer Park School
We are a friendly and relaxed primary school located in north Cornwall. We believe that what we do makes a difference to the lives of our pupils and we encourage our staff and students to be enthusiastic, passionate and always ready to learn.
About the role
We are looking for a Key Stage 2 teacher to deliver the national curriculum to a mixed-ability year 4 class, drive their long-term development and help them to achieve their potential, in a safe and happy environment.
Responsibilities
Creating a yearly plan to teach all areas of the KS2 curriculum throughout each term
Planning, preparing and presenting fun and engaging lessons that take into consideration the different learning abilities within the class
Keeping the classroom organised and creating a happy and safe environment for pupils to learn in
Maintaining discipline in the classroom and upholding school behavioural policies
Checking and marking pupil's work, making record of their development
Providing feedback to parents on parent's evenings, offering advice on how they can support their children's development
Organising and taking part in school events such as school plays, sporting events and day trips
Safeguarding children, maintaining high standards and preparing for Ofsted inspections
Location & commitments
Permanent full-time position
Hours are typically 8.30am until 3.30pm
You may occasionally be required to work overtime to manage after school clubs or oversee school trips
Summer Park School is located near Bude in north Cornwall
Candidate requirements
A bachelors degree equivalent to 2:2 or higher
Must have obtained qualified teacher status (QTS)
Experience working with children aged 8-10 advantageous but not compulsory
Knowledge of the KS2 curriculum
Communication, flexibility and patience are a must
Contact us to apply
If you're looking to join a fun and friendly primary school and make a real difference, send your CV to michelle@summerpark.co.uk. We look forward to hearing from you.

Teaching assistant job description
Teaching Assistant | Meadow Lane Primary School
About Meadow Lane Primary School
We are a safe and fun Ofsted Outstanding rural primary school with a single form entry, proud of our brilliant results. We encourage staff and children to thrive through our values of Resilience, Empathy, Knowledge and Friendship.
About the role
We are looking for a teaching assistant to work in the EYFS in the Reception class, assisting the class teacher in delivering lessons and supporting pupils. This is an important role, providing children with a safe and positive beginning to their school career.
Responsibilities
Preparing the classroom and activities for lessons, as well as clearing up afterwards
Delivering phonics and numeracy content in small groups, as well as individual learning interventions
Assisting individual pupils when they need support both academically and personally in the classroom
Encouraging good classroom behaviour and supervising children in the classroom, during structured activities and free play
Reading stories and listening to children read to support their literacy development
Lunchtime and break time supervision on a rota to ensure children are safe and happy in the playground
Assisting with activities off the school site as needed such as trips or forest school
Assisting with marking according to the teacher's guidance and recording the progress of children in line with school procedures
Location & commitments
Fixed term contract (Sep – July)
Term time only working
Monday – Friday 8.30 am – 3.30 pm
Meadow Lane Primary School, Northants
Candidate requirements
Enhanced DBS check, references and background checks
GCSE Maths, English and Science at Grade C or above
Level 2 or 3 Teaching Assistant certification preferred
6 months experience working with primary aged children preferred
Excellent numeracy, communication and literacy skills
Energetic and enthusiastic about EYFS education
Contact us to apply
Please send your CV and a covering letter, about why you are suited to working in EYFS, to the headteacher, Anne Cupp headteacher@mlp.ac.uk

Nursery nurse job description
Nursery nurse | Kidzone Nursery
About Kidzone Nursery
We run five nurseries across Greater Manchester and Cheshire and aim to deliver the best childcare in the area. By delivering exceptional care and education, we've been trusted by families to provide early years childcare for the past 25 years and have won several awards in the process.
About the role
We're looking for a full-time, qualified nursery nurse to provide great quality childcare in our growing Wilmslow centre. Reporting to the nursery manager, the chosen candidate will care for, nurture and teach children with an overarching goal of giving them the best early years experience possible.
Responsibilities
Tend to the basic needs of children when required, such as toilet training, feeding and washing
Plan and coordinate a range of rich learning opportunities that support the development of children's numeracy and literacy skills
Ensure the health, safety and welfare of children in line with our 'keeping everyone safe' policies and procedures
Act as a support system to children and offer warm and friendly guidance, support and advice when needed
Manage children's behaviour and support them to effectively manage their own behaviours
Liaise with colleagues, parents/guardians and carers to meet the individual needs of each child in our care
Location & commitments
Full-time role based at our modern daycare facility in Wilmslow, Cheshire
40 hours per week with varying shifts between 7 am and 7 pm
Monday–Friday role – no weekend working
Occasional overtime may be required
Candidate requirements
Essential
Full level 3 qualification in childcare
A good standard of numeracy and literacy – GCSE English and Maths at grade C
Enhanced DBS check (or willing to undertake one)
Paediatric First Aid trained (or be willing to train with us)
Sound understanding of the early years foundation stage and safeguarding practises
Able to work in a very fast-paced environment
A great deal of empathy and compassion in dealing with children with complex needs
Desirable
6 months+ experience of working in a nursery setting
Contact us to apply
If you'd like to join our vibrant team of nursery nurses, then apply today! Send your CV and a short cover letter across to our Kidzone Wilmslow nursery manager, Alison Williams, at alison@kidzonewilmslow.co.uk.

Chef job description
Chef |Birch Restaurant
About Birch Restaurant
Here at Birch Restaurant, we've created a name for ourselves by sourcing and serving food straight from the forest to the plate. Our innovative, award-winning menu is changed weekly, and is centred on "root to stalk" dining.
About the role
We are looking for a chef to join our busy kitchen based in Dorset. You will oversee a team of 12, and work closely with the front-of-house manager to ensure great tasting food is served efficiently to our customers.
Responsibilities
Develop and plan our weekly menu inspired by local, seasonal produce
Oversee the preparation and production of dishes throughout each service, ensuring they meet our high-quality standards
Lead our culinary team of 12 kitchen staff, including ongoing training and mentoring
Help the team with food preparation and plating during busy periods
Monitor stock levels, order ingredients and manage suppliers
Oversee the kitchen budget and ensure steps are taken to minimise overhead costs and food wastage
Adhere to all health and safety regulations, including safe preparation and storage of food and maintaining a safe work environment
Monitor kitchen equipment and organising repairs or replacements when needed
Location & commitments
Permanent, full time position
May be required to work weekends, evenings and holidays
Based at our restaurant in Dorset
Candidate requirements
Extensive experience working in restaurant kitchens, ideally with a plant-based focus
Solid understanding of different culinary techniques and flavour profiles
Experience managing a team of kitchen staff
Awareness and understanding of culinary trends
Knowledge of health and safety regulations
Basic computer skills including Microsoft Office
Culinary school diploma preferred
Contact us to apply
If you'd like to join our passionate team, please send your CV and cover letter to our restaurant manager Chris at Chris.Ryan@birch-restaurant.co.uk

Restaurant manager job description
Restaurant Manager | The Olives
About The Olives
Founded in Preston in 1999, we are a local, family-run restaurant offering traditional Italian food with a Lancashire twist.
About the role
We're looking for an ambitious and driven restaurant manager to hit the ground running and take charge of our growing team. The successful candidate will work to ensure our restaurant runs efficiently while upholding our excellent customer service and warm and friendly ethos.
Responsibilities
Taking the lead in overseeing day-to-day restaurant operations to oversee an efficient and friendly service
Managing our team of staff, providing regular training and appraisals, organising weekly rota and approving holiday
Ensuring kitchen is fully stocked at all times and ordering in relevant supplies when necessary
Developing marketing initiatives and updating menu in conjunction with head chef and senior management
Setting monthly targets and ensuring these are relayed to staff, met and exceeded
Dealing with escalated customer service complaints and enquiries and remaining on hand at all times as a contact point for customers
Performing all relevant admin including recording restaurant performance, analysing profits and managing staff pay
Location & commitments
Full-time, permanent role based at our restaurant in Preston
Shift based with an average of 42 hours per week
Must be prepared to work evenings, weekends and bank holidays
Smart dress required
Candidate requirements
At least two years experience as a restaurant manager or similar leadership role within a restaurant
Familiarity with the Lancashire food and drink scene
Strong verbal and written communication skills
Highly organised with the ability to multitask efficiently
Experience in restaurant sales and marketing
Excellent customer service skills
A natural leader with the ability to inspire and motivate
A good head for figures and understanding of restaurant finances
Contact us to apply
If you're interested in joining our team, please send your CV and a short cover letter to James at James@Theolivespreston.co.uk.

Personal trainer job description
Personal trainer | Live Well
About Live Well
Founded in 2001, Live Well are one of the UK's leading names in the health and fitness sector. Our leisure centres offer a wide range of facilities paired with excellent customer service and unrivalled fitness expertise.
About the role
We are looking for an enthusiastic and experienced personal trainer to work at our newly refurbished Nottingham leisure centre.  The successful applicant will join our team of personal trainers and gym instructors and will be responsible for helping our clients reach their fitness goals.
Responsibilities
Creating tailored fitness and nutrition programmes for clients, based on their fitness goals
Leading training sessions for existing clients, including monitoring and recording client progress and adapting fitness routines
Performing gym inductions for new members, including instructing members on how to use gym equipment, providing facility tours and discussing fitness goals
Offering PT packages to new and current gym members
Leading weekly group classes for members of all abilities, with a particular focus on yoga and aerobics
Booking clients in at reception, dealing with enquiries and cash handling
Keeping up to date with industry trends and developments, maintaining a high level of personal fitness
Location & commitments
Based at newly refurbished Live Well Nottingham
Minimum 25 hours per week including weekends
Flexible working available
Candidate requirements
Essential
At least two years experience in a gym instruction or training position
Excellent verbal communication and customer service skills
Highly organised with the ability to manage multiple client schedules
Enthusiastic, driven and outgoing personality
Level 3 Personal Training certificate
Current valid First Aid certificate with CPR
Desirable
Degree in Sports Science or a related subject
Specialised in yoga and aerobics
Contact us to apply
If you think you'd be a great addition to our team, send your CV and cover letter to Ellie at EllieBrown@Livewell.co.uk.