Job searching can be one of the most frustrating and time-consuming things you'll have to experience, as a job seeker or a hiring manager. With thousands of job seekers looking for new opportunities each day, it can be a confusing and often overwhelming task.
To help you in your job hunt and finding talent, we've compiled a range of job-seeking stats to give you the information as to why the process can be difficult and insights to help make it a bit easier for your next job search or talent spotting mission..
Contents
| | | |
| --- | --- | --- |
|  Highlights | Section 1: Job seekers in the UK | Section 2: UK job vacancies |
| Section 3: Job boards and social media | Section 4: UK Job applications and CV statistics | Section 5: Job interview statistics |
| Section 6: Graduate job search statistics | Section 7: Coronavirus pandemic and UK jobs | |
Key UK Job Search Stats 2023
The average time it takes from applying for a job to 'landing' it takes 28 days
Hiring managers and recruiters spend between 6-8 seconds looking at a CV
Wales has seen the highest increase (185.3%) in job postings since the pandemic started
9.8 million employed Brits are actively job hunting each day
A 'low-skilled' vacancy in the UK received an average of 506 applications in 2021
98% of large organisations use automated systems to scan CVs
July-September 2020 was the largest increase in unemployment since May 2009
49% of recruiters think Brits are unrealistic with their salary expectations
Brexit has caused an 11.4% drop in EU workers looking for UK employment
Millennials will spend 46 months applying for jobs throughout their lives, 21 months less than Baby Boomers
Graduates will apply for an average of 29 schemes, but attend 3.3 interviews, costing £505
65% now want a job that gives 'a sense of purpose' due to the pandemic
Latest Statistics on Job Hunters in the UK
As of Q1 2022, 3.7% of economically active* people in the UK, or 1.2 million people were unemployed.
As of March 2022, 3.9% of men were unemployed, and 3.5% of women.
The steep rise of 243,000 people becoming unemployed between July and September 2020 was the biggest increase in unemployment in the UK since May 2009.
This means that 1.62 million people were unemployed at that time, 318,000 more than at the same time in 2019.
Average data up to Q2 2022, shows that Birmingham, Bradford, Hull, Luton, and Blackpool are the cities with highest unemployment by unemployment claims
York, Exeter, Cambridge, Edinburgh and Aldershot have the best rates of unemployment (below 3%) in the country.
---
* People without a job who have been actively seeking work within the last four weeks and are able to start work within the next two weeks. This is a better indication of job seekers than other categories of population.
---
Latest UK Job Vacancy Statistics
Up to Q2 2022, job vacancies across the UK were at their highest ever, at over 1.28 million.
This is a 94% increase compared to the number of vacancies in March 2021.
The construction industry saw the largest growth (18.7%) compared with October to December 2021.
The accommodation and food service industry saw the largest increase (92.9%) compared to Q1 2020.
April-June 2021 saw the first spike of vacancies above pre-pandemic levels (309,500).
During the pandemic, 32% of employers decreased their recruitment activity and 57% paused it completely.
How long does it take to find a new job in the UK?
It takes the average candidate around four months, or 122 days to find a job, the average application process time from start to finish (securing the job) takes just under 28 days. This varies drastically depending on the sector you are looking for employment in. For example, travel and tourism can take up to 49 days, whereas hospitality can be as quick as 10 days.
"Millennials will spend 46 months applying for jobs throughout their lives"
Over an individual's entire career, the average person is expected to spend 162 days (5 months) in the interview stage for roles. This may become an even longer statistic with Millennials now staying in jobs for a maximum of 6 years.
If you assume that Millennials will work for an average of 50 years (from 18-68) this could mean younger job hunters will spend approximately 46 months' worth of time swapping jobs across their lives. If you compared this to Baby Boomers who statistically change jobs every 8 years, this generation would only spend 25 months applying for jobs.
Sector job vacancies in the UK 2021-2022
The following table shows the comparison of vacancies per sector over a three month period: Feb-April in 2022 compared to 2021.
| | |
| --- | --- |
| Sector | Vacancies (2022 vs 2021) |
| Arts and entertainment | 368.8% |
| Accommodation & food services | 296.5% |
| Transport & storage | 127.7% |
| Manufacturing | 72.6% |
| Science and technology | 83.9% |
| Construction | 83.5% |
| Information and communication | 83.1% |
| Finance and insurance | 81.7% |
| Education | 67.6% |
| Health and social work | 60% |
| Real estate | 53.5% |
Why do people quit jobs and look for new ones?
UK employees typically move jobs every 5 years, but on average they start thinking about looking for a new job after just 3.5 years. The process begins mentally as a passive job seeker – a good year and a half before an individual hands in their notice.
"The average employee in the UK looks for a new job every 3.5 years"
One study says that the most common reasons people look for jobs are;
Salary increase (26%)
Career progression opportunities (22%).
In a separate analysis, nearly half (47%) of employed individuals said they would rather have a friendly workplace than a 3 per cent pay rise.
The data also shows that 49% of recruiters feel that British applicants have unrealistic salary expectations.
Other studies have shown that an average of 3 in 4 Brits feel stressed about work, with 64% reporting that their job has negatively affected their sleep patterns, a further reason someone may hand in their resignation letter.
The global pandemic has meant that now, only around 13% would voluntarily leave their job throughout 2021 (should the Coronavirus continue). Almost 3 in 10 (29%) now say they are looking for flexible working in their next job compared with just 17% in 2019, a further impact of the pandemic.
Further reading: Work life balance statistics UK – US job search statistics 
Active and Passive Job Seekers in the UK
At any given time an estimated 30% of employees are actively seeking a new role, that's around 9.8 million people in the UK looking for their next opportunity whilst in their current role.
"9.8 million employed people are actively looking for a role every day in the UK" 
In 2020, one survey found that 44% of employers had specifically targeted passive candidates for their job vacancies in order to help overcome recruitment difficulties.
Levels of active and passive job seeking vary between sectors and occupations. Administration, sales and customer service tend to be highly competitive since the skills are widespread and readily replaceable, therefore often more active in their job hunting. Technology, engineering and scientific career candidates are in greater demand and can afford to be more passive job seekers as they lack urgency to hunt for their next opportunity.
A 2014 LinkedIn study estimated that at a global level, 25% of employees are actively looking for jobs, while around 60% are passive job-seekers who are open to new job opportunities.
Job Application Statistics in the UK
Before 2020, the UK was experiencing the highest number of job vacancies in a decade. Across sectors, the UK tends to see an average of 25 applications per individual vacancy. Pre-pandemic, jobs in technology, finance and administration typically received the highest numbers of applications
"At the height of the pandemic there was an average of 506 applications for one low-skilled role in the UK "
According to Government data, the number of unemployed Brits per vacancy is now similar to the level before the pandemic. In 2021, there was an average of 1.94 unemployed people per vacancy in the UK, this is an average of all sectors excluding agriculture, forestry & fishing.
Industry reports show that at the height of the pandemic, employers received an average of 506 applications for each low-skilled vacancy; 267 applicants for medium-skilled vacancies, and 56 applicants for high-skilled vacancies.  However, the median averages were considerably lower at 25, 15 and 10 respectively, suggesting that the mean figures are inflated by thousands of applicants pursuing certain vacancies, especially in the public sector.
A few of the most popular types of vacancies in the middle of the pandemic were;
Entry-level paralegal (4,228 applicants)
HR assistant (3,333 applicants)
Trainee accountant (3,272 applicants)
Warehouse worker (2,932 applicants)
Factory worker (2,653 applicants)
Office admin (2,154 applicants)
Has Brexit affected UK job applications?
Government data shows that EU workers actively searching for jobs in the UK has dropped by 11.4% since the Brexit referendum. However, there have been increases in people from some EU countries seeking jobs in the UK, including Germany (+1%), Finland (+18%) and Sweden (+20%) and also from non-EU countries such as the US, India and the Philippines. The types of roles non-British nationals are commonly seeking include medical/health, marketing and security.
Where has the most vacancies in the UK?
Regionally, Wales has seen the highest increase (185.3%) in job postings since the pandemic impacted the UK (March 2020), followed by Northern Ireland (127.3%), and the North East of England (115.2%). London has seen the slowest increase in job postings at just 32.2%.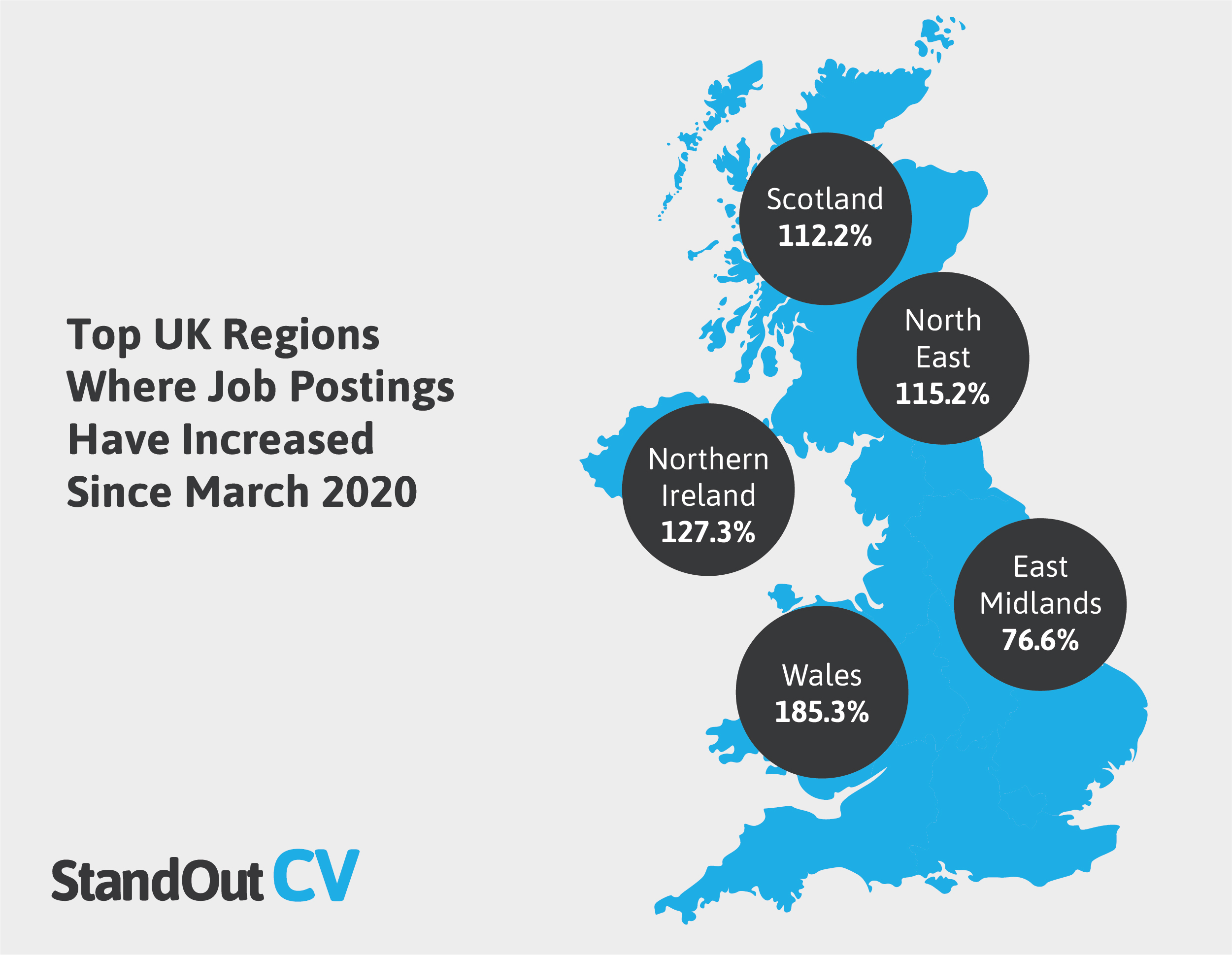 The full regional growth in job postings per region from the ONS is highlighted in the table below:
Region
Job postings increase
(March 2020 vs End of 2021)
Wales
185.3%
Northern Ireland
127.3%
North East
115.2%
Scotland
112.2%
East Midlands
76.6%
West Midlands
71.6%
South West
71.4%
North West
70.2%
Yorkshire and the Humber
69.2%
East of England
62.5%
South East
61.6%
London
32.2%
Worst cities for unemployment in the UK
Average data from 2021 – 2022 shows that Birmingham is the worst city for unemployment claims, while York is the best, having the fewest claims. This data collects the number of people claiming unemployment benefits, the data below from Centre for Cities highlights the percentage of economically active individuals who are claiming these benefits per city.
Top 10 cities with highest unemployment claims
Birmingham (8.3%)
Bradford (8.1%)
Hull (7.8%)
Luton (7.5%)
Blackpool (6.9%)
Liverpool (6.9%)
Blackburn (6.7%)
Burnley (6.7%)
Peterborough (6.7%)
Slough (6.6%)
Top 10 cities with fewest unemployment claims
York (2.3%)
Exeter (2.7%)
Cambridge (3.0%)
Edinburgh (3.3%)
Aldershot (3.3%)
Oxford (3.6%)
Warrington (3.7%)
Reading (3.7%)
Bristol (3.8%)
Norwich (3.9%)
Are job searchers overqualified in the UK?
Approximately 2 in 5 UK employees are working in a role that they don't have the right qualifications for, that's around 11.28 million people. Furthermore, according to Government studies, 3 in 10 graduates are overqualified for the jobs that they are in.
Job hunters are becoming more under-qualified
From 2020-2021, around 92% of businesses say they experienced skills shortages, with 46% saying it affects the morale of the staff working there. Experts expect this to worsen in the next decade.
"2030 will see the largest under-qualification crisis in the UK workforce"
Figures from the Industrial Strategy Council estimate that by 2030, around 20% of UK individuals who are able to work, will be under-skilled for their roles, this will amount to 7 million workers struggling in their jobs.
The majority of this under-skilling is set to come from digital skills, with around 5 million expected to be suffering from under qualification in this area by 2030. 2.1 million are expected to be under-skilled in leadership roles, and a further 1.5 million will not be qualified for various STEM roles. 800,000 employees are projected to face a shortage in teaching and training skills.
UK companies are reported to be spending £4.4 billion annually on measures to address their skill shortages, with much of this going on recruitment efforts.
What does a job search consist of in the UK?
Around 84% of UK employers say they use social media for recruitment purposes, a strong indication that it's near essential that job seekers ensure their presence exists online, and is appropriately monitored. Of those employers who stated that they were using social media, 96% were using LinkedIn to find talent and advertise their vacancies, while 66% were using Facebook and 53% Twitter.
One CIPD study however, indicated that social media was not king when finding new talent. The most popular ways employers said that they discover employees in the UK was revealed to be the following;
In this study, we see that the most popular way employers find new employees was to go straight to their website, followed by asking in their own social networks. This CIPD study places jobs boards as being used by around 64% of job seekers, many other studies place this number as being much higher.
Do UK businesses use recruitment agencies?
On the whole, analysis of internal HR teams found that 59% of businesses use recruitment agencies, suggesting that around half of all hires come from job hunters going direct to the business; a combination of the two could therefore be the most successful way to find a job.
Interestingly, perhaps a sign of the times, traditional recruitment methods like job centres and newspaper ads were said to be effective for recruitment by only 1 in 10 hiring managers, HRs, and recruiters.
How do candidates search for a job in the UK?
Whilst the CIPD study focuses on employers and how they find employees, other research places jobs boards as the most popular way for employees to find new jobs, with particular preference for Indeed in the United Kingdom.
Most job-seekers use multiple online sites in their search to widen their jobs pool, with an average of 5 sites visited when looking for available opportunities.
Which job boards are the most popular in the UK?
Indeed is the job search engine (aggregator) most widely used by employers in the UK, with 63% of job hunters using the platform. One study claims that 90% of UK jobseekers can be reached by advertising on Indeed, Reed, Gumtree, TotalJobs and JobSite.
Analysing the most popular jobs boards by looking at the number of vacancies in 2019 shows a different story. The findings place the top 3 jobs boards, as ordered by vacancies, as the Independent, DWP, and Zoek. It's important to note however, that the number of vacancies does not equate to popularity among job hunters though as shown by Indeed's success despite not being in the top 10 for number of vacancies in 2019.
Most popular job boards by vacancies
| | |
| --- | --- |
| Job board | Number of vacancies (2019) |
| independentjobs.independent.co.uk | 1,601,207 |
| dwp.gov.uk | 906,525 |
| zoek.uk | 683,177 |
| civilservicejobs.service.gov.uk | 517,303 |
| monster.co.uk | 412,371 |
| adzuna.co.uk | 412,114 |
| reed.co.uk | 406,653 |
| glassdoor.co.uk | 375,010 |
| therecbank.com | 291,504 |
| cv-library.co.uk | 271,099 |
Most popular job boards by candidate preference
The research also looked at candidate preference, which offers a better view of where most job seekers go in the UK to find their next opportunity.
| | |
| --- | --- |
| Job board | Jobseeker Usage |
| indeed.co.uk | 63% |
| linkedin.com | 26% |
| reed.co.uk | 25% |
| totaljobs.com | 24% |
| monster.co.uk | 19% |
| cv-library.co.uk | 13% |
| gov.uk | 5% |
| jobsite.co.uk | 4% |
| uk.jobrapido.com | 3% |
| google.co.uk | 3% |
A separate study asked jobseekers how they use jobs boards, most people will not apply for the job on the board itself, they would rather go directly to the company website and apply there. If a job vacancy is without a salary, you can deplete your pool of candidates by up to 66%!
"66% of candidates are more likely to apply for a job if the salary information is on a job board"
Whilst Google is quite low in preference within this study, a survey of Millennial job hunters from over 100 UK companies, found that 52% of them use the Google search and Google jobs functionality to find and apply for jobs.
In general, Millennials believe that using social media, recruitment agencies, and word of mouth are less effective in their search for a job as opposed to searching and applying online or through jobs boards.
Social Media and Job Hunting Statistics UK
Generally, 79% of job seekers use social media (including LinkedIn) at some point for their search. This goes up to 86% when you only look at Generation Z (those aged 18-24).
This bodes well as roughly 9 in 10 employers are on social media, and use it for recruitment purposes.
Most people (90%) on LinkedIn have said that they are happy for recruiters to get in touch directly, but this drops to around 33% when considering Facebook, Twitter, and Instagram. In short, many job hunters in the UK are using direct messaging with recruiters to find new opportunities, but draw the line at other social media apps. In fact, recruiters report that this cold messaging to candidates work around half the time (47.5%).
Whilst social media is used to find jobs, it is also used by around 58% of hiring professionals to screen candidates and understand their background further. Previous Government studies show that 1 in 5 UK employers have rejected candidates purely due to their social media profiles.
Why are job applications rejected due to social media?
A 2017 study by YouGov revealed the most common reasons people are rejected when recruiters and hiring managers review their social media profiles.
Offensive language (75%)
References to drug usage (70%)
Poor spelling and grammar (50%)
Drunken behaviour (47%)
Political activity (29%)
Vanity (26%)
How long does a job application take in the UK?
62% of applicants said that they spend an average of 30-60 minutes completing a job application, 38% said they spend a maximum of 30 minutes. This number can understandably increase if the process involves a lengthy screening test before an application can be submitted.
How many applications does it take to get a job?
On average, StandOut CV's own studies have shown that it takes a jobseeker in the UK 27 job applications to secure an interview. Data shows that this could mean an average of 6.5 hours per week, with roughly 16 applications per week.
CV Statistics for UK Jobs Market
In 2020, 43% of businesses said they rely on CV screening alone to find their candidates for an interview shortlist, around 35% said they use tests/assessments in their process. Make sure you know what to include in a CV before sending it.
How long do recruiters spend looking at a CV?
Despite a heavy reliance on CVs in the jobs market in the UK, recruiters on average, will spend just 7.4 seconds looking at a CV.
A separate eye-tracking study showed that hiring managers spend 80% of their reviewal time purely on; the name, current job title/company name /job description, previous job titles/company names, start and end dates, and education. In this study, it took just 6 seconds for recruiters to make a decision.
Are CV-screening systems used in the UK jobs market?
Onrec reports that 98% of large organisations use some form of automated system to review CVs. On average, 75% of CVs sent in to larger businesses are rejected by these systems before a recruiter ever sees them.
It is therefore unsurprising that just 1 in 4 (24%) job hunters feel they are confident in their ability to get their CV through these systems.
Job Interview Statistics in the UK
The average job interview in the UK lasts up to 30 minutes if done via phone or video call. Face to face interviews typically last up to an hour, but can be much shorter at 20-30 minutes, whilst group interviews take an average of 90-120 minutes. If an individual has an assessment day rather than an interview, this can range between one morning or afternoon, or two full-day sessions.
One report by The Institute of Student Employers (ISE) revealed that around 1 in 10 young job seekers say that they are uncomfortable having an interview in person.
On average, companies interview 4 or 5 people for each position, which suggests that job-seekers may typically have to attend 5 interviews before receiving a job offer.
The average cost of attending an in-person interview is estimated to be £41. This excludes any lost earnings: 51% of those in employment have taken a day off for the person of attending an interview.
What do People in the UK Look for When Job Searching?
When job searching around 64% of people will research a company's background online before applying for the role.
UK employees analyse the job application process for the following three key pieces of information; an easy commute (48%), work-life balance (47%), and company culture (35%). This follows previous research on the UK jobs market from Hays who state that 30% of professional workers place a high priority on work-life balance when considering whether to accept a job. Their research also found that 44% of professionals would be tempted to change jobs if a better salary was offered.
When looking at just younger job seekers, the ISE reports that 98% of students and graduates said the most important consideration when accepting a job is that they will be treated fairly.
Graduate Employment Statistics UK
Before the pandemic, graduate hiring was seeing its largest surge in 5 years, increasing 6.2% in 2019. The largest employers of new graduates are typically public sector organisations, second to accountancy and professional services firms.
Statistics show that of all graduates from UK institutions in the academic year 2017/18, 58% went into full-time employment, 10% into part-time employment, and 10% into employment and further study. Nine-percent entered full or part time further study. The remainder were either unemployed or not economically active.
On average, science graduates were more likely to enter full-time employment than those studying non-science subjects. Other degree fields with the highest rates of employment included; veterinary science, medicine, dentistry, architecture, education, engineering, and computer science.
It's important to note that the Government's official figure of graduate recruitment is inflated to 77% by including 'associate professional and technical occupations' despite the ONS stating these jobs 'do not require a degree'.
In 2019, the sectors that recruited most graduates were the public sector (4,957), accounting and professional services (4,911), technology (1,787), engineering and industrial (1,753) and the armed forces (1,686). These were also the sectors with the most graduate vacancies in 2020.
On average, graduates tend to apply for around 29 graduate schemes in the final year of their degree. Despite this, data from Barclays shows that the average graduate will have to attend 3.3 interviews before being given a firm work offer.
With graduates applying to a lot of schemes, it's been reported that only 1% of graduates applying for schemes in finance, advertising, professional services, and major retailers were actually hired. Research shows that an average of 50% of graduate applications are screened out before any assessment day or interview takes place.
Interestingly, more men are hired onto graduate schemes than women, at a 58%-42% split. When analysing just engineering, retail, and advertising schemes, you can see that 70% of these scheme places are offered to men.
How much do graduates spend on interviews?
Graduates typically spend an average of £505.55 on attending interviews before they secure a job. They typically spend £58 on suitable clothing, and £52 on travel and accommodation.
43% of graduates have had to turn down interviews due to the cost.
How much does a graduate earn in the UK?
The average graduate salary in the UK is £24,291. For more information on this topic, including analysis into sector salaries, please see our full report on graduate salaries in the UK.
Where do graduates find job opportunities?
Almost 3 in 4 students (74%) attend their university careers fairs where local, and international employers hold a stand to meet prospective graduates. Interestingly, research found that employers limit their reach to an average of 24 universities and won't attend or promote their jobs to many more than that. Understandably, during the COVID-19 pandemic, 72% of employers decided against career fairs.
Half (50%) of students say that receiving an email from their career services promoting roles would make them more likely to apply to an employer, indicating students feel their careers department should vet opportunities before students will engage with them.
Impact of COVID-19 on job searching for Brits
There are understandably a lot of impacts that the pandemic has had on the job search, notably moving to video interviews, remote working, and the vast saturation of the jobs market, making it much tougher to gain employment.
In the workplace, the Covid-19 pandemic also resulted in a shift in employee priorities when changing jobs. More than 80% of people want to feel that their work has meaning, and 65% are looking for a new job that provides a greater sense of purpose. More than 80% also say that how an employer treated its workers during the pandemic has become an important consideration.
Over a third (37%) of employees are now considering moving to a different sector or type of work; 10% are considering moving into clerical or admin work, while others are considering a move to the medical/care professions, logistics and transport, education, manufacturing and finance.
Just over half (53%) of employees are also highlighting that being able to work from home at least part of the time is important. This comes as an estimated 60% of UK employees have been working from home due to the pandemic. 
As for the UK graduate market, around a quarter (27%) of graduate employers said they would be recruiting fewer graduates due to the pandemic. This matched other research from the FT showing that 28% of graduates had job offers withdrawn at the start of 2020 as a reaction to the virus.
Is the cost of living crisis affecting job searches?
A recent survey has found that the increasing cost of living in the UK has caused 37% of workers to consider changing jobs. Almost a third (30%) of respondents said their salary doesn't cover their basic living costs, and 17% have taken a second job to boost their income amid the cost of living crisis.
Among social care workers, 47% said they were considering changing careers, and half said they would change to a completely new sector to get a pay rise.
Sources
This analysis was put together by StandOut CV but included a range of data sources and analyses from a range of sources. If data was taken from the ONS or Government sources, this may have been analysed by the research team to further understand the statistics and may not appear in the exact same phrasing within ONS reports. The sources used for this analysis include:

This work is licensed under a Creative Commons Attribution-ShareAlike 4.0 International License.