You're ready to take the next step in your career and start an exciting new adventure.
Before you can do that, you need to let your employer know you're leaving, and it's important that you exit on a good note.
This requires a positive and professional resignation letter that carefully outlines your intention to leave.
If you're new to writing resignation letters or you could use a bit of guidance, you've come to the right place.
In the guide below, we'll share our tips for writing a clear and concise resignation letter, complete with examples and templates of letters for every occasion.
Short resignation letter example
A short resignation letter, as the name suggests, is a more compact version of a traditional letter.
You might choose this style if you're in a hurry, or leaving a temporary or short-term gig.
You can also use a short resignation letter if you're dissatisfied with the company or role, but you don't want to provide details about why you're moving on as you don't want to burn your bridges.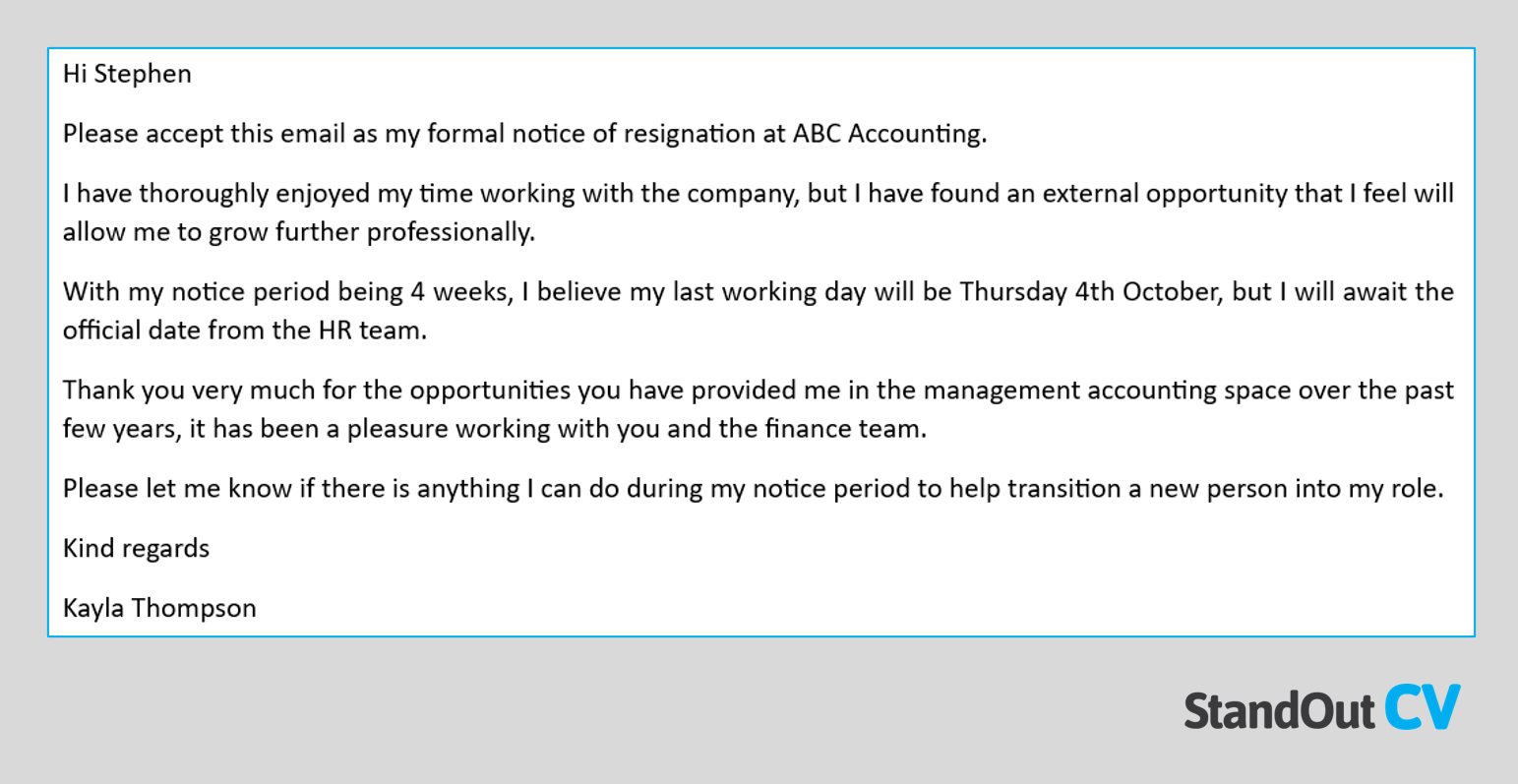 Short resignation letter template
Hi [Manager's name]
Please accept this email as my formal notice of resignation at [Employer name]
I have thoroughly enjoyed my time working with the company, but I have found an external opportunity that I feel will allow me to grow further professionally.
With my notice period being [Your notice period], I believe my last working day will be [Insert date], but I will await the official date from [Management or HR team].
Thank you very much for the opportunities you have provided me in [Industry/skills] over the past few [Years/Months], it has been a pleasure working with you and the [Your team/department].
Please let me know if there is anything I can do during my notice period to help transition a new person into my role.
Kind regards
[Your name]
Simple resignation letter example
A simple resignation letter contains only the basic details needed to alert your employer you are leaving.
It is still polite and professional but doesn't contain as much detail as a traditional resignation letter.
This type of resignation letter is ideal if you've only been at the company a short time, you don't want to share your reason for leaving, or you want to leave on a neutral, but formal note.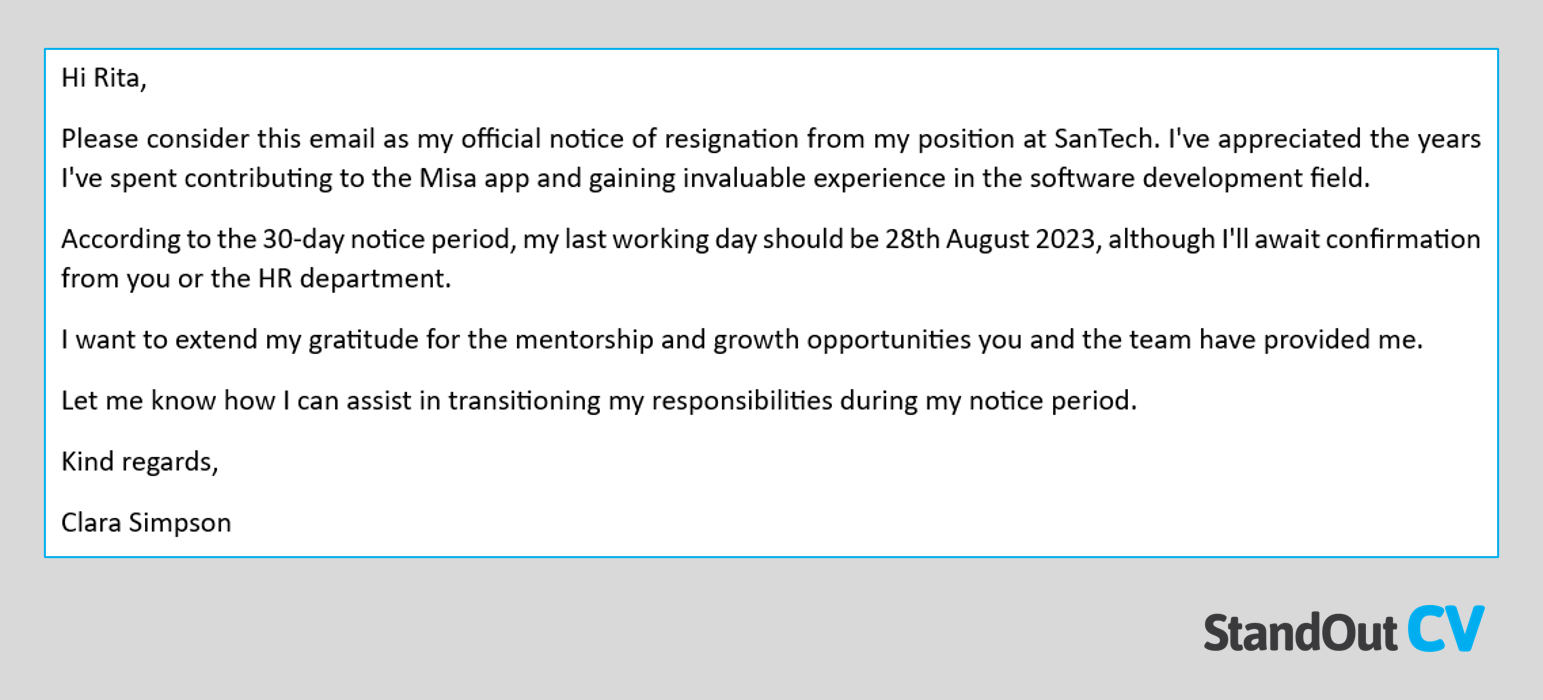 Simple resignation letter template
Hi [Manager's name],
Please consider this email as my official notice of resignation from my position at [Company name]. I've appreciated the years I've spent contributing to [Project/work] and gaining invaluable experience in the [Industry/field].
According to the [Notice period], my last working day should be [Insert date], although I'll await confirmation from you or the HR department.
I want to extend my gratitude for the mentorship and growth opportunities you and the team have provided me.
Let me know how I can assist in transitioning my responsibilities during my notice period.
Kind regards,
[Your name]
Professional resignation letter example
A professional resignation letter is a very formal document and is typically the longest style of letter you can write when leaving a company.
It is set out like a traditional letter and goes into more detail about your departure and often expresses thanks to the employer in greater detail too.
This type of letter is preferred when you've been with a company for a long time or you've had a really great experience and you want to show your gratitude.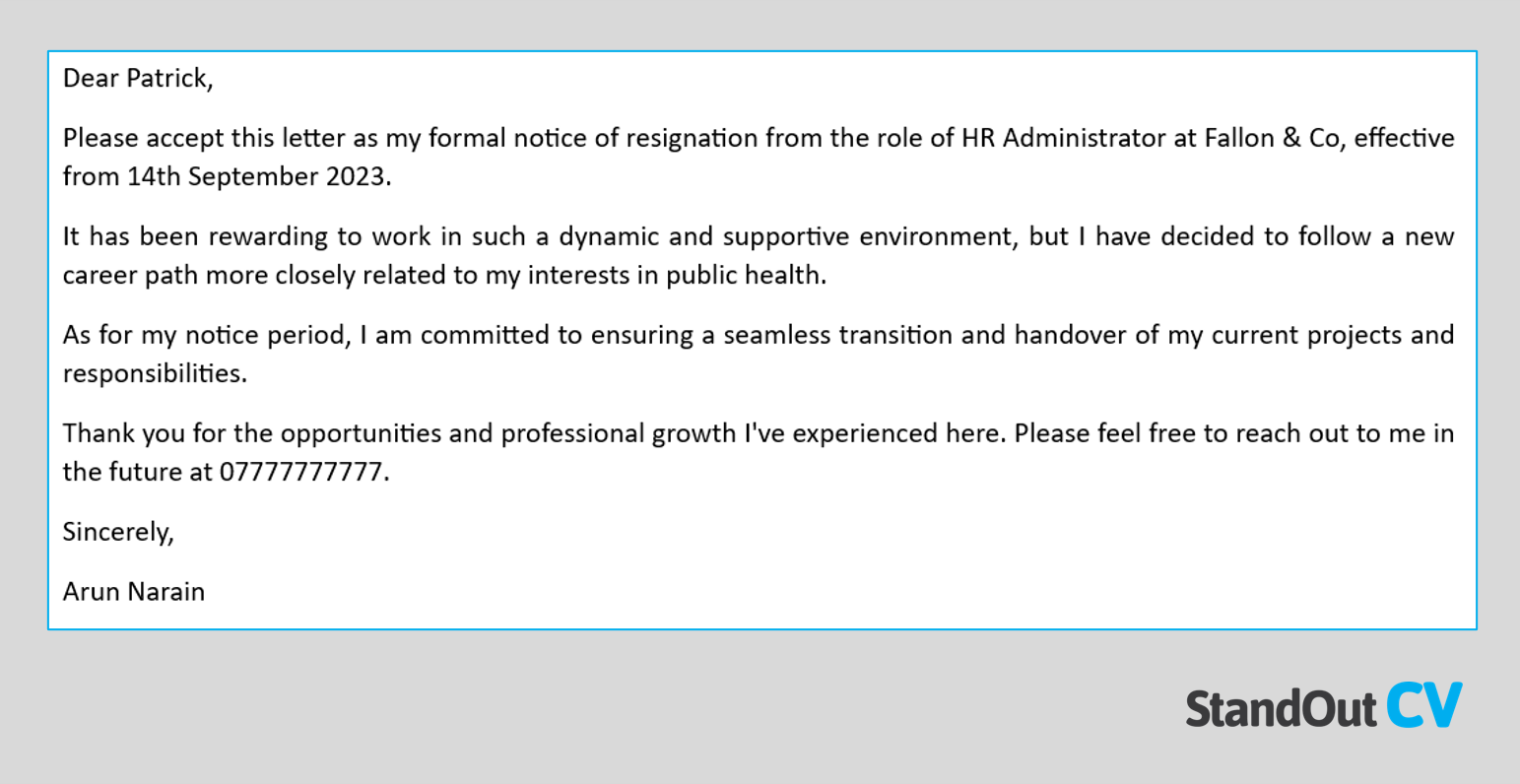 Professional resignation letter template
Dear [HR manager's name],
Please accept this letter as my formal notice of resignation from the role of [Job title] at [Company name], effective from [Insert date].
It has been rewarding to work in such a dynamic and supportive environment, but I have decided to follow a new career path more closely related to my interests in [Industry].
As for my notice period, I am committed to ensuring a seamless transition and handover of my current projects and responsibilities.
Thank you for the opportunities and professional growth I've experienced here. Please feel free to reach out to me in the future at [Insert phone number/email].
Sincerely,
[Your name]
Immediate resignation letter example
While it's best to give employers at least two weeks notice before you depart, that's not always possible.
In this case, an immediate resignation letter may be required. This informs the employer that you will be leaving with immediate effect.
Some valid reasons for giving an immediate resignation include a personal crisis, illness, harassment, health and safety concerns or because you aren't being paid fairly for your time.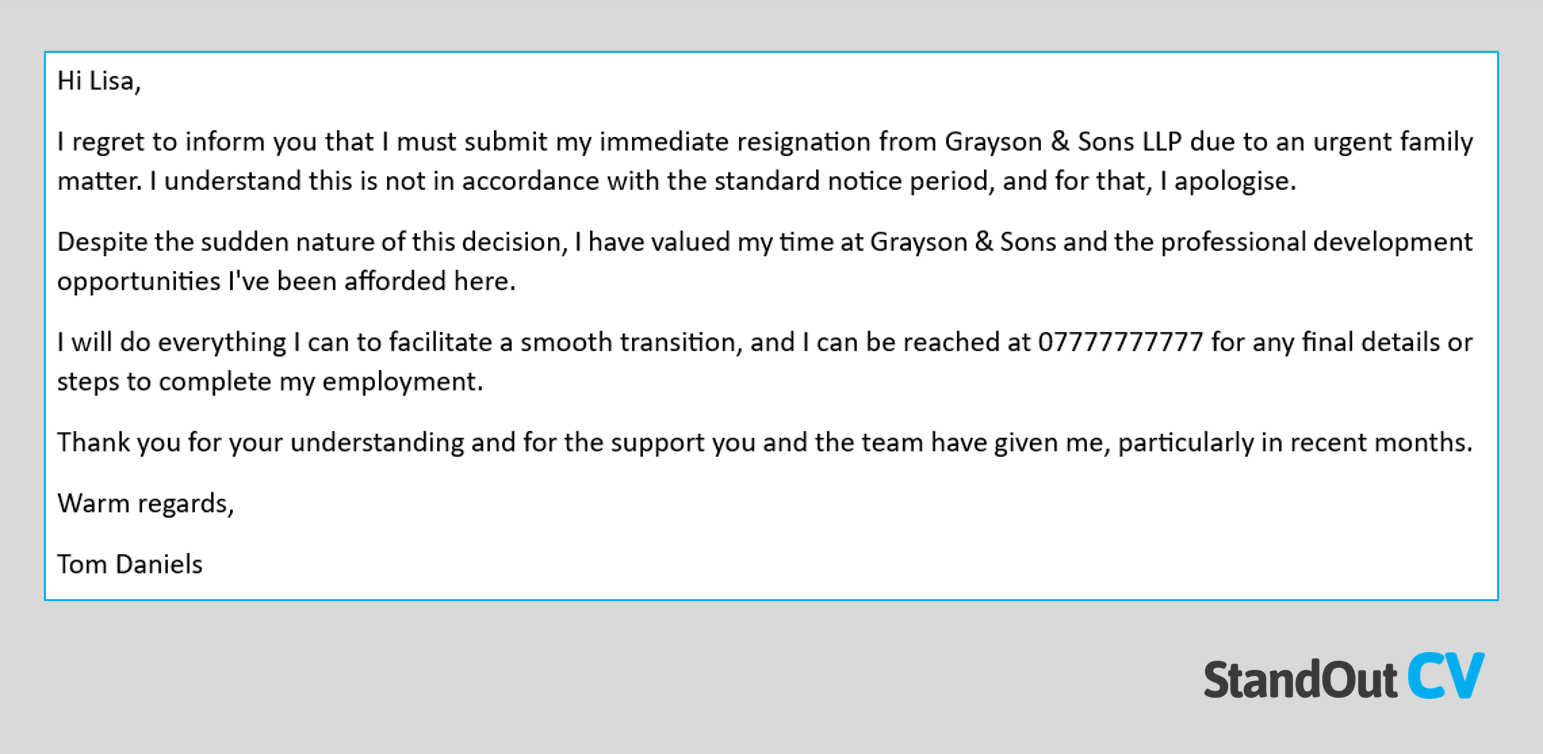 Immediate resignation letter template
Hi [Manager's name],
I regret to inform you that I must submit my immediate resignation from [Company name] due to an urgent [Reason]. I understand this is not in accordance with the standard notice period, and for that, I apologise.
Despite the sudden nature of this decision, I have valued my time at [Company name] and the professional development opportunities I've been afforded here.
I will do everything I can to facilitate a smooth transition, and I can be reached at [Insert phone number/email] for any final details or steps to complete my employment.
Thank you for your understanding and for the support you and the team have given me, particularly in recent months.
Warm regards,
[Your name]
How to write a resignation letter
In order to create a professional and effective resignation letter, simply write an email to your line manager, which includes the following information:
What to include in your resignation letter
Manager's name – You need to start by addressing your manager by their first name. You might wish to use their full name if you're taking a more formal approach.
Warm greeting – Since you're writing the letter to your manager whom you likely know well, start with a friendly but professional greeting.
Your intention to resign (& reason optional) – Next, you need to clearly state your intention of leaving the role, and whether or not you intend to work through your notice period (this is recommended of course). You can also provide your reasons for leaving if you feel comfortable doing so – however you are not obligated to.
Resignation date and last working day – As well as providing the date you're submitting the letter, it's important to give some indication of your last working day ; which will be the current date + your notice period.
Statement of gratitude – You want to leave on a positive note, so it's a good idea to show gratitude for the opportunity and thank your manager for their help and support during your employment – this will help you to maintain a good relationship with the company and people within it.
Offer of help during the transition – Now it's a good idea to explain that you'd be happy to assist during the transition, usually this involves helping to hire and/or train a new recruit.
Sign off – The final thing you need to do is sign off 'sincerely' with your full name.
Resignation letter format
It's important to get the format of your resignation letter just right, especially as this can vary depending on the style of letter you're writing. A traditional resignation will look a little something like this.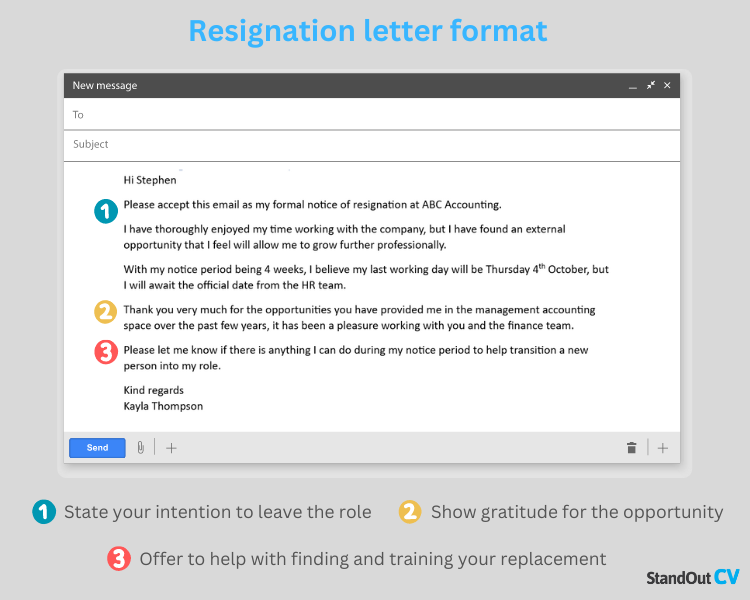 What not to include in your resignation letter
Just as there is certain information you need to include in your resignation letter, there are also some things that you should always leave out, if you want to remain professional and maintain a good working relationship with your colleagues. These include:
Criticism or negative comments: Even if you do have some hard feelings towards your colleagues, your resignation letter is not the right place to air them. Keep things professional and ensure that you leave with dignity.
Disrespectful language: Talking down about the company won't do you any favours, especially if you bump into your ex-colleagues a few years down the line.
Complaints about specific colleagues: If you have genuine complaints about a colleague, they need to be raised in a separate channel and kept out of your resignation letter.
What is a resignation letter?
A resignation letter is a document used to notify your employer that you will be leaving the company. It is used not just to confirm your departure, but also to give the exact date of your last day, along with a possible reason for leaving.
It acts as an official record of your intention to depart the firm, giving your employer time to find a replacement.
Why should you write a resignation letter?
You might be wondering whether you can simply get away with letting your manager know in person, to tell them you're leaving.
The simple answer is no.
Providing a formal letter gives official notice to the employer and shows that you care about the company and can ensure you leave on a positive note. This can be extremely useful if you plan to ask them for a recommendation or referral further down the line.
Not only that, but some employment contracts will state you must submit a letter and give a predetermined notice period. For those that don't, it can still be a good idea to get a formal resignation down in writing to cover yourself from a legal standpoint.
Tips for resigning from a job
If you're planning on resigning from your job in the near future, there are some top tips you should keep in mind. As well as getting your resignation letter just right, you should:
Weigh up the pros and cons – Before you hand in your resignation letter, you need to make sure it's the correct decision for you. Start by weighing up the pros and cons of your existing role and taking a look at what's out there, to ensure this isn't a snap decision based on a bad week
Meet with your manager in person – As well as handing in your formal letter, it's a good idea to meet with your manager in person to let them know what's going on. You can either hand them your letter then or send it over to them later, but don't just drop it on their desk without speaking to them first
Give adequate notice – Unless there is a very valid reason why you need to leave quickly, it's a good idea to give your manager at least two to four weeks notice, if not more. Your contract may set out your notice period, but the more time you can give your employer the better
Make sure you're financially prepared – If you're leaving without another job already lined up, you need to make sure you're financially stable enough to do so. The last thing you want is to hand in your resignation before quickly realising you can't support yourself financially
Don't rush – Even if you're ready to move on, it's best not to rush this decision if you can avoid it. Give yourself some time to look for your next role and leave on a calmer, more positive and professional note