If you are about to start a new job (or about to leave one) you will probably know that you have a notice period.
But what is a notice period? How long should it be? And how do they work?
Here's everything you need to know about notice periods and quitting a job.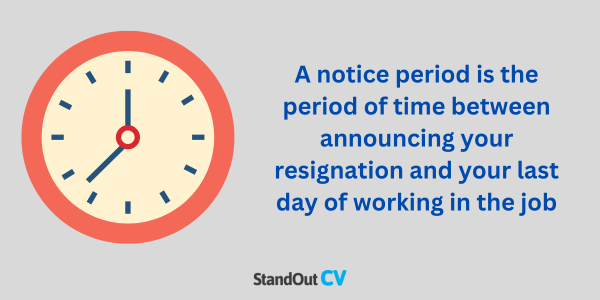 What is a notice period?
A notice period is the length of time that you are contractually obliged to continue working for your employer, from the moment you tell them that you are quitting.
For example, if you have a 4-week notice period and resign from your job today, you have to stay working in your job for another 4 weeks before you can actually leave the role.
During these 4 weeks, you will be "working your notice period".
Why do jobs have notice periods?
Jobs have noticed periods to protect both you and your employer, if either of you decide to end the employment.
Protecting you
If your employer decides to terminate your employment, your notice period gives you some time to secure a new job before you leave the company.
Notice periods essentially provide a safety net for employees, and hopefully allow employees to secure a new source of income before the current job stops paying them.
Protecting the employer
The reason you are contractually obligated to work out your notice period is to give your company a fair chance at finding and training a replacement.
That way, your job role is not left empty, and the team can continue to operate without disruption.
Plus, as the recruitment and training process takes time, you need to be there to keep things running before your replacement arrives.
You might also be asked to help with training the new recruit and writing a handover for your team during this period.
How long are notice periods?
Although notice periods can differ, the statutory minimum notice period in the UK is a week if you've been in your job for a month or more.
If you've been there longer than two years, the minimum increases to two weeks.
After that, your employer can add an extra week for every additional year you've worked there, up to a maximum of 12 weeks.
As notice periods can vary, your employer will typically set these out in your contract when you start your job. Once you've signed this, you agree to work the given notice period.
If they don't specify a notice period in your contract then you only have to complete the legal minimum.
How do I find my notice period?
If your notice period has been written into your contract, you should look back over the document you signed when you started (whether that's on paper or stored electronically) to find out how much notice you have to give.
If this was not written into your contract, you can assume that you have to fulfil the legal requirement, which as we've said, will depend on how long you've worked there.
If all else fails and you're still not sure, you can speak to an HR representative or management within your company to find out.
Types of notice period
We've briefly touched on the different types of contracts available, but let's just recap in more detail the different types of notice periods you might agree to. These include:
Statutory – This is the minimum notice period allowed by UK law, so if your notice period is not written into your contract, then the statutory period will apply to you. This is 1 week of notice if you've been there between a month and 2 years. This increases by a week for each year you've been in the company (up to 12 weeks). For example, if you've worked there for 7 years, you should give 7 weeks notice.
Contractual – Your contractual notice is the number of weeks that have been set out in your contract of employment. This often varies between a month to 12 weeks and the period starts from the day you hand in your notice.
Probationary – If you're still in your probation period, the rules may differ. For the most part, you'll have to work the statutory 1-week notice. That is, unless the employer wrote you a contract that you have already signed, that states you have to work for longer
How to resign from your job
Resigning from your job is never easy, especially if you love the place and people your work for.
But if it's time to move on, it's a good idea to sit down and analyse your reasons for leaving, so you can explain yourself as clearly as possible. Then, it's time to let your manager know.
It's best to book a private meeting with your line manager and let them know face-to-face as the first step.
Once you've given them a heads-up, you should write and officially submit your letter of resignation via email. You could give this to your manager to pass on or go directly to HR, depending on what you're more comfortable with and the company's best practices.
Your resignation letter should be professional and polite (even if you have bad feelings toward the company) and simply inform them of your intention to resign. You do not have to provide your reasons for leaving, but you can if you like.
We have a example resignation letter below.
From here, your employer will work out your last working day from your notice period, and you may also be required to provide a helping to hand over your work to your replacement.
Example resignation letter
Shania Jackson
23 Park Road
Manchester
M11  123
shania.jackson@email.com
077777777777
Simone Lawson, Director
Clear Beauty
100 Forest Row
Manchester
MH3 321
23rd August 2023
Dear Simone,
I trust this letter finds you well.
Following our recent private conversation, I am submitting this formal email to officially resign from my role as the National Account Manager at Clear Beauty. As discussed, my last working day will be 22nd September, providing the stipulated four weeks' notice.
The past seven years at Clear Beauty have been incredibly fulfilling. However, after much introspection and analysis of my personal and professional journey, I've decided to shift away from senior management and relocate back to Scotland.
I deeply appreciate the myriad opportunities, responsibilities, and projects that you and the senior team have conferred upon me. Our shared successes, especially in the UK market, will always be milestones I cherish. Your guidance and leadership have been instrumental in my growth and the achievements we celebrated as a team.
To ensure a seamless transition, I am available to assist in handing over my responsibilities to my successor or any designated colleague. Communication is key, and I am committed to facilitating this process in any way I can.
For any future correspondences, I can be reached at s.jackson@email.com. It's my hope that we can maintain our professional relationship beyond Clear Beauty.
My best wishes to you and the entire team for your future endeavours.
Warm regards,
Shania
Do I have to work my notice period?
Whilst you are contractually obliged to work your notice period, there can be many reasons why you might not want to.
You may be leaving on bad terms, or even have suffered some form of harassment from the employer.
Leaving without working your notice period is a very grey area legally, as you should be fair to the company and work out your contractual or statutory notice period.
But that being said, they cannot forcibly march you into the workplace every day if you don't want to go in.
But leaving without working your notice period is technically a breach of contract, which is something an employer could potentially take legal action against you for. Whilst most employers will probably not take a former employee to court, it's still best to avoid this line of action, and instead try to work out some form of compromise with the employer – such as working a reduced notice period.
What if I don't want to work my notice period?
We get it, there are several reasons you may not wish to work out your notice period. However, the consequences of breaching your contract could mean that your employer decides to take legal action against you if you don't.
That being said, if you or your employer believe it's in your best interests to leave sooner, they can always agree to waive your notice and terminate your contract immediately.
Your employer may also agree to shorten your notice period. But for the most part, you should honour your notice period as best you can, unless working for the company is damaging your mental or physical health.
Does my employer have to give notice before dismissing me?
Unless you are being let go for gross misconduct, your employer must extend you the same rights if they choose to end your employment.
This means they must give you at least the length of your notice period if this was outlined in your contract. Either that or the statutory minimum notice period if nothing was written into your contract.
This gives you time to begin looking for a new job, and hopefully, you'll secure a position before your notice period is up.
Tips for leaving a job on good terms
As we've said, there are lots of reasons you might be leaving your current job and in most cases, when you choose to move on you don't want it to end on bad terms.
After all, you don't want to burn any bridges or jeopardise your future. So here are five ways to ensure that you leave your job on good terms:
Give your manager a heads up – It's nice to give your manager a heads up before handing your official resignation in. That way, they won't find out from someone else that you're leaving. Plus they can begin preparing for your departure straight away.
Be honest – Whatever your reason for leaving, it's best to be honest with your manager and/or HR, within reason of course, don't be rude. This could help them to implement genuine, meaningful changes for other workers in the future.
But don't badmouth the company – If you're leaving because you're no longer satisfied in your role, it's crucial that you don't badmouth the company or your colleagues. This could burn your bridges and doesn't look very professional.
Keep working right until the end – It's important that you don't check out just because you've handed in your notice. Make sure that you work hard right up until your final day to leave a lasting impression
Do a thorough and helpful handover – Finally, to make the transition as smooth as possible, it's a good idea to create or give a thorough handover to your replacement. This will minimise disruption and keep things running as smoothly as possible.