When you're looking to apply for electrician roles, your CV needs to attract recruiters' attention and show them why you are the right person for the job.
A well-written CV will get you noticed by plenty of employers, secure you lots of interviews, and ensure that you always land the best electrician jobs on the market
The below guide which includes an example electrician CV will help you create a CV that stands out from the competition.
Guide contents
Electrician CV example
Structuring and formatting your CV
Writing your CV profile
Detailing work experience
Your education
Skills required for your Electrician CV

Electrician CV example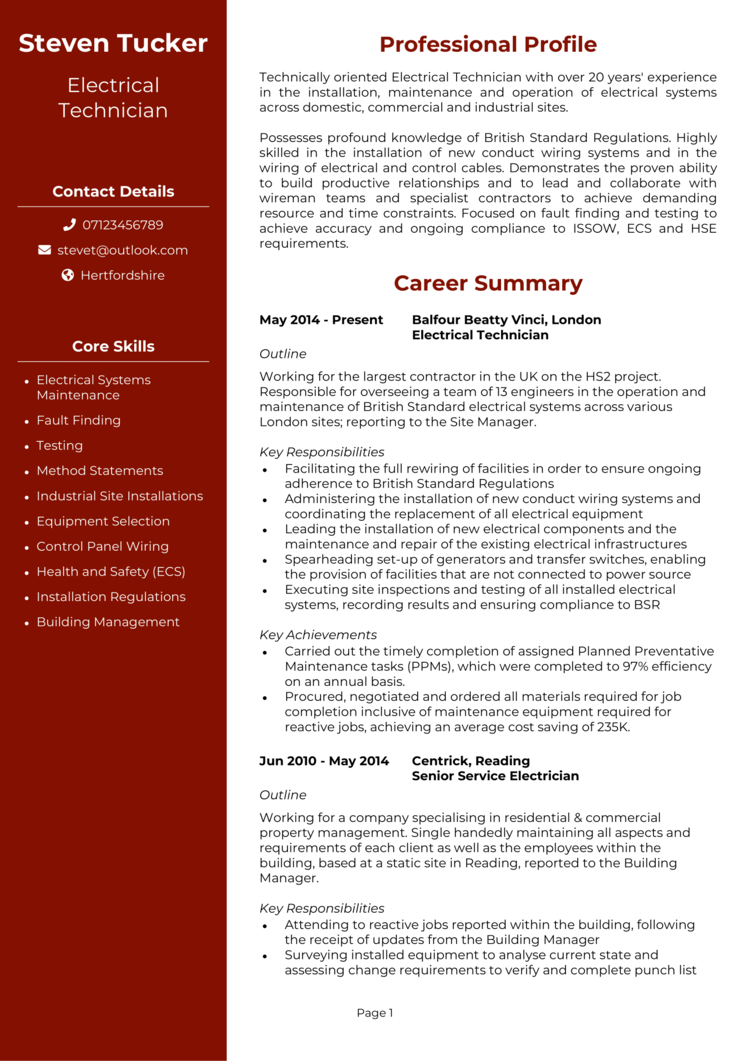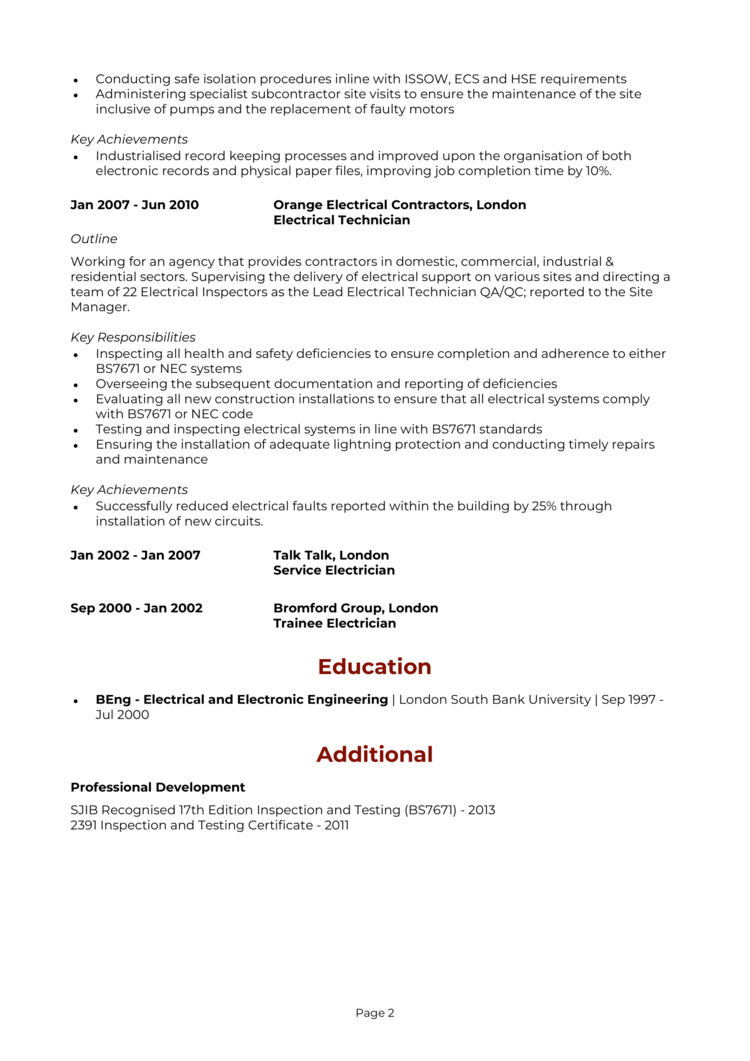 The above CV example demonstrates how to structure your electrician CV in a visually pleasing way, enabling recruiters to quickly see your skills and experience.
I will now explain how to write your own CV, helping you to produce a unique CV that stands out from the crowd and wins interviews.
Electrician CV structure
Enable ease of reading within your CV by keeping to a clear, well defined structure that highlights your most related experience and marketable skills.
Allow recruiters to easily navigate your CV, pinpointing your suitable skills and knowledge for your desired roles.
The below infographic walks you through how to format and structure your own CV that will grab recruiters attention.
Formatting Tips
Although tempting, avoid over-designing your CV and instead stick to a clear font and plain colour scheme – this will make for easy reading
Use bullet points, headers and clearly defined sections to break up large blocks of text, and allow busy recruiters to skim read your CV
Avoid using imagery such as profile pictures or company logos as these distract the attention from the content within your CV
Your CV should be a maximum of 2 sides of A4, enough space to detail your experience without it overwhelming recruiters and becoming boring to read.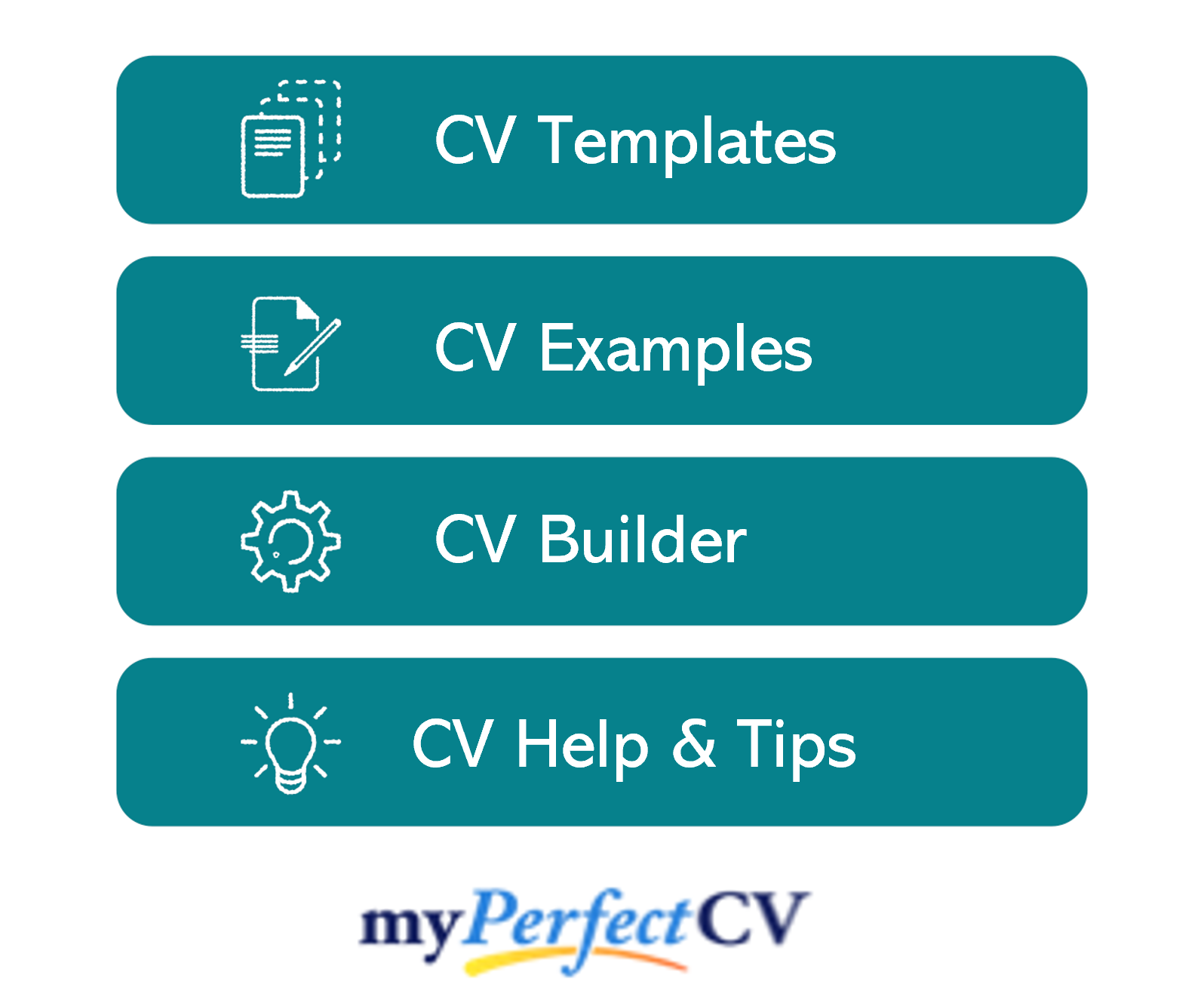 Structuring your CV
Break your CV into defined sections, allowing recruiters to naturally flow through your CV with ease.
Follow the below section layout:
Contact details – Begin by letting employers know how to contact you
Profile – an intro to your CV, summarising your experience and engaging recruiters' attention at the top of the page
Work experience / Career history – Display your experience in reverse chronological order
Education – Highlighting any electrician specific qualifications as well as any additional qualifications achieved
Interest and hobbies – An optional section that can help to boost your relevant aptitudes especially if you have limited work experience
This guide will now walk you through what to include within each section in more depth.
CV contact details
At the top of your CV include your contact details, making sure these are visible to recruiters at first glance.
Include the below information:
Phone number
Email address
Location (a full address isn't required, the city you reside is adequate)
A link to your LinkedIn profile if applicable.
Quick Tip: Keep to only essential information, removing additional details such as date of birth, martial status, full address or profile pictures – they just aren't necessary.

Electrician CV Profile
Your CV profile or (personal statement) is a high-level summary of your most applicable skills, experience and qualifications that make you the ideal candidate for the role.
Acting as your first impression to recruiters and enticing them to delve deeper into the CV when they first open it.
Ideally it should be a 5-10 line paragraph at the top of the page with a concise overview of your offerings.
Quick profile writing tip: If you struggle to write professionally or English isn't your first language, I would recommend using our partner's CV builder- It highlights your mistakes and provides suggestions for corrections.
Tips to consider when creating your profile:
Research the electrical engineering industry prior to putting together your profile, tailoring your introduction to the industry, adding any applicable key words
Stick to 5-10 lines, be concise as you will be able to expand on your experience later in your CV.
What to include in your CV profile?
Environments worked in – Detail whether you are used to working in a domestic, commercial or industrial setting? Or perhaps on railways or other public settings?
Electrical knowledge – Do you have an all-round electrical knowledge? Or specialise in lighting?
Level of your experience – Are you commencing your career as an electrician mate? Are you a qualified electrician? Or have you got experience supervising a team?
Qualifications – Focus on qualifications, courses, licenses or badges you have obtained that are relevant to electrician roles
Companies worked for – Have you worked for big electrical firms, or small house renovators?
Core skills section
Underneath your CV profile, reserve a section for highlighting your core skills that make you the perfect fit for electrician roles.
Compiled of two to three columns of bullet points, record your marketable skills, using your sector research to form this list or reviewing the vital skills we have documented below in this guide.
Enabling recruiters to quickly identify your suitability for a role with just a quick glance at the CV.

Work experience/Career history
Add details of your previous employment to showcase the roles you have undertaken, and the value you provide to employers and projects.
Reserve more space for your most recent or more applicable roles within your CV, but only provide a brief overview as you work backwards the older or non-relevant roles.
Structuring your roles
The structure of your role descriptions is key to engaging recruiters and helping them understand your input.
Providing an overview of each of your previous roles and break the content into three clearly defined sections, like the below sample:

Outline
Provide an overview of your role, the company you worked within or the department you were part of to give more context to recruiters.
E.g.
"Working as part of an electrical team, contracted by local builders to manage all the electrical wiring of a new housing estate, consisting of 100 new homes."
Key responsibilities
Bullet point the key responsibilities you had within each role, include any project involvement or additional duties taken on.
E.g.
Worked with the architect team and carpenters to develop original technical drawings of electrical wiring for a new construction sites.
Stepped up, as required to perform administrative duties including client relations and project reporting.
Key achievements
Show the impact you made within your employment by detailing any key accomplishments, adding facts and figures will help validate your achievements.
E.g.
Reduced supplier costs by 5% by negotiating a better rate with the company's electrical wholesaler
Education
Directly underneath your work experience document the qualifications you've obtained.
Begin with qualifications that are required for electrician roles such as Electrotechnical Level 3 or Level 3 NVQ Diploma in Installing Electrotechnical Systems and Equipment or NICEIC or ELECSA certifications.
If you have space look to add additional qualifications such as GCSE's, A Level, Degrees or any other vocational qualifications for best results.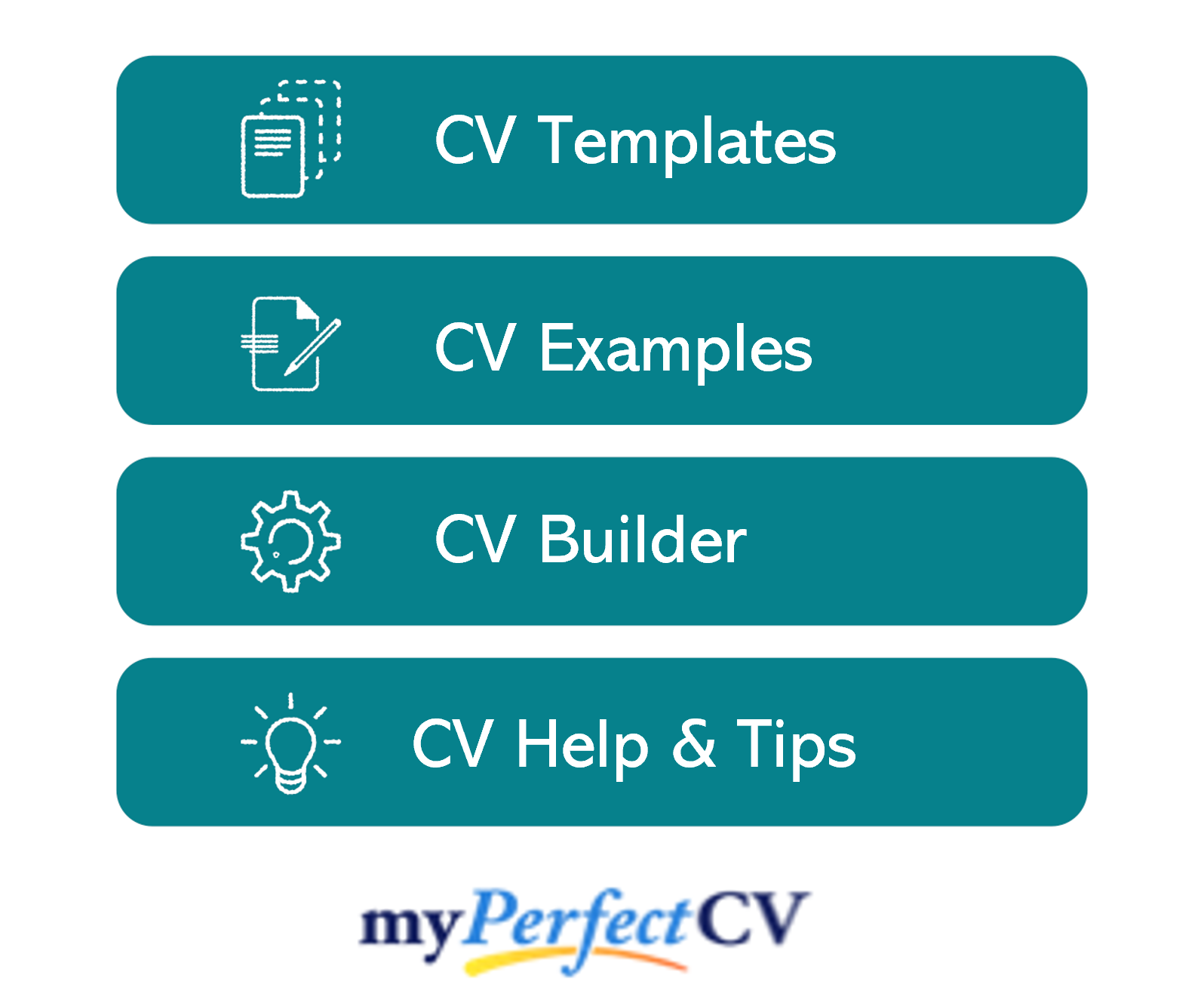 Interests and Hobbies
Unlike other sections in your CV, interests and hobbies is optional.
If you have limited work experience, this section could assist in boosting your marketable skills, emphasising why you're the right candidate for an electrician role.
Consider soft skills such as collaboration, the ability to adapt to changing prioritises or following instructions, using your hobbies to feature these competencies, such as sporting team involvement.
Essential skills for your Electrician CV
Whilst each electrician role will require a variation of skills, below are core strengths you should be including within your CV:
Electrical installations – Planning and wiring cables, installing switches, plugs and a range of electrical fittings
Testing – Ensuring that installations work and comply with health and safety
Analysing/ reading technical drawings – An electrician will need to demonstrate their ability to follow technical drawings to complete a project
Understanding building regulations – The ability to work in line with regulations and keep your knowledge up to date with any changes to legalisation, working alongside other trade workers, such as plumbers and builders.
Evaluating Risks – An electrician needs to be able to identify risks and come up with solutions to avoid any health and safety hazards
Diagnostics – Whether working in a commercial or domestic setting the ability to pinpoint the reason for faults or malfunctions is key
Troubleshooting – The capacity to analyse the operation of a faulty circuit to determine what the problem is
Writing your electrician CV
Creating a modern CV that will assist you in landing an interview is all about making your sector specific skills and industry experience a focal point.
The structure of your CV is equally as important to the content, bringing forward relevant information and showcasing your suitability to recruiters at first glance.
By following the above guide you will be able to produce a CV that acts as a strong first impression, getting you one step closer to a career as an electrician.
Good luck with your job search.