Your resume is your number one tool when it comes to landing your dream job.
A good resume will get you noticed by hiring managers and ensure you rack up plenty of job interviews.
But a poor resume will leave you ignored and frustrated.
So, we've complied over 350 good resume examples to guide and inspire you to job search success.
Use these examples to create your own interview-winning resume and land the job you've always wanted.

Accounting & Finance
Business & Administration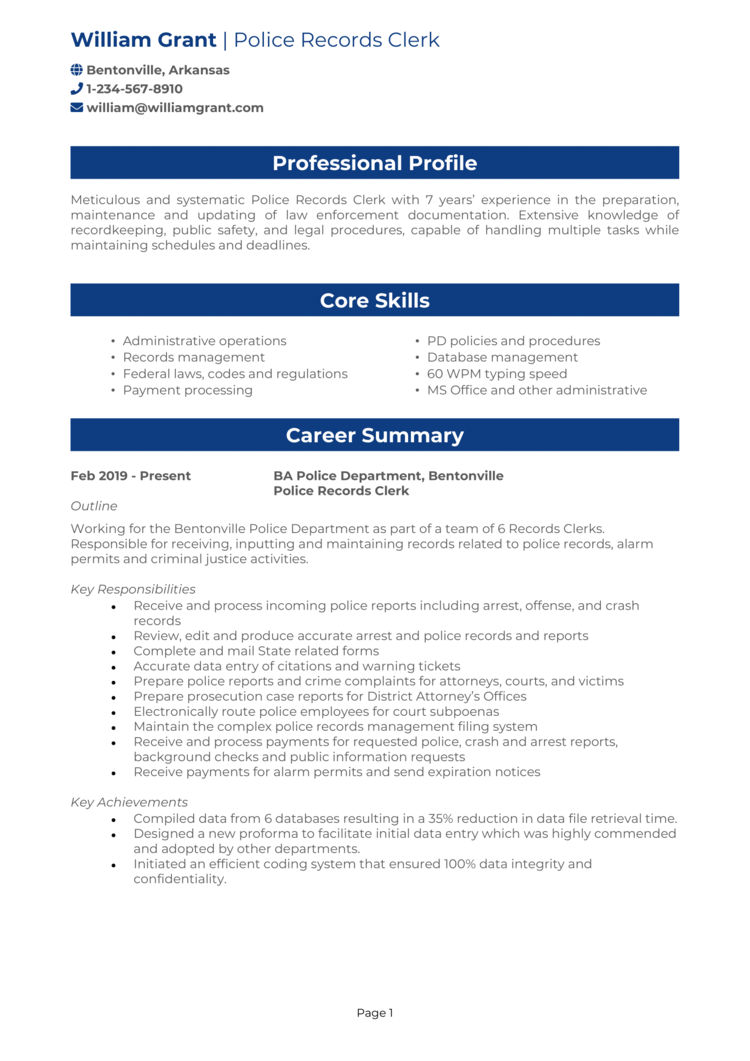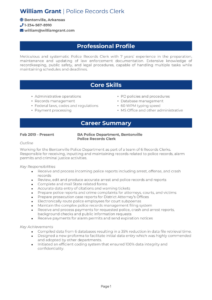 Construction & Property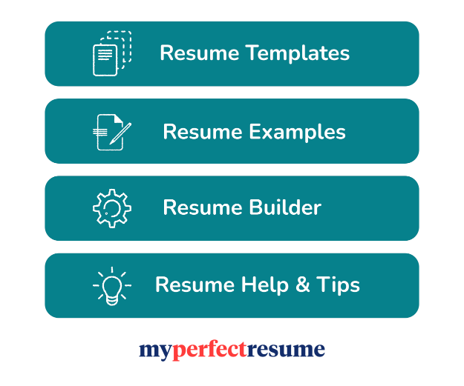 Health, Medical & Wellbeing
Hospitality & Retail
IT (Information Technology)

Junior & Student
Legal & Compliance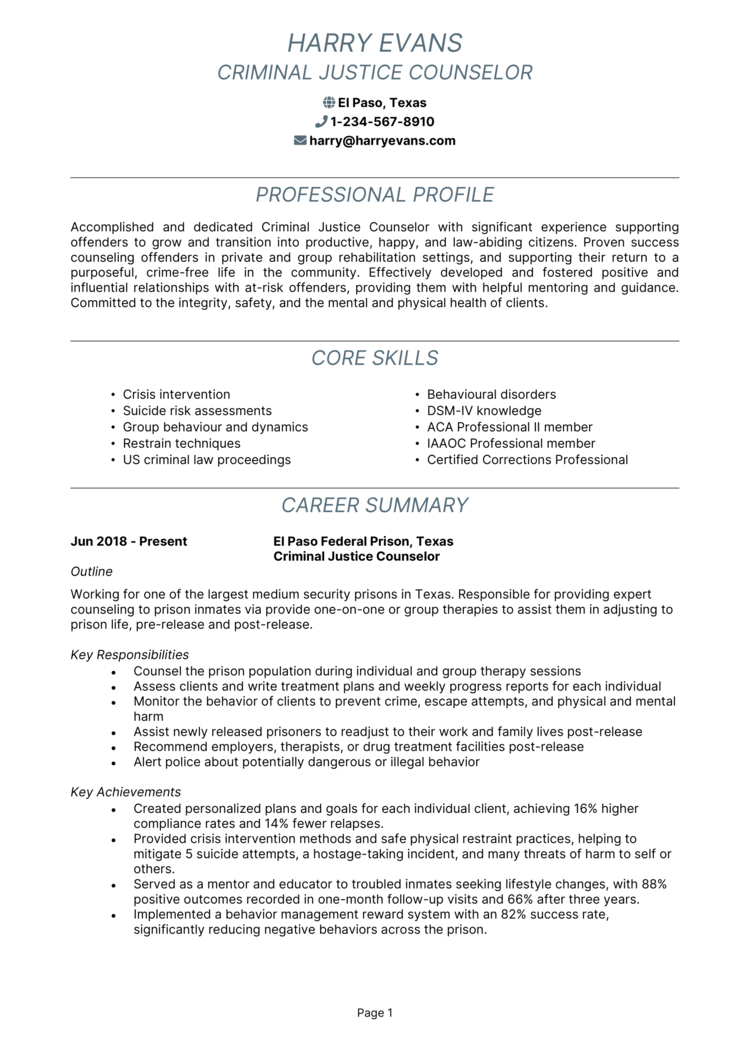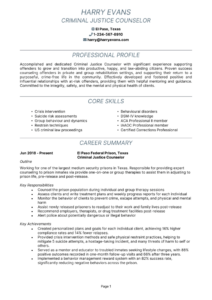 Logistics & Travel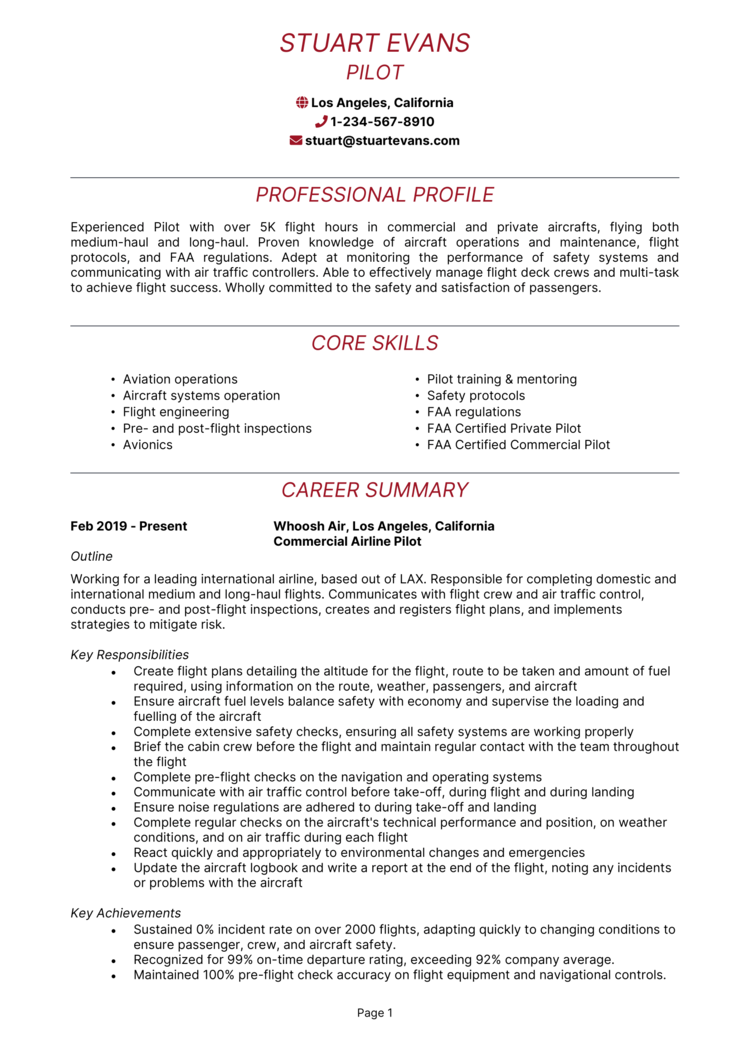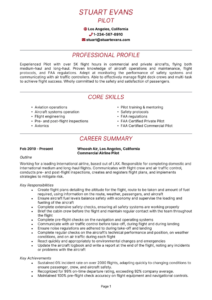 Manufacturing & Automotive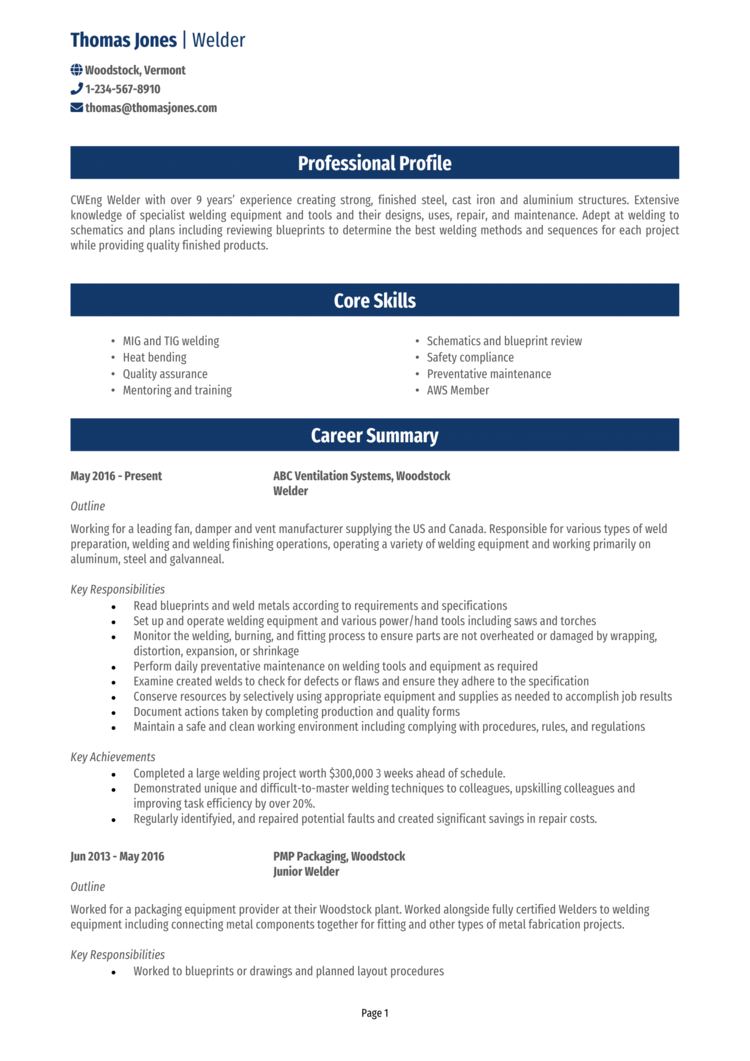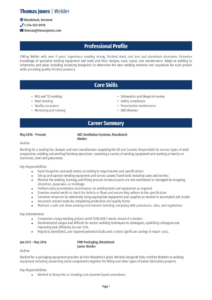 Public Service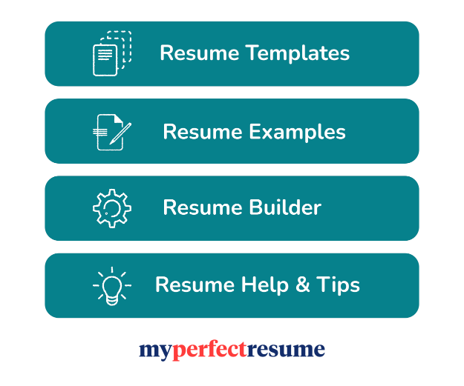 Sales & Marketing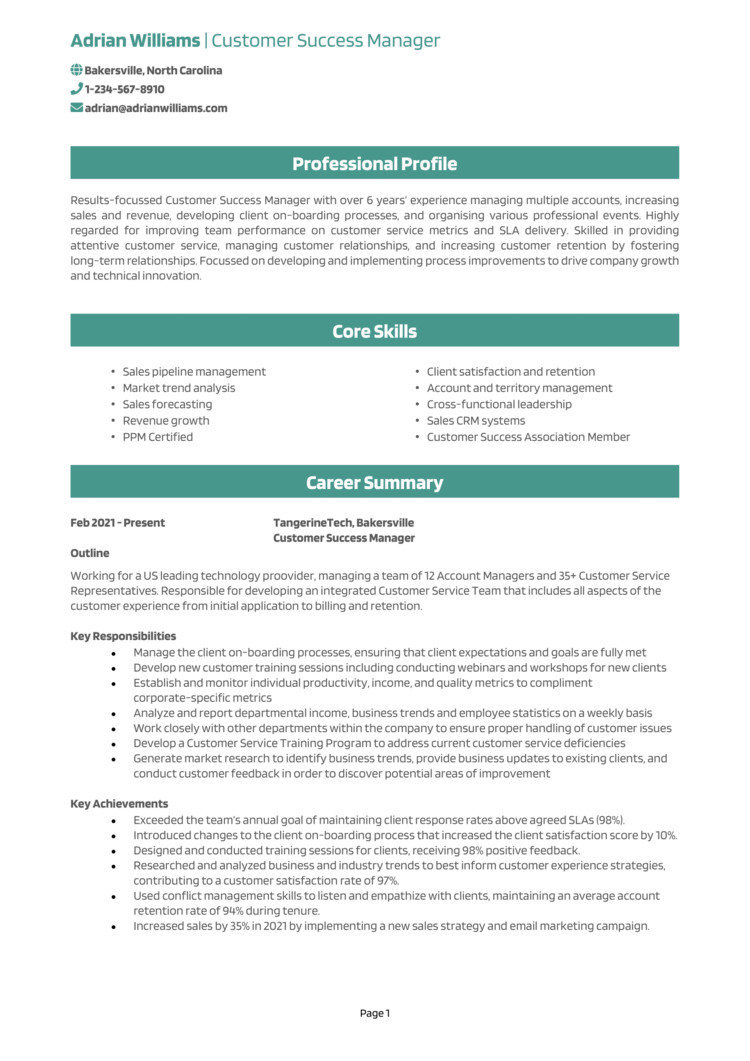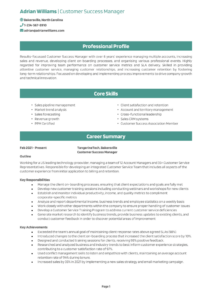 Teaching & Education
Creative & Arts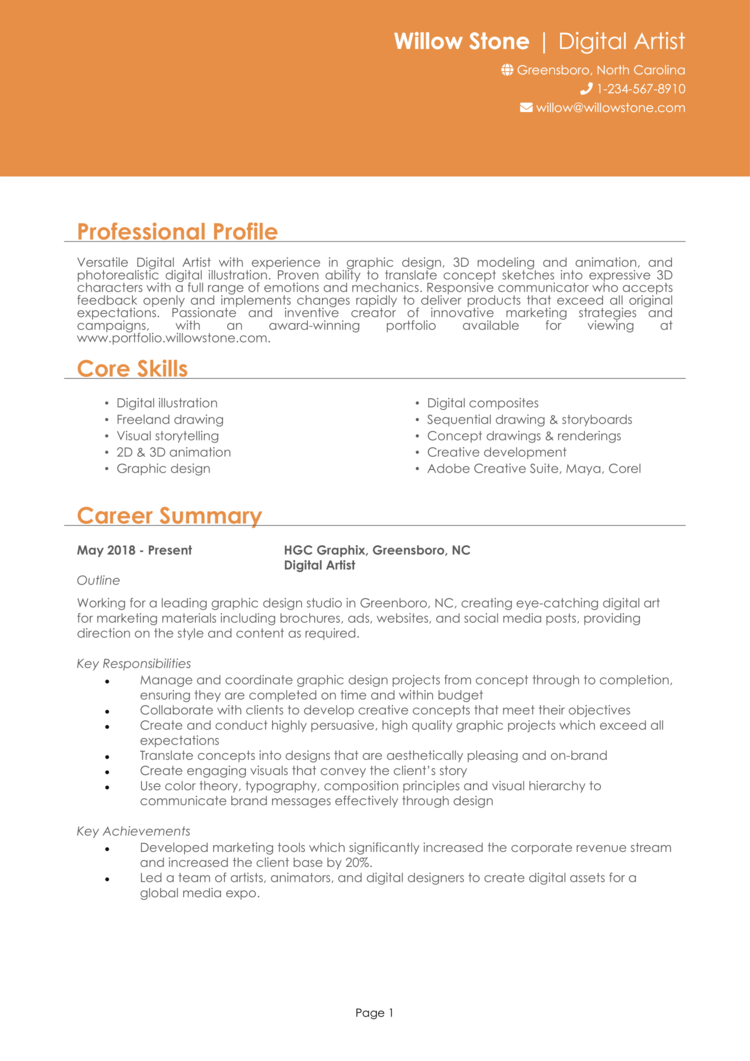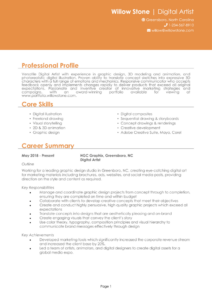 10 steps to writing a winning resume
Browsing our library of real-life winning resume examples will give you a head start on creating your own.
For more guidance on how to create an attention-grabbing resume, check our 9 steps to resume success below…
Do your research
There's no one-size-fits-all option when it comes to creating an effective resume.
If you want to impress a potential employer, you need to do your research about both the job on offer and the organisation you're applying to work for.
You want to make sure that your resume reflects the skills and qualities they're looking for; so, have a look through the job description or advert, and make sure your resume corresponds to the profile they're searching for.
Armed with the knowledge from your research, you will be in a much stronger position to write a winning resume.
Create a clear professional format
One of the most important things to learn about resume-writing is to prioritize readability.
if your resume format isn't clear – or worse, chaotic – there's a good chance the hiring manager or recruiter will become frustrated and simply click through to the next candidate.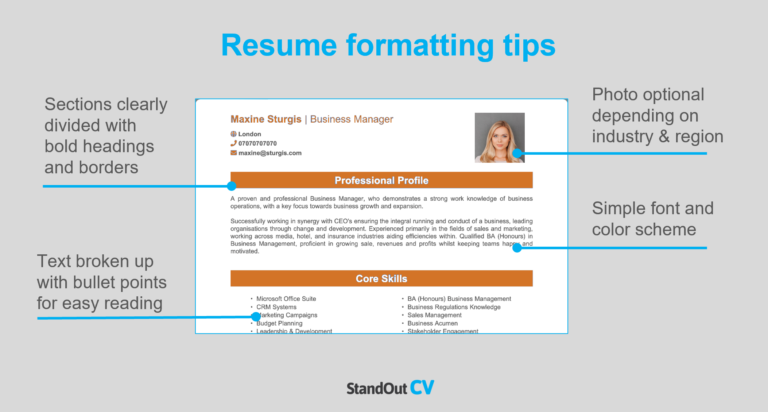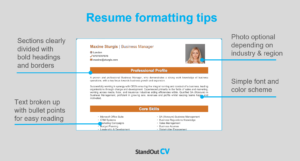 Overall, you'll want to keep your resume clear, and easy to read.
Each section should be formatted like this for best results:
Font – Use a professional, clean font for easy reading
Color scheme – While you can pick a color other than black, it's best to stick with muted color schemes, such as green, navy, or blue.
Resume length – Your resume should be around two pages long to ensure recruiters will read it in full. Bear in mind that recruiters will look at a resume for only a few seconds during their first encounter with it.
Split the page up – To enhance the readability of your resume, it's a good idea to split up the sections in your resume into bite-size pieces
Clearly define sections – Clear section titles, borders (horizontal lines), and bullet points can all help define your resume sections and enhance readability.

Structure your resume correctly
To enhance your resume's readability, you'll want to make sure it's structured correctly – this means splitting up the page into important sections.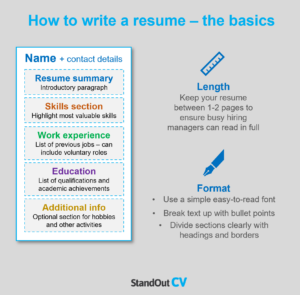 You'll need to include the following as its own section:
Personal contact information – Here you'll include your full name, email address, and phone number. You should also include the location you're based in, but you don't need to add your full address. You can add a photo here, but it's optional.
Resume summary – The introductory paragraph at the top of your resume – this is where you get to stand out and make a good first impression with a recruiter. In your resume summary, you should summarise your work history, your accomplishments, and why you'd be an asset as an employee.
Work history – This section is where you'll list your work/jobs history, beginning with your most recent post and listing the rest in reverse chronological order. You don't need to add every single job you've ever had – instead, prioritize your last 3 years of employment.
Education and qualifications – Next, you'll list your educational history, beginning with your highest educational qualification.
Skills or further additional information – If you have any impressive skills or personal ventures (such as a successful website, or if you speak fluently another language) you can these accomplishments here.
Hobbies and interests (optional) – This section of your resume is not mandatory; in fact, it's only useful if you've not got a lot of work experience or educational qualifications. In most cases, you can leave this out and use the space on your resume for more important information.
Reel readers in with your summary
Your resume summary is your chance to sell yourself to the recruiter in just a few carefully chosen sentences. In short, a resume summary is as its name implies – you're summarizing your skills, your work history, and your professional achievements. You want to use this section to get recruiters interested in your resume at first glance, so they continue to read the rest of it.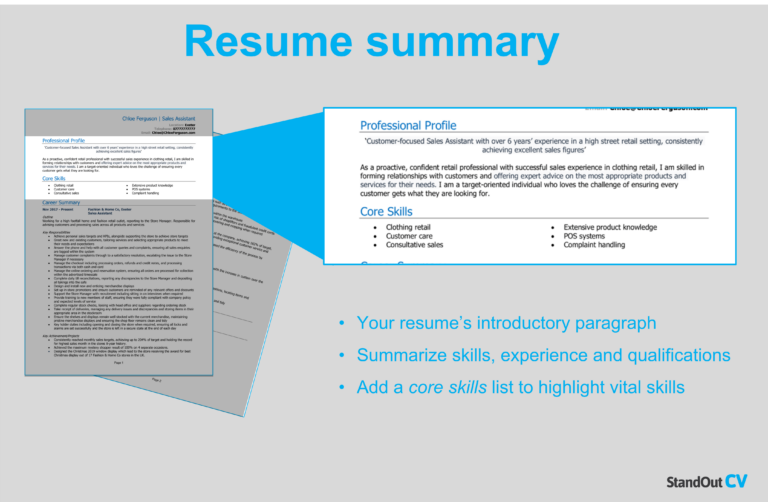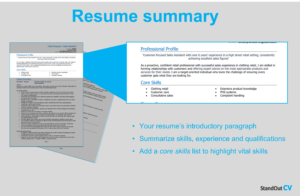 You should use this opportunity to give recruiters an overview of what you can offer employers by summarizing things like:
Years of experience you have
Which industries you have worked n
Your most in-demand skills
Essential qualifications in your field
The types of results you achieve for employers.
Keep this section brief and save the details for your work experience.
Wow hiring managers with your work experience
When it comes to listing your work history, you want to be as concise as possible and allow a pleasant reading experience. To achieve this, don't write large blocks of text – because they are hard to read, there's a good chance the recruiter will simply skim over it, meaning that any important or impressive information goes unread.
Instead, make use of structuring and bullet points when listing your jobs history. Write your job title, bold it, then follow it up by listing what your role entailed, your day-to-day, responsibilities, and finish up the section with some achievements. For example, as follows: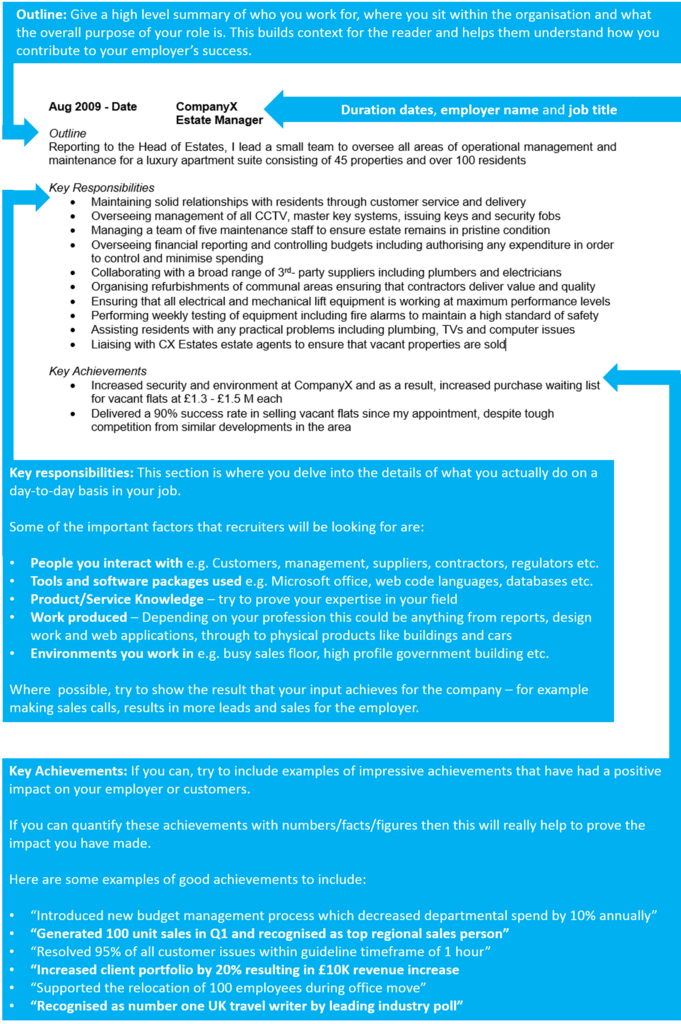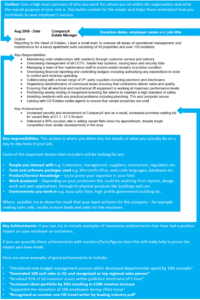 Outline: Short overview of the job, who you were accountable to, and description of your department or team.
Responsibilities: your day-to-day activities and duties
Achievements: Any successes you enjoyed during your role.
When it comes to listing your achievements, opt for quantifiable data. For example, show off that you enjoyed a 40% increase in sales, or that you trained over new 500 employees. Use numbers and figures to back up your skills.
When it comes to how many jobs to include in your resume, you should only go back 1-20 years, depending on how much experience you have – focusing on the past 3 years, and summarizing older jobs.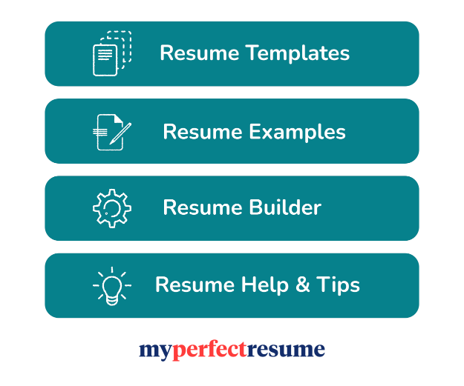 Show employers you are qualified
Employers are always keen to know their candidates' education history, so make sure to include a well-written education section in your resume.
Even if you believe that your jobs history is more impressive, an effective education section will prove that you're knowledgeable about your industry, and that you're academically certified to back it up.
You can add your educational information in reverse chronological order by date, or by listing your most relevant educational qualifications first. For example, if you have a college degree in Biology but you've decided to change careers and be a beauty therapist, it makes more sense to list any certifications you've achieved in the beauty industry. After all, all an employer wants to know is that you're qualified to do the job.
Add additional info (only if it will help)
As mentioned above, you can tack on a few hobbies and interests at the end of your resume if you wish. However, you should only do so if your hobbies and interests are impressive or relevant, and if you've got too much empty space on your resume (for example, if you're a student or a recent graduate.)
Hobbies such as awards, charity work, volunteering, running a side-business or website, traveling, or learning valuable skills (such as a language) are all impressive interests, and could be used to beef up your resume and impress your recruiter.
But leave out leisurely hobbies: listing that you enjoy 'cinema' 'Netflix' and 'reading' might not get you rejected, but it isn't going to add value to your profile.
Proofread before sending
You'd be surprised how often recruiters find typos and spelling mistakes on candidates' resumes. Not only does it make you seem unprofessional, but it makes your resume appear rushed and poorly thought-out. Make sure to always take the time to proofread your resume before sending it out to recruiters.
It's also a bad idea to rely on in-built spell checkers alone; basic spellcheckers won't pick up on inaccurate information, missing words, unfinished sentences, or poorly structured phrases. It's best to take the time to proofread your resume yourself, to ensure that it is typo and error-free before sending it off.
Tailor for every application
Having a standard resume that you send to every job application isn't a good idea; the best resumes are those which are tailored to suit the jobs they're applying for. This is why you need to do your research beforehand, and thoroughly read the job application.
When you really want to impress the hiring manager, you should make sure that your skills directly correspond to those posted in the job advertisement. You can achieve this by spending just a few seconds tweaking your summary and core skills before applying to a job.
Quick tip: When saving your resume, ensure that you use a strong file name to ensure a professional appearance.