From Uber drivers and Deliveroo riders to digital freelancers and beyond, the gig economy is vast, and it is growing in the UK every year.
We've analysed every study, research paper, and analysis on the UK gig economy to bring you the most relevant statistics and facts you need to truly understand this environment.
Key statistics on the UK gig economy:
1 in 7 adults in the UK have worked a gig job monthly
Gig workers contribute £20bn to the UK economy, the same as the aerospace industry
48% of gig workers in the UK also have a full-time job
Women earn an average of 10% less than men in the gig economy
For most, 71.5%, gig work makes up less than half of their income
7.25 million people are likely to work in the gig economy in 2022
What is the gig economy?
The gig economy is a large and growing section of the working population where short-term flexible workers are paid on completion of tasks (known as gigs) instead of being paid for the amount of time that they work. For example, a delivery rider working in the gig economy will not be paid an hourly wage for the duration of their shift – instead, they will be paid a fixed fee for every delivery they complete.
Benefits include the flexibility of workers being able to choose when and how they work, plus the ability to increase earnings with good performance.
Common gig economy workers include taxi drivers, dog walkers and cleaners, but the gig economy also extends to qualified professionals, specialising in copywriting, teaching, translating, proofreading, solving IT problems, or designing games to name but a few examples.
"In the gig economy workers are paid for completion of tasks, instead of being paid for their time"
The gig economy in the United Kingdom is very diversified, but in summary it includes the following types of jobs:
Digital freelancers providing services like copywriting, graphic design and web development through freelance marketplace sites like Fiverr and PeoplePerHour.
Manual workers providing labour to individuals or businesses on construction jobs.
The most common setups for people providing these gigs are :
Casual, part-time and full-time workers who decide when they work for their chosen companies or apps.
Persons providing services directly to customers, who are either freelancers or one-person businesses.
People performing gigs full-time and those doing it in their spare time to supplement their income [1].
How big is the gig economy in the UK?
Latest official figures show that Britain's gig economy sat at 4.7 million people in 2019, more than double the size of 2.4 million from 2016. At the time this was around 9.6% of the working population who are delivering gig work at least once a week.
"An estimated 7.25 million people will be working in the gig economy in 2022"
Growth of the UK gig economy
If the gig economy, and UK employment figures, continued at this sustained level of growth, estimations would put 7.25 million people in gig work by 2022.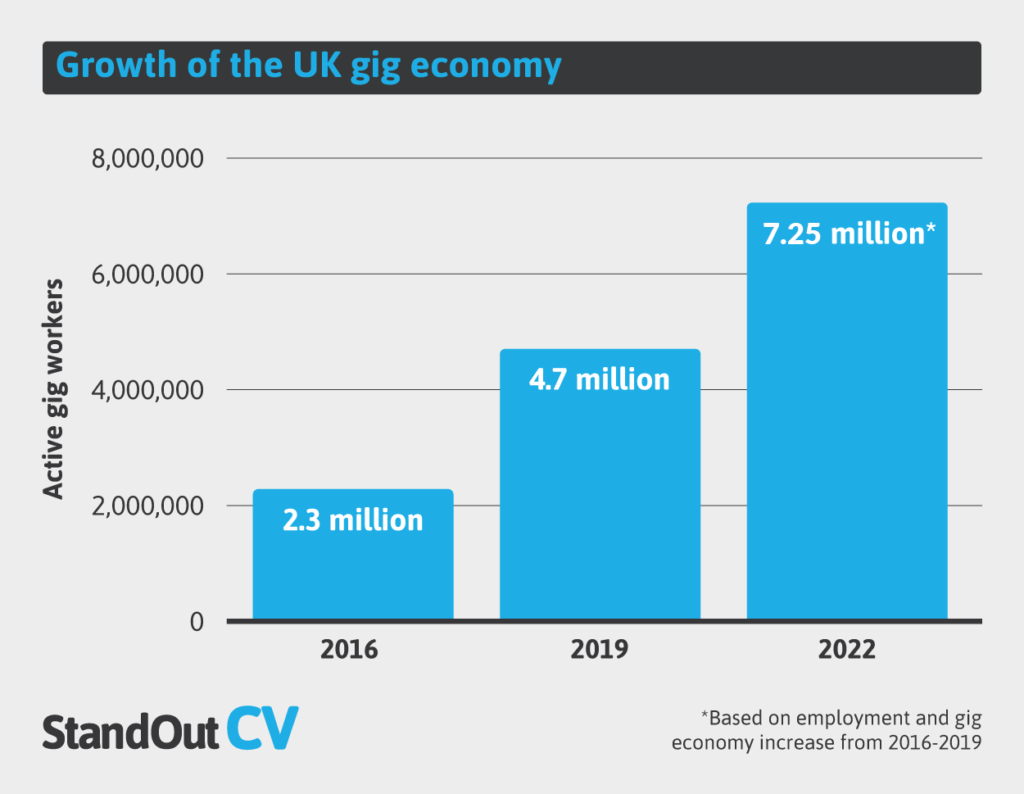 *Based on historic population and 2022 demographic projection figures from the Office for National Statistics
Currently, up to one in seven working-age adults (about 7.5 million people) have worked via a gig economy platform at 'some point' at a frequency that is less than once a week. [17]. The above graphic focuses on those that would work 'regularly' in the economy.
How much do gig workers contribute to the economy?
Gig-based freelancers contribute approximately £20 billion to the British economy each year. [7] This is the same amount that the Aerospace industry contributes.
Reports estimate that £3.2 billion (16%) of this British economic contribution is made of earnings from Uber drivers [18] while one study by Capital Economics believes Deliveroo will contribute £1.5 billion to the UK economy. [19]
Gig economy platforms in the UK
In regards to the specific platforms used, there is a huge range of options for gig workers in the UK but the most popular is Uber, with over 150,000 drivers who work for the company as of February 2021. [20]
Deliveroo, often described as 'the Netflix of food delivery' is expanding rapidly in the UK, further boosted by nationwide pandemic lockdowns, total transactions on the app rose 64.3% in 2020.[15] In response, the company announced plans to hire additional 50,000 drivers.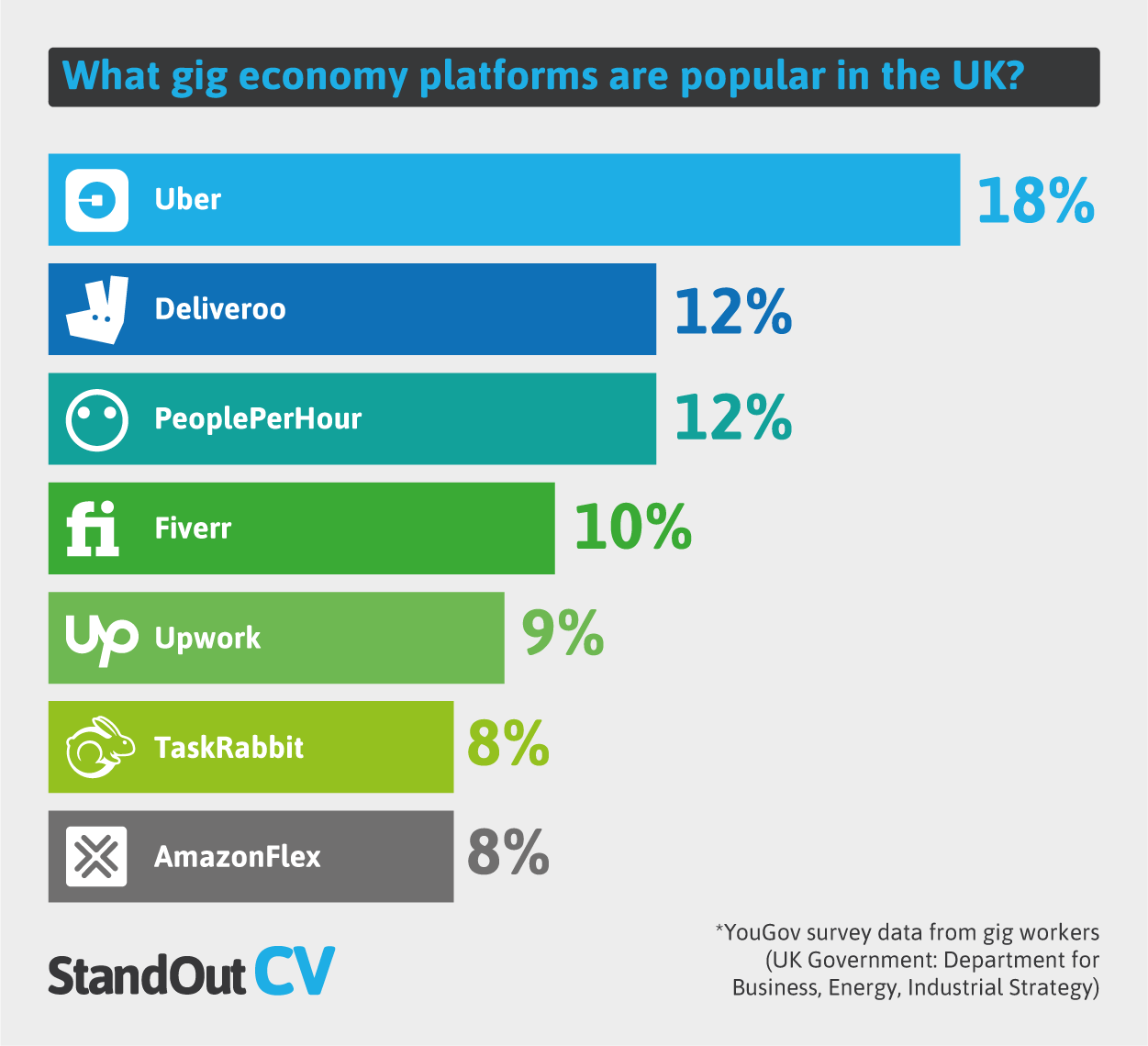 PeoplePerHour is another popular gig platform used by 12% of gig economy workforce [1] which allows freelancer to secure gig work for a range of online activities, such as graphic design, copywriting and marketing.
Other gig work platforms used in the UK by order of popularity are: [1]
Fiverr (10%)
Upwork (9%)
TaskRabbit (8%)
AmazonFlex (8%)
Gig work: Primary income vs side hustles
The average gig worker is not in this full-time, it's a way to supplement their income. For over two‐thirds of gig workers (71.5%) revenue generated from gigs represents less than a half of their earnings. [2]
"48% of gig workers in the UK also have a full-time job"
Only 9.4% of gig workers rely on this type of work as their only source of income, while for  28.5% it represents at least half of their earnings [2]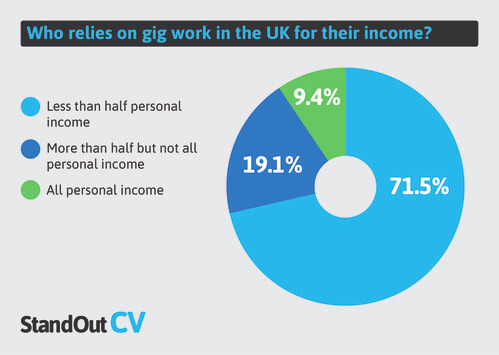 Nearly half (48.1%) of all gig workers in the UK are in full-time employment, 12.4% work part-time, 10.7% are self-employed and 11.3% are students. [2]
Amongst intensive gigs providers (those who do gigs  at least once a week), the figures are similar with 52.8% being employed full-time, 12.8% part-time, 9.3% self-employed, 3.5% full-time parents, 3.2% retired and 11.4% students [2]
Of those gaining at least half of their income from gig work, 51.9% are in full-time employment and 14% in part-time.[2]
Demographics: Who works in the gig economy? 
Men are more likely to undertake gig jobs than women. An estimated 16.5% of the UK's male population are involved in the gig economy versus 14.1% of British women. Among all gig workers women make up around 46.5% [2].
Gig workers can be found in all age groups, but it is fair to say the gig economy is driven by young people. Those aged 16-24 make 31.5% of the workforce, followed by 25-34 years old (16.4%). [2]
Participation in gig activities clearly declines with the age. Among 45-54 years old, only 13.4% do some sort of gig [2]. Such a pattern may not be so surprising, as many gigs require good health and condition – climbing hundreds of stairs delivering parcels, or cycling miles delivering food can be physically demanding.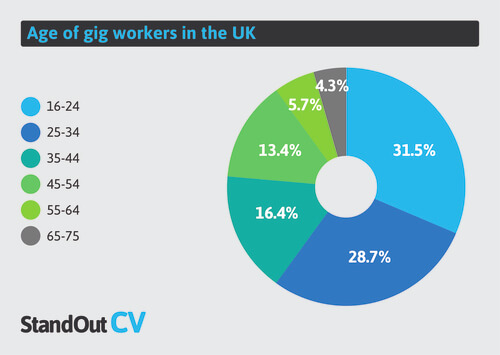 Where are gig workers located in the UK?
Gig workers are dispersed all over the country, but London is the epicentre of the gig economy. Over one fifth (21%) of  the capital's working age population perform gigs regularly [2].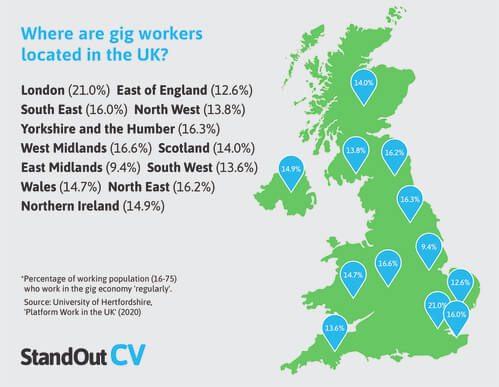 Interestingly, those involved in the gig economy are more likely than the population as a whole to rent their accommodation (37% vs. 28%) or live with parents, family or friends either rent-free or paying some rent (17% vs. 11%) [1]
What type of work do gig workers do in the UK?
Gig workers perform a variety of tasks, but online office work is the most popular, followed by providing services in other people's homes. Next, in order of importance, is driving and delivery work, and then running errands [2].
The following is a breakdown of some of the tasks gig workers do in the UK and what percentage of gig workers undertake these regularly.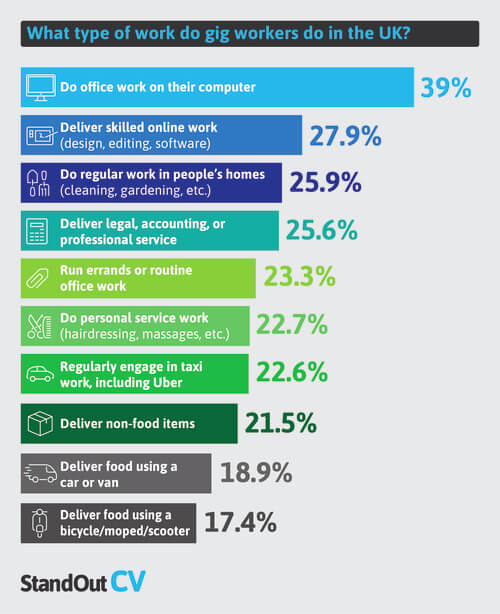 Graphic note: The sum of all types of work as shown in the graphic will add up to more than 100% as gig workers can work more than one type/activity, i.e a taxi driver who also does freelance graphic design.
"In the UK gig economy, online work is done more than takeaway food or taxi driving"
By looking at the percentage of gig work done across the entire UK population, we can state:
 7.8% of the adult population have carried out online freelance work – the most popular type of gig work available.
This is followed, at 5.4% of UK adults who have provided services in other people's homes.
Third in order of popularity at 5.1%, is driving and delivery work, followed, at 3.5% by running errands.
How often do Brits work in the gig economy?
The rate of gig work for those in the economy varies greatly. Over half (55%) of gig workers perform tasks at least once a month, while 12% deliver 2-3 times a week, 9% deliver gigs every single day.[1] Due to the nature of the gig economy, many people may not have an average level of work each week.
Do people stay in the gig economy?
30% of people have worked in the gig economy from 3-6 months. Generally, the economy does not have a trend that keeps people working for a sustained length of time.
Another way of looking at this data is that most people in the gig economy will leave within 6 months.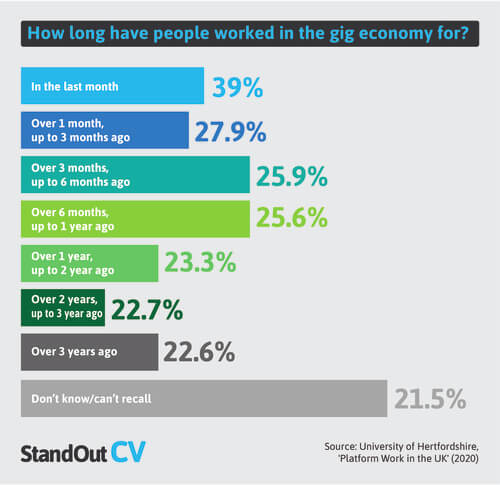 Gender pay gap in the gig economy
According to one source, female gig workers make on average £80 a week less than their male counterparts. Such disparity could be due to a lack of confidence to ask for more or a result of the pressure from a gig provider [3]. Another study from Columbia University states that women gig workers' hourly earnings were 10% lower than men's [4].
"Women earn an average of 10% less than men in the gig economy"
Taking an average earning of £29,495, which is the average salary of Uber drivers, women in the same position are likely to earn £2,949 less a year than men by typical gig economy standards. With Deliveroo riders earning an average of £10/hour, women would also earn a pound less every hour with a 10% gap.
While such a pay disparity is obviously hugely detrimental to many, it is 12.5% less than the average gender pay gap in the UK outside of the gig economy (32.5%).
COVID-19 impact on the gig economy
Many gig companies, especially those providing food delivery, such as UberEats and Deliveroo, exceeded targets during the pandemic, experiencing a record-high growth in demand [5] due to the loss of in-person hospitality.
After the first UK lockdown, Deliveroo signed up 11,500 new restaurants and announced recruitment plans for 15,000 additional drivers. [9]
"In the middle of the pandemic (August 2020), 28% of delivery drivers reported having more work than usual"
Other types of gig economy work, such as taxi rides, were heavily impacted. Uber recorded a 73% drop in the number of rides when compared with the same period last year before the pandemic had started [5]. This would mean an average pay loss of £21,531 for each Uber driver.
Culturally, there was an increase in interest for the gig economy due to the pandemic. 92% of respondents in a recent survey by the jobs board Monster said they think now is a good time to look into the gig economy. Just over half of people (57%) said gig work would be essential while they are searching for jobs due to the pandemic.
As a result of the virus, it is also expected that many companies are likely to turn to gig workers in an attempt to cut costs, fuelling the growth of the gig economy.
Pros and cons of the UK gig economy
A fair question when researching the UK gig economy is whether the workers actually enjoy it, or benefit from the current system.
One major study by the UK government [1] indicates that more than half (53%) of those involved in the British gig economy are either very or fairly satisfied with their experience of providing services on websites and apps.
"74% of gig workers who work full-time are satisfied with their employment situation"
Independence and flexibility that the work offers are the main sources of job satisfaction. Over half of all gig economy providers are pleased with these two aspects of their work (58 and 56% respectively).
Work-related benefits and level of income are the main reasons of worry among gig workers however, with one in four (25%) very or fairly unhappy with those aspects of their work.
Satisfaction levels are high (74%) in those who see their gig work income as 'significant', but for those doing tasks more casually, it's lower, at 48%.
From the study, these were the main pros and cons highlighted by UK gig workers, and how many workers agreed:
| | |
| --- | --- |
| Pros | Cons |
| Independence (58%) | Income levels (25%) |
| Flexibility (56%) | Work benefits (25%) |
| Number of hours available (46%) | Career development opportunities (23%) |
| Cost of providing services (38%) | Irregular workload (18%) |
Data note: The study also allowed 'Don't know' or 'Neither' as an option for gig workers when discussing how they felt above the above issues. 
There were also slight differences in the overall satisfaction of gig workers based on their gig activity. Those who provided courier services reported a 69% satisfaction rate, those who did taxi work stated 68% satisfaction, while food delivery reported a 65% satisfaction rate.
Employability for gig workers
Some reports discuss that it is challenging for gig workers to gain employment after they leave the economy as it is challenging to up-skill. We recommend gig workers consider the following transferable skills when looking at becoming more employable and how to write a CV:
Finance management – Gig workers need to manage their finances and can get quite complex for those with multiple freelance clients – this can be a big selling point in a CV.
Customer service – Working directly with the public, like in Uber or Deliveroo, typically means you'll have good experience on managing the public, in both positive and negative experiences
Verbal communication – In the same manner, you need to have good communication speaking with customers, or having meetings with clients.
Flexibility – Nothing is more flexible than the gig economy, you can show how you were prepared to take on more hours during peak times to work harder and earn more during that time.
Adaptability – Gig work often requires you to think on your feet and pick-up new skills quickly. Discuss how you grew your skill set through this period of employment.
There are many valuable workplace skills earned in gig work activities and people should endeavour to sell them effectively in their CV when entering the mainstream.
Analysis: Parents could benefit from Uber gig work
As part of our research into the UK gig economy we also looked at how much Uber drivers earn and how this compares to other jobs, particularly when childcare costs were considered.
The following analysis accounts for income tax, national insurance contributions, commuting, petrol, and childcare to see how many Uber driving hours a working parent would need to do to match the salary of some of the most popular jobs in the country. The full methodology is available at the end of this report.
Rank
Job
Average Salary
Take Home Pay
(less childcare, commute, taxes)
Weekly Uber Hours Needed
(inc. insurance, license, petrol, taxes, maintenance)
Weekly Hours Saved
1
Customer Service Advisor
£19,000
£4,306
18.0
19.5
2
Teaching Assistant
£21,785
£6,200
20.9
16.6
3
Bus Driver
£22,135
£6,438
21.3
16.2
4
Postal Worker
£22,500
£6,686
21.6
15.9
5
Delivery Driver
£24,375
£7,961
23.6
13.9
6
Office Manager
£26,750
£9,552
26.0
11.5
7
Social Worker
£27,000
£9,746
26.3
11.2
8
Chef
£29,000
£11,106
28.4
9.1
9
Police Officer
£29,790
£11,621
29.2
8.3
10
Teacher (Primary)
£31,000
£12,466
30.5
7.0
11
Accountant
£31,729
£12,940
31.2
6.3
12
Store Manager
£32,485
£13,476
32.0
5.5
13
Events Manager
£32,820
£13,704
32.3
5.2
14
Recruiter
£32,981
£13,791
32.5
5.0
15
Nurse
£33,384
£14,133
33.0
4.5
16
Electrician
£33,495
£14,163
33.0
4.5
17
Midwife
£36,000
£15,844
35.6
1.9
18
Marketing Manager
£37,500
£16,886
37.2
0.3
19
Firefighter
£37,573
£16,914
37.2
0.3
20
Paramedic
£38,266
£17,385
38.0
-0.5
Uber drivers can make good money and the flexibility of the work may mean some working parents could benefit from such gig work. Of course, this is only one small study into this space and each parent's situation will be different, but it does indicate that gig work can be feasible full-time.
2021 UK law changes to gig economy
The lack of legislation supporting gig workers has been a growing problem. Typically, gig workers are not provided with sick pay, holiday entitlement, and other benefits. Such a situation can have dramatic consequences, when a worker has an accident, or gets seriously sick.
As the number of people joining the gig economy is growing, the public interest in legislative support has been building up.
In 2021, Uber decided to give all its UK drivers employee status, with all its benefits including a minimum wage, pension scheme, and holiday pay, after losing a battle in the Supreme Court [12]. This landmark decision is a clear warning to all other gig platforms: the "misclassification" of their workforce will not be tolerated any longer: if gig workers have the same duties as regular employees, they should be treated as such.
The future of the UK gig economy
The UK gig economy is here to stay. One study found that 18% of Human Resources Directors in the UK think gig workers will make up 75% or more of their workforce over the next five years. [12]
"It seems inevitable that there will continue to be significant growth of the gig economy in the coming years"
Some experts predict that more companies will follow Uber and start offering their gig workers permanent contracts, or at least some sort of benefits, like sick pay and holidays. The courier company Hermes, for example, agreed to offer drivers guaranteed minimum wages and holiday pay following a case brought by the unions. [17]
We also spoke to Julia Kermode, founder of IWORK, which champions and protects the UK's independent workforce. Julia had this to say on the future of the gig economy in the UK:
"Despite the court cases surrounding employment status, it seems inevitable that there will continue to be significant growth of the gig economy in the coming years. Just in the last 12 months we have seen a huge increase in our reliance on gig workers to deliver our online shopping. It's happening in all sectors."
"Roles that were once misjudged or looked down on are now respected. The importance of gig work is now finally starting to be recognised, with workers earning themselves the accolade of being key workers who are critical to the UK's pandemic response."
"There is nothing wrong with gig work; when done well it brings genuine choice to individuals in how, where and when they work, and it enables businesses to be agile which is much needed for our economic recovery.  Of course it is essential to get legalities around employment status right, which is perfectly possible, and providing the business treats workers properly without exploitation then it's a win-win for all concerned."
Imagery
Graphics and imagery on this page may be freely used on another site with attribution to StandOut CV in addition to linking back to this page.
Sources:
[1] Department for Business, Energy, Industrial Strategy, The Characteristics of Those in The Gig Economy, Final Report, February 2018,  https://assets.publishing.service.gov.uk/government/uploads/system/uploads/attachment_data/file/687553/The_characteristics_of_those_in_the_gig_economy.pdf
[2] TUC, University of Hertfordshire, Platform Work in the UK 2016-2019, Statistical Services and Consultancy Unit (SSCU), University of Hertfordshire and Hertfordshire Business School (HBS), accessed at: https://www.feps-europe.eu/attachments/publications/platform%20work%20in%20the%20uk%202016-2019%20v3-converted.pdf
[3] Moore J., The gig economy is not just exploitative, it's also sexist – here's how, Independent, published on 18 May 2019, accessed at: https://www.independent.co.uk/voices/gig-economy-gender-pay-gap-deliveroo-uber-tuc-a8919641.html
[4] Hamill J., A 'gender pay gap' exists in anonymous online gig economy marketplaces, published on 5 Mar 2020, https://metro.co.uk/2020/03/05/gender-pay-gap-exists-anonymous-online-gig-economy-marketplaces-12352835/?ito=cbshare
[5] Economic Observatory, Update: How is the coronavirus crisis affecting gig economy workers?, published 2 March 2021, accessed at: https://www.economicsobservatory.com/update-how-is-the-coronavirus-crisis-affecting-gig-economy-workers
[6] Centre for Economic Performance, Covid-19 and the self-employed: Six months into the crisis, Covid-19 Analysis Series, November 2020, https://cep.lse.ac.uk/pubs/download/cepcovid-19-012.pdf
[7] Centre for Research and Self-Employment, The Freelance Project and Gig Economies of the 21st Century, June 2019, http://crse.co.uk/research/freelance-project-and-gig-economies-21st-century
[8] University of Hertfordshire, Crowd Working Survey, February 2016, http://englishbulletin.adapt.it/wp-content/uploads/2016/02/crowd-working-surveypdf1.pdf
[9] Mirror, Deliveroo is looking for 15,000 new riders and drivers as demand surges, https://www.mirror.co.uk/money/breaking-deliveroo-looking-15000-new-22717983
[10] Deutsche Welle, Uber drivers to get workers' rights in the UK, https://tinyurl.com/3z9duhz2
[11] Deliveroo, 15,000 NEW RIDERS SET TO JOIN DELIVEROO, https://uk.deliveroo.news/news/deliveroo-riders-covid-19.html
[12] AON, Financial security or greater control?, March 2020, https://img.response.aonunited.com/Web/AonUnited/%7B1c18275a-fdd7-4b48-a3ed-d55c57a536da%7D_gig_economy_report.pdf
[13] The Herald, Uber loses court battle as Supreme Court rules drivers are workers, https://www.heraldscotland.com/news/19102997.uber-loses-court-battle-supreme-court-rules-drivers-workers/
[14] Guardian Uber's UK supreme court defeat should mean big changes to the gig economy, https://www.theguardian.com/commentisfree/2021/feb/27/ubers-uk-supreme-court-defeat-should-mean-big-changes-to-the-gig-economy
[15] Hargraves Landsdown, Deliveroo IPO – what you need to know, and our take, https://www.hl.co.uk/news/articles/deliveroo-ipo-what-you-need-to-know
[16] Monster, The gig economy: strategies for recruiting temporary workers, https://hiring.monster.com/employer-resources/recruiting-strategies/talent-acquisition/the-gig-economy-in-2021-predictions-and-strategies-for-recruiting-temporary-workers/
[17] Guardian, Gig economy in Britain doubles, accounting for 4.7 million workers, https://www.theguardian.com/business/2019/jun/28/gig-economy-in-britain-doubles-accounting-for-47-million-workers
[18] Uber: The Impact of Uber in the UK https://www.uber.com/en-GB/newsroom/the-impact-of-uber-in-the-uk/
[19] Deliveroo, Deliveroo will create 70,000 jobs https://uk.deliveroo.news/news/creating-restaurant-jobs.html
[20] BBC News, Uber drivers are workers not self employed https://www.bbc.co.uk/news/business-56123668
Analysis Methodology
Data was analysed based on Uber drivers earning an average of £15/hour, and paying £100 on petrol each week (the average for UK taxi drivers), with a maintenance cost of £75 per month. Average license fees were taken from 6 of the 10 biggest cities in the UK who list their license fees explicitly on their website. An average taxi insurance cost of £1,550 a year was also taken into account.
We compared this against the average take-home salary of various jobs when factoring in other deductibles, these included: average childcare costs, after school clubs, and commuter costs. Maintenance fees for commuting were not factored in for the alternative jobs.
National insurance and income tax was taken into account for both uber drivers salaries and the top 20 jobs analysed.
The methodology relies on the notion that the parent can work flexibly as an Uber driver when their child may not require childcare: when another parent/guardian is present or during school hours for example.
Average salaries were taken from a range of jobs boards for each role. These jobs boards analyse the average salaries of thousands of jobs posted to dictate an average salary.
Clean Air Zones (CAZ) and equivalents were not factored in as data does not exist for the number of journeys through such zones. Additionally, Uber provides £1 for each trip that drives through these zones, this was not factored into the analysis.