Searching for a job is something that most of us will have to do multiple times in our lives.
It can be a frustrating and time-consuming experience, whether you are a job seeker or the hiring manager.
But what are the numbers behind job search in the USA?
We've compiled and analyzed all the latest job search statistics and facts from a range of reputable sources across the US and put them all in one place.
Key US job search statistics 2023
12.4 million Americans are searching for a job every month
It takes an average of 5 months to find a job in the US
The average American moves jobs once every 4 years
5 million people quit their jobs in 2022 – a record high
63% percent of job quitters left because they felt they were not being paid enough
California is the state with the highest amount of job vacancies at 964,000
70% of jobs are never publicly advertised
Recruiters spend just 6-8 seconds reading a resume
49% of job applications are filtered out by ATS and never seen by a human eye
Job seekers in the US
Who are the people looking for a job in the USA, what drives them and what are they looking for?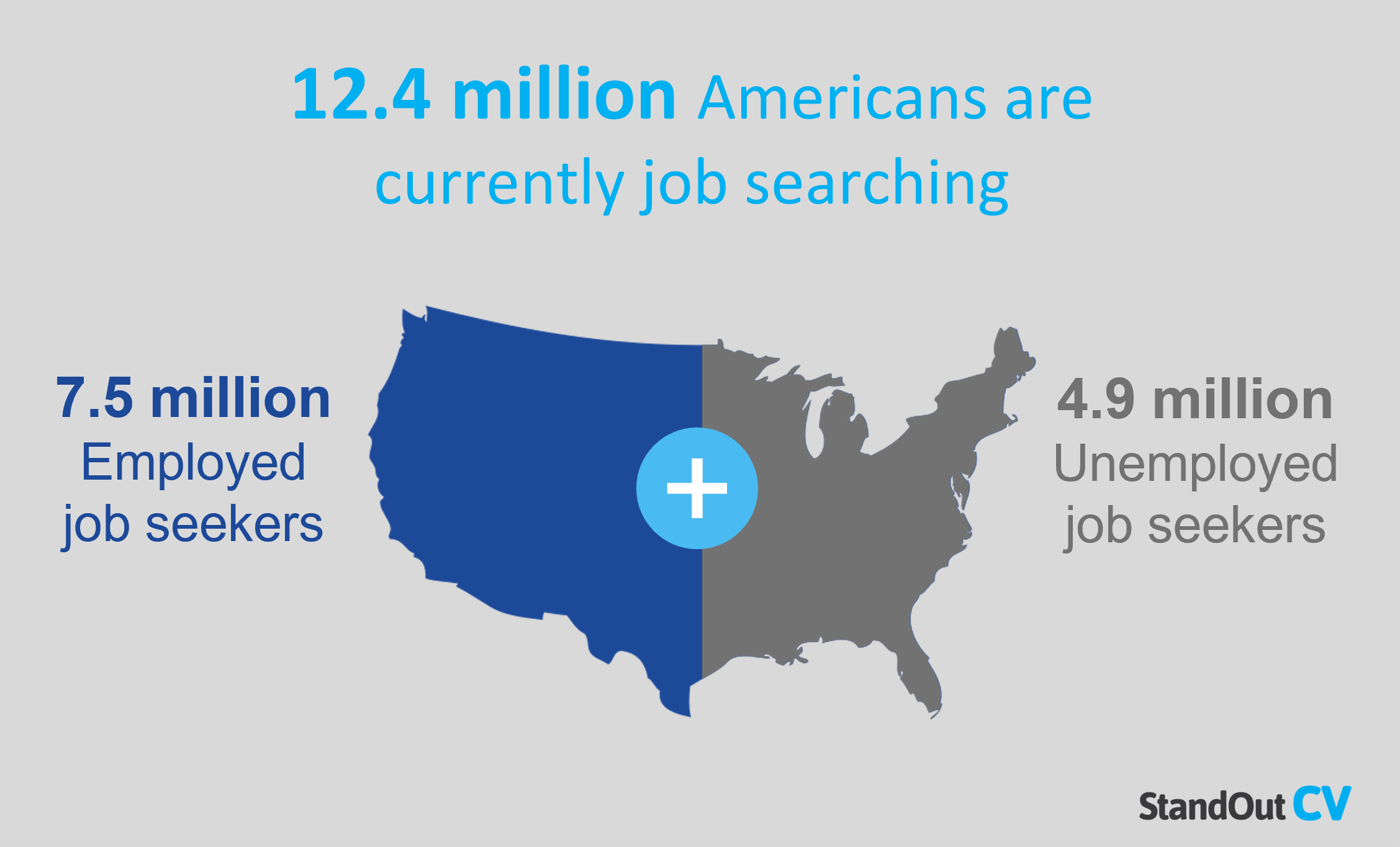 How many people are searching for a job in the US?
In any given month during 2023 there will be an average of 12.4 million people searching for a job in the US.
This figure includes 4.9 million unemployed Americans according to current data from the U.S Bureau of Labor Statistics (BLS) [1]
It also includes 7.5 million currently employed job seekers, which is 56% of the US employed population [2] according to a joint survey by YouGov and Bankrate. [3]
The number of active job seekers has increased by 5% from 2022, which is thought to be due to a number of large lay-offs in the tech sector and the "Great Resignation" trend, which saw many Americans quitting their jobs in search of better pay.
Millennial and Gen Z job seekers
A recent LinkedIn survey found that 72% of Gen Zers and 66% of millennials are looking to change their job within the next 12 months – compared to only 30% of baby boomers.
How long does it take to get a job?
A study from global staffing firm Randstad found that it takes an average of 5 months for a person to find a new job, from the moment of starting to write your resume, through to obtaining a job offer.
When it comes to securing one particular job, data from job website Glassdoor shows that it takes an average 24 days to get a job in the US, from making the application to receiving the job offer. This differs from Randstad's overall job search time, because a candidate could already be several months into their job search before applying to the job they eventually secure.
However, this figure varies greatly depending on the profession, industry and state or city. See the tables below for a further breakdown of this data.
US jobs with quickest hiring processes
| Job title | Average length of interview process (days) |
| --- | --- |
| Waiter | 8 |
| Retail rep | 8.5 |
| Delivery driver | 8.5 |
| Brand ambassador | 8.6 |
| Hair stylist | 9 |
US jobs with longest hiring processes
| Job title | Average length of interview process (days) |
| --- | --- |
| Professor | 60.3 |
| Business systems analyst | 44.8 |
| Research scientist | 44.6 |
| Flight attendant | 43.6 |
| Communications specialist | 42.5 |
US cities with quickest hiring processes
| Metro | Average length of interview process (days) |
| --- | --- |
| Kansas City, MO | 16.9 |
| Oklahoma City, OK | 17.9 |
| Akron, OH | 18 |
| Columbia, MO | 18.3 |
| Rochester, NY | 18.6 |
US cities with longest hiring processes
| Metro | Average length of interview process (days) |
| --- | --- |
| Washington D.C. | 33.2 |
| Albany, NY | 33.2 |
| Richmond, VA | 27 |
| Hartford, CT | 26.5 |
| San Jose, CA | 26.5 |
How often do people move jobs?
The most recent study into job tenure by the BLS revealed that the average American stays with a company for 4.1 years.
Surprisingly this figure has increased by 17% from 1996, when the average stay with one company was 3.5 years.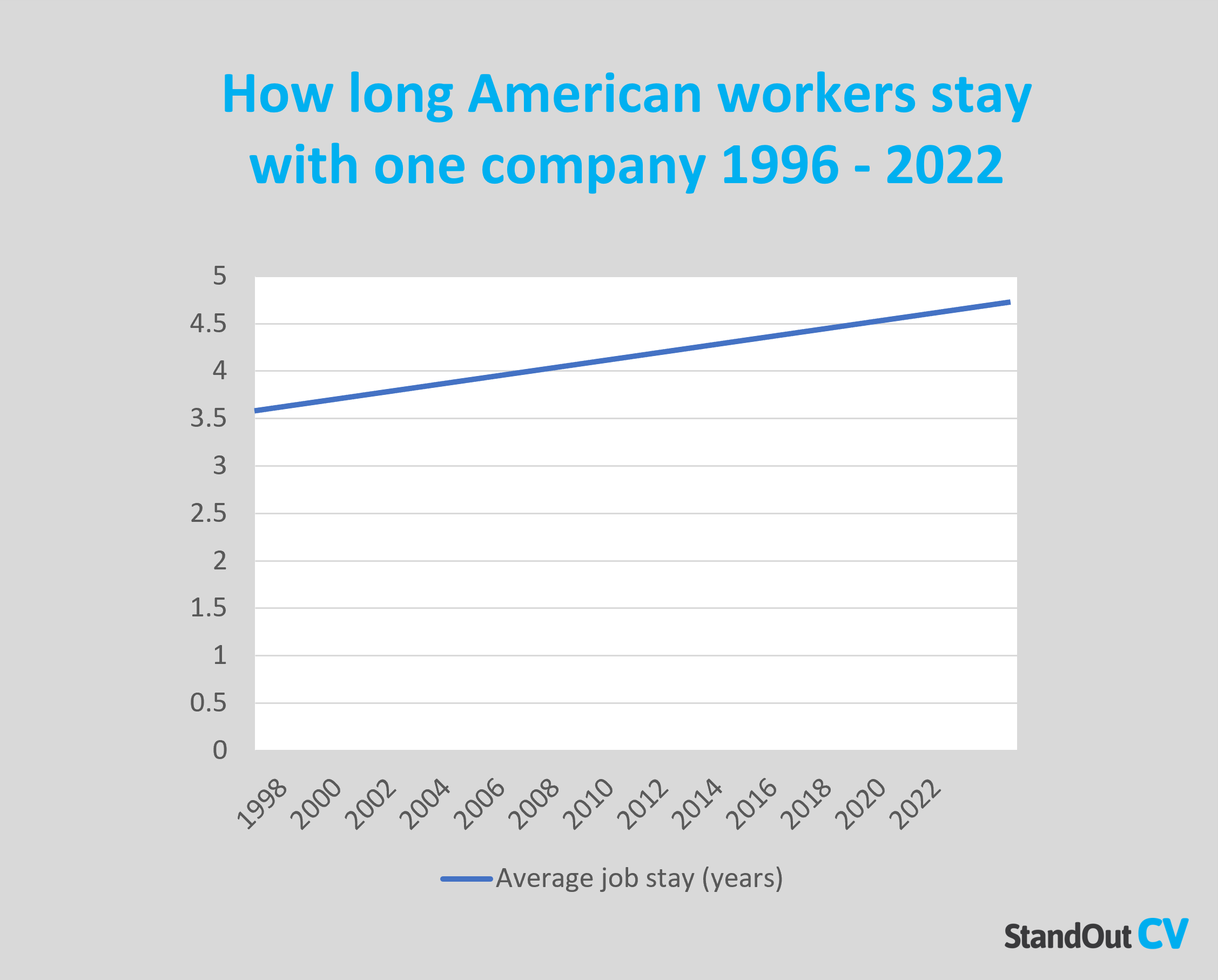 Perhaps unsurprisingly, Americans stay in jobs longer as they get older, with the average worker holding 5.7 jobs from the ages of 18-24, but only 1.9 jobs from the ages of 45-53. [6]
Over their working lifetime the average American will hold 12.5 jobs.
"Over their working lifetime the average American will hold 12.5 jobs"
Why do people look for new jobs?
50.5 million people in the US quit their job voluntarily in 2022 (that's around a third of the workforce) and here are some of the numbers behind the most common reasons for jumping ship.
Low pay – According to PEW research center, 63% of people who quit a job in the last year, did so because they felt they were not being paid enough.
Lack of career progression – A Harris Poll study found that 1 in 3 workers have quit a job because they did not learn any new skills or progress in their field.
Feeling unappreciated – Global recruitment company Robert Half reported that 66% of employees would quit if they felt unappreciated by management – this number increased to 76% for millennials.
Disliking a line manager – A survey of 1 million US workers by Gallup found that having a bad manager was the number one reason to quit a job. A separate survey from CareerAddict found that 4 in 10 workers would return to their old job if their former boss was replaced.
Lack of flexible work options – FlexJobs found that 70% of millennials would consider leaving their job for one that offered flexible work options, such as remote work. In addition to this, Gallup research found that 37% of all workers would switch jobs for one that allowed them to work off-site for at least some of the time.
Poor corporate culture – A recent report from Deloitte states that 72% of US employees would leave their current employer for one with a more inclusive culture.
Job vacancy statistics US
How many jobs are available in the US? Where are they located? And which industries are hiring the most?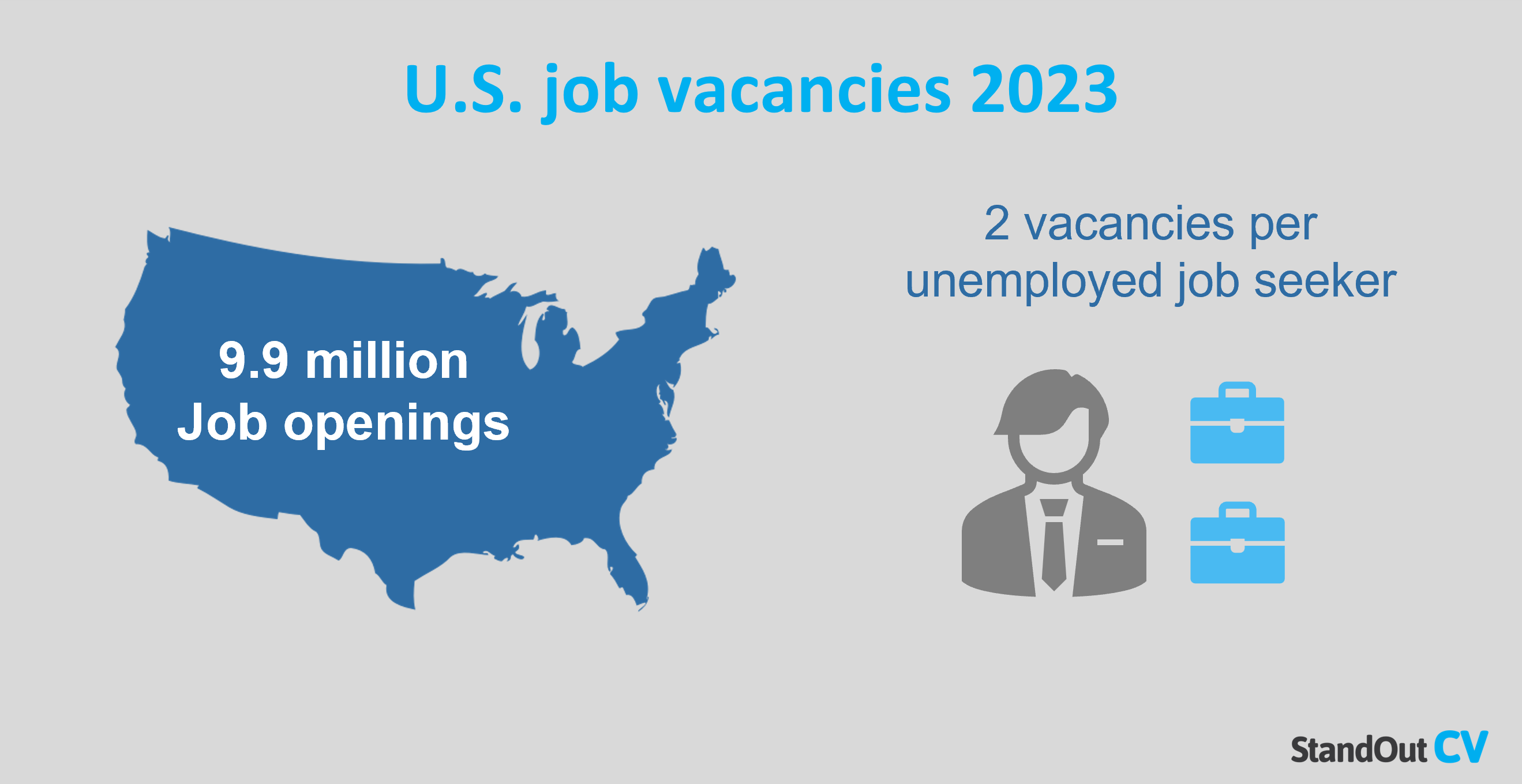 How many job vacancies in the US?
According to the latest BLS figures (from April 2023) there were 9.9 million open job vacancies at the end of February 2023.
How many job vacancies per job seeker in the US?
There is currently less than 1 job vacancy available (0.8) per active job seeker in the US.
However, if there were no employed workers currently searching for new jobs, there would be 2 job vacancies open for every unemployed job seeker.
Which sectors have the most and least vacancies?
Sectors with most job vacancies in the US
| Sector | Number of job vacancies |
| --- | --- |
| Education and health services | 1,862,000 |
| Professional and business services | 1,823,000 |
| Health care and social assistance | 1,68,4000 |
| Trade, transportation, and utilities | 1,627,000 |
| Leisure and hospitality | 1,501,000 |
Sectors with least job vacancies in the US
| Sector | Number of job vacancies |
| --- | --- |
| Mining and logging | 35,000 |
| Real estate and rental and leasing | 127,000 |
| Federal | 138,000 |
| Information | 147,000 |
| Educational services | 178,000 |
[17]
Which states have the most and least vacancies?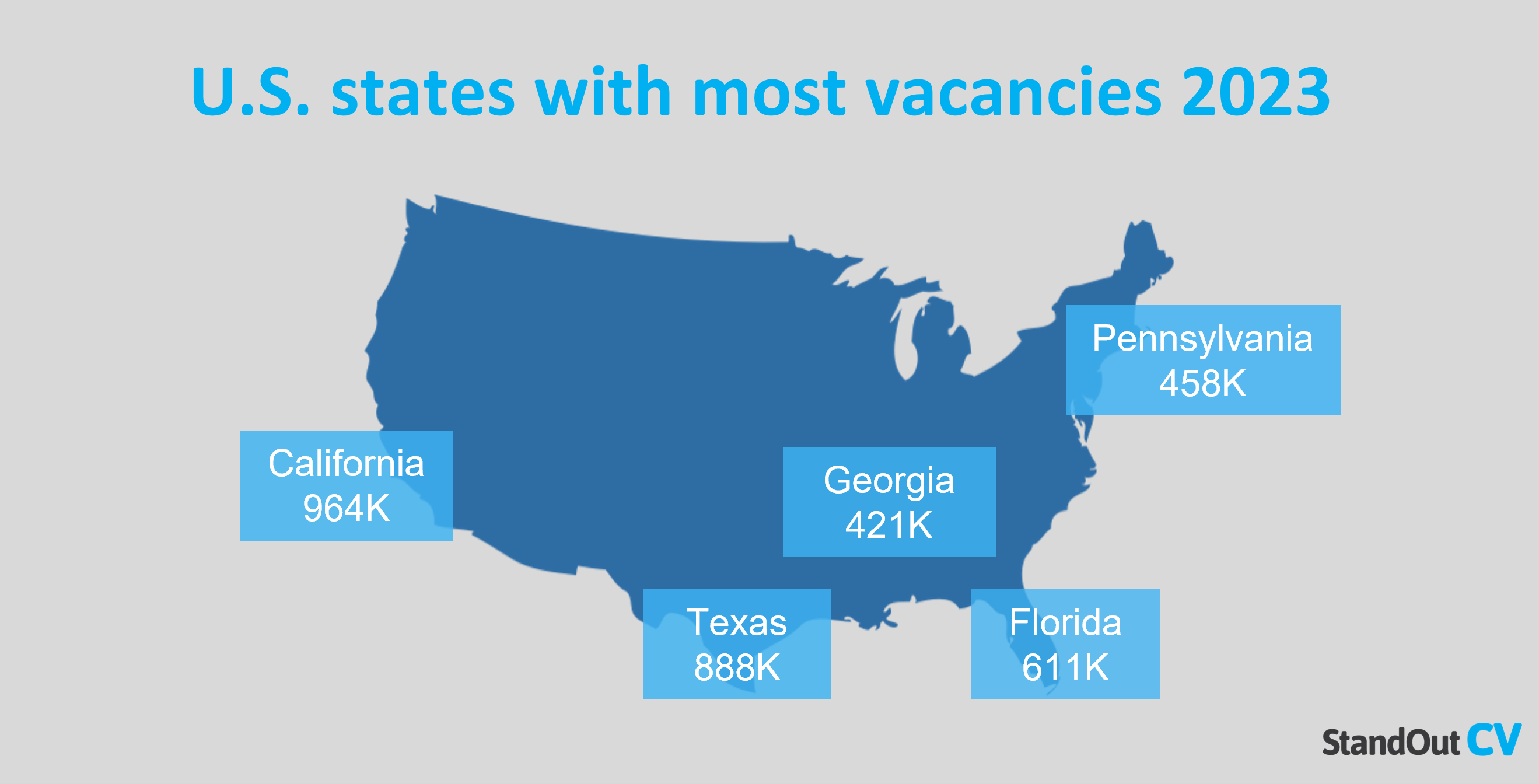 States with most job vacancies in the US
| State | Number of job vacancies |
| --- | --- |
| California | 964,000 |
| Texas | 888,000 |
| Florida | 611,000 |
| Pennsylvania | 458,000 |
| Georgia | 421,000 |
States with least job vacancies in the US
| State | Number of job vacancies |
| --- | --- |
| Wyoming | 18,000 |
| Vermont | 20,000 |
| North Dakota | 27,000 |
| Alaska | 27,000 |
| South Dakota | 33,000 |
[18]
How many Tech layoffs were made in 2023?
Big tech companies like Google, Microsoft and Amazon have been hitting the headlines in 2023 for making thousands of layoffs across the US and globally. TechCrunch reported that a total 168,243 people have been laid off across the tech sector in 2023.
Job application statistics
Thousands of job applications are made every day across the USA, here are the most important numbers behind them.
How many applications do job adverts receive?
Forbes recently reported that the average job advertised receives 118 applications and 20% of those will make it through to interview stage. [21]
According to Glassdoor, the average corporate job advert receives 250 resumes, from which only 5 candidates are selected for interview, making an average 2% success rate.
Are Applicant Tracking Systems (ATS) used in the US?
Applicant Tracking Systems are software programs which automatically scan and filter resumes during the application process – with the aim of removing unsuitable candidates who are missing important keywords, and saving recruiters time.
99% of Fortune 500 companies use some form of ATS in their hiring process, as do 66% of large private businesses and 35% of small businesses. [22]
Due to the large percentage of companies using ATS, just over half of resumes are actually viewed by a human.
How long do recruiters spend reading resumes?
Industry research tells us that recruiters spend an average of 6-8 seconds reviewing a resume before they decide it is suitable for a vacancy or not.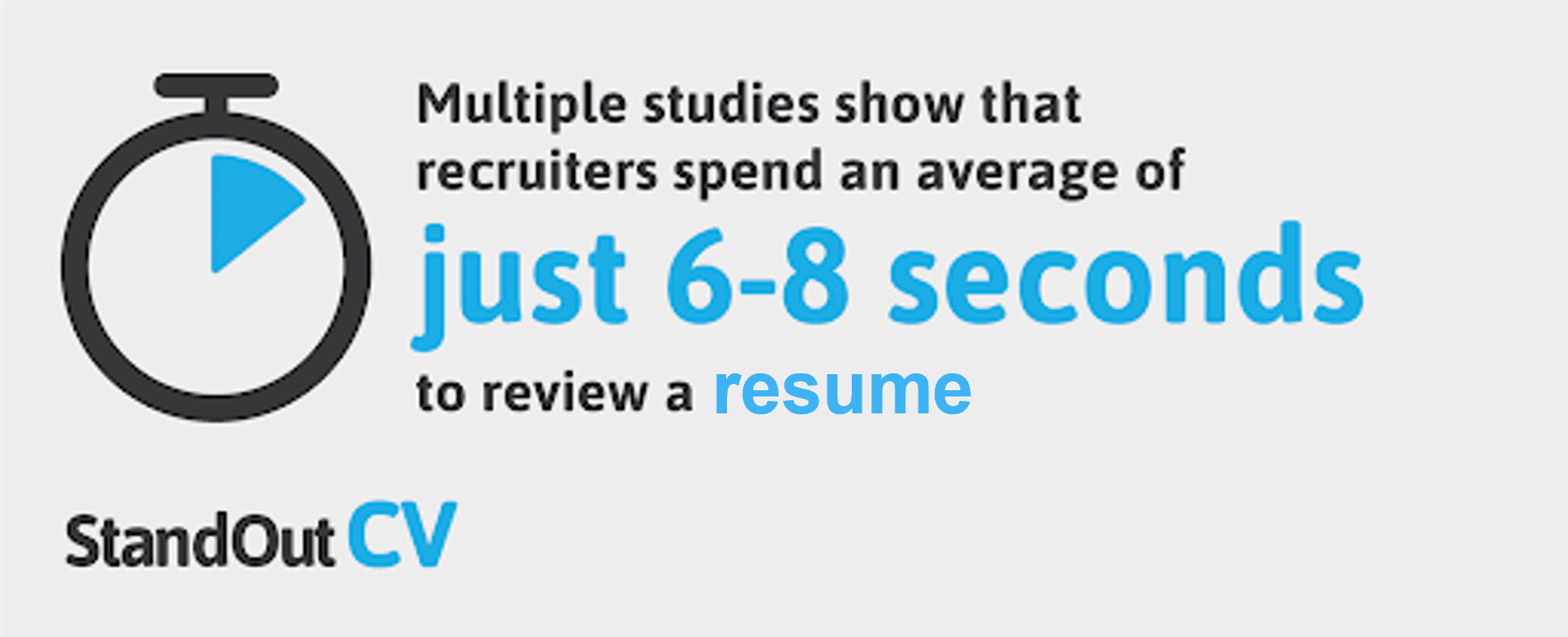 It is worth noting that this is only for the initial skim-read the first time they read a resume. A resume could be rejected at this stage, or the recruiter may add it to their shortlist and return to it later and spend more time reading it in detail.
For further information we have a full study into resume reading times here.
Why are resumes rejected?
As part of a separate study, we surveyed 1,000 recruiters and asked them questions around how and why they reject resumes.
These are some of our key findings:
The number one reason why recruiters would reject a resume is because the experience in the resume does not match that being asked for in the job advert – this is the cause of 73% of resume rejections.
Only 1 in 10 recruiters would forward a resume to a hiring manager if it did not have the required qualifications.
1 in 4 recruiters would reject a resume if it was badly formatted.
A study from Motley Fool found that 3 in 10 resumes are rejected by recruiters for having an unprofessional looking email address.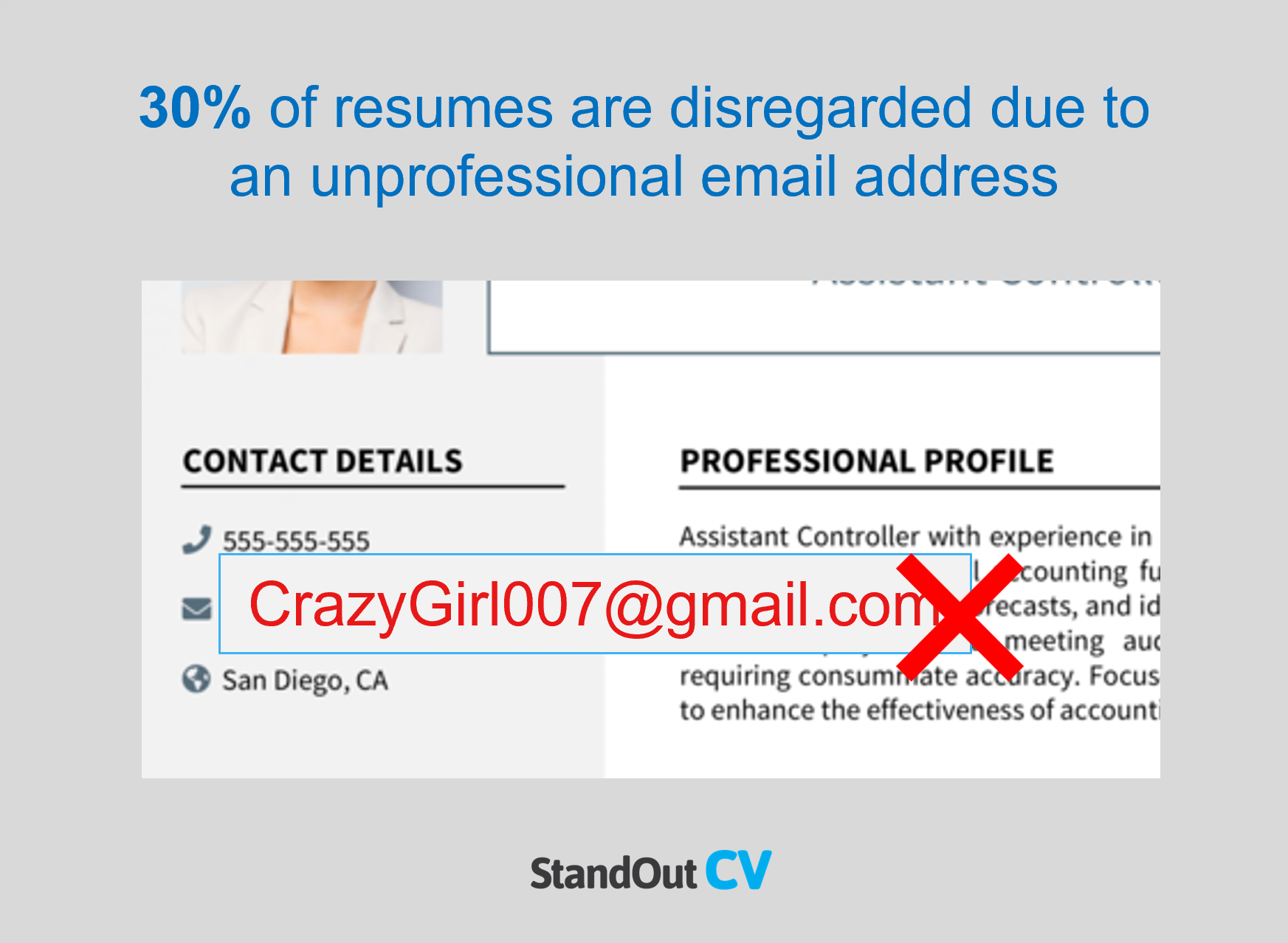 Do US companies use recruitment agencies?
According to Technology Partners 90% of large US organizations use recruitment agencies to fill permanent and contract vacancies.
What is the job application experience like for candidates?
The modern job search experience can involve many different devices, platforms and hurdles. These figures help to paint a picture of that journey.
Research from Kelton tells us that 86% of candidates start their job search via a mobile phone – usually browsing job websites. [26]
Job seekers use multiple resources to research companies, prior to deciding to apply for them – including Company website (31%), employer review sites (28%), and insight from current/former employees (23%)
60% of job seekers have abandoned a job application due to its length and complexity. [27]
43% of job candidates feel that job adverts do not contain enough information about the role.
43% of candidates spend 30 minutes or more completing an online application, and 10% invest an hour or more.
52% of candidates have to wait 3 months or longer to receive a response from a job application.

Job networking statistics
According to HubSpot 85% of jobs are filled via networking as opposed to applying for a job traditionally. To further backup this notion, CNBC reported that 70% of jobs are never advertised publicly, and instead they go to a person already known by the hiring manager or another team member.
Job websites & social media job search
The facts and figures surrounding the most popular job search platforms.
The 2 biggest job websites in the US are LinkedIn and Indeed with 750 million, and 250 million monthly users respectively.
9 in 10 employers are currently using social media as part of their hiring process.
21% of recruiters have rejected a candidate after looking them up on Facebook.
79% of job seekers have utilized social media in their job search in the last 12 months.
73% of millennials found their last position directly through a social media platform.
55% of job seekers will not apply to a company after reading negative reviews about them on Glassdoor. [29]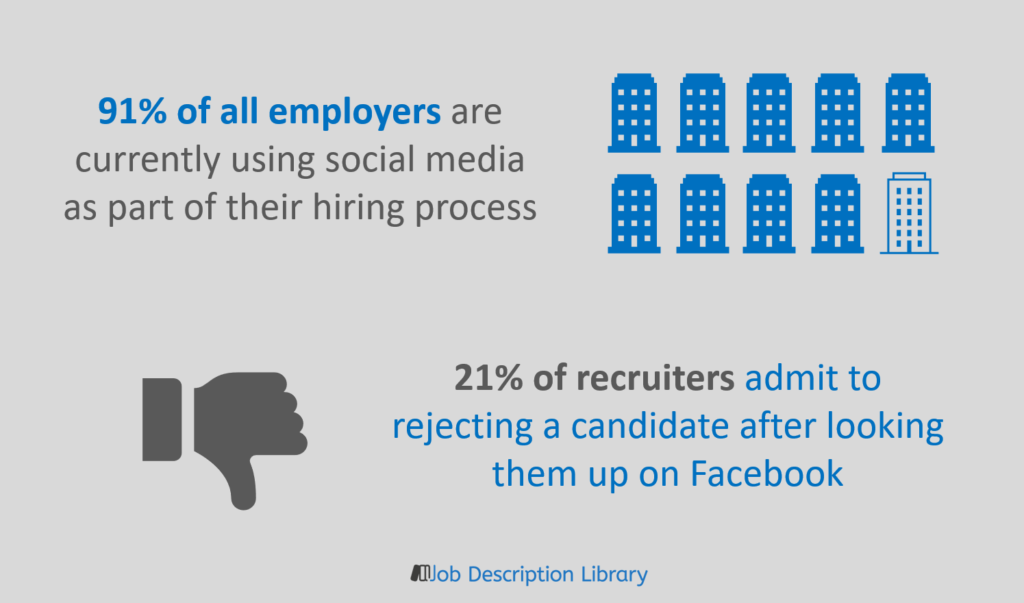 Job interview statistics US
The job interview is the final hurdle in the job-hunting process, so what do the numbers tell us about it?
How many people interview for one job?
According to CareerSidekick, employers will interview an average of 8 candidates for every job advertised.
How long do interviews last?
Indeed reports that the average job interview will last between 45 – 90 minutes and most interview processes will involve at least 2 interviews. [31]
Interview nerves
93% of candidates admit to experiencing job interview anxiety at some point in their career and suffering negative consequences because of it.
Video interview statistics
Pre-pandemic 22% of employers incorporated video interviews into their interview process – as of January 2021, 79% started conducting video interviews regularly.
In 2022 video interviews decreased by 10% from 2021, however this still represents a net increase of 57% from pre-pandemic times.
For remote roles, 90% of employers would not require a face-to-face interview at all.
The Great Resignation statistics
The Great Resignation refers to a period starting in 2021 and culminating in late 2022 (particularly November to December) which saw a large number of people quit their jobs in search of better pay and benefits with new employers.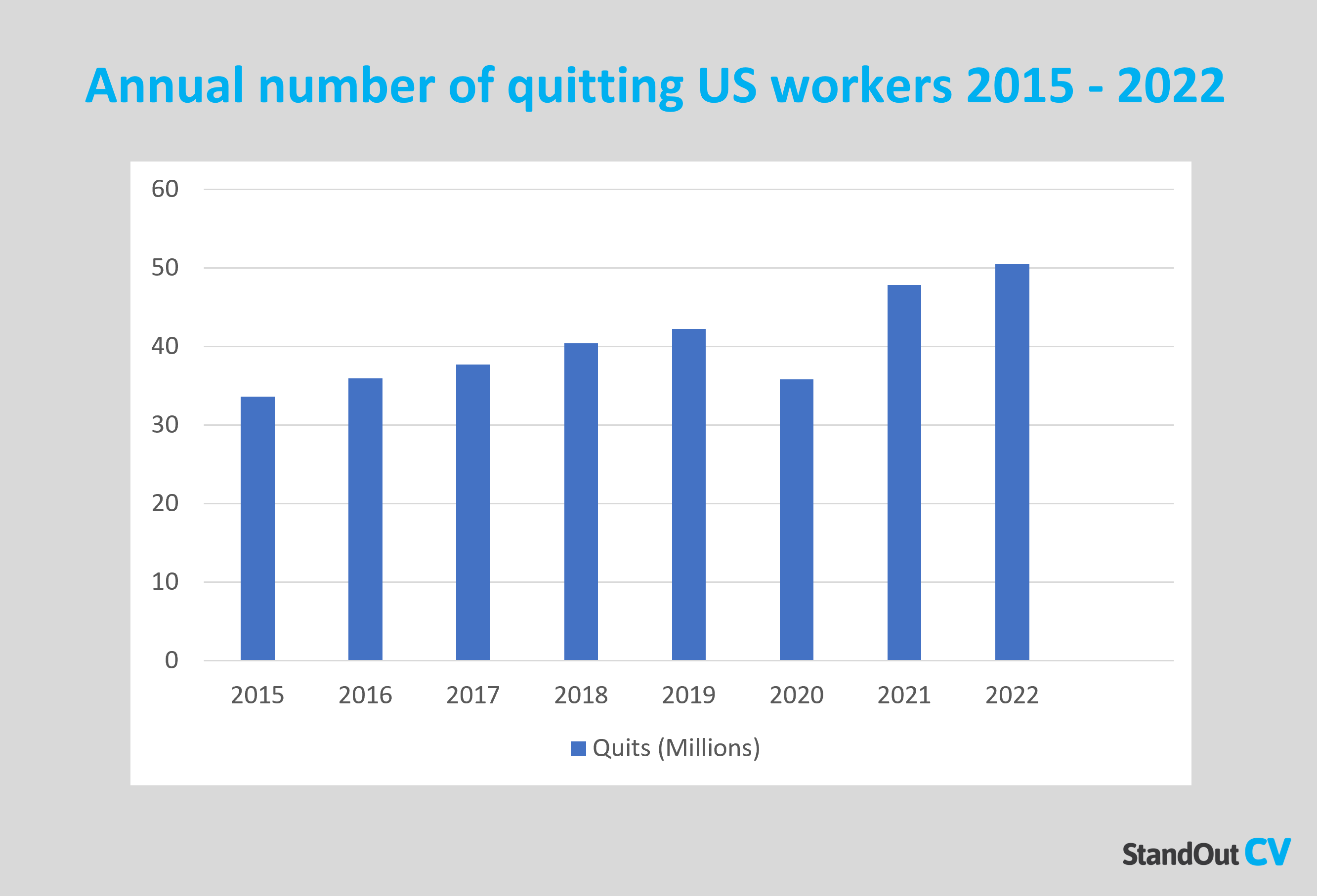 A record number of Americans (47.4 million) quit their jobs voluntarily in 2021, and this record was broken again when 50.5 million workers quit in 2022. [34]
In 2021 an average of 4 million Americans quit their jobs every month – 14% more than the 3.5 million monthly average of 2019.
In November 2022, 4.1 million Americans voluntarily quit their jobs, and in November 2021, 4.5 million quit – a record high.
During 2022 the hospitality and leisure sector saw double the amount of quits than average. [33]
The majority of quitting workers cited low pay as their reason for leaving.
Sources
Below are the list of sources used to compile this report. Please note that some figures have been calculated against others to provide estimations, and some may have been rephrased for ease of reading.
U.S Bureau of Labor Statistics – The employment situation March 2023: https://www.bls.gov/news.release/pdf/empsit.pdf [1]
U.S Bureau of Labor Statistics – Employment status of the civilian population by sex and age: https://www.bls.gov/news.release/empsit.t01.htm [2]
Bankrate/YouGov – Job seeker survey: https://www.bankrate.com/personal-finance/job-seekers-survey/ [3]
CNBC – Gen Z and millennials are leading 'the big quit' in 2023: https://www.cnbc.com/2023/01/18/70percent-of-gen-z-and-millennials-are-considering-leaving-their-jobs-soon.html [4]
Glassdoor – How Long Should Your Interview Process Take? We Found Out: https://www.glassdoor.com/blog/how-long-should-interviews-take/ [5]
Perception Predict – How Long Does the Average Person Stay at a Job: https://www.perceptionpredict.ai/blog/how-long-does-the-average-person-stay-at-a-job [6]
U.S Bureau of Labor Statistics – National Longitudinal Surveys: https://www.bls.gov/nls/questions-and-answers.htm [7]
FirstUp – 4 reasons people are leaving their jobs: https://firstup.io/blog/4-reasons-people-are-leaving-their-jobs/ [8]
Workstars – Why employees quit: 11 evidence-based reasons: https://www.workstars.com/recognition-and-engagement-blog/2020/03/19/why-employees-quit-11-evidence-based-reasons [9]
Pew Research Center – Majority of workers who quit a job in 2021 cite low pay, no opportunities for advancement, feeling disrespected: https://www.pewresearch.org/fact-tank/2022/03/09/majority-of-workers-who-quit-a-job-in-2021-cite-low-pay-no-opportunities-for-advancement-feeling-disrespected/ [10]
Robert Half/Forbes – 66% Of Employees Would Quit If They Feel Unappreciated: https://www.forbes.com/sites/victorlipman/2017/04/15/66-of-employees-would-quit-if-they-feel-unappreciated/?sh=490bcd936897 [11]
LinkedIn – Employees don't leave Companies, they leave Managers: https://www.linkedin.com/pulse/employees-dont-leave-companies-managers-brigette-hyacinth/ [12]
Career Addict – 9 Reasons Why Employees Quit Their Jobs: https://www.careeraddict.com/why-employees-quit [13]
Flex Jobs – Survey Explores Varying Attitudes of Millennials and Older Workers about Key Workplace Issues: https://www.flexjobs.com/blog/post/survey-finds-varying-attitudes-millennials-older-workers-about-key-workplace-issues/ [14]
Deloitte – Inclusion survey [15]
U.S Bureau of Labor Statistics – State Job Openings and Labor Turnover Summary: https://www.bls.gov/news.release/jltst.nr0.htm [16]
U.S Bureau of Labor Statistics – Job openings, hires, and total separations by industry, seasonally adjusted: https://www.bls.gov/news.release/jolts.a.htm [17]
U.S Bureau of Labor Statistics – Job openings levels and rates for total nonfarm by state, seasonally adjusted: https://www.bls.gov/news.release/jltst.t01.htm [18]
TechCrunch – A comprehensive list of 2023 tech layoffs: https://techcrunch.com/2023/04/19/tech-industry-layoffs/ [19]
Glassdoor – Job and hiring trends: https://www.glassdoor.com/research/app/uploads/sites/2/2019/11/Job_Hiring_Trends_2020-FINAL-1-1.pdf [20]
Forbes – 7 Things You Probably Didn't Know About Your Job Search: https://www.forbes.com/sites/jacquelynsmith/2013/04/17/7-things-you-probably-didnt-know-about-your-job-search/ [21]
JobScan – 8 Things You Need to Know About Applicant Tracking Systems: https://www.jobscan.co/blog/8-things-you-need-to-know-about-applicant-tracking-systems [22]
New York Post/Randstad – Job hunting is at least a 5-month slog: https://nypost.com/2018/10/16/job-hunting-is-at-least-a-5-month-slog/ [23]
Motley Fool – 5 Resume Stats All Job Seekers Should Know: https://www.fool.com/careers/2018/09/16/5-resume-stats-all-job-seekers-should-know.aspx [24]
Technology Partners – More Than 90% of Companies Use Staffing Agencies: https://technologypartners.net/blog/2020/07/more-than-90-of-companies-use-staffing-agencies-do-you/ [25]
Yello – Nearly 9 in 10 Job Seekers Are Interested in Searching for Jobs on their Phone: https://yello.co/blog/job-seekers-searching-jobs-phone [26]
Fountain – Is Your Job Application Process Keeping Candidates Away?: https://www.fountain.com/posts/is-your-application-form-keeping-candidates-away [27]
CNBC – How to get a job often comes down to one elite personal asset: https://www.cnbc.com/2019/12/27/how-to-get-a-job-often-comes-down-to-one-elite-personal-asset.html [28]
Inc – More Than Half of Job Seekers Say They Wouldn't Apply to a Company with Bad Online Reviews: https://www.inc.com/adam-robinson/more-than-half-of-job-seekers-say-they-wouldnt-apply-to-a-company-with-bad-online-reviews.html [29]
CareerSidekick – How many interviews per job: https://careersidekick.com/interviews-per-job [30]
Indeed – How long does an interview last: https://www.indeed.com/career-advice/interviewing/how-long-do-interviews-last [31]
U.S Bureau of Labor Statistics – Quits levels and rates by industry and region, seasonally adjusted: https://www.bls.gov/news.release/jolts.t04.htm [32]
World Economic Forum – The Great Resignation continues: https://www.weforum.org/agenda/2023/01/us-workers-jobs-quit [33]
CNBC – 2022 was the 'real year of the Great Resignation,': https://www.cnbc.com/2023/02/01/why-2022-was-the-real-year-of-the-great-resignation.html [34]
Harvard Business Review – The Great Resignation Didn't Start with the Pandemic: https://hbr.org/2022/03/the-great-resignation-didnt-start-with-the-pandemic [35]
SHRM – How Historic Has the Great Resignation Been?: https://www.shrm.org/resourcesandtools/hr-topics/talent-acquisition/pages/interactive-quits-level-by-year.aspx [36]
U.S Bureau of Labor Statistics – EMPLOYEE TENURE IN 2022: https://www.bls.gov/news.release/pdf/tenure.pdf [37]
Further studies: Internship statistics – Resume lying statistics – UK job search statistics