To land the best doctor jobs, a well-thought-out CV which gets you noticed by recruiters is essential.
To help you out, I've compiled this step-by-step guide to writing a doctor CV, complete with an example CV, to help you envision the finished product.
If you follow these steps, your CV is bound to open up the door to job opportunities and career progression.
Contents
Structuring and formatting your CV
Writing your CV profile
Detailing work experience
Your education
Skills required for your Doctor CV

Doctor CV example (GP)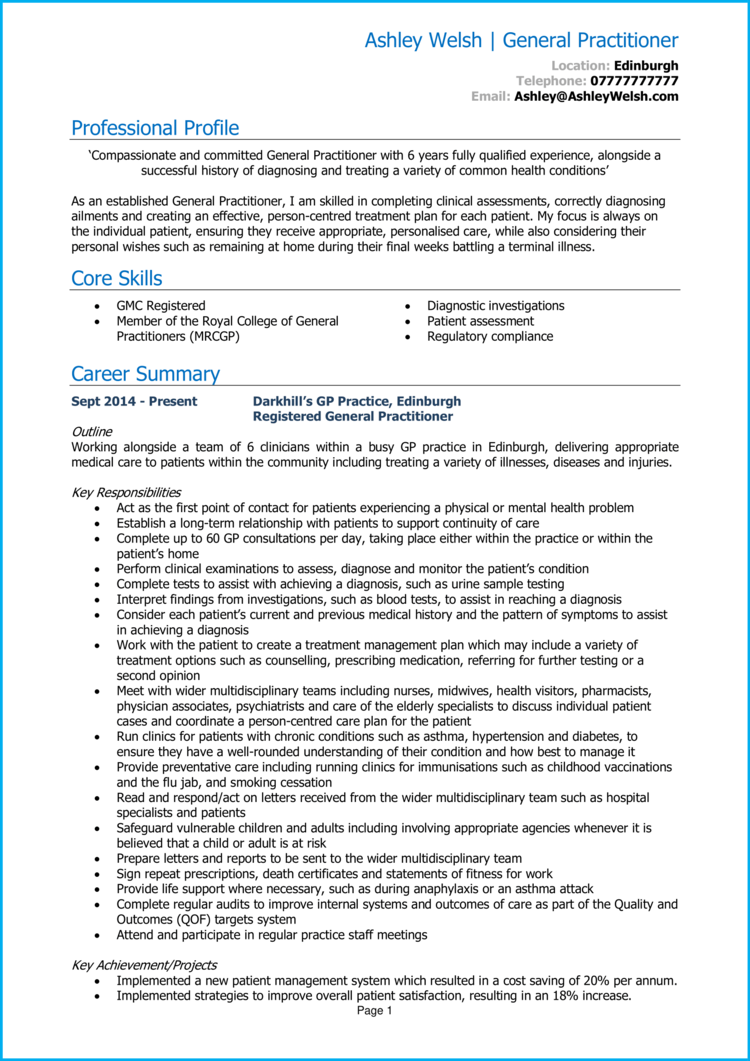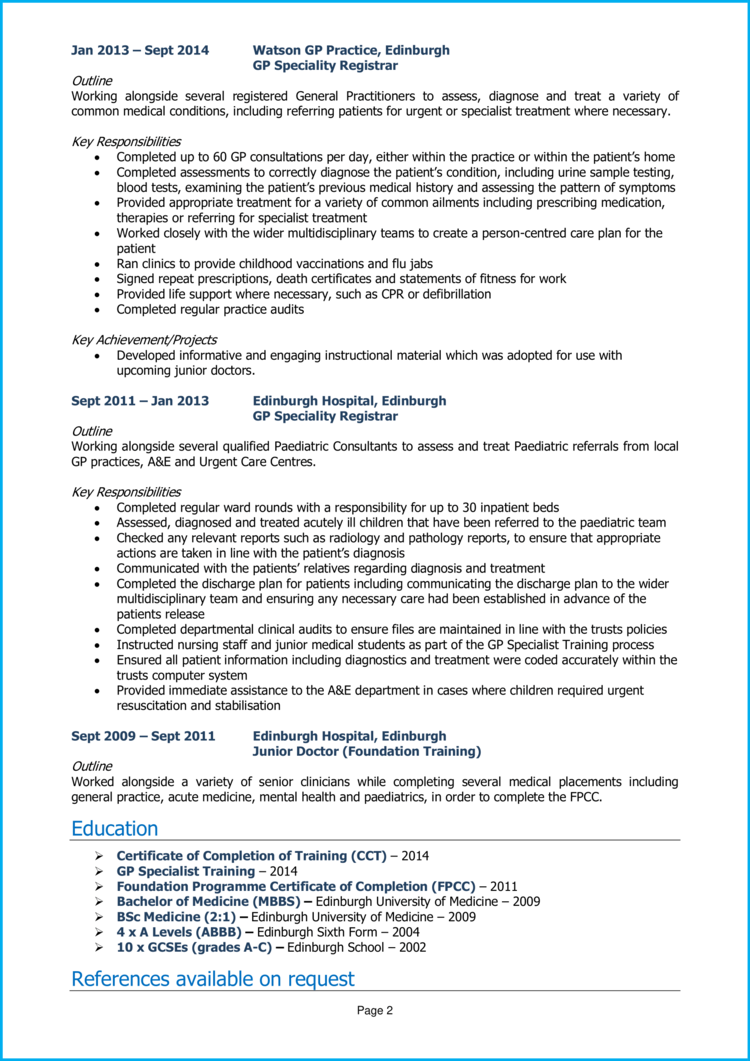 Physician associate CV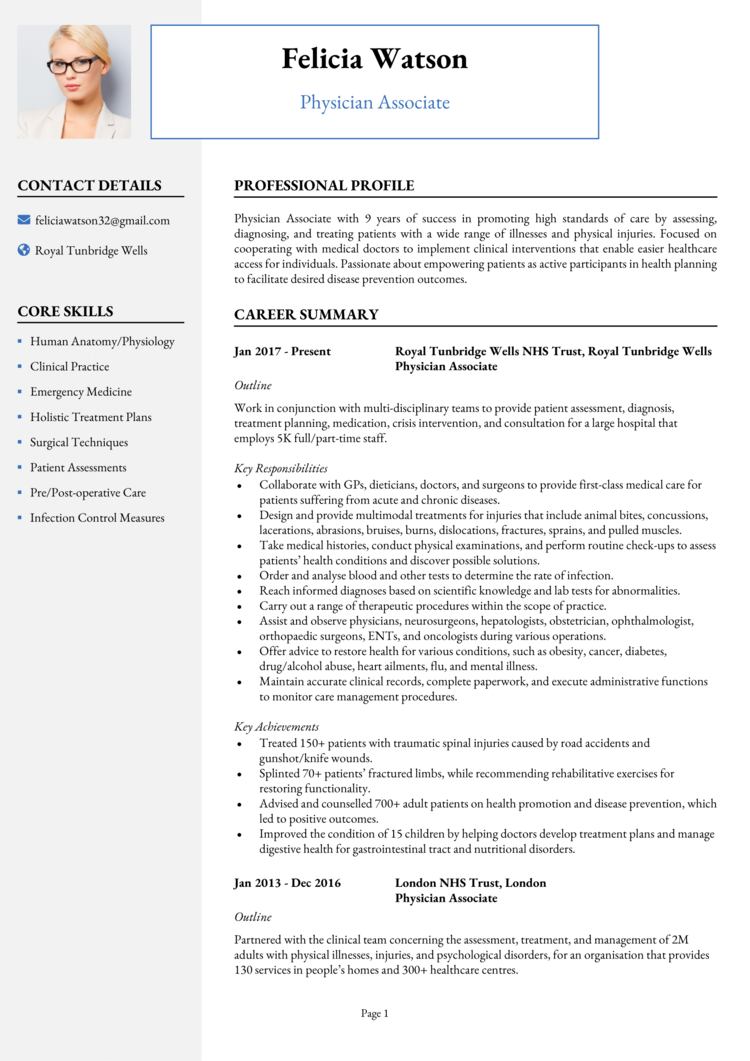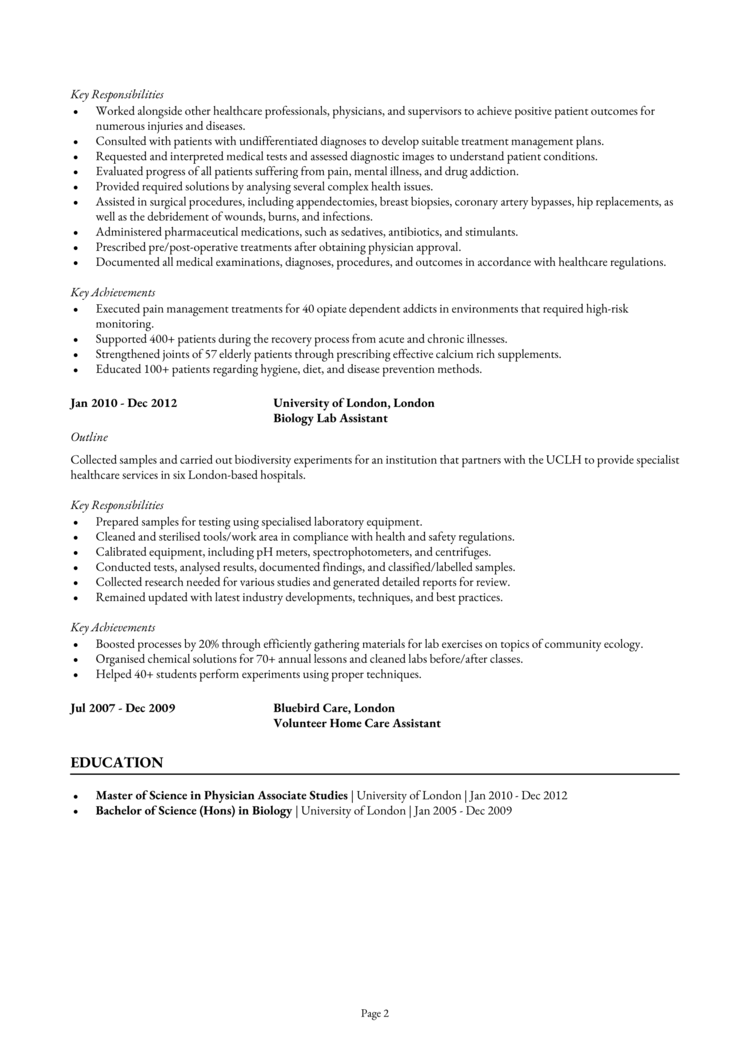 Junior doctor CV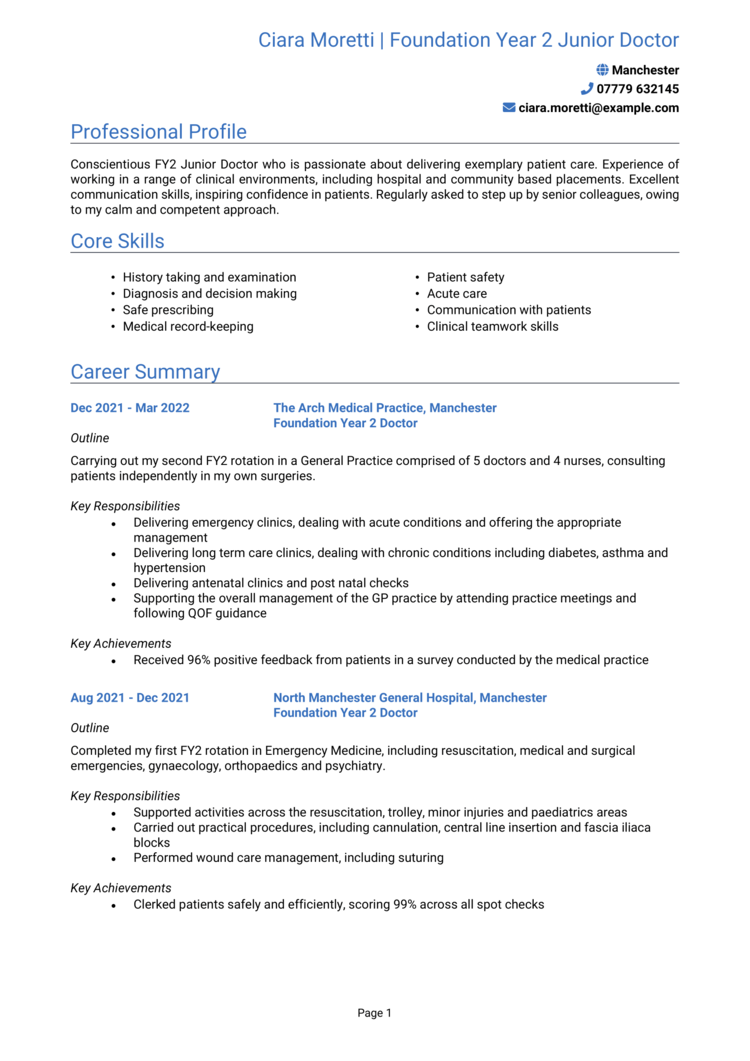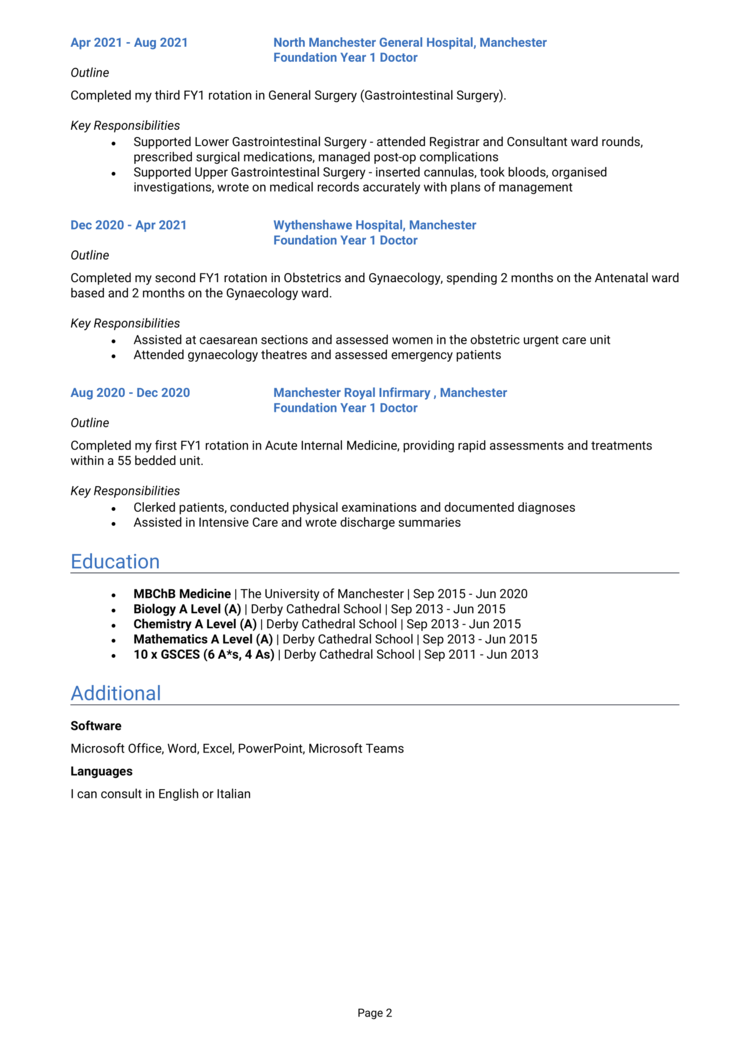 The documents above are great CV examples for an experienced GP, junior doctor and physician associate. It demonstrates their experience and education to date in a professional, concise and organised fashion – without overloading the reader with information.
Next, we'll take a closer look at how to write your own doctor CV.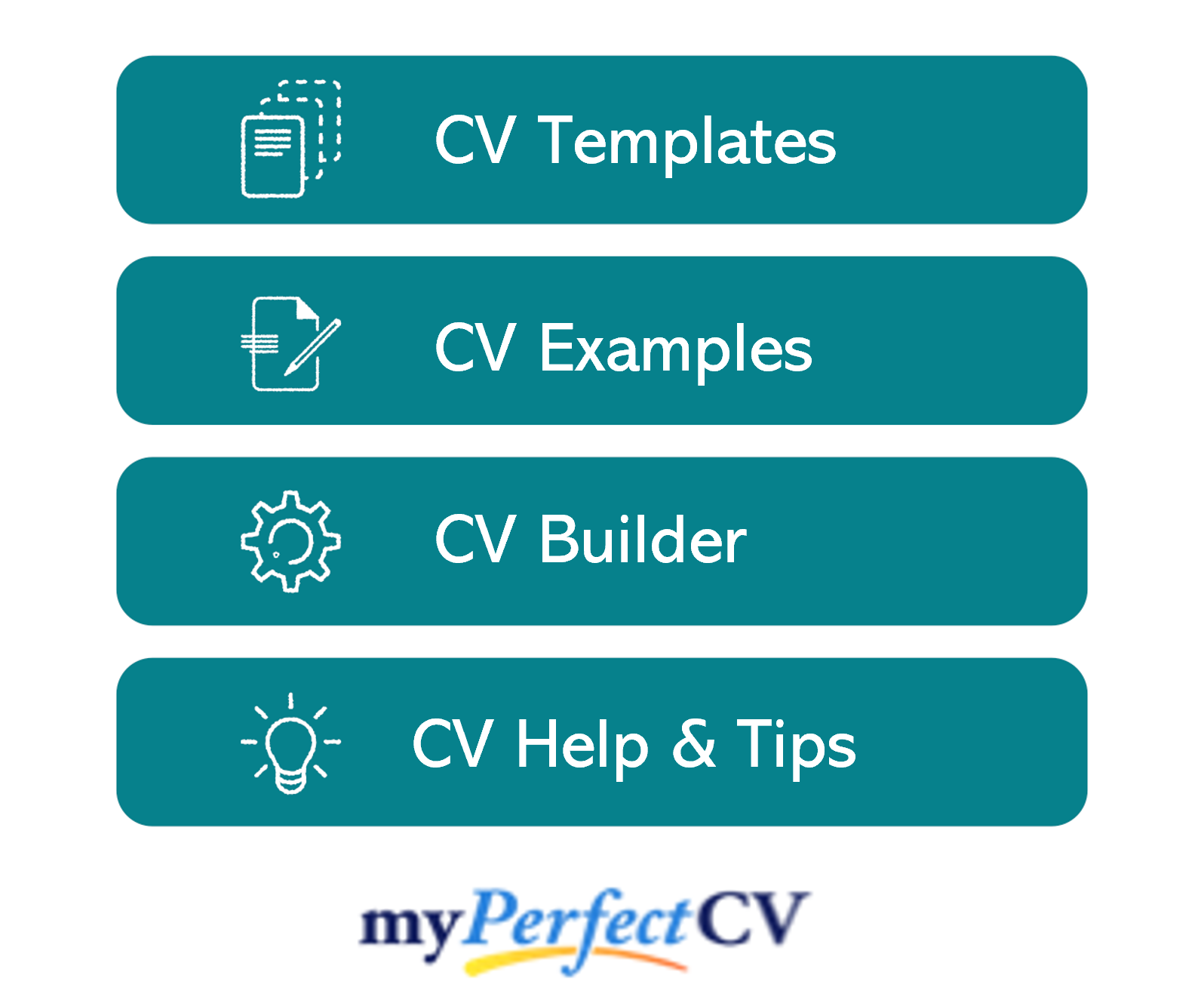 Doctor CV structure & format
It's important to remember that when a recruiter reads your CV, it may well be their 20th, 50th or even 100th of the day.
This means that, despite your academic expertise, it's not all about the written content. You need to spend time perfecting your CV structure and format to make for a pleasant reading experience, too.
Working to a clearly-defined structure will not only make the CV writing process easier, but it'll help to ensure that your attributes are displayed in a digestible way.
The image below gives you a high-level view of how a CV should be structured:
Formatting Tips
Traditionally, CV's shouldn't exceed 2 A4 pages in length – but the rule is more flexible in the medical field. Ultimately, your CV should prove to the reader that you're capable of carrying out the role in question, without becoming tedious.
Use plenty of visual aids such as bold text, columns, bullet-pointed lists and line breaks. These simple additions will help key information to stand out and make the document far easier on the eye.
Simplicity is key. Use a modern, professional font such as Arial or Calibri in size 10 or 12. Don't be tempted to cram in extra information by using a tiny size font – there a few things more off-putting than an overly crowded CV.

Structuring your CV
Working to the following defined CV sections will allow you to put forward your best assets in an ordered and professional manner:
Name and contact details – These need to be at the top of the document to ensure you're easily contactable.
Profile – Think of this as your sales pitch. It should summarise why you're the best fit for the role you're applying to by putting forward your best and most relevant skills, knowledge, experience and qualifications.
Area of Expertise/Clinical Skills – Highlighting your clinical capabilities in this bullet-pointed list will allow recruiters to easily pinpoint your suitability and potential within the role.
Work experience – This is likely to make up the bulk of your doctor CV. List your relevant medical experience in reverse chronological order, including dates, responsibilities and notable achievements for each role.
Education & Professional Development – Note down your medical qualifications and certifications, including dates, institutions and locations.
Affiliations – If applicable, list any memberships or affiliations you've been elected.


Additional Information – This section is optional, but you may want to use it to document interests or additional skills which could be of benefit to the position.
It's worth noting that doctors applying for academic roles may also wish to include a research and teaching experience section, as well as a list of notable and relevant publications.
Let's take a closer look at what specifically needs to be included in each CV section:
CV Contact Details
Hopefully, your well-structured CV will earn you an interview – so you need to give recruiters a means to contact you!
Keep the detail to a minimum. All they need to do is give you a call, so excessive information is simply wasted space.
Name & professional title– For example, Sarah Jones | General Practioner
Phone number – Ensure it's a number you're readily available on – recruiters won't wait around.
Location – Just provide your rough location, such as 'Lincoln' or 'Chester'.

Doctor CV Profile
Don't underestimate the importance of your CV profile (or personal statement for junior doctors). Often, it's the first thing a recruiter will read – if they don't like it, they may well move on.
Utilise this space to summarise all you've got to offer the organisation you're applying to in 5-10 lines, ensuring the information listed it relevant and tailored to the specific role.
Tips to consider when creating your profile:
As a highly-educated and experienced doctor, it can be tempting to write a lot. But your profile should only include high-level detail which entices the reader to find out more. Keep it punchy and impactful by writing no more than 10 lines.
Think about your use of language. This is your sales pitch – focus on including plenty of active and persuasive wording to reel recruiters in!
Make sure to tailor it to the role. If the job description places significant importance on specific clinical skills or experience, it's vital to include them in your profile.
Quote your most impressive accomplishments and, if you can, back them up with metrics. Quantifying your value with a few figures will show an organisation how they could actually benefit from hiring you.
What to include in your Doctor CV profile?
Level of experience – Are you a junior doctor or experienced GP? Make this clear from the get-go by summarising your medical experience to date.
Academic credentials – It goes without saying that doctors require extensive education, but it's still important to emphasise relevant qualifications in your profile.
Clinical skills/areas of expertise – Are you an expert in any particular area of medicine? What clinical skills do you hold which are relevant to the position being applied for?
Key achievements – Whether it's prizes, scholarships, facts or accomplishments in previous roles, including evidence-backed achievements is sure to make you stand out from other candidates.
Area of Expertise/Clinical Skills section
CVs generally include a core skills section, but as a doctor, you'll instead list your areas of expertise and clinical skills.
Start by analysing the job description. You need to prioritise your listings depending on what the employer is specifically looking for in candidates. For example, if they're seeking candidates who are highly skilled in family medicine, you'd list that first.
Create a bullet-pointed which allows recruiters to gain a brief understanding of your expertise, skills and experience before delving deeper.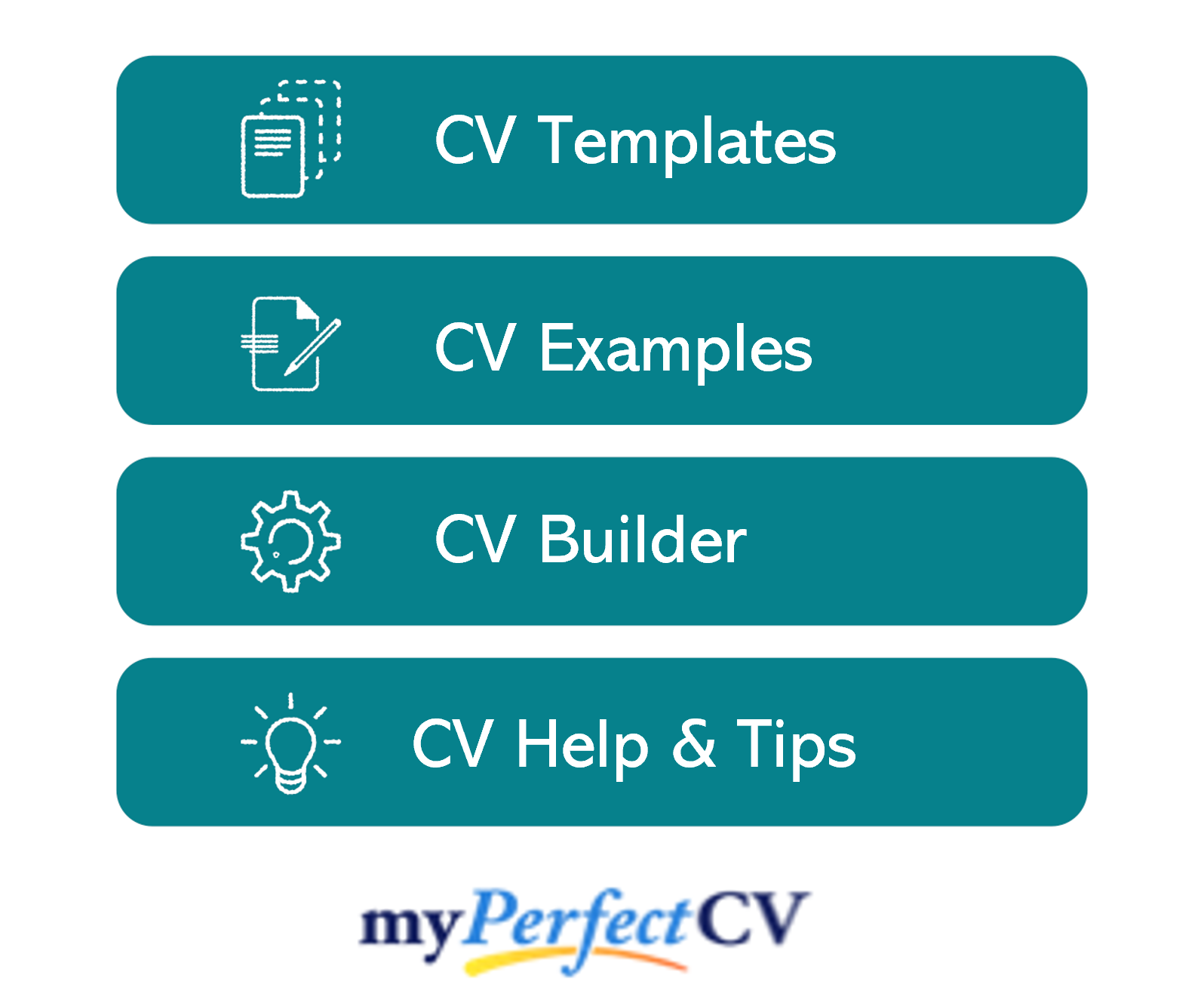 Work experience/Career history
By now, recruiters have gained a general overview of your professional experience and they'll be eager to read the finer details.
List your work experience in reverse chronological order, focusing the most detail on your most recent and relevant roles.
The key here is to focus on what you achieved in each role and how you added value to the organisation – rather than merely listing your day-to-day responsibilities.
Structuring your roles
Highlighting your clinical experience will make up the bulk of your medical CV, but if you structure this section in the wrong way, you risk losing recruiters attention.
By following the upcoming steps, you can ensure that your extensive experience is put forward in a way which is punchy, easy on the eye and allows key accomplishments to stand out.

Outline
Provide some context of the role by writing a brief summary of your position, the type or size of team you were part of and a high-level view of your duties.
E.g.
"Worked within a team of 3 General Practitioners and 2 Clinical Advisors to deliver optimum treatment, medical care and support to children and families in the community to treat or prevent illness, disease and injury."
Key responsibilities
Next, put forward a succinct yet comprehensive bullet-point list of your key responsibilities within the role.
E.g.
Prescribed and administered treatment, medication, vaccinations and other specialised medical care.
Gave appropriate health education and advice to patients and carers' to enable self-management.
Ordered, performed, and interpreted tests, and analysed records, reports, and examination information to diagnose patient conditions.
Key achievements
To finish, prove the value you brought to the organisation by rounding up your notable achievements. This may be a time you went the extra mile to help a patient, received an award of recognition or implemented new processes which enhanced patient outcomes.
Whatever it may be, it's always best to quantify your examples with relevant facts, figures and metrics.
E.g.
"Successfully co-developed a database to effectively monitor diabetes testing, results and follow-up treatment for patients within the community which enhanced successful diagnosis rates by 15%."
Education & Professional Development
Although you've already detailed your vast education in your professional profile, you can use the education section to further emphasise your academic prowess.
You should list your most recent qualification first. Make sure to include the name of the institution and year of completion and highlight key achievements, such as projects, prizes or notable academic results.
Experienced doctors will generally keep this section brief. However, if you're a graduate or junior doctor, you can go into more detail about special study modules or electives if they're relevant to the role you're pursuing. You should also list your A-Levels and their respective grades.
As you progress through your medical career, you may undertake various training and professional development courses. If any are applicable to the role in question, state the title of the course along with the year it was completed.
Affiliations
Lastly, list your memberships of professional bodies or affiliations you've been elected.
Additional Information
If you'd like to, you can any other relevant details, such as interests or skills, into an additional information section at the very bottom of your CV.
Avoid listing generic hobbies such as 'socialising' as they're unlikely to add much value to your application.
However, creative pursuits, sports or other interests which prove you to be an interesting and dedicated individual, may help you to leave a lasting impression on employers.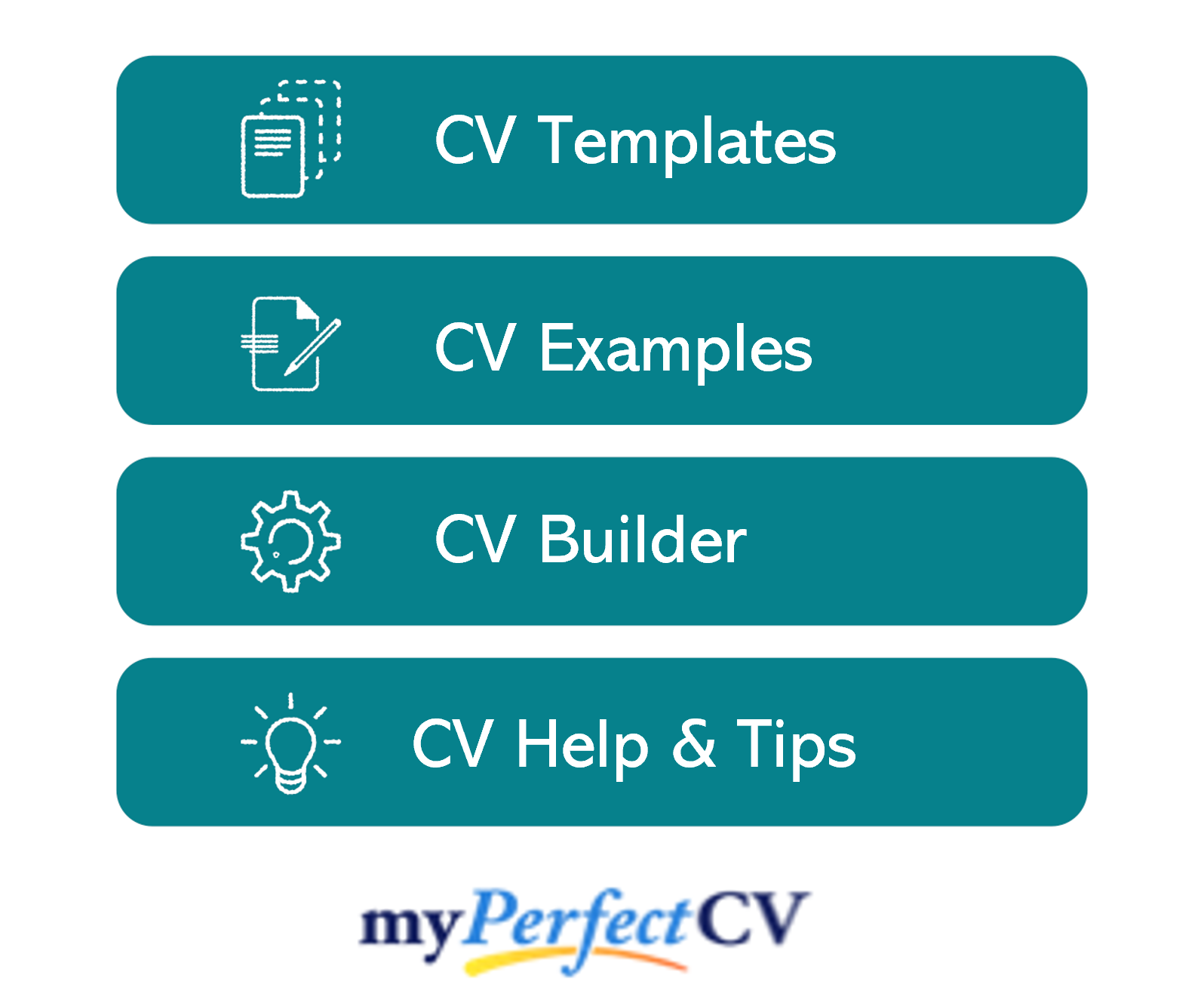 Essential skills for your Doctor CV
Every organisation will require a varying skill set and it will inevitably vary depending on your experience level and specialism. However, here are a few essential skills for a GP working in a local surgery:
Clinical Medicine
Patient Relationships
Staff/Team Leadership
Primary Medical Care
Medical Examinations
Family Medicine
Surgery Management
Treatment Plans
Patient Management
Writing your Doctor CV
A professional and effective doctor CV which outlines your personal achievements, clinical skills, experience and expertise is a sure-fire way to impress recruiters and convince them that you're the best candidate for the role.
Whilst writing your CV, it's important to structure the document in a way which not only allows for easy reading, but forces your key attributes to jump out of the page.
You can do this by heading your CV with a punchy professional profile and bullet-pointed areas of expertise list to hook readers in, before delving deeper into the details of your vast experience and achievements.
Combine this with some savvy, simply formatting tricks and plenty of facts and figures and you'll be able to prove yourself as a valuable asset to any organisation.
Good luck with your job search!