When you're looking to land your first job, your CV needs to impress employers.
If you have little or no work experience, this can be tough.
But, with the right structure and approach, anyone can write an interview-winning CV.
This detailed guide, which includes a CV example, will show you how to write a CV with no experience, that will still impress recruiters, and take you one step closer to landing that first job.
Contents

CV with no experience example – 1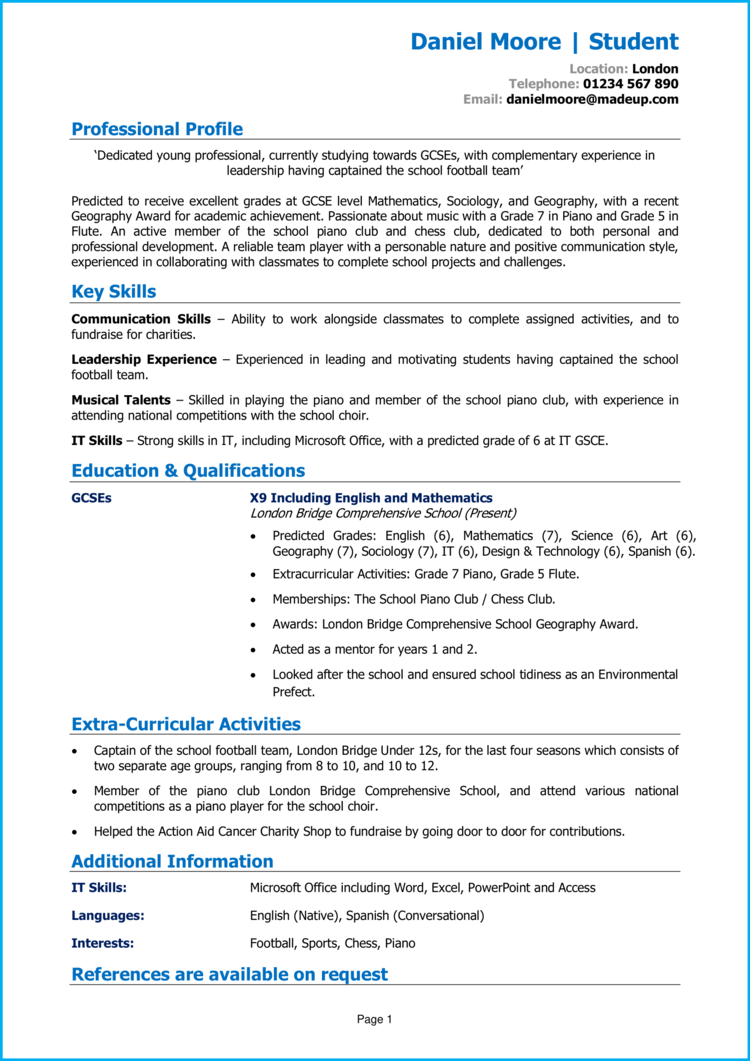 CV with no experience example – 2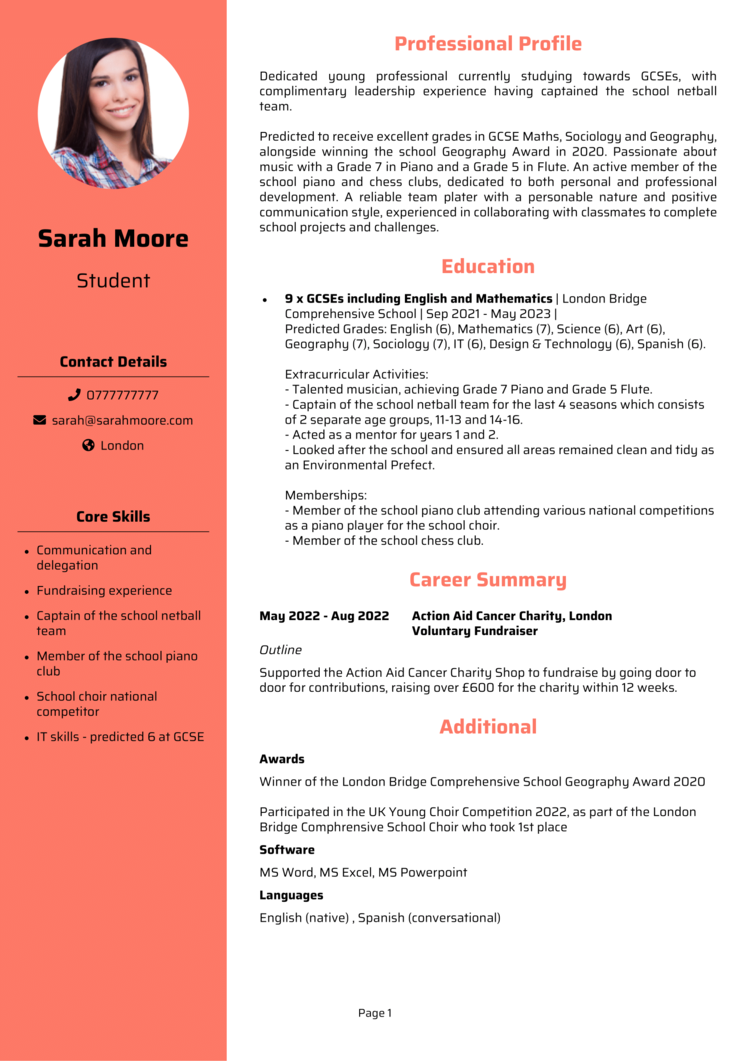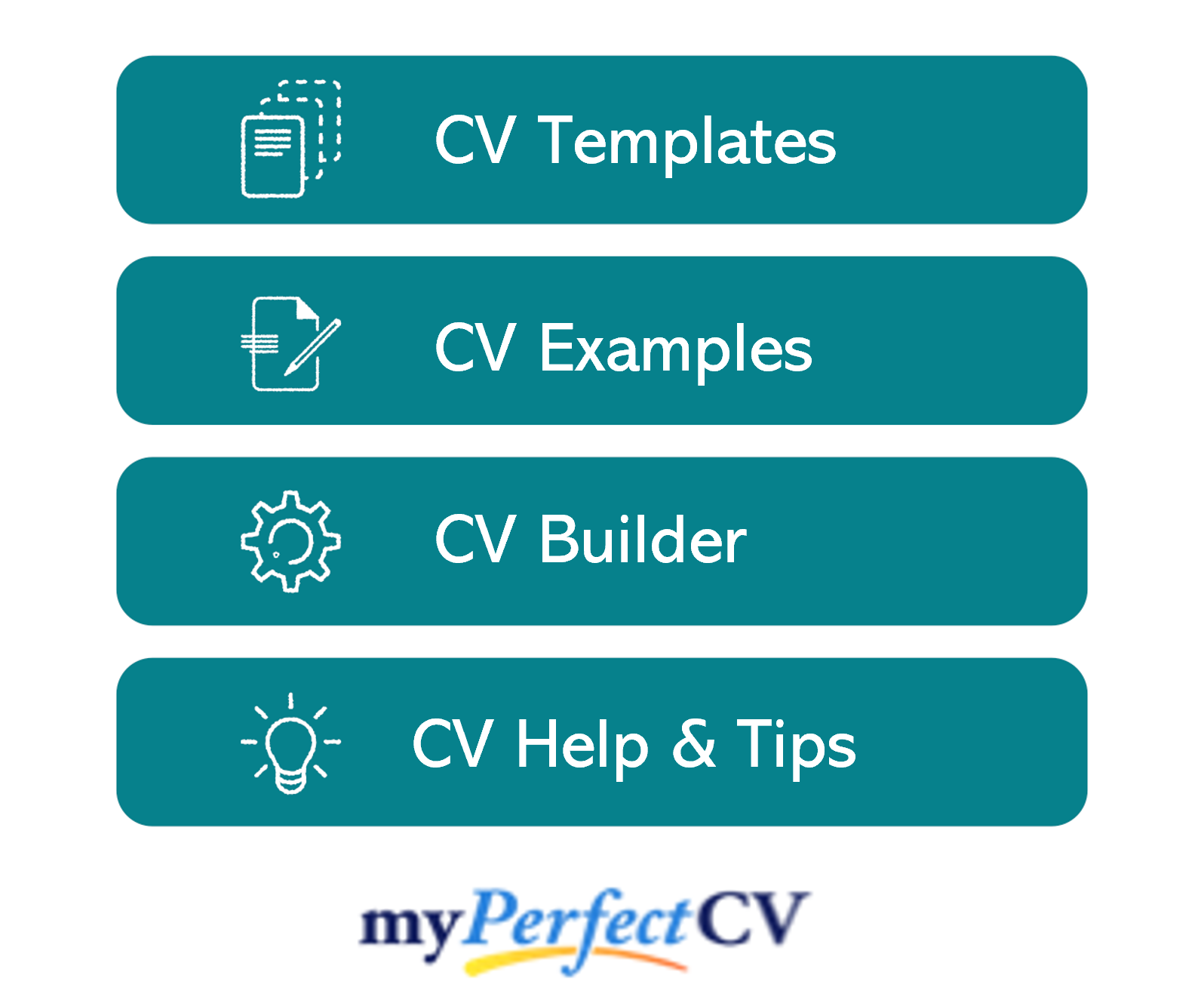 The CV examples above show you the basic format of a CV, and the type of content you can include when you have no experience.
I will now walk you through how to produce your own effective CV.
You can watch the video below, or read trough the rest of the guide on this page.
   

Top tips for writing a CV with no experience
Although you may have no formal work experience, be creative and fill your CV with anything that can demonstrate your workplace skills
Use hobbies, interests, after-school clubs, sports teams and volunteering to highlight transferable skills
Head your CV with a punchy profile to sell yourself to employers and explain why they should hire you
Make your hard skill such as languages, IT software and written communication highly visible
Provide lots of detail on what you have learnt in school to make up for your lack of experience

CV structure & format
The key to getting recruiters to notice your CV, is having a structure that enables ease of reading and allows them to quickly navigate your educational background and relevant skills.
Using sections to clearly identify your transferable skills, assisting you in securing an interview.
This infographic will support you in creating a simple-but-effective format and show you what sections to include in your CV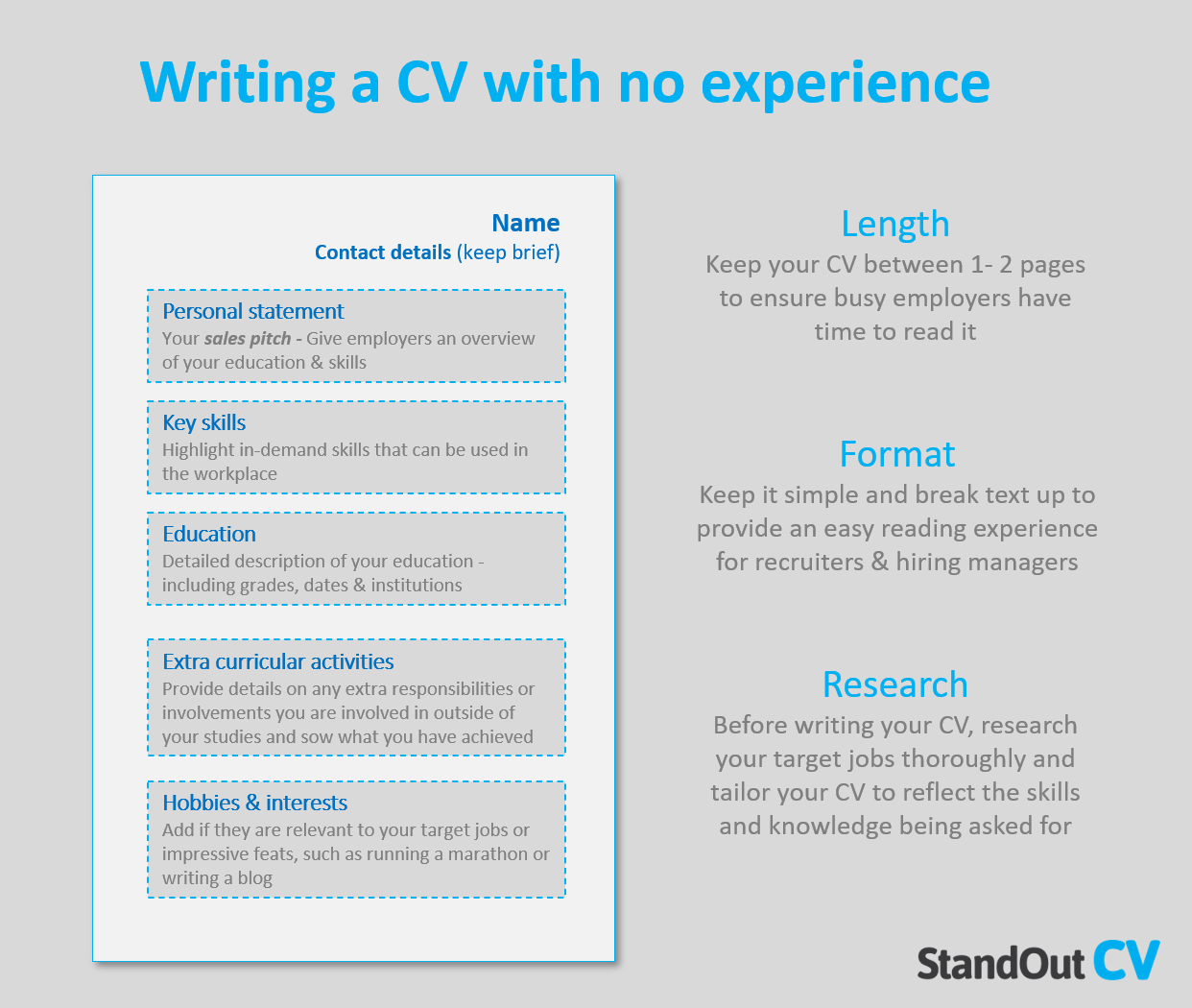 Formatting Tips
Use bold headers, bullet points and sections to break up information and support recruiters in easily navigating your CV
Don't over-design your CV with imagery such as company logos or headshots and instead keep to a subdued colour pallet and a clear font
Maintain a CV length of 2 sides of A4, don't look to add irrelevant information to fill space and be comfortable with submitting a CV that is 1 to 2 sides

Structuring your CV
Highlight essential information within your CV by breaking up large blocks of text and working to a format that focuses on your relevancy for the sector you're looking to apply to.
Stick to the below format when putting together your CV:
Contact details – Make your contact details easily accessible at the top of the page
Profile – Start your CV will a short paragraph summarising your skills and qualifications, engaging recruiters to read further
Education – Display your qualifications, especially those most applicable to the industry you're looking to apply to
Work experience –  If you have any, detail voluntary experience or any part time employment
Interests and hobbies – Look to add hobbies that document your transferable skills, providing added value to your CV
You can always use a CV template, if you want to make the structuring process easier and quicker.
CV contact details
Keep your contact information to the top of your CV, allowing recruiters to easily reach you.
Stick to the essential information as seen below:
Phone number
Email address
Location
Remove supplementary information such as marital status, profile pictures or date of birth that aren't required in your application.
Quick tip: You can save space and add some design flair to your CV by adding some icons to symbolise the contact details in your header.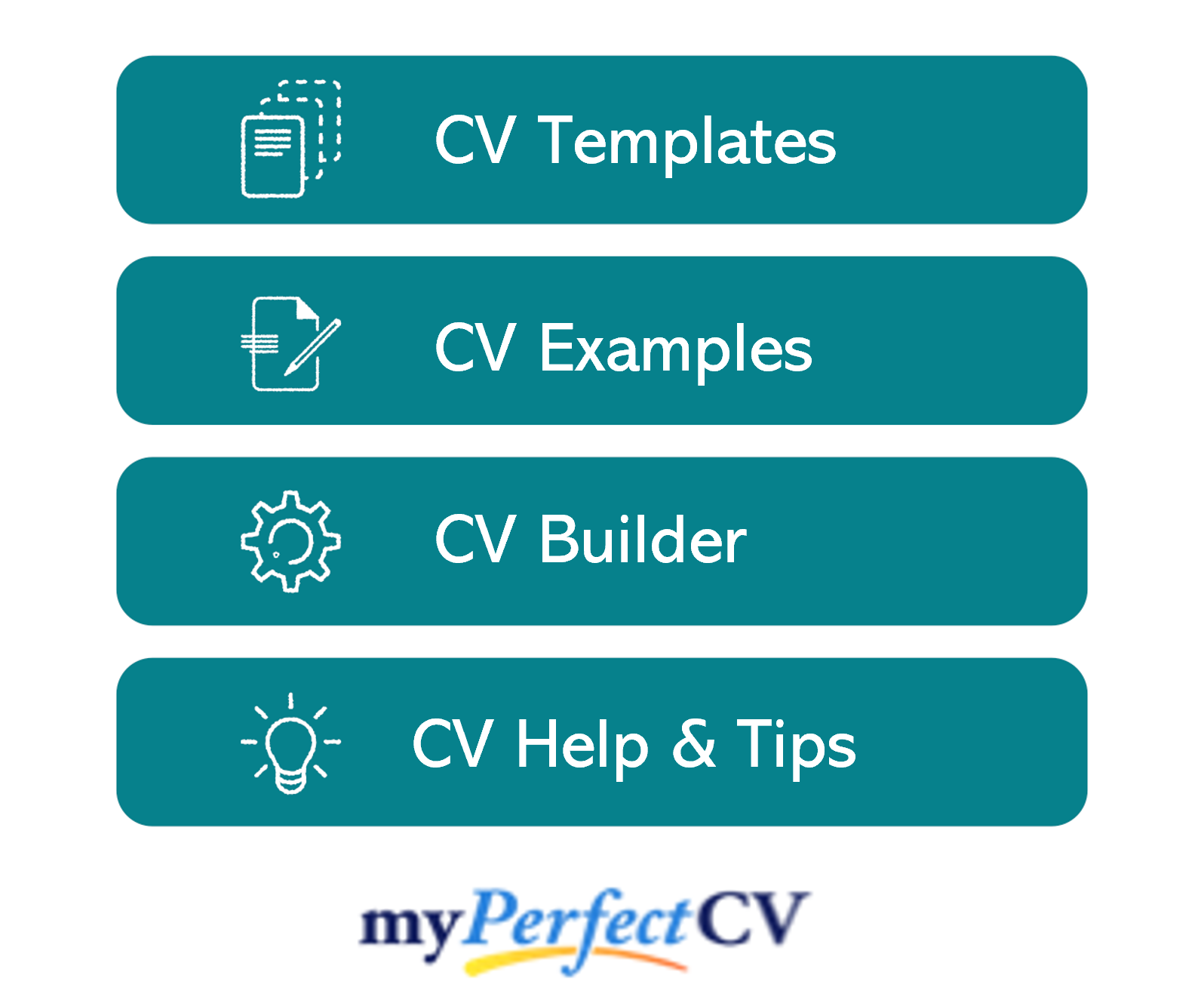 CV profile
Start your CV with an attention-grabbing introduction, summarising why you're the ideal candidate for the positions you are applying to – in a punchy profile (or personal statement)
Give recruiters an insight into your background and core skills, making your educational history a focal point, displaying your interest into your preferred field – give them some good reasons to consider you.
These tips will support you in producing your CV profile:
Research your chosen industry prior to creating your profile, making yourself custom-fit to the sector, adopting sector specific keywords
Your profile should be between 5-10 lines, you'll be able to elaborate elsewhere in your CV
Avoid cliché and overused statements such as "I am punctual" or "I am hardworking" and instead, try to include key requirements from the job adverts you are applying to
What to include in your CV profile?
Qualifications – Make your education a focal point, considering qualifications most imperative to the industry you're pursuing
Core skills – Document any transferable or marketable skills you've acquired in school or university, reflecting on strengths such as interpersonal skills, problem solving, or any skills that can translate into the workplace
Passions – Why are you interested in pursuing your chosen career? What makes you a good fit?
Core skills & achievement section
Underneath your personal profile, add a skills section that consists of your core skills, using two to three columns of bullet points to list these strengths.
Allowing recruiters at first glance to establish your most applicable soft and hard skills, which relate to the industry you're pursuing.
Before putting together this section, look to research the industry you're applying to, adding keywords that make you custom fit to that sector.

Education
When you've limited or no work experience, use your educational history as a focal point of the CV.
Represent the qualifications you have achieved as well as describing examples of coursework completed and including any specific accomplishments from your educational history.
Break up this information by clearly heading the type of qualification achieved, such as GCSE's, A Levels, Degrees or vocational training, the dates obtained and the school or college you attended.
Use bullet points to list the qualifications you secured.
Clubs and Memberships
Within your education section look to incorporate the clubs you were part of and your role within that group.
For example, whether you were the captain of a football team or a prefect at school, even considering adding any charity work you may have done.
When writing about these; try to draw out relevant skills such as teamwork, leadership, communication etc.
See also: Graduate CV – School leaver CV – Skills based CV
Work experience
Although you may have no formal work experience – be creative and add anything that could be demonstrate workplace skills, such as:
Big school projects
School work experience placements
A Saturday job
Volunteering
Club or sports team membership
Quick tip: If you have no work experience, pick up a volunteer role so that you have something impressive to add to the CV.

Structuring your roles
If you have anything you could add as work experience – add to your CV like the below example.
Structure the information within your roles, by breaking up large blocks of text and using bullet points, and defined sections.
Outline
Give an overview of your voluntary position, what were your duties or what skills you obtained from this experience.
E.g.
"Working in a busy café supporting the kitchen and front of house staff to ensure customers have a clean and safe environment."
Key responsibilities
Use bullet points to document any duties you had within a position.
E.g.
Interacting with the waiting and kitchen staff to collect dishes and cutlery
Supporting kitchen preparations during opening and closing of the café
Key achievements
Document any key achievements whilst in these positions, add relevant examples integrating any facts and figures to verify these where applicable.
E.g.
Achieved employee of the month, 2 months in a row

Interests and hobbies
When you have no experience, your hobbies could help boost your application, documenting your transferable skills gained within them.
Emphasise involvement in any clubs or teams, describing the contribution you had and providing any result driven examples.
Impressive hobbies for your CV could include:
Being in a sports team
Being a member of a club (book club, chess club)
Writing a blog
Building models or machines
Running a marathon
Taking part in school schemes (e.g. Duke of Edinburgh Award)
Look to display your personal pursuits, even if these interests don't directly correlate to the industry you're applying to, reveal how you can use the experience or skills gained within the industry you're pursuing.
For example, if you're looking to gain employment in technology then exhibit your passion for working with computers and the skills you've gained such as the ability to solve problems and work methodically.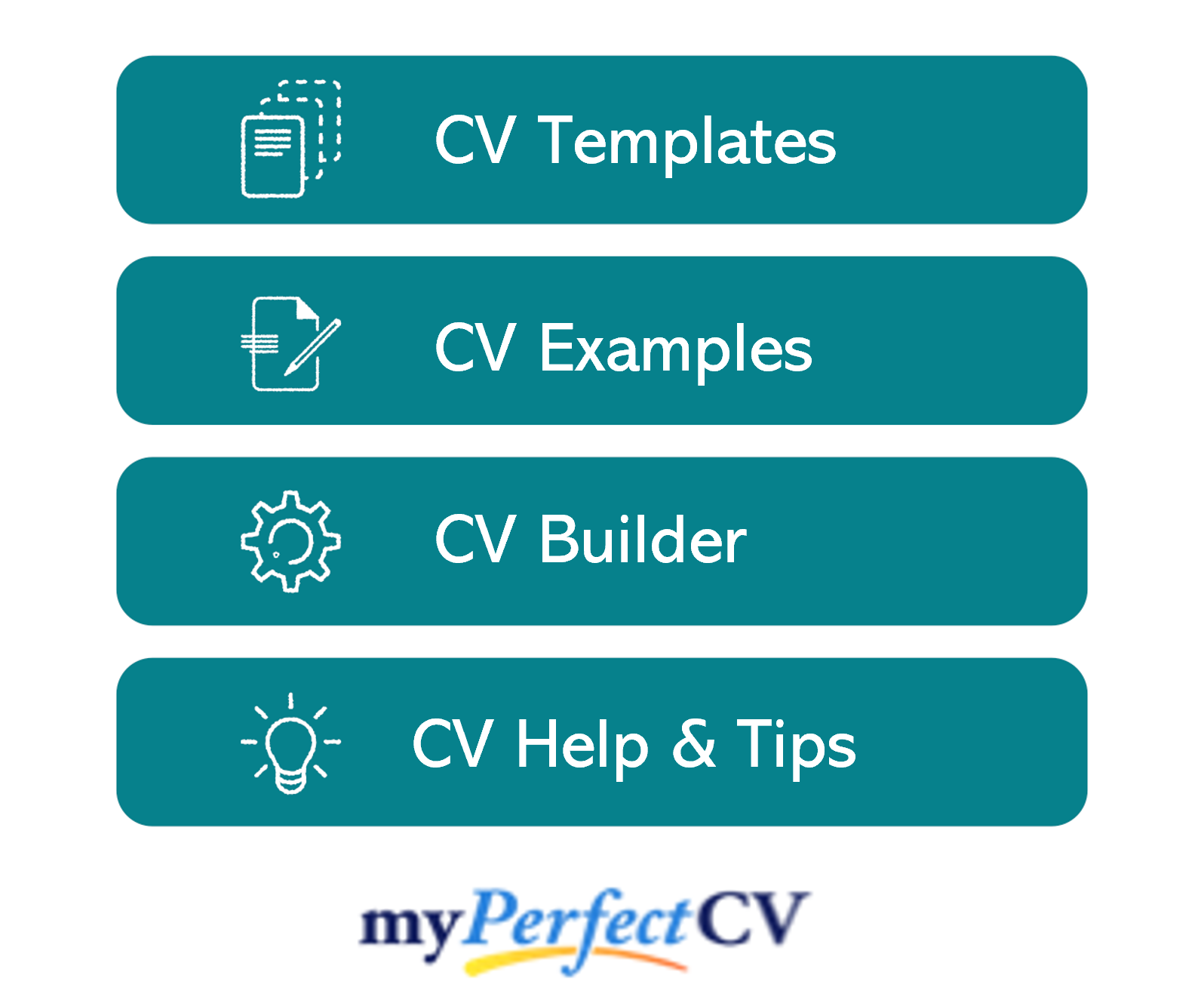 Essential skills for your CV
Portray the skills you have obtained throughout your experience in education, placements or extra curriculum activities, explaining how these can transition into a work environment.
Look to include these fundamental skills:
Communication – the ability to speak with people of a variety of levels, whether teachers, professors, customers or colleagues
Organisational Skills – the ability to juggle studies whilst taking on voluntary work
Team Work – the capacity to work within a team to overcome obstacles and achieve common goals, whether in a school project or extra-circular team
Commitment and Drive – showcase your passion and commitment towards your chosen career path
Customer Service – a talent for putting customers first and going the extra mile
Writing your CV with no experience
When you have no work experience, your CV is your first impression in the recruitment process and your opportunity to display what makes you an ideal candidate.
Highlighting all aspects of your educational background as well as the skills that make you applicable for the industry you're looking to transition into.
By using this guide, you'll be able to produce a well-structured CV that will assist you in obtaining your dream career.
Good luck in your next application!