Leaving school and entering the world of work is an exciting challenge.
You want to land yourself a good well-paying job, but you're going to need a strong CV first.
Knowing how to write a CV and what information to include in it can be tricky when you're 16 years old, so I've put together this guide which has a CV template and some example CVs to help you.
16 year old CV guide
What is a CV?
How to write your CV

What is a CV?
So, you've been told that you need to write a CV if you want a job, but what the hell is a CV anyway?
A CV (short for curriculum vitae) is simply a written document that contains lots of work-related information about you; such as your education, qualifications, skills… and experience (if you have any yet)
You send your CV to employers when you apply for jobs, and they read it to decide whether or not you are suitable enough to be invited to an interview.
Your CV is often the only thing an employer will have to judge you on, so getting it right will really help you to get more interviews and land better jobs.
It's probably one of the most important documents you will ever write in your life.
Who reads your CV?
When you apply for a job online, your CV will normally be reviewed by one of two people;
Recruiters and
Hiring managers
Hiring managers
These are the bosses within the employer's organisation who are looking for somebody to work in their team or department – They are the person who you will end up working for if you get the job. For example if you apply for a sales assistant role in a shop, the hiring manager could be the shop manager or supervisor.
Recruiters
These are the middle-men who help hiring managers to find the right people for their jobs. It's their full-time job to review CVs and applications, and pass on the best ones to the hiring managers to be considered for an interview.
So, if you want to land job interviews, your CV must impress these people.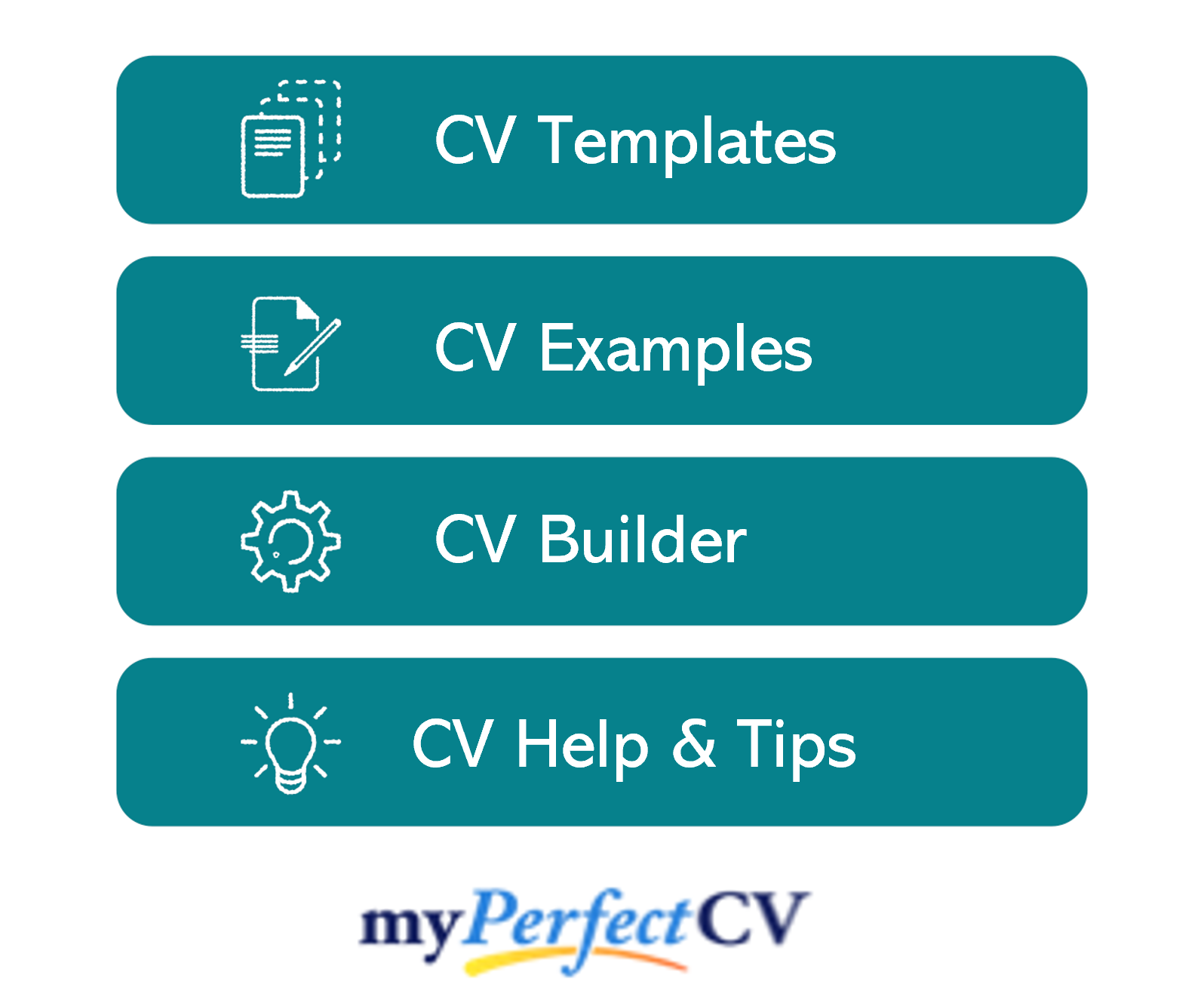 16 year old CV template (no experience)
This is an example CV of a 16 year old who has left school and has no work experience.

16 year old CV template (with some experience)
This is an example CV of a 16 year old who has some part-time work experience working in a shop.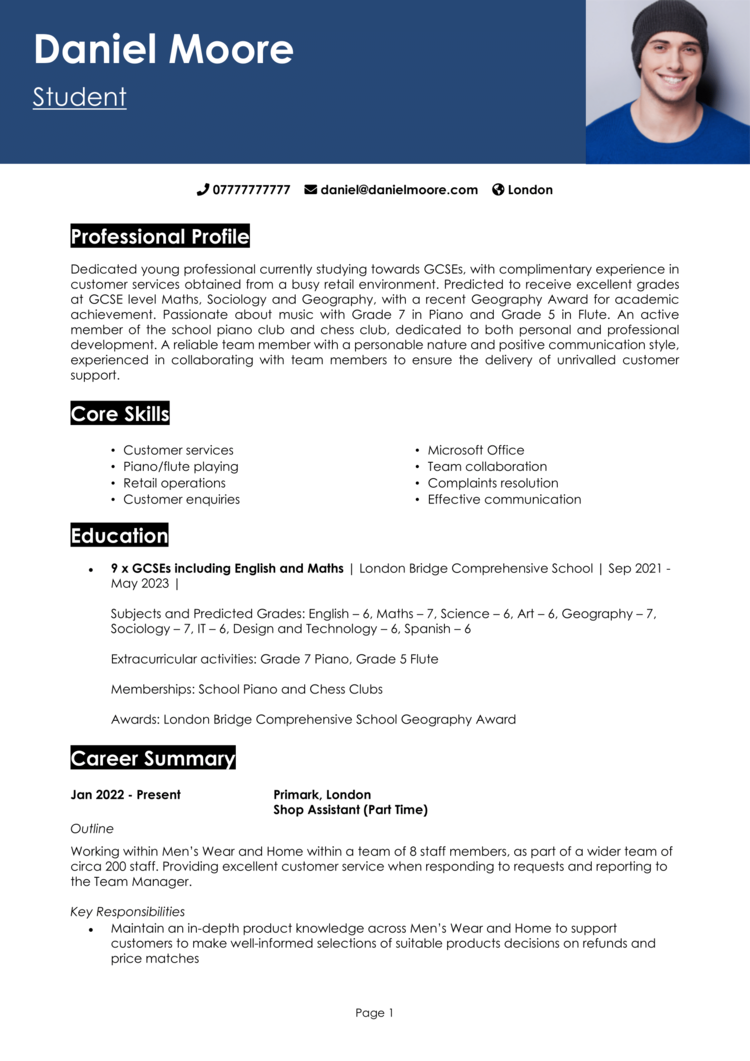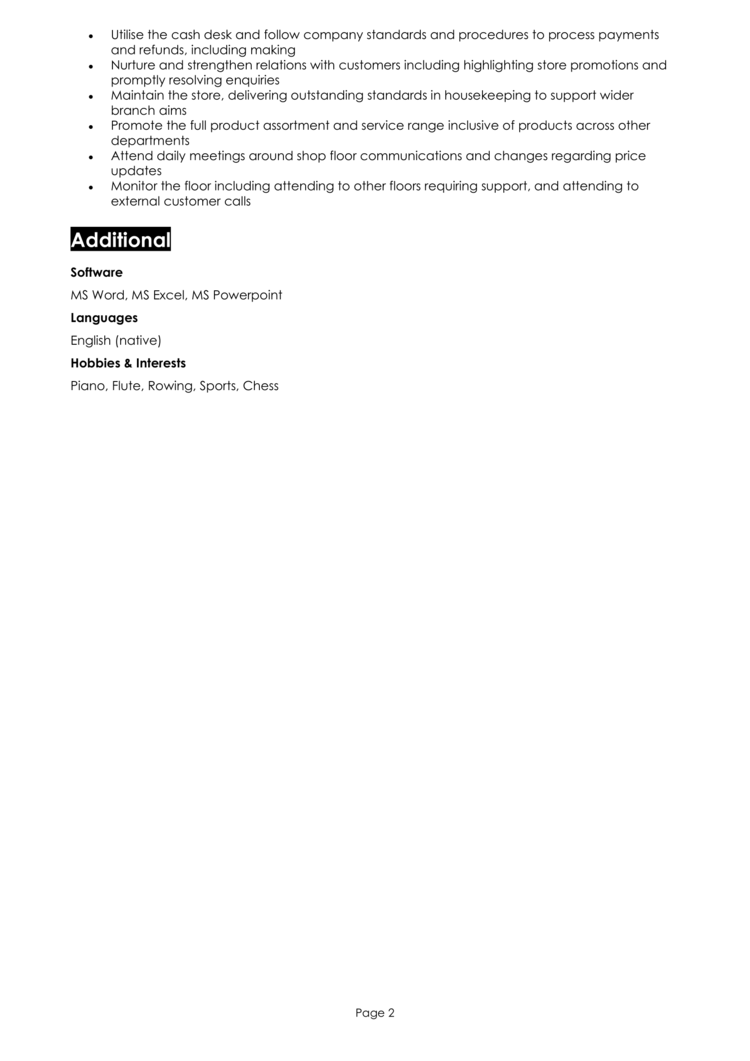 How to write your CV
Now that you've seen some good example CVs, I will show you step-by-step how to write your own interview-winning CV.
Structuring your CV
For most young people, this will be the best way to structure your CV, so that you are giving employers the information they need, in the order they would like to see it.
Contact details – At the top of the CV so they don't get missed
CV profile – Your introductory paragraph
Core skills and achievements
Education
Hobbies and interests
(And if you have any work experience, you can add that too like the example above)
Formatting your CV
When formatting your CV, you need to ensure that it;
Looks professional so that employers take you seriously
Is very easy to read so that busy recruiters and hiring managers don't have to spend too much time reviewing it
So how do you do this?
Keep the CV short and sweet – 1 page long is fine if you have no experience – 2 pages if you have some work experience to add.
Make the text clear – Use a simple font like Arial or Tahoma and keep the colour scheme basic, like black text on white
Break text up as much as possible – using short sentences and bullet points (this makes it easy for readers to digest the info on the page)
Divide the CV sections clearly – with bold heading and borders to make navigation easy
What writing software to use?
It's best to write your CV using a word processor like Microsoft Word or Google Docs because they are easy to use, and the most commonly accepted format for CV across the globe. They can also be saved into PDF format to restrict readers from editing.
Quick tip: If you struggle with spelling and grammar, try our partner's CV builder
Now, let's take a detailed look at each section of your CV, and how to write it.
(If you prefer to learn visually, you can check out my video guide here instead)
Name and contact details
Head the top of your CV with your name and contact details, so that readers know who you are, and how to reach you.
Never hide your contact details at the bottom of the CV, in case they are missed!
All you need to include is:
Telephone number
Email address (use one that looks professional – no silly nicknames)
Location
You don't need to include your date of birth or full address – they aren't needed at this early stage of the application.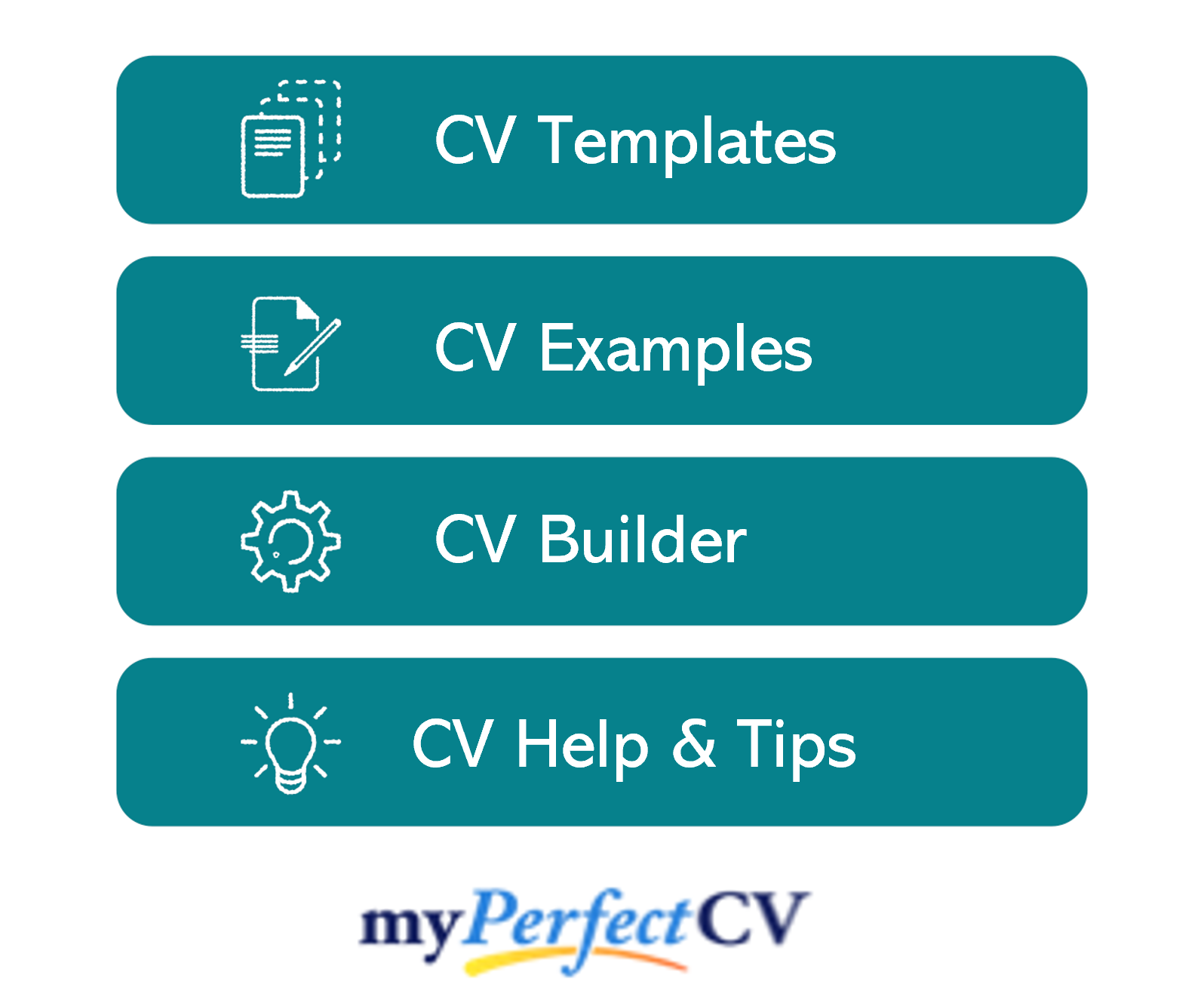 Your CV profile
Start your CV with a powerful profile (sometimes called a personal statement) which is a short paragraph that introduces you, and summarises all of your most impressive skills and knowledge.
The purpose of the profile is to catch hiring managers attention and quickly show them that you are a good candidate for them.
The type of information you should include is:
Education – Grades, subjects, courses, awards
Hard skills – Numeracy, writing, languages, IT system experience etc.
Your objective – e.g. You want to work in finance, or you want to become a lawyer (you should also write about this in your cover letter)
Quick tip: Research the types of jobs you are applying for, before you write your CV, by looking at lots of similar job adverts online. Make a list of the things they are looking for in candidates, such as skills, qualifications, interests etc. Then try to include as many of these things as you can in your profile and throughout the rest of your CV.

Core skills and achievements
To ensure that recruiters and hiring managers don't miss your most important skills and impressive achievements – add a bullet pointed section like this to put them in.
Here, you can show off any skills that are highly relevant to the jobs you are applying for, or anything really impressive you have achieved in school, or in your personal life.
For example, you may want to highlight the fact you were a school prefect, or captain of the hockey club.
Education
Employers will be keen to see what you have achieved as a student, so use your education section to show them.
Include details such as:
Which school you attended and the dates you attended from and to
Which subjects you studied and your exam results (GCSEs, A levels)
Any clubs you were a member of
Any awards you received
Any sports you played
Any extracurricular activities you took part in
Volunteer work you did through school
Work experience
If you have any work experience, such as a paper round or part-time job in a shop, then add it to showcase the valuable skills you have picked up.
Use a structure like the role in the example CV above and list the contributions you made to the employer, showing how you helped them to run their business.
If you haven't got any work experience, don't panic. We all have to start somewhere, and there's plenty of ways to prove you have valuable skills and experience without it.
Quick tip: A poorly written CV will fail to impress recruiters and employers. Use our partner's CV builder to create a winning CV in minutes with professional templates and pre-written content for every industry.

Hobbies and interests
If you have little or no experience, your hobbies can provide you with a great way to showcase some important workplace skills.
Some good hobbies to include are:
Sports – Playing individual or team sports can demonstrate teamwork, communication, leadership, coordination and more
Clubs – Being a member of a club like scouts or a book club proves dedication, motivation and can involve lots of other skills
Volunteering – supporting a charity or business can require lots of workplace skills like dealing with customers and working to deadlines
Accomplishments – If you've run a marathon or raised money for charity, it proves you are hard working and will look great on your CV
Career-related interests – If you have any interests that are closely related to the jobs you are applying for, you should definitely include them. E.g. if you are applying for writing jobs, and you write your own blog, that's a perfect way to highlight relevant skills.
You can also check out my video on how to add hobbies and interests to your CV…
Writing a CV as a 16 year old
Writing your CV when you have little or no experience can be challenging, but it's not impossible.
If you follow the steps above and focus on showing employers that you have the skills and knowledge they need – you should easily be able to write a winning CV.
Once you've written your CV, you must work hard applying for plenty of jobs on job websites, and also by searching out companies and sending them direct emails to ask if they are hiring.
You won't get a reply from every application you make, so just be patient and persistent, and you will soon land that job!
Good luck with your job search!