If you want to secure job interview, you need a strong personal statement at the top of your CV.
Your CV personal statement is a short paragraph which sits at the very top of your CV – and it's aim is to summarise the benefits of hiring you and encourage employers to read your CV in full.
In this guide I have included 17 CV personal statement examples from a range of professions and experience levels, plus a detailed guide of how to write your own personal statement that will get you noticed by employers

17 CV personal statement examples
To start this guide, I have included 10 examples of good personal statements, to give you an idea of how a personal statement should look, and what should be included.
Note: personal statements are generally used by junior candidates – if you are experienced, check out our CV profile examples instead.
Graduate CV personal statement (no experience)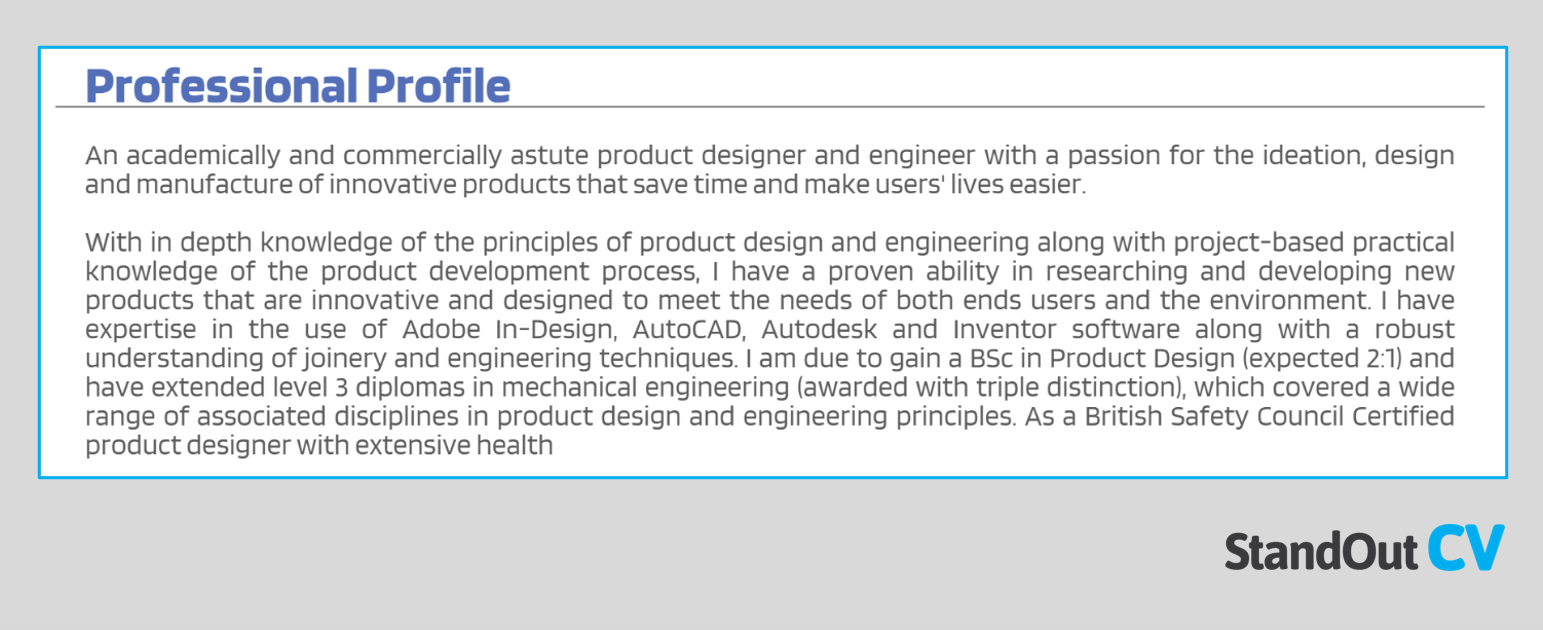 Although this graduate has no paid work experience, they compensate for it by showcasing all of the skills and knowledge the have gained during their studies, and demonstrating how they apply their knowledge in academic and personal projects.
When you have little or no experience, it's important to draw out transferable workplace skills from your studies and extracurricular work, to showcase them to employers.

Graduate CV personal statement (part time freelance experience)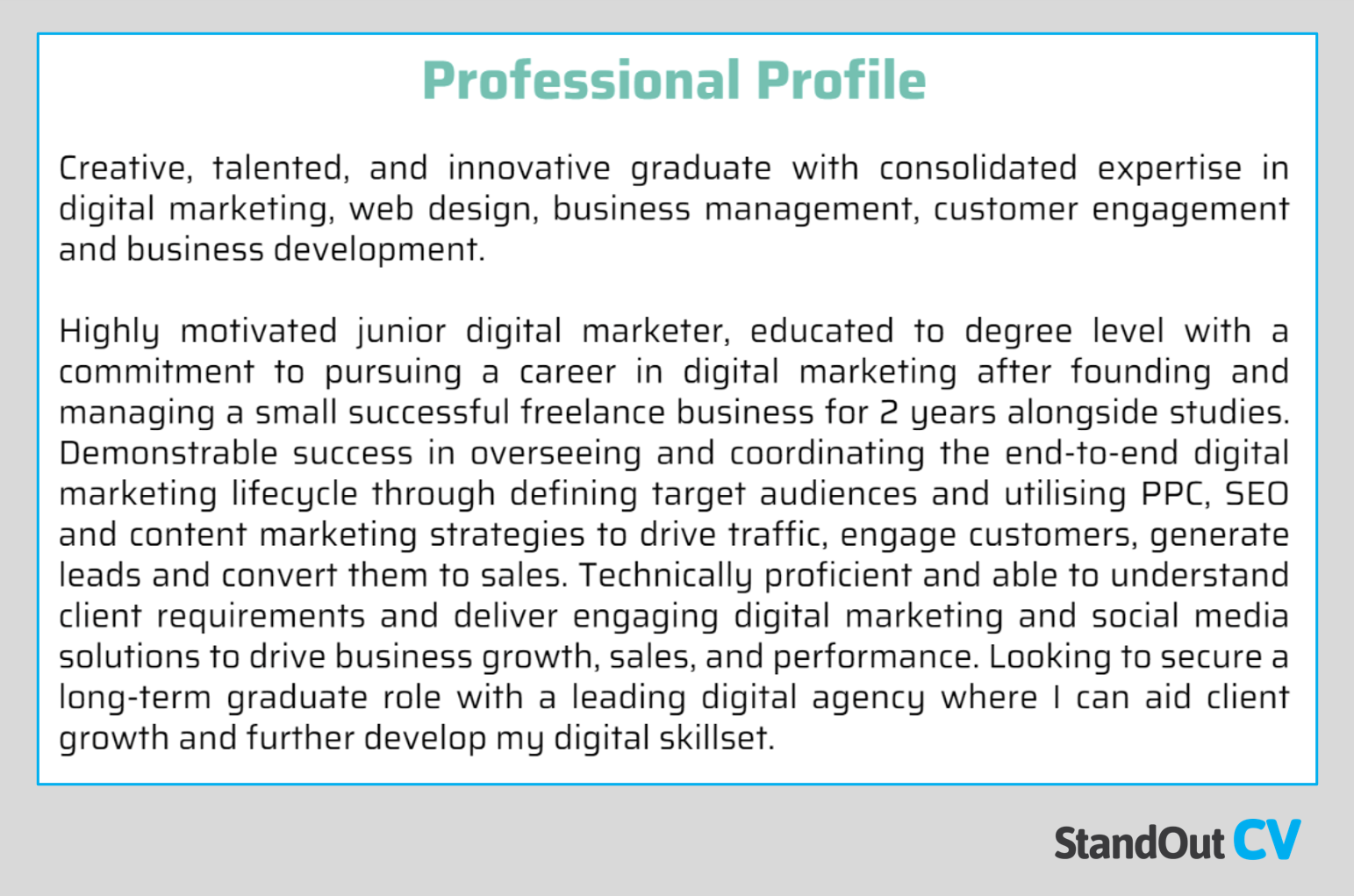 This candidate has graduated with a degree in biochemistry but actually wants to start a career in digital marketing after providing some digital freelance services to fund their studies.
In this case, they haven't made much mention of their studies because they aren't relevant to the digital marketing agencies they are applying to. Instead they have focused their personal statement around their freelance work and passion for the digital field – although they still mention the fact they are degree educated to prove their academic success.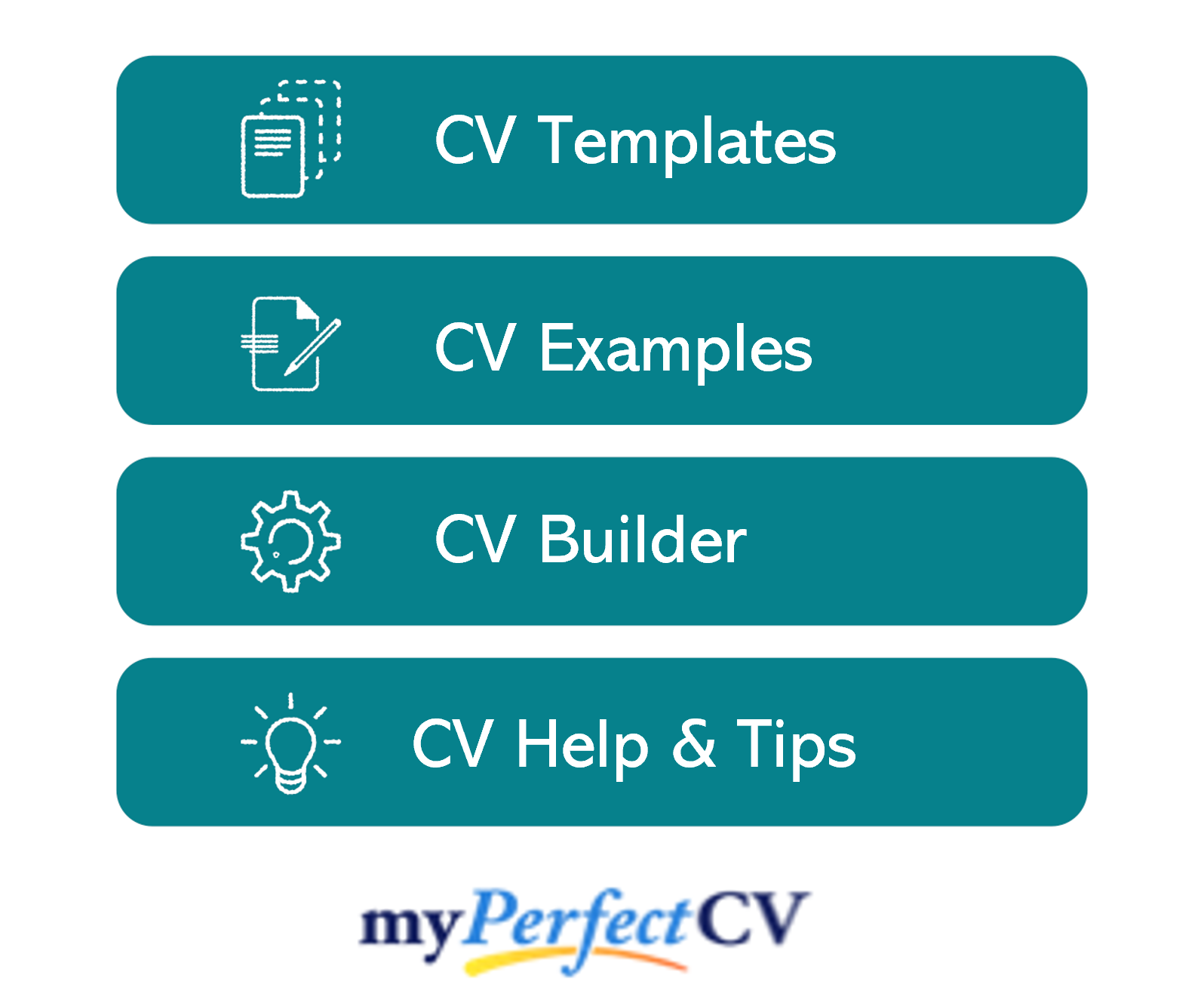 School leaver CV personal statement (no experience)


This candidate is 16 years old and has no work experience whatsoever, but they compensate for this by detailing their academic achievements that relate to the roles they are applying for (maths and literacy are important requirements in finance and accountancy roles).
They also add some info on their extracurricular activities and school work-placements, to strengthen this student CV further.
   

Top tips for writing a CV personal statement
Thoroughly research the jobs and companies you are planning to apply for to identify the type of candidate they are looking for – try to reflect that in your personal statement
Don't be afraid to brag a little – include some of your most impressive achievements from education, work or personal life
Focus on describing the benefits an employer will get from hiring you. Will you help them to get more customers? Improve their workplace? Save them time and money?
If you have no work experience, demonstrate transferable workplace skills from your education, projects, or even hobbies
School leaver CV personal statement (part time experience)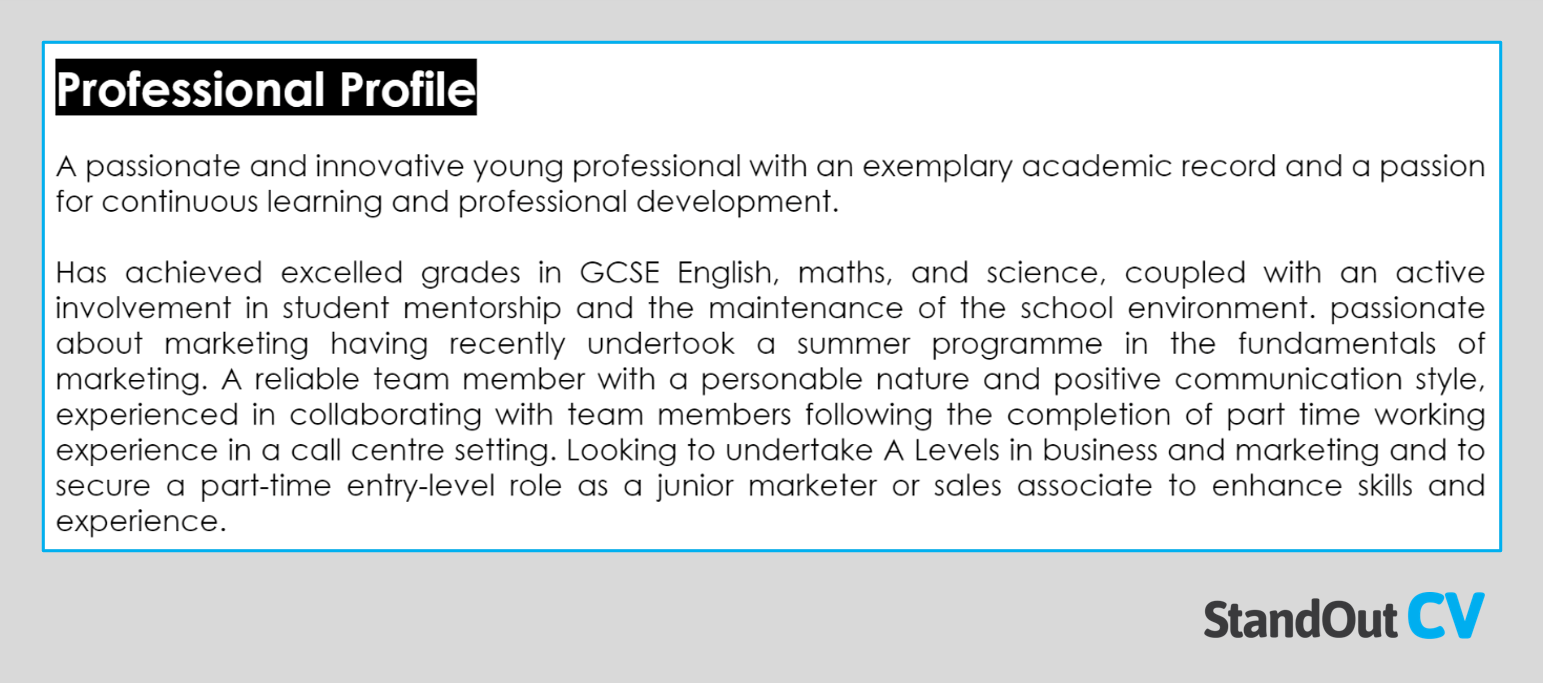 Although this person has only just left school, they have also undertaken some part-time work in a call centre alongside their studies.
To make the most of this experience, they have combined their academic achievements with their workplace exposure in this personal statement.
By highlighting their GCSE results, summer programme involvement, work experience and expressing their ambitions to progress within sales, this candidate really makes an appealing case for hiring them.
College leaver CV personal statement (no experience)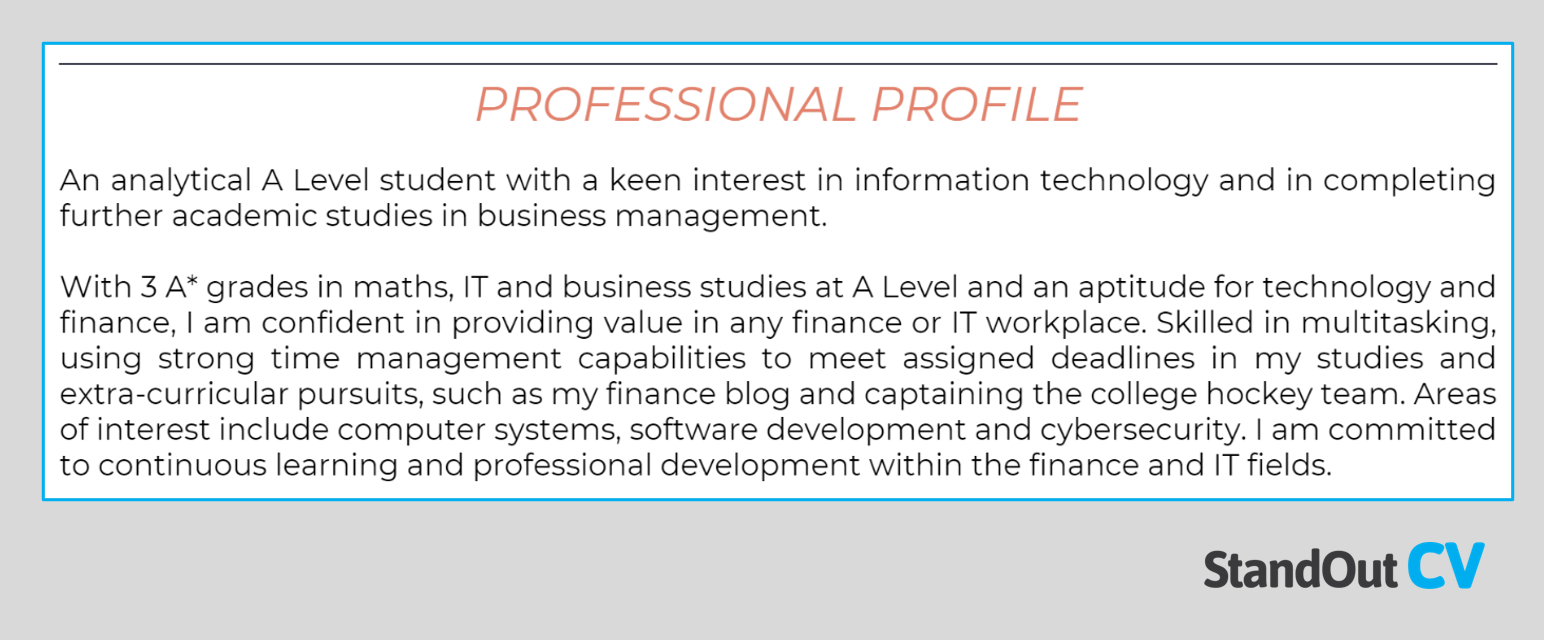 This candidate has left college with good grades, but does not yet have any work experience.
To compensate for the lack of workplace exposure, they have made their A level results prominent and highlighted skills and experience which would benefit the employers they are targeting.
Any recruiter reading this profile can quickly understand that this candidate has great academic achievements, a passion for IT and finance and the ability to transfer their skills into an office environment.

College student CV personal statement (freelance experience)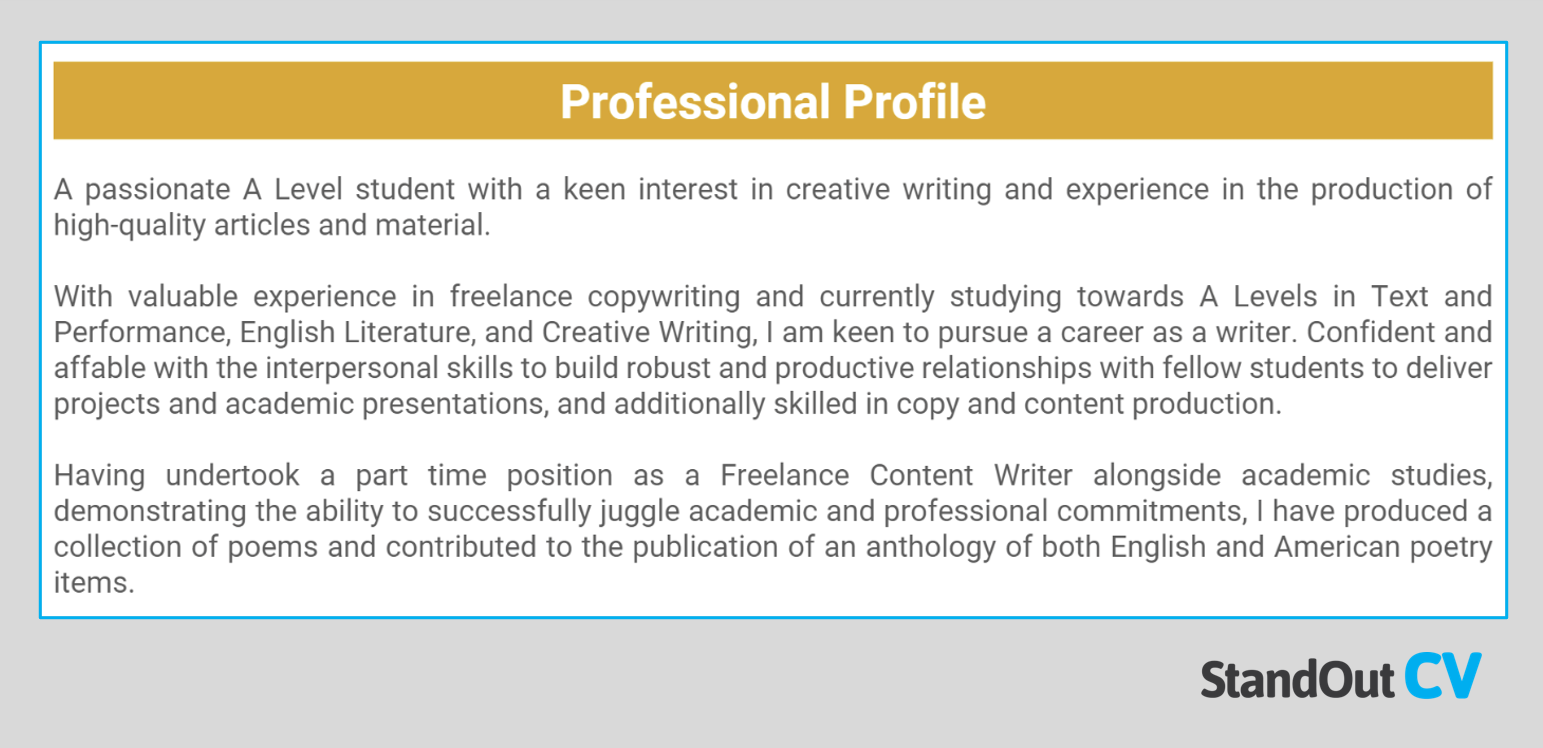 As this student has picked up a small amount of freelance writing work during their studies, they have made sure to brag about it in their personal statement.
They give details on their relevant A level studies to show the skills they are learning, and boost this further by highlighting the fact that they have been applying these skills in a real-life work setting by providing freelance services.
They also include key action verbs that recruiters will be looking for, such as creative writing, working to deadlines, and producing copy.
Academic CV personal statement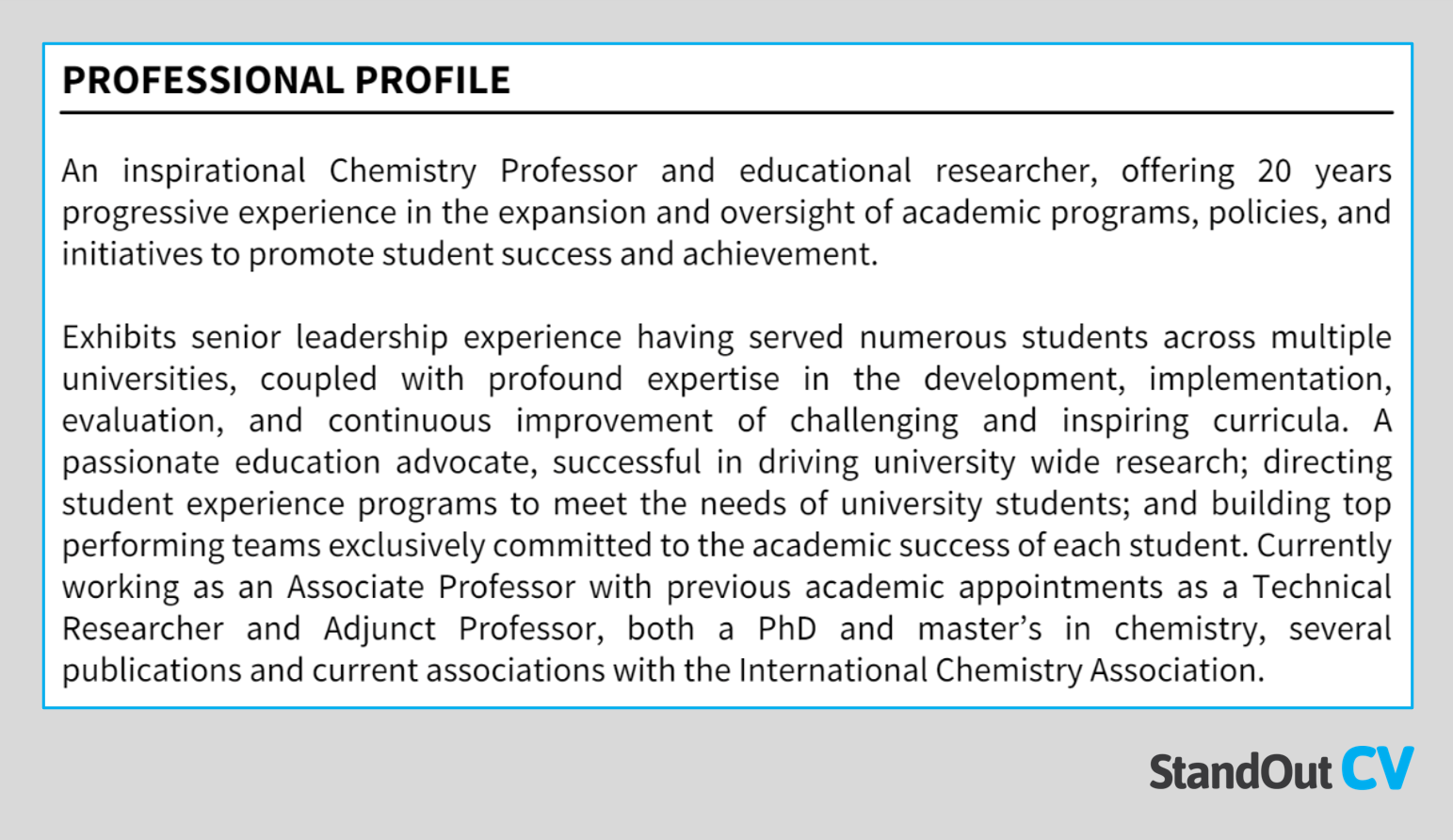 Aside from junior candidates, the only other people who might use a personal statement, are academic professionals; as their CV's tend to be more longer and detailed than other professions.
This candidate provides a high level overview of their field of study, length of experience, and the roles they have held within universities.
School leaver CV personal statement with and sports experience

Although this person has no work experience, they are still able to show employers the value of hiring them by selling their other achievements and explaining how they could benefit an organisation.
They expand on their sports club involvement to demonstrate their teamwork, leadership skills, communication and motivation, which are all important traits in the workplace, and will be looked upon favourably by recruiters and hiring managers.
They also draw upon their future plans to study business studies and take a part time job, to further prove their ambition and dedication.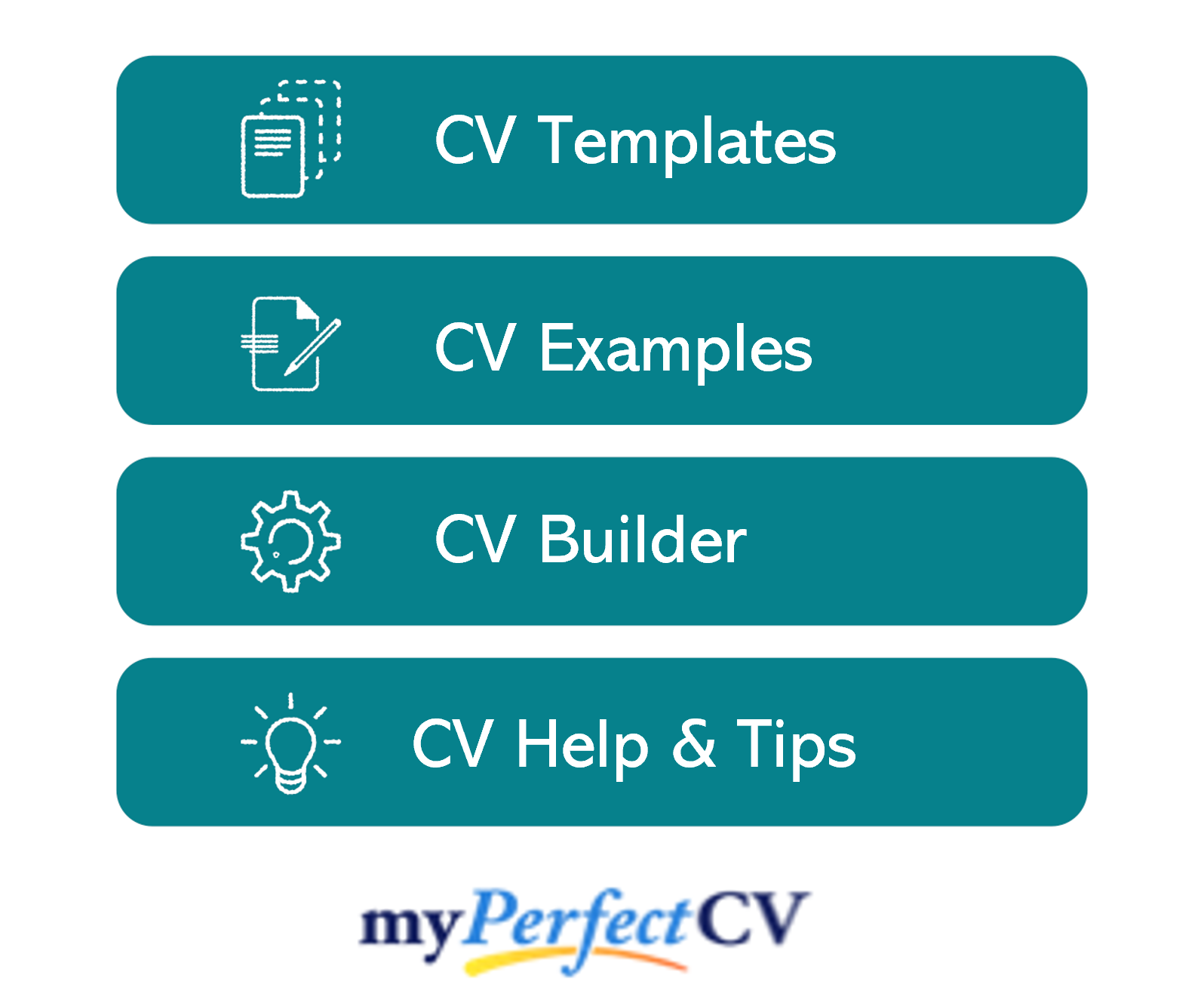 History graduate CV personal statement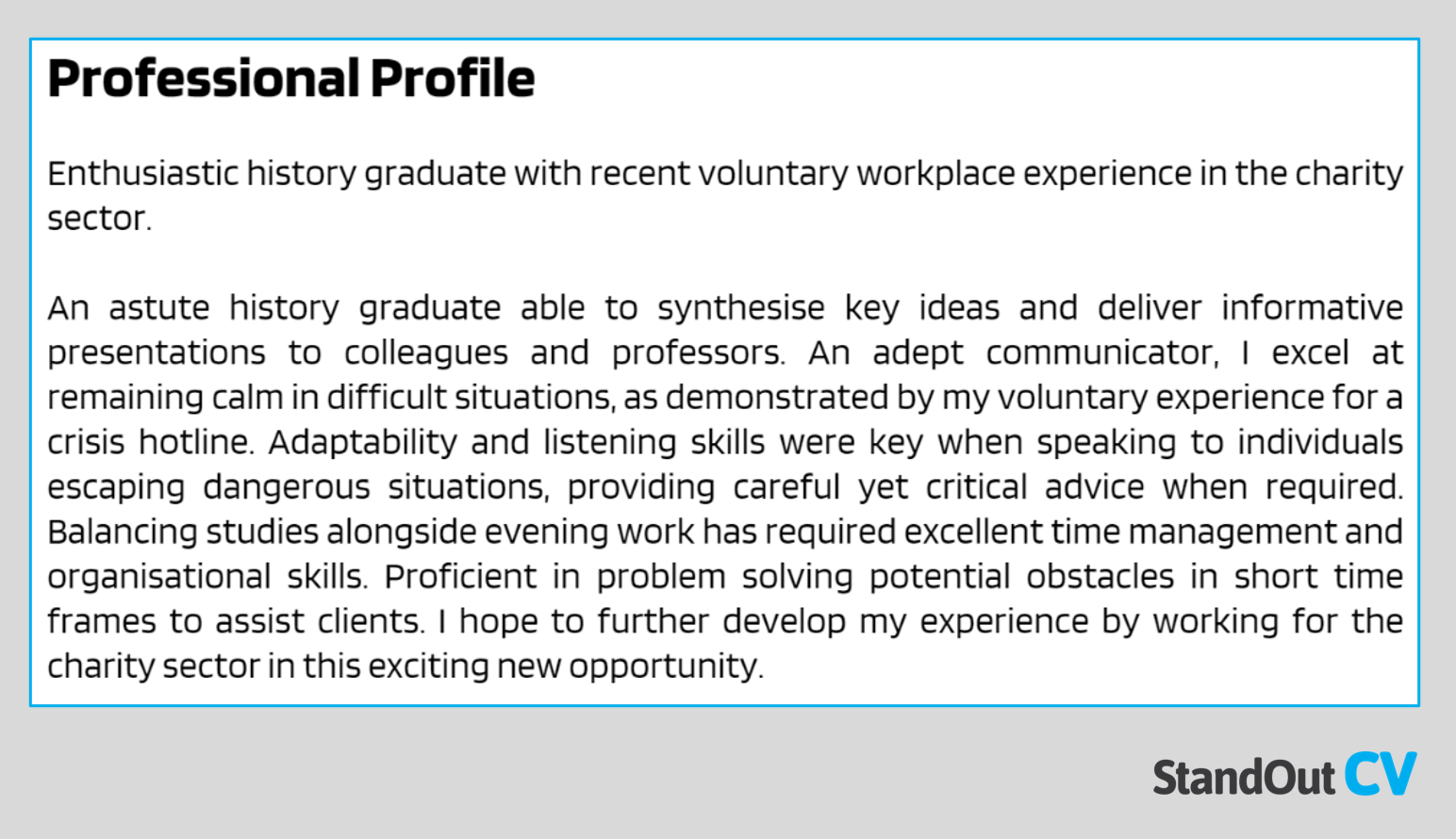 This history graduate proves their aptitude for both academic achievement and workplace aptitude by showcasing valuable skills from their degree and voluntary work.
They do this by breaking down the key requirements for each and showing how their skills could be beneficial for future employers, such as listening, communication, and crisis management.
They also describe how their ability to balance studies alongside voluntary work has not only boosted their knowledge and skills, but also given excellent time management and organisational skills – which are vital assets to any employer.
Law graduate CV personal statement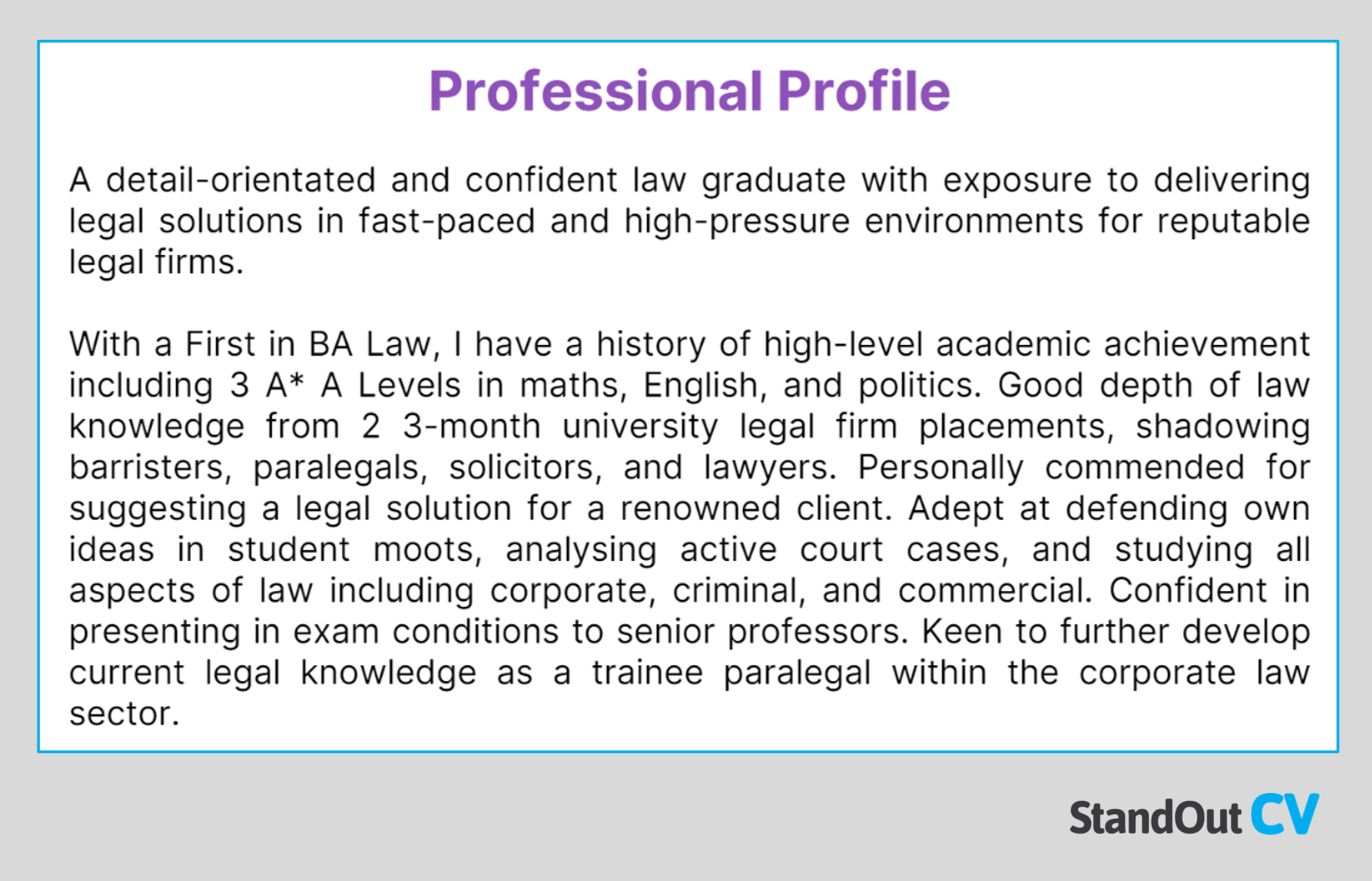 This legal graduate makes the most from their work university work placements by using it to bulk out the contents of their CV personal statement.
They include their degree to show they have the necessary qualifications for legal roles, which is crucial, but more importantly, they showcase how they applied their legal skills within a real-life work setting.
They give a brief overview of the types of legal professionals they have been working alongside and the type of work they have been carrying out – this is all it takes to get the attention of recruiters and show employers they have what it takes to fulfil roles in the legal sector.

Medical student CV personal statement

This medical student proves their fit for the role by showcasing the key skills they have gained from their studies and their work experience placements.
In just these few sentences, they are able to highlight the vast amount of experience they have across different disciplines in the industry, something which is particularly important in the medical sector.
As they have not graduated yet and are still studying, they have provided proof of their most recent grades. This can give the recruiter some indication as to the type of grade they could be graduating with in the near future.
Masters student CV personal statement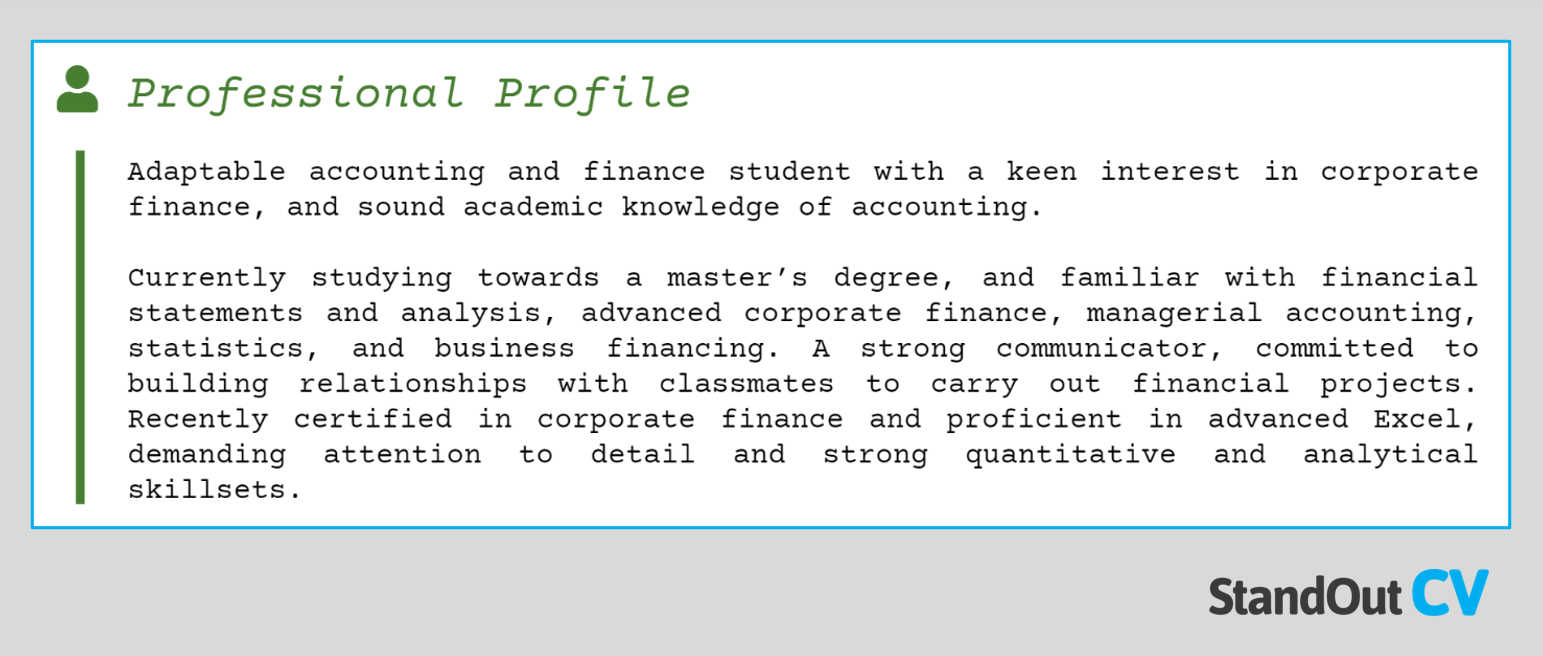 This masters student has started by specifying their area of study, in this case, accounting, and given details about the specific areas of finance they are most interested in. This can hint towards their career goals and passions.
They have then carefully listed some of the key areas of accounting and finance that they are proficient in. For example, business finance, advanced corporate finance and statistics.
They have also outlined some of the transferable skills needed for accounting roles that employers will be looking out for, such as communication, attention to detail and analytical skills.
Finance student CV personal statement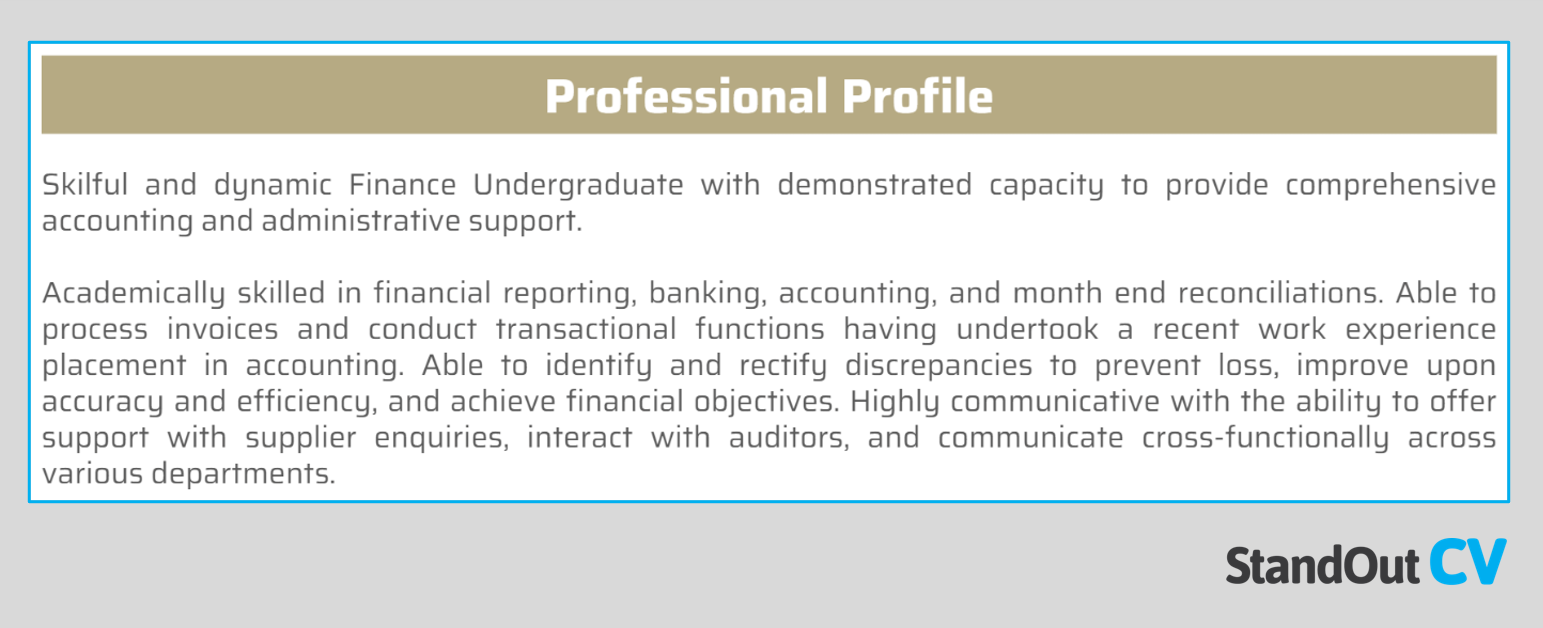 As this finance student has recently undertaken some relevant work experience, they've made sure to shout about this in their personal profile.
But more than this, they have included a list of some of the important finance skills they gained as a result of this work experience – for example, financial reporting, processing invoices and month-end reconciliations.
Plus, through power words and phrases such as 'prevent loss' and 'improve upon accuracy and efficiency', they have also showcased how they can apply these skills in a workplace setting to benefit the potential employer.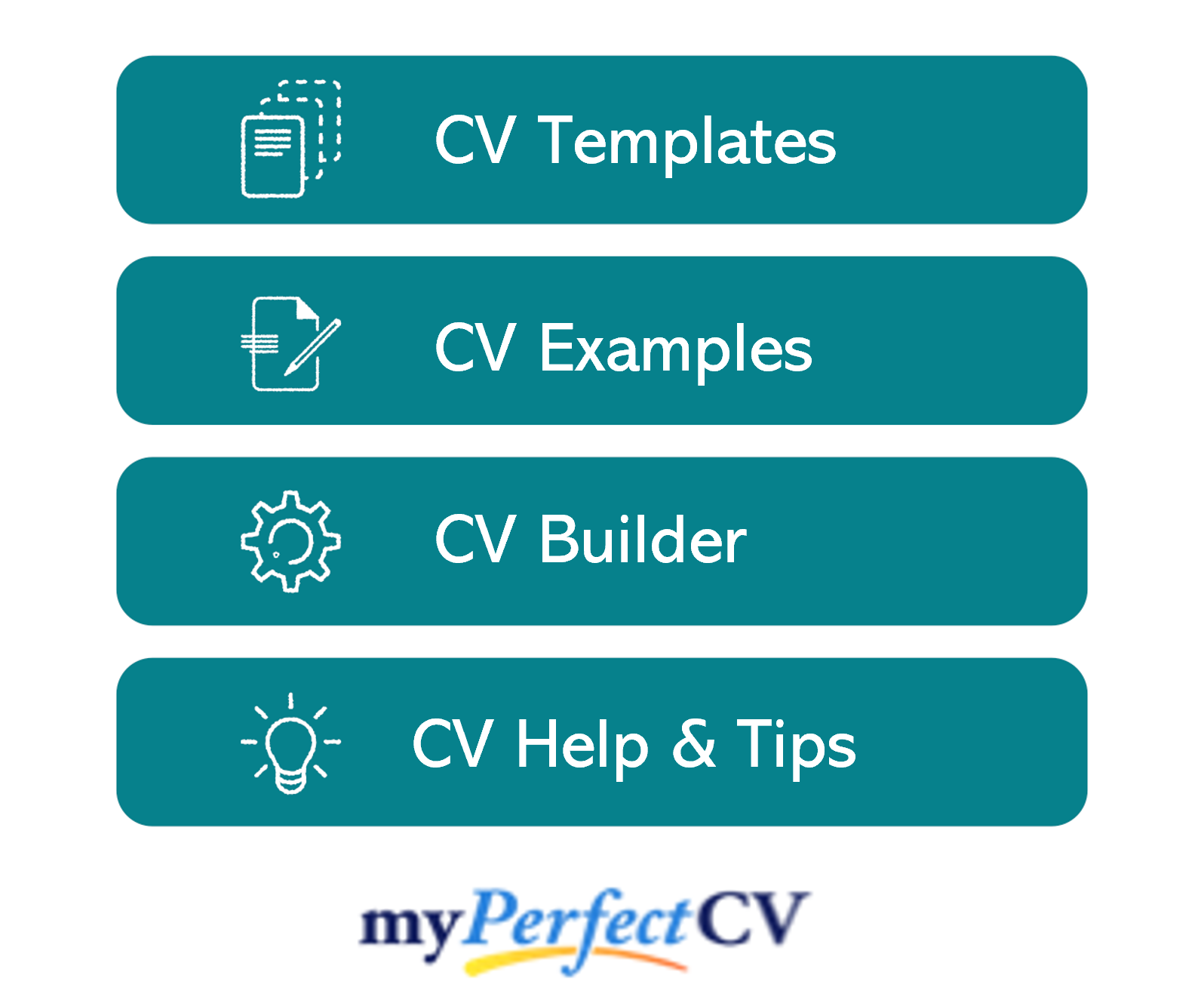 Internship  CV personal statement

This digital marketing professional has started their personal profile by outlining their most relevant qualifications and work experience, most notably their freelance role as a content manager.
They have also provided examples of some of the key marketing skills that potential employers might be looking for, including very detailed examples of the platforms and tools they are proficient in – for example, LinkedIn, Twitter and Pinterest.
They have then closed their statement by giving a detailed description of the type of role or opportunity they are looking for. In this case, an in-house position in a marketing company.
Graduate career changer personal statement

Switching careers as a graduate can be tough. Especially when it comes to writing a personal statement that will attract employers in your new chosen field.
This candidate is looking to move from history teaching into journalism, so they have created a statement which briefly mentions their current workplace, but mainly focuses on highlighting transferable skills which are relevant to journalism. They achieve this by discussing the writing skills they use in their current role, and mentioning their hobby of writing – including some publications they have been featured in for extra brownie points.
Business management graduate personal statement

This business management proves their ability to work within a junior business management position by swiftly highlighting their impressive degree (to ensure it is not missed) and summarising some of the real-life experience they have gained in management during their university placements and volunteering. They do not let their lack of paid work experience, stop them demonstrating their valuable skills.
PhD graduate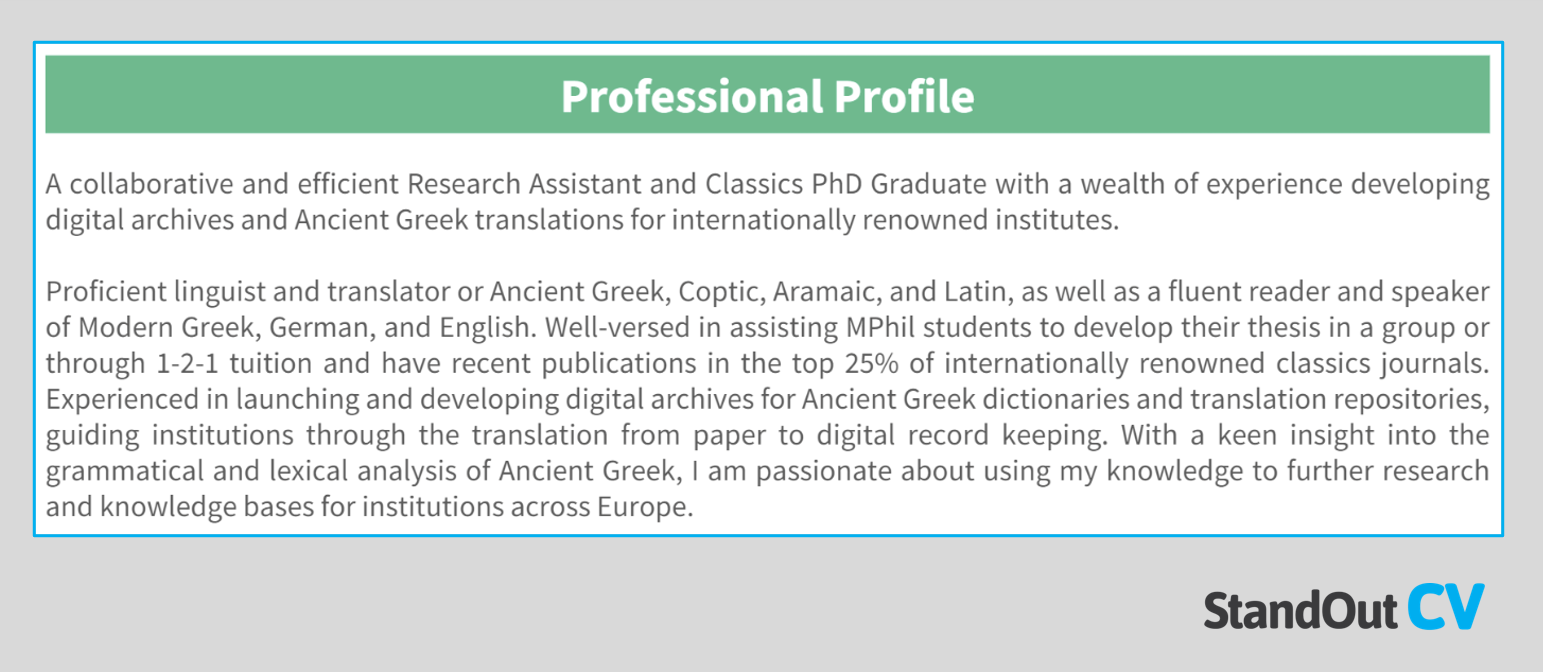 PhD graduate roles attract a lot of competition, so it's important that your CV contains a personal statement that will quickly impress and attract recruiters.
This candidate provides a short-but-comprehensive overview of their academic achievements, whilst demonstrating their exceptional level of knowledge in research, languages and publication writing.
By highlighting a number of skills and abilities that are in high-demand in the academic workplace, this CV is very likely to get noticed and land interviews.
How to write a personal statement for your CV
Now that you've seen what a personal statement should look like and the type of content it should contain, follow this detailed guide to one for your own CV – and start racking those interviews up.
Guide contents
What is a CV personal statement?
A personal statement is a short paragraph at the top of your CV which gives employers an overview of your education, skills and experience
It's purpose is to capture the attention of busy recruiters and hiring managers when your CV is first opened – encouraging them to read the rest of it.
You achieve this by writing a tailored summary of yourself that explains your suitability for the roles you are applying for at a very high level, and matches your target job descriptions.
CV personal statement or CV profile?
One question candidates often ask me is, "what is the difference between a personal statement and a CV profile?"
To be honest, they are almost the same – they are both introductory paragraphs that sit at the top of your CV… but there are 2 main differences
A personal statement tends to be used more by junior candidates (graduates, school leavers etc.) and is relatively long and detailed.
A CV profile tends to be favoured by more experienced candidates, and is shorter in length than a personal statement.
Note: If you are an experienced candidate, you may want to switch over to my CV profile writing guide, or example CV profiles page.

Personal statement format
To ensure you grab recruiters' attention with your personal statement, lay it out in the following way.
Positioning
You need to ensure that your personal statement sits at the very top of your CV, and all of it should be totally visible to readers, without the need to scroll down the page.
Do this by reducing the top page margin and minimising the space taken up by your contact details.
This will ensure that your whole personal statement can be seen, as soon as your CV is opened.
We have a Word CV template which can help you to get this right.
Size/length
Your personal statement needs to contain enough detail to provide an introduction to your skills and knowledge, but not so much detail that it bores readers.
To strike the right balance, anything between 8-15 lines of text is perfect – and sentences should be sharp and to-the-point.

Style
As with the whole of your CV or resume, your personal statement should be written in a simple clean font at around size 10-12 to ensure that it can be read easily by all recruiters and employers.
Keep the text colour simple, ensuring that it contrasts the background (black on white is best) and break it into 2 or even 3 paragraphs for a pleasant reading experience.
It should also be written in a punchy persuasive tone, to help you sell yourself and increase your chances of landing interviews, I cover how to do this in detail further down the guide.
Quick tip: A poorly written CV will fail to impress recruiters and employers. Use our partner's CV builder to create a winning CV in minutes with professional CV templates and pre-written content for every industry.
What to include in a CV personal statement
Once you have the style and format of your personal statement perfected, you need to fill it with compelling content that tells recruiters that your CV is worth reading.
Here's what needs to go into your personal statement…
Research
Before you start writing your personal statement, it's crucial that you research your target roles to find out exactly what your new potential employers are looking for in a candidate.
Run a search for your target jobs on one of the major job websites, look through plenty of adverts and make a list of the candidate requirements that frequently appear.
This research will show you exactly what to include in your personal statement in order to impress the recruiters who will be reading it.
Education
Education and qualifications are an important aspect of your personal statement, especially if you are a junior candidate.
You should highlight your highest and most relevant qualifications, whether that is a degree, A levels or GCSEs. You could potentially go into some more detail around modules, papers etc. if they are relevant to the roles you are applying for.
Experience
It's important that you discuss the experience you have gained in your personal statement, to give readers an idea of the work you are comfortable undertaking.
This can of course be direct employed work experience, but it doesn't have to be.
You can also include:
School/college Uni work placements
Voluntary work
Personal projects
Hobbies/interests
As with all aspects of your CV, the content should be tailored to match the requirements of your target roles.
Whilst discussing your experience, you should touch upon skills used, industries worked in, types of companies worked for, and people you have worked with.
Where possible, try to show the impact your actions have made. E.g. A customer service agent helps to make sales for their employer.
Knowledge
Any industry-specific knowledge you have that will be useful to your new potential employers should be made prominent within your personal statement.
For example
Knowledge of financial regulations will be important for accountancy roles
Knowledge of IT operating systems will be important for IT roles
Knowledge of the national curriculum will be important for teachers
Motives
You should also include some information about the types of roles you are applying for, and why you are doing so. Try to show your interest and passion for the field you are hoping to enter, because employers want to hire people who have genuine motivation and drive in their work.
This is especially true if you don't have much work experience, as you need something else to compensate for it.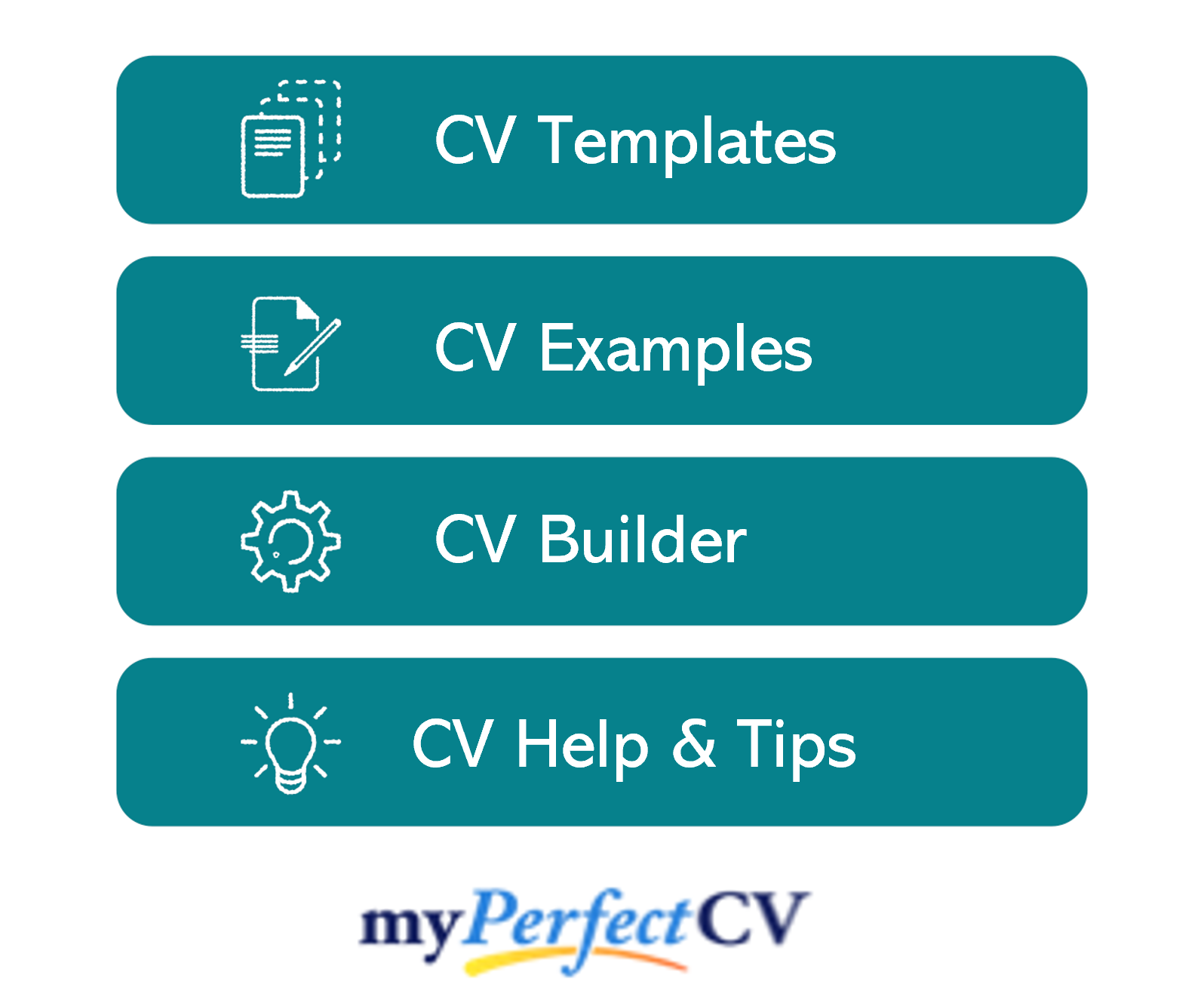 CV personal statement mistakes
The things that you omit from your personal statement can be just as important as the things you include.
Try to keep the following out of your personal statement..
Irrelevant info
Any information that doesn't fall into the requirements of your target roles can be cut out of your personal statement. For example, if you were a professional athlete 6 years ago, that's great – but it won't be relevant if you're applying to advertising internships, so leave it out.
Generic clichés
If you are describing yourself as a "dynamic team player with high levels of motivation and enthusiasm" you aren't doing yourself any favours.
These cliché terms are vastly overused and don't provide readers with any factual details about you – so keep them to a minimum.
Stick to solid facts like education, skills, experience, achievements and knowledge.
How to write persuasively
If you really want to ensure that your personal statement makes a big impact, you need to write in a persuasive manner.
So, how do you so this?
Well, you need to brag a little – but not too much
It's about selling yourself and appearing confident, without overstepping the mark and appearing arrogant.
For example, instead of writing.
"Marketing graduate with an interest in entering the digital field"
Be creative and excite the reader by livening the sentence up like this,
"Marketing graduate with highest exam results in class and a passion for embarking on a long and successful career within digital"
The second sentence is a much more interesting, makes the candidate appear more confident, throws in some achievements, and shows off a wider range of writing skills.
Quick tip: A poorly written CV will fail to impress recruiters and employers. Use our partner's CV builder to create a winning CV in minutes with professional templates and pre-written content for every industry.

Your own personal statement will be totally unique to yourself, but by using the above guidelines you will be able to create one which shows recruiters everything they need.
Remember to keep the length between 10-20 lines and only include the most relevant information for your target roles.
You can also check our school leaver CV example, our best CV templates, or our library of example CVs from all industries.
Good luck with the job hunt!