If you're currently looking for a role as a marketing manager, it's crucial for your CV to stand out from the competition.
You need to grab recruiters' attention with a well-structured and engaging CV that promotes your in-demand skills.
This detailed guide, including a marketing manager CV example will aid you in writing a CV that will help you land your dream marketing job.
Guide contents
Marketing manager CV example
Structuring and formatting your CV
Writing your CV profile
Detailing work experience
Your education
Vital skills for a marketing manager CV

Marketing manager CV example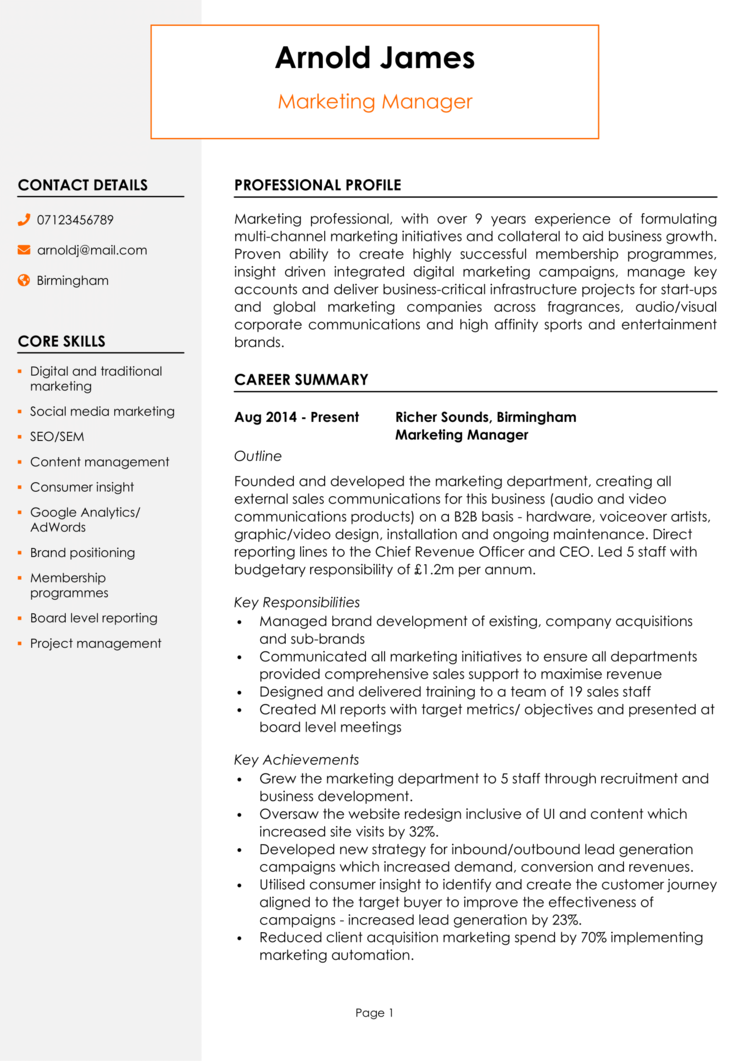 This CV example demonstrates how to produce a well-defined structure that can effectively showcase your relevancy for marketing manager positions.
This guide will walk you through how to produce your own CV that emphasises your experience in an engaging and enticing manner, holding recruiters' attention throughout.
Marketing manager CV structure & format
The structure of your CV is equally as significant as the compelling content within your CV.
Your structure needs to facilitate ease of reading, enabling recruiters to simply navigate your experience, clearly pinpointing your applicable skills.
A professional, concise and clear format is vital to maintaining recruiters' gaze in a busy job market, ensuring your CV doesn't become tedious to read.
This infographic highlights how to format and structure your CV, detailing exactly what sections to include.
Formatting Tips
Use bold headers to break up information into distinct sections and bullet points to facilitate ease of reading
Avoid over-designing your CV by avoiding any imagery such as company logos or headshots and keeping to a muted colour pallet and a distinct font
Maintain a CV length of 2 sides of A4, detailed enough to demonstrate your suitability without it becoming tedious to read

Structuring your CV
Highlight fundamental information within your CV by breaking up large blocks of text and working to a format that provides a logical reading flow.
Stick to the below section structure when producing your CV:
Contact details – Make your contact details easily accessible at the top of your CV
Profile – A summary introductory paragraph that represents your sector specific qualifications, experience and skills
Work experience / Career history – Record your career history in reverse chronological order
Education – Document any qualifications obtained, especially those pertinent to marketing manager roles
Interests and hobbies – This is an optional section where you are able to include hobbies and interests that add value to your CV
We'll now talk you through how to construct each section within your own CV.
CV contact details
Make your contact details easily accessible by keeping this information to the top of the page, including only the essential information such as:
Phone number
Email address
Location
Provide a link to your LinkedIn profile if applicable
Remove extra information that isn't required in the decision making process such as your date of birth, marital status, your full home address, or headshot photos that take up valuable space.

Marketing manager CV profile
Start your CV with a powerful CV profile to reel readers in.
Produce a short introductory paragraph (also called a personal statement) at the top of the page that gives recruiters an insight into your experience, qualifications and core skills that are imperative to marketing manager positions.
Your profile should engage recruiters at the top of the page, enticing them to read further into your experience, after identifying your suitability for the industry at first glance.
These tips will help you in creating your CV profile:
Avoid cliché statements such as "I'm a passionate individual" or "I work hard" and instead be unique, customising your profile to the marketing manager roles
Research the industry prior to creating your CV profile, adding any keywords or sector specific skills
Sell yourself, consider why you match the criteria for marketing manager roles and incorporate this in your profile
Stick to a length between 5-10 lines, enough space to summarises your experience with the ability to provide further depth elsewhere in your CV

What to include in your CV profile?
Previous companies worked for – Whether you work for a digital marketing firm, you're a freelancer or worked for a PR agency
Level of your experience – Whether you have recently been promoted to a marketing manager, have extensive experience in the industry or consultancy experience
Marketing channel expertise – Are you a social media marketing expert? Or do you specialise in PR or content marketing?
Size of campaigns worked on – Have you worked on small niche projects or multi million pound global campaigns?
Qualifications – Detail any qualifications or courses specific to the industry such as marketing degrees
Tools used – Understanding of social media platforms, analytics, design software or project management tools
Core marketing manager skills – Record core soft skills such as innovation, creativity, communication, client management or commercial awareness
Quick profile writing tip: If you struggle with written English, try using our partner's CV builder to eliminate the risk of making mistakes.
Core skills section
Directly underneath your CV profile, display your marketable skills in two or three columns of bullet points.
Providing recruiters an insight into your core strengths at first glance without them having to sift through your CV.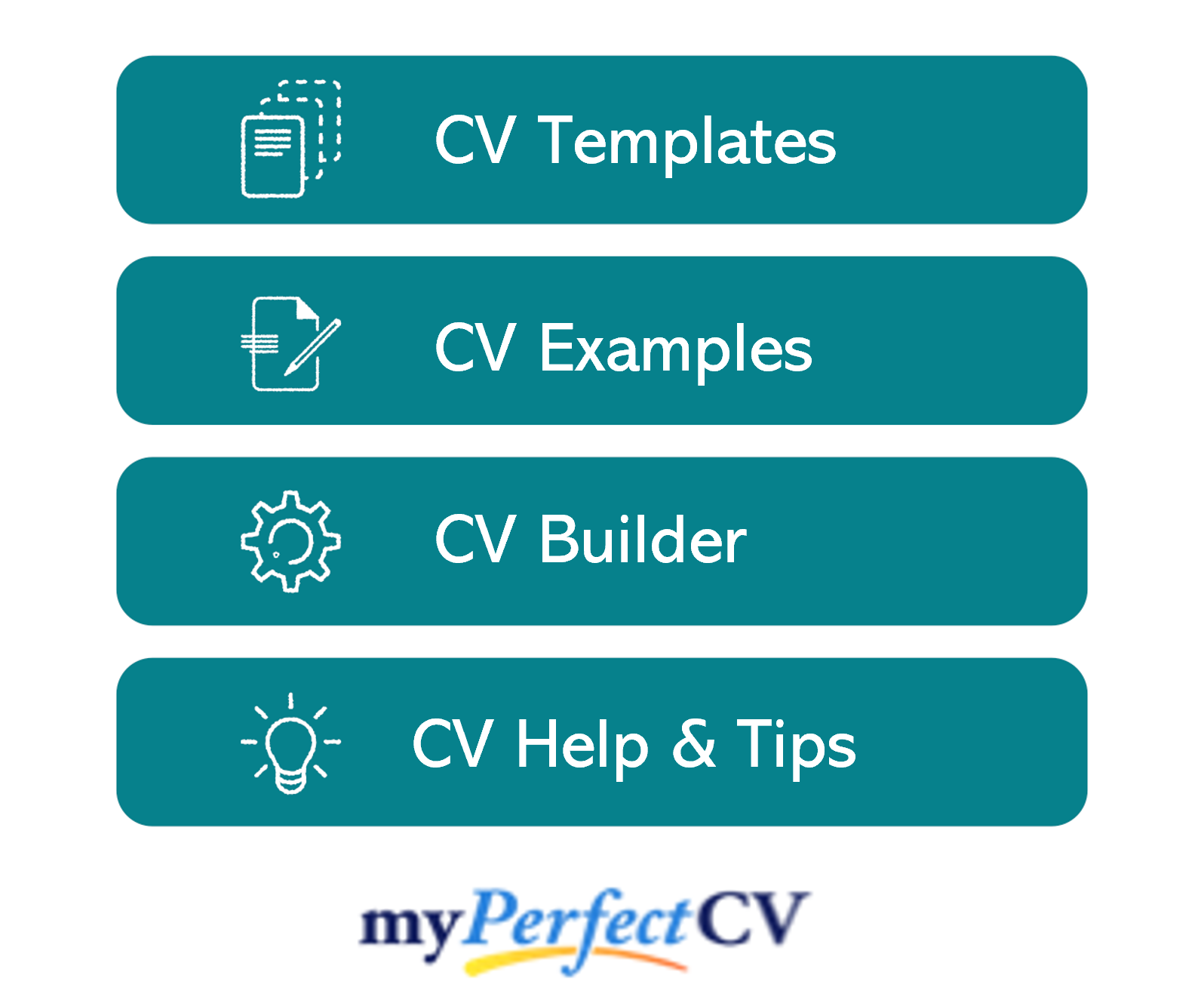 Work experience/Career history
Record your employment history in reverse chronological order, saving room for your most recent positions by providing a brief overview for older positions or those less applicable to marketing manager roles.
Give more depth to those roles related to the industry or your most recent positions – as those are the areas employers will want to know more about.
Structuring your roles
Prove your value with your role descriptions, giving recruiters an understanding of the roles you undertook and the impact you made within that position.
Use the below structure when compiling your role descriptions to achieve this.
Outline
Provide an overview of your role, the company you worked for or the department you worked within, giving a concise summary to recruiters.
E.g.
"Working for a marketing agency in London where I was responsible for the implementation of marketing strategies to maximise revenue for clients and support their business growth.
Key responsibilities
Use bullet points to record your duties within each role, displaying any project involvement or additional responsibilities taken on.
E.g.
Implemented and designed local and national marketing strategies for clients
Researched competitors and reviewed marketing trends to provide insights to clients
Key achievements
Showcase the impact you had within previous organisations by recording any key achievements, adding any facts and figures that verify these examples.
E.g.
Improved web presence through SEO increasing traffic by 100k visitors per month
Reduced advertising spend by 10% whilst maintain leads and sales

Education
Towards the end of your CV, document any qualifications or courses you've obtained, reserving space for those qualifications imperative to marketing manager roles.
Including degrees or HNDs in advertising, business management, marketing or communications or courses such as CIM Level 3 Foundation Certificate in Marketing.
If you have space within your CV consider adding additional qualifications such as GCSE's, A-levels, additional degrees and any vocational qualifications.
Interests and hobbies
Unlike other sections within your CV, hobbies and interest aren't mandatory and should only be included if your interests will add further impact to your CV.
Consider hobbies that demonstrate soft skills that are pertinent to marketing manager roles such as organisation, creativity, communication and innovation.
Interests such as running a Facebook interest group, being part of a drama club or doing something creative individually such as painting or model building all showcase these strengths.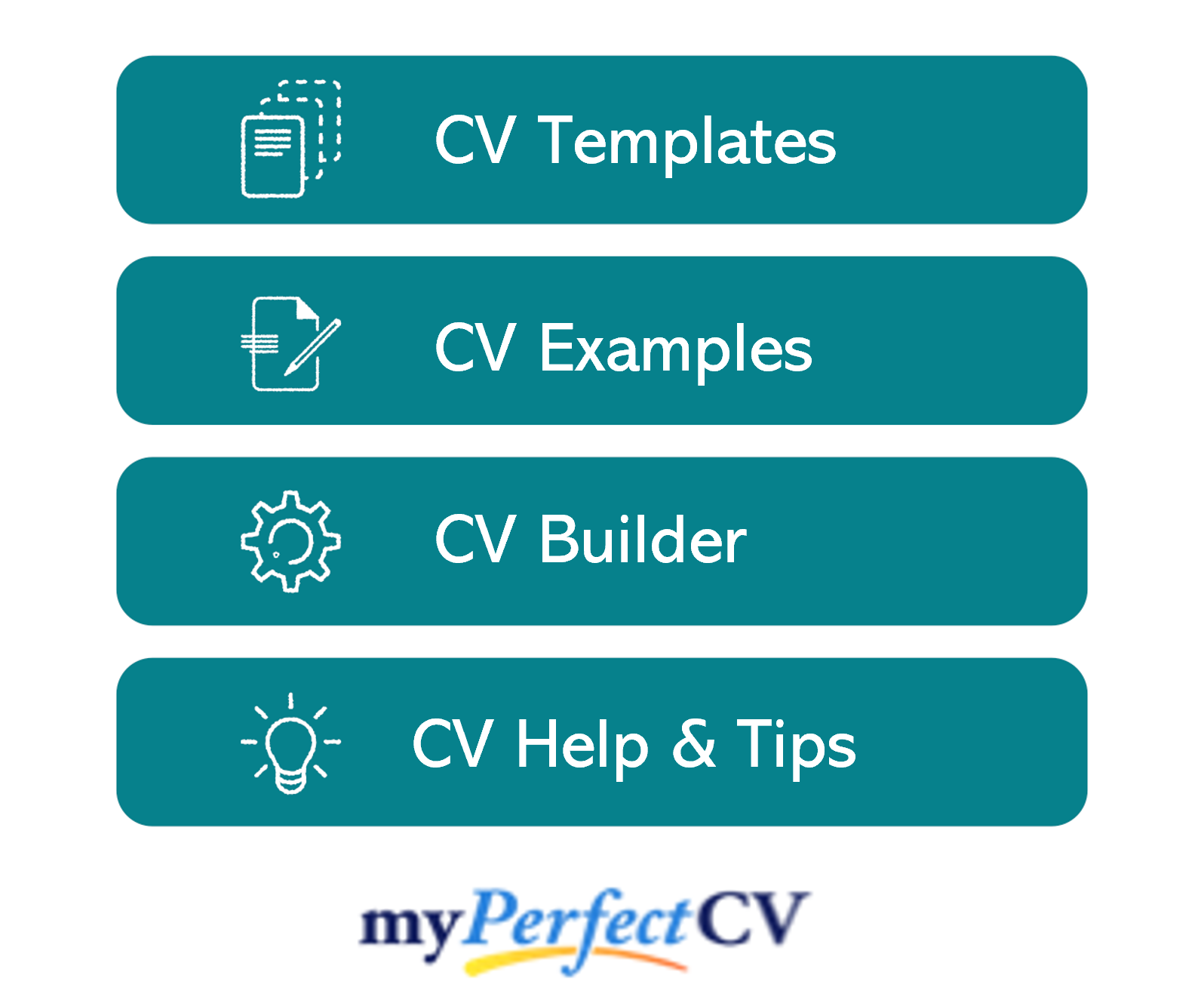 Essential skills for a marketing manager CV
It's imperative to highlight your sector specific skills within your CV, enabling recruiters to clearly see your suitability for the industry.
Look to incorporate the below skills within your marketing manager CV:
Campaign management – Leading marketing campaigns from inception to completion
Budgeting – sticking to client or companies' budgets, prioritising allocation of costs
Social media marketing – understanding of the social media algorithms and the ability to schedule posts across channels
Website optimisation – identifying website problems and producing content and sites that best promote a company's brand
Analytics – understanding analytics and being able to accurately report on performance to clients and provide solutions or insights
Search engine optimisation – optimising performance through key word knowledge
Copywriting – being able to produce compelling contact for internal or external comms or social media or website usage
Writing your marketing manager CV
Creating a CV is all about a combination of a professional structure that aids ease of reading and compelling content that grabs a recruiters' attention.
Highlighting your skills, sector specific experience and qualifications is essential to progressing within the recruitment process and landing yourself an interview.
By working through this guide, you will be able to produce your own eye-catching CV that will help you in landing your dream job.
Good luck in your next application!