You're leaving school and you need to write a CV to land your first job… Exciting times!
But you probably have no idea how to write a CV, or perhaps you aren't even sure what a CV is.
But don't worry…
I've created this mega guide to writing a school leaver CV, which includes 4 school leaver CV examples and a step-by-step guide to writing your own.
So, you can create a winning CV that will attract employers and get you plenty of interviews, even if you have no work experience.
Contents

School leaver CV example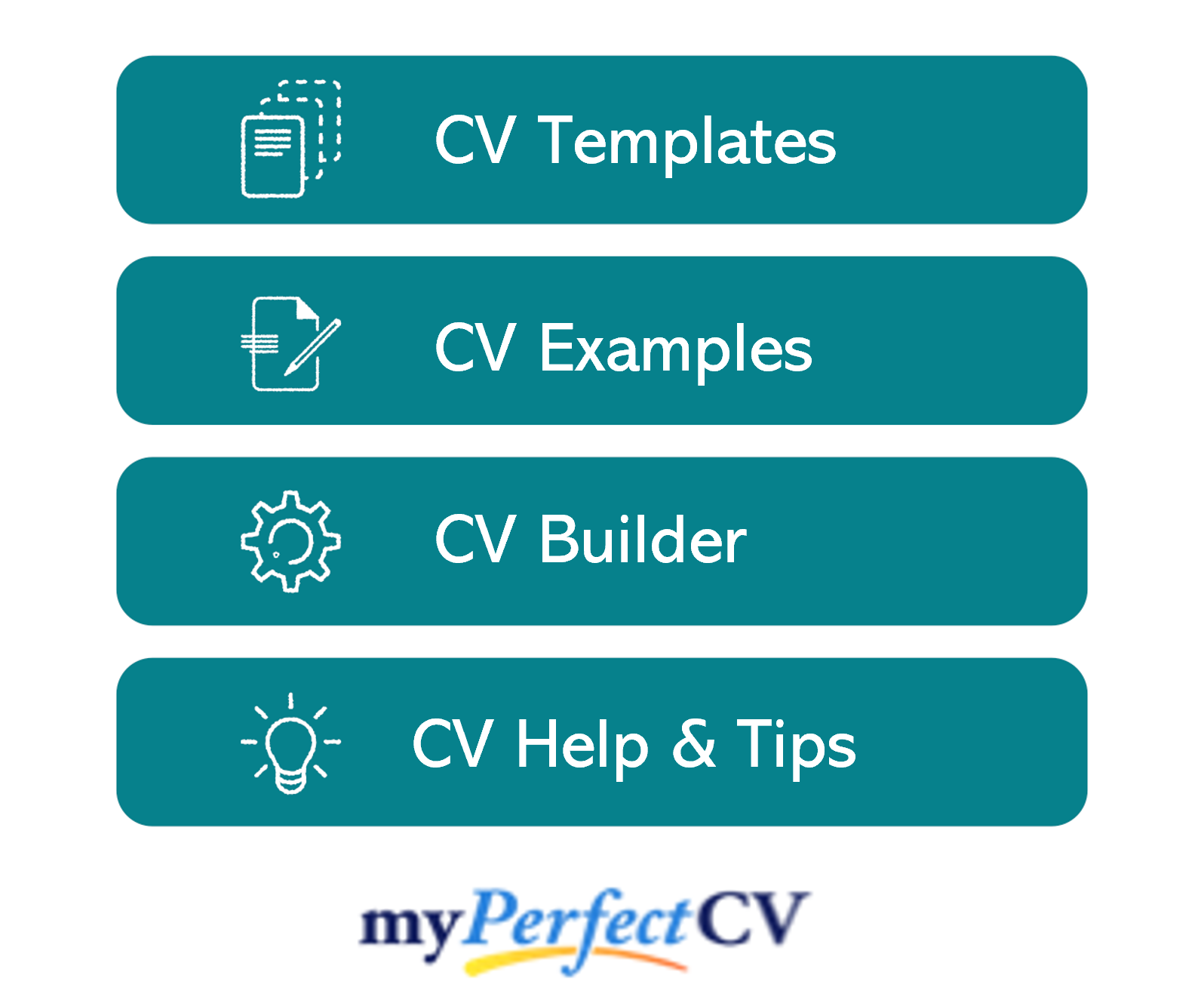 School leaver CV (with no experience)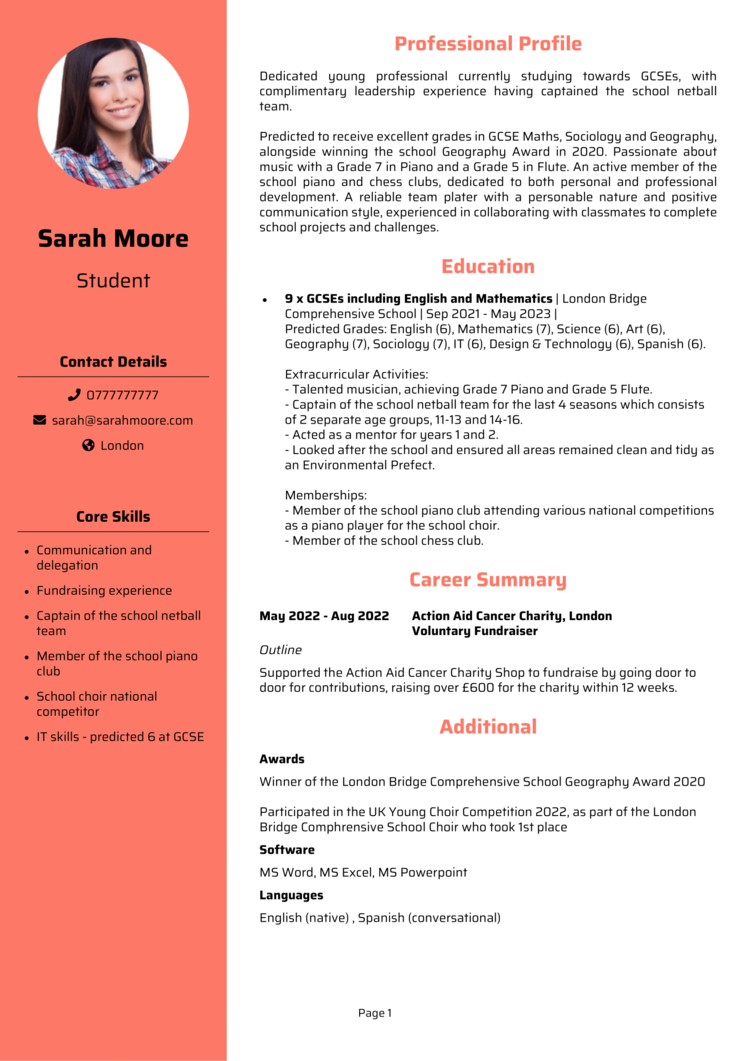 School leaver CV (with part time experience)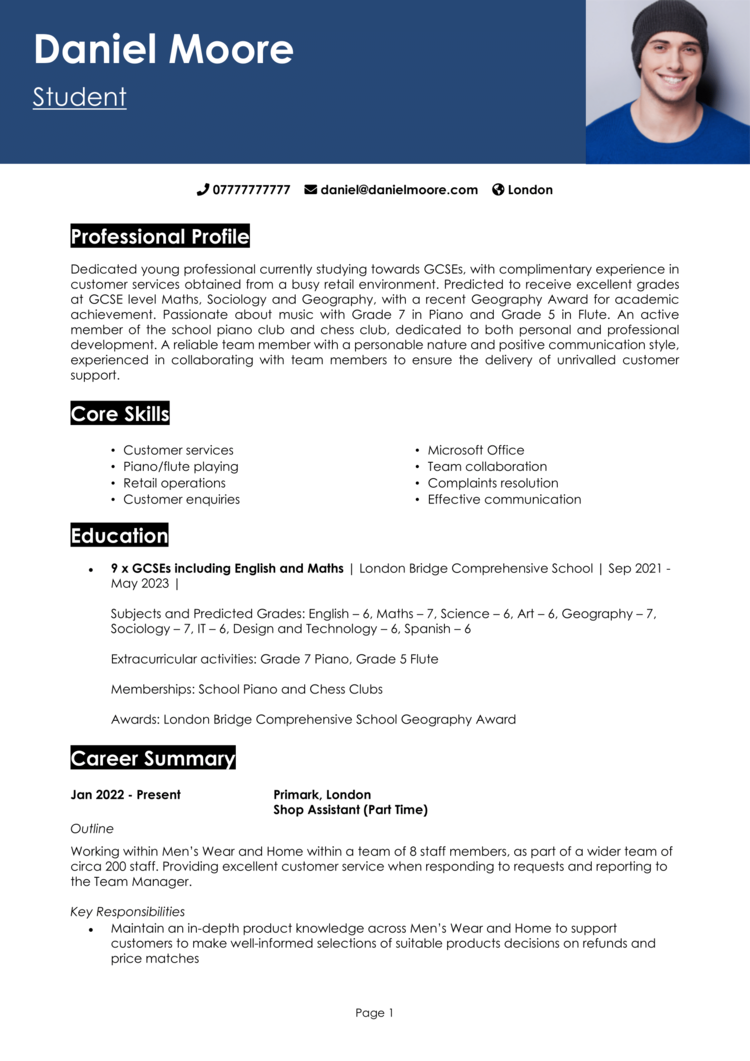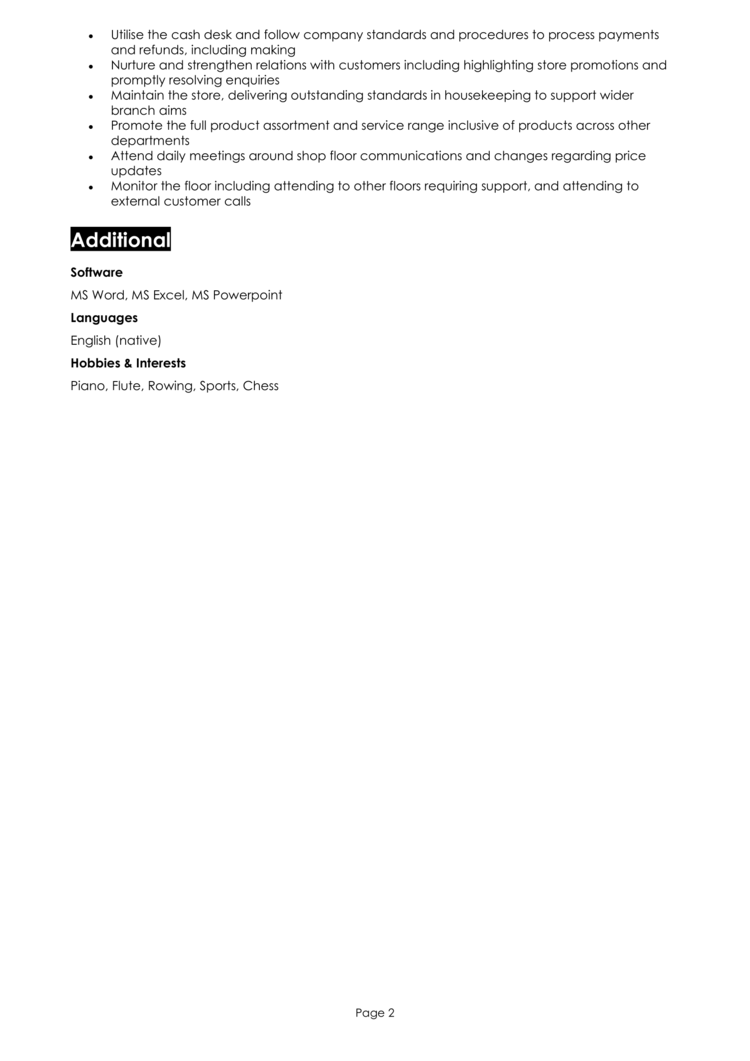 College leaver CV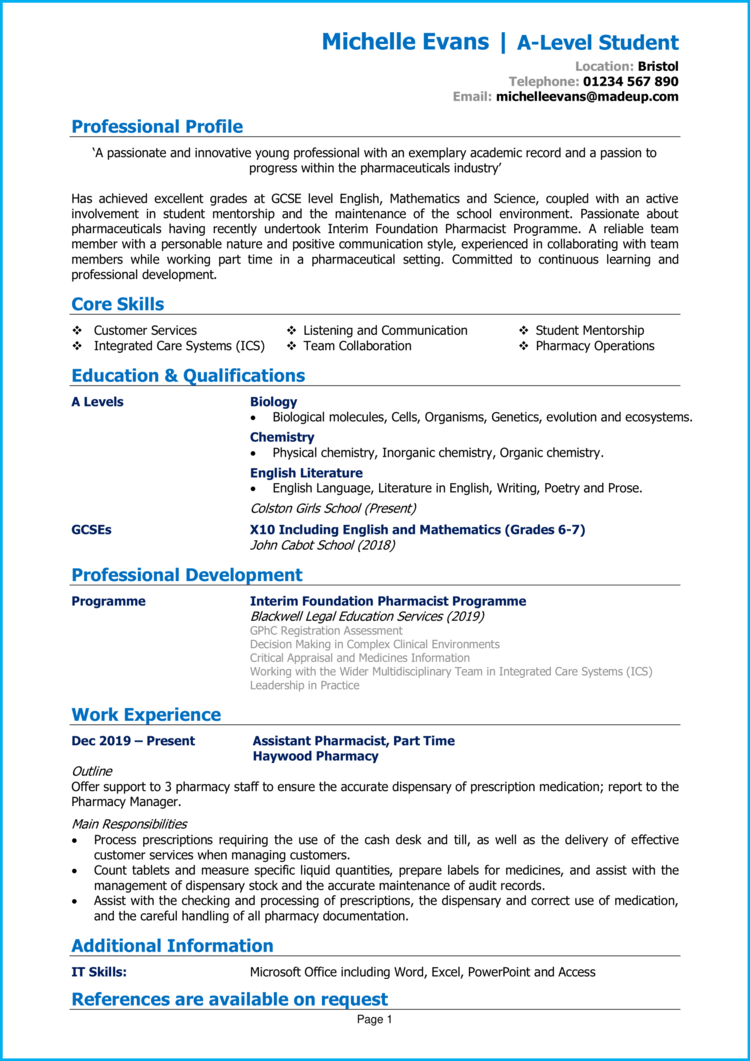 What is the purpose of your CV?
The ultimate purpose of your CV is to secure job interviews for you.
Think of it as a leaflet for your services; advertising your skills and knowledge to potential employers.
You create your CV and promote it out in the job market to get noticed by firms you want to work for.
If an employer likes your CV, they will call you and invite you in for an interview
So as you can imagine, it needs to look professional and read extremely well if it's going to be effective.
Who will read your CV?
Your CV will mainly be read by hiring managers and recruiters.
When you apply for a job online, recruiters will review your CV to find out if you have the requirements they are looking for to fill their vacancy
If your CV makes a good impression, then the recruiter will call you with a view to book you in for an interview, or pass your CV on to the hiring manager.
Recruiters and managers tend to be very busy and often have to review hundreds of CVs every week – so your CV needs to grab their attention and explain your value quickly.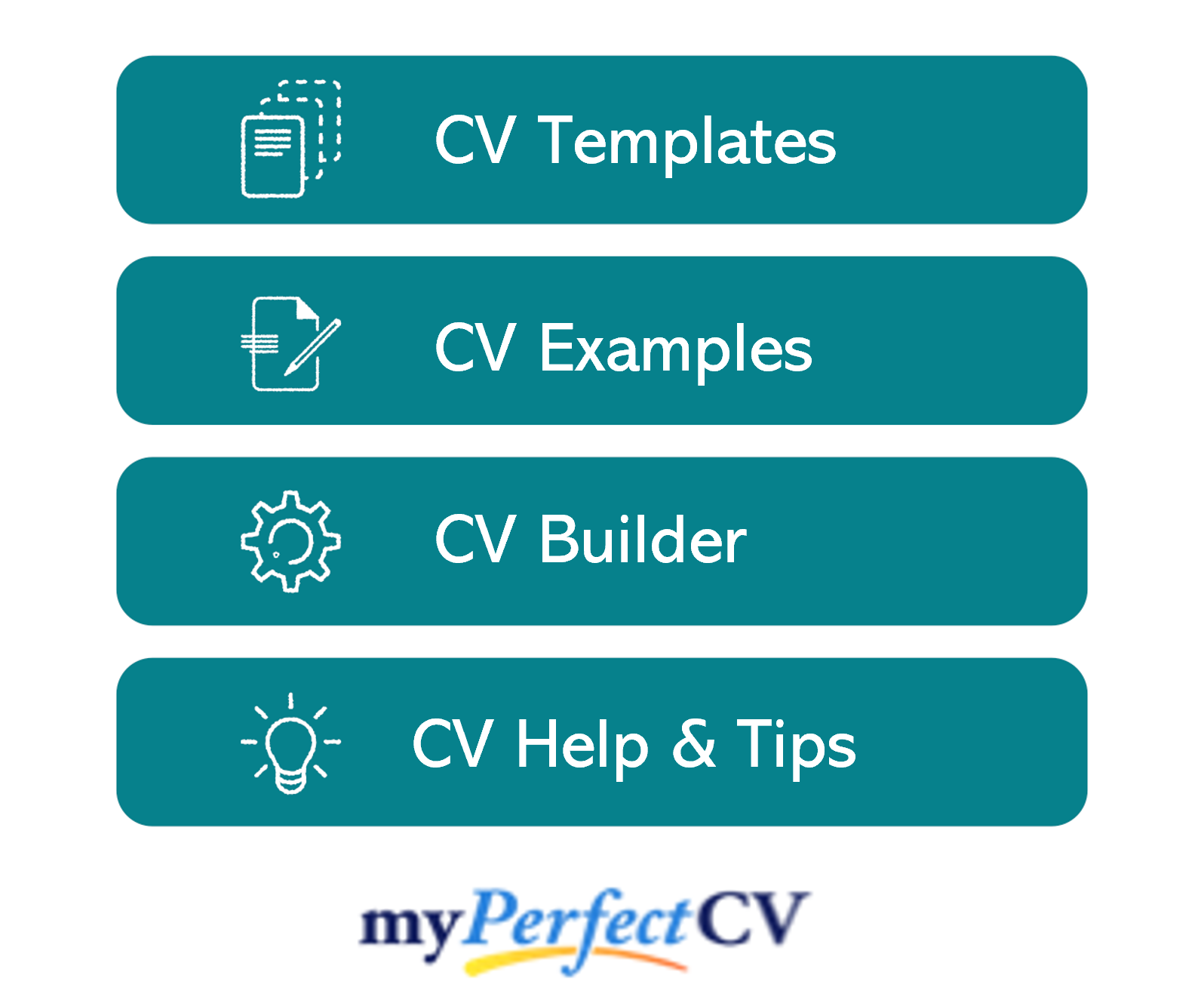 What makes a good school leaver CV?
A good CV is one that quickly shows recruiters and managers that you have all the necessary skills and knowledge required to perform their vacant role – it's that simple, and it shouldn't be over complicated.
If your CV can do this, you will generate lots of interest and interview requests from employers.
It needs to be clearly structured and formatted – and the content should explain to readers why you are a good candidate for the job being advertised.
What if you have no work experience?
Don't worry too much about having little or no work experience.
We all have to start somewhere and plenty of students are able to find jobs straight from school at 16 years old, without experience or contacts.
You just have to be a little more creative when writing your CV and draw transferable skills out from things like school/university projects, qualifications, hobbies, extracurricular activities, volunteer work and part-time work.
Using a blend of structure, formatting, language and content, anyone can write an attractive CV.
I will cover how to do this in more detail, in the "How to write a school leaver CV" section

What should you put in your CV?
When you are new to the world of work, it can be difficult to know what information you should include in your CV.
So before you start writing your CV, it's wise to do some research and find out exactly what your target employers are looking for in a candidate.
So head over to a job website and run a search for the type of job you are looking for
You can use a site like CV Library (it will open in a separate window)
Then look through 10 or more job adverts and make a list of the most important candidate requirements that keep appearing.
Requirements will include things like:
Qualifications – GCSE's, A-levels, Degrees etc.
Soft skills – Communication, leadership, organisation etc.
Hard skills – Literacy, numeracy, languages etc.
IT capabilities – Outlook, Word, PowerPoint, Photoshop etc.
Industry knowledge/experience – Accountancy, marketing, design etc.
Extra-curricular activities – Sports, hobbies, personal projects etc.
Now that you have an extensive list of the things that your target employers are looking for, you know exactly what you should be highlighting in your CV.
You probably won't possess all of the requirements, but you should always refer to this list when writing your CV, and try to demonstrate as many as you can.
Quick Tip: In some cases where you don't have a particular requirement, it can be beneficial to show that you are working towards it. For example if a job advert is asking for basic HTML knowledge and you don't have it – start taking an online course on the subject and include it in your CV.

How to write a school leaver CV
Now that you have seen some example CVs, here's how to write your own interview-winning school leaver CV.
CV structure and format
Start of by working to the following structure: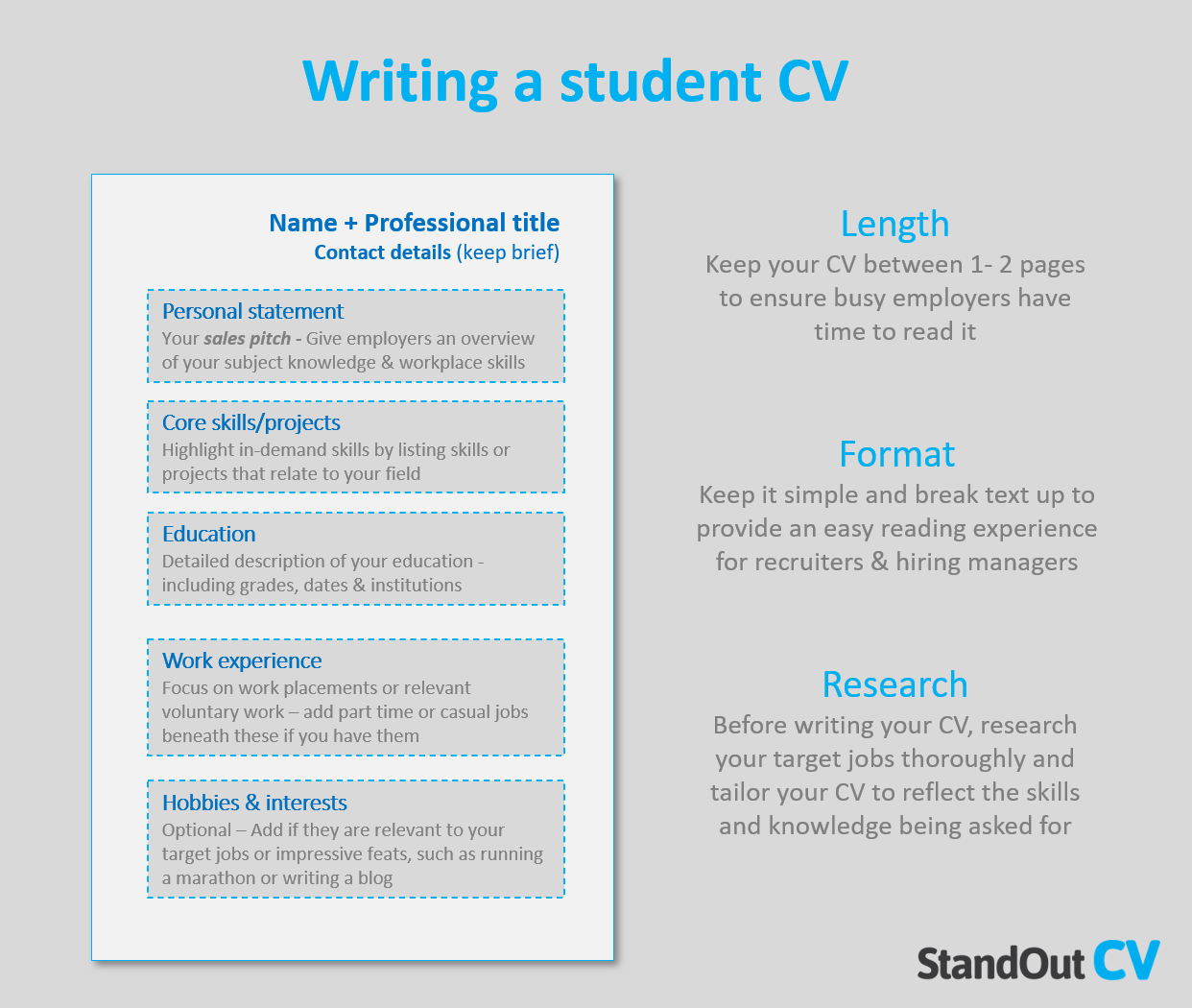 CV formatting tips
Use a simple clear font – Ensure that employers can read your CV without any confusion
The colour scheme should be plain with black text on a white background creating the easiest reading experience.
Text should be broken up as much as possible to ensure that busy recruiters and hiring managers can digest the information quickly
Use big bold headings to clearly define sections and break the information up further
Name, title and contact details
Head your CV up with you name in bold and a professional title that relates to your field.
Put your contact details just underneath your name so that it's easy for recruiters to get in touch with you.
Include:
Phone number
Email address
Location (no need to put your full address – general area where you live or are willing to work is fine)
Link to LinkedIn profile (optional if you have a one and it's good enough to share)
Take up as little space as possible with your contact details to save room on your CV.
If you have no work experience; check out my video guide to writing a CV when you have no experience
CV Profile/Personal Statement
Your CV profile or personal statement is your opening pitch to recruiters and employers.
It will be the first thing they read upon opening your CV, so you need to give them some good reasons to be interested in you.
Ideally, you want to summarise the skills you have to offer an employer, in a way which reflects the qualities that they are looking for in a candidate – so again you should be referring to the list you made earlier.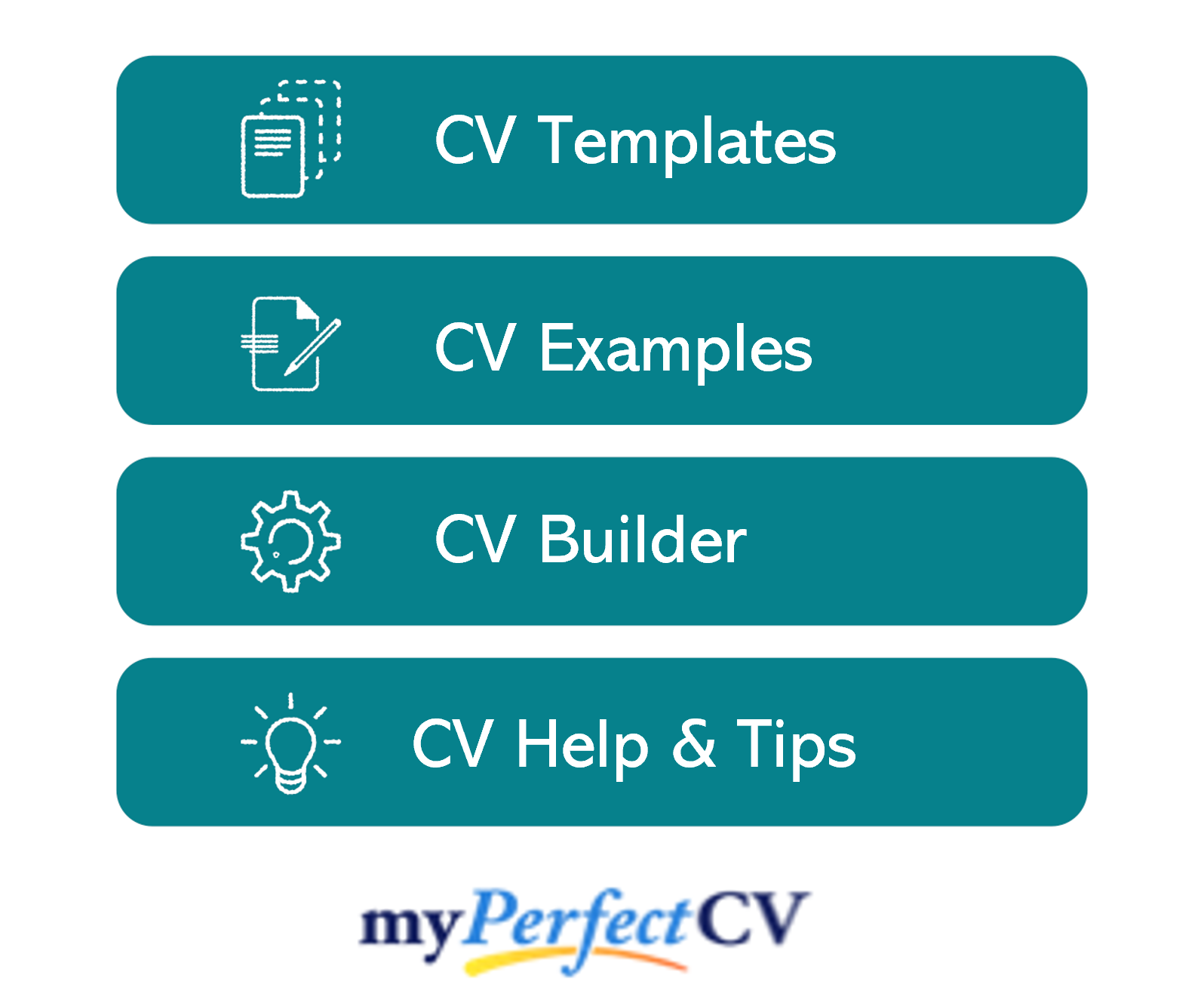 Good things to include are;
Your highest academic achievements – A Level in maths, 10 GCSEs A-C
IT Package proficiency – Word, Excel, Photoshop
Any experience that could be relevant to your target roles – School projects, voluntary work, work placements, personal projects or pursuits
Relevant hard skills – Languages, literacy, numeracy
Relevant soft skills – Communication, motivation, teamwork, personal skills
Take a look at the example CV profile below
This person is a school leaver with A-levels who is applying for office based sales roles.
They have no office based sales work experience.
However, they do have some part time supermarket cashier experience which involves some of the same skills and experience. So they have really taken advantage of that.
The trick is to write for the job you want, not the job you have. Really sell yourself to the reader.
Many school leavers think that their part time jobs in bars and retail stores bear no relevance to the jobs they apply for when they start working full time.
However there a lot of transferable skills that you can include in your CV, and by using the right language, you can create a very professional image with them – like the above.
Quick tip: A poorly written CV will fail to impress recruiters and employers. Use our partner's CV builder to create a winning CV in minutes with professional templates and pre-written content for every industry.

Core skills & achievements
In order to give recruiters a very quick glimpse of your skills, use a bullet pointed core skills and achievements section.
As I mentioned earlier, recruiters and managers tend to be very busy – so a bullet pointed list of valuable skills and achievements can give them a really quick snapshot of your talents, and encourage them to read the rest of your CV in full.
If you have carried out some notable projects that relate to your target roles, then it would be worth setting up a section underneath your core skills to list them like in the example school leaver CV above – but don't worry too much if you haven't.
Education
If like most school leavers, you do not have any direct work experience in the field you are applying to, I would recommend listing your education next.
Start with your most recent qualification and work backwards to your earliest.
Include plenty of detail to compensate for your lack of work experience – especially if your education can be related to the jobs you are applying for.
However, if you do have some relevant work experience, then place your work history above your education.
Work experience
Work history is an area that many school leavers struggle with as they often work part-time jobs that they feel will not look impressive on their CV.
However, your work experience (no matter how unimportant you think it may be) gives you a great opportunity to demonstrate a lot of important skills that are required for nearly all jobs.
Things like:
Team work
Communication
Working with customers
Planning
Organisation
And more…
They also give you an opportunity to show off your written language skills.
The below is a role description for a Saturday job helping at a DIY store
Start with the dates, company and role title.
Quick Tip: you can tweak the role title to sound as professional as you like. E.g. don't write "Shelf Stacker" – instead go with something like "Shop Floor Operative" or "Sales Assistant" so that you appear as professional as possible.
Then provide an outline of the role that summarises the role and company as well as showing where you sit within the organisation's hierarchy.
Then bullet-point your responsibilities in a way that demonstrates your valuable workplace skills.
Where possible try to show how your actions contribute to the success of the employer.
For example, instead of simply saying:
"Monitoring and replenishing stock levels"
Expand on that point and say:
"Monitoring and replenishing stock levels to ensure customers have access to all products and more stock is sold throughout the week"
This shows how important you are to the running of the business and how valuable you could be to an employer.

Hobbies and interests

When you lack work experience, your hobbies can be a great way to demonstrate some more of your talents.
Good hobbies to list are:
Work related interests – For example, if you are an aspiring web designer and have created a website in your spare time, then provide a link to the site – Or if you are applying for science related jobs and carry out your own research in your spare time, then tell readers about it.
Big achievements – Perhaps you've run a marathon, played for the school football team or competed in national chess competition – these types of activities show motivation and determination, so get them onto your CV.
Charitable work – Any kind of fund raising or volunteer work you undertake for charitable causes look great on your CV because they show you are willing to help others and often involve lots of organisation and planning.
Don't list common hobbies like "watching TV" or "hanging out with friends" as they are unlikely to impress employers.
Writing a school leaver CV – Conclusion
Using the above advice you should be able to create an effective school leaver CV that will make a big impression on recruiters and ensure that you get invited to plenty of interviews.
Remember to keep the format easy-to-read and always tailor the content to match the demands of the employers you are applying to.
Also, check out our graduate CV and example customer service CV and writing guide.