If you're looking to secure a job as a warehouse operative the first step to achieving an offer is a strong CV.
Highlighting your suitable skills in a professional and easy-to-read document is vital, if you want to excel within the recruitment process.
The below guide with 2 warehouse operative CV examples, will help you write CV that stands out and helps you land an interview.
Guide contents
2 warehouse operative CV examples
Structuring and formatting your CV
Writing your CV profile
Detailing work experience
Your education
Skills required for your warehouse operative CV

Warehouse Operative CV example 2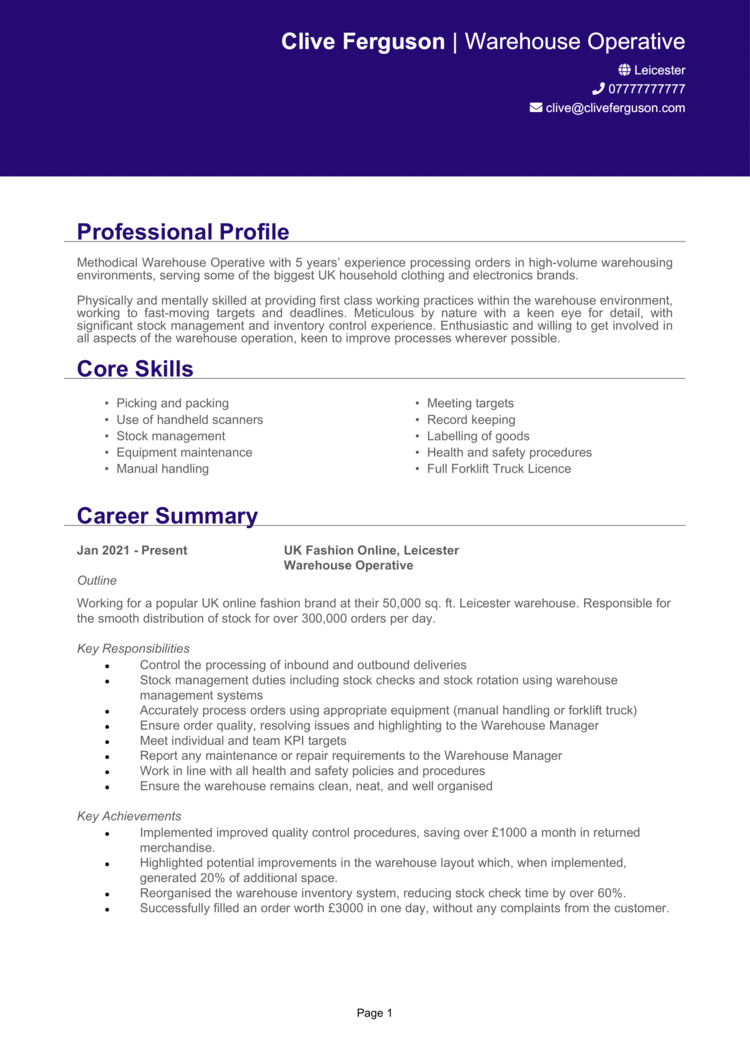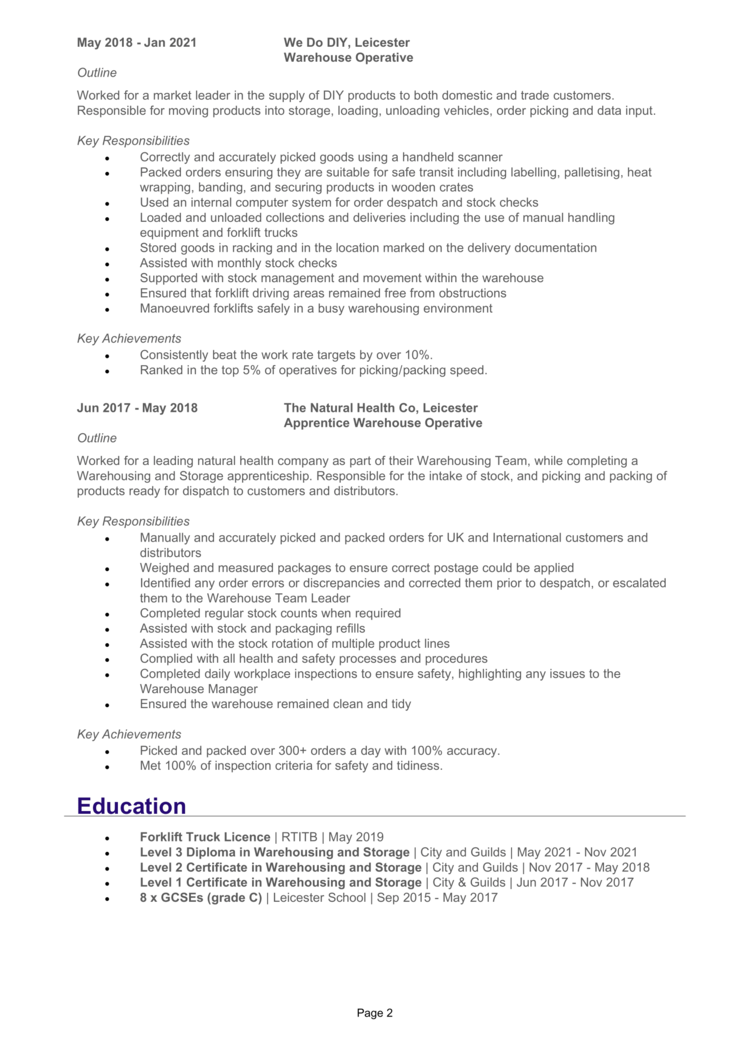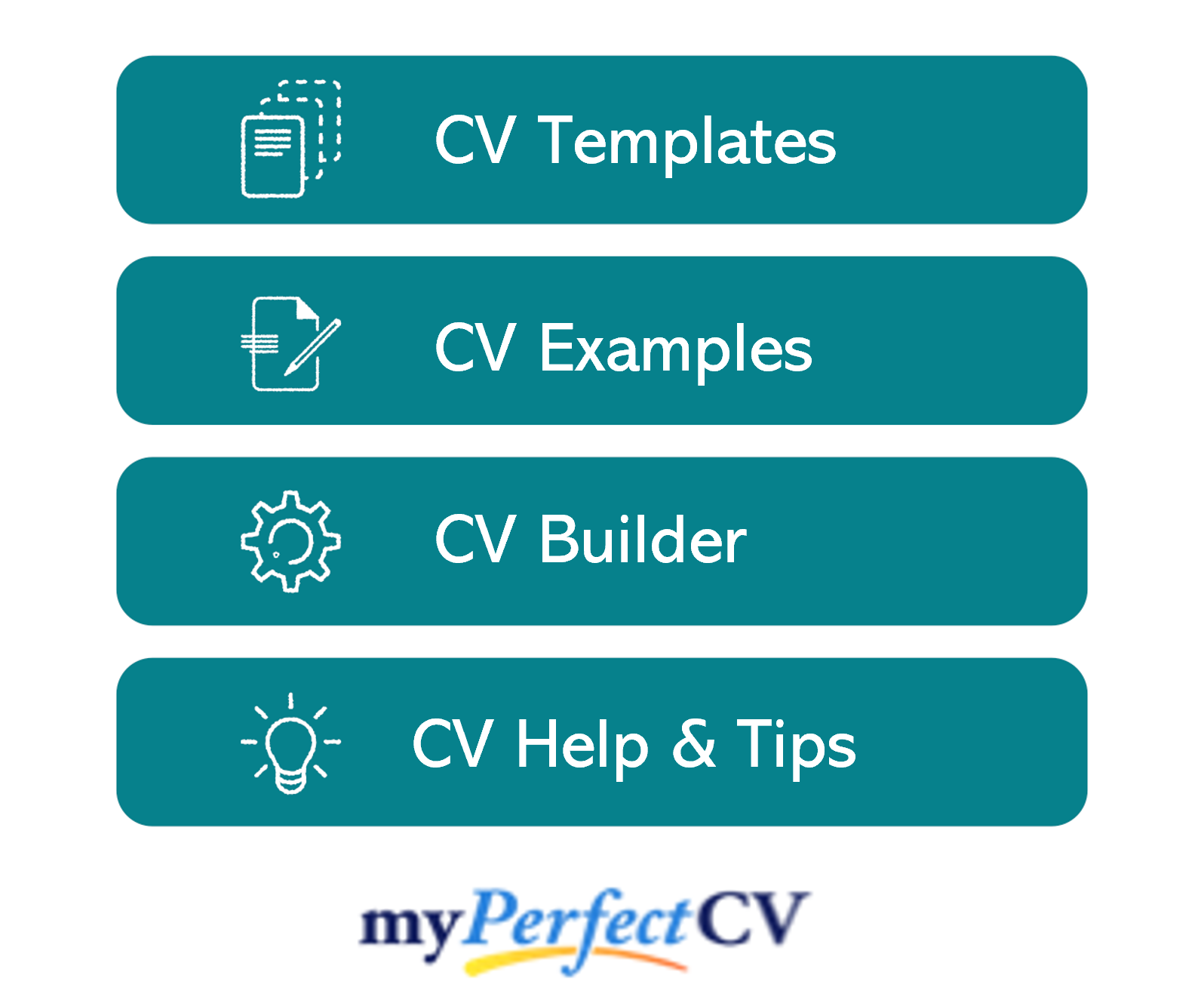 Warehouse Operative CV example 2


This example CV showcases exactly what to include and how to format your CV in a visually pleasing manner, whether you're experienced in the sector or just starting out.
As this guide continues, I'll break down the process of producing a CV that attracts attention.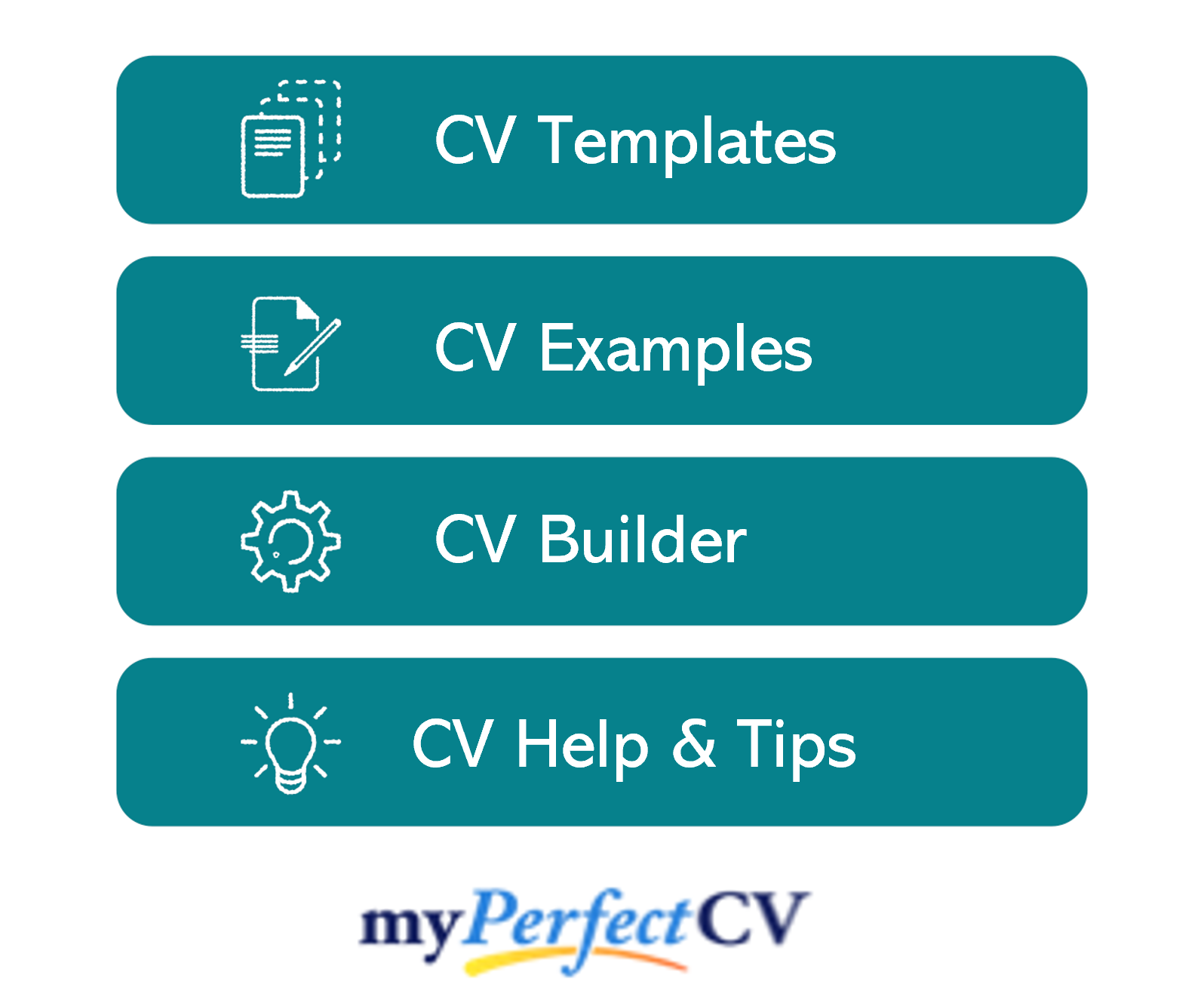 Warehouse operative CV structure & format
A strong CV should enable ease of reading, allowing recruiters to navigate important aspects of your experience and pinpoint why you're suitable for warehouse operative roles.
Keep to a clear, well defined layout that makes your marketable strengths a focal point.
The below infographic guides you through how to format and structure your own CV that will create a professional and readable CV.
Formatting Tips
Use a clear font and, stick to a simple colour pallet.
Remove large blocks of content in your CV, using bullet points, headers and defined sections, making your relevant experience/skills emerge easily.
Avoid adding company logos or profile pictures to your CV, they don't add any additional value and can result in recruiters' attention being distracted.
Work to a CV length of 2 sides of A4, this is enough space to adequately detail your relevancy for a role without it becoming tedious to read.
Structuring your CV
Your CV should cover a variety of key areas and breaking this content into distinctive sections will allow recruiters to navigate naturally through your experience.
Stick to the below sections in this order:
Contact details – Start your CV with your contact details, making sure recruiters don't miss them
Profile – A summary of your applicable skills and experience, at first glance demonstrating why you're the right candidate for the job
Work experience / Career history – Document any previous experience in a chronological order
Education – Confirm any qualifications achieved, especially those related to Warehouse Operative roles
Interest and hobbies – An optional section that can be used to back up your significant skills
Now we will show you what to include in each section in more depth.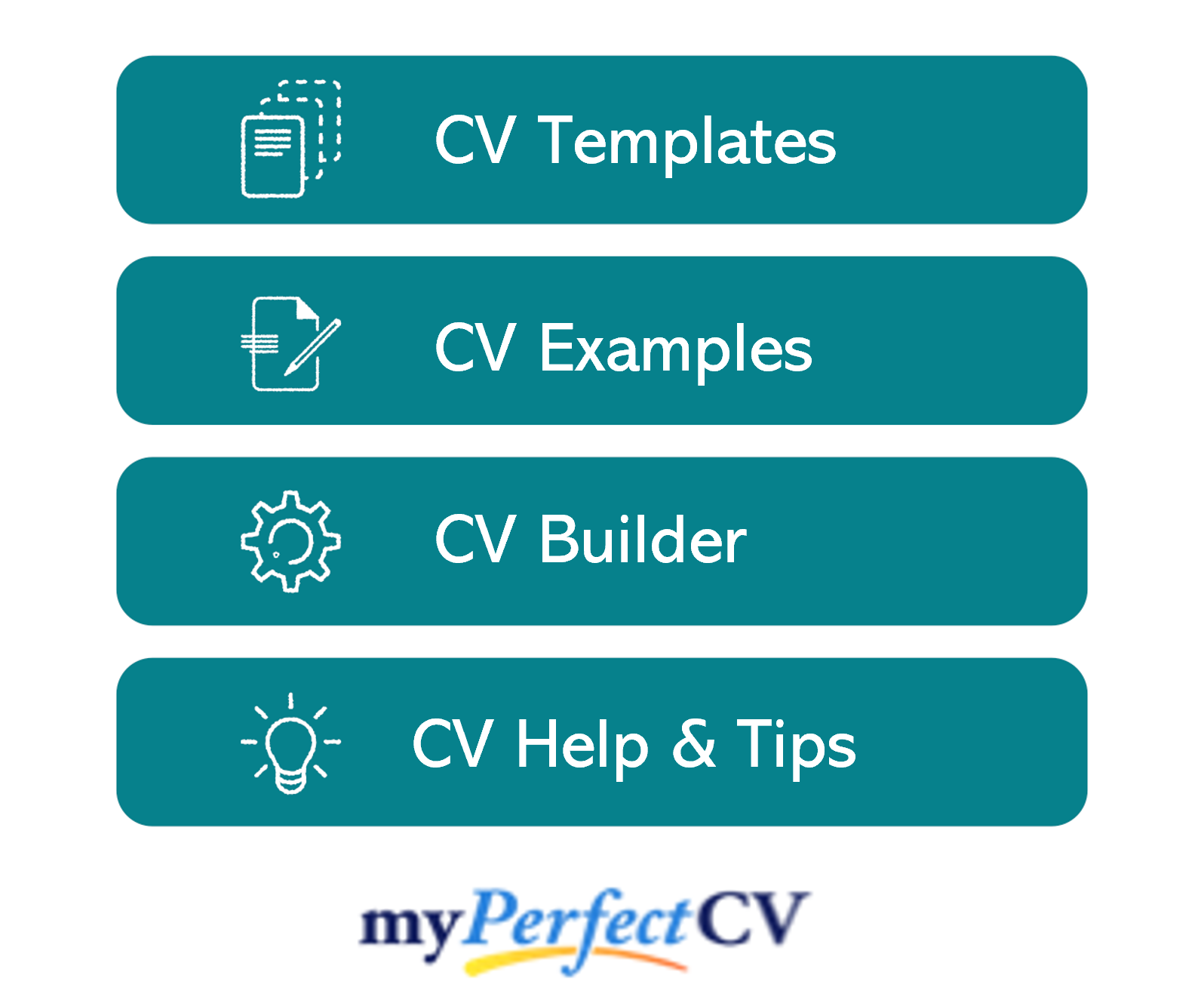 CV Contact Details
Begin writing your CV by adding your contact information, ensuring the details you provide are accurate.
Stick to the basics in this section including:
Phone number
Email address
Location
Quick Tip: Avoid wasting space by removing unrelated information, for example; marital status, your date of birth or your full home address – they aren't needed yet.

Warehouse Operative CV Profile
Your CV profile (or personal statement) is the introductory summary of your experience and skills, appealing to a recruiter at first glance and getting them to read further.
A 5-10 line paragraph at the top of the page which exhibits your suitability for Warehouse Operative roles is ideal here.
CV writing tips to consider when creating your profile:
Research the warehousing sector before creating your CV profile – adding key words you come across in job adverts, so your profile is tailor made to the industry
Avoid going beyond a 5-10-line paragraph as the profile needs to be concise. You can provide further depth in the following sections
Stand out from the competition by removing any cliché phrases and be unique. Being a "hard worker" should be an assumption so don't waste space with over used phrases that add nothing

What to include in your CV profile?
Previous Companies worked for – Have you worked in large scale fast paced warehouses or for smaller commercial store rooms
Level of your experience – Have you previous worked as an operative, had team leader or warehouse office experience or are you starting out in your career?
Qualifications – Any qualifications, internal courses or licenses you have obtained in the industry
Quick tip: If you struggle with written English, try using our partner's CV builder to eliminate the risk of making mistakes.
Core skills section
Straight after your CV profile add a section describing your core skills that make you a good fit for a Warehousing role.
Made up of two to three columns of bullet points include skills you picked up from your sector research or use the handy guide of vital skills we have added later in this guide.
Allow recruiters to easily identify your marketable strengths without having to hunt through your CV.
Work experience/Career history
Structure your career history by beginning with your most recent or current position, be more detailed about these roles and shorten your descriptions as you work backwards.
Have no work experience? Look to include any voluntary experience if your paid experience is limited.

Structuring your roles
Structure is key to plainly documenting your experience; engaging recruiters and tempting them to delve deeper.
Paint a picture with your role description of each your prior roles, breaking this information into three sections, following the below format:
Outline
Summarise the company or department you previously worked within, providing a background for recruiters.
E.g.
"Part of large warehousing team responsible for the smooth distribution of stock to 50 different high street stores."
Key responsibilities
Use bullet points to accentuate the responsibilities you had within each post including project involvement or additional duties you supported with.
E.g.
Collating and processing orders for incoming and outgoing goods
Quality checking all goods prior to dispatch
Key achievements
Achievements help to demonstrate the impact you had within any of your previous positions. Quantify these by adding applicable facts or figures.
E.g.
Exceeding targets for items picked by 10% whilst maintaining high levels of quality assurance
Education
Underneath your work experience, list any qualifications that you have previously achieved.
Start with qualifications that would enhance your suitability for Warehouse Operative roles such as NVQ's in Warehousing or FLT licenses.
Then if you have room include additional qualifications such as GCSEs, A Levels or degrees.
Warehouse Operative cover letter
Interests and Hobbies
This is the one section within your CV that is optional.
Only look to include details about your hobbies or interests if they add further merit to your CV and will help in the decision-making process.
Avoid generic hobbies and add interests that showcase strengths such as communication, team work or leadership such as involvement in sporting team.
Essential skills for Warehouse Operative CV
Every company will differ in the criteria needed for Warehouse Operative roles but below is a list of the most common skills required in this sector:
Picking and Packing – A core part of the warehouse operative role, is being able to efficiently and accurately select required products (usually from a software system) and pack them to be ready for distribution – this is vital to any warehouse operation, and should be highlighted within your CV.
Supply Chain Management – Knowledge of the supply chain process, such as how products arrive at the warehouse and the part warehouse operatives plays in the process, before goods reach a customer.
Health and Safety – Solid understanding and compliance to health and safety procedures, such as wearing PPE or following processes to ensure the safety of you and others when operating machinery.
Stock Management – Maintaining accurate stock levels and recording information correctly, providing data to management in a timely manner, to ensure that the warehouse remains well-stocked and data is kept accurate
Quality Assurance – Showing attention to detail and dedication to standards by following quality procedures put in place by warehouse management.
Product loading – Loading products and deliveries on and off of transportation vehicles, such as lorries and vans.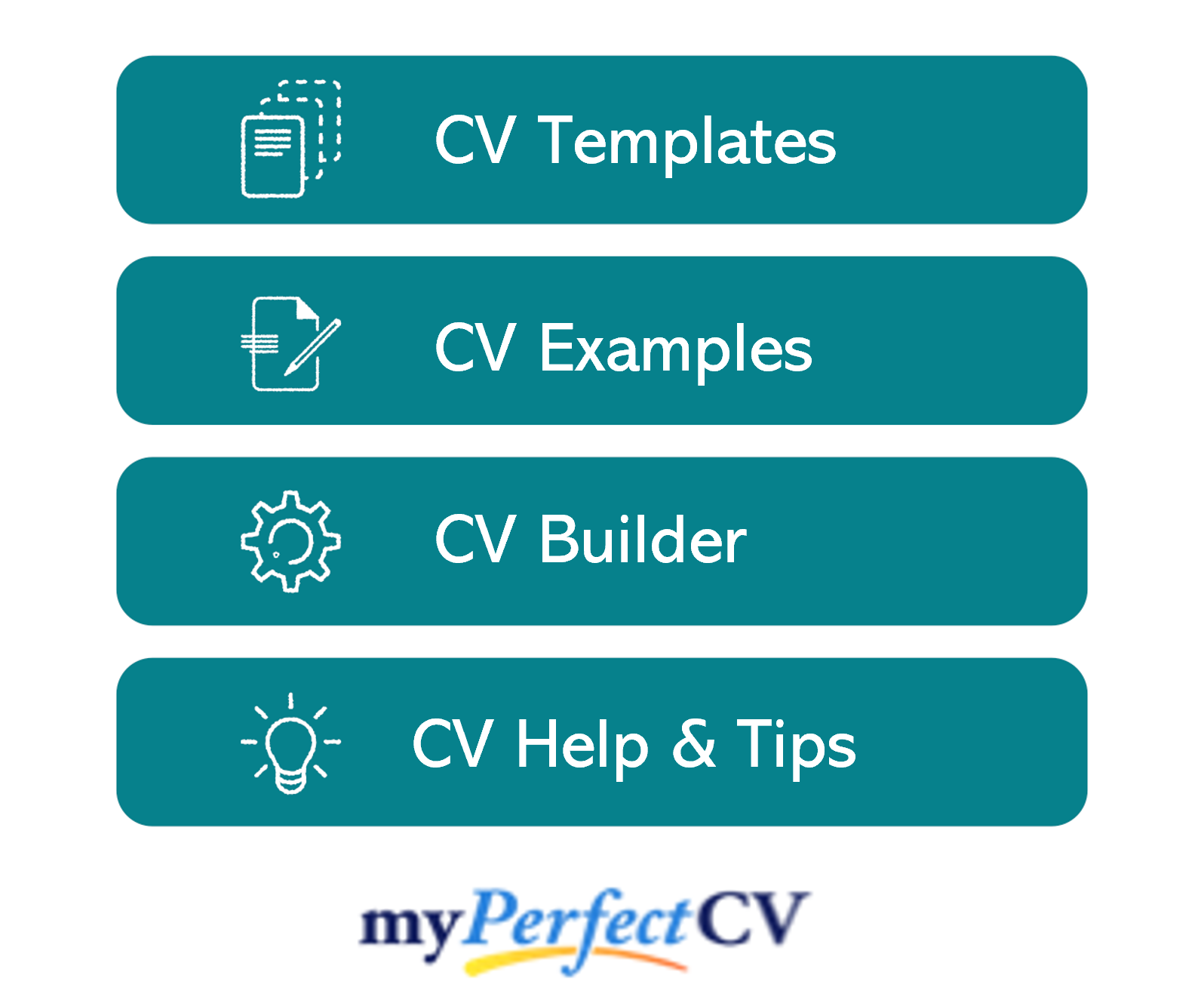 Warehouse operative CV – Conclusion
Producing a quality CV that will land you an interview is about more than just documenting your experience.
Feature your marketable skills and experience that aligns with Warehouse Operative roles by sticking to a clear, well defined structure that brings these details forward.
Following this guide will assist you in producing your own CV, making you stand out from the competition within the recruitment process.