As a computer science professional, your skills are in high demand; but to land the top roles, you need to create a punchy and compelling CV.
To impress recruiters and win an interview, your CV should highlight your hard tech skills whilst having a clean, concise and professional appearance.
I've put together a complete CV guide, which includes an example computer science CV, to help you land a great job or kick start your career:
Here's what I'll cover in the guide:
Guide contents
Computer science CV example
Structuring and formatting your CV
Writing your CV profile
Detailing work experience
Your education
Skills required for your computer science CV

Computer science CV example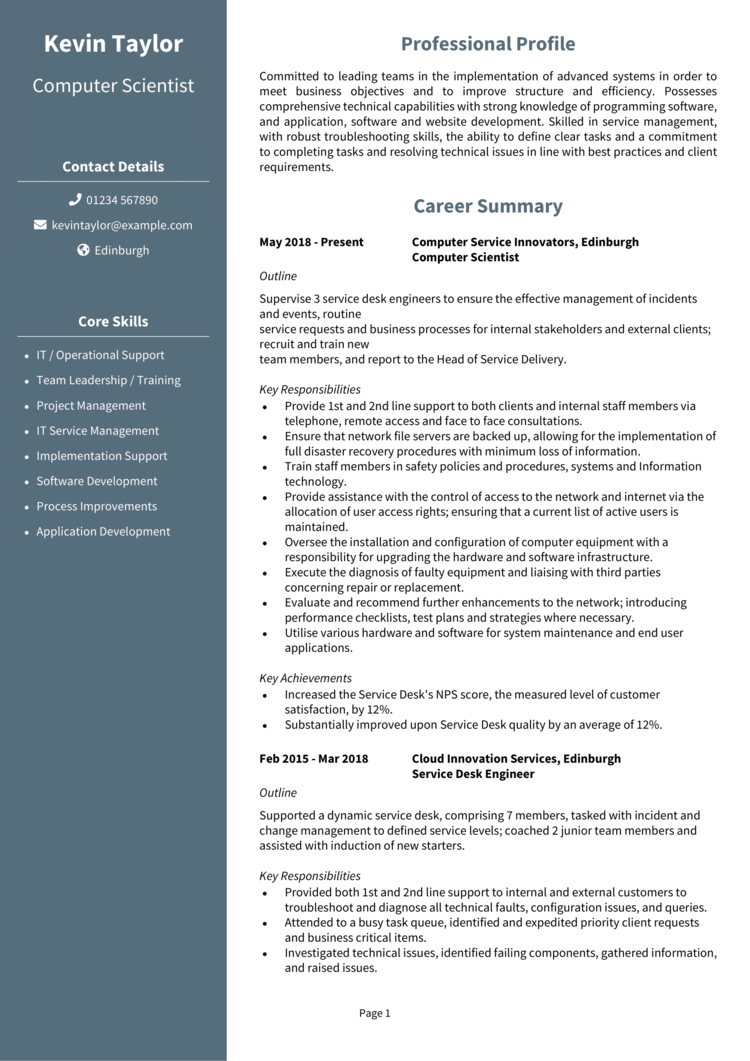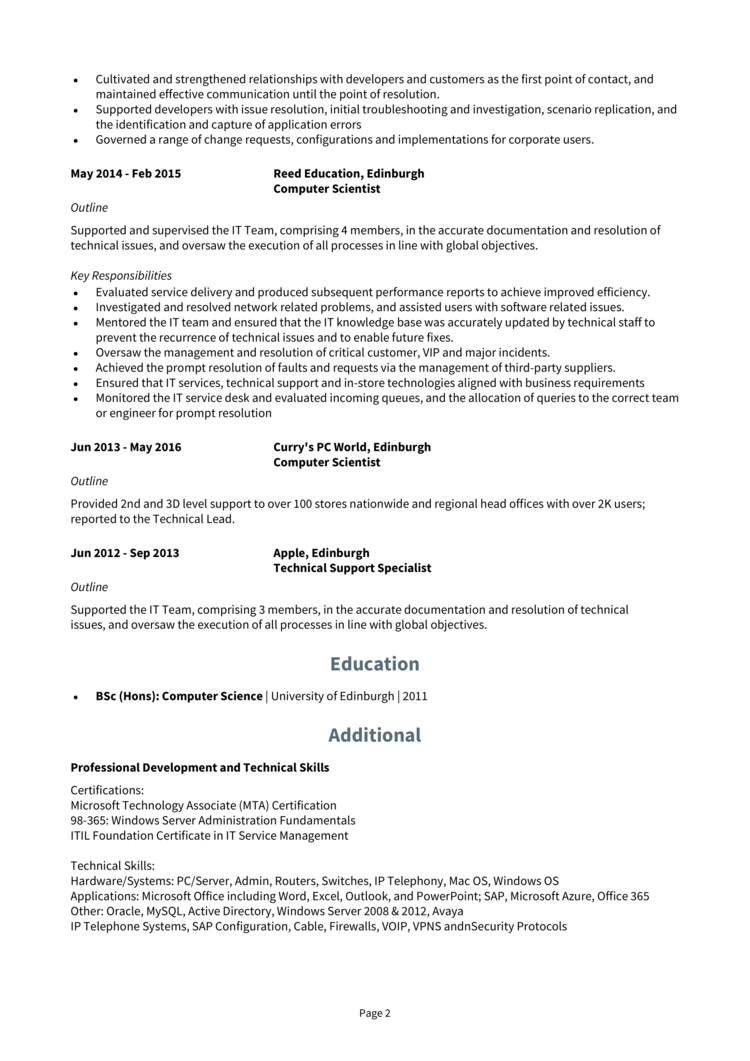 Before writing your own CV, familiarise yourself with the professional and well-organised structure and format of the CV example above.
Next, I'll teach you exactly how to create a CV that meets this high standard and, ultimately, lands you an interview.
Computer science CV structure & format
Graduate hiring managers and recruiters often have an endless digital pile of CVs to sift through – with limited time to do so!
Therefore, you should structure and format your CV to suit their needs.
It needs to be as easy as possible for them to navigate through and pinpoint your suitability for the role.
Formatting Tips
Length: Time-strapped recruiters won't be pleased if they're met with a 3, 4 or 5-page CV. Keep it short, snappy and concise by sticking to a maximum length of 2 pages of A4. If you can't meet this, don't worry – graduate recruiters won't expect you to have years of experience.
Readability: The aim is to help recruiters find the information they need, quickly and easily. So, avoid chunky blocks of text and format your content into small paragraphs, using bullet points, lists and columns where appropriate. Make sure your CV sections are clear, by formatting the title with bold or underlined text.
Design: Generally, a clear and simple design is best. Use a simple font, such as Arial or Calibri, in black or dark grey. If you're applying for a role that requires design skills, you can add some extra styling to your CV – just make sure it remains clear and legible.
Things to avoid: You don't need to include a profile photo on your CV – it's against the law to factor in appearance, race or gender in the recruitment process, so you'd actually be putting recruiters in patchy territory. If you want to show examples of your work, include a link to a digital portfolio, rather than cramming your CV with images.
Quick tip: Graduate recruiters will be looking for a high standard of written communication, so Use our partner's CV builder, to make sure your CV is free from spelling and grammar errors.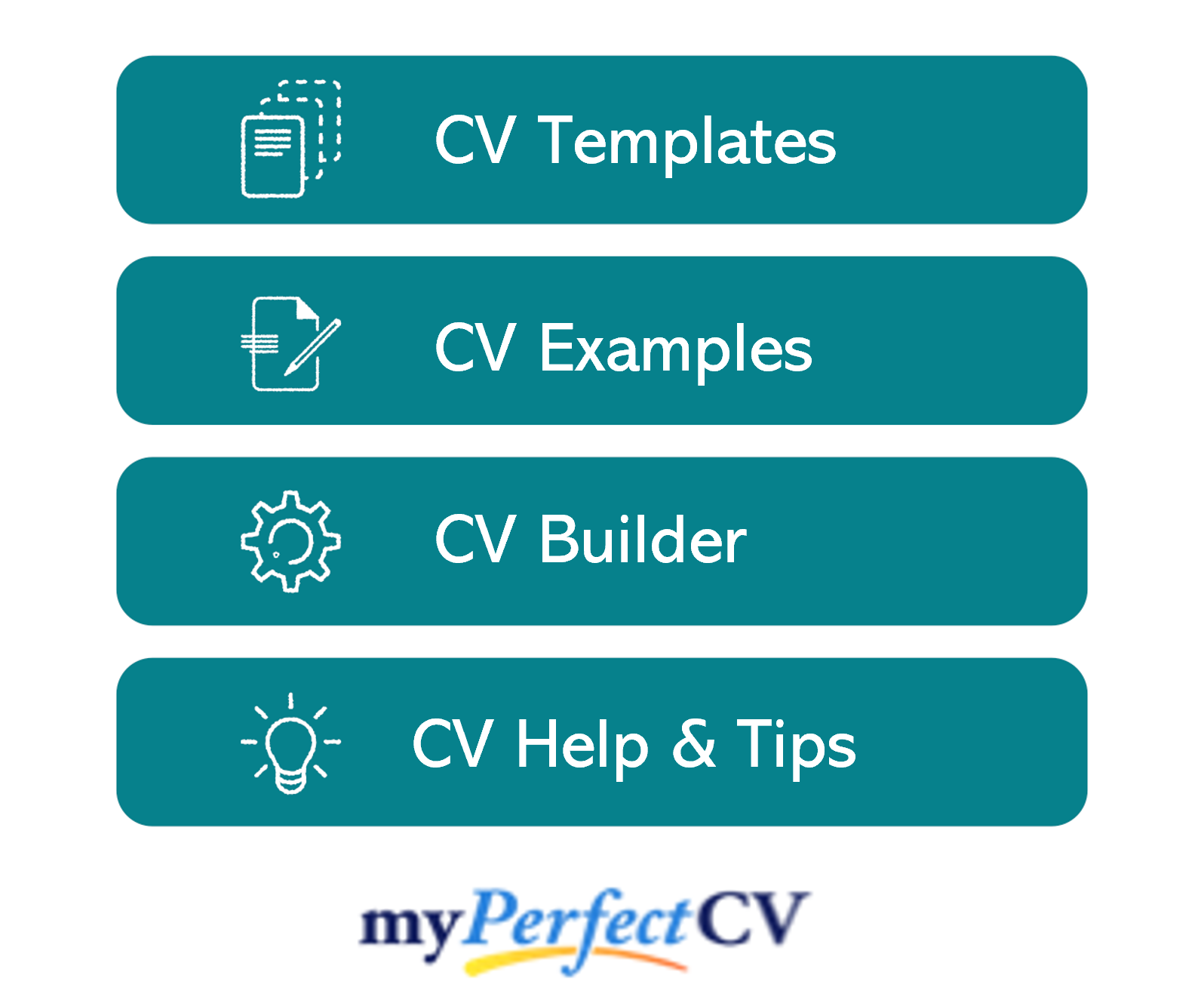 Structuring your CV
Dividing your information into clear CV sections will allow recruiters to quickly pinpoint the information they need:
Contact details – Always start with your contact details, so recruiters can easily get in touch.
Profile/personal statement – A punchy introductory paragraph, which gives an overview of your relevant skills and experience and entices recruiters to continue reading.
Relevant projects – To make up for your limited work experience, include any relevant university projects or freelance works you've completed.
Education – List your qualifications, focusing on your degree and any relevant assignments or modules.
Work experience/career history – Share any work experience you've built up, even if it's part-time roles or student jobs.
Interest and hobbies – An optional section, which you could use to highlight hobbies that prove your skills or enthusiasm for the industry.
Moving forward, I'll teach you exactly what you need to include in each of the CV sections listed above.
CV Contact Details
Firstly, you should list your basic contact details. Position these at the very top of your CV, so they're highly visible for recruiters.
Here's what you should include:
Phone number
Email address – Make sure this is professional, with no nicknames – create a new one if you need to.
Location – Don't write a full address – just list the town or city you're looking for work in, for example, 'Bristol' or 'London'.
LinkedIn URL – If you have a complete and up-to-date profile, adding your LinkedIn can add credibility to your application.

Computer science CV Profile/Personal Statement
Your CV profile – or personal statement for junior and graduate candidates – is a short introductory paragraph, which sits at the top of your CV.
Its purpose is to give recruiters a short and snappy overview of your suitability for the role, whilst encouraging them to read on and find out more.
You should pack it with information about your relevant qualifications, skills, experience, projects and achievements.
This is the first impression recruiters will gain of you – so make it count!
Tips to consider when creating your profile:
Always tailor your personal statement (and CV as a whole) to the specific role you're applying for. Have a read over the essential skills and requirements, then try to match the specification as closely as you can.
While personal statements are slightly longer than CV profiles (which are more suitable for experienced candidates), you should still stick to a short length of 8-15 lines. Sentences should be brief and to-the-point, containing just enough detail to prove you meet the job requirements, but not so much that it becomes boring.
Graduates are notorious for filling their CV with meaningless clichés, such as 'great communicator' or 'dedicated hard worker'. Avoid the fluff – recruiters will be far more impressed by a personal statement which is packed with hard skills, knowledge, achievements and qualifications.
What to include in your computer science CV profile?
Educational history – Discuss your degree, the grade you achieved and what specialist skills and knowledge you picked up.
Skills – Computer science graduates roles are all about hard skills, so your personal statement should be packed with them. This might include programming languages, platforms, tools and systems. If it's relevant to the role, you might also want to include some soft skills, such as writing, communication and organisation – just make sure you back these up with tangible examples.
Work experience & projects – Focus on experience that is relevant to the role you're applying for. This could be an internship, placement year, freelance or volunteer work, or a project you undertook during your studies.
Interest in your desired field – Your motives and career goals will mainly be covered in your cover letter, but as a graduate with limited experience, you can also briefly communicate why you're so passionate about the industry and what you like about specific role and company you're applying to.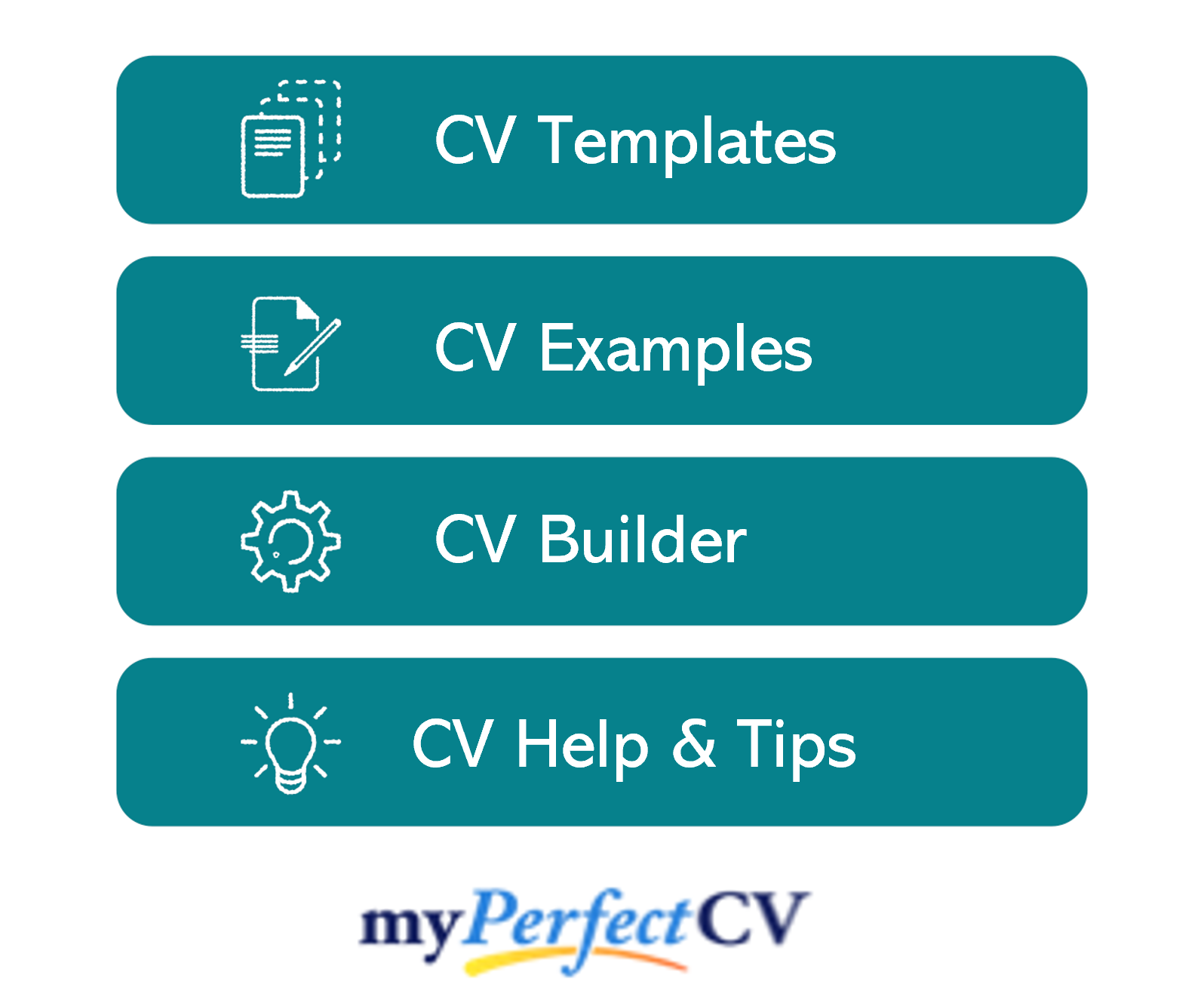 Core skills & achievements section
Next up is your core skills section, which is a bullet-pointed list of your key skills and achievements.
Again, focus on the hard skills you gained in university, such as languages, platforms, methodologies, tools and systems.
In terms of achievements, you could include academic achievements, awards, exemplary feedback or positions of responsibility, such as leading a club or class.
Have another read over the job description and make sure to match your core skills list up to the skills listed in the requirements.
However, never lie about your skills – if you don't have proficiency in a skill listed in the ad, don't include it – lying on your CV can have all sorts of implications.
Graduate recruiters aren't expecting perfection, anyway – they want to see dedication, enthusiasm and, most importantly, potential.
Relevant projects
This section is optional, but I'd definitely recommend including it if you have limited relevant work experience.
List any relevant projects you've been involved in, whether that's as part of your degree, in your own time or as part of a club.
For example, if you're applying to be a graduate website designer, and completed a live client brief in your final year of uni, you could include it here.
Be specific in your descriptions, using bullet points to discuss the part you played in the project, the tools, languages and software you used and any feedback you received.
Education
Although you'll have already highlighted your degree in your personal statement, your education section is your chance to outline all your qualifications and discuss your degree in further detail.
List all your qualifications, from GCSEs and beyond, as many graduate roles will have specific entry requirements. Include the dates of completion and the name of the school/college/uni you studied at.
When you get to your degree (or masters), include plenty of detail; discussing relevant modules, projects and grades.
If you've completed any additional study or vocational courses, include them too – the initiative will win you some serious brownie points!
Work experience/Career history
Next up is your work experience section… which might feel daunting if you haven't yet had a full-time role!
However, it's worth briefly mentioning any part-time or summer jobs you've had. Just try to highlight the transferable and soft skills you gained in these types of roles, such as time management, communication and teamwork.
Additionally, if you did a placement year during university, have completed an internship or taken on any freelance commitments, they can be listed here too.
Generally speaking, you should start with your most recent role and work backwards – but if you've held a highly relevant role, stick that at the top regardless of the date.
Structuring your roles
Chunky, hard-to-read blocks of text won't leave a good impression on busy recruiters.
Structure your work experience using my 3-step system, to ensure it's clear and easy to navigate.

Outline
Start by briefly describing the purpose of your role and the type of organisation you worked for.
E.g.
"Worked as an intern for a city software development company; reported to the head of development and supported a team of 10 on a range of database and website programming tasks."
Key responsibilities
Then, list your day-to-day duties, using short and snappy bullet points.
E.g.
Independently handled a range of database and site programming tasks using Java and HTML.
Worked to a brief to develop the UI layout and front-end programming for a mobile application.
Learnt J2EE by shadowing and assisting an experienced software engineer.
Key achievements
Round up each role by sharing an achievement or result that made a positive impact on the employer, customer or client.
It's always best to quantify these with facts and figures, if possible.
E.g.
Achieved highest user experience scores of all interns.
Suggested and created new forms to collect data from app users using JavaScript, which boosted completion rate by 35%.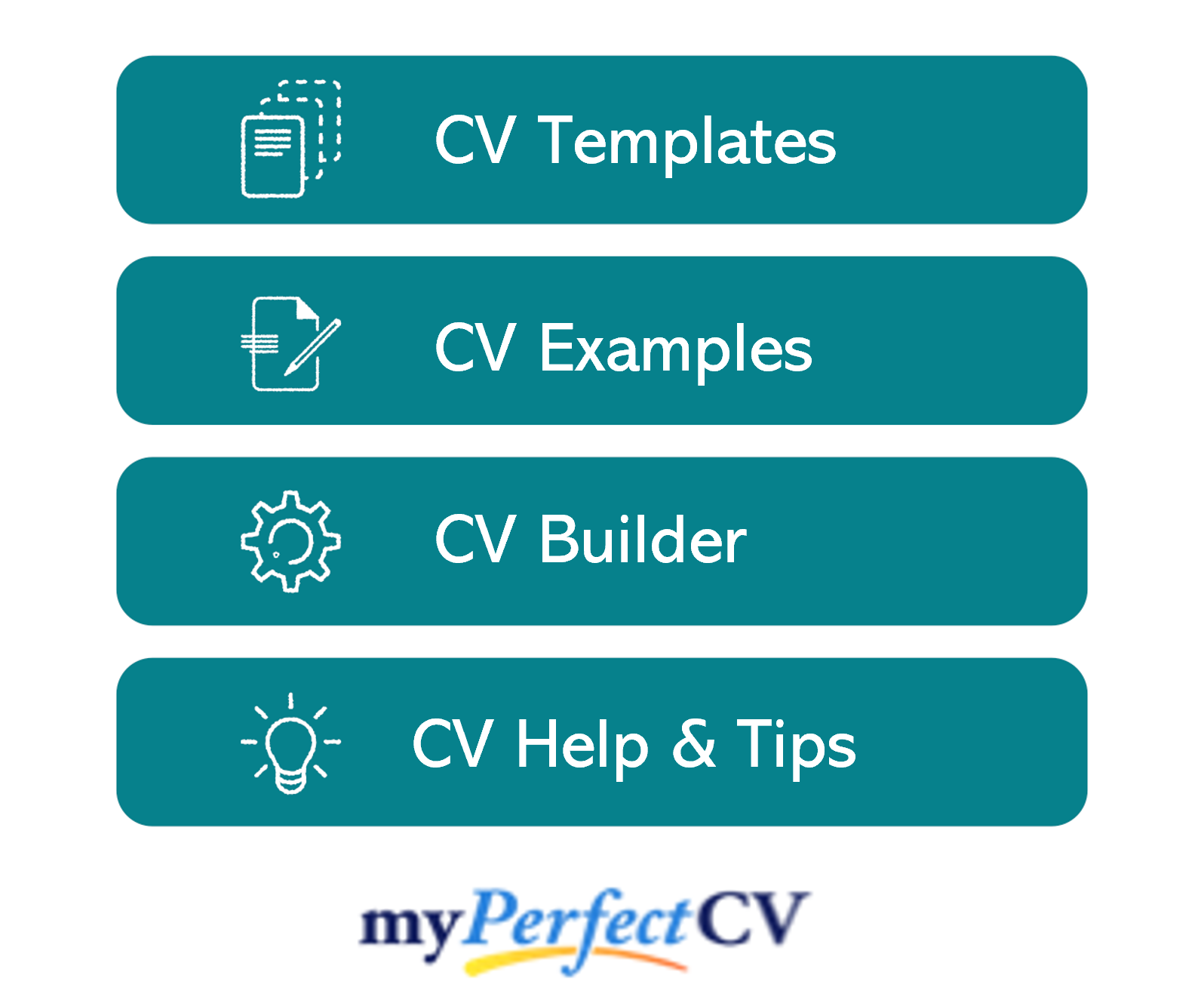 Interests and hobbies
The hobbies and interests section of your CV is optional, but if you have limited work experience, it's a good opportunity to showcase any relevant talents or transferable skills.
For example, if you run your own website or blog, it's well-worth sharing, as you'll have lots of relevant skills to draw upon.
Additionally, hobbies such as being part of a sports team, running marathons, volunteering or playing an instrument can prove your dedication, commitment and great work ethic.
Essential skills for your computer science CV
You can enter into a huge range of roles as a computer science graduate, but recruiters generally expect to see a few core graduate skills and capabilities. Instead of simply listing these skills, try to give tangible examples of how you've used them:
Programming languages – HTML, JavaScript, PHP, C#, Swift etc…
Software tools & packages – It goes without saying that you'll need excellent computer and technology knowledge and proficiency in relevant software, programmes and tools.
Mathematics – Generally, computer science graduates are expected to have an aptitude for maths and numeracy.
Problem-solving – Almost every IT and tech role requires the ability to effectively anticipate, analyse and fix problems.
Teamwork – You'll need to be able to work well as a team – often, tech and IT projects require collaboration with other colleagues and stakeholders.
Writing your computer science CV
Writing a computer science CV after graduating can be hard, as you're unlikely to have much tangible experience.
However, by following my guide and focusing on your hard skills, relevant projects and extra-curricular activities, recruiters are sure to see your ability.
Landing your first IT role can be difficult, but if you apply for as many jobs as you can and tailor your CV to the role every time, you'll get there eventually.
Good luck with the job search!