If you're looking to pursue new opportunities in investment banking, then your CV need to stand out amongst the fierce competition.
But writing a good investment banking CV is not easy.
This comprehensive guide, which contains 4 investment banking CV examples will support you in producing an eye catching CV, that will help you secure your dream role.
Contents
Investment banking CV examples

Structuring and formatting your CV
Writing your CV profile
Detailing work experience
Your education
Vital skills for an investment banking CV

Investment banking CV example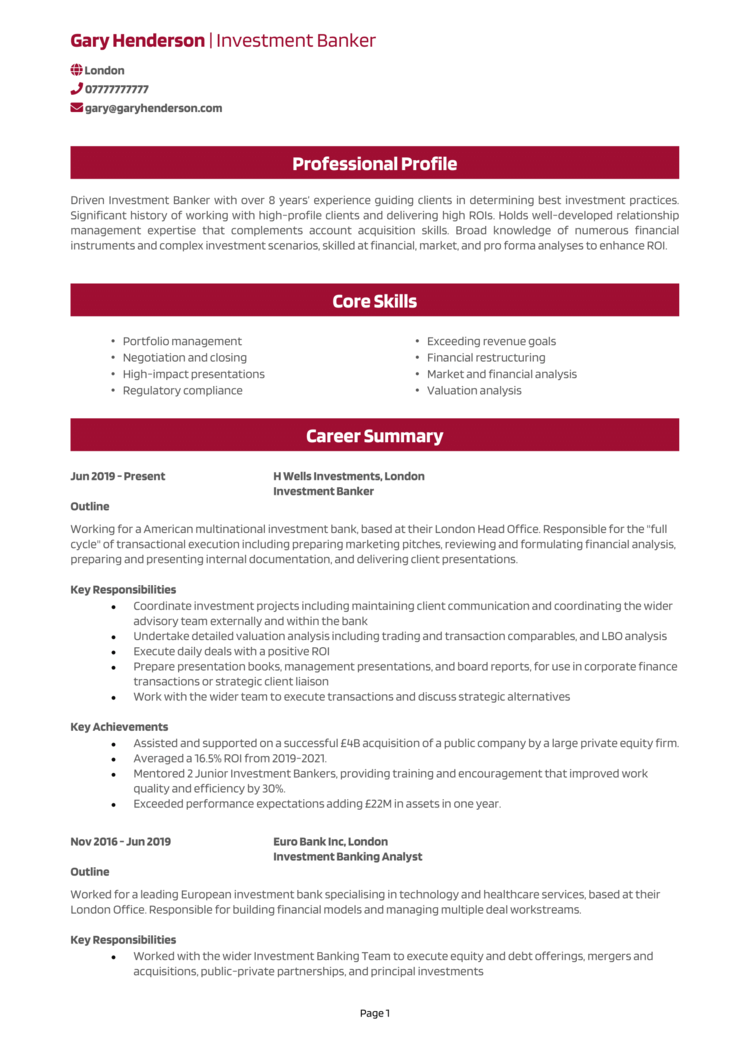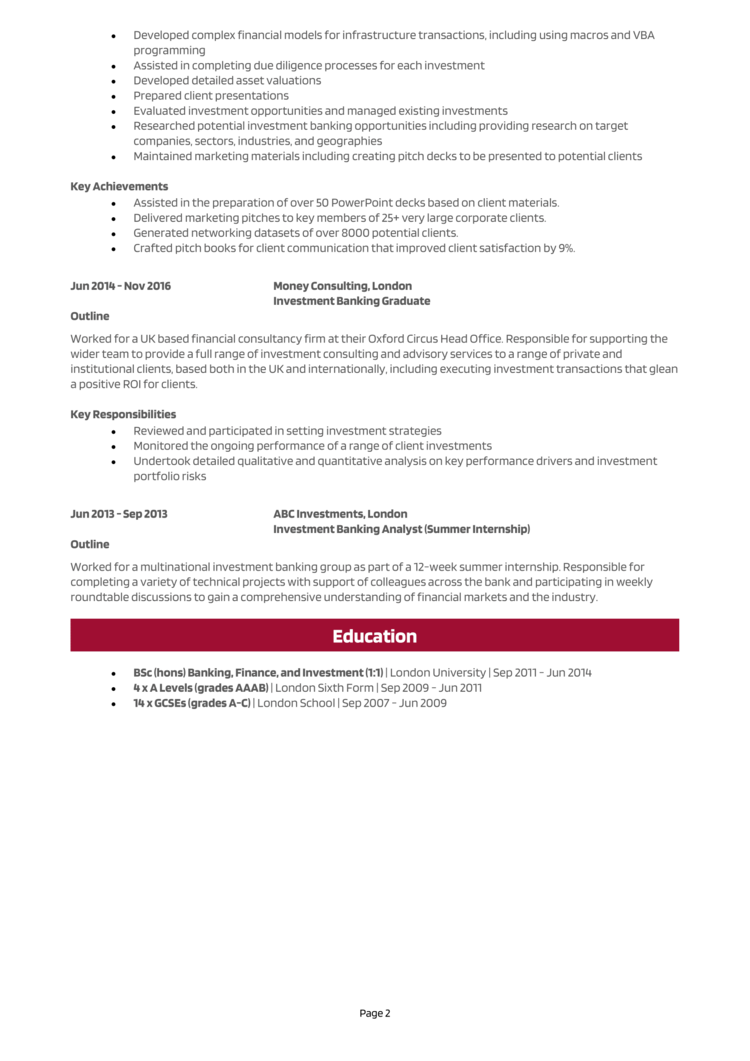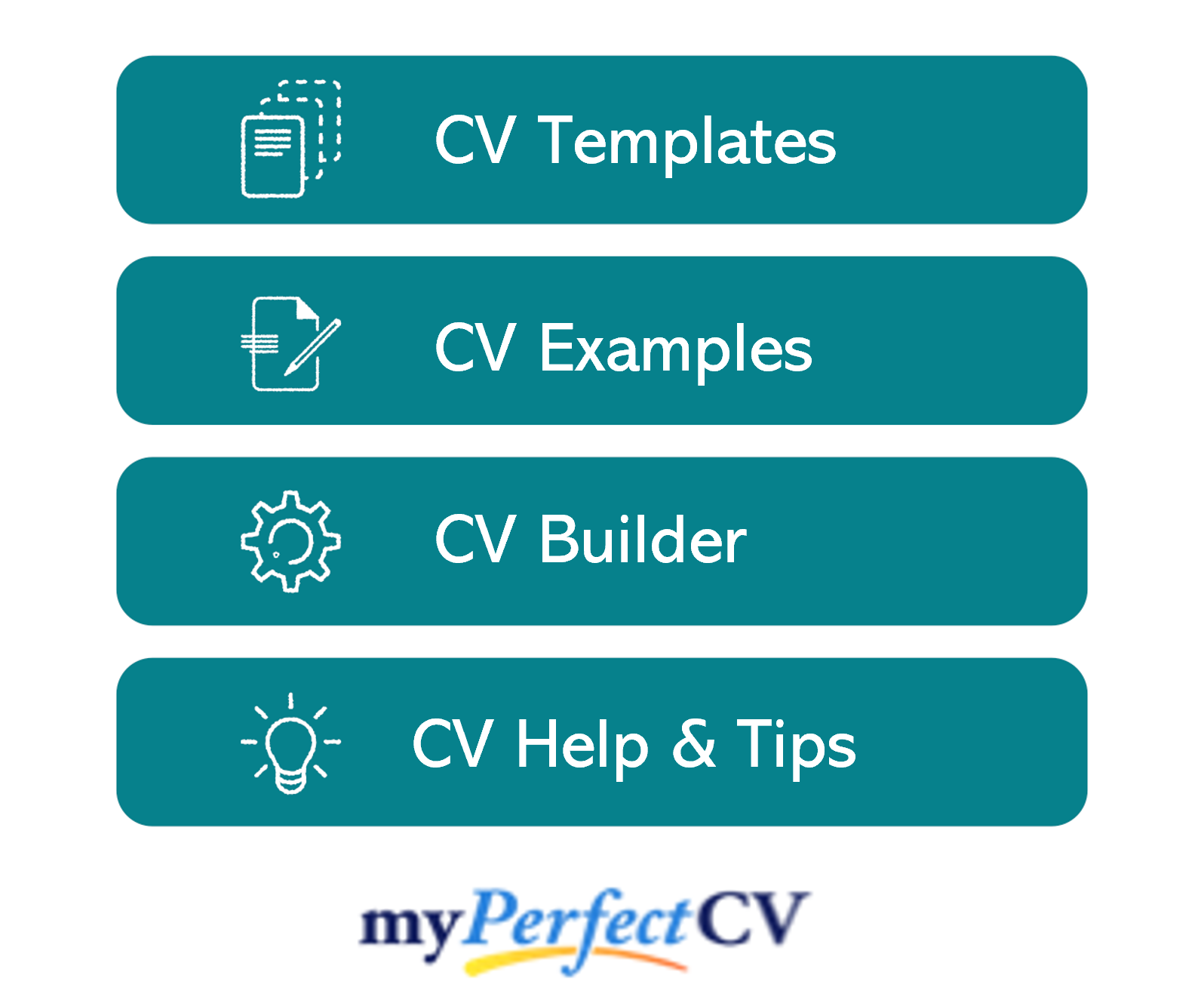 Trader CV example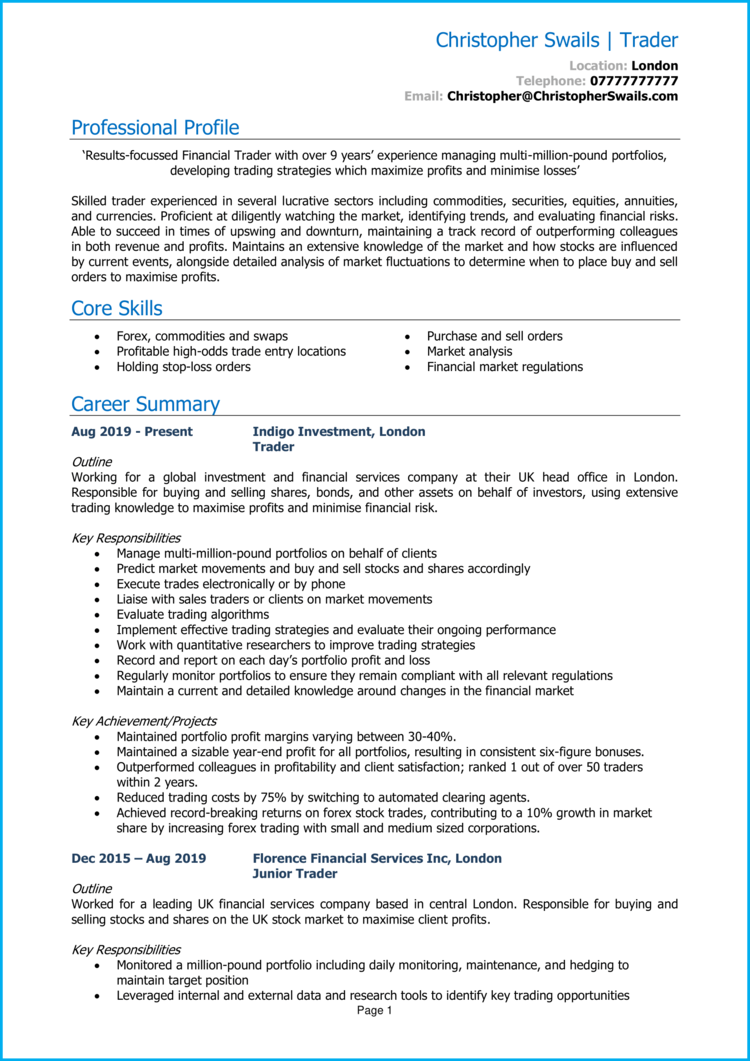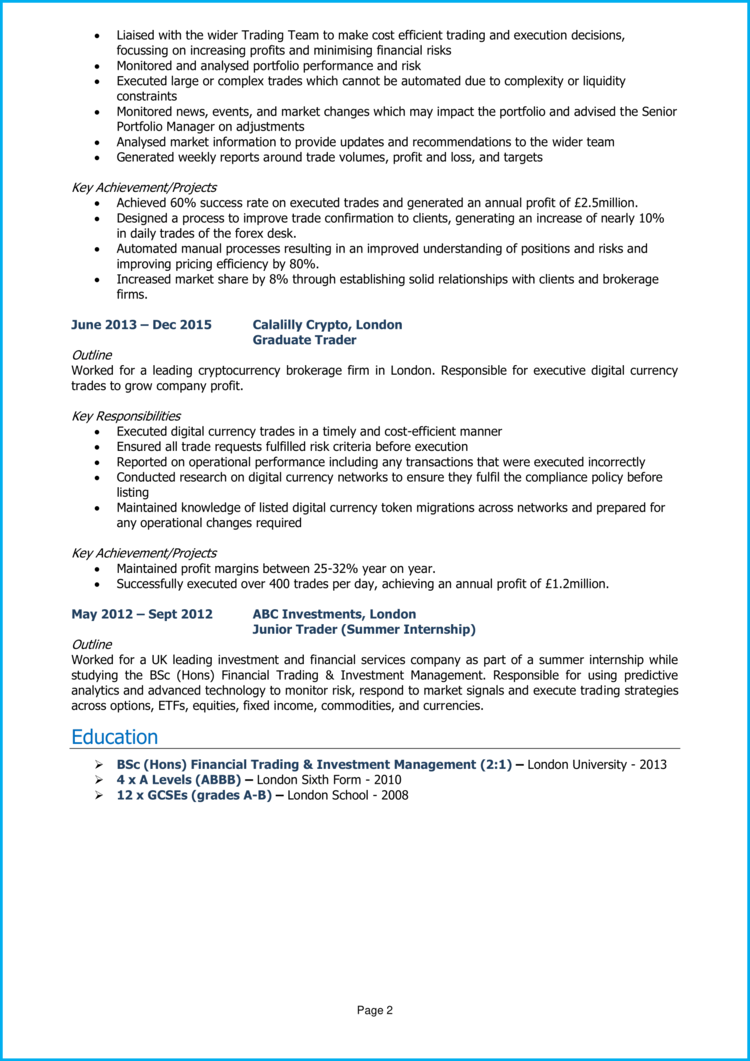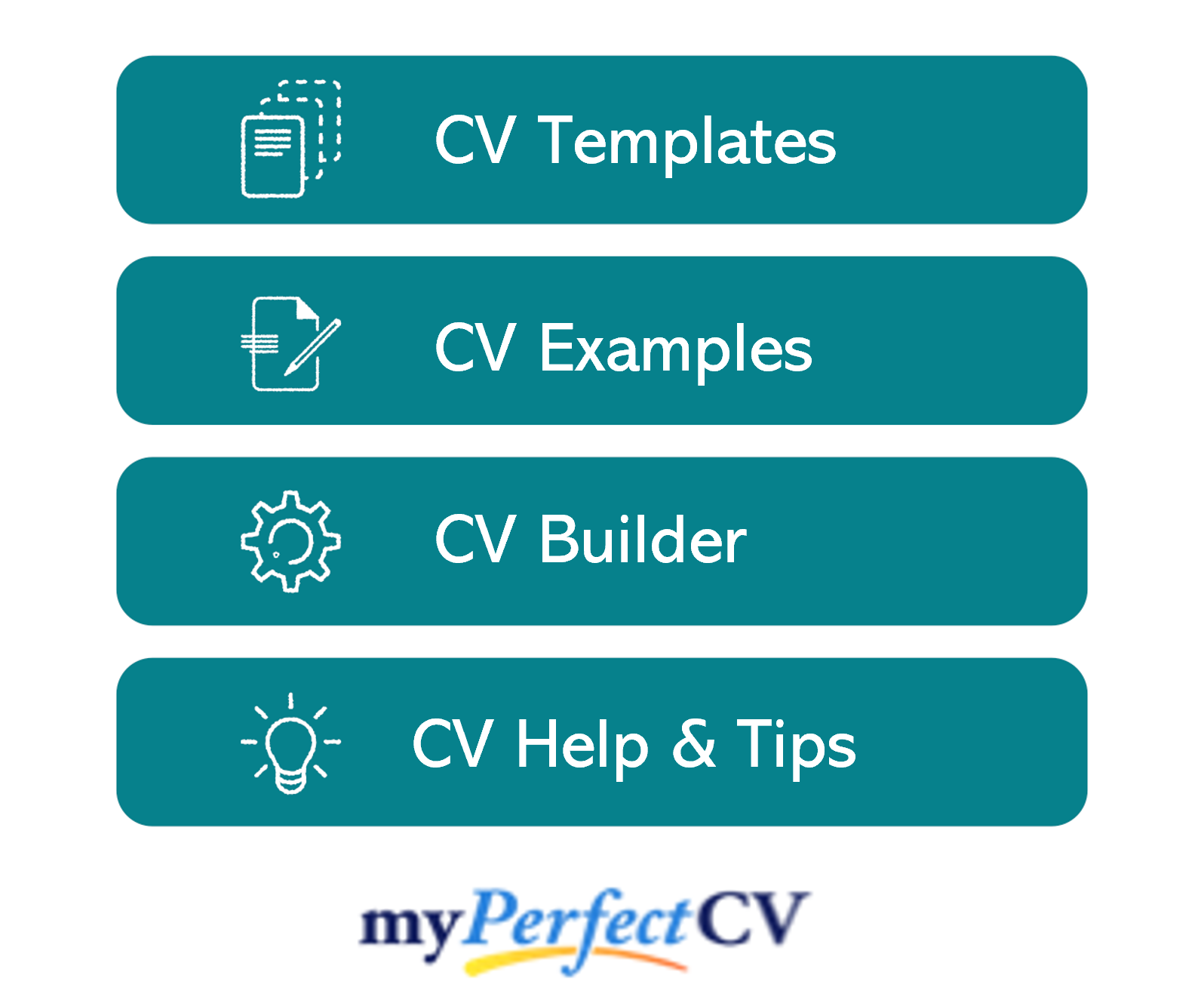 Finance analyst CV example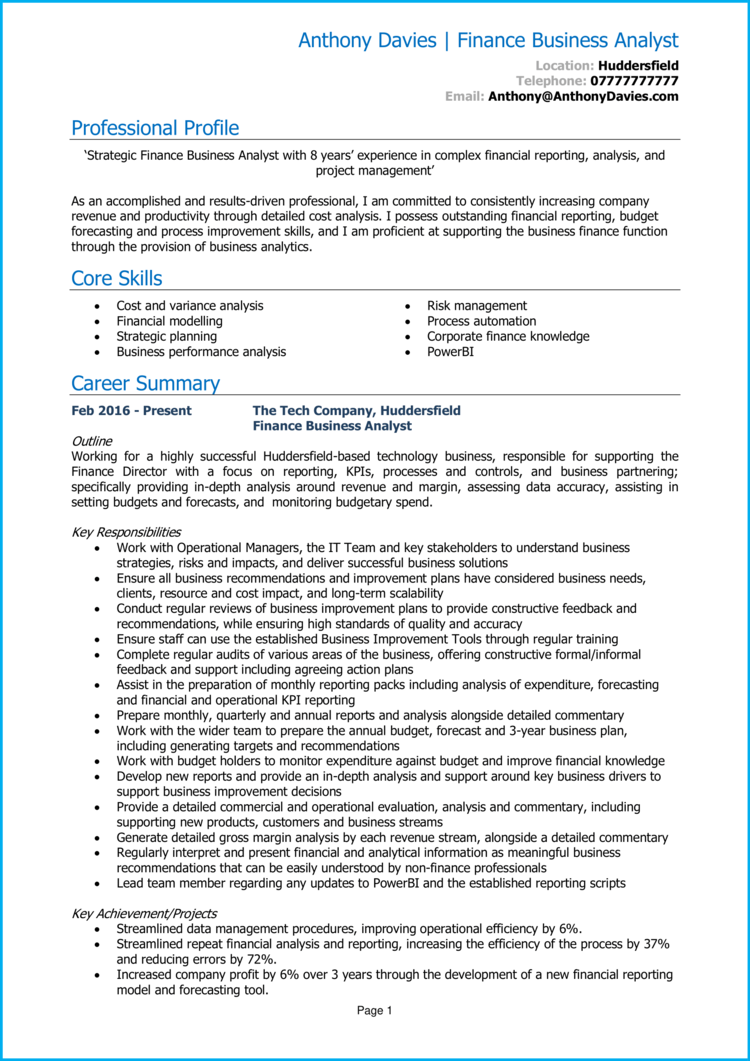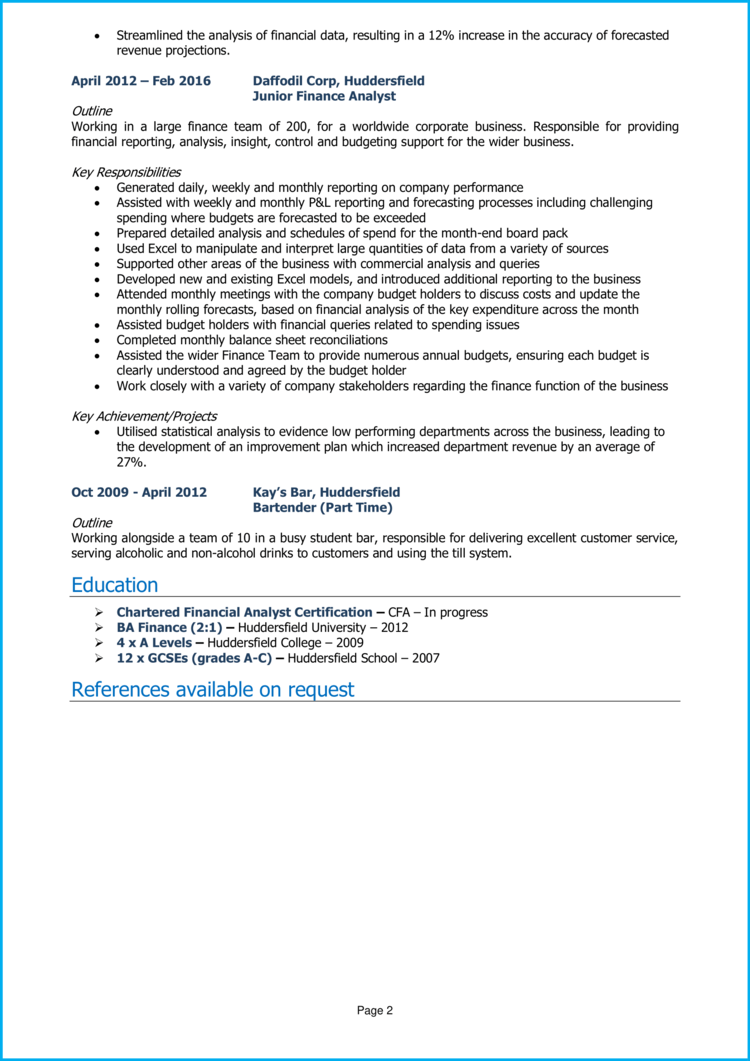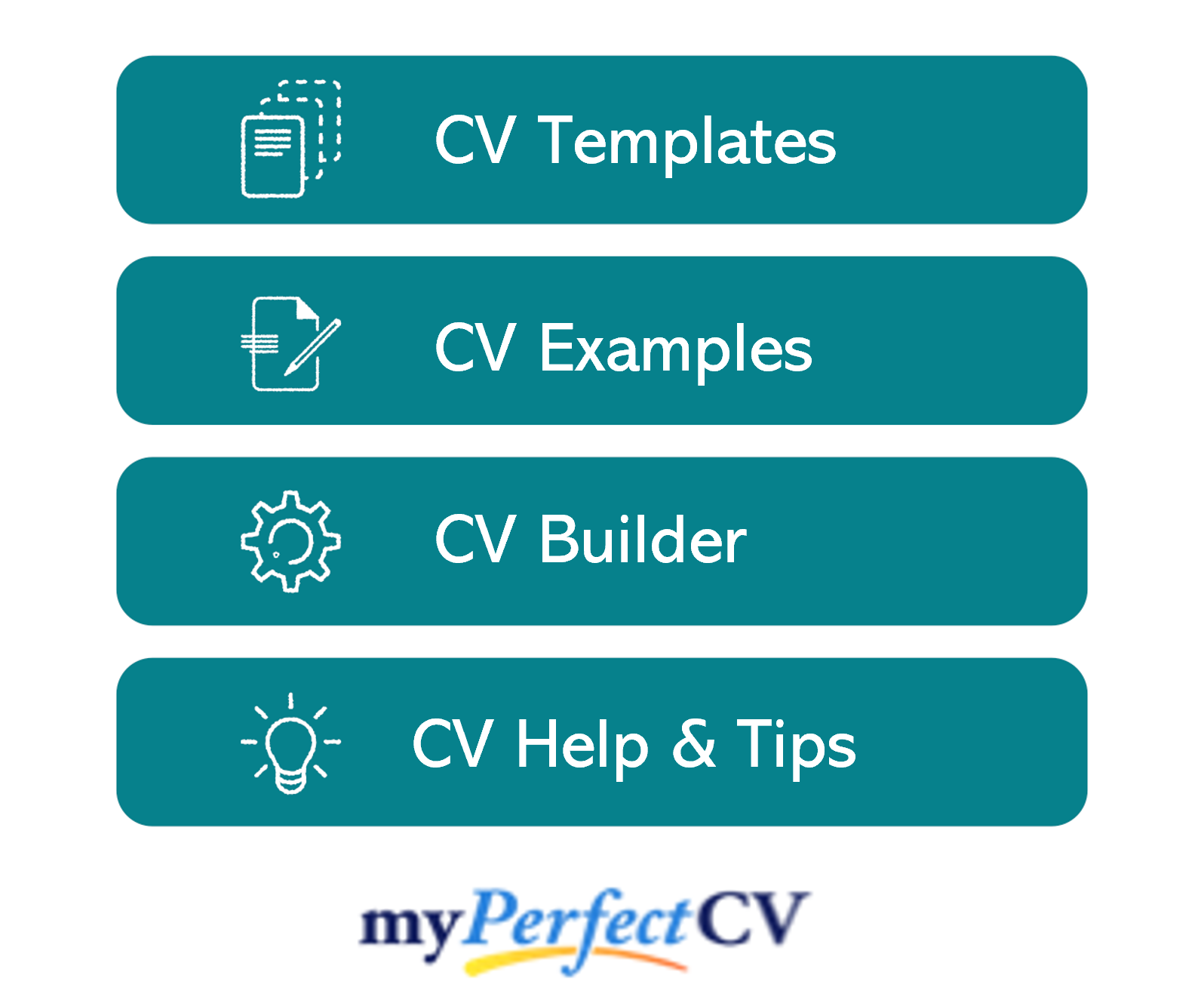 Portfolio manager CV example

This CV example demonstrates how to correctly structure your work experience, enabling recruiters to quickly and easily navigate your experience.
This guide will document how to format and write your CV to maximise the impact you make within the hiring process.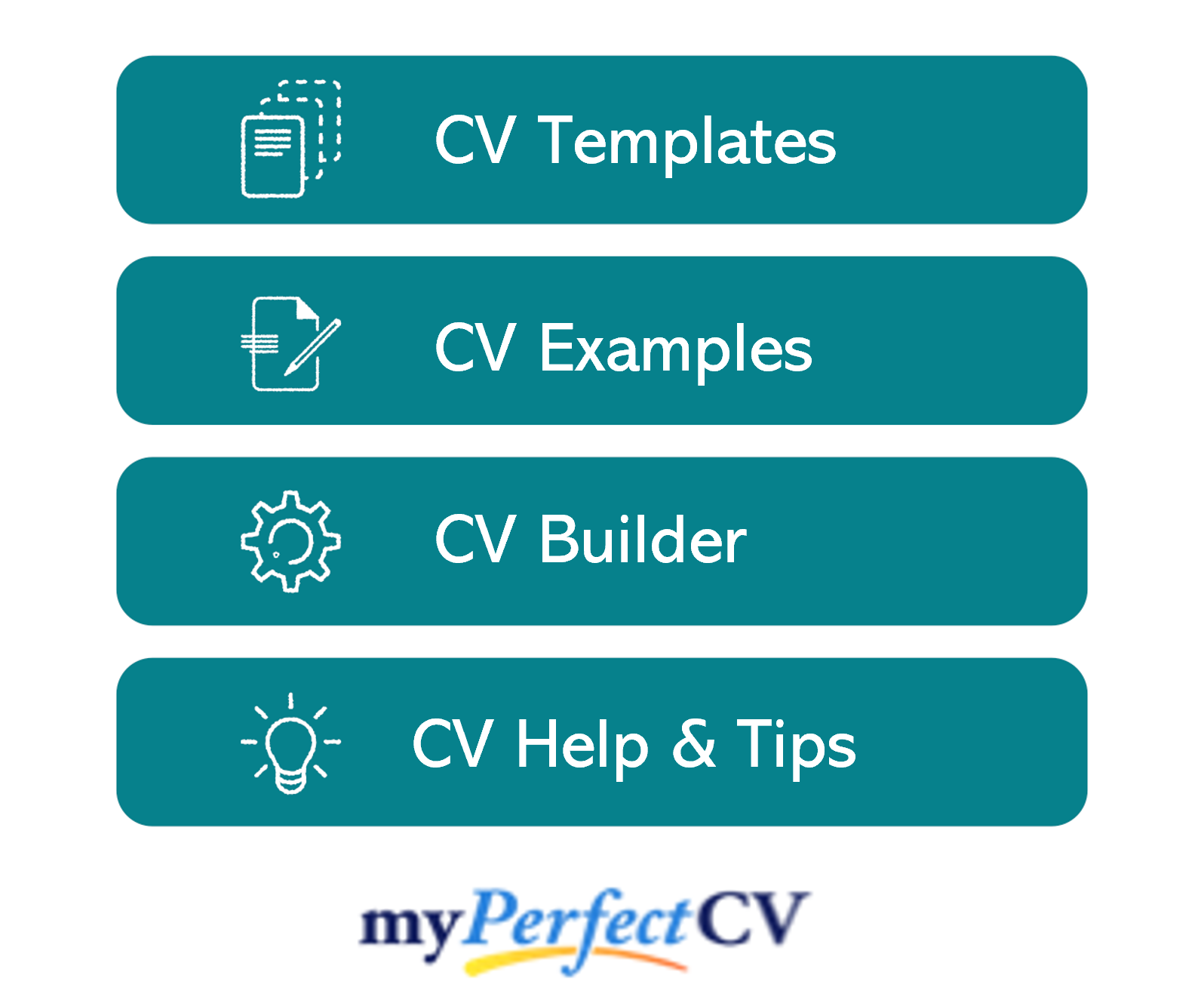 Investment banking CV structure & format
Facilitate ease of reading within your CV by having a clear, concise and professional structure.
Entice recruiters' attention through pinpointing your most applicable skills in your CV, demonstrating why you're the right candidate for roles.
This below infographic documents how to correctly format your CV, stating what sections you need to be adding.
Formatting Tips
Incorporate bold headers, sections and bullet points to break up large blocks of text, assisting recruiters' to naturally flow through your experience
Avoid overcrowding your CV with a busy design, and instead stick to a professional structure with a subdued colour pallet and distinctive font
Don't add company logos or headshots to your CV, these distract recruiters attention and take up valuable space
Keep to a CV length of 2 sides of A4, enough space to showcase your imperative strengths without it becoming tedious to read
Structuring your CV
Break up large chunks of text by using distinct sections, highlighting why you're the ideal candidate for investment banking positions.
When producing your CV, work to the below structure:
Contact details – Keep these to the top of the page, making them easily accessible to recruiters
Profile – Start your CV with an opening paragraph that details your suitability for investment banking roles
Work experience / Career history – Record your work experience, starting with your most recent positions
Education – Detail qualifications, especially those most imperative for investment banking positions
Interests and hobbies – An additional optional section, that can portray your transferable skills
As the guide continues we'll walk you through what to include within each section.

CV contact details
Allow recruiters to easily reach you by keeping your contact information to the top of your CV.
Stick to the most essential information only:
Phone number (preferably a mobile number)
Email address
Location (the city you reside is enough information)
Add a link to your LinkedIn profile if it's strong
Keep to only the vital details needed by recruiters in the decision making process, avoid adding extra information such as marital status, date of birth or profile pictures.
Investment banking CV profile
Commence your CV with an opening paragraph that is between 5-10 lines, incorporating your sector specific skills, industry experience and relevant qualifications.
Showcasing your appropriateness for investment banking roles at first glance, enticing recruiters to read further into your CV.
Summarise your CV in a short, concise paragraph that grabs recruiters' attention.
Use these tips when producing your personal profile:
Work to a length between 5-10 lines, enough space to attract recruiters' attention, engaging them to explore your CV further
Stand out from the competition by tailoring your skills to the sector rather than using cliché or overused statements
Research the target jobs prior to crafting your profile, enabling you to integrate keywords and making you custom-built for the sector
What to include in your CV profile?
Previous companies worked for – Whether working for a large investment bank, building society or a financial institute
Finance specialisms – Investment management or advice? Trading? Back office compliance?
Market knowledge – Are you an expert in FX, derivatives, emerging markets? EMEA?
Level of your experience – Whether you've recently graduated or become chartered, or if you've expertise in mergers and acquisitions, underwriting or venture capital
Qualifications – Record the qualifications you have obtained specifically those most pertinent to the industry, for example a degree in Finance and Investment Banking or being an affiliated Chartered Financial Analyst
Investment banking skills – Record any soft or hard skills you're able to transfer into investment banking positions, such as being analytical, project management skills and attention to detail
CV profile tip: If you worry that your spelling and grammar might not be correct, try using our partner's CV builder to eliminate the risk of making mistakes.
Core skills section
Underneath your CV profile, reserve a section for documenting your marketable strengths, demonstrating your suitability at first glance.
This section should be comprised of two to three columns of bullet points, tailoring these skills to the industry you're pursuing.
Prior to making this section, research the industry allowing you to add keywords that make you custom fit to the sector.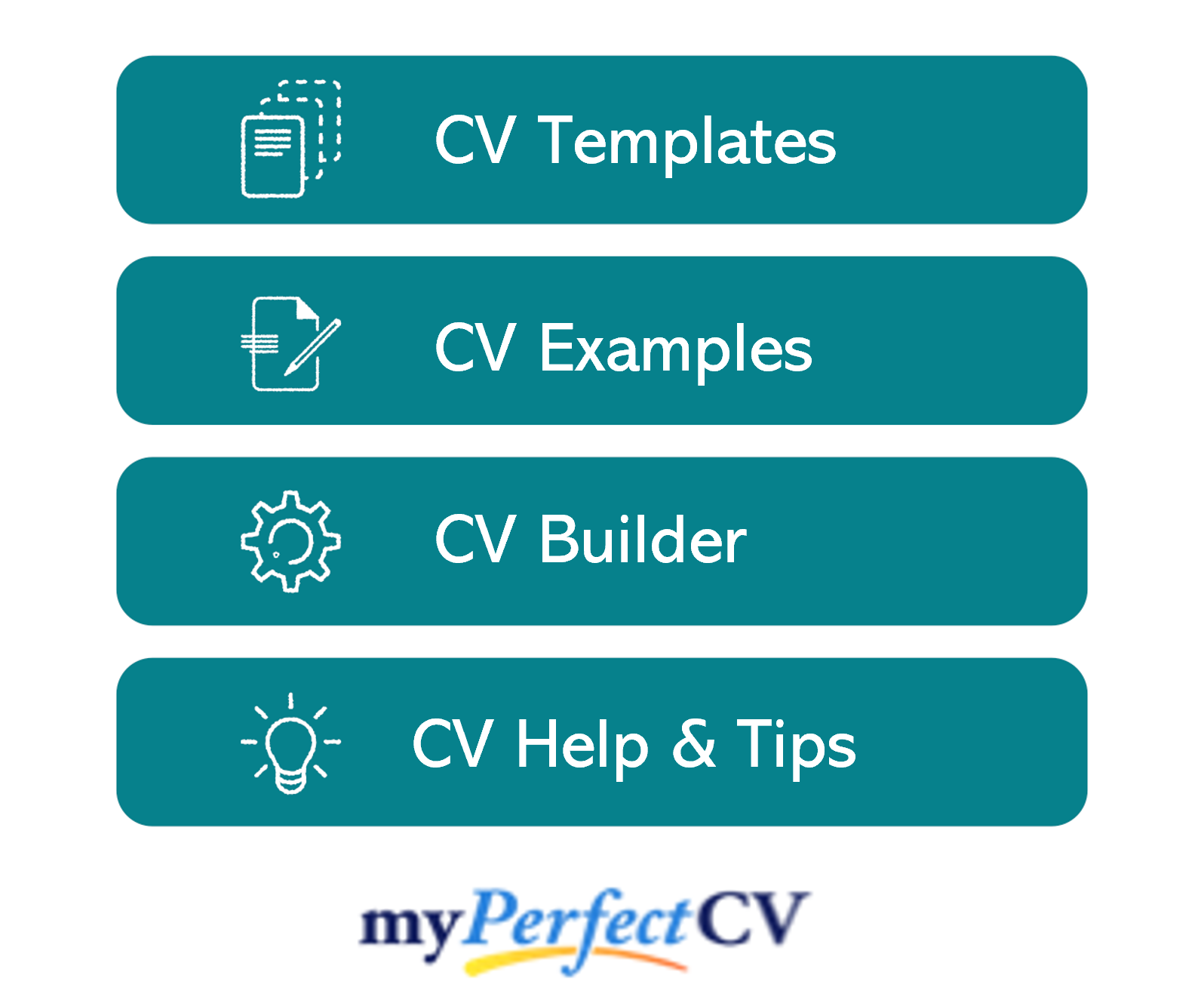 Work experience/Career history
Work backwards through your career history, beginning this section with your most recent or more relevant industry experience.
Provide further depth in your role descriptions for those positions most paramount for investment banking vacancies, giving a shorter, less detailed description as you work backwards in your career.
Structuring your roles
Paint a picture with your role descriptions, providing added context to recruiters around the organisation you worked for, the department you were part of or the role you assumed.
Look to break up your role descriptions into the below three sections.
Outline
Give insight to recruiters by providing context around the company you worked for, the department you were part of and the role you undertook.
E.g.
"Working in investment banking, being responsible for managing a portfolio of financial investments for clients."
Key responsibilities
Bullet point your key duties, including any project involvement or core relationships established.
E.g.
Speaking with investors about options, suggesting tailored financial approaches
Analysing the financial industry, being able to relay this information to clients and how it affects them
Key achievements
Showcase the value you had within a business, using facts and figure to strengthen and verify your example achievements for recruiters.
E.g.
Successfully achieved 110% of this year's £5 million objective through exceptional relationship management

Education
Begin this section with any qualifications or courses that are key to a career in investment banking.
For example, include degrees or a masters in finance and investment banking, degrees in banking or finance or an Investment Management Certificate.
Look to also include chartered memberships or any postgraduate courses in the financial sector.
If there is room also look to incorporate extra qualifications such as GCSE's, A-levels, additional degrees and vocational qualifications.
Interests and hobbies
This is an optional section that can be used to emphasise your sector specific strengths, but this section should only be used if your interests will add additional value to your CV.
Reflect on hobbies that establish your capacity in areas such as communication, analytical thinking or relationship building.
For example, working together with a sporting team or taking a lead as a captain or within coaching roles.

Essential skills for your investment banking CV
Make your core and marketable strengths a central focus within your CV, tailoring yourself to the investment banking industry.
Financial products – From simple products like savings and loans, through to more complex ones like mortgages, derivatives and credit swaps – investment bankers must have a sound knowledge of how financial instruments work as well as their pros and cons.
Financial market knowledge – Keeping an up-to-date knowledge of the current state of global financial markets such as the FTSE 100 and the S&P 500, to provide clients with accurate and timely advice on investments.
Regulatory Compliance – Understandings policies, procedures and regulations set by financial regulators such as the Financial Conduct Authority, to ensure that any financial work is conducted fairly and legally, protecting both clients and employers.
Portfolio Management – maintain a portfolio of clients and organising client's investments, alongside managing relationships and making investment recommendations.
Client Relations – Building and maintaining effective key relationships with clients, bringing on new accounts and business, in order to grow client base and investments.
Financial analysis – The ability to read and comprehend complex financial information, such as balance sheets, P&L statements, and trading graphs, in order to spot anomalies or trends which can be used to make sounds investments.
Risk management – Understanding the level of risk involved in different investments, in relation to reward, and being able relay that risk to clients.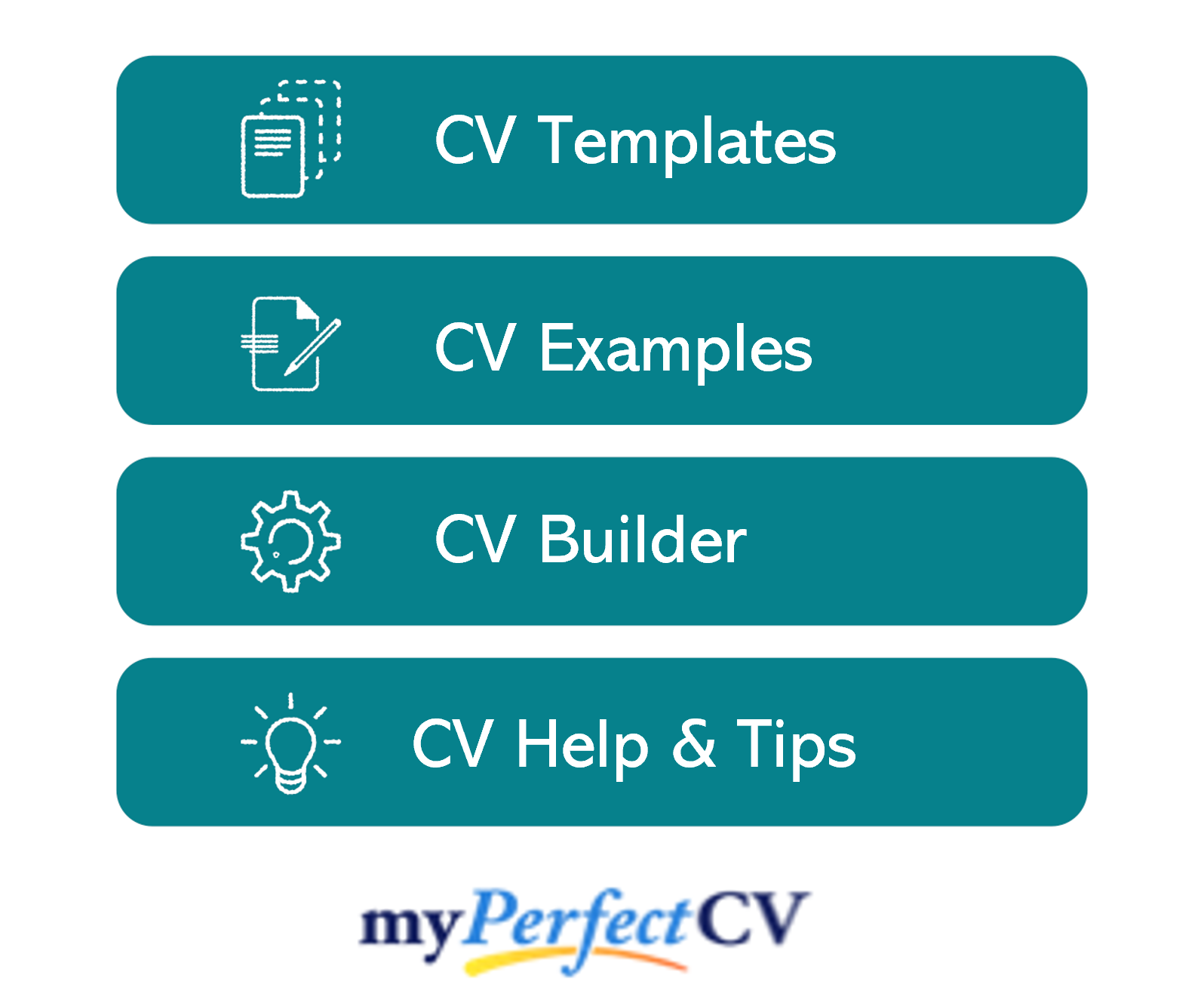 Writing your investment banking CV
Achieving your dream career starts with producing an eye-catching CV, that grabs recruiters' attention and engages them to invite you in for an interview.
Matching compelling content with a well-defined structure, highlighting your applicable skills and sector specific experience.
Use this guide to support you in creating a visually pleasing CV, which will help you stand out from the crowd.
Best of luck in your next application!