If you want to land your dream job, you need to write a winning CV.
A good CV will get you noticed by employers and land you plenty of interviews.
But a poor CV will see you ignored and missing out on suitable opportunities.
So, I've put together this step-by-step guide that shows you how to write a CV that will get you results.
No matter what your experience level or industry, you can create an attractive CV and secure a job that you really want.

What is a CV?
A CV (which stands for Curriculum Vitae) is a written document that contains a summary of your skills, work experience, achievements and education.
You write your CV and send it to potential employers to show them that you are a good match for the job you are applying for.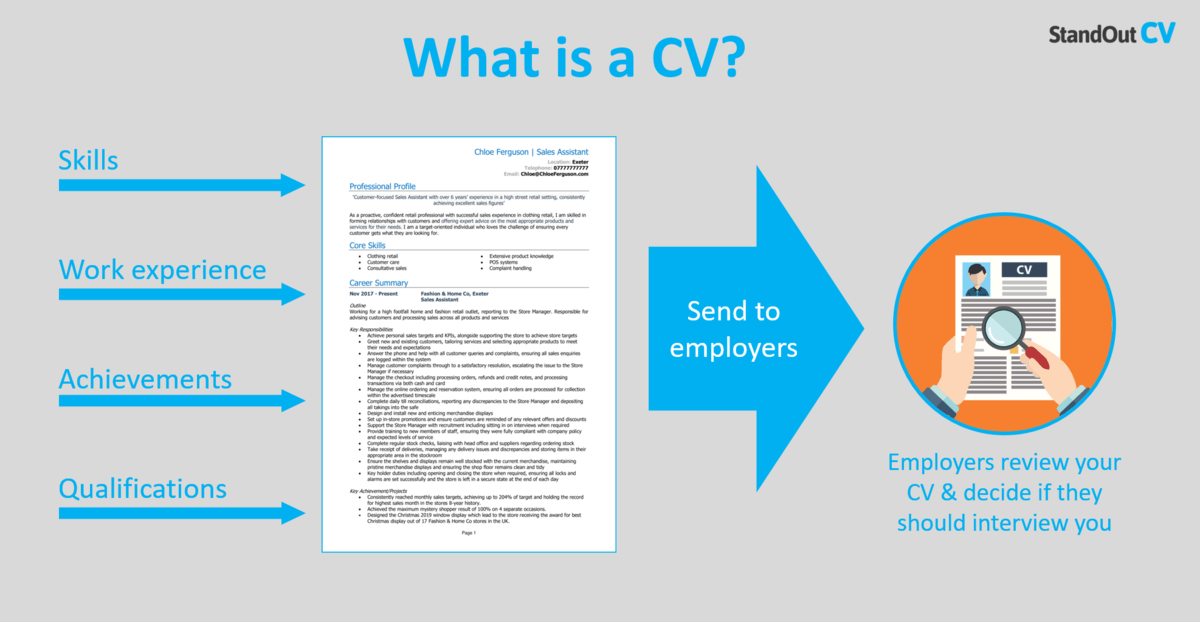 A recruiter or hiring manager will then review your CV for the employer, and if they think you are a suitable candidate for their vacancy, they will invite you in for an interview.
The ultimate purpose of your CV is to win job interviews for you, by demonstrating that you are the perfect candidate for your target jobs.
"The purpose of you CV is to win job interviews"
What to include in a CV
The exact information you include in your CV will vary depending on your experience level and the type of jobs you are applying for, but most employers will expect to see the following details in your CV:
Name and contact details – It's important that employers know who you are and how to contact you.
A CV profile or personal statement – An introductory paragraph at the top of your CV that summarises your skills, knowledge and suitability.
Work experience – A list of your previous jobs, demonstrating how you contributed to the employer's success.
Work placements/voluntary work – If you have no paid work experience, you should include details of voluntary work or school work placements.
Education & qualifications – A detailed summary of your education and qualifications you have achieved.
Hobbies and interests (optional) – These should only be added if they are impressive or relevant to the jobs you are applying for.
Achievements – Any outstanding results you have produced in your work or education should be mentioned throughout the CV.

How to layout your CV
Recruiters and hiring managers are busy people with 100s of CVs to review for every job, so they only spend a few seconds on an initial review of your CV.
With this in mind, you need to create a CV layout that is easy to digest and allows readers to find the information they need quickly.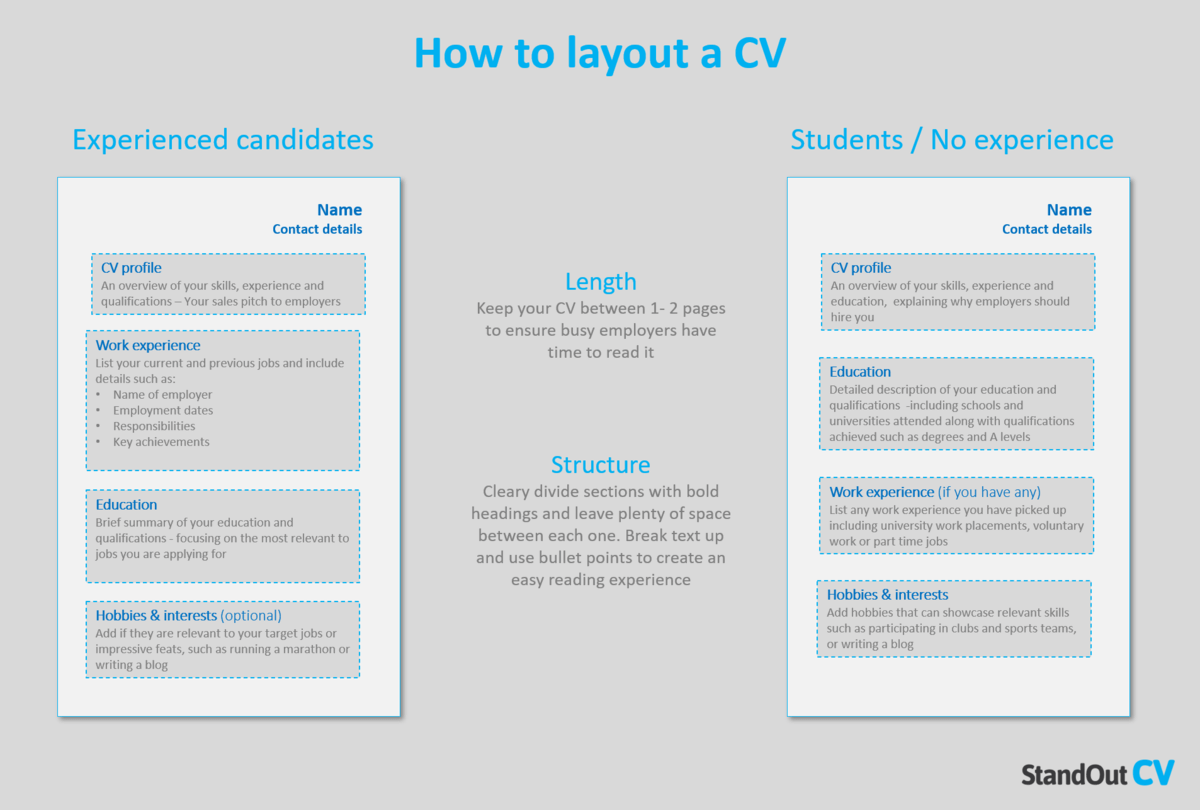 Here are the main sections you need to include in your CV structure and how to order them. You can use a CV template to make this process quicker and easier if you like.
Name and contact details
At the top of your CV you need to show recruiters who you are and how they can contact you.
Keep these details tucked up into the top of the page to save space for the content in your CV.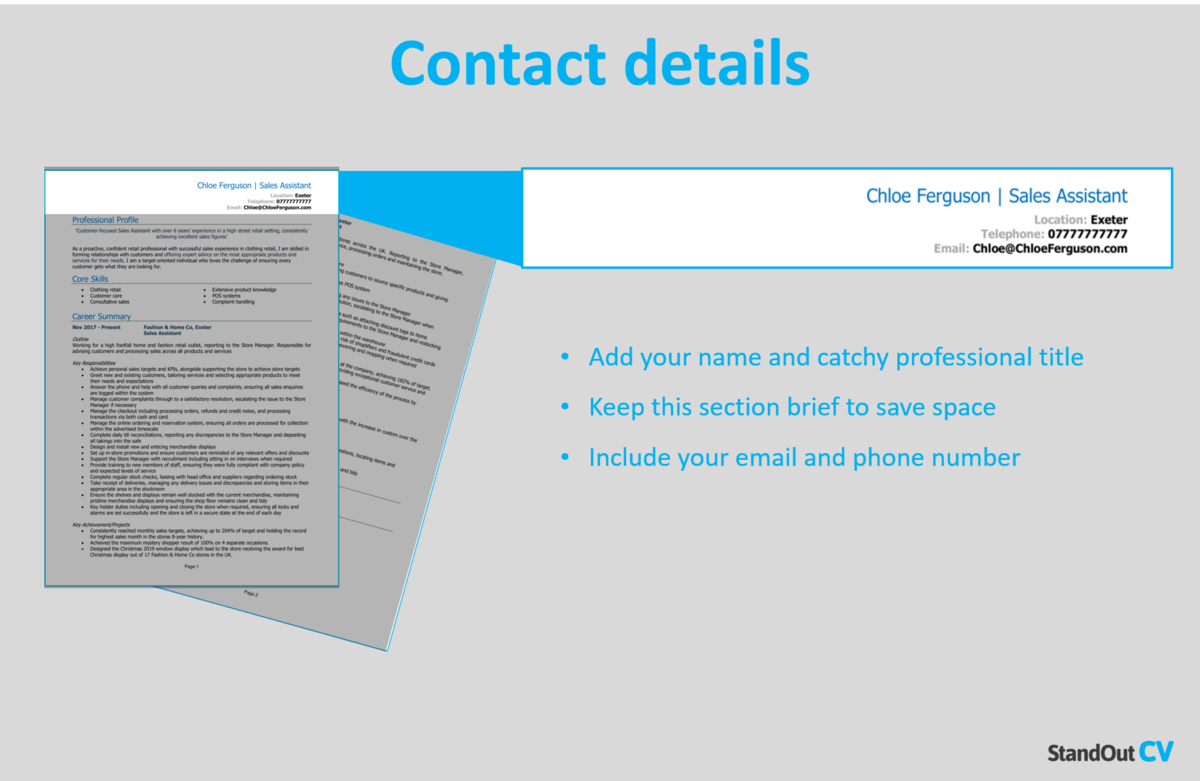 The details you should include in this section are;
Your full name
A professional title: To give recruiters an instant idea of your talents, give yourself a professional title such as; Marketing expert or Finance graduate
Telephone number: Provide a number that you can answer quickly such as your mobile
Email address: Use an email address that sounds professional and avoid using one that contains a nickname or anything unprofessional
Your location: Put your town/city to give employers a general idea of where you are based. If you are looking/willing to relocate you must make that clear. Your location is particularly important as you can be quickly rejected from a role if the recruiter thinks you live too far away to commute.
LinkedIn profile: Or other social media link can be added to give recruiters access to view your online presence and recommendations.
Quick tip: You can save space and add some design flair to your CV by adding some icons to symbolise the contact details in your header.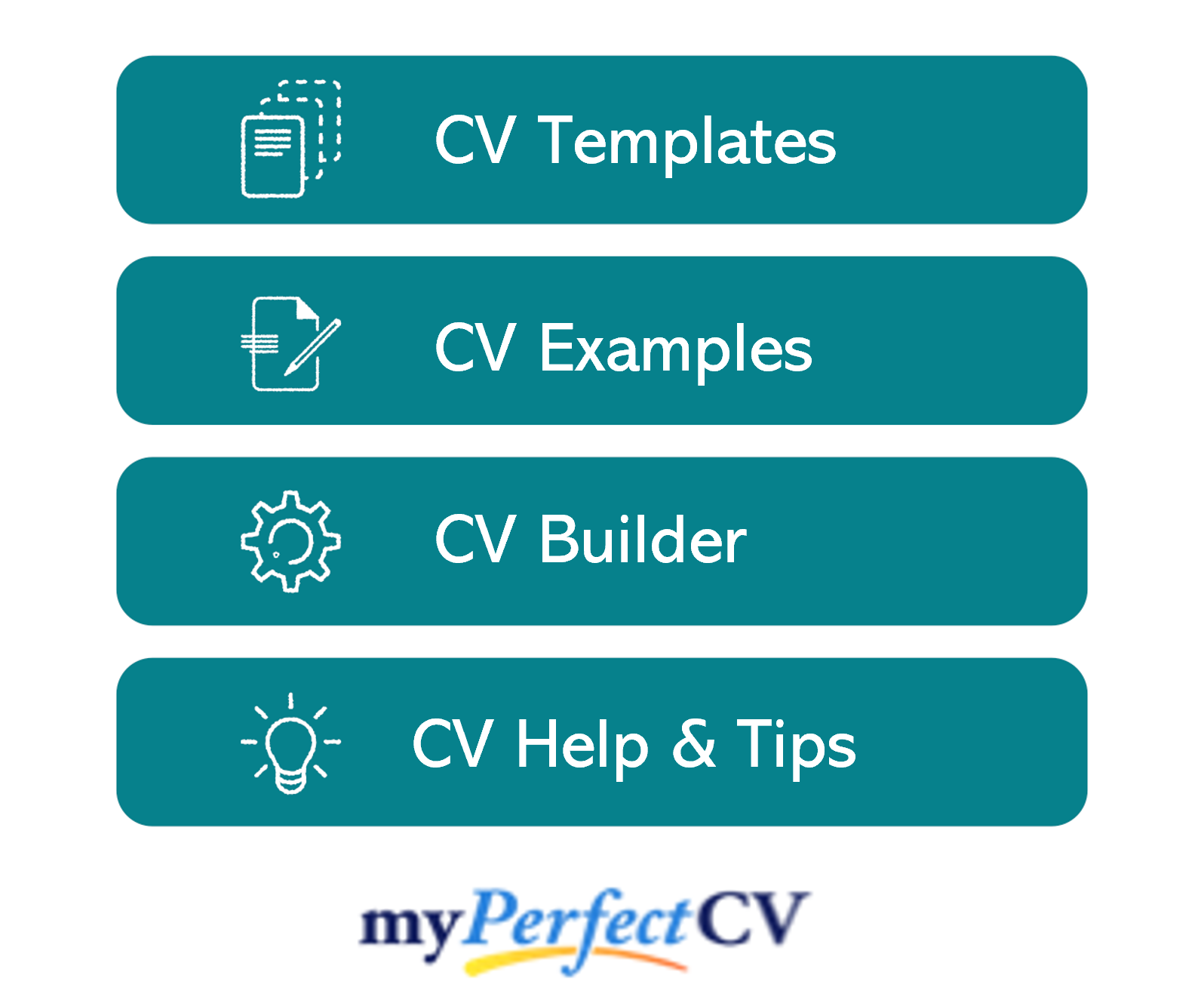 CV profile
Your CV profile (sometimes called a personal statement for junior candidates) is an introductory paragraph that sits at the top of your CV.
Here you will provide a short summary of your skills, experience and qualifications, and endeavour to reflect the qualities being asked for by the employers you are targeting.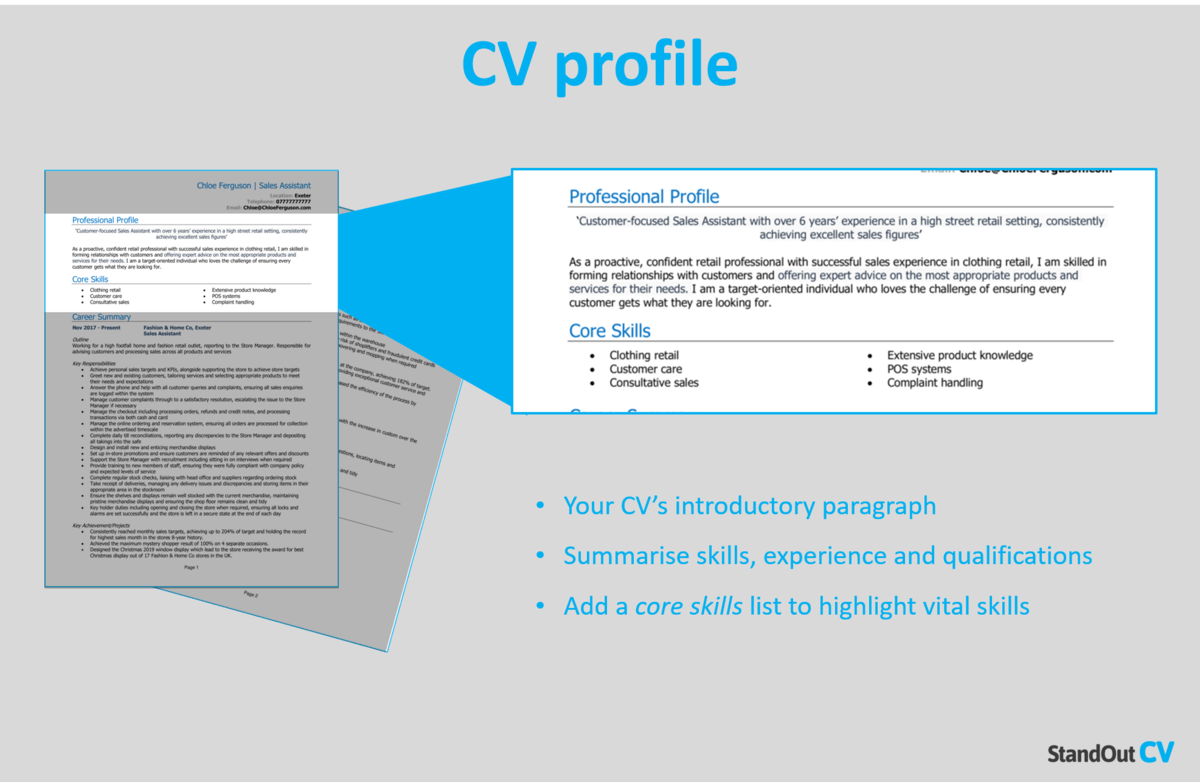 The aim of your CV profile is to hook the attention of time-strapped recruiters and encourage them to read the rest of your CV.
I will cover how to do this in more detail in the CV profile section.
Work experience
Your work experience is the section where you list your current and previous jobs, showcasing the skills you have used and contributions you have made.
List your experience in reverse chronological order (meaning newest to oldest) because recruiters tend to be more interested in your recent work.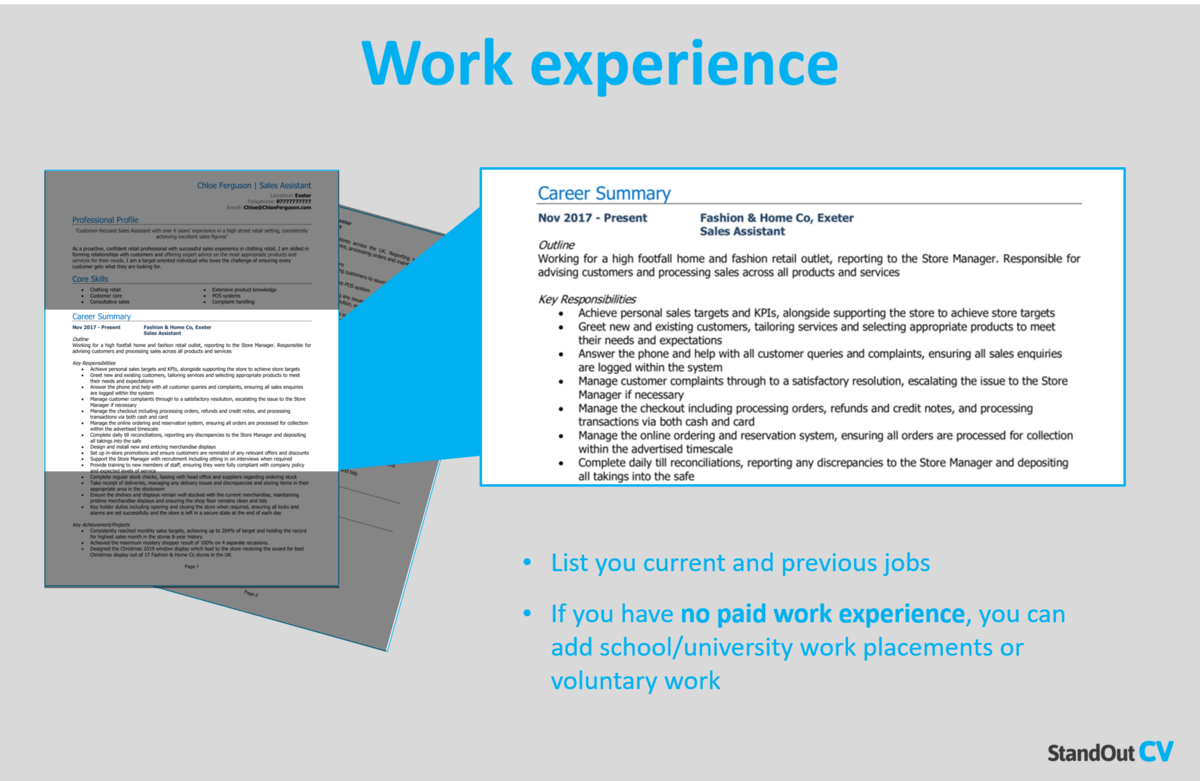 For experienced candidates this will be the largest section of your CV because employers will be most interested in your employed work.
For people with little or no experience this will be a relatively small part of your CV.
I will cover this in more detail in the work experience section of the guide.
Education
Your education section should contain a summary of your qualifications and educational achievements.
Junior candidates and people with no work experience should provide lots of detail here, including schools & universities attended, GCSE grades, A levels etc.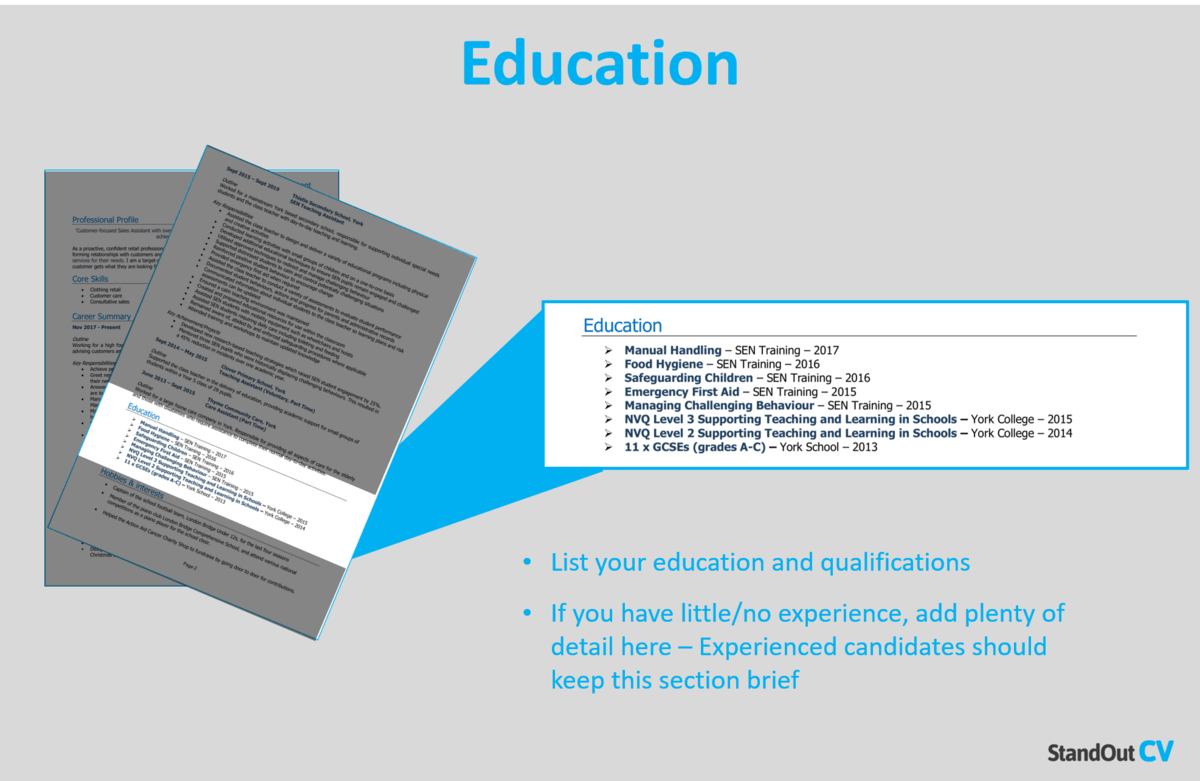 Experienced candidates do not need to provide as much detail here and should only list a brief summary.
I will cover this in more detail in the education section of the guide.

Hobbies & interests
Hobbies and interests are entirely optional, but you can add some if they could make you appear more suitable for the jobs you are applying to.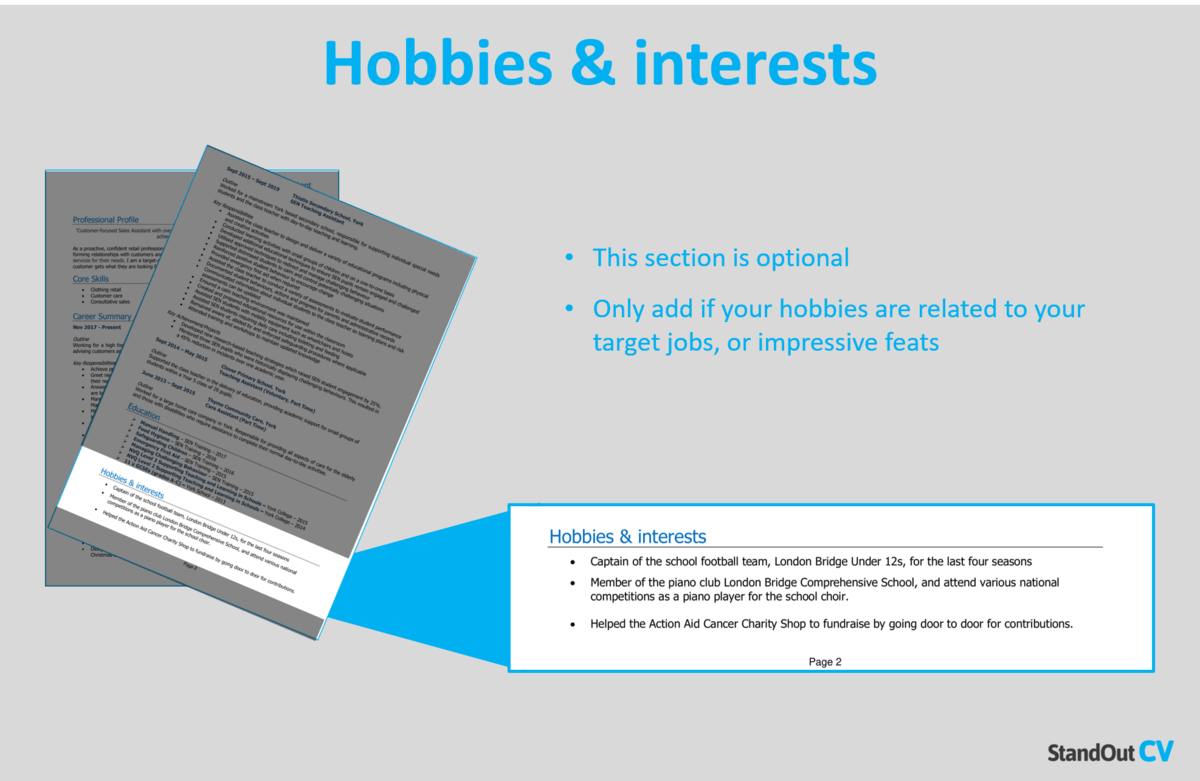 I will cover what types of hobbies you can add in the CV hobbies section of this guide.

CV format
Your CV format will play a big part in it's success.
If the information in your CV is well-arranged and presented in a simple and professional style – it will be easy for recruiters to navigate it and digest the content.
If the information is poorly laid-out, cramped or messy, then readers will struggle to read it, and probably skip past it.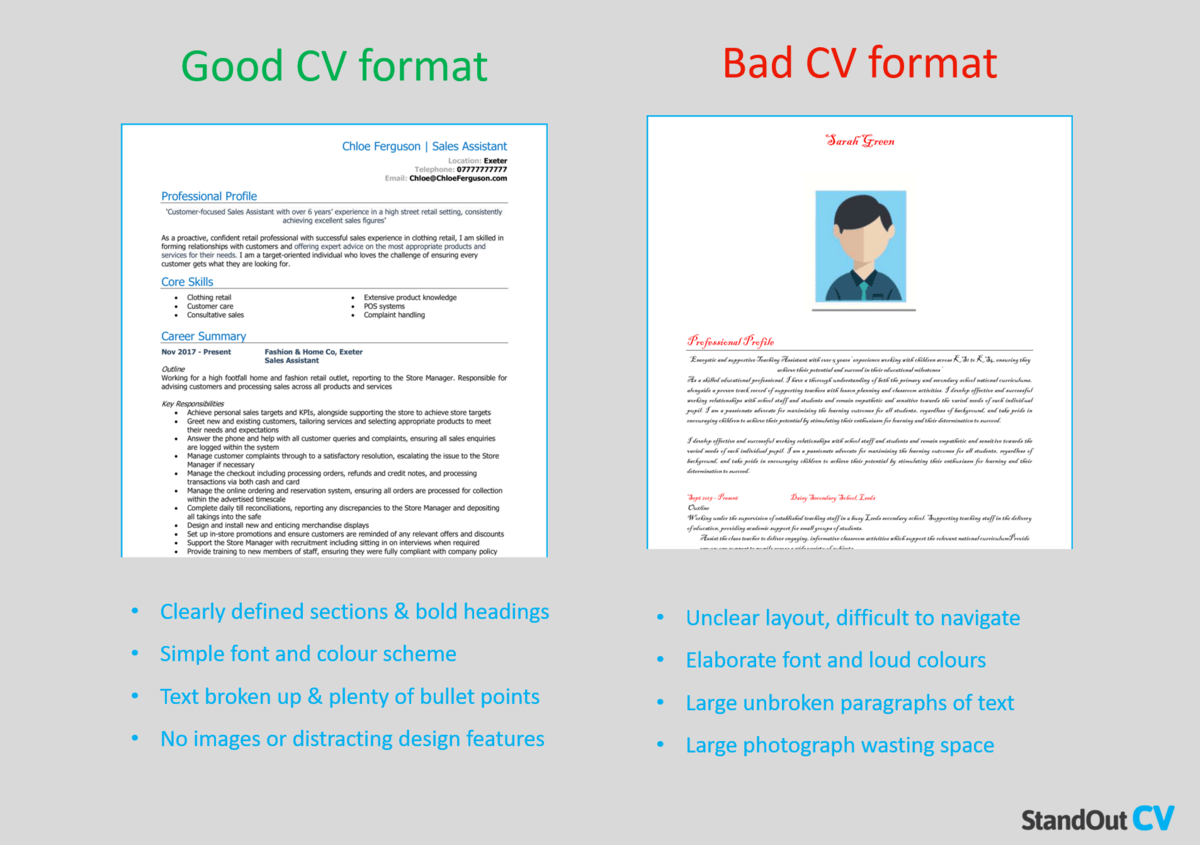 Here's how you should format your CV;
Create a text document – Use writing software like Microsoft Word or Google Docs to create a Word document or PDF (you could also use an online CV builder)
Use a clear simple font – This makes it easy for all recruiters and hiring managers to read it.
Divide sections clearly – With bold headings and space to make it easy for recruiters to jump to the sections they need.
Use a calm colour scheme – Loud colours can be off-putting and look unprofessional, so keep it muted.
Avoid photos and images – Photos take up valuable space and do not add any value to the CV (unless you are a model or actor)
Use plenty of bullet points – To break up information and provide a pleasant reading experience.
Now that you've seen an overview of what your CV should include and how it should be structured, I will walk you through how to write each major section of your CV.
Writing your CV profile
Your CV profile (sometimes called a personal statement) is a make-or-break part of your CV.
It is a short introductory paragraph at the top of your CV, and is the first thing that a recruiter will see upon opening your CV.
So, it needs to excite people and encourage them to continue reading the rest of your CV.
What to include in your CV profile
To provide employers with a high-level summary of what you can offer them, you should include the following information in your profile;
Skills – An overview of your skills which are most important to the jobs you are applying for.
Experience – A summary of the types of jobs you have done, and companies you have worked for.
Qualifications – A brief explanation of your most relevant qualifications.
Benefits – How would employers benefit from hiring you? Will you make their customers happy? Save them money? Improve their business?
Although this seems to be a lot of information, it's important to keep this section brief by providing an overview of these factors, and not going into too much detail.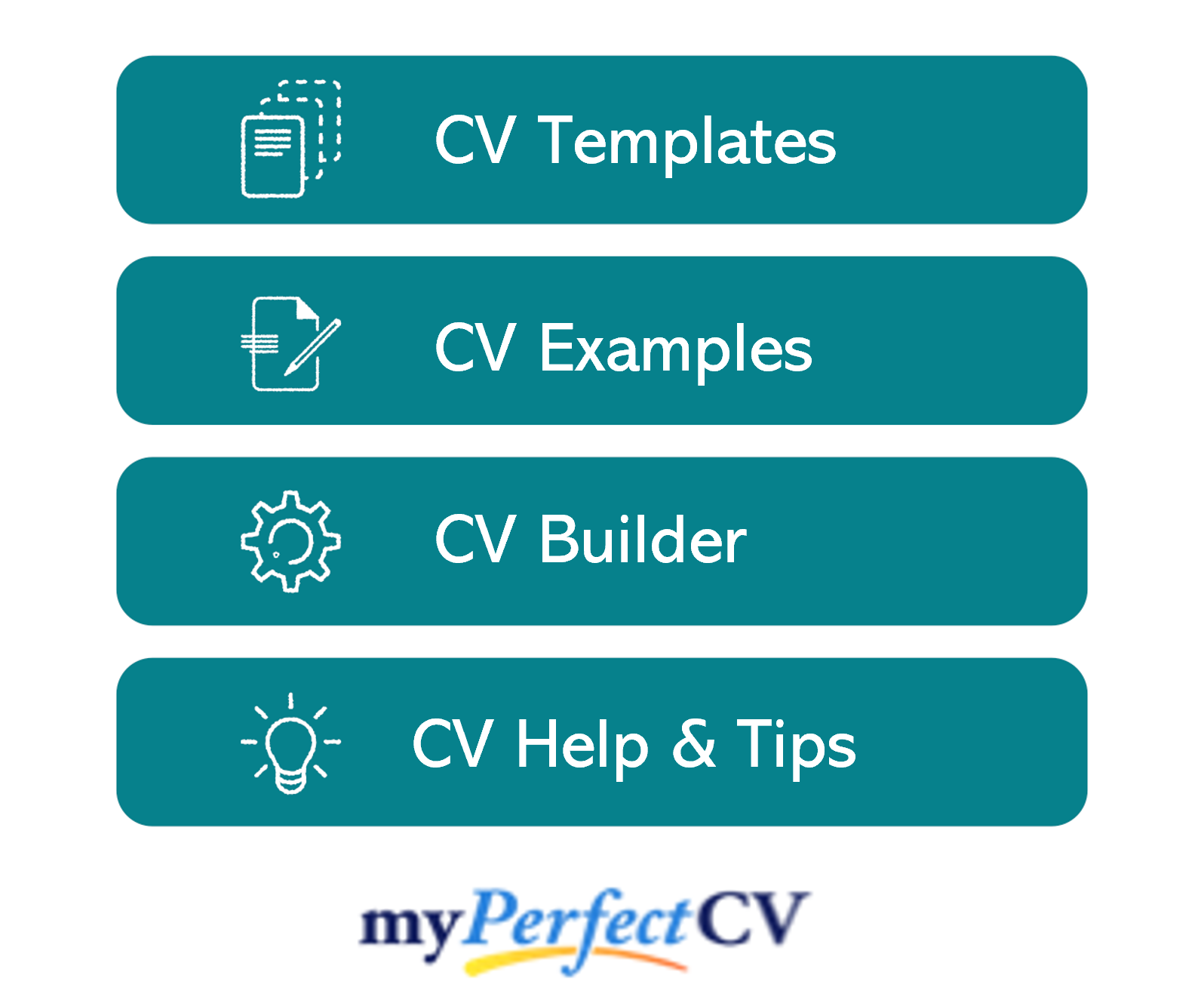 CV profile format
The format of your CV profile should be a simple brief paragraph of around 5-8 lines in length.
The reason for keeping this section short is because recruiters are busy people with hundreds of CVs to process.
They will initially review a CV for 6-8 seconds before deciding to shortlist it or not, so you need to get your message across to them quickly here.
You should think of your profile as an elevator pitch, where you have a few seconds to tell employers why you are a suitable candidate for the jobs you are applying to. Once you've passed this initial scan, recruiters will invest much more time into reviewing the rest of your CV.
Your profile should be written in fully formed sentences that are easy for anybody to understand – and don't be afraid to sell yourself.
Tailoring your CV profile
The key to writing a good CV profile is demonstrating to recruiters why you are the best candidate for the job they are advertising. To do this, you must tailor the profile to match the candidate requirements of the jobs you are targeting.
So, how do you do this?
By researching your target roles before you write your CV.
Run a search for the type of job you are applying for across multiple job websites like CV-Library or Total Jobs and build a list of the most common skills, experience and qualifications being asked for in job descriptions.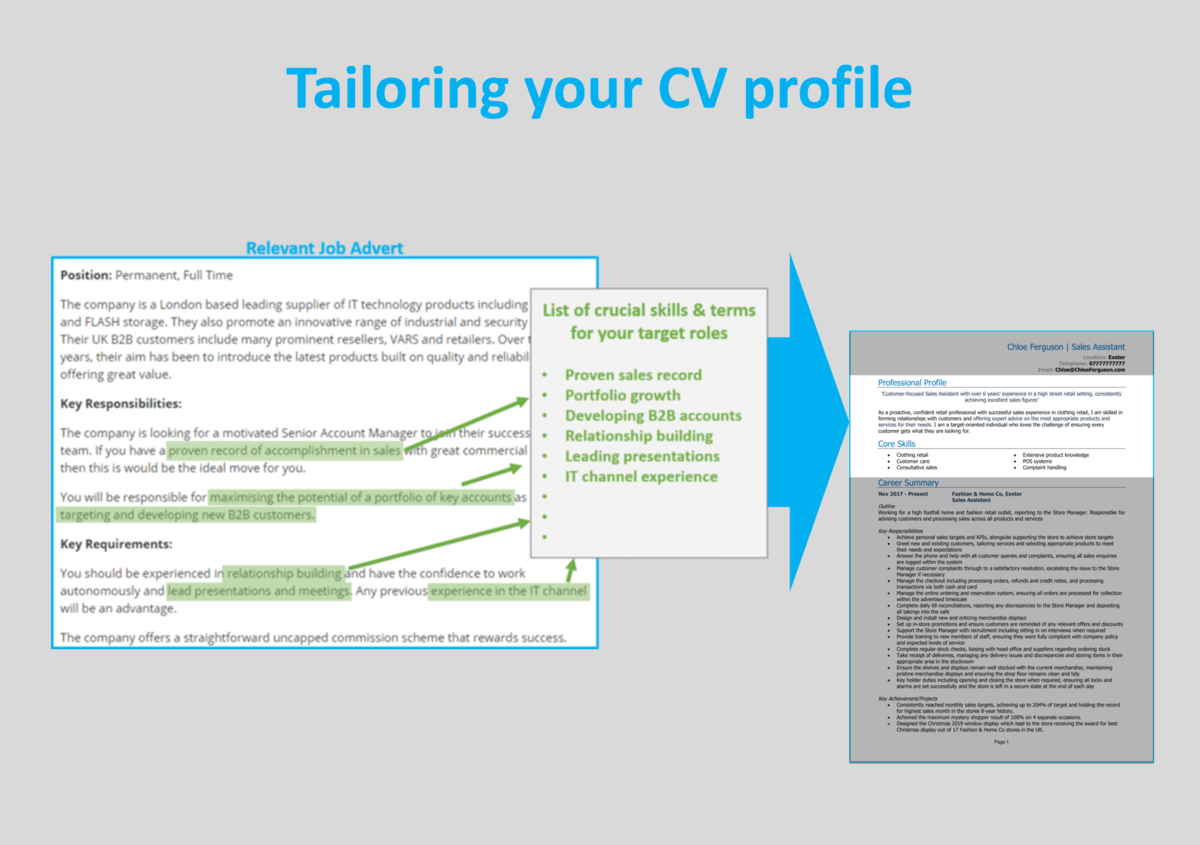 Once you have complied this list, you will have a solid idea of the key words that your target employers are looking for.
Then you simply have to reflect those in-demand requirements in your profile as much as possible.
The more suitable skills and knowledge that a recruiter sees in you profile, the more likely you are to get call-backs and interviews.
You should also look to tailor the rest of your CV in a similar fashion for maximum effect.
Quick tip: If you are lacking some of the key requirements for the jobs you want – think of ways you could obtain them. For example, if you are missing a qualification, could you take an online course? If you are missing work experience, could you take up a brief voluntary role?

What to avoid in your CV profile
To ensure your CV makes a positive impact on recruiters, try to avoid the following mistakes.
Clichés and buzzwords
You may have seen CV advice or examples that encourage you to use cliché phrases like:
I am a hardworking team-player
I always go the extra mile
I am a strong communicator
I think outside the box
However, these phrases do not impress employers.
The problem with these cliché phrases is that they are vague, overused and don't tell recruiters anything specific about you.
Focus on describing your industry specific skills, experience and achievements, because they are what recruiters will be looking for.
Take a look at the following examples to understand why you should avoid using cliché phrases in your CV profile.
Profile filled with clichés
"Hard working professional who works well in a team or individually, quick to grasp new ideas & skills. I take pride in my work and strive for excellence and always meet deadlines"
What job would this person be suitable for? A sales assistant? A project manager?
Although it may sound impressive, it's impossible to tell what this candidate has to offer because the profile is full of clichés and contains no facts – this is what you should avoid at all costs.
Some of the points may be important, but they are totally meaningless without facts and context, so recruiters won't learn anything about you with a profile like this.
Here is a better example of a CV profile with no clichés
"Accomplished Project Support Assistant with a proven track record in the support of large construction teams on the delivery of complex housing builds within strict budgets and deadlines"
If you make your profile more factual like this, it will give recruiters a greater understanding of what you have to offer.
Also, a factual profile like the above can imply your soft skills, such as being a hard worker and team player, without actually having to write those terms.
Adding a core skills section
If you want to make a big impact when you CV is opened, add a core skills section to your profile.
It's essentially a bullet pointed list of attributes which ideally should relate directly to the requirements that your potential employers are looking for.
Here is an example from a candidate applying for a customer service role in retail banking.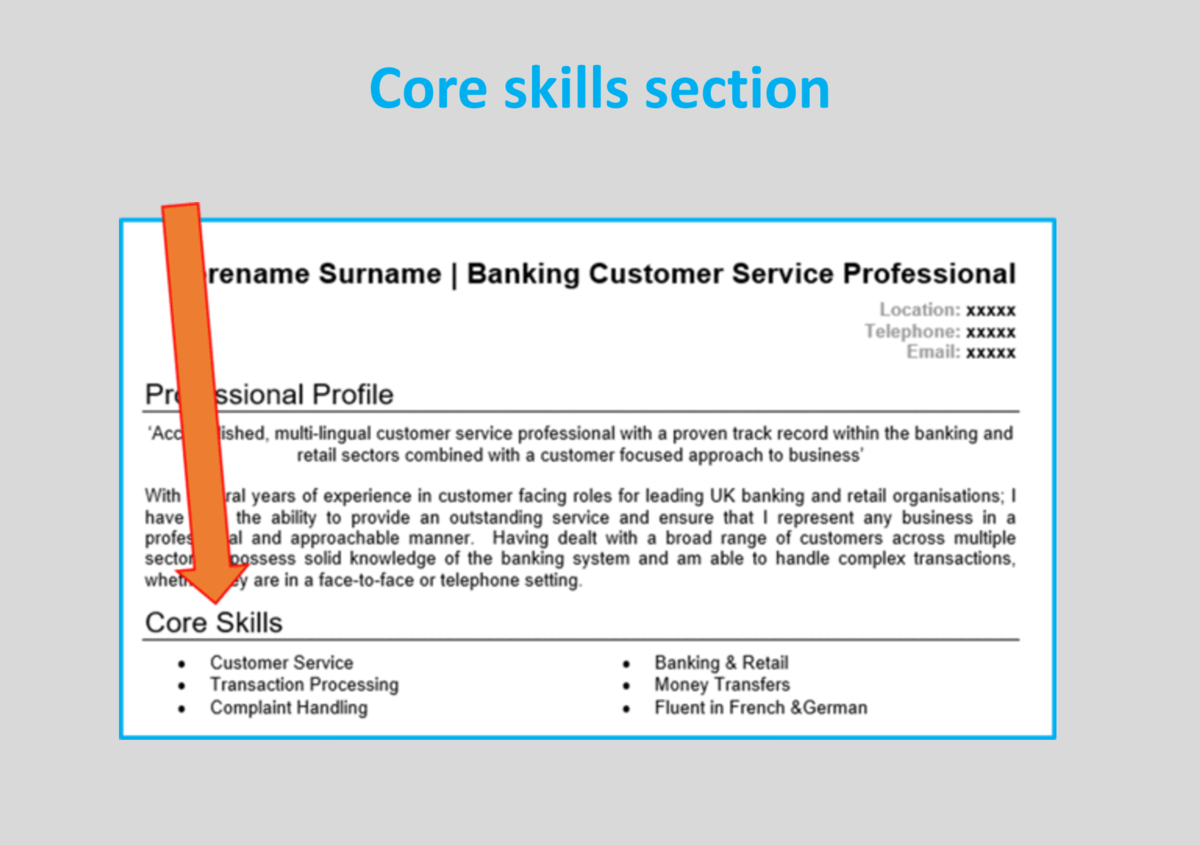 The effect is that each point jumps out of the page at the reader and shows them that you are a good fit for the role, just from glancing at your CV.
This helps you to create that big instant impression of suitability that you need to get a response from your job applications.
You can include anything that will be relevant, from IT skills and industry knowledge, to education results and achievements. Just make sure they are important to the roles you are applying for by researching relevant job adverts.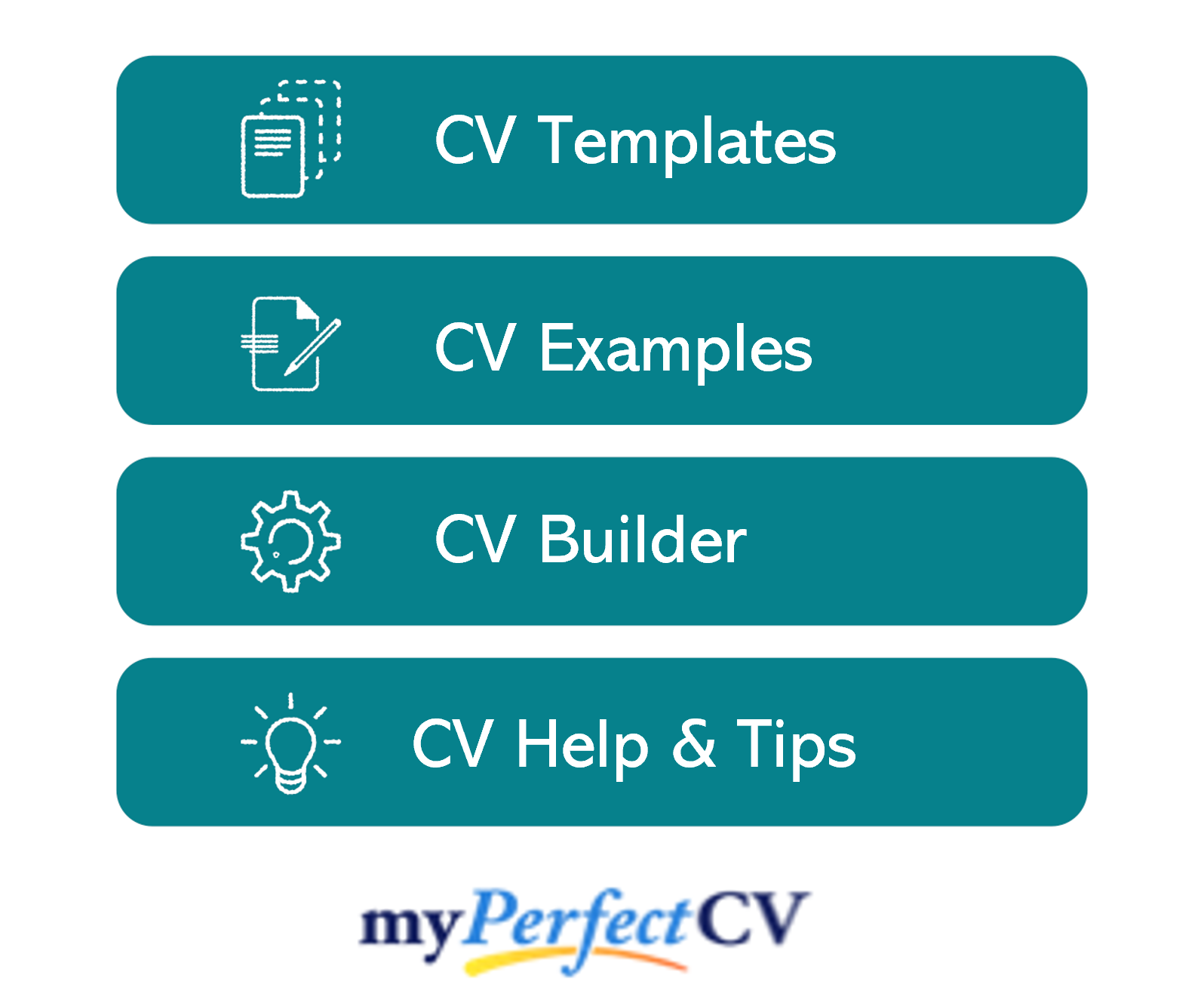 Adding your work experience
Once you've written your CV profile, it's time to list your work experience.
If you are an experienced candidate then this section will be the largest part of your CV.
If you have little or no paid work experience you can also include:
University work placements
School work experience placements
Voluntary work
Gig economy work
Employers value work experience greatly, so it's important to write this section well.
Listing you work experience
You should list each previous role individually, starting with your current or most recent job, working down the CV to your oldest job – This is known as reverse chronological order.
Your current job and recent roles should contain lots of detail because recruiters see them as the best way of assessing your current capabilities.
Older roles can be summarised as you go down the CV, as recruiters will be less interested in your work from several years ago.
If you have a lot of experience (over 10 years for example) then you can omit really old roles (especially if they are  irrelevant). For example, if you are an experienced nurse, a potential employer is unlikely to interested in a bar job you did 10 years ago, so you do not need to include it in your CV.
If you are making a career change you need to be selective about which roles you include.
Structuring your role descriptions
Your work experience section is your opportunity to show recruiters how you apply your skills in the workplace and the impact you make on your employers.
To do this effectively you need to structure each role clearly and provide the information that recruiters want to see.
This annotated example shows how you should do this.

Heading
Start each role with a bold heading to clearly define them on the page.
Include the following information for each heading;
Dates employed from and to
Job title
Name of employer
Outline
Build context for recruiters by providing an overview of the company you work for, where you fit within the organisation, and a brief summary of the role.
E.g.
"Working within business support team for global publishing business, providing administrative support to a number of busy teams and managing 2 assistants"
Key responsibilities
List the responsibilities within your role in short bullet points, and demonstrate as many important skills as possible, using action verbs – showing who you interact with, and how your actions benefit your employer.
E.g.
Acts as first point of contact for email, telephone and in-person enquiries, responding professionally and providing information
Coordinating meetings, compiling agendas, taking minutes and distributing documents
Updating the customer database daily to ensure that sales staff have correct information at all times
Key achievements
To prove the impact you make in the workplace, finish the role with some achievements that have generated big positive results for the employer.
Ideally you should back these achievements up with facts and figures to give recruiters a measurable idea of the impact you made.
E.g.
Introduced new file storage system which allowed managers to access documents with 20% more speed and accuracy
Resolved all data queries within 24 hour time period, reducing wait time by an average of 50%
Delivered the HR project 3 months ahead of schedule and 15% below budget, saving £5k
Achieved best regional sales record with 35 sales in a year and revenue of £75k
Achievements are crucial to your CV's success, so I've put together the below video to help you understand them, and add them to your CV effectively.
Dealing with gaps in employment
Gaps in your CV can be off-putting for employers because it simply appears as though you have not been doing anything during that period – unless you state otherwise.
So, if you have any periods of unemployment that lasted over a month or so, then try to fill them with constructive activities to make yourself look proactive and positive. For example;
Studying – With details of qualifications gained or working towards
Travel – Great to demonstrate planning, organisation and people skills
Volunteer roles or personal projects – e.g. caring for a family member, working for a community initiative
If you've had time out for personal reasons such as a serious illness, then don't be worried about including it on your CV – employers should not discriminate against you for it. Just keep the detail light and focus on highlighting your value throughout the rest of your CV.

Adding your education
How and where you add your education will depend on your experience level.
Education section for experienced candidates
If you are an experienced candidate your education should be a relatively short section near the bottom of your CV – because recruiters will be more interested in your work experience, and will not spend much time reading your education section.
It should be a short bullet pointed list of your most important and relevant qualifications for the jobs you are applying to – you do not need to include every course you've ever taken.
Education section for candidates with little or no experience
If you have no experience or are a student, your education should be a much larger section and appear underneath your CV profile – this is because your education is where most of your skills and knowledge will come from.
It should be detailed list of your educational activities, including the institution names, dates studied, and grades achieved.
Typical points to include are:
GCSE's
A levels
NVQs
University degrees
Vocational qualifications – work based qualifications that are specific to your industry
General certificates – Such as criminal records checks or first aid courses
To counter your lack of work experience, you can include dissertations, school/university projects, exam modules etc. and endeavour to highlight the points that are relevant to the roles you are applying to.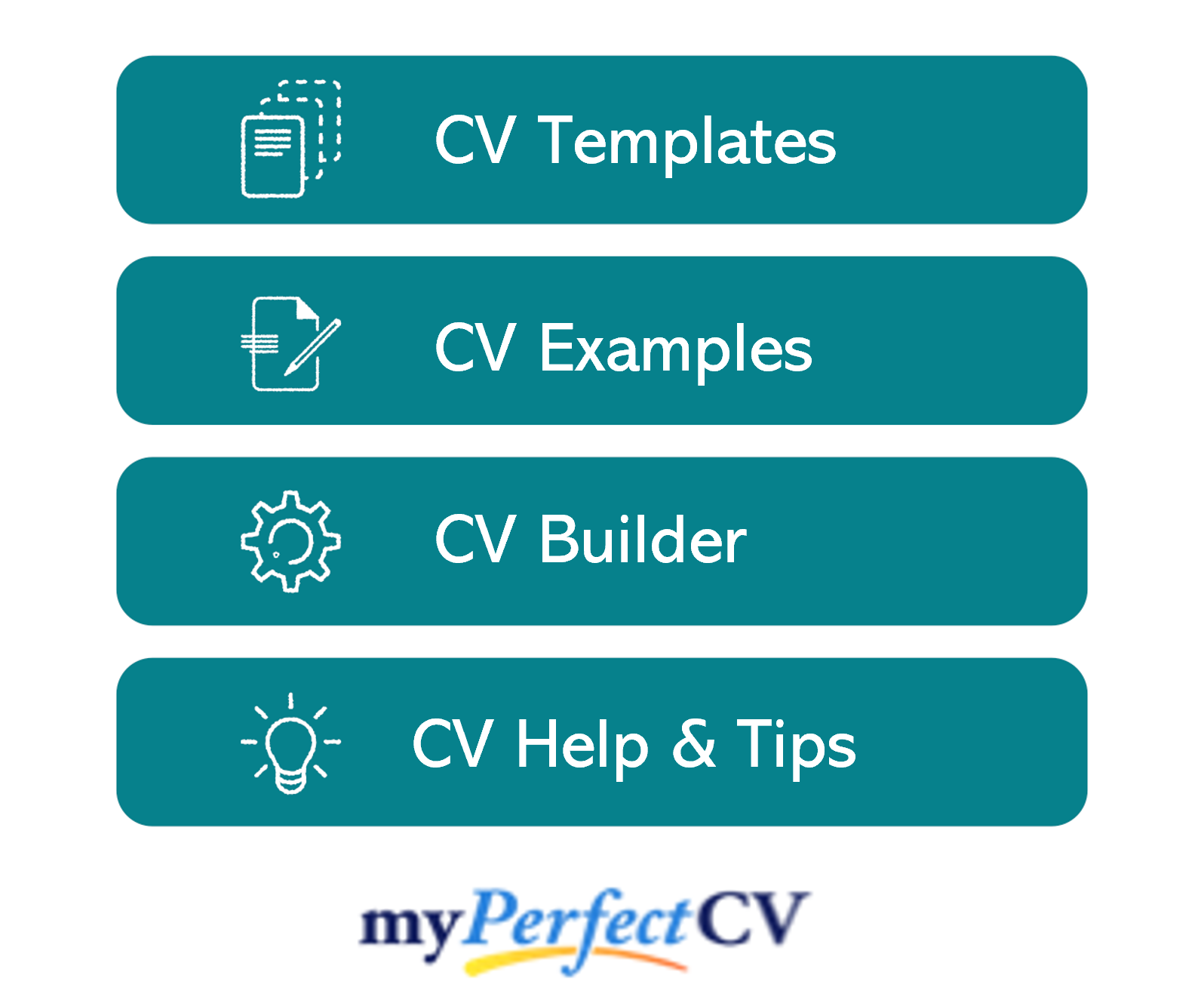 Hobbies and interests
Your hobbies and interest are an entirely optional section and should only be added if they are somehow relevant to the jobs or companies you are applying to.
Generally speaking, they work best for candidates with no experience, to help demonstrate skills outside of the workplace
Which hobbies to add to your CV
Some good hobbies to add to your CV are;
Volunteering – Any volunteer work is normally a great addition to your CV, especially if t's for a good cause, or it directly relates to your target roles. Either way there should be plenty of work-related skills you can highlight from volunteer work.
Writing – Writing is a great communicative skill that is required in plenty of jobs, so if you have any personal writing hobbies (such as a blog or writing classes) then it can be worth mentioning them.
Sports – Involvement in a fairly serious sports team or individual sport involves dedication, teamwork, and shows you have the ability to commit yourself to a cause.
Strategy games – If you play in a chess league or similar equivalent, this can be a good way of showing recruiters that you are bright and tactful.
Charity and events – If you have any involvement in the organising and planning of events in your spare time, it should definitely get a mention in your CV. Maybe you help to run an after-school club, or support the promoting of a local music event – lots of workplace skills can be drawn out of event planning hobbies.
Travel – Some employers really love to see travel on a CV, especially the more modern trendy employers like Google and Facebook. Travel involve lots of planning, bravado, and teaches you a lot about different cultures and lifestyles.
Practical work – This one applies mainly to candidates applying to engineering or trade roles, but if you have any hobbies that involve building or fixing things, it can be a great way to prove your ingenuity and technical know-how.
Which hobbies to keep out of your CV
The following hobbies probably aren't going to make a huge difference to the success of your CV;
Common pastimes – Common pastimes are essentially hobbies that 99% of the population take part in. Things like eating out, going to the cinema, reading or socialising. These hobbies will not set you apart from other candidates, so there's no need to waste space on your CV by writing about them.
Sensitive subjects – If you have hobbies that involve any subjects that could be considered sensitive (topics such as politics or religion) then I would advise leaving them out to be safe and ensure you don't encounter any discrimination.
Passive hobbies – Hobbies such as supporting a football team or watching television don't require much input from you personally, so they will not impress employers.
Should you add your hobbies to your CV?
Candidates often ask whether or not they need to include their hobbies and interests on their CV and if they will actually make a difference in an application.
The answer depends on two aspects
The role that you are applying for
If your interests bear any relevance to that role.
If you are an experienced qualified doctor applying for a GP role, then adding your interests of going to the cinema or watching football will have little impact on your application – they just don't add any value.
However, if you are a recent graduate applying for a management graduate scheme, but you have no relevant work experience, then adding a hobby such as captaining a football team, can actually be a great way to demonstrate leadership and organisation.
Interests are optional and in many cases, they won't make a huge difference – but if you feel that they could make you appear more suitable and benefit your application, then you should include them.

CV Language
The language used in your CV should be professional, persuasive, descriptive and grammatically perfect throughout.
It should read like a sales brochure for a luxury product; leaving the reader desperate to call you, just in case they miss out on the opportunity of hiring you.
The language used in your CV gives recruiters an insight into your written communication skills and your professionalism, so make it count.
Avoid using basic language, because it makes you look like a basic candidate, when you need to look outstanding.
By basic language, I mean writing in a plain and non-descriptive fashion like this…
"I was working for the manager and helping out with various tasks across the business"
That looks dull, uninspiring and it doesn't provide readers with a good understanding of what the candidate has done here.
However, you can reword the exact same responsibilities to be more descriptive and sound much more impressive, like this:
"Reporting directly to the manager, supporting a number of business critical administration functions"
This sounds a lot more professional and readers get a more precise idea of the candidate's activities.
Even something like;
"Stacking shelves"
Can be improved to something like;
"Managing and analysing stock levels throughout the store to ensure that customers always have access to high demand products at peak times"
Although that's an extreme example, it displays a better style of written communication and shows that you have an understanding of how the task affects the business at a higher level.
When writing your CV, ensure that you are using professional language at all times and fully describing your impact on employers.
Quick tip: A poorly written CV will fail to impress recruiters and employers. Use our partner's CV builder to create a winning CV in minutes with professional templates and pre-written content for every industry.
You can also head over to LinkedIn and run a search for similar professionals to yourself. Browse through a few profiles and look at the language being used for some inspiration.
You can also check out our list of 129 power words for your CV.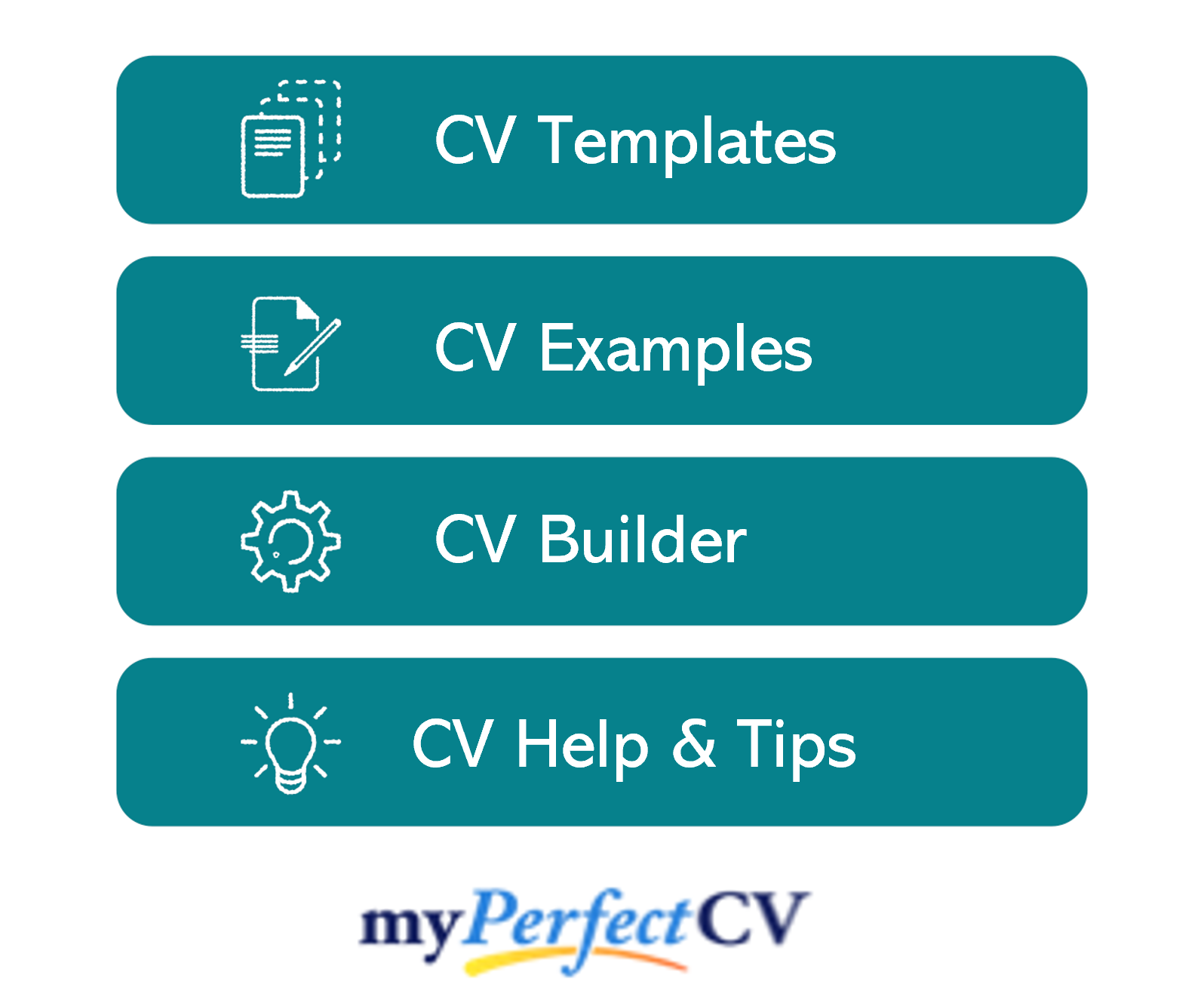 CV mistakes
It's easy to make mistakes when writing your CV, especially if you are doing it for the first time.
Here are some common mistakes that you should really try to avoid making.
Not doing your research
If you fail to research your target jobs and employers before you write your CV, then you will not know what skills and knowledge recruiters are hoping to see.
This will make it almost impossible for you to create an effective CV.
Before you type on word on the document, do some thorough research and find out what the most in-demand talents in your field are – then try to reflect them throughout your CV as much as possible.
Unprofessional email address
Your CV is s professional document that is going to be reviewed by recruiters and senior business figures, so don't brand the top of it with a silly email address. If you do, it will seem as though you are not taking your job search very seriously.
If you currently have a slightly embarrassing sounding email address, set up a new one for your job-hunting efforts.
Spelling and grammar mistakes
Nowadays spellcheck tools take care of the vast majority of spelling and grammar errors we might make – but don't rely on them to do everything for you.
It only takes one silly mistake for an employer to start doubting your credibility, so make sure that you proofread your CV before sending it out to anybody – or get a friend or family member to check it if possible, and provide you with a different point of view.
Check out our full list of 39 damaging CV mistakes for more info.
Lies
You should avoid lying on your CV at all costs – if you get caught out, you could ruin your chances of landing a job.
Common CV questions
If you're writing a CV you probably have lots of questions about how to get it right and ensure you get plenty of interview requests.
Here are my answers to some of the most common CV questions I hear.
Contents
How long should a CV be?
Whilst there is no official rule on CV length, your CV should be around 2 pages long.
In most cases, this should be enough room to give employers the information they want to see, in a quick and easy manner.
1 page will probably not be enough, and 3 pages could become a boring read for busy hiring managers – meaning important details could be missed.
If you go a little either side of this guidance, it will not be a deal-breaker for most recruiters – but try to stick to it as closely as possible.
There are some exceptions too.
If you have little or no experience, then you could potentially get everything on to one page  – there's no point in trying to drag the CV out, if you don't need to
Academic CVs (researchers, lecturers etc.) tend to include more information than a standard CV, so they can stretch on to 3 or even 4 pages.
Very experienced people (20 years +) may struggle to get everything on to 2 pages, so it is sometimes OK to spill on to the third page. Try not to go over 3.5 pages as it is unlikely recruiters or hiring managers will read beyond that stage in today's job market.
What does CV stand for?
The initials CV stand for curriculum vitae, which is Latin for "course of life" and loosely translates to a record of your career and achievements.
Believed to have been invented by Leonardo Davinci in 1482, they have since become a required document for job applications across the world.
Who reads your CV?
When you send your CV off for a job application, it will normally be read by one or both of the following people:
Recruiters – These are people whose job it is to find and screen potential staff for employer vacancies. They are responsible for placing job adverts, reviewing applicant CVs, and arranging interviews for successful candidates.
Hiring managers – These are the managers within a company who are looking for staff to work directly in their team. If you apply for a job this is the person who you will ultimately be working for, so they have the final decision in whether or not to hire you.
Hiring managers and recruiters tend to be very busy people and will have lots of CVs to review for every vacancy. When writing your CV you should bear this in mind and try to create an easy reading experience for them which allows them to spot your suitability quickly.

How to write a good CV?
The key to writing a good CV is to show recruiters and hiring managers that you are a perfect fit for the jobs you are applying for.
And you also need to present the information in a way that can be digested quickly by busy people who have hundreds of CVs to review.
By following the layout, format and content within this guide, anybody should be able to achieve this.
To stay on track, always remember the audience of your CV and its purpose when you are writing it.
What skills to put in a CV?
The type of skills you include in your CV will depend on your experience and the jobs you are applying for, but they will fall into one of two categories.
For a full list of 108 skills for your CV and how to add them, check out our CV skills guide.
CV vs Resume?
If you are wondering what the difference between a CV and a resume is, don't worry – it's really just two different terms for the same thing.
CV is the widely used term in the UK and Europe.
Whereas the US call a CV a "resume" along with Australia, New Zealand and some other countries.
If you are asked to send a resume for a job, it's OK to send your CV.
Do I need a cover letter?
Whenever you apply for a job you should always accompany your CV with a cover letter.
A cover letter is a brief note that you send to recruiters to introduce yourself, build rapport and encourage them to open your CV.
It should be written within the body of your email (or a job website's messaging system) and only needs to be a few lines long (unless the employer has specifically requested something more detailed)
Check out our example cover letters or guide on how to write a cover letter for more guidance.
See also: Project manager cover letter – sales assistant cover letter – customer service cover letter – Teacher cover letter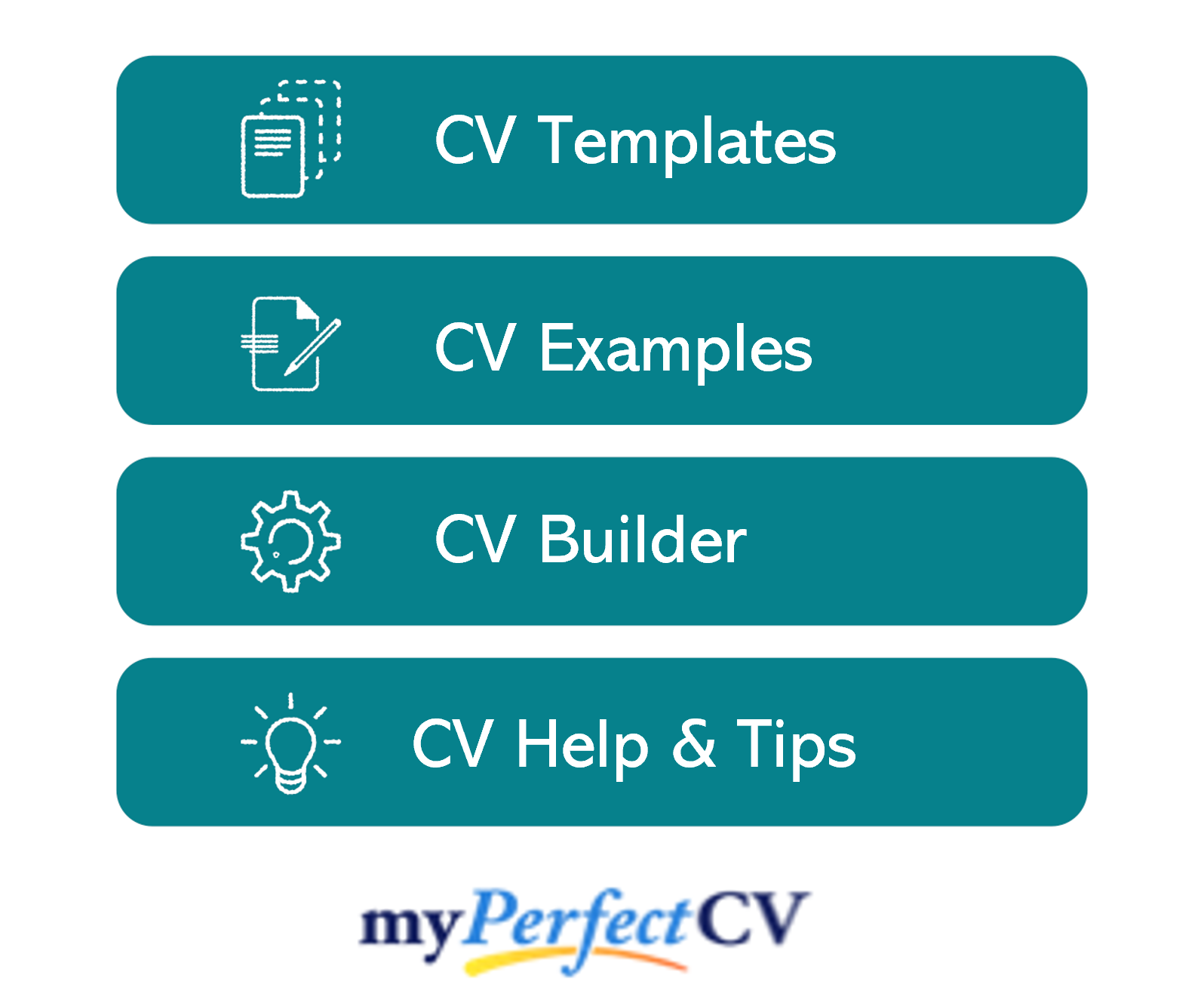 CV examples
The best way to learn what makes a good CV is to study some real-life CV examples.
Here are some basic CV examples for inspiration and guidance.
CV with no experience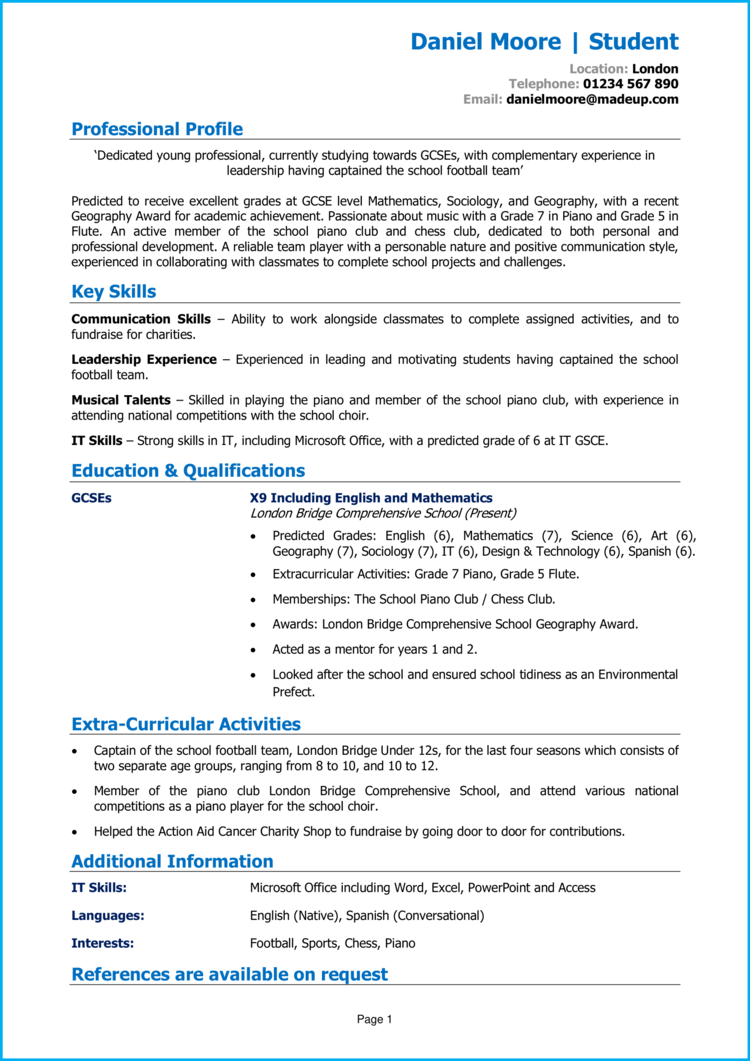 This is a CV written by a school leaver with no experience – demonstrating how a good CV can still be created in this instance.
The CV is well formatted with a simple font and structure, clearly divided sections and plenty of bullet points.
Despite the candidate's lack of experience, they have still created an attractive CV profile that conveys their workplace potential, by summarising educational achievements and activities outside of school.
They have included lots of detail in their education to counter their lack of experience and demonstrate transferable skills.
Student CV

As student you will be applying for entry level roles, so you need to demonstrate your ability to contribute in the workplace through your education and limited work experience.
The CV profile combines the candidate's relevant qualifications and part time work-experience skills to catch recruiters' attention.
The core skills section highlights some of the most in-demand skills, so that employers do not miss them.
Although the work experience is only a part-time shop role, it is well-structured and demonstrates how the candidate applies their skills to help their employer.
Experienced CV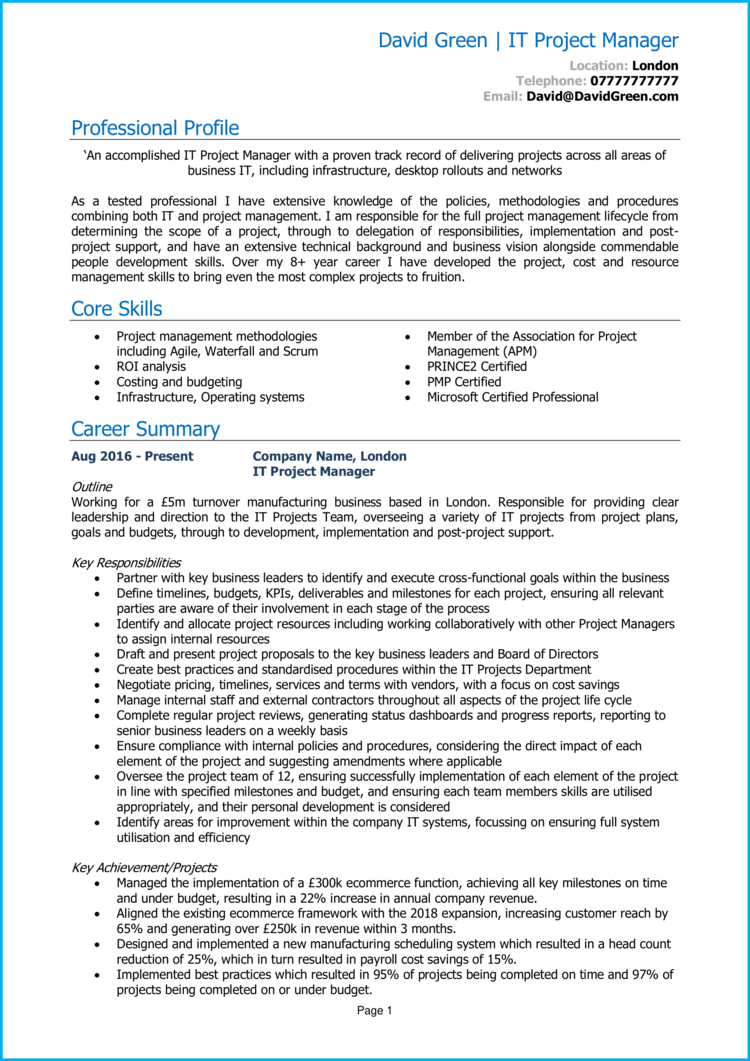 As an experienced candidate, your work experience should be the focus of your CV, proving you can make a big impact for your employers.
The CV profile provides a rounded overview of what the candidate can do for employers by blending skills, experience and qualifications.
Core skills match the most important requirements for their target jobs – this ensures recruiters will take notice.
Role descriptions are well-structured to provide an easy reading experience and quantified achievements show readers exactly how much impact the candidate has made.
Final checks
Once you've finished writing your CV, then make sure that you triple check it for errors before sending it out to anybody.
Nothing will put a recruiter off you more quickly than spelling errors, typos and grammatical mistakes.
Perhaps even ask a friend or family member to run through it to get a different perspective and ensure it all makes sense.
Also ensure that the CV sits at around 2 pages in length and that all the information is nicely broken up for ease of reading.
Don't add any references to your CV because employers should not ask for them until offer stage.
Now you are ready to start job hunting, and sending your CV to employers with a tailored cover letter for each application.
Once you've started your job hunt, you can still make changes to your CV if you need to.
For example, you may want to tailor your CV when applying for different roles to further ensure that your CV matches each job advert.
You may find that certain areas of your CV are prompting negative feedback and will need to be modified in order to improve your chances.
Any adaptions you can make that lead to more interview requests, are worth making.
Hopefully, this guide will help you to create your own CV and start to land quality job interviews in your chosen field.
Good luck with your job search!