Your CV acts as your first impression when job hunting, and if you want to stand out from the competition it needs to be strong.
When applying for Care Assistant roles, your CV should attract recruiters' attention, and show them why you are the right candidate for the job.
This guide, which includes a care assistant CV example, will give you all the tools you require to produce a CV that gets you hired.
Guide contents
Care Assistant CV example
Structuring and formatting your CV
Writing your CV profile
Detailing work experience
Your education
Key skills for your Care Assistant CV

Care Assistant CV example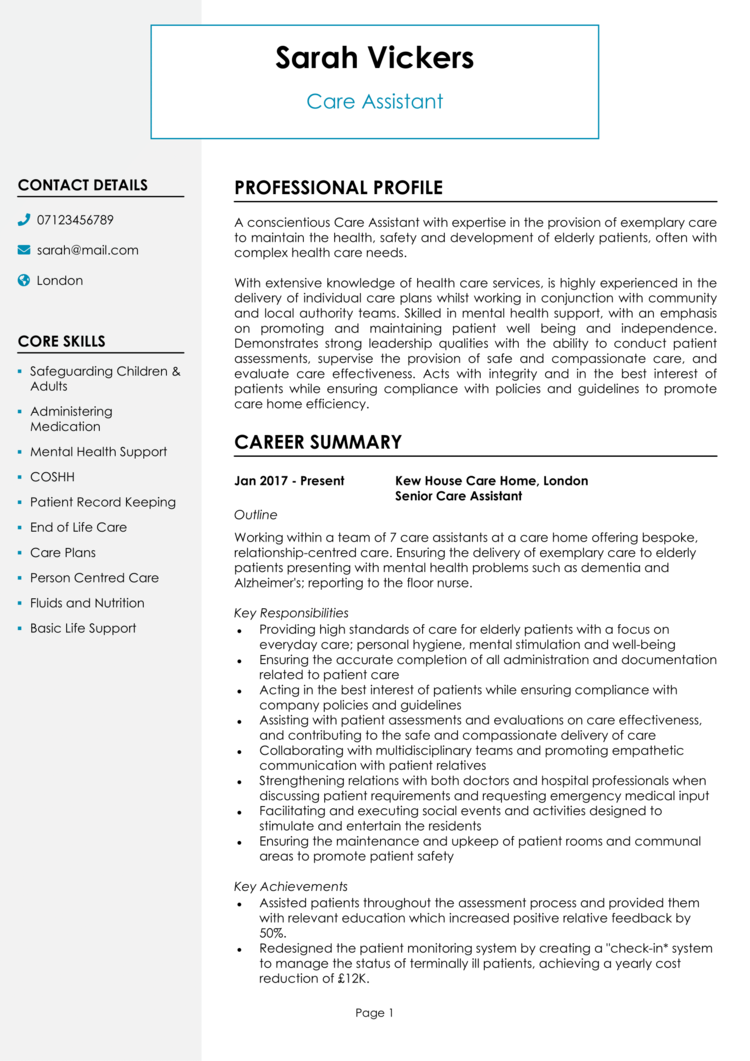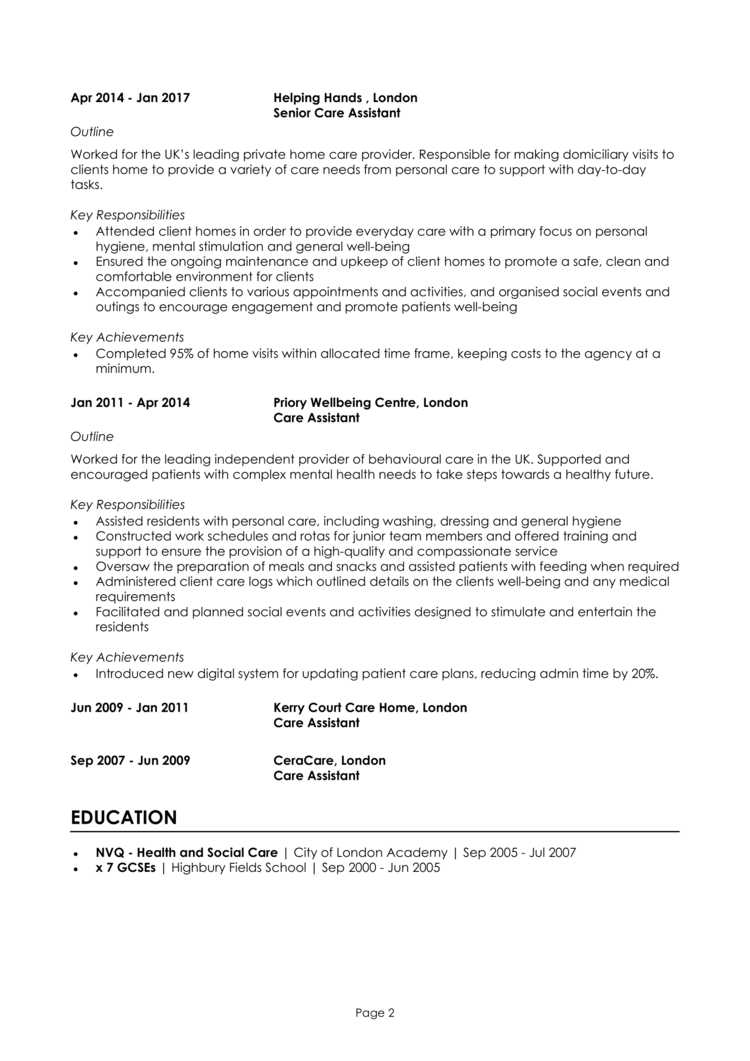 Above is a great example of a care assistant CV that showcases the variation of skills and experience required in the sector, and how to present them effectively.
The below guide will walk you through how to create a CV similar to the one above, representing your talents in a way that will land you an interview.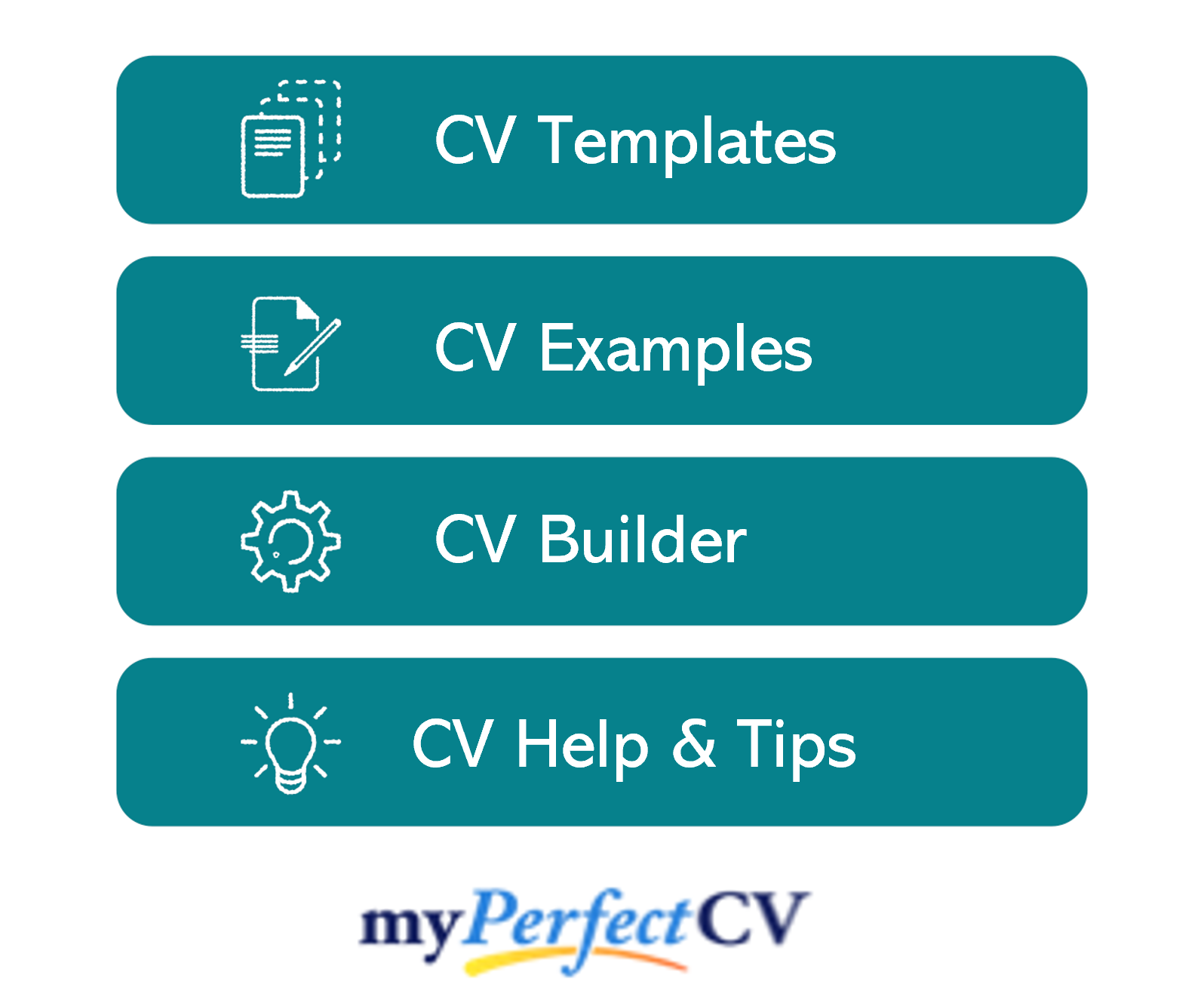 Care Assistant CV structure & format
Make your CV visually pleasing as well as clear and concise, helping to make it easy-to-read, so a recruiter can naturally flow through your experience.
This infograhpic shows you the basics of formatting and structuring your CV.
A clear structure will enable important information to stand out, making sure your applicable strengths don't get lost.
Formatting Tips
Don't use imagery in your CV – profile pictures aren't necessary and additional imagery such as company logos will only distract recruiters' attention
Stick to a clear font and muted colour pallet, sell the content in your CV instead of overwhelming a recruiter with design features
Big blocks of text become boring to read and may result in a recruiter losing concentration, so break up information with bullet points, bold headers and defined sections
A care assistant CV should ideally be no longer than 2 sides of A4. Being detailed enough to showcase your experience but not so detailed that a recruiter gets lost in the information.
Keep the most eye-catching information to the top of the page, enticing a recruiter to read further.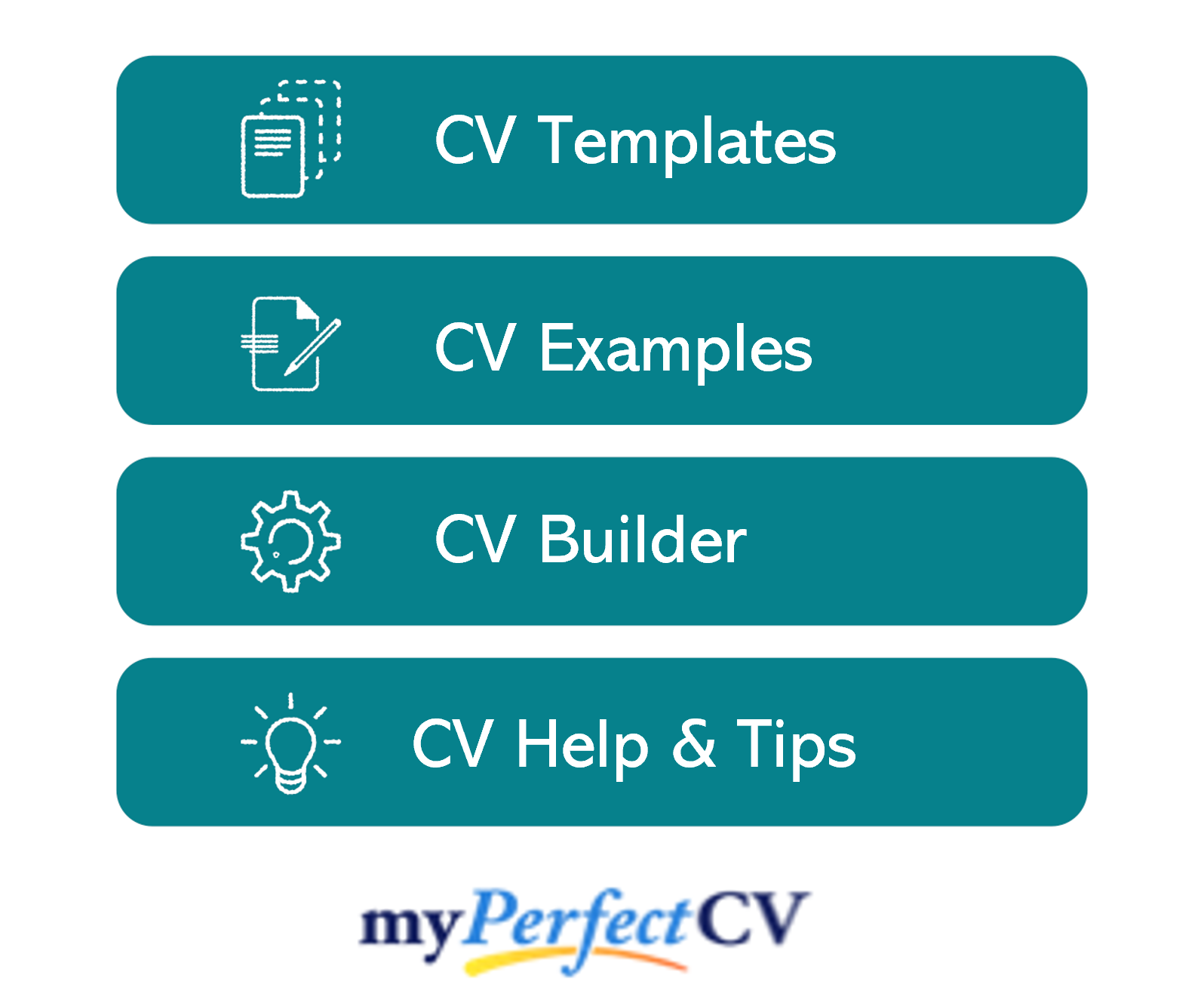 Structuring your CV
Break up large blocks of information by splitting your CV into the below sections:
Contact details – Keep this to the top of the page so it's easy for recruiters to find
Profile – A 5-10 line introductory paragraph that showcases your relevancy for a role
Work experience / Career history – This is a list of your prior employment history, working in a chronological order
Education – Listing any qualifications or courses achieved
Interest and hobbies – This section should only be used if your hobbies and interests add value to your CV
As the guide continues, I'll walk you through each section in more depth, letting you know what to include.
CV Contact Details
Keep your contact details to the top of your CV and make sure to double check them before you submit any applications.
When putting together your contact details, reserve this section for just the most relevant information, such as:
Telephone number
Email address (keep this professional looking and consider creating an email account for job applications only)
Location
Additional information such as your full home address, date of birth or marital status isn't required within the decision making process so leave it out of your CV.
Care assistant CV Profile
Your CV profile should be a 5-10 line introductory paragraph that summaries your work experience, qualifications and skills that are specific to the care industry.
Here ares some guidelines to follow when writing your CV profile.
Make sure your profile is tailored to care roles, and avoid generic clichés (like hardworking team player) – Only include hard skills, experience, and qualifications.
Before putting together your CV profile, research care assistant roles and insert any relevant keywords to your profile. At the bottom of this guide, I have listed some of the skills you should include.
Your CV profile should be a short summary of your most pertinent experience and skills, making it concise enough to encourage a recruiter to delve deeper into the CV for more detail.

Core skills section
A bullet pointed core skills section (like the one below) allows a recruiter to easily assess your suitability for a career in the care sector by seeing your relevant skills at first glance of the CV.
Research the care industry prior to documenting your strengths so that you can ensure they are tailored to the care industry.
Work experience/Career history
Working in a chorological order (newest to oldest) list all your previous employment periods.
Focus on employed care work, but add any voluntary placements if you have limited work experience within the care sector.
Add more depth to your current or most recent position, providing only a brief summary as you work backwards through your career history.
Quick tip: If you worry that your spelling and grammar might not be correct, try using our partner's CV builder to eliminate the risk of making mistakes.
Structuring your roles
Role descriptions offer a recruiter a valuable insight into your experience and abilities.
Engaging a recruiter is more than just showcasing yourself but also structuring your roles in a way that your work can be easily understood

Outline
Provide a summary of the company, department you worked within or the structure of the team to give more context to your role.
E.g.
"Working as part of a team to provide social work to the elderly within the Nottinghamshire area. Carrying out everyday duties in clients' homes with the emphasis on promoting and maintaining their independence."
Key responsibilities
Secondly bullet point any key duties and responsibilities you had within each role.
E.g.
Concentrating on the client's personal hygiene, mental stimulation and general well-being
Managing clients' care logs and medical requirements
Key achievements
Showcase the impact you had at your previous employer by detailing the achievements you accomplished within each role.
E.g.
Implemented a new method of organising medical supplies that improved ease-of-reference and inventory control.
Education
Towards the bottom of your CV, list any relevant qualifications such as GCSE's, A Levels or degrees in areas such as Social Care, Adult Nursing or Social Work as well as any vocational qualifications.
Provide more depth to any care assistant applicable qualifications such as BTEC's or NVQ's in Health and Social Care or a Care certificate and be sure to also add these to your CV profile too, so that they aren't missed.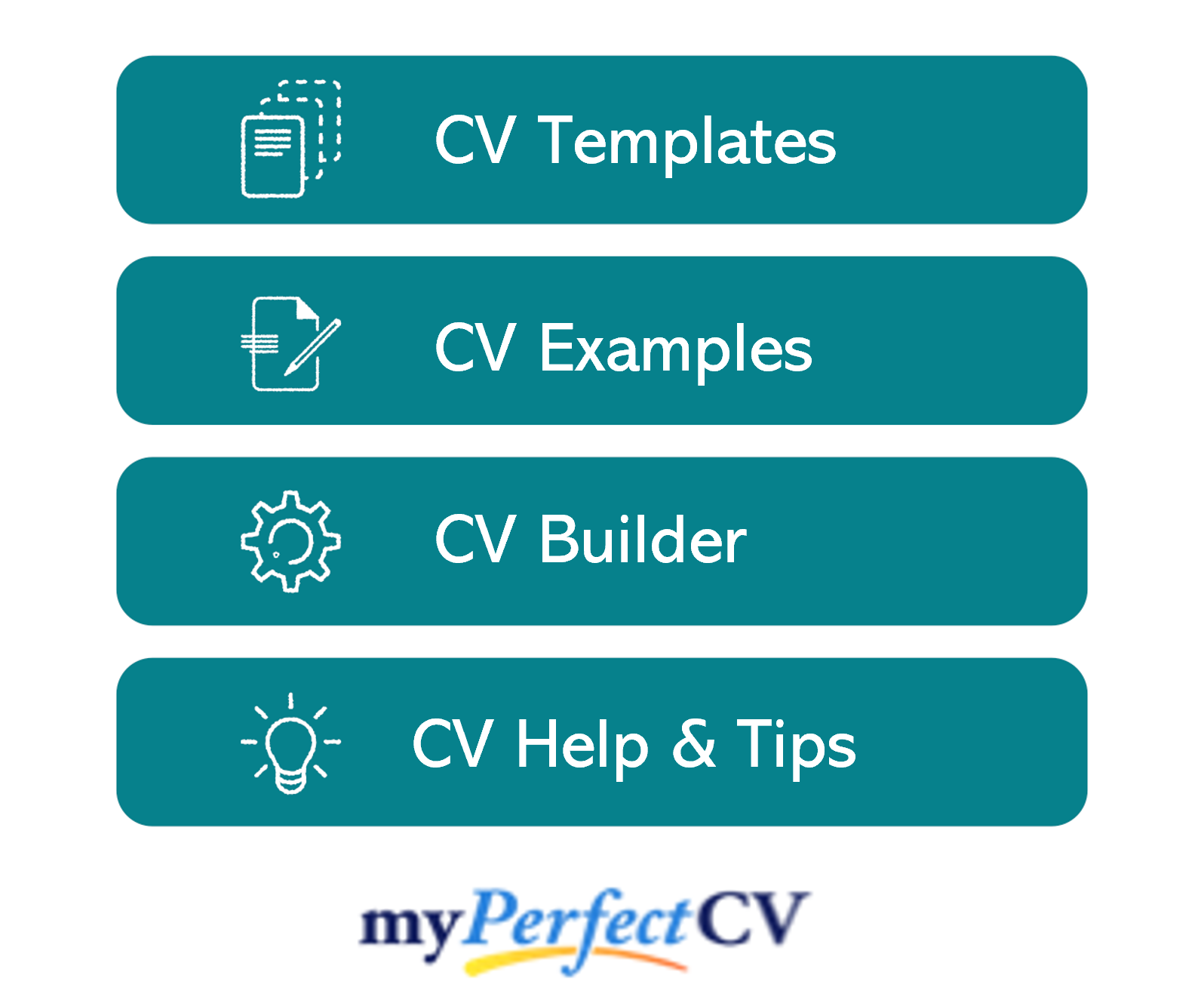 Interests and Hobbies
This section should only be used if your hobbies and interests align to the care industry and add further value to your application.
For example, hobbies that show your nurturing and compassionate nature would be ideal for a care assistant position – such as working with animals or helping a children's charity.
Essential skills for Care Assistant CV
Each care assistant position will have a different specification, but all employers in the sector will be looking out for similar skills. Look to include skills such as:
Safeguarding –the understanding of safeguarding practises and how to protect those most susceptible
End of life care – Supporting and helping patients with terminal illness
Medical Provision – add examples of delivering the correct medication to patients including any qualifications obtained
Patient Care – highlighting your compassionate and nurturing nature
Maintaining Confidentiality – keeping patient records safety stored and information kept privately
Following Care Plans – work in line with individual patient care plans
Personal Hygiene – Maintaining high levels of cleanliness for both patients and yourself

Writing your care assistant CV
Producing a CV that is both tailored and correctly structured to showcase your applicable experience, skills and educational history is essential.
Remember to make your care assistant background a focal point of your CV, gauging recruiters' attention and enticing them to read further.
Focusing on your in-demand skills within your CV will make you more employable and helping you stand apart from the other applicants.
Good luck with your job search.