A study in 2023 found that roughly half of Americans aren't happy with their job. More frequent layoffs and a tougher economy have left their toll on the nation's workers, leading to an estimated 12.4 million people looking for a new job each month.
We wanted to find out where in the country problems at work might be at their worst. To do so, we reviewed over 136,000 employee reviews on Glassdoor across the country for some of America's largest employers to find out what people had to say about their bosses and working conditions.
See the full analysis below to see which cities have the worst bosses, where has the worst work environment, and exactly what employees are complaining about in today's job market.
Contents
Key findings
Nashville, Tennessee, has the highest number of complaints about employers online, with 380 negative comments per 1,000 reviews.
Sacramento, California, has the second-most complaints against employers online (366 per 1,000 reviews) followed by San Antonio, Texas (364 per 1,000 reviews).
On average, employees in the US rate the business they work for 3.5 out of 5 stars. Just under a quarter of employees (23.34%) would rate their employer 1 or 2 stars.
Most negative employee comments are about management, with 20,357 reviews discussing bad management online out of the 136,000 analyzed.
Those in Nashville complained the most about management, while Oakland employees complained about nepotism and low pay the most.
How do Americans rate their employers out of 5?
On average, employees rate employers in the country 3.5 out of 5, so generally, people are mostly happy with their work. Those in Virginia Beach and Long Beach rate their employers the highest at 3.7 out of 5 stars, while those in Albuquerque and Oakland rate their employers the lowest at 3.1 out of 5 stars.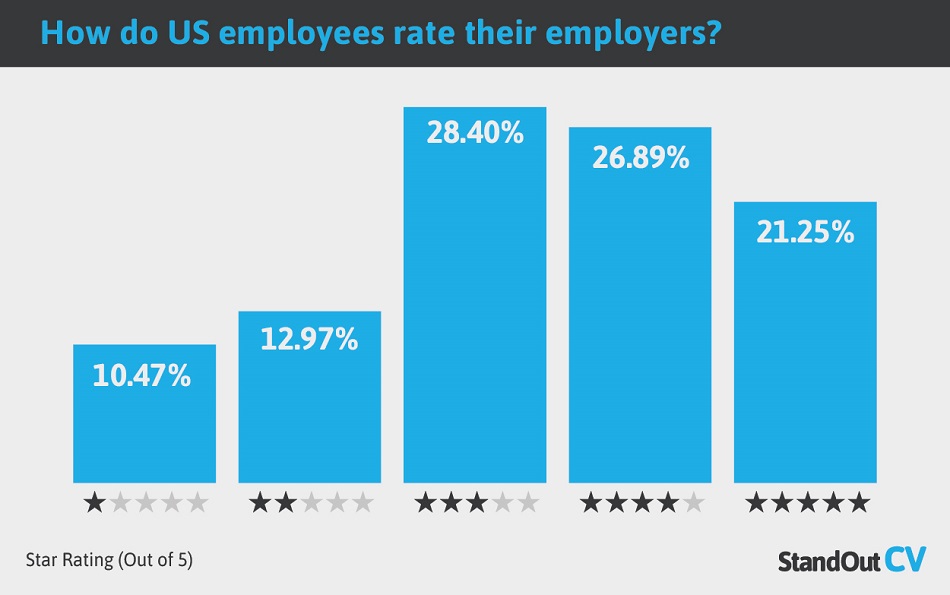 This is just one way of looking at the data. Digging deeper we can look at the exact terms people use to describe their employers, bosses and work environments.
Cities with the most complaints about employers
Reviewing this data we looked at the number of times common workplace complaints appeared in reviews of eight of the largest employers across the country that had locations across different cities. These businesses included fast food giants, grocery stores, delivery companies, and city-specific school districts.
The specific complaints analyzed can be found in the methodology and throughout the study but they include things like toxic bosses, micromanagement, overworking, low pay, and burnout among many others.
From our analysis of over 136,000 employee reviews, Nashville, Tennessee, has the highest amount of employee complaints at 379 for every 1,000 employee reviews. After Nashville was California's Sacramento with 366 complaints per 1,000 reviews, and San Antonio, Texas, with 364.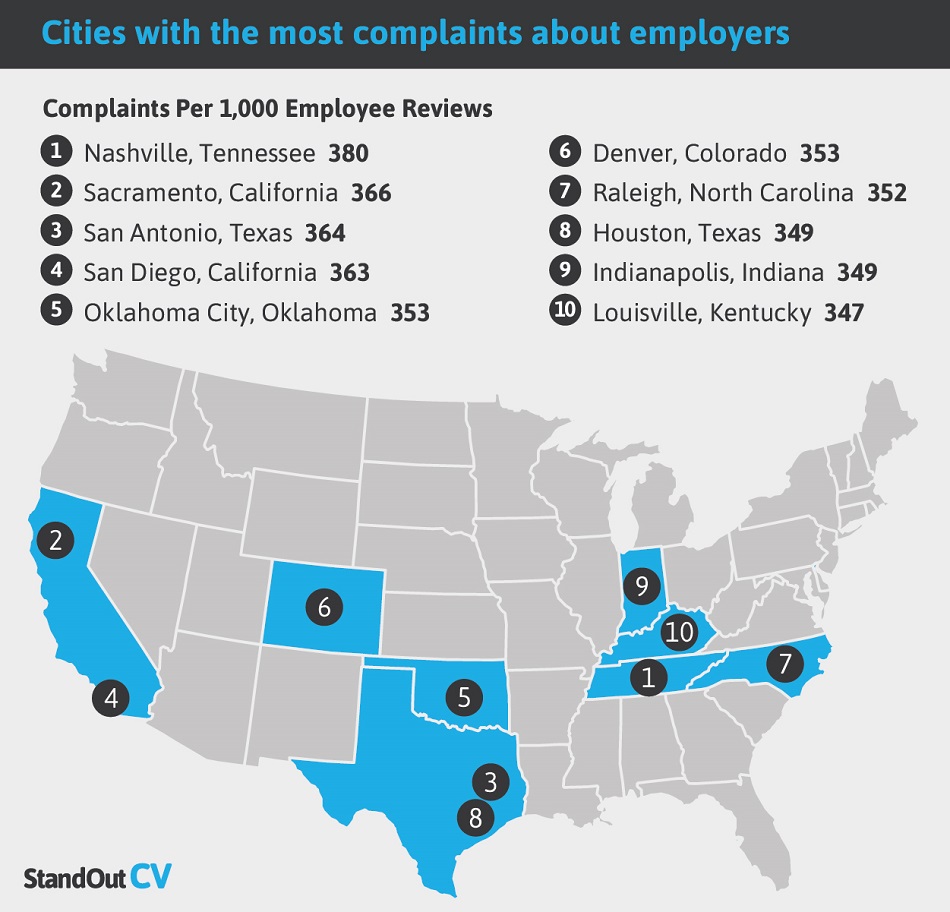 Top 10 work complaints from US employees
What exact complaints are contained within all of these thousands of employee reviews? We analyzed how many times 24 different common employee criticisms appeared in these reviews
Looking at the data we can see the most common complaints left by employees around the country, and which cities these concerns appear most frequently in.
| Rank | Complaint | Number of mentions |
| --- | --- | --- |
| 1 | Management | 20,357 |
| 2 | Long hours | 3,993 |
| 3 | Stressful environment | 3,727 |
| 4 | Rude coworkers/management | 3,630 |
| 5 | Low pay | 1,764 |
| 6 | Overworked | 1,088 |
| 7 | Toxic workplace | 698 |
| 8 | Nepotism | 607 |
| 9 | Micromanagement | 589 |
| 10 | Office politics | 499 |
Which cities raise these complaints the most?
While there may be over 20,000 mentions of bad management nationally across these employee reviews, we also wanted to know which city raises concerns like this the most. Perhaps unsurprisingly, Nashville workers complained about management the most with 208 mentions per 1,000 reviews, while fellow state city Memphis had the highest number of complaints about long hours (55 per 1,000 reviews).
The table below reveals common employee concerns and which city in the US mentions this the most.
Employee Complaint
City That Mentions the Most
Complaints Per 1,000 Reviews in City
Management
Nashville
208
Long hours
Memphis
55
Stressful environment
San Diego
41
Rude colleagues
Los Angeles
40
Low pay
Oakland
51
Overworked
San Diego
15
Toxic workplace
Seattle
14
Nepotism
Oakland
18
Micromanagement
Aurora
11
Office politics
San Jose
Virginia Beach
8
What about big cities like New York, Los Angeles and Chicago?
New York, Los Angeles, and Chicago, as the three biggest cities in the country, also had the three highest number of overall reviews. However, proportional to the number of reviews in each city, they didn't rank as highest for a specific employee complaint, apart from LA in reference to rude colleagues and management.
New York City did rank 8th for mentions of low salary however, while the city will have a higher average salary, it also has a much higher cost of living than other cities in the country.
Some other examples of how these cities rank proportionally to the number of employee reviews:
New York ranked 19th for the number of mentions discussing a stressful workplace and 12th for complaints about staff being exhausted or overworked.
Chicago ranked 18th for the number of mentions about toxic workplaces, and 19th for complaints of workplace bullying.
Should you post online about bad work experiences?
It is a good thing to share feedback with employers that could help future job hunters better understand an employer. However, it is best to consider how much you should post in online reviews if you're planning on using this employer as a reference on your resume.
If you work for a small business, it can become clear who wrote what review online, even if they're anonymous, based on when they were posted and the details of the review. This could mean an employer leaves you a bad reference if they were to take such feedback badly.
As for complaining elsewhere online without anonymity, such as on social media, we recommend against it.
Complaining about work on social media
Posting on social media, no matter what app it is, always runs the risk of it getting back to your employer. If you wouldn't say it to their face it's not worth the risk of putting it online. At least 1 in 5 employers have actively let go of a candidate after seeing some of their social media activity. It happens and it's not worth the risk.
We advise people to check their social media rigorously before applying for a job to make sure it's clean and ready for scrutiny. This is especially important if you are applying for your first job, an internship, or a high-profile role where public scrutiny can be expected.
Tips for cleaning social media when applying for jobs
On Twitter you can search for any mentions of things you don't want employers to see by using the advanced search settings and searching for keywords alongside your Twitter handle.
Review all photos and videos on TikTok/Instagram/Facebook that you wouldn't want an employer to see. They will look for drunk and disorderly behavior as well as anything clearly illegal.
The easiest thing to do is to set your social media accounts to private so people can only see if you approve them as a connection.
Finally, it's not a bad idea to Google your name and see if anything bad comes up as that's what some hiring managers will do. If you can't delete the content yourself you can ask it to be removed by the website.
It's better to be safe than sorry when reviewing your online presence.
Methodology
The 50 biggest cities according to population across the US were chosen for this analysis. 136,326 employee reviews left on Glassdoor were analyzed. Employers were chosen as seven of the largest employers in the US as well as school districts in each city. These employers included fast food outlets, courier/delivery companies, grocery stores, online stores, and the United States Postal Service. Reviews were collected and analyzed on 1st June 2023. Star ratings were taken as an average from each city based on these employers.
Reviews were analyzed by the number of times a set list of 24 common workplace complaints appeared in them. Misspellings were accounted for, as were phrases with alternative meanings. If "not micromanaged" appeared as a positive of working at a business, this would not have counted toward someone complaining about "micromanagement" in the negative percentage. Terms were also collated where relevant, such as "underpaid" and "low salary".
The full list of keywords analyzed included comments against bosses, management, and the workplace. These terms were variations of: toxic, overworked, underpaid, rude, bad, micromanaging, burnout, entitled, violent, abusive, liar, bully, manipulative, exhausting, hypocrite, childish, nepotism, unhelpful, stress, unrealistic, inflexible, poor management, long hours, monotonous.

This work is licensed under a Creative Commons Attribution 4.0 International License.