Your resume can be a life-changing document.
It can land you a dream job that sets you on a path to career success… But only if written correctly.
To grab recruiters' attention and land job interviews, you need a professional and impactful resume.
But, knowing exactly how to write a winning resume can be difficult.
So, I've put together this step-by-step guide, packed with example resumes, that will teach you exactly how to write the perfect resume (regardless of your industry and experience level) and bag yourself the job you always wanted.
Enjoy.

What is a resume?
Before we learn how to write a resume, let's first look at what a resume is and the role it plays in your job hunt.
A resume is a formal written document used when applying for jobs. It  includes information such as your skills, work experience, and education.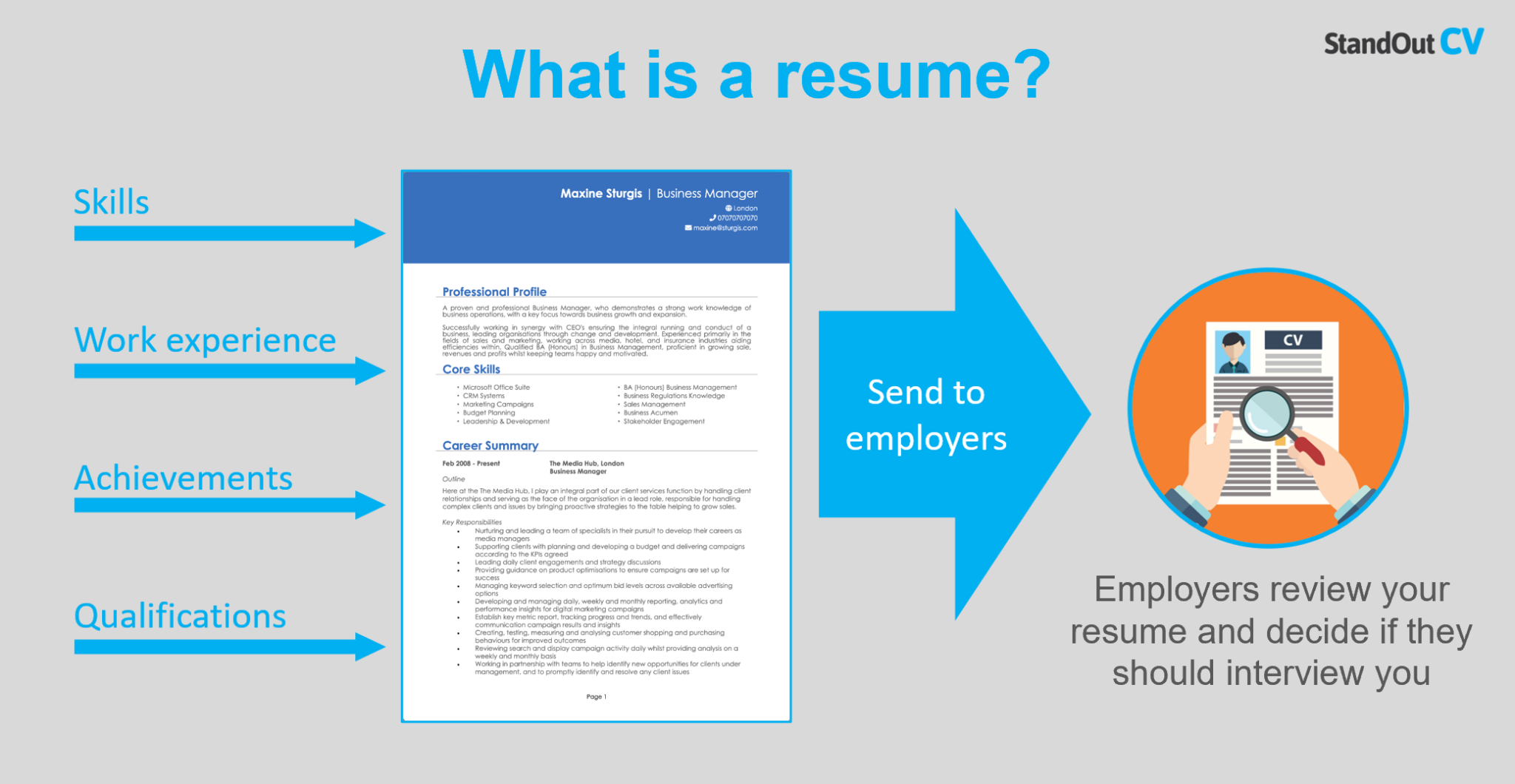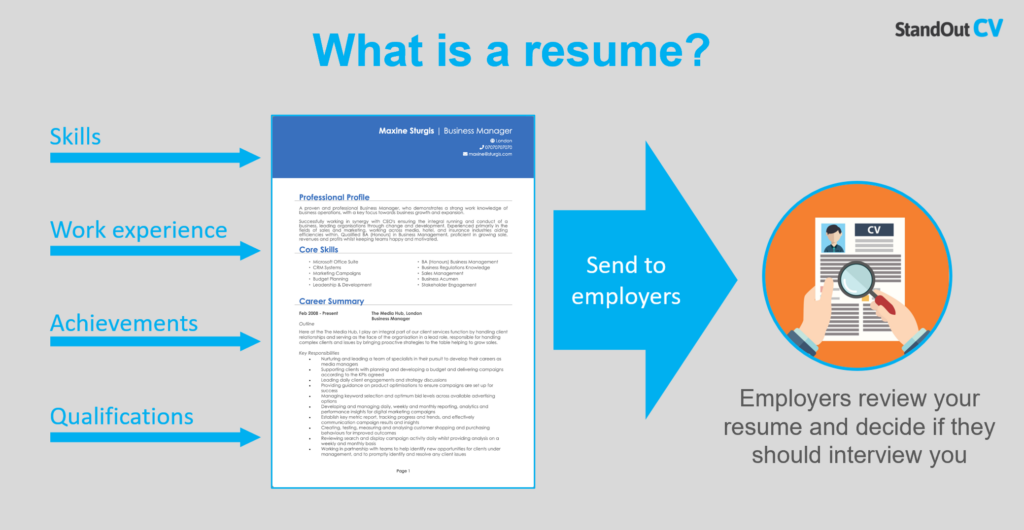 You resume is then sent out to potential employers to show them why you'd be a good fit for the position you are applying for. A recruiter or hiring manager will review your resume to determine if you are a suitable candidate and worth inviting in for an interview.
So ultimately, the purpose of your resume is to introduce you to recruiters or potential employers and help you to secure an interview.
What to include in a resume
The information you choose to include on your resume will vary slightly, depending on your experience and what stage you're at in your career.
But there is certain information that employers expect to see, and having a standard formula for what to include can guide you in the right direction.
Your resume should include:
Name and contact details – The recruiter needs to know who you are, and how to get in touch with you, so you need to include your name, email and cell phone number
A resume summary – Every resume needs a snappy introduction paragraph to summarize your skills and reel readers in
Employment history – This should be a list of your relevant work experience, starting with your current or most recent position, and working backwards.
Education and qualifications – This is a list of your educational accomplishments and qualifications.
Optional others – We've covered the essential by now, but you might also wish to include information about your hobbies and interests, achievements, awards, or memberships to relevant organizations, if they are relevant to the jobs you are applying for.
How to layout a resume
Understanding how to layout your resume will give you the best chance of grabbing the recruiter's attention. It's always important to remember that these are busy people, and you only have between 7-8 seconds to win them over, when they first read your resume.
Therefore, you need to create a clearly structured resume that is easy to read. You want recruiters and hiring managers to be able to find the information they are looking for almost instantly.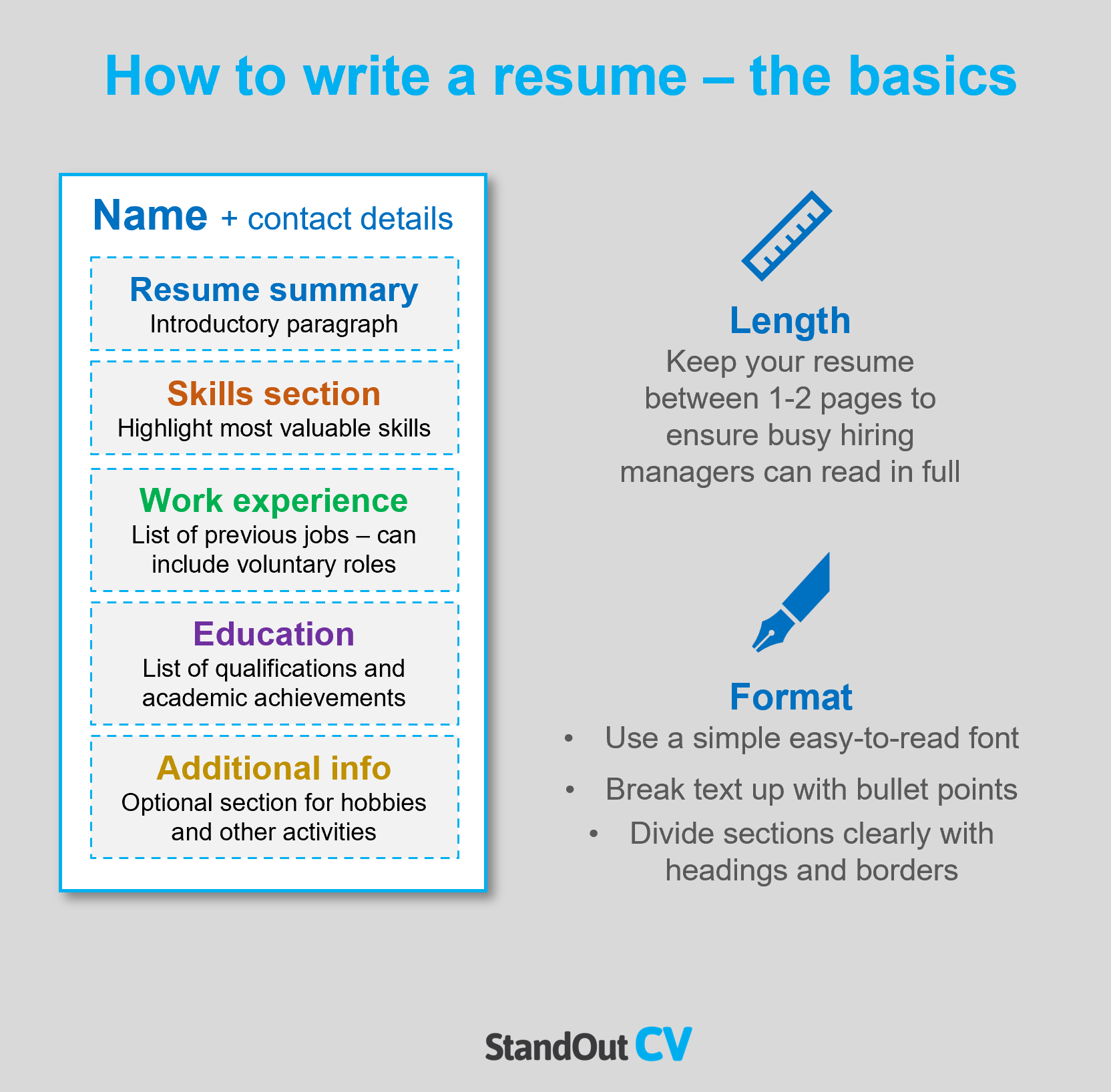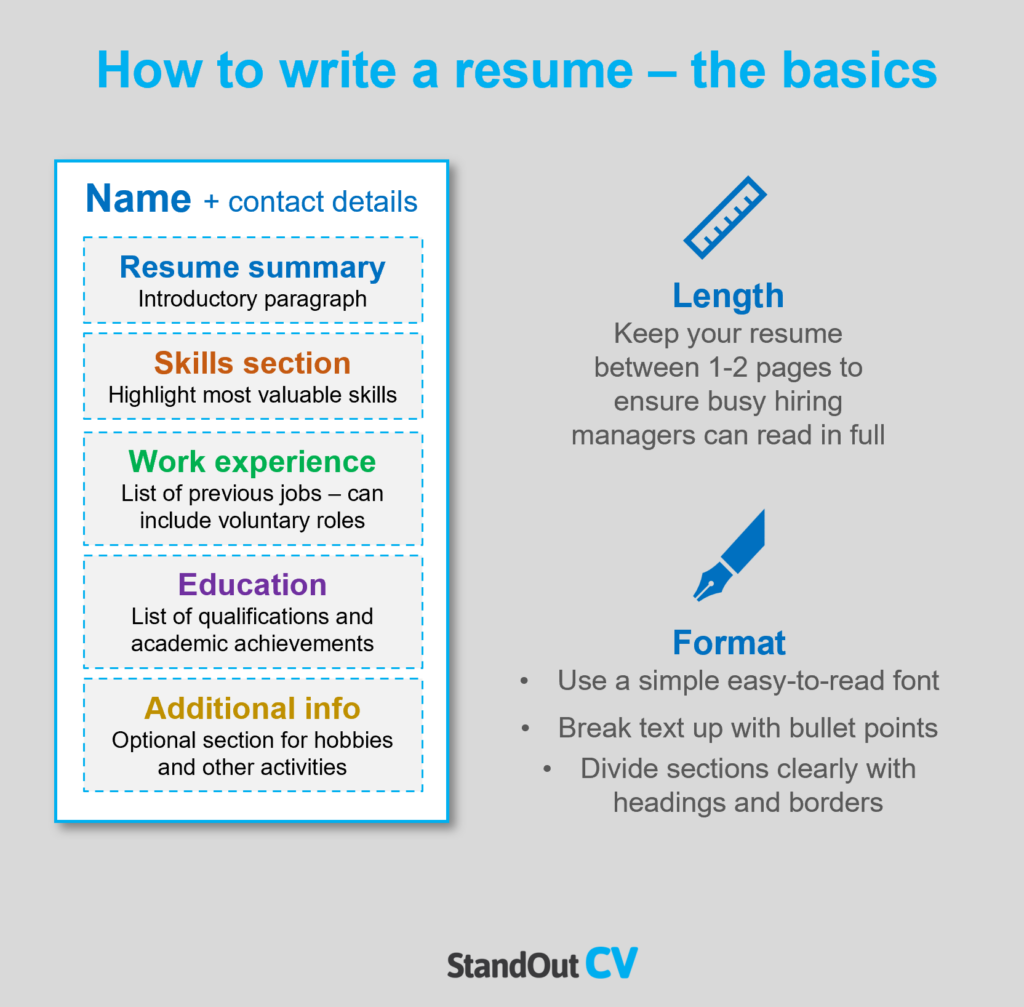 To help you get this right, here are the main sections you need to include on your resume and the basic structure you should follow.
Quick tip: Formatting a resume to look professional can be difficult and time-consuming. If you want to create an attractive resume quickly, try our partner's Resume Builder and use one of their eye-catching resume templates.

Name and contact details
Your contact details should always be at the top of your resume, so recruiters know who you are and how to get in touch. Plus, placing these neatly and compactly at the top of the page can be a great space-saver.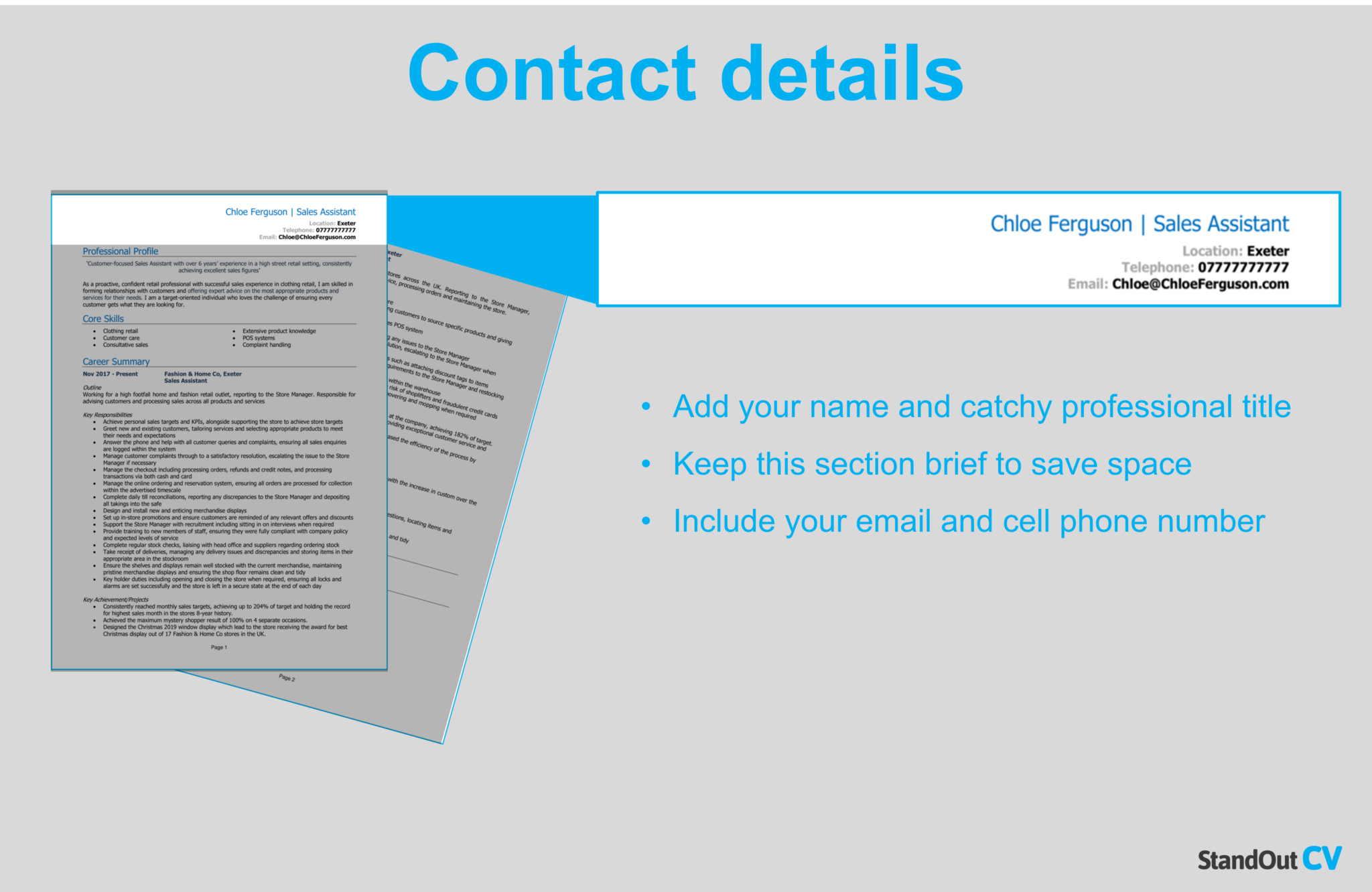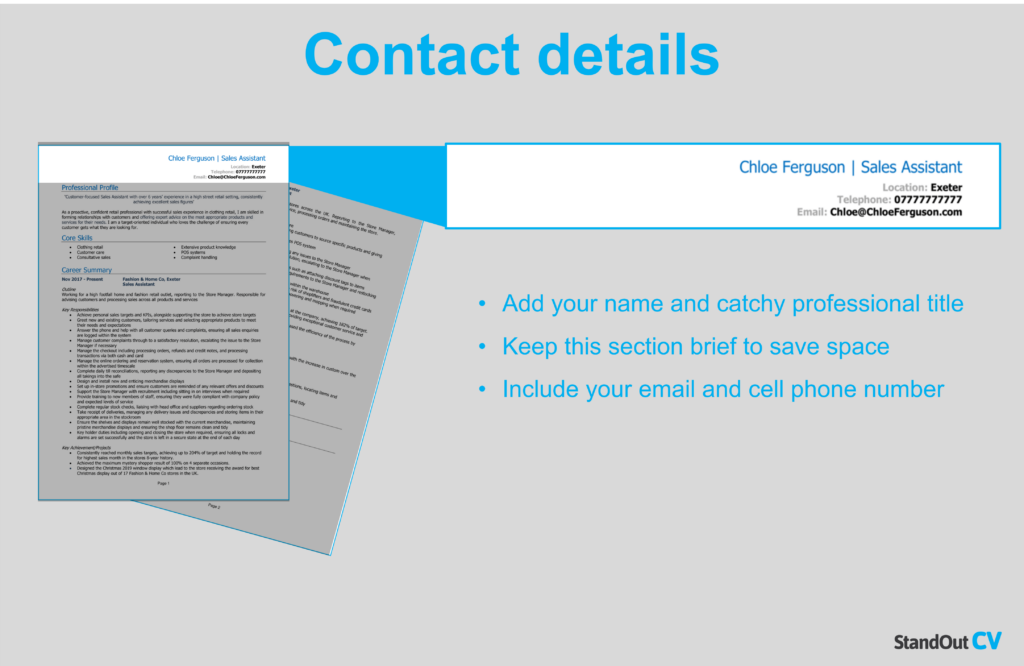 There are certain details you need to include as part of your contact information, and these are:
Your full name – First name and surname
Professional title – E.g. Law Student or Project Manager
Cell phone number – So the recruiter can reach you quickly
Email address – This is another way the recruiter might reach out. This should be a professional-looking address, and not a nickname.
Your location – It can be helpful to put a location if you're looking for jobs in a certain area, but it doesn't need to be your full address; for example, including 'New York' is enough
Optional extras – You might also wish to include other info such as your LinkedIn profile or nationality, depending on what employers expect to see in your state or region.
Resume summary or objective statement
You need to include an introduction to your resume, known as a summary. This  a brief paragraph which gives an overview of what you can bring to an employer in terms of skills and knowledge.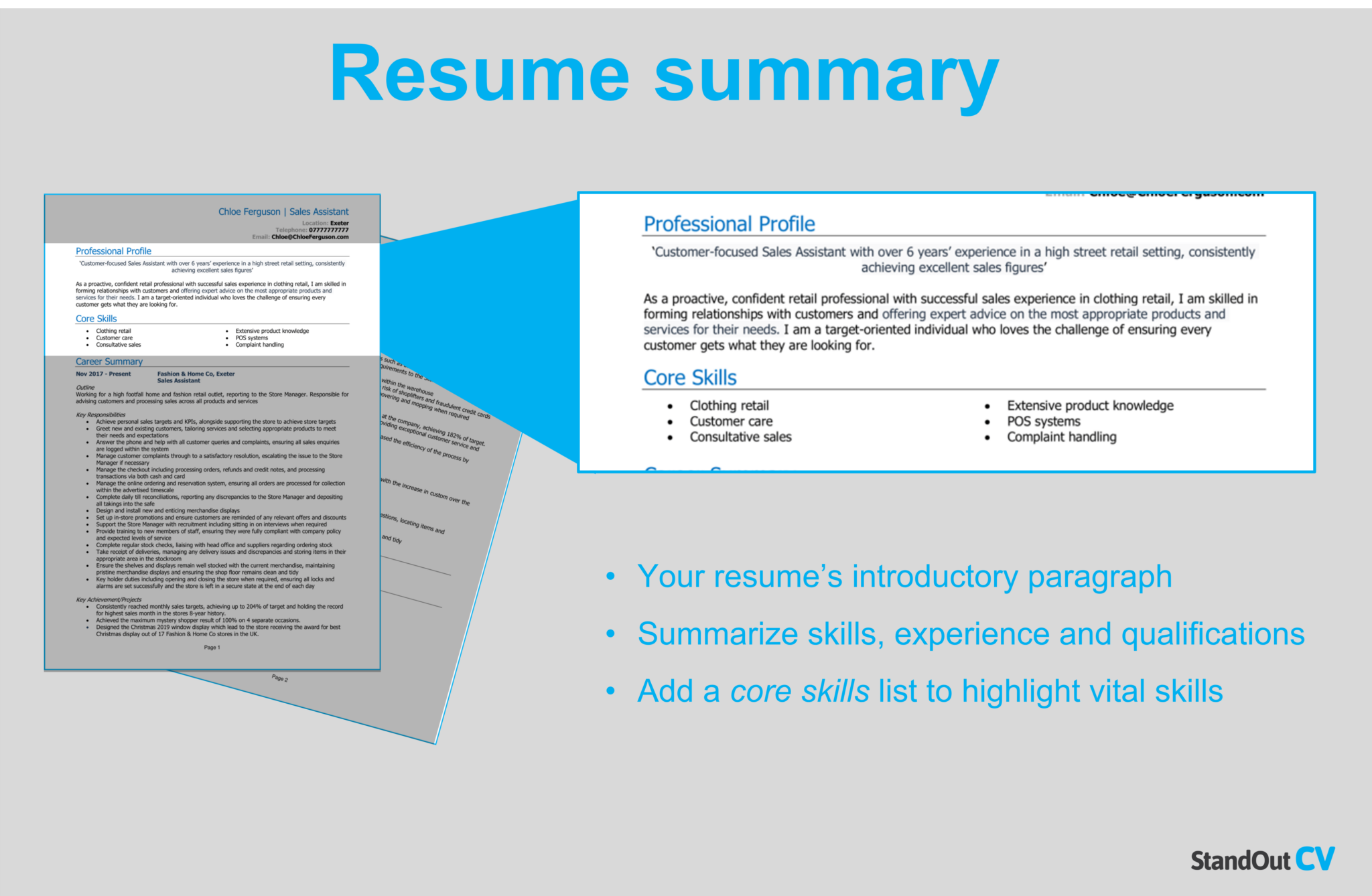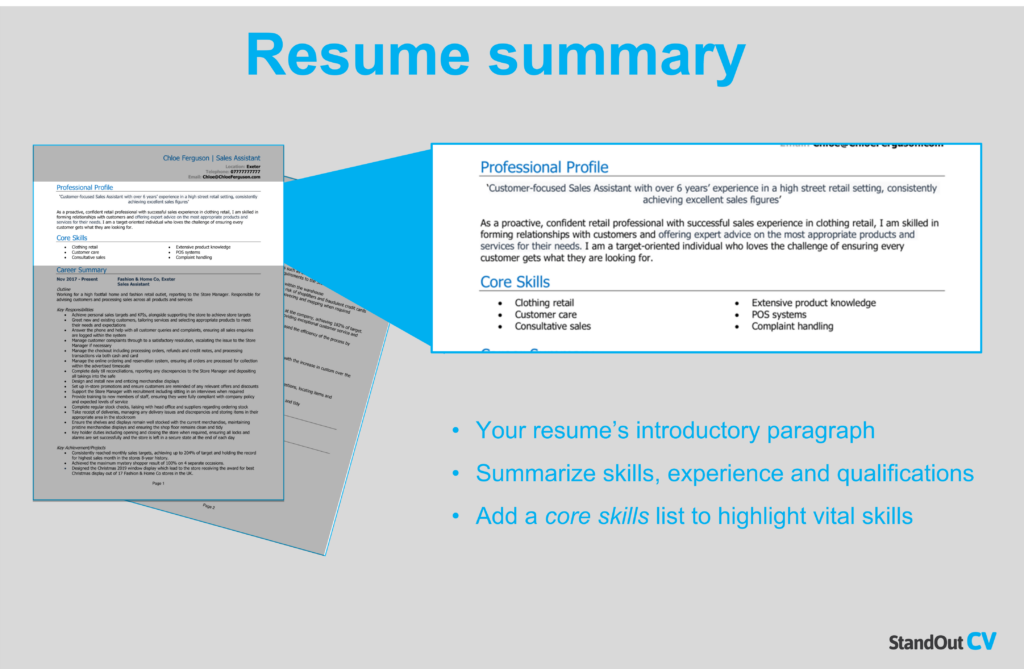 More junior candidates will need to write an "objective statement" which is more of statement about what they wish to achieve in their career.
Work experience
In the work experience section, you need to list some or all of your previous jobs in reverse-chronological order, starting with the job you currently hold or your most recent role if you're unemployed.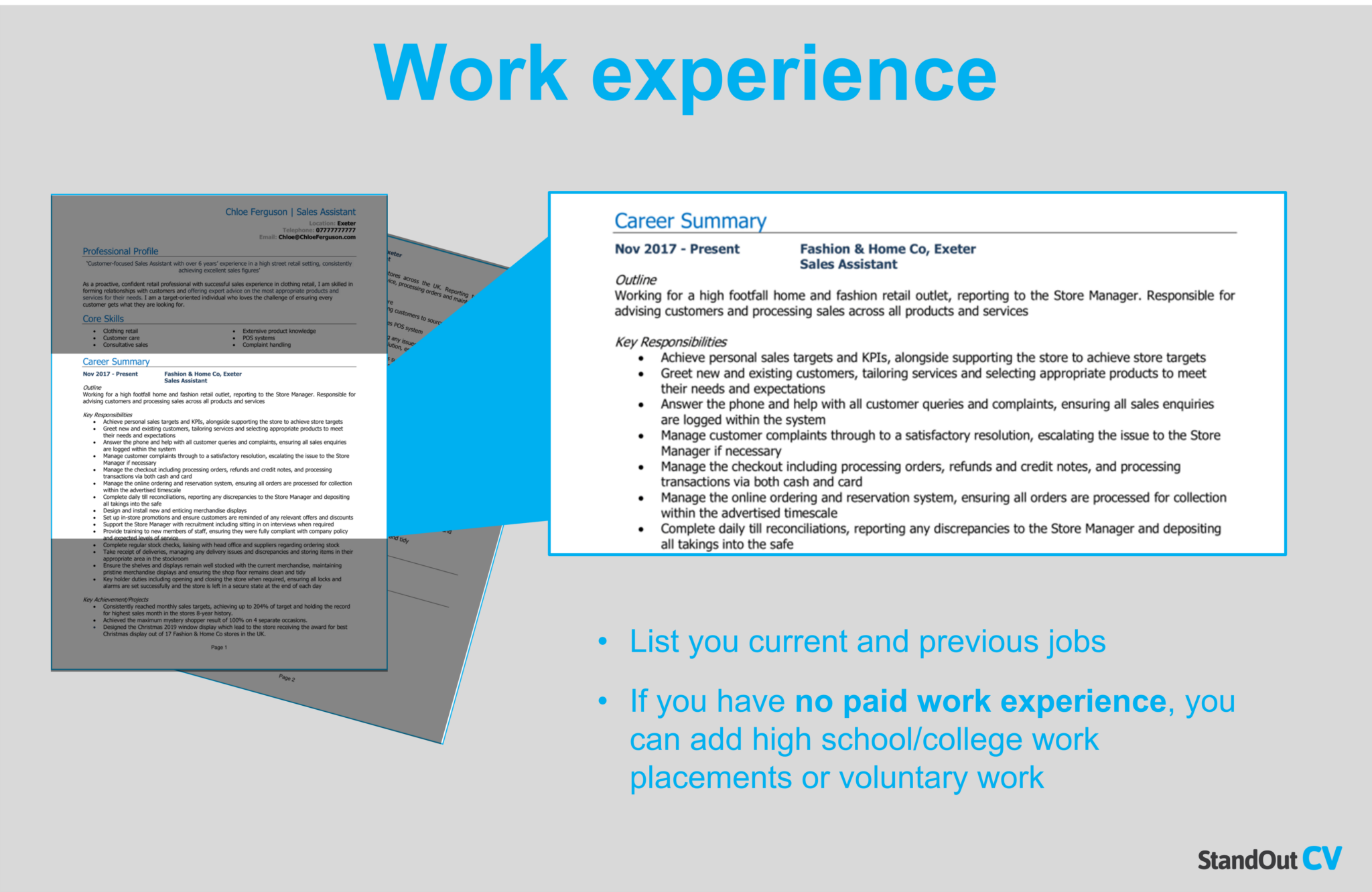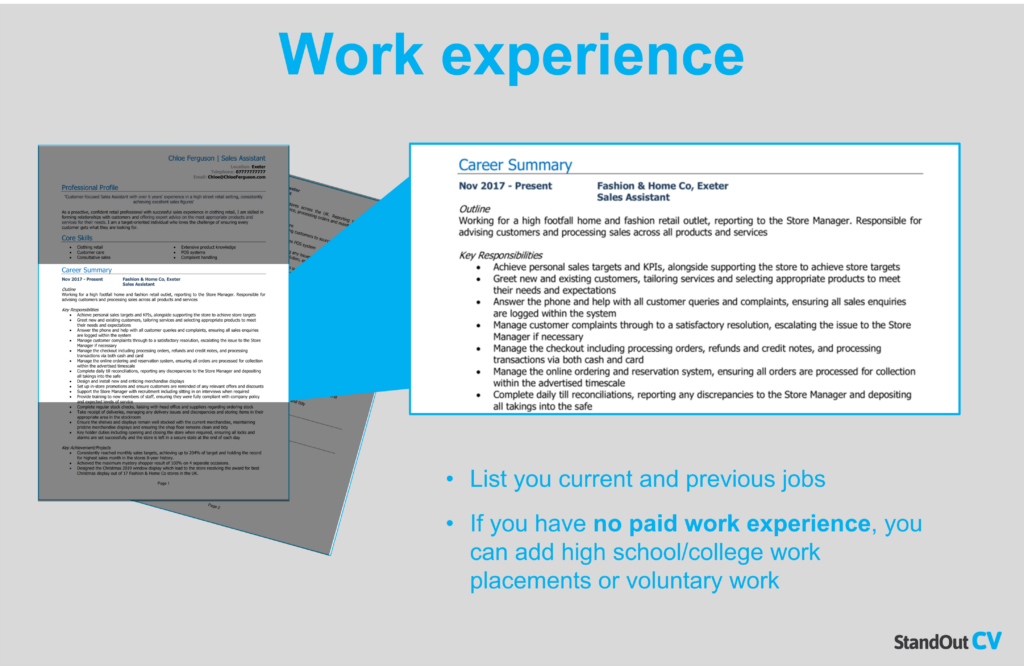 For those who have been in work longer, this will be the largest section on your resume because it is often the area employers are most focused on.
For those with less experience, this section will obviously be smaller, but you can also include voluntary work or college work placements.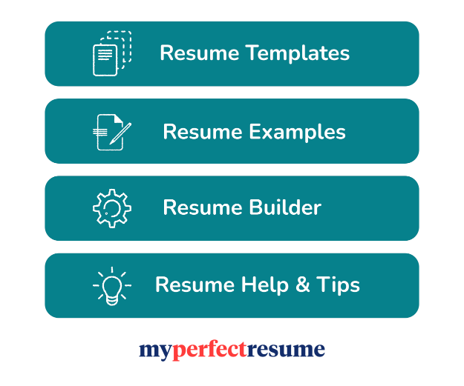 Education
Your education section is another integral part of your resume and should demonstrate how qualified you are to carry out the jobs you are applying for.
This section is a summary of your education and any vocational qualifications you have gained in your industry.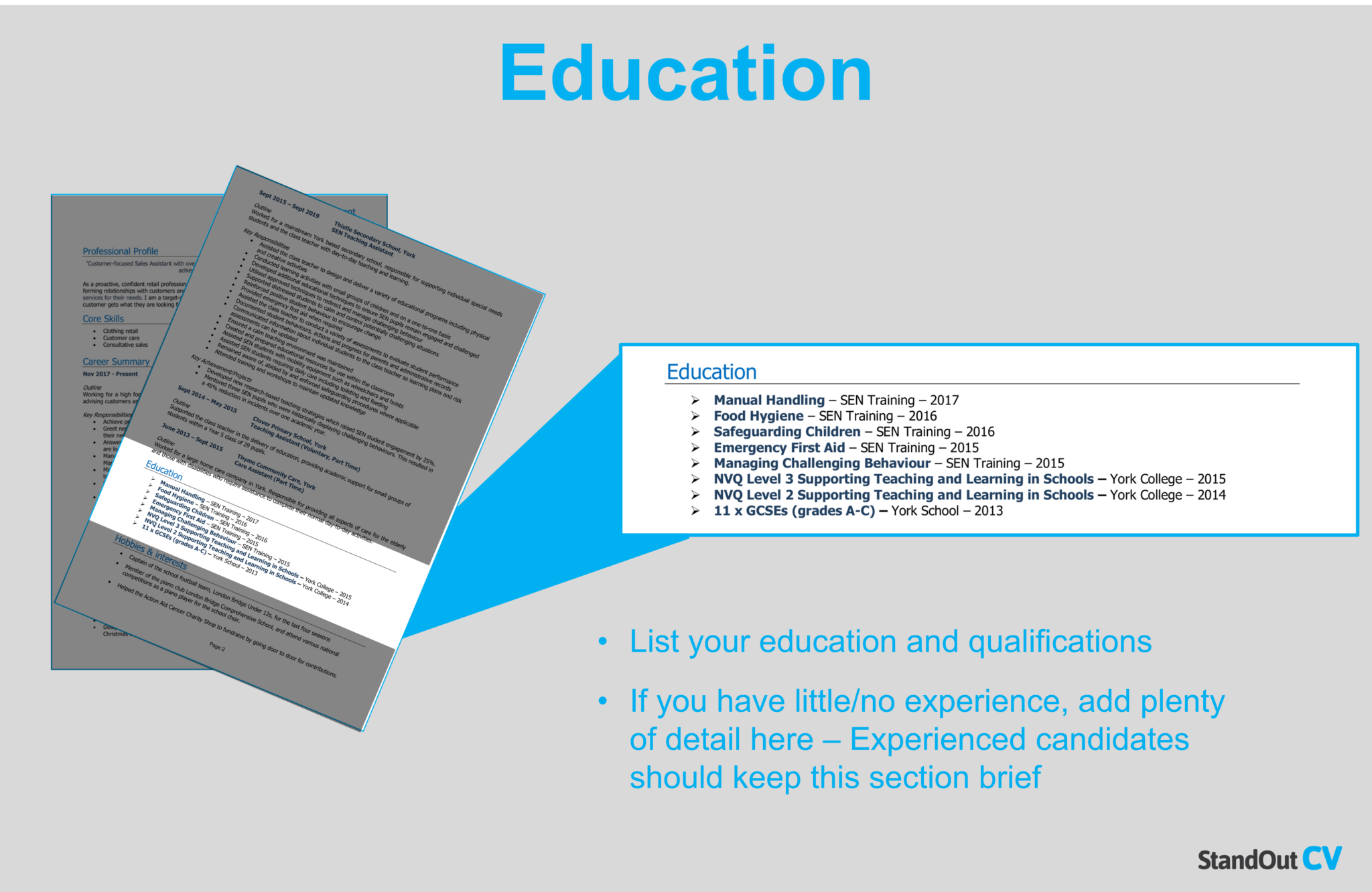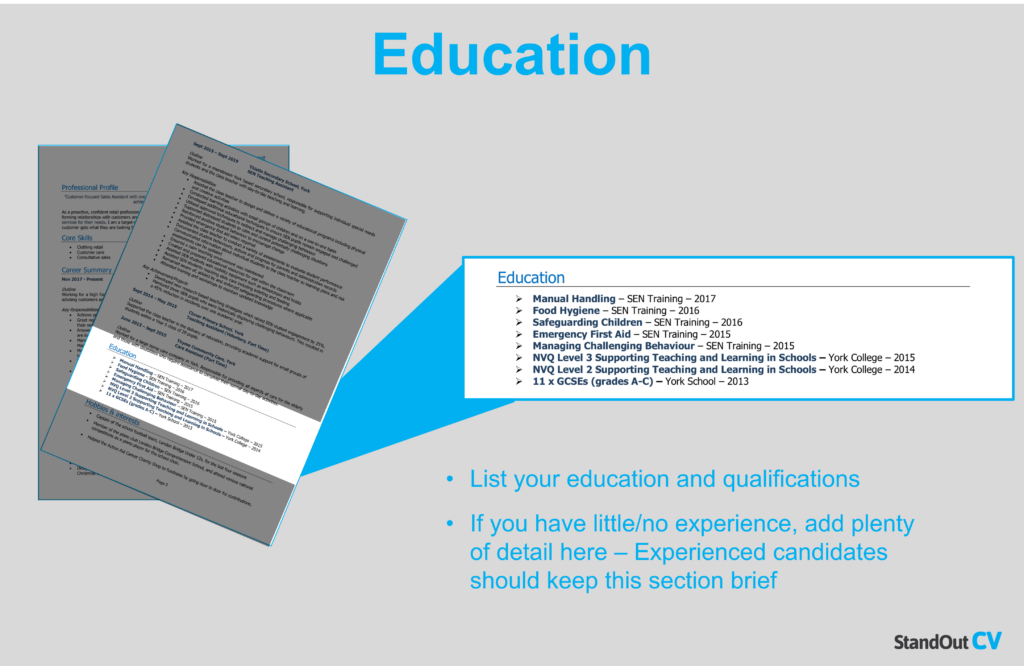 You might also choose to include academic achievements and any extra certifications you have completed, such as gaining the highest exam results in your school.
For those with lots of experience, this section doesn't need to be as big, but for those with less experience, this will be an important way to showcase your skills and knowledge.
Hobbies and interests
As I mentioned earlier, including your hobbies and interests is completely optional and should only be added if they will benefit your applications in some way.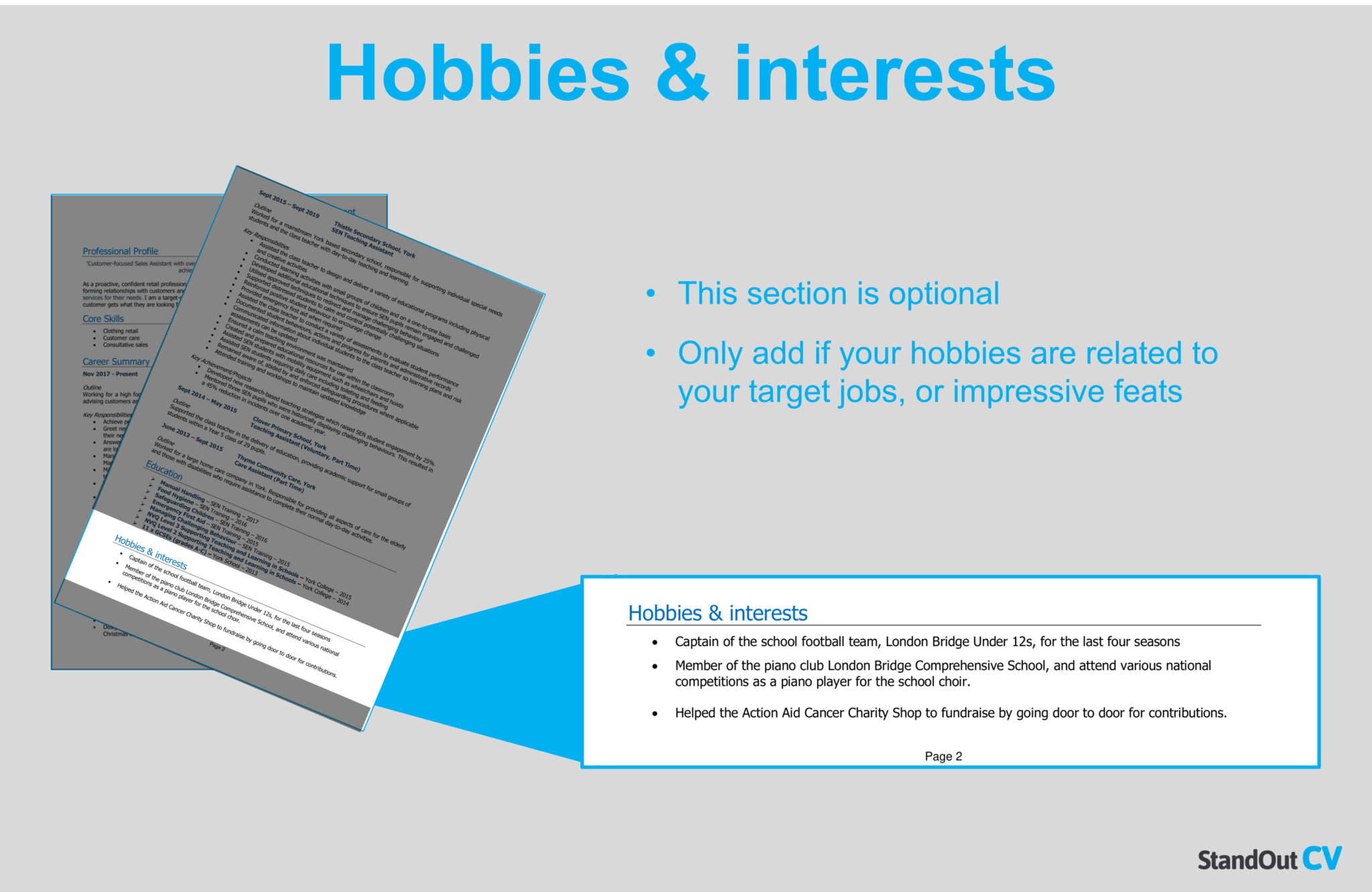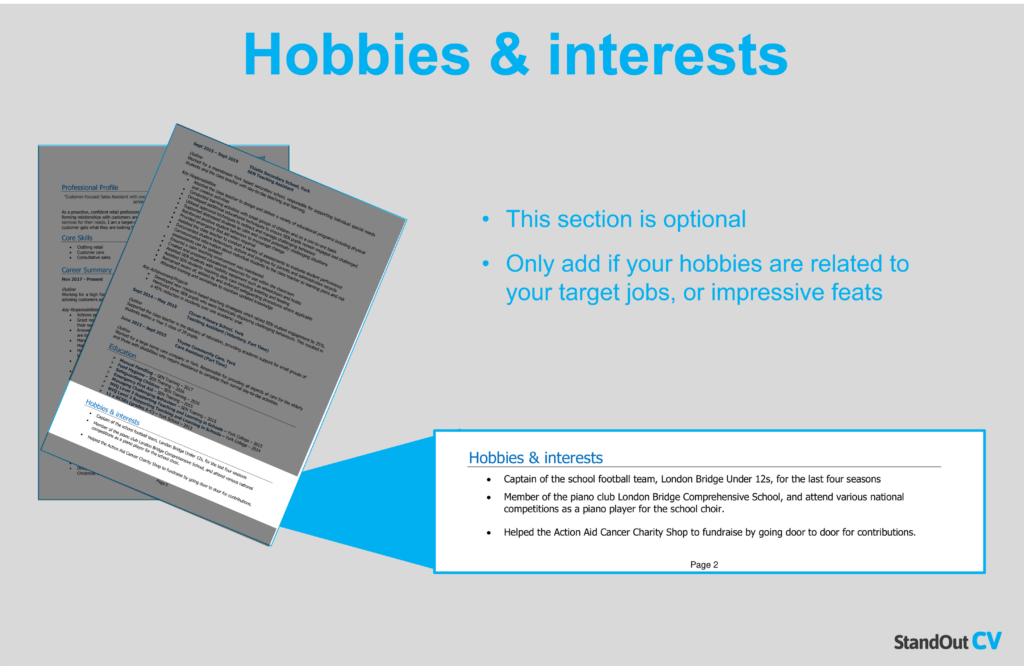 If you have little or no experience, your hobbies can be a great way to showcase skills, but if you have plenty of experience, it's unlikely your hobbies will benefit the resume.
Resume format
Getting the structure right is one thing, but you also need to make sure you format your resume correctly too.
If there is too much text, no clear sections, or a confusing font, the reader will struggle to digest the information quickly, and it's likely your resume will end up on the rejection pile.
So, to ensure that your resume is clearly presented and easy to read, there are several simple rules you can follow.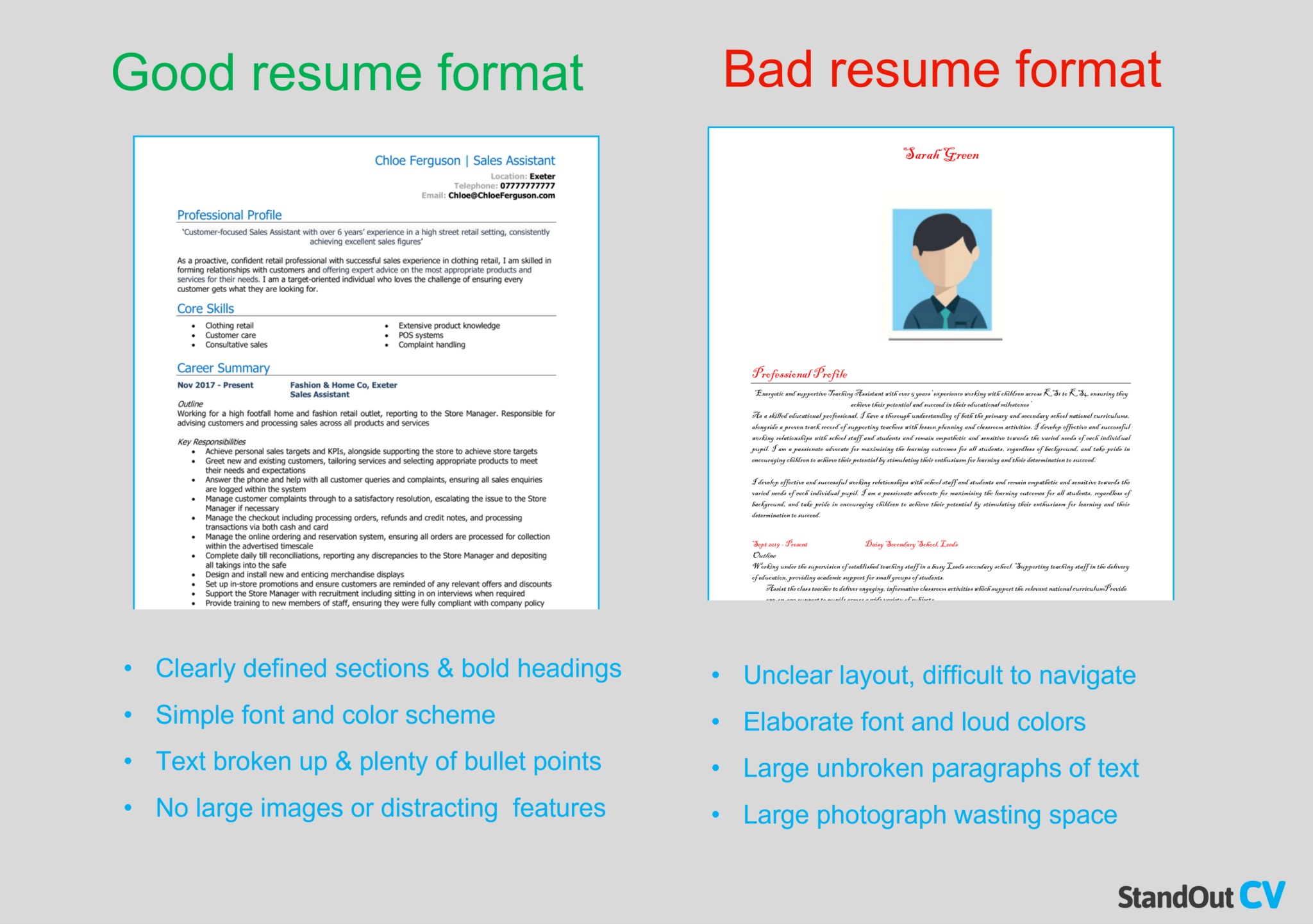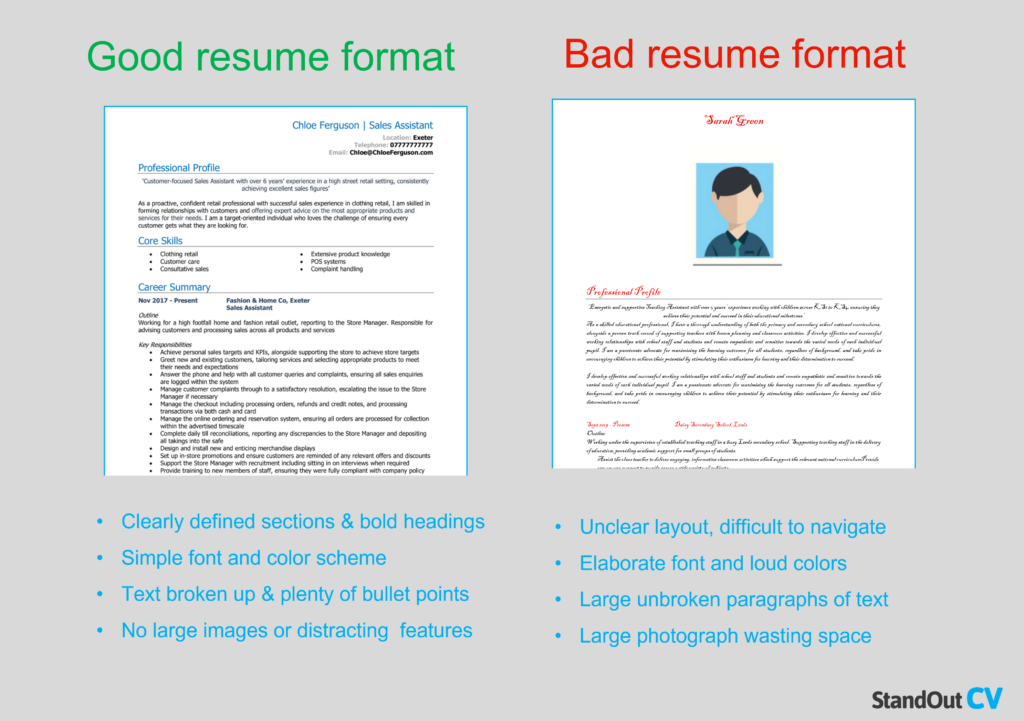 This is how to format your resume for success:
Font/text: Choose a professional, easy-to-read font like in a readable size and a color that contrasts the background
Dividing the page: Divide your resume into clear sections and use headings and sub-headings to mark these out
Break up text: Bullet points with good line-spacing is a great way to make the information easier to read and digest
Page margin size: Make sure your page margins are not too big or too small; about 1" margins should suffice
Color scheme: Choose a professional color scheme by sticking to calm colors, and make sure all font contrasts against the white background to make it easily readable.
Resume length: Keep your resume under 2 pages to ensure busy hiring manager have time to read it all.
Keep it simple: Do not overcrowd the page with large images and design features (a small headshot photo is OK)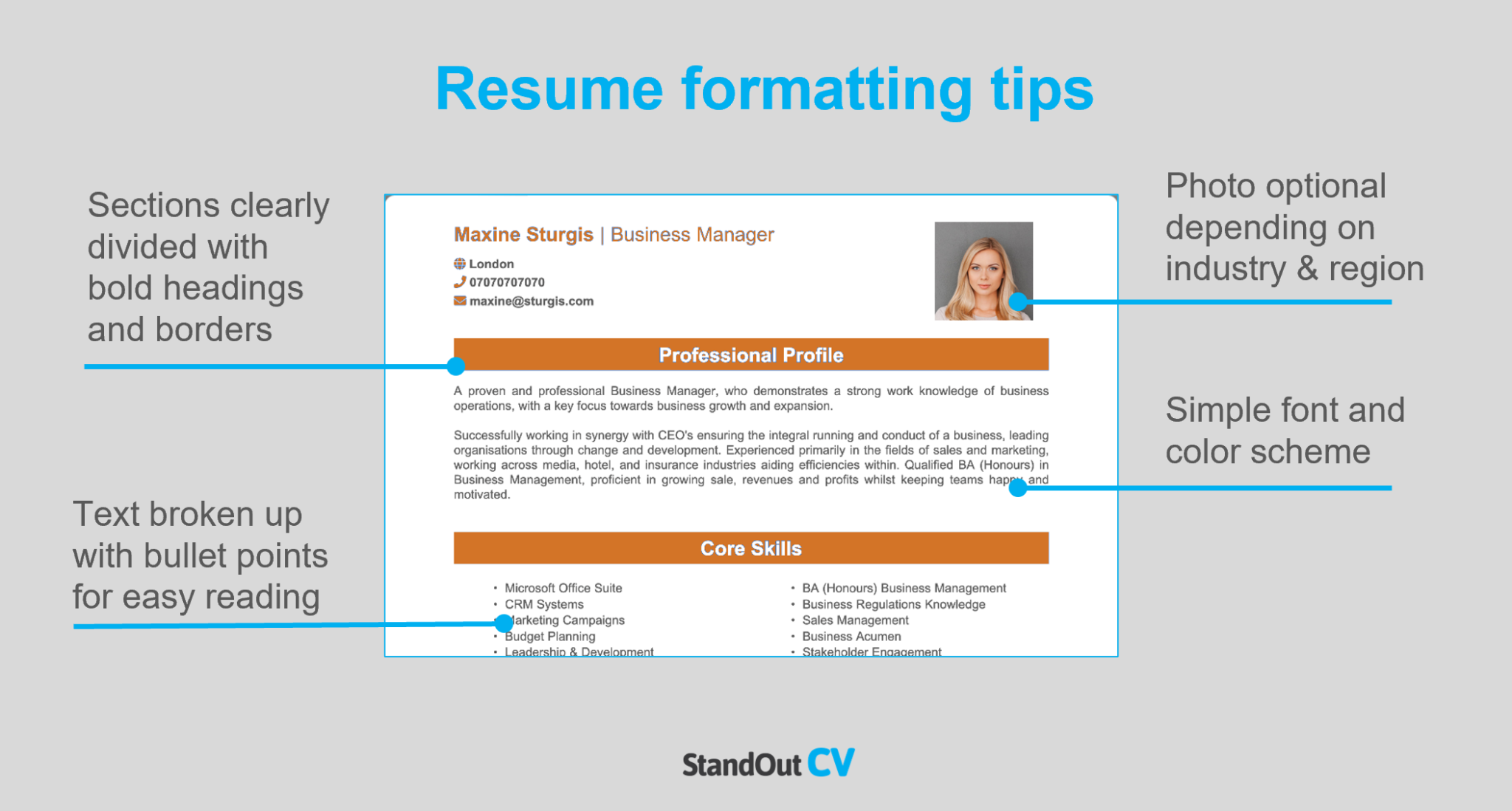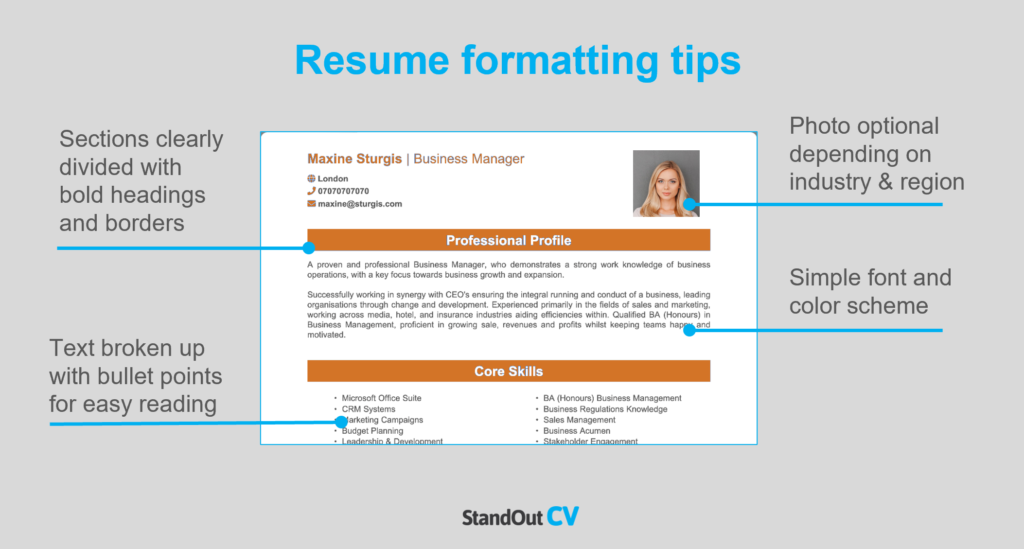 Now that we understand the best way to structure and format a resume let's dive a little deeper.
Next, we are going to look at each section of your resume in more detail, discussing what you should (and shouldn't) include.

Writing your resume summary or objective statement
After your contact details come your resume summary or objective statement.
As we said above, whether you choose a summary or an objective statement will depend on how much experience you have, but in this next section, we'll cover the dos and don'ts of writing both.
Resume summary – Best for experienced candidates, describing their past achievements
Objective statement – Best for school leavers and juniors, describing their goals and ambitions.
A resume summary
A resume summary sometimes referred to as a professional summary or summary statement, is a snappy introduction to who you are.
Essentially, this is your elevator pitch.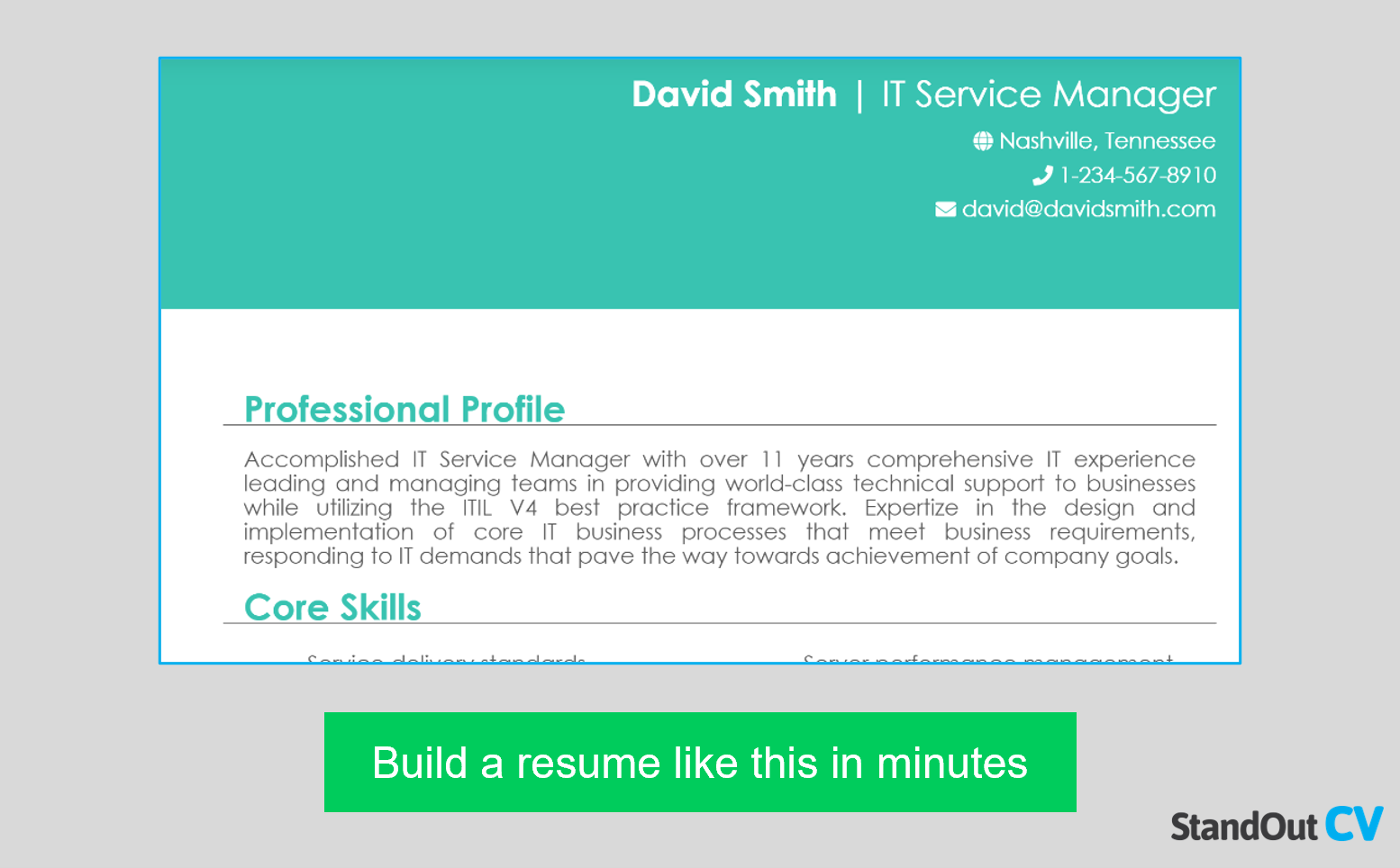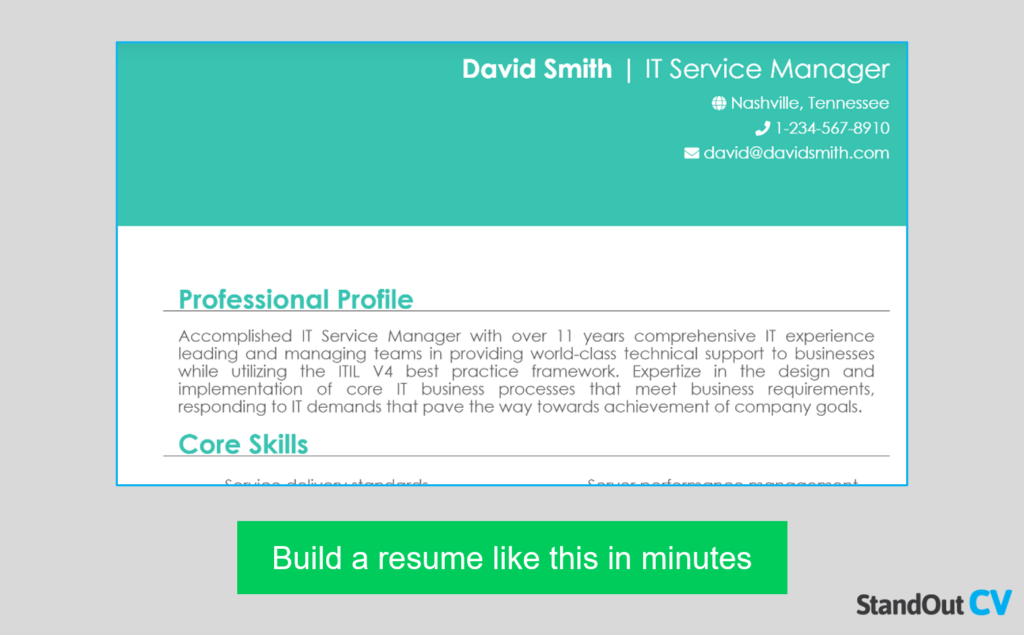 This is your chance to show the recruiter what you bring to the table. For the best results, your resume summary should be just a couple of sentences long (ideally 2-3) and should include:
Your key experiences and achievements, such as past employers or the number of years you've been in the industry
Any certificates or qualifications you have that are relevant to the role
Your top skills or expertise in your field
Your unique selling points and what makes you the best candidate
What benefits you can bring to an employer (boosting sales, savings costs, pleasing customers etc.)
Tailoring your resume summary
Every resume you submit should be tailored to the specific role and company you're applying to, and this should start with your resume summary.
Be sure to do your research and make sure you include any skills, experience, or achievements that the employer has specifically asked for in the job description. This might mean looking back over the job advert several times, as well as looking at the company website and social media accounts.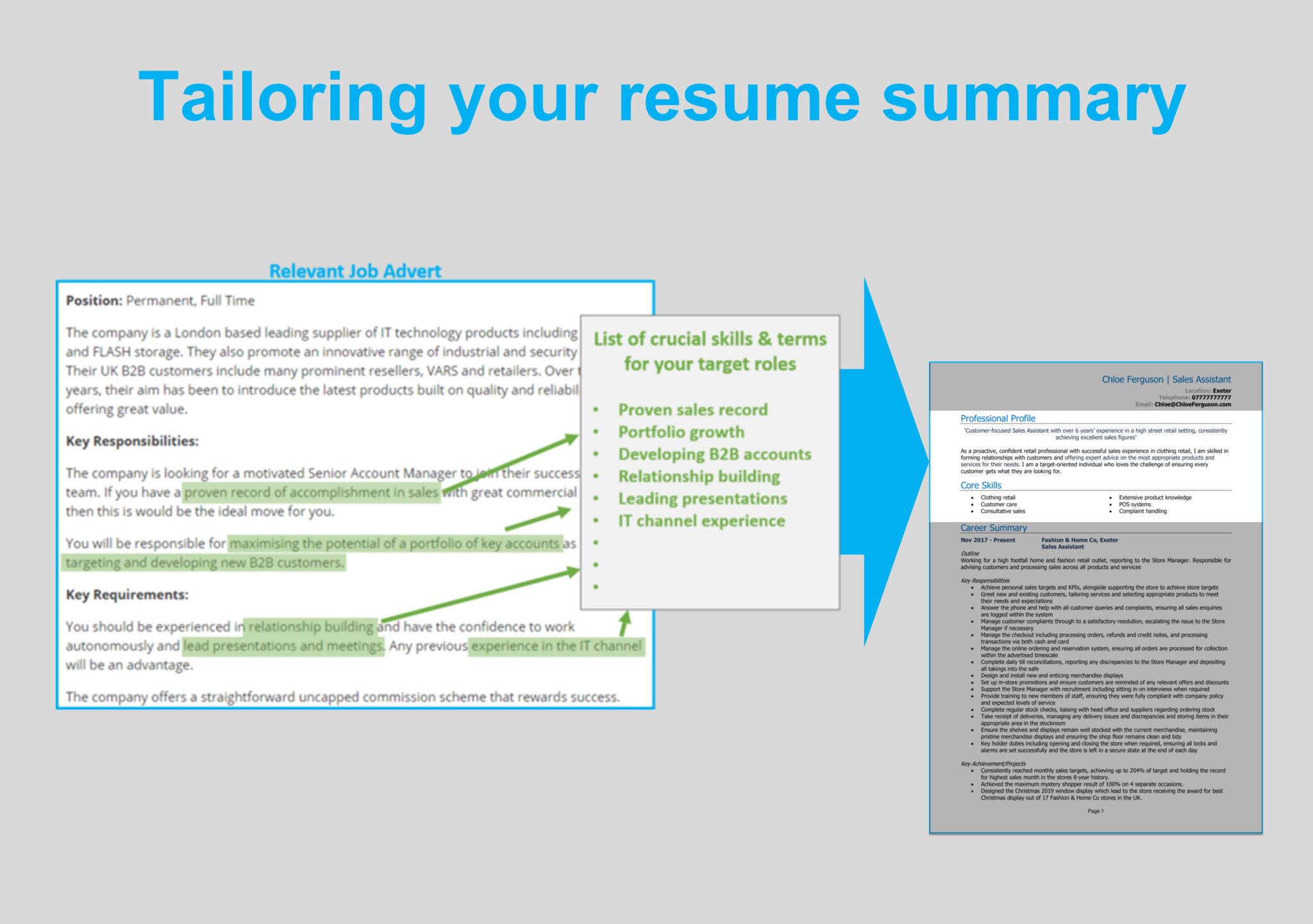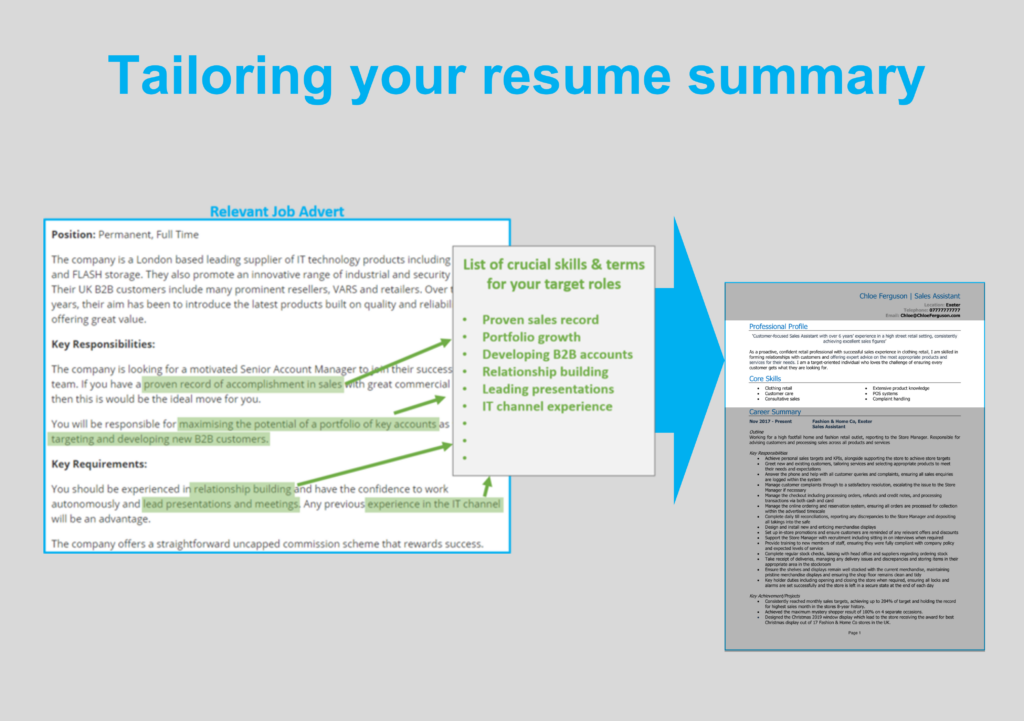 Really, you want your resume summary to scream, 'I am right for the job at your company, and here are three or four very specific reasons why'.
Top tips for writing a resume summary
When writing a resume summary, there are certain things you can do to take your introduction to the next level. Some of our top summary-writing tips include:
Using keywords from the job description and company website – As the recruiter scans through, this makes it much quicker and easier to pick out keywords and see why you're a good fit for the role
Quantify your achievements wherever possible – Facts and figures make it much easier for the recruiter to see your value. For example, 'saved the business $10,000 YoY, which led to a 52% decrease in the operating budget'
Avoid cliche words or phrases – Nothing kills a great resume quicker than overused, cliche phrases that recruiters have seen 10,000 times before. So avoid words and phrases like team player, dynamic, go-getter, or self-motivated
Quick tip: Choose from hundreds of pre-written summaries across all industries, and add one to your resume with one click in our partner's Resume Builder. All written by our recruitment experts and easily tailored to suit your unique skillset.
An objective statement
An objective statement, also known as a resume objective or career objective, describes your professional goals and outlines your reasons for applying to that specific job and company.
Like a resume summary, this needs to be tailored for each position and company you apply to and can be a similar length as well, typically 2-3 sentences.
A good objective statement should include:
A sentence summarising your most relevant skills, qualifications, or certificates
Your reason for applying; for example, 'customer support representative with over-the-phone technical support training, looking to leverage my skillset in a sales representative role'
An explanation of why you'd be a good match for the role and how you can support and drive the business forward
Basically, your objective needs to focus more on your motivations for applying to the job and outline how you can help, rather than discussing past experiences.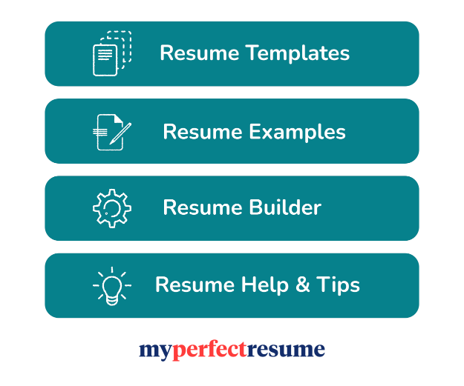 Should you use a resume summary or objective statement?
As this section is placed at the top of your resume, it needs to wow the recruiter and persuade them to keep reading. So it needs to be good!
But which approach should you choose?
Well, as we've said, a resume summary is better for those who have got a good amount of experience behind them as this is an opportunity to discuss past positions and the skills you have gained.
However, an objective statement is better suited to those who are just starting out or have less experience. These could be students, those on scholarships, entry-level candidates, career changers, or those with large career gaps.
But ultimately, which you choose is up to you. Just make sure it's an attention-grabbing introduction either way.
Adding your work experience
After your resume summary or objective statement, you need to add your work experience. In many cases, this will be the biggest and arguably most important section of your resume, so you need to get it right.
Your experience should be listed in reverse chronological order, meaning newest job to oldest as you go down the page.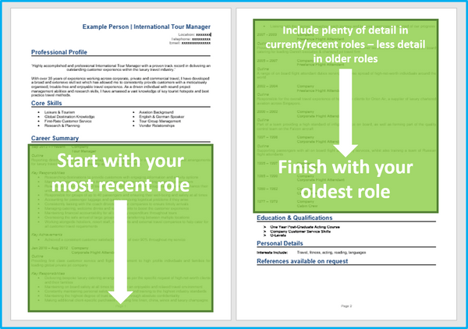 How to format your work experience
Your experience needs to tell a story about who you are and what you've achieved in your career so far.
Each of your job descriptions should contain the following info:
Job title and position
The employer's name
The dates you were employed there (if you still work there, put your start date and the word 'current' to show you're still employed there)
A brief overview of the company and your role within it
Your key responsibilities
Your biggest achievements
You can see an annotated example of this below.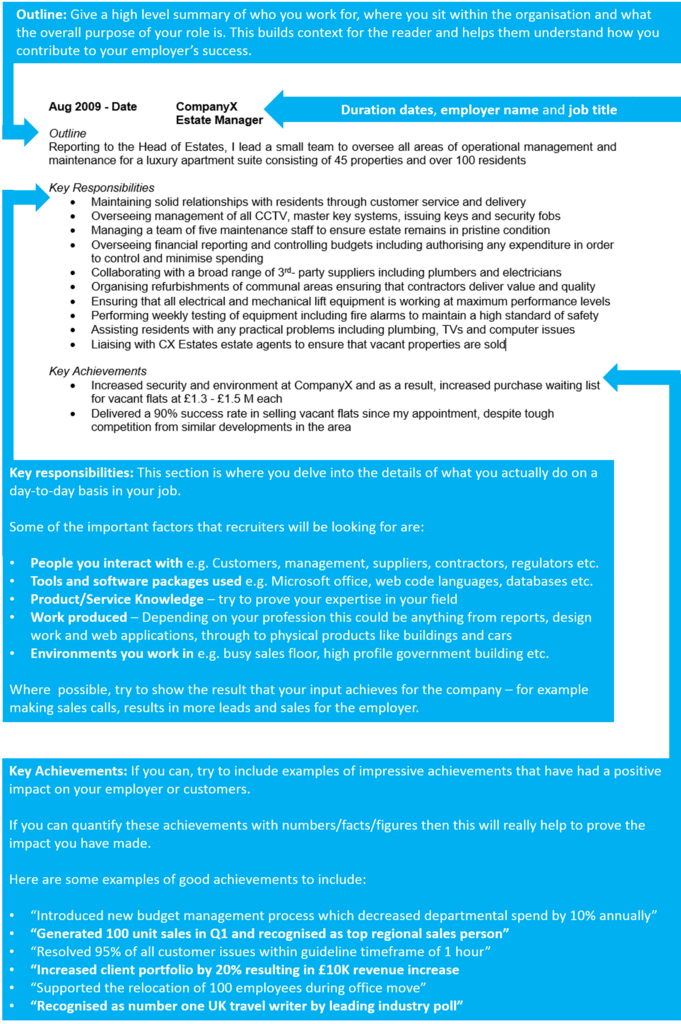 A bold heading
You need to start with your job title, company name, and the dates you were employed there. This should be in bold as this acts as the heading, making the page easy to skim-read.
The outline
Next, you need to give a brief outline of your role in the company and where you sit within the organization to build some context for the reader.
"Working as part of the digital marketing team to support all social media campaigns, providing content, analytics, and feedback."
Your key responsibilities
Next, provide a concise bullet pointed list of your responsibilities.
Although it's important to share some of your key responsibilities and the skills these require, you don't want this to be a long, boring list that adds no real value to your application.
As such, it's best to pick a few of the highlights and use bullet points to break these up, like this:
Created a range of social media content across varying platforms, including Facebook, Instagram, and Twitter
Conducted competitor analysis and research based on competitor's social media strategies
Organized the monthly editorial calendar for each channel
Collaborated with the design team to create engaging visuals to accompany the copy
Key achievements
The last thing you need to do when formatting your work experience is include any key achievements that led to positive results for the employer (such as generating revenue or helping customers to achieve their goals)
Again, use bullet points to set these out and add facts and figures to demonstrate your value. Such as:
Increased the brand's Instagram following by 25% in just 3 months
Managed a minimum of 4 campaigns simultaneously which all achieved 90% of target
Organized and ran a competition through Instagram and Facebook that led to a 73% spike in engagement across all company platforms
How far back should you go?
If you've got lots of experience, it can be tough to know how far back you need to go. Although you may wish to include older roles, you can be more sparing on these details. Your main focus should be on your current or most recent roles.
For those that have been around a while, it's best to omit anything really old, say more than 10 years ago. Unless, of course, you were in the same role for a very long period of time.
If you don't have much experience
If you don't have much work experience, this section can feel a little daunting. However, you can bolster this section with unpaid experiences, such as:
College work placements
Voluntary or charity work
A side hustle or hobby
Employers value any experience you have as long as you can use this to demonstrate your skills, particularly the transferable skills you gained.
Dealing with gaps in employment
If you've got large gaps in your employment history, you might be worried about how this will look to hiring managers and potential employers.
It's important that you don't leave these gaps unanswered. Instead, be sure to give details of practical and positive things you were doing during this time.
For example, were you traveling and boosting your language skills? Or were you caring for your family and taking the opportunity to complete online courses at home?
Whatever the case may be, try to avoid leaving employment gaps unanswered as much as possible.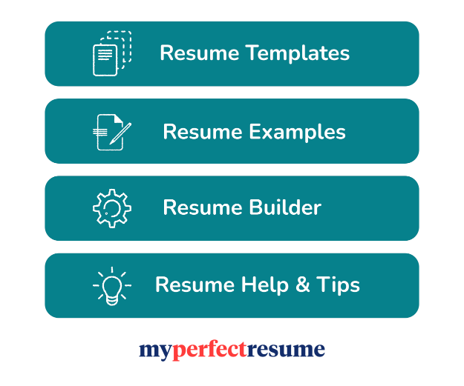 Adding your education
Next, you need to add your education section, but how you go about this will depend on your level of experience.
For experienced candidates

For those with more work experience, your education section doesn't need to be as long because the emphasis will be on your employment history.
This means you can afford to cut this section down, giving just a short bullet-pointed list of your most important and recent qualifications. You don't need to include everything you've ever studied.
For less experienced candidates

If you have less (or perhaps no) experience to talk about, then your education section can be much crucial to the success of your resume. In this case, you should use your education section to give more details about your skills and knowledge.
To do this, you should include information about your high school education, any General Educational Development (GED) diplomas you may have, and your college degree, if you have one (detailing your major and minor)
You can strengthen this section by adding details like:
Any awards and honors you have
Relevant coursework or areas of study
Extracurricular activities you took part in
Key achievements from your time in education
Whether you took a double major, or any minors
Your GPA (Grade point average)
Making the Dean's list
GED or similar 
Expected graduation date (if you have not yet graduated)
Hobbies and interests
If you do choose to include your hobbies and interests on your resume, you need to approach this with caution.
You should only include these if they are relevant to the role you're applying to or if they help you to showcase some great transferable skills.
Which hobbies should you include?
With this in mind, you can't just add any old thing you find slightly interesting; you need to be selective about what you include.
Anything you add to this section should enhance your resume. Some examples of good hobbies to include are:
Volunteering – Volunteering, shadowing and charity work can be a great addition to your resume, whether this is for a good cause or you're running an after-school club. It shows lots of transferable workplace skills, including commitment, compassion, and organization
Writing or blogging – Whether it's a personal blog, poetry, or anything else creative, writing can showcase your excellent communication skills
Sports and exercise – Getting involved in individual sports like running shows dedication and passion. If you take part in team sports like basketball or football, this can show teamwork and leadership
Strategy games – From chess to Sudoko, strategy games can be a great way to show off your strategic thinking and problems solving skills
Photography – If you're a budding photographer, you can showcase your creativity, patience, and attention to detail
Coding or web design – Digital skills are really in-demand right now, and if you do web design or coding in your spare time, you could instantly boost your application and stand out from the crowd
Cooking or baking – No matter what you like to cook, if you love spending time in the kitchen, this can show recruiters that you can follow instructions (recipes), that you have good time management, and pay great attention to detail
Playing an instrument – Learning and practicing an instrument takes dedication, focus, and motivation, all qualities potential employers look for in a candidate.
Learning a language – Being a multi-lingual candidate can give you a competitive edge. Not only does it showcase transferable skills, but language skills are in high demand. Particularly if you can speak those languages that are popular in the US, such as Spanish or Chinese
Pretty much any one of these hobbies can help to show transferable skills such as communication, teamwork, attention to detail, creativity, and more. So think about these before writing your hobbies and interests section.
Which hobbies should you avoid?
There are some things that should be left off of your resume as they won't help your application. The following hobbies are unlikely to promote your success:
Socializing with friends
Eating out
Binge-watching Netflix series
Going to the cinema
Political or religious activities
Watching sports
Should you add your hobbies to your CV?
If we haven't made it clear yet, this is an optional section, and deciding whether to include hobbies and interests can be tricky. However, there are several key ways you can decide.
Firstly, this section tends to work best for candidates who lack experience and need to make up for this by demonstrating their skills and dedication in another way. So ask yourself, have you got much experience? And if not, can listing your hobbies make up for this?
You should also look at whether your hobbies are relevant to the role. For example, if you're applying for a job in marketing, skills like blogging, web design, and photography could come in handy.
Lastly, do you have the space to include this additional section on your resume? If you don't, then it's best to focus on perfecting the rest of your application and leave this section out.

Resume language
You could include all the right content on your resume, but if you don't use the right language as well, you might find that your applications keep getting ignored.
This is because the language you use on your resume needs to be creative, professional, descriptive, and, most importantly, persuasive.
Remember, if this is your elevator pitch, it needs to sell yourself and what you have to offer. You want the hiring manager to be scrambling for their cellphone, desperate to call you before you're snapped up by another company.
The best way to show off your communication skills and successfully sell yourself is to avoid boring, basic language or overused cliches.
By boring and basic language, we mean something plain and non-descriptive. For example:
"I worked for the head of marketing, taking on various writing tasks."
This is vague and uninspiring and doesn't help the recruiter to understand how you contribute to the business. Instead, you could say something more descriptive and impressive like:
"As part of the digital team, I supported the head of marketing in creating powerful and engaging content for the company's website and social media platforms."
You're essentially giving the same information, only you've made it more interesting and detailed, highlighting the role you played within the business.
And when listing responsibilities, even something as simple as 'edited old content' can be improved like this:
"Optimised old and outdated content across the company website and blog to make it more SEO-friendly."
These examples show how you can display a better style of writing, showcasing your communication skills and engaging the recruiter at the same time.
Resume language top tips
If writing doesn't come naturally to you or it's not something you've done much of recently, don't worry; there are some simple rules you can follow for success. Our top resume language tips are:
Make use of power verbs and adverbs to make your resume more descriptive, for example, analyzed, organized, executed, consolidated
Use facts and figures to illustrate your points and show you value
 Use keywords from the job description to guide the language you use
Avoid boring language and overused cliches
Proofread your resume several times before submitting it to an employer
Resume mistakes
Even the best resume writers can make mistakes, and no one expects you to be perfect! But understanding some of the most common pitfalls that job hunters fall into can reduce the likelihood of you making the same mistake.
Here are some of the most common resume errors you should try to avoid:
Not doing any (or enough) research
When we talked about tailoring your resume, we mentioned the importance of research. If you fail to do effective research beforehand, how do you know what the recruiters looking for?
The best way to create an effective application and tailor every resume you submit is to do thorough research beforehand and look out for the most in-demand skills and experience in your field. Then make sure your resume reflects this research.
Unprofessional email addresses
This is a professional document. Therefore every detail within must prove this. Something job seekers often overlook is their email address. These can be silly and embarrassing and, worst of all could cost you a job interview.
So be careful to always use a professional email address. If in doubt, simply sticking with your name will do. Avoid your old addresses from when you first began using email many years ago.
After all, something like gigglepops124@hotmail.co.uk is hardly likely to make recruiters take you seriously in your career.
Lying on your resume
You should never, under any circumstances, lie on your resume. Not only could this prove stressful if you're asked about your lie in an interview, but if you get caught, this could cost you the job.
It's always best to be open and honest. If you're worried about your lack of experience or qualifications, make other areas of your resume shine instead.
You should never lie to try and make up for this.
Spelling and grammatical errors
Finally, one of the worst things you can do is submit a resume with spelling and grammatical errors on it.
Not only does this look unprofessional, but it shows you lack attention to detail or that you didn't care enough to read it through.
If you're concerned about your spelling and grammar, have a friend or family member check it over to be safe.
Common resume questions
Throughout the resume-writing process, you might find that you have a few questions. And you aren't the only one.
To help you find some answers, we've pulled together a list of some of the most common resume questions that you might be faced with.
How long should your resume be?
One of the hardest things to determine is how long your resume should be. Should it be one page? Two? Three even?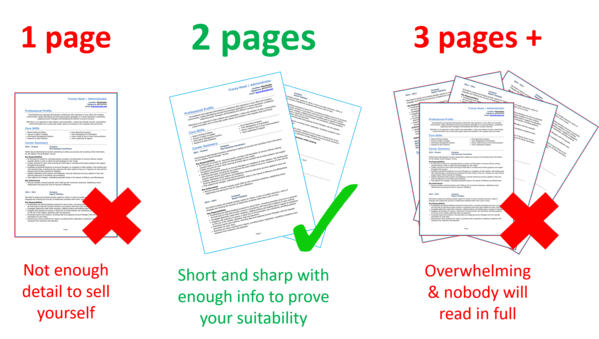 Well, this will very much depend on your level of experience, but there are some helpful ways you can decide.
In most cases a 1-2 page resume should be enough, but sometimes you can stray a little either side of this.
Remember, this is not a detailed account of every single thing you've ever done in your life and career. For most mid-level positions, you should include:
Your contact details
A short summary or objectives statement
2-3 work experiences
1-2 education entries
An optional key skills or hobbies section
However, those with more experience might struggle to stick to 1 page, and in those cases, 2 pages are acceptable, providing all the information is relevant and supports your application.
Academics may also rely on longer resumes, sometimes up to 3 pages. These are actually called CVs and contain a lot more information about research, papers, lectures, journals, etc. But again, these are specific to academics.
So, as you can see, though there is no one right answer, you should always try to remember that recruiters and hiring managers are often pushed for time – so keeping it under 2 pages will help them to read it in full.
Why is it called a resume?
The term resume derives from the french word résumé, which means 'to summarize'. No one quite knows who first used this term or when, though many have credited Leonardo da Vinci circa 1482. Others believe it was started by heads of guilds in the Middle Ages.
Who reads your resume?
You've spent time crafting a killer resume and sent it off into cyberspace, but you might be wondering who will actually read it. Well, there are normally a handful of people who might be reviewing your application:
Hiring managers – They work within a company and represent your potential boss or department. They are often the ones who request or post the job description in the first place
Recruiters – These are professionals whose job it is to find and recruit new hires for a company, or to work with individual candidates to find them a suitable role
HR professionals – Sometimes, the recruitment process gets left to the HR team. In these cases, it could be a HR professional that is reviewing your application


How can you write a good resume?
We've already shared lots of our top tips for writing a stand-out resume, but to summarize, the key to a good resume is to prove to potential employers that you are the perfect fit for the job.
In order to do this, you need to clearly present your information so it can be read and digested quickly. This includes content such as your key work experience, skills, and education.
Using this comprehensive guide, you should be able to achieve this. Just be sure to always keep your audience in mind and use engaging, persuasive language that will grab their attention and reel them in.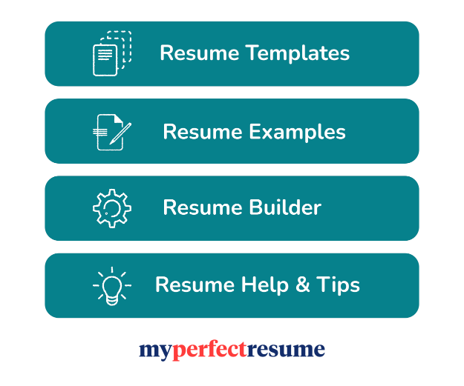 What skills should you put in a resume?
Not sure which skills to include on your resume and which to omit?
Of course, this will depend on your experience and skill set, but there are two key categories these fall into:
Hard skills – These are the skills that are specific to your industry or are measurable, for example, technical, computer, or analytical skills
Soft skills – These are the personal skills that can be transferred between jobs, such as communication, problem-solving, creativity, and interpersonal skills
Resume Vs CV?
Have you ever wondered what the difference is between a resume and a CV?
Well, they are essentially the same thing; only the term resume is used widely in the US, Australia, New Zealand, and a few other nations. In contrast, CV is widely used in the UK and Europe.
The term CV can also be used to describe a longer academic resume in the USA.
Do I need a cover letter?
If a job advert doesn't specifically ask for a cover letter, it can be tricky to know whether you should still send one or not.
The short answer is, yes, you should! And here is why:
A cover letter shows you've made the extra effort
It gives you a chance to expand on your resume
It can set you apart from other candidates
It can help you to build rapport with recruiters and encourage them to read your resume
If you're applying through a job board, you could attach your cover letter as a Word document. However, in most cases, it is best to include this in the body of your email, and it only needs to be a few sentences long.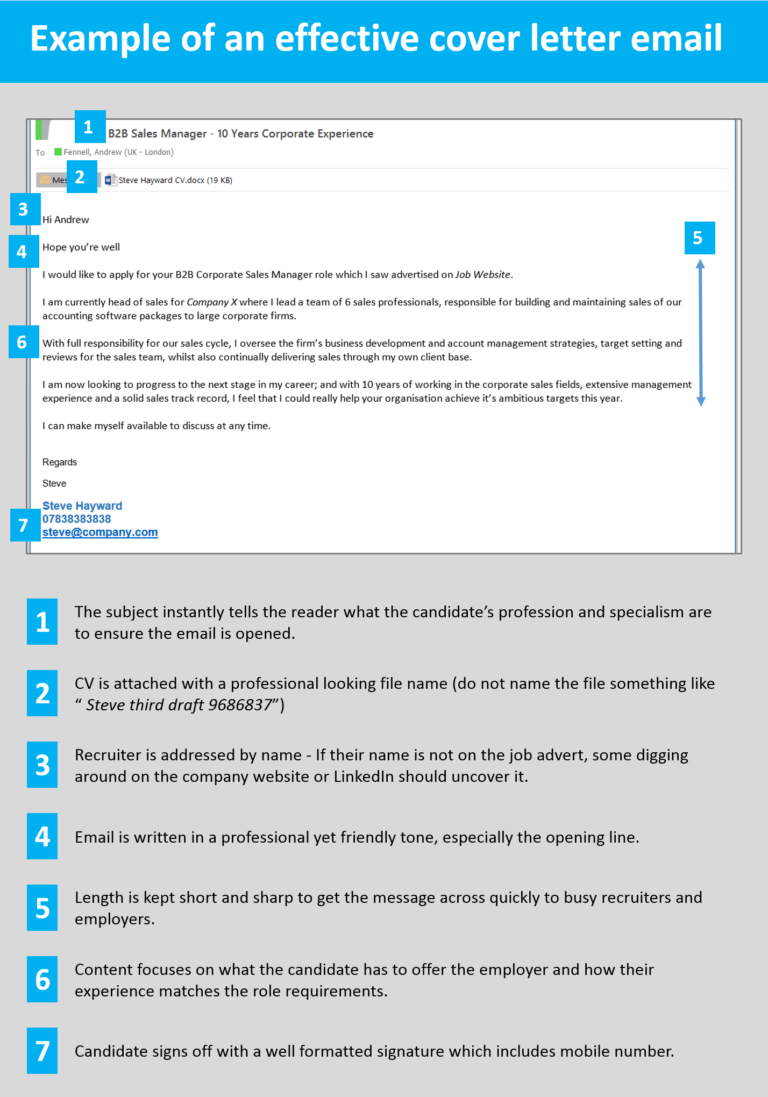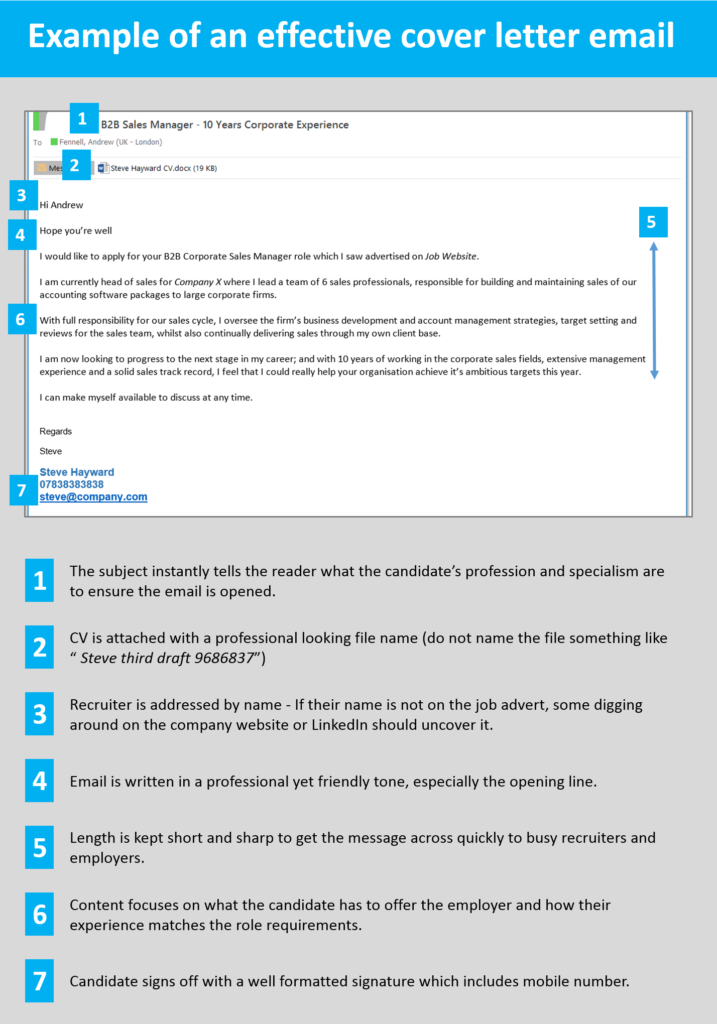 Resume examples
When writing your resume, it can be really helpful to look at some real-life examples for inspiration.
So, we've put together some of the most common, basic resume examples to help get you started.
A resume with no experience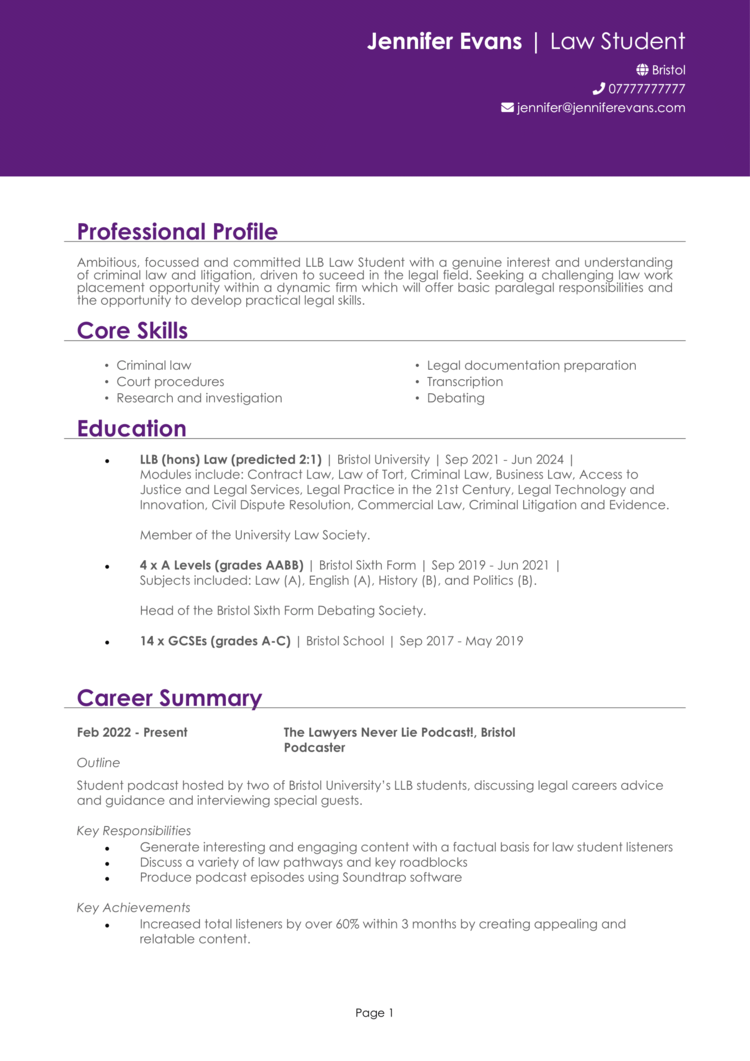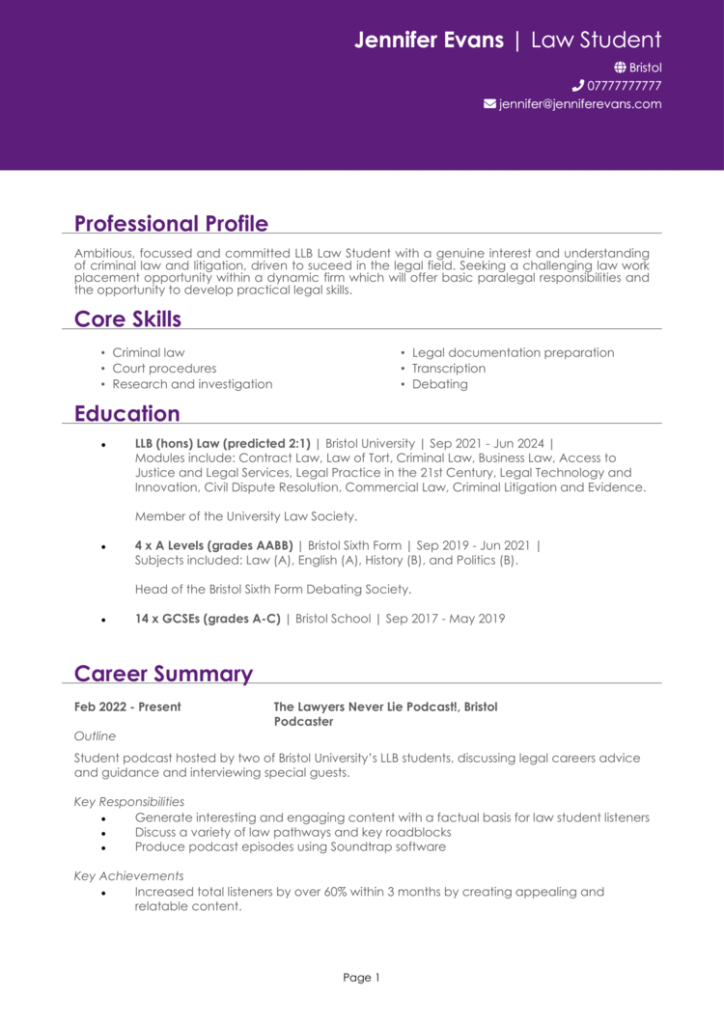 Writing a resume when you don't have a lot of experience to shout about can be a daunting prospect.
Here is an example of a candidate just starting out in their career perfectly demonstrating that a lack of experience doesn't mean you can't create an impressive resume:
The resume has a crisp, clear format and structure that makes it easy for hiring managers or recruiters to read
They have used lots of bullet points to make the information much more organized and accessible
The resume summary more than makes up for their lack of experience by showing their potential This is done through what they've achieved during their time in education and activities outside of their studies
They have carefully demonstrated the transferable skills they could bring to the role
A student resume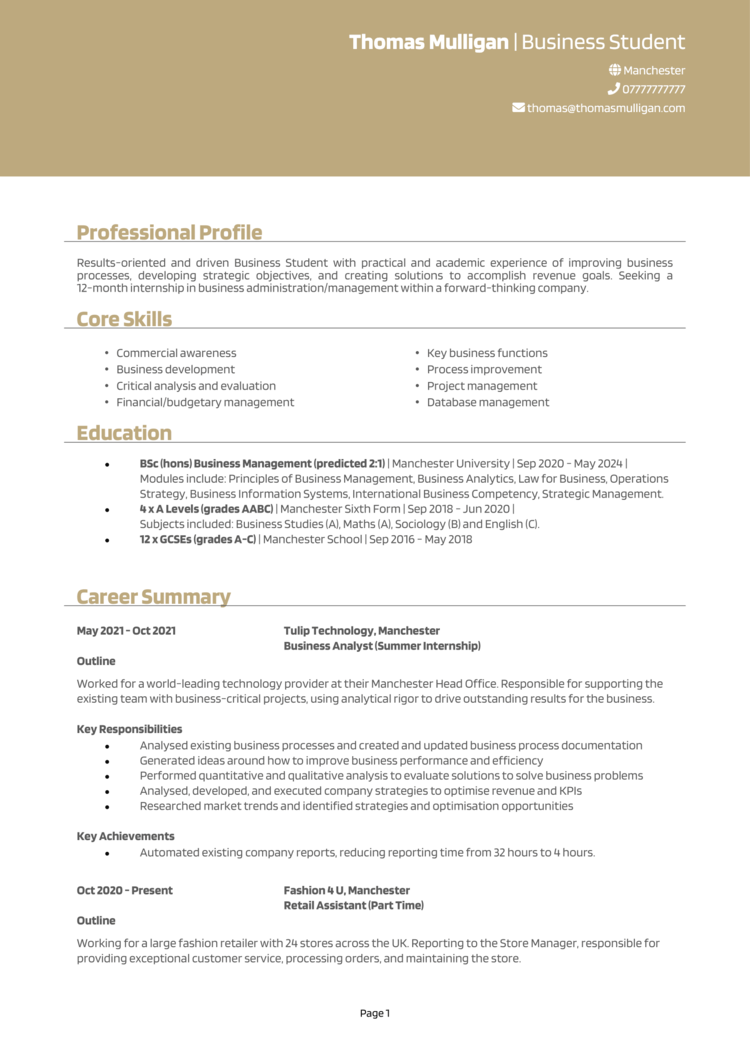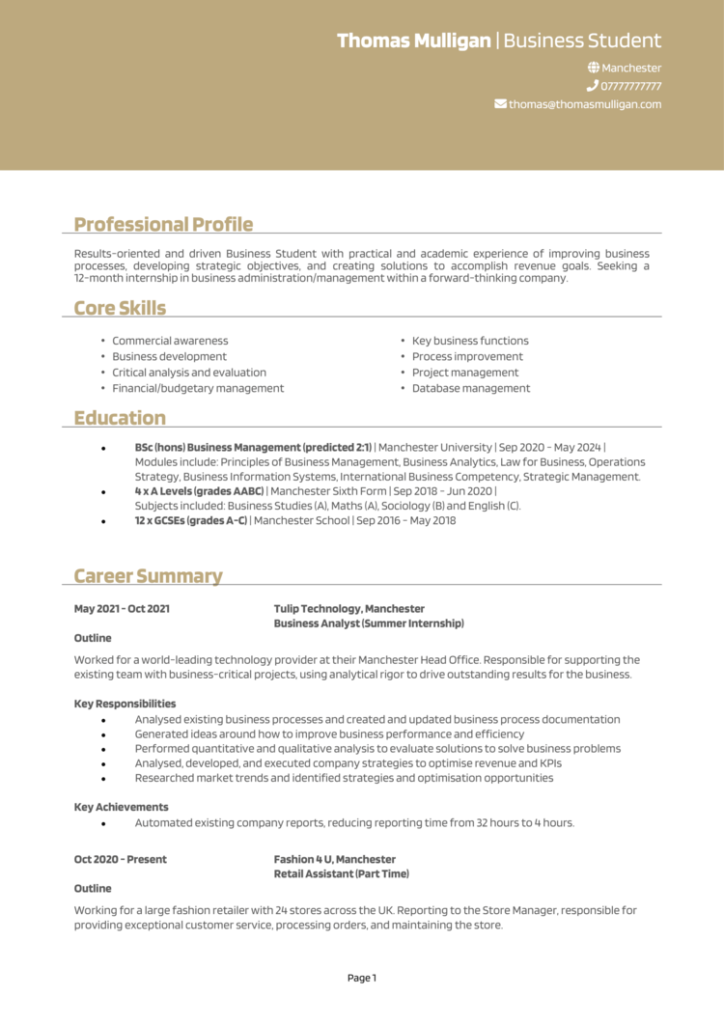 Whether you're in high school, college, or you're a recent college graduate, you need to prove how your education and your work experience have prepared you for the working world. As you can see from this example:
The student resume summary does an excellent job of highlighting educational achievements
They have also given examples of the transferable skills they gained during their part-time work experience, including those skills that are most in-demand
Though their experience may be limited, they have used engaging and persuasive language to sell this and impress the recruiter
An experienced resume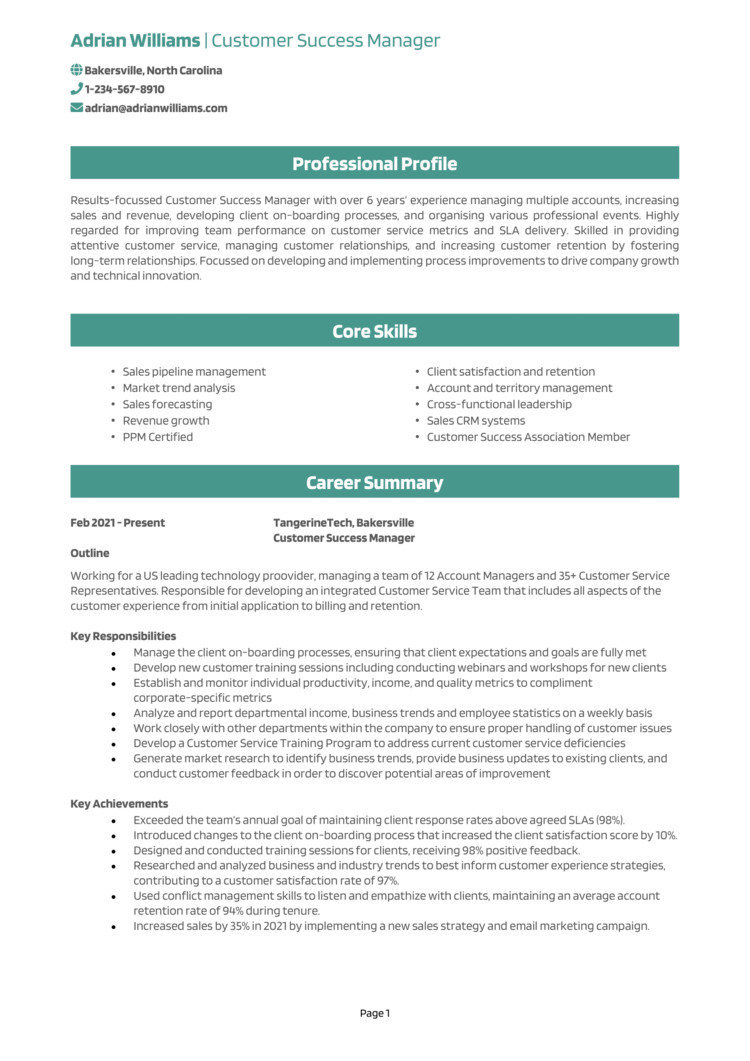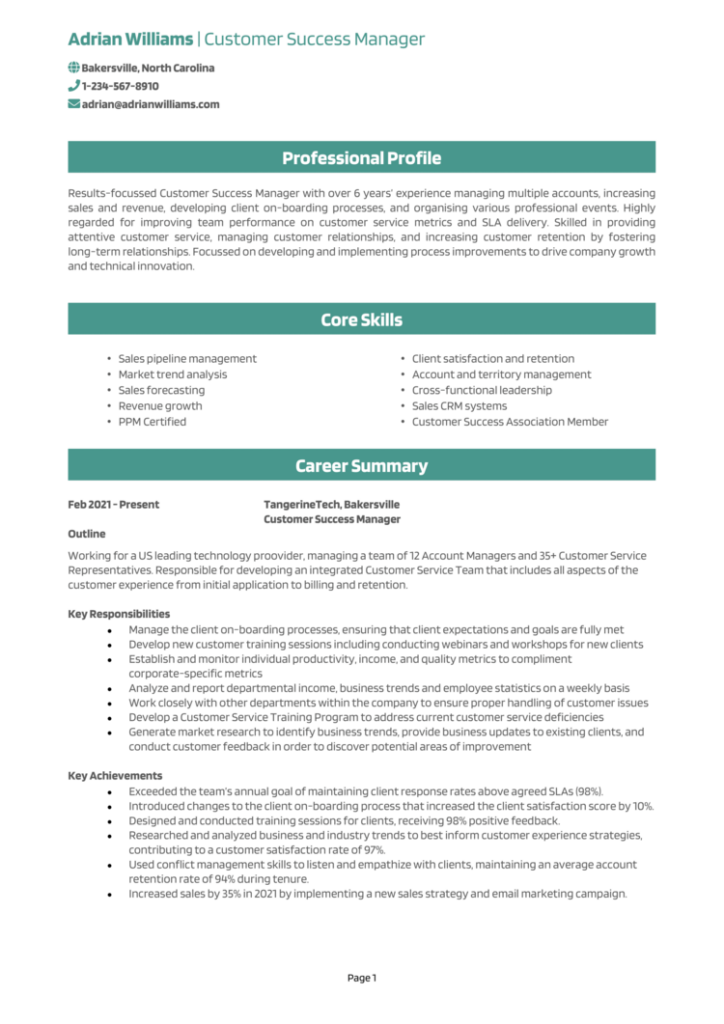 If you are an experienced candidate, you want your work experience to be the star of the show. This is your chance to prove to potential employers how you can add real value to their business. As they have done in this example:
The resume summary gives a well-rounded introduction to the candidate's background, highlighting their top skills, experience, and qualifications
They have used keywords throughout to ensure they are ticking the right boxes and meeting the employer's requirements
They have structured their work experience section effectively to give more details about their experience and key achievements in past roles
The final checks
We understand there is a lot to take in, but once you've processed all of this and created your resume, you don't want to fall at the final hurdle.
So before you hit send on that application, you need to do some final checks.
Nothing will make your resume end up on the rejection pile quicker than spelling errors or typos. So, as we said before, proofreading and checking over your resume is crucial.
Be sure to have someone else look over your resume too, and make the most of free tools before you send it off.
You might find that having someone else read your resume will give you a different perspective. They could also notice mistakes you made or suggest better ways to phrase certain points.
At this stage, you should also check that your resume isn't too long. If you've added a section at the end for references, you can remove this. If employers want to get in touch with your references, they'll ask you for this information at a later stage.
Don't forget to name your resume file professionally to maintain a strong first impression when it is first seen.
And that is it! Once you've given your resume a final check (and check again), you are ready to start applying. Just remember to tailor your resume for every role and to create an accompanying cover letter each time.
And just because you've started applying to jobs, it doesn't mean it's too late to change your existing resume. You can go back as many times as you like to tweak or fix it.
This can be particularly important if you receive feedback from a recruiter, perhaps pointing out some areas of your resume that could be improved.
Even the smallest changes are worth making if they can help you to secure an interview.
We hope that this guide can help you in creating a competitive and engaging resume that will land you some quality job interviews.
Happy job hunting!