As a grocery store manager, it's not just about overseeing checkout staff. You also have to juggle training, health and safety, collaborating with vendors, customer complaints, and more!
This requires a strong skill set. It also means you have to effectively prove these skills to the hiring manager if you hope to secure an interview.
We can help you to do this with our step-by-step resume writing guide. You should also check out our grocery store manager resume example below for inspiration.
Contents
| | |
| --- | --- |
| How to write a Grocery Store Manager resume | |

Grocery Store Manager Resume Example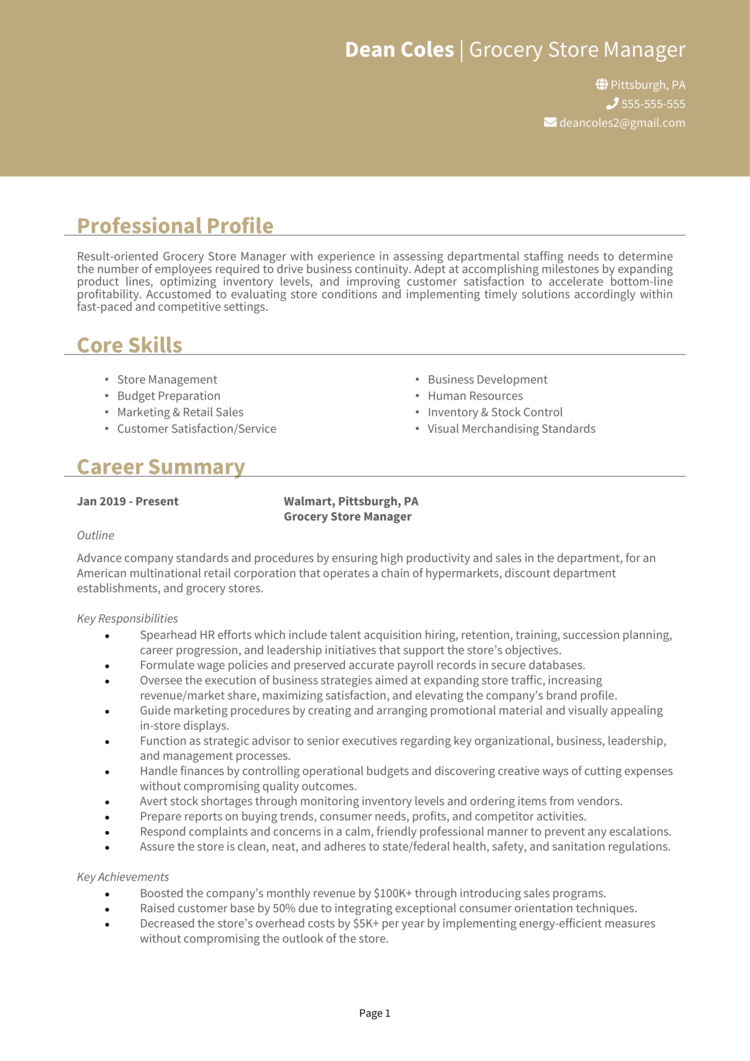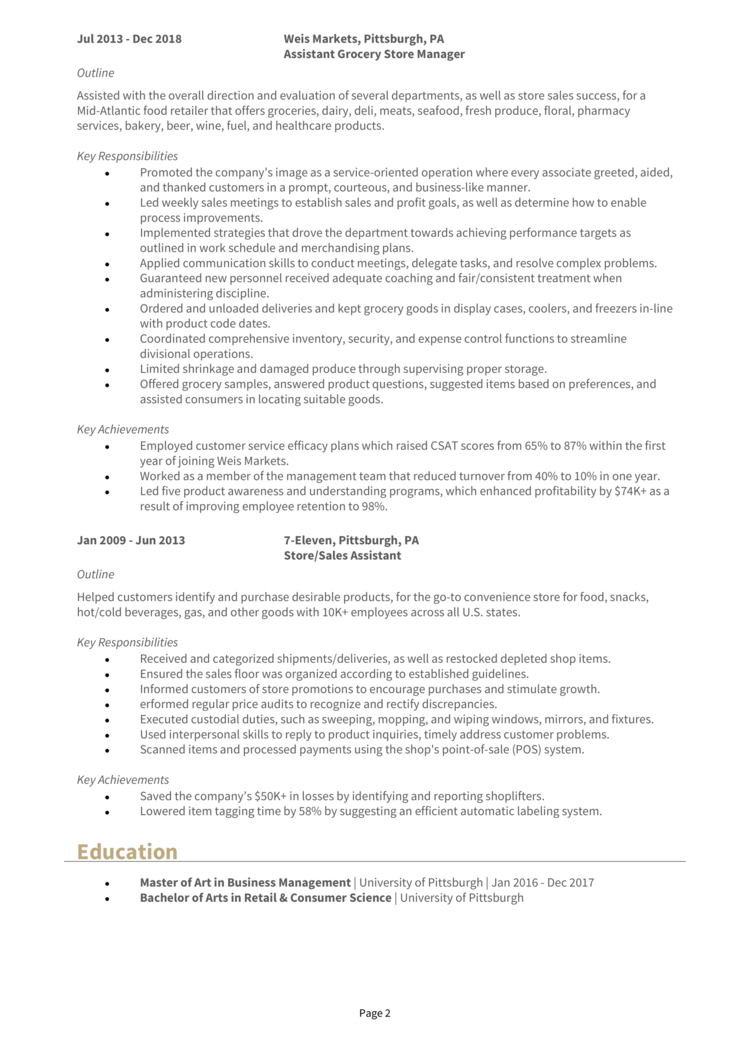 The example Grocery Store Manager resume above shows you how a professional resume should look, along with the type of content it should contain.
You can see that the information is well-organized across the page and its easy for busy recruiters to see the candidate's important skills.
Keep this in mind when writing your own resume.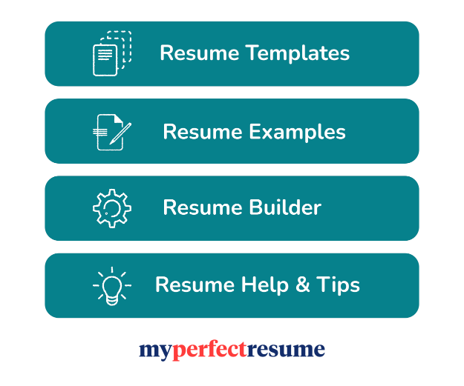 Grocery Store Manager resume layout and formatting
Formatting is often overlooked when writing resume, but it's a crucial element of it"s success.
Creating a document that not only looks good, but is easily comprehended, is the key to gaining and holding the attention of busy hiring managers.
Use these formatting tips for best results.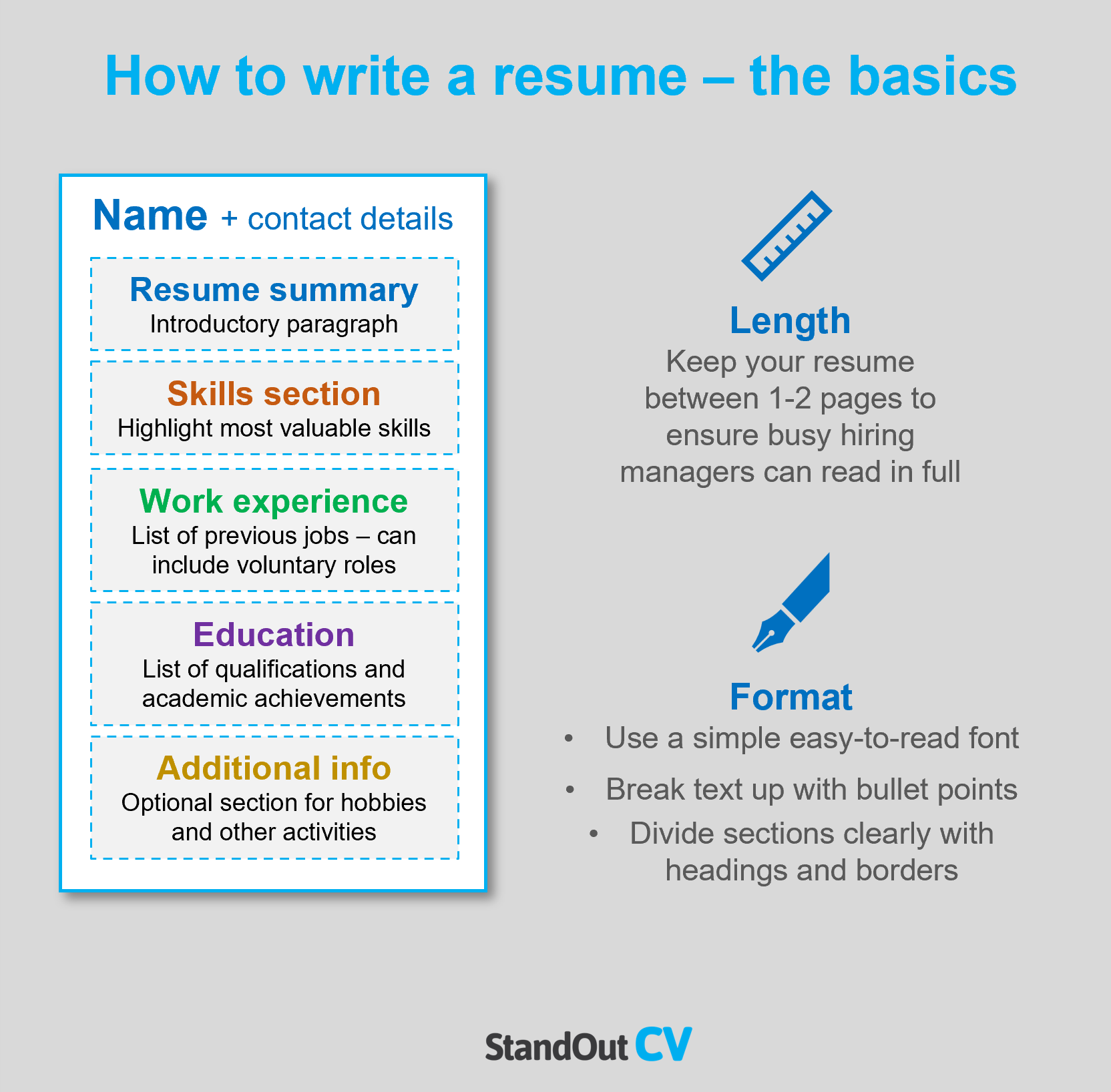 Formatting your resume
Length: Recruiters often see hundreds of resumes per day – so keep yours under 2 pages in length, if you want to ensure it gets read in full.
Font & readability: Simplicity and a pleasant reading experience are crucial if you want to highlight your most valuable skills to recruiters. Use a clear font (avoid fancy ones) and break up the text in your resume with bullet points to ensure information can be easily consumed.
Layout & Structure: When it comes to designing your resume, it's essential to make it visually appealing, but it's equally important not to overlook functionality. To achieve this, you should organize the page into clear sections using bold headings and borders.
Photos: Although it is not compulsory to include a photo in your resume in the USA, it can be advantageous if you are applying to companies in creative industries.
Quick tip: Achieving a professional look for your resume can be difficult and time-consuming. If you want to create an attractive resume quickly, try our partner's Resume Builder and use one of their eye-catching resume templates.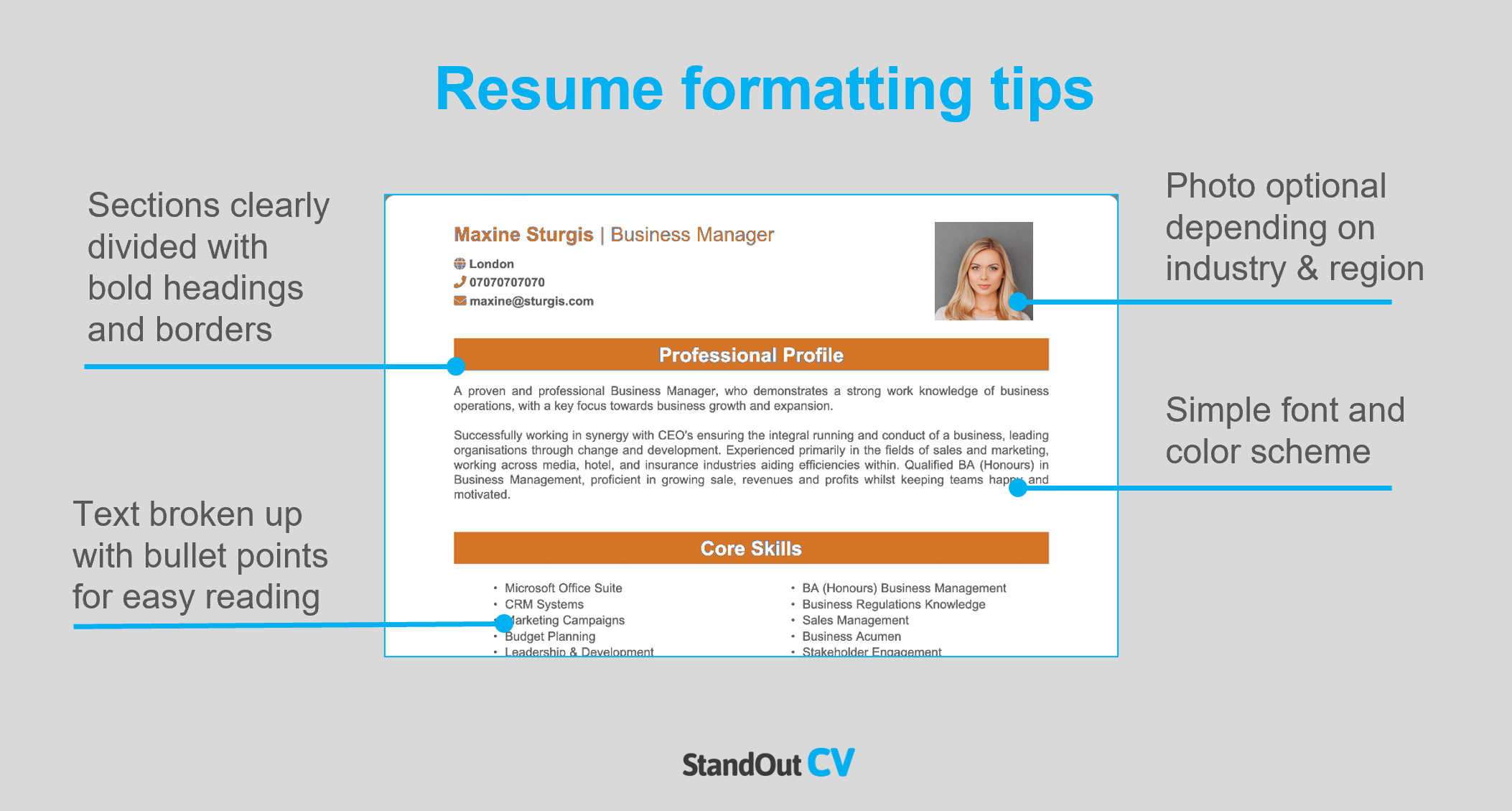 Resume layout
Here's an overview of the sections you should add when writing your resume.
Name and contact details – Stick these details at the top, so they are easy to find.
Resume summary – A punchy paragraph summarizing your skills and knowledge, enticing recruiters to read more of your resume.
Skills section – Short list of your most valuable skills, enabling recruiters to quickly spot your suitability.
Work experience – Showcase your previous employment, starting with your most recent roe and working backwards – voluntary work and college placements can be included if you have no paid experience.
Education – A summary of your most relevant qualifications and academic achievements
Additional info – An optional section for that other attributes that may boost your application, such as hobbies or clubs
Here's what to include in each part of your resume.
Contact Details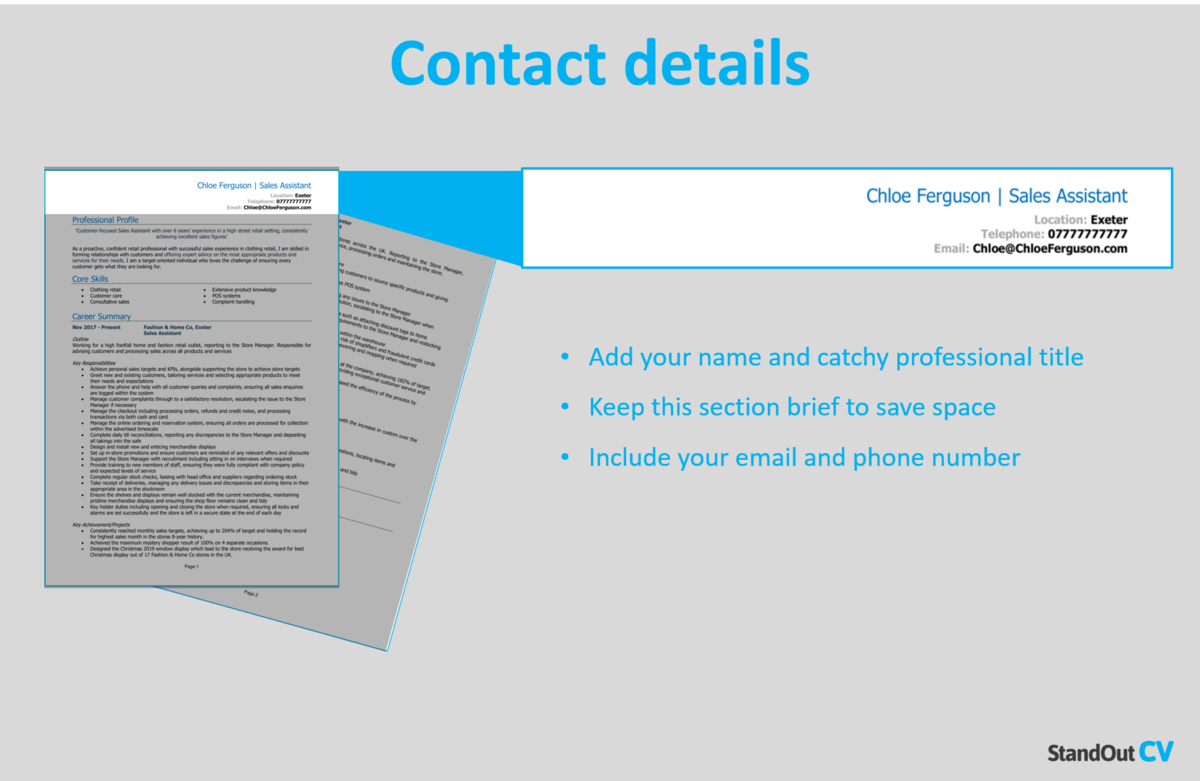 Keep your contact details short to save resume space and include the following.
Name and profession title
Cell phone number
Location – Add your local area such as Silicon Valley or New York, unless you are looking for work in a different location
Email address – Keep it professional and don't use an old address that you thought was cool in high school, but now looks a bit embarrassing.
You can add a link to your LinkedIn profile if you have one – you do not need to include personal details like date of birth or marital status.
Grocery Store Manager Resume Summary
Your resume summary is like your introduction to the recruiter or hiring manager – it should grab their attention and leave them eager to read more about you.
Achieve this by writing a snappy overview of your skills, knowledge and what value you can bring to an employer.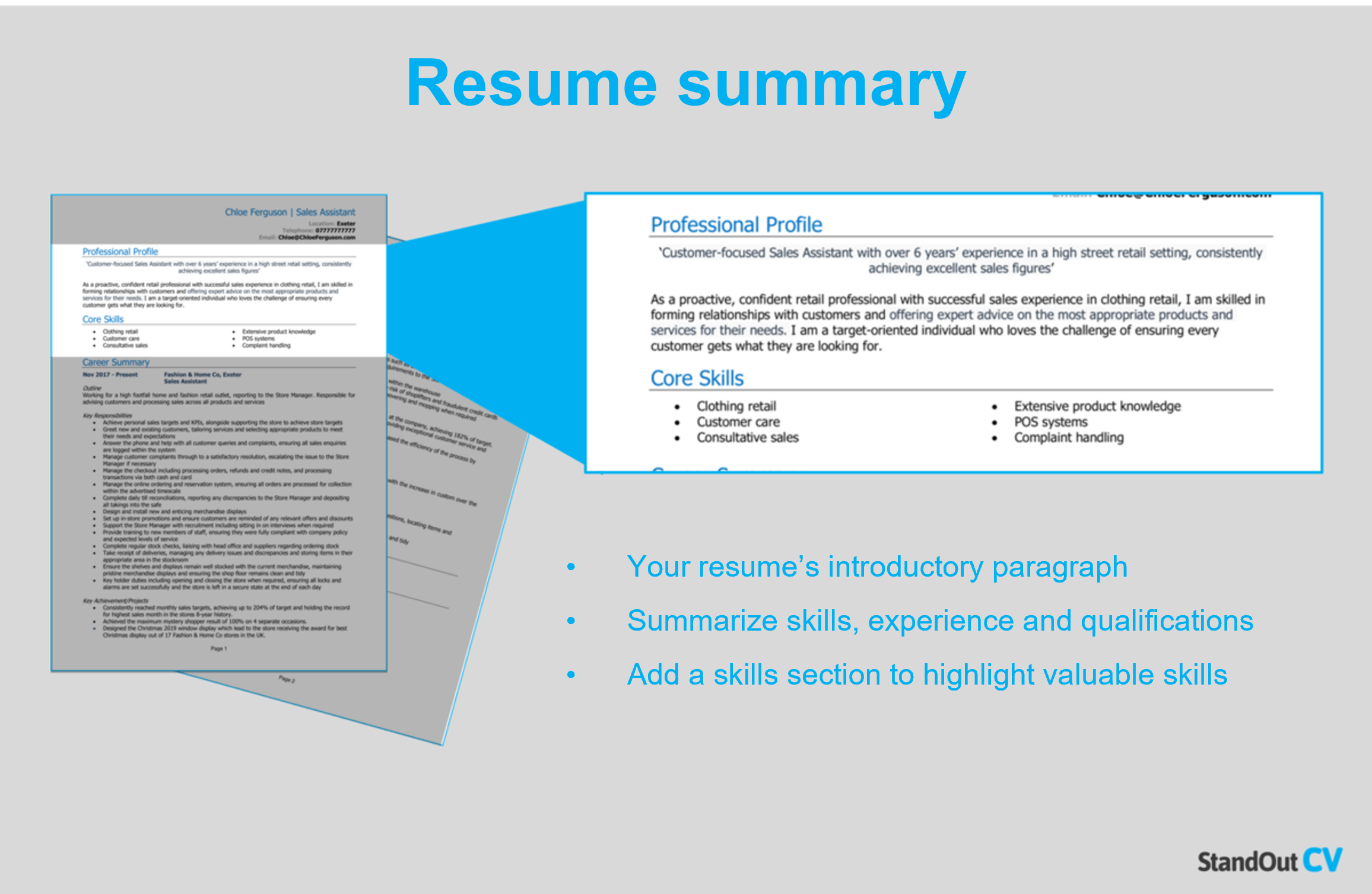 How to create a resume summary that will excite recruiters:
Keep it short: Your summary is intended to be a high-level introduction to hook readers' attention, so keep it brief (4-7 lines) – save the details for later in your resume.
Tailor to target jobs: To make your resume more relevant to your target jobs, analyze the job description and include as many matching skills as possible.
Avoid using cliches: You may be a "team player who always give 110%" but generic phrases don't tell employers much about you in reality – stick to factual information.
Grocery Store Manager resume summary example
Result-oriented Grocery Store Manager with experience in assessing departmental staffing needs to determine the number of employees required to drive business continuity. Adept at accomplishing milestones by expanding product lines, optimizing inventory levels, and improving customer satisfaction to accelerate bottom-line profitability. Accustomed to evaluating store conditions and implementing timely solutions accordingly within fast-paced and competitive settings.
What to include in your Grocery Store Manager resume summary?
Summary of your experience: What kind of companies have you worked for in the past? And which jobs have you carried out?
Relevant skills: Incorporate your highly relevant skills for Grocery Store Manager jobs to exhibit your suitability as soon as your resume is opened.
Qualifications: To make a strong impression on potential employers when applying for Grocery Store Manager jobs, be sure to mention any relevant qualifications in your summary.
Quick tip: Choose from hundreds of pre-written summaries across all industries, and add one to your resume with one-click in our partner's Resume Builder. All written by recruitment experts and easily tailored to suit your unique skillset and style.
Core skills section
Sitting just underneath your resume summary, your core skills section gives recruiters 4-10 of your most in-demand skills in just a glance.
As Grocery Store Manager jobs may get hundreds of applications, this is a great way to stand out and quickly grab hiring managers' attention.
It should be made up of 2-3 columns of bullet points and highlight attributes that are hyper-relevant to the jobs you are aiming for.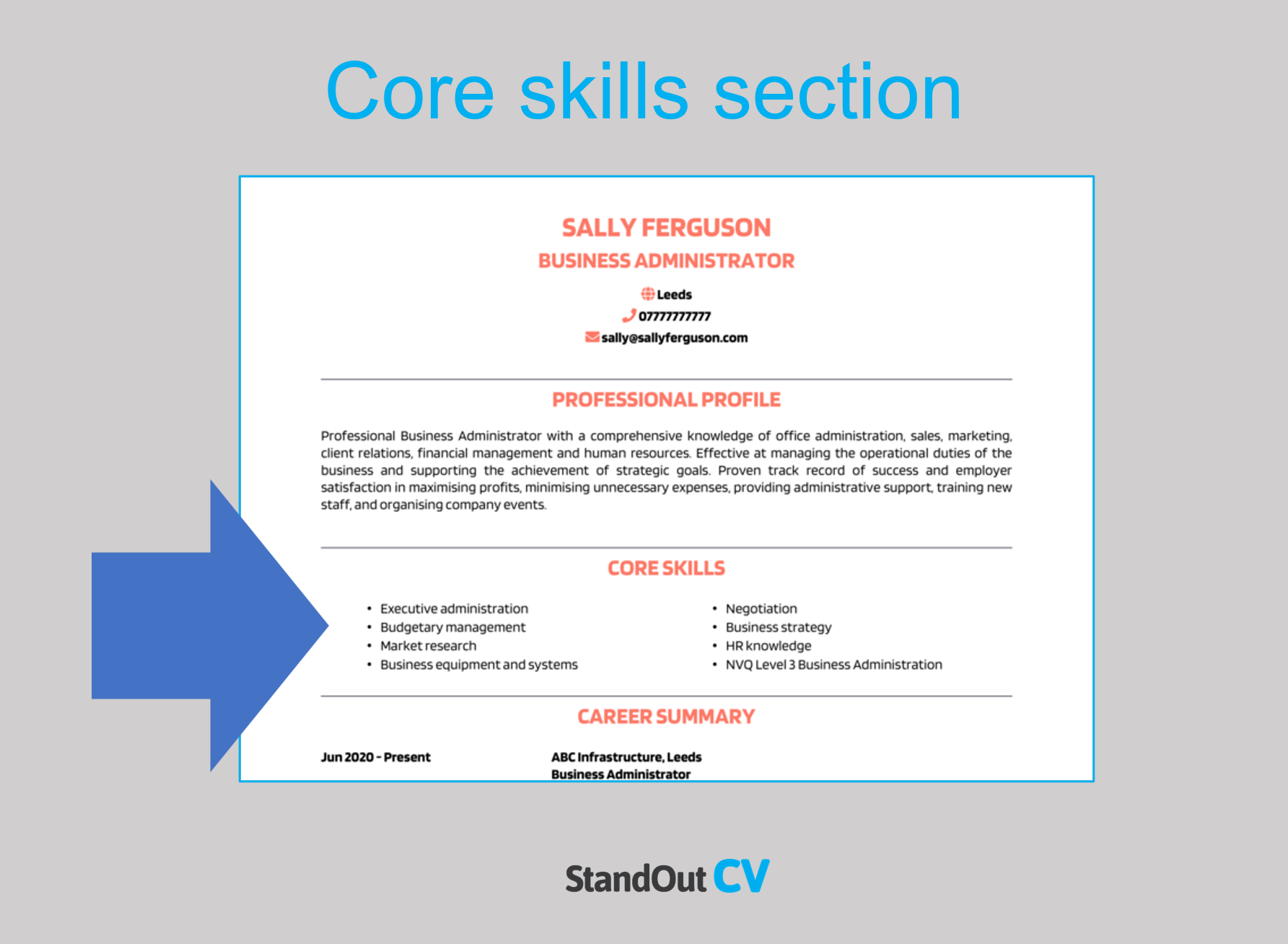 Best skills for your Grocery Store Manager resume
Inventory management – Managing inventory levels, including ordering and receiving products, to ensure that the store has adequate stock to meet customer demand.
Customer service – Utilizing strong customer service skills to interact effectively with customers, including addressing concerns and providing assistance, to ensure customer satisfaction and loyalty.
Financial management – Utilizing knowledge of financial management principles, including budgeting and accounting, to manage store expenses and ensure profitability.
Staff management – Managing store staff, including scheduling, training, and performance management, to ensure that staff are productive and providing quality service.
Sales analysis – Utilizing knowledge of sales analysis principles, including tracking sales trends and analyzing sales data, to identify opportunities for increasing revenue.
Merchandising – Utilizing knowledge of merchandising principles and techniques, including product placement and display, to create visually appealing and effective store layouts.
Regulatory compliance – Utilizing knowledge of regulatory compliance requirements, including food safety regulations and labor laws, to ensure that the store is compliant with all applicable laws and regulations.
Marketing and advertising – Utilizing knowledge of marketing and advertising principles, including developing and executing marketing campaigns, to attract and retain customers.
Quick tip: Our partner's Resume Builder contains thousands of in-demand skills for every profession that can be added to your resume in seconds – saving you time and greatly improving your chances of landing job interviews and getting hired.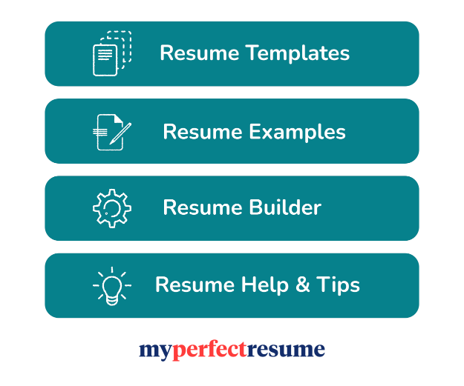 Work experience
Once you've hooked the hiring manager with your summary, you can really blow them away with you work experience.
List your previous jobs from newest to oldest to show the impact you made at each organization.
If you have years of experience, you can leave out some of the older jobs, and if you have little/no experience, you can bulk this section up with voluntary work and college placements.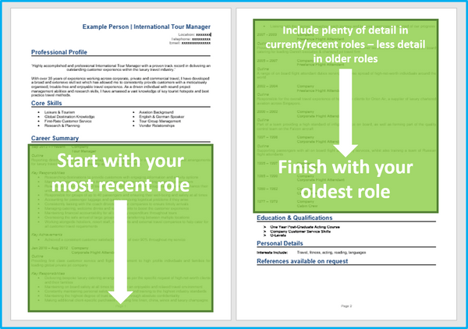 Structuring your jobs
Without a good structure, your job description can look messy and overwhelming to anyone reading them.
Make it easy for recruiters to read your work experience by structuring your roles like this.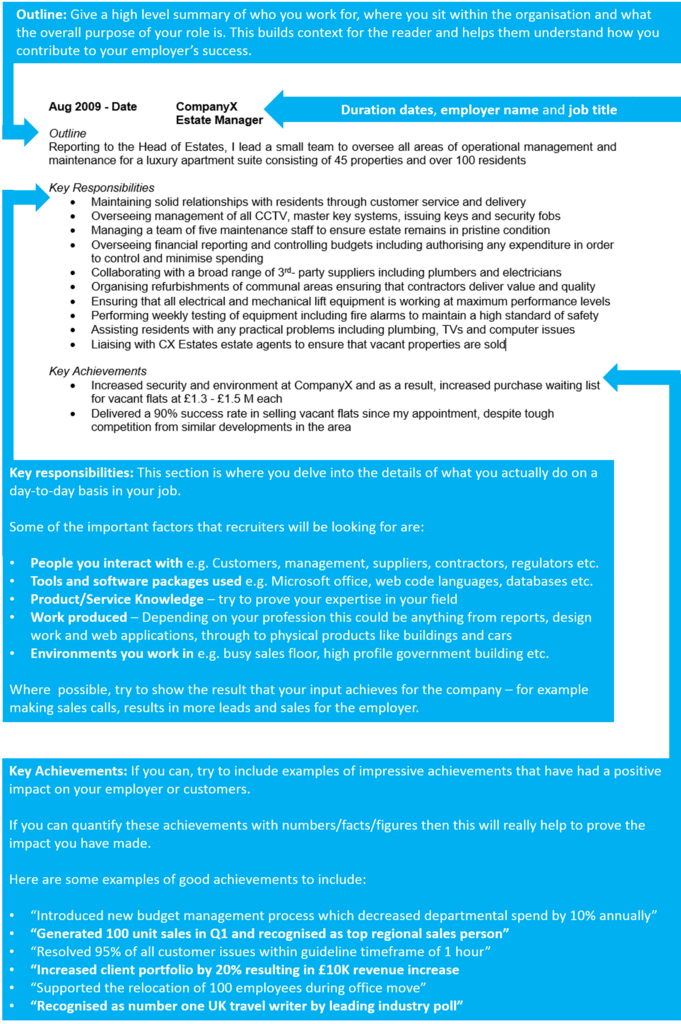 Job outline
Each role description should begin with a qucik summary of the job and company, along with how the job fits into the strucuture of the organization.
Key responsibilities
List your notable responsibilities in short sharp bullet points to demonstrate your input and how you contributed to the organization's success.
Highlight the skills that are most important to the roles you are applying for.
Key achievements
Finish each role by highlighting some impressive achievements you made whilst in the role.
Anything that benefited the employer can be included from making financial savings, to winning new customers.
Quantify your achievements with facts and figures if you can, e.g. "reduced call wait time by 10%"
Example job for Grocery Store Manager resume
Outline
Advance company standards and procedures by ensuring high productivity and sales in the department, for an American multinational retail corporation that operates a chain of hypermarkets, discount department establishments, and grocery stores.
Key Responsibilities
Spearhead HR efforts which include talent acquisition hiring, retention, training, succession planning, career progression, and leadership initiatives that support the store's objectives.
Formulate wage policies and preserve accurate payroll records in secure databases.
Oversee the execution of business strategies aimed at expanding store traffic, increasing revenue/market share, maximizing satisfaction, and elevating the company's brand profile.
Guide marketing procedures by creating and arranging promotional material and visually appealing in-store displays.
Quick tip: Create impressive job descriptions easily in our partner's Resume Builder by adding pre-written job phrases for every industry and career stage.

Education section
Towards the bottom of your resume, add your education section.
Here you should list your professional qualifications and academic record, such as high school diplomas or college degrees.
If you have lots of work experience, you can keep this section brief (because recruiters will be more interested in your career. If you have little/no experience then you should bulk this section up with plenty of detail.
Additional information
At the end of your resume, you can add any extra information that might be relevant to the jobs you are applying for.
This could be hobbies, interests, publications, clubs or memberships.
This section is optional and doesn't need to be added if you have nothing more relevant to add.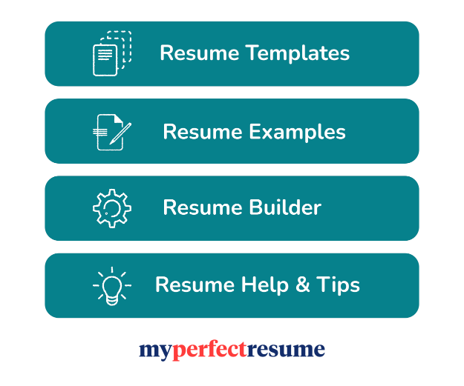 Writing your own winning Grocery Store Manager resume
Crafting a strong Grocery Store Manager resume can be a daunting task, but implementing the steps outlined above will significantly increase your chances of securing multiple interview opportunities.
Good luck with your job search!