Are you looking for your next role in a venture capital firm? Then you need to prove you've got the financial skills and savvy to make the right decisions.
To do this, your resume must showcase your qualifications, experience, and top achievements.
You can find out how to impress the recruiter with facts and figures, as well as other top advice, in our resume writing guide below. And be sure to make use of our venture capital resume example too.
Guide contents
| | |
| --- | --- |
| How to write a Venture Capital resume | |

Venture Capital Resume Example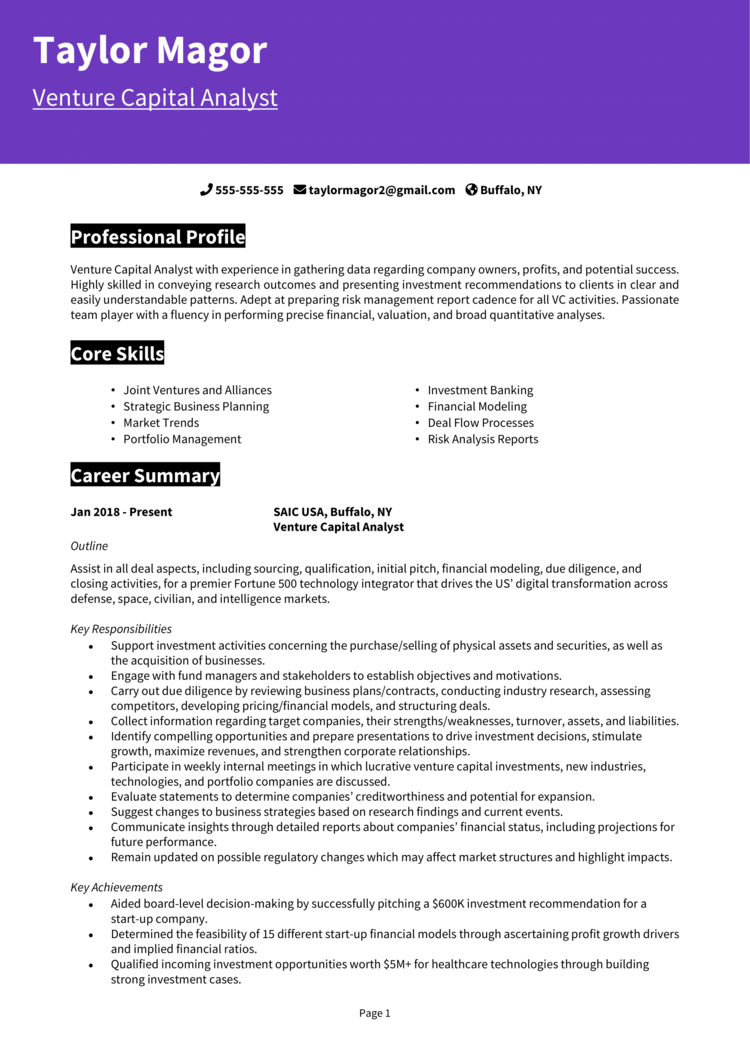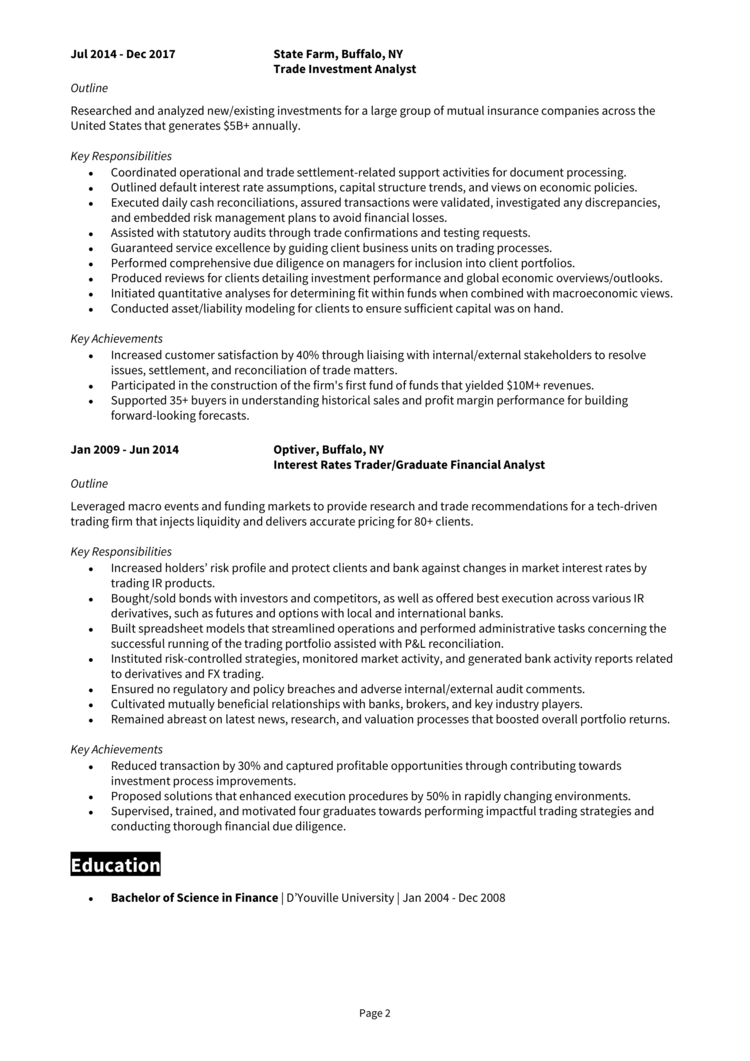 The example Venture Capital Analyst resume above shows you how a professional resume should look, along with the type of content it should contain.
You can see that the information is well-organized across the page, and its easy for busy recruiters to see the candidate's important skills.
Keep this in mind when writing your own resume.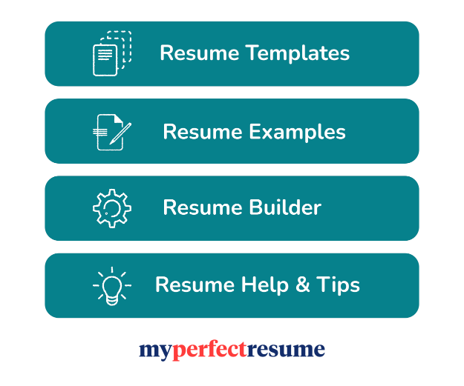 Venture Capital resume layout and formatting
The format and layout of your resume can make or break its success.
Sure, it's great to pack your resume with lots of impressive skills and knowledge, but if the page is not structured clearly, hiring managers will struggle to find the important stuff!
Above all, your resume should be easy-to-read and professional looking.
Follow these formatting tips to get noticed.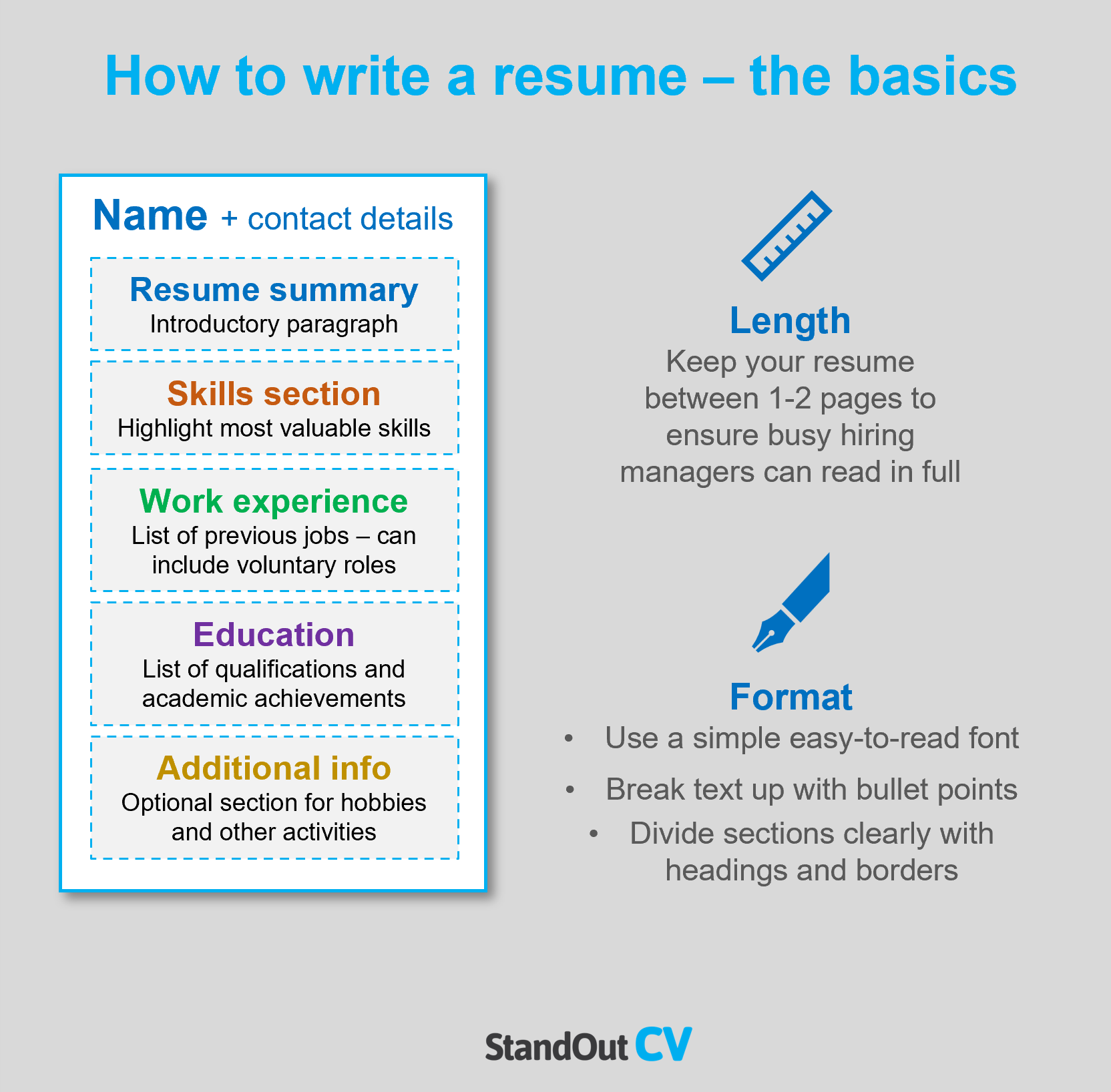 How to format your resume
Length: Keep your resume to 2 pages or under. You've probably heard that recruiters and hiring managers don't have lots of time to read every resume, so keep yours brief if you want to ensure that they read all of the important info in yours.
Font & text: Simplicity and a pleasant reading experience are crucial if you want to highlight your most valuable skills to recruiters. Use a clear font (avoid fancy ones) and break up the text in your resume with bullet points to ensure information can be easily consumed.
Design & layout: Go with a resume design that looks good, but also allows for easy reading and navigation for employers. Ensure the page is clearly split up into sections by adding large font headings and dividing borders. Keep the color scheme simple and don't overcrowd the page.
Photos: In the USA adding a photo to your resume is optional – you don't have to do it, but it can be a nice way to get your personality across.
Quick tip: Achieving a professional look for your resume can be difficult and time-consuming. If you want to create an attractive resume quickly, try our partner's Resume Builder and use one of their eye-catching resume templates.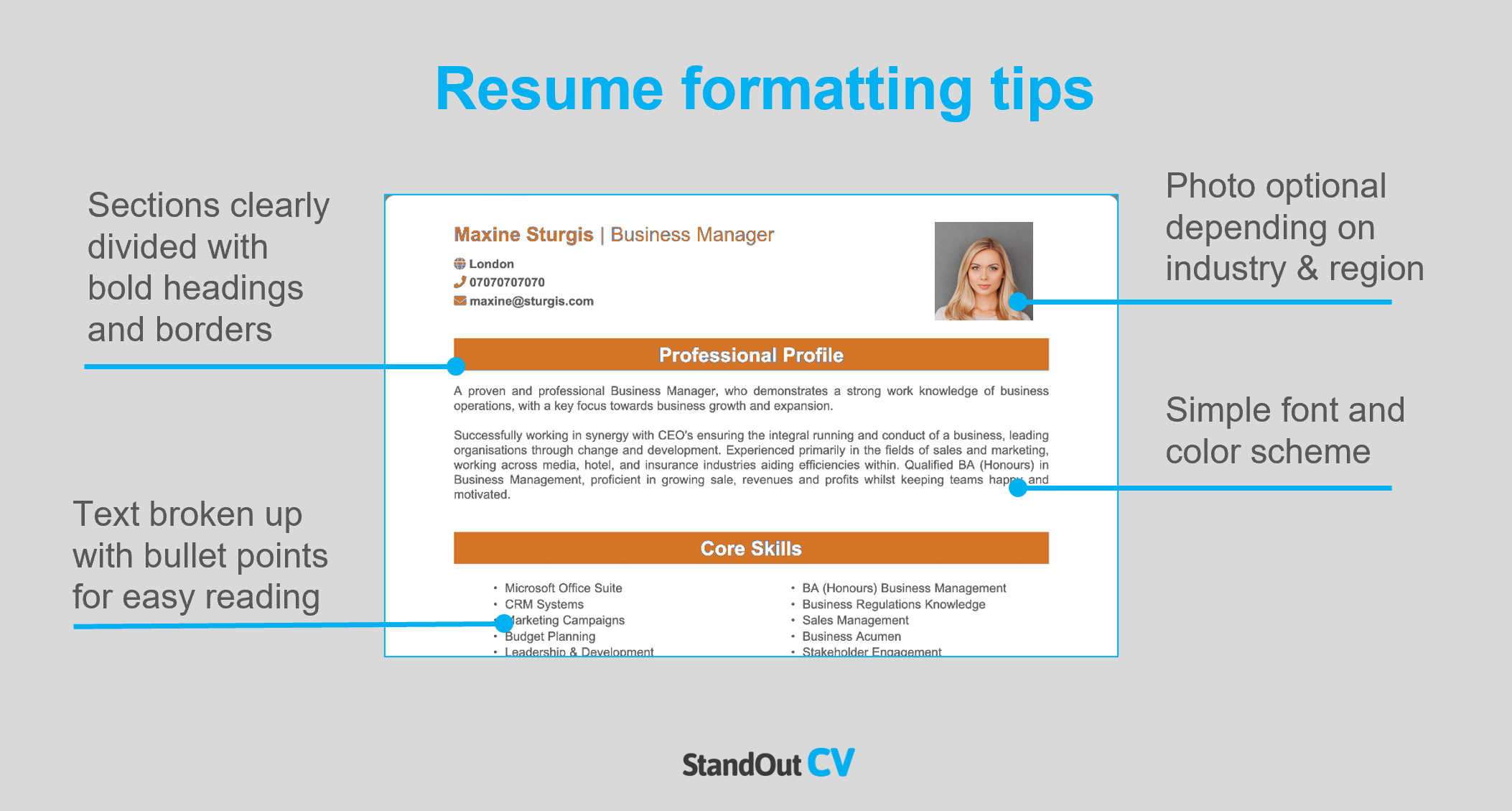 Resume layout
Include the following sections when you write your resume.
Name and contact details – Make it easy for employers to contact you, by putting these at the top.
Resume summary – An intro paragraph sitting at the top of your resume, summarizing the reasons why you should be hired.
Skills section – A short snappy list of your most important skills, that can be quickly digested
Work experience – Reverse chronological list of your previous jobs – voluntary work and college placements can be included if you have no paid experience.
Education – List your qualifications and professional training.
Additional info – An optional section for things like hobbies and interests.
Here's what you should include in each section of your resume.
Resume Contact Details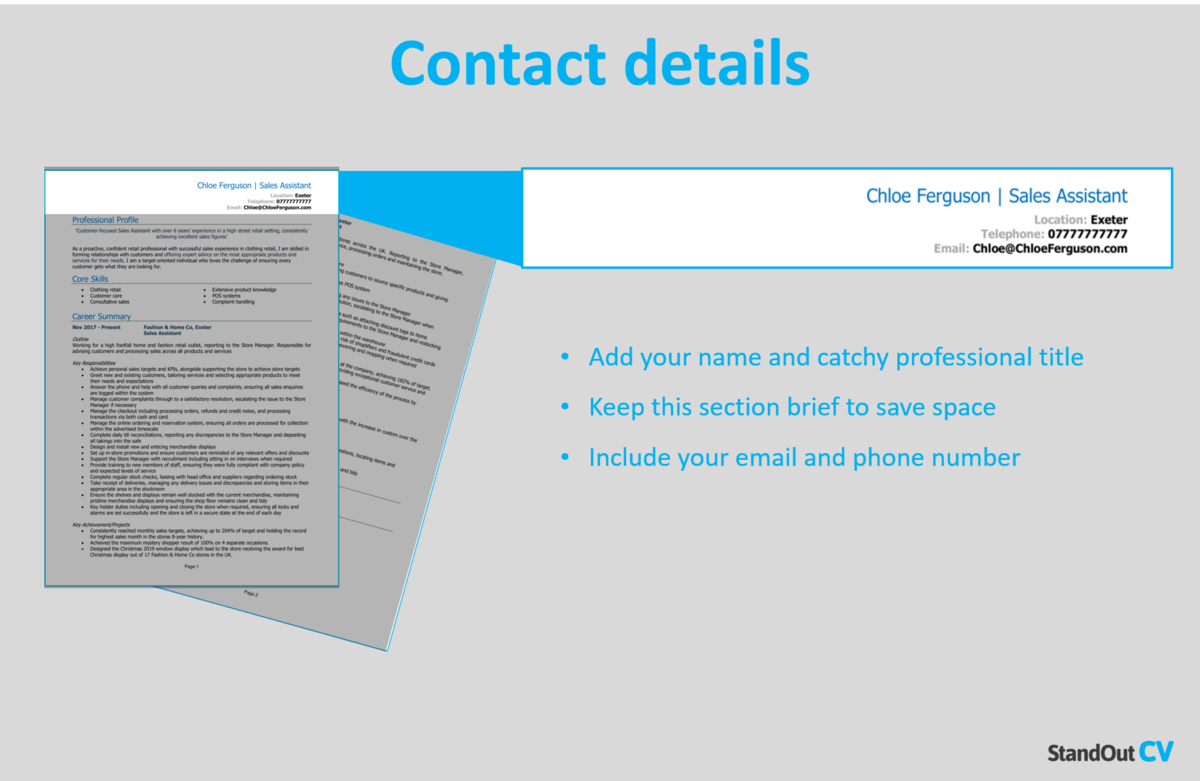 Keep your contact details short to save resume space and include the following.
Name and profession title
Cell phone number
Location – Add your local area such as Silicon Valley or New York, unless you are looking for work in a different location
Email address – Keep it professional and don't use an old address that you thought was cool in high school, but now looks a bit embarrassing.
You can add a link to your LinkedIn profile if you have one – you do not need to include personal details like date of birth or marital status.
Venture Capital Resume Summary
Your resume summary is like your introduction to the recruiter or hiring manager – it should grab their attention and leave them eager to read more about you.
Achieve this by writing a snappy overview of your skills, knowledge and what value you can bring to an employer.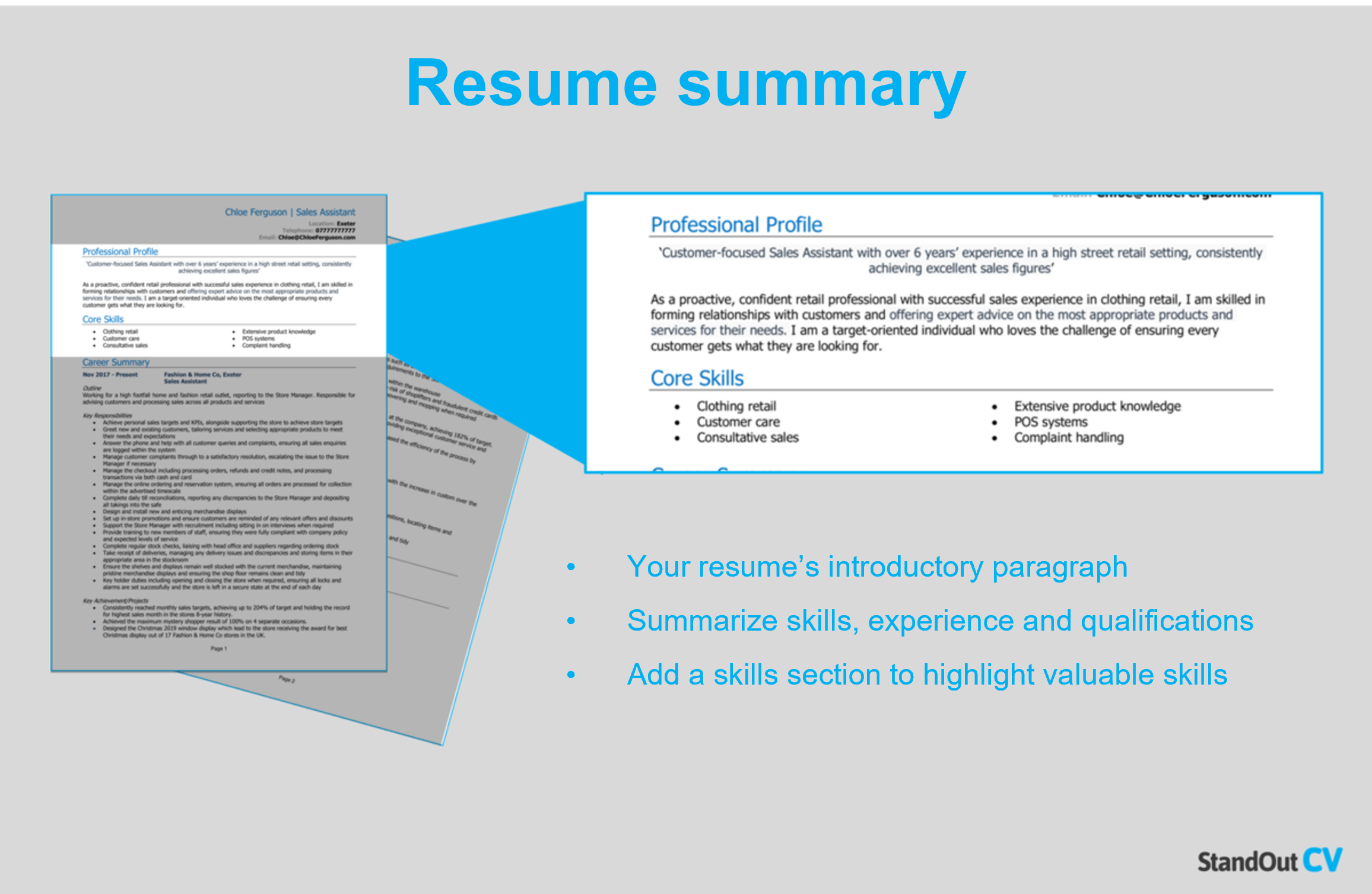 3 tips for creating a resume summary that will get noticed:
Keep it concise: Attention spans are short in the job market, so keep your summary brief and high-level at around 4-7 lines – This is just enough to catch the eye of rushed hiring managers.
Tailor to target jobs: Recruiters will be scanning for the skills and knowledge they mentioned in the job description, so add as many as you can to your summary.
Don't use cliches: Recruiters look for facts in resumes, such as hard skills and qualifications – so, leave out the meaningless cliches like "hard worker who works well in a team and individually"
Example resume summary for Venture Capital
Venture Capital Analyst with experience in gathering data regarding company owners, profits, and potential success. Highly skilled in conveying research outcomes and presenting investment recommendations to clients in clear and easily understandable patterns. Adept at preparing risk management report cadence for all VC activities. Passionate team player with a fluency in performing precise financial, valuation, and broad quantitative analyses.
What info to include in your Venture Capital resume summary?
Summary of experience: Summarize the type of work you have done in the past and the benefits you have delivered for the organizations you worked at.
Relevant skills: Skills that are highly relevant to Venture Capital work should be made prominent throughout your summary.
Vital qualifications: If your job requires any qualifications such as a professional course or a college degree, mention it briefly in your summary.
Quick tip: Choose from hundreds of pre-written summaries across all industries, and add one to your resume with one-click in our partner's Resume Builder. All written by recruitment experts and easily tailored to suit your unique skillset and style.
Core skills section
In addition to your resume summary, your core skills section provides an easily digestible snapshot of your skills – perfect for grabbing the attention of busy hiring managers.
As Venture Capital jobs might receive a huge pile of applications, this is a great way to stand out and show off your suitability for the role.
It should be made up of 2-3 columns of bullet points and be made up of skills that are highly relevant to the jobs you are targeting.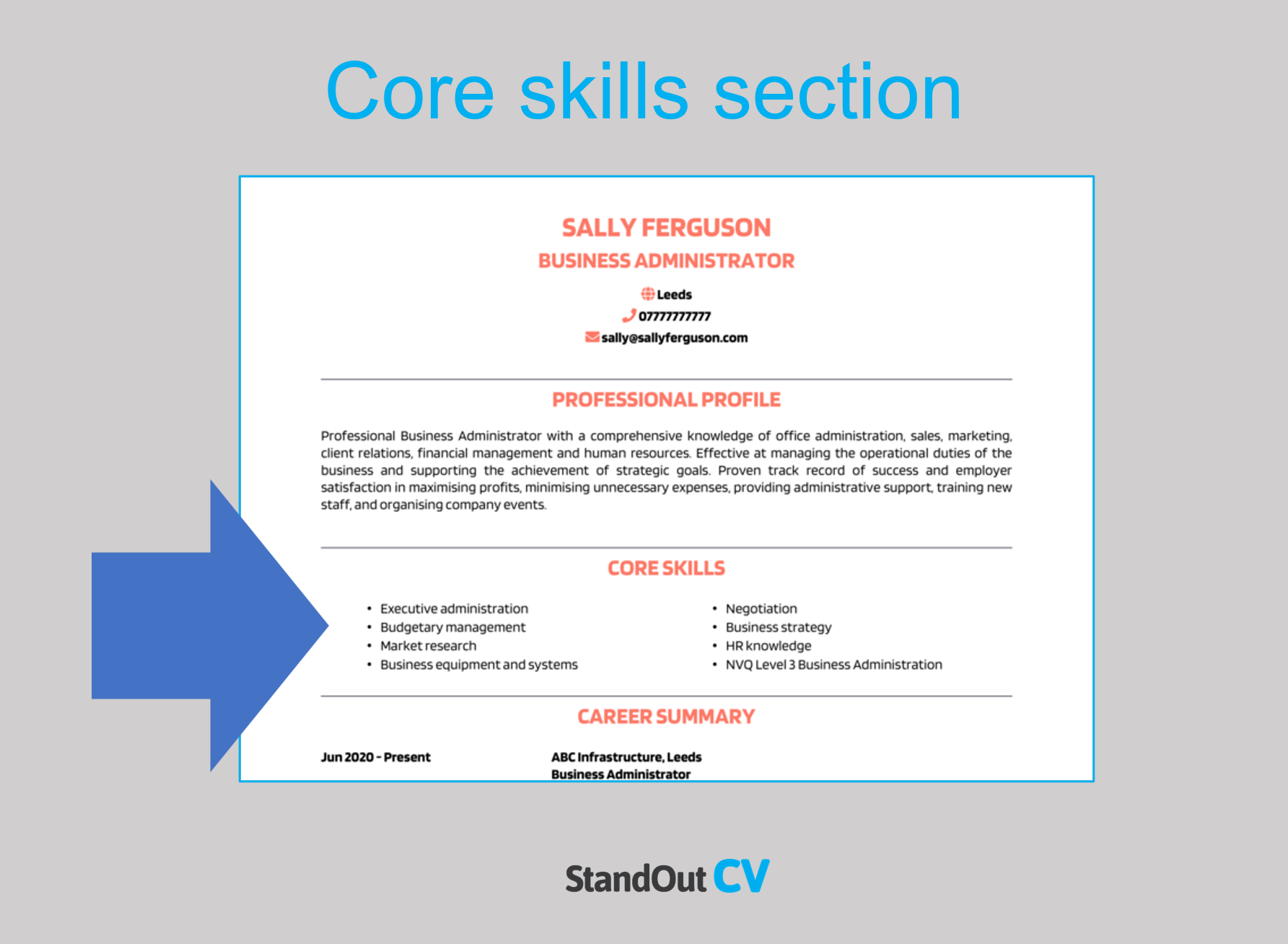 Top skills for your Venture Capital resume
Investment Banking – specializing in a type of banking that organizes large, complex financial transactions such as mergers or initial public offering (IPO) underwriting.
Financial Modelling – creating a summary of a company's expenses and earnings in the form of a spreadsheet that can be used to calculate the impact of a future event or decision
Market Trends – analyzing data to predict the perceived tendency of financial markets to move in a particular direction over time.
Portfolio Management – building and overseeing a selection of assets such as stocks, bonds, and cash that meet the long-term financial goals and risk tolerance of an investor.
Risk Analysis – identifying, measuring and mitigating potential risks or hazards facing an investment.
Quick tip: Our partner's Resume Builder contains thousands of in-demand skills for every profession that can be added to your resume in seconds – saving you time and greatly improving your chances of landing job interviews and getting hired.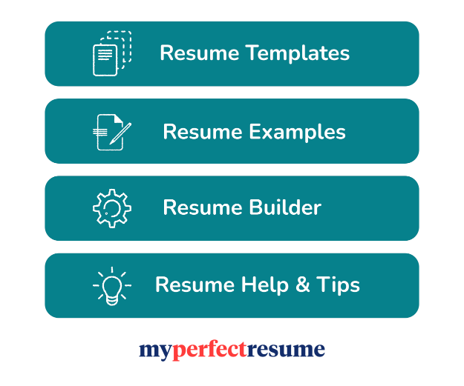 Resume work experience section
Now that you've reeled recruiters in with your awesome summary, it's time to delve into your work experience.
Here you'll list your previous jobs (starting with your most recent and working backward) and showcase how you apply your skills in the workplace.
Provide lots of detail in recent jobs, and less in older roles.
If you have no relevant paid experience, you can include voluntary work and placements – but if you have lots of experience, you can leave out some of the really old jobs.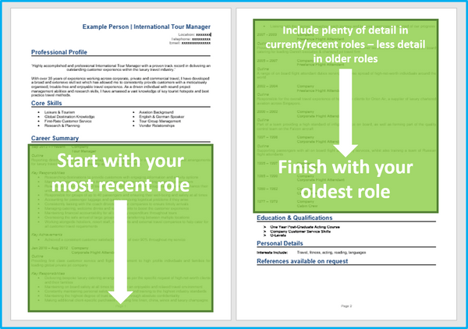 Structuring your job descriptions
Without a good structure, your job description can look messy and overwhelming to anyone reading them.
Make it easy for recruiters to read your work experience by structuring your roles like this.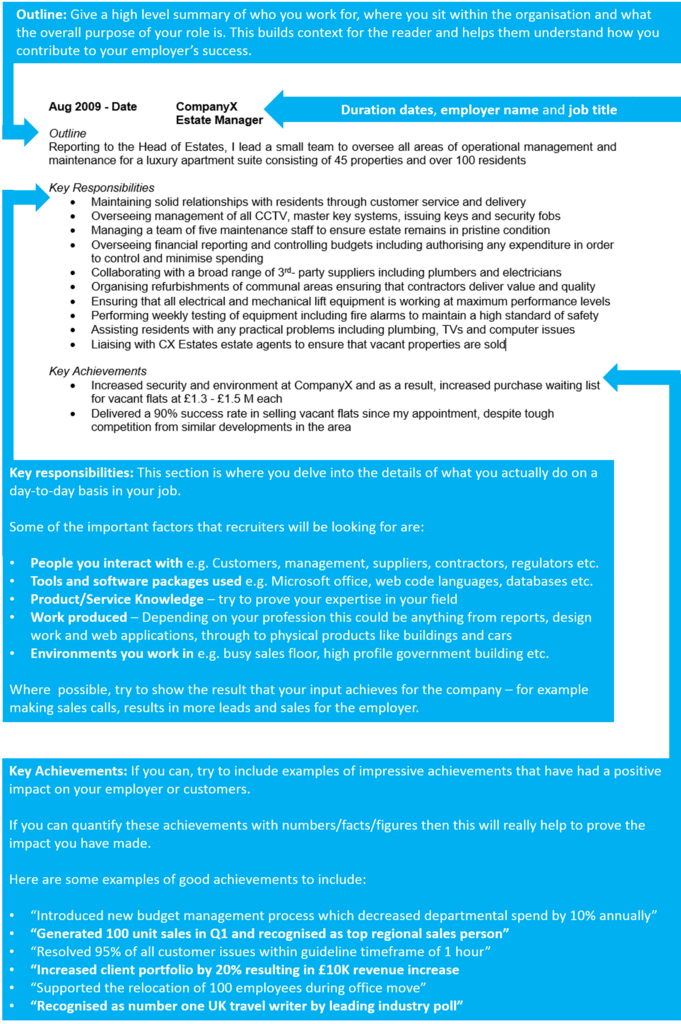 Job outline
Each role description should begin with a qucik summary of the job and company, along with how the job fits into the strucuture of the organization.
Key responsibilities
Next, write up a punchy list of your daily duties and responsibilities, using short bullet points.
Describe how you apply your skills and contribute to the running of the employer's business – highlighting skills which are applicable to your target jobs.
Key achievements
Finish each role by highlighting some impressive achievements you made whilst in the role.
Anything that benefited the employer can be included from making financial savings, to winning new customers.
Quantify your achievements with facts and figures if you can, e.g. "reduced call wait time by 10%"
Example job for Venture Capital resume
Outline
Assist in all deal aspects, including sourcing, qualification, initial pitch, financial modelling, due diligence, and closing activities, for a premier Fortune 500 technology integrator that drives the US' digital transformation across defence, space, civilian, and intelligence markets.
Key Responsibilities
Support investment activities concerning the purchase/selling of physical assets and securities, as well as the acquisition of businesses.
Engage with fund managers and stakeholders to establish objectives and motivations.
Carry out due diligence by reviewing business plans/contracts, conducting industry research, assessing competitors, developing pricing/financial models, and structuring deals.
Collect information regarding target companies, their strengths/weaknesses, turnover, assets, and liabilities.
Quick tip: Create impressive job descriptions easily in our partner's Resume Builder by adding pre-written job phrases for every industry and career stage.

Education section
Near the end of your resume add your education section
Experienced candidates should keep it brief and focus on professional qualifications – and junior candidates can include high school diplomas, college degrees etc.
Additional information
If you have anything else to add which is relevant to the jobs you are applying for, the additional info section is the place to add it.
Perhaps you have a hobby which involves relevant skills, or maybe you have some awards or publications worth mentioning.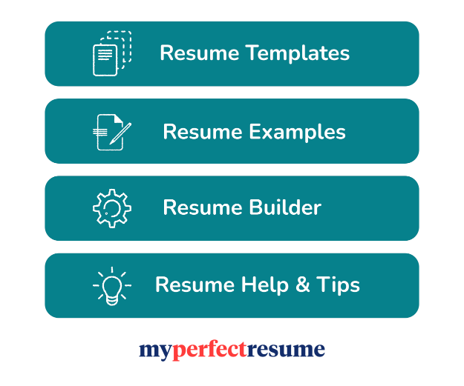 Writing your Venture Capital resume
Following the steps in this guide will help you to create a winning Venture Capital resume and bag lots of interviews.
If you want some more help through the process, try our partner's Resume Builder for expert guidance and tons of pre-written resume content.
Good luck with your job search!