Do you want to offer guidance to budding young students?
Then you need to prove you've got the skills and qualifications to effectively support them and their teacher.
To do this, you need a standout resume. That's where we come in. Let us teach you how to write a strong resume with our top tips and paraeducator resume example.
Contents
| | |
| --- | --- |
| How to write a Paraeducator resume | |

Paraeducator Resume Example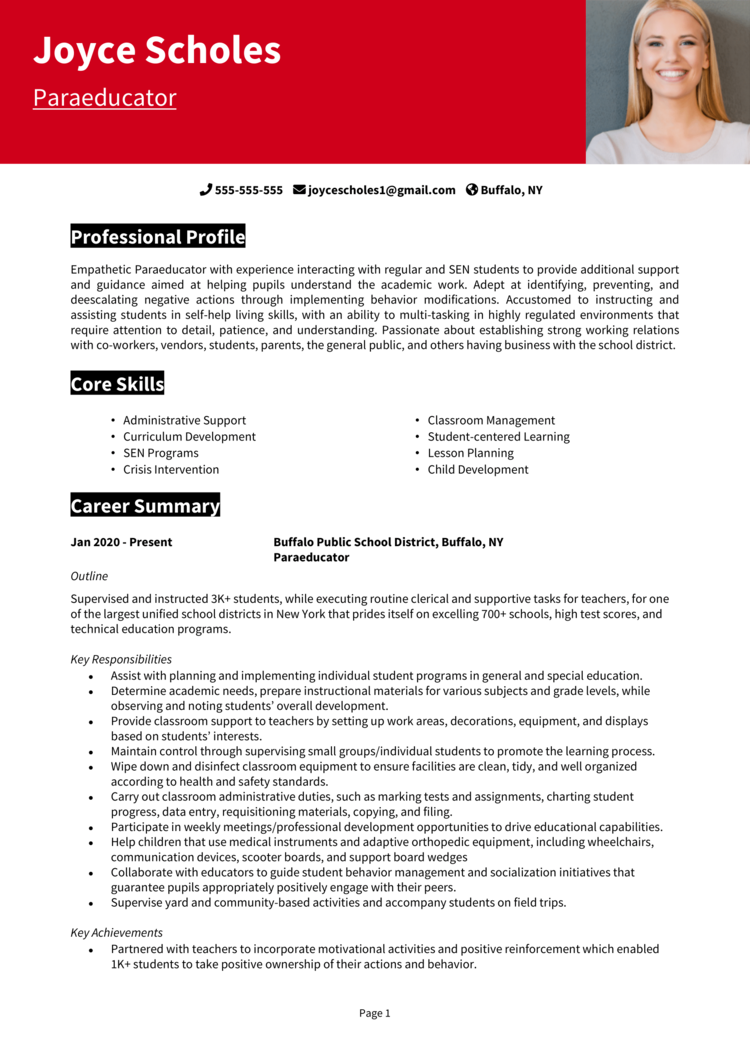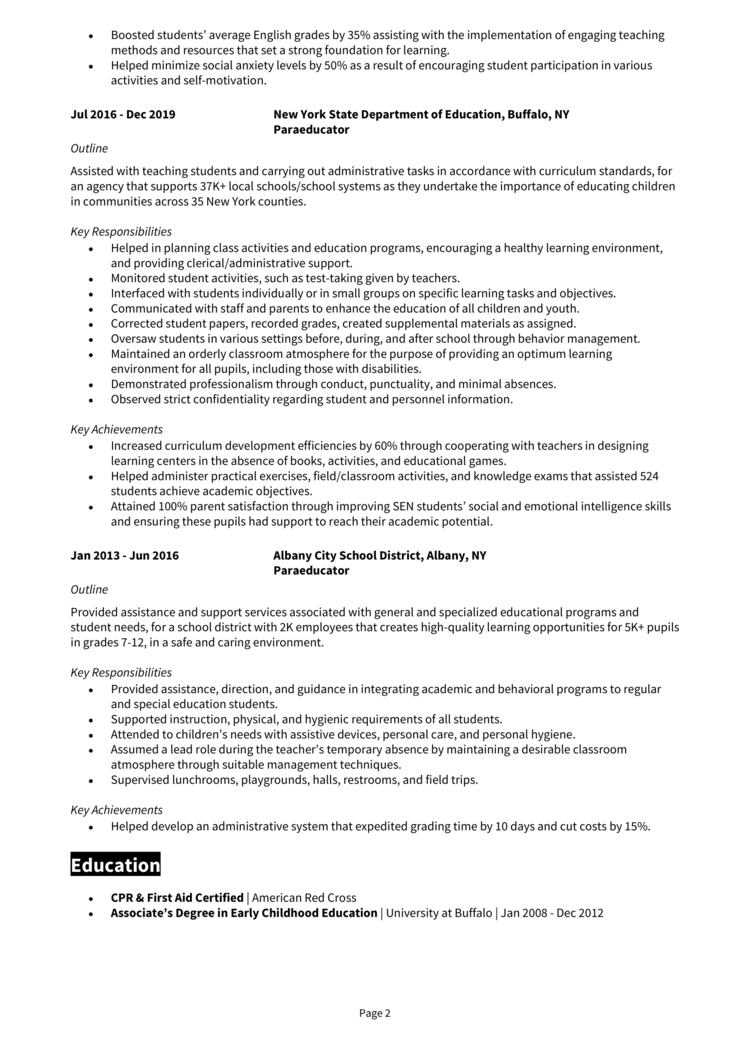 This example Paraeducator resume provides you with a general idea of how your resume should look, and what information recruiters expect to see.
The rest of this guide will explain how to layout your resume and create each section effectively.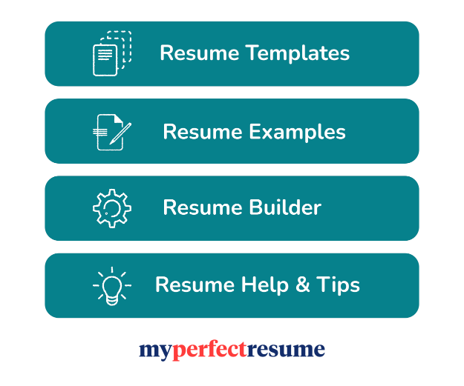 Paraeducator resume layout and format
When it comes to holding the attention of recruiting managers, the format and layout of your resume play a key role.
Your resume needs to strike a perfect balance between looking awesome, and being easy for recruiters to read (which is not always easy to achieve)
Use the following formatting tips to get started.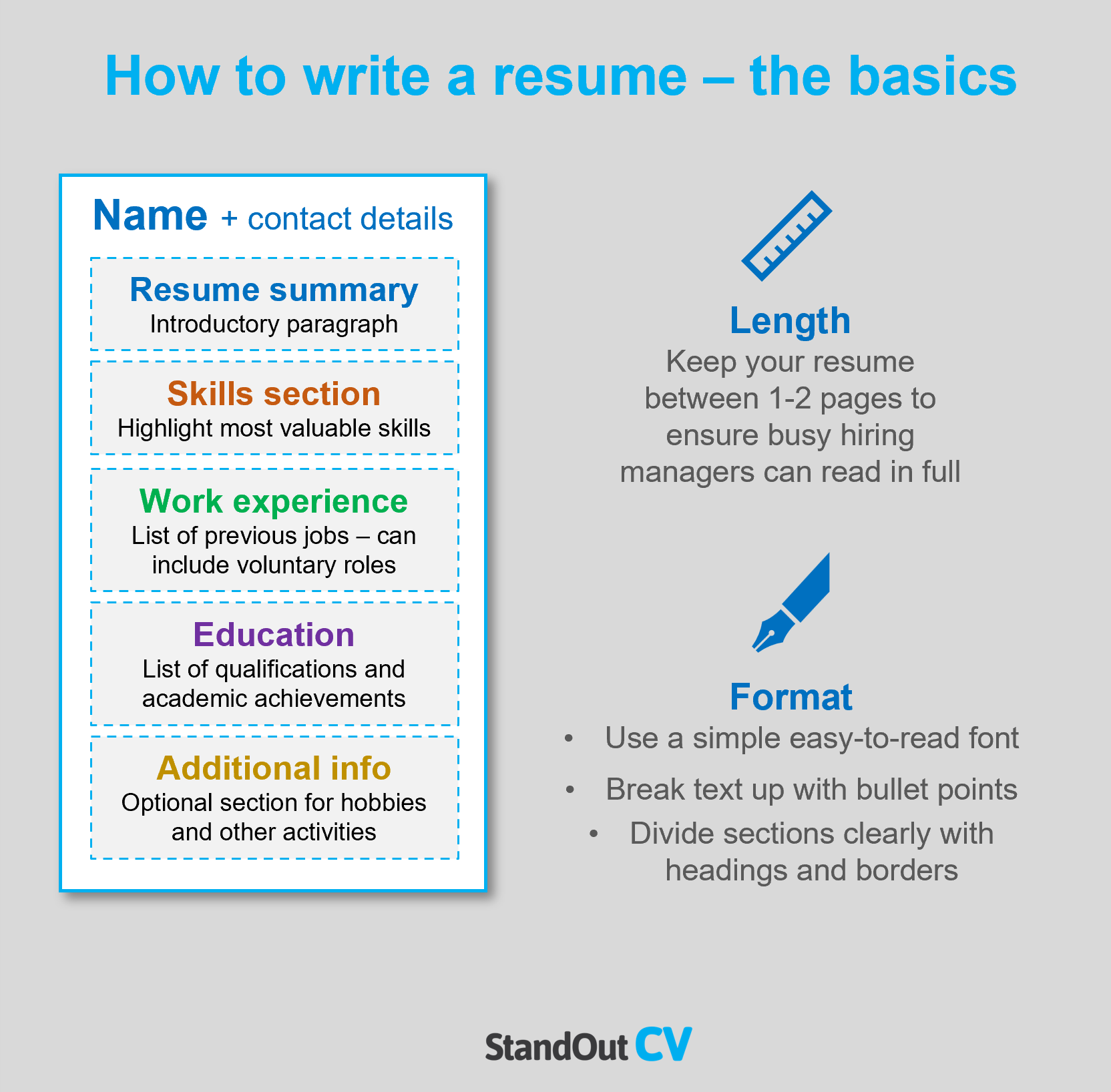 Formatting your resume for success
Length: Think that submitting a 10 page resume will impress recruiters? Unfortunately it won't… Even if you've got tons of experience to brag about, recruiters don't have time to read essays, so keep it brief – around 2 pages is the sweet spot.
Font & readability: Readability is the name of the game when it comes to your resume. Ensure yours is a dream to read by using a simple clear font, and breaking the text up with plenty of bullet points and short paragraphs.
Layout & Structure: While creating an attractive resume, it is crucial not to compromise functionality for design. To ensure both, use bold headings and borders to structure the page into clear sections.
Photos: While adding a photo to your resume is not mandatory in the USA, it can be beneficial if you are applying to organizations in creative industries.
Quick tip: Achieving a professional look for your resume can be difficult and time-consuming. If you want to create an attractive resume quickly, try our partner's Resume Builder and use one of their eye-catching resume templates.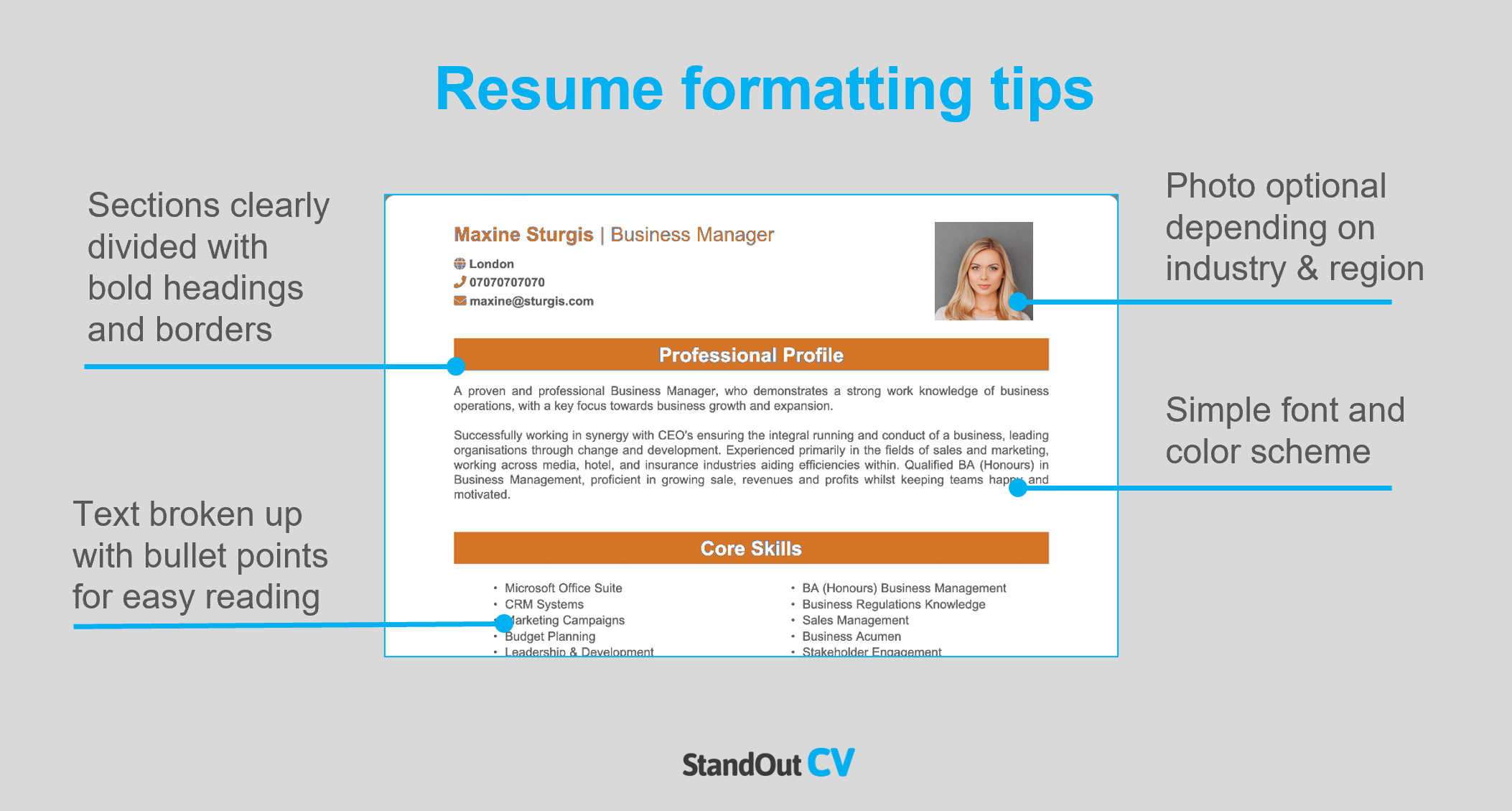 Resume layout
Here's an overview of the sections you should add when writing your resume.
Name and contact details – Stick these details at the top, so they are easy to find.
Resume summary – A punchy paragraph summarizing your skills and knowledge, enticing recruiters to read more of your resume.
Skills section – Short list of your most valuable skills, enabling recruiters to quickly spot your suitability.
Work experience – Showcase your previous employment, starting with your most recent roe and working backwards – voluntary work and college placements can be included if you have no paid experience.
Education – A summary of your most relevant qualifications and academic achievements
Additional info – An optional section for that other attributes that may boost your application, such as hobbies or clubs
Here's what to include in each part of your resume.
Contact Details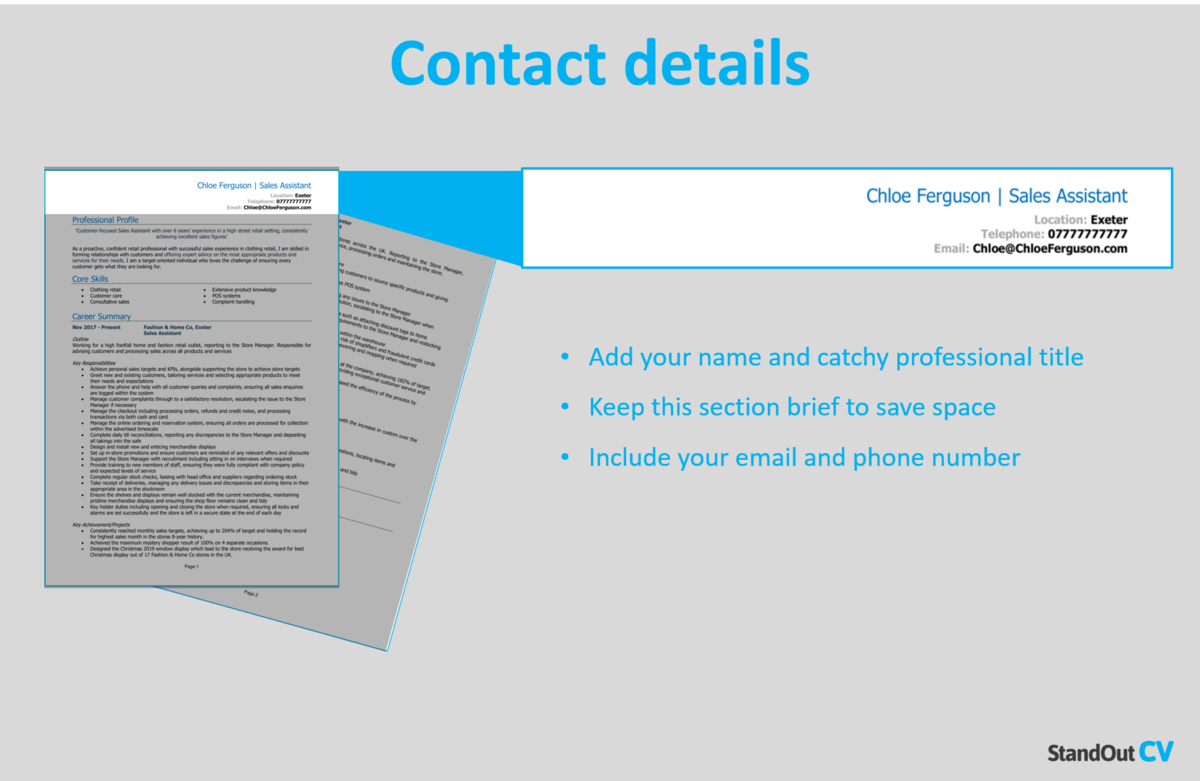 Keep your contact details short to save resume space and include the following.
Name and profession title
Cell phone number
Location – Add your local area such as Silicon Valley or New York, unless you are looking for work in a different location
Email address – Keep it professional and don't use an old address that you thought was cool in high school, but now looks a bit embarrassing.
You can add a link to your LinkedIn profile if you have one – you do not need to include personal details like date of birth or marital status.
Paraeducator Resume Summary
Now it's time to get into the real content of your resume, starting with the summary.
Your resume summary is a short paragraph at the top of the document, and its jobs is to catch the eye of hiring managers by summarizing all your skills and knowledge that are most important to the roles you are applying for.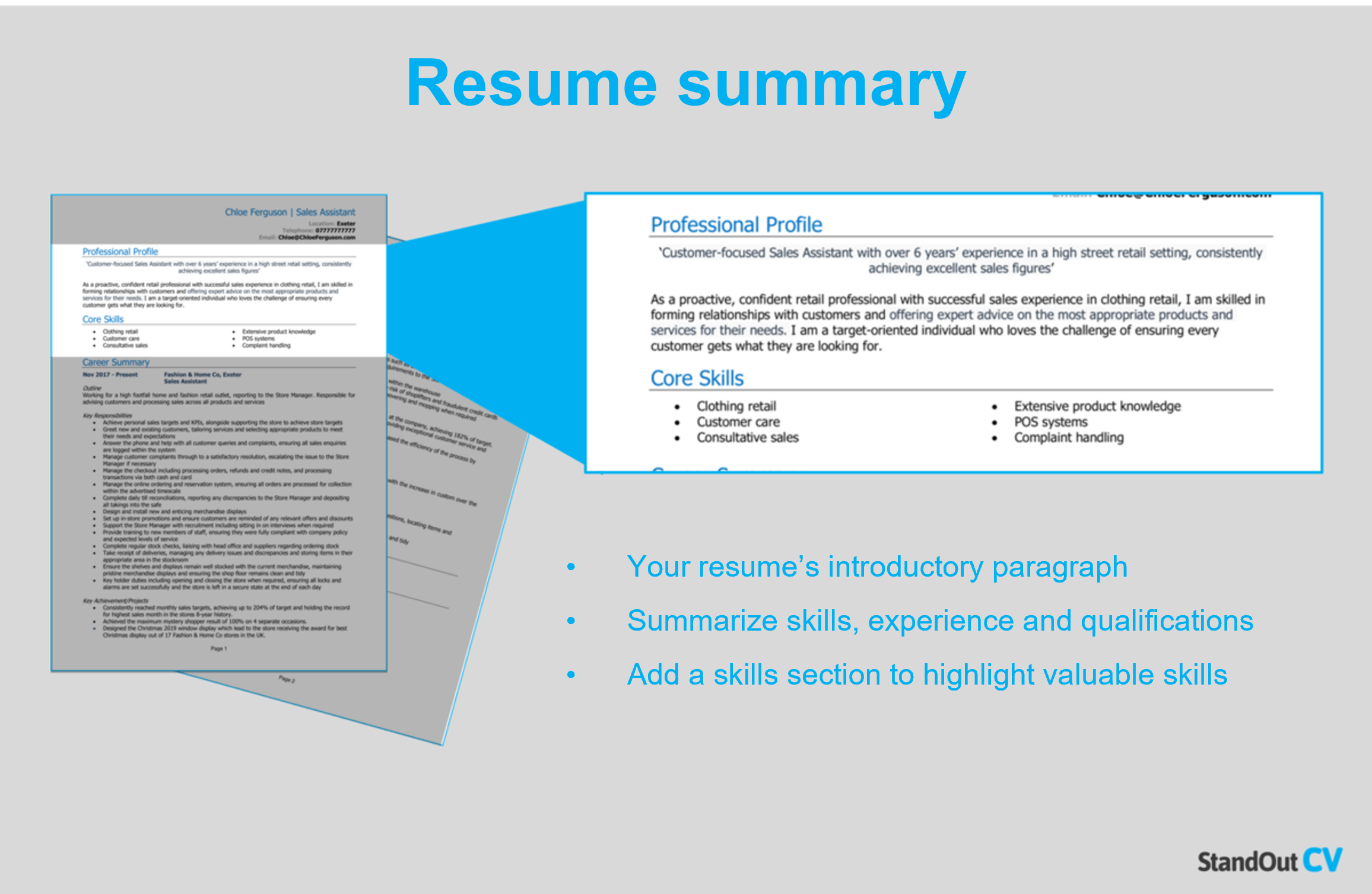 How to create a resume summary that will get you noticed:
Keep it short: Attention spans are short in the job market, so keep your summary brief and high-level at around 4-7 lines – This is just enough to catch the eye of rushed hiring managers.
Tailor to target jobs: To make your resume more relevant to your target jobs, analyze the job description and include as many matching skills as possible.
Avoid using cliches: Recruiters look for facts in resumes, such as hard skills and qualifications – so, leave out the meaningless cliches like "hard worker who works well in a team and individually"
Example resume summary for Paraeducator
Empathetic Paraeducator with experience interacting with regular and SEN students to provide additional support and guidance aimed at helping pupils understand the academic work. Adept at identifying, preventing, and deescalating negative actions through implementing behavior modifications. Accustomed to instructing and assisting students in self-help living skills, with an ability to multi-tasking in highly regulated environments that require attention to detail, patience, and understanding. Passionate about establishing strong working relations with co-workers, vendors, students, parents, the public, and others having business with the school district.
What to include in your Paraeducator resume summary?
Summary of experience: What kind of companies have you worked for in the past? And which jobs have you carried out?
Relevant skills: Incorporate your highly relevant skills for Paraeducator jobs to exhibit your suitability as soon as your resume is opened.
Qualifications: If your job requires any qualifications such as a professional course or a college degree, mention it briefly in your summary.
Quick tip: Choose from hundreds of pre-written summaries across all industries, and add one to your resume with one-click in our partner's Resume Builder. All written by recruitment experts and easily tailored to suit your unique skillset and style.
Core skills section
In addition to your resume summary, your core skills section provides an easily digestible snapshot of your skills – perfect for grabbing the attention of busy hiring managers.
As Paraeducator jobs might receive a huge pile of applications, this is a great way to stand out and show off your suitability for the role.
It should be made up of 2-3 columns of bullet points and be made up of skills that are highly relevant to the jobs you are targeting.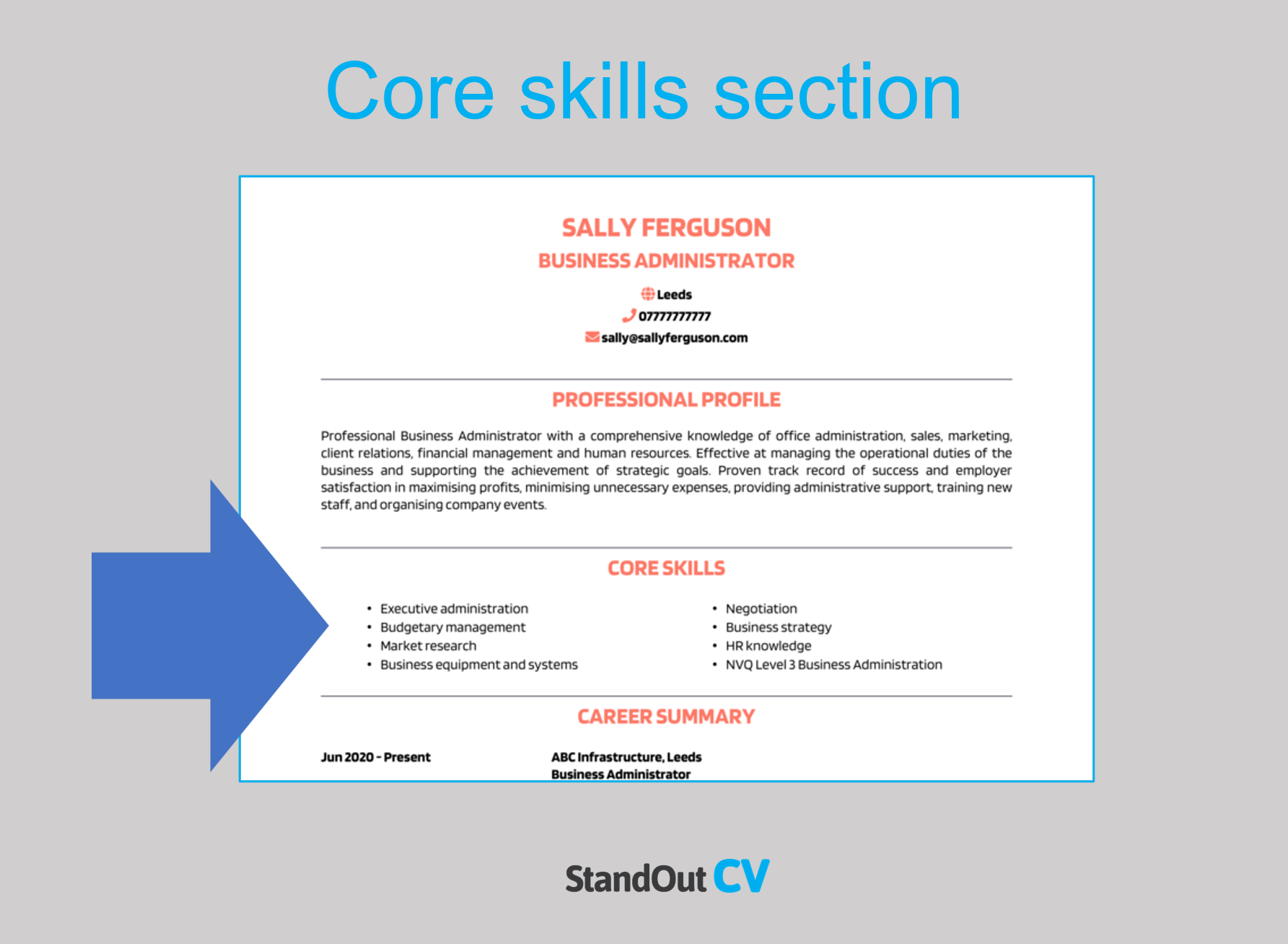 Best skills for your Paraeducator resume
Classroom Management – assisting the teacher in managing the classroom, including setting expectations, monitoring student behavior, and supporting a positive learning environment.
Curriculum Support – providing support for the curriculum, including reinforcing classroom instruction, working with small groups of students, and helping students with assignments and projects.
Individualized Education – maintaining a complex knowledge of individualized education plans (IEPs) alongside the ability to implement them to support students with special needs or disabilities.
Behavior Management – managing student behavior, including implementing positive reinforcement strategies, supporting students in crisis, and maintaining a safe and productive learning environment.
Student/Parent/Teacher Communication – communicating effectively with students, parents, and teachers, including using appropriate language and tone, being responsive to questions and concerns, and providing regular updates on student progress.
Quick tip: Our partner's Resume Builder contains thousands of in-demand skills for every profession that can be added to your resume in seconds – saving you time and greatly improving your chances of landing job interviews and getting hired.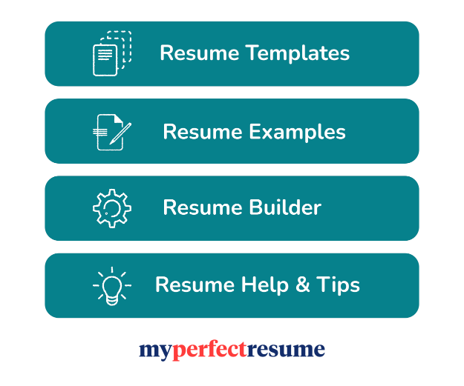 Work experience
So, you've grabbed the recruiters' attention with your summary, now it's time to show them what you're really capable of in your work experience section.
List your previous jobs from current to oldest, showing off the impact you made at each organization.
If you have tons of experience, you should just list the most recent an relevant jobs – but if you have little or no experience, add it all and even consider putting in voluntary work.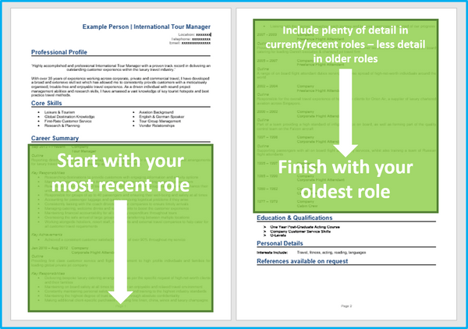 Structuring your jobs
It's easy to overwhelm readers when writing about a job you have been doing for years or even months.
Break the information up like this to keep it simple for recruiters to understand.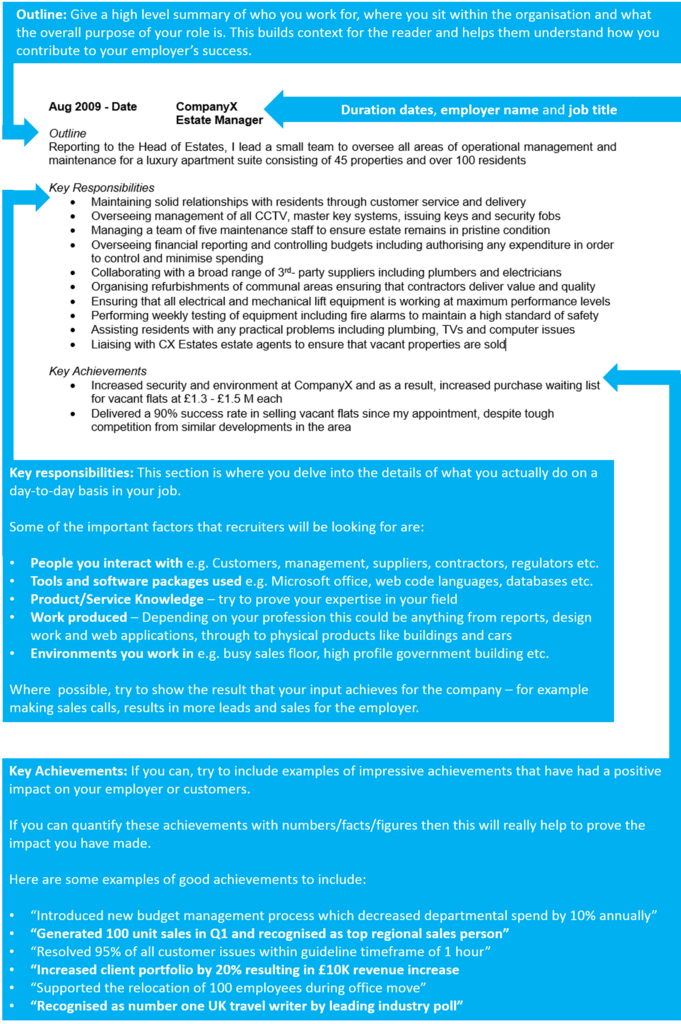 Job outline
Start with a 1-2 sentence outline of the role, summarizing what the goal of your position was, who you reported to (or managed) and the type of organization you worked for.
Key responsibilities
List your notable responsibilities in short sharp bullet points to demonstrate your input and how you contributed to the organization's success.
Highlight the skills that are most important to the roles you are applying for.
Key achievements
Show employers the value you can bring to them by adding a few achievements to your jobs.
Whether you've saved the company money or improved an internal process, let recruiters know
Add some numbers to give readers a real scale of the impact, e.g. "reduced call wait time by 10%"
Example job for Paraeducator resume
Outline
Supervised and instructed 3K+ students, while executing routine clerical and supportive tasks for teachers, for one of the largest unified school districts in New York that prides itself on excelling 700+ schools, high test scores, and technical education programs.
Key Responsibilities
Assist with planning and implementing individual student programs in general and special education.
Determine academic needs, prepare instructional materials for various subjects and grade levels, while observing and noting students' overall development.
Provide classroom support to teachers by setting up work areas, decorations, equipment, and displays based on students' interests.
Maintain control through supervising small groups/individual students to promote the learning process.
Quick tip: Create impressive job descriptions easily in our partner's Resume Builder by adding pre-written job phrases for every industry and career stage.

Education section
Near the end of your resume add your education section
Experienced candidates should keep it brief and focus on professional qualifications – and junior candidates can include high school diplomas, college degrees etc.
Additional information
At the end of your resume, you can add any extra information that might be relevant to the jobs you are applying for.
This could be hobbies, interests, publications, clubs or memberships.
This section is optional and doesn't need to be added if you have nothing more relevant to add.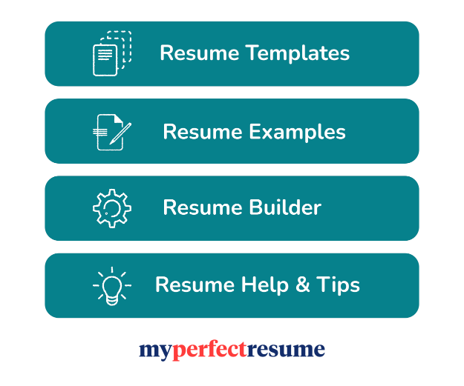 Writing your own Paraeducator resume
Writing a Paraeducator resume can be challenging but following the steps above will ensure that you land plenty of interviews.
If you want to speed up the process and use an attractive professional template, try out our partner's Resume Builder.
Good luck with your job search!