Starting college can be the most exciting time in many students lives, and you can help to make their orientation even better.
But if you want to be there to support them as they settle in, you first need to secure a position as an orientation leader.
In the guide below, we'll show you how to highlight your key skills and experience and grab the recruiter's attention. You can also check out our orientation leader resume example for inspiration.
Contents
| | |
| --- | --- |
| How to write a Orientation Leader resume | |

Orientation Leader Resume Example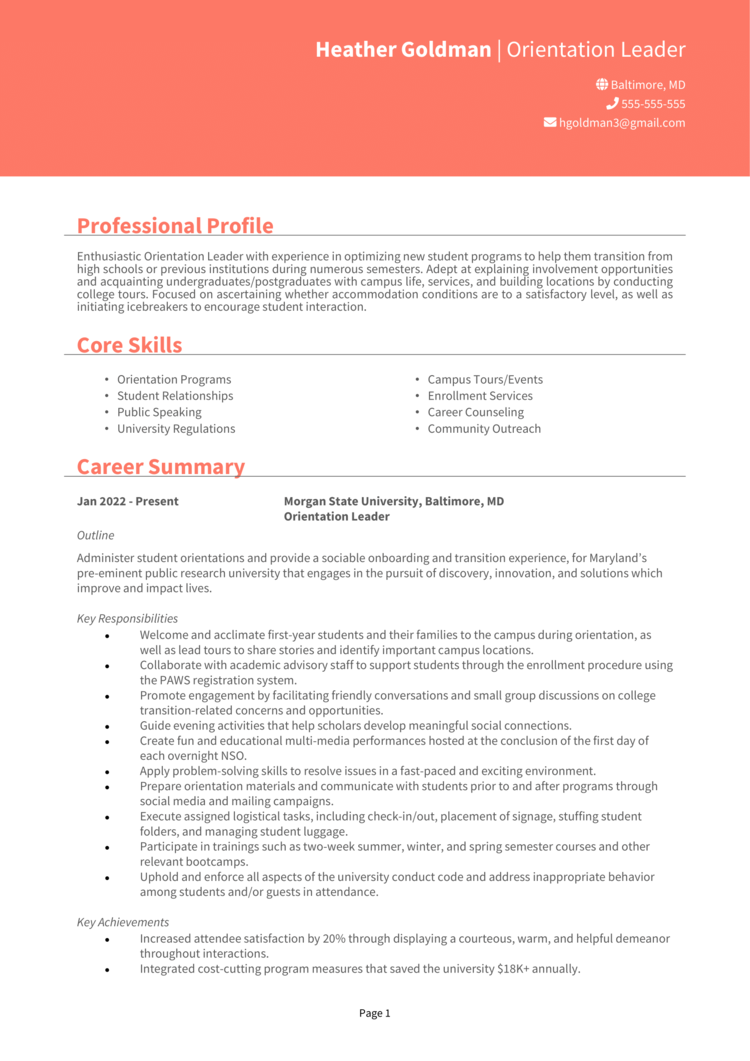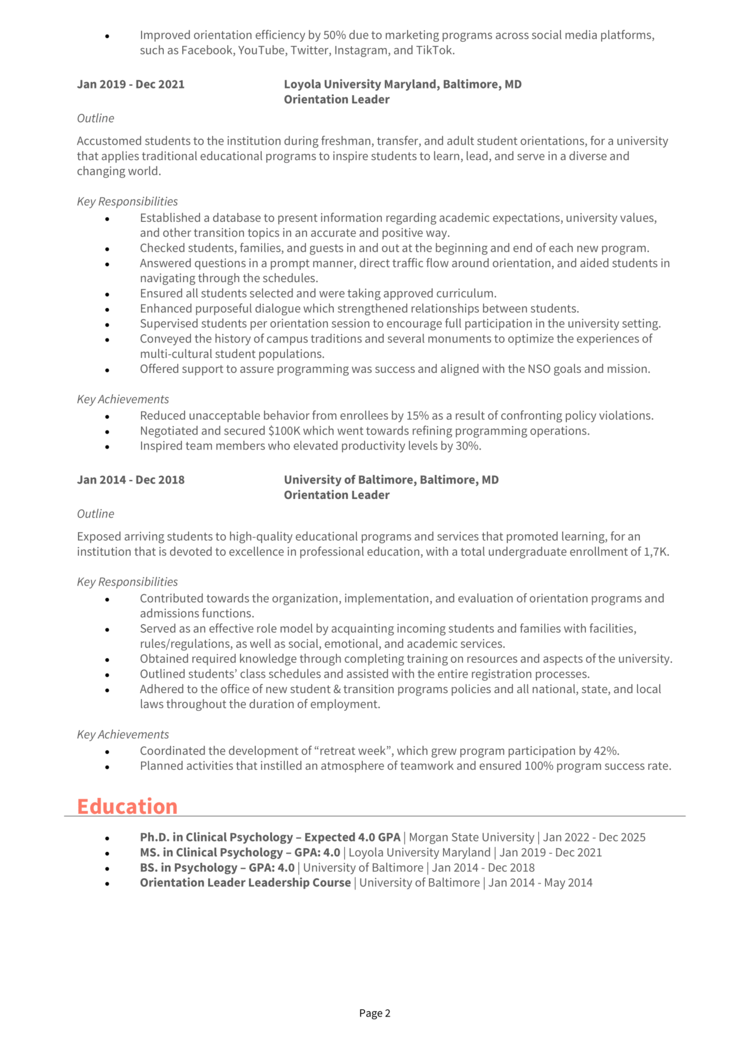 The example Orientation Leader resume above shows you how a professional resume should look, along with the type of content it should contain.
You can see that the information is well-organized across the page and its easy for busy recruiters to see the candidate's important skills.
Keep this in mind when writing your own resume.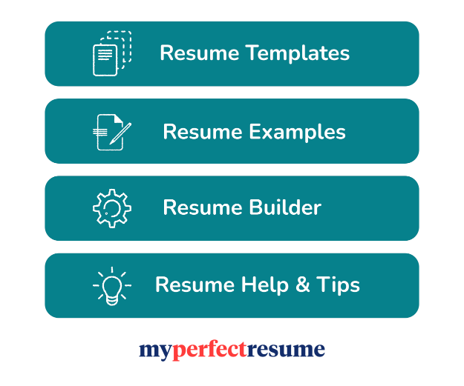 Orientation Leader resume layout and formatting
Formatting is often overlooked when writing resume, but it's a crucial element of it"s success.
Creating a document that not only looks good, but is easily comprehended, is the key to gaining and holding the attention of busy hiring managers.
Use these formatting tips for best results.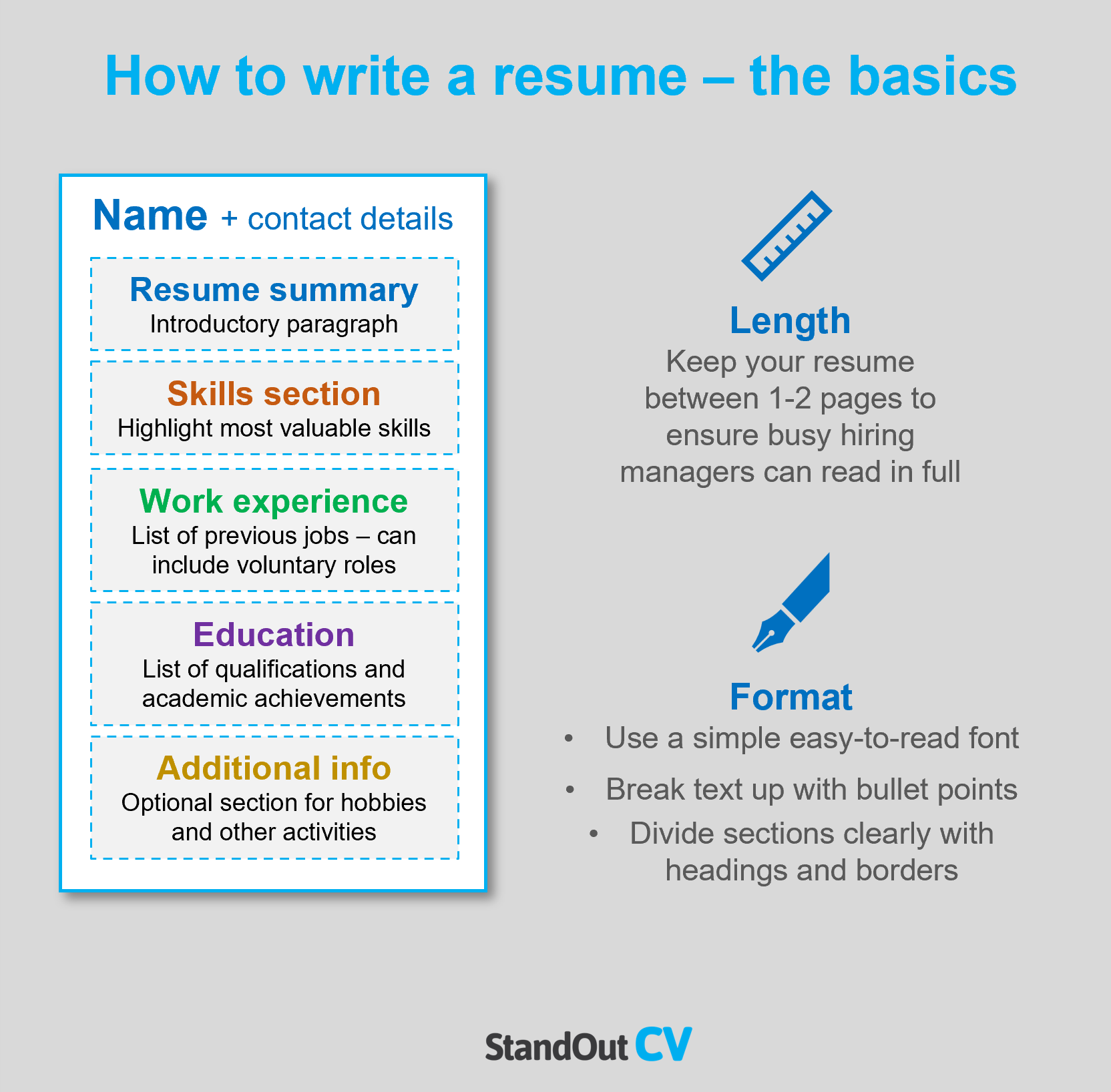 Formatting your resume
Length: To ensure that recruiters will read all of your resume, limit its length to 2 pages – as they someteimes read hundreds of resumes daily.
Font & readability: A readable resume is crucial if you want recruiters to see your important skills. Ensure yours is easy to read by using a simple, clear font and breaking up the text with bullet points and short paragraphs.
Layout & Structure: When it comes to designing your resume, it's essential to make it visually appealing, but it's equally important not to overlook functionality. To achieve this, you should organize the page into clear sections using bold headings and borders.
Photos: Although it is not compulsory to include a photo in your resume in the USA, it can be advantageous if you are applying to companies in creative industries.
Quick tip: Achieving a professional look for your resume can be difficult and time-consuming. If you want to create an attractive resume quickly, try our partner's Resume Builder and use one of their eye-catching resume templates.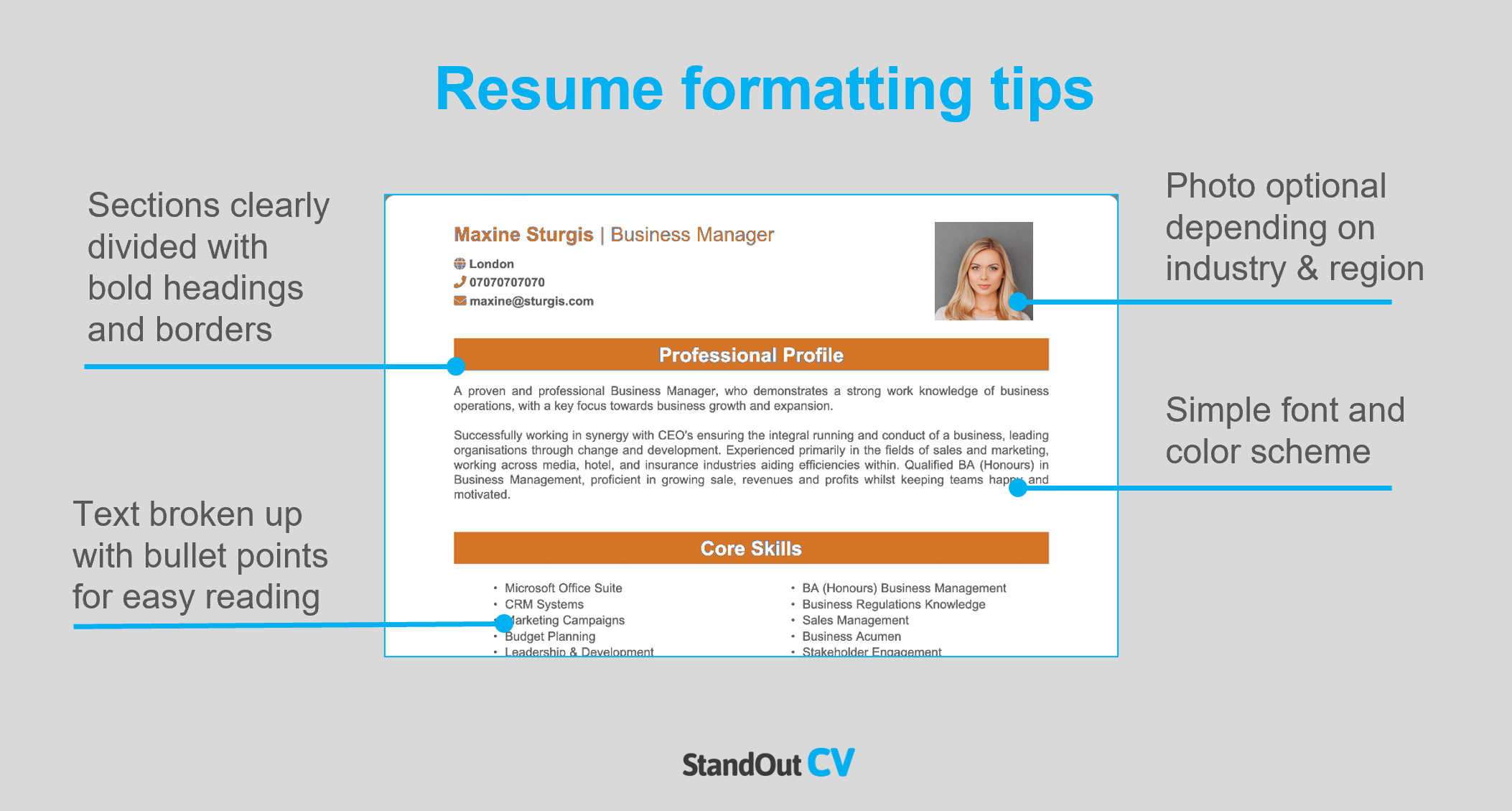 Resume layout
Organize the document into these sections when you write your resume.
Name and contact details – Employers need to know how to get in touch with you – so list your email and cell phone number here.
Resume summary – An intro paragraph at the top of the resume which summarizes your suitability for target jobs.
Skills section – A bullet-pointed list of your most relevant skills and knowledge.
Work experience – A list of your previous jobs (or at least the most relevant and recent ones)
Education – Add academic and professional qualifications that prove you can carry out the job
Additional info – If they are relevant to the jobs you are applying for, you can add an extra section for things like hobbies and interests.
Here's what to include in each part of your resume.
Contact Details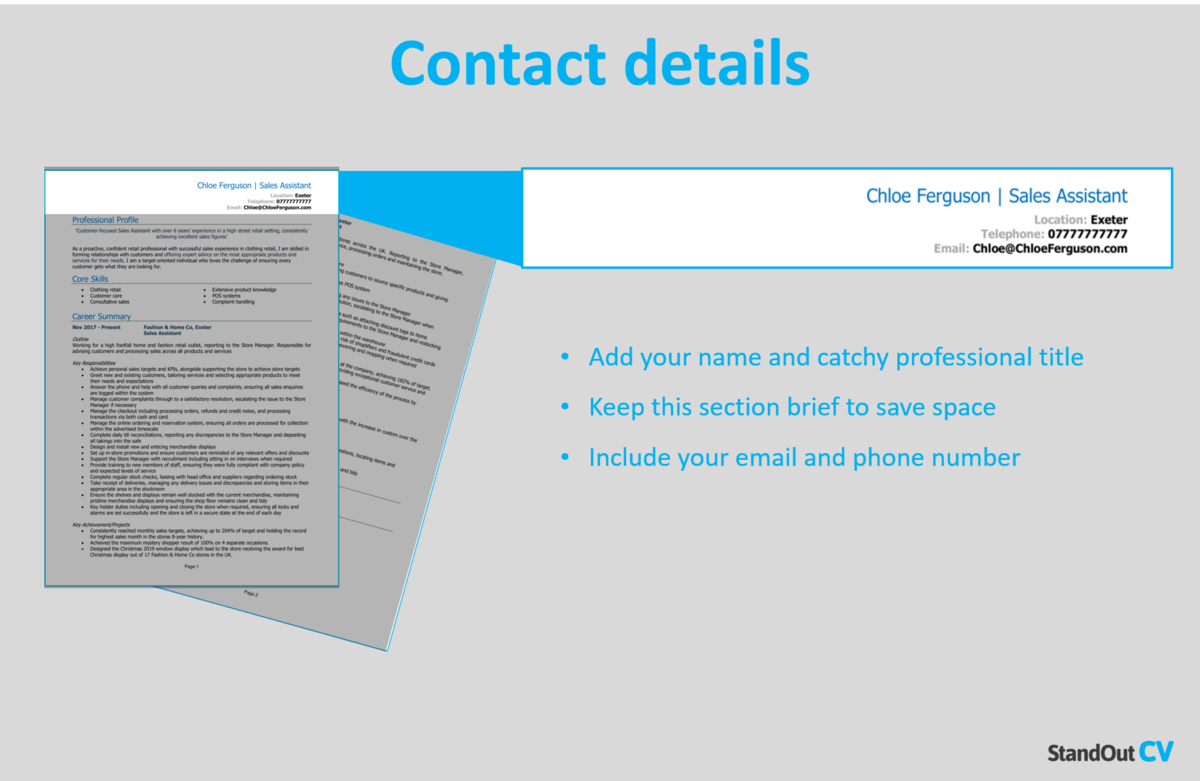 Make it easy for hiring managers to contact you by adding your contact details to the top of your resume.
Keep this section small to save space and include the following.
Name and profession title
Telephone number – Ideally your cell phone so you can answer quickly.
Location – Add your general location such as LA or New York
Email address – Use a professional looking one with no nicknames.
You can add a link to your LinkedIn profile if you have one – you do not need to include personal details like date of birth or marital status.
Orientation Leader Resume Summary
The resume summary is a short paragraph at the top of your resume, and it's purpose is to grab recruiter's attention and make sure they keep reading it.
To make your summary work, ensure that you provide a high-level summary of your skills and experience – and tailor it to reflect the requirements of the jobs you are applying for.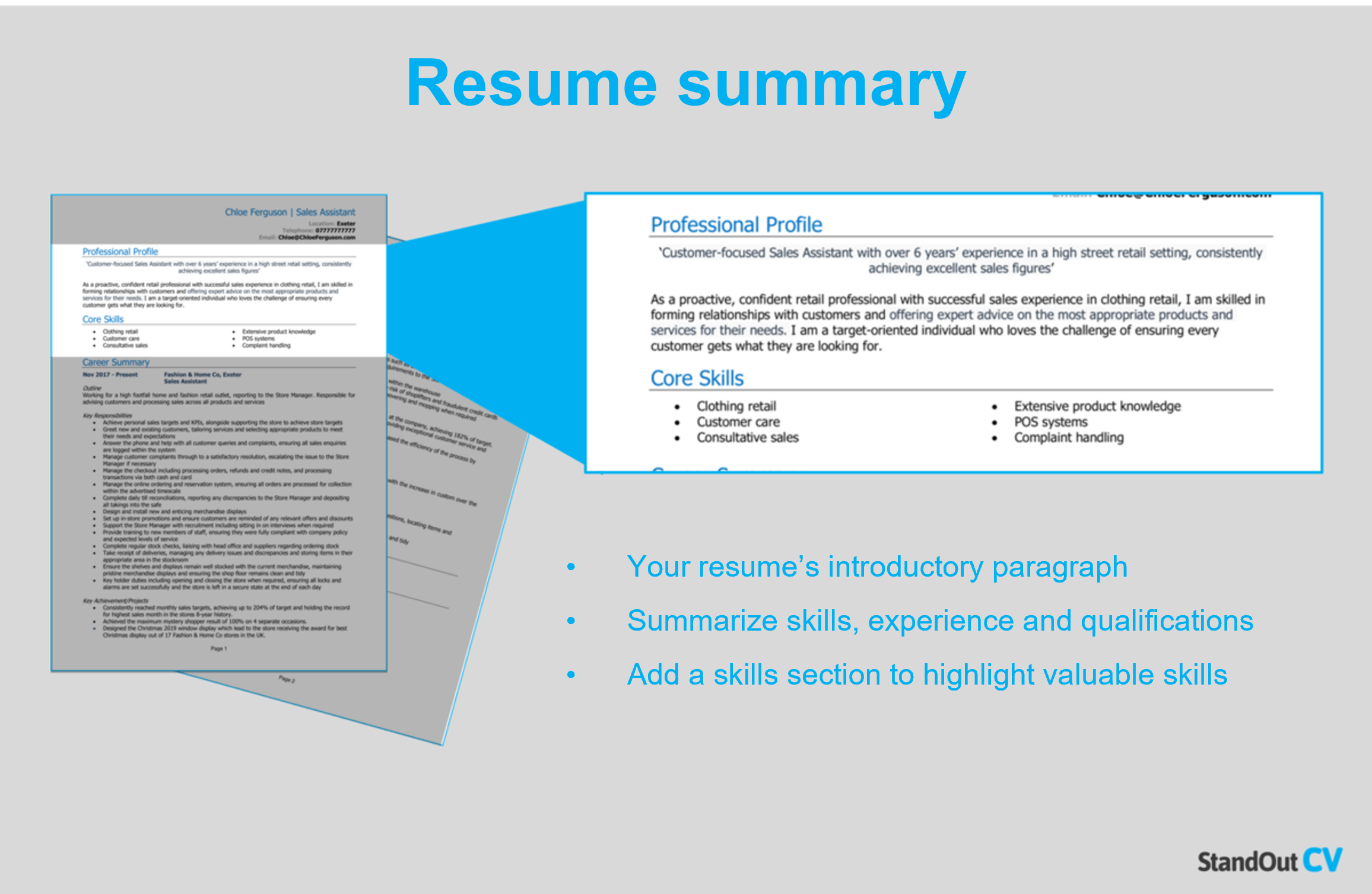 How to create a resume summary that will excite recruiters:
Keep it short: You only have a few seconds to grab a recruiters' attention and make them commit to your resume, so keep your summary between 4 – 7 lines.
Tailor to target jobs: Ensure your profile makes an impact by matching it closely to the requirements of the job description, copying as many key terms as possible.
Avoid using cliches: Recruiters always see cringey cliches like "hardworking guru who works well in a team or individually" – they don't mean much to anyone, so focus your summary on tangible skills and experience.
Orientation Leader resume summary example
Enthusiastic Orientation Leader with experience in optimizing new student programs to help them transition from high schools or previous institutions during numerous semesters. Adept at explaining involvement opportunities and acquainting undergraduates/postgraduates with campus life, services, and building locations by conducting college tours. Focused on ascertaining whether accommodation conditions are to a satisfactory level, as well as initiating icebreakers to encourage student interaction. 
What to include in your Orientation Leader resume summary?
Summary of your experience: What type of organizations have you worked at? What types of roles have you done and what have you contributed to previous employers?
Relevant skills: Include your skills which are hyper relevant to Orientation Leader jobs to instantly show your suitability.
Qualifications: Mention any Orientation Leader qualifications that are important to your profession in the summary briefly, to show you are qualified to carry out the role.
Quick tip: Choose from hundreds of pre-written summaries across all industries, and add one to your resume with one-click in our partner's Resume Builder. All written by recruitment experts and easily tailored to suit your unique skillset and style.
Core skills section
Your core skills section, positioned just below your resume summary, provides recruiters with a quick glance at 4-10 of your most in-demand skills.
For Orientation Leader jobs, where hiring managers may receive hundreds of applications, this section can help you stand out and immediately grab their attention.
To be effective, this section should consist of 2-3 columns of bullet points that highlight attributes that are highly relevant to the jobs you are targeting.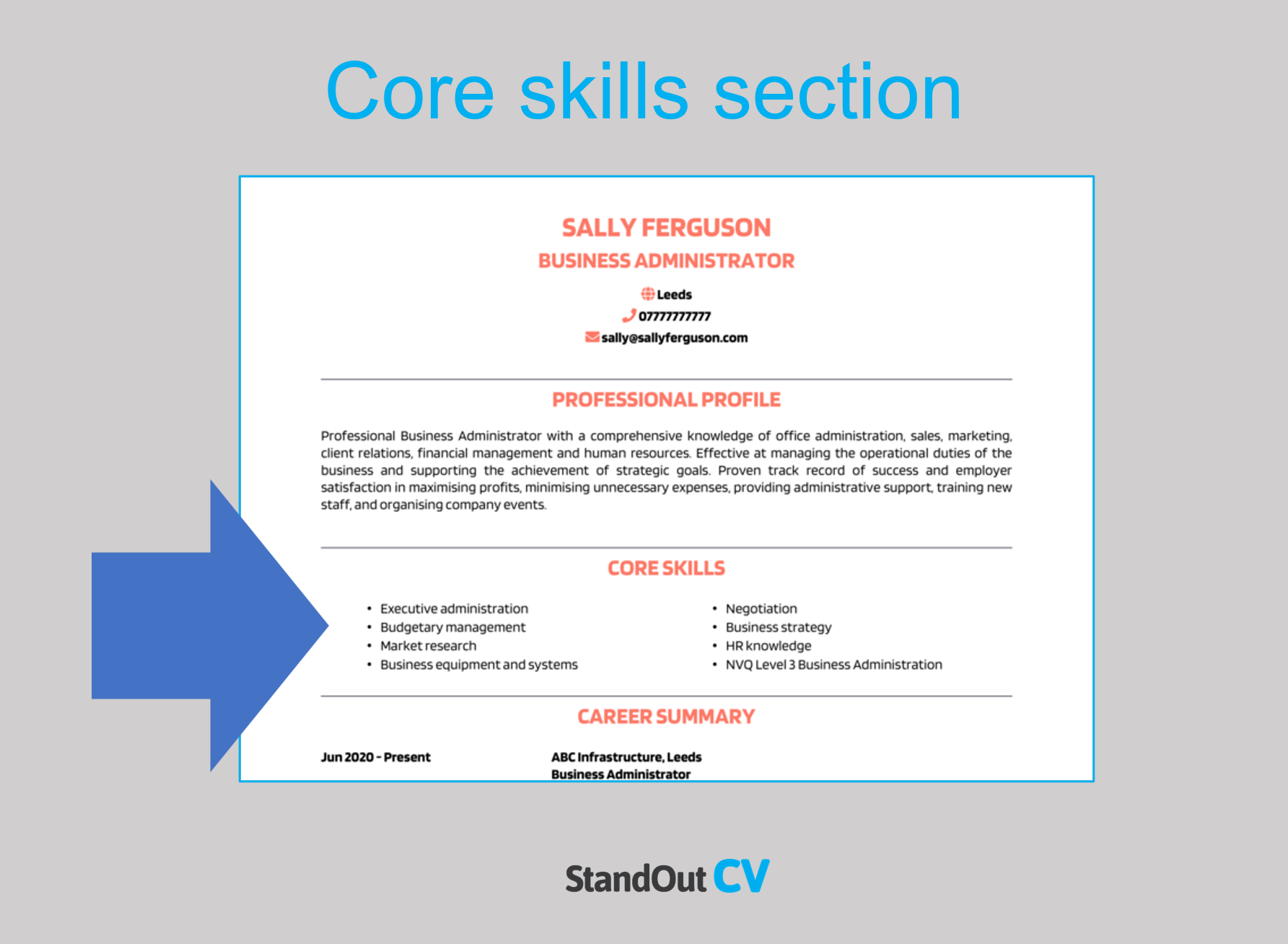 Best skills for your Orientation Leader resume
Public speaking – Speaking confidently and effectively in front of groups of students and parents during orientation sessions.
Event planning – Utilizing knowledge of event planning and coordination to organize orientation events and activities.
Effective communication – Utilizing strong communication skills to effectively communicate information and answer questions from students and parents.
Leadership – Leading and guiding new students and providing them with a positive orientation experience.
Relationship management – Utilizing strong interpersonal skills to establish rapport with new students and their families and to interact effectively with other orientation leaders and staff.
Event and activity management – Managing effectively to ensure that orientation events and activities are run efficiently and on schedule.
Administration – Organizing and managing orientation materials, schedules, and resources to ensure that everything runs smoothly.
Problem resolution – Quickly and effectively addressing and solving problems that may arise during orientation, such as resolving scheduling conflicts or addressing student concerns.
Customer service – Providing students and parents with a positive and welcoming orientation experience and answering any questions or concerns they may have.
Quick tip: Our partner's Resume Builder contains thousands of in-demand skills for every profession that can be added to your resume in seconds – saving you time and greatly improving your chances of landing job interviews and getting hired.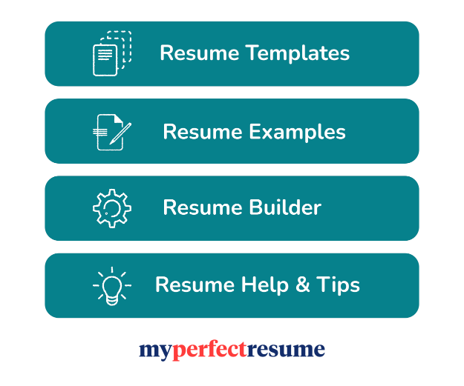 Work experience
Once you've hooked the hiring manager with your summary, you can really blow them away with you work experience.
List your previous jobs from newest to oldest to show the impact you made at each organization.
If you have years of experience, you can leave out some of the older jobs, and if you have little/no experience, you can bulk this section up with voluntary work and college placements.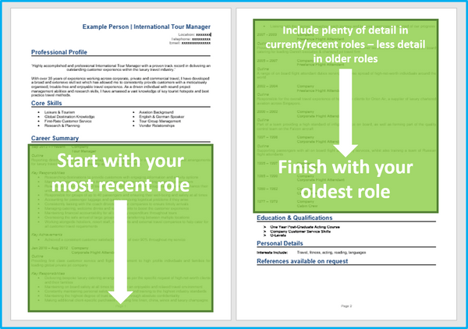 Structuring your jobs
Your job description probably includes tons of information, so it's vital to organize it well when writing about it on your resume.
Structure your jobs as like the example below to make skim-reading easy for recruiters and hiring managers.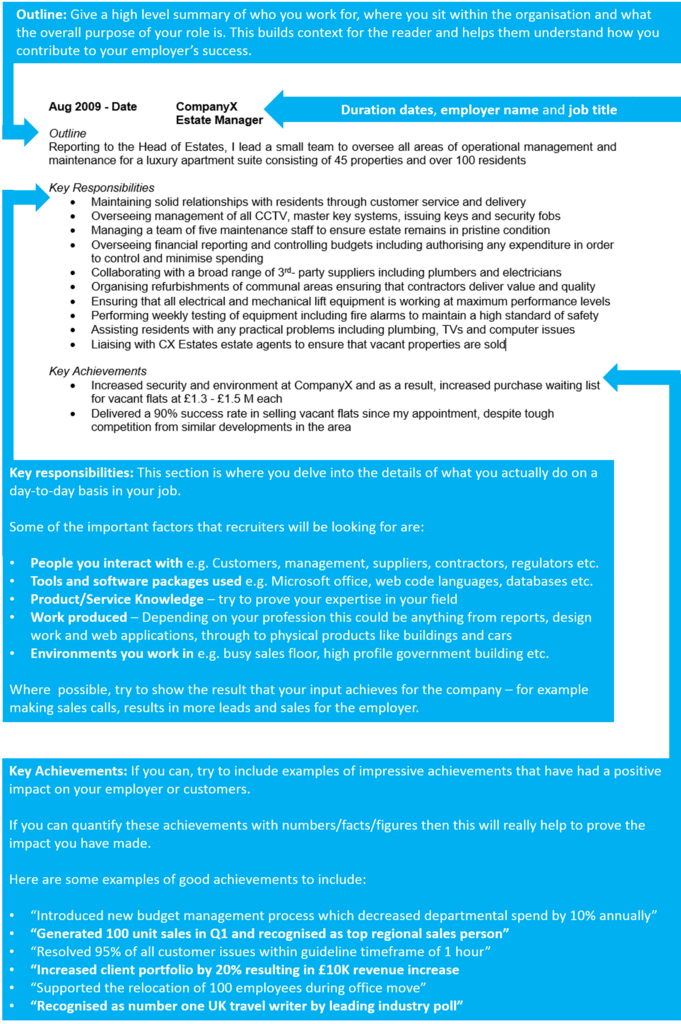 Job outline
Starting each job with a brief summary of the organization, your position within it, and the primary goal of your role can help recruiters quickly understand the context of your work.
Key responsibilities
The bulk of the role description should be comprised of bullet points that explain all of your duties in the job.
Keep the sentences short and simple to make them easy for recruiters to digest.
Key achievements
Show employers the value you can bring to them by adding a few achievements to your jobs.
Whether you've saved the company money or improved an internal process, let recruiters know
Add some numbers to give readers a real scale of the impact, e.g. "reduced call wait time by 10%"
Example job for Orientation Leader resume
Outline
Administer student orientations and provide a sociable onboarding and transition experience, for Maryland's pre-eminent public research university that engages in the pursuit of discovery, innovation, and solutions which improve and impact lives.
Key Responsibilities
Welcome and acclimate first-year students and their families to the campus during orientation, as well as lead tours to share stories and identify important campus locations.
Collaborate with academic advisory staff to support students through the enrollment procedure using the PAWS registration system.
Promote engagement by facilitating friendly conversations and small group discussions on college transition-related concerns and opportunities.
Guide evening activities that help scholars develop meaningful social connections.
Quick tip: Create impressive job descriptions easily in our partner's Resume Builder by adding pre-written job phrases for every industry and career stage.

Education section
Near the end of your resume add your education section
Experienced candidates should keep it brief and focus on professional qualifications – and junior candidates can include high school diplomas, college degrees etc.
Additional information
The bottom of your resume is a place to add any "additional info"
Any other info that didn't fall into any of the previous sections can be added here.
If you have hobbies that are related to your profession or any awards or publications – add them here.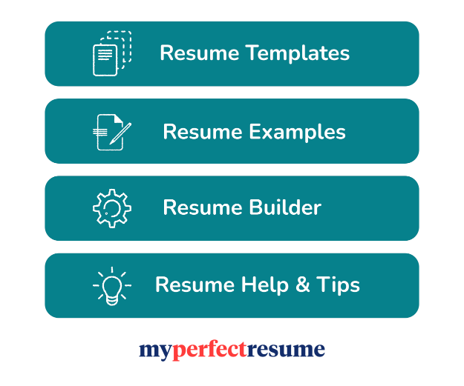 Writing your own winning Orientation Leader resume
By tailoring your resume to the specific job and industry you are targeting and ensuring that it effectively communicates your professional value, you can position yourself as a top candidate for all Orientation Leader positions.
Good luck with your job search!