The human resources department is at the heart of every company, but even they need a little help to function effectively.
So, if you've got what it takes to oversee HR databases and integral computer systems, you could be in high demand. But first, you have to prove this on your resume.
Below, we'll teach you how to do just that, as well as share an example of a HRIS (Human Resource Information System) analyst resume example to guide you.
Contents
| | |
| --- | --- |
| How to write a HRIS Analyst resume | |

HRIS Analyst Resume Example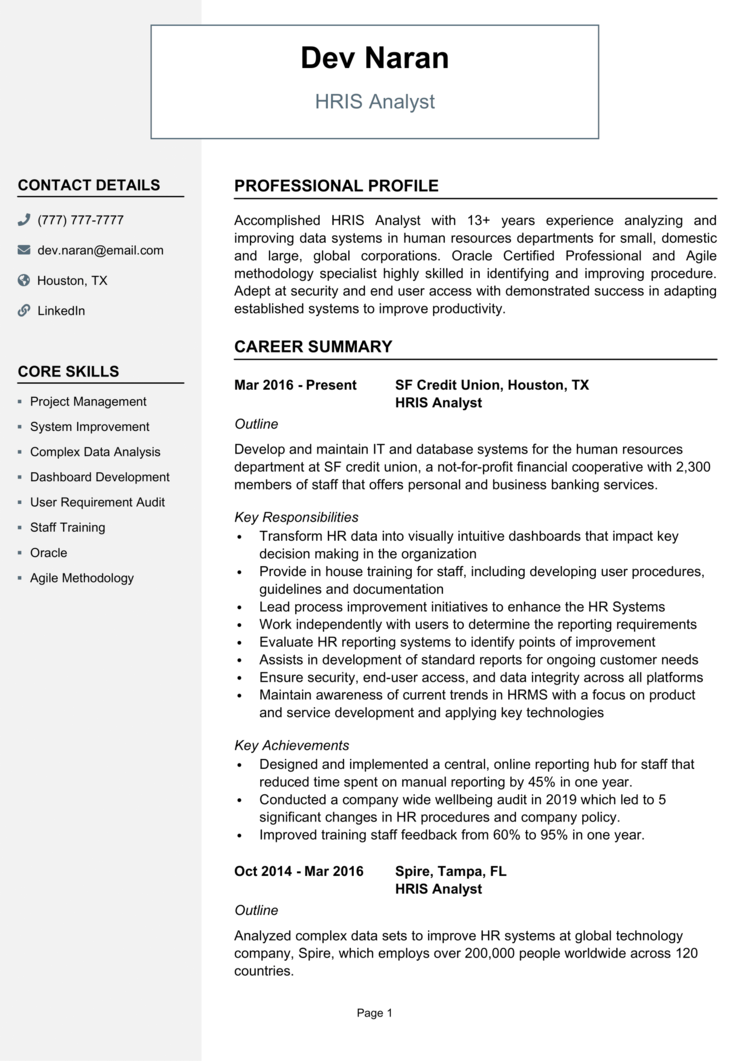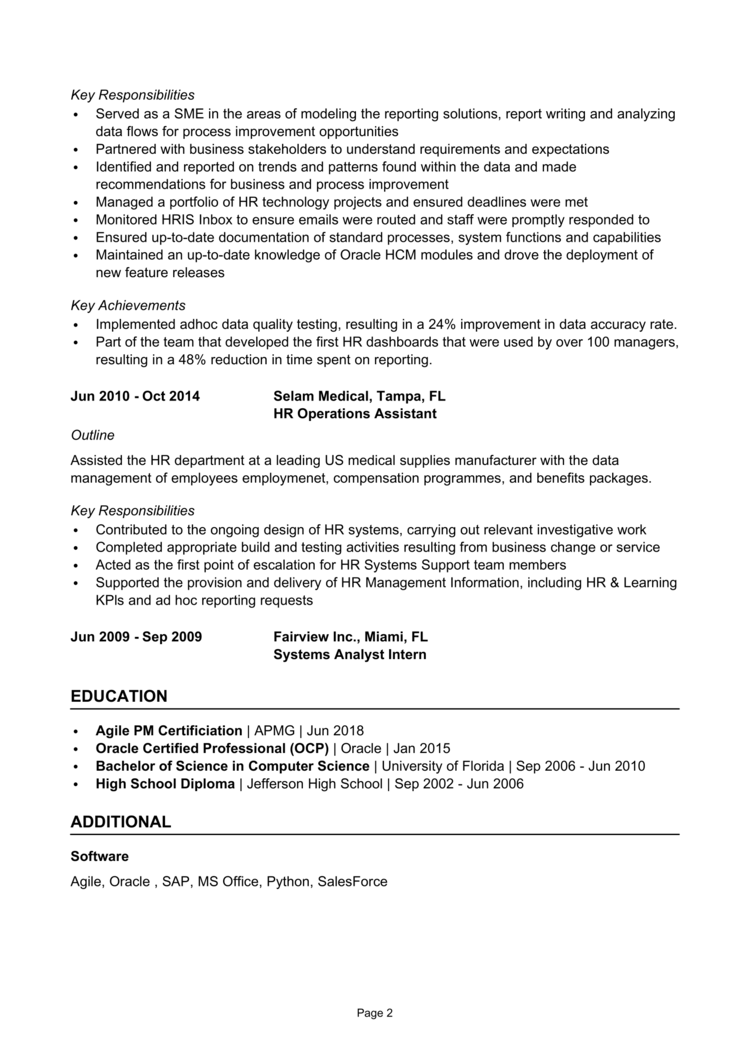 This HRIS Analyst resume example shows you the most effective layout for a resume in today's job market, along with the type of content you need to include.
Stick closely to these guidelines as you write your own resume, to boost your chances of getting lots of responses, interviews and job offers.
Now lets dive into the details of how you write your own eye-catching resume…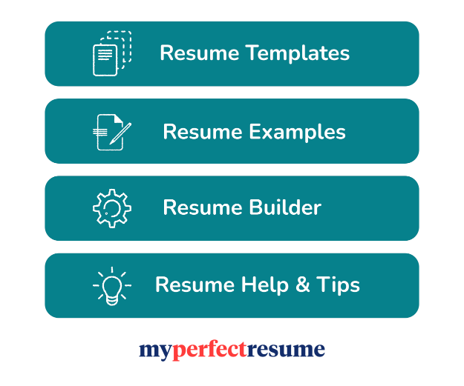 HRIS Analyst resume layout and formatting
Formatting and structuring your resume correctly is key to landing job interviews.
Your resume needs to look attractive, but more importantly it needs to be easy for recruiters and hiring managers to read and digest the information.
These tips will help you to do that: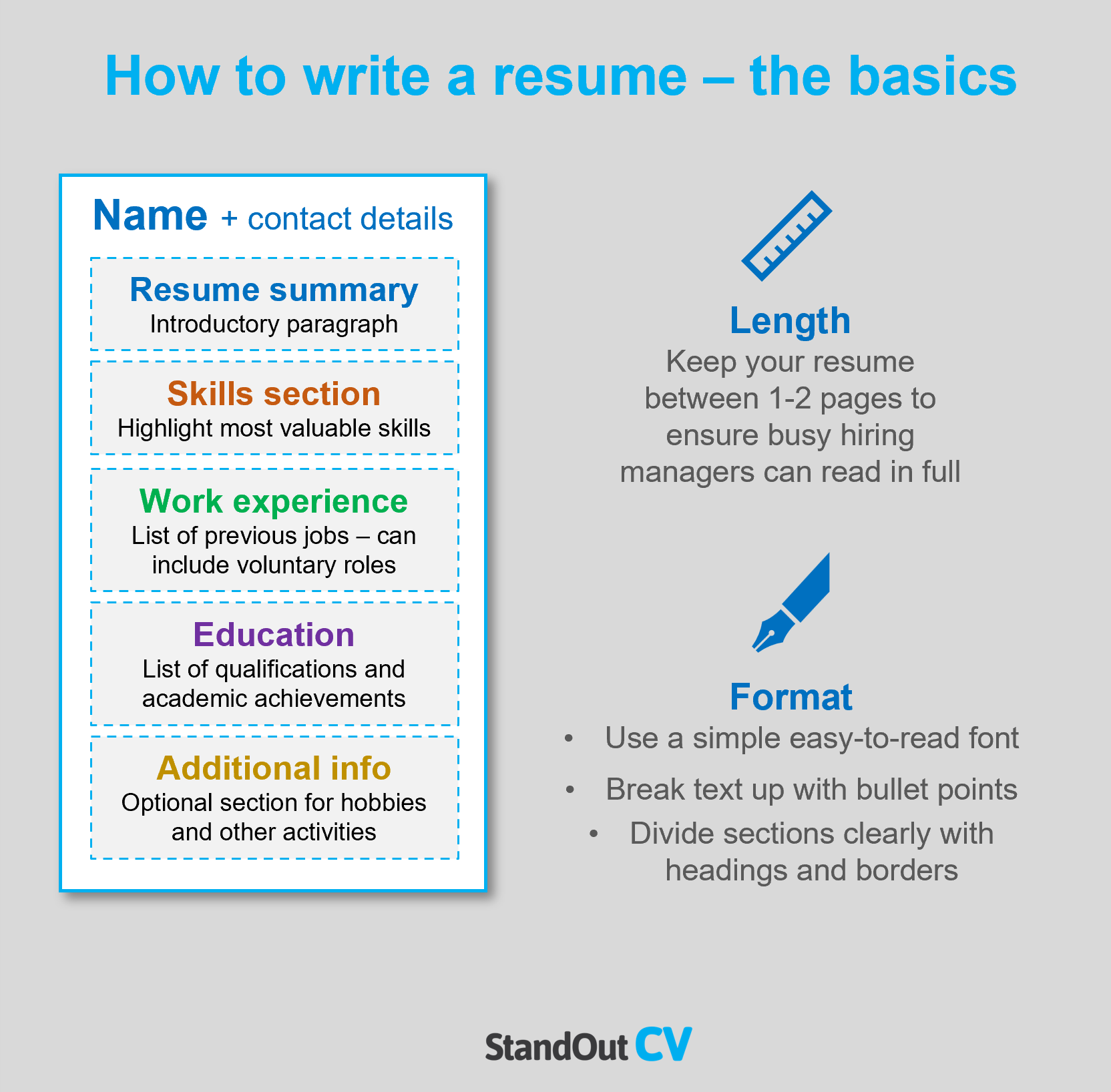 Formatting your resume
Length: Recruiters often see hundreds of resumes per day – so keep yours under 2 pages in length, if you want to ensure it gets read in full.
Font & readability: Nobody likes to read huge unbroken paragraphs of text – and recruiters are no different. Break your resume text up with bullet points and use a clear simple font.
Layout & Structure: Go with a resume design that looks good, but also allows for easy reading and navigation for employers. Ensure the page is clearly split up into sections by adding large font headings and dividing borders. Keep the color scheme simple and don't overcrowd the page.
Photos: Although it's not mandatory to include a photo on your resume in the United States, it may be a good idea to do so in certain regions and industries where it is preferred.
Quick tip: Achieving a professional look for your resume can be difficult and time-consuming. If you want to create an attractive resume quickly, try our partner's Resume Builder and use one of their eye-catching resume templates.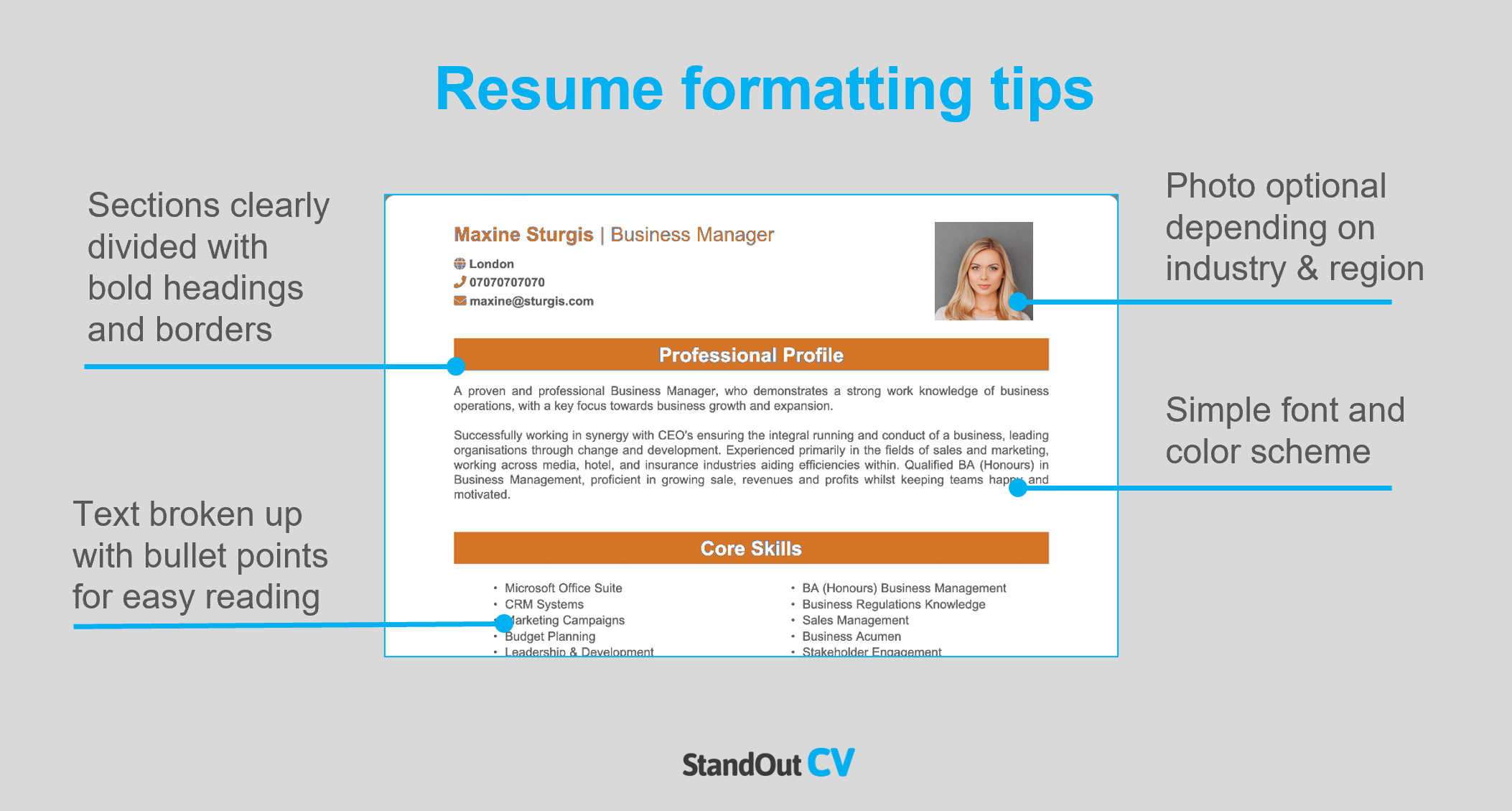 Resume layout
Your resume should include the following sections to give recruiters the information they require:
Name and Contact Details – Place your contact information at the top of your resume to make it easy for employers to get in touch with you.
Resume Summary – Write a brief introduction at the beginning of your resume that summarizes your most important qualifications and highlights why you are the ideal candidate for the job.
Skills Section – Include a concise list of your most relevant and impressive skills to quickly grab the attention of potential employers.
Work Experience – List your previous work experiences in reverse chronological order, including any volunteer work or college placements.
Education – List your educational qualifications and any professional training you have received.
Additional Information – This section is optional, but you can include details about your interests, hobbies, or any other relevant information that can make you stand out from other applicants.
Here's what to include in each part of your resume.
Contact Details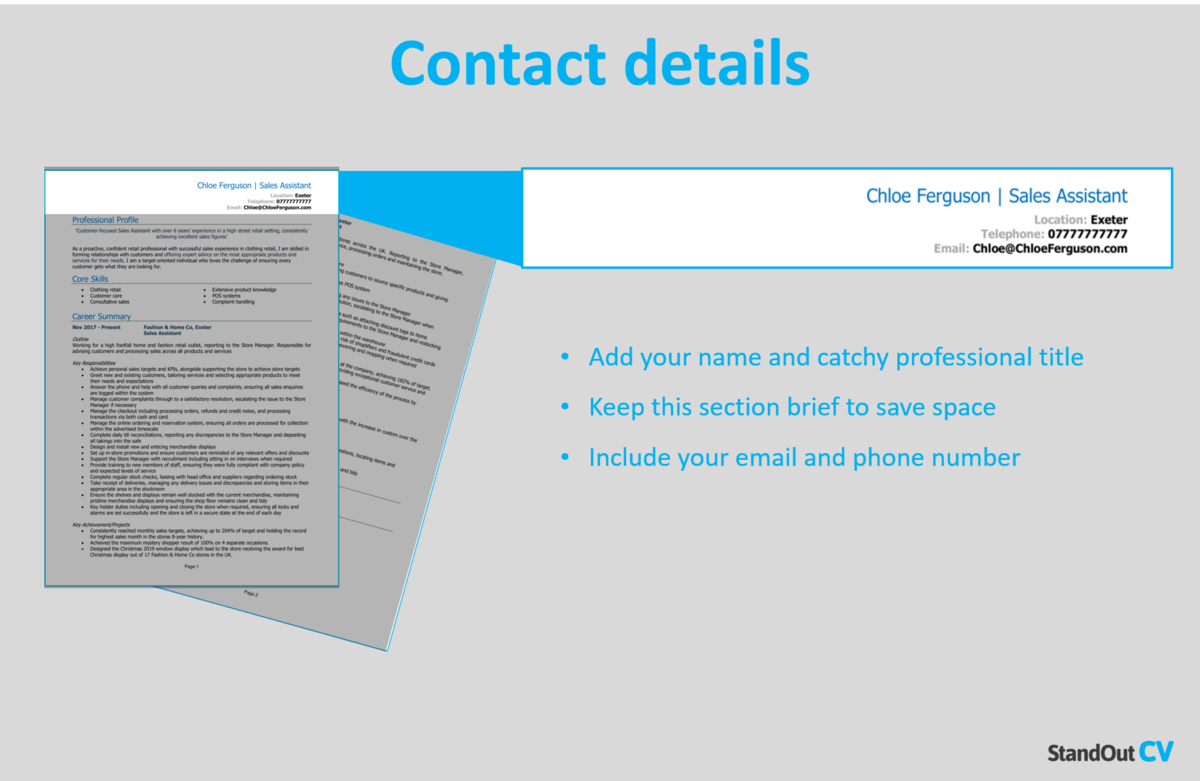 Add your name and contact details to the header of your resume, so that anybody reading can easily see how to contact you.
Name and profession title
Cell phone number – or any number you are easily reachable on
Location – Add your local area such as Washington or San Diego – not your full address as that will take up too much space.
Email address – Use a professional looking address.
You can add a link to your LinkedIn profile if you have one – you do not need to include personal details like date of birth or religion.
HRIS Analyst Resume Summary
Your resume summary is like an elevator pitch. It's your chance to sell yourself to employers within a short space of time.
Achieve this by summarizing your skills and expertise, whilst highlighting your abilities that closely match the jobs you are aiming for.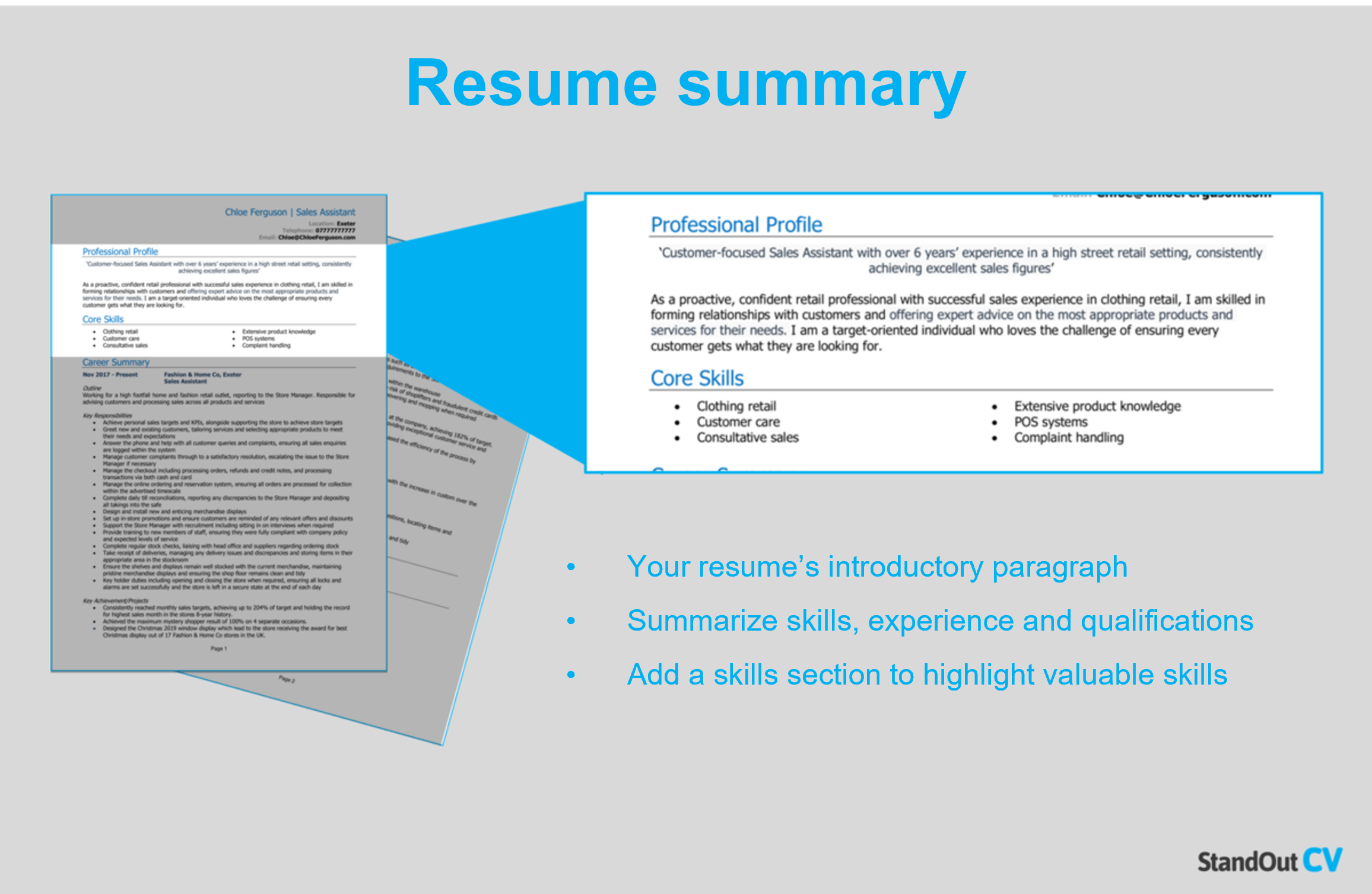 How to create a resume summary that will excite recruiters:
Keep it short: To effectively capture a recruiter's attention, it's crucial to keep your resume summary brief and to the point, limiting it to 4-7 lines as this provides enough detail without overwhelming them at this early stage.
Tailor to target jobs: Ensure your profile makes an impact by matching it closely to the requirements of the job description, copying as many key terms as possible.
Avoid using cliches: You might be a "highly motivated go-getter who thinks outside the box" but generic meaningless cliches like that don't tell employers much about you – stick to factual information in your summary.
HRIS Analyst resume summary example
Accomplished HRIS Analyst with 13+ years' experience analyzing and improving data systems in human resources departments for small, domestic, and large, global corporations. Oracle Certified Professional and Agile methodology specialist highly skilled in identifying and improving procedure. Adept at security and end user access with demonstrated success in adapting established systems to improve productivity.
What to include in your HRIS Analyst resume summary?
Summary of your experience: Provide a summary of the kind of work you have previously done, along with the benefits you have delivered to the organizations you worked with.
Relevant skills: Include your skills which are hyper relevant to HRIS Analyst jobs to instantly show your suitability.
Qualifications: Mention any HRIS Analyst qualifications that are important to your profession in the summary briefly, to show you are qualified to carry out the role.
Quick tip: Choose from hundreds of pre-written summaries across all industries, and add one to your resume with one-click in our partner's Resume Builder. All written by recruitment experts and easily tailored to suit your unique skillset and style.
Core skills section
Sitting just underneath your resume summary, your core skills section gives recruiters 4-10 of your most in-demand skills in just a glance.
As HRIS Analyst jobs may get hundreds of applications, this is a great way to stand out and quickly grab hiring managers' attention.
It should be made up of 2-3 columns of bullet points and highlight attributes that are hyper-relevant to the jobs you are aiming for.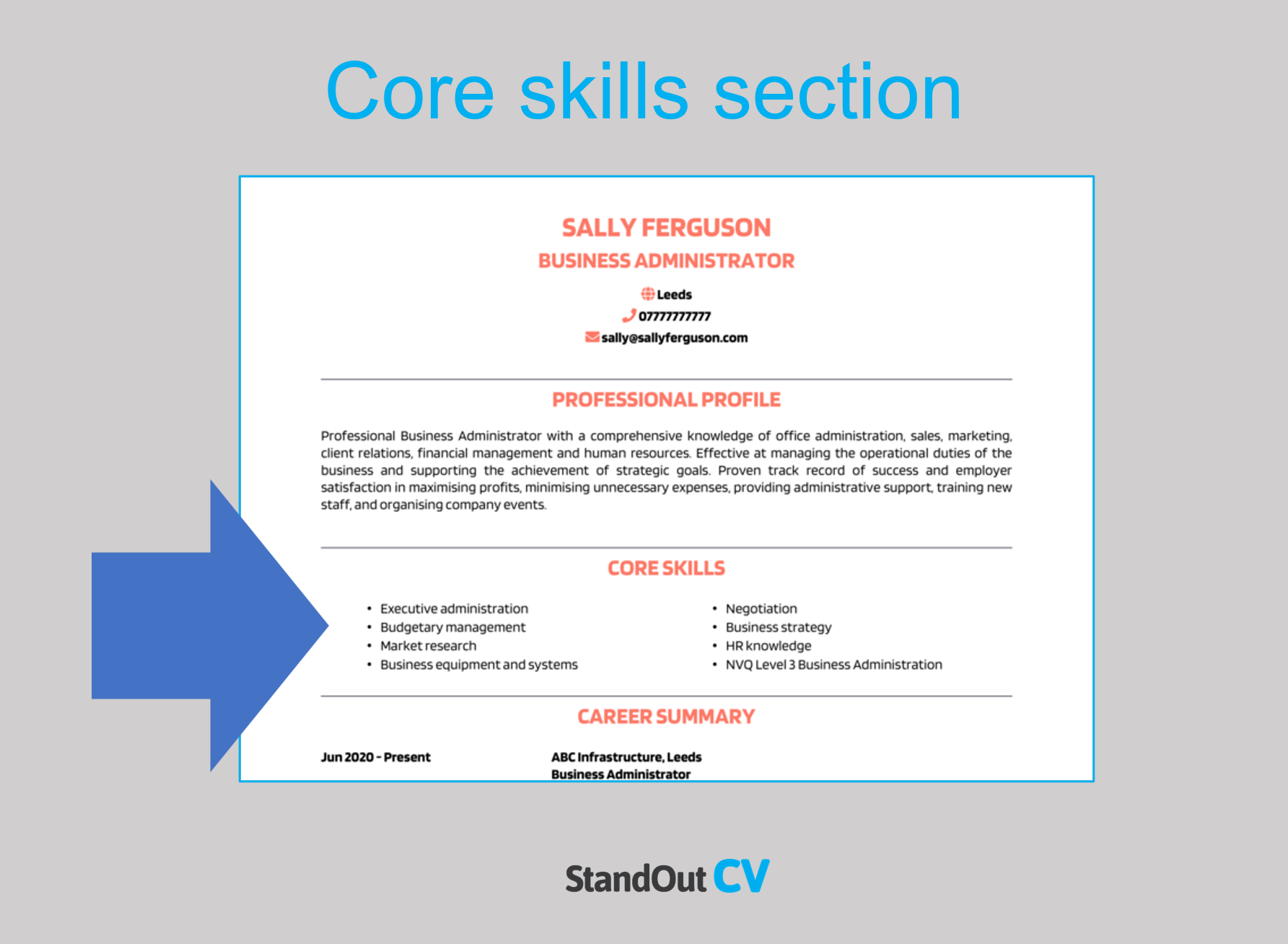 Best skills for your HRIS Analyst resume
HR systems – Utilizing knowledge of HR systems, including HRIS (Human Resource Information System), to maintain and update employee data.
Data management – Managing employee data, including entry, editing, and maintenance, to ensure data accuracy and security.
Reporting and analysis – Creating and analyzing HR data reports, including turnover and employee demographics, to provide insights for decision-making.
Compliance – Utilizing knowledge of HR compliance regulations, including FMLA and EEOC, to ensure the HR system is compliant with regulations.
Project management – Managing HR system projects, including system implementations and upgrades, to ensure projects are completed on time and within budget.
Specialist tools and software – Using software and tools such as SQL, Excel, and HRIS systems, to effectively manage HR data and create reports.
Issue resolution – Identifying and solving HR system issues, including data discrepancies and technical errors, to maintain the accuracy and reliability of the system.
Training and development – Training and developing HR system users, including HR staff and managers, to improve HR data quality and system usage.
Vendor management – Managing relationships with HRIS vendors, including system upgrades and support, to ensure vendor services align with organizational needs.
Process improvement – Identifying opportunities for HR system process improvements, including automation and streamlining, to increase efficiency and accuracy.
Quick tip: Our partner's Resume Builder contains thousands of in-demand skills for every profession that can be added to your resume in seconds – saving you time and greatly improving your chances of landing job interviews and getting hired.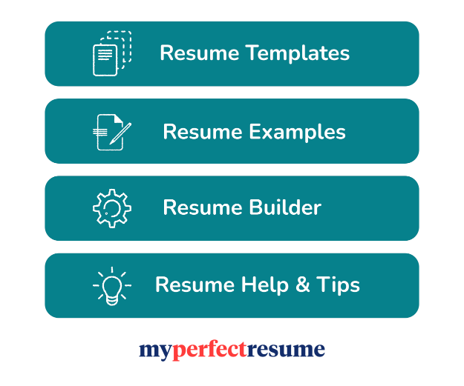 Work experience
So, you've grabbed the recruiters' attention with your summary, now it's time to show them what you're really capable of in your work experience section.
List your previous jobs from current to oldest, showing off the impact you made at each organization.
If you have tons of experience, you should just list the most recent an relevant jobs – but if you have little or no experience, add it all and even consider putting in voluntary work.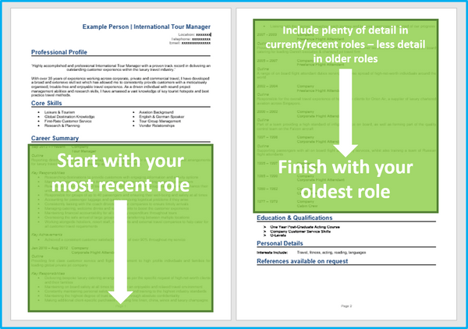 Structuring your jobs
Your job description probably includes tons of information, so it's vital to organize it well when writing about it on your resume.
Structure your jobs as like the example below to make skim-reading easy for recruiters and hiring managers.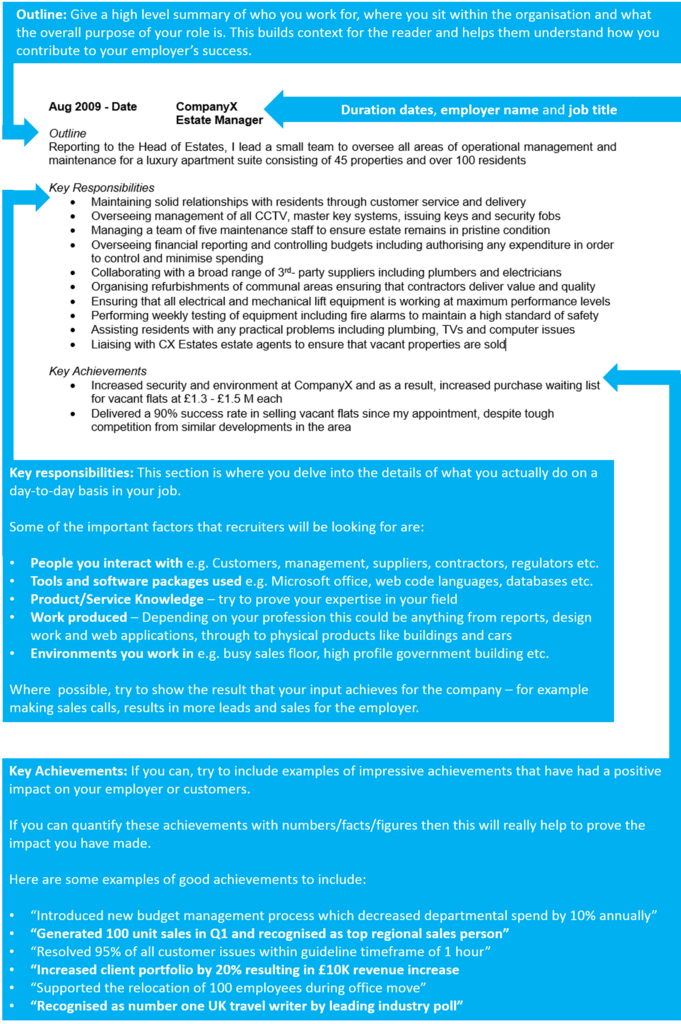 Job outline
Begin each job with a short summary of who the organization is, where you sit within it, and what the main goal of your position is.
Key responsibilities
Next, write up a punchy list of your daily duties and responsibilities, using short bullet points.
Describe how you apply your skills and contribute to the running of the employer's business – highlighting skills which are applicable to your target jobs.
Key achievements
Finish each role by highlighting some impressive achievements you made whilst in the role.
Anything that benefited the employer can be included from making financial savings, to winning new customers.
Quantify your achievements with facts and figures if you can, e.g. "reduced call wait time by 10%"
Example job for HRIS Analyst resume
Outline
Develop and maintain IT and database systems for the human resources department at SF credit union, a not-for-profit financial cooperative with 2,300 members of staff that offers personal and business banking services.
Key Responsibilities
Transform HR data into visually intuitive dashboards that impact key decision making in the organization
Provide in house training for staff, including developing user procedures, guidelines and documentation
Lead process improvement initiatives to enhance the HR Systems
Work independently with users to determine the reporting requirements
Quick tip: Create impressive job descriptions easily in our partner's Resume Builder by adding pre-written job phrases for every industry and career stage.

Education section
After your work experience, add your education section.
If you are an experienced professional, you can keep this part short – adding basic details of each qualification.
If you have little or no experience, bulk this section up by adding more detail and highlight important skills and knowledge for your target jobs.
Additional information
The bottom of your resume is a place to add any "additional info"
Any other info that didn't fall into any of the previous sections can be added here.
If you have hobbies that are related to your profession or any awards or publications – add them here.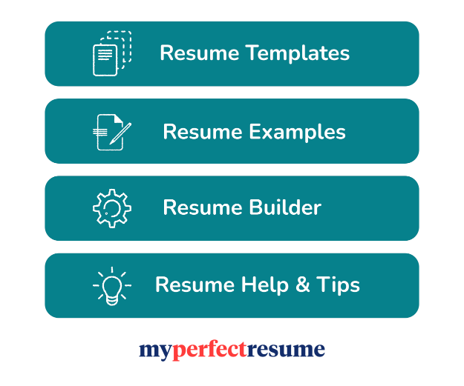 Writing your own winning HRIS Analyst resume
By tailoring your resume to the specific job and industry you are targeting and ensuring that it effectively communicates your professional value, you can position yourself as a top candidate for all HRIS (Human Resource Information System) Analyst positions.
Good luck with your job search!