Earning a General Educational Development (GED) diploma or certificate is the non-traditional approach to getting your high school diploma.
If you choose this path, it's important that you know how to list your GED on your resume correctly, as this could open you up to lots of exciting career opportunities.
So, whether you're still studying or you've recently been awarded your certificate, we can help you communicate this in the right way.
Here's everything you need to know about listing your GED on your resume.

How to list your GED on your resume

As your GED is essentially replacing your high school diploma, you can list this in the same way you would a traditional diploma in your education section.
What's more, if you don't have much experience to speak of in your resume summary, this can be the ideal way to showcase your knowledge and skills.
Below, we're going to look in more detail and how to do this and the best way to format this information on your resume.
Where should my GED be listed?
There are 2 places in your resume where you can include your GED; your education section and your summary.
In your education section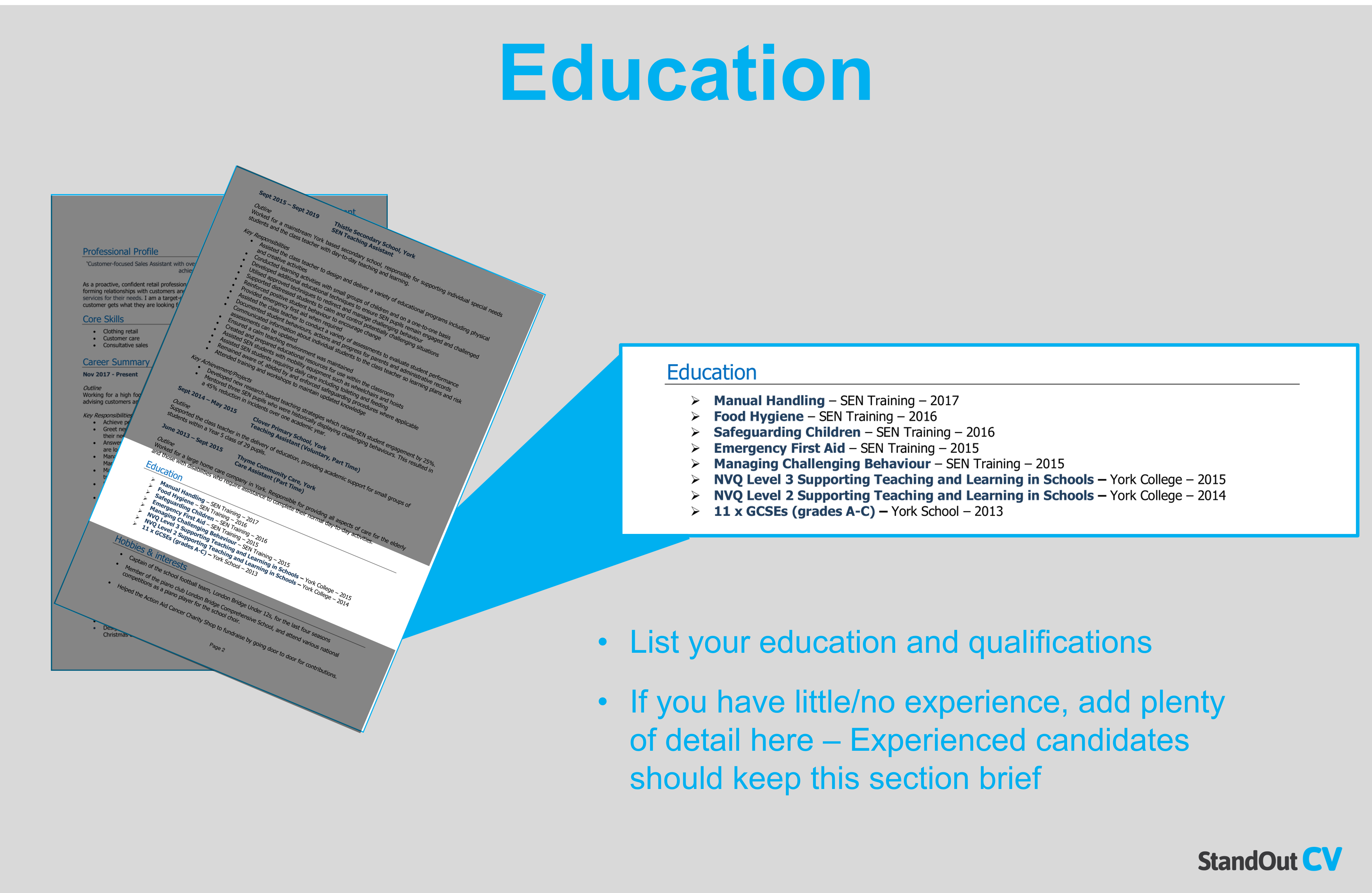 First and foremost, you should include your GED in your education section as you would your traditional high school diploma.
Make sure you don't just write "GED" and nothing more, as this can look a little unprofessional also it might mean that recruiters who are searching for the words "General education development diploma" might not find your resume.
Instead, be sure to list;
The title in full; General Education Development Diploma
Dates of your study or indicate if your studies are ongoing.
Any impressive achievements from your GED, such as high test results.
Example:
General Education Development Diploma (in progress)
September 2022 – Present
(Achieved 98% in Mathematics)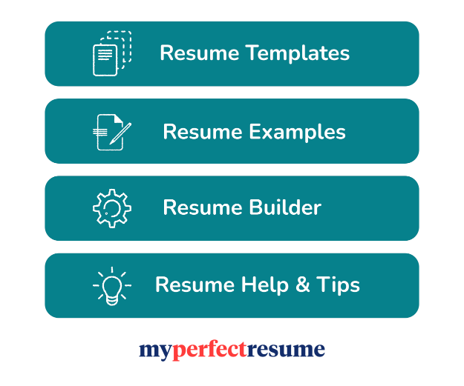 In your resume summary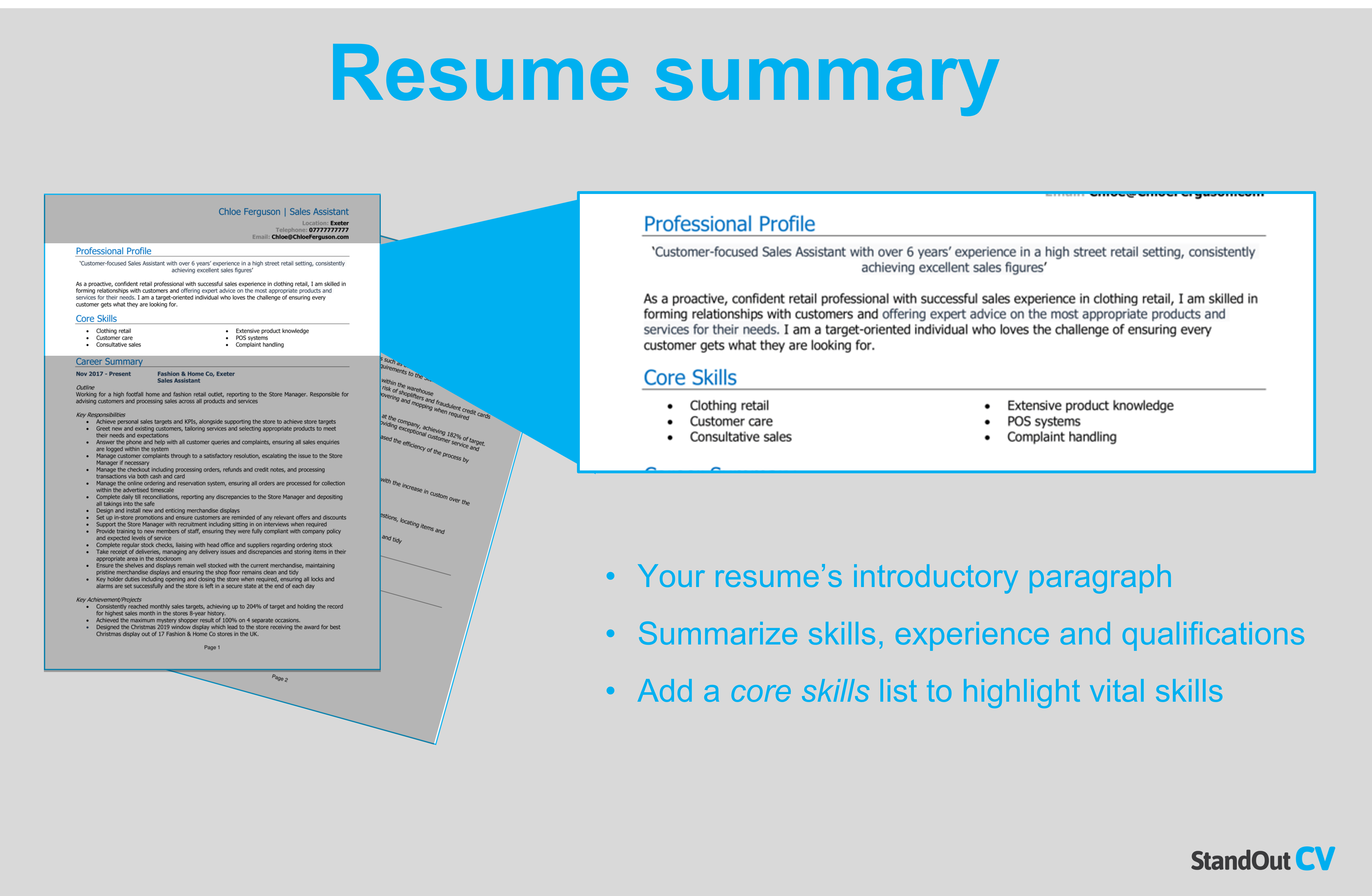 Your resume summary is the introductory paragraph that sits right at the top of the document, so if you want to ensure that recruiters know about your GED, you should mention it briefly here.
If you don't have a lot of work experience or you're still studying, adding your GED is a great way to prove you have some valuable skill and knowledge.
At this stage, you don't have to go into too much detail as this section of the resume is only intended to get recruiter's attention and persuade them to read the rest of your resume.
Example summary with GED:
I am a highly motivated and reliable graduate who has recently earned my General Education Development Diploma. I am seeking to leverage my impressive Language Arts and Social Studies scores and put these to good use in a Creative Assistant role.
How do I write about my GED
Now you understand where to place your GED on your resume, let us share some more tips on how to include your studies and make the most of your qualifications.
Use your words wisely – When including your GED in your education, summary, achievements, or any other section on your resume, write it out in full (General Educational Development) rather than using the abbreviation. This offers clarity to the reader and looks more professional
Offer more details – If you want to give more details, you can outline your impressive test scores or the subjects in which you excelled. For example, if you aced your maths test and the role requires basic mathematics skills.
Apply this to your skills section – In your skills section, focus on the transferable skills that your GED has given you
Explain your GED – If you're concerned the recruiter won't know what a GED is, you can follow this up in your education section with 'High School Equivalency Diploma'
GED resume examples
If you're looking for some more inspiration and ways to include your GED on your resume, check out our detailed examples below.
Example 1

Example 2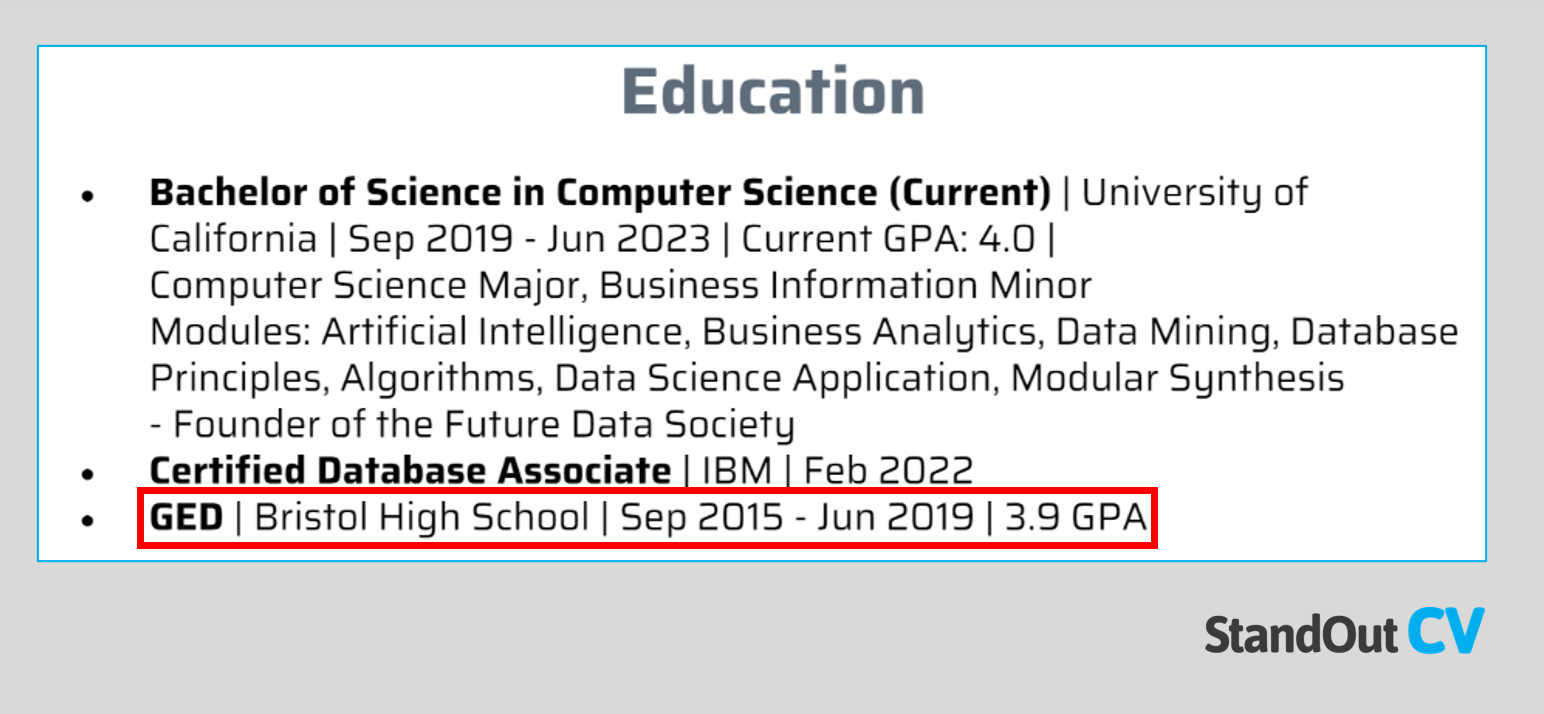 What is a GED?
A GED is a General Education Development diploma or certificate that proves the holder has the knowledge and skills equivalent to a high school diploma, even if they didn't graduate from high school.
In order to get certified, the participant must take and pass a series of tests on four different subjects, including maths, English, and social science.
GED vs High School Diploma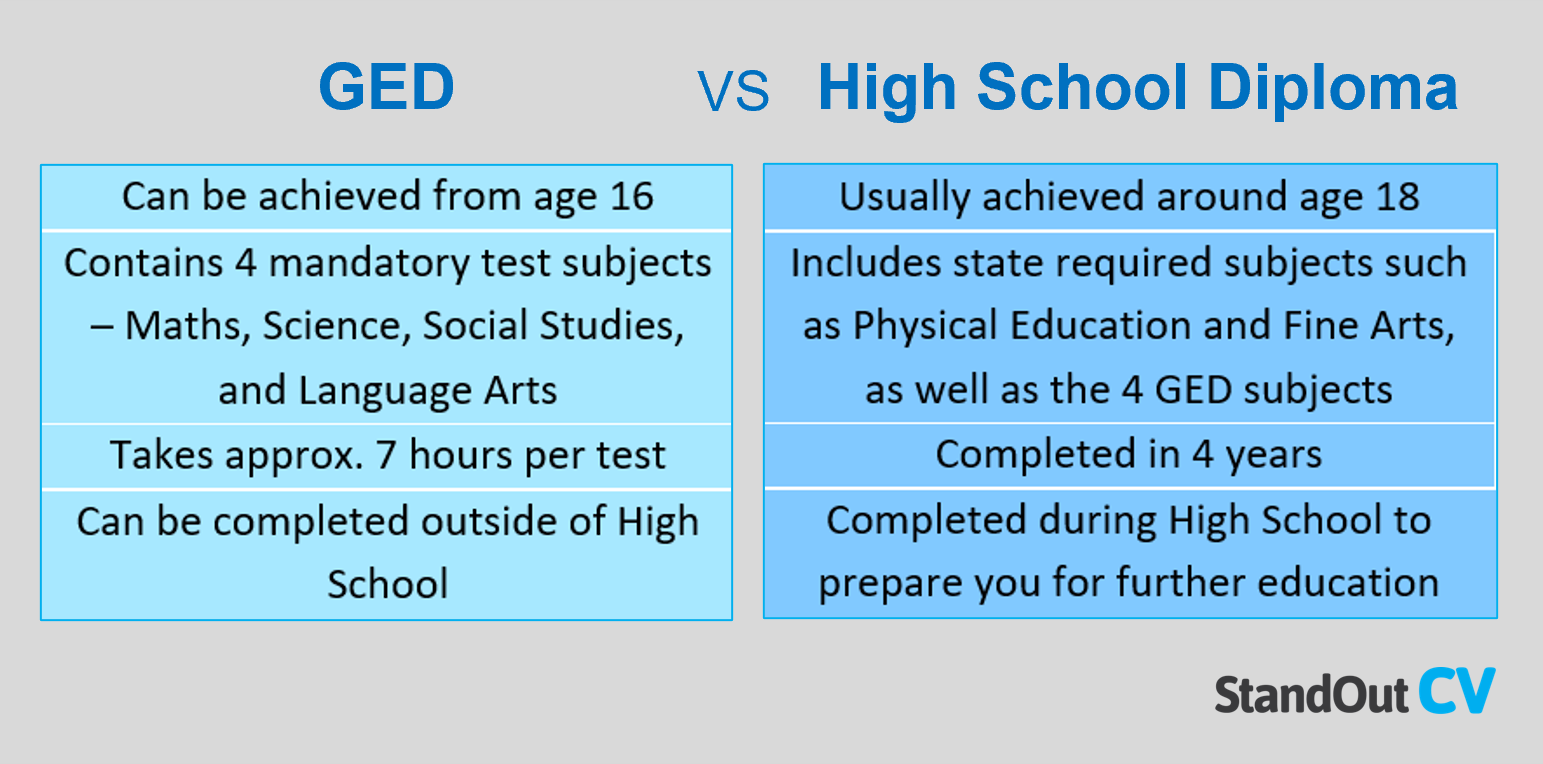 We've spoken about how the Ged is the equivalent of a high school diploma, but how do the two measure up?
Well, high school diplomas are given to those who attend and successfully complete the required courses through the traditional high school route. Whereas GED is a group of five exams, and if passed, these prove that the student has the knowledge to have graduated high school, even if they didn't.
In many cases, circumstances get in the way, and some students are forced to drop out of high school and obtain their qualifications at a later date. This is where a GED can be a really beneficial resource.
Why you should list your GED on your resume?
If you're wondering whether or not to include your GED on your resume, here are 5 reasons why it will benefit your job applications.
To showcase your knowledge – Including a GED proves to the employer that you have the same knowledge as a high school graduate
To increase job opportunities – You can showcase your skills and willingness to learn, which will afford you better job opportunities
To beat the competition – A GED can give you a competitive edge over those who have no high school diploma or equivalent
For future learning – Having a GED will increase your chances of being able to further your education, whether personally and professionally
To prove you're proactive – Finally, taking your GED after dropping out of high school shows you're proactive, dedicated and that you wanted to complete your education in an official capacity

When not to include a GED on your resume?
Of course, there are some times when including your GED on your resume may not be necessary, even if you have earned one. We've outlined some of these scenarios below.
If you have qualifications that supersede the GED – If you used your GED to get into college or take further studies, you should list these instead and forgo the details of your GED
If you're currently studying high education – Similarly, if you're currently studying at college, you should explain this and leave out your GED
If you have a long career – If you already have a long successful career, your GED is not the most recent or relevant experience you have and, therefore, is not required to boost your application as you'll have plenty of other talking points
If you're worried about age discrimination – If you're concerned that giving the details of when you took your GED might reveal your age, you might wish to leave this off your resume to avoid discrimination
As you can see, if you've not got a huge amount of experience or if the job description requires a high school diploma, mentioning your GED can increase your chances of landing a job.
You should include this in your education section, and you could even mention it in your summary if you think this will boost your application.
For those who have gone on to study after their GED or who have a lot of experience, including your certification is optional as you have other, more relevant talking points for your resume.