If you love putting a smile on your patient's face, you might be ready to join a new dental team. First, you've got to create an interview-winning resume.
But if you're not sure where to start, this guide is for you.
Below, we've put together a dental hygienist resume example, along with some top tips and advice on crafting a great application.
Contents
| | |
| --- | --- |
| How to write a Dental Hygienist resume | |

Dental Hygienist Resume Example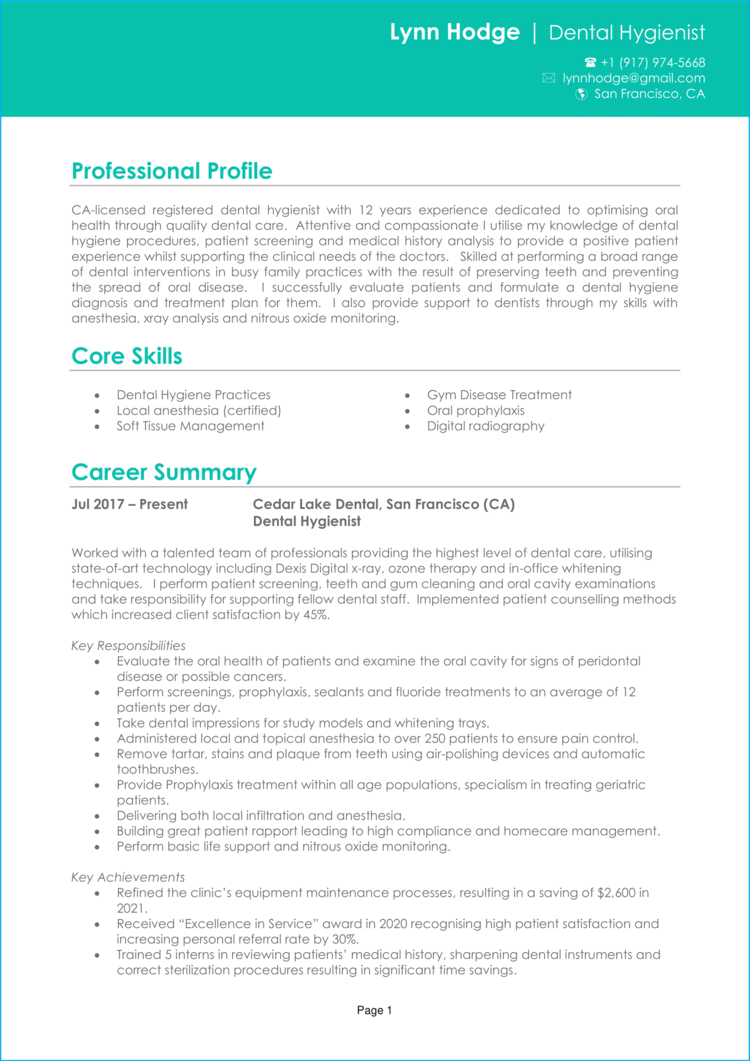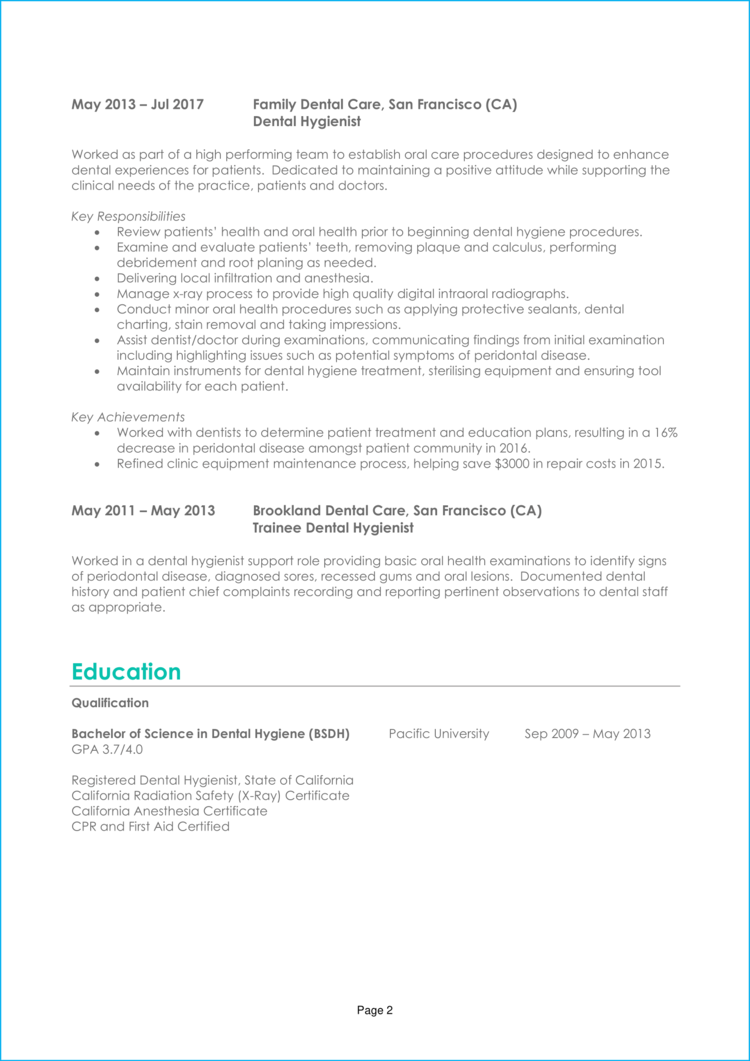 This Dental Hygienist resume example shows you the most effective layout for a modern resume, along with the type of content you need to include.
Stick closely to these guidelines as you write your own resume, to maximize your chances of getting responses, interviews and job offers.
Now lets dive into the details of how you write your own eye-catching resume…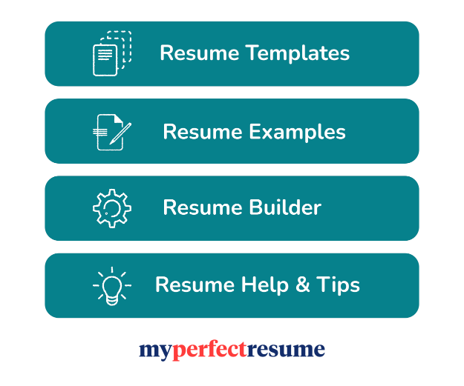 Dental Hygienist resume layout and format
The format and layout of your resume can make or break its success.
Sure, it's great to pack your resume with lots of impressive skills and knowledge, but if the page is not structured clearly, hiring managers will struggle to find the important stuff!
Above all, your resume should be easy-to-read and professional looking.
Follow these formatting tips to get noticed.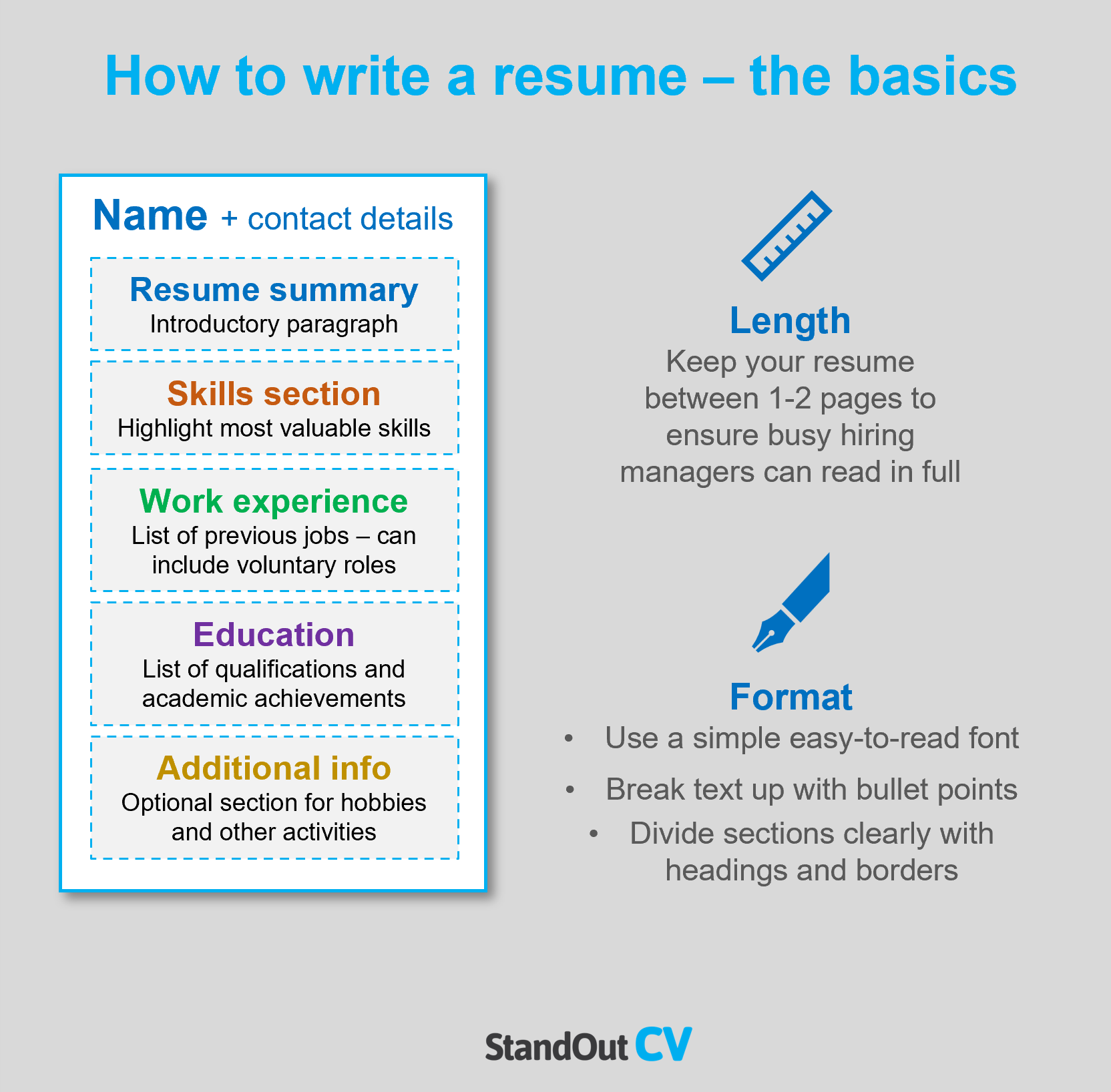 Resume formatting tips
Length: Attention spans in recruitment are notoriously short, so keep your resume short and sweet. There's no exact rule for resume length, but aim for 2 pages or less if you want to ensure yours gets read in full.
Font and text: Complex fonts are a readers' worst nightmare and will leave recruiters struggling to understand your message. Use a clear simple lean font in a color that stands out against the page, and break your text up with bullet points to make the content easily digestible.
Design & structure: Go with a resume design that looks good, but also allows for easy reading and navigation for employers. Ensure the page is clearly split up into sections by adding large font headings and dividing borders. Keep the color scheme simple and don't overcrowd the page.
Photos and images: It's not mandatory to add a photo to your resume in the USA but it if you're applying to organizations within the creative fields, it can be beneficial.
Quick tip: Formatting a resume to look professional can be difficult and time-consuming. If you want to create an attractive resume quickly, try our partner's Resume Builder and use one of their eye-catching resume templates.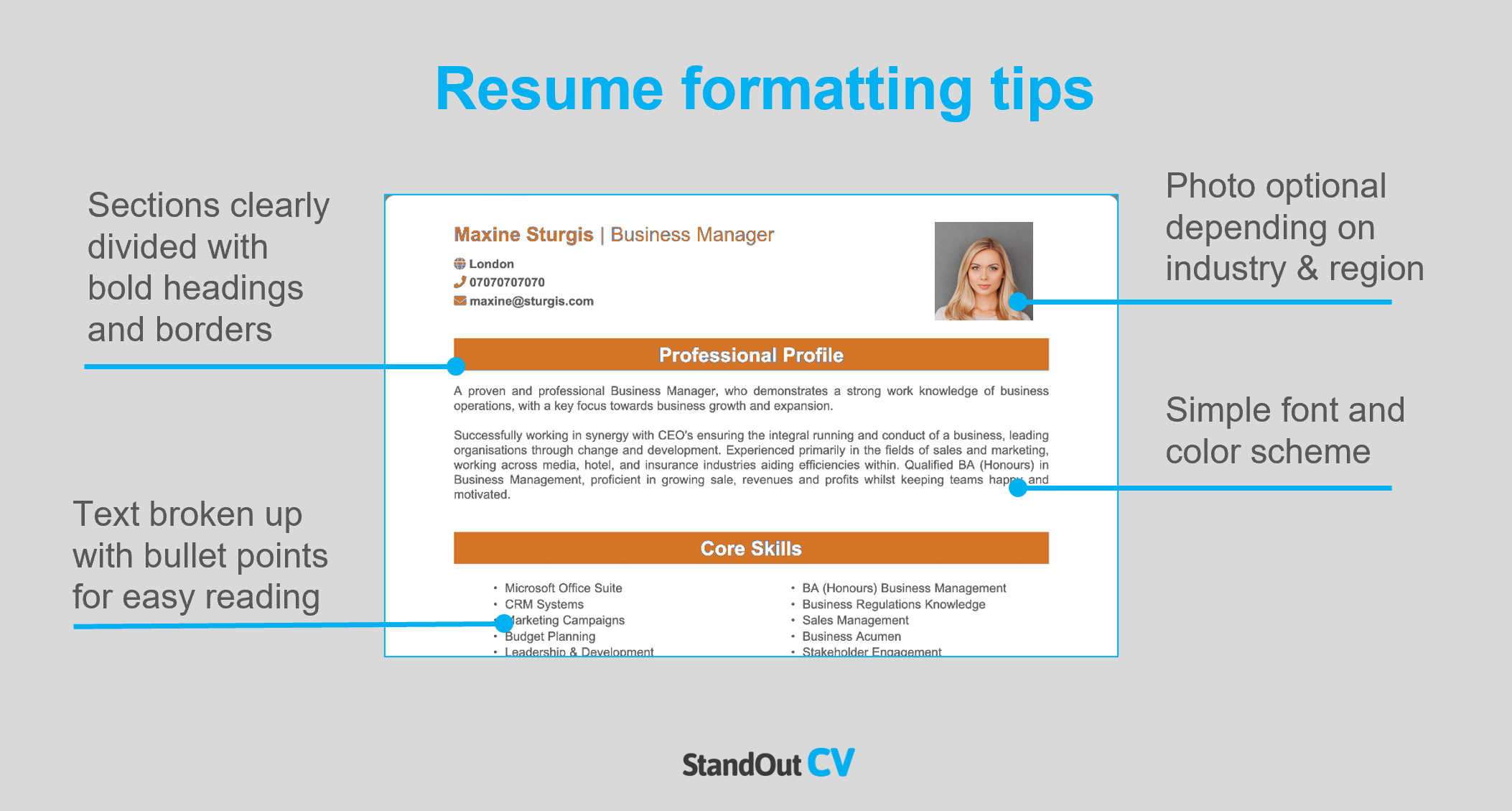 Resume layout
Add the following sections when you write your resume.
Name and contact details – Add to the very top of your resume to introduce yourself and make it super-easy for recruiters to get in touch.
Resume summary – Reel hiring managers in with an "elevator pitch" style paragraph which sums up your suitability for the job.
Skills section – A short and sharp list of your most important skills, that can be quickly skim-read.
Work experience – List your previous jobs (from newest to oldest) detailing the skills learnt and applied in each.
Education – List your qualifications and professional training.
Additional info – If it helps your application, you can add an extra section for things like hobbies and interests.
Now here's exactly what you should include in each of these sections in your resume.
Resume Contact Details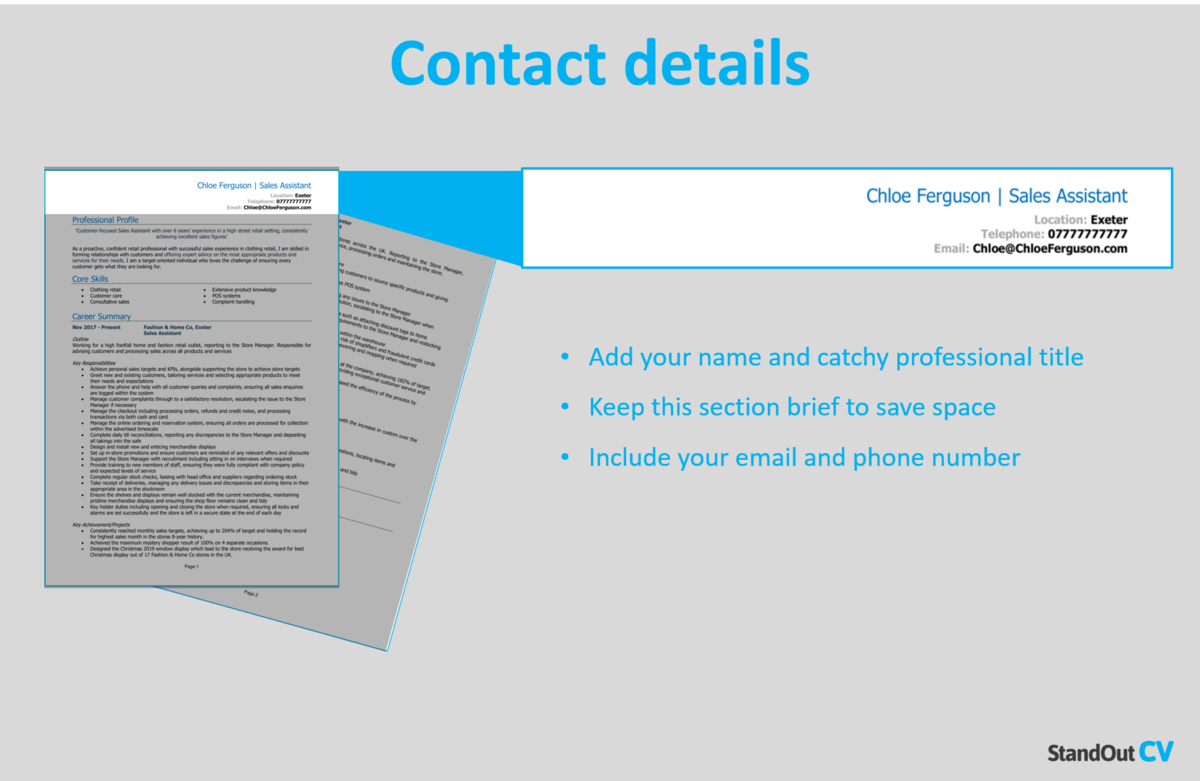 Make it easy for hiring managers to contact you by adding your contact details to the top of your resume.
Keep this section small to save space and include the following.
Name and profession title
Telephone number – Ideally your cell phone so you can answer quickly.
Location – Add your general location such as LA or New York
Email address – Use a professional looking one with no nicknames.
You can add a link to your LinkedIn profile if you have one – you do not need to include personal details like date of birth or marital status.
Dental Hygienist Resume Summary
Your resume summary is like your introduction to the recruiter or hiring manager – it should grab their attention and leave them eager to read more about you.
Achieve this by writing a snappy overview of your skills, knowledge and what value you can bring to an employer.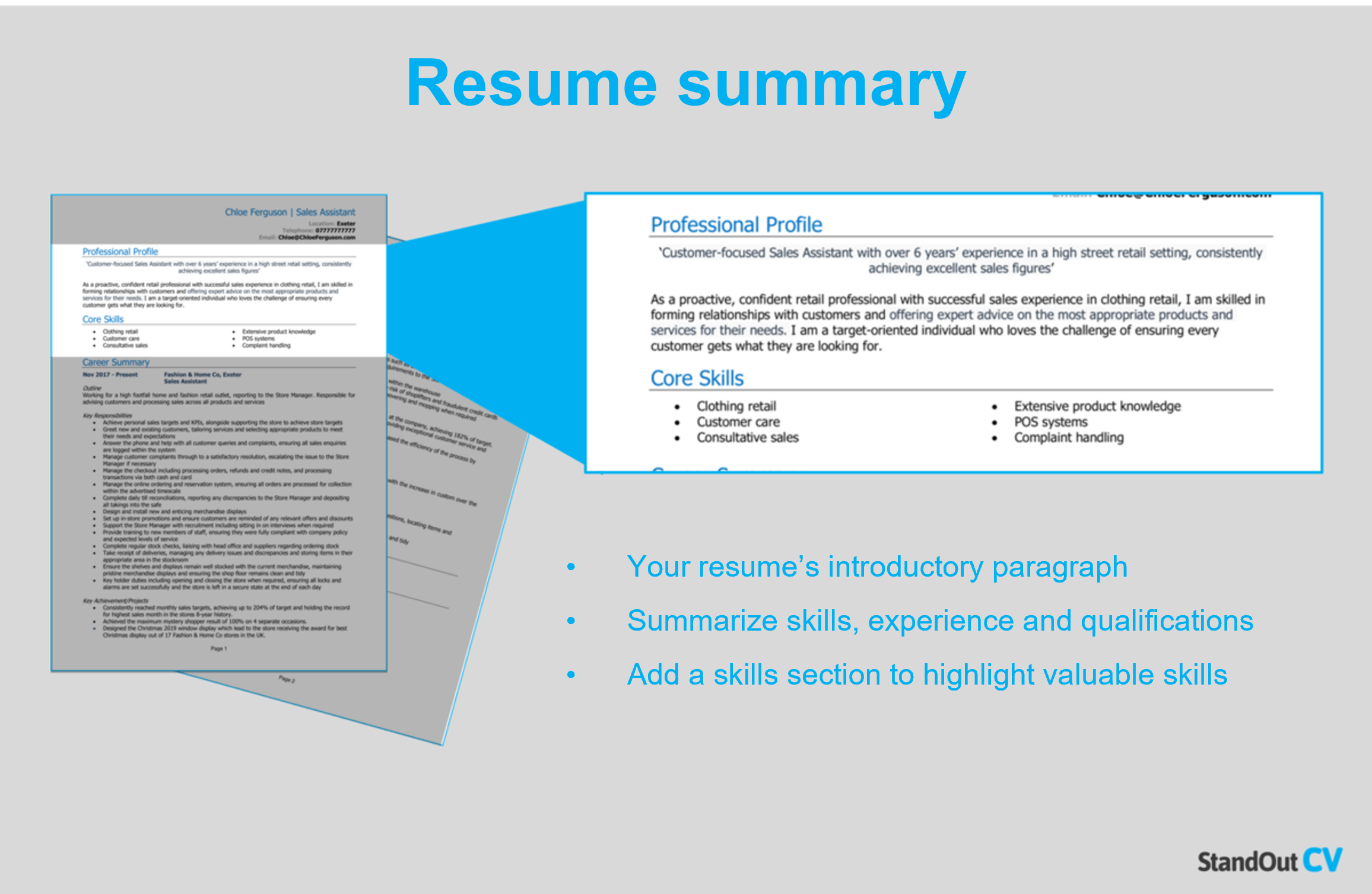 Tips for creating an strong resume summary:
Keep it brief: Aim for a short punchy paragraph of 4-7 lines. This is just enough info to showcase why you'd make the perfect hire, without going into excessive detail and overwhelming busy recruiters at such an early stage in the resume.
Tailor it: Ensure your profile makes an impact by matching it closely to the requirements of the job description, copying as many key terms as possible.
Avoid cliches: You may be a "team player who always give 110%" but generic phrases don't tell employers much about you in reality – stick to factual information.
Example resume summary for Dental Hygienist
CA-licensed registered dental hygienist with 12 years experience dedicated to optimising oral health through quality dental care. Attentive and compassionate I utilise my knowledge of dental hygiene procedures, patient screening and medical history analysis to provide a positive patient experience whilst supporting the clinical needs of the doctors. Skilled at performing a broad range of dental interventions in busy family practices with the result of preserving teeth and preventing the spread of oral disease. I successfully evaluate patients and formulate a dental hygiene diagnosis and treatment plan for them. I also provide support to dentists through my skills with anesthesia, xray analysis and nitrous oxide monitoring.
What to include in your Dental Hygienist Resume summary?
Summary of professional experience: What type of organizations have you worked at? What types of roles have you done and what have you contributed to previous employers?
Relevant skills: Highlight your skills which are most relevant to Dental Hygienist jobs, to ensure that recruiters see your most in-demand skills as soon as they open your resume.
Essential qualifications: Showcase your level of education with a quick mention of any qualifications that are essential for the Dental Hygienist roles you are applying to.
Quick tip: Choose from hundreds of pre-written summaries across all industries, and add one to your resume with one click in our partner's Resume Builder. All written by our recruitment experts and easily tailored to suit your unique skillset.
Core skills section
Next, you should create a bullet pointed list of your core skills, formatted into 2-3 columns.
Here, you should focus on including the most important skills or knowledge listed in the job advertisement.
This will instantly prove that you're an ideal candidate, even if a recruiter only has time to briefly scan your resume.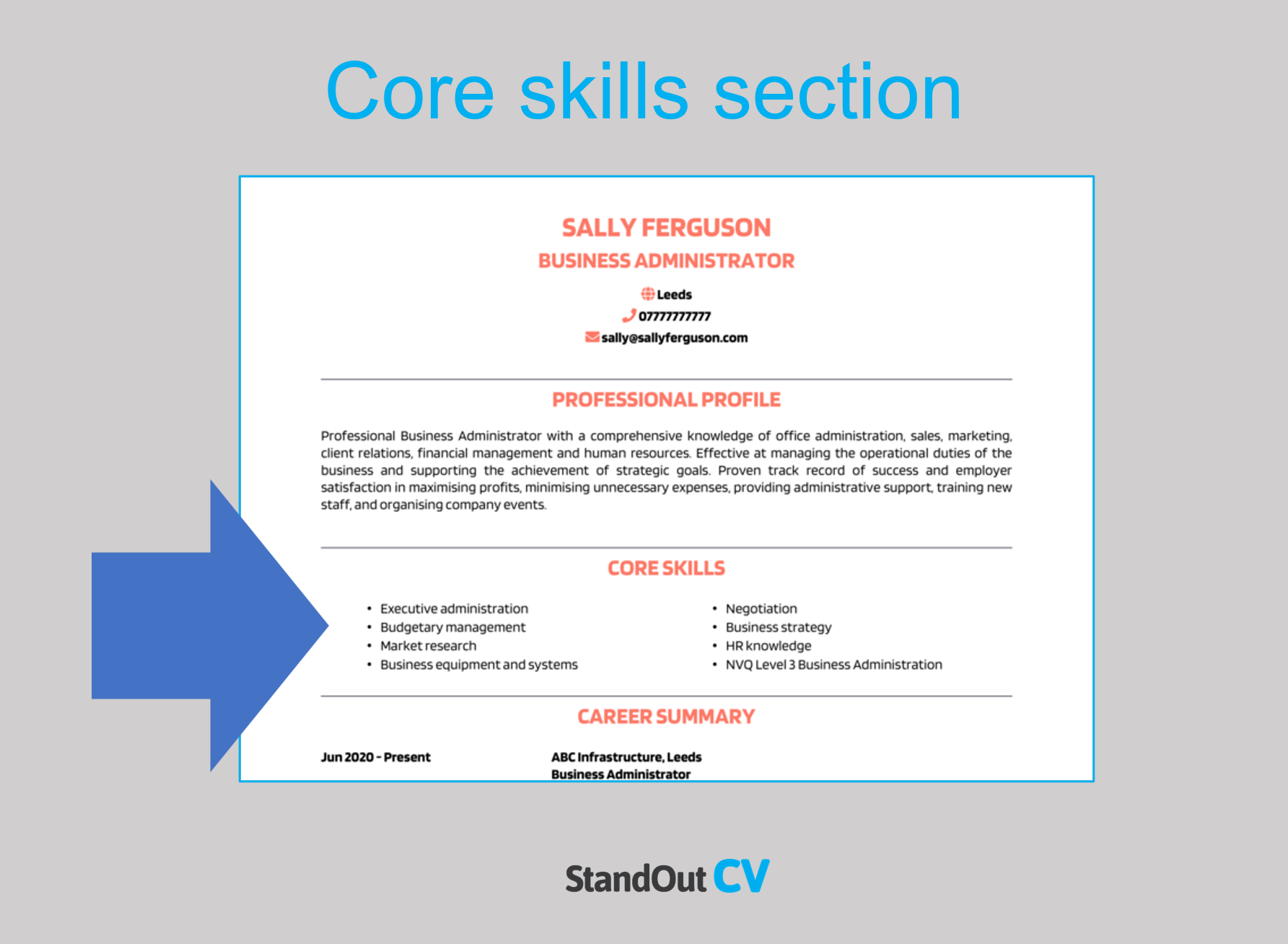 Best skills for your Dental Hygienist resume
Dental Hygiene Practices – Advising patients on good practices to keep their mouth clean and disease free, including brushing and flossing, and visiting the dentist regularly for dental X-rays, exams, and cleanings
Soft Tissue Management – Creating a nonsurgical plan of action to manage periodontal diseases including performing a thorough periodontal exam to determine gum health and measuring the depth of any pockets.
Gym Disease Treatment – Taking measurements to assess the extent of gum disease, extensive cleaning to remove deposits from below the gums, and the administration of topical antibiotics into pockets.
Oral prophylaxis – Completing thorough oral health examinations combined with a scale and clean.
Digital radiography – Using a sensor, computer and monitor to acquire, process, store, retrieve and display radiographic images of the mouth and teeth.
Quick tip: Our partner's Resume Builder contains thousands of in-demand skills for every profession that can be added to your resume in seconds – saving you time and greatly improving your chances of landing job interviews.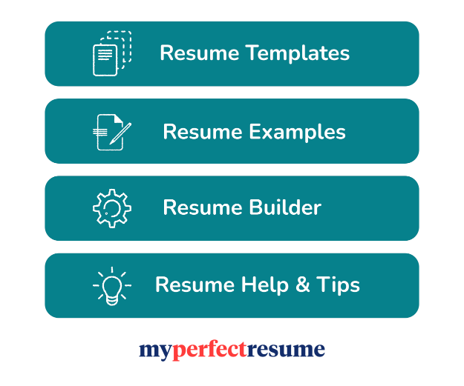 Work experience section
So, you've grabbed the recruiters' attention with your summary, now it's time to show them what you're really capable of in your work experience section.
List your previous jobs from current to oldest, showing off the impact you made at each organization.
If you have tons of experience, you should just list the most recent an relevant jobs – but if you have little or no experience, add it all and even consider putting in voluntary work.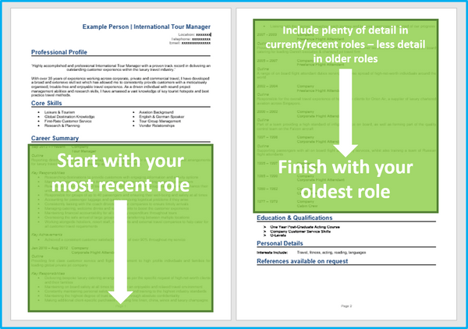 Structuring your job descriptions
It's easy to overwhelm readers when writing about a job you have been doing for years or even months.
Break the information up like this to keep it simple for recruiters to understand.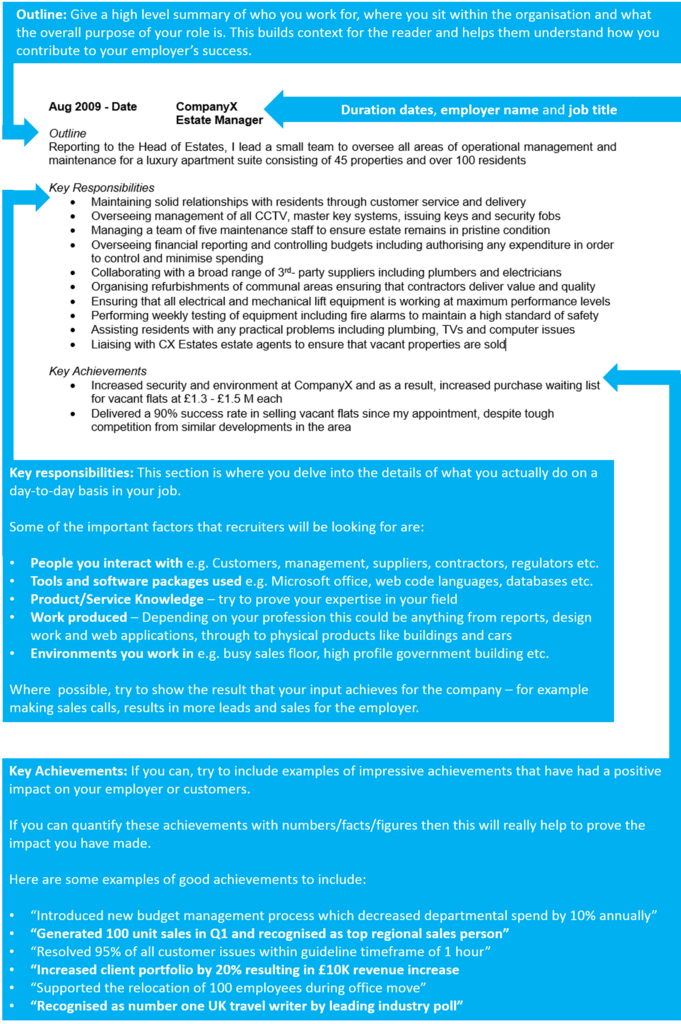 Job outline
Kick off each role with a high-level overview to summarize the focus of the job, what the organization/department does, and how you fit into the bigger picture.
Key responsibilities
List your notable responsibilities in short sharp bullet points to demonstrate your input and how you contributed to the organization's success.
Highlight the skills that are most important to the roles you are applying for.
Key achievements
Finish each role by highlighting some impressive achievements you made whilst in the role.
Anything that benefited the employer can be included from making financial savings, to winning new customers.
Quantify your achievements with facts and figures if you can, e.g. "reduced call wait time by 10%"
Example job for Dental Hygienist resume
Outline
Worked with a talented team of professionals providing the highest level of dental care, utilising state-of-art technology including Dexis Digital x-ray, ozone therapy and in-office whitening techniques. I perform patient screening, teeth and gum cleaning and oral cavity examinations and take responsibility for supporting fellow dental staff. Implemented patient counselling methods which increased client satisfaction by 45%.
Key Responsibilities
Evaluate the oral health of patients and examine the oral cavity for signs of peridontal disease or possible cancers
Perform screenings, prophylaxis, sealants and fluoride treatments to an average of 12 patients per day
Take dental impressions for study models and whitening trays
Administered local and topical anesthesia to over 250 patients to ensure pain control
Quick tip: Create impressive job descriptions easily in our partner's Resume Builder by adding pre-written job phrases for every industry and career stage.

Education resume section
Towards the bottom of your resume, add your education section.
Here you should list your professional qualifications and academic record, such as high school diplomas or college degrees.
If you have lots of work experience, you can keep this section brief (because recruiters will be more interested in your career. If you have little/no experience then you should bulk this section up with plenty of detail.
Additional info for your resume
If you have anything else to add which is relevant to the jobs you are applying for, the additional info section is the place to add it.
Perhaps you have a hobby which involves relevant skills, or maybe you have some awards or publications worth mentioning.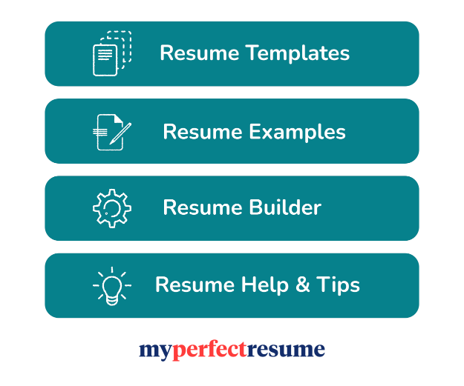 Writing your Dental Hygienist resume
A winning Dental Hygienist resume should look great, read well, and sell your skillset to hiring managers.
If you follow the steps above, you should be able to bag yourself a top job in no time.
And don't forget you can use our partner's Resume Builder if you want to save time and ensure your resume contains the very best content.
Good luck with your job search!