They say data makes the world go round, and if you know how to monitor, manage, and optimize this data while also overseeing a team, then your skills are in demand right now.
However, this doesn't mean you can walk straight into a job.
You still need a killer resume that demonstrates your database management expertise, technical skills, and leadership. We can help you create this with our advice and database manager resume example below.
Contents
| | |
| --- | --- |
| How to write a Database Manager resume | |

Database Manager Resume Example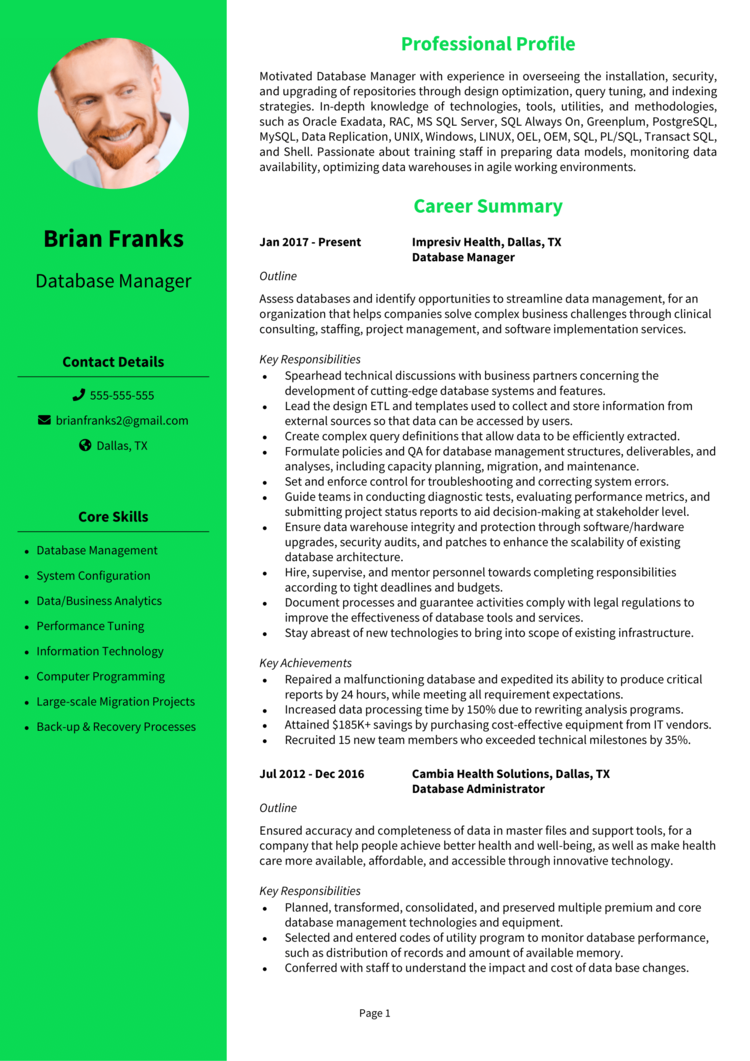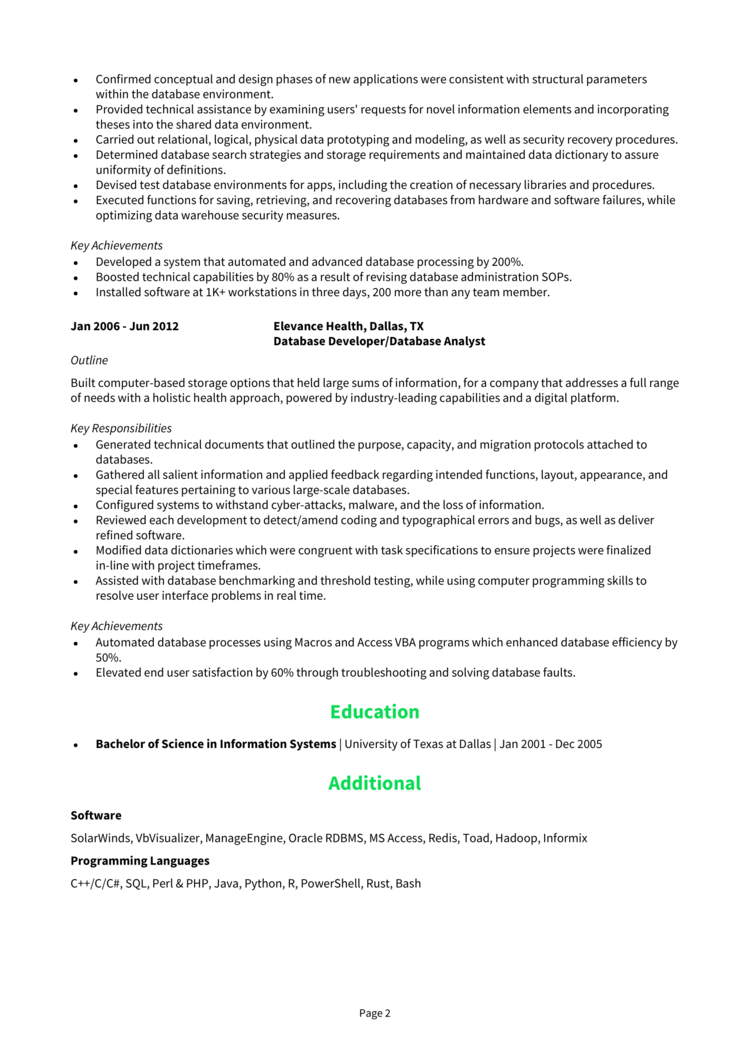 This example Database Manager resume is well-structured to provide a pleasant reading experience for recruiters, and contains all of the crucial information they want to see.
The rest of the guide will show you exactly how you can achieve this in your own resume.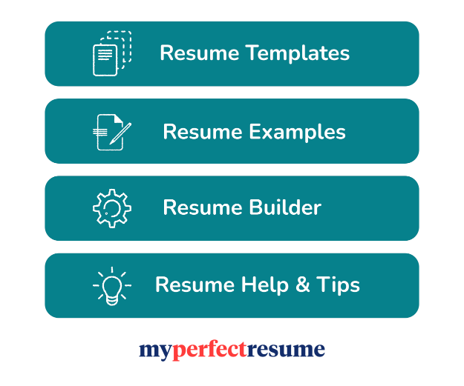 Database Manager resume layout and formatting
When it comes to holding the attention of recruiting managers, the format and layout of your resume play a key role.
Your resume needs to strike a perfect balance between looking awesome, and being easy for recruiters to read (which is not always easy to achieve)
Use the following formatting tips to get started.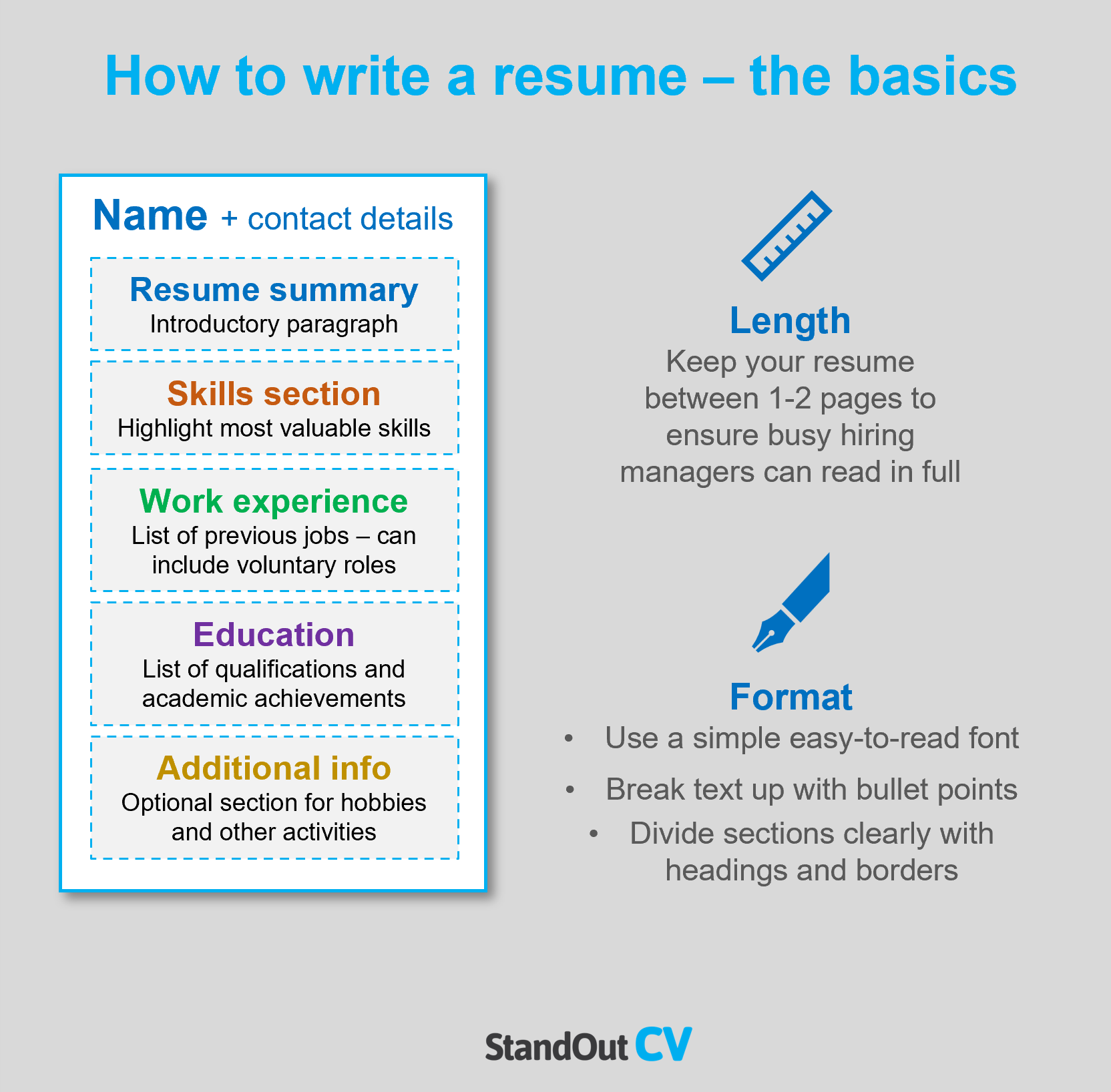 Formatting your resume
Length: To ensure that recruiters will read all of your resume, limit its length to 2 pages – as they someteimes read hundreds of resumes daily.
Font & readability: Readability is the name of the game when it comes to your resume. Ensure yours is a dream to read by using a simple clear font, and breaking the text up with plenty of bullet points and short paragraphs.
Layout & Structure: Your resume should look appealing – but don't overlook functionality when it comes to design. Organise the page into clear sections using bold headings and borders.
Photos: You don't have to add a photo to your resume in the States, but some regions and industries like to see them.
Quick tip: Achieving a professional look for your resume can be difficult and time-consuming. If you want to create an attractive resume quickly, try our partner's Resume Builder and use one of their eye-catching resume templates.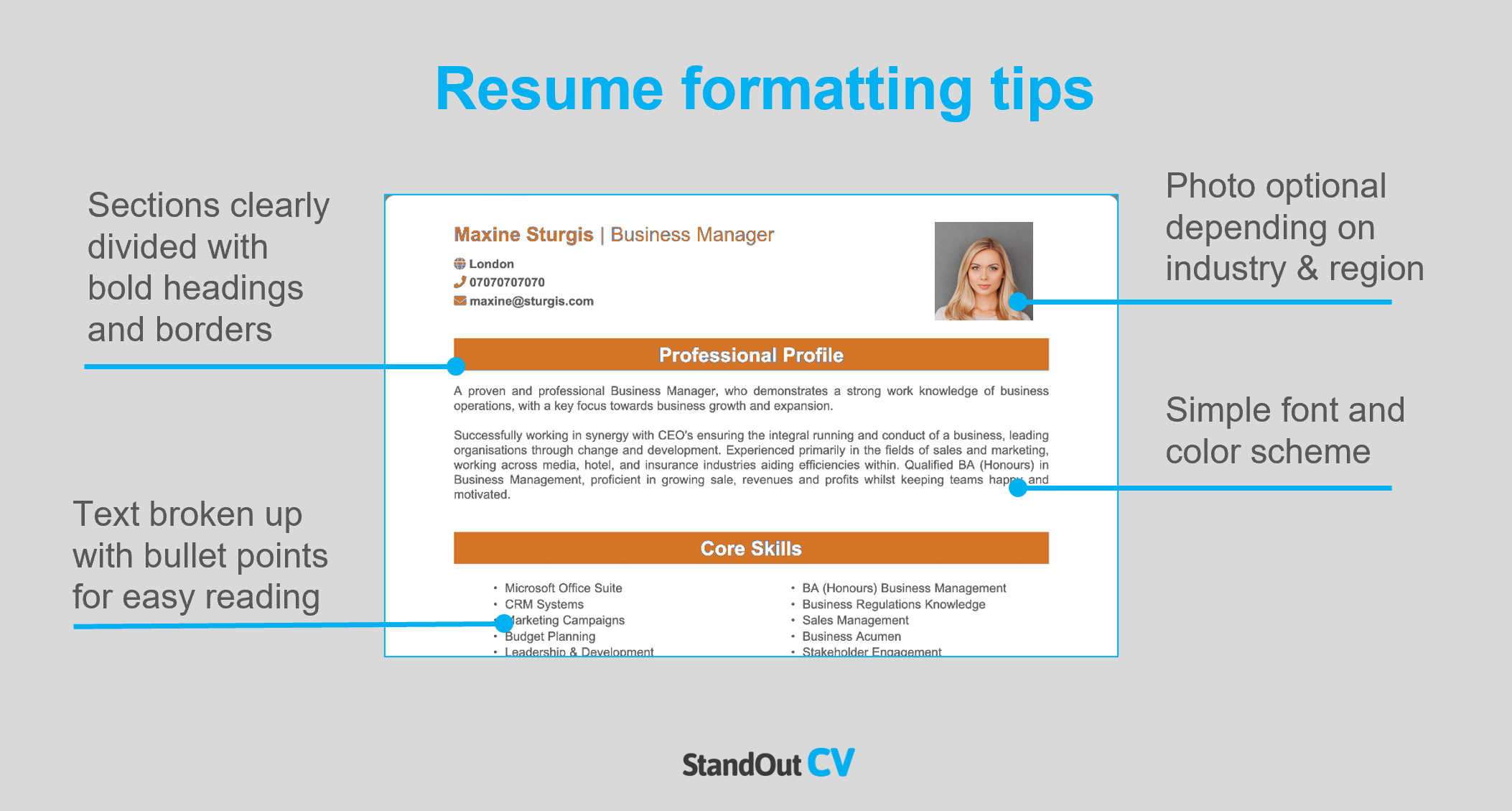 Resume layout
Include the following sections when you write your resume.
Name and contact details – Make it easy for employers to contact you, by putting these at the top.
Resume summary – An intro paragraph sitting at the top of your resume, summarizing the reasons why you should be hired.
Skills section – A short snappy list of your most important skills, that can be quickly digested
Work experience – Reverse chronological list of your previous jobs – voluntary work and college placements can be included if you have no paid experience.
Education – List your qualifications and professional training.
Additional info – An optional section for things like hobbies and interests.
Here's what to include in each part of your resume.
Contact Details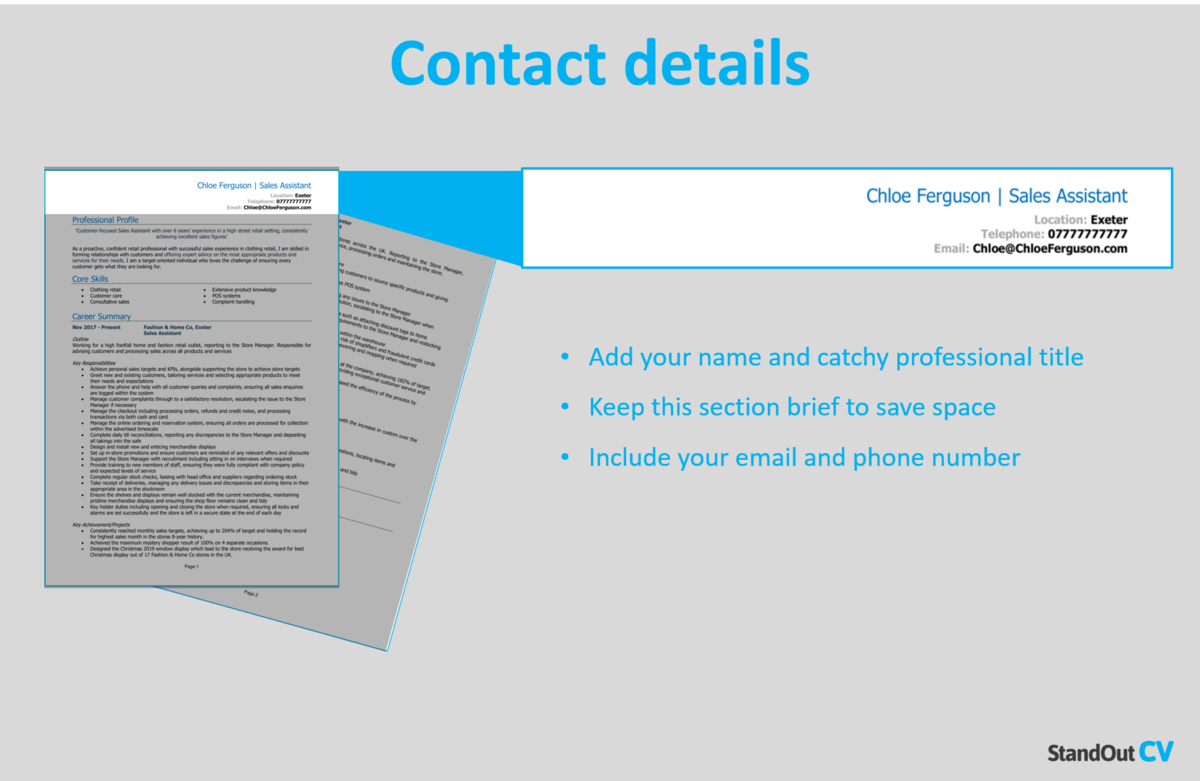 Add your name and contact details to the very top of your resume, making it easy for recruiters to get in touch
Name and profession title
Cell phone number – or another number you can answer quickly
Location – Add your local area such as San Diego or New York – not your full address as that will take up too much space.
Email address – Use your name or close variation – no nicknames from high school.
You can add a link to your LinkedIn profile if you have one – you do not need to include personal details like date of birth or marital status.
Database Manager Resume Summary
Make a strong first impression on recruiters by beginning your resume with a powerful summary that highlights your most valuable skills and experience.
This brief summary provides an opportunity to showcase why you're the ideal candidate for the job and persuade recruiters to read further into your resume.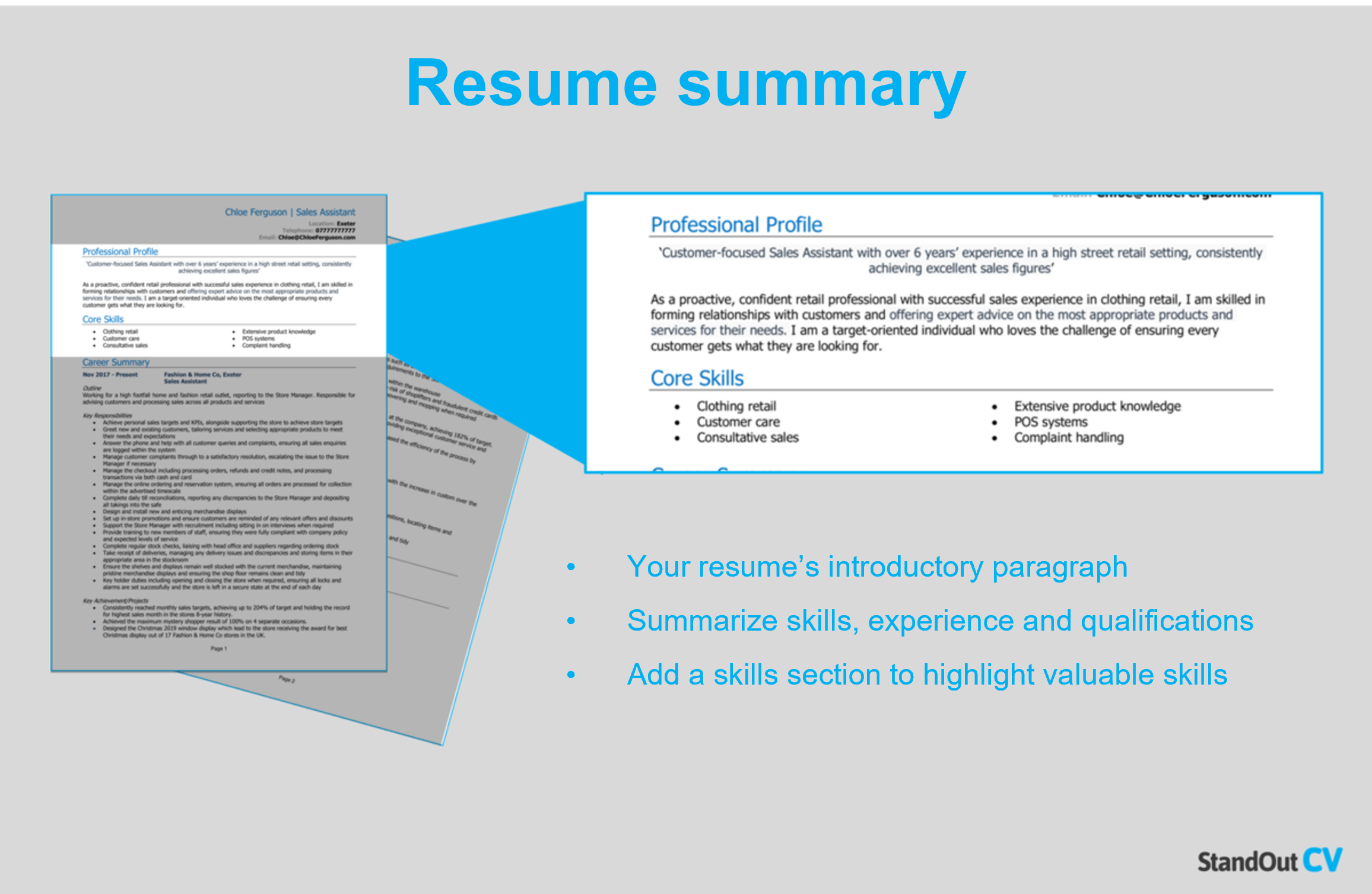 How to create a resume summary that will excite recruiters:
Keep it short: Attention spans are short in the job market, so keep your summary brief and high-level at around 4-7 lines – This is just enough to catch the eye of rushed hiring managers.
Tailor to target jobs: Tailor your resume to your target jobs by studying the job description and adding as many matching skills as you can.
Avoid using cliches: Recruiters look for facts in resumes, such as hard skills and qualifications – so, leave out the meaningless cliches like "hard worker who works well in a team and individually"
Database Manager resume summary example
Motivated Database Manager with experience in overseeing the installation, security, and upgrading of repositories through design optimization, query tuning, and indexing strategies. In-depth knowledge of technologies, tools, utilities, and methodologies, such as Oracle Exadata, RAC, MS SQL Server, SQL Always On, Greenplum, PostgreSQL, MySQL, Data Replication, UNIX, Windows, LINUX, OEL, OEM, SQL, PL/SQL, Transact SQL, and Shell. Passionate about training staff in preparing data models, monitoring data availability, optimizing data warehouses in agile working environments.
What to include in your Database Manager resume summary?
Summary of your experience: Summarize the type of work you have done in the past and the ways in which you have contributed to the success of your previous employers.
Relevant skills: Include your skills which are hyper relevant to Database Manager jobs to instantly show your suitability.
Qualifications: To make a strong impression on potential employers when applying for Database Manager jobs, be sure to mention any relevant qualifications in your summary.
Quick tip: Choose from hundreds of pre-written summaries across all industries, and add one to your resume with one-click in our partner's Resume Builder. All written by recruitment experts and easily tailored to suit your unique skillset and style.
Core skills section
Next, you should create a bullet pointed list of your core skills, formatted into 2-3 columns.
Here, you should focus on including the most important skills or knowledge listed in the job advertisement.
This will instantly prove that you're an ideal candidate, even if a recruiter only has time to briefly scan your resume.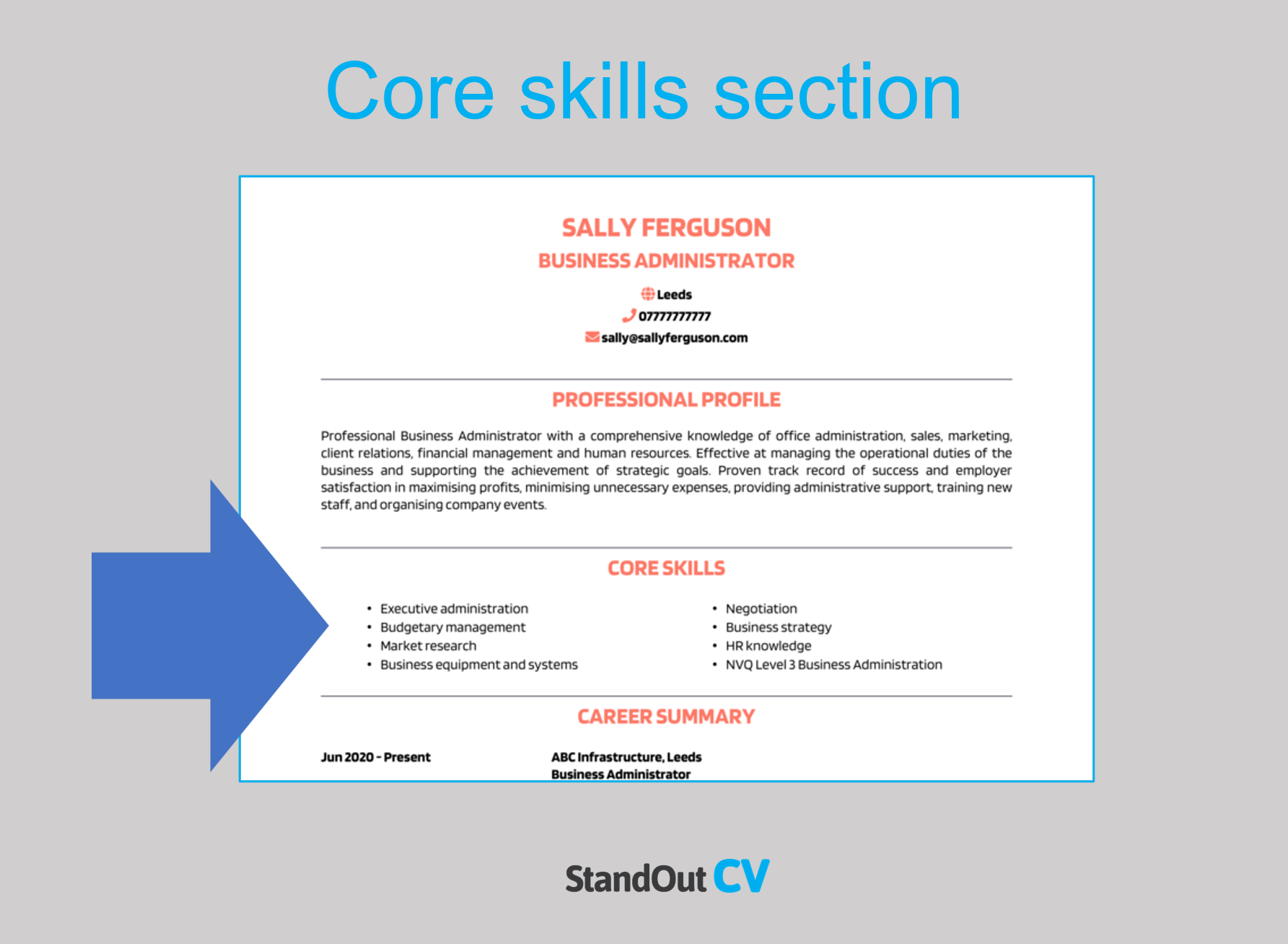 Best skills for your Database Manager resume
Database administration – Managing database systems, including installation, configuration, backup and recovery, to ensure that databases are running smoothly and efficiently.
Performance tuning – Optimizing database performance, including tuning SQL queries, indexing, and partitioning, to improve query response time and overall system performance.
Database security – Understanding database security principles, including access control, encryption, and auditing, to protect against unauthorized access and data breaches.
Data modeling – Utilizing knowledge of data modeling techniques, including conceptual, logical, and physical data models, to design and implement efficient database structures.
Disaster recovery – Designing and implementing disaster recovery plans, including backup and recovery procedures, to ensure that databases can be restored in the event of a disaster.
Database migration – Utilizing database migration techniques, including data conversion and data synchronization, to ensure that databases are migrated safely and efficiently.
Scripting and automation – Writing scripts and automating routine database administration tasks, including backups, maintenance, and monitoring, to reduce manual effort and improve efficiency.
SQL programming – Utilizing knowledge of SQL programming, including stored procedures, triggers, and functions, to manipulate and retrieve data efficiently.
Regulatory compliance – Maintaining a detailed understanding of regulatory compliance requirements, including industry-specific regulations and laws, to ensure that databases are compliant with all applicable laws and regulations.
Effective communication – Interacting effectively with clients, stakeholders, and technical teams, to communicate database management concepts, designs, and recommendations.
Quick tip: Our partner's Resume Builder contains thousands of in-demand skills for every profession that can be added to your resume in seconds – saving you time and greatly improving your chances of landing job interviews and getting hired.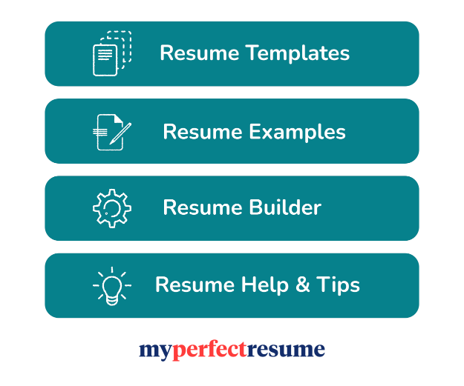 Work experience
Now that you've reeled recruiters in with your awesome summary, it's time to delve into your work experience.
Here you'll list your previous jobs (starting with your most recent and working backward) and showcase how you apply your skills in the workplace.
Provide lots of detail in recent jobs, and less in older roles.
If you have no relevant paid experience, you can include voluntary work and placements – but if you have lots of experience, you can leave out some of the really old jobs.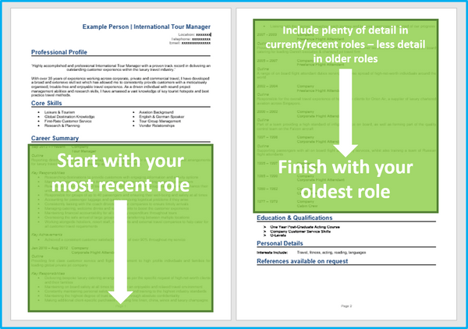 Structuring your jobs
You probably do a lot in your job, so its vital to break all of that information down into a good structure.
Structure your jobs as follows to make it easy for recruiters to skim through and pinpoint the essential info.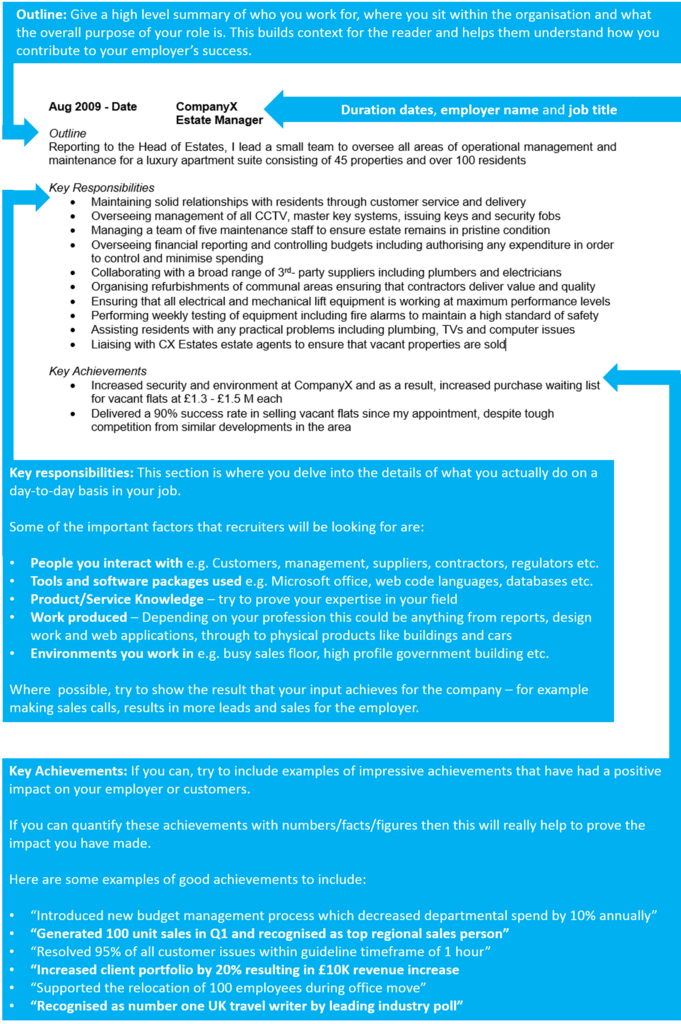 Job outline
Start with a 1-2 sentence outline of the role, summarizing what the goal of your position was, who you reported to (or managed) and the type of organization you worked for.
Key responsibilities
List your notable responsibilities in short sharp bullet points to demonstrate your input and how you contributed to the organization's success.
Highlight the skills that are most important to the roles you are applying for.
Key achievements
Finish each role by highlighting some impressive achievements you made whilst in the role.
Anything that benefited the employer can be included from making financial savings, to winning new customers.
Quantify your achievements with facts and figures if you can, e.g. "reduced call wait time by 10%"
Example job for Database Manager resume
Outline
Assess databases and identify opportunities to streamline data management, for an organization that helps companies solve complex business challenges through clinical consulting, staffing, project management, and software implementation services.
Key Responsibilities
Spearhead technical discussions with business partners concerning the development of cutting-edge database systems and features.
Lead the design ETL and templates used to collect and store information from external sources so that data can be accessed by users.
Create complex query definitions that allow data to be efficiently extracted.
Formulate policies and QA for database management structures, deliverables, and analyses, including capacity planning, migration, and maintenance.
Quick tip: Create impressive job descriptions easily in our partner's Resume Builder by adding pre-written job phrases for every industry and career stage.

Education section
After your work experience, add your education section.
If you are an experienced professional, you can keep this part short – adding basic details of each qualification.
If you have little or no experience, bulk this section up by adding more detail and highlight important skills and knowledge for your target jobs.
Additional information
At the end of your resume, you can add any extra information that might be relevant to the jobs you are applying for.
This could be hobbies, interests, publications, clubs or memberships.
This section is optional and doesn't need to be added if you have nothing more relevant to add.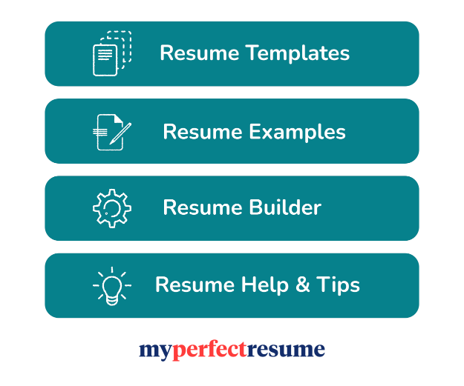 Writing your own winning Database Manager resume
Writing a Database Manager resume can be challenging but following the steps above will ensure that you land plenty of interviews.
Good luck with your job search!