Landing a role as an Apple store manager can be tough but very rewarding. This is a sought-after position which means competition is high.
So if you're ready to be a manager for one of the world's biggest tech retailers, you need a killer resume highlighting your experience and qualifications.
To help you stand out from the crowd and grab the recruiter's attention, we've created a comprehensive writing guide with an Apple store manager resume example to inspire you.
Guide contents
| | |
| --- | --- |
| How to write a Apple Store Manager resume | |

Apple Store Manager Resume Example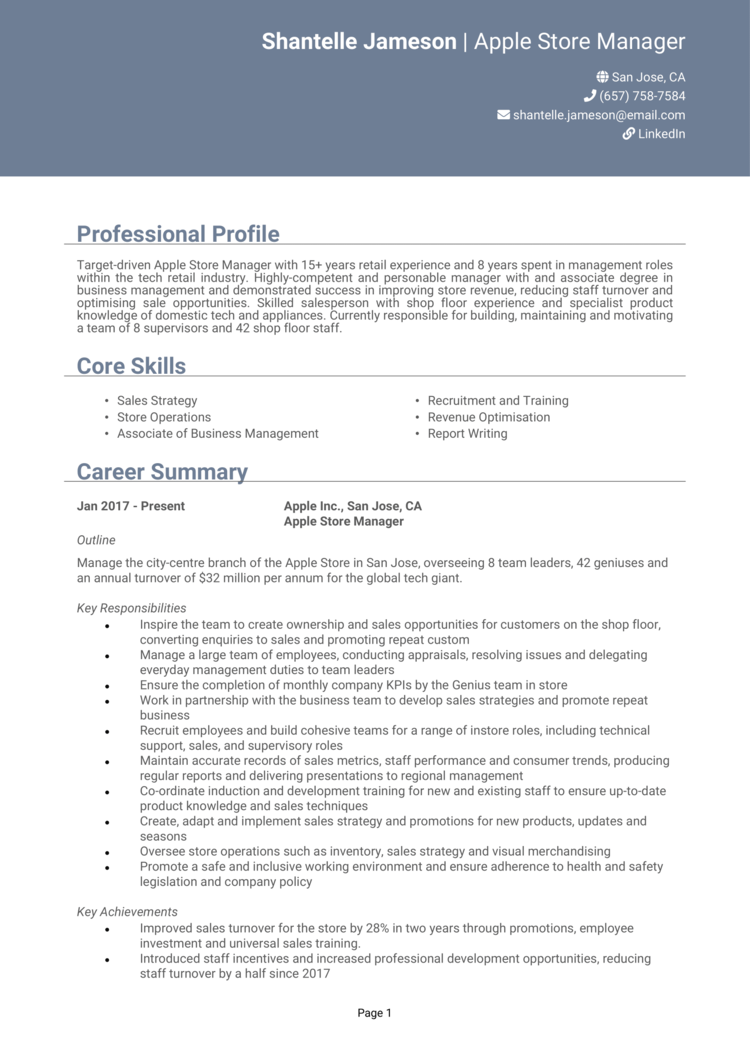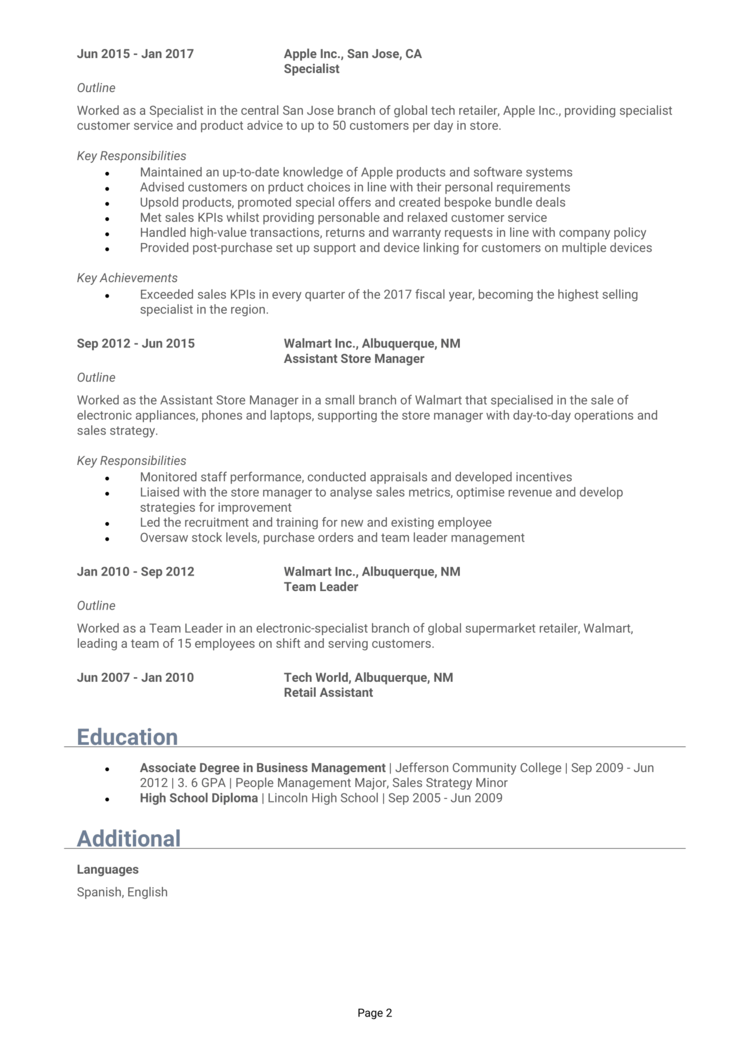 This example Apple Store Manager resume gives you a general idea of how to structure your own resume, along with the type of content you need to include.
Sticking with this resume format will help you to get noticed by employers and ensure that they can quickly see the benefit of hiring you.
Now, lets walk through a step-by-step guide on how to write your own winning resume.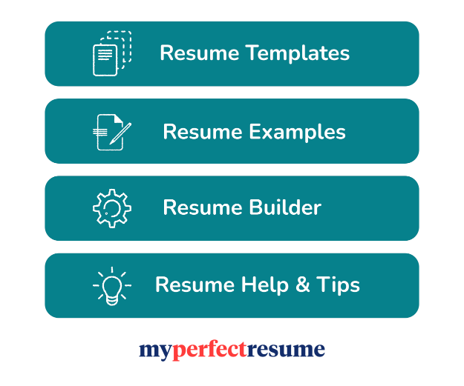 Apple Store Manager resume layout and formatting
Your resume layout and format will play a big role in helping hiring managers to take notice of your resume and stay glued to it.
Shoot for a simple yet professional look to ensure you make a strong first impression, and organize the page in a way that is easy for readers to digest the information.
The following formatting tips should help.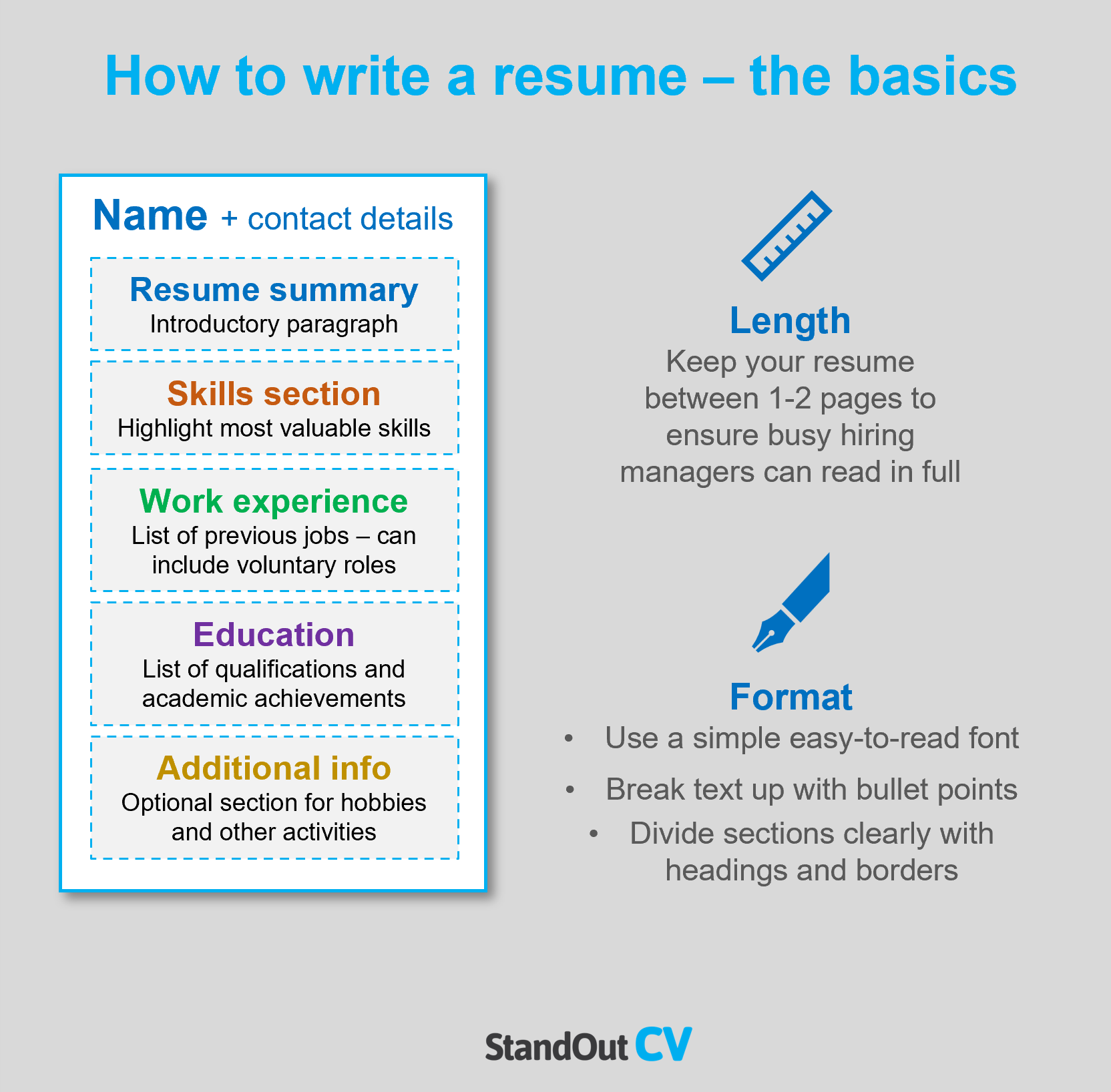 How to format your resume
Length: Attention spans in recruitment are notoriously short, so keep your resume short and sweet. There's no exact rule for resume length, but aim for 2 pages or less if you want to ensure yours gets read in full.
Font & text: Nobody likes to read huge unbroken paragraphs of text – and recruiters are no different. Break your resume text up with bullet points and use a clear simple font.
Design & layout: Your resume should look appealing – but don't overlook functionality when it comes to design. Organise the page into clear sections using bold headings and borders.
Photos: It's not mandatory to add a photo to your resume in the USA but it if you're applying to organizations within the creative fields, it can be beneficial.
Quick tip: Achieving a professional look for your resume can be difficult and time-consuming. If you want to create an attractive resume quickly, try our partner's Resume Builder and use one of their eye-catching resume templates.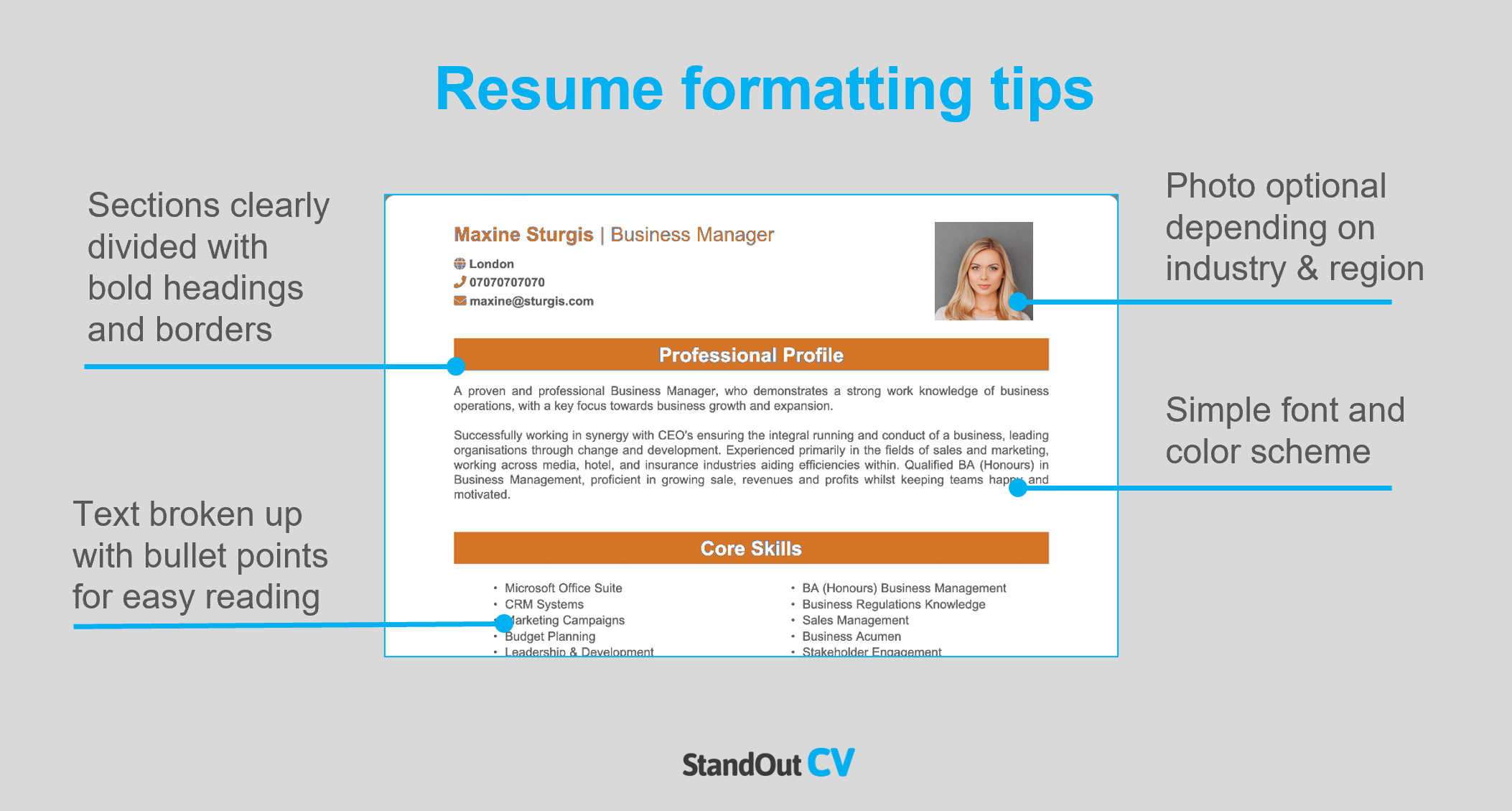 Resume layout
Here's an overview of the sections you should add when writing your resume.
Name and contact details – Stick these details at the top, so they are easy to find.
Resume summary – A punchy paragraph summarizing your skills and knowledge, enticing recruiters to read more of your resume.
Skills section – Short list of your most valuable skills, enabling recruiters to quickly spot your suitability.
Work experience – Showcase your previous employment, starting with your most recent roe and working backwards – voluntary work and college placements can be included if you have no paid experience.
Education – A summary of your most relevant qualifications and academic achievements
Additional info – An optional section for that other attributes that may boost your application, such as hobbies or clubs
Here's what you should include in each section of your resume.
Resume Contact Details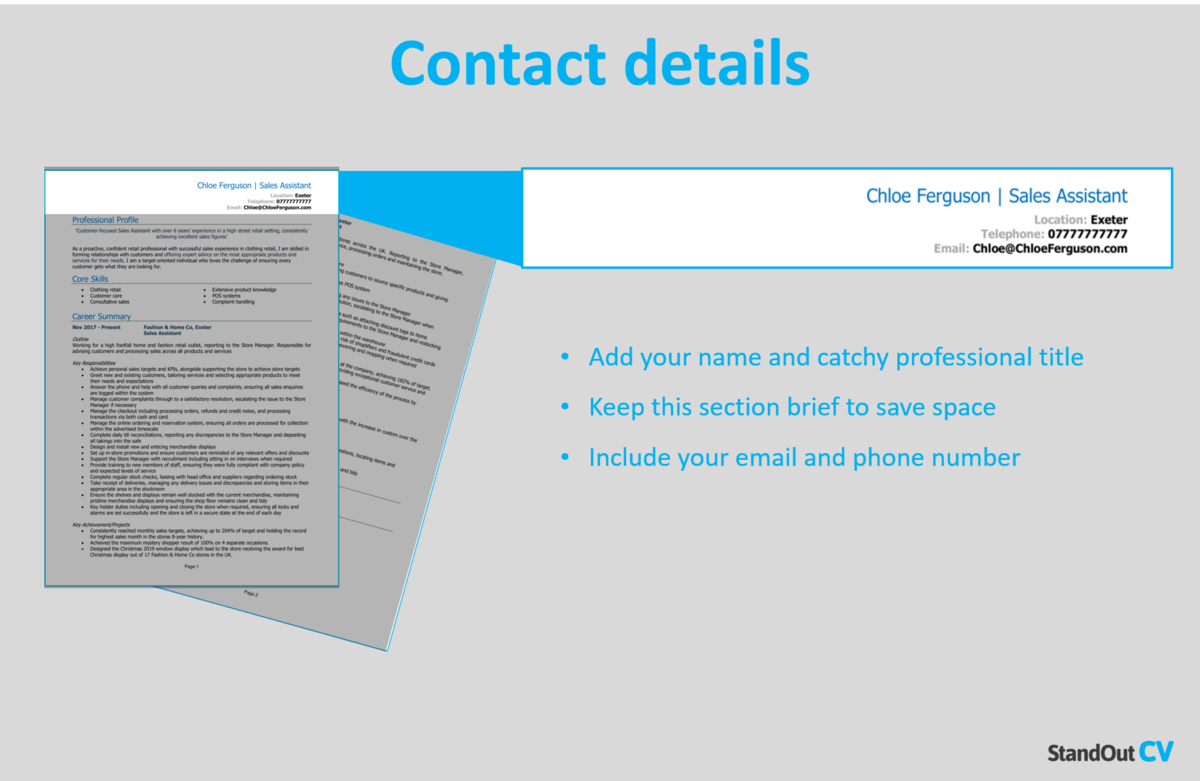 Make it easy for hiring managers to contact you by adding your contact details to the top of your resume.
Keep this section small to save space and include the following.
Name and profession title
Telephone number – Ideally your cell phone so you can answer quickly.
Location – Add your general location such as LA or New York
Email address – Use a professional looking one with no nicknames.
You can add a link to your LinkedIn profile if you have one – you do not need to include personal details like date of birth or marital status.
Apple Store Manager Resume Summary
Your resume summary is like an elevator pitch. It's your chance to sell yourself to employers within a short space of time.
Achieve this by summarizing your skills and expertise, whilst highlighting your abilities that closely match the jobs you are aiming for.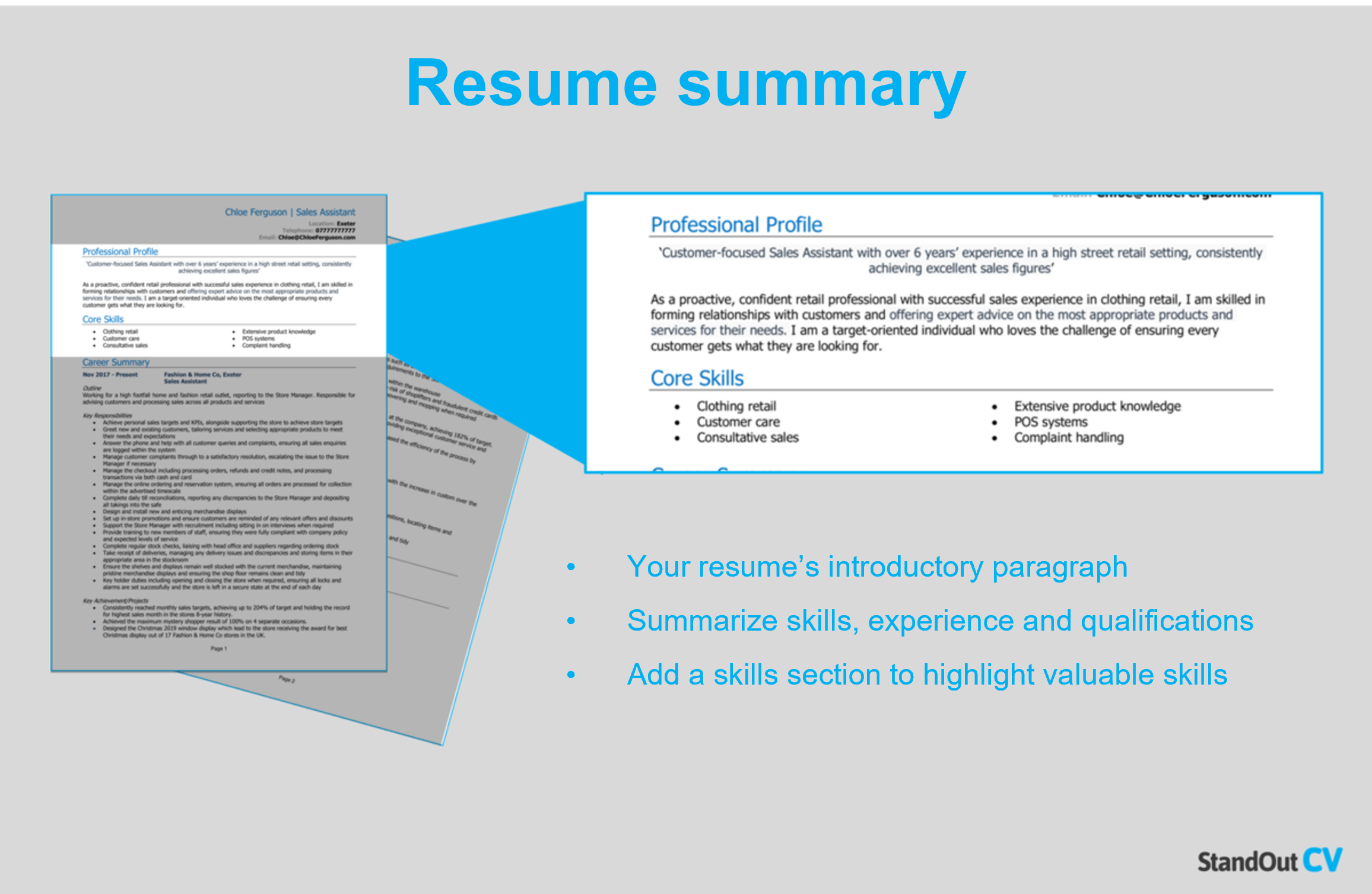 3 tips for creating a resume summary that will get noticed:
Keep it concise: Attention spans are short in the job market, so keep your summary brief and high-level at around 4-7 lines – This is just enough to catch the eye of rushed hiring managers.
Tailor to target jobs: Tailor your resume to your target jobs by studying the job description and adding as many matching skills as you can.
Don't use cliches: You might be a "highly motivated go-getter who thinks outside the box" but generic meaningless cliches like that don't tell employers much about you – stick to factual information in your summary.
Example resume summary for Apple Store Manager
Target-driven Apple Store Manager with 15+ years retail experience and 8 years spent in management roles within the tech retail industry. Highly competent and personable manager with and associate degree in business management and demonstrated success in improving store revenue, reducing staff turnover and optimising sale opportunities. Skilled salesperson with shop floor experience and specialist product knowledge of domestic tech and appliances. Currently responsible for building, maintaining and motivating a team of 8 supervisors and 42 shop floor staff.
What info to include in your Apple Store Manager resume summary?
Summary of experience: What type of organizations have you worked at? What types of roles have you done and what have you contributed to previous employers?
Relevant skills: Highlight your skills which are most relevant to Apple Store Manager jobs, to ensure that recruiters see your most in-demand skills as soon as they open your resume.
Vital qualifications: If your job requires any qualifications such as a professional course or a college degree, mention it briefly in your summary.
Quick tip: Choose from hundreds of pre-written summaries across all industries, and add one to your resume with one-click in our partner's Resume Builder. All written by recruitment experts and easily tailored to suit your unique skillset and style.
Core skills section
Sitting just underneath your resume summary, your core skills section gives recruiters 4-10 of your most in-demand skills in just a glance.
As Apple Store Manager jobs may get hundreds of applications, this is a great way to stand out and quickly grab hiring managers' attention.
It should be made up of 2-3 columns of bullet points and highlight attributes that are hyper-relevant to the jobs you are aiming for.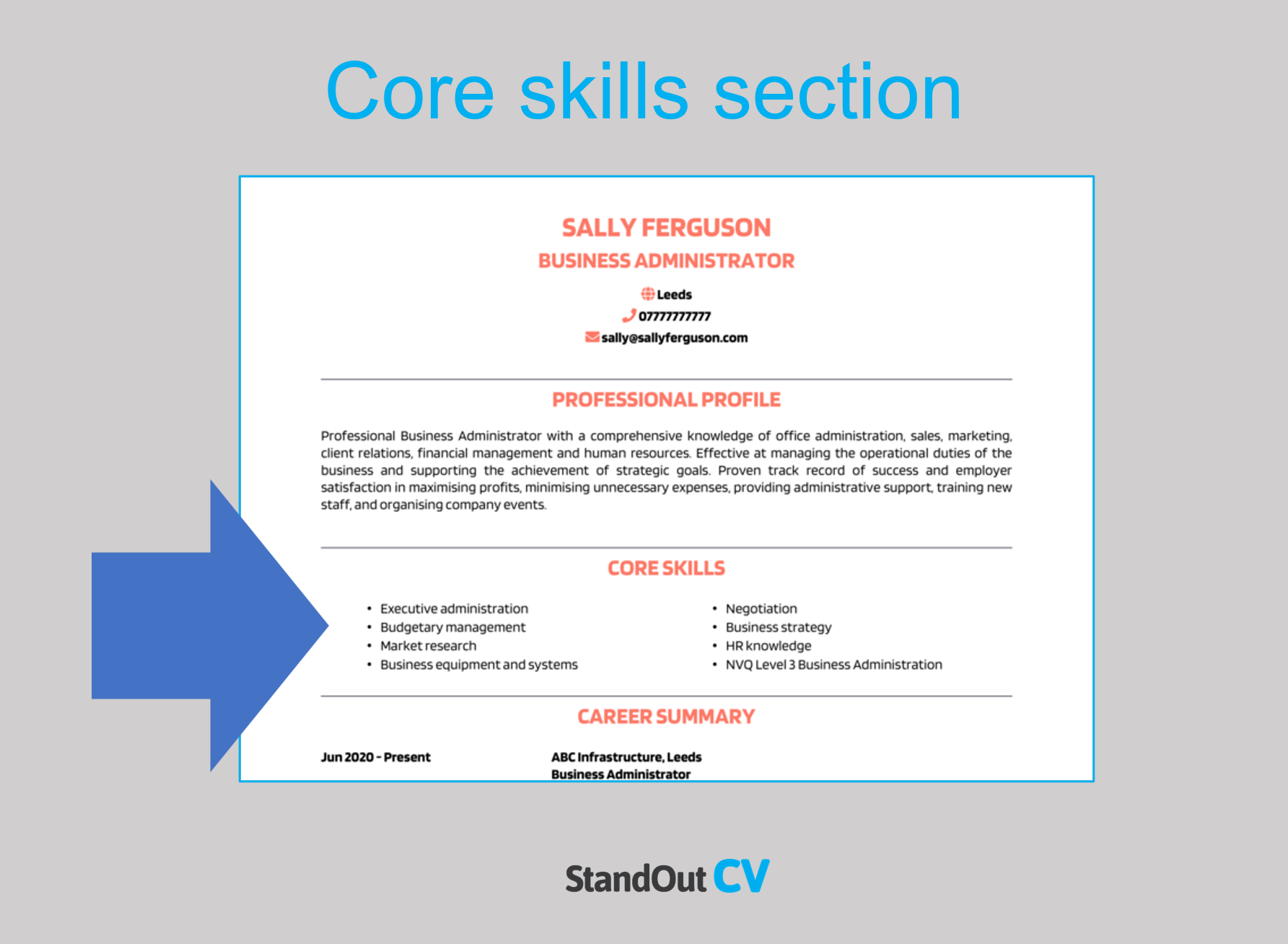 Top skills for your Apple Store Manager resume
Sales Strategy – developing and implementing complex sales strategies to increase in-store sales.
Store Operations – overseeing all elements of store operations including visual merchandising, customer service, product inventory and loss prevention.
Revenue Optimization – strategically managing the pricing, inventory, demand and distribution channels across the store to maximize revenue growth over the long term.
Associate of Business Management – highlighting relevant academic experience in support of the position as an Apple Store Manager.
Report Writing – writing complex reports including inventory reports, sales reports and loss reports.
Quick tip: Our partner's Resume Builder contains thousands of in-demand skills for every profession that can be added to your resume in seconds – saving you time and greatly improving your chances of landing job interviews and getting hired.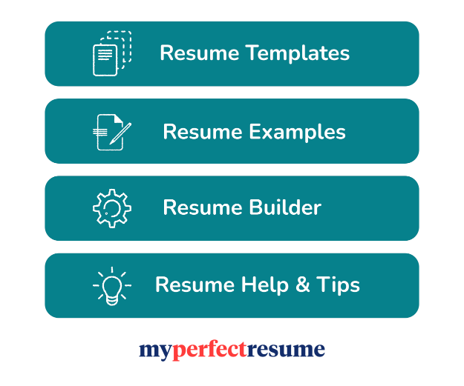 Resume work experience section
Now that you've reeled recruiters in with your awesome summary, it's time to delve into your work experience.
Here you'll list your previous jobs (starting with your most recent and working backward) and showcase how you apply your skills in the workplace.
Provide lots of detail in recent jobs, and less in older roles.
If you have no relevant paid experience, you can include voluntary work and placements – but if you have lots of experience, you can leave out some of the really old jobs.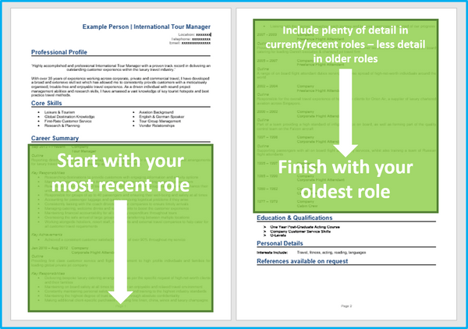 Structuring your job descriptions
Resume job descriptions contain lots of information, so its crucial to structure them well.
Use the structure below to ensure hiring managers can consume the information easily.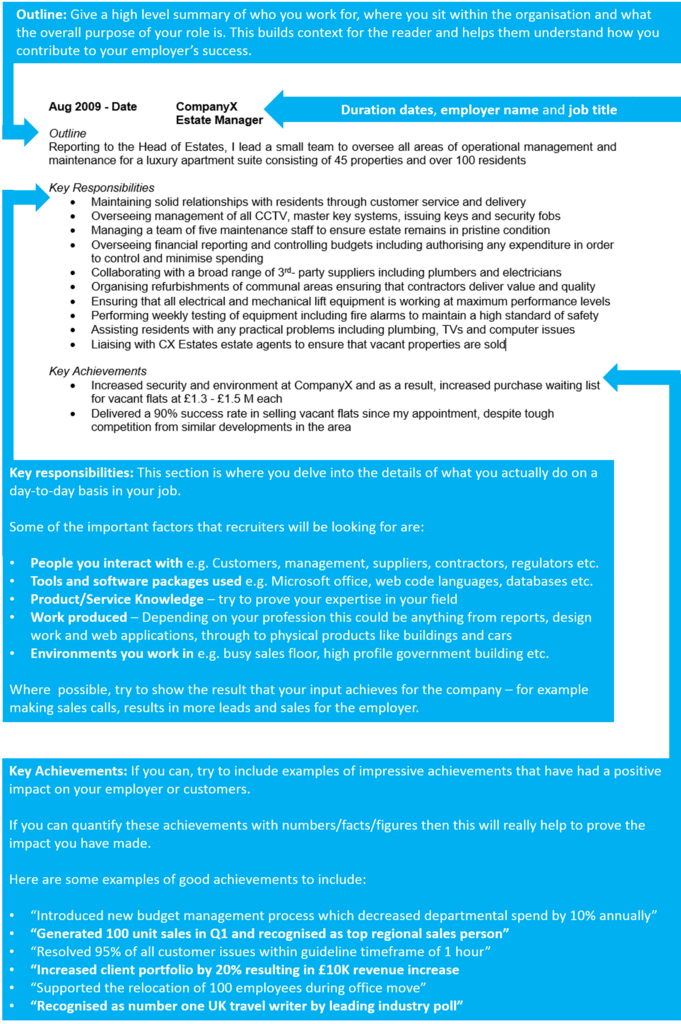 Job outline
Kick off each role with a high-level overview to summarize the focus of the job, what the organization/department does, and how you fit into the bigger picture.
Key responsibilities
List your notable responsibilities in short sharp bullet points to demonstrate your input and how you contributed to the organization's success.
Highlight the skills that are most important to the roles you are applying for.
Key achievements
Finish each role by highlighting some impressive achievements you made whilst in the role.
Anything that benefited the employer can be included from making financial savings, to winning new customers.
Quantify your achievements with facts and figures if you can, e.g. "reduced call wait time by 10%"
Example job for Apple Store Manager resume
Outline
Manage the city-centre branch of the Apple Store in San Jose, overseeing 8 team leaders, 42 geniuses and an annual turnover of $32 million per annum for the global tech giant.
Key Responsibilities
Inspire the team to create ownership and sales opportunities for customers on the shop floor, converting enquiries to sales and promoting repeat custom
Manage a large team of employees, conducting appraisals, resolving issues and delegating everyday management duties to team leaders
Ensure the completion of monthly company KPIs by the Genius team in store
Work in partnership with the business team to develop sales strategies and promote repeat business
Quick tip: Create impressive job descriptions easily in our partner's Resume Builder by adding pre-written job phrases for every industry and career stage.

Education section
After your work experience, add your education section.
If you are an experienced professional, you can keep this part short – adding basic details of each qualification.
If you have little or no experience, bulk this section up by adding more detail and highlight important skills and knowledge for your target jobs.
Additional information
At the end of your resume, you can add any extra information that might be relevant to the jobs you are applying for.
This could be hobbies, interests, publications, clubs or memberships.
This section is optional and doesn't need to be added if you have nothing more relevant to add.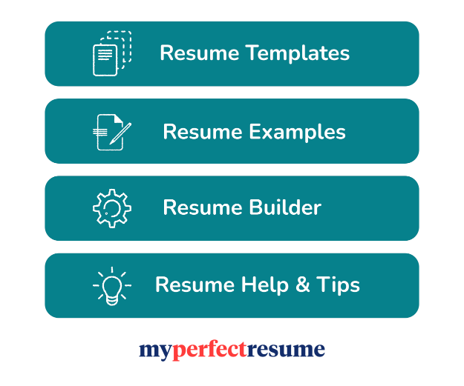 Writing your Apple Store Manager resume
A winning Apple Store Manager resume should look great, read well, and sell your skillset to hiring managers.
If you follow the steps above, you should be able to bag yourself a top job in no time.
And don't forget you can use our partner's Resume Builder if you want to save time and ensure your resume contains the very best content.
Good luck with your job search!