Are you ready to take on your next role as a network technician?
Then your resume needs to prove that not only can you perform important network maintenance but that you can do it with minimal interruption to the company.
This requires you to evaluate your skill set and highlight your most important skills and achievements. Learn how to do this with our network technician resume example and guide below.
Contents
| | |
| --- | --- |
| How to write a Network Technician resume | |

Network Technician Resume Example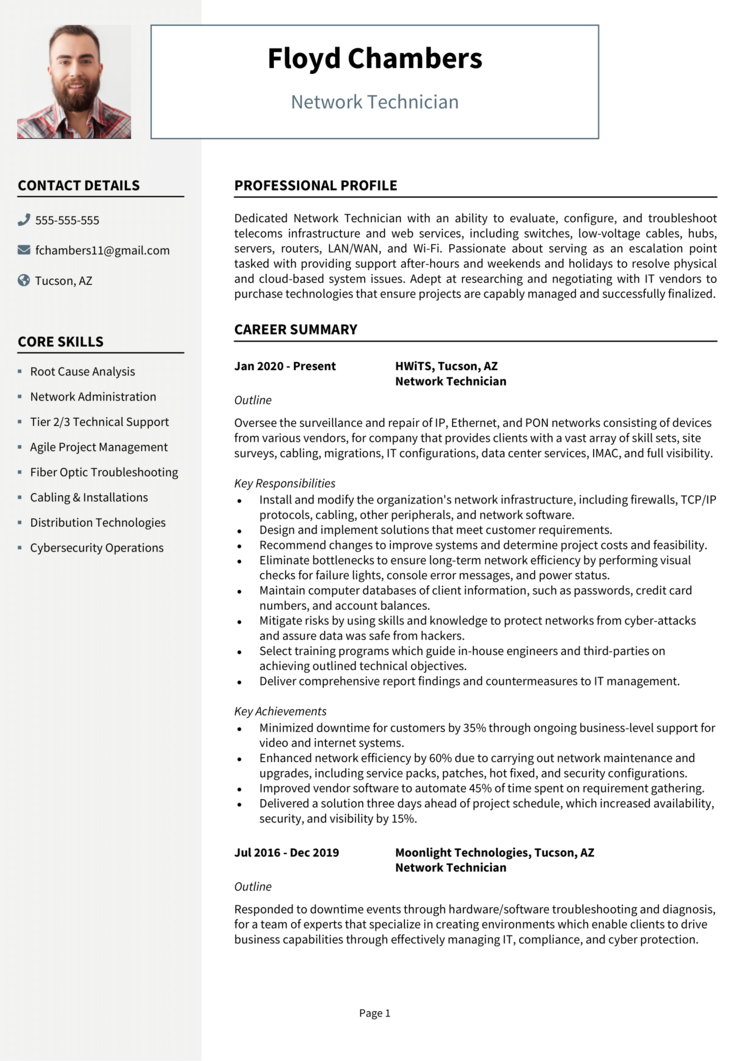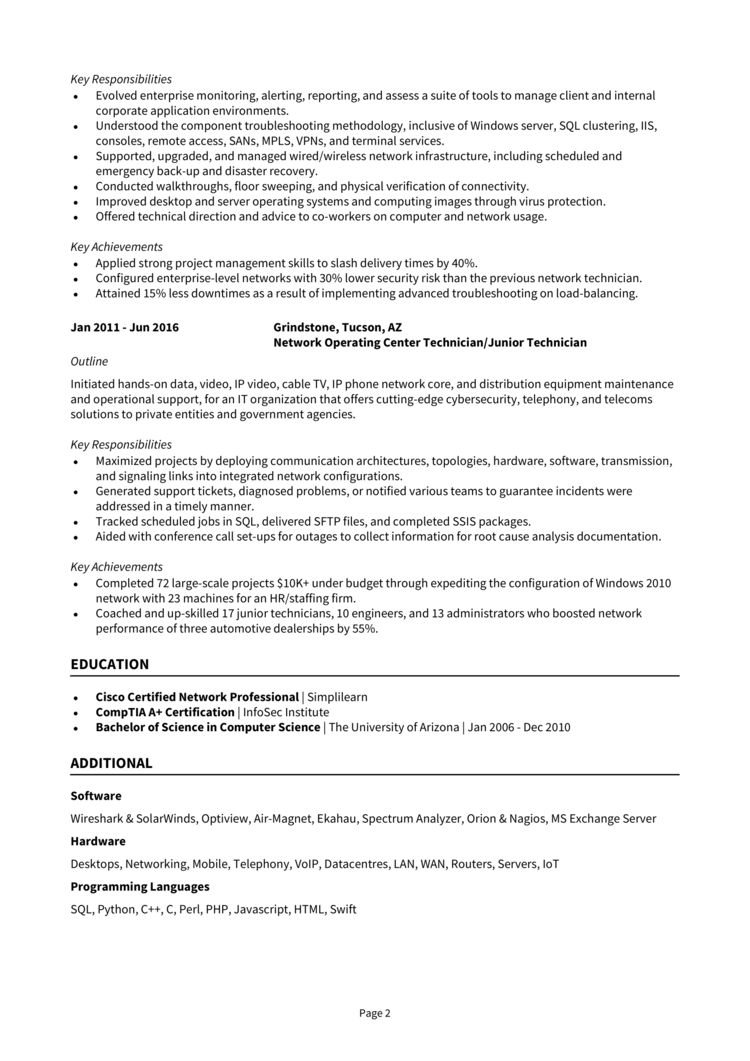 The example Network Technician resume above shows you how a professional resume should look, along with the type of content it should contain.
You can see that the information is well-organized across the page and its easy for busy recruiters to see the candidate's important skills.
Keep this in mind when writing your own resume.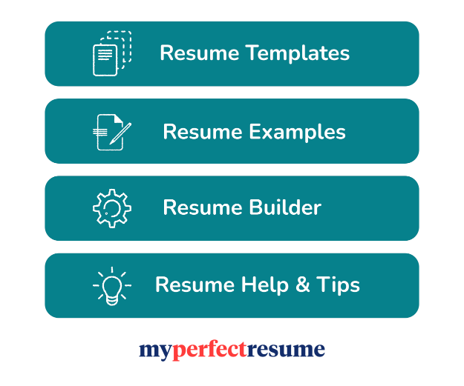 Network Technician resume layout and formatting
Formatting is often overlooked when writing resume, but it's a crucial element of it"s success.
Creating a document that not only looks good, but is easily comprehended, is the key to gaining and holding the attention of busy hiring managers.
Use these formatting tips for best results.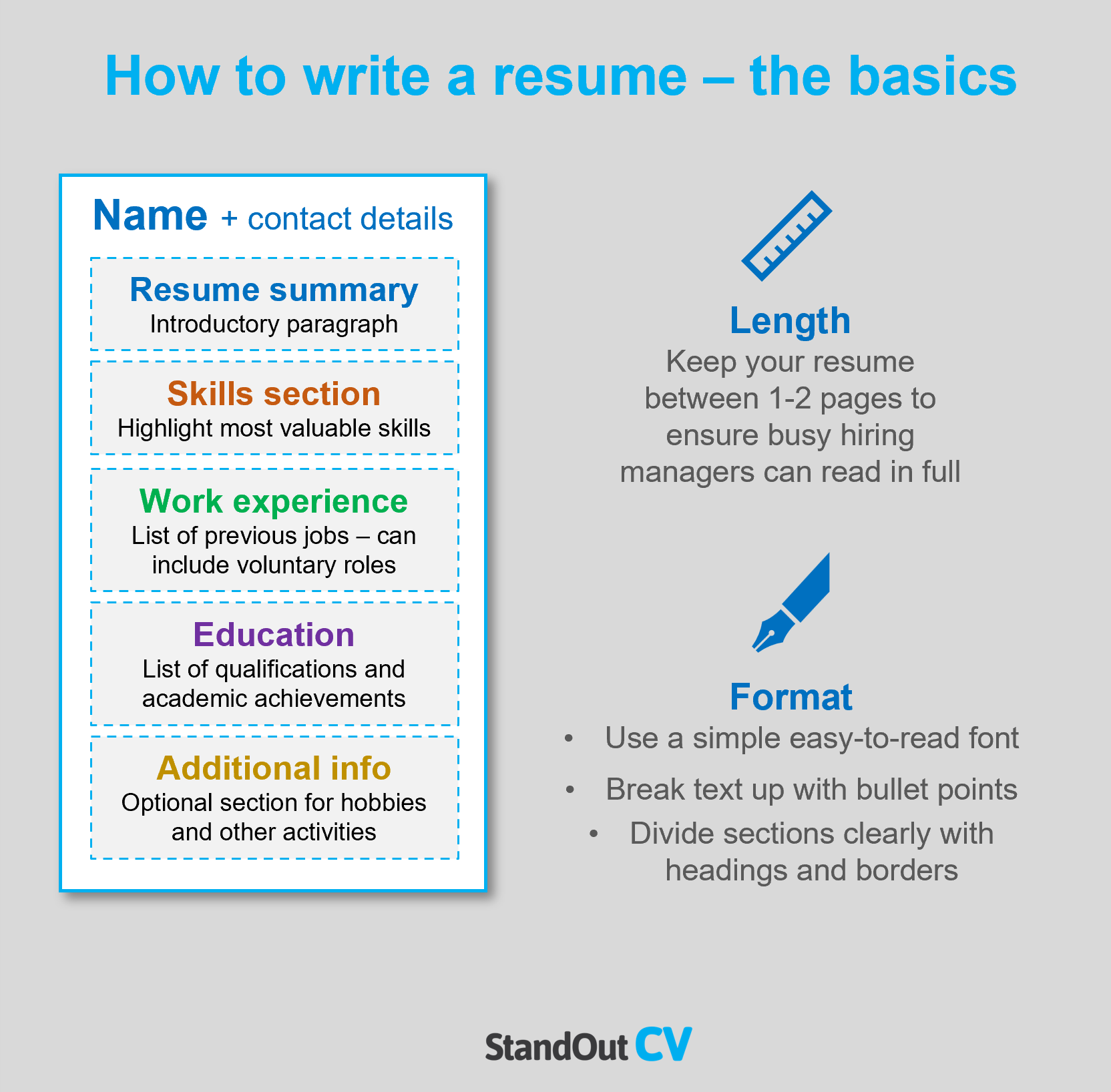 Formatting your resume
Length: Recruiters often see hundreds of resumes per day – so keep yours under 2 pages in length, if you want to ensure it gets read in full.
Font & readability: Simplicity and a pleasant reading experience are crucial if you want to highlight your most valuable skills to recruiters. Use a clear font (avoid fancy ones) and break up the text in your resume with bullet points to ensure information can be easily consumed.
Layout & Structure: Your resume's design must strike a balance between aesthetics and functionality. Using bold headings and borders to organize the page into clear sections is an effective way to achieve both.
Photos: It's not mandatory to add a photo to your resume in the USA but it if you're applying to organizations within the creative fields, it can be beneficial.
Quick tip: Achieving a professional look for your resume can be difficult and time-consuming. If you want to create an attractive resume quickly, try our partner's Resume Builder and use one of their eye-catching resume templates.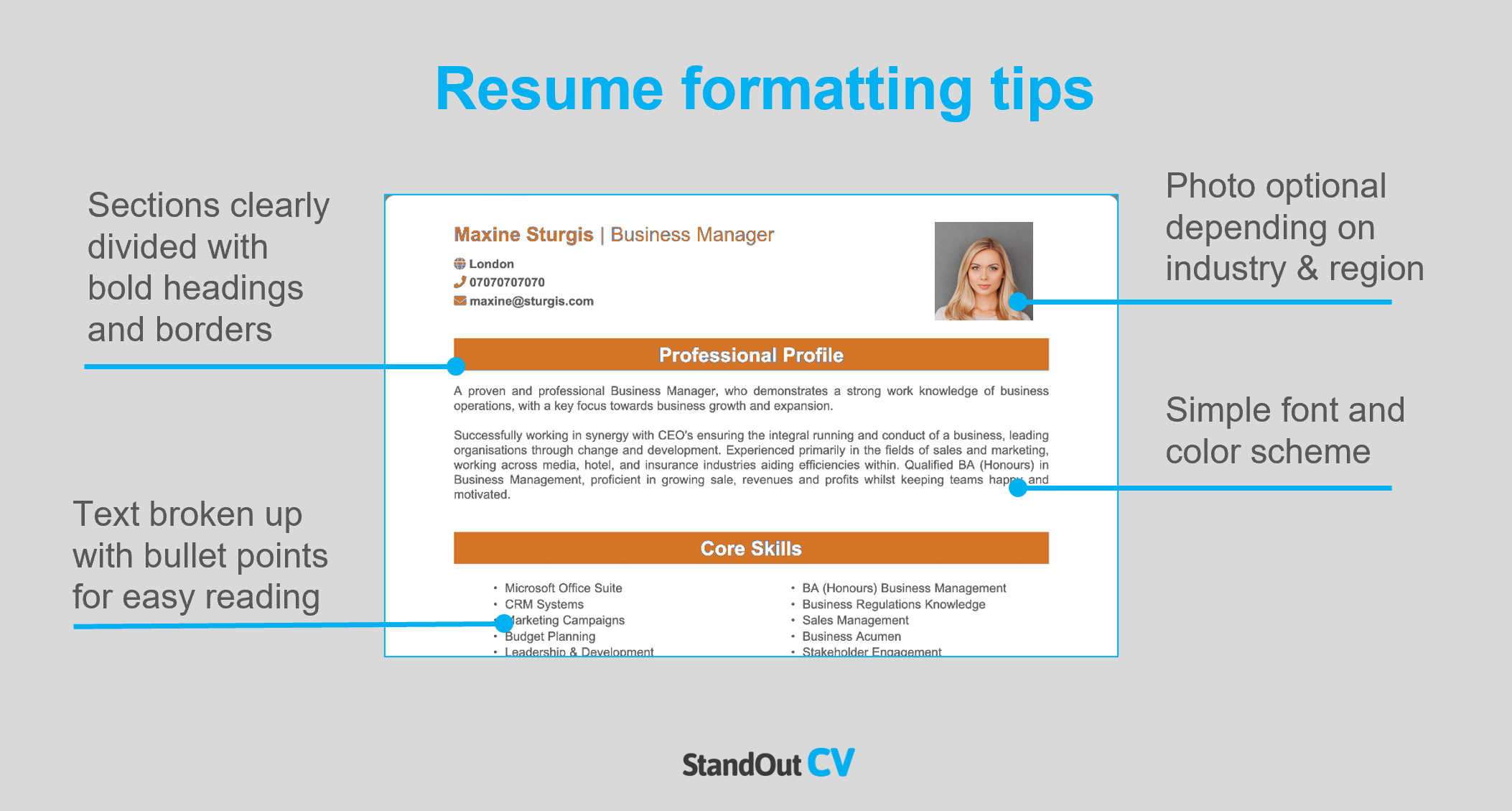 Resume layout
Add the following sections when you write your resume.
Name and contact details – Add to the very top of your resume to introduce yourself and make it super-easy for recruiters to get in touch.
Resume summary – Reel hiring managers in with an "elevator pitch" style paragraph which sums up your suitability for the job.
Skills section – A short and sharp list of your most important skills, that can be quickly skim-read.
Work experience – List your previous jobs (from newest to oldest) detailing the skills learnt and applied in each.
Education – List your qualifications and professional training.
Additional info – If it helps your application, you can add an extra section for things like hobbies and interests.
Here's what to include in each part of your resume.
Contact Details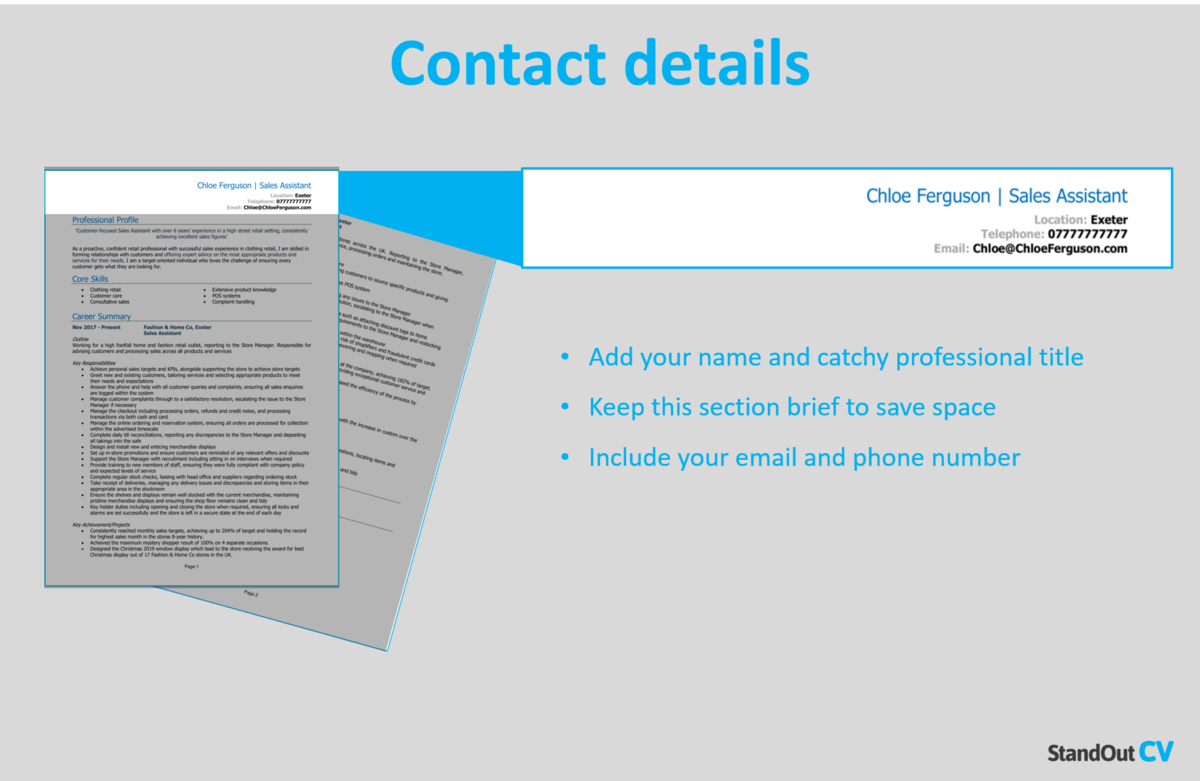 Keep your contact details short to save resume space and include the following.
Name and profession title
Cell phone number
Location – Add your local area such as Silicon Valley or New York, unless you are looking for work in a different location
Email address – Keep it professional and don't use an old address that you thought was cool in high school, but now looks a bit embarrassing.
You can add a link to your LinkedIn profile if you have one – you do not need to include personal details like date of birth or marital status.
Network Technician Resume Summary
Make a strong first impression on recruiters by beginning your resume with a powerful summary that highlights your most valuable skills and experience.
This brief summary provides an opportunity to showcase why you're the ideal candidate for the job and persuade recruiters to read further into your resume.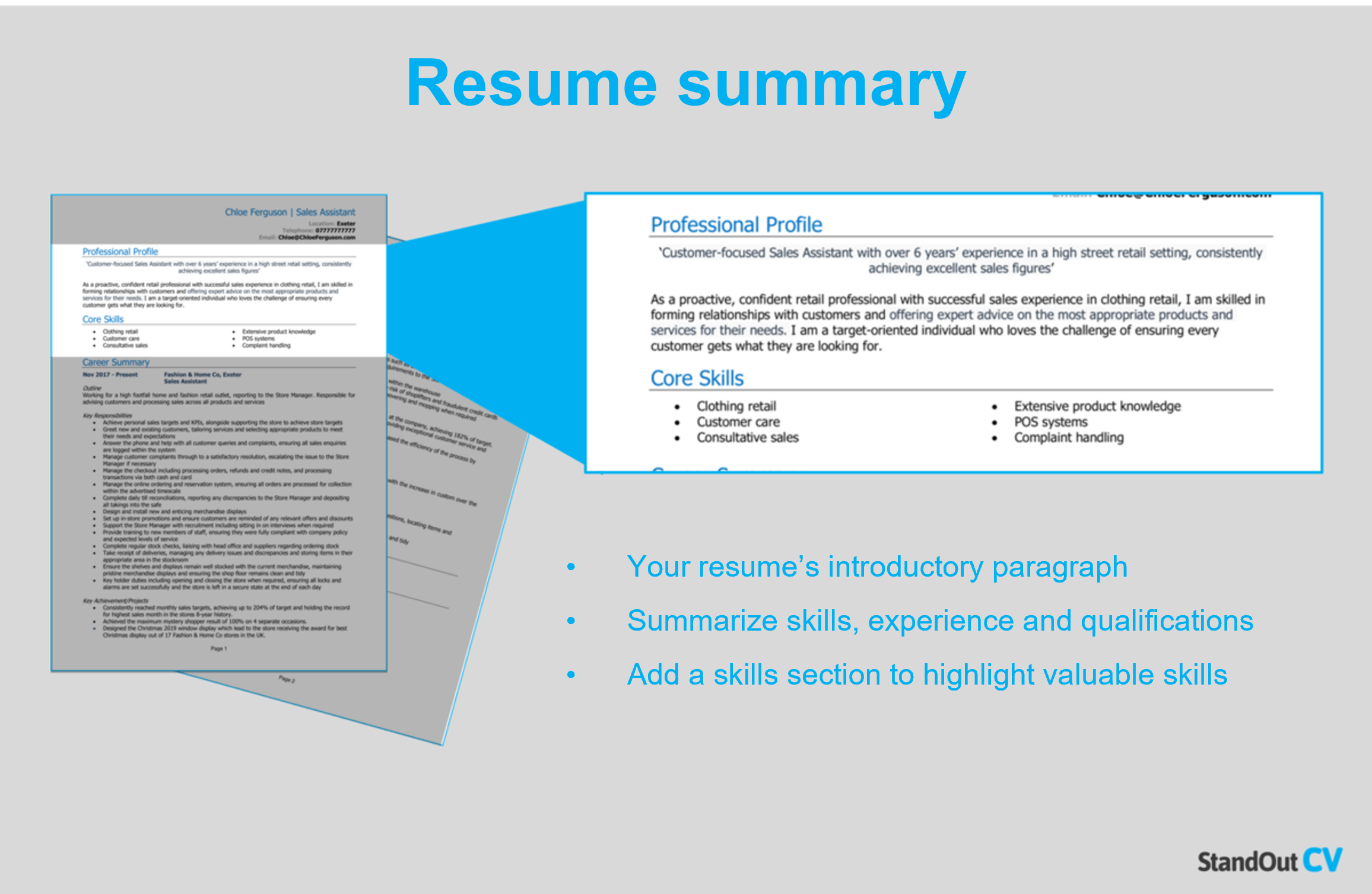 How to create a resume summary that will excite recruiters:
Keep it short: Aim for a short punchy paragraph of 4-7 lines. This is just enough info to showcase why you'd make the perfect hire, without going into excessive detail and overwhelming busy recruiters at such an early stage in the resume.
Tailor to target jobs: To mirror your target jobs, scrutinize the job description and include as many relevant skills as possible in your resume.
Avoid using cliches: You might be a "highly motivated go-getter who thinks outside the box" but generic meaningless cliches like that don't tell employers much about you – stick to factual information in your summary.
Network Technician resume summary example
Dedicated Network Technician with an ability to evaluate, configure, and troubleshoot telecoms infrastructure and web services, including switches, low-voltage cables, hubs, servers, routers, LAN/WAN, and WiFi. Passionate about serving as an escalation point tasked with providing support after-hours and weekends and holidays to resolve physical and cloud-based system issues. Adept at researching and negotiating with IT vendors to purchase technologies that ensure projects are capably managed and successfully finalized.
What to include in your Network Technician resume summary?
Summary of your experience: Summarize the type of work you have done in the past and the ways in which you have contributed to the success of your previous employers.
Relevant skills: Instantly showcase your suitability for Network Technician jobs by including your skills that are highly relevant to them.
Qualifications: If your job requires any qualifications such as a professional course or a college degree, mention it briefly in your summary.
Quick tip: Choose from hundreds of pre-written summaries across all industries, and add one to your resume with one-click in our partner's Resume Builder. All written by recruitment experts and easily tailored to suit your unique skillset and style.
Core skills section
Next, you should create a bullet pointed list of your core skills, formatted into 2-3 columns.
Here, you should focus on including the most important skills or knowledge listed in the job advertisement.
This will instantly prove that you're an ideal candidate, even if a recruiter only has time to briefly scan your resume.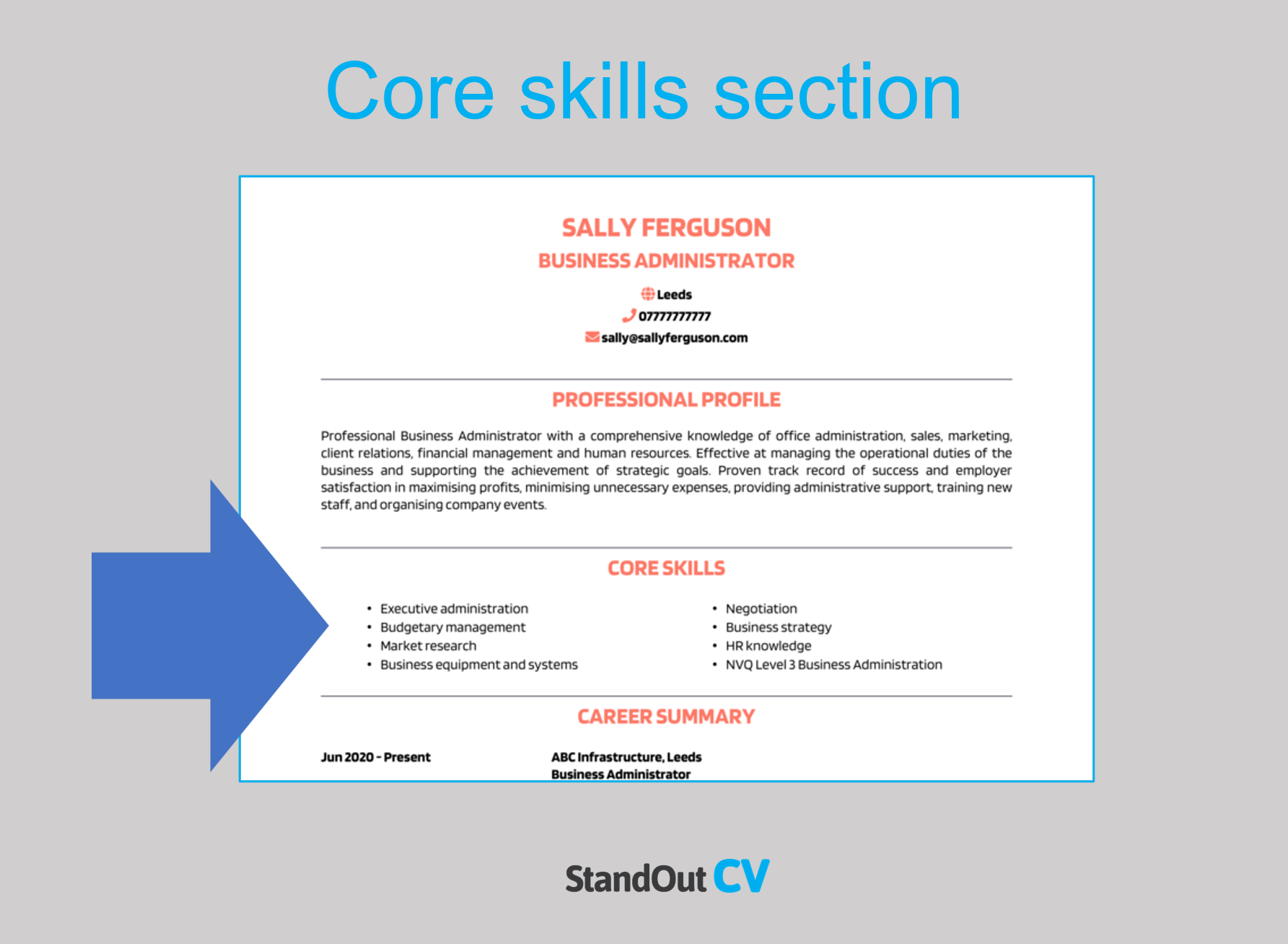 Best skills for your Network Technician resume
Network infrastructure – Utilizing knowledge of network infrastructure components, including switches, routers, firewalls, and servers, to design, configure, and maintain network systems.
Network protocols – Utilizing knowledge of network protocols, including TCP/IP, DNS, DHCP, and VPN, to configure and troubleshoot network devices and connectivity issues.
Network security – Utilizing knowledge of network security protocols, including firewalls, intrusion detection and prevention, and data encryption, to ensure network security and protect against cyber threats.
Network administration – Managing and administering network systems, including user accounts, network access, and network performance monitoring.
Network troubleshooting – Diagnosing and troubleshooting network issues, including hardware and software problems, to ensure network up time and minimize downtime.
Network topology – Utilizing knowledge of network topology, including LAN, WAN, and VPN, to design and implement network systems that meet business needs and requirements.
Network virtualization – Utilizing knowledge of network virtualization technologies, including virtual LANs and virtual private networks, to create and manage virtual network environments.
Network monitoring – Monitoring network performance and availability, using tools such as network analyzers and performance monitoring software, to identify and resolve network issues.
Technical documentation – Creating technical documentation, including network diagrams, system configurations, and user manuals, to ensure efficient network management and knowledge sharing.
Customer service – Utilizing strong customer service skills, including effective communication, problem-solving, and relationship management, to provide quality technical support and build strong customer relationships.
Quick tip: Our partner's Resume Builder contains thousands of in-demand skills for every profession that can be added to your resume in seconds – saving you time and greatly improving your chances of landing job interviews and getting hired.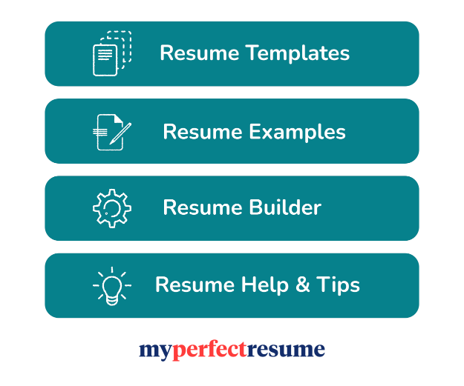 Work experience
Once you've hooked the hiring manager with your summary, you can really blow them away with you work experience.
List your previous jobs from newest to oldest to show the impact you made at each organization.
If you have years of experience, you can leave out some of the older jobs, and if you have little/no experience, you can bulk this section up with voluntary work and college placements.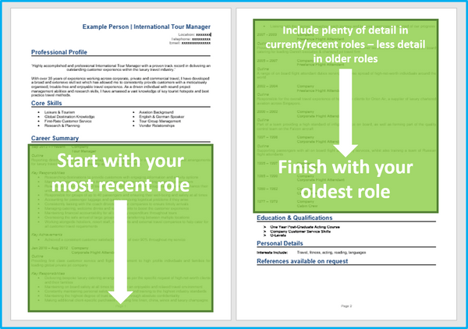 Structuring your jobs
You probably do a lot in your job, so its vital to break all of that information down into a good structure.
Structure your jobs as follows to make it easy for recruiters to skim through and pinpoint the essential info.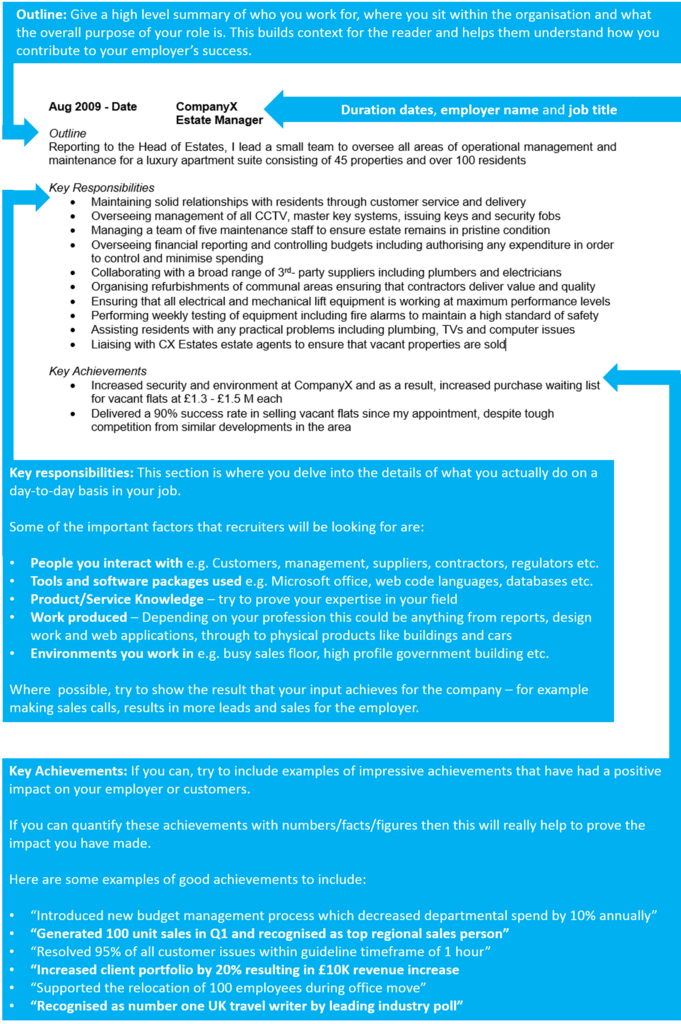 Job outline
Starting each job with a brief summary of the organization, your position within it, and the primary goal of your role can help recruiters quickly understand the context of your work.
Key responsibilities
List your notable responsibilities in short sharp bullet points to demonstrate your input and how you contributed to the organization's success.
Highlight the skills that are most important to the roles you are applying for.
Key achievements
Round off each job by adding some impressive achievements you made in the role.
Anything you've done that has made a big impact on your employer will make a good impression, think; generating revenue, saving costs, or improving a product.
Quantify your achievements with number where possible e.g. "reduced call wait time by 10%"
Example job for Network Technician resume
Outline
Oversee the surveillance and repair of IP, Ethernet, and PON networks consisting of devices from various vendors, for company that provides clients with a vast array of skill sets, site surveys, cabling, migrations, IT configurations, data center services, IMAC, and full visibility.
Key Responsibilities
Install and modify the organization's network infrastructure, including firewalls, TCP/IP protocols, cabling, other peripherals, and network software.
Design and implement solutions that meet customer requirements.
Recommend changes to improve systems and determine project costs and feasibility.
Eliminate bottlenecks to ensure long-term network efficiency by performing visual checks for failure lights, console error messages, and power status.
Quick tip: Create impressive job descriptions easily in our partner's Resume Builder by adding pre-written job phrases for every industry and career stage.

Education section
Nearing the end of your resume, your education/qualifications section should be added.
In a well-structured list, add all of your qualifications and certifications that qualify you to perform a typical Network Technician role.
If you have plenty of work experience, keep this section brief – if not, add lots of detail to make up for your lack of experience.
Additional information
At the end of your resume, you can add any extra information that might be relevant to the jobs you are applying for.
This could be hobbies, interests, publications, clubs or memberships.
This section is optional and doesn't need to be added if you have nothing more relevant to add.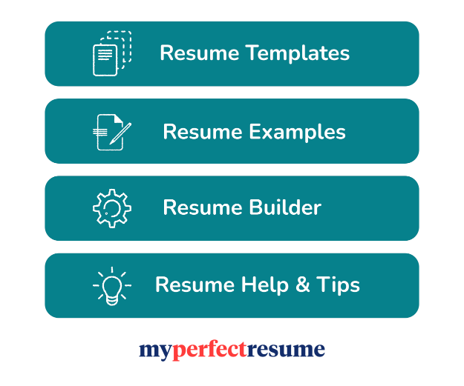 Writing your own winning Network Technician resume
Following the steps in this guide will help you to create a winning Network Technician resume and bag lots of interviews.
Good luck with your job search!