You're an Azure expert with solid programming skills and a good understanding of data technologies. It's time to land your next data engineering role.
But first, you've got to secure an interview, and that requires a strong resume that showcases your skills, qualifications, and achievements.
To help you create an impressive application, we've put together a writing guide along with an Azure data engineer resume example below.
Guide contents
| | |
| --- | --- |
| How to write a Azure Data Engineer resume | |

Azure Data Engineer Resume Example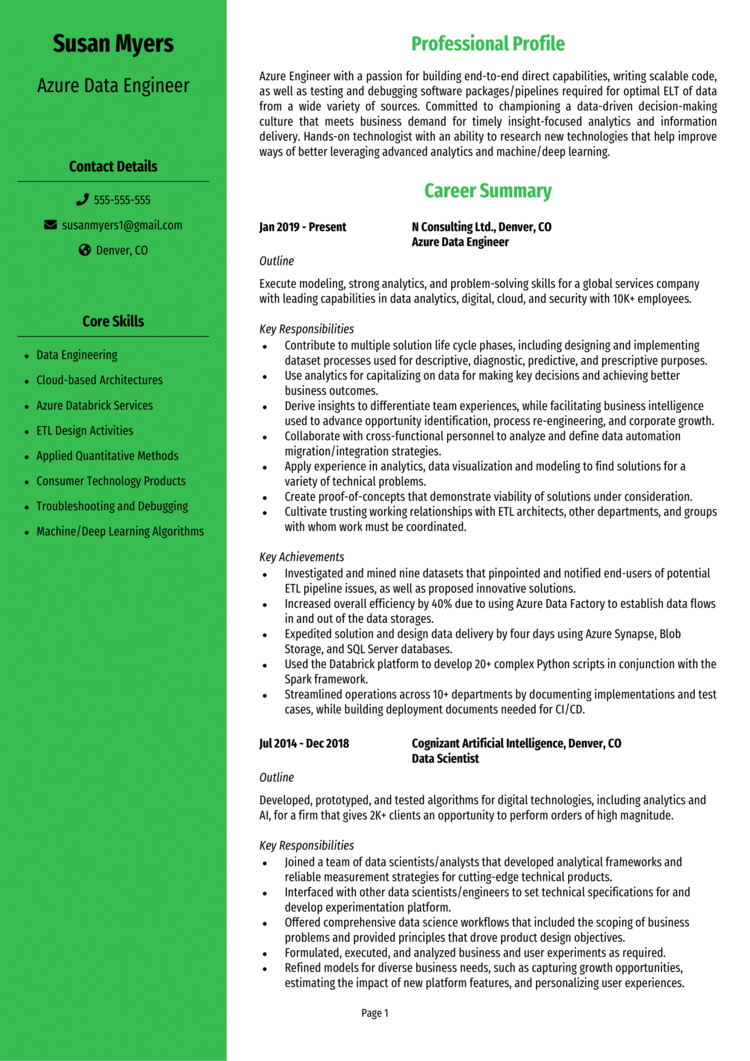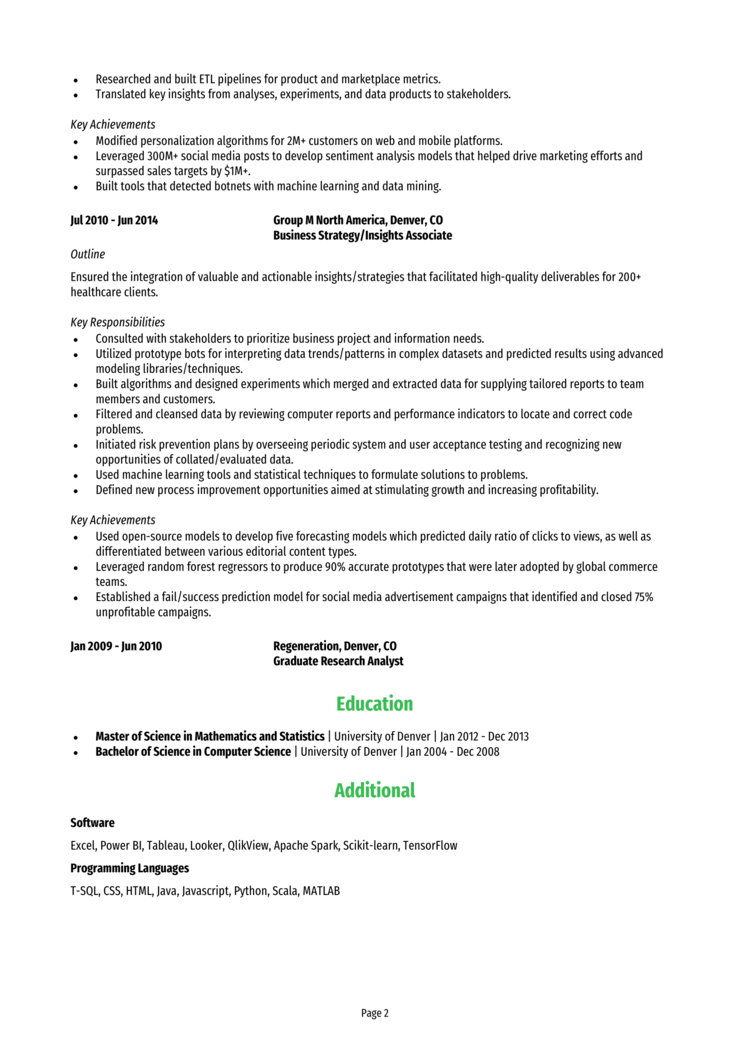 The example Azure Data Engineer resume above shows you how a professional resume should look, along with the type of content it should contain.
You can see that the information is well-organized across the page, and its easy for busy recruiters to see the candidate's important skills.
Keep this in mind when writing your own resume.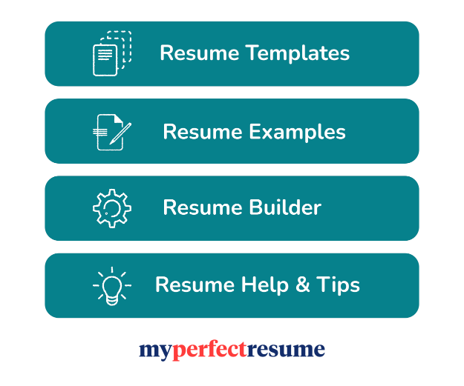 Azure Data Engineer resume layout and formatting
Your resume layout and format will play a big role in helping hiring managers to take notice of your resume and stay glued to it.
Shoot for a simple yet professional look to ensure you make a strong first impression, and organize the page in a way that is easy for readers to digest the information.
The following formatting tips should help.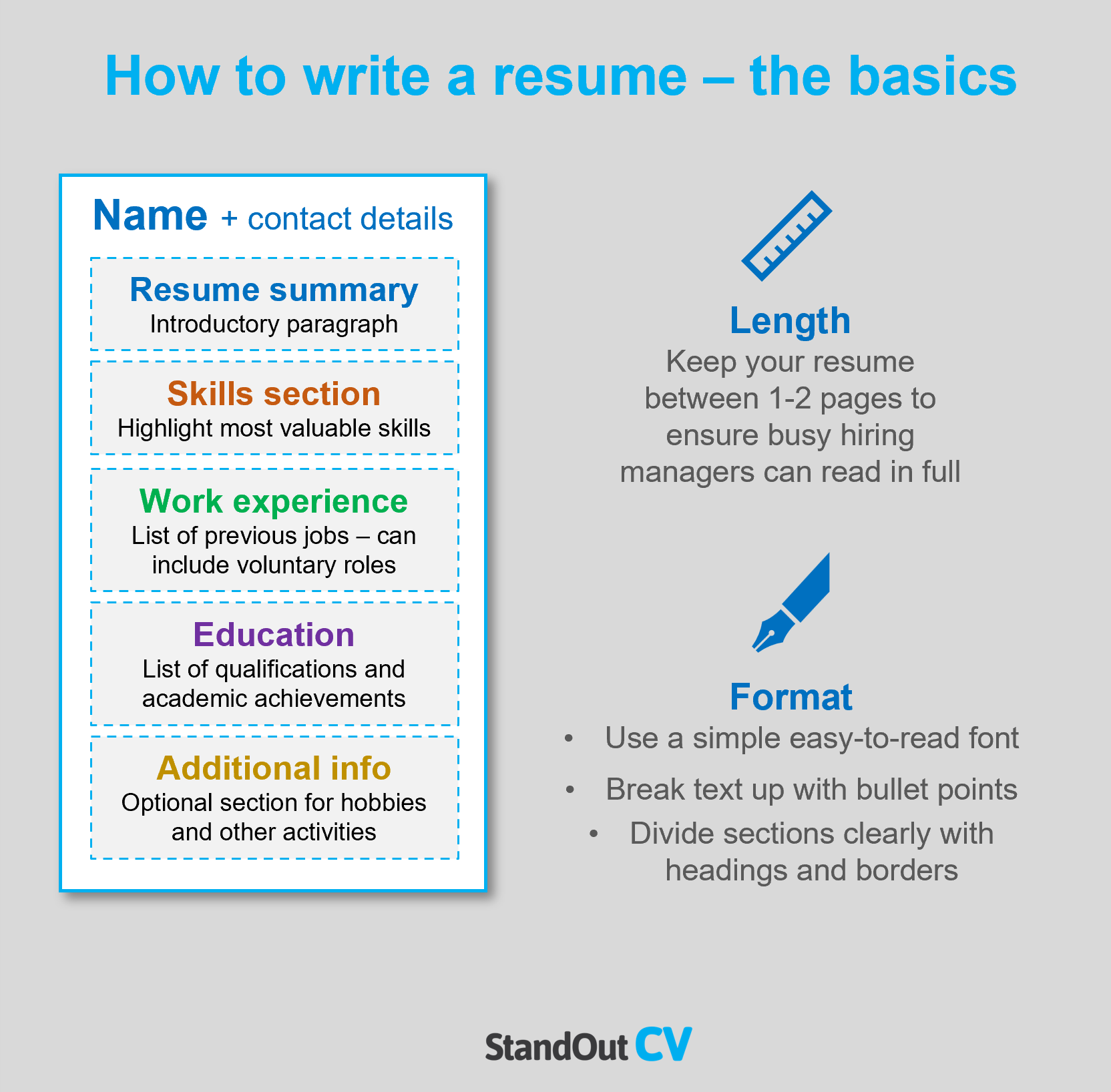 How to format your resume
Length: Attention spans in recruitment are notoriously short, so keep your resume short and sweet. There's no exact rule for resume length, but aim for 2 pages or less if you want to ensure yours gets read in full.
Font & text: Nobody likes to read huge unbroken paragraphs of text – and recruiters are no different. Break your resume text up with bullet points and use a clear simple font.
Design & layout: Your resume should look appealing – but don't overlook functionality when it comes to design. Organise the page into clear sections using bold headings and borders.
Photos: It's not mandatory to add a photo to your resume in the USA but it if you're applying to organizations within the creative fields, it can be beneficial.
Quick tip: Achieving a professional look for your resume can be difficult and time-consuming. If you want to create an attractive resume quickly, try our partner's Resume Builder and use one of their eye-catching resume templates.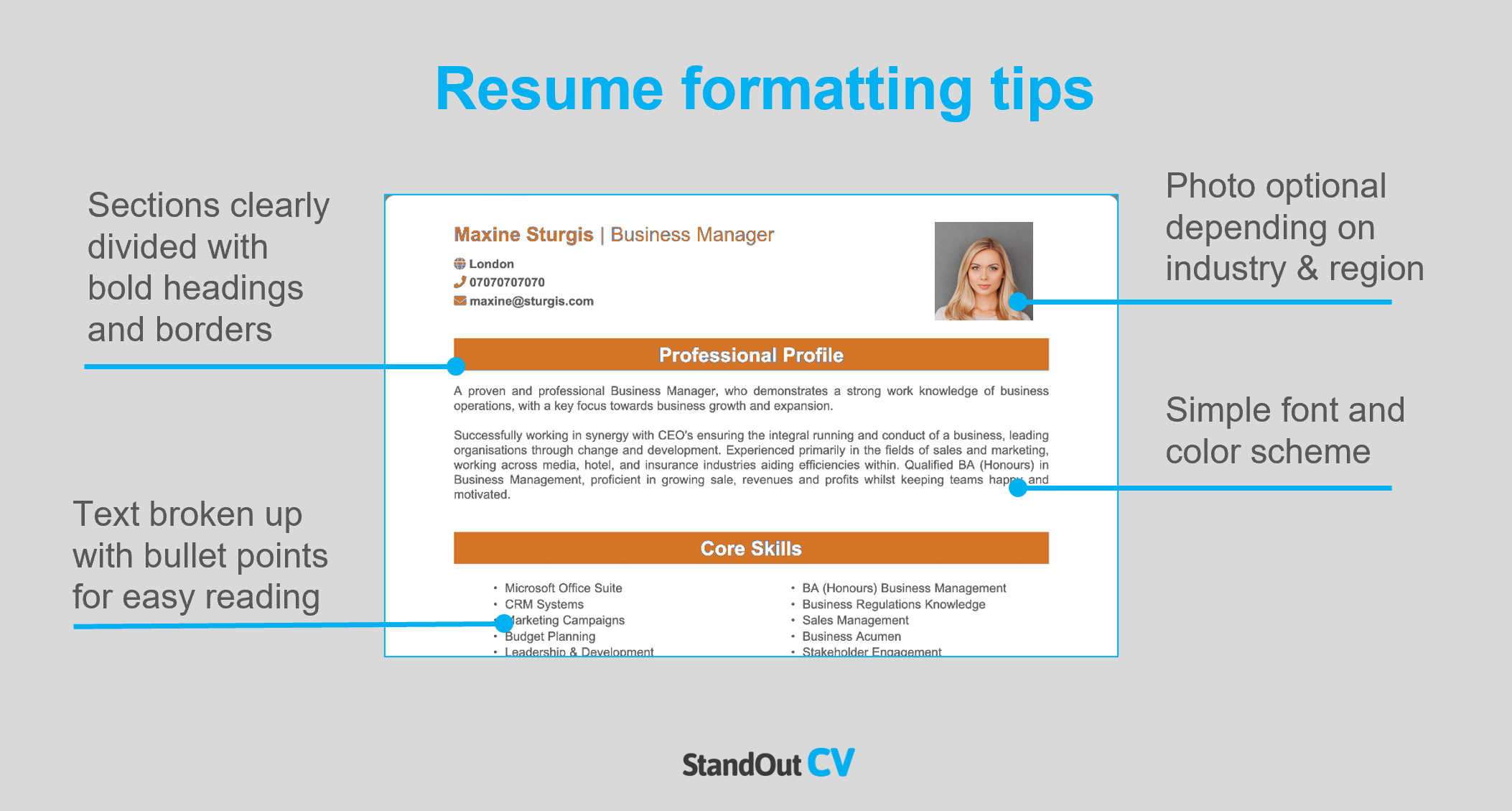 Resume layout
Add the following sections when you write your resume.
Name and contact details – Add to the very top of your resume to introduce yourself and make it super-easy for recruiters to get in touch.
Resume summary – Reel hiring managers in with an "elevator pitch" style paragraph which sums up your suitability for the job.
Skills section – A short and sharp list of your most important skills, that can be quickly skim-read.
Work experience – List your previous jobs (from newest to oldest) detailing the skills learnt and applied in each.
Education – List your qualifications and professional training.
Additional info – If it helps your application, you can add an extra section for things like hobbies and interests.
Here's what you should include in each section of your resume.
Resume Contact Details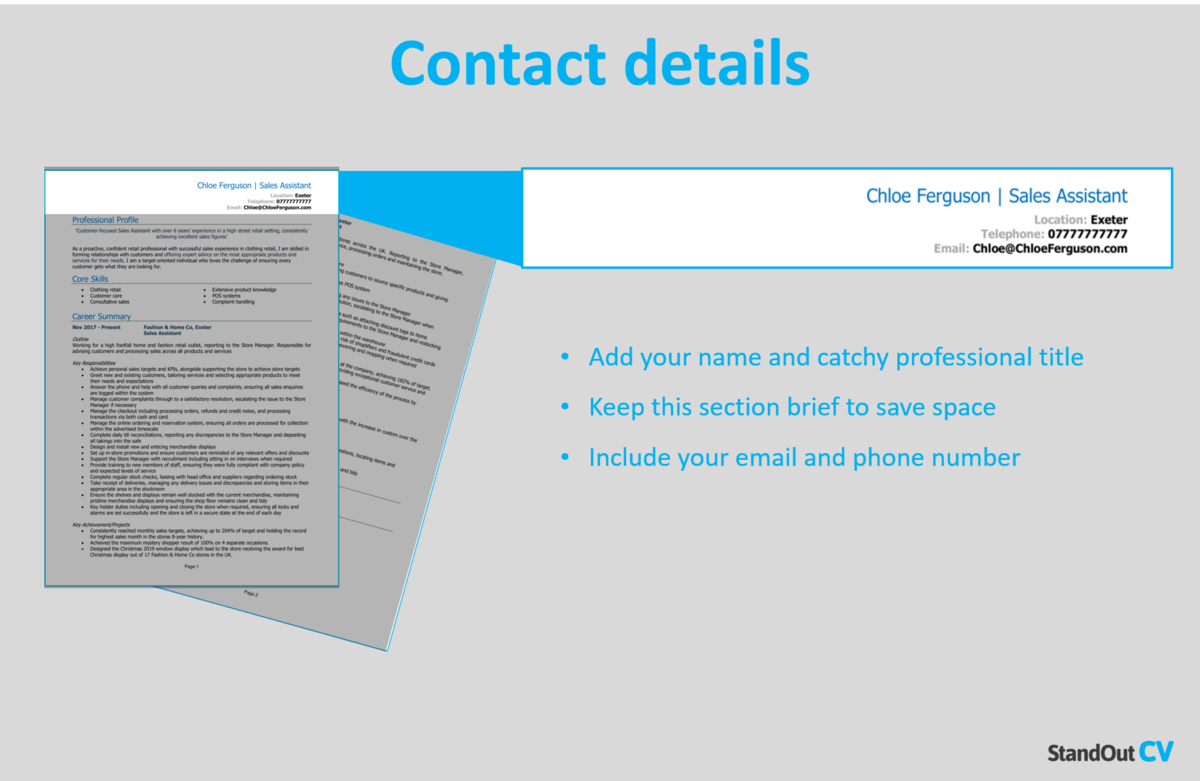 Keep your contact details short to save resume space and include the following.
Name and profession title
Cell phone number
Location – Add your local area such as Silicon Valley or New York, unless you are looking for work in a different location
Email address – Keep it professional and don't use an old address that you thought was cool in high school, but now looks a bit embarrassing.
You can add a link to your LinkedIn profile if you have one – you do not need to include personal details like date of birth or marital status.
Azure Data Engineer Resume Summary
Your resume summary is like an elevator pitch. It's your chance to sell yourself to employers within a short space of time.
Achieve this by summarizing your skills and expertise, whilst highlighting your abilities that closely match the jobs you are aiming for.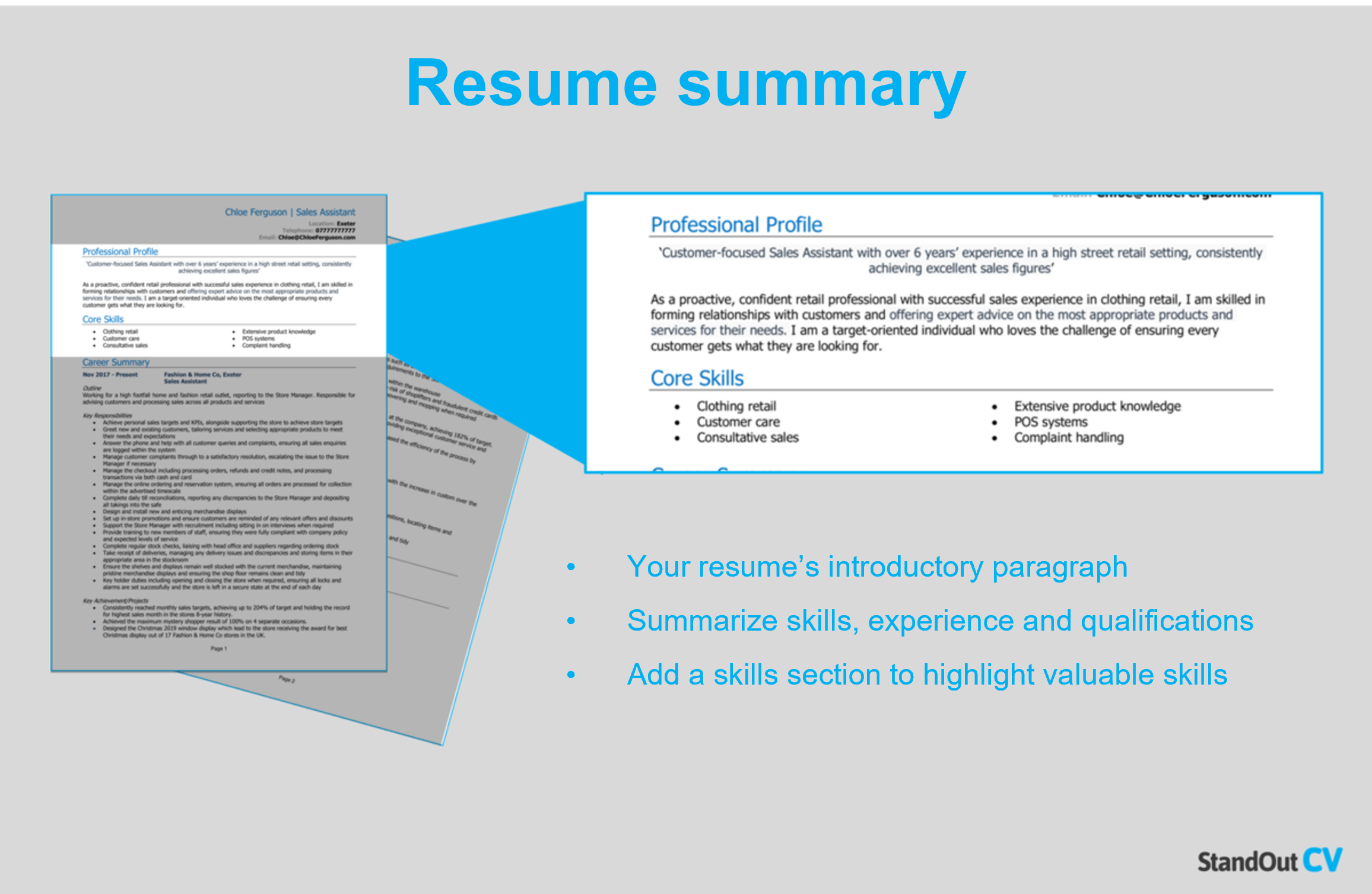 3 tips for creating a resume summary that will get noticed:
Keep it concise: Aim for a short punchy paragraph of 4-7 lines. This is just enough info to showcase why you'd make the perfect hire, without going into excessive detail and overwhelming busy recruiters at such an early stage in the resume.
Tailor to target jobs: Recruiters will be scanning for the skills and knowledge they mentioned in the job description, so add as many as you can to your summary.
Don't use cliches: Recruiters always see cringey cliches like "hardworking guru who works well in a team or individually" – they don't mean much to anyone, so focus your summary on tangible skills and experience.
Example resume summary for Azure Data Engineer
Azure Engineer with a passion for building end-to-end direct capabilities, writing scalable code, as well as testing and debugging software packages/pipelines required for optimal ELT of data from a wide variety of sources. Committed to championing a data-driven decision-making culture that meets business demand for timely insight-focused analytics and information delivery. Hands-on technologist with an ability to research new technologies that help improve ways of better leveraging advanced analytics and machine/deep learning.
What info to include in your Azure Data Engineer resume summary?
Summary of experience: What type of organizations have you worked at? What types of roles have you done and what have you contributed to previous employers?
Relevant skills: Skills that are highly relevant to Azure Data Engineer work should be made prominent throughout your summary.
Vital qualifications: Any qualifications that are important to the Azure Data Engineer jobs you are applying for, should be mentioned in the summary.
Quick tip: Choose from hundreds of pre-written summaries across all industries, and add one to your resume with one-click in our partner's Resume Builder. All written by recruitment experts and easily tailored to suit your unique skillset and style.
Core skills section
Underneath your summary, write a core skills section to make your most relevant skills jump off the page at readers.
It should be made up of 2-3 columns of bullet points of your relevant skills.
Before you do this, look over the job description and make a list of any specific skills, specialisms or knowledge required.
Then, make sure to use your findings in your list. This will paint you as the perfect match for the role.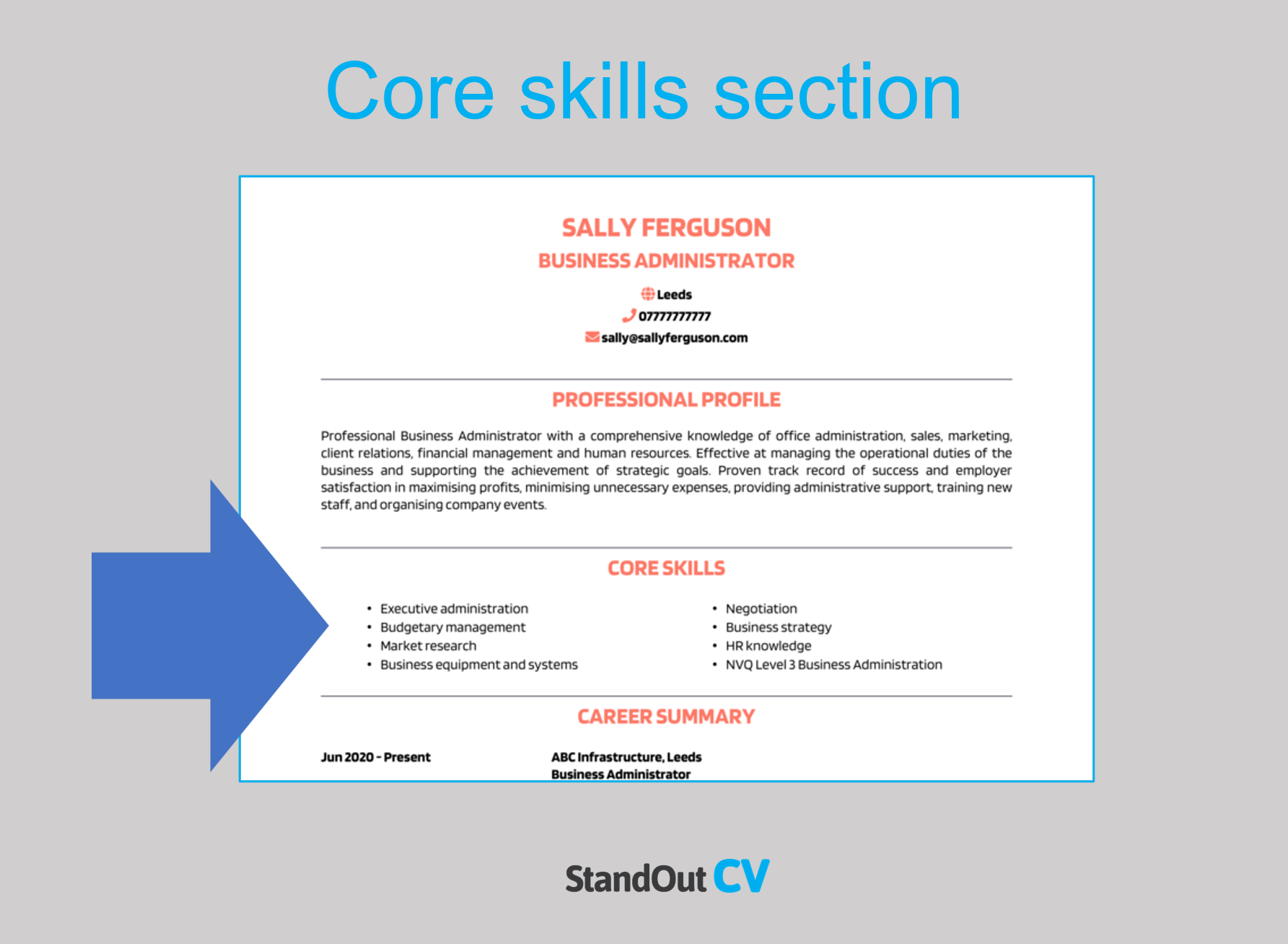 Top skills for your Azure Data Engineer resume
Data Engineering – building systems to enable the collection and usage of data for subsequent analysis and data science.
Cloud-based Architectures – utilizing cloud services to allow resources to be pooled through virtualization technology and shared across a network, using components including a front-end platform, back end platforms, a cloud based delivery, and a network.
Azure Databrick Services – utilizing Azure Databricks to store large volumes of data on a simple, open lakehouse, unifying all analytics and AI workloads.
ETL Design Activities – designing a set of procedures in the data pipeline which extract, transform, and load data from multiple sources to a data warehouse or other unified data repository.
Machine/Deep Learning Lifecycle – understanding all stages of the lifecycle from data collection, data analysis, feature engineering and algorithm selection to model building, tuning, testing, deployment, management, monitoring and feedback loops for continuous improvement.
Quick tip: Our partner's Resume Builder contains thousands of in-demand skills for every profession that can be added to your resume in seconds – saving you time and greatly improving your chances of landing job interviews and getting hired.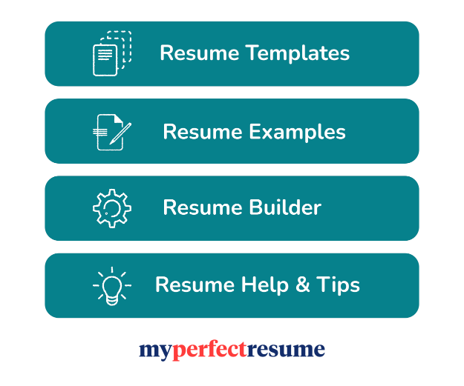 Resume work experience section
Now that you've reeled recruiters in with your awesome summary, it's time to delve into your work experience.
Here you'll list your previous jobs (starting with your most recent and working backward) and showcase how you apply your skills in the workplace.
Provide lots of detail in recent jobs, and less in older roles.
If you have no relevant paid experience, you can include voluntary work and placements – but if you have lots of experience, you can leave out some of the really old jobs.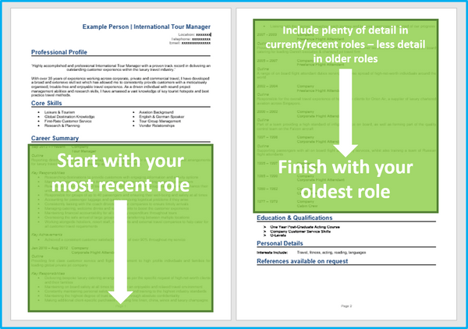 Structuring your job descriptions
Resume job descriptions contain lots of information, so its crucial to structure them well.
Use the structure below to ensure hiring managers can consume the information easily.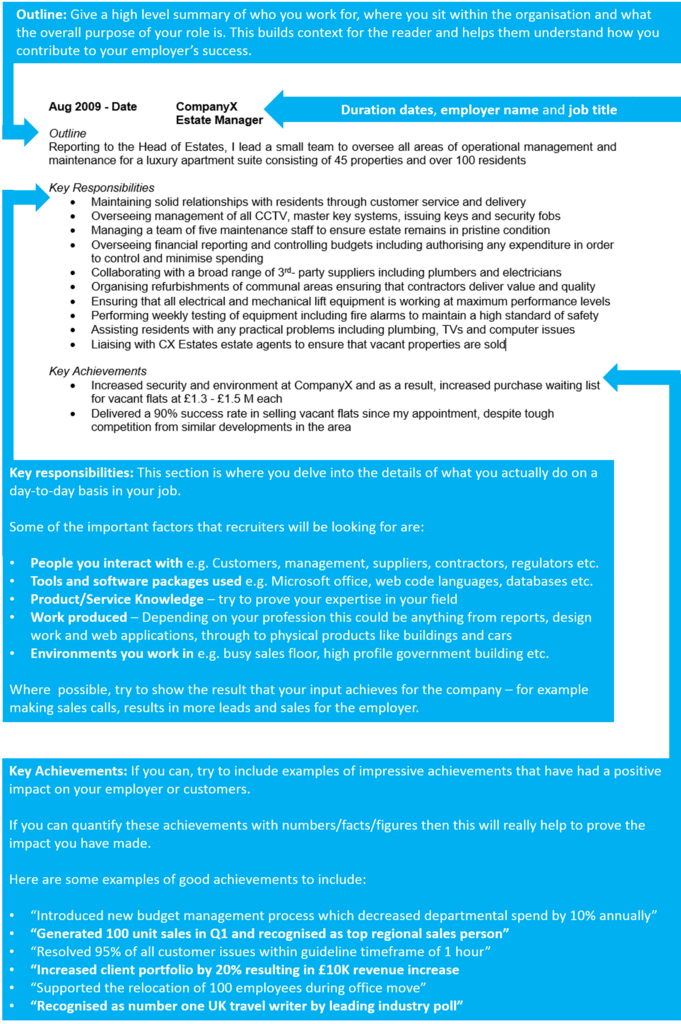 Job outline
Each role description should begin with a qucik summary of the job and company, along with how the job fits into the strucuture of the organization.
Key responsibilities
List your notable responsibilities in short sharp bullet points to demonstrate your input and how you contributed to the organization's success.
Highlight the skills that are most important to the roles you are applying for.
Key achievements
Finish each role by highlighting some impressive achievements you made whilst in the role.
Anything that benefited the employer can be included from making financial savings, to winning new customers.
Quantify your achievements with facts and figures if you can, e.g. "reduced call wait time by 10%"
Example job for Azure Data Engineer resume
Outline
Execute modelling, strong analytics, and problem-solving skills for a global services company with leading capabilities in data analytics, digital, cloud, and security with 10K+ employees.
Key Responsibilities
Contribute to multiple solution life cycle phases, including designing and implementing dataset processes used for descriptive, diagnostic, predictive, and prescriptive purposes.
Use analytics for capitalizing on data for making key decisions and achieving better business outcomes.
Derive insights to differentiate team experiences, while facilitating business intelligence used to advance opportunity identification, process re-engineering, and corporate growth.
Collaborate with cross-functional personnel to analyze and define data automation migration/integration strategies.
Quick tip: Create impressive job descriptions easily in our partner's Resume Builder by adding pre-written job phrases for every industry and career stage.

Education section
Near the end of your resume add your education section
Experienced candidates should keep it brief and focus on professional qualifications – and junior candidates can include high school diplomas, college degrees etc.
Additional information
At the end of your resume, you can add any extra information that might be relevant to the jobs you are applying for.
This could be hobbies, interests, publications, clubs or memberships.
This section is optional and doesn't need to be added if you have nothing more relevant to add.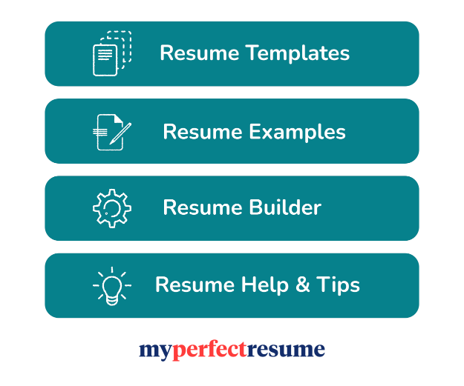 Writing your Azure Data Engineer resume
A winning Azure Data Engineer resume should look great, read well, and sell your skillset to hiring managers.
If you follow the steps above, you should be able to bag yourself a top job in no time.
And don't forget you can use our partner's Resume Builder if you want to save time and ensure your resume contains the very best content.
Good luck with your job search!