Your data engineer CV needs to set you apart as the candidate with the best data skills, and somebody who makes an impact in the workplace .
To help you get the job, check out this example data engineer CV and our step-by-step guide on writing your own interview-winning CV.
Guide contents
Data Engineer CV example
Structuring and formatting your CV
Writing your CV profile
Detailing work experience
Your education
Skills required for your Data Engineer CV

Data Engineer CV example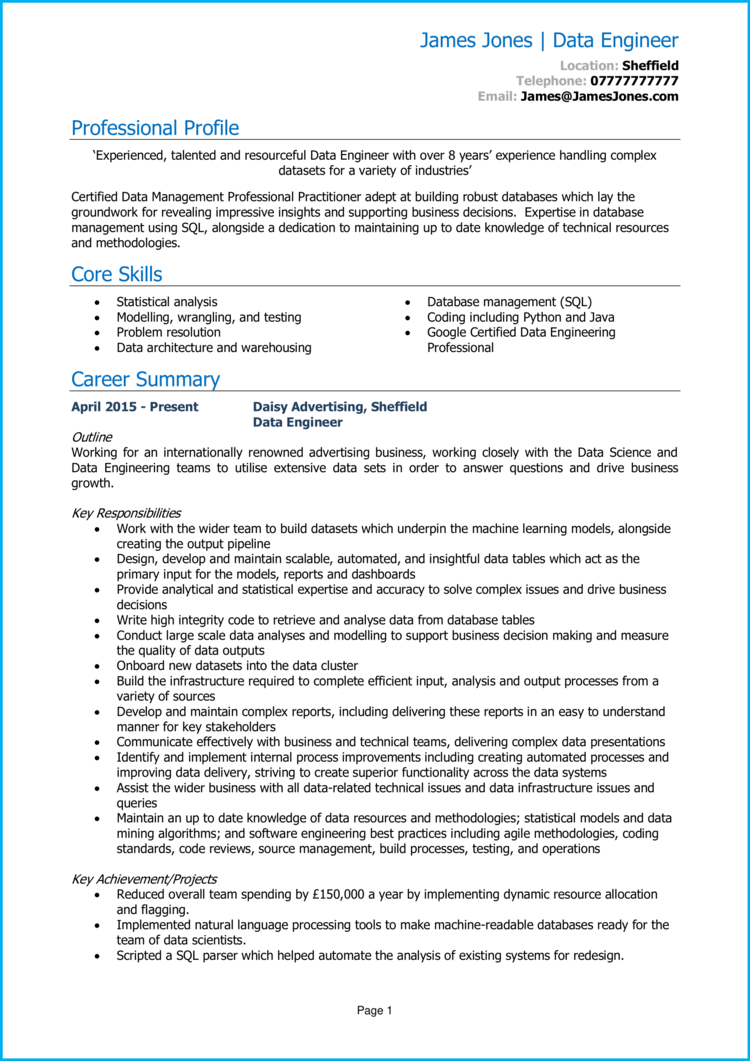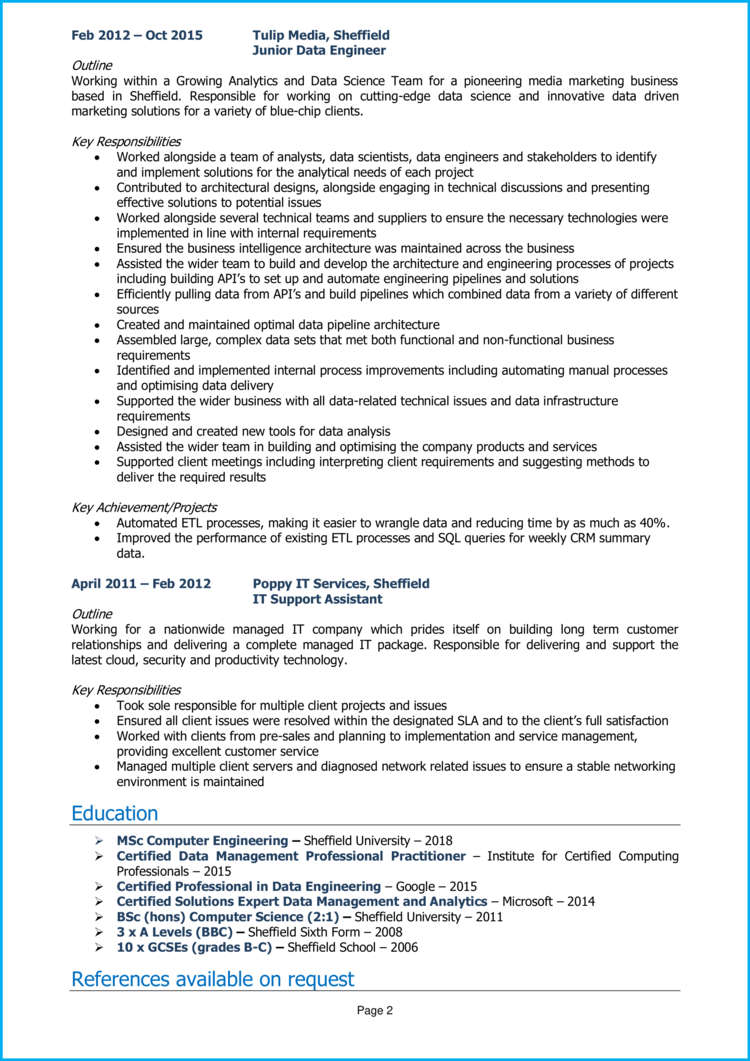 Unsure of what your Data Engineer CV should look like?
Take a good look at the CV example above to get familiar with the structure, layout and format of a professional CV.
As you can see, it provides plenty of relevant information about the applicant but is still very easy to read, which will please busy recruiters.
Data Engineer CV structure and format
The format and structure of your CV is important because it will determine how easy it is for recruiters and employers to read your CV.
If they can find the information they need quickly, they'll be happy; but if they struggle, your application could be overlooked.
A simple and logical structure will always create a better reading experience than a complex structure, and with a few simple formatting tricks, you'll be good to go.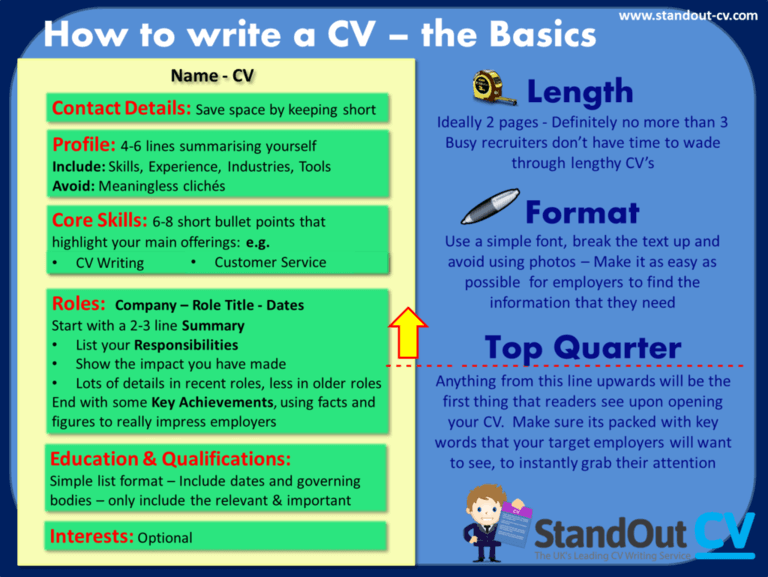 Formatting Tips
Length: Whether you've got one year or three decades of experience, your CV should never be more than two sides of A4. Recruiters are busy people who're often juggling numerous roles and tasks, so they don't have time to read lengthy applications. If you're a recent graduate or don't have much industry experience, one side of A4 is fine.
Readability: To help busy recruiters scan through your CV, make sure your section headings stand out – bold or coloured text works well. Additionally, try to use bullet points wherever you can, as they're far easier to skim through than huge paragraphs. Lastly, don't be afraid of white space on your CV – a little breathing space is great for readability.
Design: Your CV needs to look professional, sleek and easy to read. A subtle colour palette, clear font and simple design are generally best for this, as fancy designs are often harder to navigate.
Avoid photos: If your CV has photos, images or profile pictures, hit the delete button. They're not needed and won't add any value to your applications.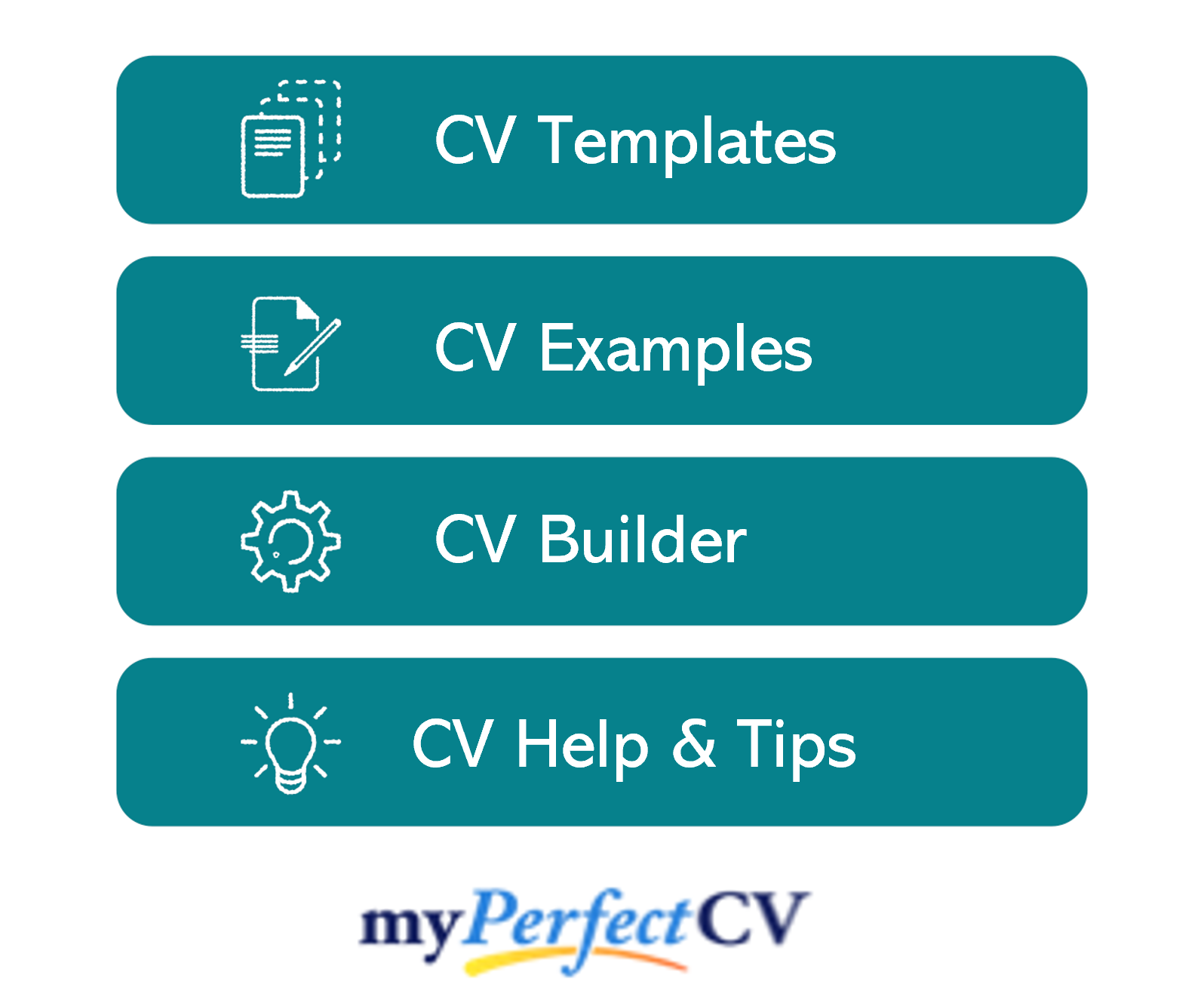 Structuring your CV
Divide your CV into the following major sections when writing it:
Name and contact details – Head your CV with your name and contact details, to let the reader know who you are and how to contact you.
CV profile – A brief paragraph which summarises your skills and experience and highlights why you're a good match for the role.
Core skills list – A snappy, bullet-pointed list of your most relevant skills.
Work experience – A structured list of your work experience in reverse chronological order.
Education – A summary of any relevant qualifications or professional training you've completed.
Hobbies and interests – An optional section, which should only be used if your hobbies are relevant to the jobs you're applying to.
Now I'll guide you through exactly what you should include in each CV section.
CV Contact Details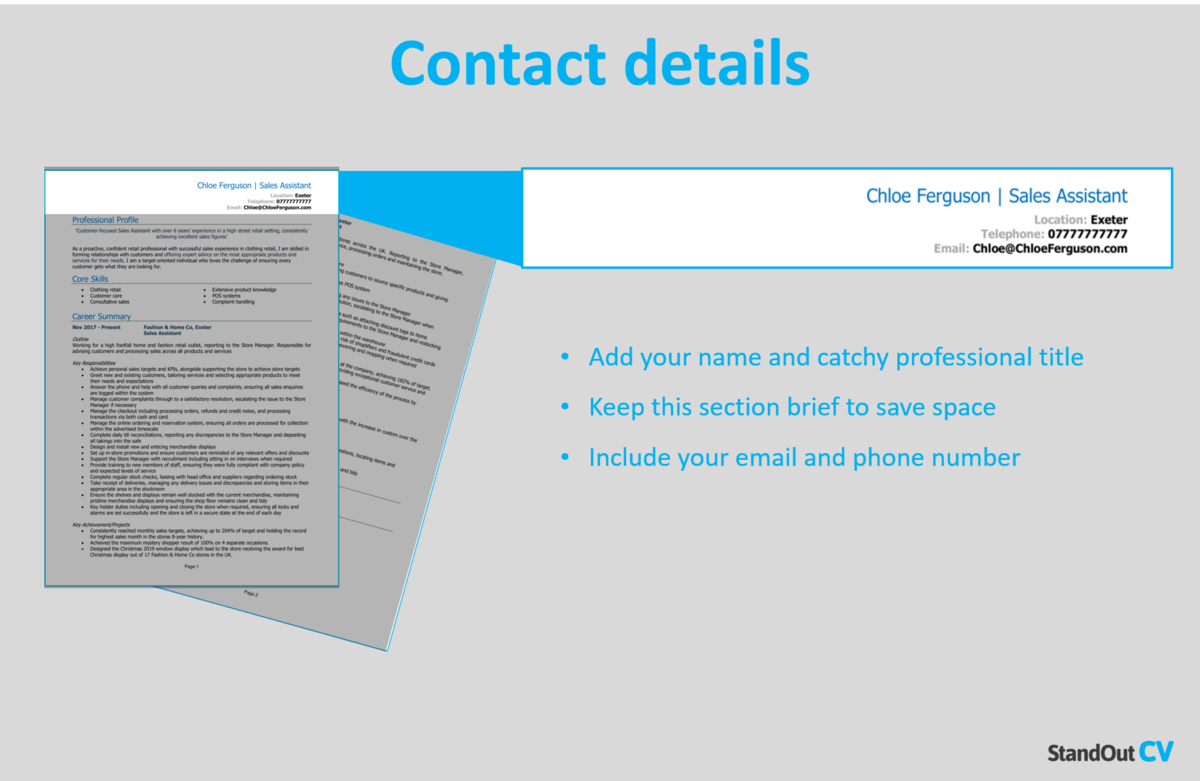 Write your contact details in the top corner of your CV, so that they're easy to find but don't take up too much space.
You only need to list your basic details, such as:
Mobile number
Email address
Location – Don't list your full address. Your town or city, such as 'Norwich' or 'Coventry' is perfect.
LinkedIn profile or portfolio URL – Remember to update these before listing them on an application.
Data Engineer CV Profile
Grab the reader's attention by kick-starting your CV with a powerful profile (or personal statement, if you're a junior applicant).
This is a short introduction paragraph which summarises your skills, knowledge and experience.
It should paint you as the perfect match for the job description and entice recruiters to read through the rest of your CV.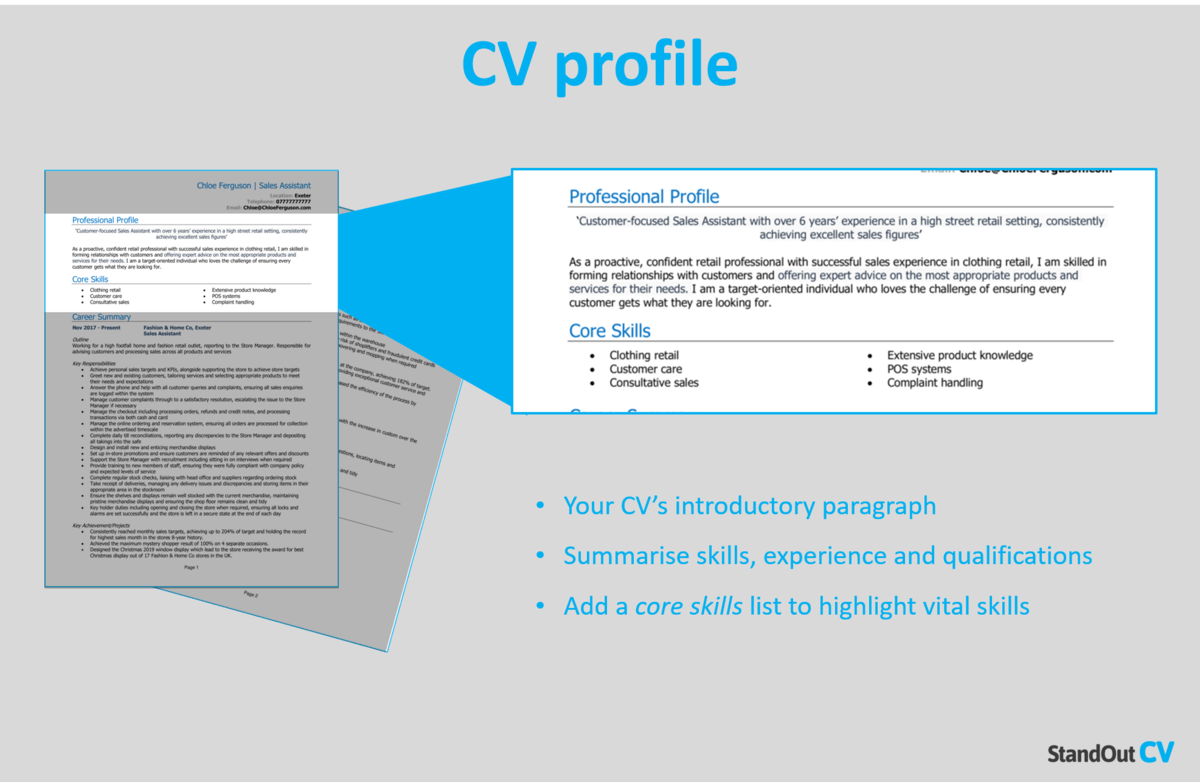 Tips for creating an impactful CV profile:
Keep it brief: It might be tempting to submit a page-long CV profile, but recruiters won't have the time to read it. To ensure every word gets read, it's best to include high-level information only; sticking to a length of 3-5 lines.
Tailor it: Not tailoring your profile (and the rest of your CV) to the role you're applying for, is the worst CV mistake you could make. Before setting pen to paper, look over the job ad and make a note of the skills and experience required. Then, incorporate your findings throughout.
Don't add an objective: Avoid discussing your career goals in your CV profile – if you think they're necessary, briefly mention them in your cover letter instead.
Avoid cliches: Cheesy clichès and generic phrases won't impress recruiters, who read the same statements several times per day. Impress them with your skill-set, experience and accomplishments instead!
What to include in your Data Engineer CV profile?
Summary of experience: Demonstrate your suitability for your target jobs by giving a high level summary of your previous work experience, including the industries you have worked in, types of employer, and the type of roles you have previous experience of.
Relevant skills: Highlight your skills which are most relevant to Data Engineer jobs, to ensure that recruiters see your most in-demand skills as soon as they open your CV.
Essential qualifications: If you have any qualifications which are highly relevant to Data Engineer jobs, then highlight them in your profile so that employers do not miss them.
Quick tip: If spelling and grammar are not a strong point of yours, Use our partner's CV builder to add pre-written content that has been created by recruitment experts, and proofread by our team.
Core skills section
Next, you should create a bullet pointed list of your core skills, formatted into 2-3 columns.
Here, you should focus on including the most important skills or knowledge listed in the job advertisement.
This will instantly prove that you're an ideal candidate, even if a recruiter only has time to briefly scan your CV.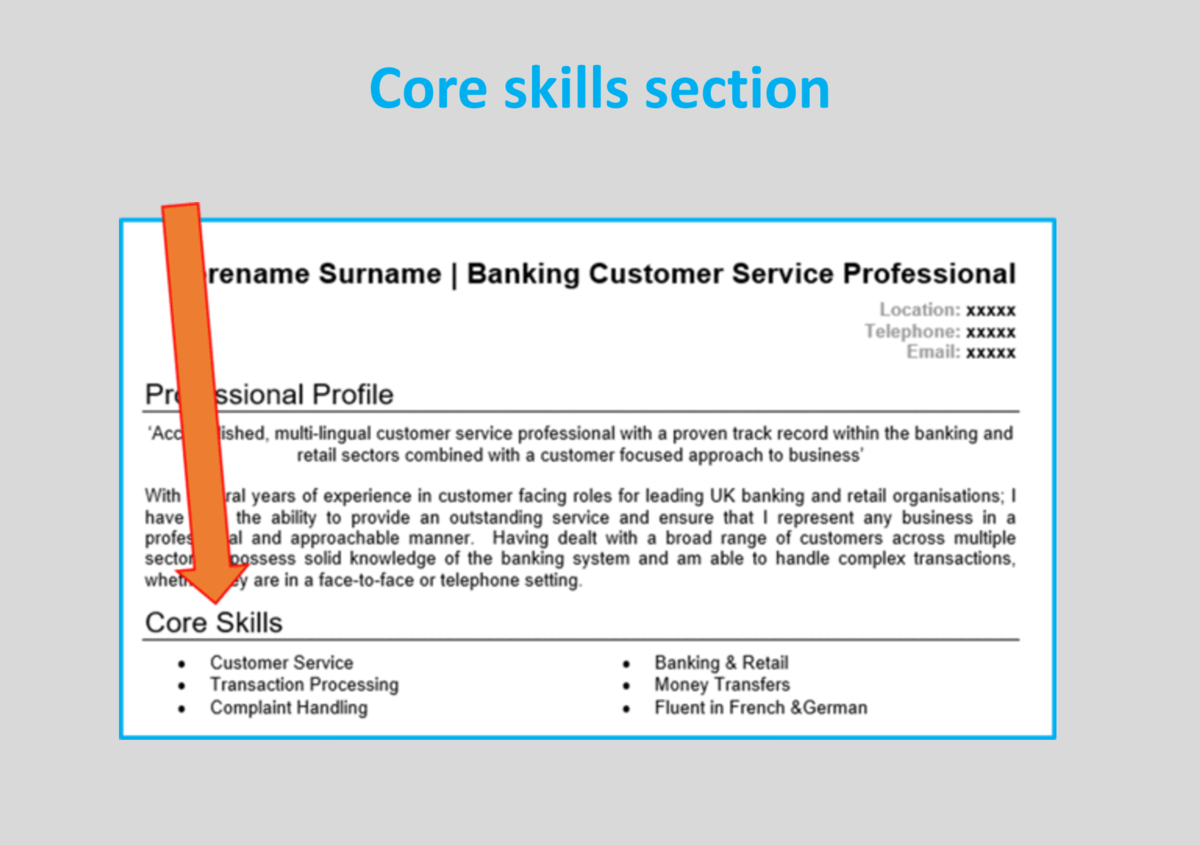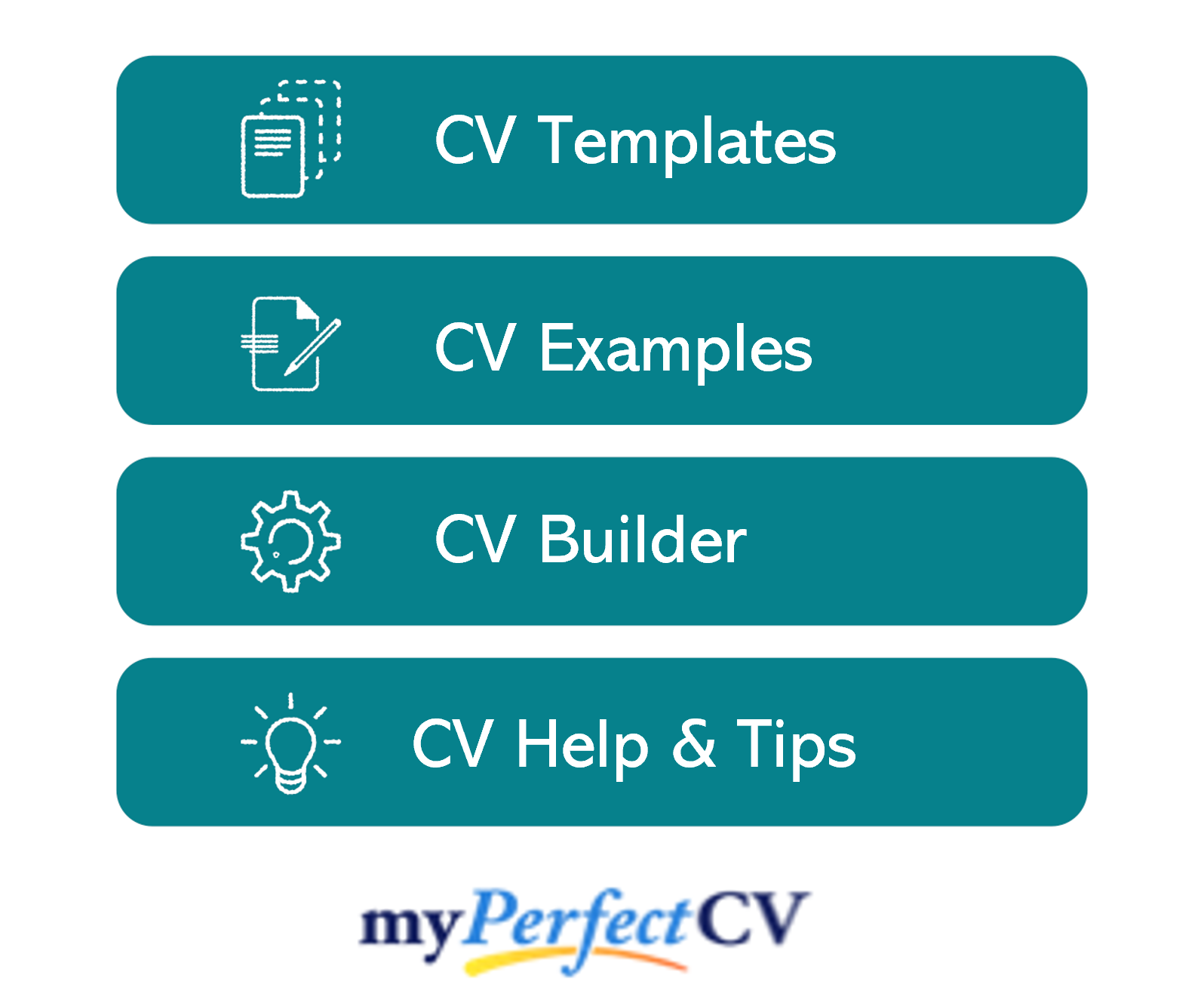 Work experience/Career history
Next up is your work experience section, which is normally the longest part of your CV.
Start with your current (or most recent) job and work your way backwards through your experience.
Can't fit all your roles? Allow more space for your recent career history and shorten down descriptions for your older roles.
Structuring your roles
The structure of your work experience section can seriously affect its impact.
This is generally the biggest section of a CV, and with no thought to structure, it can look bulky and important information can get lost.
Use my 3-step structure below to allow for easy navigation, so employers can find what they are looking for:
Outline
Start with a 1-2 sentence summary of your role as a whole, detailing what the goal of your position was, who you reported to or managed, and the type of organisation you worked for.
Key responsibilities
Use bullet points to detail the key responsibilities of your role, highlighting hard skills, software and knowledge wherever you can.
Keep them short and sharp to make them easily digestible by readers.
Key achievements
Lastly, add impact by highlight 1-3 key achievements that you made within the role.
Struggling to think of an achievement? If it had a positive impact on your company, it counts.
For example, you might increased company profits, improved processes, or something simpler, such as going above and beyond to solve a customer's problem.
Education
Although there should be mentions of your highest and most relevant qualifications earlier on in your CV, save your exhaustive list of qualifications for the bottom.
If you're an experienced candidate, simply include the qualifications that are highly relevant to Data Engineer roles.
However, less experienced candidates can provide a more thorough list of qualifications, including A-Levels and GCSEs.
You can also dedicate more space to your degree, discussing relevant exams, assignments and modules in more detail, if your target employers consider them to be important.
Interests and hobbies
This section is entirely optional, so you'll have to use your own judgement to figure out if it's worth including.
If your hobbies and interests could make you appear more suitable for your dream job, then they are definitely worth adding.
Interests which are related to the industry, or hobbies like sports teams or volunteering, which display valuable transferable skills might be worth including.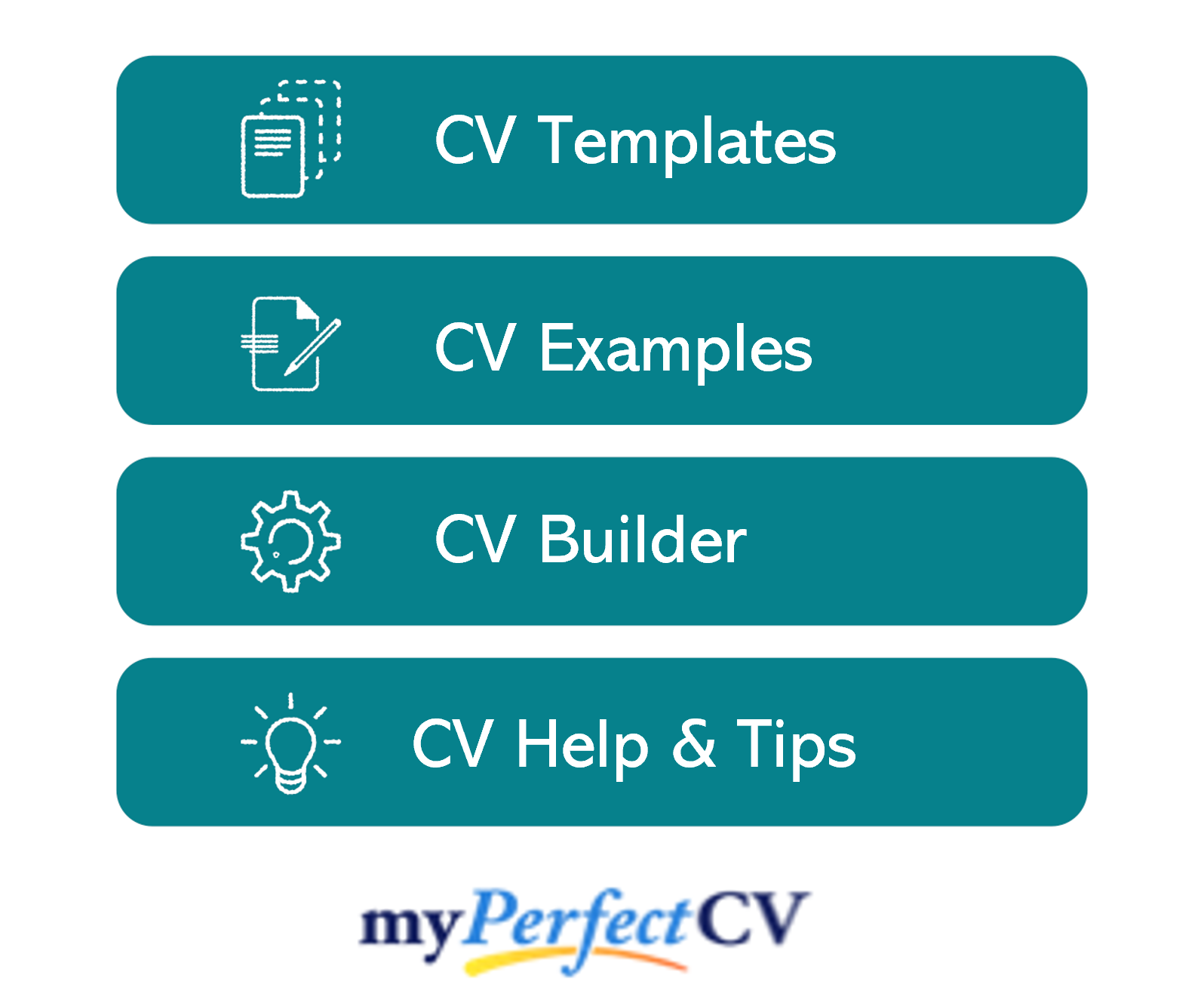 Essential skills for your Data Engineer CV
Tailoring your CV to the roles you are applying for is key to success, so make sure to read through the job descriptions and tailor your skills accordingly.
However, commonly desired Data Engineer skills include:
Data engineering – Concisely demonstrate that you can use a range of programming languages and have deep SQL database design knowledge.
Data modelling – You must show competence with different tools and reverse engineering data models.
Collaboration – Demonstrate your ability to work with others within the IT function to meet the needs of the wider organisation.
Active listening – Explain how you understand user needs to develop scalable and resilient services that are fit for purpose.
Data warehousing – Detail skills in Kafka, Apache Spark, PIG, HIVE, MapReduce, Hadloop etc.
Writing your Data Engineer CV
A strong, compelling CV is essential to get noticed and land interviews with the best employers.
To ensure your CV stands out from the competition, make sure to tailor it to your target role and pack it with sector-specific skills and results.
Remember to triple-check for spelling and grammar errors before hitting send.
Good luck with the job search!