You understand the importance of strong security systems and you're an expert in detecting potential security threats, yet getting this all down on your CV feels like the real challenge.
Well, if you're struggling with your application, we have the solution.
Below, we've put together a penetration tester CV example, along with a whole host of helpful tips and tricks for writing an impressive application.
Contents
| | |
| --- | --- |
| How to write a Penetration Tester CV | |

Penetration Tester CV example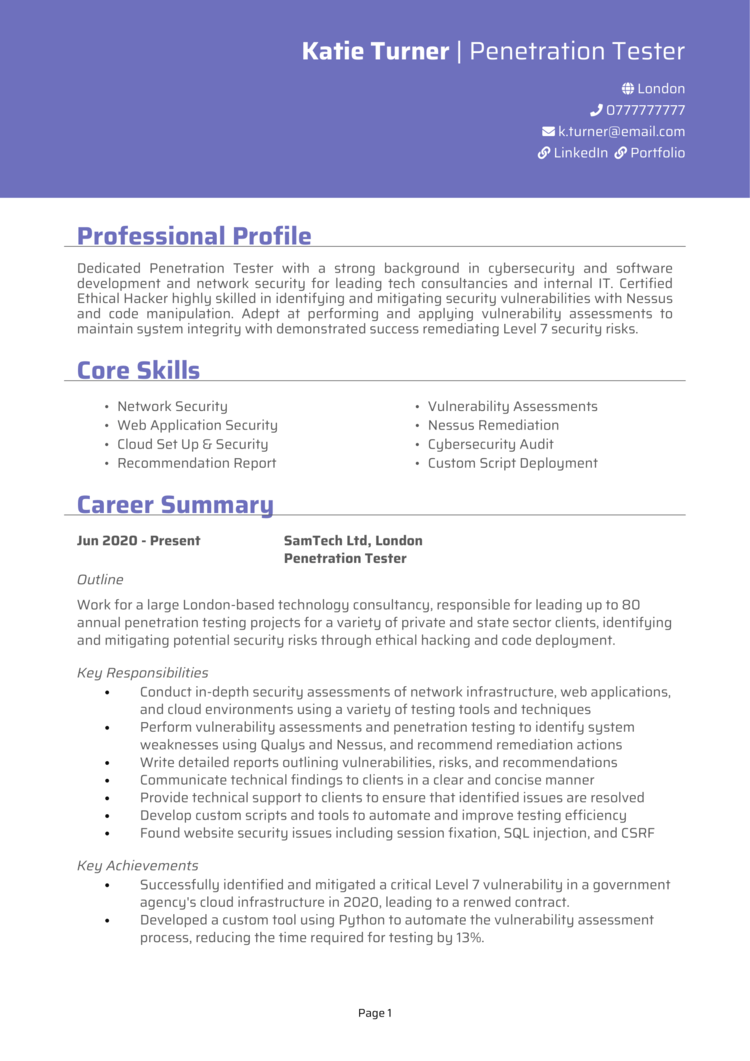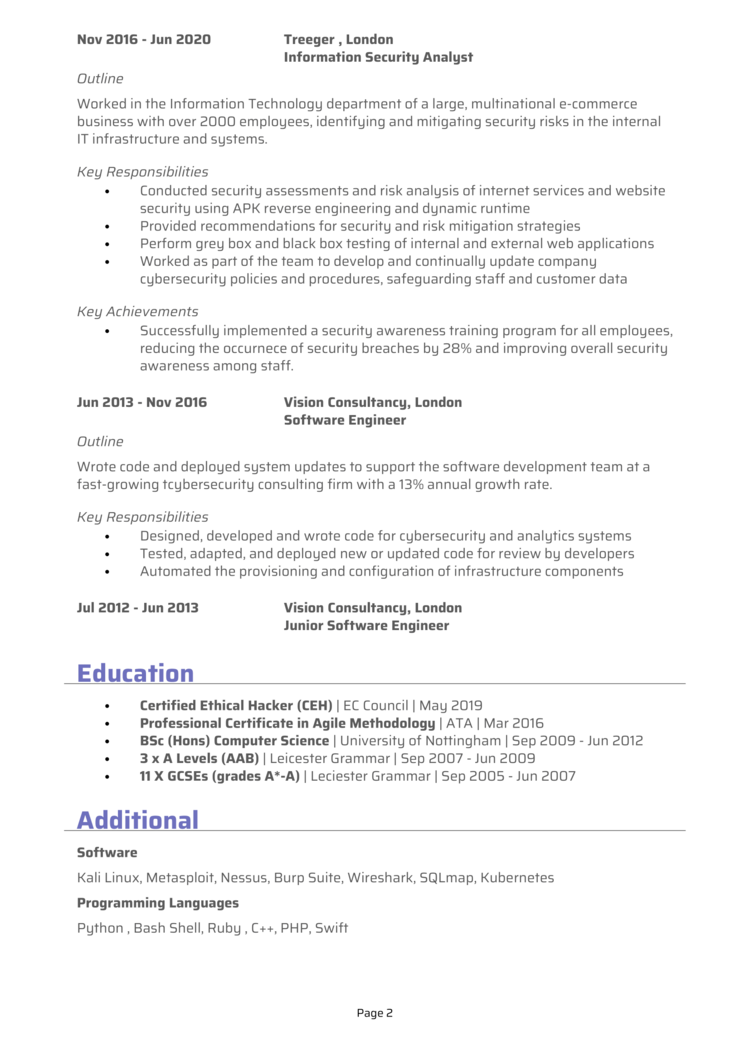 This CV example demonstrates the type of info you should be including within your Penetration Tester CV, as well as how to format and layout the content in a way which looks professional and is easy for time-strapped recruiters to read.
This is the look and feel you should be aiming for, so remember to refer back to it throughout your CV writing process.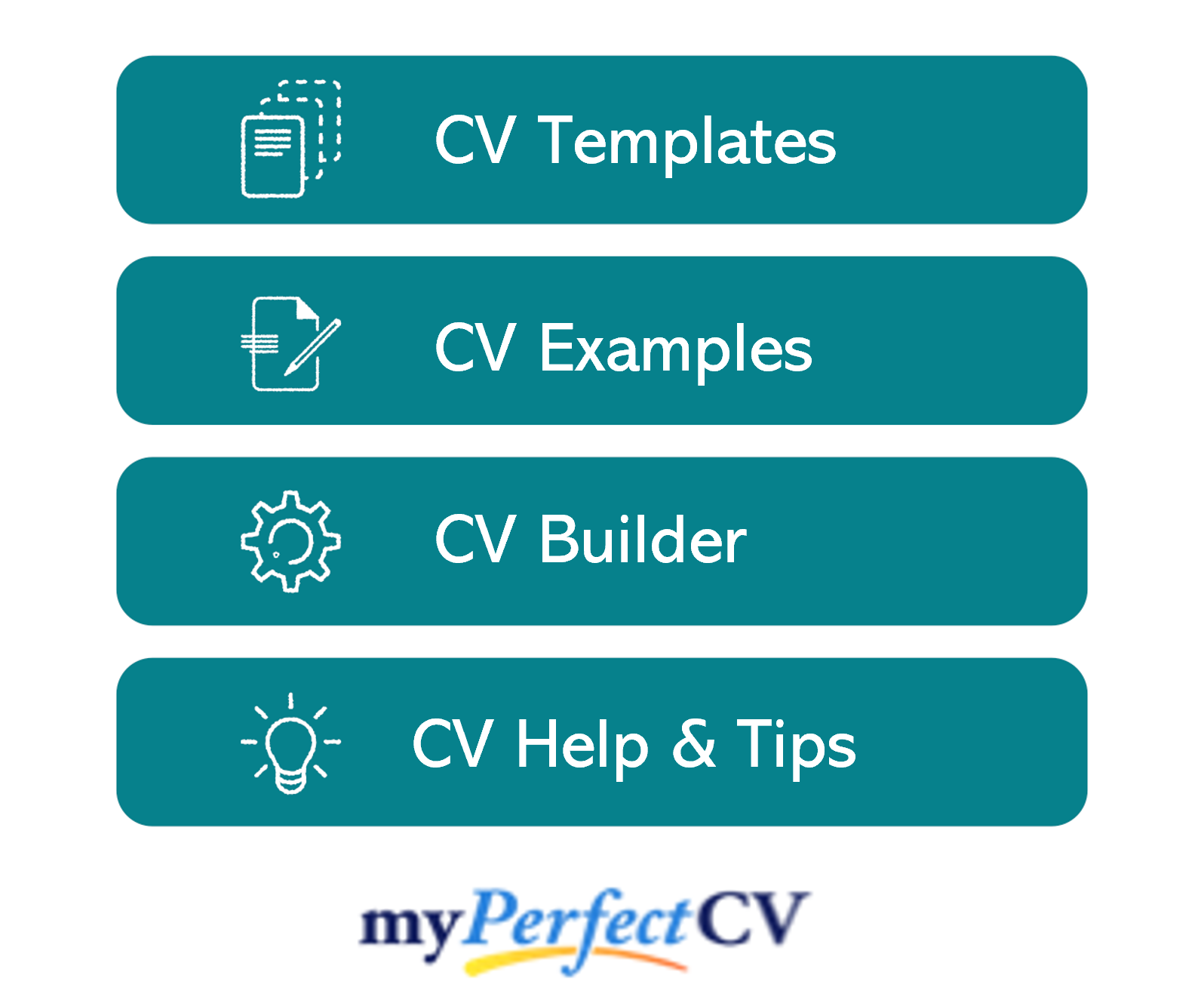 Penetration Tester CV layout and format
First impressions count, so a sloppy, disorganised CV may cause your CV to be overlooked..
Instead, perfect the format and structure of your CV by working to a clear logical structure and applying some simple formatting tricks to ease readability.
Don't underestimate the importance of this step; if your CV lacks readability, your written content won't even be seen.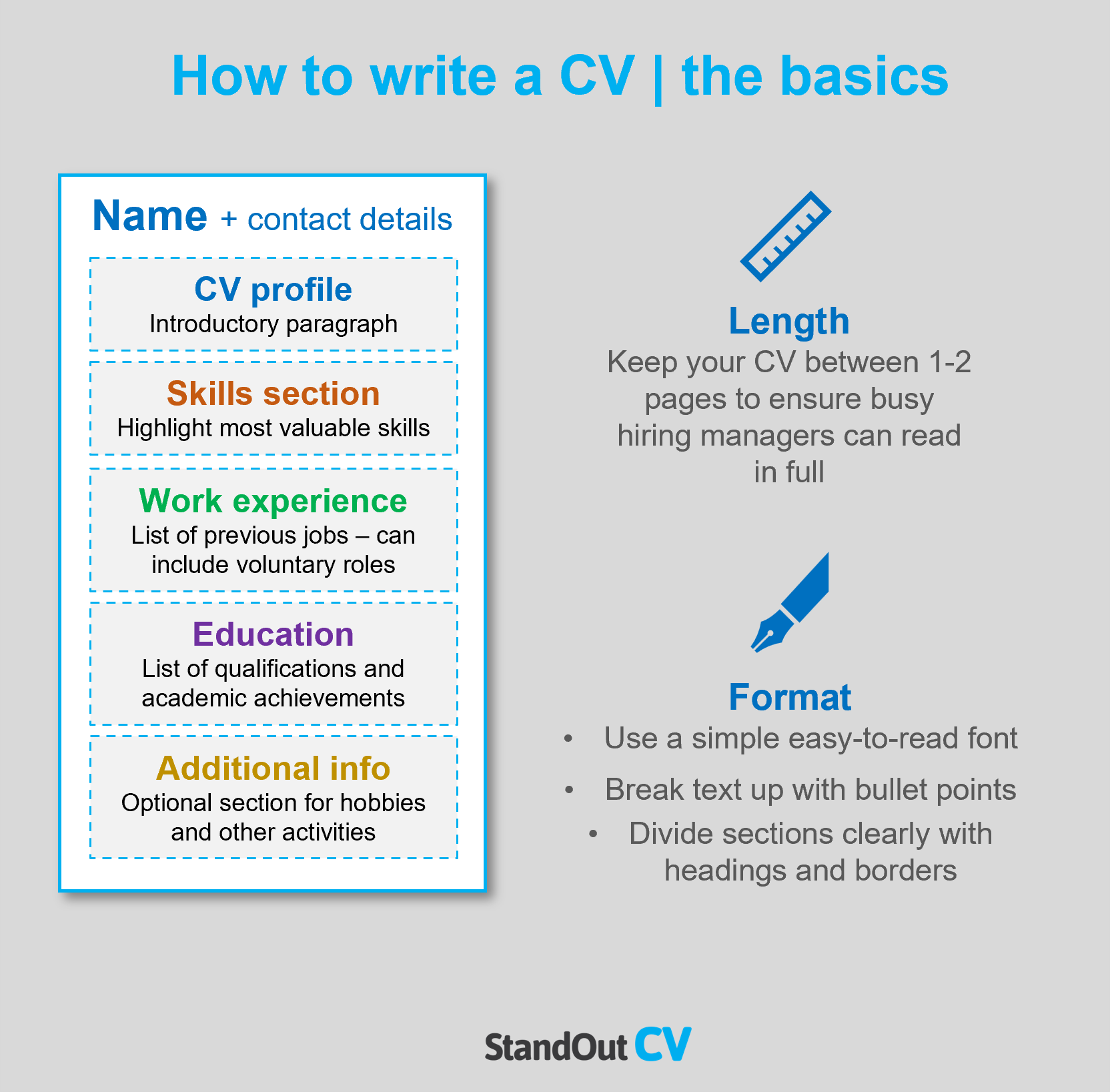 Tips for formatting your Penetration Tester CV
Length: Recruiters will be immediately put off by lengthy CVs – with hundreds of applications to read through, they simply don't have the time! Grabbing their attention with a short, snappy and highly relevant CV is far more likely to lead to success. Aim for two sides of A4 or less.
Readability: Make sure your CV is easy to read and looks professional by applying some simple formatting tricks. Bullet points are great for making large paragraphs more digestible, while formatting your headings with bold or coloured text will help the reader to find the information they need, with speed.
Design: It's generally best to stick to a simple CV design, as funky or elaborate designs rarely add any value to your application. A clear, modern font and a subtle colour scheme work perfectly and allow your skills, experience and achievements to speak for themselves.
Photos: Recruiters can't factor in appearance, gender or race into the recruitment process, so a profile photo is not usually needed. However, creative employers do like to see them, so you can choose to include one if you think it will add value to your CV .
Quick tip: Creating a professional CV style can be difficult and time-consuming when using Microsoft Word or Google Docs. To create a winning CV quickly, try our partner's CV Builder and use one of their eye-catching professional CV templates.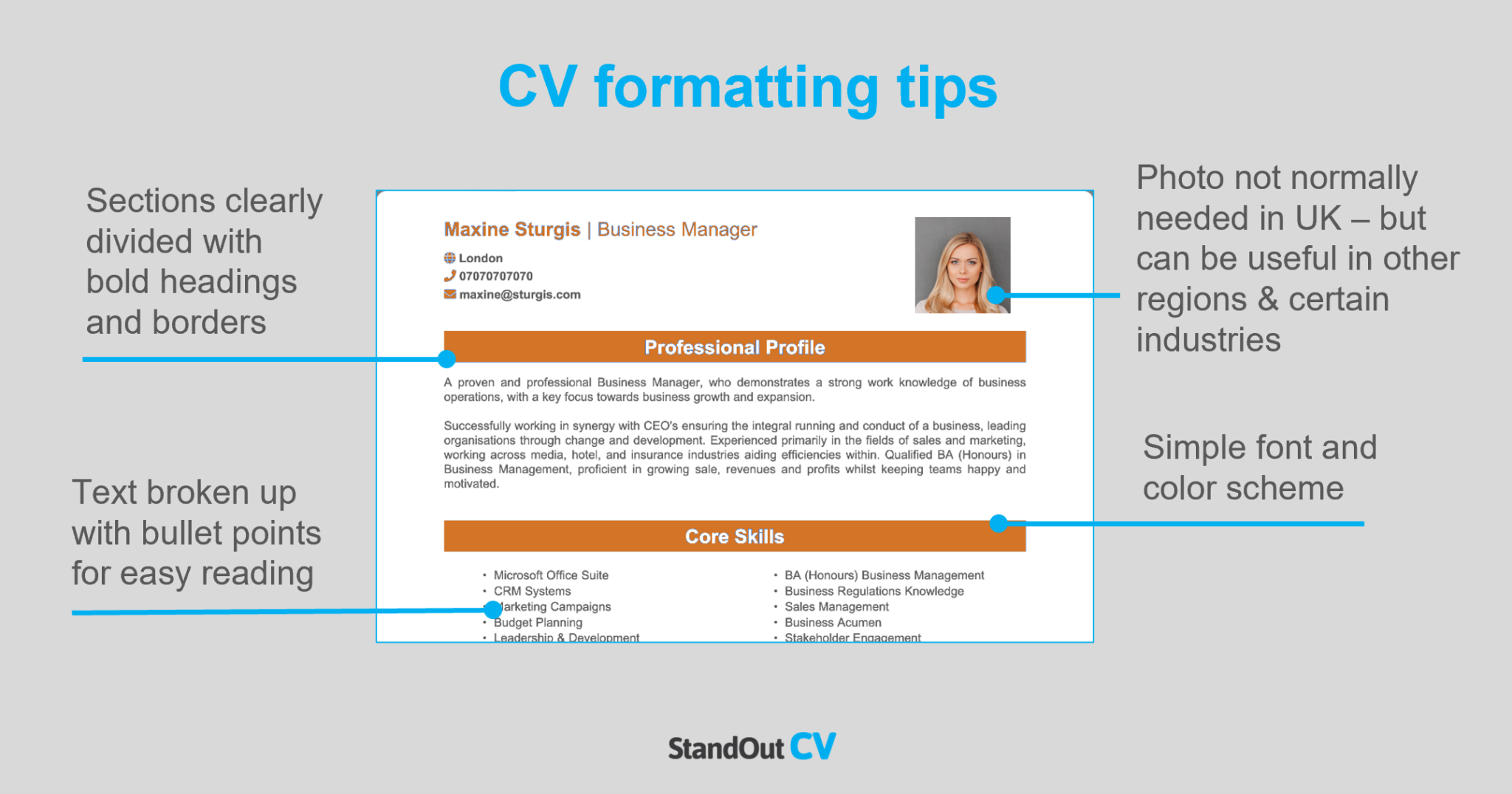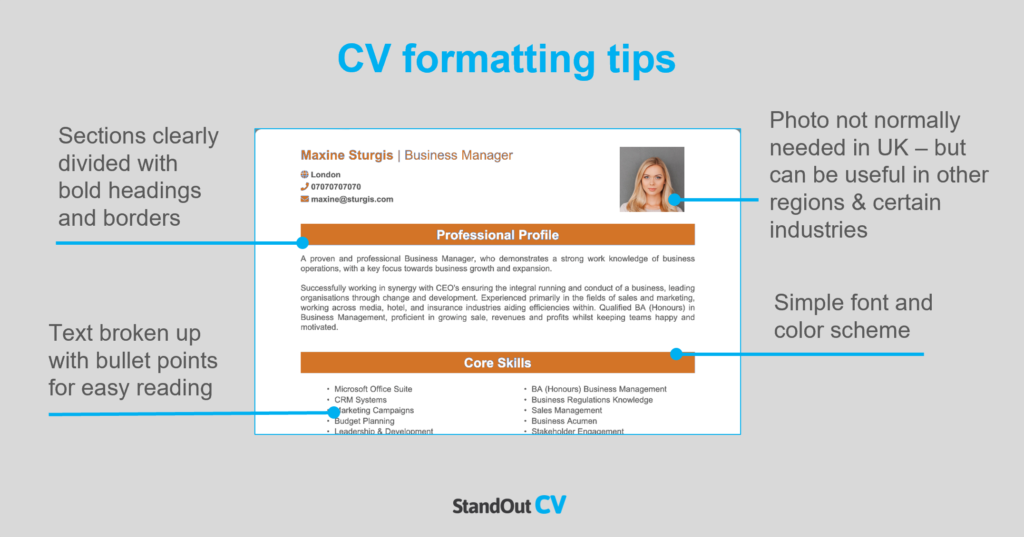 CV structure
When writing your CV, break up the content into the following key sections, to ensure it can be easily digested by busy recruiters and hiring managers:
Contact details – Always list these at the very top of your CV – you don't want them to be missed!
Profile – An introductory paragraph, intended to grab recruiters attention and summarise your offering.
Work experience / career history – Working from your current role and working backwards, list your relevant work experience.
Education – Create a snappy summary of your education and qualifications.
Interest and hobbies – An optional section to document any hobbies that demonstrate transferable skills.
Now you understand the basic layout of a CV, here's what you should include in each section of yours.
Contact Details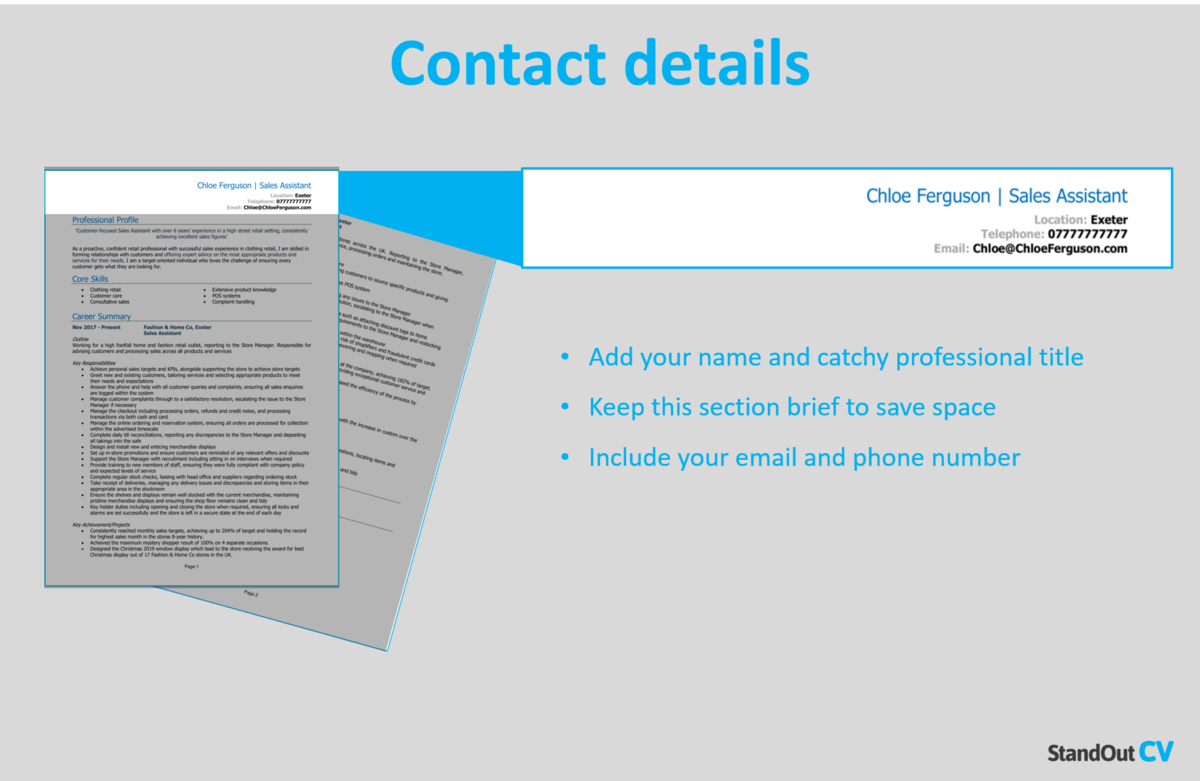 Write your contact details in the top corner of your CV, so that they're easy to find but don't take up too much space.
You only need to list your basic details, such as:
Mobile number
Email address
Location – Don't list your full address. Your town or city, such as 'Norwich' or 'Coventry' is perfect.
LinkedIn profile or portfolio URL – Remember to update these before listing them on an application.
Penetration Tester CV Profile
Make a strong first impression with recruiters by starting your CV with an impactful profile (or personal statement for junior applicants).
This short introduction paragraph should summarise your skills, experience, and knowledge, highlighting your suitability for the job.
It should be compelling enough to encourage recruiters to read through the rest of your CV.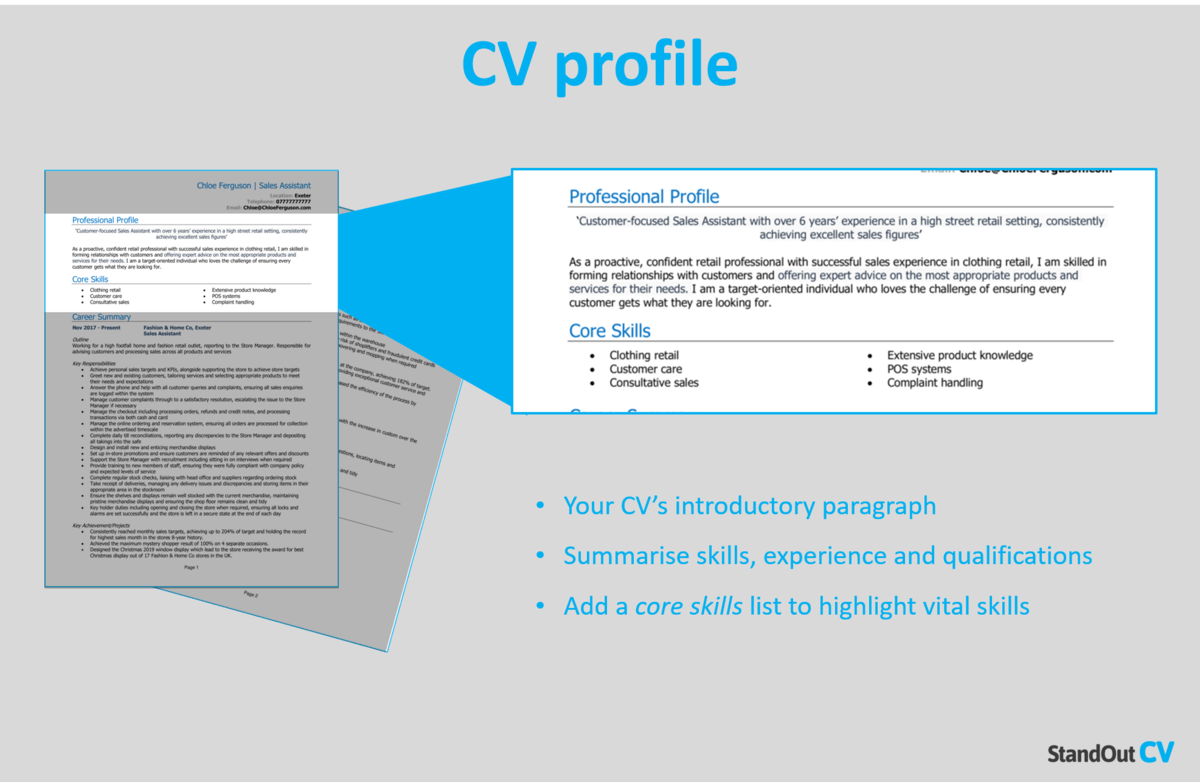 CV profile writing tips:
Make it short and sharp: Aim for a short, snappy paragraph of 3-5 lines. This is just enough room to showcase why you'd make the perfect hire, without going into excessive detail and overwhelming busy recruiters.
Tailor it: If recruiters don't see your suitability within a few seconds, they may close your CV straight away. Your CV profile should closely match the essential requirements listed in the job ad, so make sure to review them before you write it.
Don't add an objective: Career goals and objectives are best suited to your cover letter, so don't waste space with them in your CV profile.
Avoid generic phrases: Clichés like "blue-sky thinker with a go-getter attitude" might sound impressive to you, but they don't actually tell the recruiter much about you. Concentrate on highlighting hard facts and skills, as recruiters are more likely to take these on board.
Example CV profile for Penetration Tester
Dedicated Penetration Tester with a strong background in cybersecurity and software development and network security for leading tech consultancies and internal IT. Certified Ethical Hacker highly skilled in identifying and mitigating security vulnerabilities with Nessus and code manipulation. Adept at performing and applying vulnerability assessments to maintain system integrity with demonstrated success remediating Level 7 security risks.
What to include in your Penetration Tester CV profile?
Experience overview: To give employers an idea of your capabilities, show them your track record by giving an overview of the types of companies you have worked for in the past and the roles you have carried out for previous employers – but keep it high level and save the details for your experience section.
Targeted skills: Make your most relevant Penetration Tester key skills clear in your profile. These should be tailored to the specific role you're applying for – so make sure to check the job description first, and aim to match their requirements as closely as you can.
Key qualifications: If you have any qualifications which are highly relevant to Penetration Tester jobs, then highlight them in your profile so that employers do not miss them.
Quick tip: If you are finding it difficult to write an attention-grabbing CV profile, choose from hundreds of pre-written profiles across all industries, and add one to your CV with one click in our partner's CV Builder. All profiles are written by recruitment experts and easily tailored to suit your unique skillset.
Core skills section
Next, you should create a bullet pointed list of your core skills, formatted into 2-3 columns.
Here, you should focus on including the most important skills or knowledge listed in the job advertisement.
This will instantly prove that you're an ideal candidate, even if a recruiter only has time to briefly scan your CV.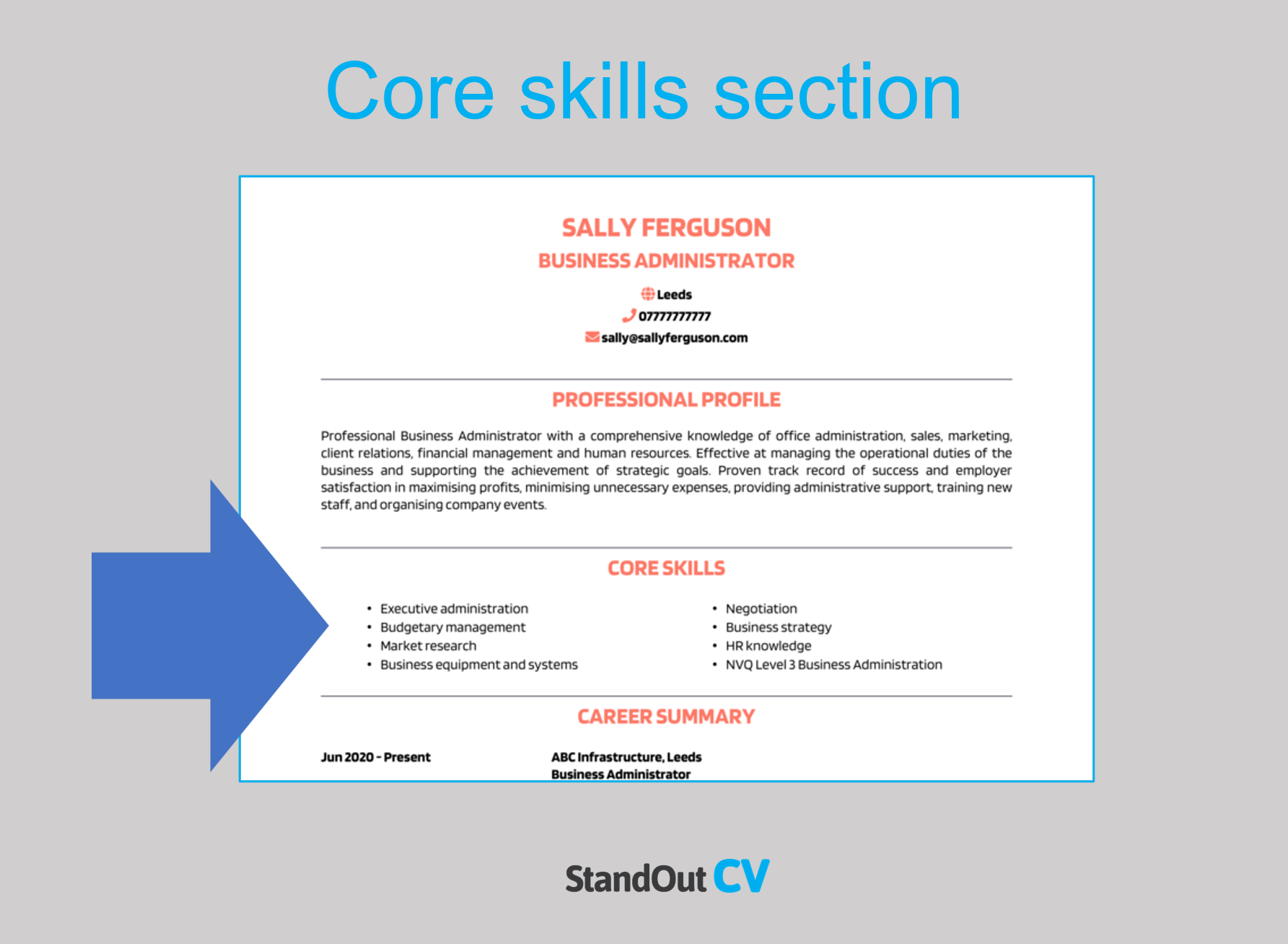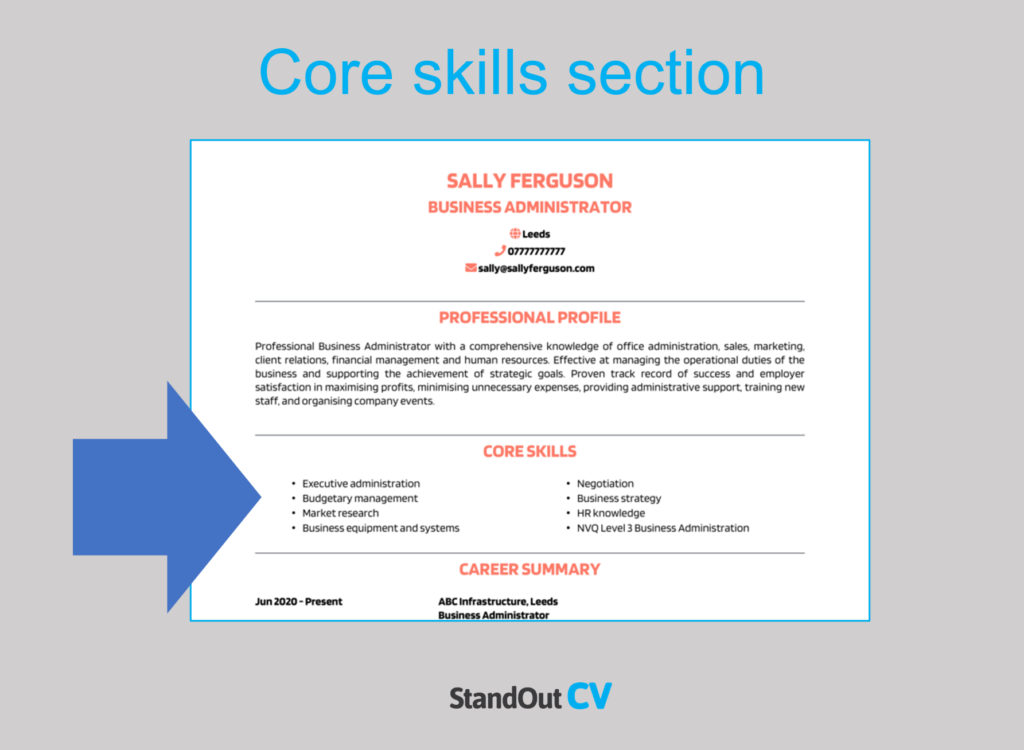 Important skills for your Penetration Tester CV
Penetration Testing Methodologies – Maintaining an in-depth knowledge of various methodologies used in penetration testing such as OWASP, NIST, etc. to conduct comprehensive security assessments of target systems.
Network Security – Maintaining a strong understanding of network protocols, architectures, and infrastructure, including network devices such as switches, routers, and firewalls.
Vulnerability Assessment – Identifying and exploiting vulnerabilities in software applications, networks, and systems using tools like Metasploit, Nessus, and Nmap.
Penetration Testing Tools – Utilising a variety of penetration testing tools like Kali Linux, Burp Suite, and Wireshark to help identify and exploit vulnerabilities.
Web Application Security – Utilising knowledge of web application security concepts and protocols, such as HTTPS, SSL, and TLS, and common web application vulnerabilities, such as SQL injection, cross-site scripting, etc.
Operating Systems – Maintaining familiarity with operating systems such as Windows, Linux, Unix, etc. and their architecture to identify potential vulnerabilities.
Programming Languages – Utilising programming languages such as Python, Ruby, and Perl to help automate penetration testing processes and develop custom exploits.
Reporting and Documentation – Clearly documenting findings and providing detailed reports of security vulnerabilities and remediation recommendations.
Issue Resolution – Identifying potential vulnerabilities, assessing their risk, and developing an effective testing strategy.
Stakeholder Communication – Utilising excellent communication skills to liaise with clients, other security professionals, and management, to provide guidance on security-related issues and recommendations for remediation.
Quick tip: Our partner's CV Builder has thousands of in-demand skills for all industries and professions, that can be added to your CV in seconds – This will save you time and ensure you get noticed by recruiters.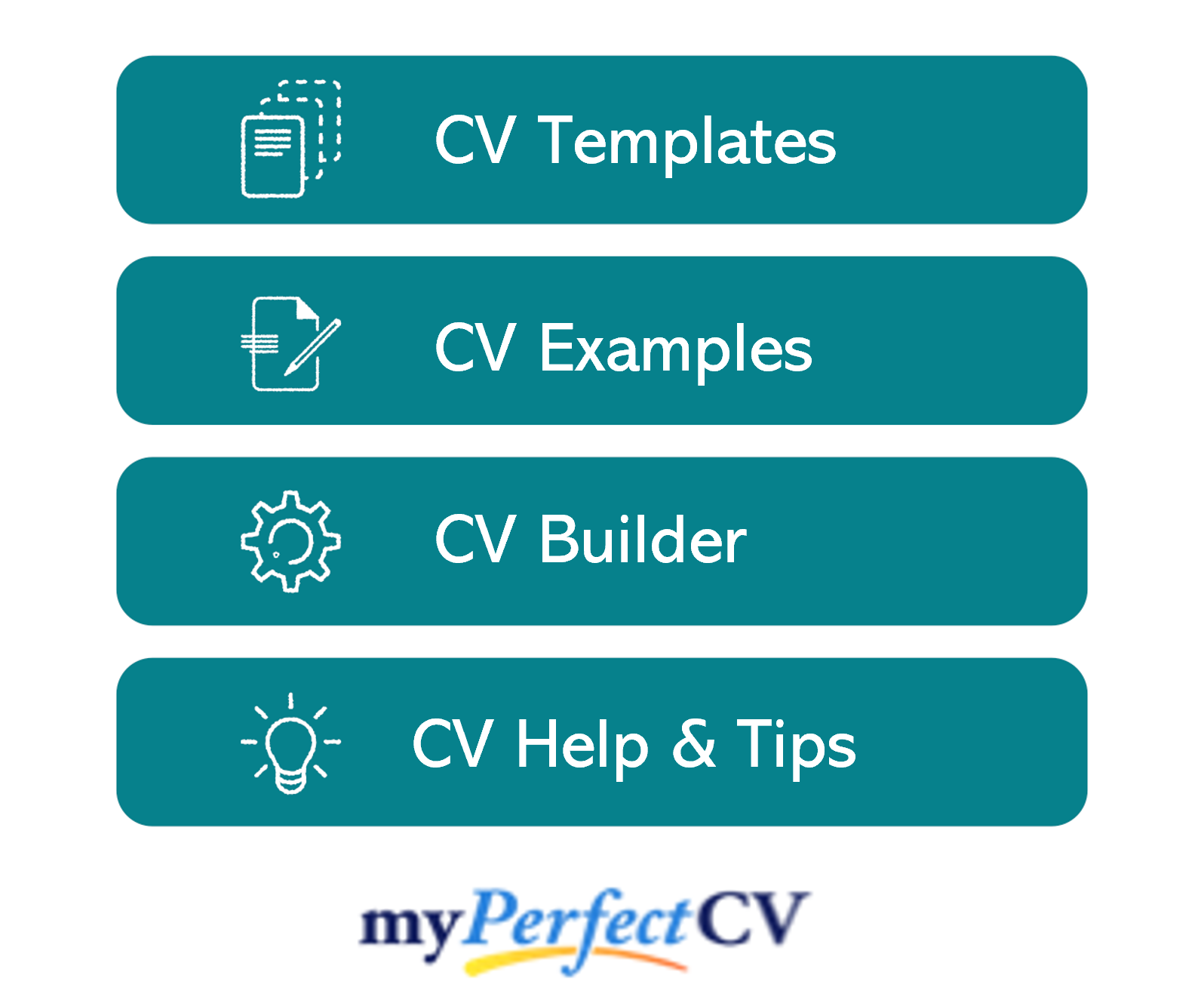 Work experience section
Now it's time to get stuck into your work experience, which should make up the bulk of your CV.
Begin with your current (or most recent) job, and work your way backwards.
If you've got too much experience to fit onto two pages, prioritise space for your most recent and relevant roles.
Structuring each job
If you don't pay attention to the structure of your career history section, it could quickly become bulky and overwhelming.
Get in recruiters' good books by creating a pleasant reading experience, using the 3-step structure below:
Outline
Begin with a summary of your role, detailing what the purpose of your job was, who you reported to and what size of team you were part of (or led).
Key responsibilities
Use bullet points to detail the key responsibilities of your role, highlighting hard skills, software and knowledge wherever you can.
Keep them short and sharp to make them easily digestible by readers.
Key achievements
To finish off each role and prove the impact you made, list 1-3 stand out achievements, results or accomplishments.
This could be anything which had a positive outcome for the company you worked for, or perhaps a client/customer.
Where applicable, quantify your examples with facts and figures.
Sample job description for Penetration Tester CV
Outline
Work for a large London-based technology consultancy, responsible for leading up to 80 annual penetration testing projects for a variety of private and state sector clients, identifying and mitigating potential security risks through ethical hacking and code deployment.
Key Responsibilities
Conduct in-depth security assessments of network infrastructure, web applications, and cloud environments using a variety of testing tools and techniques
Perform vulnerability assessments and penetration testing to identify system weaknesses using Qualys and Nessus, and recommend remediation actions
Write detailed reports outlining vulnerabilities, risks, and recommendations
Communicate technical findings to clients in a clear and concise manner
Quick tip: Create impressive job descriptions easily in our partner's CV Builder by adding pre-written job phrases for every industry and career stage.

Education and qualifications
Although there should be mentions of your highest and most relevant qualifications earlier on in your CV, save your exhaustive list of qualifications for the bottom.
If you're an experienced candidate, simply include the qualifications that are highly relevant to Penetration Tester roles.
However, less experienced candidates can provide a more thorough list of qualifications, including A-Levels and GCSEs.
You can also dedicate more space to your degree, discussing relevant exams, assignments and modules in more detail, if your target employers consider them to be important.
Hobbies and interests
This section is entirely optional, so you'll have to use your own judgement to figure out if it's worth including.
If your hobbies and interests could make you appear more suitable for your dream job, then they are definitely worth adding.
Interests which are related to the industry, or hobbies like sports teams or volunteering, which display valuable transferable skills might be worth including.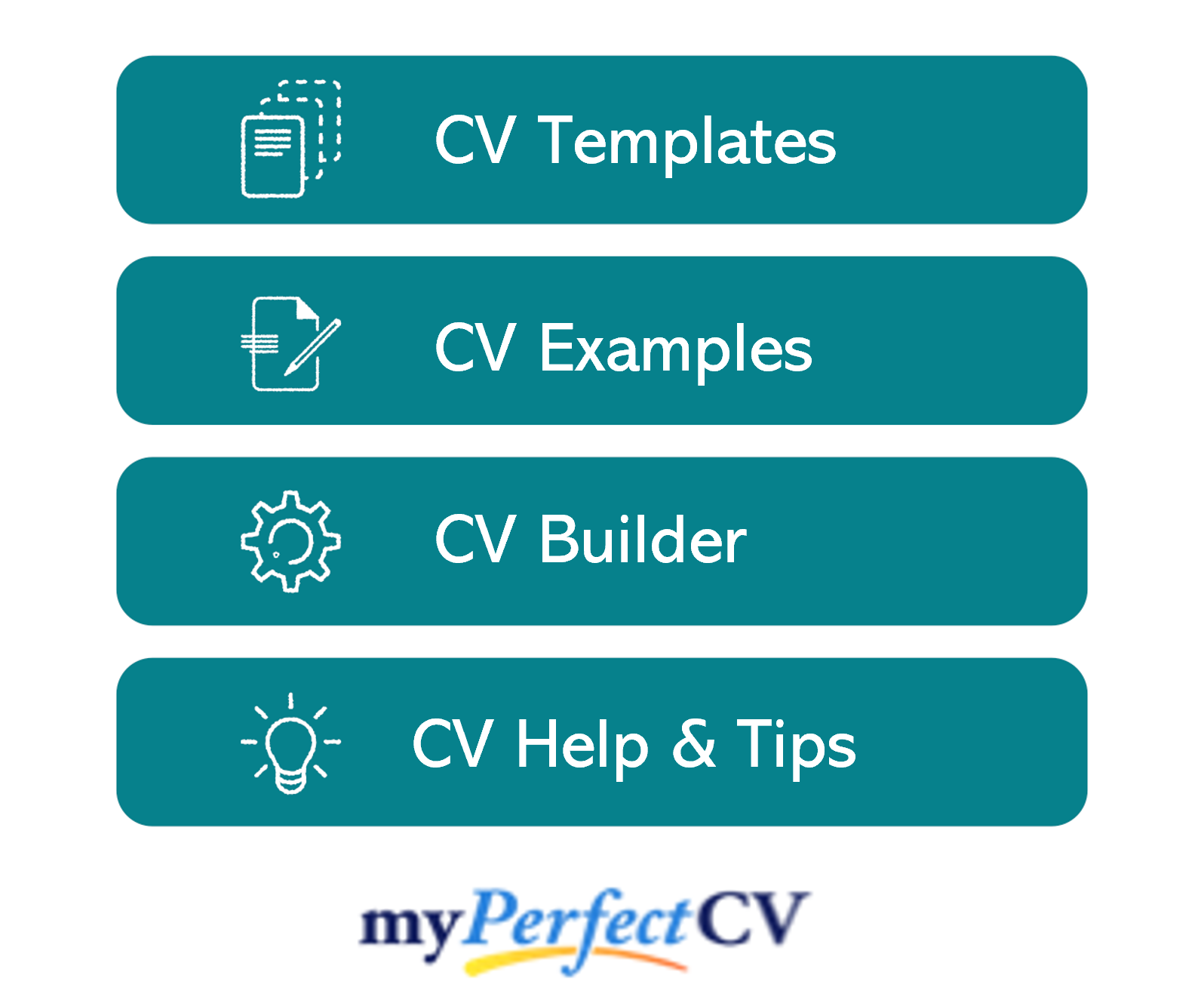 When putting together your Penetration Tester CV, there are a few key points to remember
Always tailor your CV to the target role, even if it means creating several versions for different roles.
Additionally, remember that the structure and format of your CV needs just as much attention as the content.
Good luck with your job search!