Can you use strategic planning and digital tools to drive business growth?
Well, in today's modern digital age, your skills could be in high demand. Now all you've got to do is highlight these skills on your application and show off your past achievements using figures.
There are several ways you can do this, and you can find out how to get the most from your application using our handy guide and chief digital officer CV example below.
Contents
| | |
| --- | --- |
| How to write a Chief Digital Officer CV | |

Chief Digital Officer CV example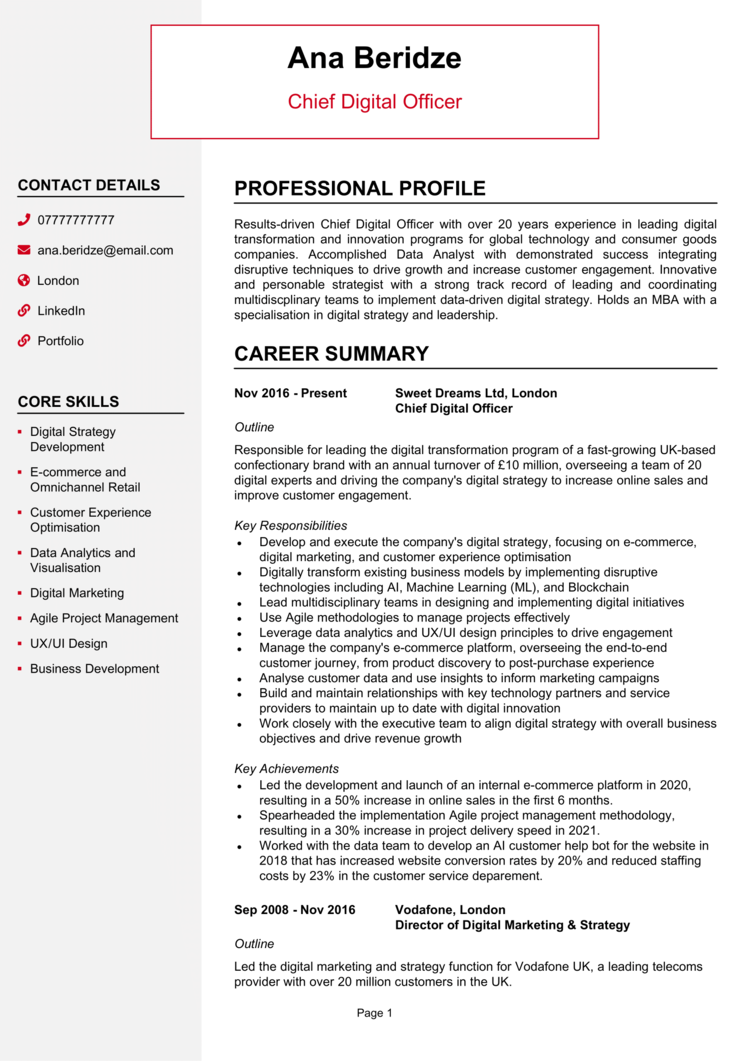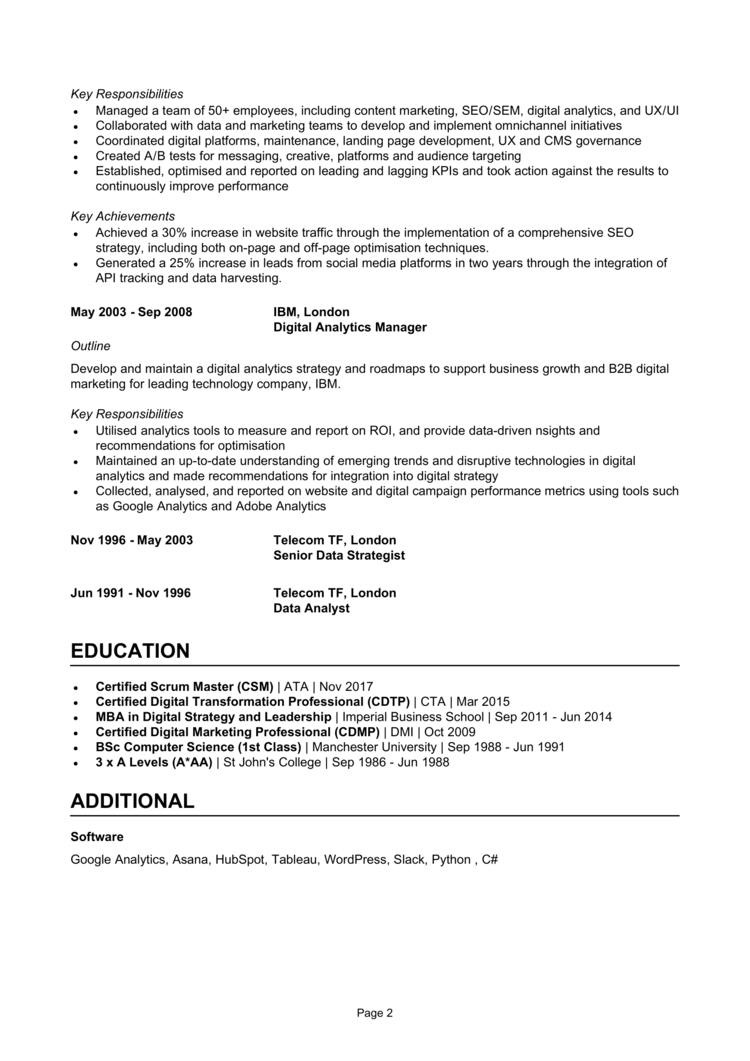 This is a good example of a Chief Digital Officer CV which contains all of the information that a hiring manager will need to be impressed, and presents it in a well- structured, easy-to-read format.
Take some time to study and understand this CV, and refer to it throughout the writing of your own CV for best results.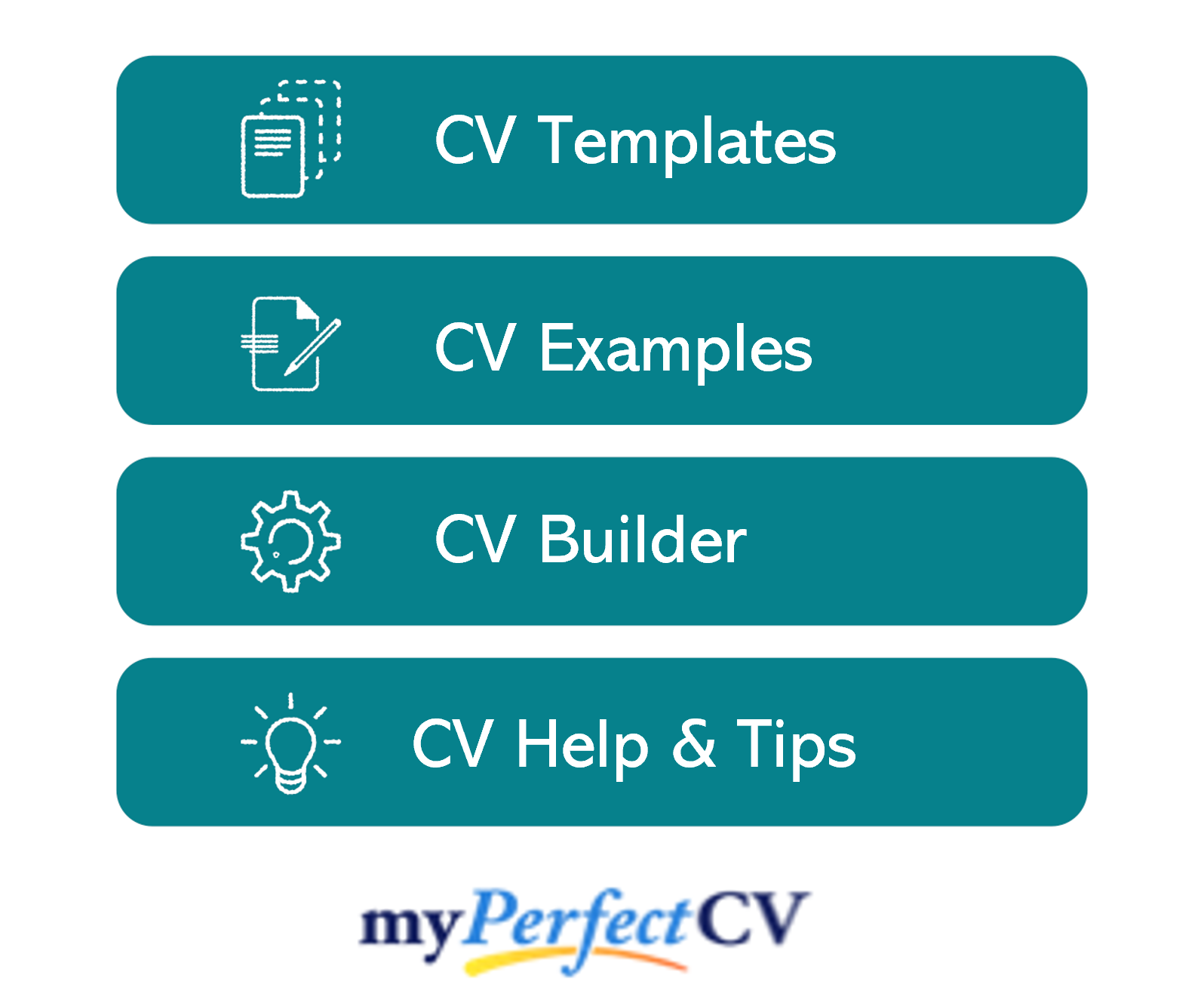 Chief Digital Officer CV format and structure
The format and structure of your CV is important because it will determine how easy it is for recruiters and employers to read your CV.
If they can find the information they need quickly, they'll be happy; but if they struggle, your application could be overlooked.
A simple and logical structure will always create a better reading experience than a complex structure, and with a few simple formatting tricks, you'll be good to go.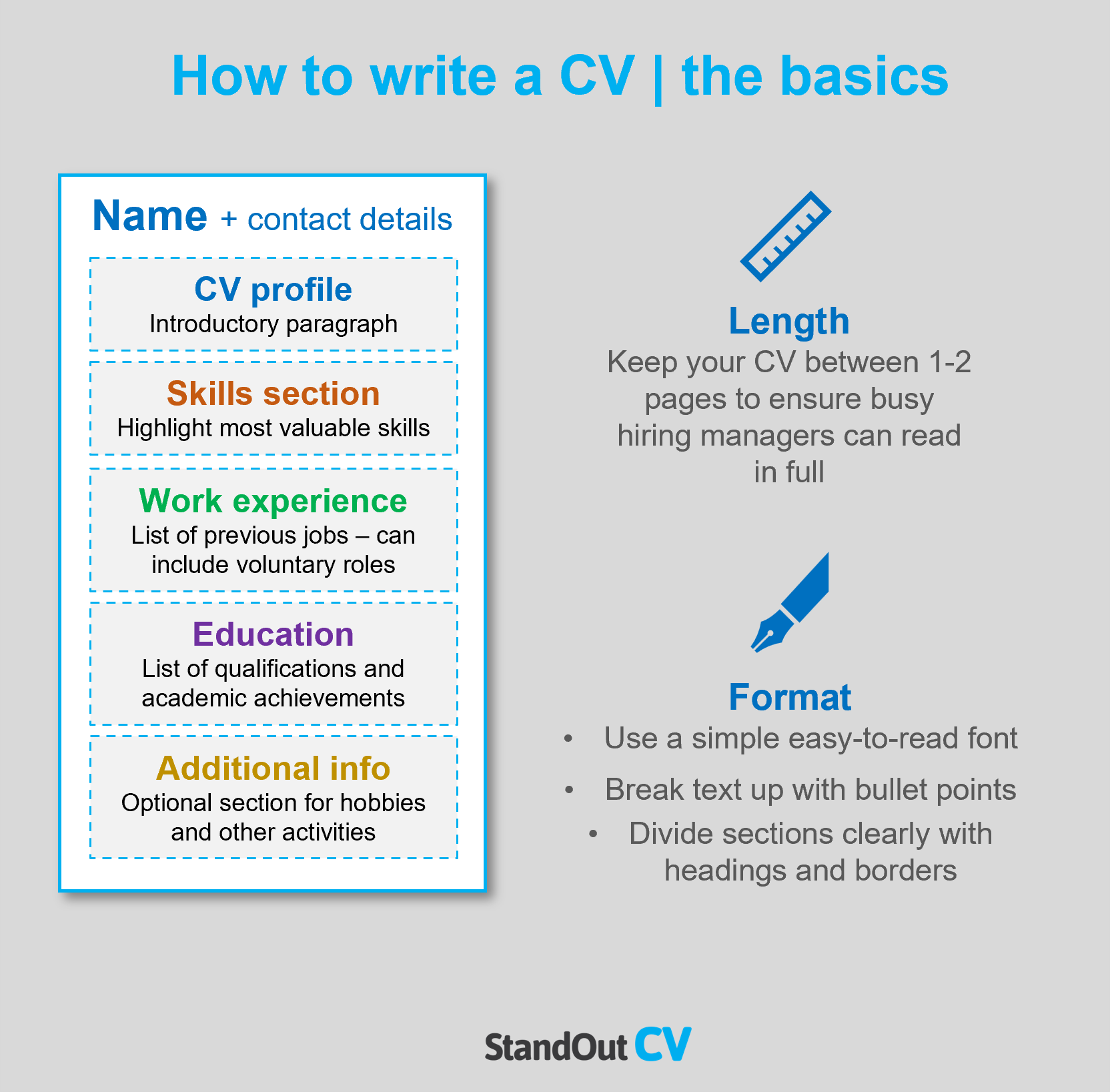 Tips for formatting your Chief Digital Officer CV
Length: Your CV should always be limited to two sides of A4, regardless of whether you have a year or three decades of experience. With recruiters juggling multiple responsibilities, they don't have time to sift through lengthy applications.
Readability: To help recruiters quickly skim through your CV, it's important to format your section headings with bold or a different colour font and break up lengthy paragraphs into short sharp bullet points. This enables them to easily identify important information and assess your suitability.
Design & format: Your CV needs to look professional, sleek and easy to read. A subtle colour palette, clear font and simple design are generally best for this, as fancy designs are often harder to navigate.
Photos: Recruiters can't factor in appearance, gender or race into the recruitment process, so a profile photo is not usually needed. However, creative employers do like to see them, so you can choose to include one if you think it will add value to your CV .
Quick tip: Creating a professional CV style can be difficult and time-consuming when using Microsoft Word or Google Docs. To create a winning CV quickly, try our partner's CV Builder and use one of their eye-catching professional CV templates.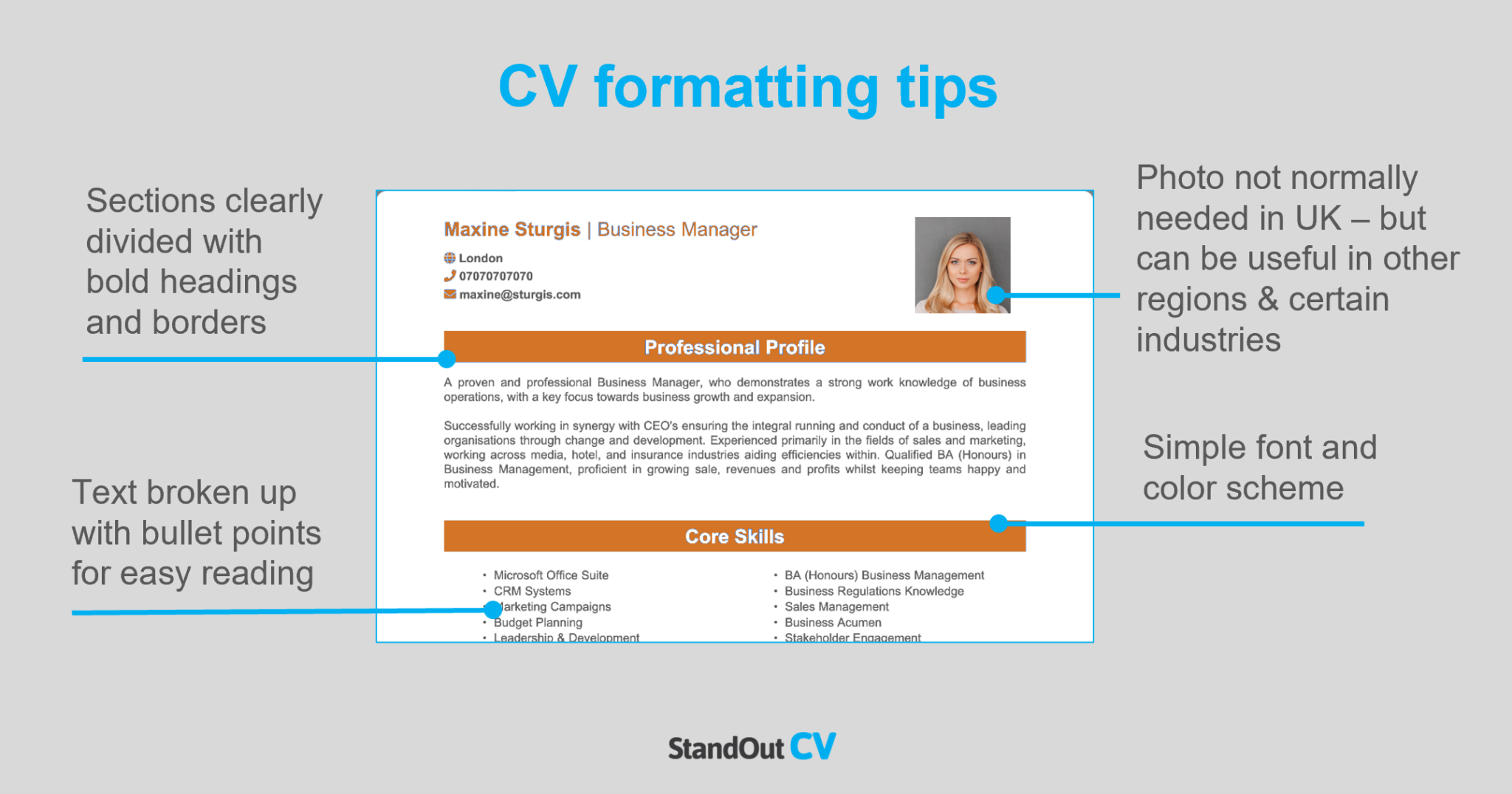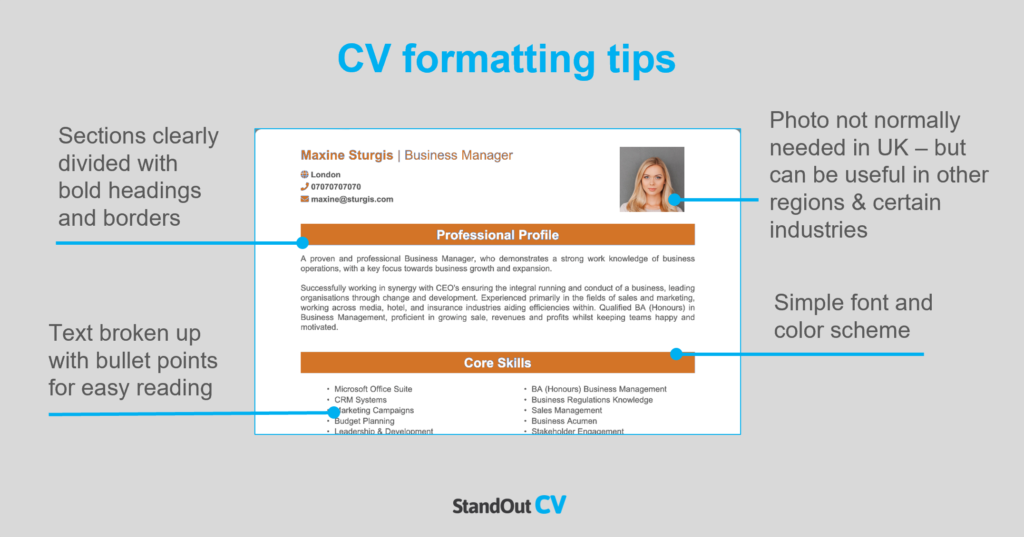 CV structure
When writing your CV, it's important to structure the content into the following key sections to ensure easy digestion by busy recruiters and hiring managers:
Contact details: List your contact details at the top of your CV to prevent them from being overlooked.
Profile: Begin with an introductory paragraph that captures recruiters' attention and summarises what you have to offer employers.
Work experience/career history: List your relevant work experience in reverse chronological order, starting with your current position.
Education: Provide a brief summary of your education and qualifications.
Interests and hobbies: An optional section to showcase any hobbies that highlight transferable skills relevant to your target jobs.
Now you understand the basic layout of a CV, here's what you should include in each section of yours.
Contact Details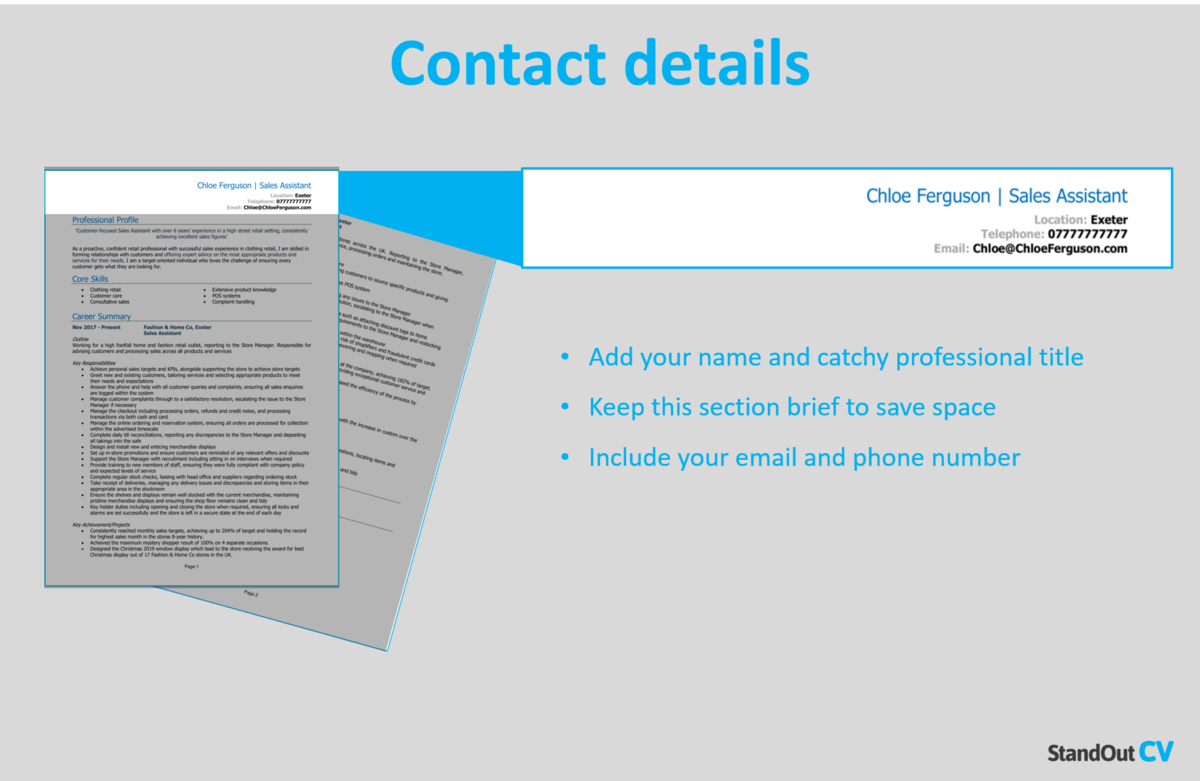 Tuck your contact details into the corner of your CV, so that they don't take up too much space.
Stick to the basic details, such as:
Mobile number
Email address – It should sound professional, such as your full name.
Location -Just write your rough location, rather than your full address.
LinkedIn profile or portfolio URL – If you include these, ensure they're sleek, professional and up-to-date.
Chief Digital Officer CV Profile
Recruiters and hiring managers are busy, so it's essential to catch their attention from the get-go.
A strong introductory profile (or personal statement, for junior candidates) at the top of the CV is the first thing they'll read, so it's a great chance to make an impression.
It should be a short but punchy summary of your key skills, relevant experience and accomplishments.
Ultimately, it should explain why you're a great fit for the role you're applying for and inspire recruiters to read the rest of your CV.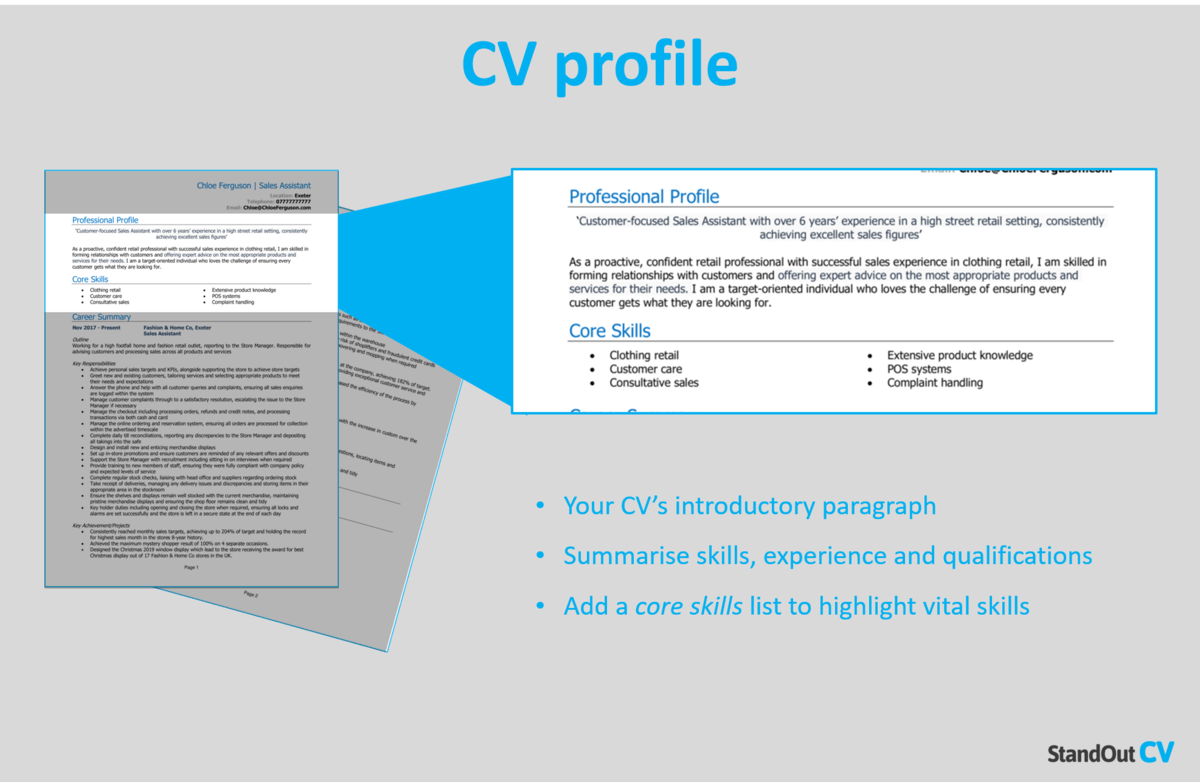 How to write a good CV profile:
Make it short and sharp: The best CV profiles are short, sharp and highly relevant to the target role. For this reason, it's best to write 3-4 lines of high-level information, as anything over might be missed.
Tailor it: Before writing your CV, make sure to do some research. Figure out exactly what your desired employers are looking for and make sure that you are making those requirements prominent in your CV profile, and throughout.
Don't add an objective: Career goals and objectives are best suited to your cover letter, so don't waste space with them in your CV profile.
Avoid generic phrases: If there's one thing that'll annoy a recruiter, it's a clichè-packed CV. Focus on showcasing your hard skills, experience and the results you've gained in previous roles, which will impress recruiters far more.
Example CV profile for Chief Digital Officer
Results-driven Chief Digital Officer with over 20 years' experience in leading digital transformation and innovation programs for global technology and consumer goods companies. Accomplished Data Analyst with demonstrated success integrating disruptive techniques to drive growth and increase customer engagement. Innovative and personable strategist with a strong track record of leading and coordinating multidisciplinary teams to implement data-driven digital strategy. Holds an MBA with a specialisation in digital strategy and leadership.
What to include in your Chief Digital Officer CV profile?
Experience overview: Demonstrate your suitability for your target jobs by giving a high level summary of your previous work work experience, including the industries you have worked in, types of employer, and the type of roles you have previous experience of.
Targeted skills: Make your most relevant Chief Digital Officer key skills clear in your profile. These should be tailored to the specific role you're applying for – so make sure to check the job description first, and aim to match their requirements as closely as you can.
Important qualifications: Be sure to outline your relevant Chief Digital Officer qualifications, so that anyone reading the CV can instantly see you are qualified for the jobs you are applying to.
Quick tip: If you are finding it difficult to write an attention-grabbing CV profile, choose from hundreds of pre-written profiles across all industries, and add one to your CV with one click in our partner's CV Builder. All profiles are written by recruitment experts and easily tailored to suit your unique skillset.
Core skills section
To ensure that your most relevant skills catch the eye of readers, create a core skills section below your profile.
This section should be presented in 2-3 columns of bullet points highlighting your applicable skills. Before crafting this section, carefully examine the job description and create a list of any required skills, specialisms, or knowledge.
Use this list to include the necessary information in your section and present yourself as the ideal match for the position.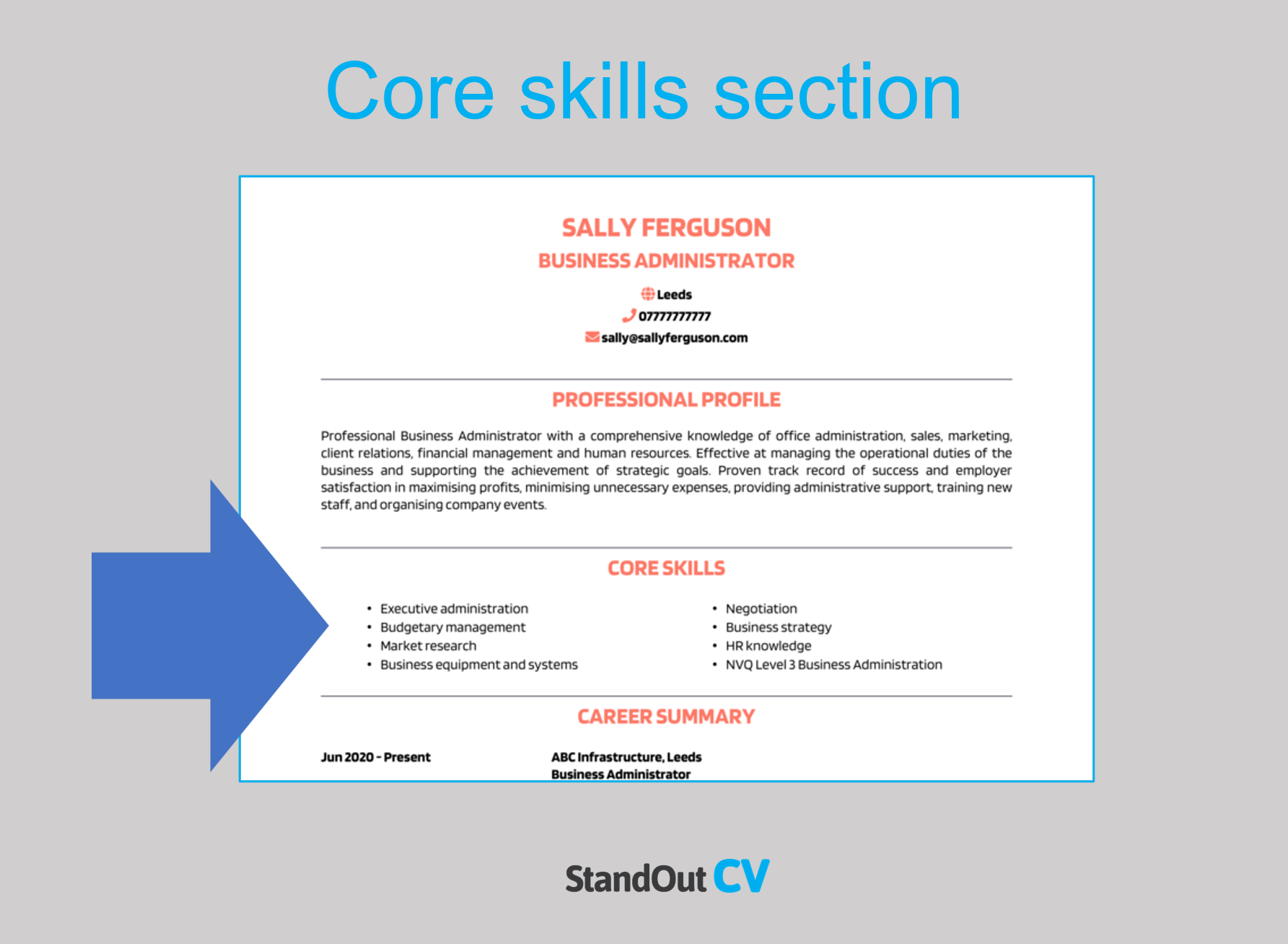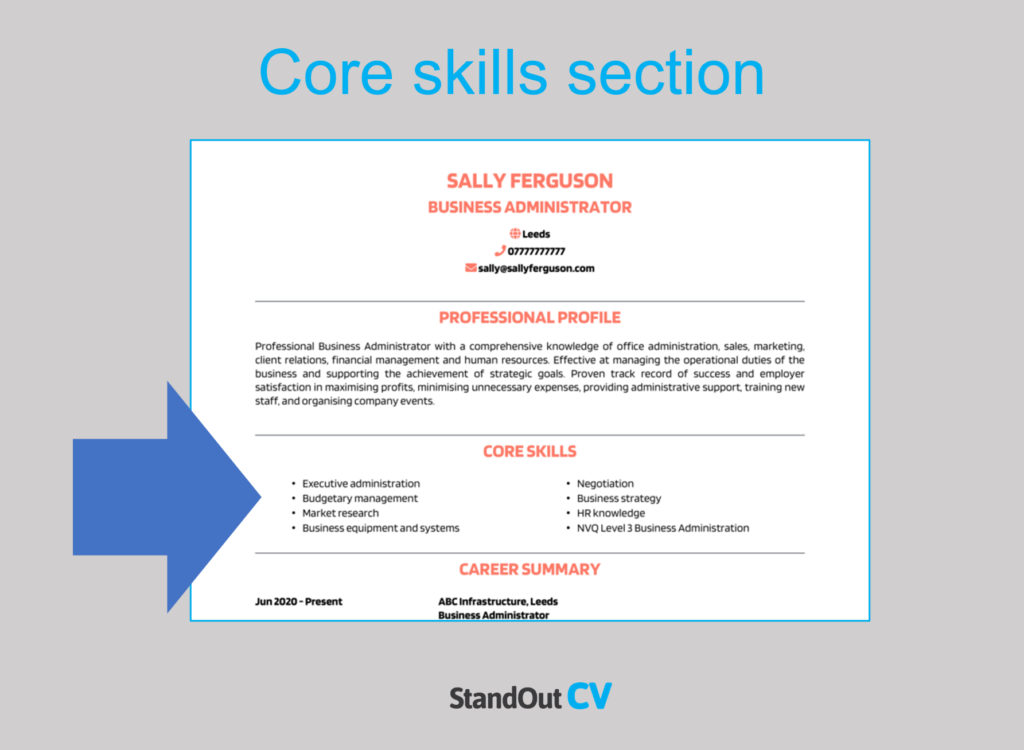 Important skills for your Chief Digital Officer CV
Digital Strategy – Developing and implementing a comprehensive digital strategy aligned with organisational goals, leveraging emerging technologies and trends to drive business growth.
Digital Transformation – Leading digital transformation initiatives, driving organisational change, and integrating digital technologies across departments and functions.
Data Analytics – Utilising data analytics tools and techniques to extract insights from data, make data-driven decisions, and drive strategic initiatives.
Technology Leadership – Managing digital teams, fostering innovation, and ensuring effective implementation and adoption of digital solutions.
Customer Experience – Utilising a deep understanding of customer needs and behaviours to design and deliver exceptional digital experiences across various touchpoints.
Agile Methodology – Utilising knowledge of Agile project management principles and practices, enabling rapid development and delivery of digital products and services.
Cybersecurity – Utilising knowledge of cybersecurity principles and best practices, ensuring the security and protection of digital assets, data, and customer information.
Emerging Technologies – Staying up to date with emerging technologies such as artificial intelligence, machine learning, blockchain, and IoT, and evaluate their potential impact on the business.
Digital Marketing – Utilising knowledge of digital marketing strategies, including SEO, SEM, social media, content marketing, and analytics, to drive brand awareness and customer acquisition.
Vendor Management – Managing relationships with technology vendors, negotiating contracts, and ensuring effective partnerships to support digital initiatives.
Quick tip: Our partner's CV Builder has thousands of in-demand skills for all industries and professions, that can be added to your CV in seconds – This will save you time and ensure you get noticed by recruiters.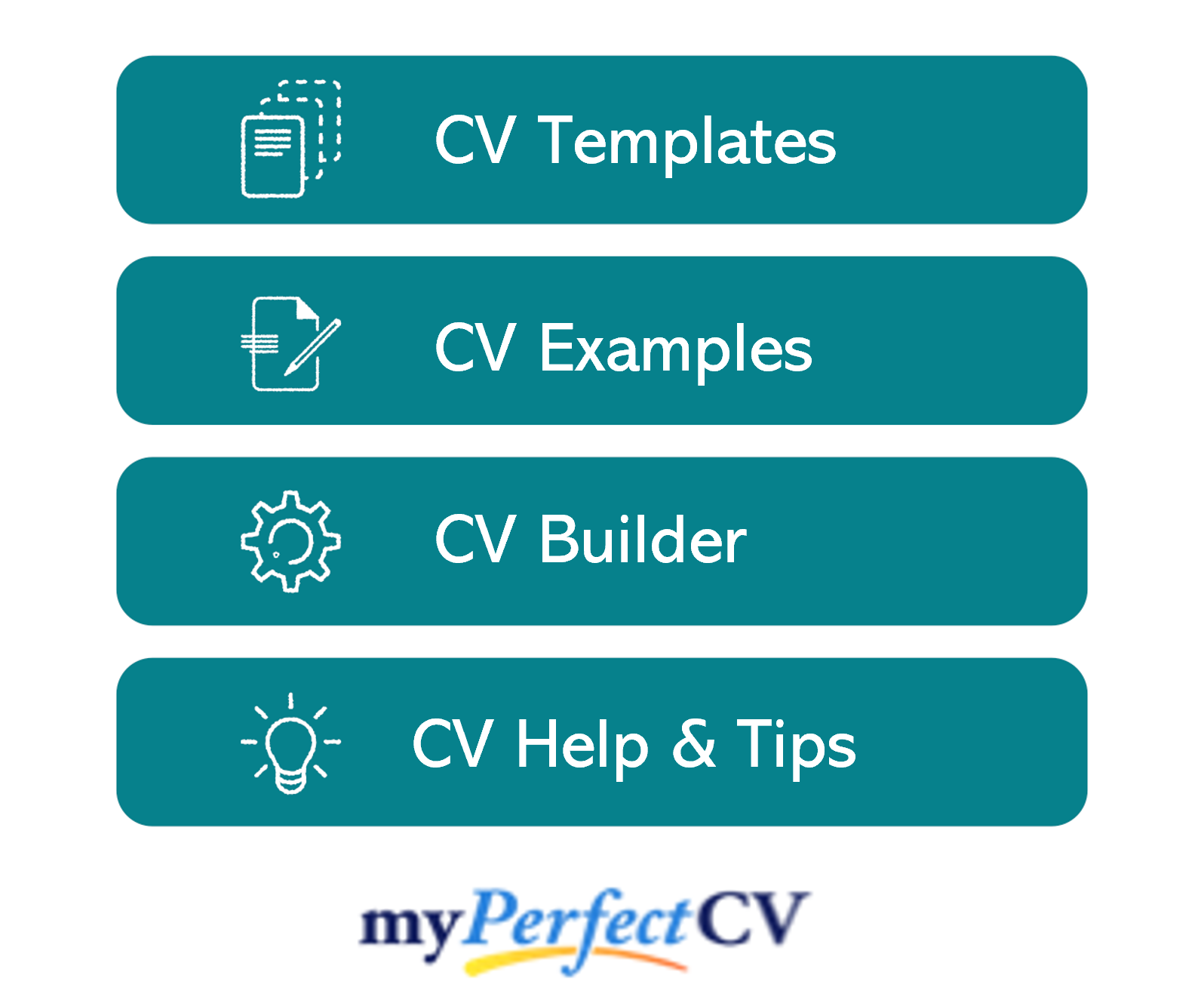 Work experience
Recruiters will be itching to know more about your relevant experience by now.
Kick-start this section with your most recent (or current) position, and work your way backwards through your history.
You can include voluntary and freelance work, too – as long as you're honest about the nature of the work.
Structuring each job
Recruiters will be keen to gain a better idea of where you've worked and how you apply your skill-set in the workplace.
However, if they're faced with huge, hard-to-read paragraphs, they may just gloss over it and move onto the next application.
To avoid this, use the simple 3-step role structure, as shown below:
Outline
Begin with a summary of your role, detailing what the purpose of your job was, who you reported to and what size of team you were part of (or led).
Key responsibilities
Using easy-to-read bullet points, note down your day-to-day responsibilities in the role.
Make sure to showcase how you used your hard sector skills and knowledge.
Key achievements
Round up each role by listing 1-3 key achievements, accomplishments or results.
Wherever possible, quantify them using hard facts and figures, as this really helps to prove your value.
Sample job description for Chief Digital Officer CV
Outline
Responsible for leading the digital transformation program of a fast-growing UK-based confectionary brand with an annual turnover of £10 million, overseeing a team of 20 digital experts and driving the company's digital strategy to increase online sales and improve customer engagement.
Key Responsibilities
Develop and execute the company's digital strategy, focusing on e-commerce, digital marketing, and customer experience optimisation
Digitally transform existing business models by implementing disruptive technologies including AI, Machine Learning (ML), and Blockchain
Lead multidisciplinary teams in designing and implementing digital initiatives
Use Agile methodologies to manage projects effectively
Quick tip: Create impressive job descriptions easily in our partner's CV Builder by adding pre-written job phrases for every industry and career stage.

Education section
Although there should be mentions of your highest and most relevant qualifications earlier on in your CV, save your exhaustive list of qualifications for the bottom.
If you're an experienced candidate, simply include the qualifications that are highly relevant to Chief Digital Officer roles.
However, less experienced candidates can provide a more thorough list of qualifications, including A-Levels and GCSEs.
You can also dedicate more space to your degree, discussing relevant exams, assignments and modules in more detail, if your target employers consider them to be important.
Hobbies and interests
The hobbies and interests CV section isn't mandatory, so don't worry if you're out of room by this point.
However, if you have an interesting hobby, or an interest that could make you seem more suitable for the role, then certainly think about adding.
Be careful what you include though… Only consider hobbies that exhibit skills that are required for roles as a Chief Digital Officer, or transferable workplace skills.
There is never any need to tell employers that you like to watch TV and eat out.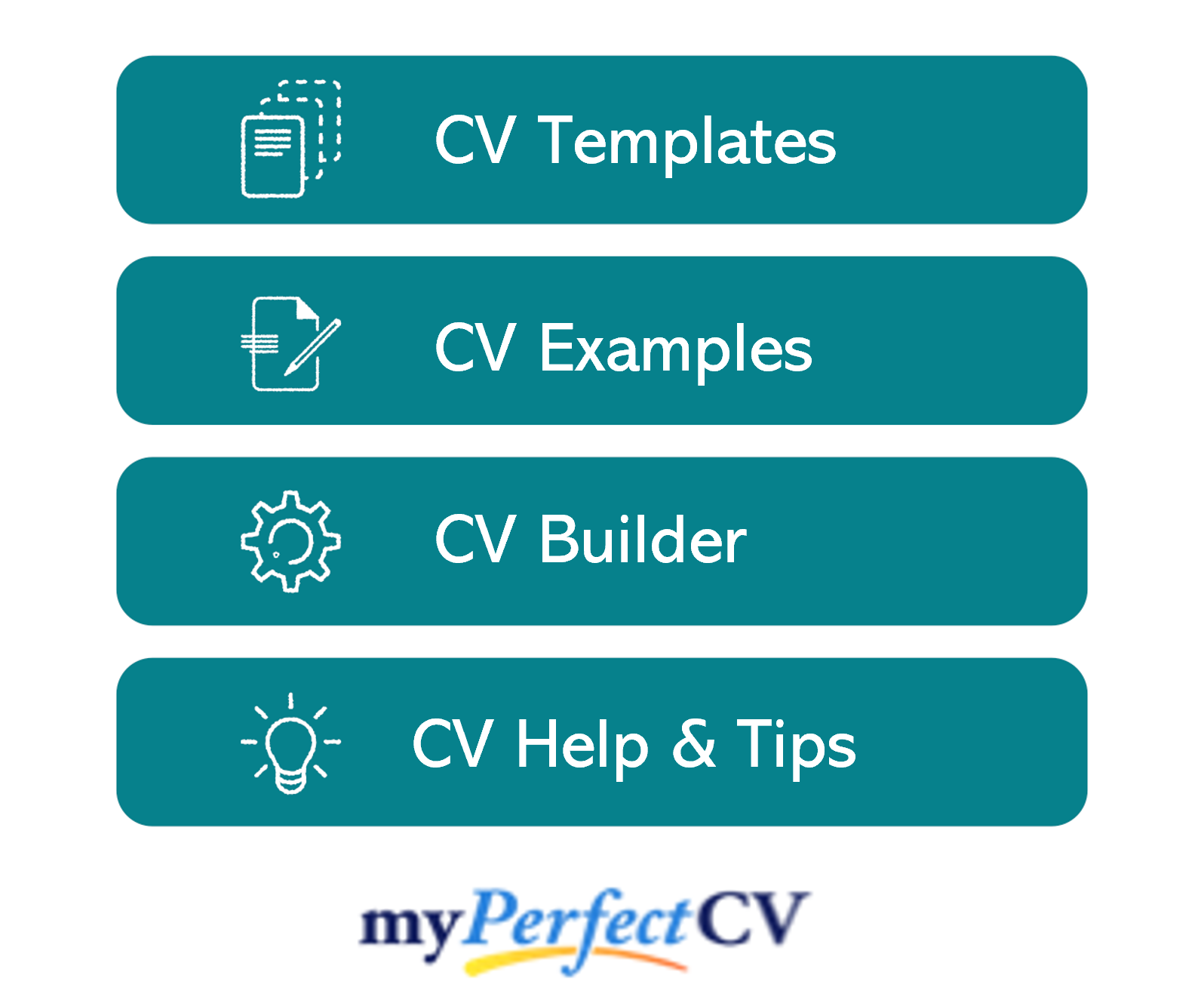 A strong, compelling CV is essential to get noticed and land interviews with the best employers.
To ensure your CV stands out from the competition, make sure to tailor it to your target role and pack it with sector-specific skills and results.
Remember to triple-check for spelling and grammar errors before hitting send.
Good luck with the job search!