If you want to land your dream job, you need to ensure you are using the best CV format your experience level and industry.
This guide includes the best CV format for every career stage, and some helpful tips for creating your own interview winning CV.
Contents

Student CV format
Top tips for writing a student CV
When you're a student, finding a job can be a challenge – especially if you don't have much experience. But using our tips below, you can create a strong CV that will help to get you noticed:
If you don't have much (or any) work experience, use your personal profile to sell yourself by including your educational achievements and transferable skills
As a student, your education is going to be one of your key selling points, so include details of any projects or modules that are relevant to the job you're applying for
Be sure to shout about any hobbies and interests that are relevant or impressive to give your CV a boost. For example sports teams or charity work
Experienced CV format


Top tips for writing an experienced CV
Whether you're a job hopper or you've been in the industry for a long time, knowing how to showcase your vast experience can be tricky. To help you effectively showcase your employment history, use our experienced CV format above and tips below:
Recruiters are more interested in what you're doing now, not what you were doing 20 years ago. So focus on your most recent experience (1-3 years) providing plenty of detail in your current role for recruiters to examine
Prove the impact you make in the workplace by adding quantified achievements to your role descriptions
Make sure you position your experience and achievements to reflect your target job requirements
No experience CV format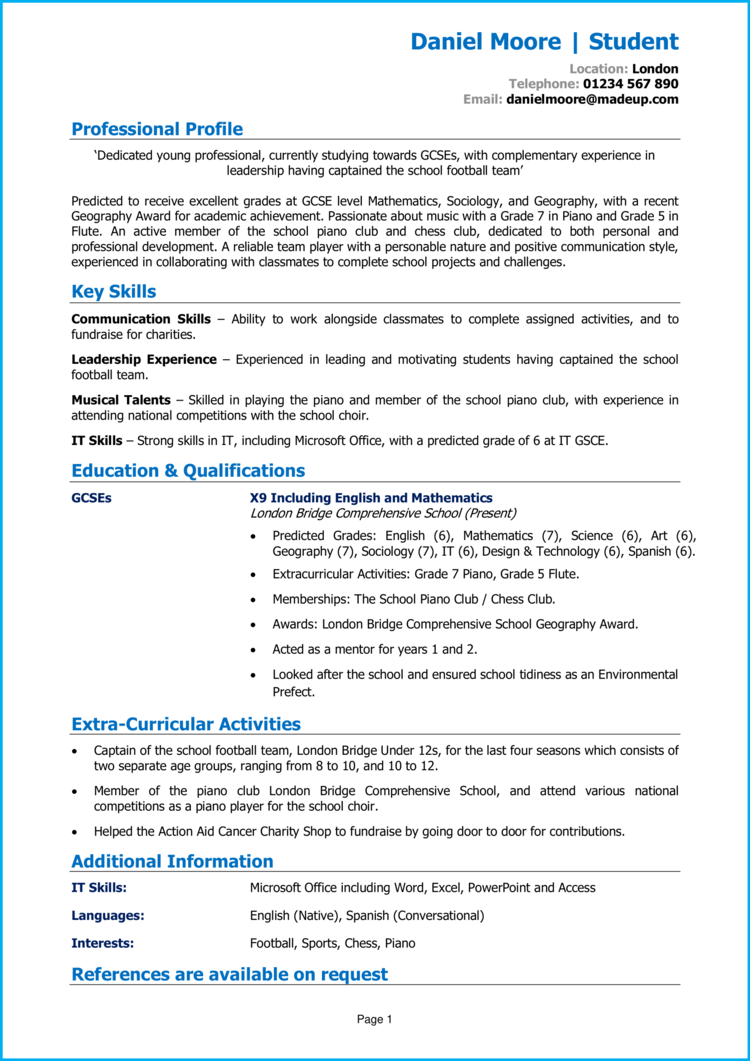 Top tips for writing a CV with no experience
Employers often ask for a certain level of work experience, so if you have no experience, you might feel like you're at a disadvantage. The good news is, using our tips you can create an interview-winning CV that sells your skills:
You might not have experience but you can still show off plenty of workplace skills by using your school work, qualifications, and hobbies
With no experience, you should leverage your transferable skills such as communication, organisation and teamwork
To do this, treat any extra-curricular activities, hobbies or interests like a job and outline the transferable skills these have given you
Graduate CV format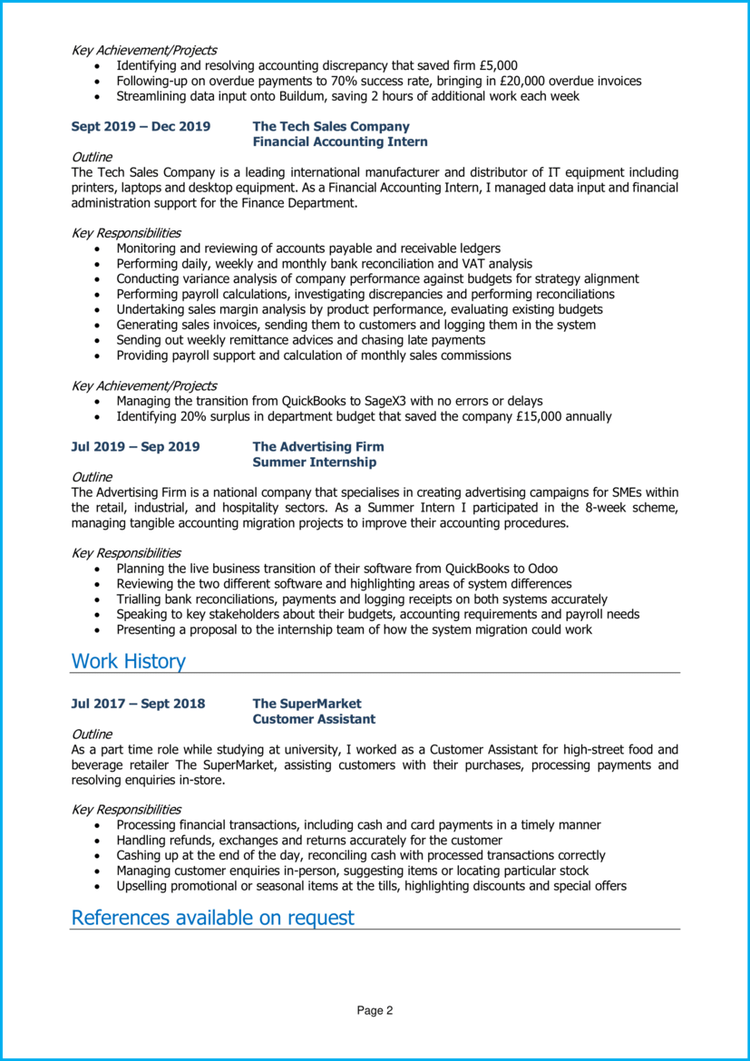 Top tips for writing a graduate CV
The graduate job market is competitive so you need to write a CV that grabs the recruiter's attention. You can use our CV template and top tips below to do this:
In your education section, outlining any relevant or impressive modules you studied could set you apart from the competition
Use the job description to find out what skills and qualifications the company is looking for so you can tailor your CV to the role and make it easy for the recruiter to see why you're a great fit
Use any work experience, internships, volunteering or even extra-curricular activities to highlight your transferable skills
Tech CV format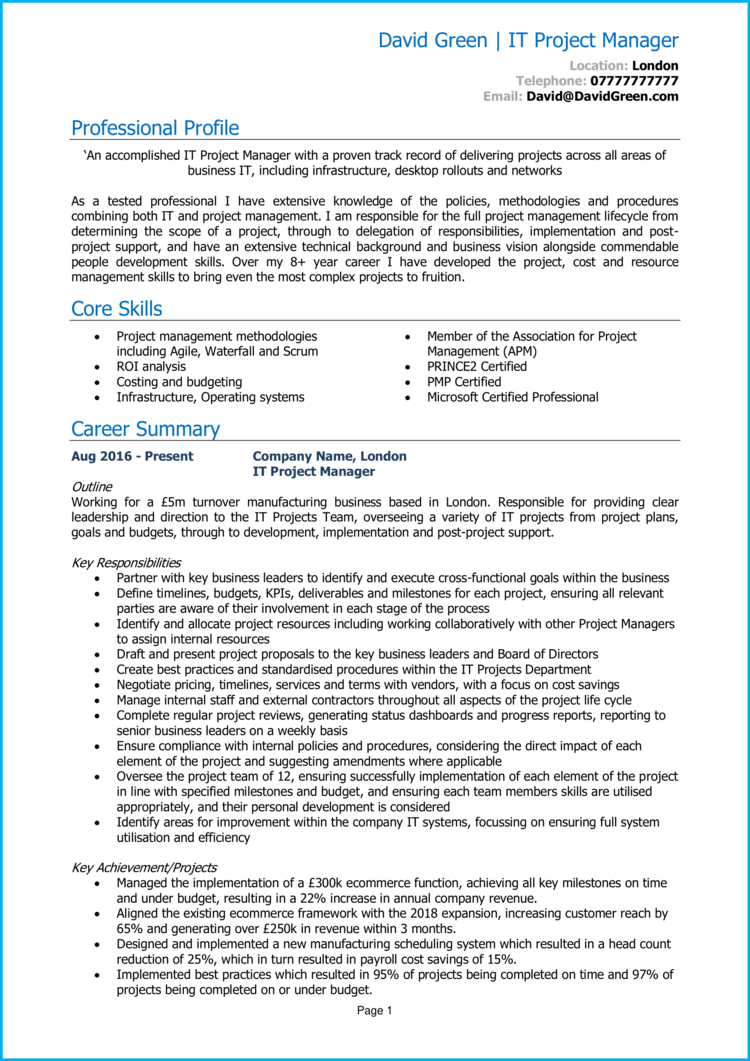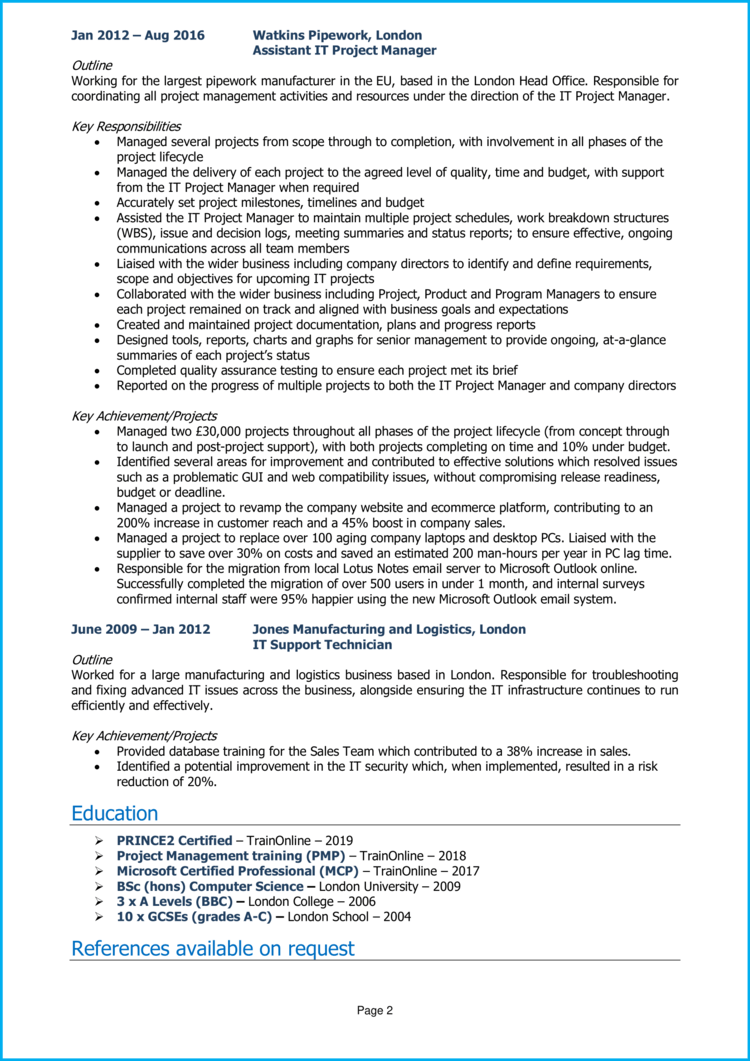 Top tips for writing a tech CV
IT skills are very sought-after but these jobs can also be very competitive. To give yourself the best chance of impressing the recruiter, use our CV template and tips below:
Your CV needs to demonstrate your technical abilities, so highlight them by placing your key tech skills at the top of your CV
Although you want to demonstrate your skills, this doesn't need to be an exhaustive list so focus on the skills the employer is looking for – you'll find these by researching your target jobs
Remember to explain the business benefits of your technical work, to show how you can help employers.
Functional CV format

Top tips for writing a functional CV
Whether you've changed jobs a lot or you've got some big gaps in your employment, a functional CV can be the perfect way to sell your skills without focussing on your employment history. To do this you need to:
Tailor your CV to include the top skills the employer is looking for. Before you begin writing, use the job description to compile a list of the key skills and requirements
Use your personal profile to emphasise your skills rather than your experience. You might also wish to include some of your biggest achievements at this stage
Create a skills summary that goes directly underneath your profile, making it easier for the recruiter to quickly see why you'd be a good fit for the role
Business/office CV format

Top tips for writing a business/office CV
If you're looking for exciting new opportunities in an office or business role, use our tips below to create a CV that gets you noticed:
Your personal profile needs to highlight your marketable skills, experience and qualifications tailored to the office/business position you're applying for
Show how you can add value to the role by giving examples of past achievements. Use figures to back this up where possible
Sales and marketing CV format

Top tips for writing a sales and marketing CV
When looking for a marketing or sales role, you need to apply your power of persuasion and sell yourself effectively on your CV. You can do this using our tips below:
Think of your personal profile as your very own sales or marketing pitch. Use this to sell your skills and experience and highlight why you'd be great for the role
Focus on the impact you've had in past roles by showcasing your key achievements. As these industries are largely data-driven, include facts and figures to show how you've added real value
As well as your key skills, it pays to list any marketing or sales tools you're proficient in, for example, social media management tools, design software or analytics tools
Finance CV format

Top tips for writing a finance CV
If you're hoping to land a finance role with a great company, you need a strong CV that highlights your financial skills. Use our tips below to grab the recruiter's attention:
Recruiters want to see that you can do the job they are advertising for, so you need to tailor your CV for each finance role you apply to
Employers will want an idea of the types of companies you've worked for in the past, so use your personal profile to summarise your experience
Be sure to include the most relevant and important financial skills you have in your key skills section. Use the job description to identify what the employer is looking for
Career change CV format

Top tips for writing a career change CV
Making a career change can be an exciting time but you need to make sure you craft a CV that demonstrates your skills and how these can help you in your new industry. Use our tips below to help you achieve this:
Use your personal profile to address your current situation and why you're hoping to make a career change
When changing industries you might find you don't have any relevant work experience so you need to focus on your transferable skills and how these will help you in the role
You can make it easy for the recruiter to find your transferable skills and key achievements by choosing a clear CV structure (like our template above). This will demonstrate why you're a good fit for the role
Part-time CV format

Top tips for writing a part-time CV
Whether you're hoping to work alongside your studies, whilst raising a family or just to ease yourself back into the working world, part-time roles can be competitive. So to create a strong CV that helps you stand out, use our tips below:
You can use your personal profile to make it clear that you're looking for a part-time role
You need to prove you've got what it takes to do that specific role so tailor your key skills section to include the transferable and hard skills the employer is most interested in
Shout about your key achievements, whether these are from your time in education, a previous role or your hobbies and interests. Including figures can really help to show your value