When it comes to IT, you know your stuff and you can handle anything from repairs to maintenance. The tricky part is writing a resume that reflects this and grabs the recruiter's attention.
The good news is, that's our area of expertise and we can help.
In the guide below, we'll share all our top tips and advice for writing a standout application. We'll even share an IT consultant resume example to shape your own.
Contents
| | |
| --- | --- |
| How to write an IT Consultant resume | |

IT Consultant Resume Example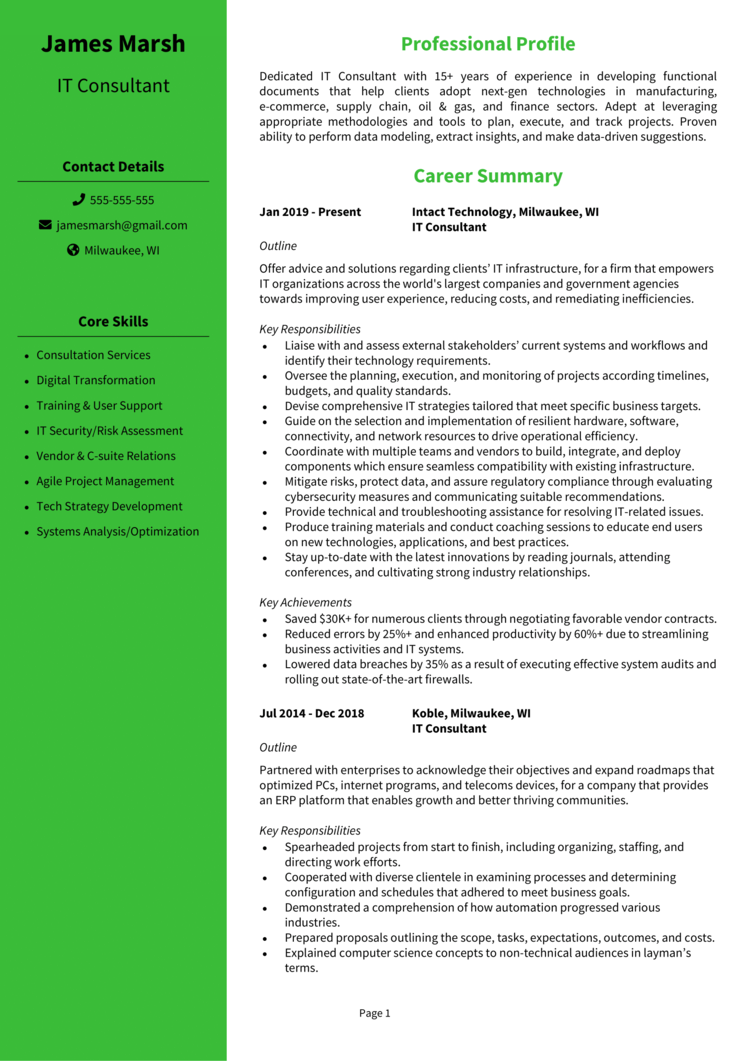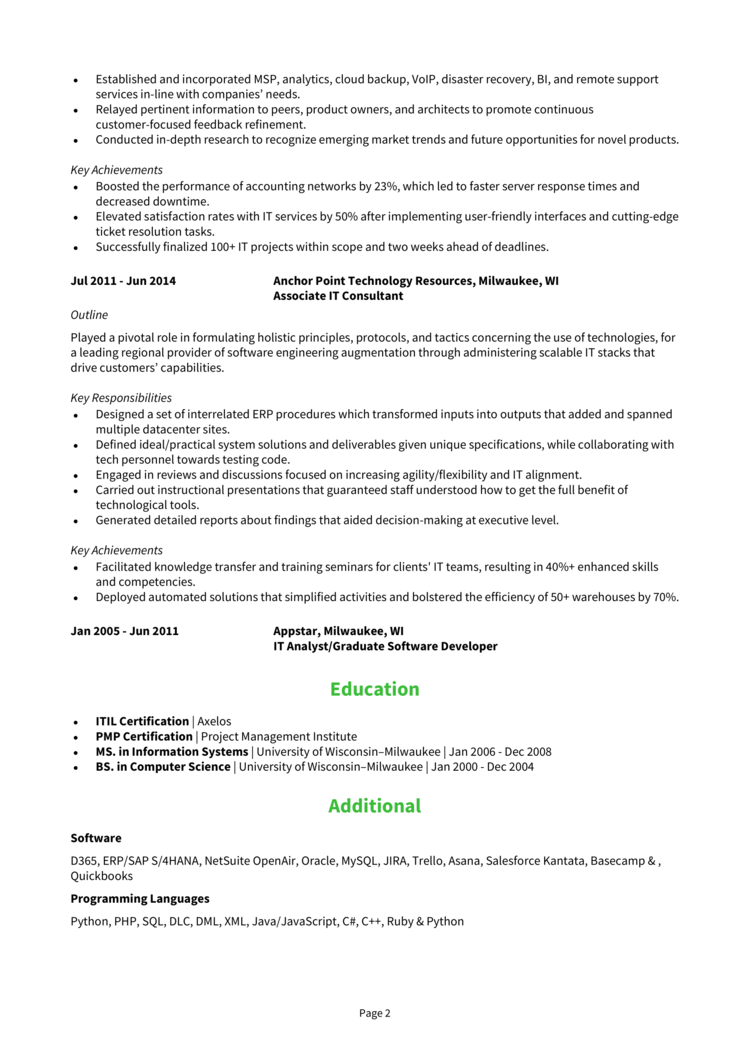 From the IT Consultant resume example above, you can see the kind of information your resume will need to include, and the layout you will need to create for an easy-reading experience.
The rest of this guide will show you how to apply this format to your own unique situation, and create a resume that will attract the best employers in your industry.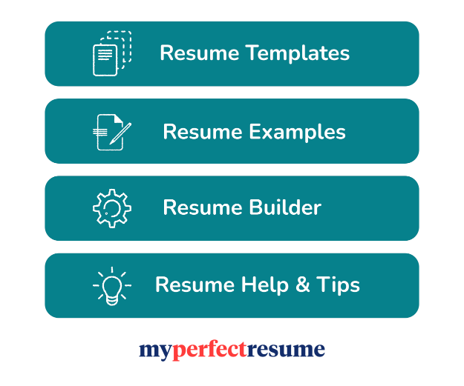 IT Consultant resume layout and format
The format and layout of your resume can make or break its success.
Sure, it's great to pack your resume with lots of impressive skills and knowledge, but if the page is not structured clearly, hiring managers will struggle to find the important stuff!
Above all, your resume should be easy-to-read and professional looking.
Follow these formatting tips to get noticed.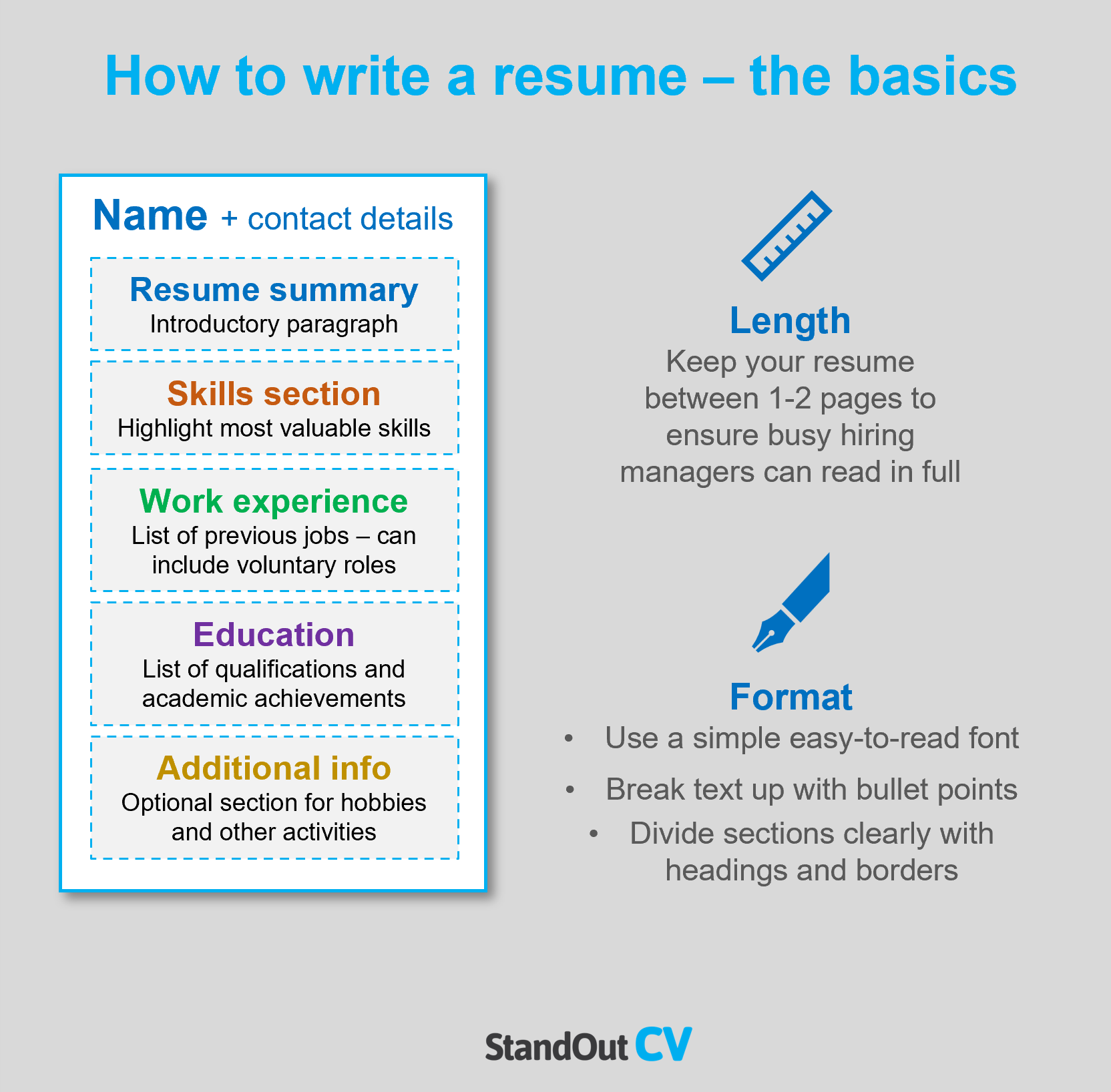 Formatting your resume
Length: Given that recruiters have to sift through tons of resumes daily, it's recommended to keep your resume brief (no more than 2 pages) to make sure it receives their full attention.
Font & readability: Complex fonts are a readers' worst nightmare and will leave recruiters struggling to understand your message. Use a clear simple lean font in a color that stands out against the page, and break your text up with bullet points to make the content easily digestible.
Layout & Structure: A well-designed resume is not just visually pleasing, but it must also be functional. To achieve a functional design, use bold headings and borders to separate the content into clear sections.
Photos: While adding a photo to your resume is not mandatory in the USA, it can be beneficial if you are applying to organizations in creative industries.
Quick tip: Achieving a professional look for your resume can be difficult and time-consuming. If you want to create an attractive resume quickly, try our partner's Resume Builder and use one of their eye-catching resume templates.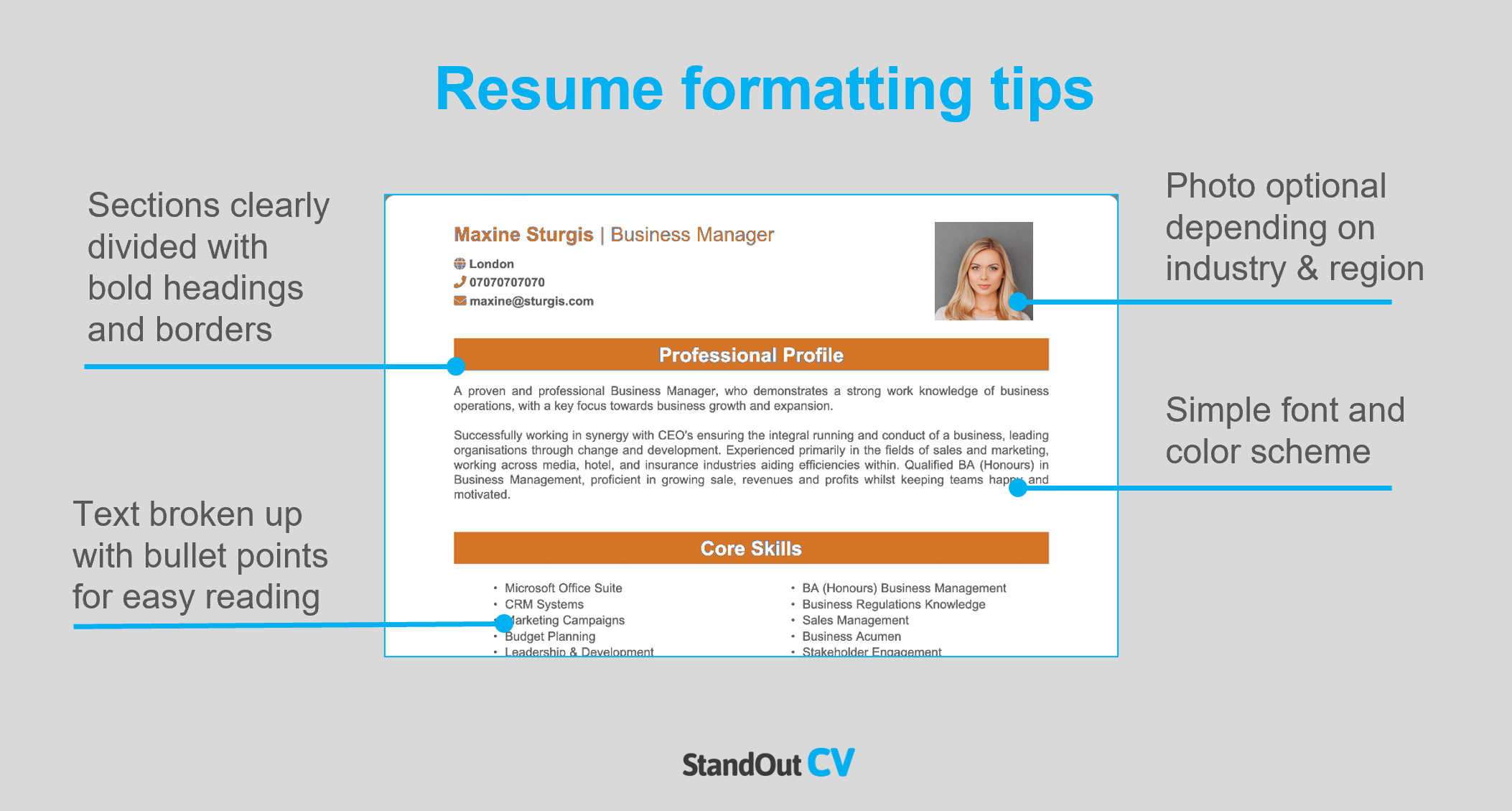 Resume layout
Divide the page into these sections when you write your own resume.
Name and contact details – Simply state who you are, and how to get in touch with you.
Resume summary – An introductory paragraph at the very top of your resume which summarizes your skills, experience and suitability for your target jobs.
Core skills section – A bullet-pointed list of your skills that relate most to your target jobs.
Work experience – A list of your current and previous jobs, including all of your responsibilities and achievements.
Education – A section that showcases all of your education and academic achievements.
Additional info (optional) – Here you can add an extra section for things like hobbies and interests, or anything else that might be relevant to your target jobs.
Here's what to include in each part of your resume.
Contact Details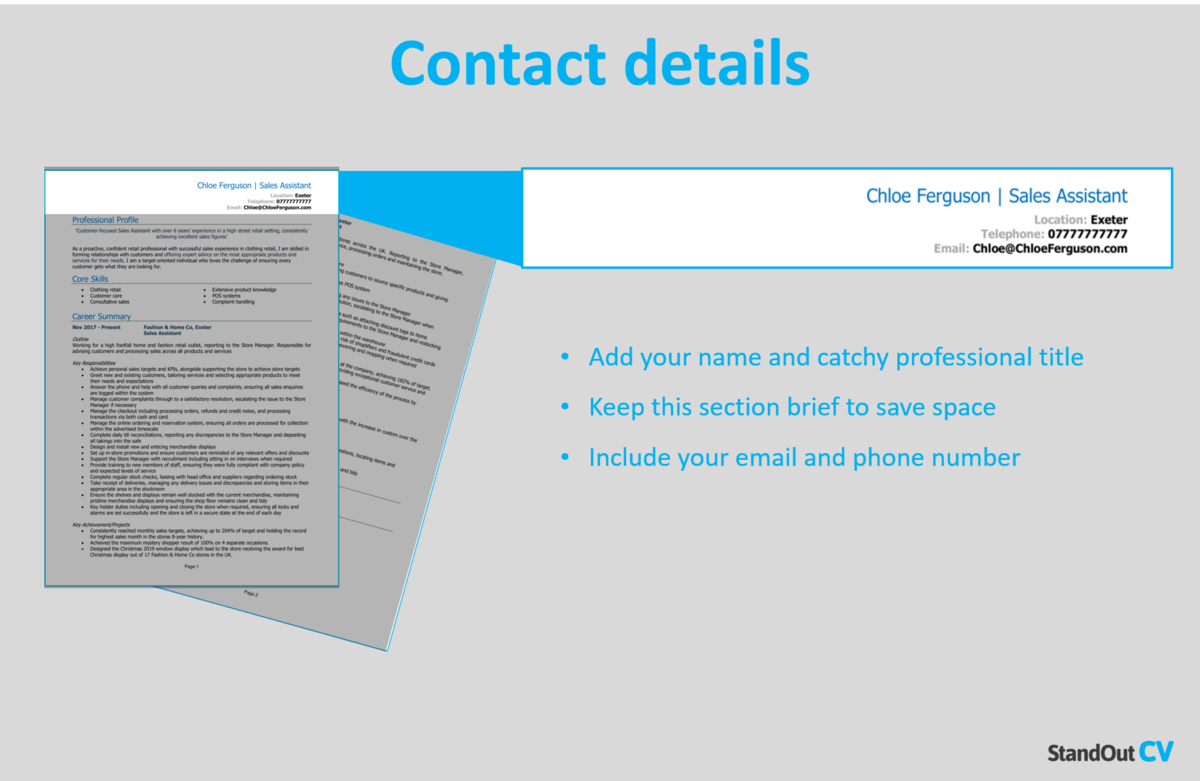 Add your name and contact details to the header of your resume, so that anybody reading can easily see how to contact you.
Name and profession title
Cell phone number – or any number you are easily reachable on
Location – Add your local area such as Washington or San Diego – not your full address as that will take up too much space.
Email address – Use a professional looking address.
You can add a link to your LinkedIn profile if you have one – you do not need to include personal details like date of birth or religion.
IT Consultant Resume Summary
Now it's time to get into the real content of your resume, starting with the summary.
Your resume summary is a short paragraph at the top of the document, and its jobs is to catch the eye of hiring managers by summarizing all your skills and knowledge that are most important to the roles you are applying for.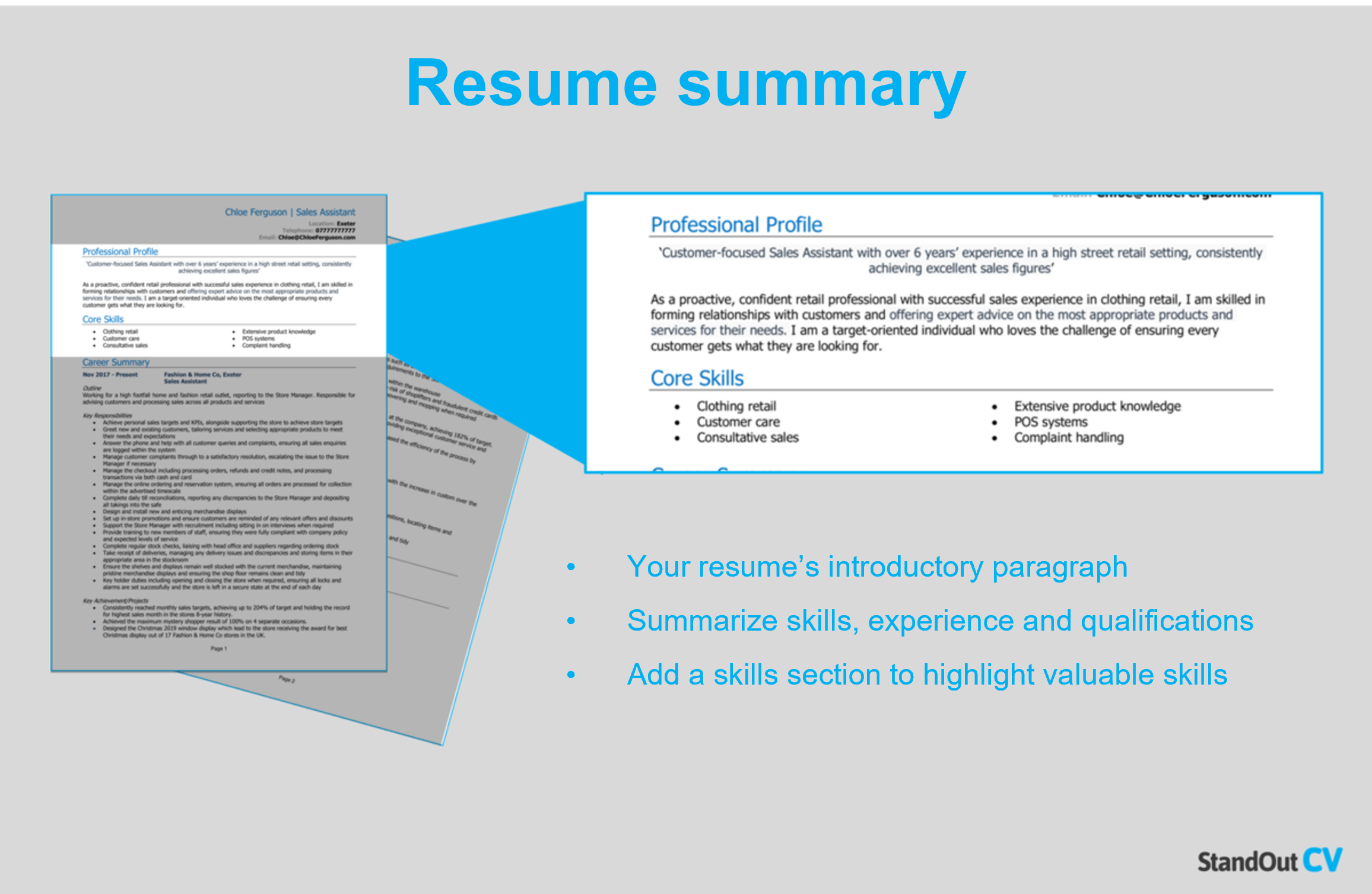 How to create a resume summary that will excite recruiters:
Keep it short: A concise and focused resume summary is essential for capturing a recruiter's attention and keeping them engaged. Limiting your summary to 4-7 lines ensures that you make a strong impression in the first few seconds of them opening the document.
Tailor to target jobs: To tailor your resume to your target jobs, it's essential to closely analyze the job description and include as many relevant skills as possible.
Avoid using cliches: Although you may believe that you're a "team player who always gives 110%," these kinds of cliches don't communicate much about your skills and qualifications to potential employers. It's more effective to stick to factual information in your resume.
IT Consultant resume summary example
Dedicated IT Consultant with 15+ years of experience in developing functional documents that help clients adopt next-gen technologies in manufacturing, e-commerce, supply chain, oil & gas, and finance sectors. Adept at leveraging appropriate methodologies and tools to plan, execute, and track projects. Proven ability to perform data modeling, extract insights, and make data-driven suggestions.
What to include in your IT Consultant resume summary?
Summary of your experience: Summarize the type of work you have done in the past and the benefits you have delivered for the organizations you worked at.
Relevant skills: Highlight your skills which are most relevant to IT Consultant jobs, to ensure that recruiters see your most in-demand skills as soon as they open your resume.
Qualifications: Mention any IT Consultant qualifications that are important to your profession in the summary briefly, to show you are qualified to carry out the role.
Quick tip: Choose from hundreds of pre-written summaries across all industries, and add one to your resume with one-click in our partner's Resume Builder. All written by recruitment experts and easily tailored to suit your unique skillset and style.
Core skills section
Sitting just underneath your resume summary, your core skills section gives recruiters 4-10 of your most in-demand skills in just a glance.
As IT Consultant jobs may get hundreds of applications, this is a great way to stand out and quickly grab hiring managers' attention.
It should be made up of 2-3 columns of bullet points and highlight attributes that are hyper-relevant to the jobs you are aiming for.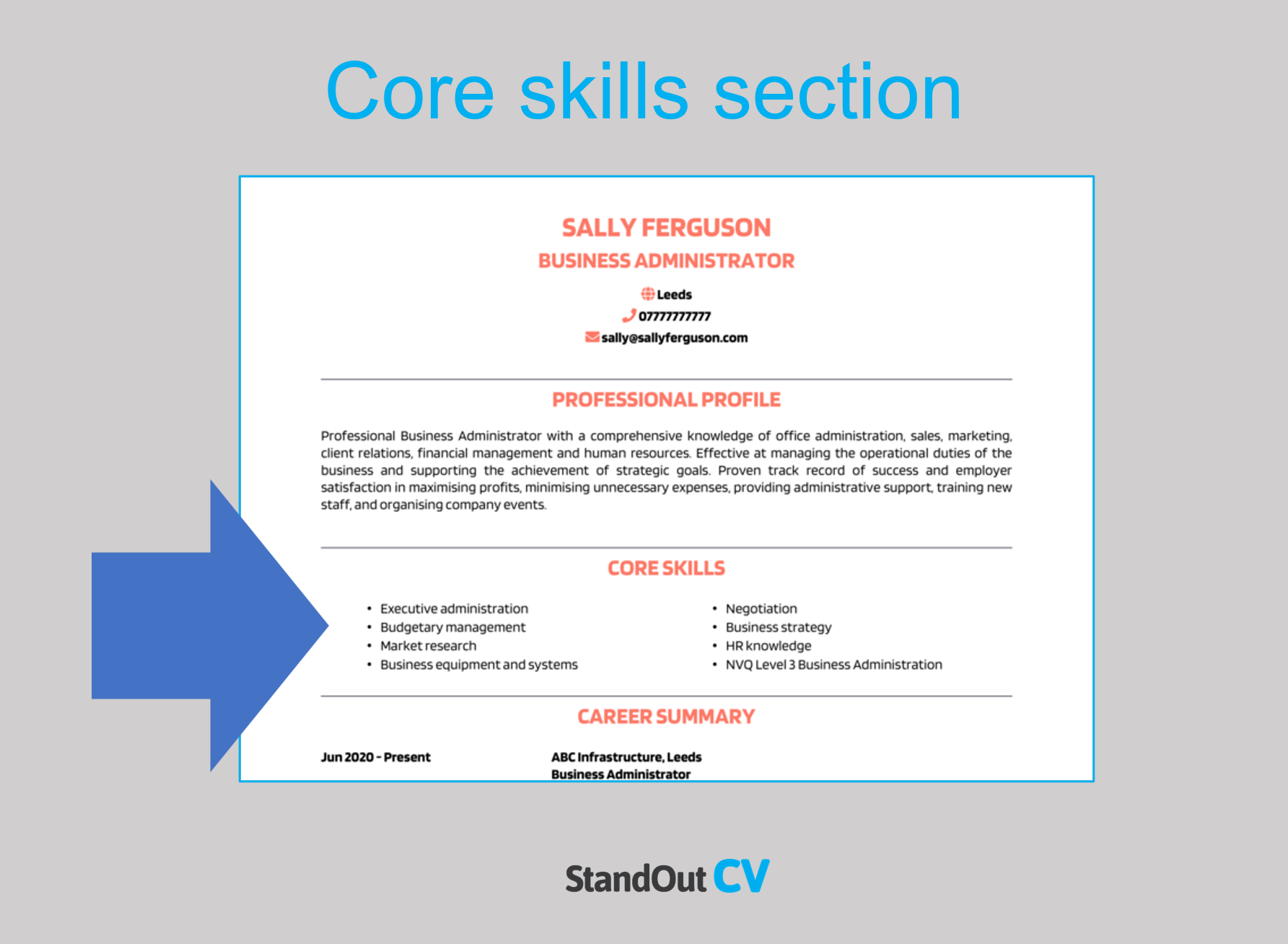 Best skills for your IT Consultant resume
Systems Analysis – Analyzing existing systems, understanding business requirements, and recommending suitable IT solutions to address client needs.
IT Strategy Development – Developing strategic plans that align IT initiatives with business objectives, considering factors such as scalability, security, and cost-effectiveness.
Project Management – Managing IT projects from initiation to completion, including defining project scope, creating project plans, allocating resources, and ensuring timely delivery.
Technical Expertise – Maintaining an in-depth knowledge of various technologies, platforms, and software solutions relevant to the consulting domain, such as cloud computing, cybersecurity, data analytics, or enterprise resource planning (ERP) systems.
Business Process Improvement – Identifying inefficiencies in business processes, suggesting improvements, and designing optimized workflows to enhance operational efficiency and productivity.
Change Management – Managing the organizational and cultural aspects of IT implementations, including stakeholder engagement, communication, and training, to facilitate smooth transitions and user adoption.
Risk Assessment and Mitigation – Identifying potential risks and vulnerabilities in IT systems, evaluating their impact, and implementing risk mitigation strategies to safeguard client data and assets.
Data Analysis and Visualization – Extracting insights from complex datasets, creating meaningful visualizations, and providing data-driven recommendations to clients.
Vendor Management – Evaluating and selecting technology vendors, negotiating contracts, and managing relationships to ensure the delivery of quality services and solutions.
Stakeholder Communication and Presentation – Effectively conveying technical concepts to non-technical stakeholders, facilitating workshops and meetings, and delivering compelling presentations.
Quick tip: Our partner's Resume Builder contains thousands of in-demand skills for every profession that can be added to your resume in seconds – saving you time and greatly improving your chances of landing job interviews and getting hired.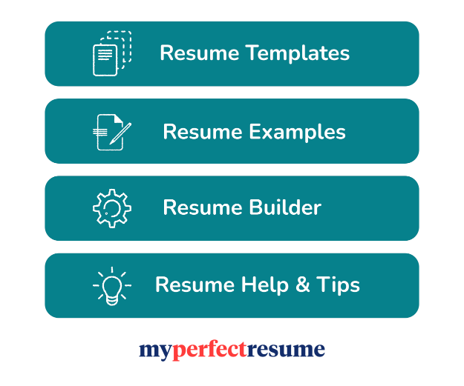 Work experience
So, you've grabbed the recruiters' attention with your summary, now it's time to show them what you're really capable of in your work experience section.
List your previous jobs from current to oldest, showing off the impact you made at each organization.
If you have tons of experience, you should just list the most recent an relevant jobs – but if you have little or no experience, add it all and even consider putting in voluntary work.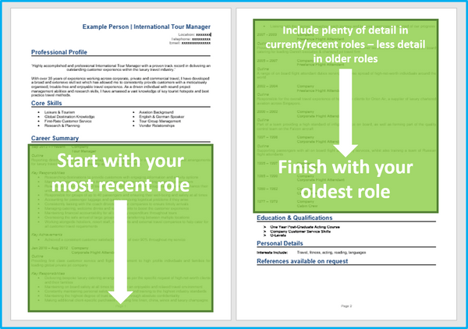 Structuring your jobs
You probably do a lot in your job, so its vital to break all of that information down into a good structure.
Structure your jobs as follows to make it easy for recruiters to skim through and pinpoint the essential info.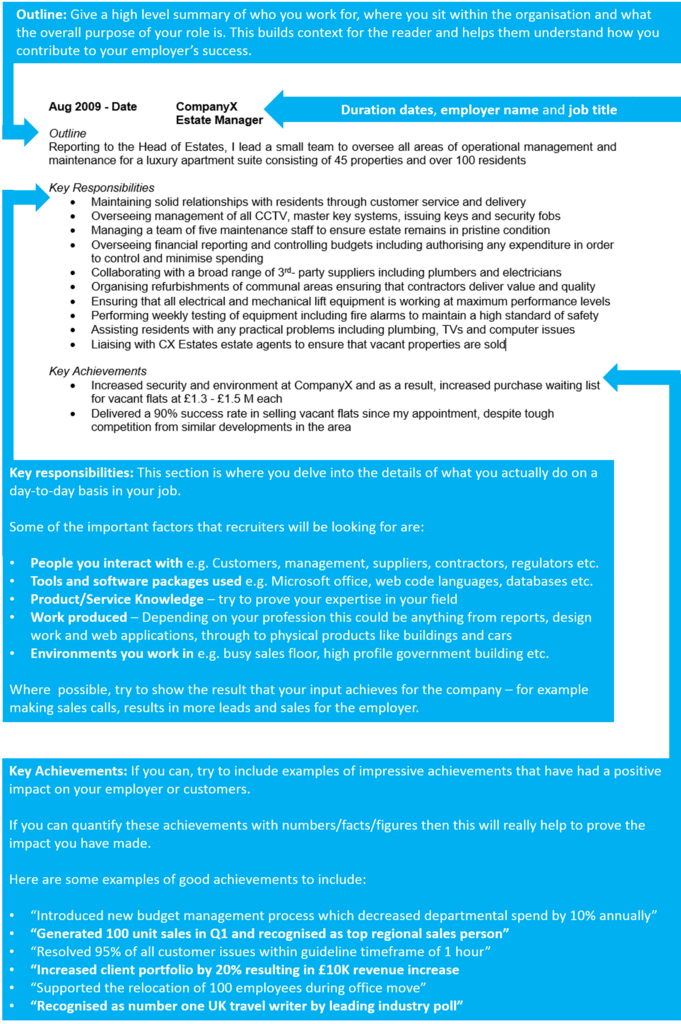 Job outline
To provide context to your jobs, begin each job with a concise summary of the organization, your role within it, and the main objectives of your position.
Key responsibilities
The bulk of the role description should be comprised of bullet points that explain all of your duties in the job.
Keep the sentences short and simple to make them easy for recruiters to digest.
Key achievements
Show employers the value you can bring to them by adding a few achievements to your jobs.
Whether you've saved the company money or improved an internal process, let recruiters know
Add some numbers to give readers a real scale of the impact, e.g. "reduced call wait time by 10%"
Example job for IT Consultant resume
Outline
Offer advice and solutions regarding clients' IT infrastructure, for a firm that empowers IT organizations across the world's largest companies and government agencies towards improving user experience, reducing costs, and remediating inefficiencies.
Key Responsibilities
Liaise with and assess external stakeholders' current systems and workflows and identify their technology requirements.
Oversee the planning, execution, and monitoring of projects according to timelines, budgets, and quality standards.
Devise comprehensive IT strategies tailored that meet specific business targets.
Guide on the selection and implementation of resilient hardware, software, connectivity, and network resources to drive operational efficiency.
Quick tip: Create impressive job descriptions easily in our partner's Resume Builder by adding pre-written job phrases for every industry and career stage.

Education section
Towards the bottom of your resume, add your education section.
Here you should list your professional qualifications and academic record, such as high school diplomas or college degrees.
If you have lots of work experience, you can keep this section brief (because recruiters will be more interested in your career. If you have little/no experience then you should bulk this section up with plenty of detail.
Additional information
If you have anything else to add which is relevant to the jobs you are applying for, the additional info section is the place to add it.
Perhaps you have a hobby which involves relevant skills, or maybe you have some awards or publications worth mentioning.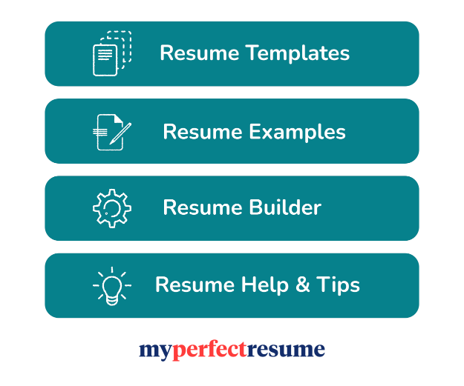 Writing your own winning IT Consultant resume
By tailoring your resume to the specific job and industry you are targeting and ensuring that it effectively communicates your professional value, you can position yourself as a top candidate for all IT Consultant positions.
Good luck with your job search!