You're an expert in your field and you always stay up to date on the latest industry trends so that you can help individuals or companies make the best financial decisions.
So, when looking for a new client or permanent position, you need to showcase your experience on your CV and illustrate this with impressive figures to back it up.
But if you've got a lot to say and you're not sure how to start, check out our step-by-step guide below, complete with a commodities trader CV example to inspire you.
Contents
| | |
| --- | --- |
| How to write a Commodity Trader CV | |

Commodity Trader CV example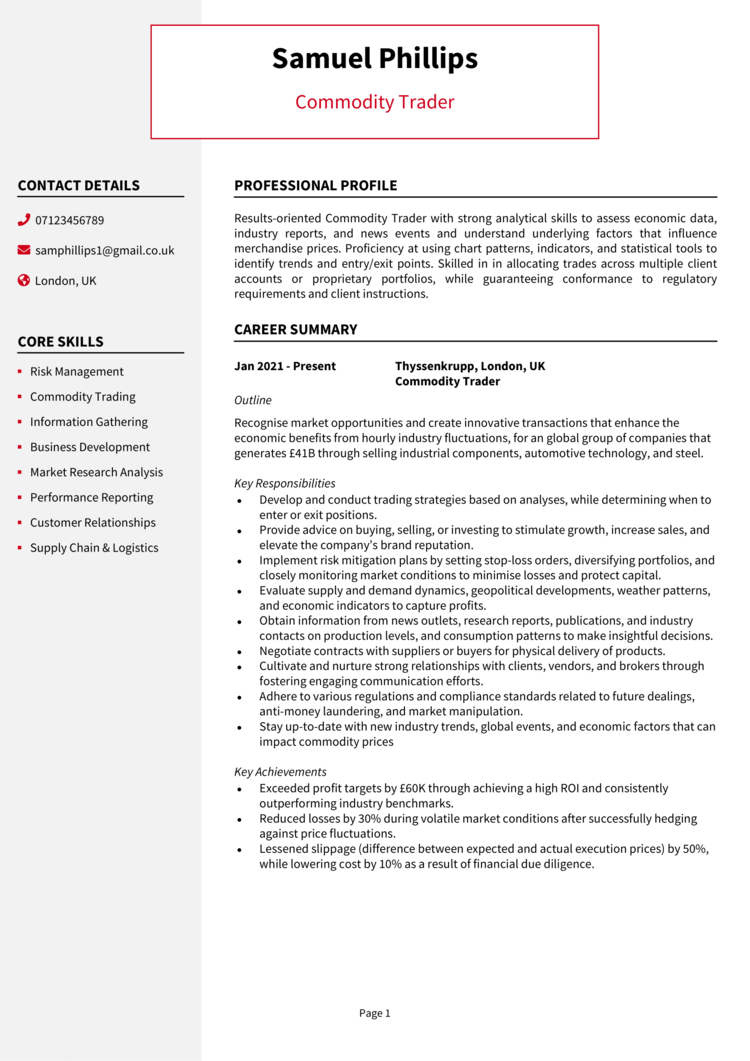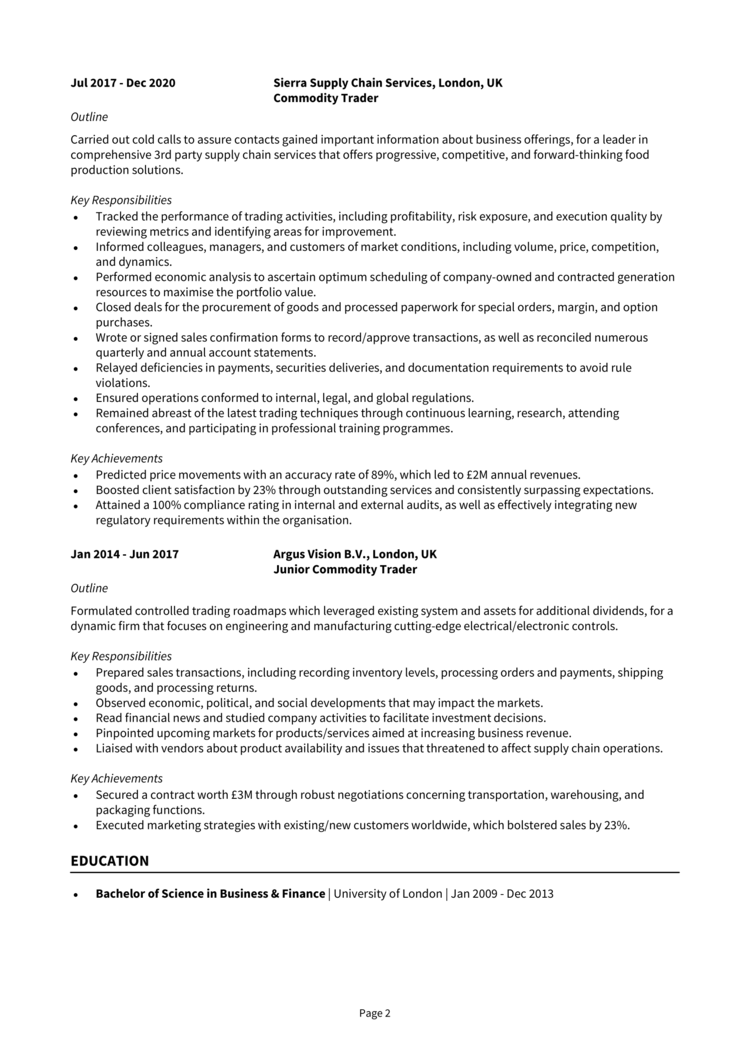 Before you start writing your CV, take a look at the example Commodity Trader CV above to give yourself a good idea of the style and format that works best in today's job market.
Also, take note of the type of content that is included to impress recruiters, and how the most relevant information is made prominent, to ensure it gets noticed.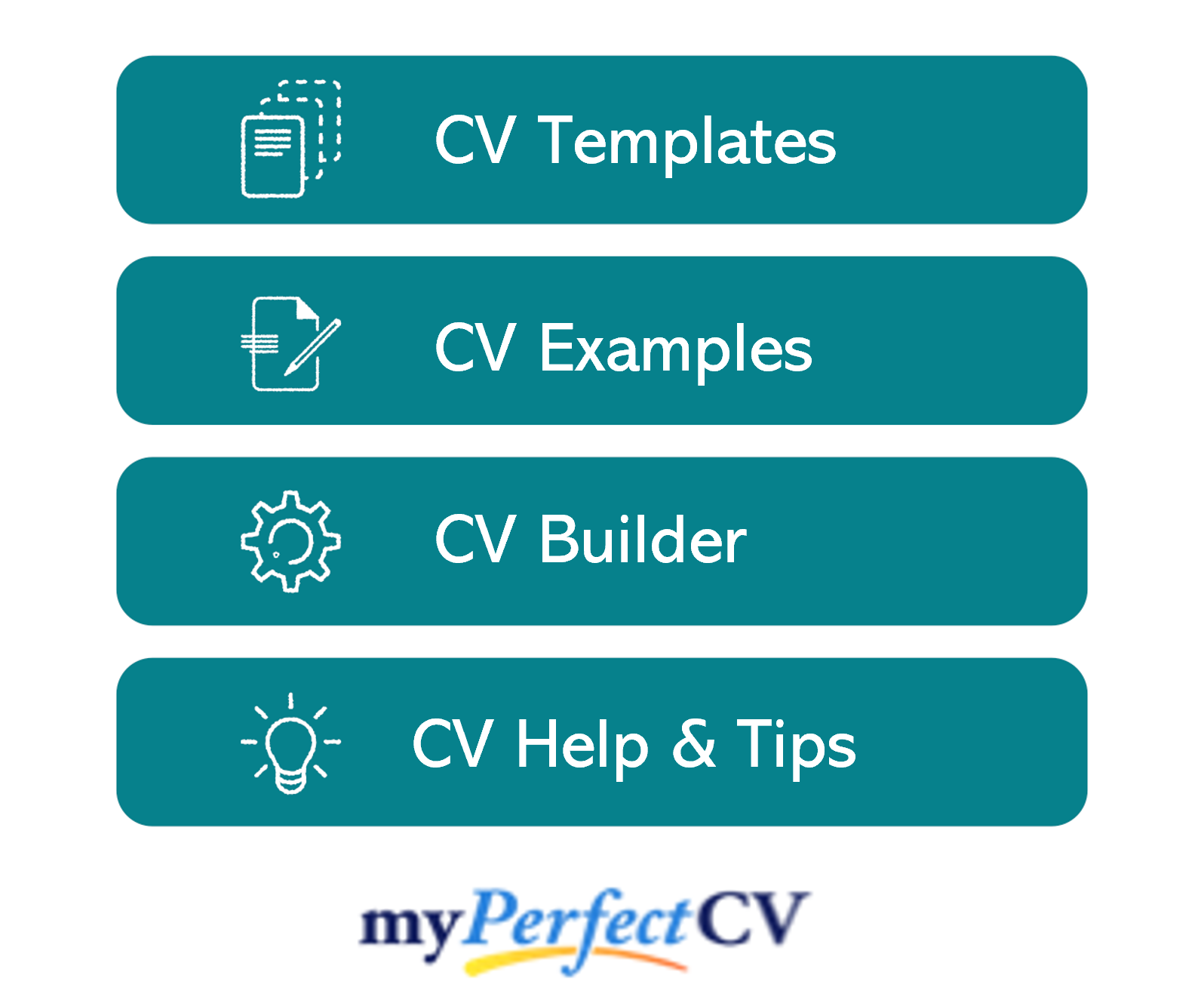 Commodity Trader CV format and structure
Your CV is the first impression you'll make on anybody who reads it.
A disorganised, cluttered and barely-readable CV could seriously decrease your chances of landing interviews, so it's essential to make sure yours is slick, professional and easy to navigate.
You can do this by using a clear structure and formatting your content with some savvy formatting techniques – check them out below: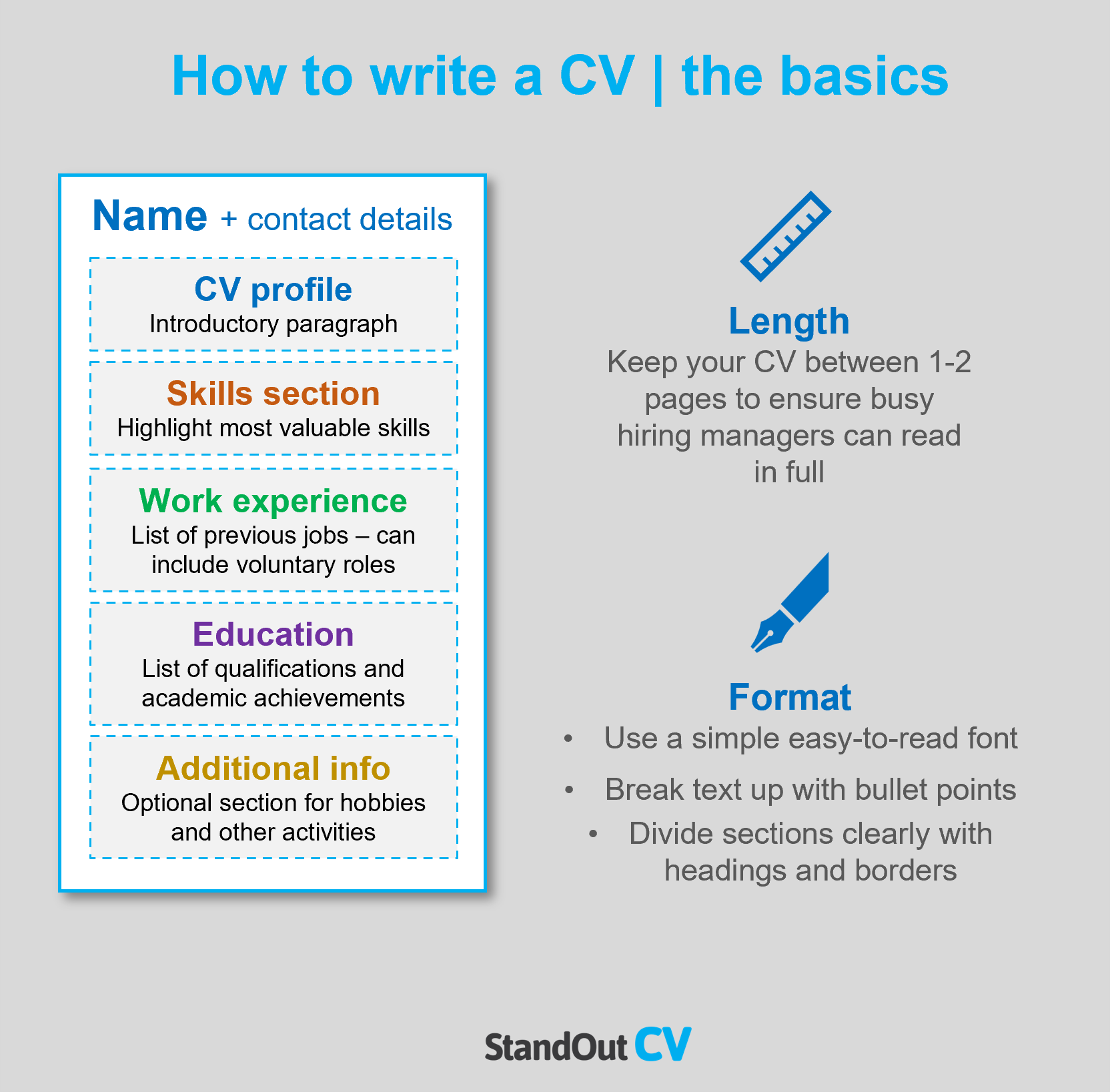 Tips for formatting your Commodity Trader CV
Length: Recruiters will be immediately put off by lengthy CVs – with hundreds of applications to read through, they simply don't have the time! Grabbing their attention with a short, snappy and highly relevant CV is far more likely to lead to success. Aim for two sides of A4 or less.
Readability: Help out time-strapped recruiters by formatting your CV for easy reading. Using lots of bullet points and lists will help them to skim through your info, while clearly formatted headings will allow them to navigate towards the content which is most useful to them.
Design & format: Your CV needs to look professional, sleek and easy to read. A subtle colour palette, clear font and simple design are generally best for this, as fancy designs are often harder to navigate.
Photos: Recruiters can't factor in appearance, gender or race into the recruitment process, so a profile photo is not usually needed. However, creative employers do like to see them, so you can choose to include one if you think it will add value to your CV .
Quick tip: Creating a professional CV style can be difficult and time-consuming when using Microsoft Word or Google Docs. To create a winning CV quickly, try our partner's CV Builder and use one of their eye-catching professional CV templates.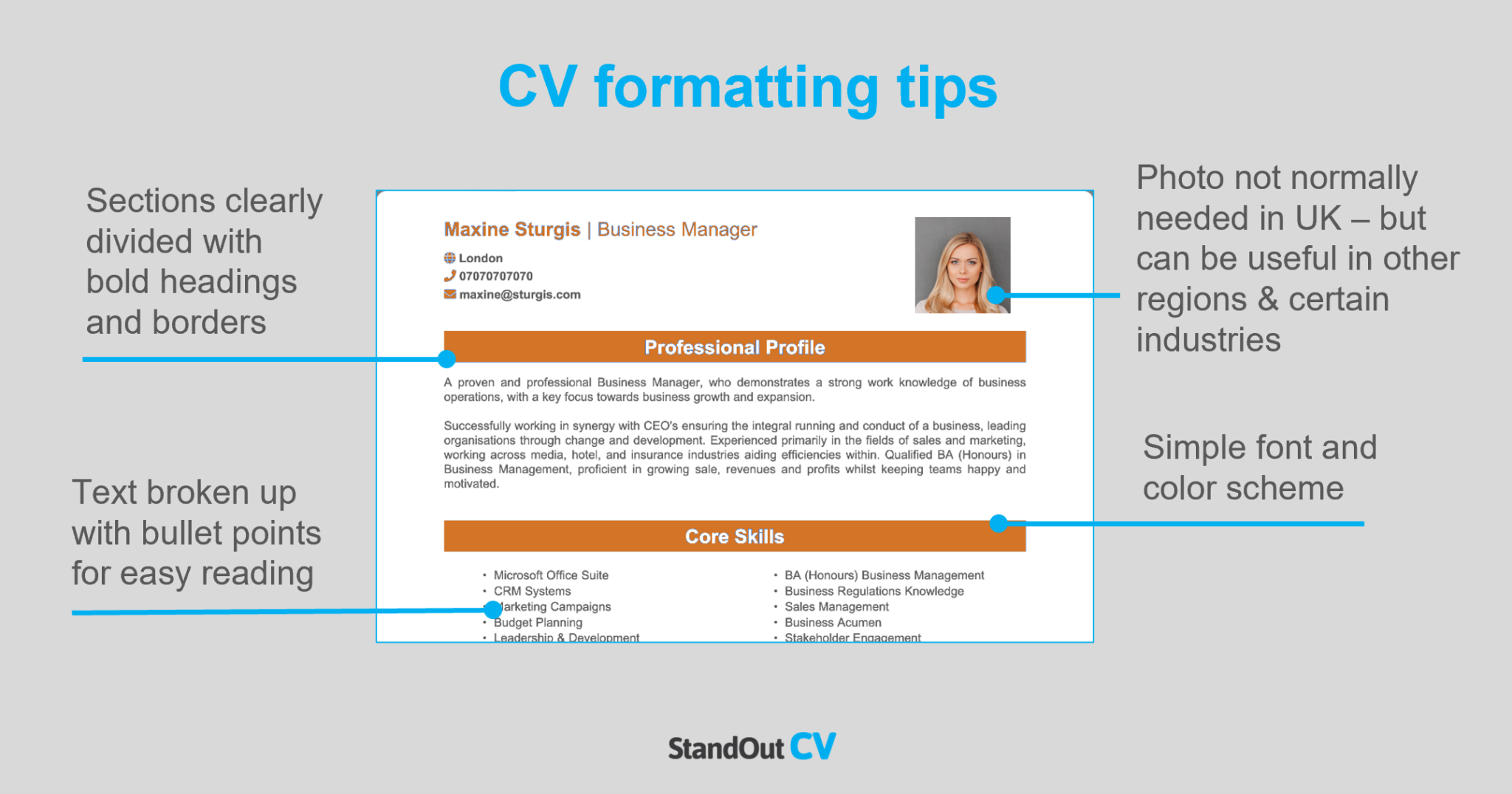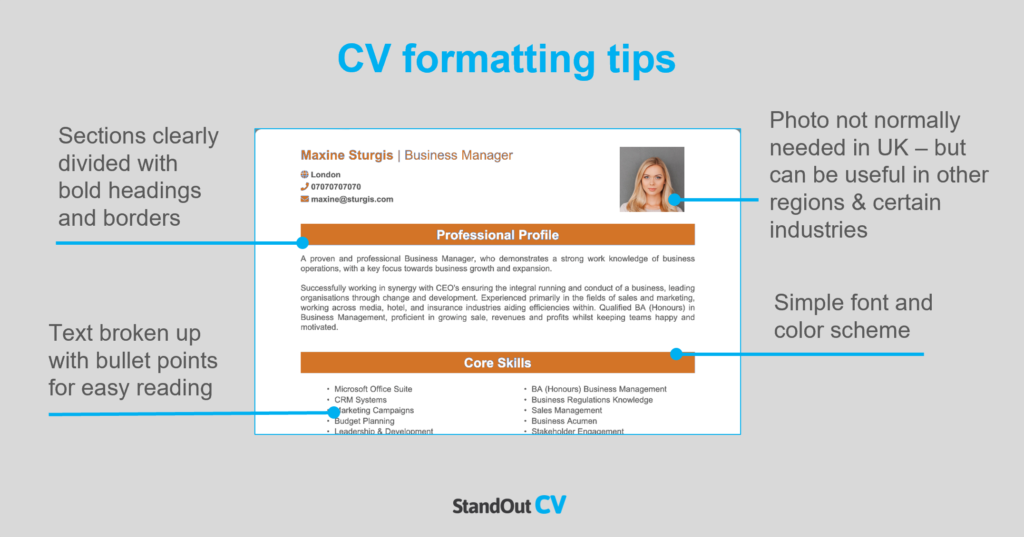 CV structure
As you write your CV, divide and sub-head into the following sections:
Name and contact details – Always start with these, so employers know exactly how to get in touch with you.
CV profile – Add a short summary of your relevant experience, skills and achievements, which highlights your suitability.
Core skills section – A 2-3 columned list of your key skills.
Work experience – A detailed list of any relevant work experience, whether paid or voluntary.
Education – An overview of your academic background and any training you may have completed.
Hobbies and interests – A brief overview of your hobbies and interests, if they're relevant (optional).
Now you understand the basic layout of a CV, here's what you should include in each section of yours.
Contact Details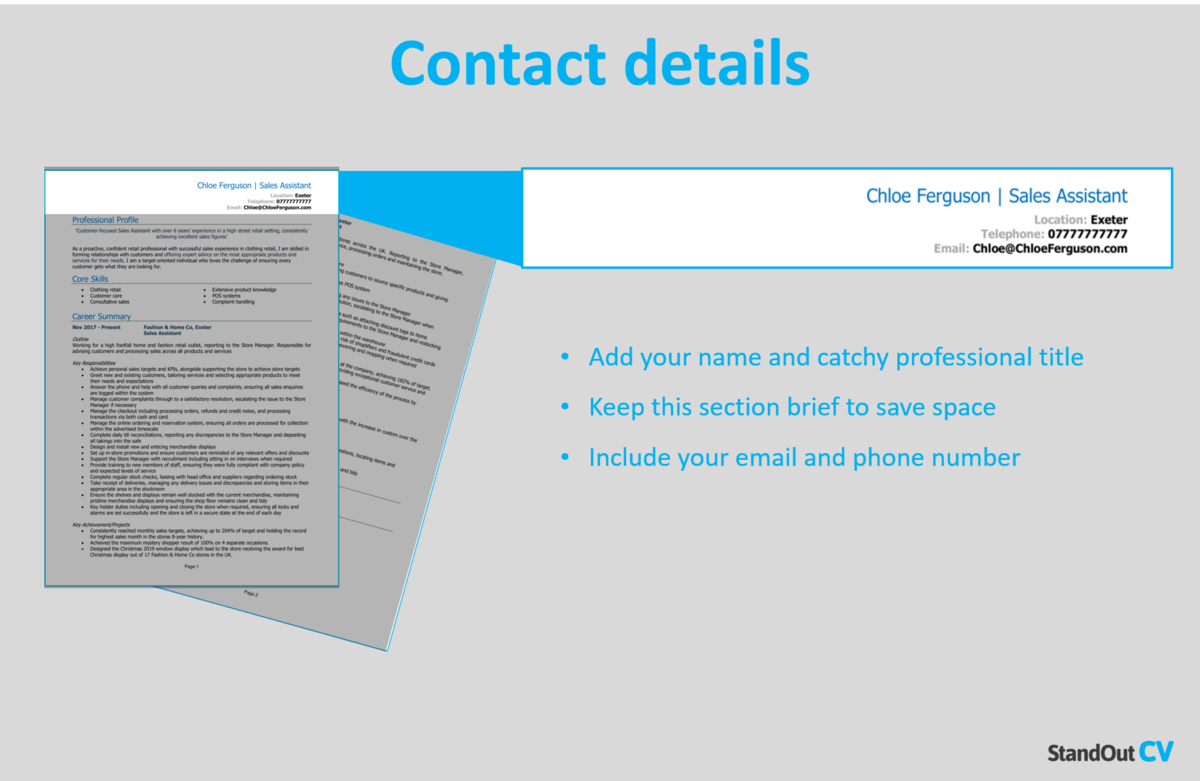 Kick-start your CV with your contact details, so recruiters can get in touch easily.
Here's what you should include:
Mobile number
Email address – Make sure it's professional, with no silly nicknames.
Location – Your town or city is sufficient, rather than a full address.
LinkedIn profile or portfolio URL – Ensure they've been updated and are looking slick and professional.
Quick tip: Avoid listing your date of birth, marital status or other irrelevant details – they're unnecessary at this stage.
Commodity Trader CV Profile
Make a strong first impression with recruiters by starting your CV with an impactful profile (or personal statement for junior applicants).
This short introduction paragraph should summarise your skills, experience, and knowledge, highlighting your suitability for the job.
It should be compelling enough to encourage recruiters to read through the rest of your CV.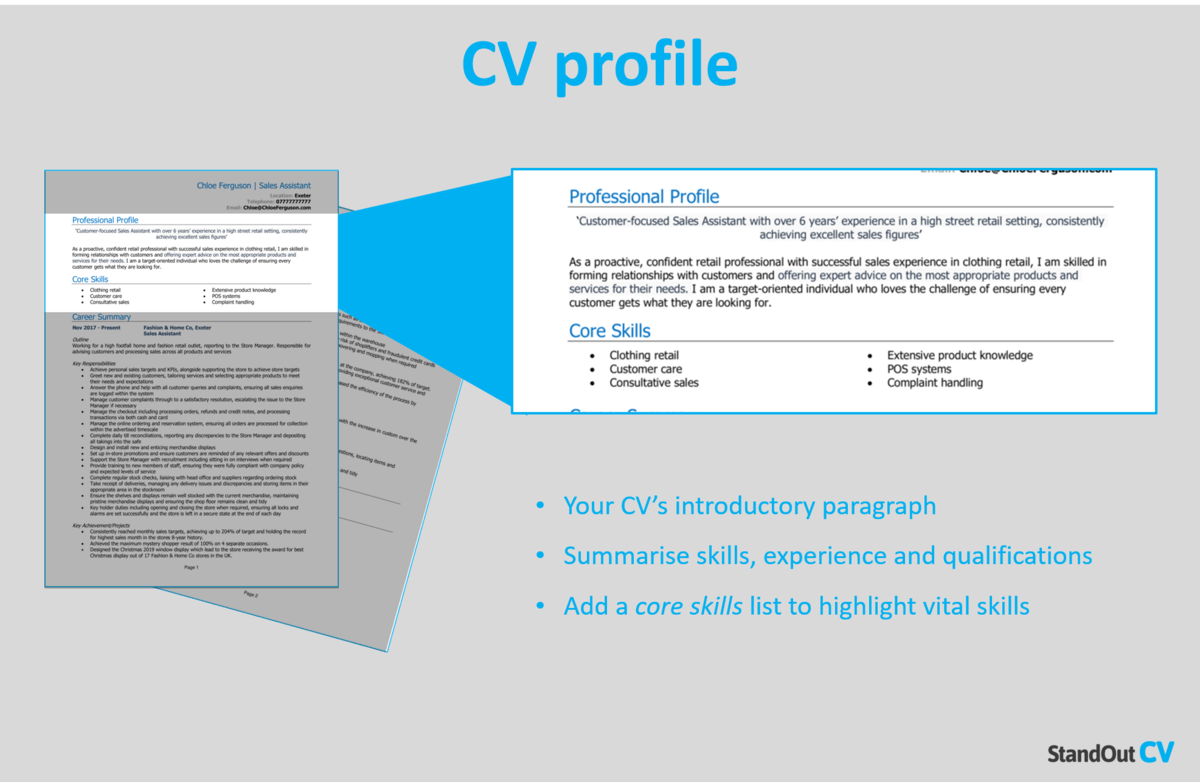 How to write a good CV profile:
Make it short and sharp: The best CV profiles are short, sharp and highly relevant to the target role. For this reason, it's best to write 3-4 lines of high-level information, as anything over might be missed.
Tailor it: Recruiters can spot a generic, mass-produced CV at a glance – and they certainly won't be impressed! Before you write your profile (and CV as a whole), read through the job advert and make a list of any skills, knowledge and experience required. You should then incorporate your findings throughout your profile and the rest of your CV.
Don't add an objective: You only have a small space for your CV profile, so avoid writing down your career goals or objectives. If you think these will help your application, incorporate them into your cover letter instead.
Avoid generic phrases: Focus on fact, not fluff. Phrases like "Committed and enthusiastic thought-leader" and "Dynamic problem solver" might sound fancy, but they'll do nothing for your application. Not only do they sound cheesy, but they have no substance – stick to real skills and facts
Example CV profile for Commodity Trader
Results-oriented Commodity Trader with strong analytical skills to assess economic data, industry reports, and news events and understand underlying factors that influence merchandise prices. Proficiency at using chart patterns, indicators, and statistical tools to identify trends and entry/exit points. Skilled in in allocating trades across multiple client accounts or proprietary portfolios, while guaranteeing conformance to regulatory requirements and client instructions.
What to include in your Commodity Trader CV profile?
Experience overview: Start with a brief summary of your relevant experience so far. How many years experience do you have? What type of companies have you worked for? What industries/sectors have you worked in? What are your specialisms?
Targeted skills: Employers need to know what skills you can bring to their organisation, and ideally they want to see skills that match their job vacancy. So, research your target roles thoroughly and add the most important Commodity Trader skills to your profile.
Important qualifications: Be sure to outline your relevant Commodity Trader qualifications, so that anyone reading the CV can instantly see you are qualified for the jobs you are applying to.
Quick tip: If you are finding it difficult to write an attention-grabbing CV profile, choose from hundreds of pre-written profiles across all industries, and add one to your CV with one click in our partner's CV Builder. All profiles are written by recruitment experts and easily tailored to suit your unique skillset.
Core skills section
Add a core skills section below your profile to draw attention to your most applicable skills and make them stand out to readers.
This should consist of 2-3 columns of bullet points that emphasise your relevant skills.
Before creating this section, review the job description and compile a list of any specific skills, specializations, or knowledge needed. Incorporate these findings into your list to portray yourself as the ideal candidate for the position.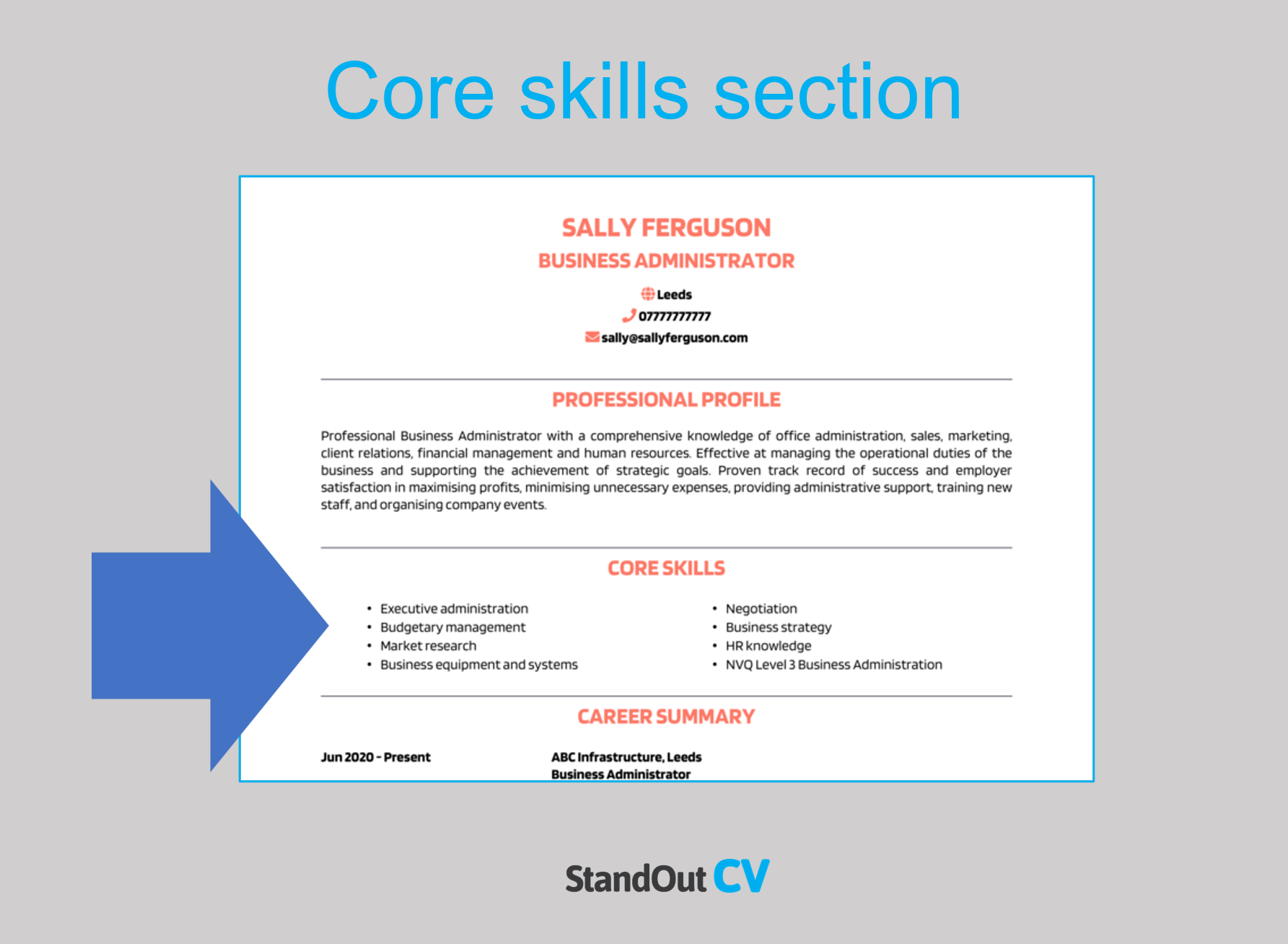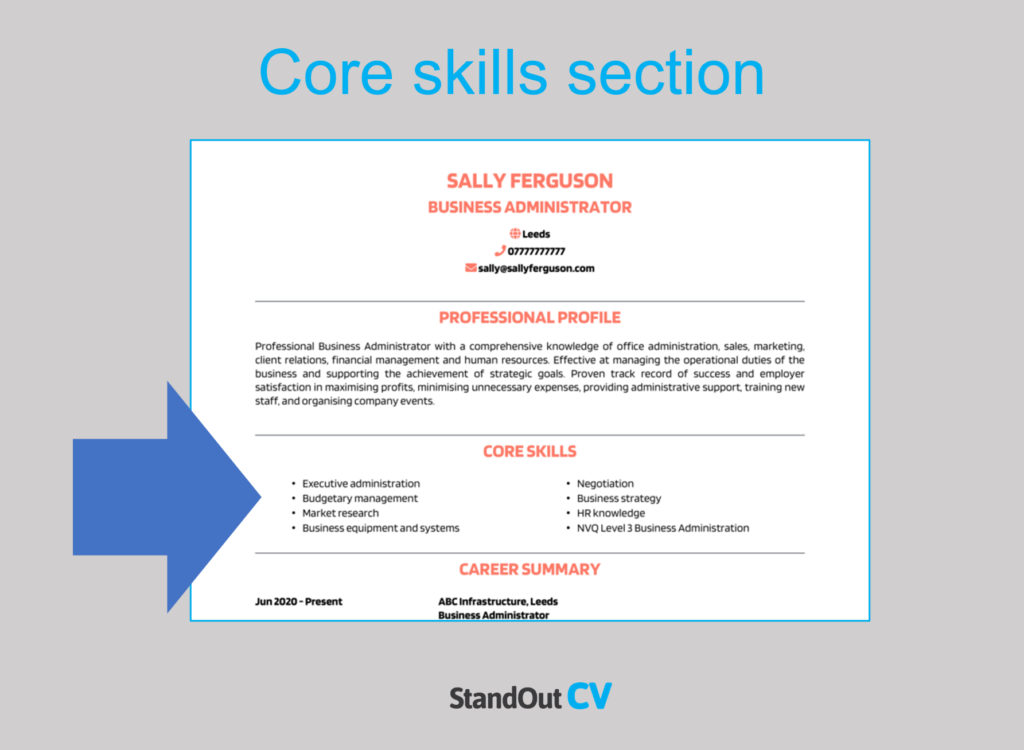 Important skills for your Commodity Trader CV
Market Analysis – Analysing commodity markets, including supply and demand dynamics, price trends, and market fundamentals, to make informed trading decisions.
Risk Management – Assessing and managing risks associated with commodity trading, including price fluctuations, market volatility, and geopolitical factors, to protect investments and optimise returns.
Financial Analysis – Utilising financial analysis techniques, such as evaluating profitability, analysing financial statements, and assessing trading strategies, to inform decision-making and maximise trading opportunities.
Trading Execution – Executing trades in a timely and accurate manner, utilising trading platforms and systems effectively, and ensuring compliance with regulatory requirements.
Negotiation – Negotiating and securing favourable terms and conditions for commodity transactions, including pricing, delivery schedules, and contract terms, to optimise profitability.
Supply Chain Management – Utilising knowledge of the supply chain dynamics and logistics involved in commodity trading, including transportation, storage, and distribution, to ensure efficient and cost-effective operations.
Market Research – Conducting thorough market research, tracking industry trends, and monitoring competitor activities to identify new opportunities and gain a competitive edge.
Data Analysis – Analysing and interpreting market data, utilising statistical tools and software, to identify patterns, forecast trends, and make data-driven trading decisions.
Compliance and Regulations – Utilising knowledge of commodity trading regulations, including compliance with trading rules, licensing requirements, and risk management guidelines, to ensure legal and ethical trading practices.
Stakeholder Communication – Interacting with clients, brokers, and other stakeholders, conveying trading strategies, and negotiating contracts.
Quick tip: Our partner's CV Builder has thousands of in-demand skills for all industries and professions, that can be added to your CV in seconds – This will save you time and ensure you get noticed by recruiters.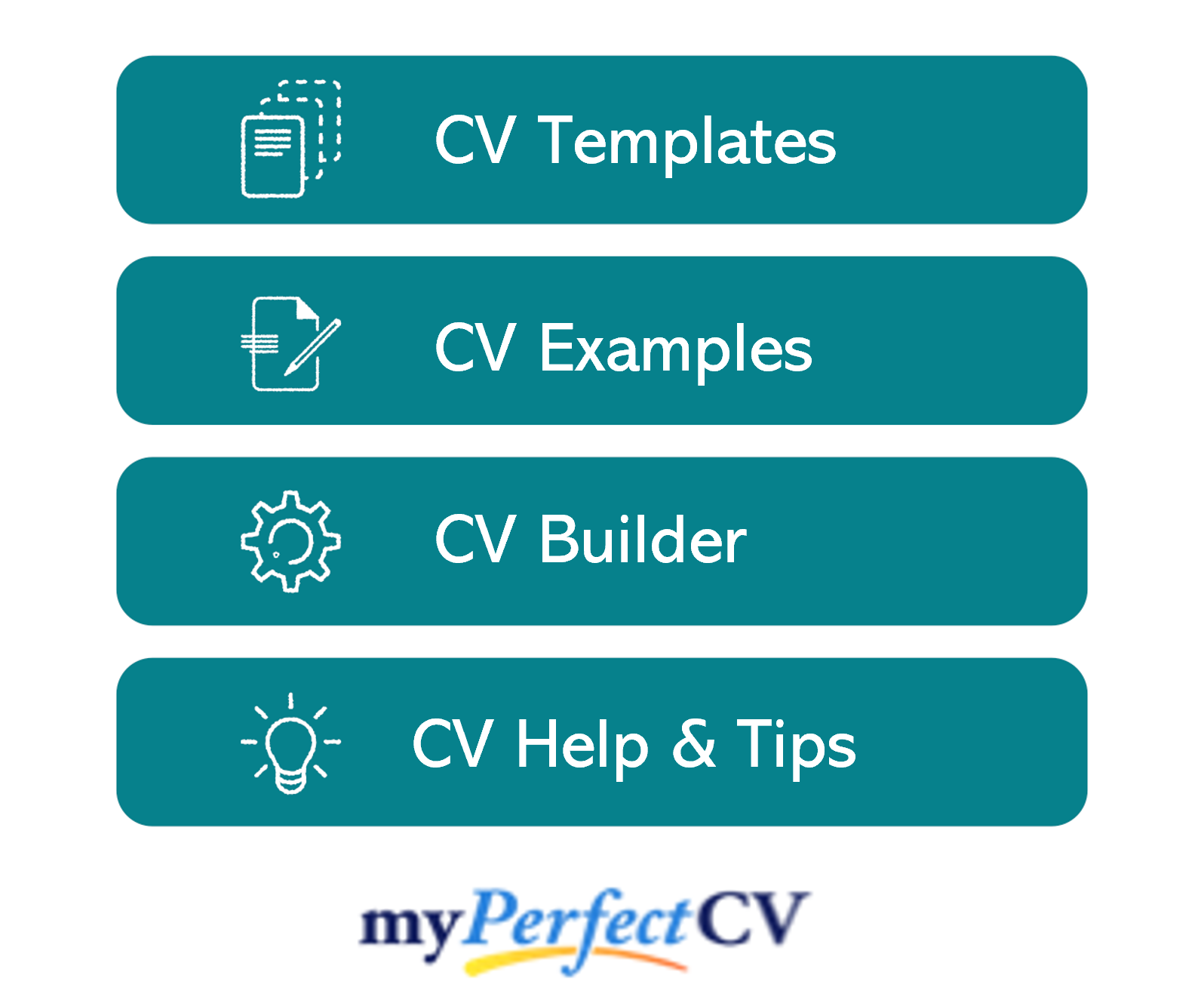 Work experience
Now that recruiters have a good overview of your skills and abilities, you need to jump into the detail of your career history.
Give them a more thorough insight into what you can do by creating a detailed list of your relevant experience.
Start with your current role, and work backwards through all the relevant positions you've held.
This could be freelance, contract or voluntary work too; as long as it's related to the role you're applying for.
Structuring each job
Whilst writing your CV, it's essential to look at it from the eyes of a recruiter.
If they're met with giant blocks of text which are impossible to navigate, they might get frustrated and skip onto the next CV.
Instead, make use of the 3-step structure shown below, to give them a pleasant reading experience.
Outline
Provide a brief overview of the job as a whole, such as what the overriding purpose of your job was and what type of company you worked for.
Key responsibilities
Next up, you should write a short list of your day-to-day duties within the job.
Recruiters are most interested in your sector-specific skills and knowledge, so highlight these wherever possible.
Key achievements
Lastly, add impact by highlight 1-3 key achievements that you made within the role.
Struggling to think of an achievement? If it had a positive impact on your company, it counts.
For example, you might increased company profits, improved processes, or something simpler, such as going above and beyond to solve a customer's problem.
Sample job description for Commodity Trader CV
Outline
Recognise market opportunities and create innovative transactions that enhance the economic benefits from hourly industry fluctuations, for a global group of companies that generates £41B through selling industrial components, automotive technology, and steel.
Key Responsibilities
Develop and conduct trading strategies based on analyses, while determining when to enter or exit positions.
Provide advice on buying, selling, or investing to stimulate growth, increase sales, and elevate the company's brand reputation.
Implement risk mitigation plans by setting stop-loss orders, diversifying portfolios, and closely monitoring market conditions to minimise losses and protect capital.
Evaluate supply and demand dynamics, geopolitical developments, weather patterns, and economic indicators to capture profits.
Quick tip: Create impressive job descriptions easily in our partner's CV Builder by adding pre-written job phrases for every industry and career stage.

Education section
After your work experience, your education section should provide a detailed view of your academic background.
Begin with those most relevant to Commodity Trader jobs, such as vocational training or degrees.
If you have space, you can also mention your academic qualifications, such as A-Levels and GCSEs.
Focus on the qualifications that are most relevant to the jobs you are applying for.
Hobbies and interests
The hobbies and interests CV section isn't mandatory, so don't worry if you're out of room by this point.
However, if you have an interesting hobby, or an interest that could make you seem more suitable for the role, then certainly think about adding.
Be careful what you include though… Only consider hobbies that exhibit skills that are required for roles as a Commodity Trader, or transferable workplace skills.
There is never any need to tell employers that you like to watch TV and eat out.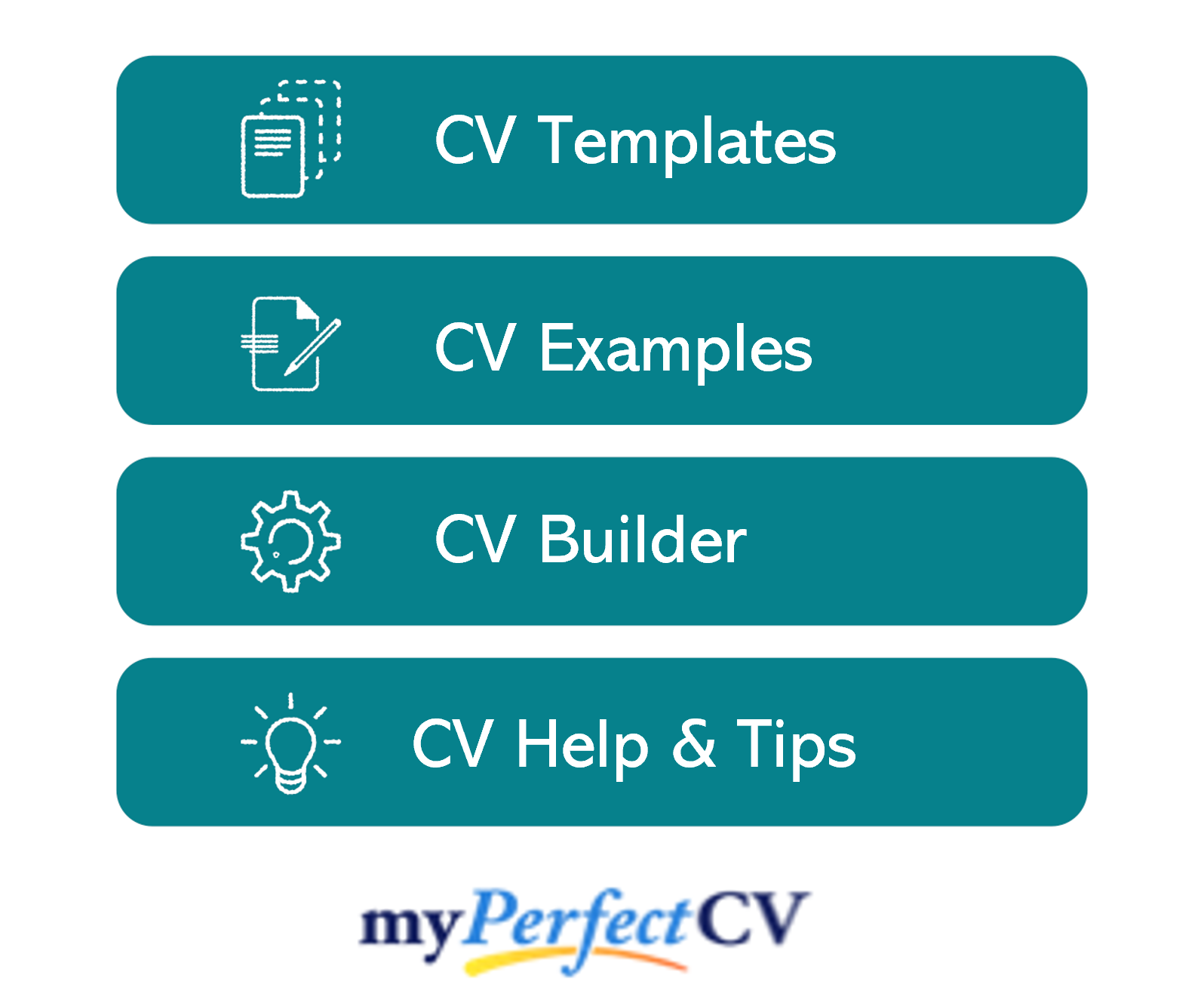 When putting together your Commodity Trader CV, there are a few key points to remember.
Always tailor your CV to the target role, even if it means creating several versions for different roles.
Additionally, remember that the structure and format of your CV needs just as much attention as the content.
Good luck with your job search!